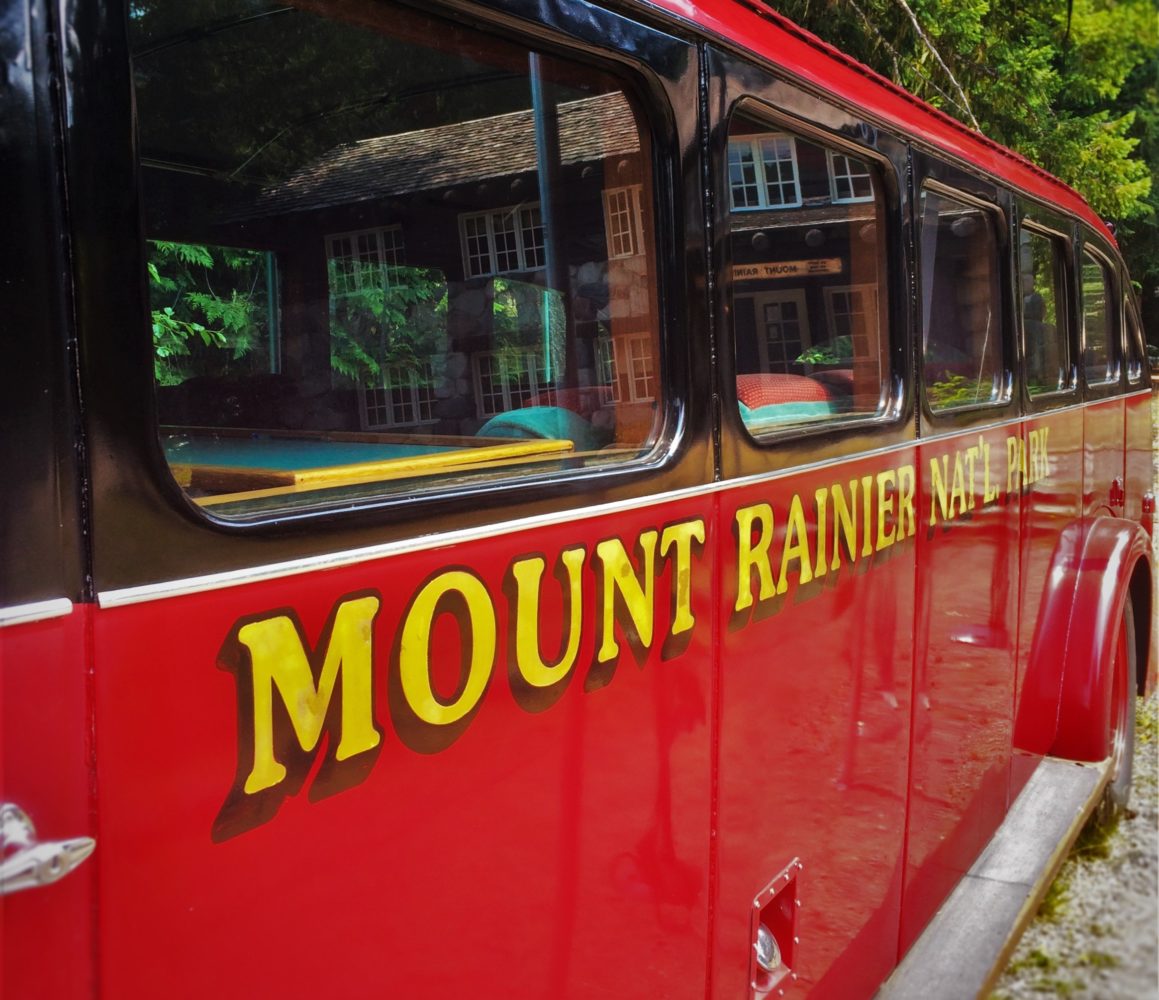 Even though we love going to Olympic National Park, Mount Rainier National Park is one of our favorite spots in the state of Washington. One of the things we love about Mount Rainier is that you can enjoy the North or the South Side and have very different experiences. On the north side there are far fewer people to deal with than on the south side, but on the south side the views all around the mountain are unlike any you'll see anywhere else in Washington State. When you go hiking in Mt Rainier National Park prepare to find a wide variety of hiking trails for any sort of traveler.
We have great tips for hiking in Mt Rainier National Park that are the most kid friendly, easiest, or what you can tackle in a day without being worried that you're going to die somewhere on the mountain. Whether you want waterfalls, lush forests, or just to go and sit in a beautiful Lodge Mount Rainier National Park has you covered.
Once you've gone through our list of recommendations if you have any more please do share in the comments section below. We are always looking for new hikes to go on with the kids, or even just ourselves when we want to do something more challenging.
HUGE NOTE: pets, while they may be okay to bring into Mt Rainier National Park, are NOT okay on hiking trails. Please check out the Service Animal policy from the National Parks Service before you bring a doggy with you.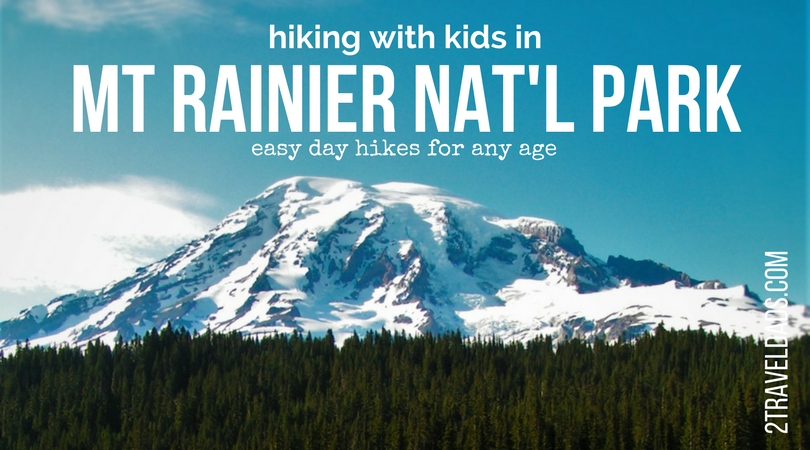 North Side hiking in Mt Rainier National Park
Being a mountain, Mount Rainier National Park is round/square and has multiple faces that you might hike. Each portion of the National Park is very different, but equally beautiful. The north side's Carbon River area is the closest if you want to do a day trip from Seattle, but any part of the mountain is worth your time.
Mowich Lake
Mowich Lake is a really interesting place to go hiking. There's no ranger station or place to talk to anybody about what to do. You need to solely rely on the research you've done ahead of time. Why do I say ahead of time? Because there is no cell phone reception whatsoever when you get up to the trailhead. You need to know what you're going to do when you get there. There are always other hikers that you can ask for help but it's nice to have a plan ahead of time.
There are two ways that you can approach this area for hiking in Mt Rainier National Park: you can hike down from Mowich Lake and enjoy the woods and the incredible moss before it turns into alpine forests, or you can head around the lake and start going up the hills until you get to the fire lookout. Our favorite is definitely heading around Mowich lake and up to the fire lookout. It's a tough hike with kids, but if they're hardy it's doable.
Tip: This is a great opportunity to talk to kids about life at alpine levels. There are many examples all around of the harsh conditions that Mount Rainier faces from fall through spring, as well as different sorts of wildlife that the kids will see. We love when we get to see marmots in this area.
We always like to pack a lunch when we go hiking at Lake Mowich because when we get all of the way up to the fire lookout not only is the view beautiful, but it's flat and it's a perfect place to have a picnic. And here's the disclaimer: you will be tired when you get there even if you are in great shape so looking out over Eunice Lake and directly at Mt Rainier is the perfect place to relax and re-energize.
Tip: always pack for cold weather and wind, even though it may be sunny. Up at the fire lookout that wind picks up and is shocking. Especially if you have kids, be prepared to throw on jackets.
Carbon River
For some reason we always skip this part of the park. I don't know why. I have been here before when I was a kid though and can attest that it's beautiful, there are hardly any people, and there is amazing wildlife. When you're hiking at Carbon River you won't find any fancy lodge waiting for you or the cushy couch at the end of a trail, but you'll get sweeping views to the north toward Seattle and the most amazing fresh air coming off of the river. Maybe it's time that we took the kids to carbon river instead of going to the south side of the mountain.
South Side Hiking in Mt Rainier National Park
Longmire
This part of Mount Rainier National Park is really beautiful. It's very different from what you see ahead. When you park it Longmire there is a wonderful nature trail, the Trail of the Shadows, that is very flat that goes around a small marshy area. Here at the marshy area is a natural spring that has stone work all around it. There are lots of great interpretive displays to explain the history of the area as well as the details of the natural spring and how it was used previously.

As you continue around the marsh you will see the stream that flows through and lots of interesting native plants. Our two favorites are The devil's club and the skunk cabbage. The devil's club you do not want to touch but you can admire from afar. The needles on the stalks are… intimidating. The skunk cabbage, well, it's just really neat looking due to its huge leaves, the weird flowers it sometimes makes… and its smell.
This part of Mount Rainier National Park is worth the stop just to be able to stretch your legs before you get up to the top of the mountain where you really start to do some good hiking.
Tip: Longmire is also home to a great ranger station and some small museum displays, both on the Trail of Shadows and around the National Park Inn. There is a vintage gas station here that lays out the story of making Mt Rainier National Park accessible to cars, as well as an awesome vintage Checker Cab tour bus.

Cougar Rock
This is kind of a vague area, but we like to think of it as the spots along the Road to Paradise that fall between Longmire and Paradise. Hiking in Mt Rainier National Park is easy to come by in this area and there are lots of pull outs where you can park for the day.
Tip: there's a large picnic area across from the entrance to the Cougar Rock campground that is perfect for a quick stop or large group picnic. Oh, and beware of owls in this area, as once upon a time we were dive-bombed.
There are two hikes that depart from this area that we like. The first is Narada Falls, which you can also access from the viewpoint above the falls. When you hike to it from the Cougar Rock area, you also get to experience many other smaller falls, some interesting gorges, and some beautifully secluded meadows. This hike is easy for the fit adult, but will be very tiring for kids and adults who aren't in great shape. It's very doable wearing a kid-pack for hiking and is one of our top recommendations.
The other hike we ALWAYS do is Comet Falls. This trail is not as trying as the Narada Falls trail, but it does start with a bit of a workout. If you can conquer the first quarter mile, you'll be fine for the rest of it. It's a great hike with kids because it has several beautiful streams and waterfalls. There are also a bunch of log bridges you get to cross. Oh, and at the end of the Comet Falls trail is its namesake, which are gorgeous and a welcome sight if it's a hot day.
Tip: if you care to go further, the trail does continue up the mountain and become significantly more difficult. You can visit the Van Trump meadows, check out some sweeping valley views and even get into yellow bellied marmot territory.
Paradise on Mt Rainier
This is the part of Mount Rainier National Park that everybody thinks of. This is where you find the very large and very new Henry M Jackson visitor center, the hiking and backcountry permit office paired with the ranger station, and the Paradise Inn. This is where you can do the Jr Ranger Program and get your National Parks Passport stamps. And where you can do some of the best hiking in Mt Rainier National Park.
Something that families with young kids, or even those heading to Mt Rainier but who aren't up for crazy hiking, will appreciate is that there are several trails leaving directly from the Paradise Inn or visitors center that are paved part of the way up the mountain. This means that it's easy to take a stroller up the mountain, or at least far enough to get to a great viewpoint.
Some easy highlights include Myrtle Falls and the Nisqually Vista trail. There's no bad view anywhere, so our best advice is to get out on the trail and pick one that has "LOOP" in the title.
Tip: see our post on Waterfalls in Mt Rainier National Park for some more tips, including some handy advice about which ones not to miss.
Ohanapekosh
For the longest time, both growing up and as an adult, I never gave Ohanapecosh a second thought as a place to go hiking in Mt Rainier National Park. Guess what? It's wonderful and totally different than any other spot on the mountain. Hiking at Ohanapecosh is great for keeping it chill and fun.
The Grove of the Patriarchs is a really cool hike you can do with kids, taking you across the Ohanapecosh River via a suspension bridge, and then through a beautiful old growth forest. It's a very different experience from going through the Hoh Rain Forest, but the sizes and stories of the trees are just as fascinating.
If you're looking to go a bit further than just around the Grove, Silver Falls isn't too far and will grant you quite the site. The falls is beautiful and it's only 3 miles round trip. That's totally doable for almost any level of hiker.
Tip: camping at Ohanapecosh is a great idea! The weather in this part of Mt Rainier National Park is a tad bit better than other areas, and the forest is mainly deciduous (leafy) trees, so your tent will stay a bit more clean than when there are pine needles everywhere.
Do you have a favorite easy plan for hiking in Mr Rainier National Park? Feel free to share your favorite hike and be sure to drop us a line if you have any questions. And if you're looking for some great pictures and inspiration from Mt Rainier National Park, follow them on Facebook and Instagram.
Don't forget to pin this for later when you're planning out your summer hiking in the Pacific Northwest!