Hiking at Mount Rainier National Park is a great summer activity. These are the best hikes with kids or for a reasonable challenge. From Paradise to Sunrise, Ohanapecosh to Lake Mowich, great hiking trails for any skill level can be found at Mt Rainier. Add a day of hiking at Mount Rainier to one of the many scenic drives in Washington, accessing different sides of the mountain for different views.
Even though we love going to Olympic National Park, Mount Rainier National Park is one of our favorite spots in the state of Washington. One of the things we love about Mount Rainier is that you can enjoy hiking the North or the South Side and have very different experiences. On the north side there are far fewer people to deal with than on the south side, but on the south side the views all around the mountain are unlike any you'll see anywhere else in Washington State. When you go hiking in Mount Rainier National Park prepare to find a wide variety of hiking trails for any sort of traveler.
If you have any questions about any of the trails we talk about or if you want to make your own recommendations, please leave a comment or send us a note. We're always happy to share more and help others plan an awesome day or week of hiking at Mt Rainier National Park!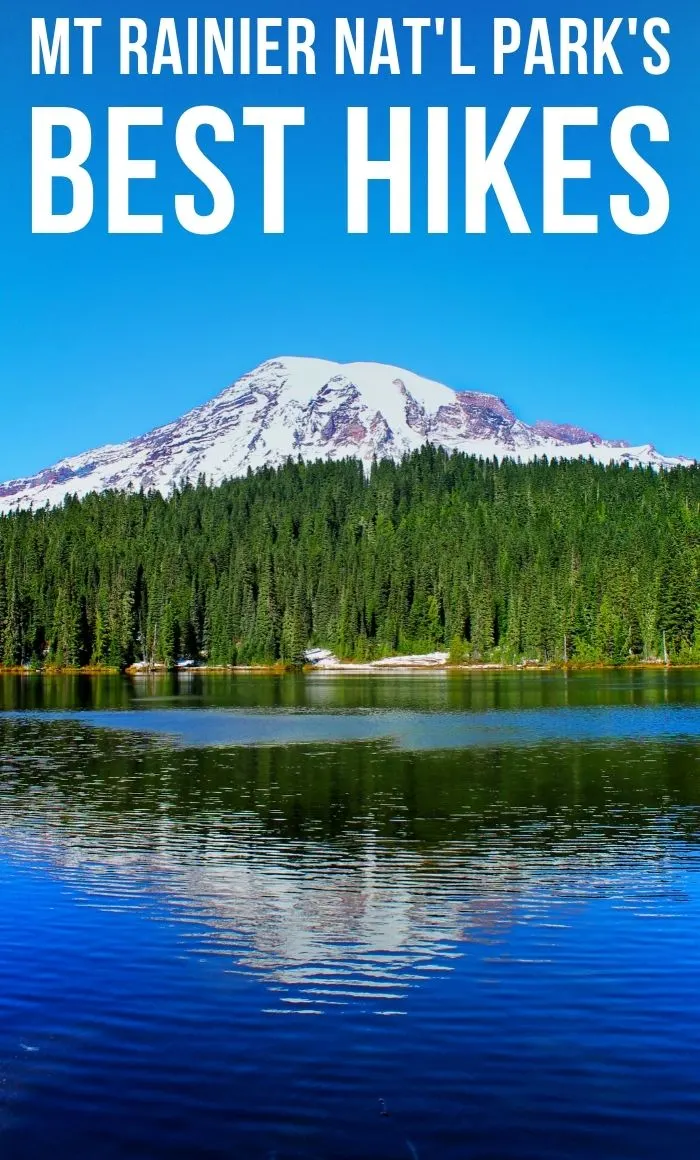 We have great tips for hiking in Mt Rainier National Park that are the most kid friendly, easiest, or what you can tackle in a day without being worried that you're going to die somewhere on the mountain. Whether you want waterfalls, lush forests, or just to go and sit in a beautiful Lodge Mount Rainier National Park has you covered.
Once you've gone through our list of recommendations if you have any more please do share in the comments section below. We are always looking for new hikes to go on with the kids, or even just ourselves when we want to do something more challenging.
HUGE NOTE: pets, while they may be okay to bring into Mt Rainier National Park, are NOT okay on ANY hiking trails. Please check out the Service Animal policy from the National Parks Service before you bring a doggy with you.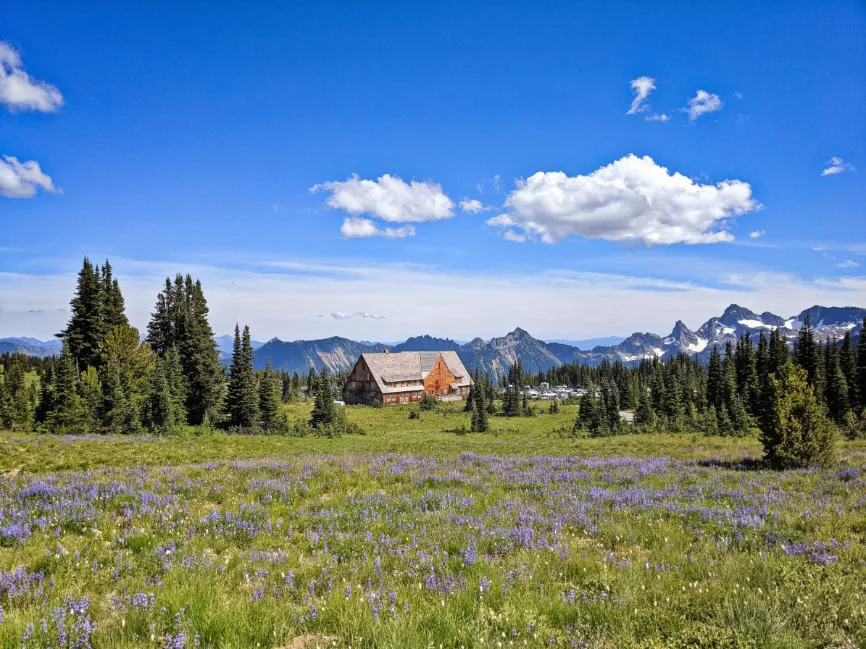 North Side Hiking in Mt Rainier National Park
Being a mountain, Mount Rainier National Park is round/square and has multiple faces that you might hike. Each portion of the National Park is very different, but equally beautiful. The north side's Carbon River area is the closest if you want to do a day trip from Seattle, but due to wash outs much of the area isn't easily accessible. That's okay, drive just a bit further and there are more options. Any hiking at Mount Rainier is worth your time.
Best Hiking at Mount Rainier's Sunrise Area
I absolutely love Sunrise for hiking. Every trail is interesting with incredible views, there is a good amount of wildlife, and it's fairly close to Seattle so makes an easy day trip. At Sunrise you'll find a visitors center (closed during pandemic, 2021), a snack / basics / souvenir shop, lots of restroom facilities and potable water for refilling bottles. The parking area is pretty big, but because Mount Rainier has become even more popular, the lot fills early, even on summer weekdays.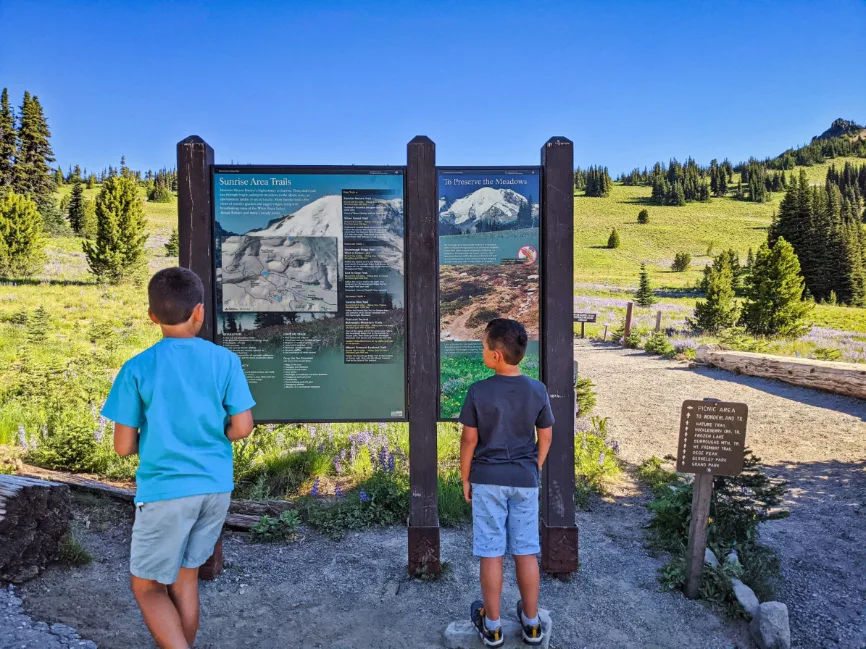 Moderate and Fun Hike: Dege Peak on the Sourdough
Between the wildflowers and the never ending views along the entire trail, you'd be hard pressed to find a more spectacular hike at Mount Rainier National Park. While the National Park signs and guides consider the Dege Peak Trail to be a more difficult hike, if you take your time, it's actually a moderate hike and is very doable with kids.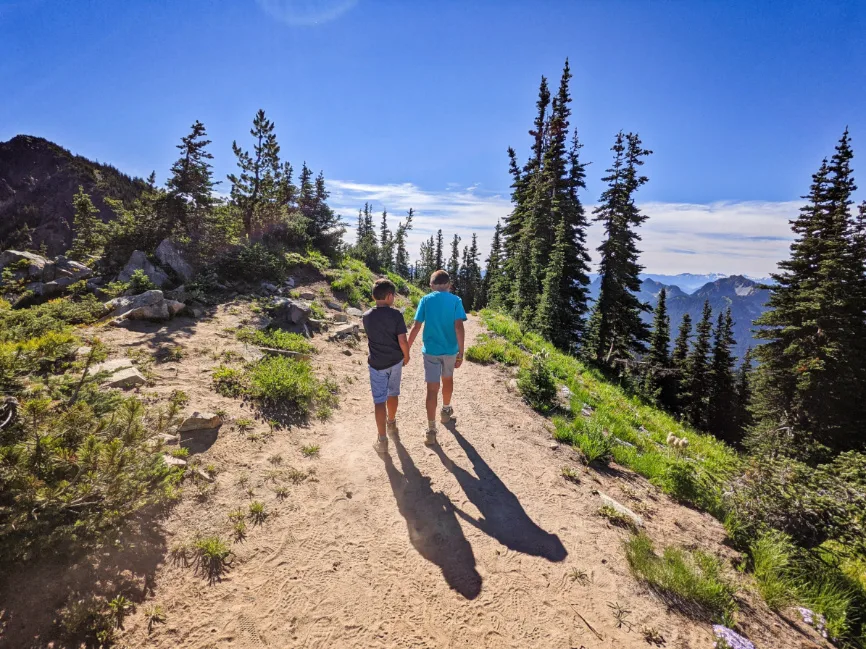 The hike starts with a gentle climb and continues to climb and descend and climb and descend following the terrain of the Sourdough Ridge. There are moments where the hillside next to the trail is rather steep, kind of like hiking at Hurricane Ridge at Olympic National Park, but managing kids on the trail maintains the ease and safety of the Dege Peak Trail.
This hike ends with an absolutely incredible 360 degree view from Mount Rainier to Mount Adams and north to Glacier Peak. It's breathtaking! Pair this trail with the Frozen Lake and Shadow Lakes Trails and you have a full day of amazing beauty!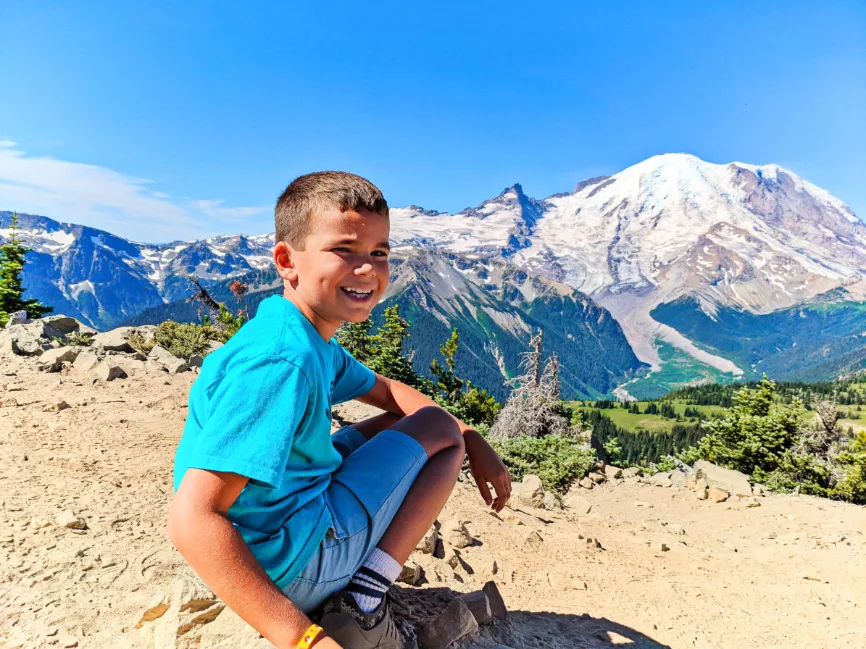 Best Mount Rainier Hike at Sunrise: Frozen Lake
While you could do the full loop of the Shadow Lakes AND Frozen Lake, just doing Frozen Lake is fine and will satisfy your Mount Rainier hiking needs. Either way you choose, the 3+ mile hike is easy/moderate and is great with kids.
Frozen Lake isn't necessarily impressive, but it's really pretty with a perpetual ice sheet melting into it, making it a gorgeous crystal blue. It reminded me of Iceberg Lake at the Many Glacier area of Glacier National Park. Continue past Frozen Lake along the Wonderland Trail as far as you're comfortable for even more amazing views.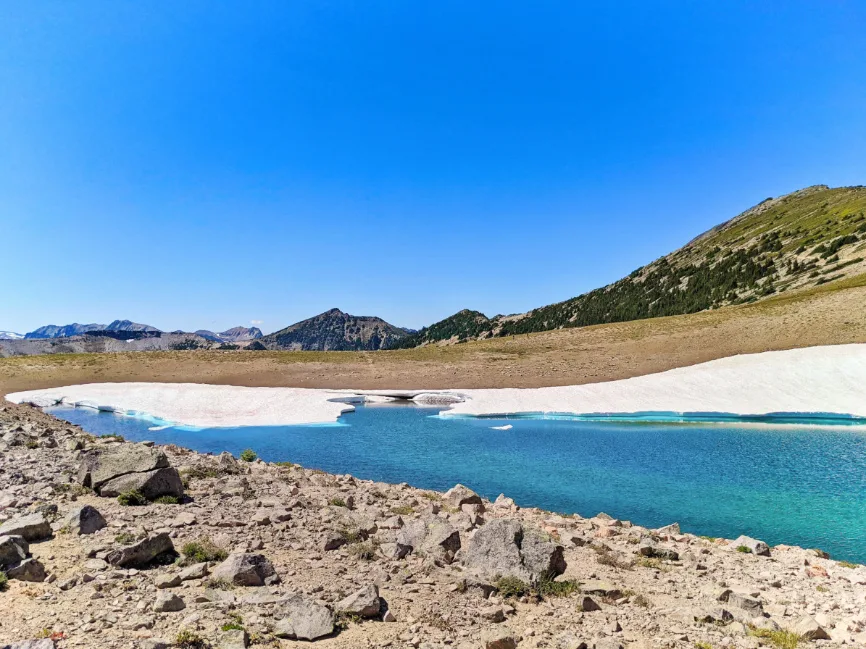 The big highlight of the Frozen Lake Trail and the area from here to Mystic Lake is the wildlife. Mountain goats, marmots, pikas and deer wander these alpine meadows and it really is cool to see. The kids love this trail for the wildlife along, and they would pick this trail for any visit to Mount Rainier National Park if given the choice.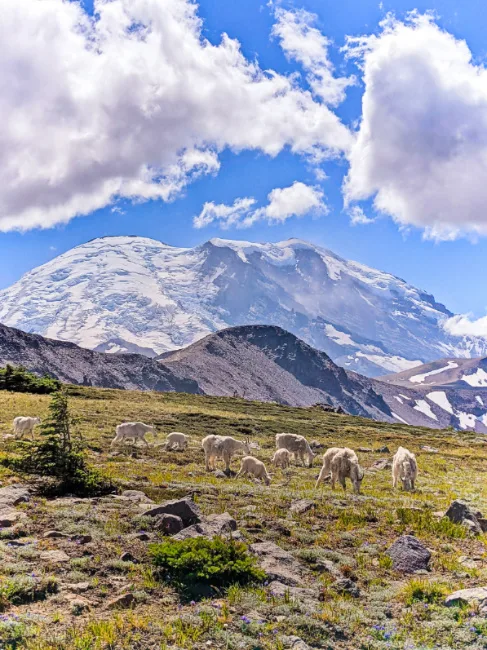 Mowich Lake Hikes
Mowich Lake is a really interesting place to go hiking. There's no ranger station or place to talk to anybody about what to do. You need to solely rely on the research you've done ahead of time. Why do I say ahead of time? Because there is no cell phone reception whatsoever when you get up to the trailhead. You need to know what you're going to do when you get there. There are always other hikers that you can ask for help but it's nice to have a plan ahead of time.
We always like to pack a lunch when we go hiking at Lake Mowich because when we get all of the way up to the fire lookout not only is the view beautiful, but it's flat and it's a perfect place to have a picnic. And here's the disclaimer: you will be tired when you get there even if you are in great shape so looking out over Eunice Lake and directly at Mt Rainier is the perfect place to relax and re-energize.
Tip: always pack for cold weather and wind, even though it may be sunny. Up at the fire lookout that wind picks up and is shocking. Especially if you have kids, be prepared to throw on jackets.
There are two ways that you can approach this area for hiking in Mt Rainier National Park: the Tolmie Peak Trail or Spray Park Trail.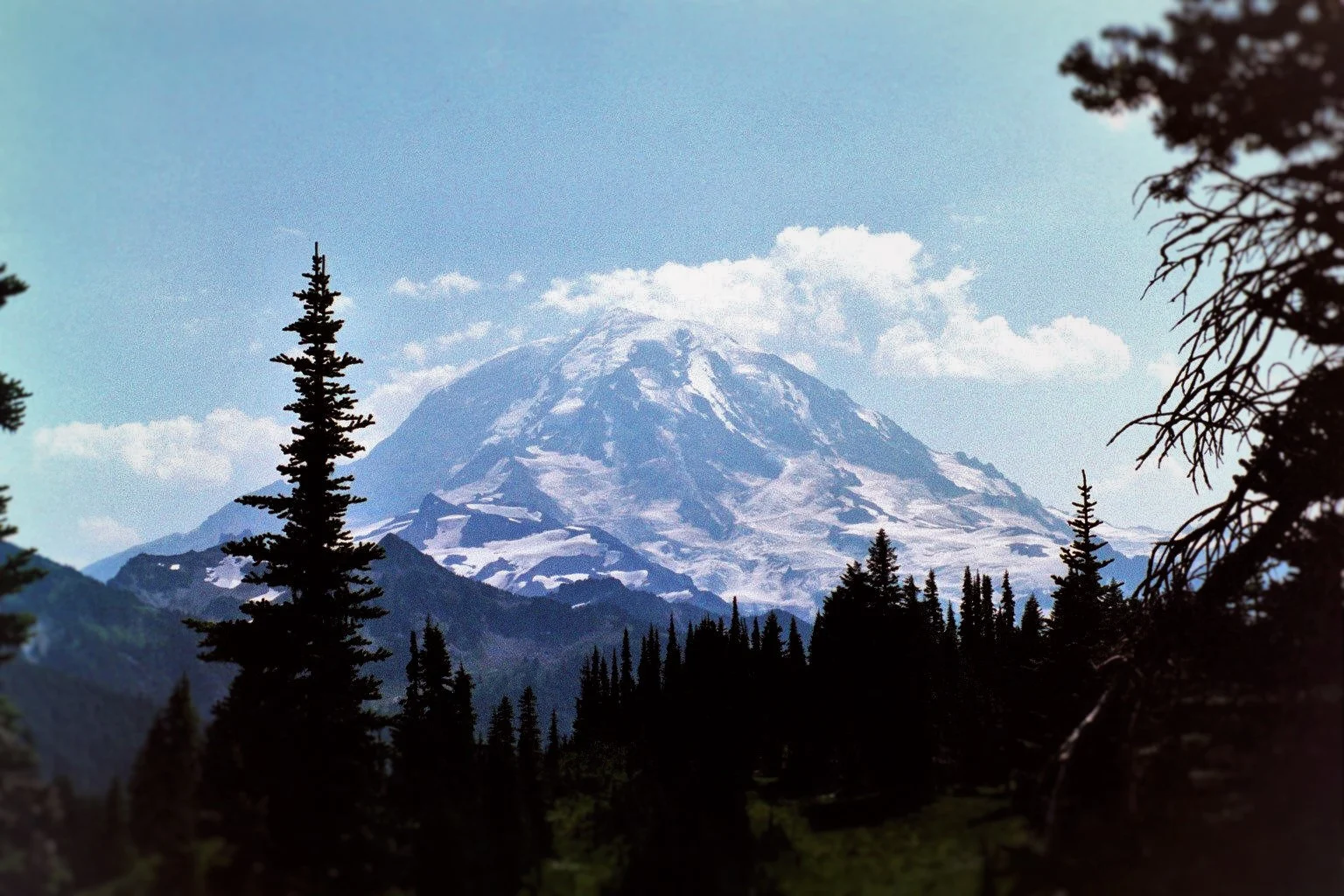 Hiking the Spray Park Trail at Mount Rainier
You can hike down from Mowich Lake on the Spray Park Trail (6 miles roundtrip, 4.5 hours hiking time) and enjoy the woods and the incredible moss before it turns into alpine forests. This trail is great with kids because it's mostly shaded and is full of interesting forest life. It's also an easier descent and return than the Tolmie Peak Trail.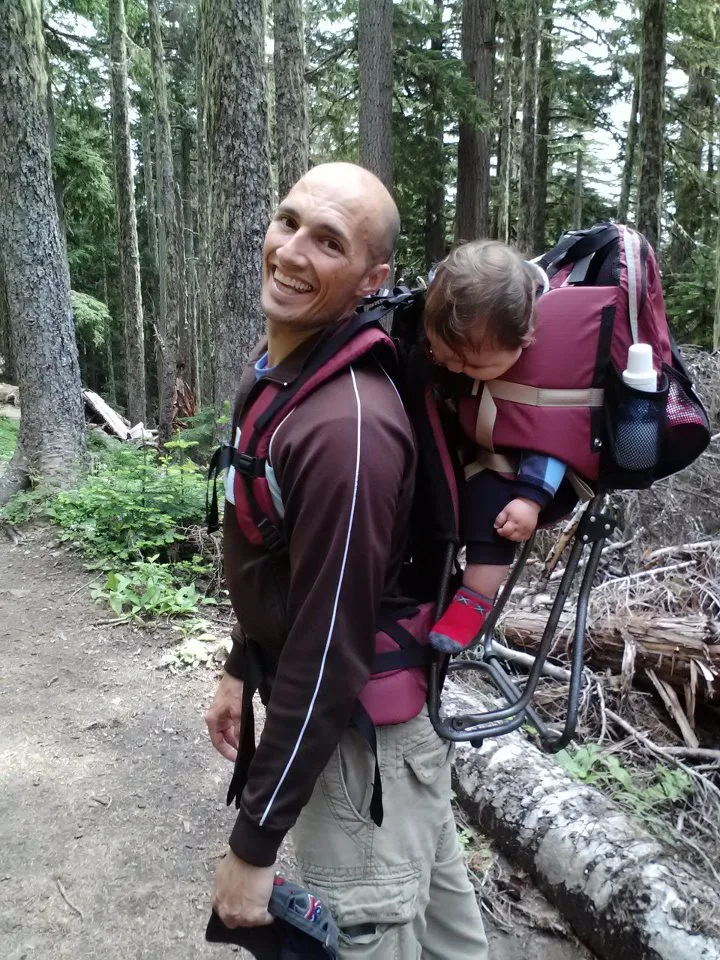 The highlights of the Spray Park Trail are the view of the Mowich Glacier about a mile and a half in and then Spray Falls. A broad cascade that's beautifully misty, Spray Falls is a nice reward on the hike. There are so many waterfalls in Mount Rainier National Park and they're all worth seeking out!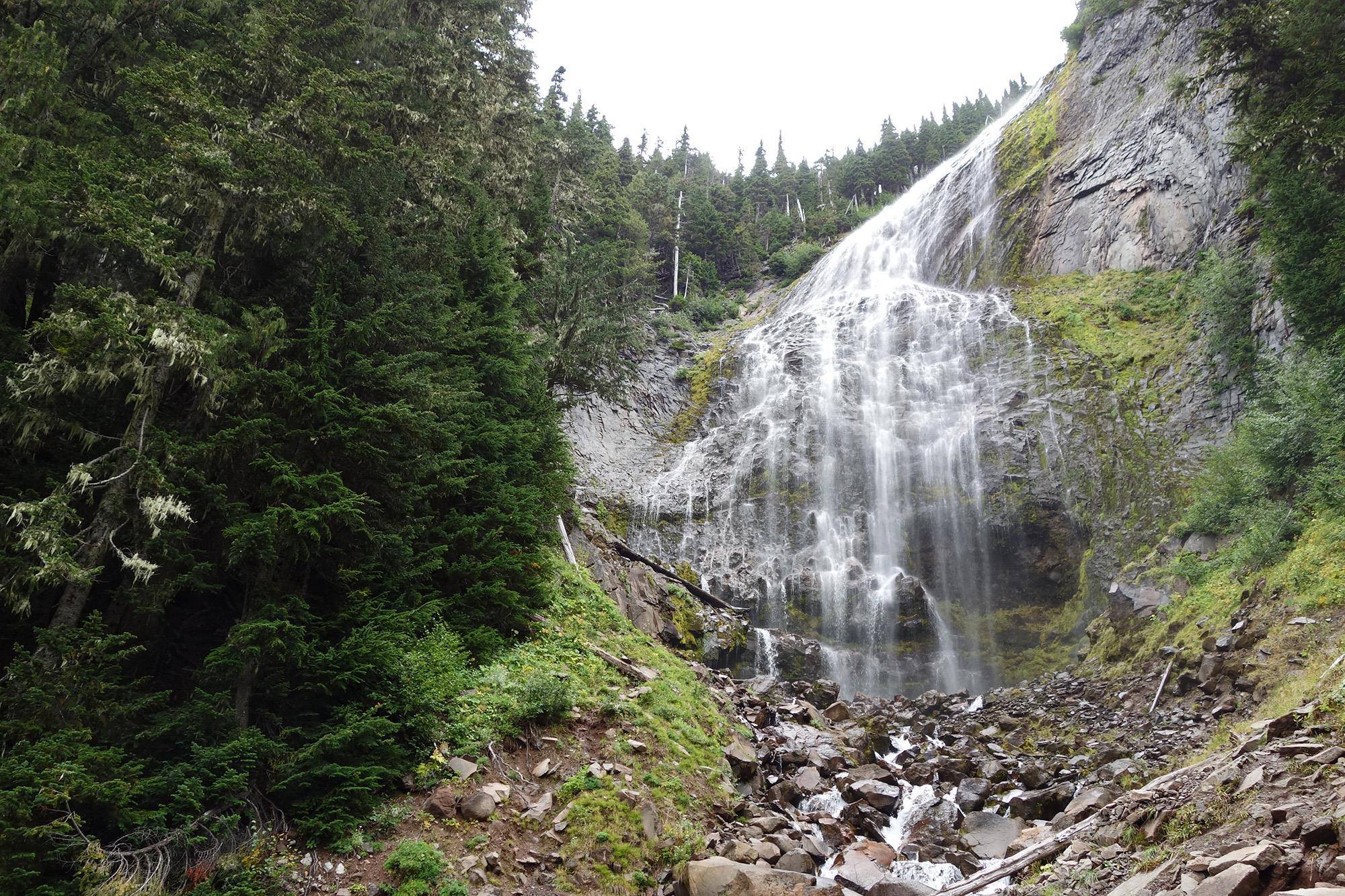 Tolmie Peak Trail and Fire Lookouts
The other main hiking option at Lake Mowich is the Tolmie Peak Trail. For this one, head around the lake and start going up the hills until you get to the first fire lookout. This is our favorite hike at Lake Mowich because of the fire lookout. It's a tough hike with kids, but if they're hardy it's doable.
The hike starts out pretty mellow through the forest but at around 1/3 of the way to the Tolmie Fire Lookout, the trail gets STEEP and tiring. You'll get to Lake Eunice, which is gorgeous, but don't end your hike there. Keep hiking up to the fire lookout for the most remarkable view of Mount Rainier. You'll be so glad you did it!
Tip: This is a great opportunity to talk to kids about life at alpine levels. There are many examples all around of the harsh conditions that Mount Rainier faces from fall through spring, as well as different sorts of wildlife that the kids will see. We love when we get to see marmots in this area.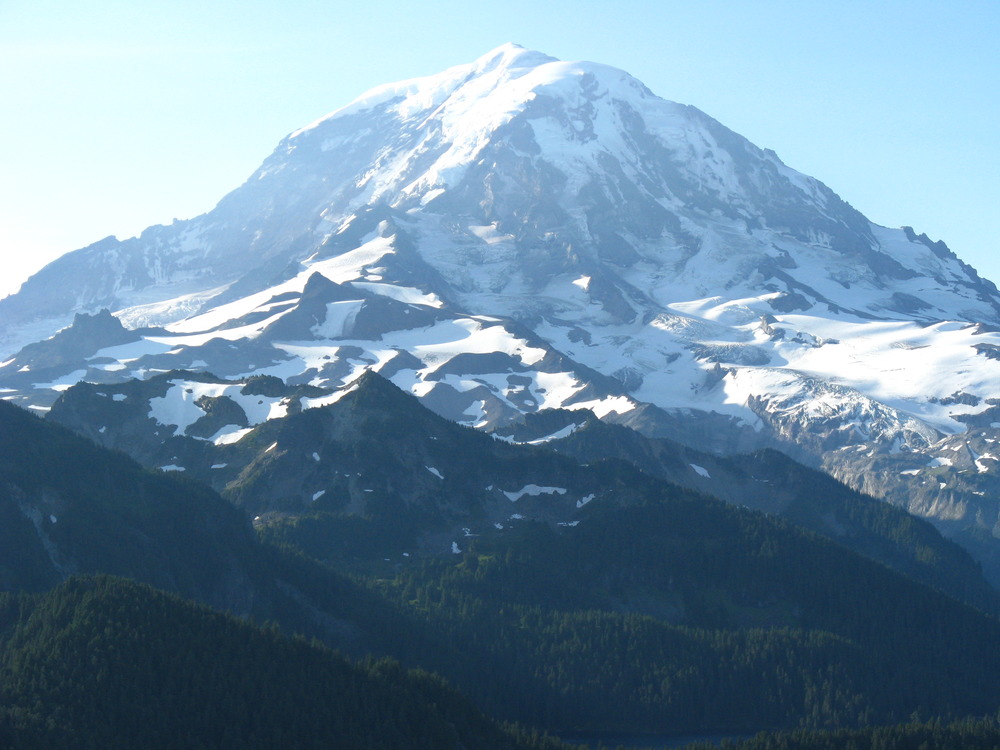 Carbon River Hiking
Carbon River is the part of Mount Rainier National Park that is closest to Seattle… but there's not a ton there, which makes it great for having a quiet, non-populated visit to the park! When you're hiking at Carbon River you won't find any fancy lodge waiting for you or the cushy couch at the end of a trail, but you'll get sweeping views to the north toward Seattle and the most amazing fresh air coming off of the river.
The primary trail you can currently hike at Carbon River (2023) is the Carbon River Trail. This is combination of the closed road and the actual trail. This road trail acts as the starting point for the many spur trails in the area.
Spur Trails to pick from the Carbon River Trail:
Green Lake Trail / Ranger Falls – 11 miles roundtrip from parking area
Chenuis Falls Trail – 7.5 miles (includes time on the main trail)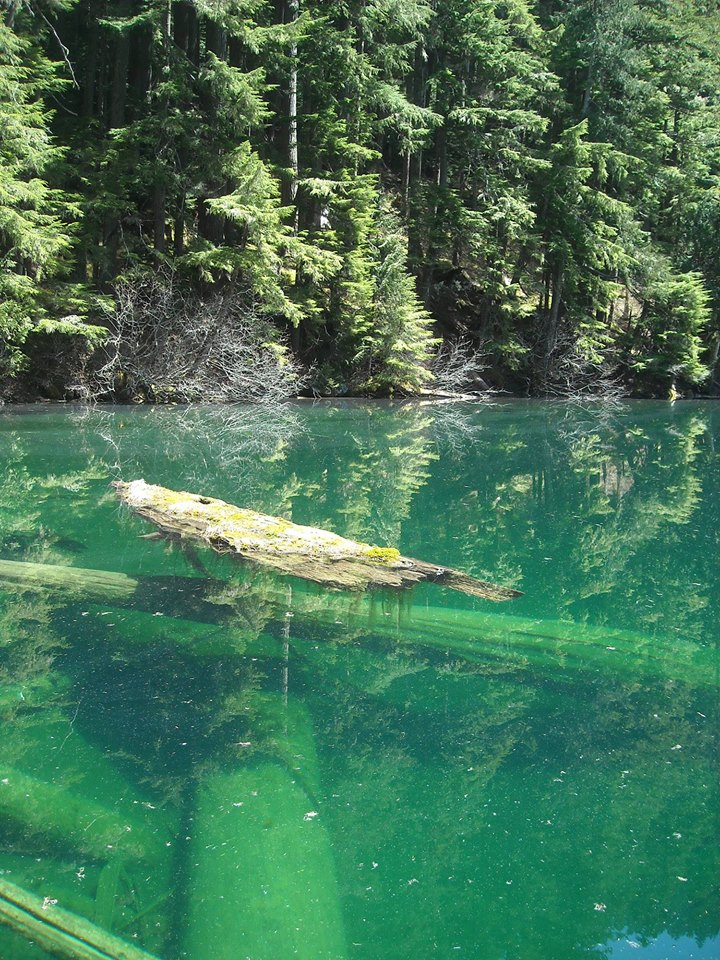 South Side Hiking in Mt Rainier National Park
Hiking at Mount Rainier on the south side is really quite different. With many more visitors and more development than the north side, there are a lot of trail options, including very easy trails with exhibits along the way. You'll find that most people visiting Mt Rainier go to Paradise and nowhere else, and that's fine, but there is so much more to see!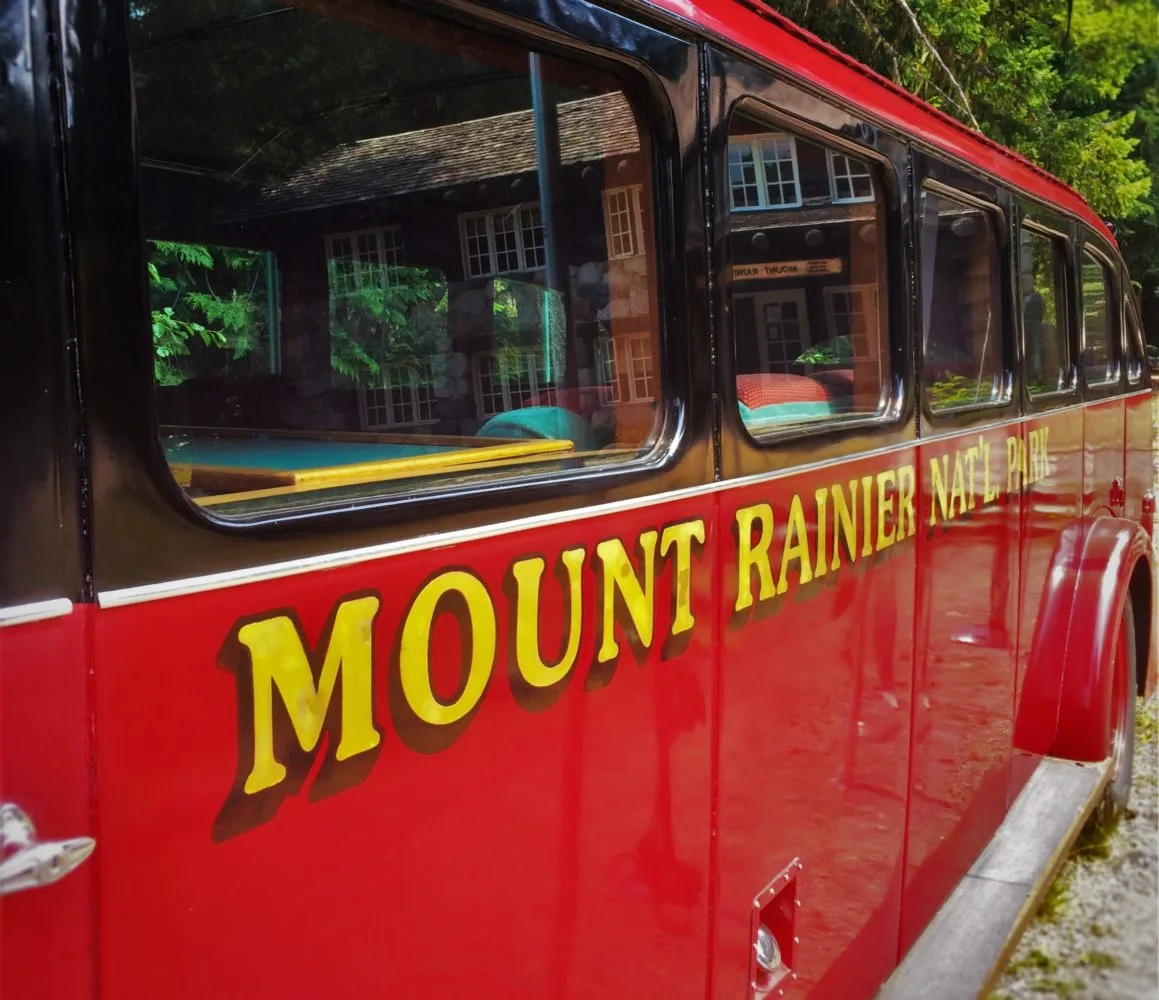 Longmire Area Hiking
This part of Mount Rainier National Park is really beautiful. It's very different from what you see ahead as you continue up the mountain to Paradise. When you park it Longmire there is a wonderful nature trail, the Trail of the Shadows, that is very flat that goes around a small marshy area. Here at the marshy area is a natural spring that has stone work all around it. There are lots of great interpretive displays to explain the history of the area as well as the details of the natural spring and how it was used previously.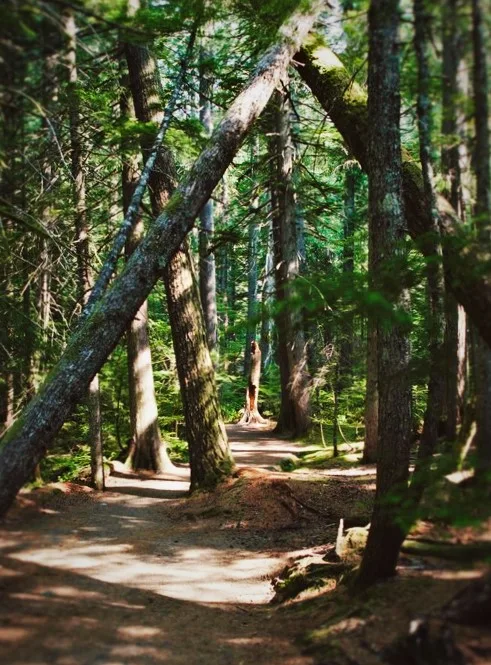 As you continue around the marsh you will see the stream that flows through and lots of interesting native plants. Our two favorites are The devil's club and the skunk cabbage. The devil's club you do not want to touch but you can admire from afar. The needles on the stalks are… intimidating. The skunk cabbage, well, it's just really neat looking due to its huge leaves, the weird flowers it sometimes makes… and its smell.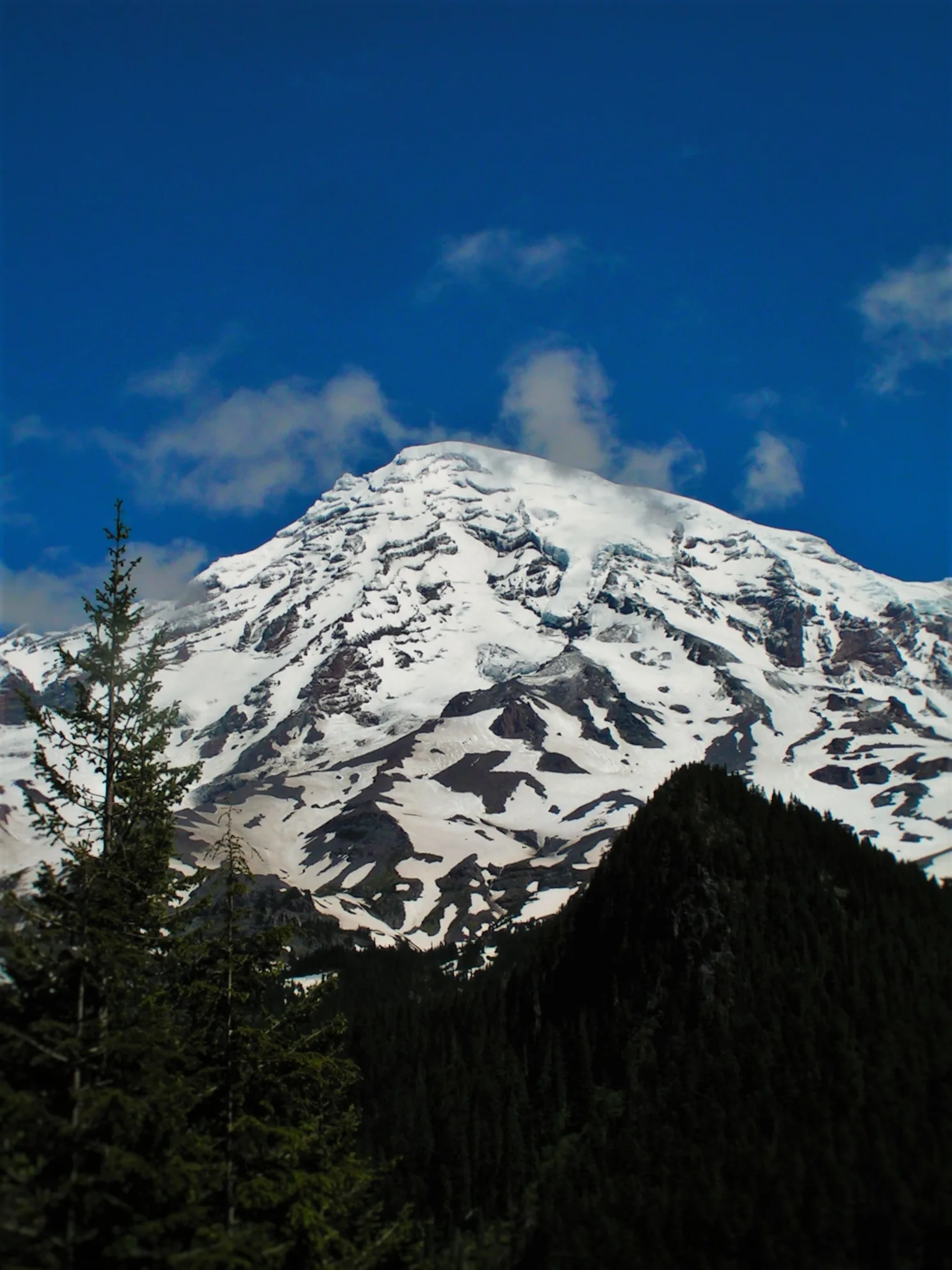 This part of Mount Rainier National Park is worth the stop just to be able to stretch your legs before you get up to the top of the mountain where you really start to do some good hiking.
Tip: Longmire is also home to a great ranger station and some small museum displays, both on the Trail of Shadows and around the National Park Inn. There is a vintage gas station here that lays out the story of making Mt Rainier National Park accessible to cars, as well as an awesome vintage Checker Cab tour bus.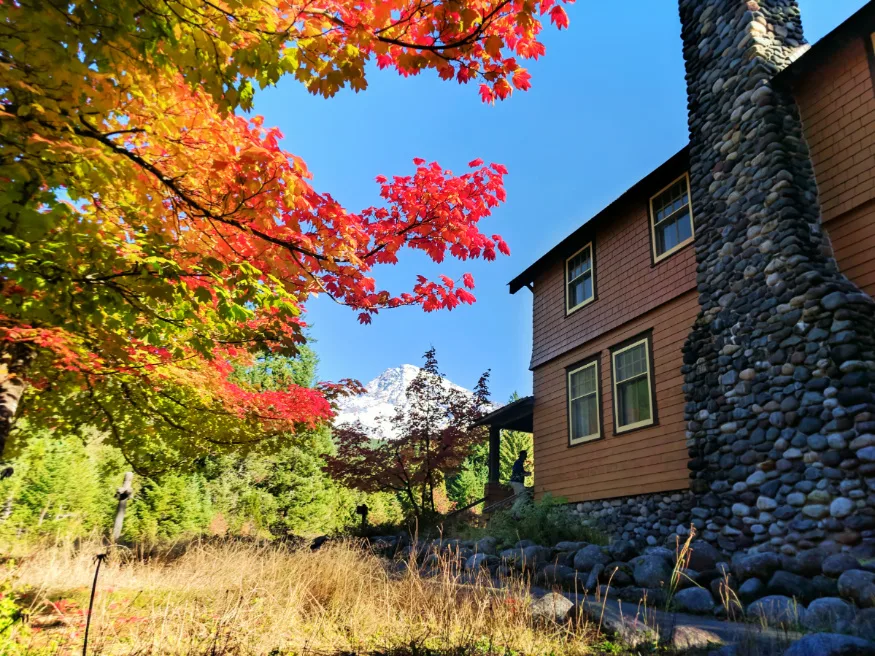 Mount Rainier Hiking from Cougar Rock
This is kind of a vague area, but we like to think of it as the spots along the Road to Paradise that fall between Longmire and Paradise. Hiking in Mt Rainier National Park is easy to come by in this area and there are lots of pull outs where you can park for the day.
Tip: there's a large picnic area across from the entrance to the Cougar Rock campground that is perfect for a quick stop or large group picnic. Oh, and beware of owls in this area, as once upon a time we were dive-bombed.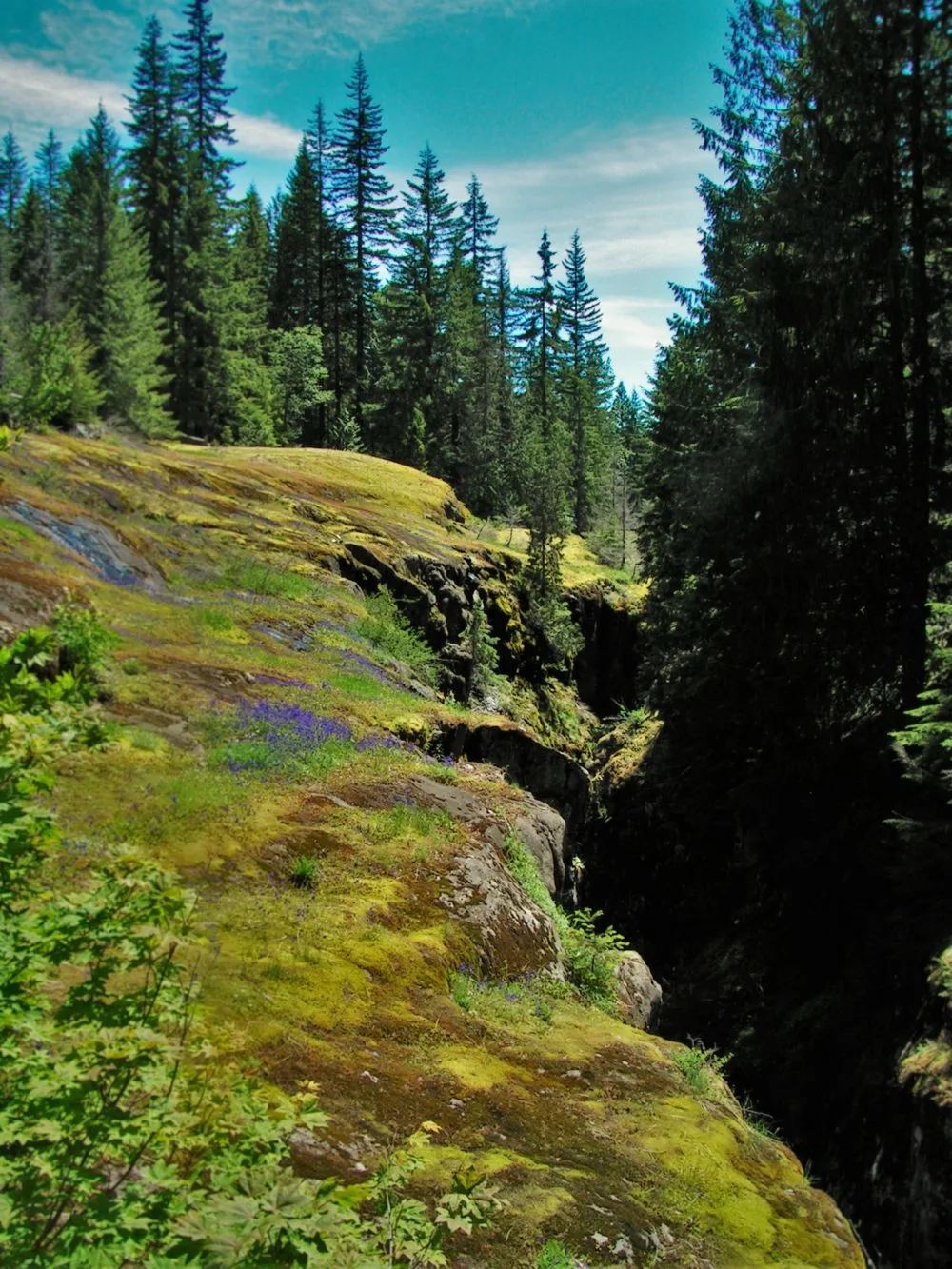 Hiking Narada Falls from Cougar Rock
There are two hikes that depart from this area that we like. The first is Narada Falls which you can also access from the viewpoint above the falls. When you hike to it from the Cougar Rock area, you also get to experience many other smaller falls, some interesting gorges, and some beautifully secluded meadows. This hike is easy for the fit adult, but will be very tiring for kids and adults who aren't in great shape. It's very doable, even if you're wearing a kid-pack for hiking and is one of our top recommendations.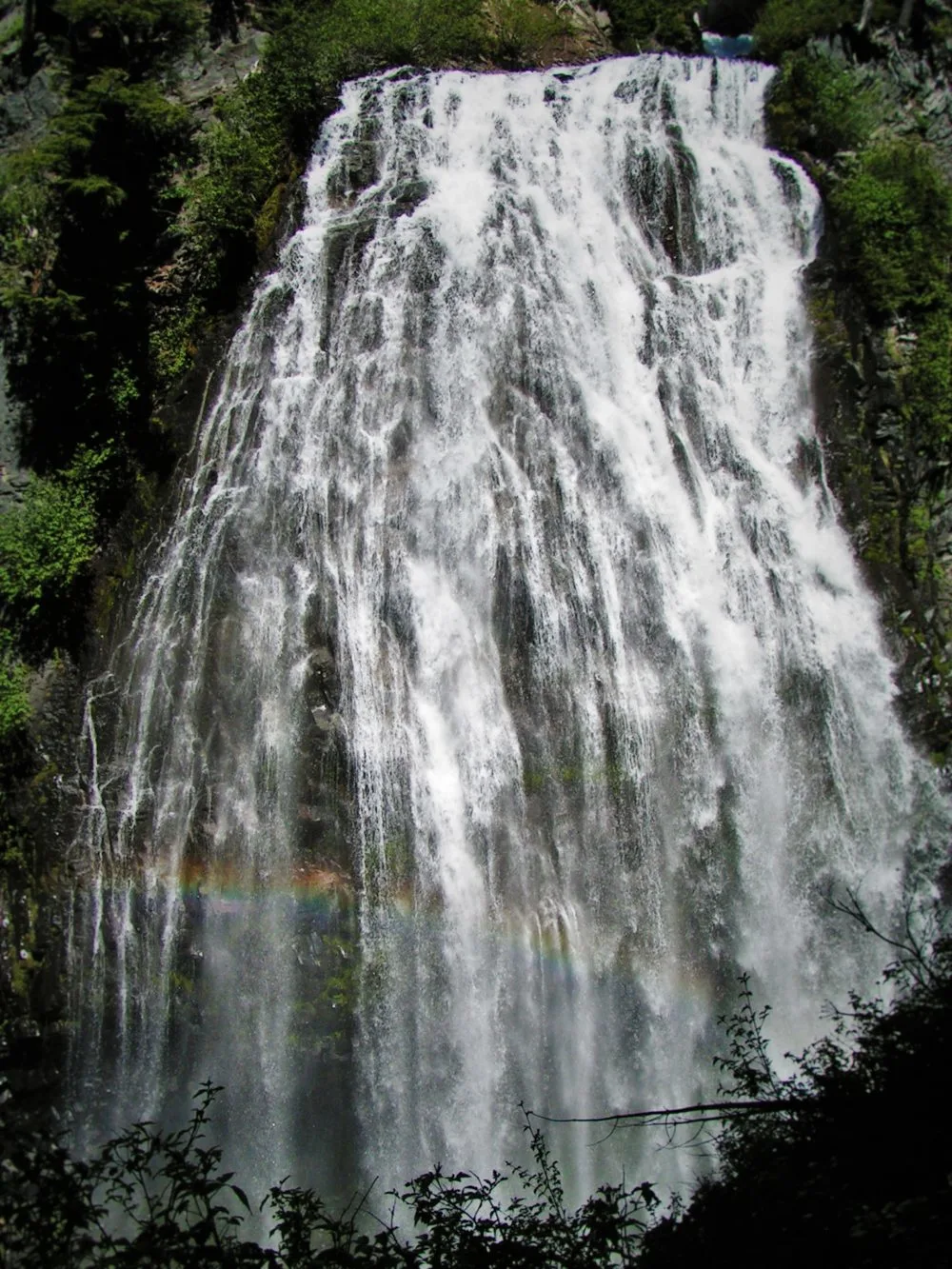 Awesome Waterfall Hiking: Comet Falls Trail
The other hike we ALWAYS do is Comet Falls. This trail is not as trying as the Narada Falls trail, but it does start with a bit of a workout. If you can conquer the first quarter mile, you'll be fine for the rest of it. It's a great hike with kids because it has several beautiful streams and waterfalls. There are also a bunch of log bridges you get to cross.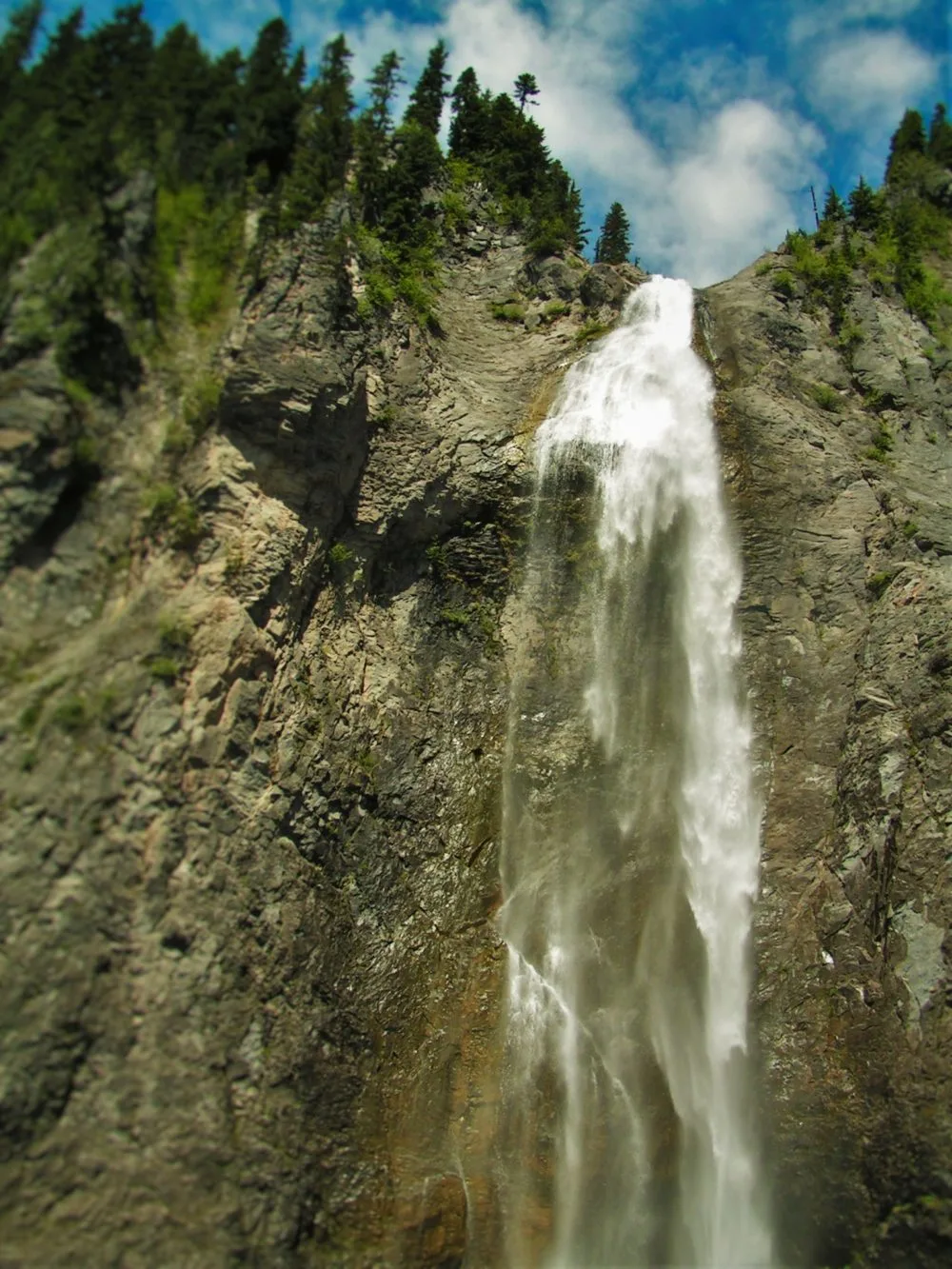 At the end of the Comet Falls trail is its namesake, which are gorgeous and a welcome sight if it's a hot day. There are bunny trails down to the splash pool of Comet Falls, but proceed with caution.
Tip: if you care to go further, the trail does continue up the mountain and become significantly more difficult. You can visit the Van Trump meadows, check out some sweeping valley views and even get into yellow bellied marmot territory.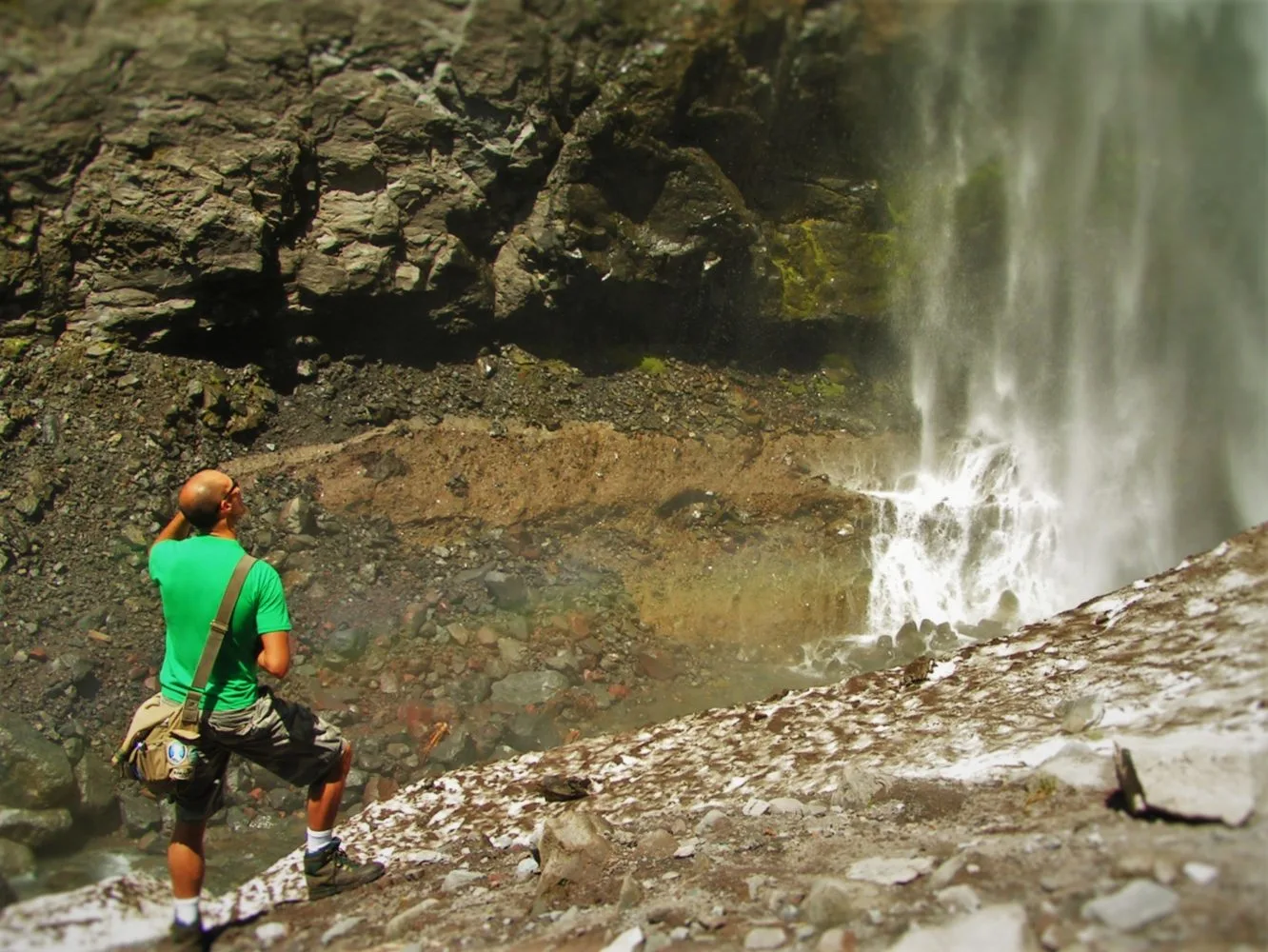 Hiking at Paradise on Mount Rainier
Paradise is the area of Mount Rainier National Park that everybody thinks of or seems to have visited. This is where you find the very large and very comprehensive Henry M Jackson visitor center, the hiking and backcountry permit office paired with the ranger station, and the Paradise Inn. This is where you can do the Jr Ranger Program and get your National Parks Passport stamps. And where you can do some of the best hiking in Mt Rainier National Park.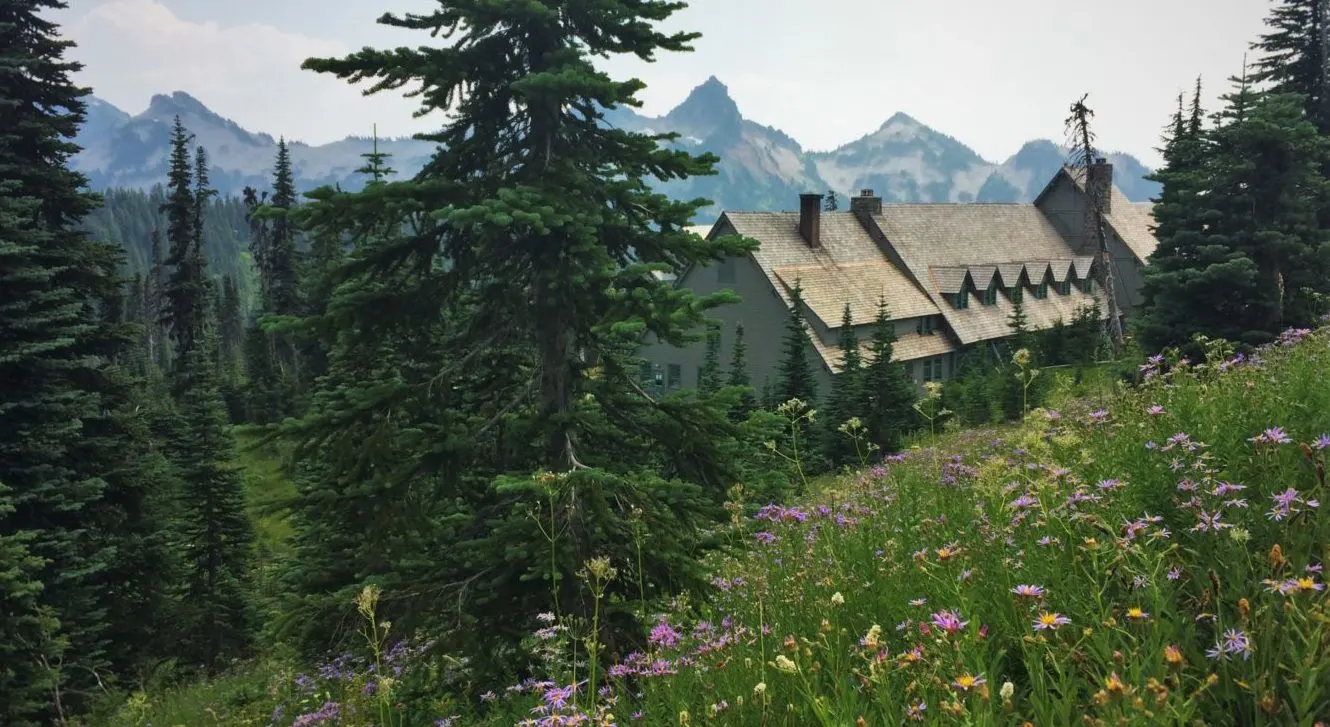 Something that families with young kids, or even those heading to Mt Rainier but who aren't up for crazy hiking, will appreciate is that there are several trails leaving directly from the Paradise Inn or visitors center that are paved part of the way up the mountain. This means that it's easy to take a stroller up the mountain, or at least far enough to get to a great viewpoint.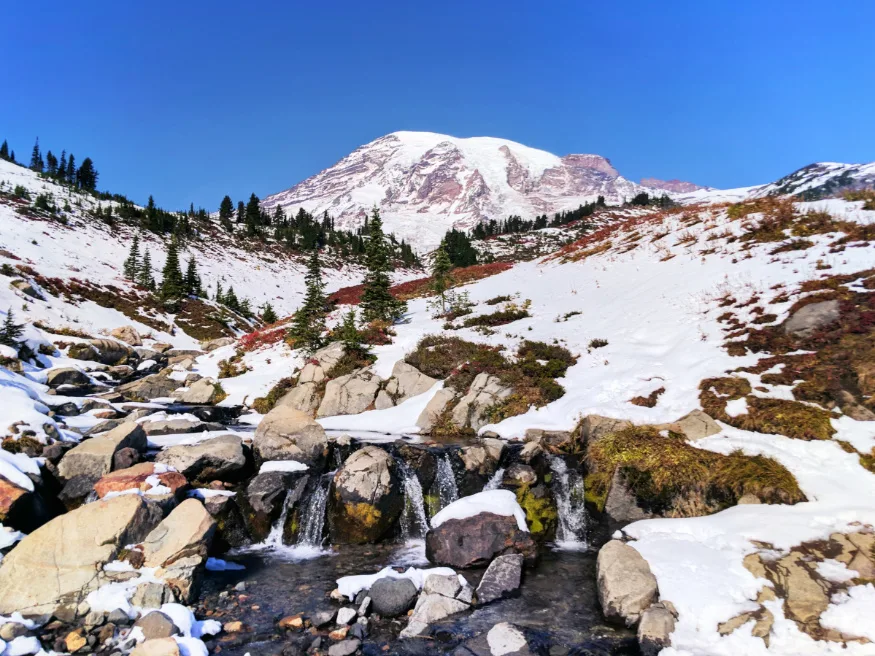 Fast and Beautiful Hike at Paradise: Myrtle Falls
If you're looking for the most iconic views at Paradise on Mount Rainier, do the Myrtle Falls hike. It's not too long at just a mile roundtrip and it's paved. When you get to the top of the falls, carefully descend the stairs to the viewpoint where you'll get a gorgeous view of the fall and Mount Rainier directly behind.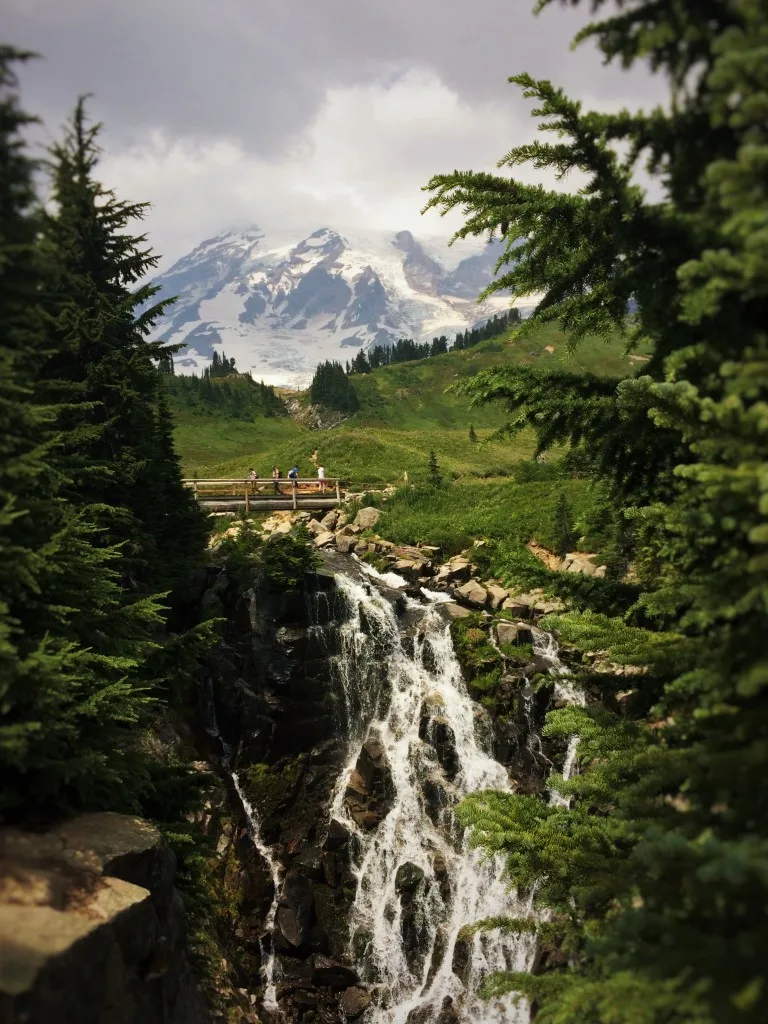 Nisqually Loop Trail: Perfect All Day Hiking Plan
There's no bad view anywhere in the Paradise area, and for sure not on the Nisqually View Trail. It's a very mild but gorgeous loop and is great to do with kids. At less than 1.5 miles, you can do the Nisqually Vista Trail and then head off on another spur trail or move onto another part of the Paradise area.
Highlights of hiking at Mount Rainier on the Nisqually View Trail include alpine meadows and amazing views. Check out the Tatoosh Range to the south, Anvil Rock and the Nisqually Glacier to the north, and gorgeous wildflowers all around.
If you are looking for more hikes out of Paradise, they all originate near the Paradise Inn or visitor center. Our best advice is to get out on the trail and pick one that has "LOOP" in the title.
Tip: see our post on Waterfalls in Mt Rainier National Park for some more tips, including some handy advice about which ones not to miss.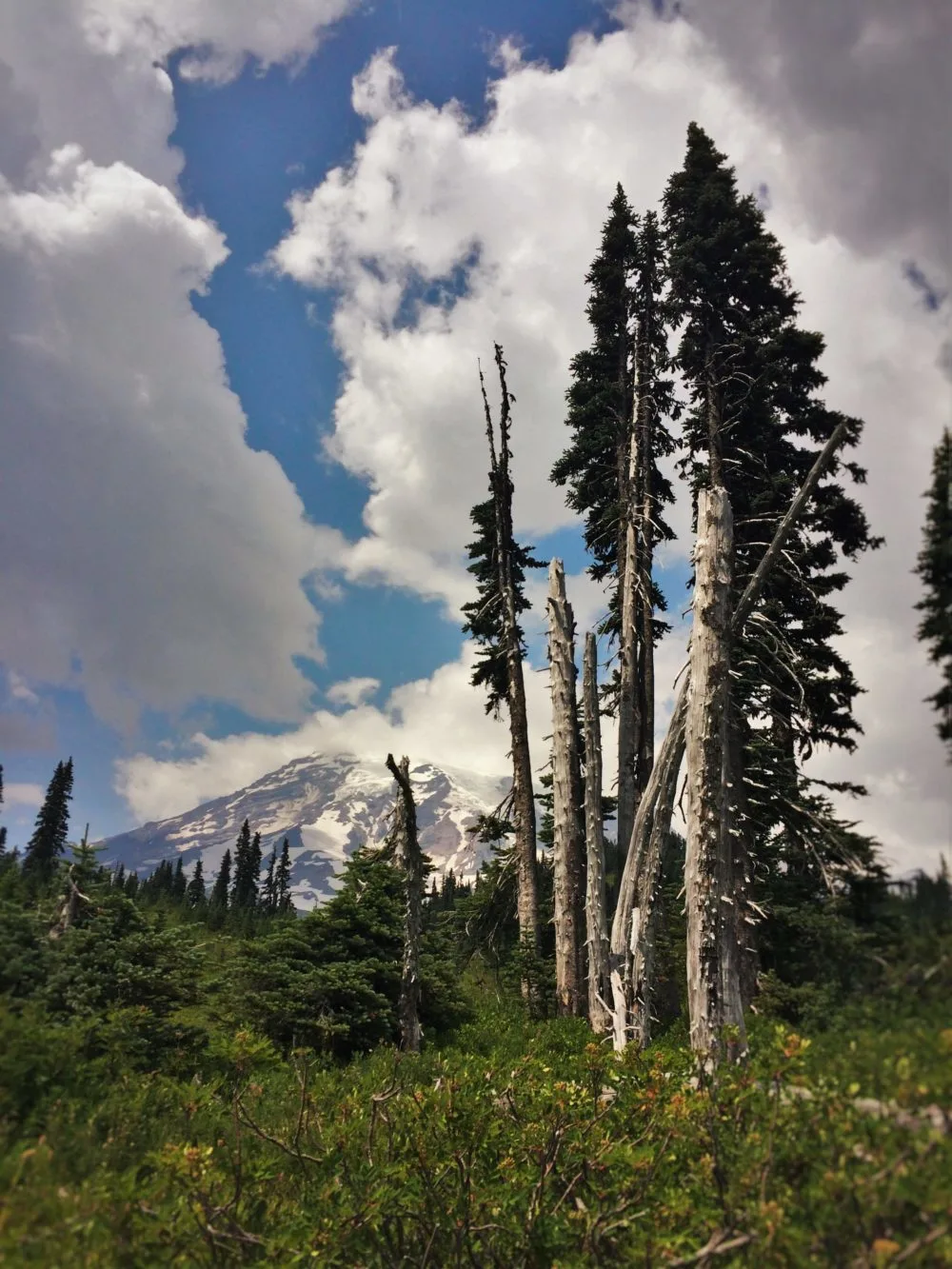 Ohanapekosh Hiking at Mount Rainier
For the longest time, both growing up and as an adult, I never gave Ohanapecosh a second thought as a place to go hiking in Mt Rainier National Park. Guess what? It's wonderful and totally different than any other spot on the mountain. Hiking at Ohanapecosh is great for keeping it chill and fun.
On the way to Ohanapekosh from Paradise, make stops at Reflection Lakes and the viewpoints in Stevens Canyon. It's all so beautiful.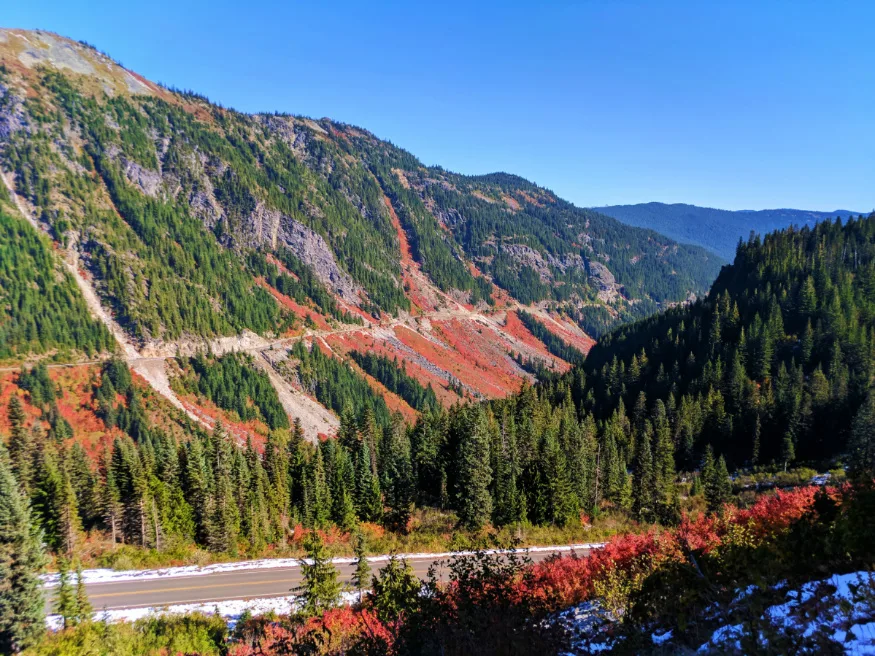 Ancient Trees at the Grove of the Patriarchs
The Grove of the Patriarchs is a really cool hike you can do with kids, taking you across the Ohanapecosh River via a suspension bridge, and then through a beautiful old growth forest. It's a very different experience from going through the Hoh Rain Forest, but the sizes and stories of the trees are just as fascinating.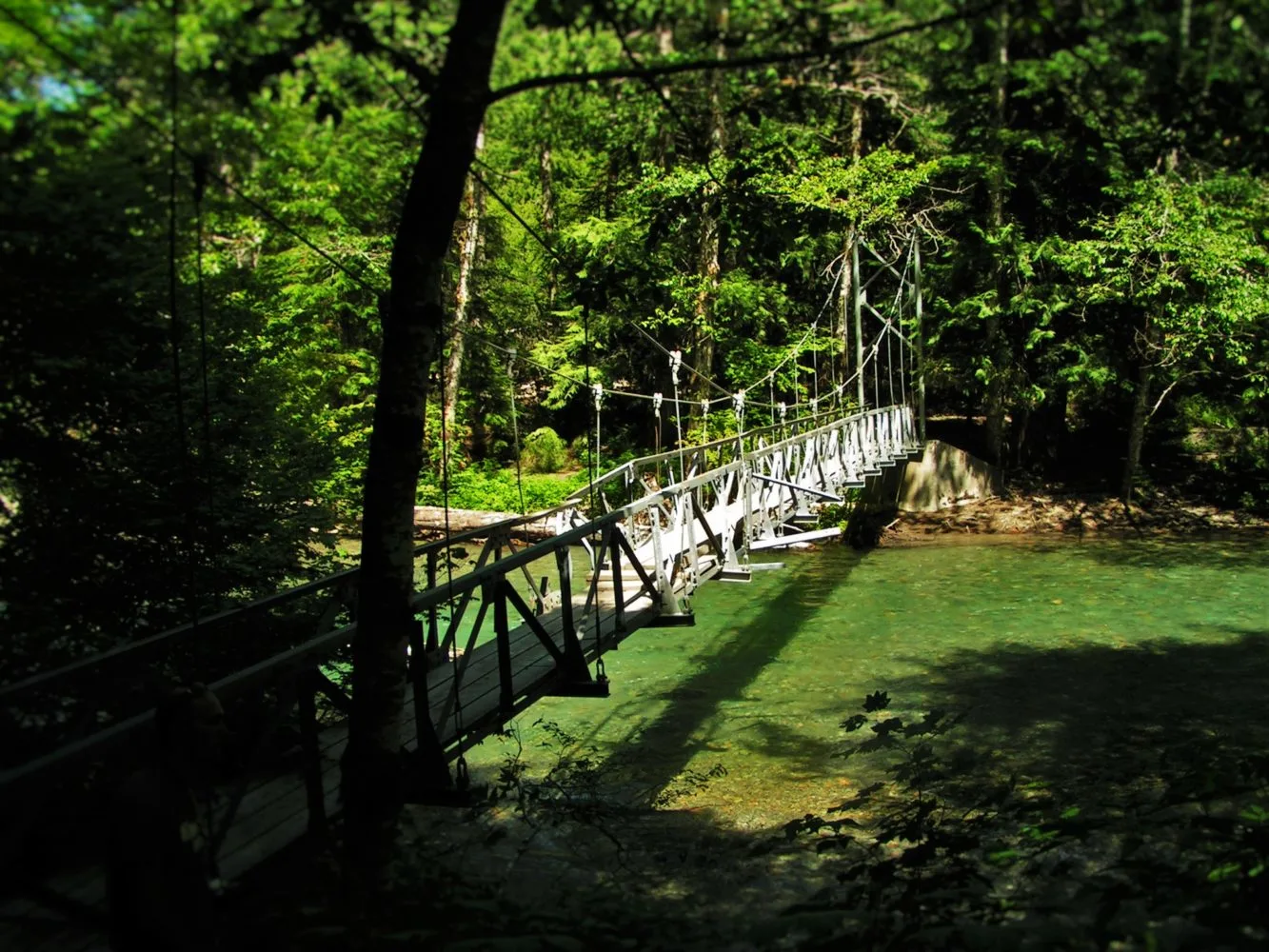 The Grove of the Patriarchs is an easy hike, but if you're visiting Mount Rainier with kids, it is a bit of a long hike. It also gets surprisingly warm at the Grove, so be prepared. Between hiking the Grove and then the nearby Silver Falls, you can easily spend a whole day on this side of Mount Rainier National Park.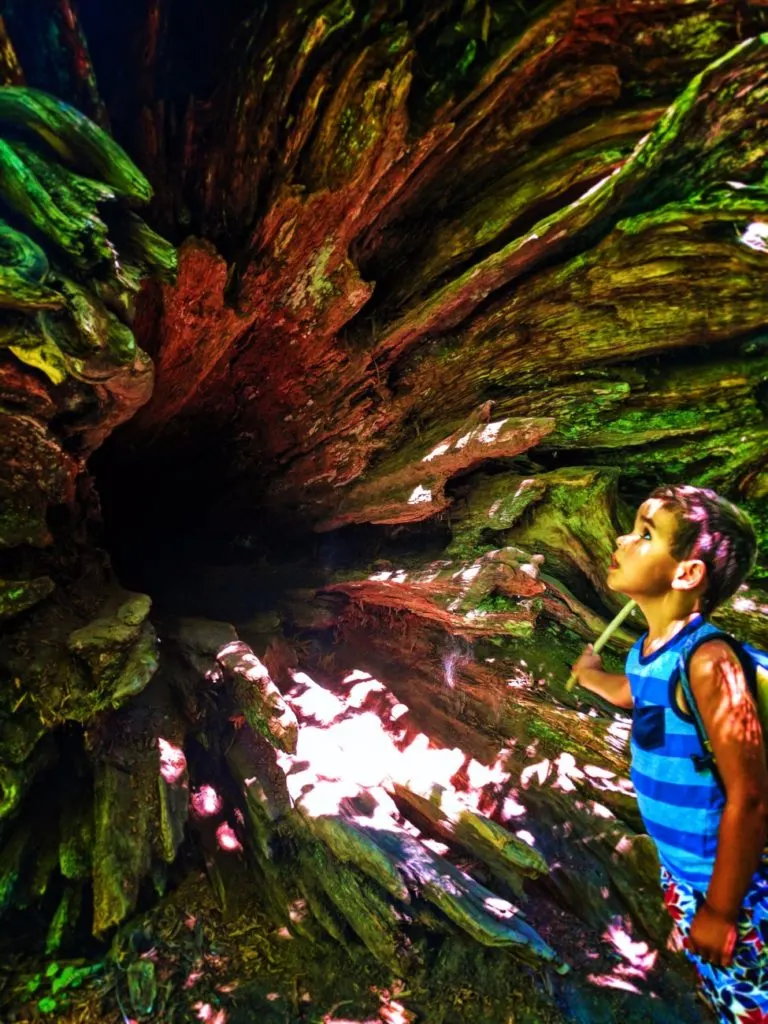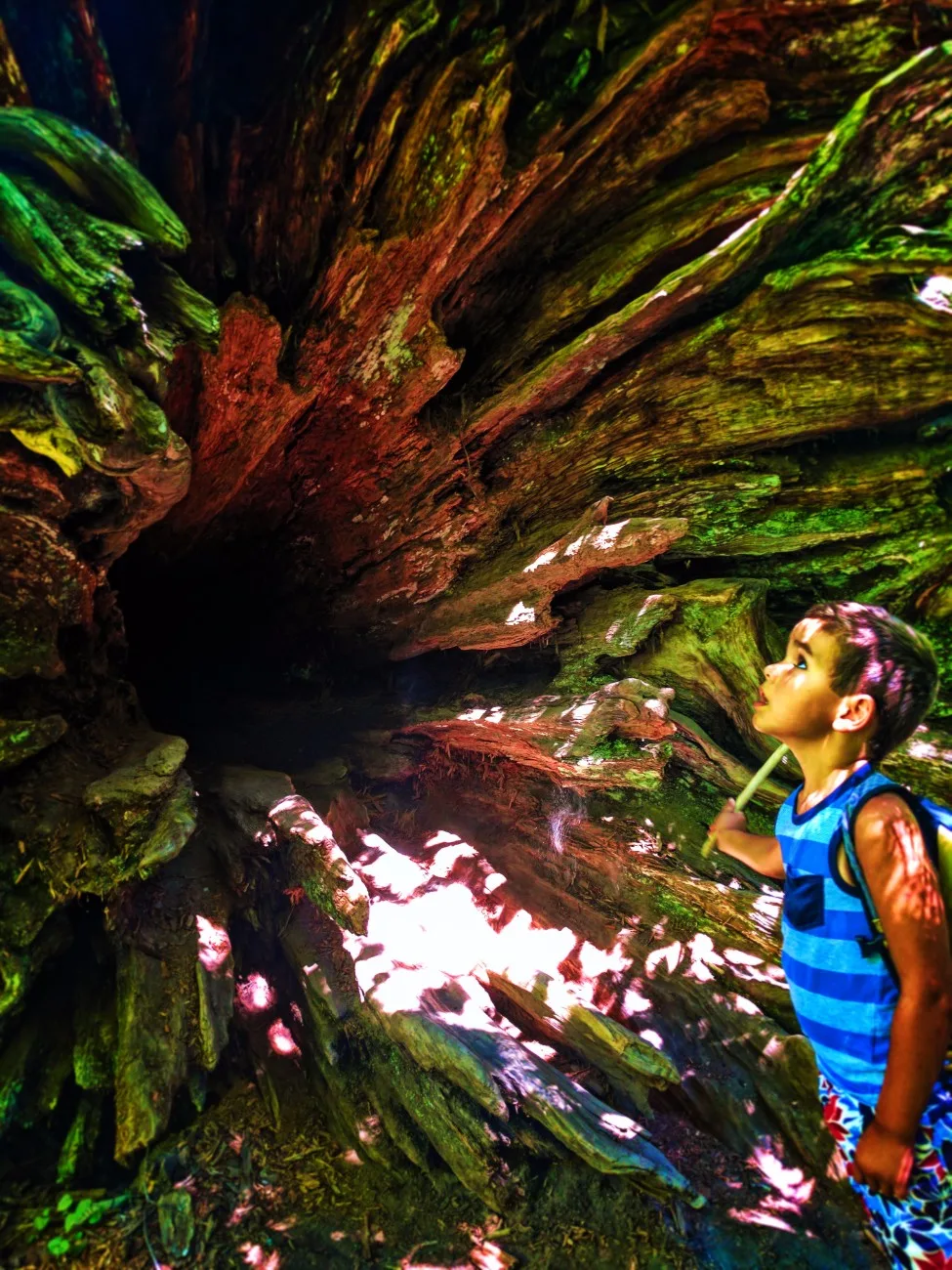 Silver Falls Hike: the Most Gorgeous Waterfall
If you're looking to go a bit further east, Silver Falls isn't too much farther and will grant you quite the site. The falls is beautiful and it's only 3 miles round trip. That's totally doable for almost any level of hiker. The Silver Falls Trail goes out of the Ohanapecosh campground, crosses some cool log bridges, and even goes by a geothermal hillside. We love it!
Tip: camping at Ohanapecosh is a great idea! The weather in this part of Mt Rainier National Park is a tad bit better than other areas, and the forest is mainly deciduous (leafy) trees, so your tent will stay a bit more clean than when there are pine needles everywhere.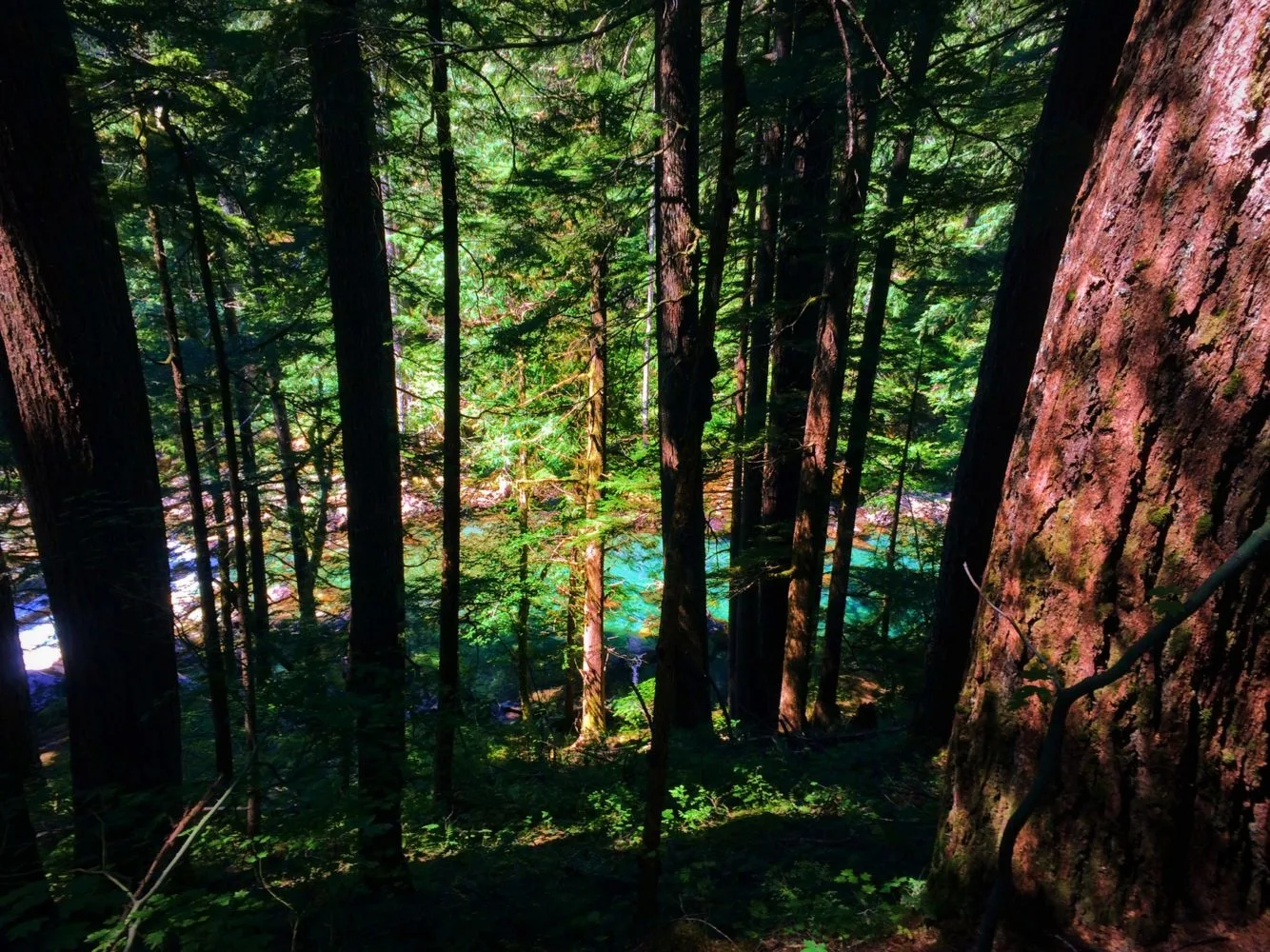 Whether you're camping nearby or just enjoyed the hike the first time, doing the Silver Falls Trail at different times of day will give you very different experience. Morning is great for low light through the forest, but late afternoon will give you an awesome glow and the falls will even produce rainbows. It's pretty cool.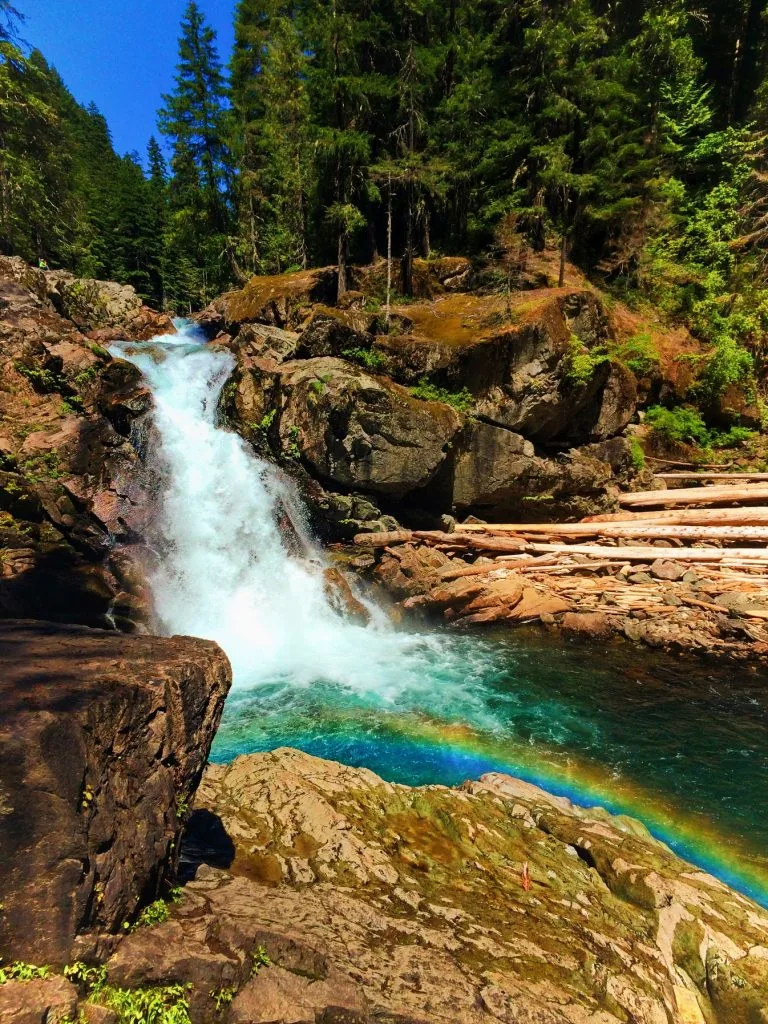 ---
Frequently Asked Questions for Visiting Mt Rainier National Park
There's more to visiting Mt Rainier National Park than just hiking, but hiking really is the gem of the park. In case you've never been before and need more info, here are some helpful tidbits of information and tips for planning your visit.
When is the best time to visit Mount Rainier National Park?
The best time to visit depends on your goals for your time there. Summer (late June to early September) offers the best weather and wildflowers, while winter (late November to early March) is ideal for snow sports in the lower areas of the park and surrounding towns. Spring and fall are less crowded but have more unpredictable weather, and many of the best places for hiking at Mount Rainier National Park are still not accessible.
Is there an entrance fee to the park?
Yes, there is an entrance fee. For a private vehicle it's $30 for a 7-day pass, a park annual pass is $55 and an Interagency Pass (all NPS and NWR sites) is $80. Prices may change (all in USD), so check the official National Park Service website for current fee information.
Do I need a reservation to visit Mount Rainier National Park?
Reservations are not typically required for general park access, but it's a good idea to check the official website for any updated requirements, especially during peak seasons when the park can get crowded. Yosemite National Park, Glacier National Park and Acadia National Park all have varied reservation systems, which Mount Rainier may follow suit with.
What are the must-see attractions in Mount Rainier National Park?
Some of the must-see attractions or things to do in Mount Rainier National Park include Paradise, Sunrise, Longmire, Comet Falls, and the Wonderland Trail. These areas offer stunning views, hiking trails, and visitor centers. There aren't hot springs like in Yellowstone National Park, but there are artesian springs in different areas around the mountain.
Can I hike ALONE at Mount Rainier National Park?
Yes, there are numerous hiking trails of varying lengths and difficulty levels throughout the park that are suitable to hike on your own, and you'll always come across other hikers. Popular hikes include the Skyline Trail, Naches Peak Loop Trail (I haven't done this one), and the Wonderland Trail. Be prepared and check trail conditions before setting out, and always tell somebody where you're hiking and when you plan to return.
Are there ranger-led programs or ranger-guided tours available in Mt Rainier National Park?
Yes, the park offers ranger-led programs and guided tours during the summer months. These can include nature walks, talks, and evening programs. Check with the park's visitor centers for the current schedule.
What should I bring when visiting the park?
You should bring essentials like water, food, CLOTHING IN LAYERS, sturdy footwear, and sun protection. It's also a good idea to have an OFFLINE map of the park and any hiking permits if you're going backcountry hiking in Mount Rainier NP.
Are pets allowed in the park?
Pets are allowed in certain areas of the park but must be on a leash at all times. They are not permitted on most trails or in buildings. Check the park's pet regulations for specific details. This is for the safety of the wildlife, the pets and the pet owners.
What are the accommodations options within or near the park?
There are campgrounds within the park, but they fill up quickly in the summer. There are also nearby lodges, cabins, and campgrounds in the surrounding communities. Make reservations well in advance if you plan to stay overnight. The gem of staying at Mount Rainier National Park is getting to spend the night at the Paradise Inn or National Park Inn. Both are historic, unique and in the most beautiful setting. We love National Park inns.
Are there any safety considerations when visiting Mount Rainier?
Safety is important whether you've been hiking at Mount Rainier a thousand times or if it's your first time. Be prepared for rapidly changing weather conditions, carry essential gear, and inform someone of your plans if you're going hiking. Watch out for wildlife (including bears and mountain goats), stay on marked trails, and follow park regulations. If something feels unsafe, don't do it!
---
Do you have a favorite easy plan for hiking in Mt Rainier National Park? Feel free to share your favorite hike and be sure to drop us a line if you have any questions. And if you're looking for some great pictures and inspiration from Mt Rainier National Park, follow them on Facebook and Instagram.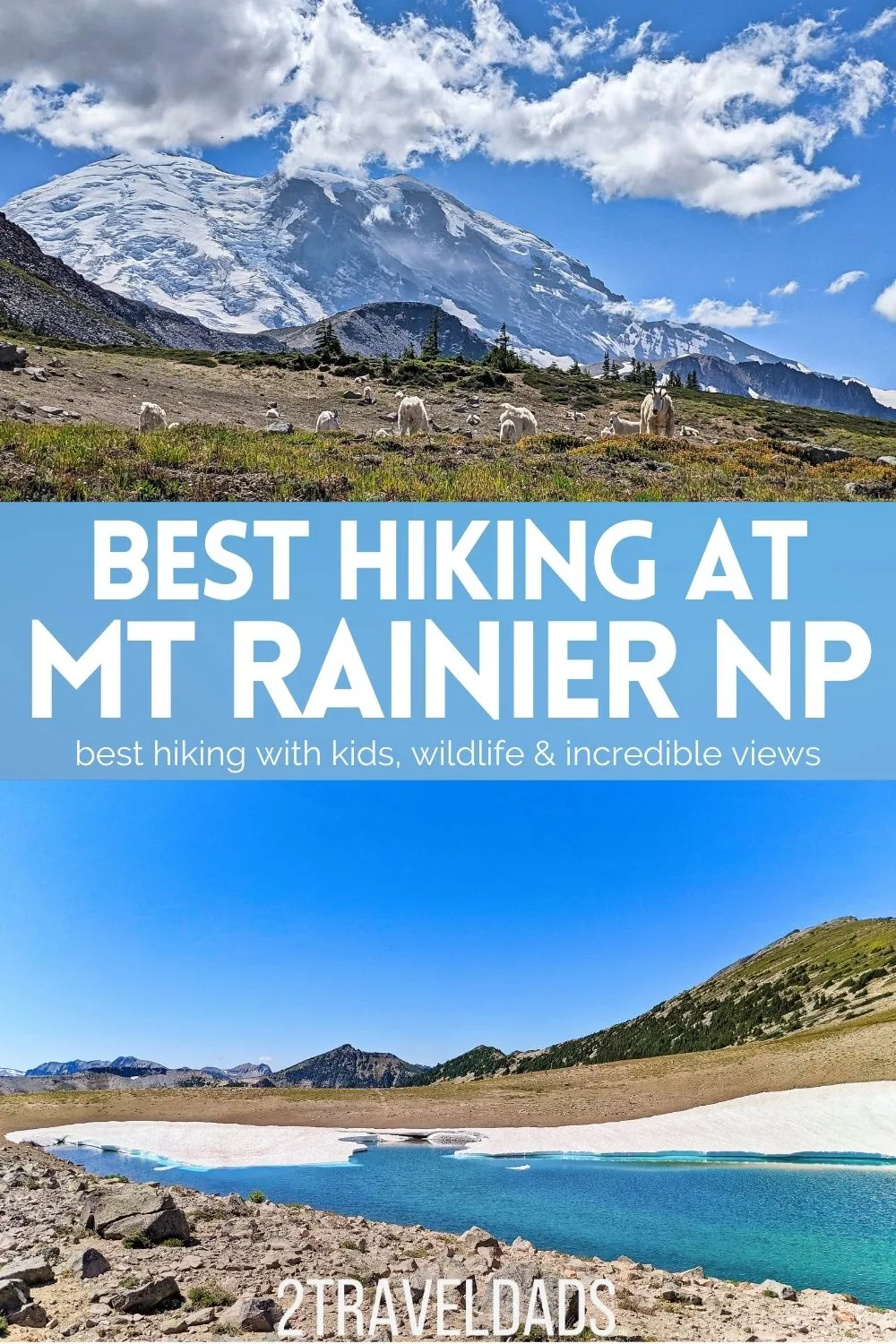 Don't forget to pin this for later when you're planning out your summer hiking in the Pacific Northwest!