We've got another great, easy hike with kids to share!  Our favorite hikes take us places with sweeping views and unusual sights, but we also love huge trees.  The Hoh Rainforest is at the top of our list of hikes in the Pacific Northwest with kids, but let's go ahead and add the Grove of the Patriarchs at Mt Rainier National Park to the top too.
If you are looking for a nice hike that includes forests, rivers and epic old growth forests, the Grove of the Patriarchs is the spot.  And be sure to check out our other recommendations for easy hikes at Mt Rainier National Park and Olympic National Park.  There are boundless opportunities to get into nature in the National Parks of the Pacific Northwest.
NOTE: due to winter storm damage in November 2021, the Grove of the Patriarchs is currently closed (spring 2022). Hopefully the NPS will be able to repair the bridge and trail by summer.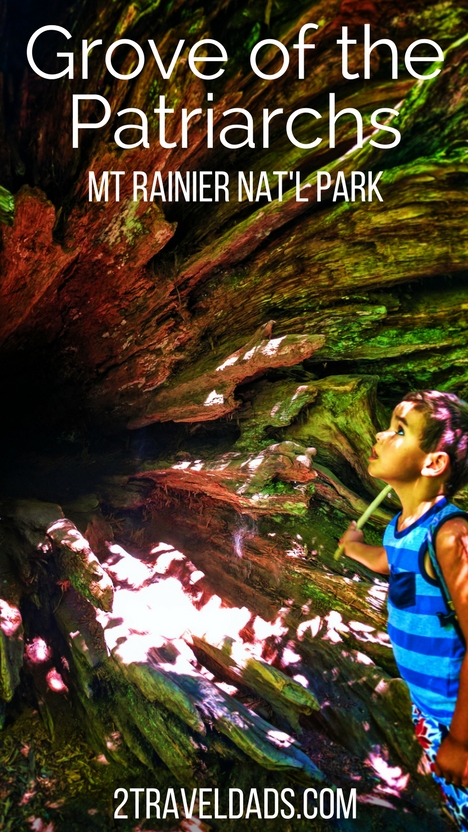 Where is the Grove of the Patriarchs
From Seattle, you'll head south and east around Mt Rainier through the Crystal Mountain ski area and then down into the Ohanapecosh area.  From Portland, you head north on I-5 and then cut across the mountain on Highway 12 through White Pass.  Or, the most beautiful route is coming from the Columbia River Gorge through Gifford Pinchot National Forest past Mt St Helens through some really remote areas.  It's gorgeous beyond beautiful.
Once you get to the general area, the Grove of the Patriarchs is within Mt Rainier Nationl Park's Steven's Canyon entrance.  And the trail head is RIGHT INSIDE the entry plaza.  Parking is limited, but it turns over quickly.  There is no Visitors Center at this spot, but five minutes away at Ohanapecosh, you'll see one.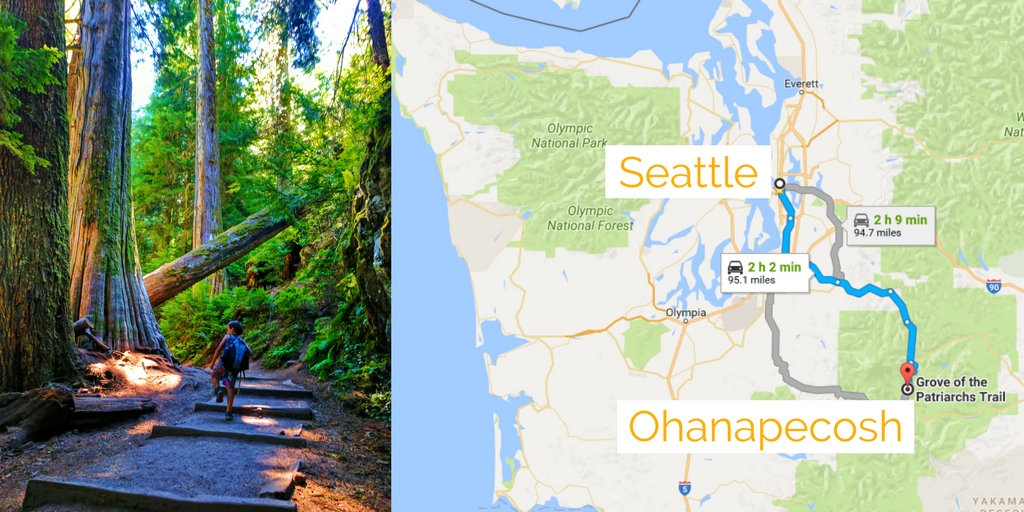 Prep for Safe Hiking with Kids
Safety on the trail is so important.  Water water water.  Even though the Grove of the Patriarchs trail isn't crazy difficult or long, once you're in the old growth forest it gets hot and the air can be a bit stagnate.  This will drain you so quickly, so be sure to stay hydrated.  And sun blocked.  Even though a lot of hiking, here or other trails, takes place within the forest, you'll still want to keep kids blocked up.  Sunburns happen faster than you realize.
Tip:  check out our article about travel products we use for some good recommendations for sun protection.
Lastly, talk to your kids about paying attention and watching their footing while hiking.  Dusty trails usually mean there are roots and wash-out spots which make for easy falls.  On the Grove of the Patriarchs trail, you've also got some river access spots, so you should also give your kids some solid rules about getting too close to the river in certain spots.
Note:  the Ohanapecosh River is super cold and in certain spots moves really swiftly.  There are some good spots for splashing, but also some deep areas with surprising currents.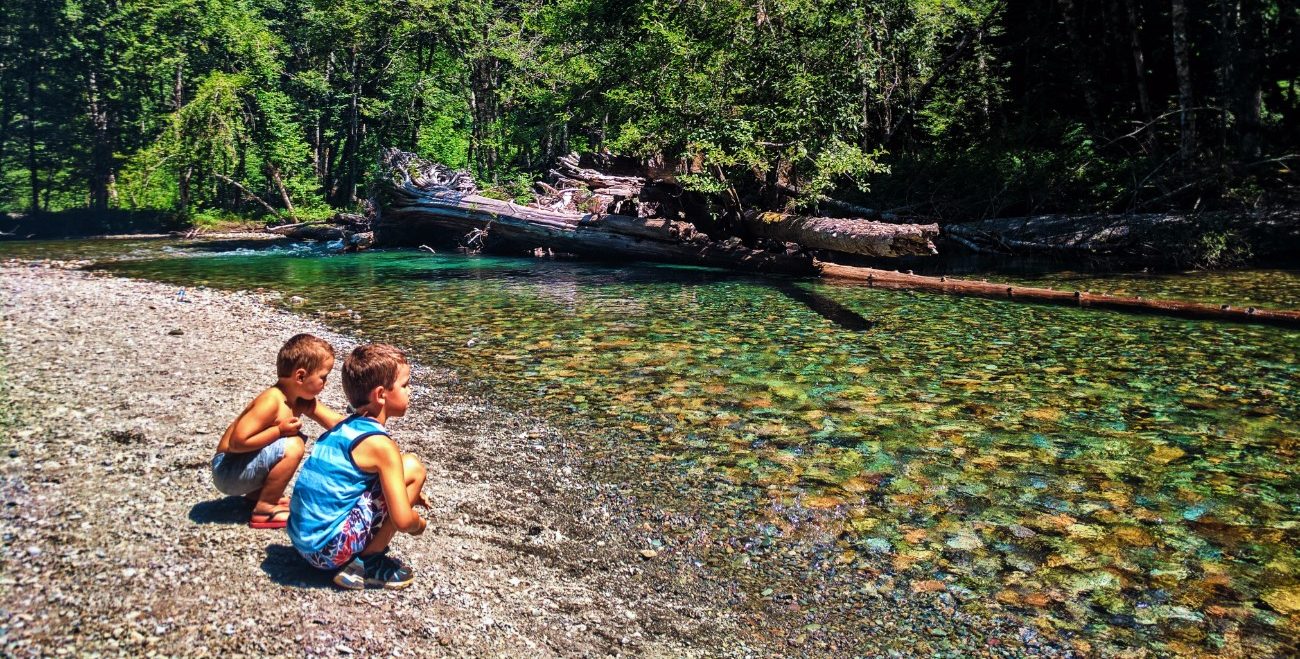 Hiking the Grove of the Patriarchs
First, a few notes:  The only challenge to this trail is the small slope at the very beginning.  There is a restroom at the start, so be sure to have kiddos take care of business.  
As you start, you'll see some great info placards along the trail which can help explain a lot of the trees and forest phenomena you'll see.This is a great learning opportunity for kids and adults alike, especially if you don't get to spend a lot of time in the forest.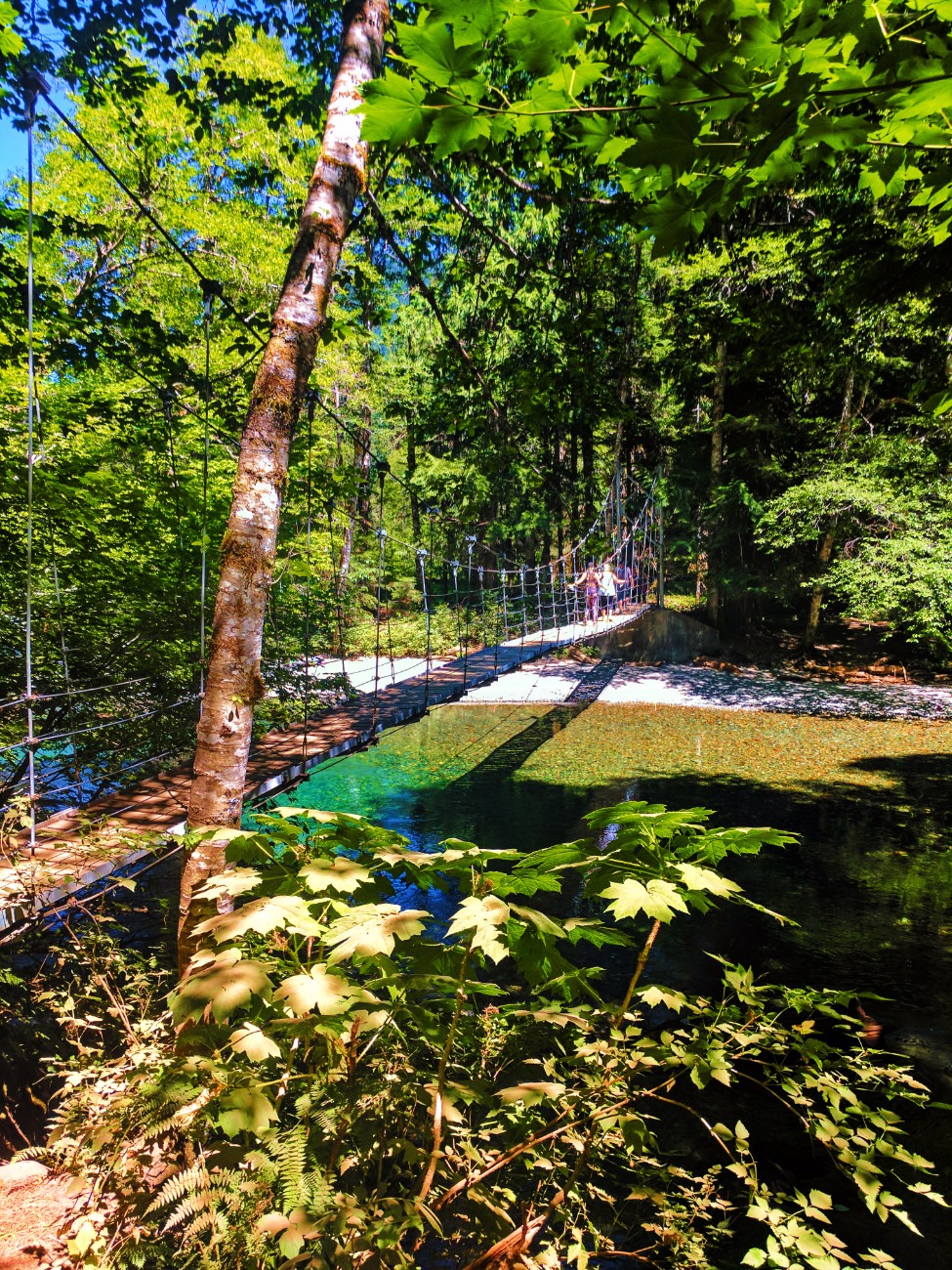 Continuing on, you'll see several spots to access the Ohanapecosh River, as we mentioned.  We'd recommend waiting to have time by the fiver until your return trip, as the trail is a loop.  You'll actually have to cross the river via a suspension bridge and there's another access spot on the other side.
Tip:  if the trail seems busy, definitely hold off on your play time on the river, as the suspension bridge tends to have a line for crossing it. Only one or two people can cross the bridge at a time, so when there are many hikers it can be a twenty minute wait.  Crazy.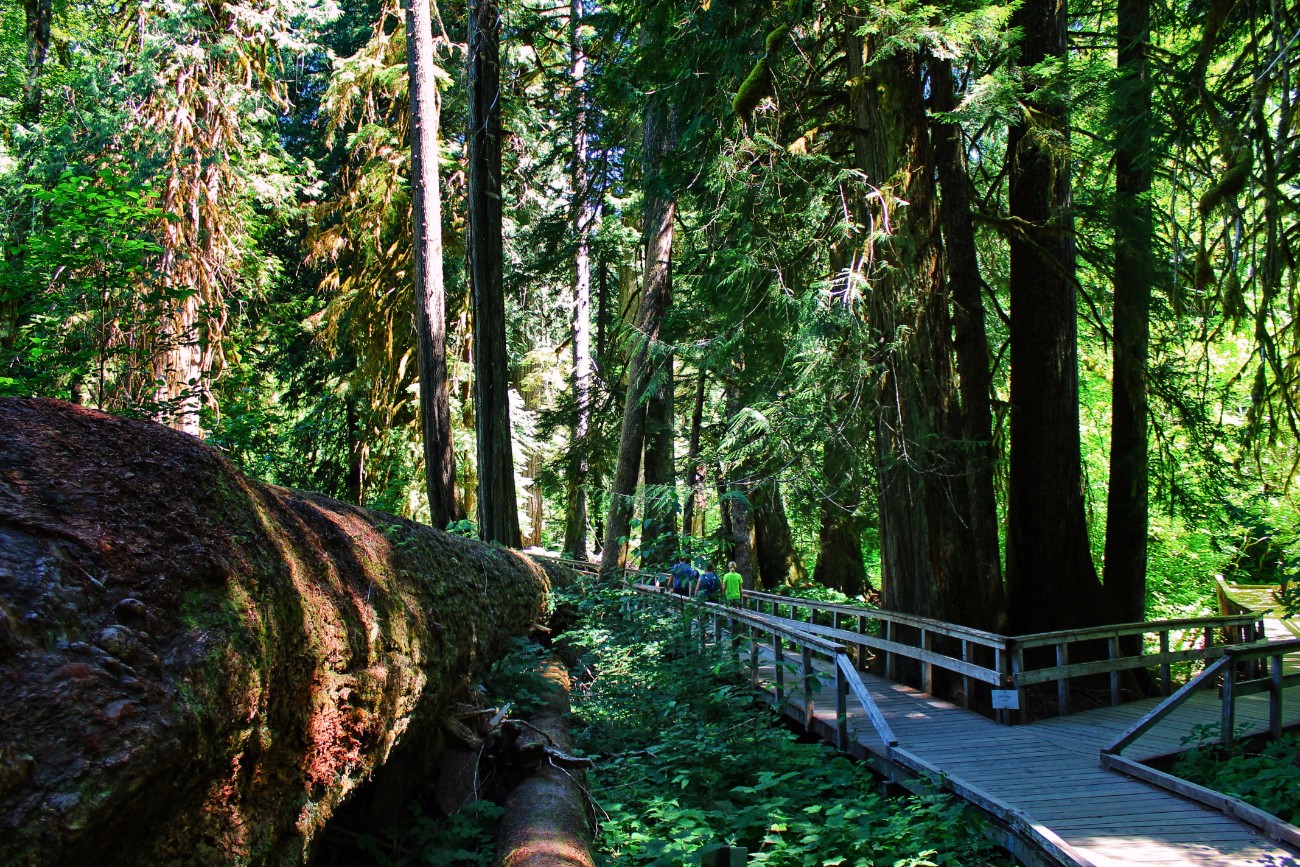 Once across the Ohanapecosh River you're in the Grove of the Patriarchs.  This loop trail has some incredible trees that rival some that you'd see in the Redwoods.  One of the kids' favorites is the hollow fallen tree that the trail goes through (between its trunk and roots).  Each turn have another fascinating sight to see.
Tip:  if you're into painting or high contrast photography, spending an afternoon in the Grove of the Patriarchs is going to give you some epic material for your creativity to soar.  Or go hiking and then return to the Ohanapecosh campground and paint away.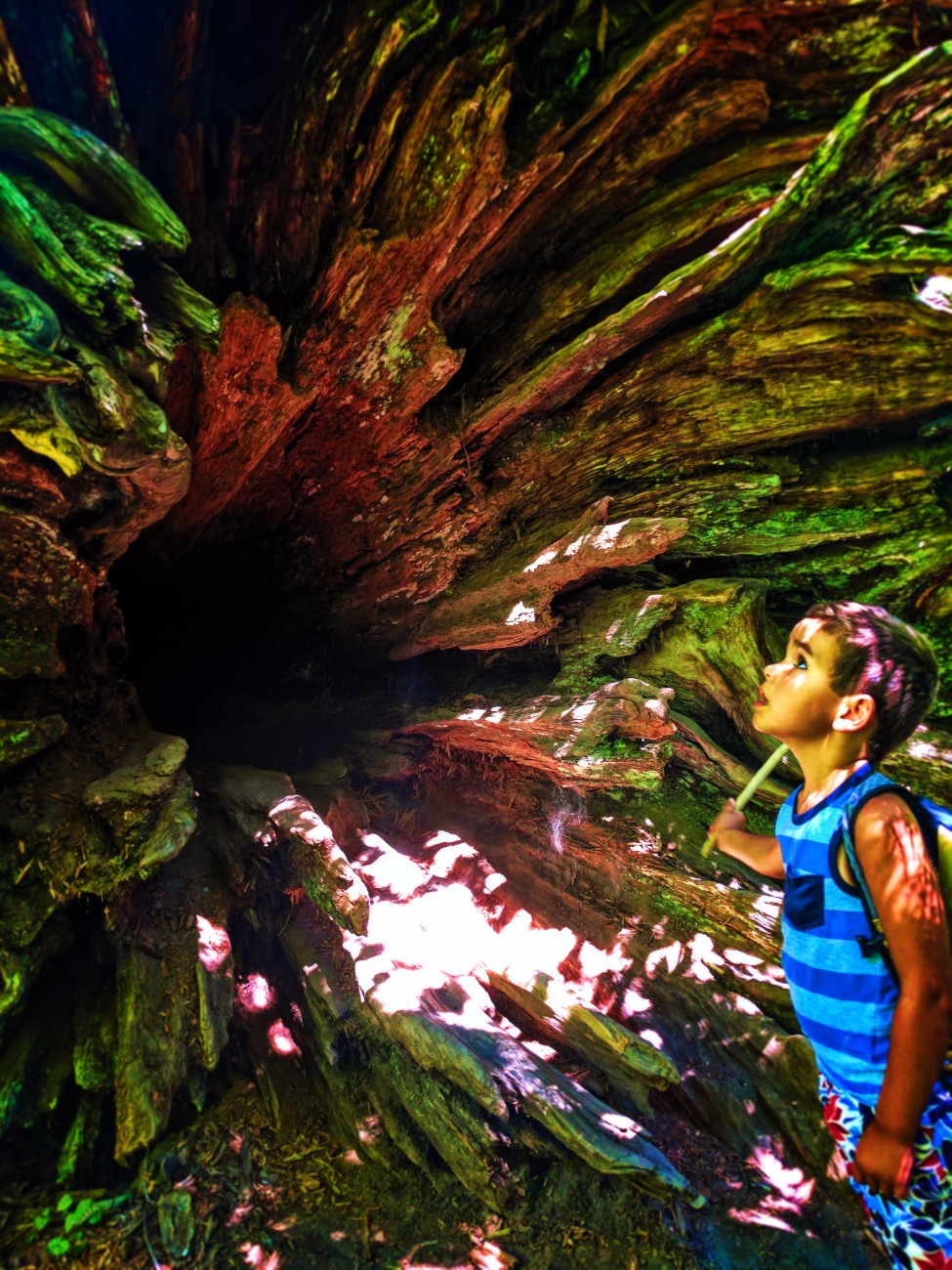 Moving right along, you'll have ample chances to relax on the trail, as it really is hiking at its most chill. Take your time and if you want to have some time on the river, the area by the suspension bridge is perfect for it. Make your way back across, enjoy the reverse view of the trail, and then head either up to Paradise for more day hikes or just over to the Ohanapecosh Visitors Center for more nearby activities.
Tip:  you know we love picnics, so if you're not planning one already, do so and take advantage of the picnic space at the Grove of the Patriarchs trail head.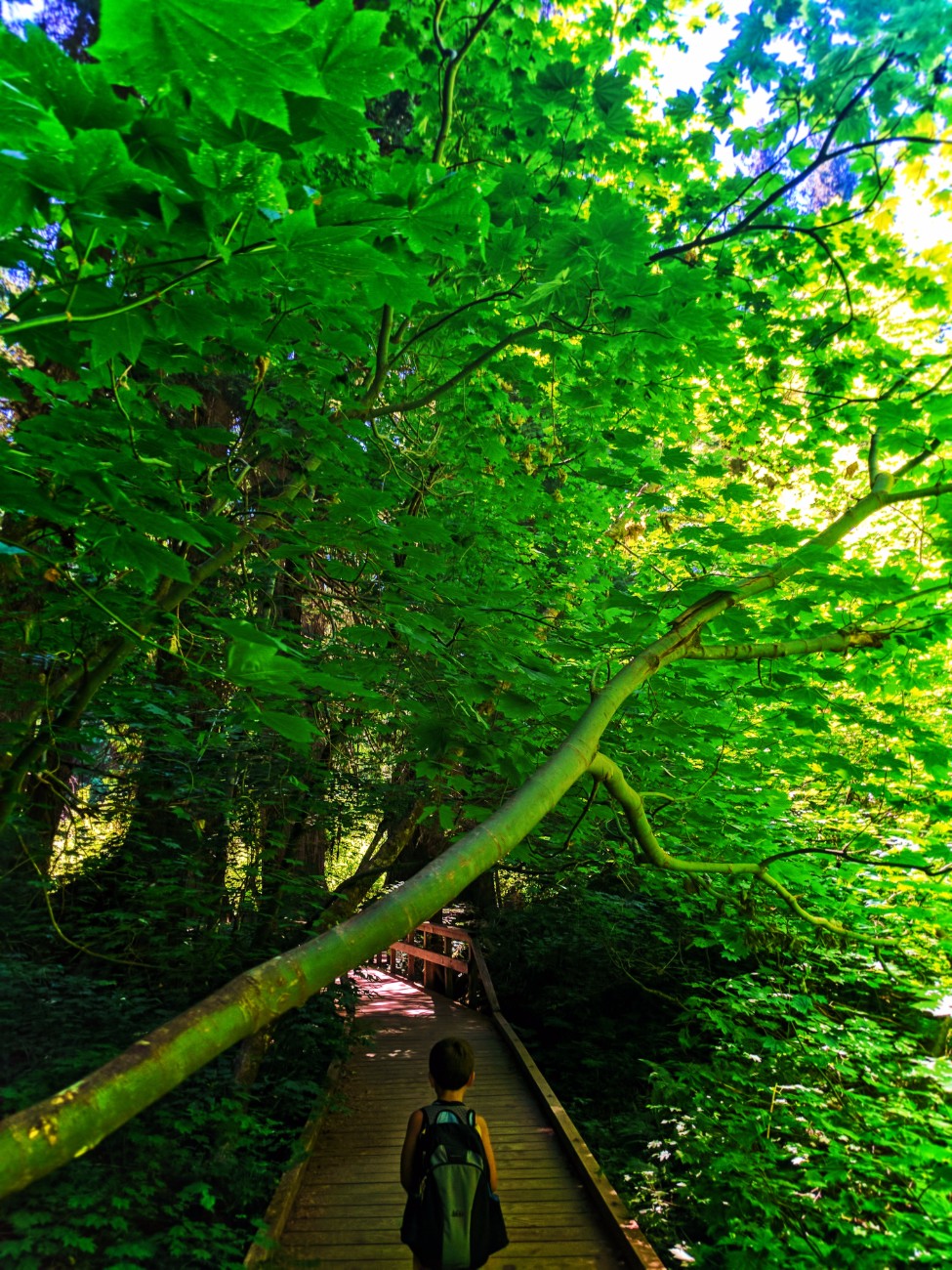 More Ohanapecosh Activities with kids
To make the most of your time in Mt Rainier National Park, camping is one of our strongest recommendations.  Ohanapecosh has a very nice campground centered around the Ohanapecosh River and Visitors Center.  From Ranger talks to splashing in the river, it's a great place to stay with kids.  And you can get your National Parks Passport stamped at the visitors center.  And do the Junior Ranger program too!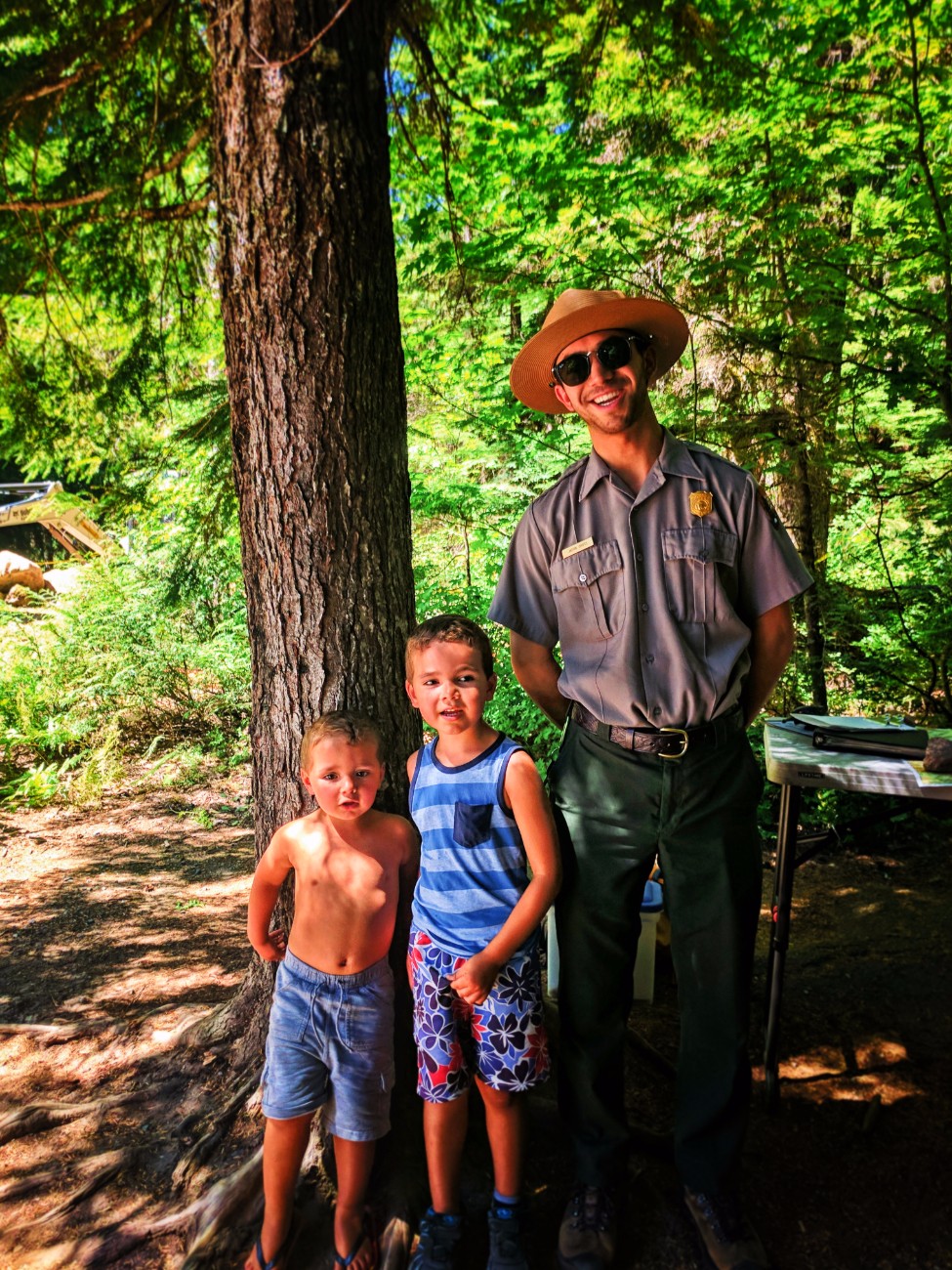 One of our favorite waterfall hikes in Washington State is Silver Falls, which also goes out of Ohanapecosh.  Winding through the most peaceful, quite forest and past a miniature Mammoth Hot Spring 😉 it's a pretty easy hike to a mossy footbridge and one of the most rainbow-laden waterfalls we've ever seen.  It's one of the prettiest spots in Washington.
Tip:  make your camping reservations at Ohanapecosh as soon as you know you're going to visit.  National Park campgrounds fill up quickly.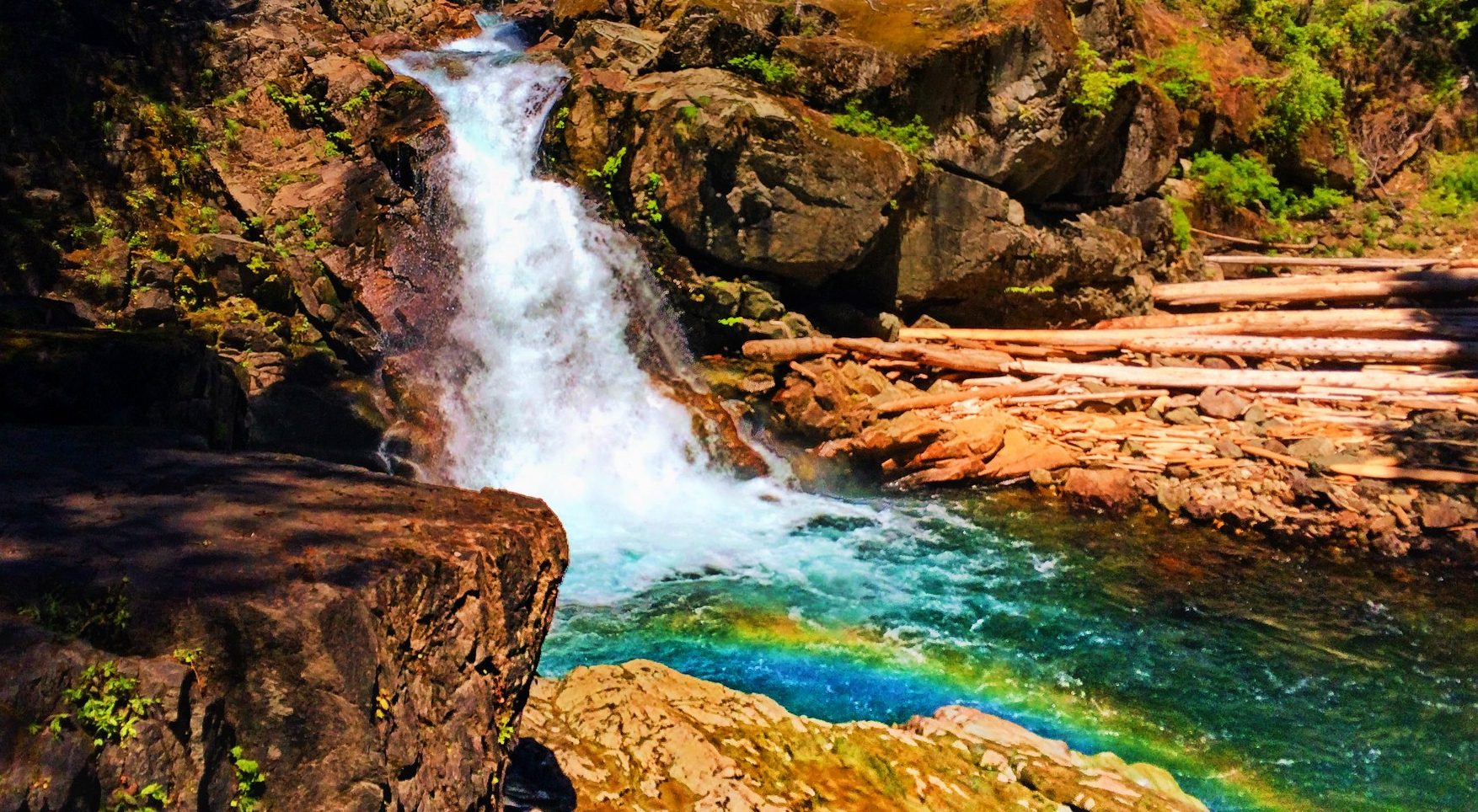 Other awesome National Parks groves for epic trees
We're really into big trees and the West Coast National Parks have some incredible, epic old growth forests.  Depending on which species you want to see, you could make a whole road trip to learn the science of forests and epic trees:
We love checking out epic trees for lots of reasons, but a primary one is teaching the kids about the age of the earth and its timeline.  They learn a lot about the life cycle, habitats and some of the most delicate ecosystems on earth.  Epic tree groves are great for grown ups too, particularly for reminding us of how small we actually are.

A final thing to know about visiting the Grove of the Patriarchs or any Mt Rainier National Park site, fall comes early to the Mountain and while you'll be having sunshine and cool breezes in the Seattle area, Mt Rainier is making its transition to winter.  Plan appropriately with jackets and be flexible with plans.  You'll no doubt have a great visit and will love the old growth forests of the Pacific Northwest.
Want to pin this for later when you're planning some fun hikes with kids?  Go for it!