We're taking a break from sharing about travel to share something completely different and for the people involved, infinitely more impactful. We've partnered with Huggies to share a few stories and some big thank yous for the staff of NICUs around the country. We were very fortunate with both of our boys having very smooth births, but that's not the case for many families. And that's why we're sharing: to bring awareness to the very real situations many families face as well as help our friends express their gratitude to some very special hospital staff.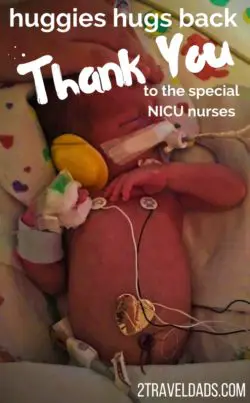 Why is Huggies involved in our "thank you"? They've got a really special program that we'll share about and even if you might not have been impacted by NICU nurses or know any kids that have gone through this journey, it's important to bring awareness to programs helping families facing struggles from the start.
What is a NICU?
NICU: Neonatal Intensive Care Unit. This is the part of the Maternity Ward where babies who are delivered quite early will receive the one-on-one care they need from doctors and nurses until they are ready to go home with their parents and without medical assistance to keep on growing. It could be that a baby was born far too early and was not developed enough to sustain life outside of the womb or it could be that the baby was born with some complications and needed extra doctor support in the first couple days of their life.
Basically the NICU is an amazing place where a dedicated team of doctors, nurses and volunteers can focus special attention on babies and their families to ensure they get the best start in this world.
Who is involved in NICU care?
Anybody who works in the medical field is a special person and has taken extra time and invested so much of their life in ensuring the well-being of people. Those who are dedicated to the NICU have a very keen understanding of the earliest stages of life outside the womb and want to help babies and new families have a healthy success from the get-go. While there are doctors that spend time in the NICU and check on their patients, both babies and parents, the primary staff of the NICU is going to be nurses.
Nurses are the ones who are both helping with medical care as well as looking over the delicate newborns while their parents cannot be with them. For many families, time in the NICU is spent as visitors while their baby is receiving care. And that's why having a strong, dedicated nursing staff is so important. Oftentimes parents have to separate from their newborns so each can get the continuing care they need.
The NICU may also be staffed by some very caring and carefully selected volunteers. These volunteers can act as support for the family or for the medical staff on hand. From individuals who just want to make a difference in a new baby or new family's life, to seasoned volunteers or chaplains, there are all kinds of people that a NICU may involve to ensure the safest and healthiest beginnings. And hugs.
Hugs from volunteers, nurses and parents in the NICU help both with ensuring that newborns have the human contact and reassurance that there's somebody there for them, but also help physiologically to encourage a normal heartbeat and proper growth. Hugs are important.
Huggies Hugs Back
We were excited to partner with Huggies to talk about the NICU and our friends' related experiences because Huggies has a very cool program where they financially support many NICUs across the country. In 2017 the brand is awarding 25 new grants to different NICUs to start or support existing volunteer hugging programs. Huggies No Baby Unhugged is a part of the brand's program to help ensure all babies get the hugs they need to thrive. As a part of this program, Huggies provides funding to NICUs for volunteer hugging programs to ensure that newborns have somebody to provide them comfort and human touch in those first days of their lives.
Like we said, oftentimes the parents aren't able to be in the NICU with their newborns for a large portion of their stay so having additional volunteers to provide the human connection and the additional comforting hugs for the parents is vital. That's what the program is all about: making sure there's the support of a human connection.
Note: if you would like to support the No Baby Unhugged program, even if you're not in a place in life of purchasing diapers or wipes, you can sign up for the Huggies rewards program here and Huggies will donate $5 per sign up to the grant program. It's just so cool and special.
Special thank yous from our friends
We have two sets of friends that have been impacted by the NICU in recent years. They have very different stories, but the outcome is the same where they left the hospital eternally grateful and ready to continue on with their exciting life as a growing family.
Thank you from Arlo
Our friends Alyssa and Kyle are the proud parents of Arlo, a super special little guy who was born nearly seven weeks early. Arlo came into the world and wasn't quite ready to breathe on his own. At just four and a half pounds, he was so delicate. As he started to grow and develop he had breathing apparatuses to assist him.
In talking with Arlo's parents, Alyssa and Kyle, they shared that even though there was progress with each new event and change to his treatment there was a new level of fear. For example, as Arlo began to breathe better he was given a CPAP and mask to ensure continuous oxygen flow. This made it so that his face couldn't be seen which was even more scary than before even though it was progress. The NICU nurses were there to hug and comfort and to ensure that everything happened as planned and to answer questions through the stages of development.
Arlo kept on growing and with each day his parents got to have new responsibilities. The NICU nurses both led and supervised these new parental duties to ensure safety and comfort. Alyssa, Arlo's mom, said that it was really nice having the support of the NICU nurses, but she truly appreciated that they gave them the space to start functioning as their own little family while they were still there in the hospital. She said the veteran nurses were great at reading the people they were helping because they clearly tailored their care and approach to each family in the NICU to address their different needs.
Now that Arlo and his parents have been out of the NICU for a couple of months they are doing better than ever and are living their happy family life. Since then, they've been able to both send a note back to the NICU nurses as well as visit and show them the progress that Arlo has made since they left. Alyssa said that even though Arlo is still so small and doesn't have memories of everything in his life, upon visiting his nurses he was completely comfortable going right to them like they were already familiar faces to him.
Arlo, Alyssa, and Kyle want to extend the biggest thank you to the whole team of the NICU at Swedish Hospital in Seattle for their care from the moment they were there until the day they took Arlo home. Twenty-four days in the NICU was enough for them, but they are thankful for everyone and every moment they were there.
Thank you from Frankie
Some of our other friends, Anna and Jose, also had a NICU experience but with their second child. Frankie was born at 33 weeks, long before his projected due date. Initially they were going to do a home birth, but that plan went out the window quickly. While Frankie's birth was a surprise he was on the mend after just a few days, needing much less medical support than many NICU babies.
Anna said that where she really had to put faith in the NICU nurses and why she was so thankful for them was because following giving birth she wasn't physically able to attend to Frankie for quite a while. Anna said that daily she would have to rely on the nurses for updates as well as trusting them fully to be with her family when she couldn't be. Anna and Jose have an older son, Walter, who was also concerned about his new little brother and mom. The NICU nurses took extra time to bond with Walter and to make sure he understood both what was going on and how he could be a helper during this time. They took interest in what Walter had going on from field trips with school to him being a safety monitor with visitors to the NICU.
For Anna and Jose one of the things that they were most thankful for was the nurses' care for their family as a whole in addition to their medical expertise. Anna said that there were some volunteers in the NICU, particularly a chaplain, who would take time just to be an ear or a shoulder to cry on. Everyone's support during such a tumultuous time was unforgettable.
Frankie, Anna, Jose and Walter all want to give their big thank you to the whole staff, again at the Swedish Seattle NICU, for making their weeks in and out of the NICU as smooth and comfortable as possible. Going from a planned home birth to an emergency birth and time in the hospital was more than they had bargained for, but they were grateful for the incredible staff who showed such care.
Really, we were so glad to talk with our friends and now share their stories. We had our own struggles in starting our family, but at no time did we have to rely on a dedicated team to ensure the health and safety of our family. We want to say thank you to the amazing NICU nurses and staff that were there for our friends and the many others who've pass through their ward and the NICUs around the country and world. If you meet a NICU nurse or a volunteer, tell them thank you for their care and concern. Such special people. Hug them back.
And if you'd like to make a difference for the families facing time in the NICU, please feel free to share and
[ctt template="4″ link="7dPpu" via="no" ]Sign up with Huggies to ensure no baby goes unhugged. Thank you NICU nurses![/ctt]
Huggies – the fastest growing diaper brand in U.S. hospitals – believes deeply in the Power of Hugs, which is why every diaper and wipe is inspired by a parent's embrace. The Huggies No Baby Unhugged program helps ensure all babies get the hugs they need to thrive by supporting hugging programs in hospitals and donating diapers across the country. Learn how you can help at Huggies.com/NoBabyUnhugged. #HuggiesCouncil #ad