We really do have the most epic and diverse landscape here in Washington (or they do, I guess since we moved). We've put together 10 beautiful scenic drives in Washington state that you can do, either as a local exploring someplace new, or to add to your vacation here in the Pacific Northwest. Each of these offers something different, from views of the Olympic Mountains to desert cliffs in Eastern Washington; you'll love them all.
Washington State is renowned for its totally PNW beauty, with towering mountains, deep canyons, lush rainforests, and rugged coastlines. It's no wonder that Washington has some of the most breathtaking scenic drives in the USA. Here are ten of the best scenic drives in Washington State, highlighting special elements such as fall colors, wildflowers, famous viewpoints and the prettiest spots in Washington. We've done them all over the years, so yes, we do know what we're talking about!
If you have additional scenic drives in Washington you think need to be noted, please leave a comment or send us a note. We're always happy to share more destination, routes and tips for exploring the Upper Left!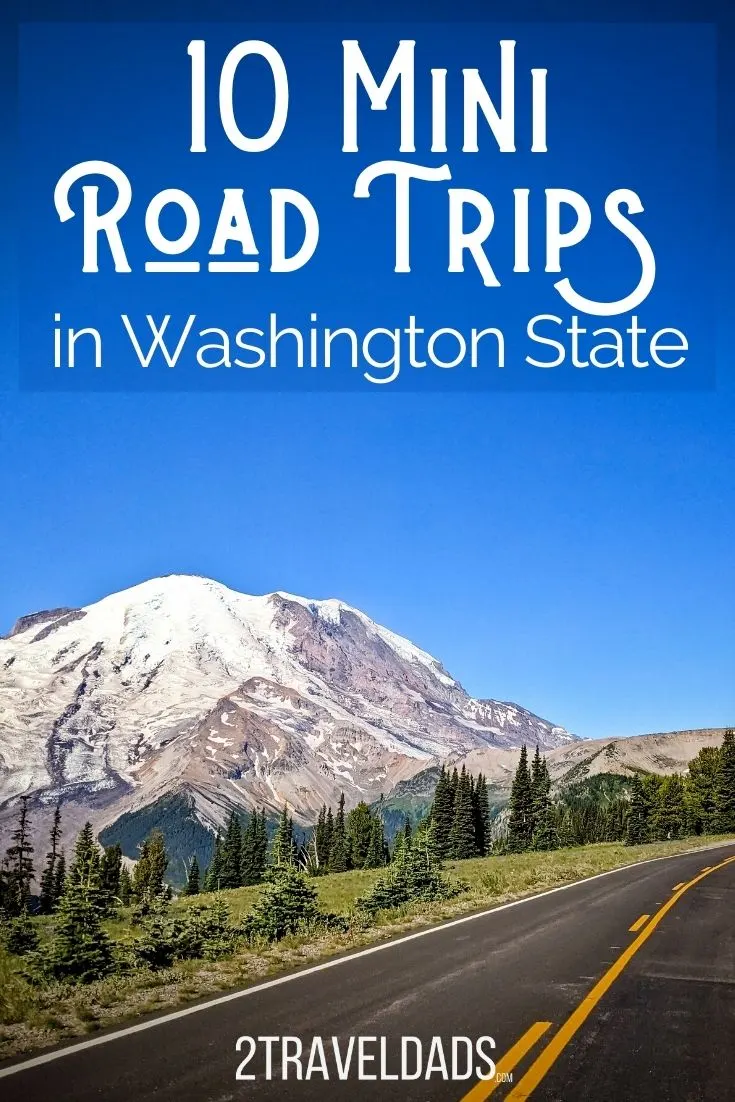 Mini Road Trips in Whatcom County – NW Washington
Growing up in Western Washington, scenic drives were an every-weekend occurrence in our house, and I continued that practice as an adult. These beautiful routes are some of the best scenic mini-road trips in Western Washington that you can do in just a few hours or add to a longer visit. Bellingham and Northwestern Washington specifically have some gorgeous roads that you cannot miss when you're here!
I love this part of Washington. Whatcom County is the border county with Canada and then scenery is just as beautiful on this side of the border. If you're planning a trip to Vancouver BC or you're going to drive up to do the Rocky Mountaineer train journey to Banff, Alberta, you need to set aside some time for these beautiful scenic drives in NW Washington.
Bellingham's Chuckanut Drive Scenic Route
How can you not fall in love with Chuckanut Drive? This 21-mile route runs from the town of Burlington to the historic city of Bellingham, offering spectacular views of the Puget Sound, San Juan Islands, and the Olympic Mountains. It's especially beautiful in the fall when the trees turn vibrant shades of red, orange, and yellow. If you're looking for wonderful places for fall colors in the USA this Washington scenic drive is a winner!
Seasonal Scenic Drive: North Cascades Highway
Add the North Cascades Highway This 140-mile drive takes you through the rugged and remote North Cascades National Park, showcasing the jagged peaks of the Cascade Range and serene alpine lakes. Wildflowers bloom in abundance during the spring and summer months. Some of the most Instagramable hikes in Washington are found in North Cascades National Park, so enjoying the scenic drive up into the mountains is a great introduction to one of the most rugged places in Washington.
If you're planning for the scenic drive along Washington's Highway 20, keep the weather in mind. It closes in the winter and doesn't open until late spring. Catch it in early fall for the best colors and fewest people.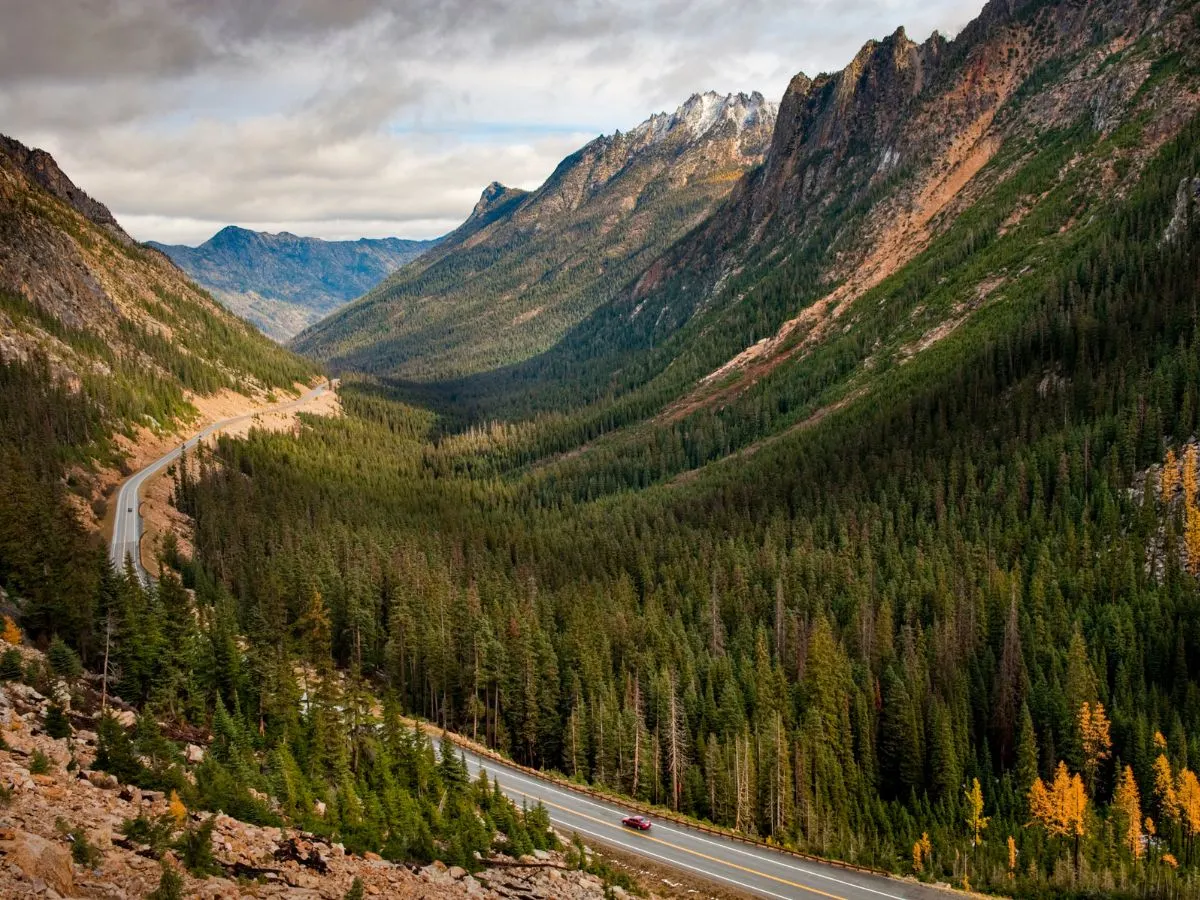 Winter / Summer Drive on the Mount Baker Highway
Have you ever done the scenic drive on the Mount Baker Highway? This 58-mile route takes you from the town of Bellingham to the Mount Baker Ski Area. Along the way, you'll see panoramic views of the North Cascades and Mount Baker. It's especially beautiful in the fall when the leaves turn shades of red and gold, but if you're heading up to go skiing and it's a clear day, you'll get some of the most amazing views in Northwestern Washington.
I'm not a big snow person, but the Mount Baker Highway is really pretty in the snow. Keep chains in your car if you're visiting in winter, as there are times when chains are required. Some might say that this just adds to the fun of wintertime scenic drives in Washington…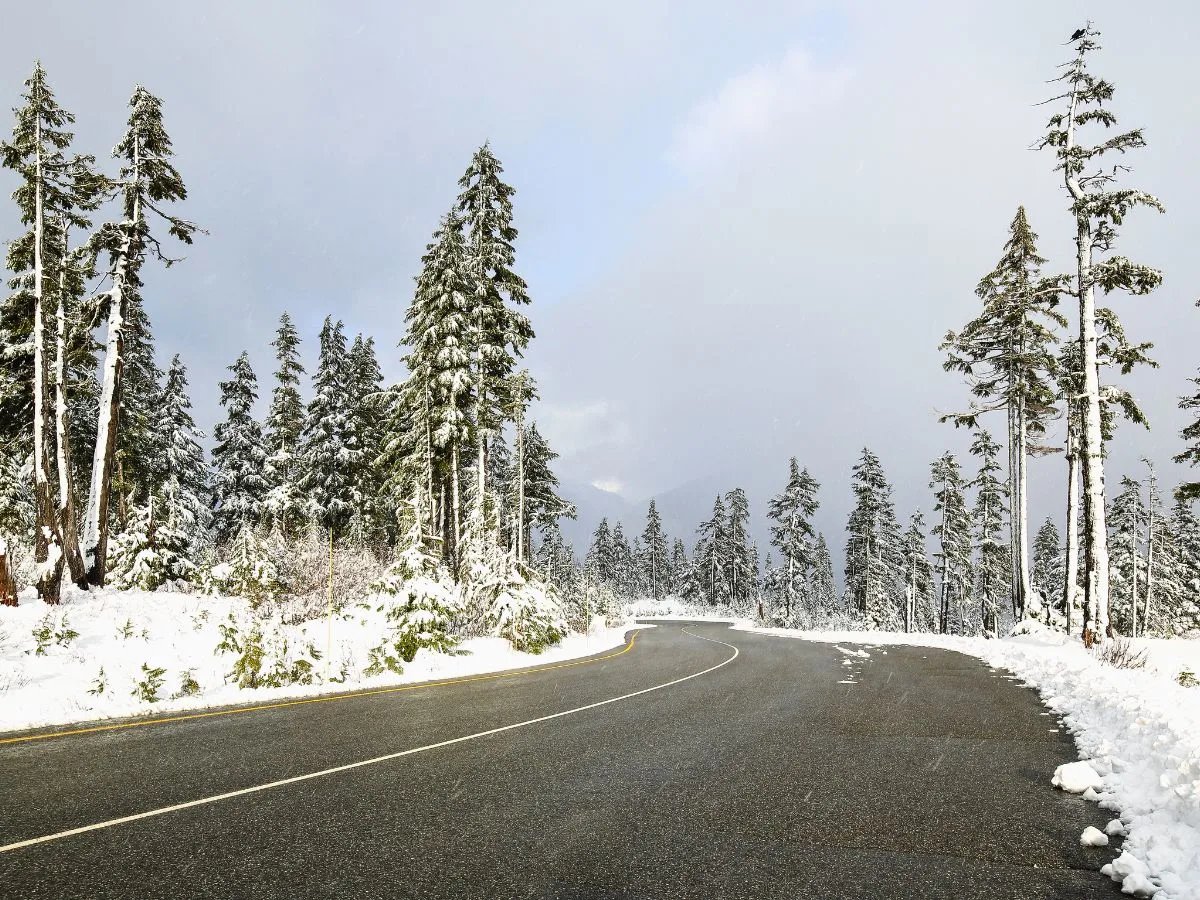 Day Trip Road Trips from the Seattle Area
Seattle is a fun city to visit and you could plan a trip just to explore the many neighborhoods and call it good, but if you want to enjoy a scenic drive away from the city, it's easy! You need to have a car when you visit Seattle anyways, so you might as well add a beautiful drive to your trip.
Washington Scenic Drive to Whidbey Island
One of the most popular scenic drives in Western Washington is the trip up to the Whidbey Island Scenic Isle Way. Yes, it's a bit of a drive from Seattle up to Anacortes and then Whidbey, but it's still an easy day trip and you'll love it. Once through Anacortes, this 55-mile route takes you around Whidbey Island, one of the largest islands in Puget Sound. Highlights include Deception Pass State Park, Fort Casey State Park, and Ebey's Landing National Historical Reserve. It's especially beautiful in the fall when the leaves turn shades of gold and red.
One of the other surprises about doing the scenic drive around Whidbey Island is the number of wineries and farmstands you'll come across. From Coupeville to Oak Harbor, there are lots of fun stops to make that are uniquely Washington and make the time of Whidbey Island unforgettable.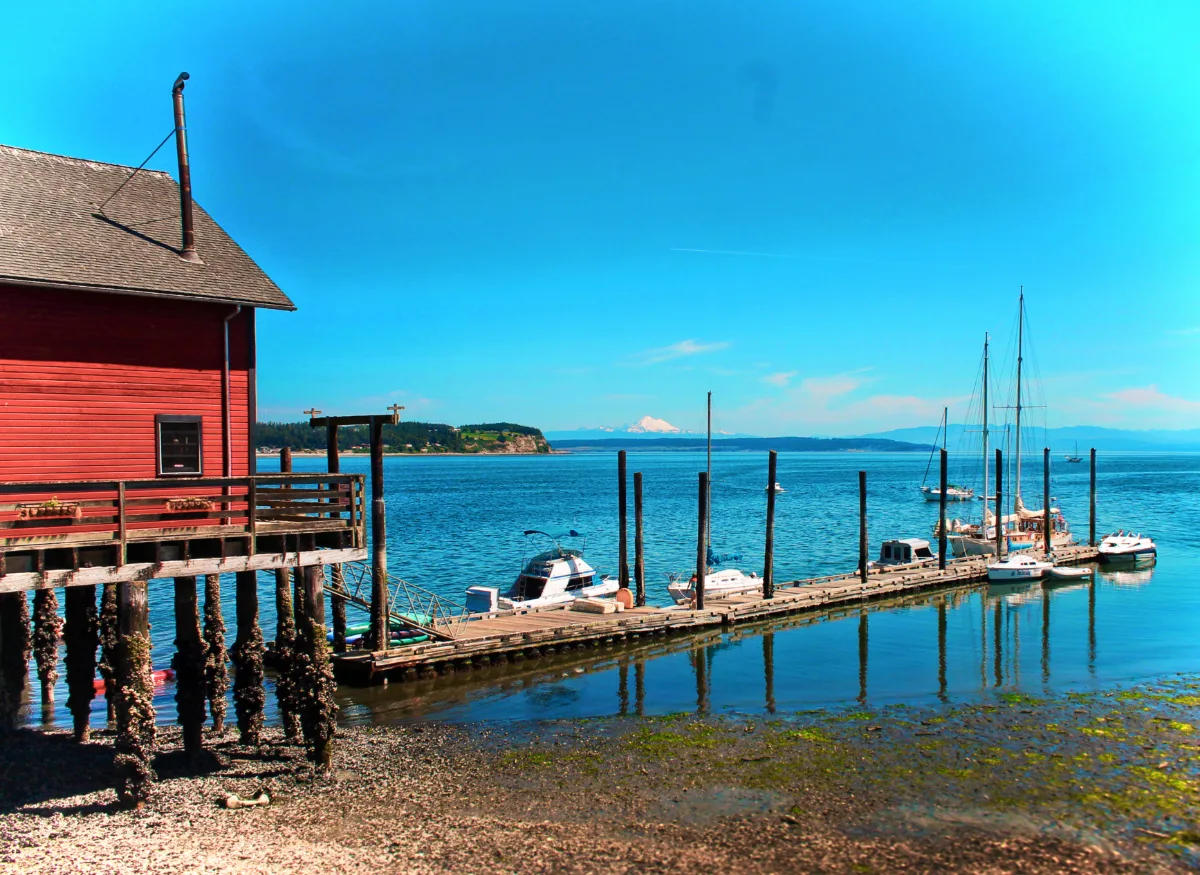 Olympic Peninsula Scenic Adventure
I can't even tell you how many times I've driven the Olympic Peninsula Loop. This 330-mile loop takes you around the Olympic Peninsula, starting and ending in Seattle. Highlights include the epic views at Hurricane Ridge in Olympic National Park, the mossy Hoh Rainforest and Lake Quinault, and Washington's prettiest beach: Ruby Beach.
The other part of enjoying the scenic drive around the Olympic Peninsula is stopping in lots of wonderful small towns. From Port Townsend (where the rest of our family lives) to Sequim, Port Angeles and Forks (think Twilight), you'll have lots of great places to stop. I didn't appreciate the Olympic Peninsula as I grew up there, but now as an adult I think it's one of the most incredible places in Washington.
Scenic Drives to Showcase Mount Rainier
Mount Rainier National Park is really the gem of Washington State, so of course we have some scenic drive recommendations. Whether you visit the mountain and camp or if you're just doing the day trip from Seattle or Portland, you'll love the views, the hikes and the wildlife! If you want to be close to Mount Rainier, plan to stay in Ashford right outside the park.
Paradise Valley Road in Mount Rainier National Park
Probably the busiest road and the most popular scenic drive, Paradise Valley Road at Mount Rainier National Park is the quintessential route on the mountain. This drive takes you around the southern base of Mount Rainier, the tallest peak in the Cascades. Along the way, you'll see meadows, glaciers up the mountain, and many of the waterfalls of Mount Rainier.
You can continue to the east side of the park if you want, and that will take you through Stevens Canyon and down to Silver Falls and the Grove of the Patriarchs. It's all amazing. Between the wildflowers blooming in abundance during the summer months and the fall foliage, you'll not find another scenic drive like this in Washington State.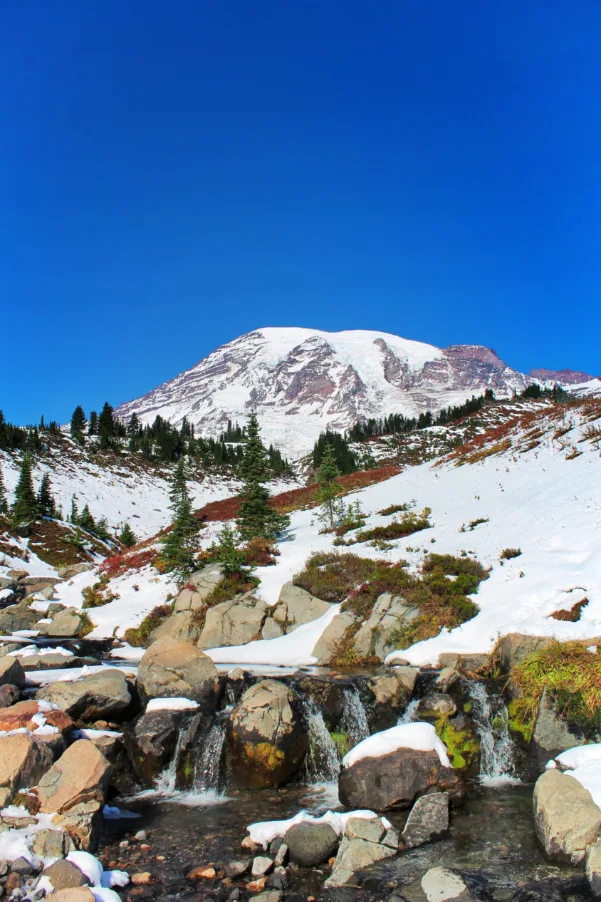 Driving the Chinook Scenic Byway
The Chinook Scenic Byway shows off a different side of Mount Rainier. This 86-mile route takes you through the heart of the Cascade Mountains, showcasing stunning views of Mount Rainier, the Crystal Mountain ski area and the Yakima River. One of the most interesting sights is kind of tough to see, but it's the confluence of the Greenwater and White Rivers, where the colors literally run side by side (Google Maps link here).
Along the way, you can stop to explore the PNW towns like Enumclaw and Naches. Plan extra time if you want to do some hiking in Mount Rainier National Park in the Sunrise area (love Frozen Lake!), or if you want to do wineries once you get to the east side of the state. There are lots of ways to enjoy the Chinook Scenic Byway, and yes, it's one of the pretties drives in the state!
Chinook Scenic Byway map here!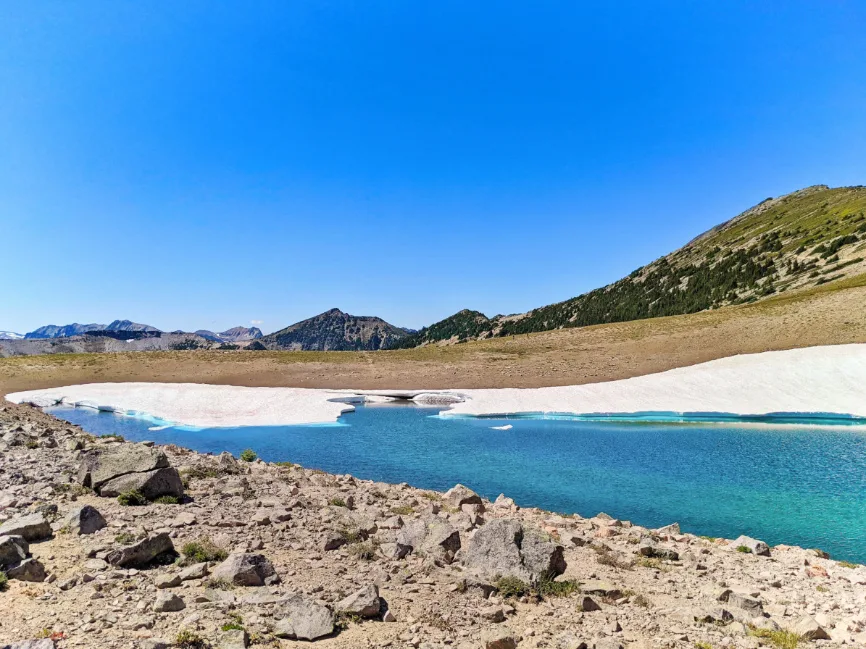 Favorite Eastern Washington Scenic Drives
Eastern Washington is its own world, very different from what you'll find west of the Cascades, so the mini-road trips we have here showcase the most beautiful farm country you can find. These scenic drives bring you the most beautiful sights in wine country and through the rolling hills of wheat and ragged cliffs. Watch for bighorn sheep along some of these routes, cuz they roam freely!
Lake Chelan Scenic Drive
Getting to Lake Chelan is an adventure in itself, but once you're there the scenic drive around the lake is really striking. This 55-mile drive takes you along the shore of Lake Chelan, one of the deepest lakes in the country. Along the way, you'll pass through orchards and vineyards, and you can stop to explore charming towns like Manson and Chelan. Wineries, barbeque joints and public parks make it fun for any type of traveler. We've done this with and without our kids and enjoyed the experience both ways.
TIP: if you're heading to Eastern Washington, be sure to drive Highway 2 through Stevens Pass and Leavenworth instead of taking I-90. You'll get to visit the charming Bavarian town of Leavenworth, stop in Cashmere and have epic river and canyon views along the whole scenic drive.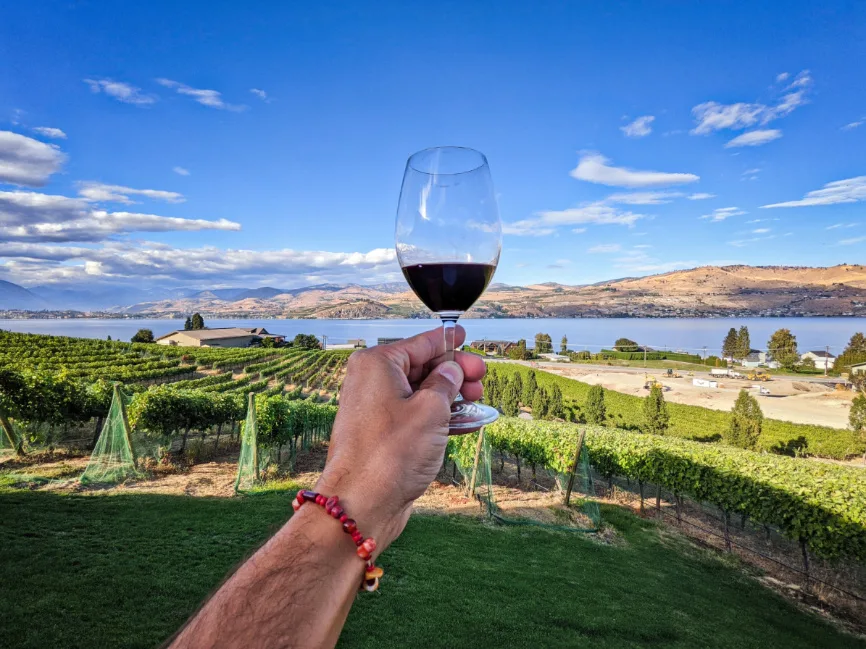 Driving the Palouse Scenic Byway and Visiting Pullman
If you're not from Eastern Washington or didn't attend Washington State University, driving the Palouse Scenic Byway might not sound amazing, but it's beautiful and gives you a completely different impression about what it means when we say that Washington is diverse. This 208-mile route takes you through the rolling hills of the Palouse, an agricultural region in Eastern Washington. It's especially beautiful in the spring when the fields burst with wildflowers and the canola blooms.
This is a great opportunity to visit Pullman as well. WSU is located here and the town itself is pretty cool. It has the college town vibe, cool brick buildings, lots of school spirit, and it's just a nice alternative to the campuses in the Seattle area. Maybe a college visit idea for those with older kids getting ready for university?
Ultimate Washington Scenic Drive: the Cascade Loop
Do you feel like you need a bigger road trip than these scenic drives? If so, the Cascade Loop is for you!! The most epic road trip, and not just a day trip, the Cascade Loop is long, winding, beautiful and the MOST scenic drive in Washington State. This 440-mile loop takes you through the Cascade Mountains, showcasing stunning views of Mount Baker, Stevens Pass, and Leavenworth. Wildflowers bloom in abundance during the summer months, and the fall colors and wheat fields are stunning. Bonus: this road trip comes with a ferry ride!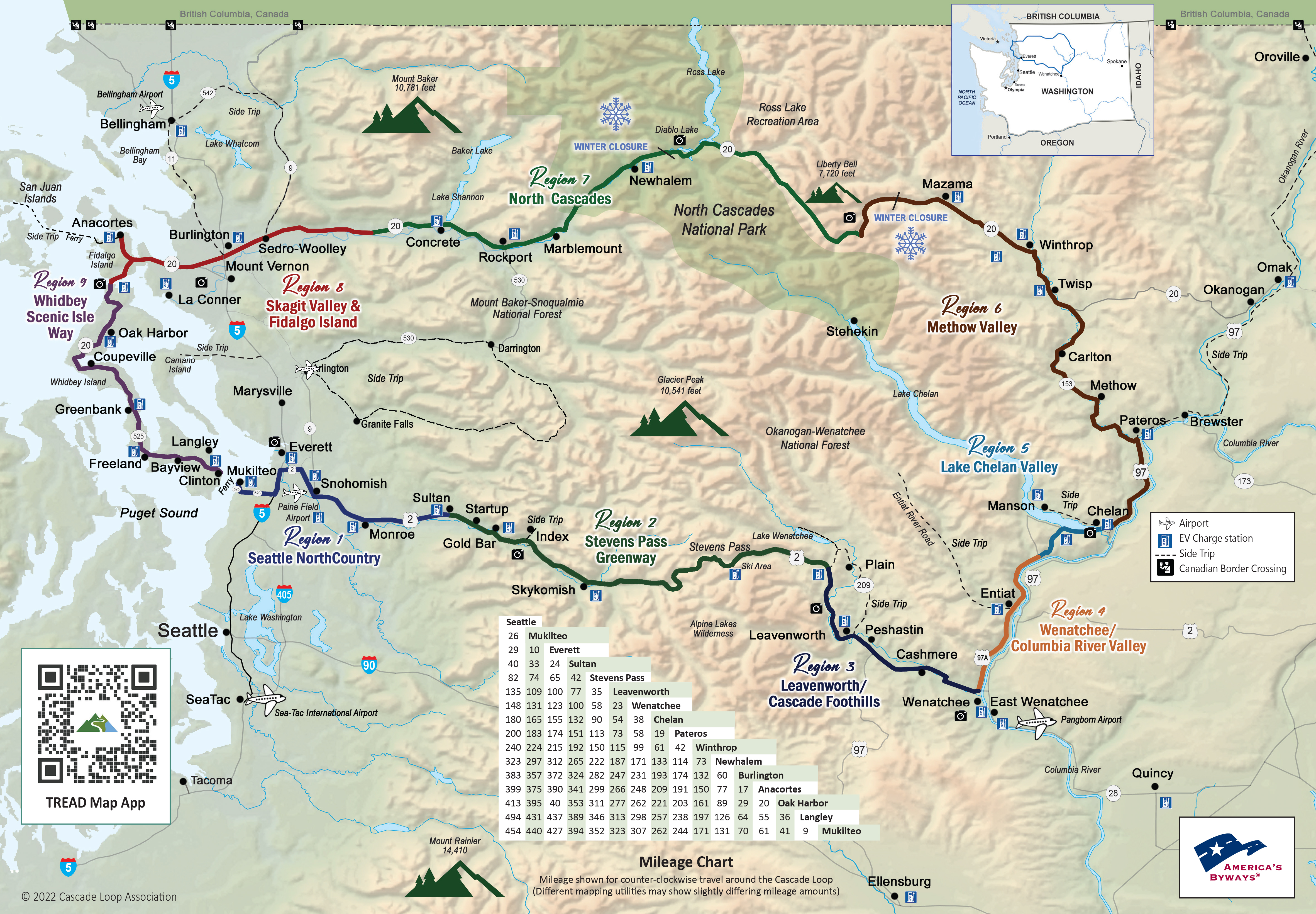 Washington State offers some of the most stunning scenic drives in the country, with something for every season and interest. Whether you're looking for fall colors, wildflowers, or famous viewpoints, there's a scenic drive in Washington that's sure to take your breath away.
Exploring Washington never gets old, even if you've been a local all your life. From National Parks to small towns, you'll love each adventure. If you have any questions about any of these Washington scenic drives or need additional recommendations, please feel free to leave a comment or send us a note. We're happy to help plan amazing adventures all around the Pacific Northwest!