Cape Disappointment State Park is NOT a disappointment at all! You'll love this place, as it's great for hiking, biking, scenic views and lighthouses. We've got tips for visiting and exploring the park and nearby Ilwaco, as well as tips for adding Cape Disappointment to a fun Washington road trip. And this is actually a part of Lewis and Clark National Historic Park, so be sure to explore beyond and learn all the things about SW Washington!
Did you know that Cape Disappointment is actually more than a state park? It's also a part of Lewis and Clark National Park! The cape is named such because Captain Meares (the same as Cape Meares Lighthouse) and his crew, NOT Lewis and Clark, struggled to make their way up the Columbia River… hence the disappointment.
If you have any questions about visiting Cape Disappointment State Park or Ilwaco, please leave a comment or send us a note. We're happy to help plan cool travel to remote places like this!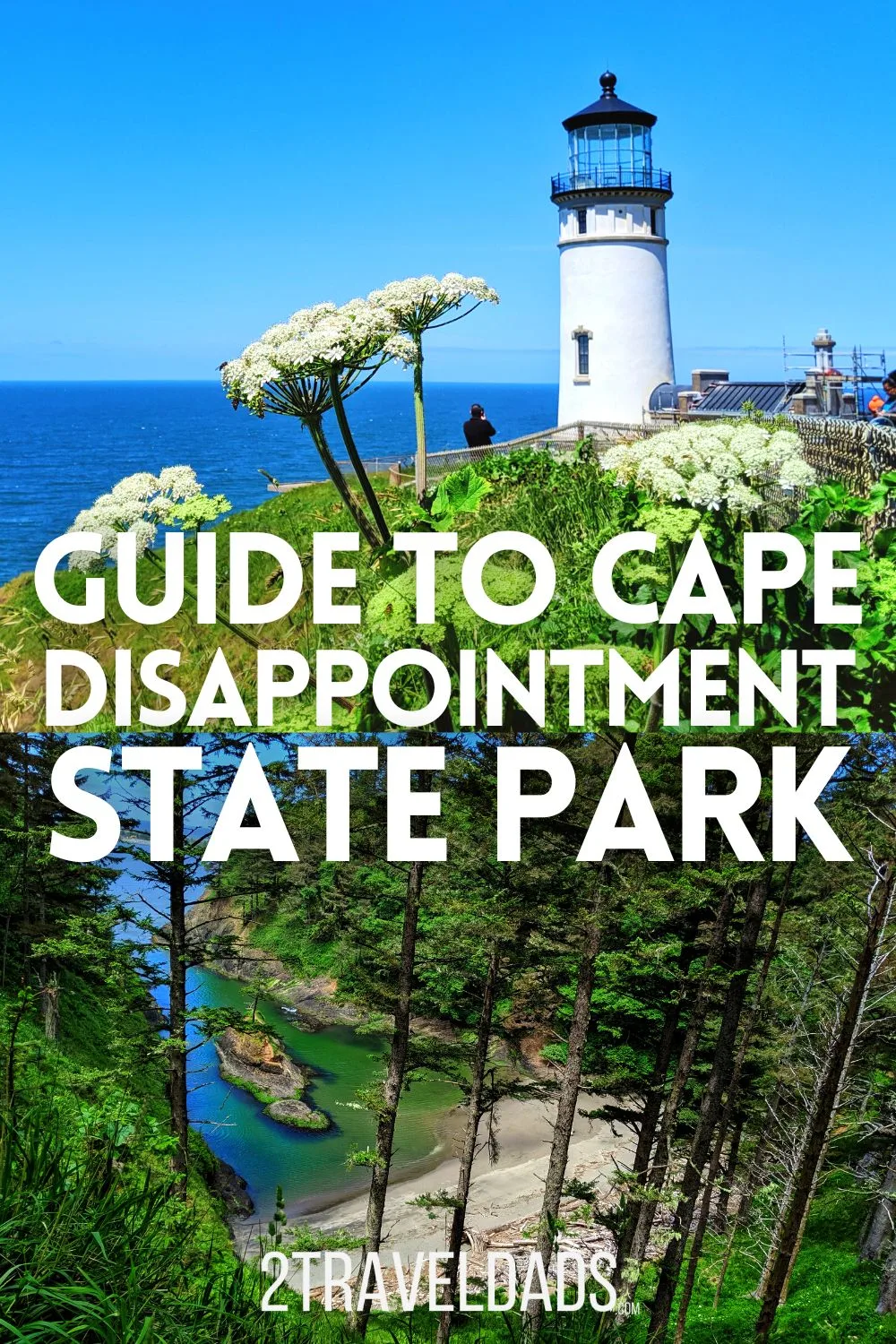 Things to Do at Cape Disappointment State Park
Cape Disappointment State Park is actually incredible though. With two lighthouses, a network of trails, beaches, camping and scenic views to rival other National Parks. Why is it a part of Lewis and Clark National Park? This park is home to the Lewis and Clark Interpretive Center which is perfect for getting the low down on everything PNW history.
Note: there are automated pay stations throughout Cape Disappointment State Park. Be sure that you either pay your day use fee, purchase a Discover Pass (WA State Parks and Federal Lands), or display an appropriate pass on your vehicle dashboard.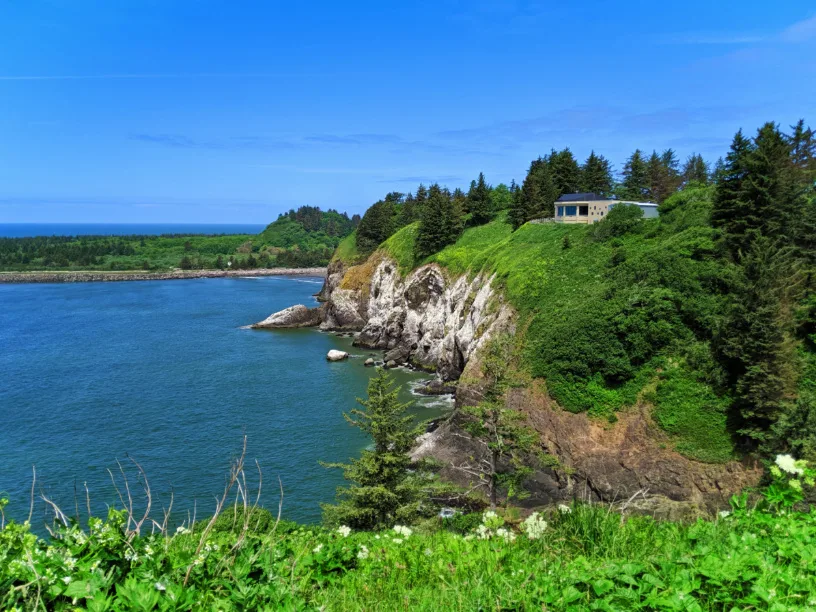 Hiking to Cape Disappointment Lighthouse
As noted above, Cape Disappointment State Park has two lighthouses. The first, the namesake of the park, is a fun and interesting hike. Starting just west of the Visitors Center, the lighthouse trail is 1.5 miles round trip. Yes, there are some steady climbs, but for the most part the trail is shades and smooth with lots of unique vegetation to check out. Google Maps link here.
Along the way, you'll also see the Coast Guard station, a spur trail to the Visitors Center and perhaps the most perfect beach in Washington. If you choose, you can hike down on a constructed trail and enjoy some beach time. Be careful to stay ONLY on the designated trail as the area is sensitive and you don't want to be the cause of erosion.
Bonus: bring a beach blanket or picnic and enjoy a quiet afternoon on the secret, perfect beach below the lighthouse: Dead Man's Cove. Remember though, pack out what you pack in.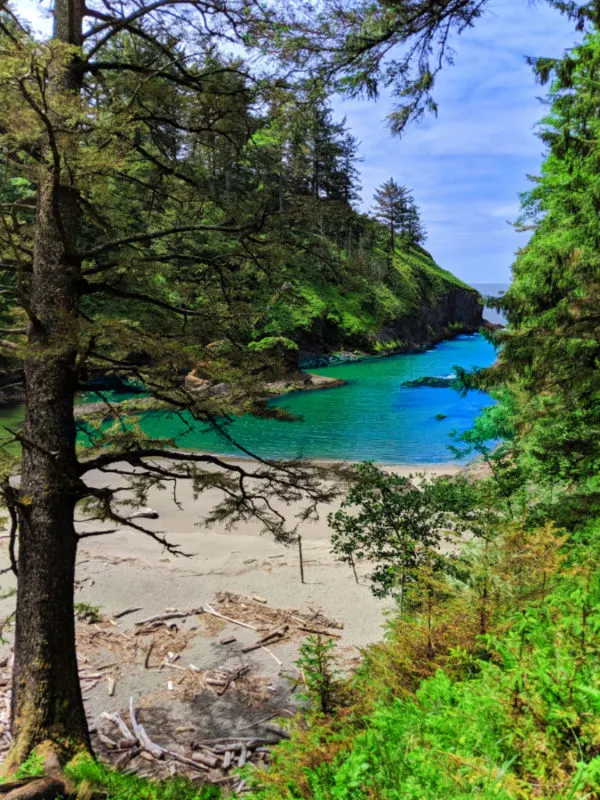 Once to the lighthouse, it's an ideal spot to sit and watch for whales. In spring and fall you can usually spot gray and humpback whales passing as they head to their winter waters. It's not a guarantee, but worth looking for. Note: The Cape Disappointment Lighthouse is NOT open for tours.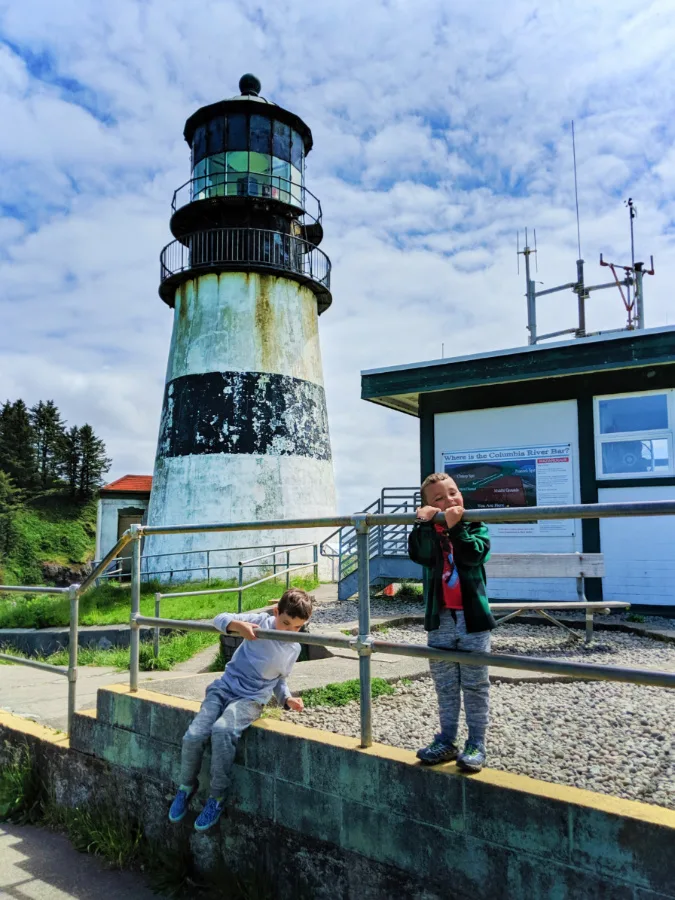 Walking the Cape Disappointment Discovery Trail
Connecting the various points of interest within Cape Disappointment State Park, and the best trail within Lewis and Clark National Park, the Discovery Trail will take a full day or more to complete as you make stops. Starting at the lighthouse and winding through the hills and woods, to the North Head Lighthouse, it's perfect for adults or families with older kids. To keep going, you'll head north all of the way to Long Beach. In total, the trail is over 8 miles (one way) and is actually a combination of three trails:
West Wind Trail – from Lewis and Clark Interpretive Center
North Head Trail – this takes you to the North Head lighthouse
Discovery trail – you'll want to stay to the left to get the most direct route up the coast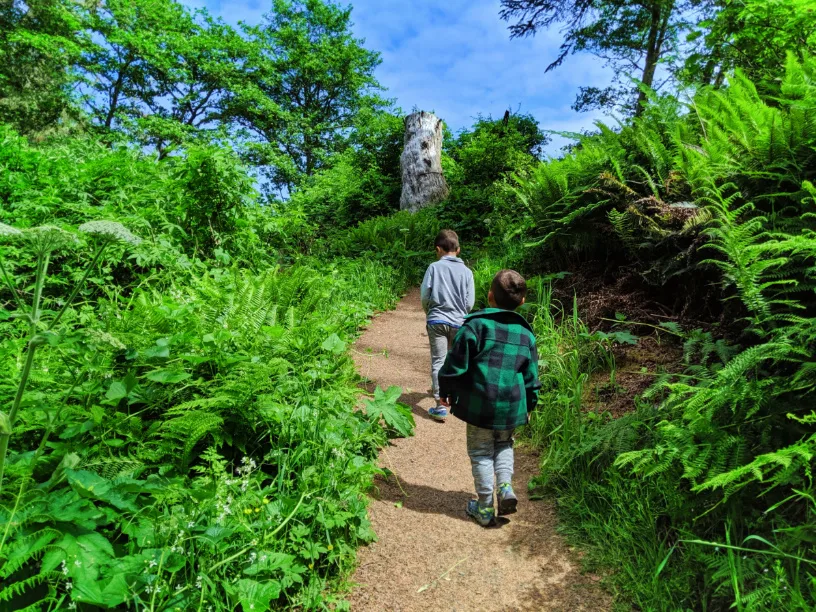 We recommend hiking one way and getting picked up when you're in Long Beach. If you're on bike, it will go much faster, but you can only ride the part of the Lewis and Clark Discovery Trail north of North Head Road, or at least this is only only designated bike path. PLEASE follow the signs and be respectful of hikers.
Tip: since the round trip trail is 17+ miles, be prepared with lunch, snacks, and extra water if you are doing the full Discovery Trail.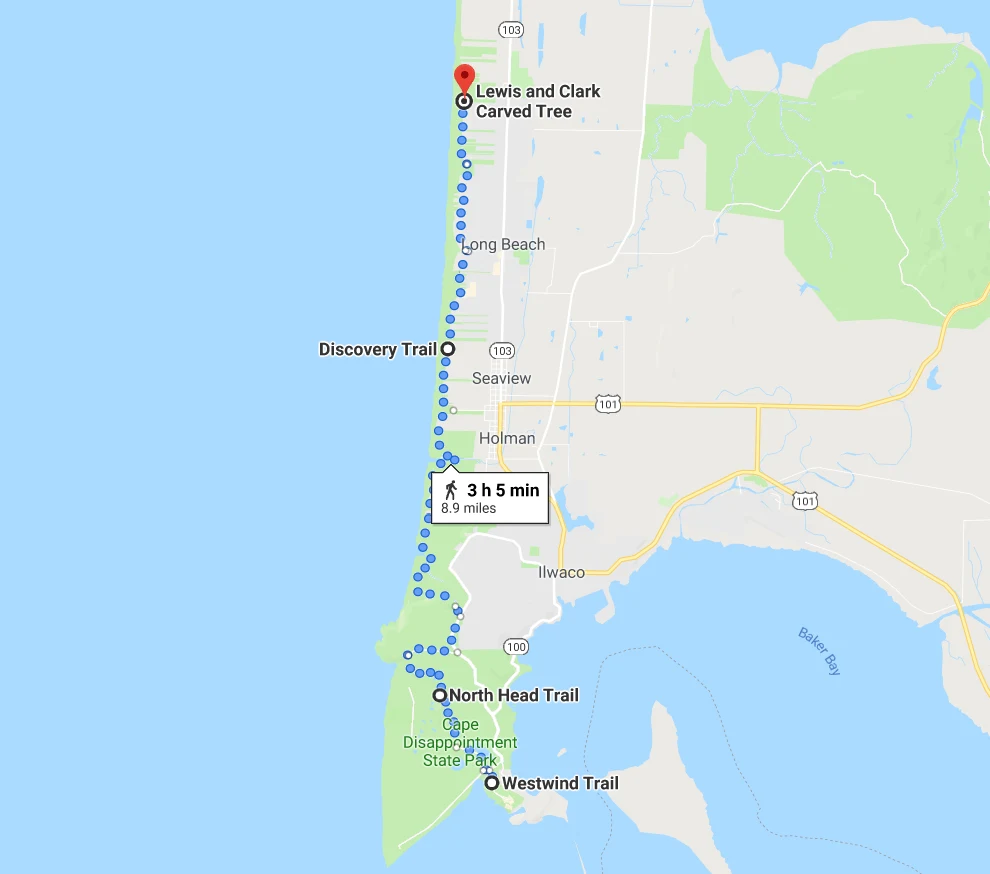 Visiting North Head Lighthouse
Our lighthouses in Washington are the cutest. Florida has epic lighthouses, some of the tallest in the country, and Wisconsin has some truly rough and tumble weathered light stations on the great lakes, but our lighthouses in Washington are unique. The North Head Lighthouse is a perfect example of what I mean.
Standing at only 66 feet tall, the North Head Lighthouse in Cape Disappointment State Park is beautiful and adorable. In 2019 it was fully renovated, including the trail leading to the lighthouse and the original keepers quarters. As of July 2019 the North Head Lighthouse is open for visitors seven days a week. Public operating hours vary in the fall and winter months.
Note: there is limited parking at the trail head, but if it's full don't worry. The hike out to North Head is only just over a quarter mile or the full loop is .6 miles, so people will be leaving sooner than you might think. It's worth waiting for a parking spot.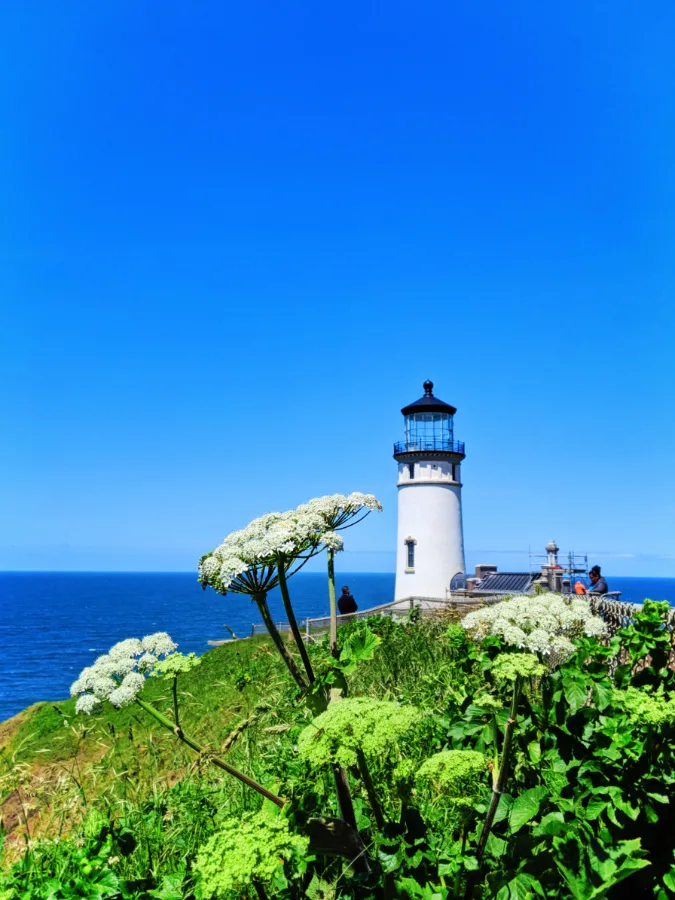 Scenic Drive at Cape Disappointment
Cape Disappointment State Park is minimally developed, which makes it perfect to be a part of Lewis and Clack National Park. The landscape and ocean views are what make this part of Washington State so great to visit. Take the time to do the short, random hikes, such as Bell's Overlook. Take a few minutes to use the pullouts and appreciate the ocean views, like you can at the Beard's Hollow view point.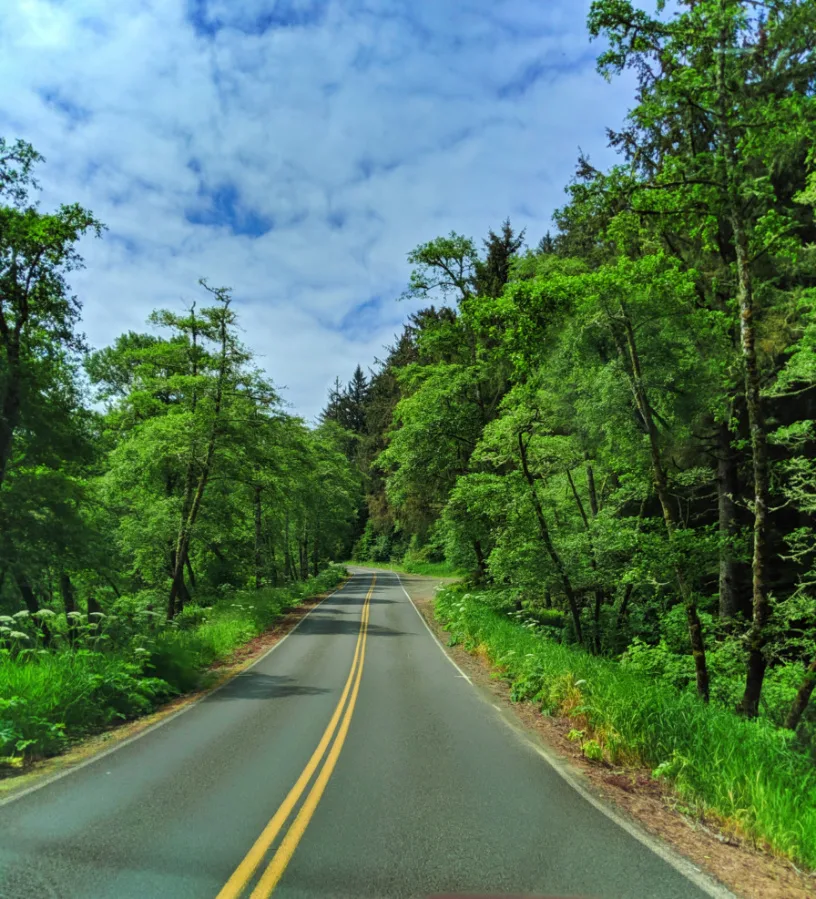 As Washington has grown, special untouched spots like Cape Disappointment State Park have become fewer and fewer. Enjoy it and leave it just as you found it, or better. Doing the scenic drive and then continuing up to Long Beach is a great way to have a relaxing, low impact day when you come to Southwest Washington.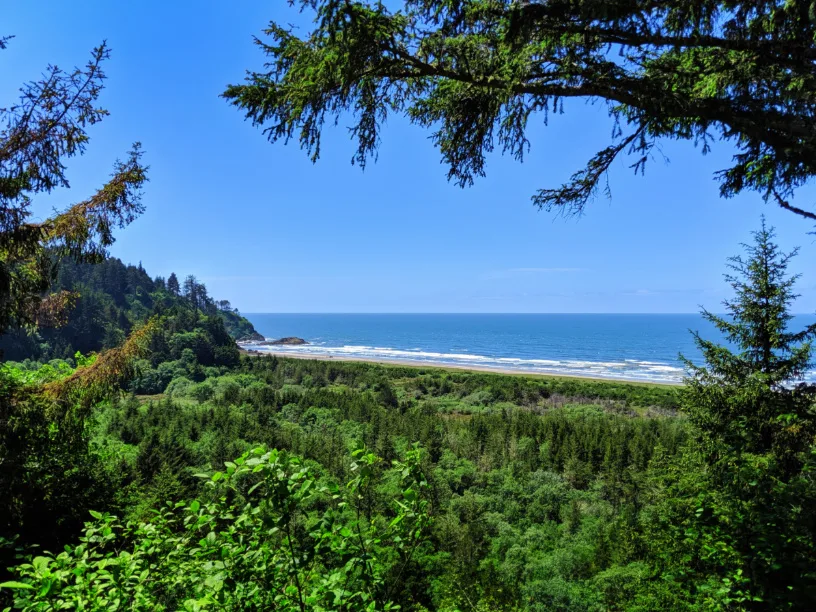 Fishing at Cape Disappointment State Park
Along the Pacific Ocean coastline, anglers can fish for a variety of species, including salmon, steelhead, surf perch, and rockfish. There are also several fishing piers and jetties in the area that are popular among fishermen.
On the Columbia River, visitors can fish for salmon, steelhead, sturgeon, and other species. There are several boat launches in the area, as well as guided fishing charters and tours going out of Ilwaco.
It's important to remember that fishing regulations and seasons may vary depending on the species and location. Before fishing at Cape Disappointment State Park, it's recommended to check the Washington Department of Fish and Wildlife regulations and obtain any necessary licenses and permits. DO NOT FISH WITHOUT YOUR WASHINGTON STATE FISHING LICENSE!!!
Things to Do in Ilwaco
I had no idea Ilwaco was such a cool little town. Located just outside of Cape Disappointment State Park, Ilwaco is the ideal Washington fishing village. As you park in the ample free public parking, you'll walk into the marina and find that it's got a beautiful promenade and countless fishing charters. There are also a variety of local artisan shops and seafood restaurants.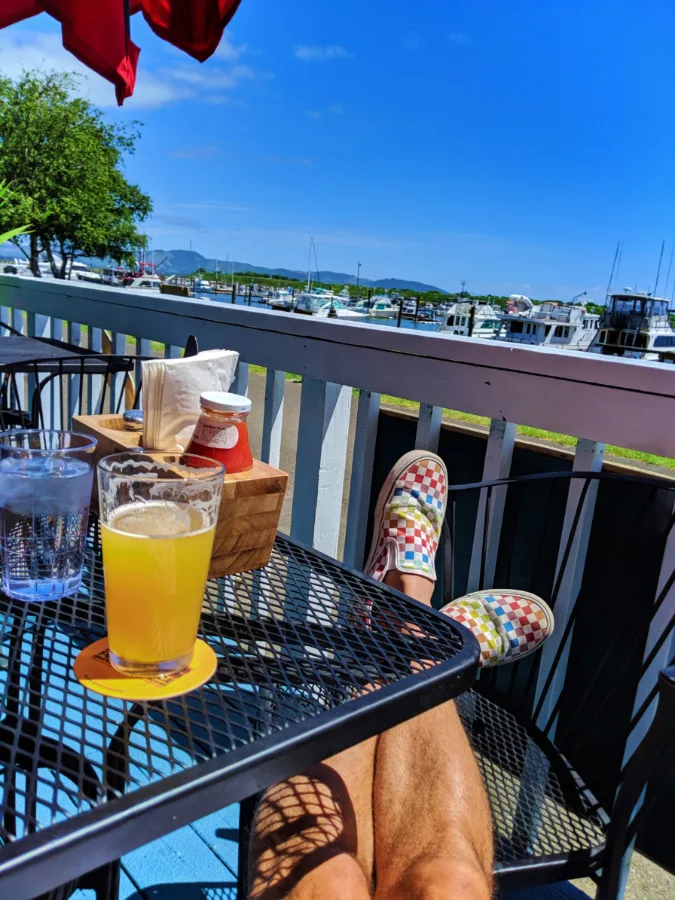 We really love the Salt Hotel and Pub. It's all about locally sourced ingredients and awesome beer. And with a fair amount of outdoor seating, how can you go wrong? We actually need to plan a full weekend in Ilwaco for so we can check out more of the town and surrounding area. There are a lot of kayaking spots in the Willapa National Wildlife Refuge, just north of town and we NEED to go paddling there!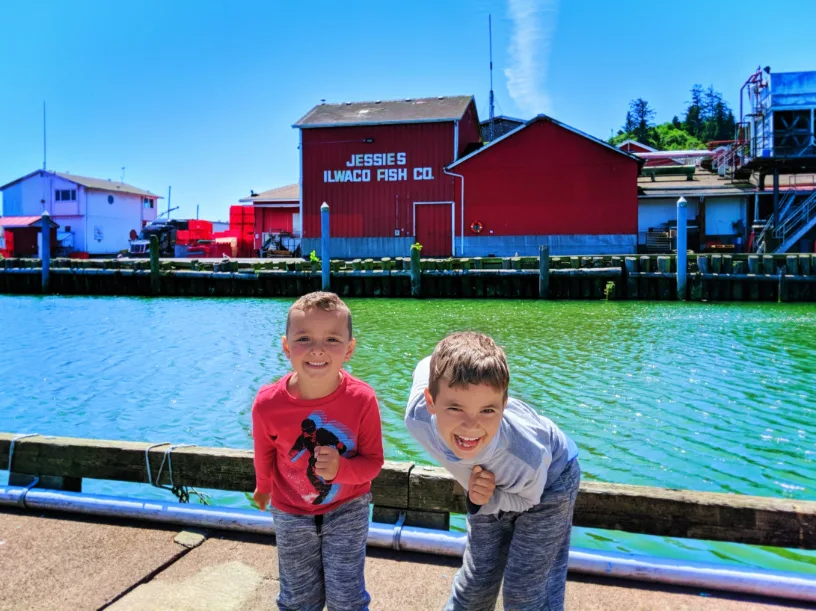 10 Fun Things to do Near Ilwaco
If you want to visit Cape Disappointment State Park and need to additional suggestions of what to do when you make the trek to the park and Ilwaco, here are 10 fun things to do that you can easily add to your trip:
Head up to Long Beach for a cute town and cranberry everything!
Visit the Lewis and Clark Interpretive Center: Learn about the famous explorers Lewis and Clark and their journey to the Pacific Northwest at this informative museum.
Go fishing: Ilwaco is known for its excellent fishing opportunities, whether you're casting a line from a pier or taking a deep-sea fishing excursion.
Take a whale watching tour: Head out to sea to spot orcas, humpback whales, and other marine life.
Walk along the Ilwaco waterfront: Take a leisurely stroll along the quaint waterfront, enjoying the sights and sounds of the ocean. (this doesn't take very long, but we love it)
Go beachcombing: Collect shells and other treasures along the shoreline, and watch for bald eagles and other wildlife.
Visit the North Head Lighthouse: Climb to the top of this historic lighthouse for a panoramic view of the coast (check with the park to confirm the lighthouse is open when you're visiting)
Go birdwatching: Ilwaco is a popular spot for birdwatching, with a variety of species to spot.
Check out the local art galleries: Ilwaco and Long Beach are home to many talented artists, and you'll find a range of art galleries showcasing their work.
Attend a local festival or event: Ilwaco hosts a few events throughout the year, including the annual Slow Drag Classic Car Show and the Garlic Festival.
And don't forget, Ilwaco and Cape Disappointment is the natural beginning of doing an Oregon Coast road trip, so if you head south you'll have a whole other world of fun and lighthouses ahead of you!
Where to Stay Near Ilwaco and Cape Disappointment
There are not a ton of hotel options directly at Cape Disappointment State Park or in Ilwaco, but there are vacation rentals, and then in Long Beach you'll find plenty of places to stay. Keep in mind if you're traveling to Pacific County in summer, this is kind of that secret getaway spot for people from Portland, OR and Olympia, so I recommend booking your stay as far in advance as possible.
Camping at Cape Disappointment SP
The Lewis and Clark Campground is located on the south end of the park and offers 137 standard campsites and 18 primitive campsites. Many of the sites have electric and water hookups, and some have views of the ocean. The campground also has restrooms with showers, a dump station, and a camp store.
The Ilwaco Campground is located on the north end of the park and offers 49 standard campsites and 15 primitive campsites. The campground has restrooms with showers and a dump station.
Both campgrounds are open year-round and reservations can be made online or by calling the Washington State Parks reservation line. Campsites fill up quickly during the summer months, so it's recommended to make reservations in advance.
Frequently Asked Questions about Cape Disappointment State Park
Of course we have an FAQ about Cape Disappointment! It's a far-out place to venture to, so we've got you covered to be sure you have the best visit possible.
What are the attractions in Cape Disappointment State Park?
The main attractions in the State Park are the Lewis and Clark Interpretive Center, the North Point Lighthouse, and the hiking trail that connects both the North Point and Cape Disappointment lights.
Can you camp at Cape Disappointment State Park?
Yes! See above for info, but it is indeed limited. There are two campgrounds, one at each end of the park. SEE ABOVE
What is the history of Cape Disappointment State Park?
The park is named after the historic Cape Disappointment, where Captain John Meares failed to find the Columbia River in 1788.
What are the hiking trails in Cape Disappointment State Park?
There are quite a few, but the main one is the connector trail (3 miles) between the lighthouses. You can also hike down to the beach from McKenzie Head. These are our two top picks.
What is the best time of year to visit Cape Disappointment State Park?
Summer is the best time to visit, but if you're into storm watching, Cape Disappointment is awesome for watching the weather roll in and take over the Washington coast.
What are the best places to eat in Ilwaco, Washington?
The Salt Pub is our top pick, especially in summer, but Serious Pizza is good too.
What is there to do in Ilwaco, Washington?
SEE ABOVE 🙂 There is a lot to do in summer, but in winter it's a bit limited. Add a trip up to Long Beach to your plans if things aren't open in Ilwaco.
What is the weather like in Cape Disappointment State Park and Ilwaco, Washington?
Oof, in the summer it's absolutely beautiful, but it is still prone to storms rolling in off the Pacific Ocean. The weather is very similar to Portland or Astoria. In winter, it's the spot that storms tend to converge and it can be wet and gray.
Can you fish at Cape Disappointment State Park?
Yes, you can fish at the beach and on the Columbia River with the correct license. Also, there are fishing guides that go out of Ilwaco.
What is the Lewis and Clark Interpretive Center at Cape Disappointment State Park?
The Lewis and Clark Interpretive Center is a very comprehensive education spot, with exhibits about the history and nature of the Cape and Ilwaco area.
---
As you can see, Cape Disappointment State Park is a pretty awesome place to both experience some history and get a taste of the amazing life we have here in the Pacific Northwest. It's an easy add-on to an Oregon Coast road trip or if you're local, it's its own weekend getaway for fun and learning.
If you have additional suggestions for things to do around Cape Disappointment and Long Beach, Astoria, or Ilwaco, we'd love to hear them! Send us a note or leave a comment!