Visiting Deception Pass is a must-do for a trip around the Puget Sound. An icon of Washington State, Deception Pass is one of those places that if you don't know to make the stop you'll just drive right by. This is our guide to planning a great trip to go hiking at Deception Pass or to just enjoy the views and beaches.
I'm sure we all have memories, either recent or from childhood, that are grossly inaccurate. A great example is when you can recall a great hike and it's been years and you think taking your kids on it will be a blast… and then you realize that it's a hike along cliffs and above churning tides. Hiking at Deception Pass State Park is just that.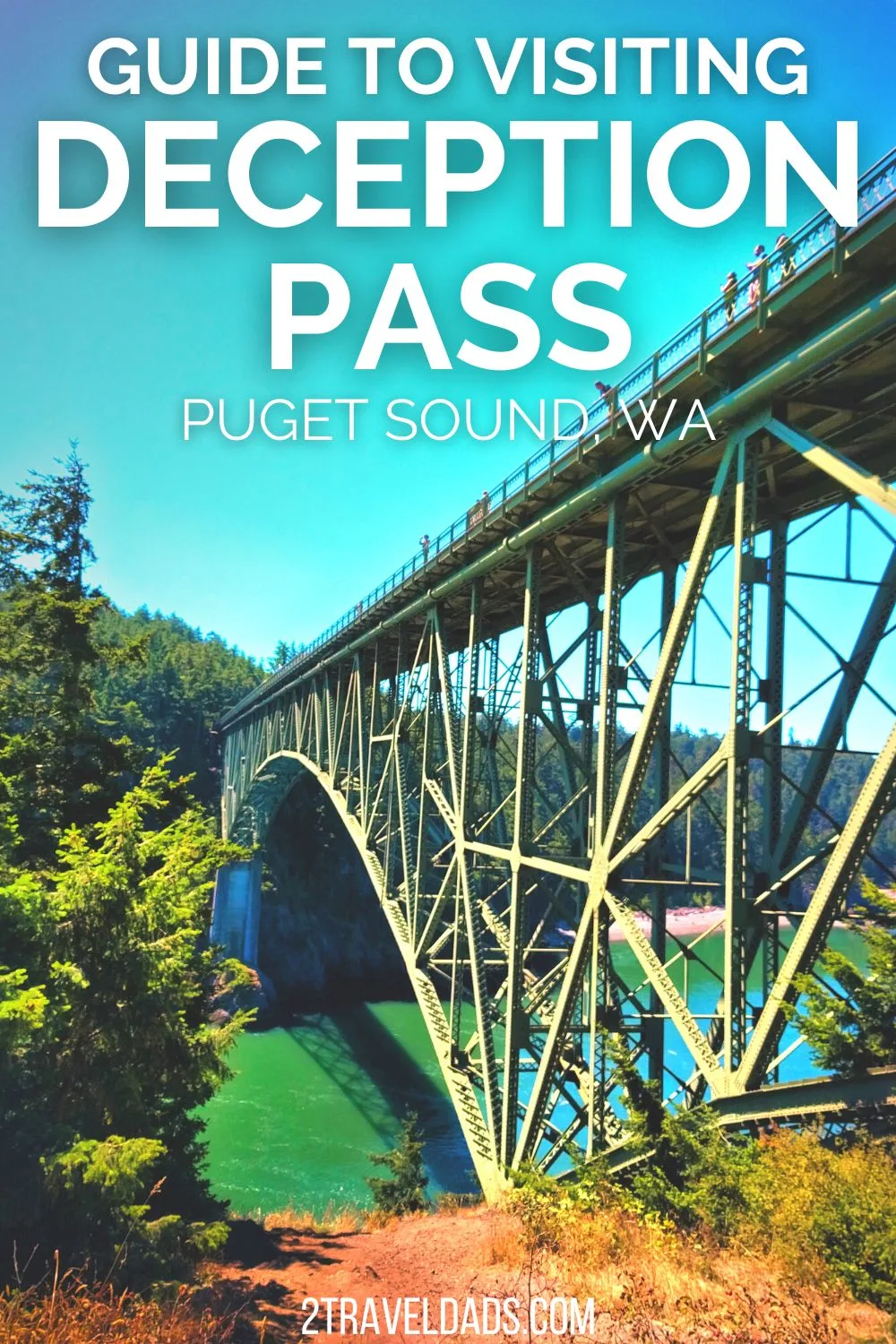 So, yeah. We enjoyed a day at Deception Pass State Park between Whidbey and Fidalgo Islands. The plan was to cross the awesome Deception Pass bridge and then hike around the jagged island in the middle of the passage for a while, but that got foiled when we realized how crazy the trails were. We turned it around and had a great day though and loved our time at the Deception Pass State Park beach. Oh, just read on…
Where is Deception Pass Located?
Deception Pass is the cut of water flowing between Whidbey and Fidalgo Islands in the Puget Sound. It's a 45 minute drive from Bellingham and Whatcom County, or two hours from Seattle. It's about 190 feet deep in one of the passages and super shallow on the other, which creates a crazy powerful swirly, whirlpool of tides going through. Watching the boats fight against the current is both entertaining and scary, like, you're kind of on edge just hoping nothing bad happens to the boat going through the passage.
The area is was named by Captain George Vancouver after he and his crew were disappointed at yet another route that wasn't the Inside Passage and an easier way to navigate the world. Yeah, um, that didn't play out so well, as they were totally deceived by the many islands of Puget Sound… hence Deception Pass. Oh, and you can see loads of islands and coves from Deception Pass, so you'll for sure understand the frustration.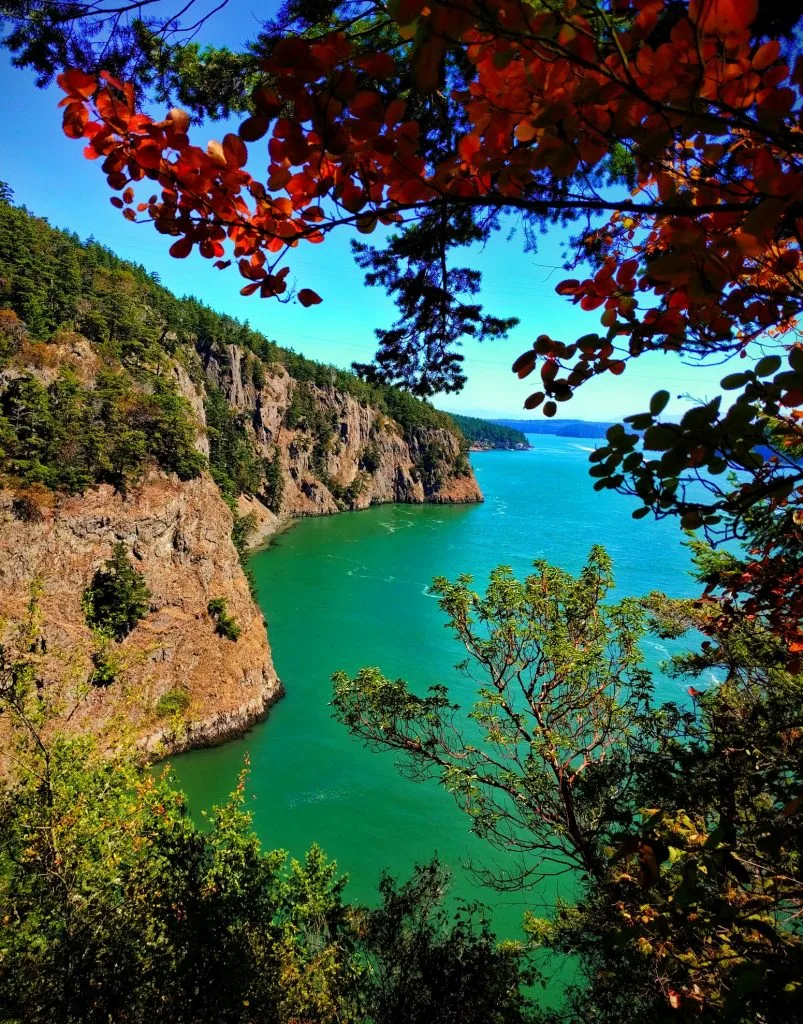 Deception Pass Bridge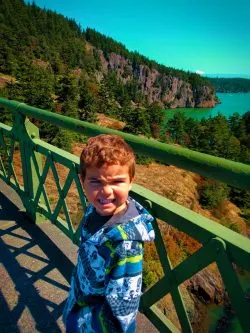 Gosh it's a cool bridge and a scary one at that. At 188 feet above the water and only two lanes, it's creepy to drive across and even worse to walk on. Crossing the bridge with kids, you'll want to hold hands tight. The cars crossing the bridge do go pretty slowly, but they also might be closer to the sidewalk than you might be used to.
Tip: if you've got a little person walking on the bridge, have them walk along touching the outermost rail. This will keep them away from traffic and all of the passing car mirrors that could bonk them.
Midway across the Deception Pass Bridge is the monument dedicated to Captain Vancouver and the crew that named the area. This is also a great place to enjoy the view, do some hiking, or cross the highway… underneath. Yeah, so you're not allowed to run across the street because there are so many cars and it's so dangerous, but there are stairs and walkways to go under the Deception Pass Bridge. The view from under is really cool and you can see the awesome engineering that spans the passage quite well.
If you're driving and decide that you want to walk across the bridge or stop midway, there are limited spots on the midspan island, but plenty on both sides of the bridge.
Note: the entirety of the Deception Pass Bridge and it's parking areas are within a State Park, so it is a fee area or you need to have Washington's Discover Pass ($30 USD and totally worth it if you're exploring the state for a more than a week).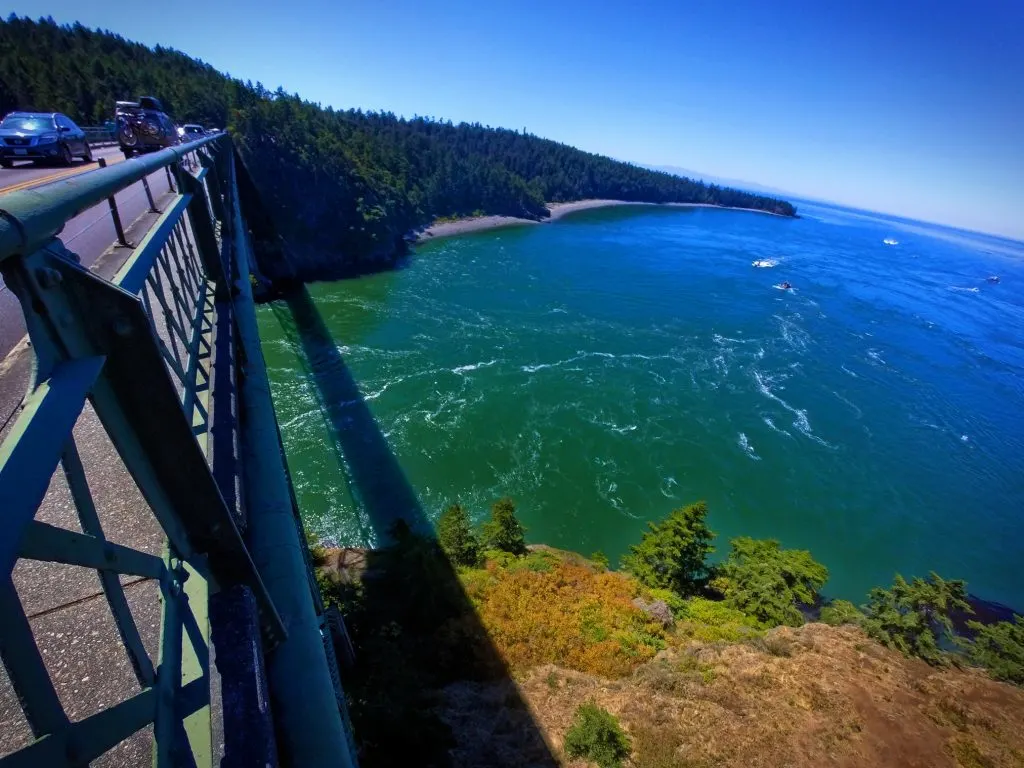 Hiking Deception Pass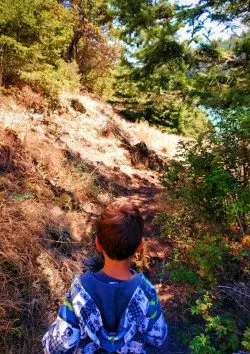 And this is where memory failed us. Having hiked in Deception Pass countless times in our lives, we thought a stop would be great! Yeah, no. The trails from the highest point of Deception Pass State Park, which is everything around the bridge, are all along crazy hillsides and cliffs with certain death looming below. Everywhere. Hiking at Deception Pass is NOT a kid-friendly activity.
We started our hike on the Whidbey Island side of the passage and walked down to where you can pick your trails. They all looked rather steep and not good for kids, so we crossed the bridge to where we'd hiked before. Um, those weren't okay either. It's amazing how you'll do dangerous, scary things on your own as an adult and then when you have to consider kids, you realize just how rough and unsafe a trail is.
We did start our hike on the midspan island and headed down towards the water, quickly realizing that it wasn't a good idea, either for a clumsy four year old or a parent with a toddler in a hiking pack. We found a trail to take us back up the hillside away from the water… only to find that it was a cliff on the other side. Yeah, bad ideas surrounded us.
We buckled down, got our safety bearings, and hiked up the steepest, dustiest, most jagged tree limb filled trails we've ever faced.
Note: the parental perspective completely tainted our experience. If you're hiking without kids, as long as you're sure of your own hiking skills and have a first aid kit, you can enjoy the hike, the views and the amazing experience that we remember from our pre-kid days.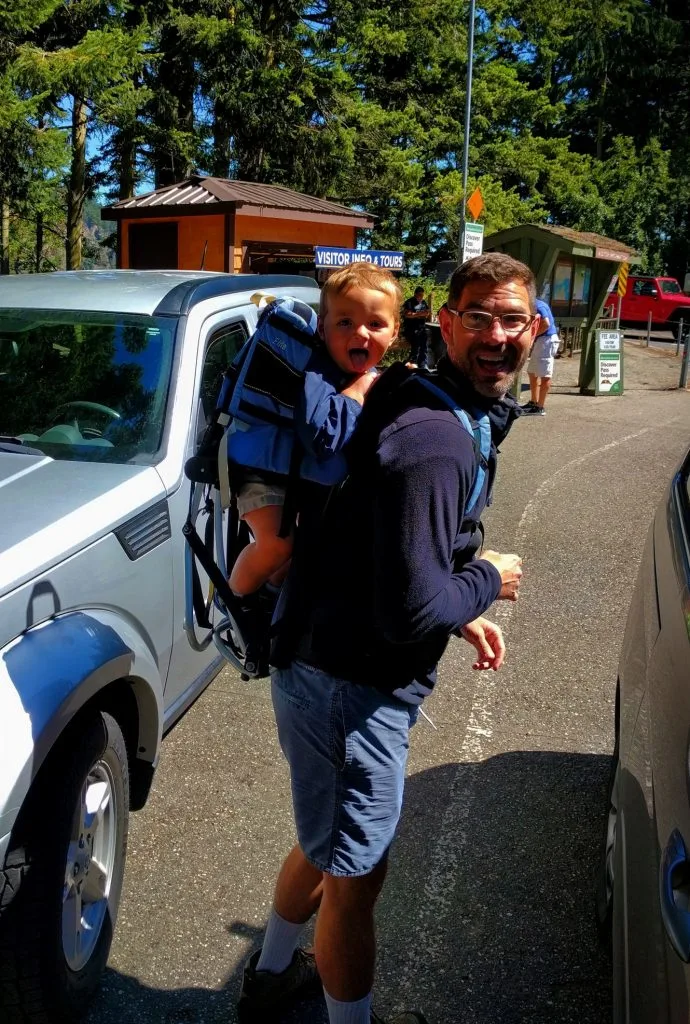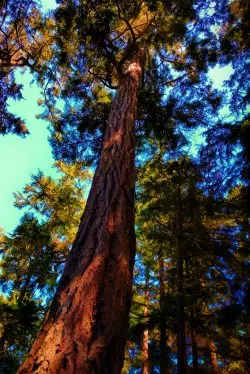 We wrapped up our hiking once we were back on flat land at the top of the passage and decided that beach time was a much better use of our afternoon in the sun. Oh Deception Pass… you deceived us too. If you want some more kid-friendly hiking options, check out Fort Casey State Park on Whidbey Island.
Beach Time on Deception Pass
While there are quite a few beaches and coves within Deception Pass State Park, a few aren't easily accessible for car travelers or non-kayakers, so we went for the clear and simple choice: North Beach. I know, you're thinking Beach Blanket Babylon in the Pacific Northwest… but it's the name of the actual beach on the… wait for it… north end of Whidbey Island. It's a huge, long beach and is perfect for a variety of activities.
Before you're at the beach, you'll need to show your Discover Pass to access the area. Pick your beach (North or West) and park. There are restroom facilities by the parking, so be sure everyone uses them before they're down in the sand. The walk down to the beach is really easy (two minutes) and give a perfect snapshot of our coastal forests.
We're big into tidepools and throwing rocks, so we totally scored here. There were just a few tidepools, but plenty of shallow protected spots that we could splash around. We also were able to dig with our lovely beach toys, have a picnic without getting crazy sandy AND relax in the sun.
Tip: if you want an awesome group day at North Beach in Deception Pass State Park you can reserve the picnic/kitchen shelters in advance. Depending on your crew and plans, it could be a great idea!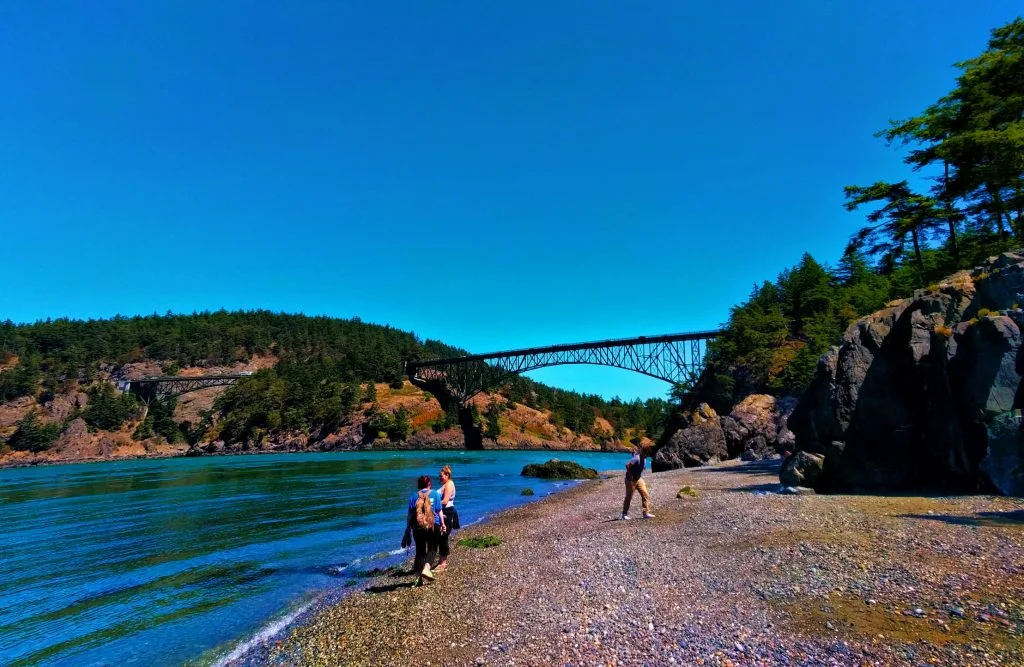 Where to Stay Near Deception Pass
Besides a day trip, you can also camp at Deception Pass State Park. Like most of the State and National Parks in Washington, you'll need to plan your camping here far in advance. You can make reservations online and should. If you're unable to though, camping at Washington Park in Anacortes is fun and it's only a half hour away. Fort Casey State Park also has camping (again you'll need reservations) and it's about 40 minutes away. Also in Anacortes, we enjoyed the Majestic Inn. Lots of choices!!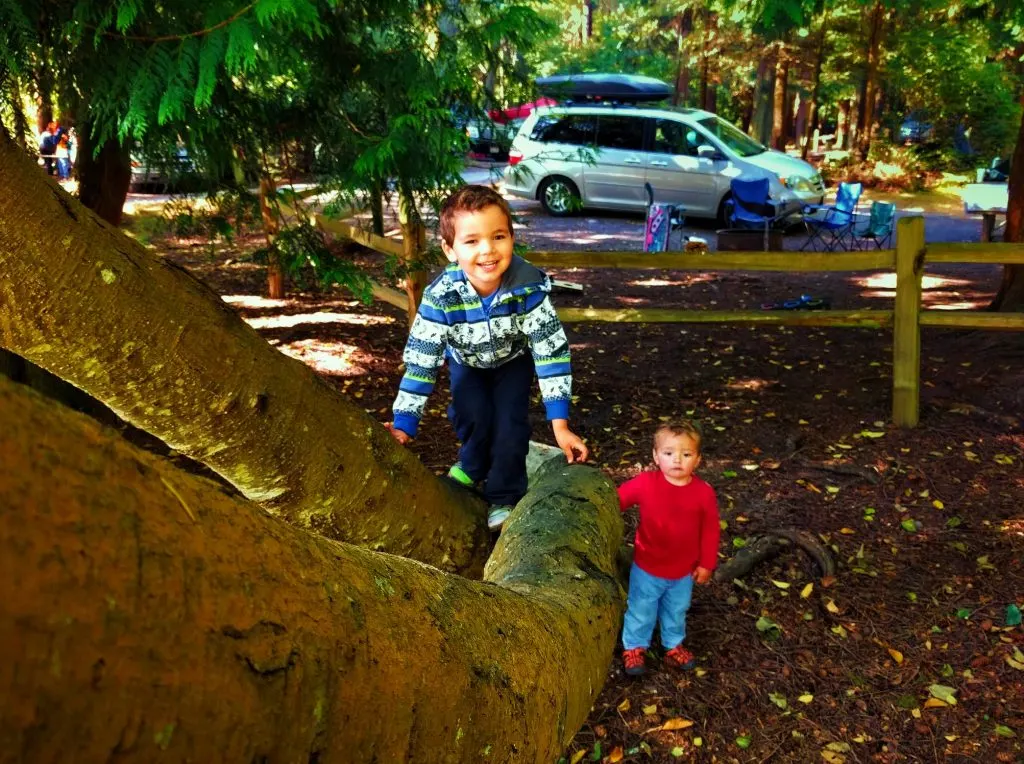 So yes, on your travels through the Puget Sound area, you should spend at least a half day at Deception Pass State Park. It'll satisfy the need for fascinating geology, beautiful water, hiking and relaxing on the beach. It's kind of perfect for any style of travel and many ages of families. Go, enjoy!!