It's probably been a long while since you have sat down and watched Northern Exposure, right? Yeah, I can't say that I've seen an episode in the last 20 years, but we went a had an awesome family weekend in Roslyn, Washington where they filmed it and the town is just as rustic, quirky, and cool now as it was on television. Visiting Roslyn was a treat we didn't plan on… and FYI, it's totally not in Alaska.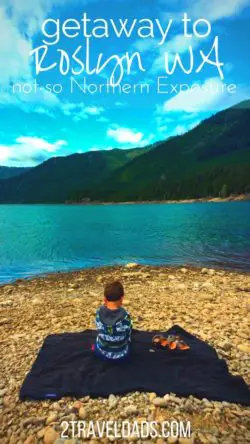 After a foiled attempt at camping up at Lake Easton in the Cascade Mountains, we started driving around trying to find a good option. On a whim and a little hope, we headed off I-90 (the freeway) and drove north through Roslyn. First impression was good, a nice person said we'd find a beautiful spot to camp just a bit away, and what could've been a bomb of a weekend turned into Pacific Northwest gold. And Roslyn is close enough that we can recreate our awesome weekend getaway from Seattle anytime!
Where is Roslyn, WA?
If you're visiting Seattle, Roslyn is a little over an hour away. You must cross the Cascade Mountains via Snoqualmie Pass and start to head down the other side. Just as you think you're out of the mountains, you'll see a sign for Roslyn and Salmon la Sac. Boom! You're there… or at least that's your exit from the main road. It's about 15 more minutes up the mountains until you get to Roslyn itself. You can't miss it.
FYI, Roslyn ISN'T in Alaska and you'll not see moose running down the street. That was all just the Northern Exposure version of Roslyn.
Quirky and cute: that's Roslyn, Washington
Roslyn was big during the coal mining days and leverages that vintage industry. Even though they haven't been a booming coal town for almost a hundred years, it's still got that feel and the downtown core is registered as a National Historic Landmark district, much like Uptown Port Townsend.
We enjoyed strolling the streets, checking out the old totem pole, and investigating the old coal train equipment. If you know our kids, they love old trains and rusty things. Their obsession will, no doubt, lead to many tetanus shots in the future.
Note: another fun rusty train yard to explore is in Snoqualmie. It's really cool!
Other nifty things we did included walking all over the town enjoying the old houses and amazing gardens. The town was built to house coal miners and their families, so the houses mostly match in a perfect, rustic style that's clearly pre-war and an ideal snapshot of Americana. There's also a very large cemetery (we didn't explore it with the kids this time) that's split up by the varying cultures that moved to Roslyn to mine for coal. You'll be surprised how large the cemetery is for how small the town is.
Tip: cemeteries are creepy for a lot of people, kids included, but there is a lot of history to be learned. Also, cemeteries require quiet and respect, whether you have beliefs or not, so talk to your kids about that before you start to go through one.

To do next time: we didn't know about the coal mines trail until we were leaving, but next time we'll hike it to see some cool mines and an old train depot.
Dining in Roslyn
Normally when we camp, we do all of our cooking at our campsite, but Roslyn, Washington is too cool to pass up. We loved taking the kids to the Roslyn Cafe for breakfast. It's a cool old historic building that was recently renovated. They have great menu options for adults… but limited for kids (no kids menu). Their breakfast sandwiches were to die for.
We also ate at the Roslyn Roadhouse. We had planned on just popping into town to get fancy pizzas to bring back to camp, but Village Pizza was so stinkin' popular that after a few minutes of waiting outside we moved on. Luckily, the Roslyn Roadhouse had a place for us and a killer kids menu. We had some great food that truly was "grub" and enjoyed a pitcher of local beer. The highlight of our time there was actually the jukebox. That's right, they have the most dangerous jukebox I've ever seen: runs off a credit card and is full of ABBA and Little River Band. True, half of the Roslyn Roadhouse is a tavern type establishment with some salty characters, but who doesn't need a little more ABBA in their life?
Tip: don't use your credit card in a jukebox. No good will come of it.
Microbrews in the Mountains: Roslyn Brewing Co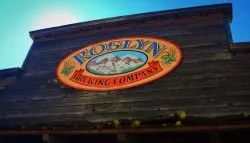 And what's a small town in Washington without its own brewery? Every town has at least one (thank goodness) and the Roslyn Brewing Company is pretty good. While it doesn't have as many offerings as Icicle Brewing in Leavenworth, it offers a really nice Red Lager that surprised us, as we tend to stay away from reds. The Brookside Pale was pretty tasty too, being pretty sweet for a pale ale.
Roslyn Brewing Company also had a few other breweries' beers on tap too, which we didn't expect. It was actually pretty cool to see them fill the beer gaps with other local brews. It's a great idea!
Tip: if you don't own a growler, it's a good thing to purchase. We bring our Stanley growler with us everywhere and got to fill it twice at Roslyn Brewing Company.
Where to stay for a Roslyn weekend
Like with any town, big or small, you'll have a few different options. We always want to encourage people to find unusual accommodations when able, but if you want to mainstream choices, here are our thoughts.
Camping in National Forests
We camped, because we're us and we do that sort of thing, and had a great time. We drove about 20 minutes northwest out of Roslyn to the Cle Elum River campground. It's a National Forest Service campground, so is well maintained and pretty rustic. With less than 20 sites, it runs on a first-come-first-served basis.
We were fortunate to arrive on a Thursday and be the only ones in the campground. We had our pick of the lot and had an enormous site just up from the river with the most beautiful, sweeping views of the Cascade foothills, and Cle Elum River and Lake. Just sitting in our campsite we watched deer, loads of little forest creatures, raptors and bats. It was kind of our own animal show.
There was plenty of swimming options close by, just a walk from our site. We took a few dips in the Cle Elum River… and it was chilly. Very exhilarating. The kids were fine though and they just splashed in the shallows until we noticed their toes turning blue (kidding). Cle Elum Lake was just a short walk away too, and it provided plenty of open space for the kids to play, millions of super flat rocks for skipping, and some small coves for jumping in. The lake was just as cold as the river.
FYI: maybe it was the specific days we were there, but there were quite a few mosquitos in the campground. They lessened as the days progressed though… but FYI.
Suncadia Resort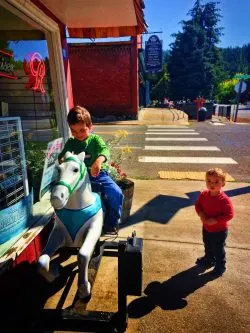 We haven't stayed at Suncadia yet, but it's a known destination for Seattle residents. It is a beautiful property (it's huge) and has all of the resort amenities you might want, including a golf course. Suncadia is a part of Destination Hotels who also own the Inverness Hotel, so we can only imagine that the experience there would be just as great as ours in Denver. We'll just have to go check it out!
We'll be back in Roslyn before the summer is over. We loved our camping experience and the fun dining choices in Roslyn and will need to share them with some family and friends again. Hopefully on our next visit we'll be doing some great hiking, and if so, we'll share those tips too!
Do you have a favorite small town in Washington to visit? Tell us where and we'll check it out!