We sailed into several beautiful port during our sailing trip through the Dalmatian Isles of Croatia, but none stole our hearts the way Vis did. Visiting Vis was exactly what we'd hoped for when planning our trip to Croatia. With two days of exploring we know just what to see and what to do in Vis.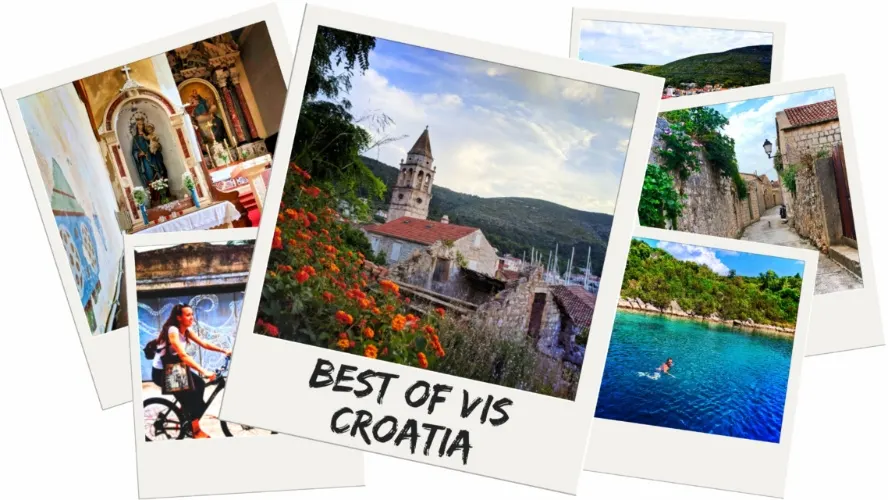 The Best of what to do in Vis
Being the getaway spot for the cast of Mama Mia during filming, Vis is rightly the place to escape to for both a peaceful town and a beautiful destination. Between the food (Croatian food is amazing!), the water, the history and the activities, visiting Vis was for sure the highlight of Croatia for us. We weren't sure what to do in Vis initially, but once we understood the lay of the land, we had a remarkable time.
Biking around Vis
We enjoy biking nearly everywhere we go and the Dalmatian Isles are no different. When it comes to what to do in Vis, biking is at the top of our list. Much of the town is accessible by bike and as long as you're paying attention, you should be able to navigate the cobblestone streets and dirt roads with ease.
How to rent a bike in Croatia
If you are unsure what to do in Vis or anywhere, we always recommend talking to a local for a recommendation, and that goes for bike rentals too. We rented ours from Ionios Tourist Agency, located just off the marina. It's a small shop, but really obvious due to the bikes locked up outside. For two bicycles for 5 hours or less, it cost us about 200 Kuna ($25 USD =/-). We felt that this was a great deal and our bikes were well maintained. Google Maps link here.
Depending on the vendor you go with, they will accept either a passport or significant cash deposit for renting bikes. Croatian vendors seemed to be quite trusting with us and since they knew we were in town on a chartered sailboat, both times we needed to rent bikes in Croatia they allowed us to leave just one deposit for the both bikes.
Tip: we never leave our ID as collateral in any rental situation because it is both integral to our transportation AND a lot of personal information can be obtained through a piece of ID, which in turn can be used for all sorts of other things.
Bike route for exploring the Town of Vis
The following bike route is good for exploring the main sites directly around the town of Vis and can be biked/completed in 2-4 hours, depending on how long you hang out at each site. Starting at the east end of the marina, you can pick up your bike from a variety of vendors.
You cannot bike around the bay of Vis directly on the water, as there are many buildings directly on the water, but a good portion of it has great views of the water. The real treat of this route though is getting to bike through the back alleys where you find real people living their real lives. There are two challenges to biking in Vis though:
You must be very wary of pedestrians and people leaving buildings directly onto your bike path

Cobblestone is tricky to ride on if you're not familiar. It's bumpy but fun. The cobblestone in Vis is bigger than Old San Juan or many other places we've biked.
As long as you're paying attention and giving the right-of-way to pedestrians you should be fine and you'll love biking around the town of Vis.
Now, here's our route that we can recommend. Feel free to save this link to My Maps within Google Maps or download the graphic. It's not a complicated town to bike through, but a guide like this can be very helpful.
Use this Google Maps link for an ideal biking route

Churches to see in Vis
Being a very old city and formerly part of the Venetian and Roman Empires, there are several churches in nearly every port town you can visit in the Dalmatian Isles, and how could we guide you to what to do in Vis without including some beautiful, small churches to visit? Starting at the beginning of the bike route we provided, before you even get on your bicycles, climb the stairs just off Ulica Kresimira (the marina street). Here you'll find the Church St.Ciprijan and Justina. A beautiful church constructed in the 18th century (first version was 15th century), it's stood the test of time and is a solid part of the surrounding neighborhood. We visited just after they had a celebration and there were cats and confetti everywhere.
Tip: when visiting St. Ciprijan or any church, always note if there are services going on or if it's not visiting hours. We want you to experience the best of Vis, but not at the expense of being intrusive or disrespectful.
The next church to check out in Vis is across the bay: St. Jerome. This church is a prime example of small scale Romanesque architecture. The inside has be well repaired as time's taken its toll, but it's still very impressive and beautiful.
The attached Franciscan monastery isn't open the the public, but the gardens and bell tower are visible from the outside. Also, from St. Jerome you'll get a great view and photo op of the town of Vis from across the bay.
The last church we recommend to stop by in Vis is Our Lady of Spilice. This is a very grand church in comparison to the others, and in a very active part of the neighborhood. Also, repaired over the years, particularly following the Croatian War for Independence, this church offers a very different photographic opportunity as it's very nice inside and is a rare example of Gothic architecture in the Dalmatian Isles. Also, you'll need to inquire at the church if you can enter, as it may be unlocked but not open to tourists.
Note: most churches are always open or unlocked, as is the nature of being a sanctuary, but many also have particular times of day that tourists are welcome. You can usually visit any church anywhere for religious purposes, but for just checking them our and for photography, many have rules to follow.
Fort George above Vis
As we sailed into the bay of Vis, we saw Fort George up on the hill and knew that we had to visit, but we weren't sure just how to. Thank goodness biking is one of the best things to do in Vis. Continuing on the bike route we have above (on on this Google Map link) you'll ride up a winding road to the top of the Island of Vis. As you ride, the views on both the town and cove side are beautiful.
You'll have chances on your trek to Fort George to stop into a mini market, such as Konzum. We recommend getting some snacks or picnic supplies to enjoy once at the fort. At the top, you'll see that Fort George is very well maintained. Today, it actually functions primarily as a restaurant and event space, but guests are also welcome to just explore. The depths of the fort aren't accessible to the public, but walking the outside of the fort is one of the best things to do in Vis, if for nothing else but to enjoy the view and have a wine picnic.
Tip: you'll be a bit tired following your ride up to Fort George, so enjoy the cafe or your own treats when you're at the top, and if you were able to get to the fort for golden hour, you'll get some amazing photographs too.
Swimming spots out of Vis
Something we enjoyed with sailing around Croatia was getting to swim nearly everywhere, and Vis was no exception. Depending on if you'd like to enjoy a nude beach or a family beach, you've got a few options.
Just off the main route around the bay of Vis you'll find a wonderful public park with a beach, Prilovo. This is a very popular spot with the locals and is perfect for a chill afternoon of swimming in Vis. It's located very near St. Jeronima, on the same small peninsula in fact, so you'll likely be going by there anyways. You can't miss Prilovo Beach, seriously. Google Maps link here.
The next spot we can recommend is the nude swimming area just after the last structures along the bay. As you're riding, or even walking if you've parked your car somewhere or rode the bus, you'll veer down to the right just as the road starts to really head up to the fort.
There's an ill-maintained dirt road that is ridiculously bumpy, but will take you out around a point. There are quite a few spots that you can park your bicycles and climb down the rocks to the water. Take off your clothes and jump in for the most enjoyment. (see the full map below for location)
Tip: while Croatia is exceptionally welcoming to nude swimming, you should only be doing it where it's designated, either by a sanctioned sign or intuitively where you can tell that it's appropriate.
The last two of the swimming spots in Vis we can recommend are at the retired submarine silo and Grandovac Beach on the east side of the Bay of Vis. That's right, to the northwest of the main bay of Vis, there is a long, narrow cove that is home to a huge Yugoslavian submarine silo from wartime. You'll see lots of boat that park near the silo as it's a popular boating destination, but it's great for non boaters too.
While it isn't recommended and there are some signs that tell you not to jump off the silo walls, we saw quite a few brave locals and visitors jumping into the perfect water from the tunnel sides. Proceed with caution and follow the rules.
There's also a beach across the cove, Rogacic Beach, that you could potentially swim or paddle over from. Google Maps links: Actual Silo Rogacic Beach
The other spot we mentioned is Grandovac Beach. Accessible by bike (or car and then walk down) it's less crowded than other beaches and just as nice. It is quite rocky in spots, but access to the water is easy, and let's face it, that's what you're looking for! To get there, you'll want to drive or ride northeast out of the marina for about 5 minutes, or it's an easy 20 minute walk. Google Maps link here.
Boom! So much fun to be had!
Use this Google Maps link to ride from beach to beach around Vis – note that this shows as a walking map, but it's bikeable too.

How to get to the Submarine Silo
There are three ways to get to the submarine silo outside of the town of Vis:
1.) Arrive in the cove via boat, either your own sailboat or a chartered water taxi from town. 2.) Drive from town up towards the fort and then make a left down towards the cove side of the island, towards Rogačić. 3.) Ride your bike the same route as driving and then park it at the base of the hill near the water and swim across
Photographing Vis
While we always want to encourage everybody to just enjoy the sights with their own eyes, we'd be remiss to not encourage photographing what you see and love. Exploring and enjoying photography is one of the best things to do in Vis and ensures you can bring home memories to share. We're all about that!
Morning Photography in Vis
To get some of the best, most beautiful shots of the town and wonderful old houses in Vis, you'll want to head up from the marina. You can easily walk up any number of staircases in the town to get to some of the more narrow side streets. Knowing that the sun rises in the east, you'll get some wonderful lighting going through the narrow streets of the easterns end of the town. Also, if you climb up as far as your able in this part of town, just past St. Ciprijan, you can get a gorgeous view of the whole town with a bell tower.
Afternoon Photography around Vis
The narrow streets are more difficult to photograph in the afternoons, but if you are skilled with composition and framing light and dark, you'll get some great shots. The cobblestone streets and busy foot traffic make for really interesting subject matter in town, which is actually why photography is one of the best things to do in Vis. Either on bike or on foot, walk out to the small peninsula on the west side of the bay where the Church of St Jerome is located. It's a great vantage point for the golden hour and it's rather magical.
Between swimming, biking, being artistic and just enjoying the town of Vis, you're sure to have a great, relaxing time. We could've stayed in Vis for three or four days, and that would've been great for exploring more of the island. If you have additional tips, please let us know in the comments or send us a message.
And want to pin this for planning your own trip and making sure you know what to do in Vis? Go for it!!!