This Puget Sound itinerary is perfect for seeing the best of Western Washington.
We get a lot of questions about visiting the Pacific Northwest with kids. People want to know the obvious like "what are the can't-miss sights?" or "should we really pack for cold weather in July?" We'll answer that second question first: yes, it rains. For the other questions though, here is the first of 3 plans we're going to share for a great Pacific Northwest itinerary.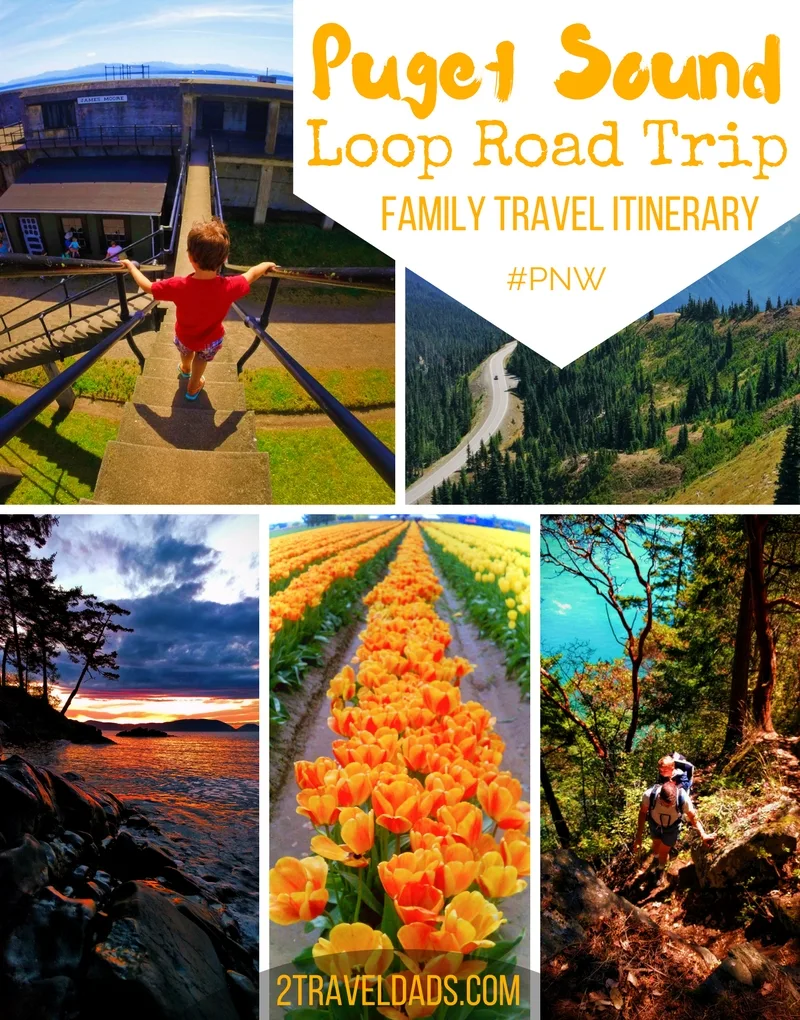 Like we did with our Western National Parks itineraries (mountains and coast), we're going to share a few different approaches. Our first idea: the Puget Sound Loop. This Pacific Northwest itinerary keeps you on track, gets you into nature, but not too far off the beaten path. We will share our tips for having a one-of-a-kind trip, but know that we're keeping this on an easy loop. If you've got more time, take a look at some of tips we share for extra excursions.
Arriving in Seattle
When you fly into Seattle, you land in SeaTac (SEA) which is about a half hour south of the city. It's a great jumping off point for whatever your Pacific Northwest itinerary includes. There are lots of car rental places in SeaTac and to go with that, you can even arrange camping rental if you're thinking about camping your way around the Puget Sound.
Tip: two good options for renting camping equipment are Back 40 Outfitters and REI. Between them, you should be able to rent any of the camping equipment. Washington Trails has lots of options if you need to rent stuff.
When you land in Seattle you'll be wowed by how much water you see in all directions. That's one reason we all live in the Pacific Northwest. When you're visiting the East Coast you're always asked if you want to purchase a toll package for your rental car. Here in Washington we don't have that because we don't have oodles of toll roads, but you will face a few of them. If you're sticking to our itinerary, you'll only hit one ferry… and maybe a toll. Two ferries actually. Yep, at least two ferries.
Visiting Seattle with kids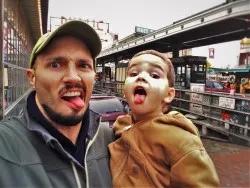 There are a ton of great activities for kids in Seattle itself, but we're just going to share our musts… which are limited. The only thing in downtown Seattle that we will tell any guest who visits us that they can't miss is the Pike Place Market. Being the oldest structured farmers market in the USA it's not to be missed.
Yes, the Pike Place Market is the most stereotypical tourist destination ever and it completely plays to it. From throwing fish through the air to allowing patrons to catch their own flying fish, Pike Place Market is so much fun. Also, you know that we all love our salmon, right? It's pretty great to go to the market and get either your own salmon to cook or a selection of smoked salmon products. Really, that's what Seattle is all about.
Tip: you don't have to purchase a salmon to enjoy the spectacle of it. Enough people, tourists and residents, buy fish that you'll get to watch.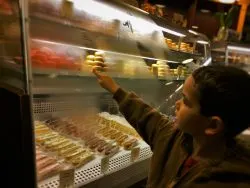 There are lots of other fun things to see in the market, and SO MANY GREAT COOKIES. You'll be tempted with truffle oil, fresh fruit and cinnamon rolls, but the cookies from Three Girls Bakery are the best (and they're actually priced appropriately). And then if you want fancier cookies or other wonderful French pastries there's Le Panier. So good. We love Pike Place Market!! The Seattle Aquarium and Volunteer Park Conservatory are also great sites to stop in at, but Seattle's gem is for sure Pike Place Market.
Other ideas include the Woodland Park Zoo, Ride the Ducks (I know, right?), Seattle Art Museum (really a good one), and the Seattle Center. If you're downtown, you might as well go full-tourist and ride the Monorail to the base of the Space Needle… but want to know a secret? The Space Needle isn't that cool and you can skip the $50 it'll cost your family to ride the elevator.
Time: 3 days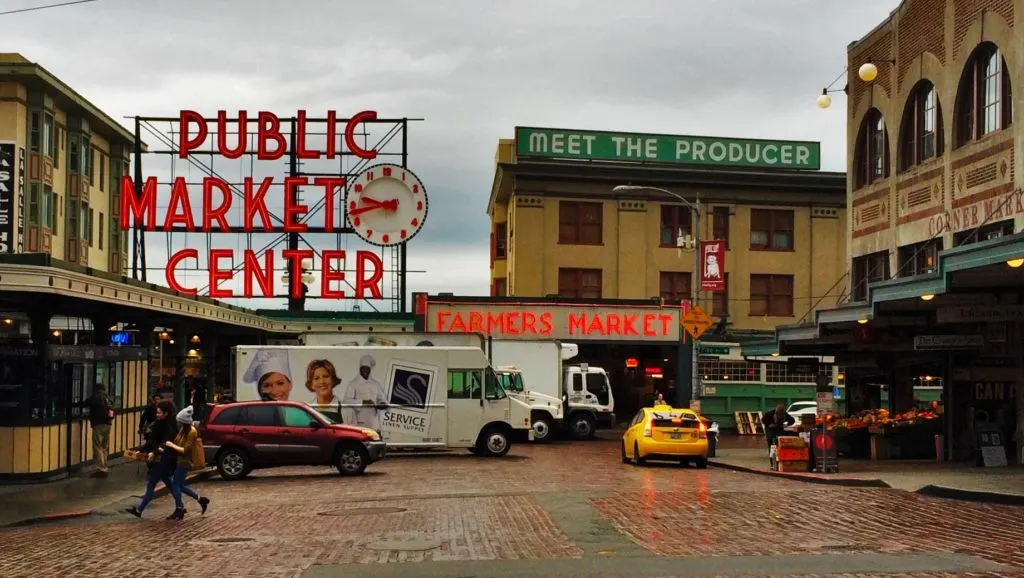 North Puget Sound
The Puget Sound is huge, so our Puget Sound itinerary is very specific and sends you northward to get the most diverse PNW experience. You can head south, but you'll find a wider variety of sites and activities to the north.
The Skagit Valley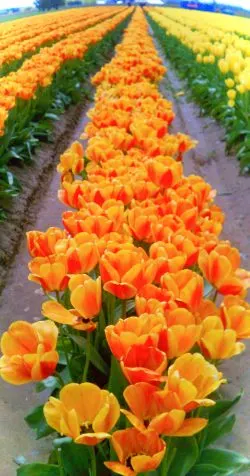 As you head north out of Seattle you'll go through a lot of towns, some cool and some not so. Our Puget Sound itinerary will take you past those and up to where the tulips grow. Spend a day in La Conner and the Skagit Valley. You'll love it! True, tulips and daffodils are a spring flower, but there's more to see, including wine tasting, the old waterfront town of La Conner and if you're around in February, you can head up the Skagit River to see groups of bald eagles feeding on the banks of the river. So cool!
Also, know that you'll be finding great parks, protected wildlife areas and microbreweries everywhere, so plan on a little lollygagging.
Tip: Skagit River Brewery is a great stop and is very family friendly. They've got outdoor seating and do growlers to go!
Time: 1-2 days
Note: add an extra two days by hitting North Cascades National Park. It's got amazing hikes and scenery to knock your socks (and hiking boots) off.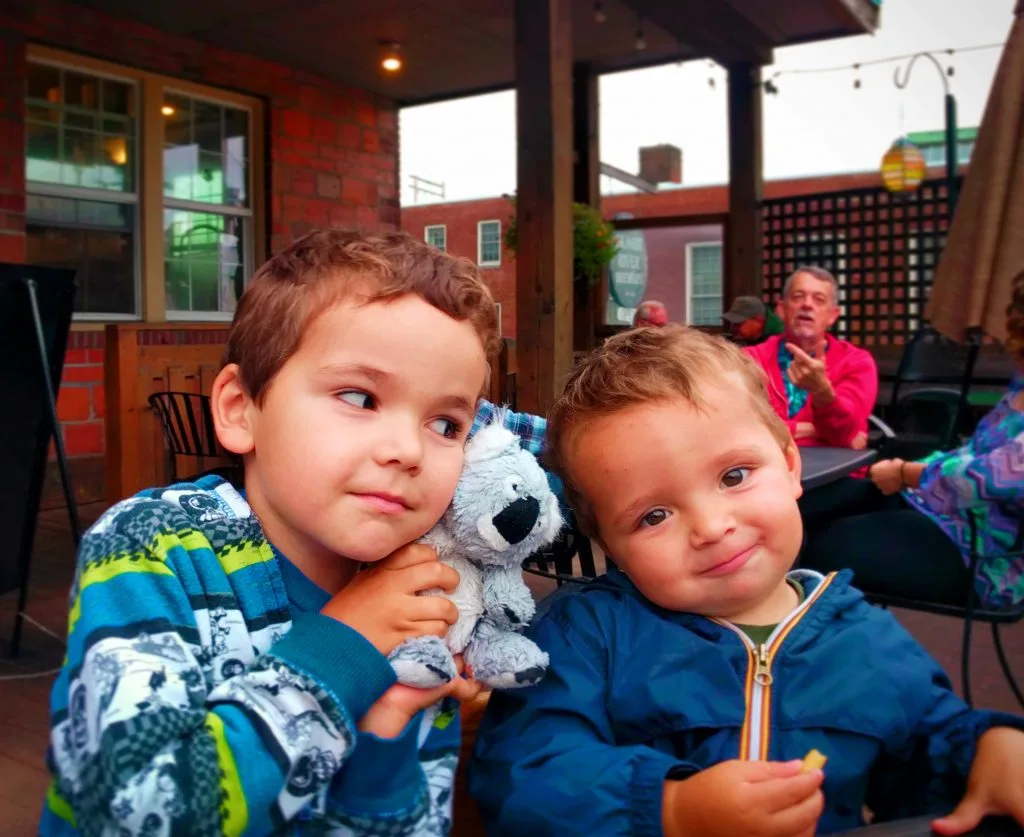 Anacortes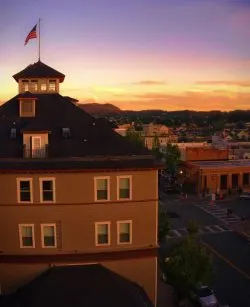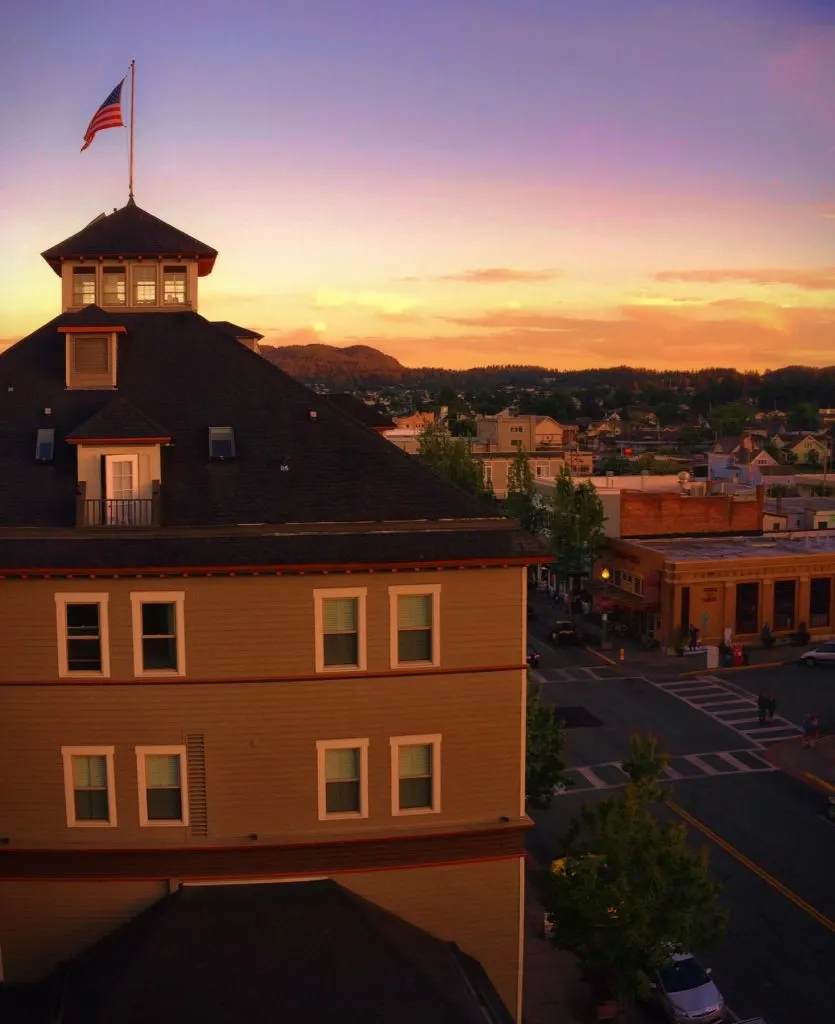 It's our favorite town in the North Sound. We fell in love this summer after spending a weekend boating, playing in their many parks, and having really good food. Anacortes isn't a fancy destination with grand hotels and $15 cocktails, but it's beautiful and so welcoming. Sailing around Fidalgo Bay or heading out on a whale watching adventure to two great ways to enjoy Anacortes. Or doing the farmers market or biking or…
We loved our stay at the Majestic Inn of Anacortes. It was perfect for a family of four and centrally located for all of our activities. We also enjoyed our second trip back to Anacortes when we camped at Washington Park. You know a town has got it going on when you visit twice in two months and have two extremely different stays.
Tip: a great day trip or for a few days even are the San Juan Islands. Friday Harbor has direct ferries from Anacortes, or you can go island hopping, but be wary of the schedule, as you'll want to be sure to get back to the mainland on the day you planned.
Time: 2 days, 3-4 if San Juans are added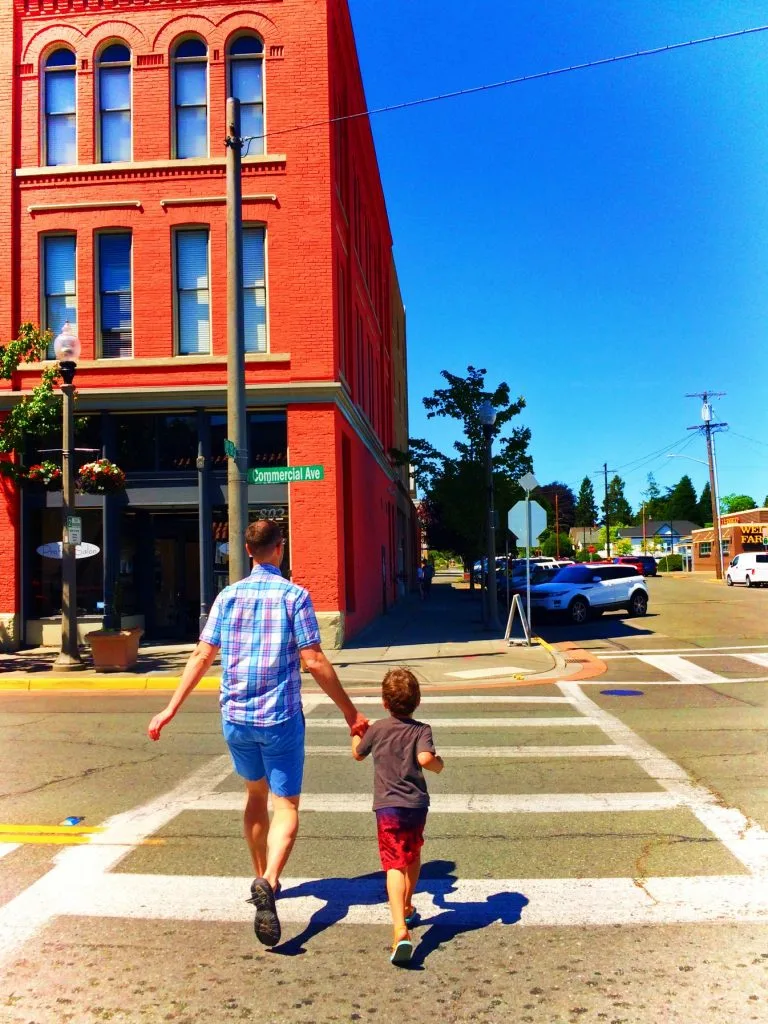 Whidbey Island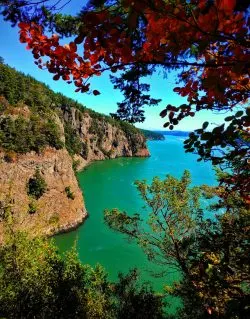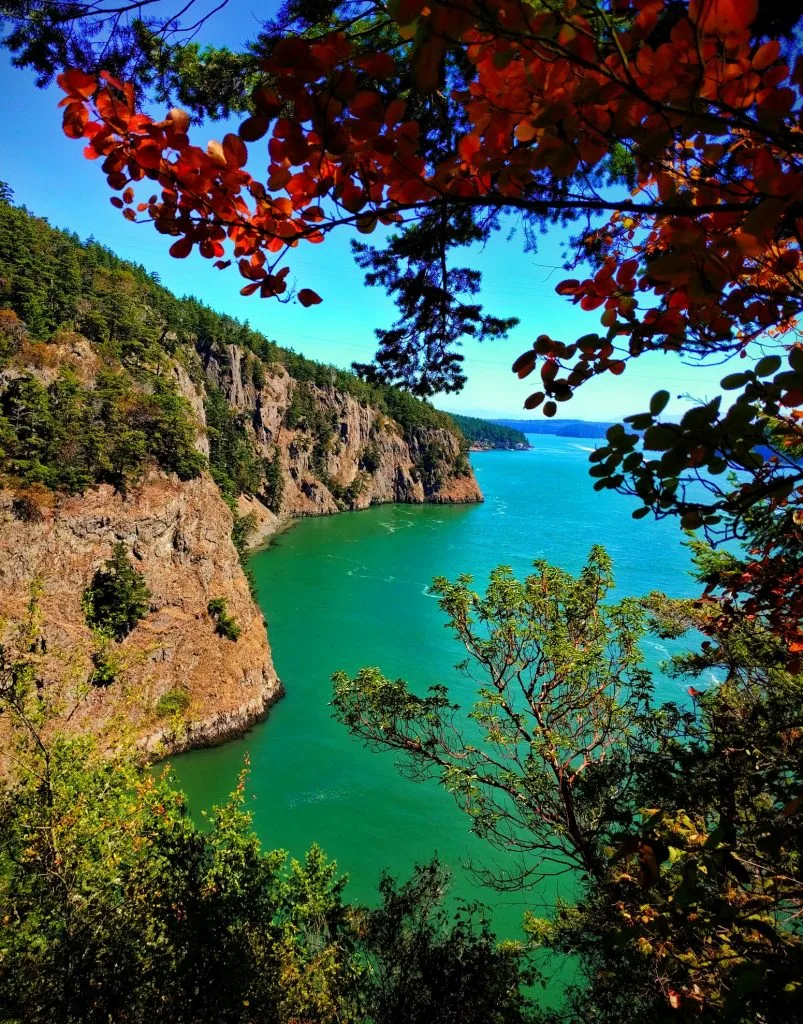 Right next door to Anacortes is Whidbey Island. Again, you're going to find wine tasting all over the island. Maybe that's an article to write or itinerary to create: Wine Around the Sound… later, anyways…
Whidbey Island starts with Deception Pass, which is a beautiful stop. If you want to spend the day, you've got hiking (good for big kids and adults) and beautiful beaches to wander, beachcomb, or just lounge on. Deception Pass is the most colorful setting in the Pacific Northwest with the bluest water, greenest forest and countless red Madrona trees breaking the treeline. It's breathtaking.
Tip: there is camping at Description Pass but you'll need reservations at least a month in advance.
Also on Whidbey Island is the town of Coupeville. It's tiny and is a great alternative to La Conner if you skipped over it. Just a few narrow streets, this quaint little fishing village is half built on stilts above the cove. Really, it's adorable.
Tip: there are some B+Bs in Coupeville if you're looking for this to be an overnight stop. There's not a ton to do, but you can never relax too much, right?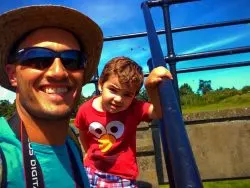 Our last must-stop on Whidbey Island is Fort Casey State Park. It's located right by the Port Townsend ferry terminal so is on your way if you're following our itinerary. For Casey is great for kids. There is so much open space for running and kite flying and a wonderful beach for combing and watching the cruise ships and cargo barges go by. You'll also find a series of very well maintained yet no longer used army bunkers. The bunkers are full to explore and give an interesting view if the Puget Sound area.
Also at Fort Casey is the Admiralty Head lighthouse. We love lighthouses, so this is always a must-stop for us.
Tip: like Description Pass, Fort Casey has camping but you'll for sure need a campground reservation at least a month out.
Time: 2 days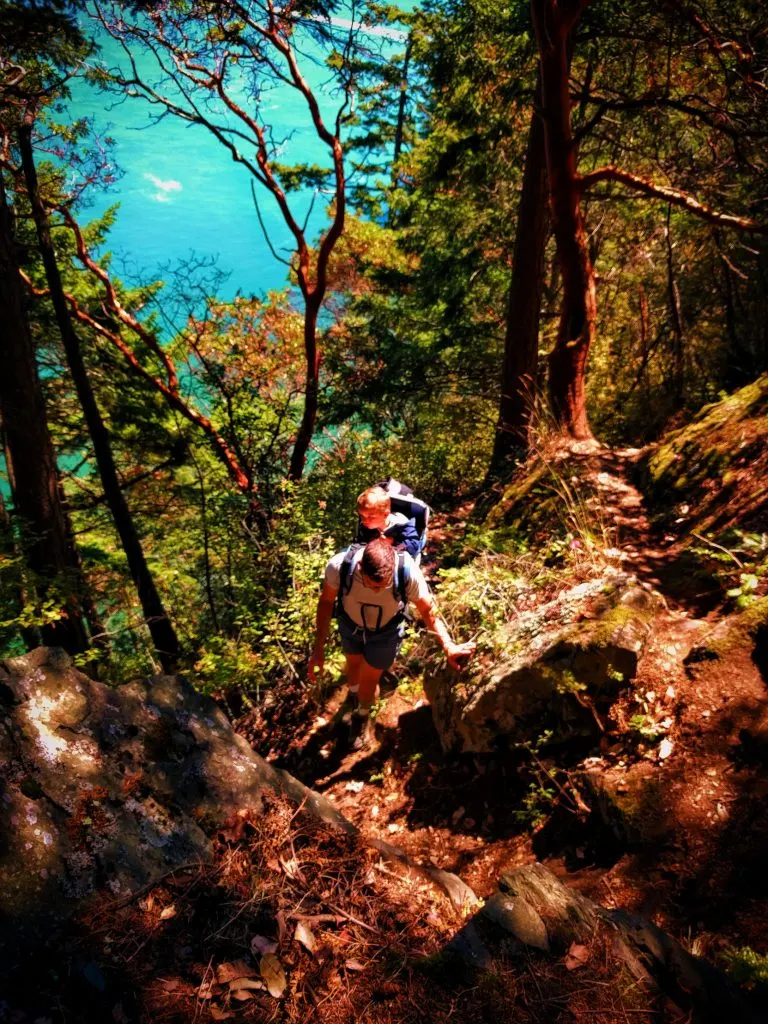 When you're done exploring Whidbey Island you'll pop on down to the ferry terminal to cross the Puget Sound and head to Port Townsend.
West Puget Sound
It's quite different over here. This is where we live (when we're not traveling). It's very mellow and there are four sure more trees than people.
Port Townsend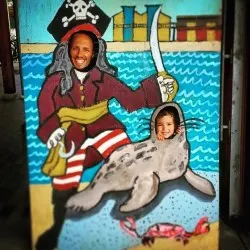 Your first stop in the West Sound is this picturesque Victorian seaport: Port Townsend. Any visit to the Pacific Northwest should include a day in Port Townsend, even if you're not following our Puget Sound itinerary. It's very charming and exceptionally… artsy. The people of Port Townsend have a saying: "We're all here because we're not all the." It's true… and we live them for it. It's actually where Chris (the other of the two dads) grew up. Love it!
The obvious activity to do in Port Townsend is walking the historic downtown and uptown neighborhoods, as they're both fully loaded with galleries, cafes, local coffee and beer, and more Victorian era homes than you can shake a stick at.
Tip: there are several Victorian hotels and B+Bs in the historic parts of the town which are great for couples travel. There's even a castle!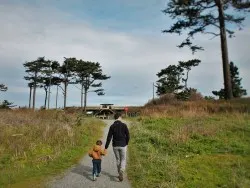 Other great family activities in Port Townsend include Fort Worden State Park, which is very similar to Fort Casey (and it has a lighthouse!), Puget Sound Express whale watching and spending an afternoon in greater Jefferson County exploring the Cider Route and Farm Tours. Port Townsend is one of those places that combines all kinds of activities and cultural fun to make a great destination.
Time: 2 days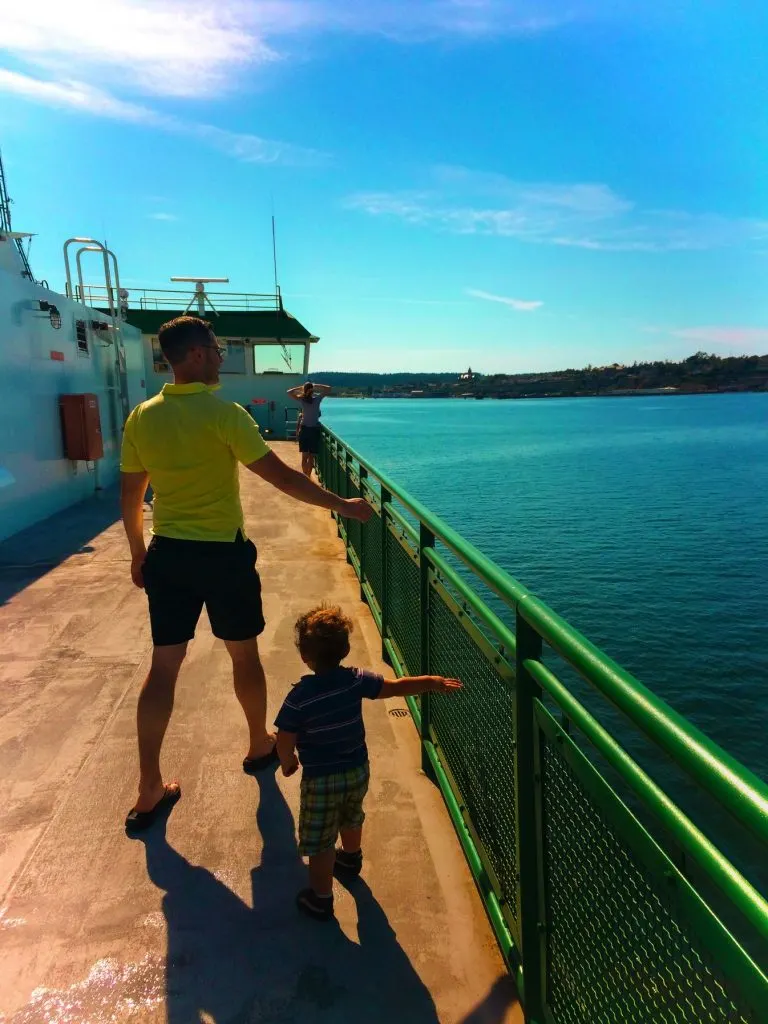 Port Angeles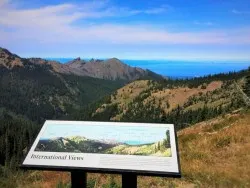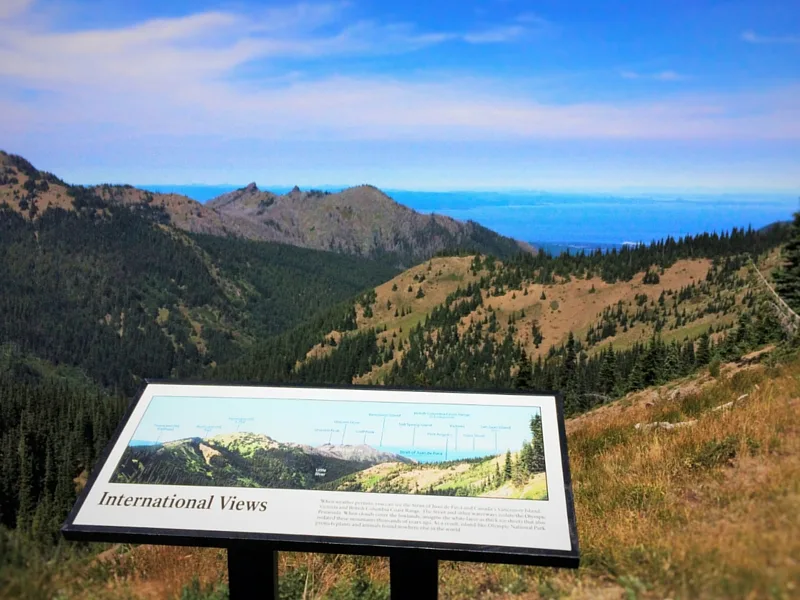 Okay, it's totally out of the way, but when are you going to be in this area again? Even though Port Angeles is up on the Strait of Juan de Fuca and not directly on Puget Sound, it for sure makes our Puget Sound itinerary because it's the gateway to Olympic National Park. For some really great, albeit intense, hiking, head up through the foothills of the Olympic Mountains until you're up on top at Hurricane Ridge.
Tip: if you really want to have fun, add two more days to your Puget Sound itinerary and keep heading west. You'll be able to explore La Push (epic PNW beaches), Cape Flattery (the end of the contiguous USA) and the Hoh Rain Forest (home to Roosevelt elk and gnomes). So much fun for families and solo travelers alike!
Time: 2-3 days, you will double back to the Puget Sound loop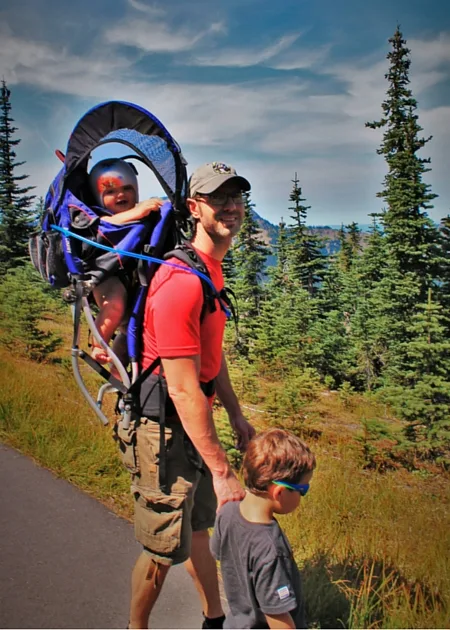 Port Ludlow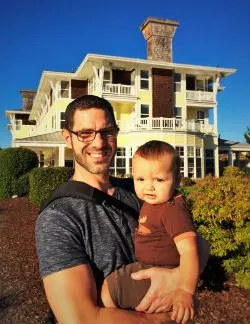 We love spending time in Port Ludlow, but mostly for the food and relaxing atmosphere. The bay Port Ludlow is set on is one of the most still bodies of water we've come across. Even though it's a boating destination with a marina full of beautiful sailboats, it's more common for us to see an otter or a seal breaking the calm water than a boat slipping by.
The Resort at Port Ludlow is set on a tiny peninsula and offers some east coast style you don't find many other places in the Pacific Northwest. The Resort is also home to the Fireside Restaurant, which is why we most often find ourselves there. Its Pacific Northwest cuisine is just what you'd expect from a classy joint on the water in this perfect little cove. Also, it's a great place to try new wines in a great atmosphere.
Tip: if you're going through Port Ludlow in the summer, you may even be able to catch a movie out on the lawn. If you're going through, check out the calendar of events for the resort and see if you can have a movie night under the stars.
Time: 1 day or an evening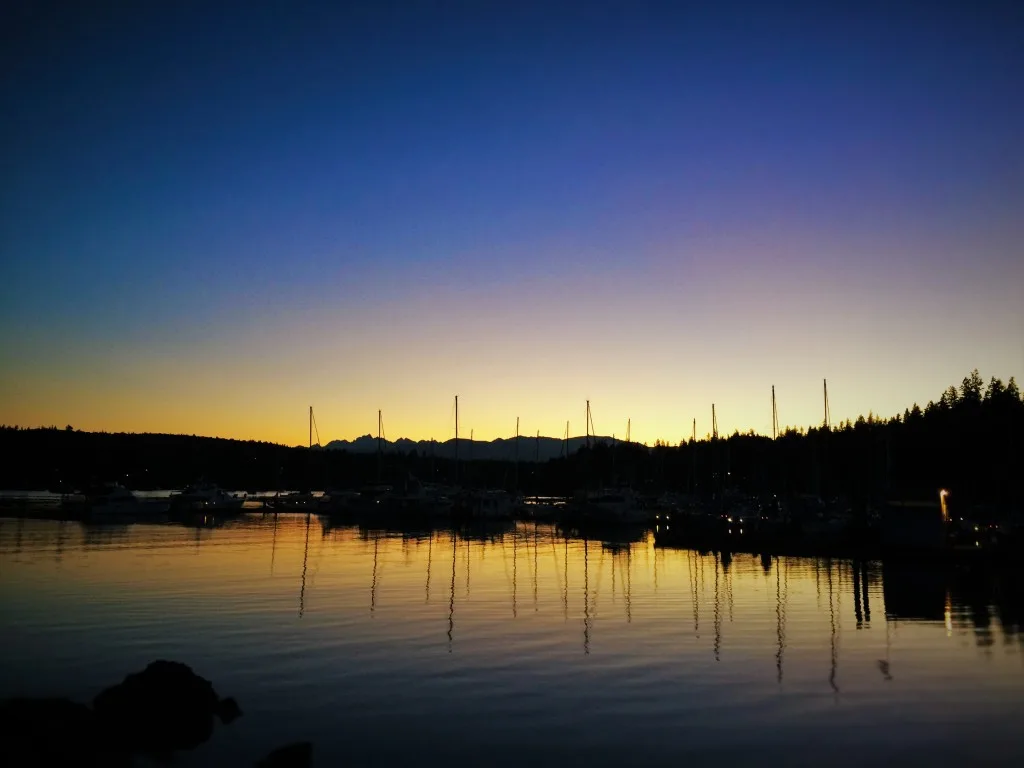 Kitsap Peninsula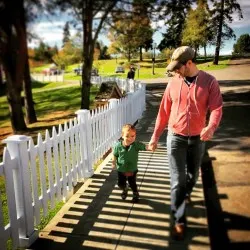 The last part of the Puget Sound itinerary that you have to hit is the Kitsap Peninsula. There are just a few sites to stop at, so for the whole area, we'll give you a short visit. Time: 1-2 days
Port Gamble
This is just a fun drive through visit when you're heading away from the Olympic Peninsula. Port Gamble is just picturesque with it's little chapel and beautiful grand Victorian mansion. In the tiny loop of the town there are a few little museums about the sailing days and a couple of places to grab a cup of coffee. There's more to it, I'm sure, but this is a great way to spend a morning on your way to…
Point No Point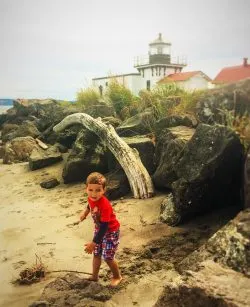 Our local lighthouse. We love visiting Point No Point for loads of reasons: 1.) it's cute 2.) it's a great beach 3.) it's the icing on the cake to take in the full Puget Sound loop from one spot.
We like to visit the Point No Point lighthouse before noon when possible, as it's still pretty quiet. It's a great destination for locals that want to watch the ships go by or that have their fishing license and want to pull in a salmon from the shore. We like it for finding really interesting driftwood and colorful shells.
Tip: you can actually stay in the lighthouse keepers' quarters if you book it in advance. The accommodations are directly next to the lighthouse, so if you're there on the weekend it made be busier than you prefer outside your window.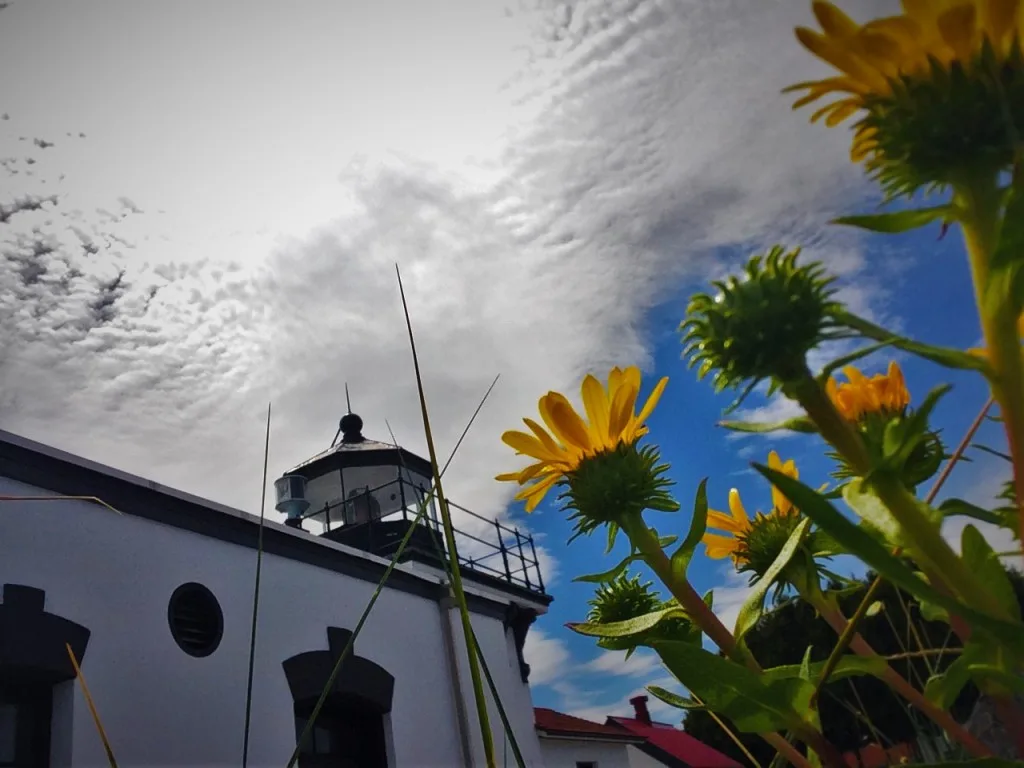 Bainbridge Island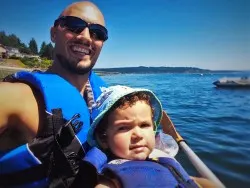 Here's where everybody will vary. Bainbridge Island has everything from awesome parks, such as Battle Point Park, to wonderful little beaches. We love kayaking around the island, putting in at White Pier, but then also we enjoy dining all over. Bainbridge is also a place for… wine tasting and the likes, because it's the Pacific Northwest…
The highlight for us on Bainbridge Island though is the Bloedel Reserve. It's a beautiful collection of gardens and native landscapes set around a manor house. It's a full afternoon of exploring and appreciating the amazing ponds, forests and flowers. The Bloedel Reserve gives the Butchart Gardens in Victoria BC a run for their money and is so easy to work into either your Puget Sound loop itinerary or Seattle trip.

This trip is ideally done over 7 or more days. Something you'll find about the Pacific Northwest is that we're all pretty relaxed most of the time. If you're into slow travel, you could easily make the Puget Sound Loop take three or more weeks. Family Travel in the PNW is pretty awesome and pretty easy. You'll find wine tasting, outdoor adventures and kid stuff nearly everywhere, so take your time, discover new places and have an amazing time in the Puget Sound area!

And here's a fun infographic to save and help you plan your trip!!