You see us mostly heading to the mountains or the beach, but we like to do so many other things. Something we enjoy and do with our whole family every summer is boating. Boating in the Pacific Northwest is an amazing experience and there are so many ways to do it. Discover Boating asked us to share how we get out on the water, and well, you know us… we had to talk it up!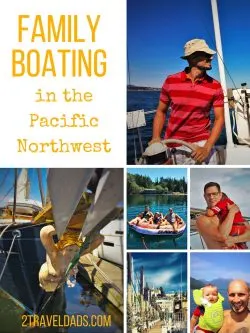 The kids both have been going on boats since before they could walk and they're very much a part of our lives. Typically, we go out on grampa's speedboat, but sometimes we get to go sailing too. And then there's kayaking and rafting too… but we'll stick to our larger crafts to tell you about how our family enjoys boating in the Pacific Northwest.
Destinations for boating in the Pacific Northwest
The Seattle area, and where we live in Kitsap County, is known for its beautiful waters that are everywhere. Seattle lies between Lake Washington and the Puget Sound, which are connected by the Hiram M. Chittenden Locks, and has ample marinas to port in and lots of options for boaters, including boats for hire or rent. But there's more to Puget Sound than Seattle.
Port Ludlow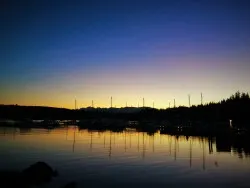 We know Port Ludlow as a favorite local getaway by car, but did you know that it's a beautiful destination for boating in the Pacific Northwest? Tucked away between Hood Canal and Port Townsend, it's got some incredible scenery. I can't think of a time that we've visited Port Ludlow and not seen seals or otters. They love it there too.
Port Ludlow has amazingly still waters and great spots to visit on shore. If you check ahead of time to confirm that there are some open spots for moorage, you can go ashore to dine at the Fireside at the Resort at Port Ludlow or climb up onto the hill for a summer movie on the lawn. It's a really cool place for family boating in the Pacific Northwest.
Tip: like with a nice dinner, good moorage often needs to be researched and reserved. Be sure to check in with a potential port before you show up and can't stay.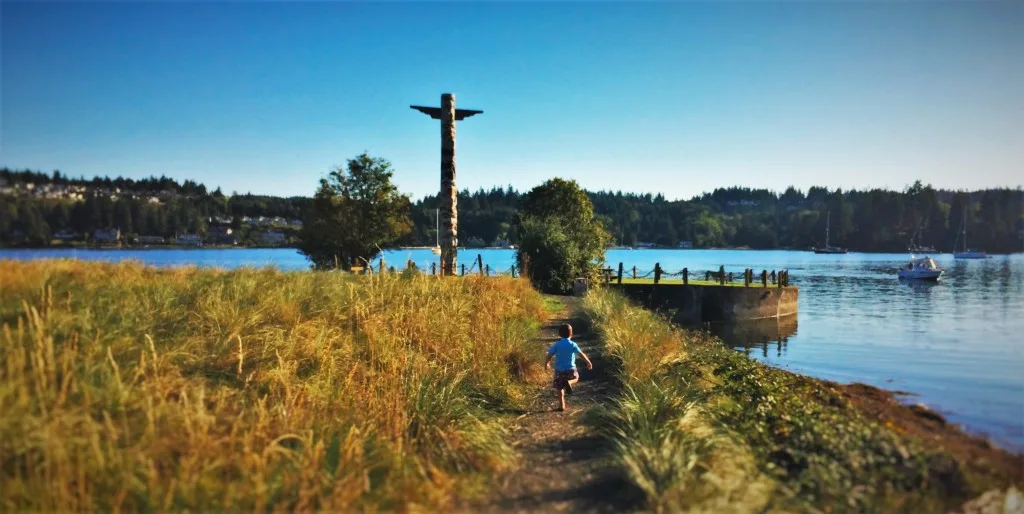 Strait of Juan de Fuca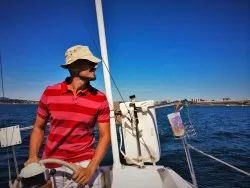 There are so many option for where you can port all along the Strait of Juan de Fuca. Being the border between the USA and Canada, you have to know your way and use those maps… cuz if you're not sailing with your passport, you're in potential trouble. Anyways, sailing out of Anacortes is a great option for a nice weekend of boating in the Pacific Northwest. It's about an hour and a half north of Seattle and is close enough to the San Juan Islands to be able to sail into them in no time. If you're not looking to hop from cove to cove, just heading into the Strait to watch for grey whales is a great option!
Tip: if you follow the Orca Network online, you can get updates as to where the local orca (killer whale) pods are. Be sure to know the laws regarding distance and safety around whales, but do enjoy the incredible sights!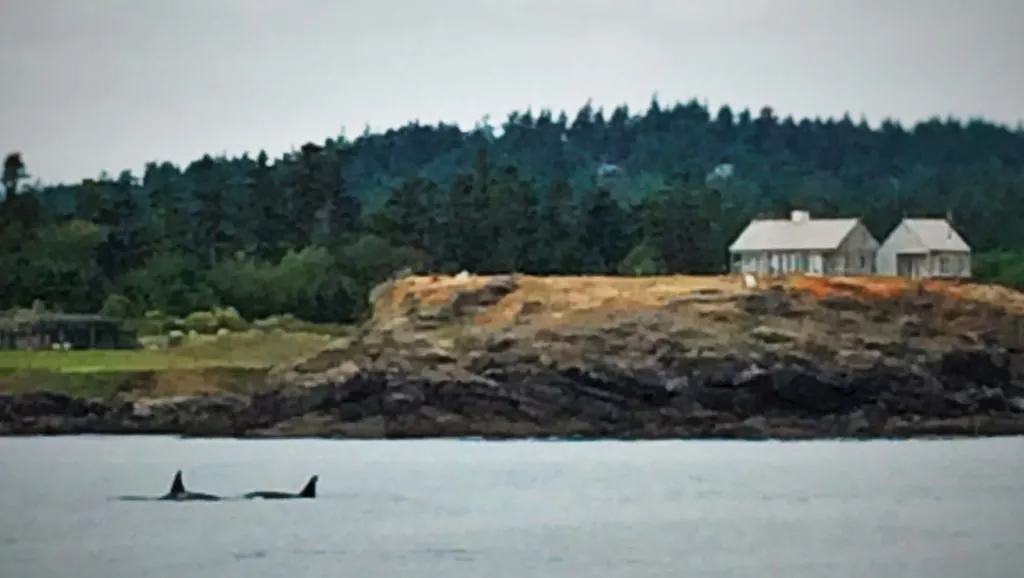 Poulsbo

Local travel is a favorite with us… especially when it's only fifteen minutes away. Although we haven't gotten to sail into Poulsbo ourselves, daily we watch the ships, large and small, make their way to the beautiful little Scandinavian village. With a few routes to enter Liberty Bay, you can check out the coves around Bainbridge Island, either via the Rich Passage or Agate Passage.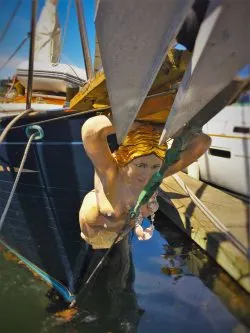 Note: this area is great for kayaking too, but we're talking about bigger boats at the moment.
If you're just a boat enthusiast it's a really great place to visit too. The main marina is open to the public and you just need to be respectful of the boaters using the docks and be safe. Our kids like walking through the marina to check out many of the antique boats that look like they're straight out of a storybook. Oh, and to check out the sea anemones and moon jellyfish.
Tip: if you don't have your own boat but really want to get out on the water in Poulsbo, you can have a fun boating experience on Liberty Bay by contracting with a local boat owner for a tour. Sometimes they're just hanging out and willing to go for a sail, but for a fee, of course.
Sailing sans kids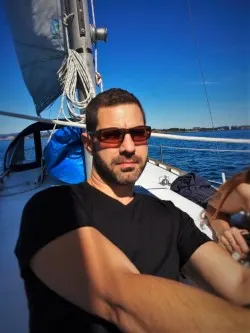 You know that we like to take a weekend every now and then away from the kids. Luckily, we have some awesome friends that allow us to crash their schooner parties. While I've had my boating license for a few years and have the head-knowledge of how to sail, it wasn't until we got to sail into the Strait of Juan de Fuca with our friends that I got to test my skills.
Note: if you're sailing with experience boaters, be sure to honestly disclose how much knowledge and experience you actually have. That's the best way to be safe. Oh, and listen when you're given instructions.
Sailing in the Strait of Juan de Fuca is interesting because it's a major shipping passage. The Strait is very wide and has a variety of boat traffic, from small fishing boats used by recreational fishermen to full on cruise ships leaving Seattle or heading into Victoria, BC. You get to see some beautiful vessels going through and really get a feel for how international Seattle is.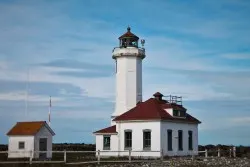 Something to be very wary of too is the currents and winds. We've experienced both dead air and raging winds with 8 foot swells to cross. You need to be ready to act fast on the Strait of Juan de Fuca and pay close attention to the currents.
Yes, the currents. Depending on what area you're sailing around, you'll find that the outgoing tide can be crazy strong, especially as you sail past Point Wilson in Port Townsend, WA. It's one of those spots where the current is visible to the naked eye and you can see when you're going to cross it. Fun times.
Tip: use tide tables. For realz. There's a reason that they are created and provided in marinas and sporting goods stores. Make your sailing experience easier and safer by knowing the tides.
Family time on Lake Cushman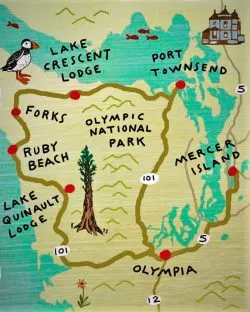 Every summer Chris's family goes to a lake up in the Olympic Mountains: Lake Cushman. It's a man-made lake and is set in the most beautiful environment. Just outside the Staircase entrance to Olympic National Park (#FindYourPark) is the Skokomish Park with it's boat ramp and parking. This is one of the only places to put into Lake Cushman.
We typically spend a week at the Lake Cushman Resort, which has a boat ramp and small marina, but due to lake levels in recent years, we haven't been able to use that boat ramp. We still moor here though, and the Lake Cushman Resort has a gas station that we, and everybody else on the lake, use as well. Lake Cushman is a great spot for boating in the Pacific Northwest because the water is so warm, there are interesting things to see and loads to do at the lake.
Boating activities at the lake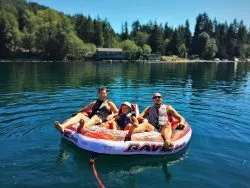 We love to go inner tubing. It's amazing. We do it a few different way, from actual single person tubes to the big inflatables that hold up to three people. Depending on who's riding, what their experience and skill level are, and how adventurous they're feeling, it'll determine the type of tubing we do.
Tip: don't make somebody go on the water in a tube or other inflatable if they're not into it, scared, or just can't swim well. Panic is the best way for somebody to have an accident or bad boating experience. Don't make that happen. There are boating programs to encourage kids to get out on the water and learn about safety, so that's always a good idea.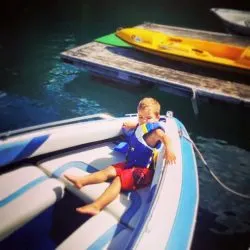 Besides tubing, we also just love boating as an actual transportation method. Lake Cushman has wonderful places to visit that are best to get to with a boat. There's a small peninsula that juts out into the lake and is surrounded by crystal blue, clear waters. It's pretty great to pull the boat up and jump right in. We also like to head out on the boat just to have a tour of Lake Cushman and enjoy the view. Nothin' like taking in the mountains and trees from the water.
Tip: If you're trying to get a little kid used to being on a boat, those little excursions from the shore that are just for relaxing are a great way to get them used to being on the water, wearing a life jacket and starting new family memories.
Where to stay at Lake Cushman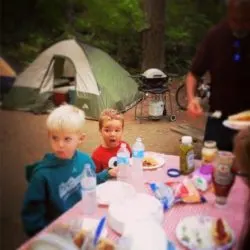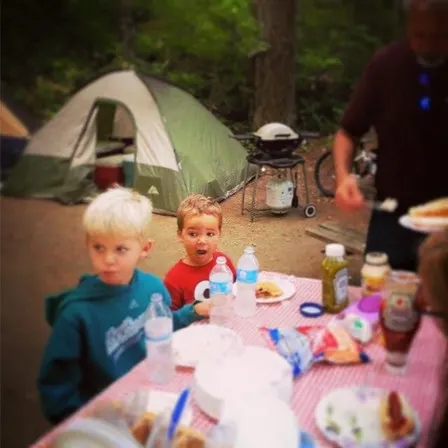 A lot of people love to sleep on their boat, but that's not really a great option at Lake Cushman, as it's mostly a boating destination for sport boats. We typically go camping at the Lake Cushman Resort (currently closed) or Skokomish Park, but these aren't the fanciest of campgrounds. If you're looking to rent a cabin though, that's a good option here, especially since they've got them in the woods or overlooking the lake.
This summer, we've actually already booked through VRBO to stay in a house by the lake. It'll be a very different experience for us, but an awesome one… and probably more relaxed than camping.
Tip: if you want to book a VRBO to fit a large family, do it far in advance. We booked ours last summer for this summer, just to be sure we had the right type of place with enough accommodations and its own dock.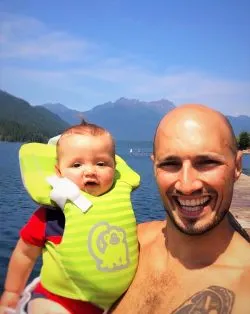 Can you tell that we love boating? When we don't have our own craft to take out, we still make sure to get out on the water, either on a catamaran in Mexico or tour boats in the Rockies. We've even added some adult jet ski time into the mix. Some key things to think about if you're adding boating in the Pacific Northwest to your summer:
children's life jackets are VERY SPECIFIC to the child (size matters)

Anyone under 16 needs to be in a life jacket

Depending on the state or province you're in drivers must have a boating license

Don't drink alcohol while boating

Boating is always more fun with a few people, and it's safer
For some great boating resources, check out Discover Boating or use their tools for things like picking the right boat for your adventures, teaching kids about boating or where you can rent boats locally. There are lots of ways to enjoy the water, especially in the Pacific Northwest. Go out and float around with the family and make awesome summer memories!!