I had no idea there were so many things to do in Columbia, South Carolina before we arrived. I've always known Columbia SC to be a city that was all but destroyed in the Civil War, but not much else. As it turns out it's a fun place to explore with lots of history, outdoor activities, foodie spots and art.
Whether you're planning on stopping during a road trip to Savannah or Disney World or you're making your whole trip about the city, Columbia SC has enough fun things to do to last you 4 or 5 days and you still won't have done it all. We've picked our favorite things to do in Columbia SC with kids, and we think they're pretty great for any visitor.
If you have additional tips for visiting Columbia or have specific questions, please leave a comment or send us a note. We're always happy to share more and help others plan an awesome trip!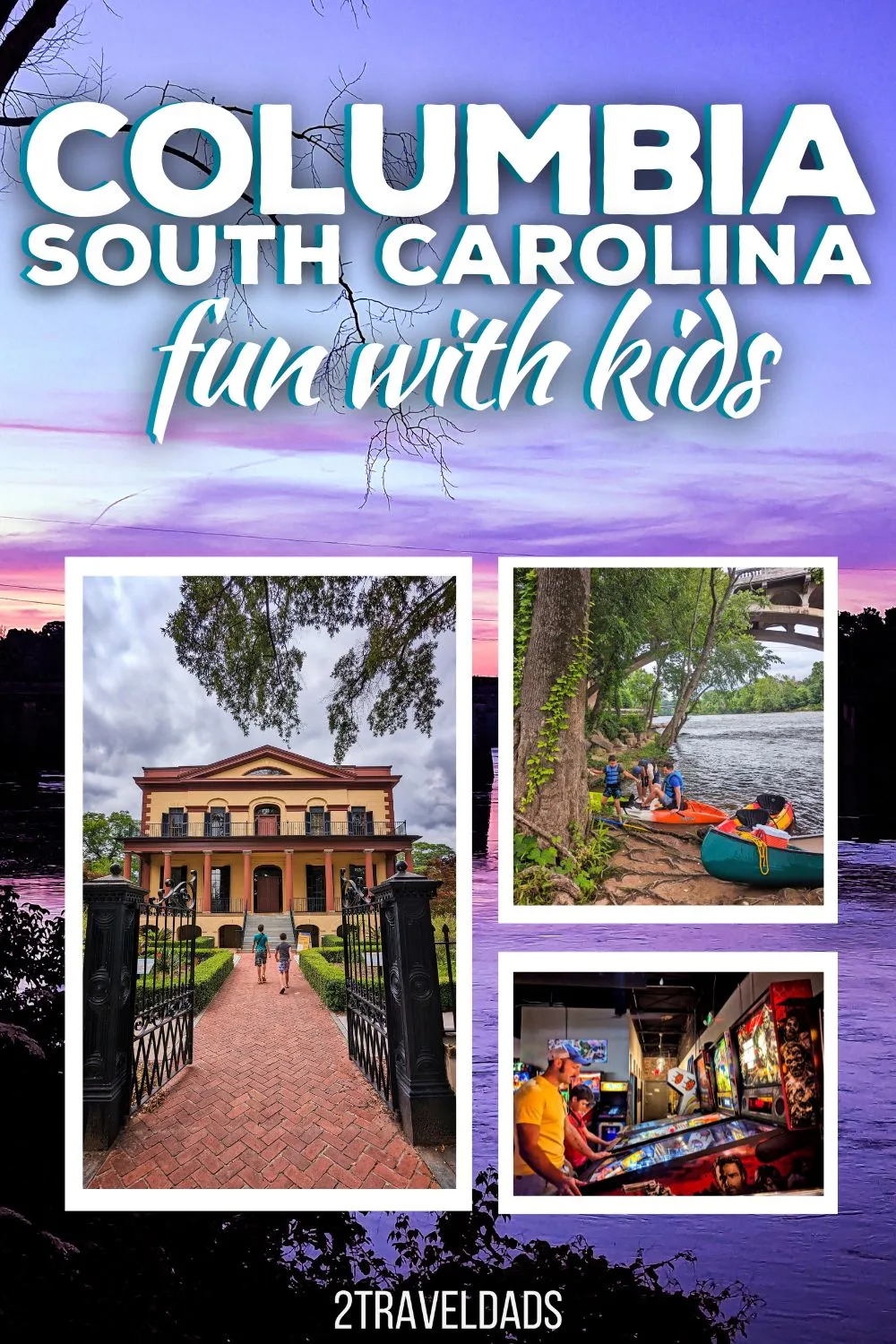 Where is Columbia, SC?
Unless you grew up in the South, you might not have been through or visited Columbia SC before, and that's okay because we're going to give you lots of reasons to change that. Columbia is located in the geographic center of the state of South Carolina. It's in the hill country, about 2.5 hours from the coast and not quite into the Great Smoky Mountains. It's the second largest city in SC and most importantly, it's the capital city.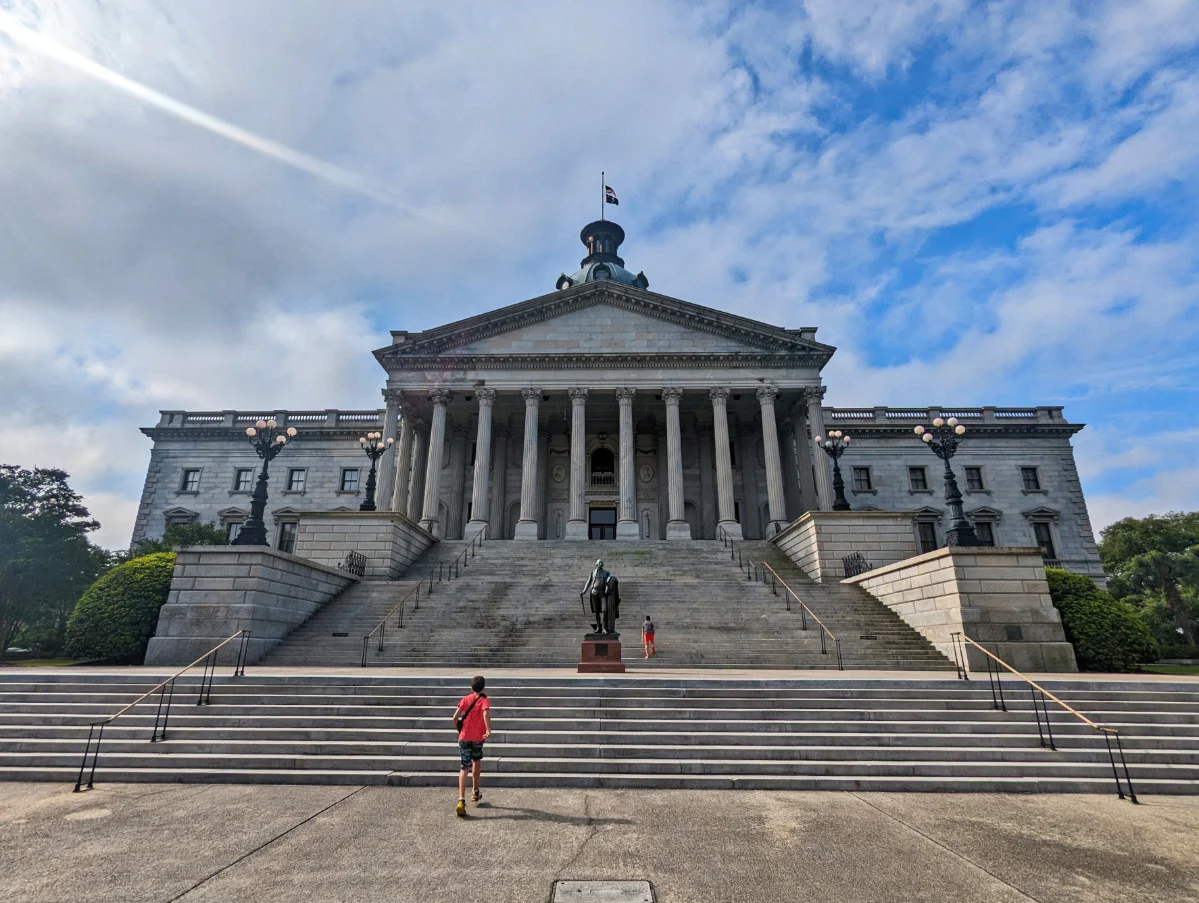 Getting to Columbia, South Carolina
We are big fans of doing road trips, and living in North Florida and visiting Savannah a lot, we easily can drive to Columbia. From Savannah, Columbia is 2.5 hours. From Atlanta it's 3 hours, and then from Raleigh it's 3.5 hours. And here's a surprise: it's less than an 8 hour drive from Washington DC, so you can literally add Columbia onto nearly any Southeast or history themed trip. If you're heading to Bryson City, NC for the Polar Express Train, you'll go through Columbia too!
If road trips aren't your thing, which I do understand, it's not difficult to fly into Columbia SC. You can fly direct to Columbia (CAE) from the following US destinations, which means that you can connect from almost anywhere:
One other thing to consider with traveling to Columbia, South Carolina is that it is pretty temperate for being in the South. Yes, in the summer it gets hot and humid with temperatures in the 90s, but it's not as intense as other southern destinations. October through May the temps are range from the high 50s to the low 80s, which is awesome!
Also, they have legit fall with beautiful autumn colors and a real spring where the trees and flowers all wake up. Growing up on the Olympic Peninsula of Washington and living in St Augustine, Florida, these seasonal changes are something I love to see, especially since they haven't been constant in my life. It adds a special element for traveling during those times.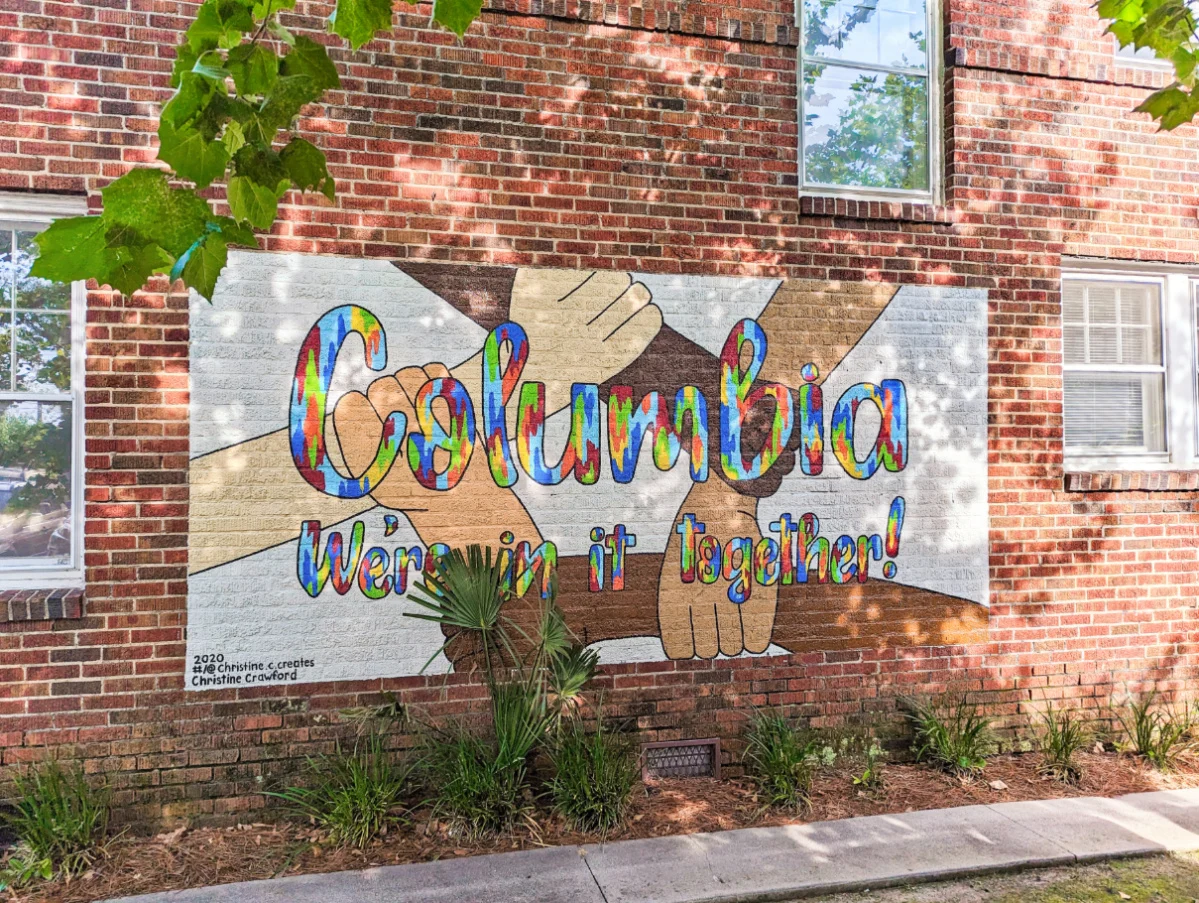 What's the Draw of Visiting Columbia SC?
What I love about Columbia SC is how progressive it strikes me. Living in the South and visiting many places as a family with two dads, we're very conscious of how we're made to feel, both openly and subtlety. Through all of our interactions, meals, and visiting different places with different things to do, we didn't have any experiences in Colombia that made us feel out of place or unwelcome. Add to that wonderful outdoors adventures and fascinating sites and it was a total win for us.
Columbia business are invited to put a Brave the Rainbow decal in their windows if they're a safe space for the LGBTQ+ community, and nearly everywhere in town has them. While you might think that it isn't necessary to put out a visual reminder of support or Pride, when you're visiting the South and knowing both the history and current political climate, indicators like Pride stickers and public statements make a huge difference in the comfort and safety of LGBTQ+ visitors.
Check out our article about Why Pride Matters if you're unsure what we're talking about.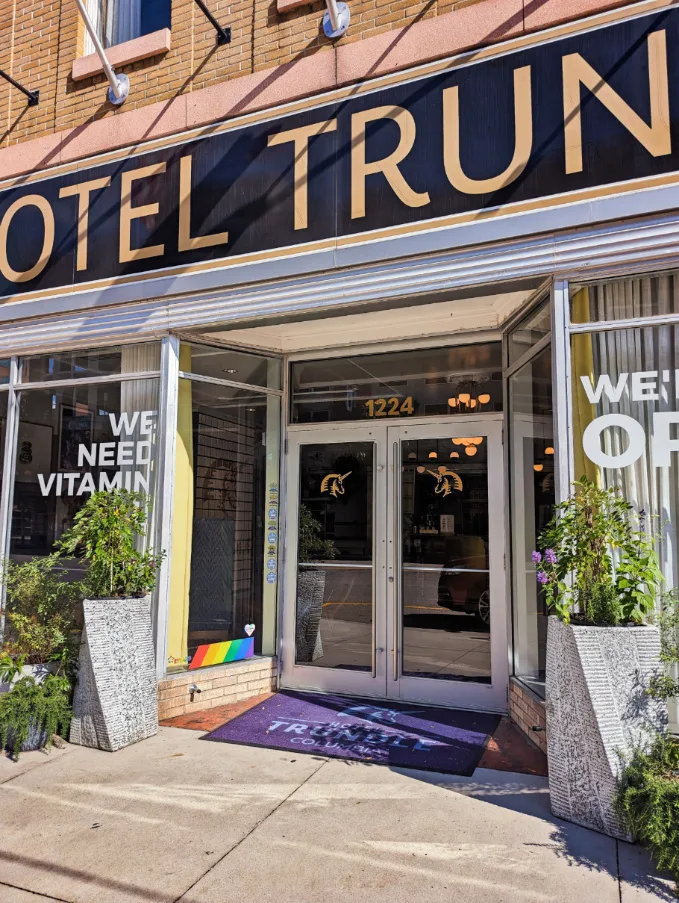 Great Things to do in Columbia SC with Kids
I'm always curious what things are going to interest our kids when we travel. They used to be very into engineering things, like tunnels and railroads, but recently they've started taking an interest in history too. Thank goodness, because living in the South there is a lot to learn about, and history finds its way into many of the things to do in Columbia SC. Our picks for activities are diverse, like our family's interests, so add the ones you like to your Columbia SC itinerary!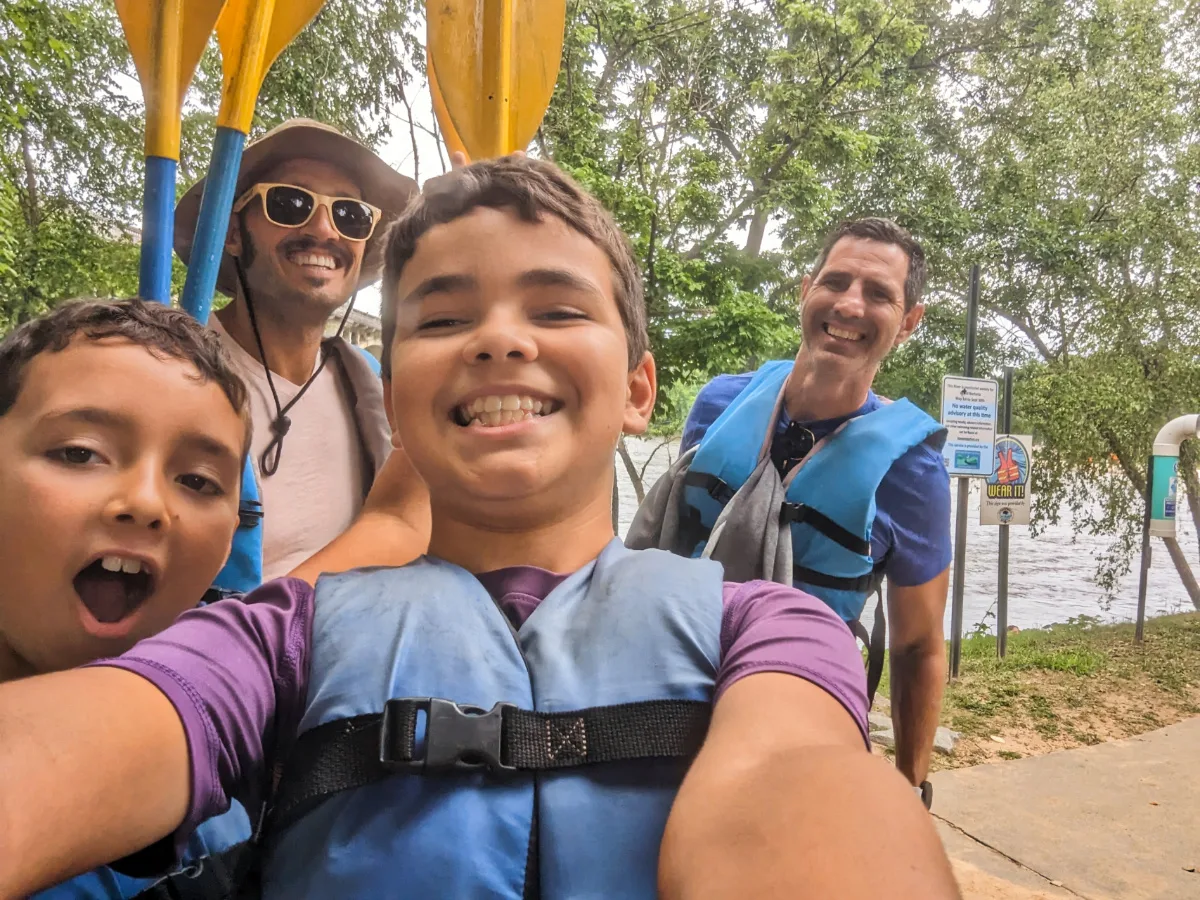 History Activities in Columbia SC
Columbia, South Carolina, was all but destroyed on Sherman's March in the Civil War. Very little of anything remained after the cannon blasts and burning, but there are a few key spots to visit to see the history of the city. Something I really appreciated about each of our stops and the exhibits we saw was that nobody (that we encountered) was whitewashing the history of South Carolina. Slavery isn't talked about with glory, and nobody is referred to as "servants" or was said to be "treated like family." We've encountered that many places, but not in Columbia. It's something we always pay attention to.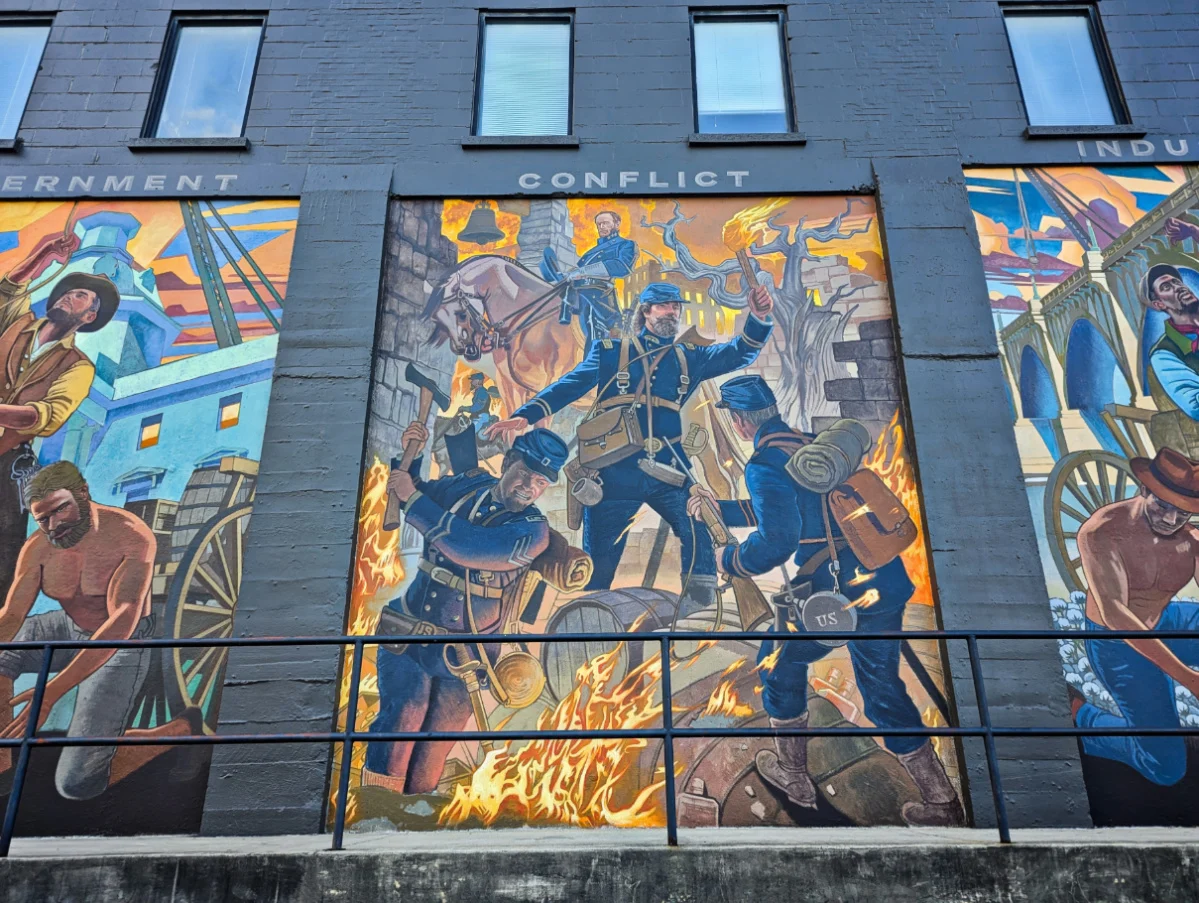 Visit the Capitol Building: South Carolina State House
We really enjoyed our visit to the South Carolina State House. One of the nicest and also most open capitol buildings we've visited, it's beautiful and full of art and history. We lucked out and arrived before anyone else and got to enjoy a personal tour of the building, from the library to the House and Senate chambers and galleries, to detailed stories about the attack on Columbia and construction of the building.
This tour is GREAT with kids! You get to learn about how the government works up close, including meeting elected officials (if you're lucky). Allot 90 minutes for the tour and then take time to see the many sculptures and art installations on the grounds.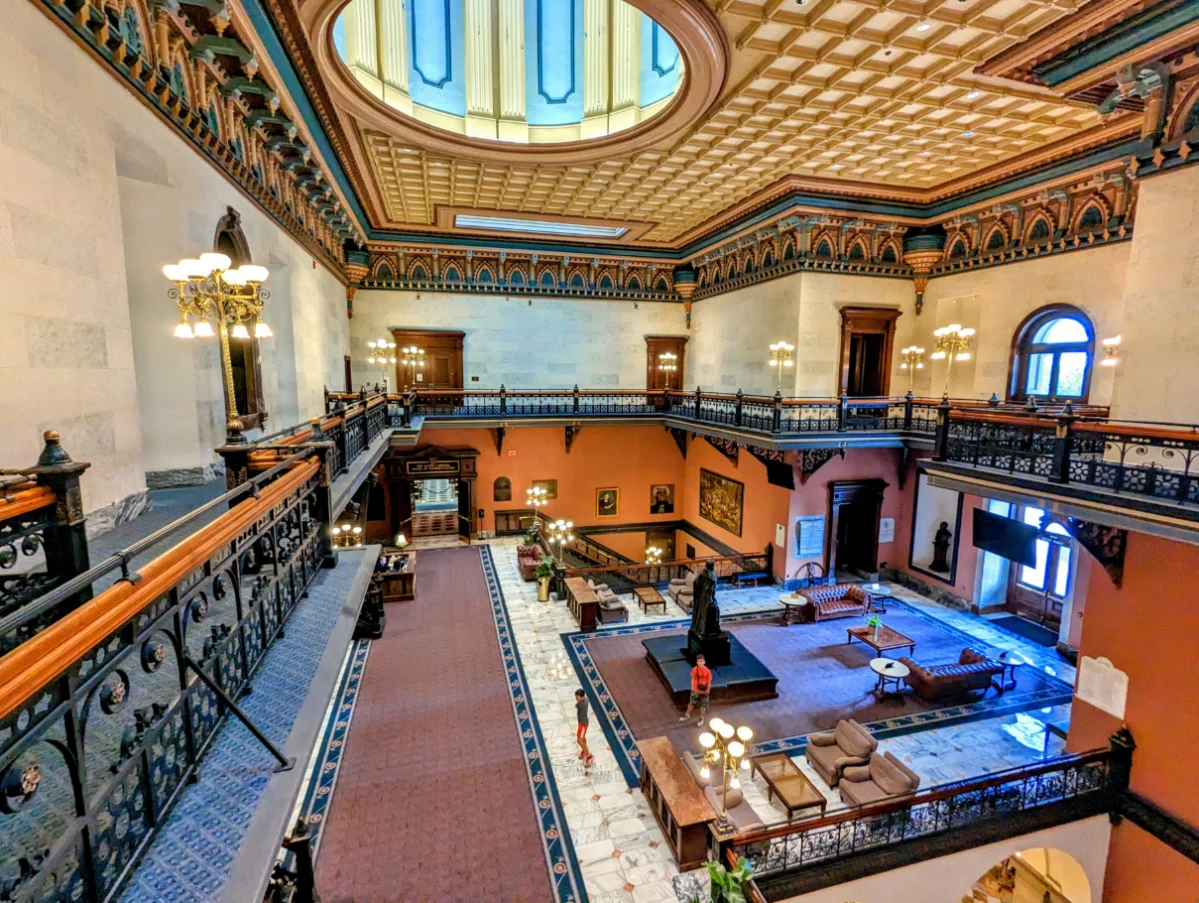 Anne Frank Center – For Older Kids
Yes, we visited the Anne Frank Center at the University of South Carolina with both an 8 and 11 year old and it was a positive experience, but I feel like this is best with older kids. Before visiting, we had a family talk about WWII and a high level view of the Holocaust. Our oldest has actually learned a little bit in school and was already familiar with the basics of what happened with the Frank family. Being a dad, that didn't make it easier going through the Anne Frank Center tour and hearing the process and stories of what everyone went through.
In particular, what jarred me the most as we listened to the stories of Nazi concentration camps was hearing about how LGBTQ people were handled in the Holocaust. While women were not killed as they still could serve a purpose for the Nazi regime, gay men were sent away and killed. Our guide at the Anne Frank Center handled this part very delicately and was very careful with her words, making the story less relevant to our kids because they didn't fully understand, but for me, as a gay dad, this part of the story weighed heavily.
The Anne Frank Center is such an unusual thing to do in Columbia, but it's really incredible to be able to get such an in-depth interpretation and presentation about such recent history. I didn't think it was going to be a good experience with the kids, but it was and the conversations that followed, though difficult, were very worthwhile.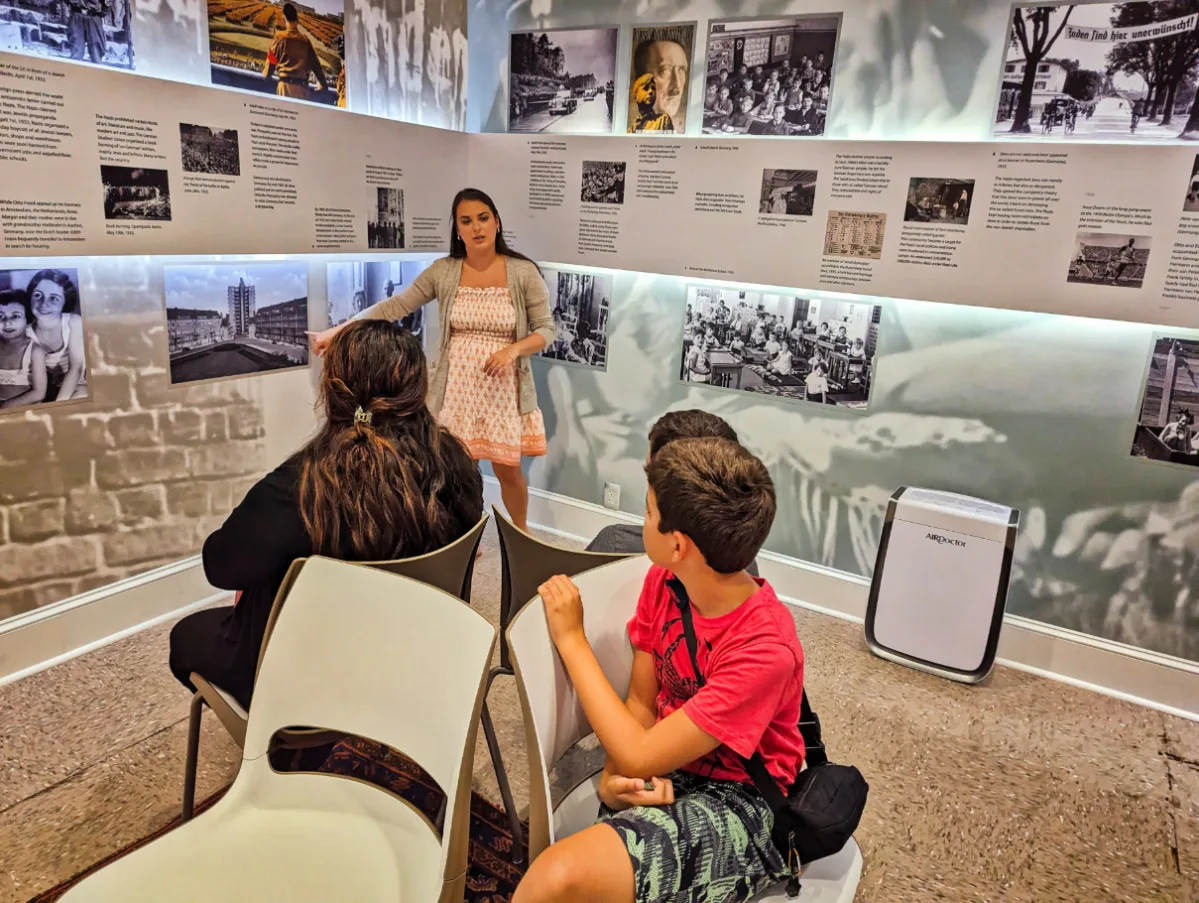 Check out the South Carolina State Museum
The South Carolina State Museum is a great option for things to do in Columbia when the weather is either a bit too hot or rainy. With all kinds of exhibits, from state history to Black baseball leagues, dinosaurs to how lasers work, it's a fascinating place for kids of all ages.
There is also a planetarium and a 4D theater to add to your visit. The South Carolina State Museum (SCSM) has shows about space, nature and even major studio shorts. We really enjoyed the blackholes film in the planetarium.
What I thought was pretty neat at the SCSM was actually an exhibit by South Carolina State Parks. Large scale dioramas, murals and even a lighthouse showcase the many different state parks. There's also a technology element to it to help you plan a visit to some of the parks. We enjoyed BOTH of our visits!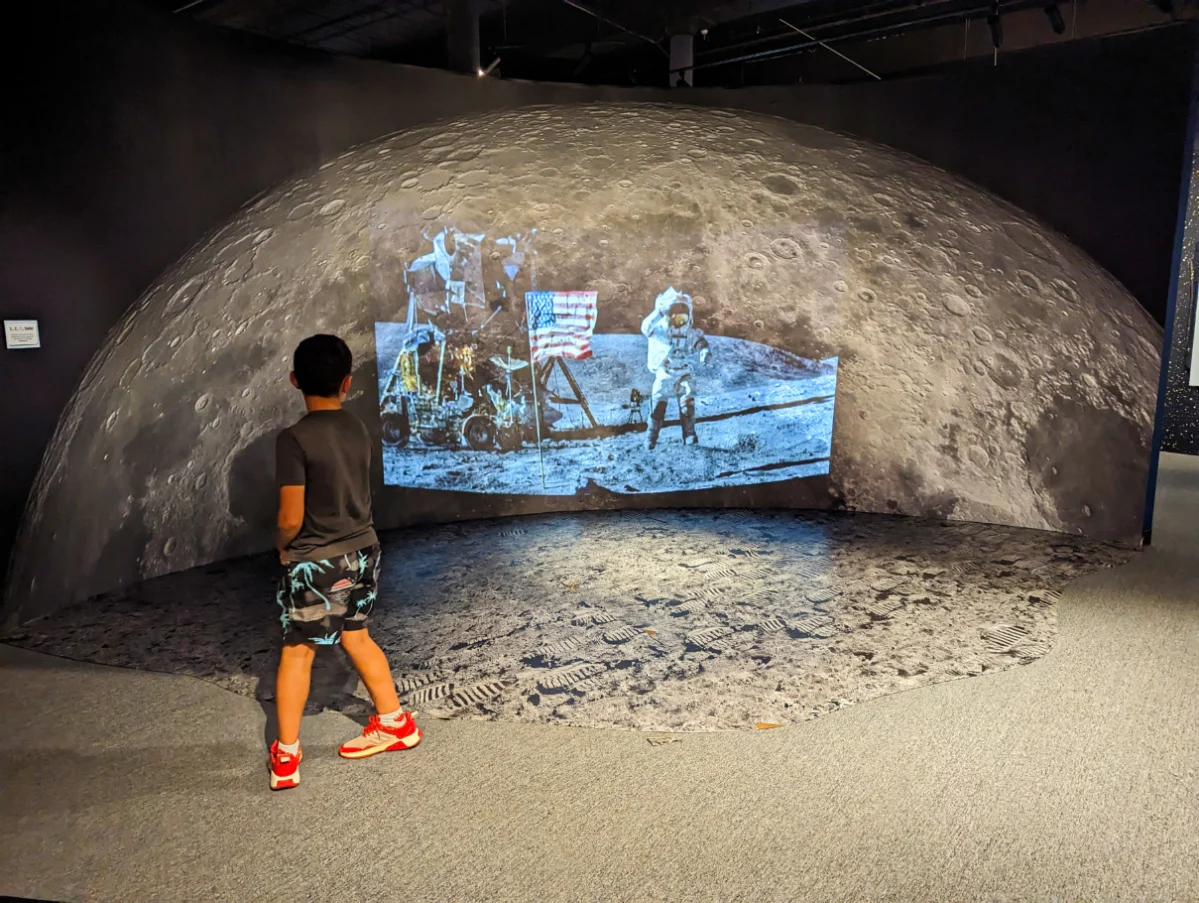 Explore the Gardens at Robert Mills House and Hampton-Preston Mansion
We're cautious about the historic homes we visit when we're touring different areas of the south, as so many treat the Antebellum period and slavery in general as a light topic. There are very few things to do in Columbia SC that include touring pre-Civil War structures, but the Robert Mills and Hampton-Preston houses are both remarkable and are some of the only surviving structures.
I'll be honest, we weren't able to do the interior tours of either property due to their very limited tour schedules, but we went through each one's gardens and read all of the exhibit plaques and really enjoyed the experience. The gardens are beautiful and kid-friendly. They're very easy to visit at your leisure.
Get a self-guided audio tour of the historic sites here!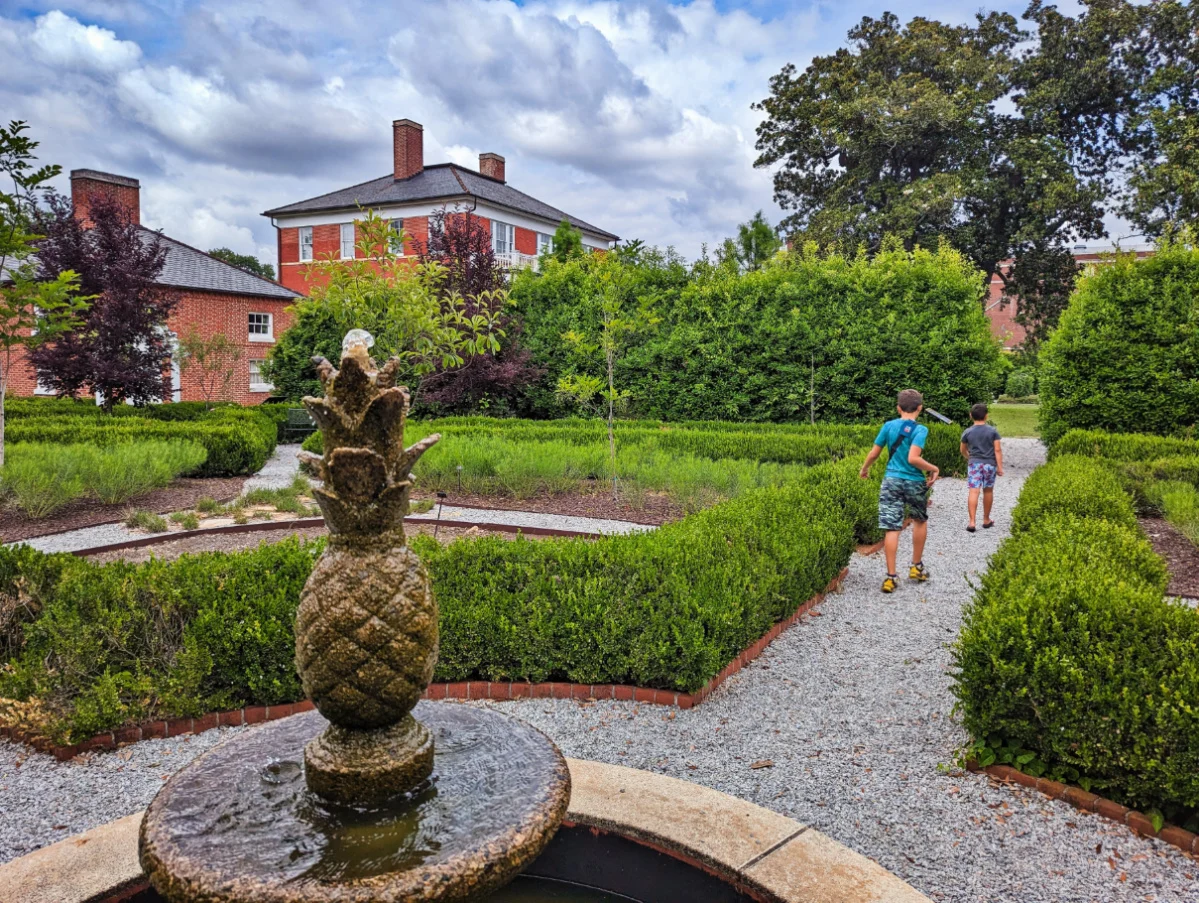 Outdoors Exploring in Columbia, South Carolina
I love how Columbia SC is set perfectly between the ocean and the mountains. It means you get the rolling hills AND the mellow rivers. It's absolutely beautiful, and when you're coming from Florida, the change in the landscape seems really drastic. I love it, and there are tons of outdoor things to do in Columbia!
Visit Congaree National Park in Day and Night
We've got a whole article about visiting Congaree National Park that you've got to check out. It's a very unique National Park in that it's not huge like Yellowstone NP or Yosemite, but it's beautiful and completely different in its own way. What I love about Congaree National Park is that you cannot plan your way through it or go fast. It's a slow and mellow visit and the coolness of the park is in the little things you see and experience.
When you visit Congaree National Park in the daytime it's all about bird watching and seeing alligators in Lake Weston. A visit at night is all about hearing the owls and watching the fireflies. Yes!! Congaree National Park is one of the few places you can see the synchronous fireflies at the end of May. They go for about ten days and it's incredible, as hundreds, and sometimes thousands, of fireflies will blink all together. There are normal fireflies through the summer too, but the synchronous ones are famous!
Book kayaking or canoeing in Congaree National Park here!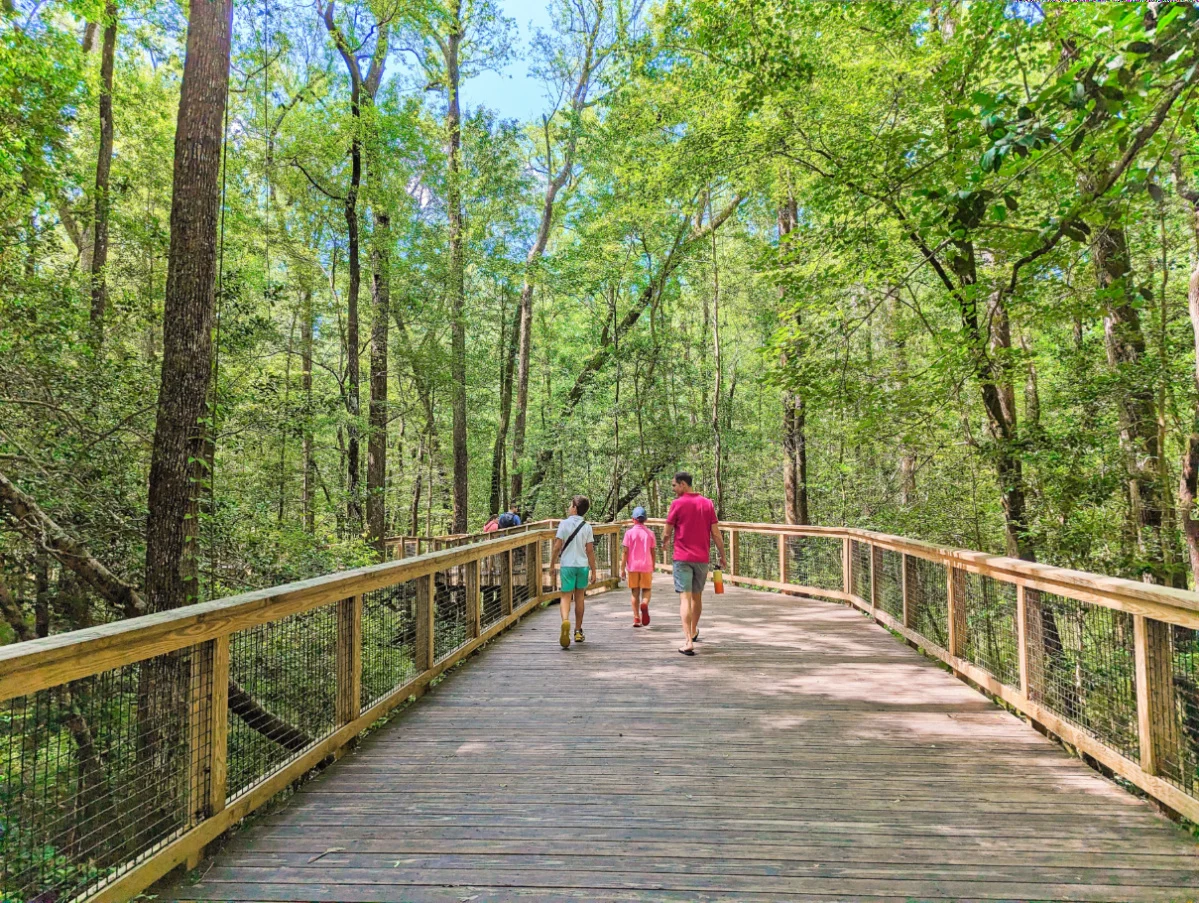 Kayak or Float the Saluda River to the Congaree River
Our family loves kayaking and we do it whenever we can, both here at home in Florida and whenever we're traveling. Kayaking the whitewater rapids (II & III) on the Saluda River in Columbia is one of the most fun things we've done as a family anywhere we've been. If you're not into kayaking and the weather is toasty, you can rent inner tubes and float the Saluda River, much like the Chattahoochee in Helen, Georgia.
For kayaking, it's a bit different, and although there are specific age requirements (10 and up), it's a wonderful family activity. There are tons of birds on the river, endangered spider lily islands, and plenty of whitewater rapids. The rapids are mellow enough that it's safe to do with kids, but they are big enough that if you don't do whitewater often, you may get a little nervous. We went with Palmetto Outdoors in Columbia and would confidently recommend their tours to anyone (and they paddle in Congaree NP too!).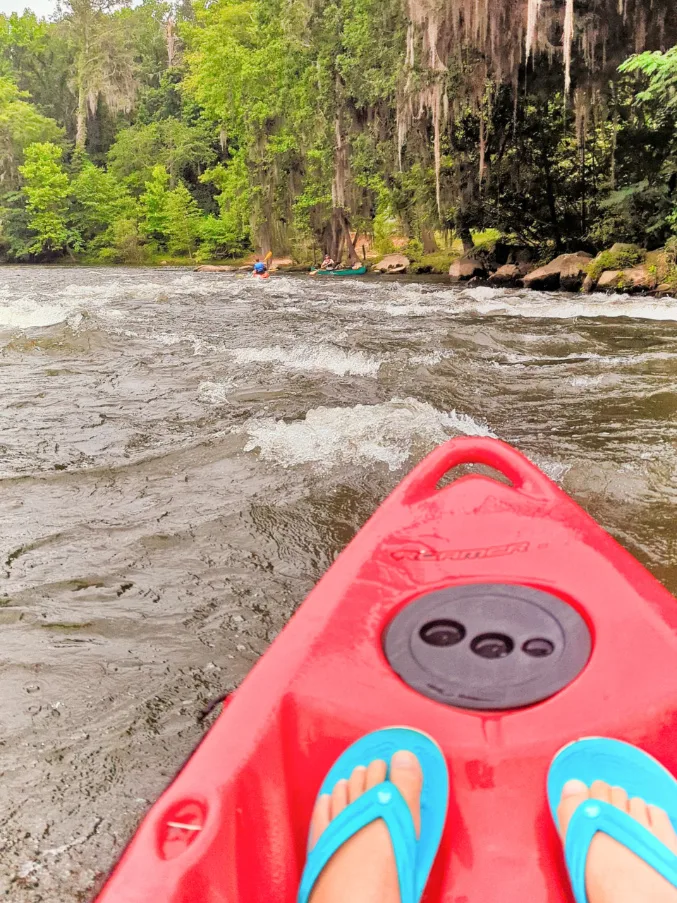 Wander the Riverbanks Zoo and Gardens
We don't visit or recommend a lot of zoos when we're traveling or writing about our travels, but the Riverbanks Zoo and Gardens is one of our top picks for things to do in Columbia SC. It's more than a zoo, as there is an entire second part to the complex which is across the river on the hill. The Riverbanks Gardens are beautiful and fun to explore. With lots of kid-friendly activities within the gardens, including a small waterpark (Waterfall Junction) this is a great spot to visit and spend the whole day.
The zoo itself is really well done with lots of informational exhibits, not just caged animals. It's educational and fascinating. We've actually seen creatures here at the Riverbanks Zoo that we've not seen anywhere else. The Conservation Outpost has some very interesting animals that are a part of the Species Survival Plan (SSP), as well as there being a significant number of other endangered animals throughout the zoo.
Bonus: if you want to do the additional activities in the zoo, such as feeding lorikeets or giraffes, you can get an Explore Card and load it with points for the different activities. You can use a card to do vs needing to have cash on hand.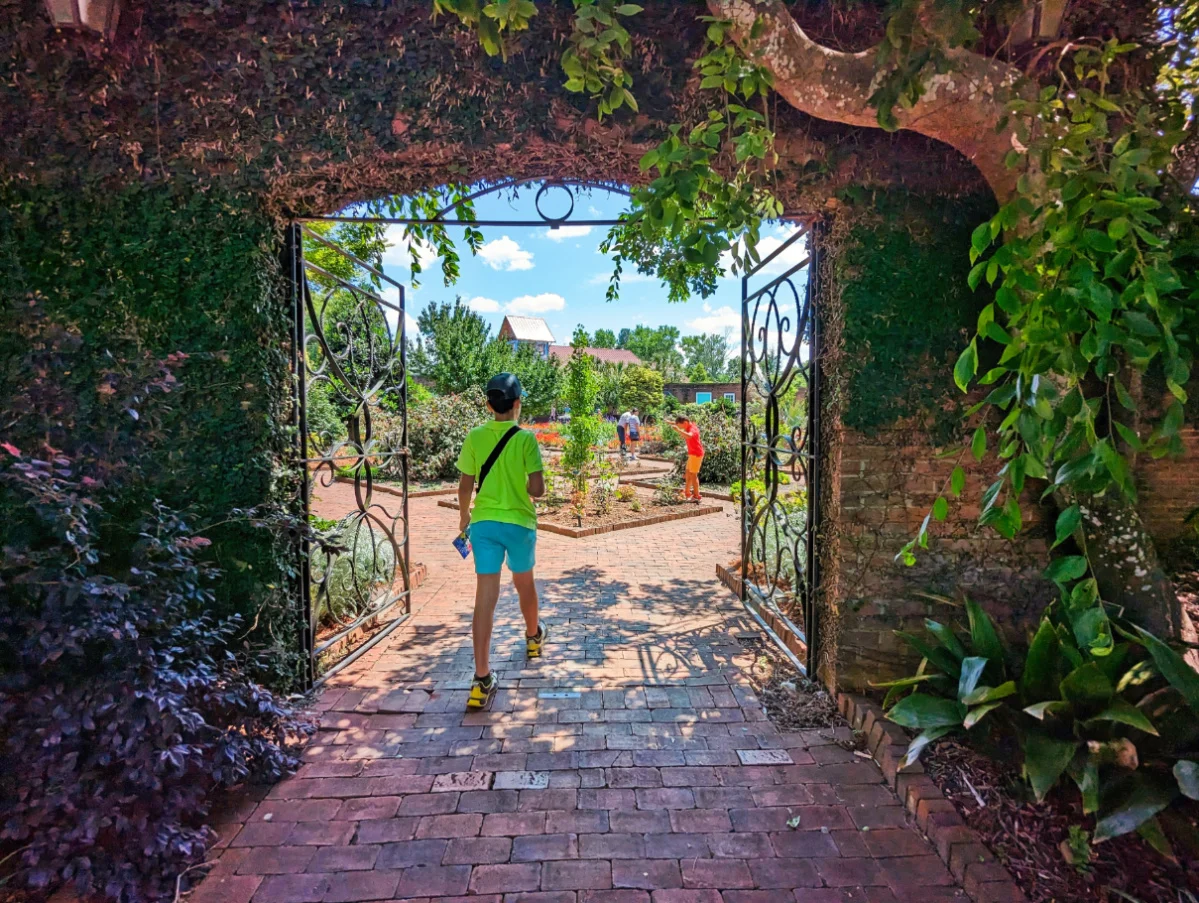 Stroll the River Walks of Columbia SC
My sister is always looking for cities to visit that have riverside walking paths, and as soon as we pulled into Columbia I sent her a message saying "There are river walks here! You'd love it!" Sure enough, we did too. There are walking paths throughout the city, but the riverwalk paths are my favorite. You'll see tons of people on both sides of the river throughout the day walking, running and even biking.
Three rivers make up the waterways of Columbia SC – the Broad, Saluda and Congaree Rivers. They all become one, but depending on where you access the riverwalk you may be walking along any of the three.
There are a few points to access the river walks:
We preferred the access to the west side of the Congaree River for sunset walking. There is a lot of vegetation and some cool covered bridges along the boardwalk. This area was also awesome for being out when it's dark and watching / catching fireflies!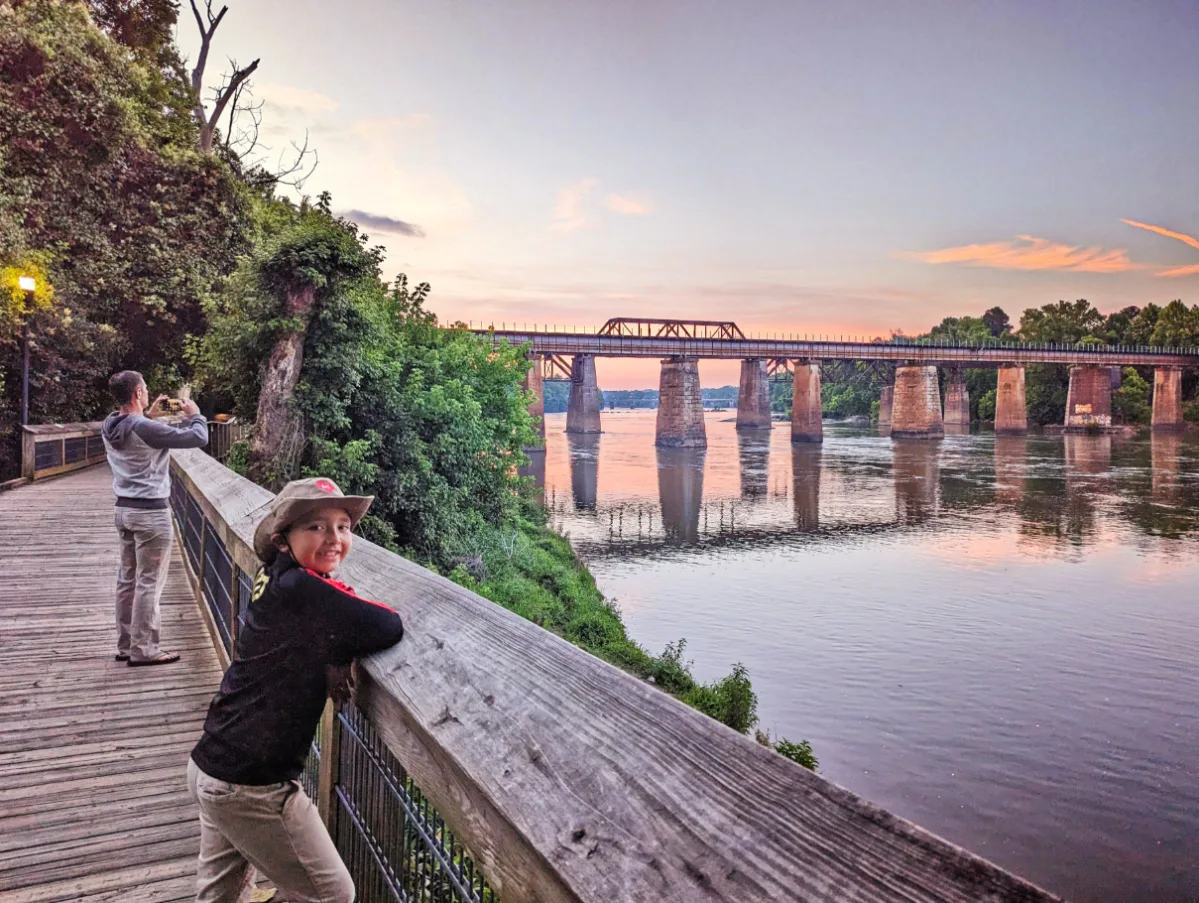 Go Park-hopping at Maxcy Gregg and Finley Parks
Because so much of our travel happens when we're working, we always take time to seek out parks and playgrounds so the kids have plenty of space and fun. Columbia has quite a few parks and playgrounds that are easily accessible from most of the city. Our two favorites were Maxcy Gregg and Finley Parks. Maxcy Gregg is a great park near the Five Points neighborhood with walking trails, some art installations, and a whole circle of porch swings for relaxing in the shade.
Finley Park off Taylor Street is another great one. This park has open fields and walking path, a small amphitheater space for public events, and the highlight is for sure the playground. When you are on the go a lot, a good playground really can refresh kids and both help them get out their energy and feel like their needs and wants are being met. Finley Park is great for that.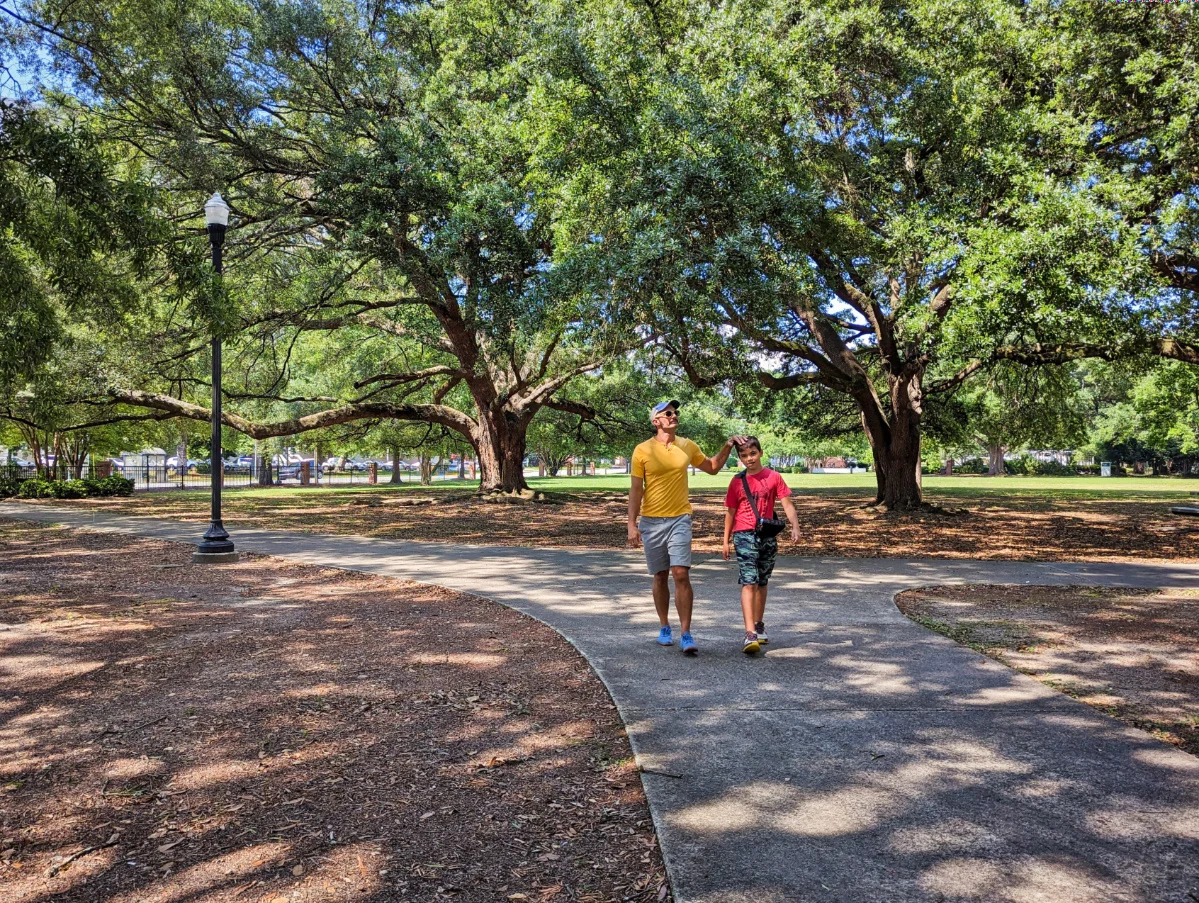 Arts and Culture Around Columbia
Being both a government seat and a major college town, Columbia has lots of artsy things to do. We enjoy museums, of course, but there are lots of other ways to see and experience the art a city has to offer. We listen to our kids to pick up on the coolest art we come across, and Columbia provided some awesome creations.
See Famous Icons at the Columbia Museum of Art
While it may not be the largest art museum in the South, the Columbia Museum of Art is one of the best things to do with school age kids when you visit. In addition to rotating exhibitions and local artists, there is actually a very impressive collection of works by world renown artists. Boticelli, Monet, Turner and more can be seen throughout the many galleries, so try to make a visit to the Columbia Museum of Art a sort of celebrity artist scavenger hunt.
The big moment for us though was when, from several gallery rooms away, our youngest spotted the series of Chairman Mao by Andy Warhol. He recognized it from learning about Warhol and this piece in second grade. And then there it was in front of him. Experiences like this is why we travel so much and try to show our kids as much of the world as we can.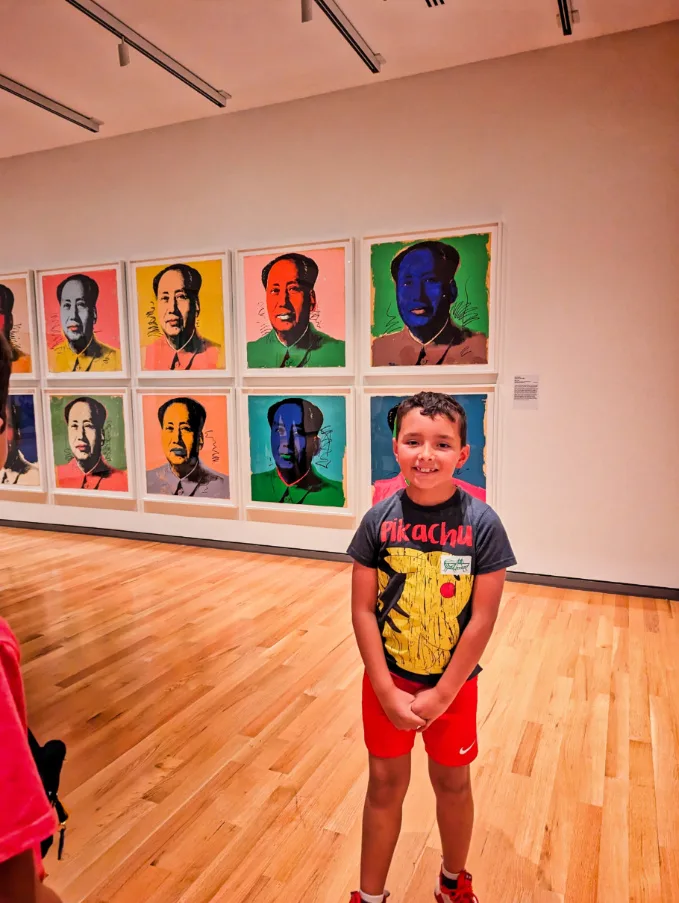 Appreciate Street Art Murals Around Columbia
Murals and butterfly wings have become really common in cities and small towns now and I love it! From Guadalupe, CA to Mobile, AL the mural scene has really kicked up its game, and Columbia SC is the perfect example of that. Here in Columbia you've got all sorts of street art to look for. From wings (like I mentioned) to colorful abstract murals, Civil War murals to postcard style art. The kids really enjoyed everything we saw, and we had to pull over more than once to snap photos of Columbia's street art.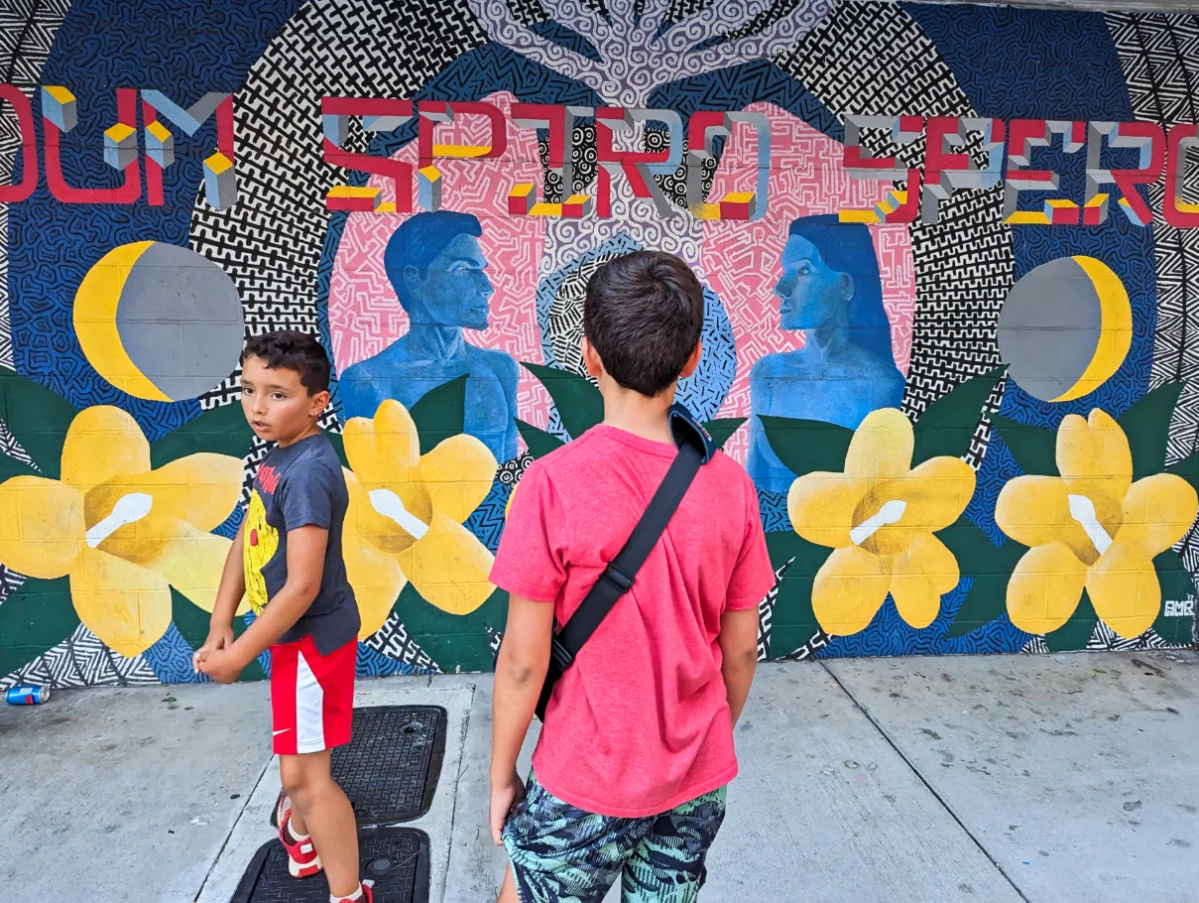 Visit Different Columbia Neighborhoods
It's tough to pick a favorite neighborhood in Columbia, so visiting a few of them and picking up on the vibe really is one of the best things to do here. You'll see that the Five Points neighborhood is both trendy and historic, and then Shandon is quiet and full of good food. On the west side, West Columbia and Cayce are both great spots for food, and outdoor activities, including parks.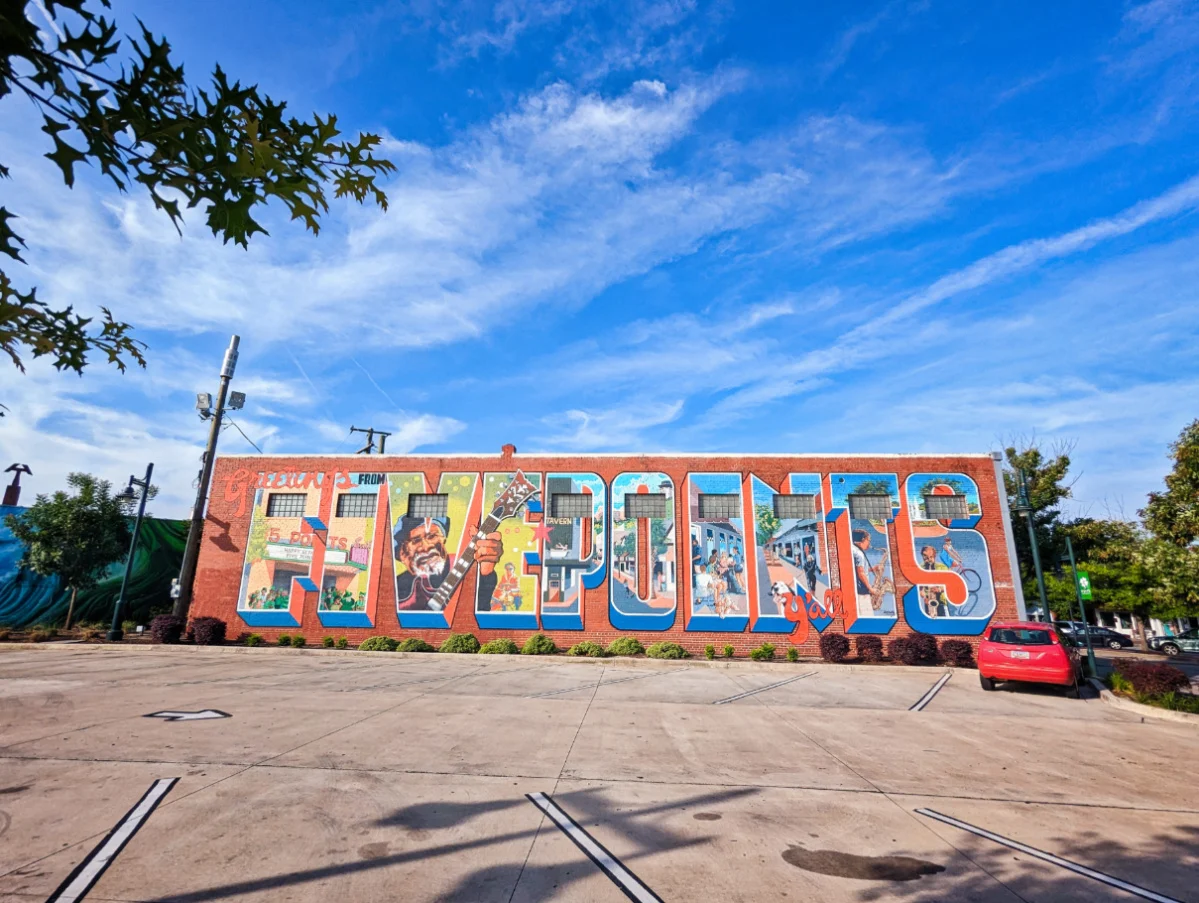 Soda City Market
Hopefully you'll be around on a Saturday morning, because the Soda City Market is known as one of the best things to do in Columbia SC! Taking up three blocks of Main Street in front of the capitol building, the Soda City Market is pretty big. With only local producers (produce, goods, art) more than 150 vendors show up each Saturday morning from 9:00 am to 1:00 pm to sell. This is a great way to see exactly what's up in Columbia and what its people create to share.
Fun Food Spots in Columbia SC
When you're traveling with kids, it's always nice to be able to combine food and fun. It makes everyone feel like their needs are being met, and it can be a great way to have an active snack or meal. We picked our favorite spots in Columbia that mix food and fun, and you might even find a fancy cocktail at a few of them.
Savage Craft for Yard Games
Upon first glance, Savage Craft Ale Works looks like a spot with adults with its rooftop deck and brewery, but it's actually a family friendly complex with all sorts of food, drinks and yard games. Order your duck confit baguette and chicken tenders for the kids, grab your beer and head outside for corn hole in the sunshine.
Note: the rooftop at Savage Craft is indeed 21+, but there is plenty of space inside and out for families to enjoy their visit. That's why it's one of the best things to do in Columbia!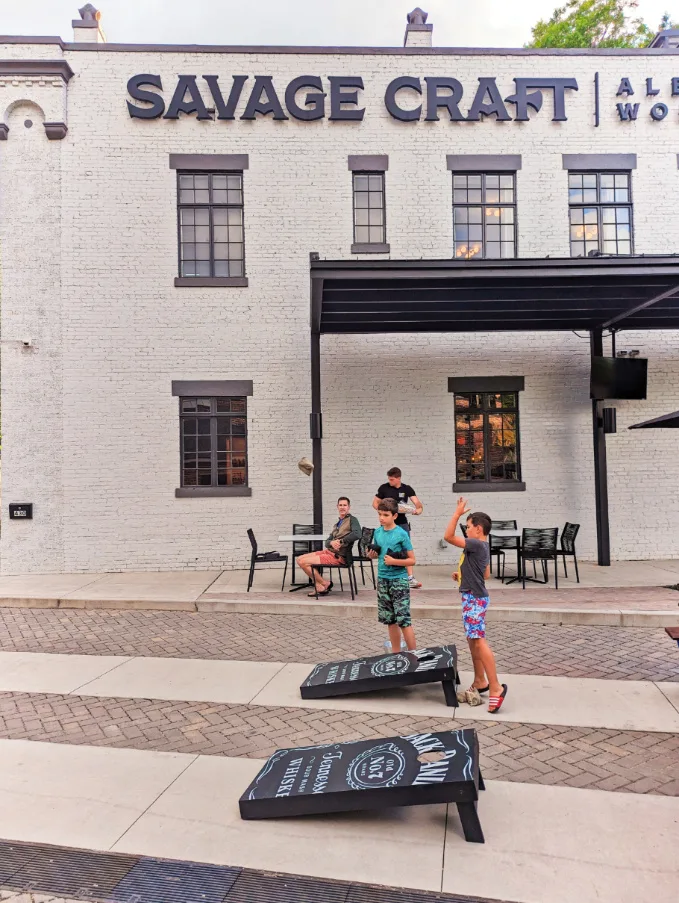 Afternoon Bowling at The Grand on Main
When we first walked by The Grand on Main I thought it was a swanky bar, like maybe even a prohibition themed establishment. And then we realized that it is actually a bowling alley and restaurant. With lanes you can reserve in advance and lane-side service from the restaurant and bar, it's a great place for afternoon fun or a late night for the adults. Also, since it's directly downtown on Main Street, it's a convenient stop for nearly anything else you're planning in the evening.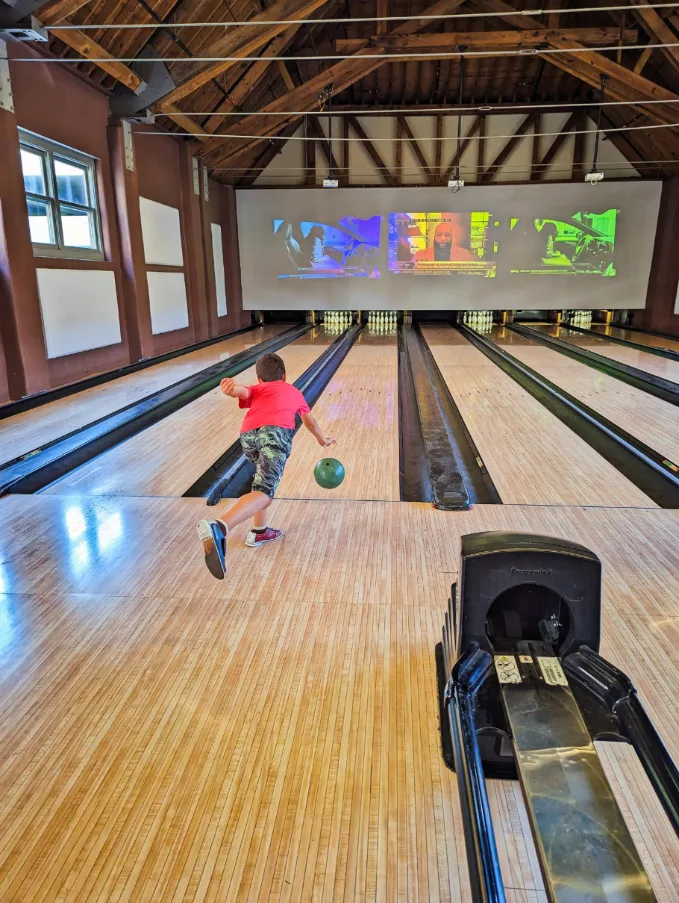 Transmission Arcade for Snacks and Beverages
Like the Grand on Main, Transmission Arcade is another awesome spot in that same neighborhood and it's fun for all. Vintage arcade games, LOTS of pinball machines, and a huge Killer Queen video game station in the middle, Transmission Arcade requires return visits (we visited twice in four days).
Bonus: if you're visiting Transmission Arcade and do get a cocktail, you'll also get some video game tokens with your drink purchase. You can buy your own tokens, but as a thank you from the bartenders adults get bonus tokens.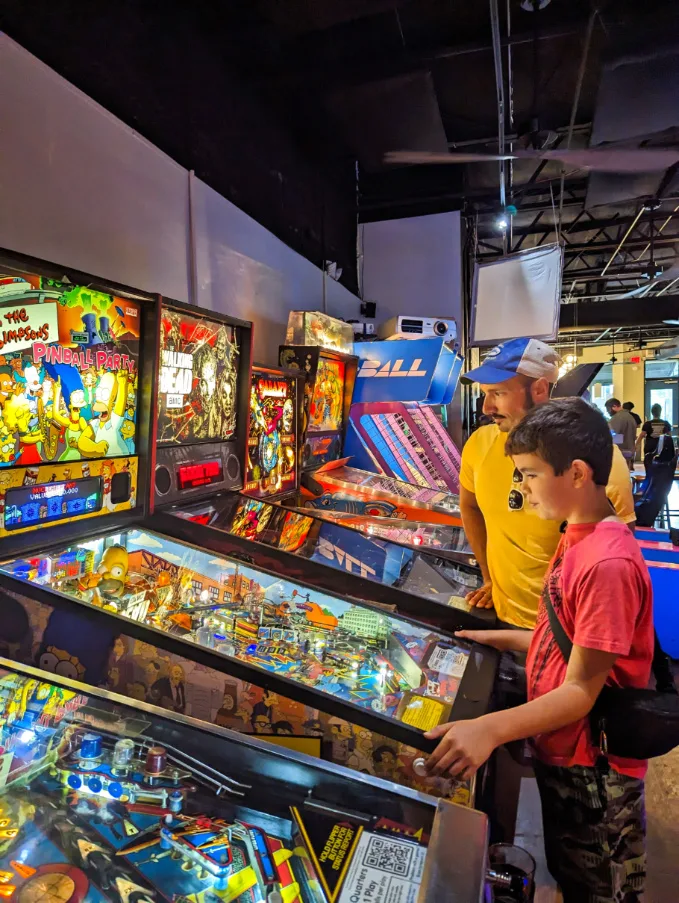 End the Day at Kaminsky's Dessert Cafe
While there are lots of great treats all around town, we particularly enjoyed Kaminsky's Dessert Café. In a slightly different part of town, this shop focuses on dessert as its primary feature. There's a kids dessert menu, a pie/cake case, dessert menu, and dessert cocktails. If you're thinking Kaminsky's Dessert Café is a good spot for dinner, um… it's really only desserts which makes it its own fun experience.
Tip: if you're heading to Charleston while you're enjoying South Carolina, Kaminsky's Dessert Café also has a location there!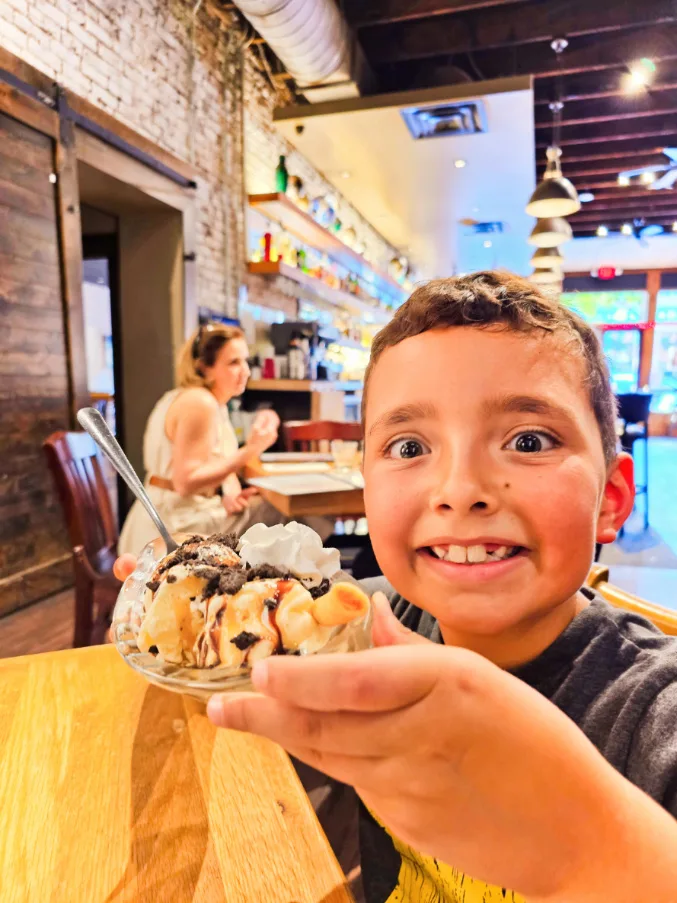 Where to Stay in Columbia, South Carolina
A lot of the fun places to eat and a fair amount of the things to do in Columbia are directly in the downtown area near the capitol building. We usually opt for a hotel that is within one of our preferred travel brands (Marriott, IHG or Hyatt) unless there's a really unique option (see below), and you'll find nearly every major hotel brand in Columbia.
There are short term rentals as well, but not as many downtown as other major cities. The options for AirBNB or VRBO are outside of, what I would consider, walking distance to most activities, but parking all around Columbia SC is pretty easy, so driving into town shouldn't be a problem.
Tip: if you're driving into downtown, you'll see that the city actually uses the Passport Parking app for both parking lots and street parking, so download the app if you don't have it yet and avoid a ticket. Note that around the University of South Carolina campus there are actually still some coin operated parking meters, but they're few and far between.
Hotel Trundle for an Inclusive and Delightful Stay
We knew we were going to enjoy our stay at the Hotel Trundle in downtown Columbia as soon as we pulled up. The lobby is decorated like mid-century meets Great Gatsby meets unicorns. Our room was industrial chic with tons of space and thoughtful touches, including electric shades on the skylights. If you're looking for a cute hotel with subtle (and not so subtle) hints of Pride, and some of the coolest decor in Columbia SC, Hotel Trundle is THE spot!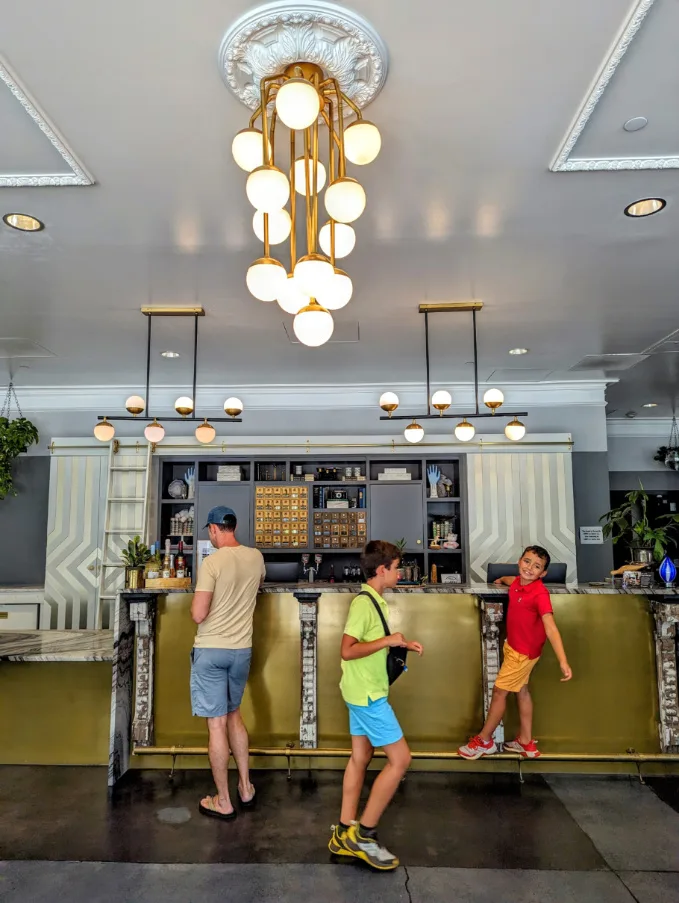 I hope you're excited to visit now. There are so many things to do in Columbia SC that you could visit for just a few days or a whole week. We didn't even get into the agritourism opportunities and sportsman spots and wildlife refuges around the area, so we'll save those activities/topics for our next visit.
If you have any additional questions or your own advice about visiting Columbia, South Carolina, please leave a comment or send us a note. We're always happy to share more. Happy travels!