Living in St Augustine Beach, the most common questions we get are all about where the beach access points and parking are. So how do you get to enjoy the beautiful, sandy beaches of Saint Augustine, FL? Easy! St Johns County and the respective towns do a great job of making sure that the public has access to the beach any time of year. Whether you want to walk across a boardwalk, drive on with your car, or just park and bring your cooler and umbrella, there are lots of options.
No beaches in the St Augustine area are private, so as long as you can access the sand through a public entrance, you're good to go!
If you're doing a North Florida road trip or adding a trip to the St Augustine beaches to your Disney World or Daytona Beach vacation, you'll need to know how to get onto the beach. With only a few beachfront hotels and condos, it might look tricky to find your perfect hotel room on the beach, but don't worry, we've got you covered.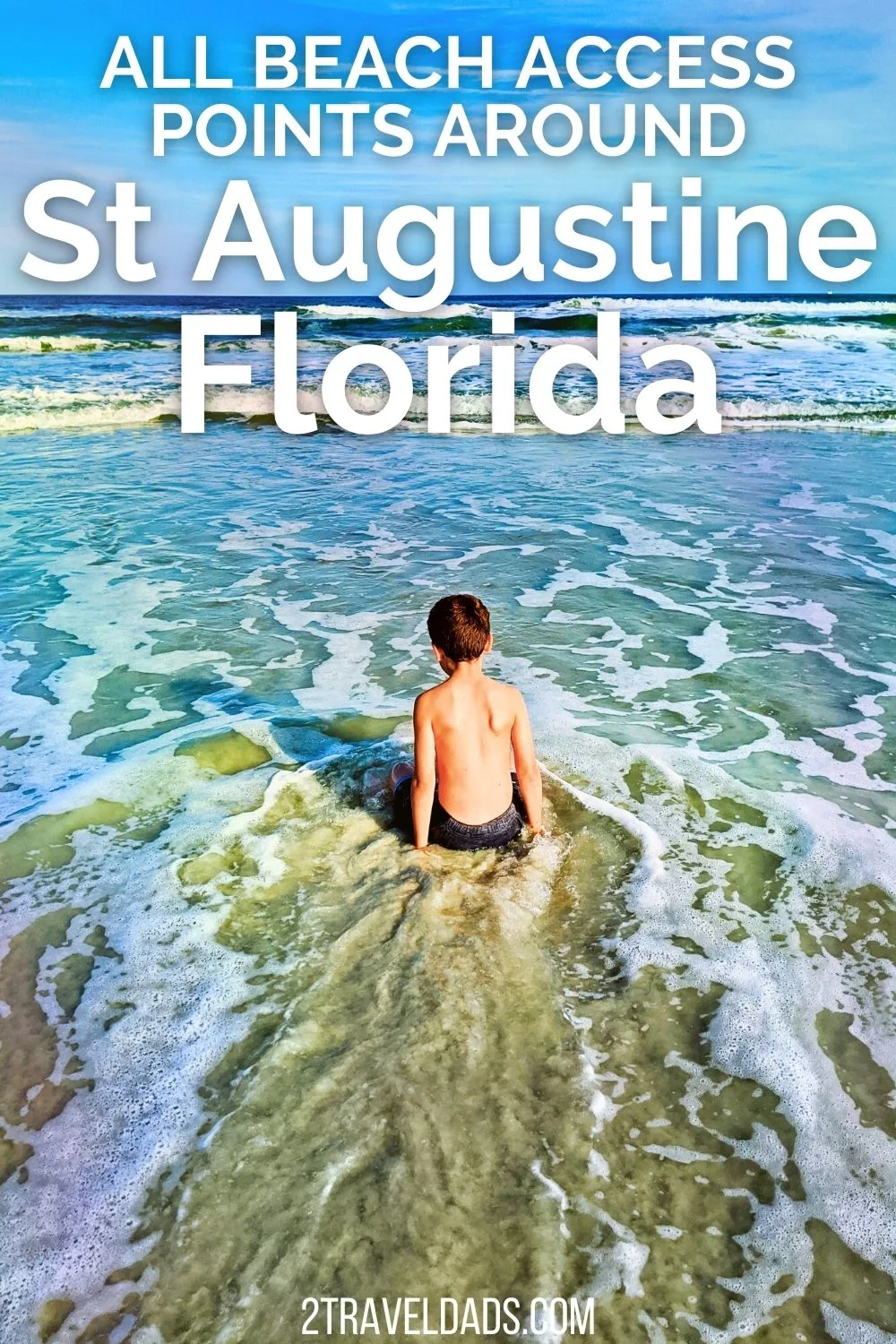 List of St Augustine Beach Access Points
Starting at the north end, where Jacksonville Beach becomes Ponte Vedra, here are the best access points, with parking or walking path noted. The communities included in the St Augustine beach access roster include Ponte Vedra, Vilano Beach, St Augustine Beach, Anastasia Island, Butler Beach, Crescent Beach, Mantanzas Inlet, Marineland, Ocean Hammock, and Palm Coast.
We've broken this down into three sections: Ponte Vedra and Vilano Beaches, Anastasia Island Beaches, and Southern St Augustine Beaches as far as Palm Coast.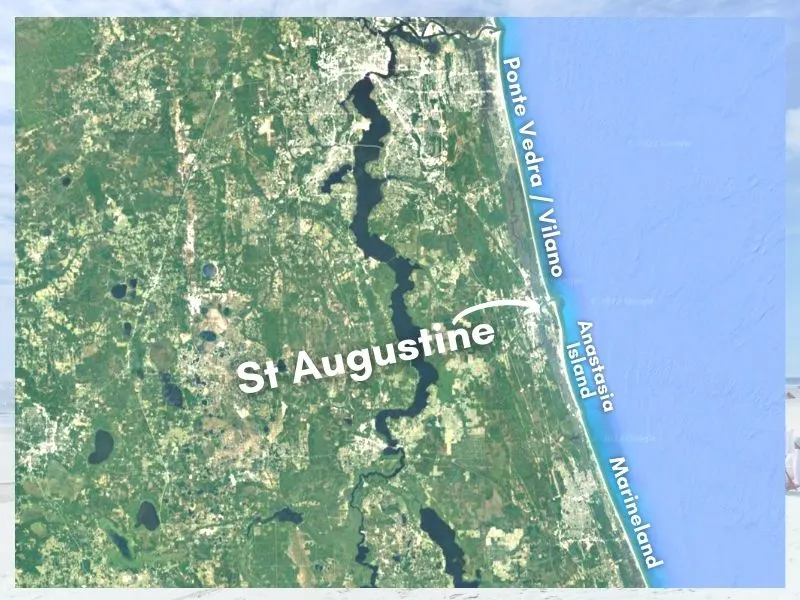 Northern St Augustine Beach Access Points: Ponte Vedra and Vilano Beach
Several of the Ponte Vedra beach access points are a part of the Guana Tolomato Matanzas National Estuarine Research Reserve, so there is a parking fee that supports the preservation and services within the GTM Reserve. The beaches of PV and Vilano are wonderful for finding shark teeth and for boogie boarding.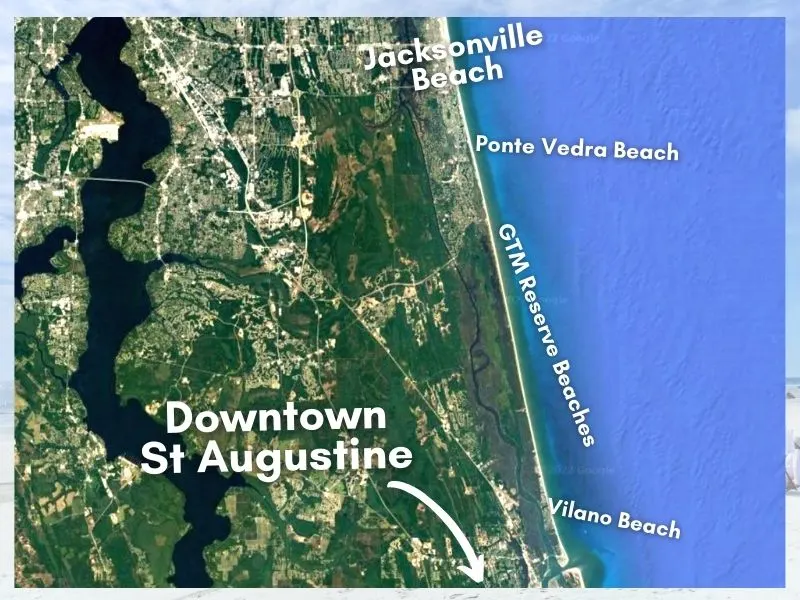 Beach Access Spots on Anastasia Island, St Augustine Beach
After you cross the Bridge of Lions from historic Downtown St Augustine, you'll be on Anastasia Island. This island is beautiful, has lots of restaurants, Alvin's Island (the beach gear shop) and it's where WE live! Here on the island you'll find Anastasia State Park, public drive-on beach access, and Fort Matanzas National Monument (National Park beach).
Starting from the north end of Anastasia Island, here are all of the beach access points for the town of St Augustine Beach and the whole of the Island.
From Dondanville Rd southward, St Augustine beach access requires either street parking or a drive-on permit. Be respectful of signage and residents' own parking strips before leaving your car in this beach neighborhood. We live here and are happy to share our beach, but don't make our neighborhood a traffic jam or unpleasant place for us to walk with our kids.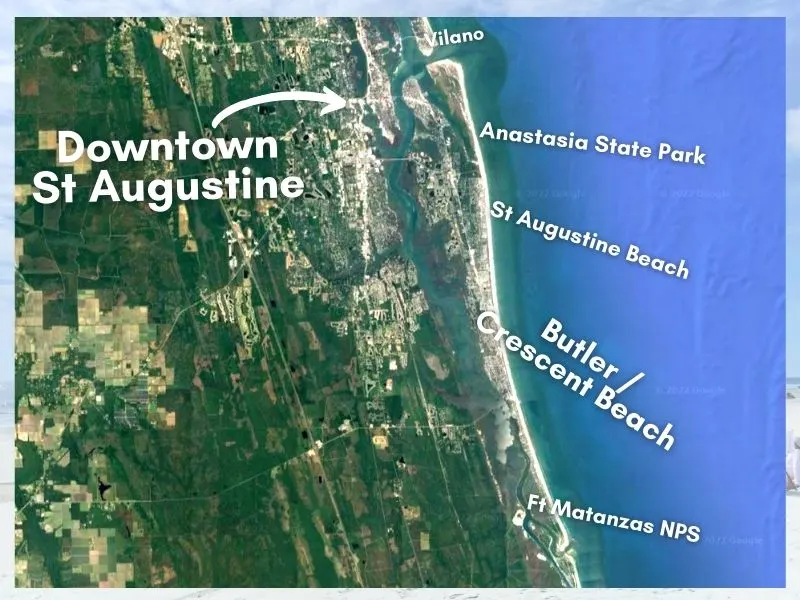 St Augustine Beach Access in Summer Haven and Marineland
As you drive south you leave Anastasia Island and travel across several more barrier islands. These stretches of sand are less built up, but there are still small communities. There are very few facilities, but the beaches are beautiful.
When you get to River to Sea Preserve Beach in Marineland, you'll find coves and coquina tidepools, which are very unusual for Florida beaches. This is one of our favorite beaches in St Augustine.
Old A1A Beach Access – street parking
Sandbar Beach – small tidal pool with beach access, Parking
River Beach – Parking, also a launch for kayaks
River to Sea Preserve Beach – FAVORITE, Parking, restrooms, picnic tables
Washington Oaks Gardens Beach – FEE AREA, Parking, restrooms
Bay Drive Park – Parking, picnic tables, boardwalk
MalaCompra Park – Parking, restrooms
Old Salt Park – Parking, restrooms
Jungle Hut Road Park – Parking
Varn Park – Parking, restrooms *THE COOLEST BATHROOM ARCHITECTURE!!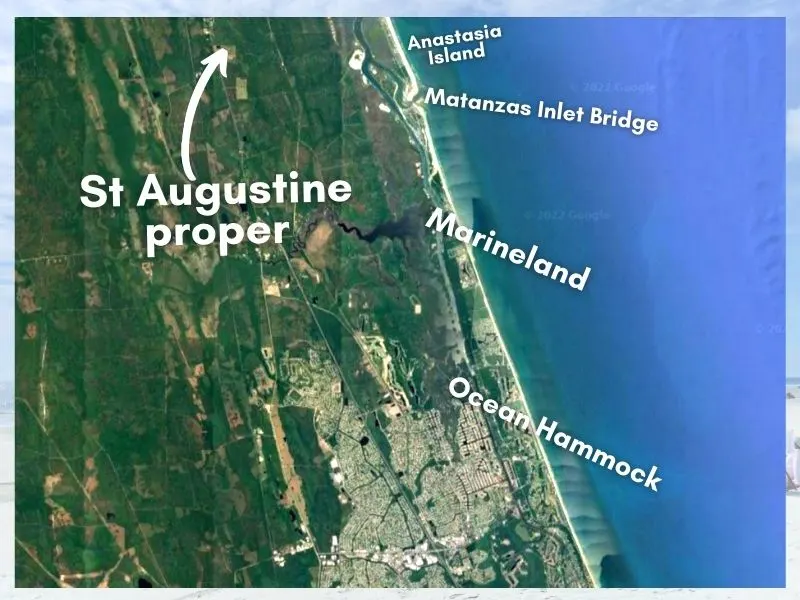 South of here you start getting into Flagler Beach, Ormond Beach and eventually Daytona Beach. It's such a beautiful stretch of Florida coast!
St Augustine Beach Access Rules
Like with any beach access, you'll want to be respectful of private property. There are a lot of homes and condos along the beaches of Ponte Vedra and St Augustine Beach, but ALL stretches of beach are public. You can enjoy all 16 miles of beach from Mickler's Landing to Vilano Beach and 25 miles of beach from Anastasia State Park to Varn Park with no worries… HAVING SAID THAT:
Do not go onto private BEACHFRONT property – you can be on the sand, but not private spaces including privately owned boardwalks, retaining walls, structured seating areas or landscaped property.
Driving on the the beach is okay with a permit or paid access – only drive the direction noted on the signs and ONLY in the traffic lanes and ONLY on stretches of beach where it's clearly allowed.
Watch for beach pedestrians – weather you're driving on St Augustine Beach or riding your bike, there are a lot of pedestrians to be safe around
Do not walk in the dunes – along much of the beaches of St Augustine Beach and Ponte Vedra there are sand dunes covered in vegetation. Only cross the dunes on designated trails or boardwalks to protect the habitat.
DO NOT LITTER – leave the beach better than you found it
Do not dig and abandon holes in the sand MAY through OCTOBER – this is sea turtle nesting season and the beaches of St Augustine, Ponte Vedra and all the way up to Tybee Island in Savannah are all nesting areas for a variety of sea turtle populations.
Beach fires are not allowed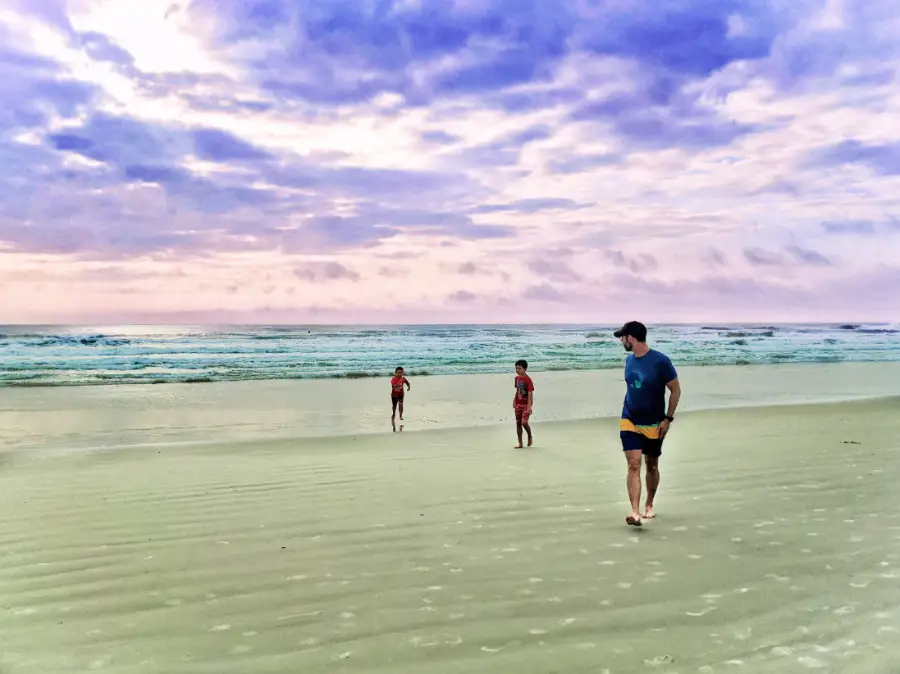 Are there Dog-Friendly Beaches in St Augustine?
Dogs are allowed on most beaches, included off-leash in both Flagler and St Johns Counties. Butler Beach and Crescent Beach have great parking areas at the beach and dogs are allowed. If you're wondering this, you're probably a dog owner, so you know how to manage your pet politely around other humans and dogs. Please remember about dog-etiquette and that not everyone wants to meet your pup up close.
Favorite Beaches of St Augustine
I will forever love our neighborhood beach here on Anastasia Island and this it's just the best, but there are a few other favorite beaches in St Augustine. To the north, Middle Beach at the GTM Reserve is our family favorite for shark tooth hunting and pristine nature. There are no buildings anywhere around and driving on the beach isn't allowed. It's perfect.
We also really love River to Sea Preserve Beach in Marineland. Here you'll find a wheelchair accessible viewing boardwalk, accessible beach ramp, a shaded picnic pavilion and amazing tidepools at low tide. We find a lot of shark teeth here too.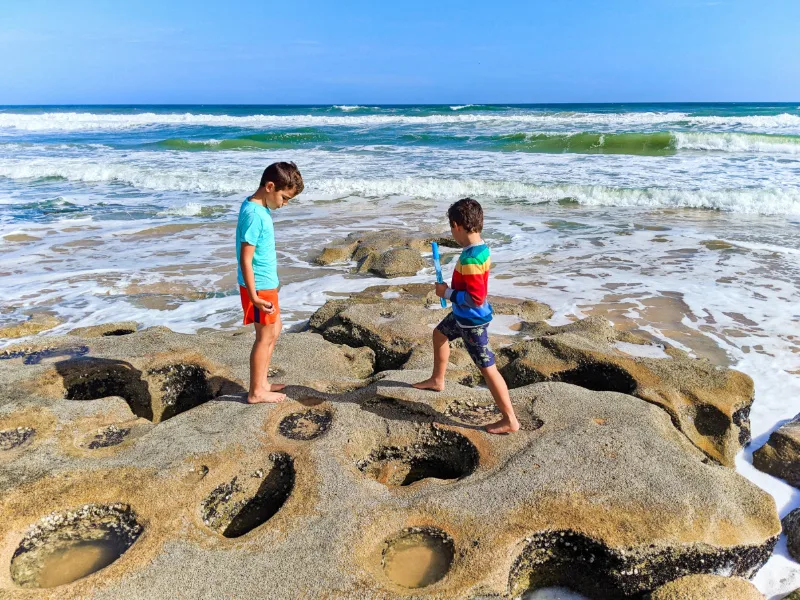 Beachfront Hotels in St Augustine
There may not be a ton of them, but we do have beachfront hotels in St Augustine, all of which provide direct access to the beach. There are also lots of vacation rentals within a block of the beach, but when it comes to a more affordable option, hotels at the beach end of being less expensive than vacation rentals.
Here are our picks for the best beachfront hotels (or one block from the beach) in St Augustine.
If you want to be on the other side of St Augustine Bay and still have direct access to the beach, there are a few options in Vilano Beach and Ponte Vedra. I like Vilano because it's more mellow and there are lots of shark teeth on the beaches of Vilano. It's a really fun part of St Augustine.
More Fun St Augustine Area Activities
Be sure you explore the city of St Augustine when you come to visit our beaches too. The oldest city in the USA, it was founded in 1565 and is really beautiful. Walk through the historic downtown, eat at some of the best restaurants in St Augustine, check out Flagler College and the Lightner Museum for Gilded Age architecture… So much to do and see!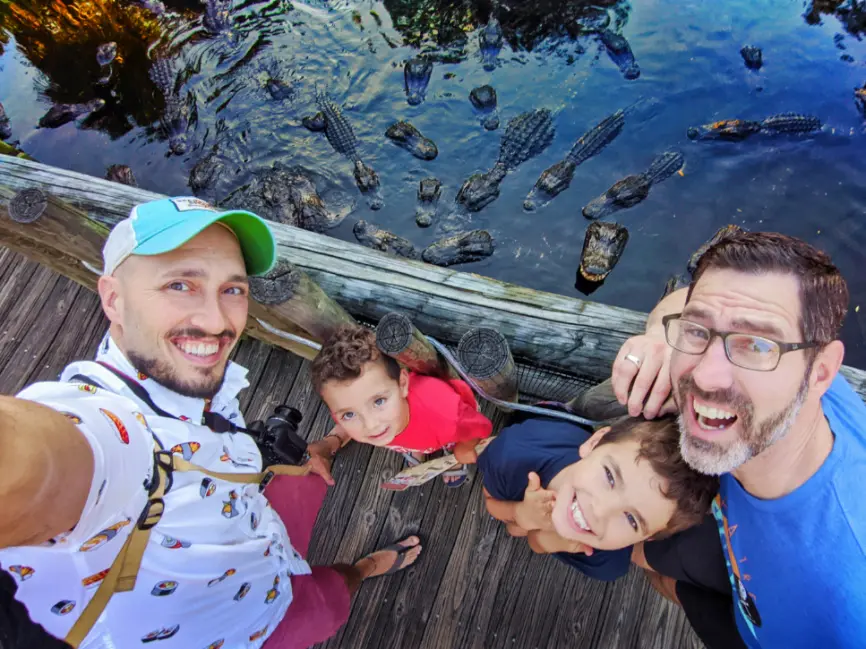 I hope this is helpful. You'll love spending time on the sands of St Augustine Beach. You'll find that it's NOT all silver-haired travelers like you might think, and that some of the prettiest beaches in Florida are actually right here!
If you have questions about beach access in St Augustine, Flagler or St Johns Counties, please leave a comment or send us a note. We're happy to help others have amazing Florida beach days!