There are a few places in the USA that captured our hearts from day 1, and Savannah, Georgia is one of them. There are lots of things to do in Savannah that are free or inexpensive, and so many beautiful sights that you'll fall in love with the city too. It's extremely walkable, and being in the Southeast, has pretty awesome weather year-round.
So what should you plan for things to do in Savannah? Plan on enjoying history and architecture, plan on walking a fair amount, and of course, plan on having some wonderful food. And walktails (aka roadies). Savannah is going to wow you, so get ready for an awesome visit! If you are looking for more specific information or have questions about things to do in Savannah that we don't cover here, feel free to leave a comment or send us a note!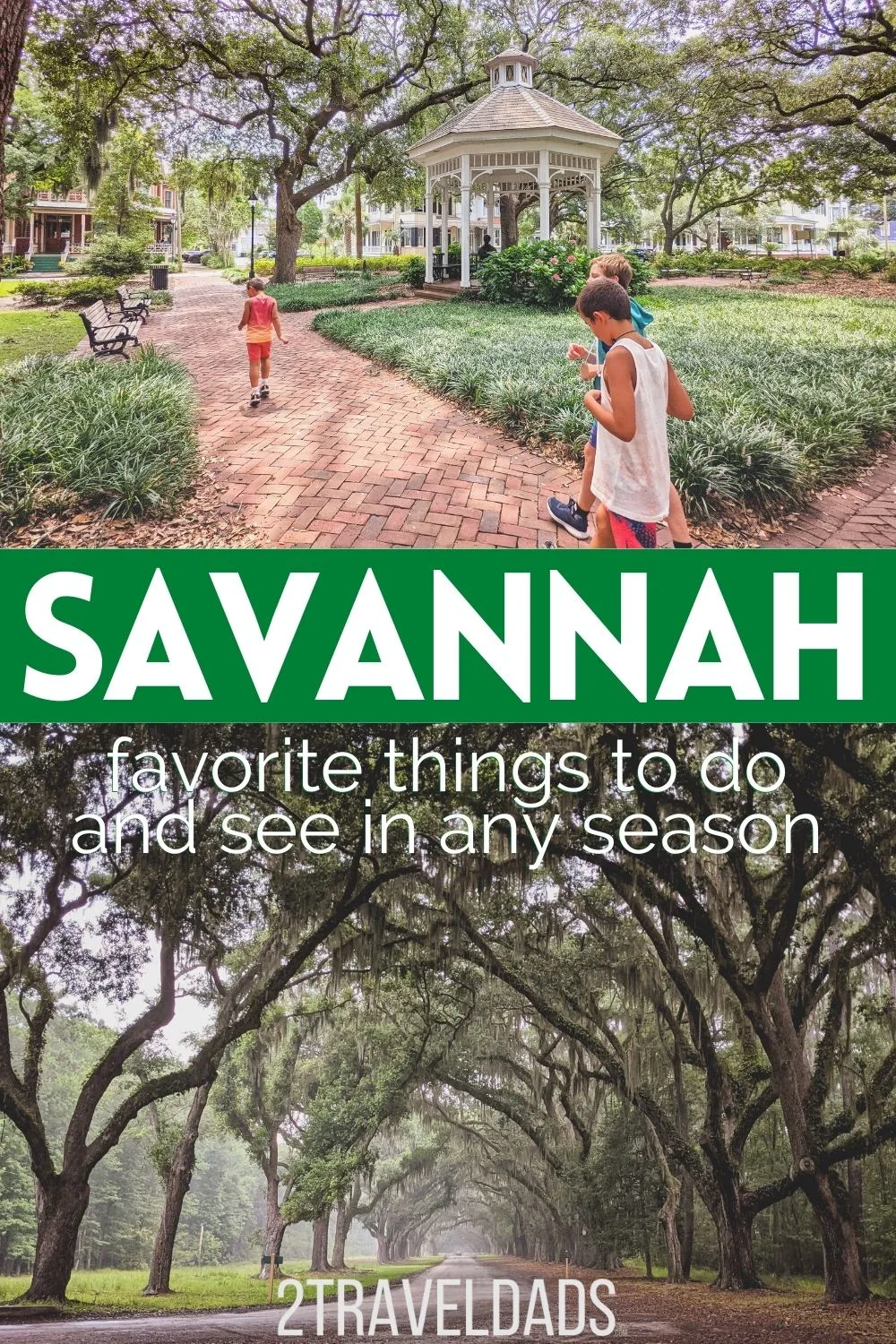 How to Get to Savannah
Savannah is located in Coastal Georgia, a land known for its dreamy live oaks and river deltas. Because it's surrounded by so many beautiful sights and interesting places, my top pick for how to get to Savannah is to make it a road trip. Two hours south of Savannah is Jacksonville, Florida; two Hours north is Charleston, South Carolina; and three hours and 45 minutes west is Atlanta, Georgia.
A great way to visit Savannah is to do a Coastal Georgia road trip and spend time down at St Simons Island and Jekyll Island. The Golden Isles region is only an hour and a half south of Savannah so pairing them together is a great vacation plan. If you're doing a road trip through the south, you can do Savannah, Charleston, Congaree National Park, and then loop back through the small towns near Atlanta, wind down the Georgia waterfall trail, and end back where you started. Lot's of options!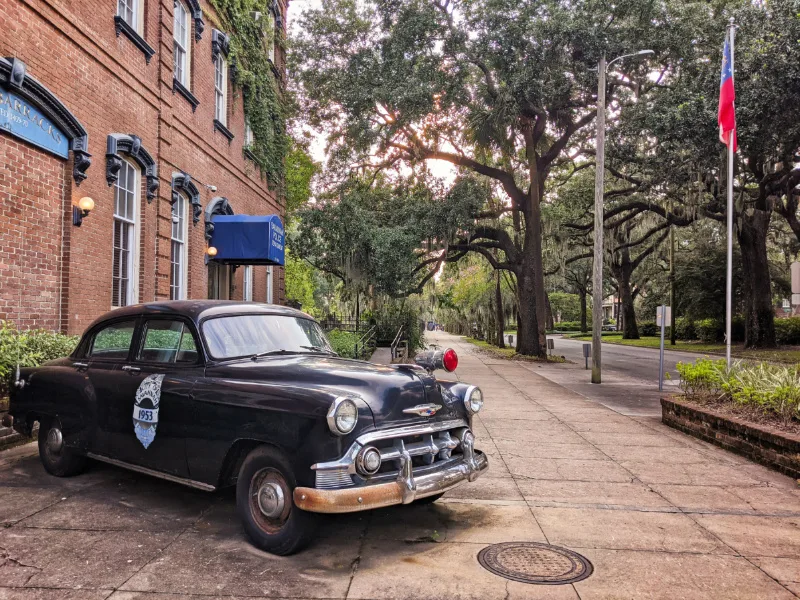 You can also fly directly into Savannah-Hilton Head International Airport. Located just west of downtown Savannah, direct flights are available from every major airport Denver eastward. True, if you're coming from the West Coast you'll have a layover somewhere, but there are enough flight options that you can find short travel options.
Savannah Need-To-Know Tips
Every city has its quirks and things that make it awesome to visit. Savannah for sure has some things about it that make it extra fun and easy to visit. Whether you're visiting with kids or having a fun adults-only weekend, Savannah is one of the most simple tourist towns we've ever been to.
Here are five things you need to know for planning fun things to do in Savannah (with more info below):
You don't need a car to explore Savannah unless you want to go beyond the main city because it's so walkable
There is free public transportation, Connect the DOT, going on two loops
Much of the Historic District is full of SCAD buildings and Events
There is a walking tour of Savannah for every interest
Cocktails To-Go aka Roadies / Walktails are legal around Savannah with set rules
The city of Savannah really is such a tourist friendly place, or a live-in friendly city that it's easy to enjoy your time with minimal stress.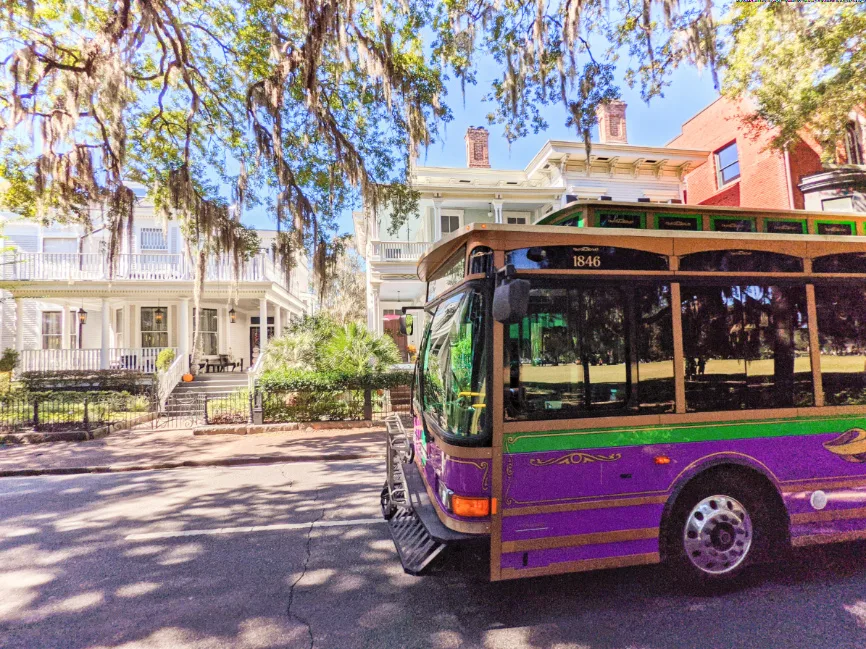 Savannah Free Trolley – Connect the DOT
Yes! Free and easy transportation! The DOT runs on two loops in Savannah. The first free trolley loop, Downtown, goes from Franklin Square on the west side to Trustees Garden / Pirate House on the east side. The second Savannah free trolley loop is the Forsyth Park route. It starts at Johnson Square on Bryan Street in the main downtown section and runs up Whitaker Street to Park Ave, and then back down Drayton Street.
The Savannah free trolley system is all any visitor needs for exploring the historic districts and having an easy, fun visit. Since the free bus runs every ten minutes, there is minimal waiting, and with nearly 20 stops on the two routes, you can hop on and off as much as you like.
SCAD: the Savannah College of Art and Design
On our first visit to Savannah I didn't know just how big and involved SCAD was in the goings-on of the city. SCAD is everywhere! Between having their campus buildings for classes and housing, there are galleries, gallery spaces in public galleries dedicated to SCAD students, there are theaters, there are SCAD events nearly every night….
SCAD is a great school and well known for turning out artists of all sorts and levels of notoriety. If you've got high school age kids or want to plan a college visit, spending a day experiencing the many aspects of SCAD is one of the best things to do in Savannah.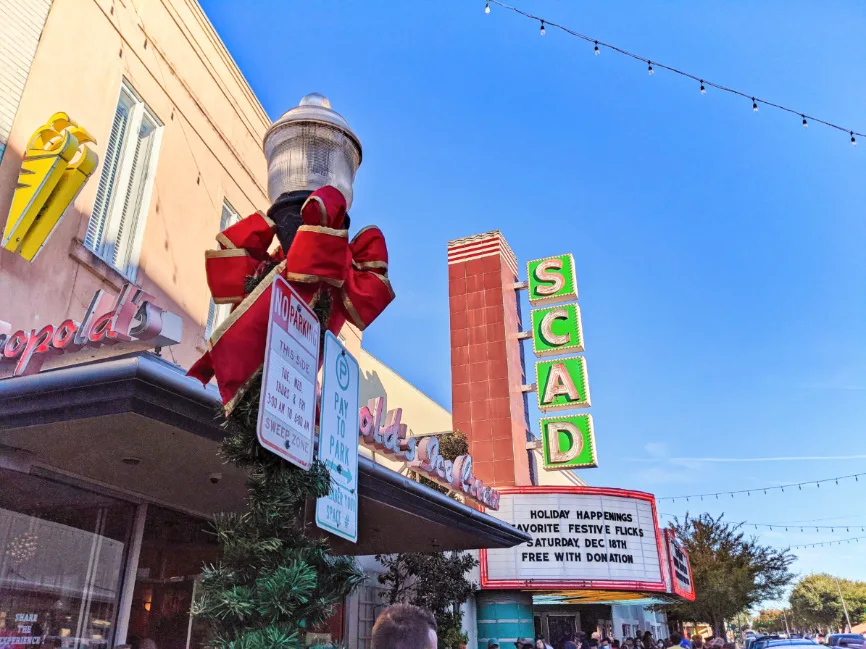 Walking Tours and Guided History Experiences
Even though it might seem like something that young kids wouldn't like, doing a walking tour and hearing stories of a place is really engaging for a lot of small travelers. Our kids have a million questions when we do walking tours or guided historical site visits. One of the best things to do in Savannah is to plan an afternoon or evening doing a walking tour through the historic districts.
Savannah is known for ghost tours, and they actually do them both on foot and in vehicles. Whether you book a Ghosts and Gravestones Tour or you do the haunted hearse tour, it'll be an interesting experience.
You don't have to choose a ghost tour if you want the history guide to tell you all about Savannah. There are plenty of other guided tour options too. Here's a good list of tours to see the historic side of Savannah: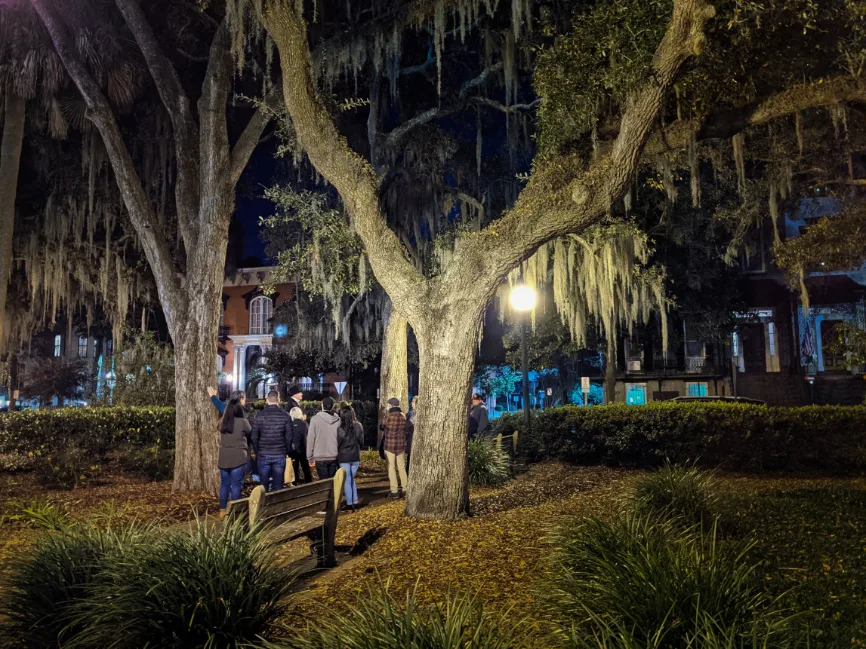 Cocktails To-Go and Open Container Laws in Savannah
Yes, that's right: you can enjoy cocktails as you walk the streets of historic Savannah. You can't just pull a cork and walk down the street with a bottle of wine, but you can enjoy a to-go alcoholic beverage if it's in a plastic cup and within the historic district boundary. View Savannah's open container policy here
Details of the open container policy for walking around Savannah:
Of-age patrons and party-goers can enjoy alcoholic drinks in plastic 16 oz cups
Consumption of alcoholic drinks must occur within the bounds of the Historic District, not beyond
the Historic District boundaries are River St (N), Broad St (E), Jones St (S) and Martin Luther King Jr Blvd (W)
You are welcome to order to-go drinks and enjoy them all day. Be sure to dispose of the used containers appropriately. Have fun!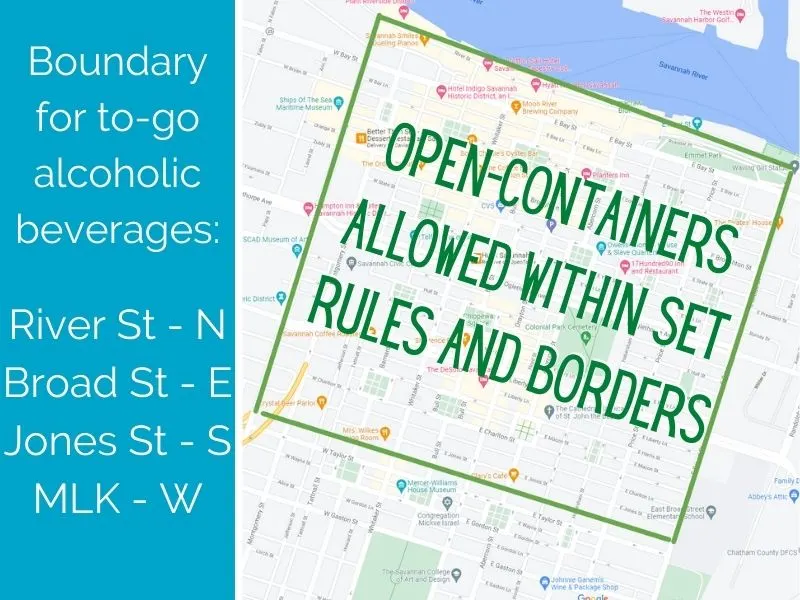 Where to Stay in Savannah
There are some really cool places to stay in Savannah, ranging from historic bed and breakfasts to trendy new hotels. Depending on your budget and what you plan on doing when you're in town, you'll have to choose what neighborhood to stay in.
You'll find that most hotels are located directly downtown, between River Street and Broughton. This is also the primary shopping core and where you'll find Ellis Square and City Market. Here you'll find major travel brand hotels (Andaz, Hyatt, Hilton…) as well as a few boutique hotels (River Street Inn, Olde Harbour Inn…).
As you head up away from the river you'll start to find smaller inns in historic buildings. Many of these are either luxury inns or bed and breakfasts. If you're looking for where to stay in Savannah and want a truly unique experience, choose an inn here in the Historic or Victorian Districts.
Our favorite place to stay in Savannah (besides our flat) is the Thompson Hotel down on the Savannah River. It's very new (2021) and has great views of the city and the river. It also has a great elevated swimming pool area, patio bar, rooftop bar and restaurant. The rooms are nice sized and the location is wonderfully quiet with lots of nearby parking.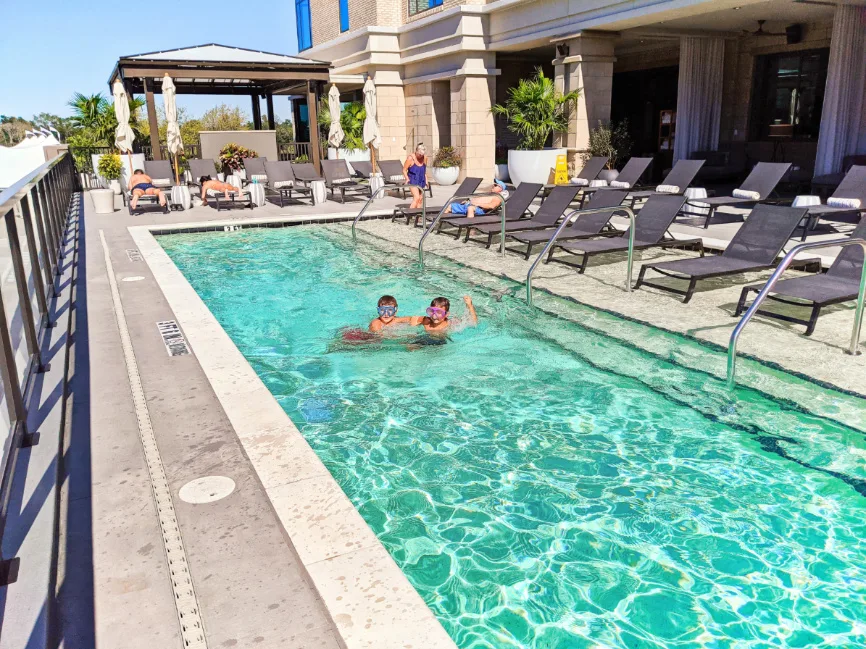 Things to Do in Savannah, Georgia
Savannah really is a highlight, if not THE highlight of a Georgia Coast road trip. Between the history and the live oaks dripping with moss in the parks and squares, it's magical. There is great food around every corner and since downtown is considered an entertainment district, you can stroll the streets with a cocktail in hand.
Savannah has several museums including the Telfair Museums and SCAD's museum. And of course several historic homes are available for touring too. Something fun that's popular, and we have them in our hometown of Saint Augustine, is ghost tours. Being a historic city, of course it's got stories…
Book a historic walking/food tour or ghost tour here!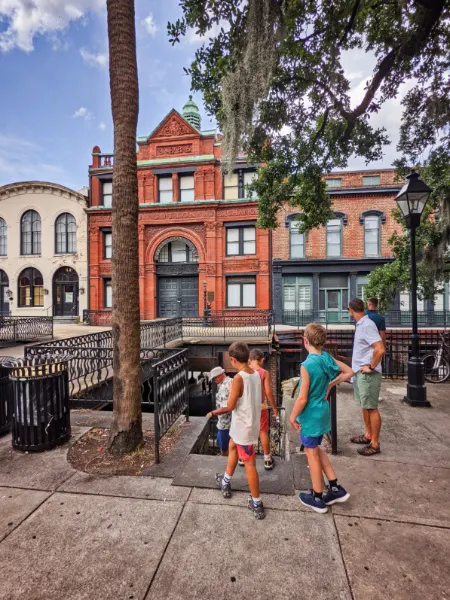 Exploring the Historic Districts and Parks
If you're spending a few days exploring Savannah, the city itself, it's best to get familiar by walking on foot. The Historic District, Historic District South, and the Plant-Riverside District are each beautiful and fascinating.
As you walk Liberty Street or Bull Street, the row houses and gated gardens will wow you. I particularly love walking on Bull Street from the Bay Street area because it has so many squares and parks along it. Fountains, statues and art make each square very different.
Tip: stop at Chippewa Square at Bull St and Perry St, you may recognize the park as where Forest Gump sat waiting for his bus to go find Jenny. The bench itself was a movie prop and is now in the Savannah History Museum, just one of the many cool museums to visit in Savannah.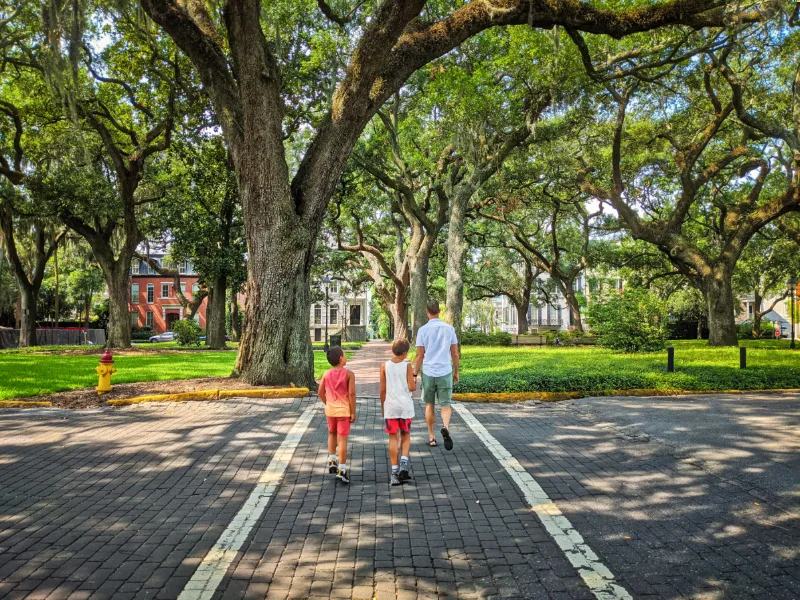 Our favorite Savannah squares to visit and relax in include Telfair Square, Orleans Square, Oglethorpe Square, Columbia Square. Two particularly nice spots are Whitfield and Troup Squares. Whitefield Square has lots of benches and a nice gazebo, and Troup Square has a really cool armillary sphere (zodiac globe).
As you wander, respect the privacy of the residents of Savannah and do not trespass or impact their day-to-day. Sitting on a step here and there is okay, but posing on people's porches or knocking on their doors IS NOT.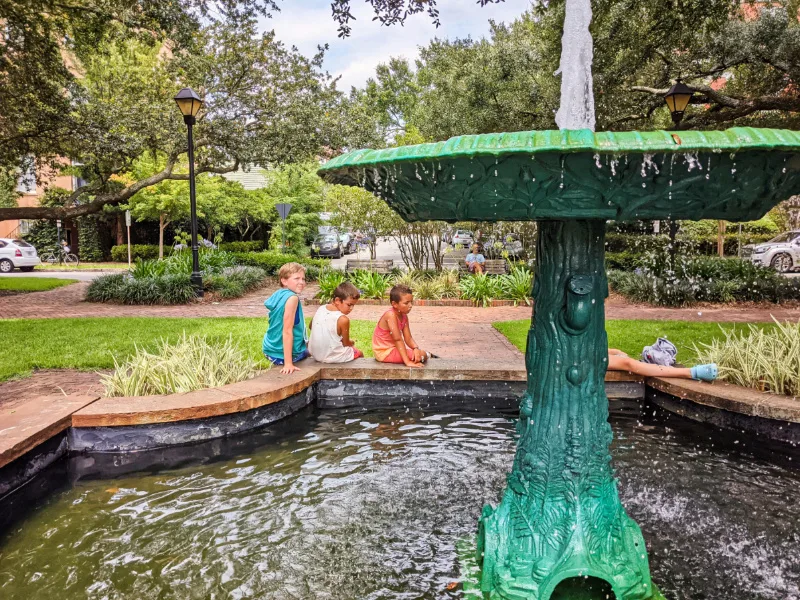 Things to Do at Forsyth Park
Located in the Historic District South / Victorian District, Forsyth Park is one of the most wonderful places to visit in Savannah. Much larger than any of the other 24 squares in the city, Forsyth Park is kind of like the Golden Gate or Central Park of Savannah. We have a flat right next to Forsyth Park, so spending all day at the park is basically one of our favorite things to do in Savannah.
Walk to Forsyth Park from anywhere downtown and enjoy the gorgeous fountain, the rose garden (always on view, not always open), the lawns and playfields, playgrounds, and even the splashing fountains. At the park you'll also find a public concert area (the Band Shell), Collins Quarter Forsyth Park (for brunch, dinner or drinks) including a walk-up order window (seasonal) where you can also get Leopold's Ice Cream.
Tip: for brunch on weekends, arrive before 10:00 am for the fastest seating, inside or out. After 10:00 am the wait time increases significantly, but still you get to sit in the park and enjoy it!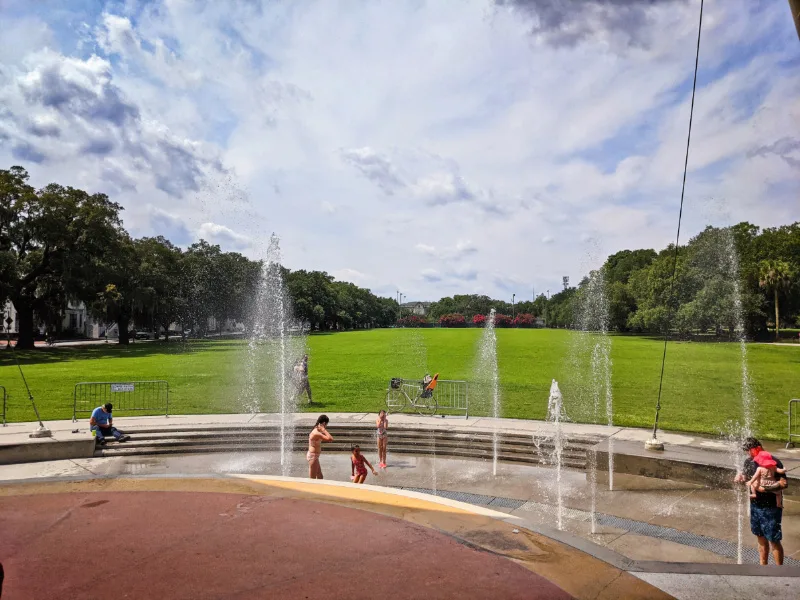 One of the other highlights of Forsyth Park is the weekly farmers market. Year round on Saturdays from 9:00 am to 1:00 pm farmers, bakers, butchers and praline makers come from all around to host a great public market, showcasing very diverse products from the Savannah area. Love it!
Add to all of this iconic live oaks, flowers, and artists and you've got a winning afternoon hangout location. Check the city's website for current events at Forsyth Park.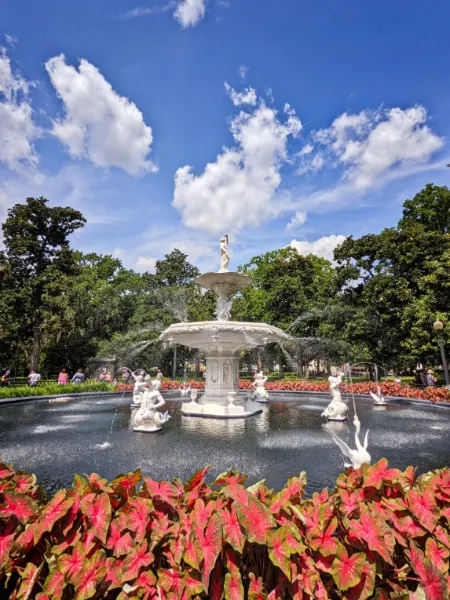 Visit Colonial Park Cemetery
One of the most unique things to do in Savannah is visit the Colonial Park Cemetery. Yes, it's a cemetery and yes, it's a park. There is even a playground here. What makes this particular site so interesting are a few things:
it's a functioning park, like you would expect a park to be
it's a historic cemetery that includes a gravestone wall
there are lots of benches and places to relax in a peaceful environment
there's a playground for kids to enjoy… at the cemetery
Seriously, this is a really beautiful place and it's extremely unique. When you visit the Colonial Park Cemetery, be sure to visit the border wall on the east side of the park. It's full of old gravestones, many of which you can barely read anymore. There is a lot of Savannah history here and it's a great way to gain insight into Georgia living in the seventeen and eighteen hundreds.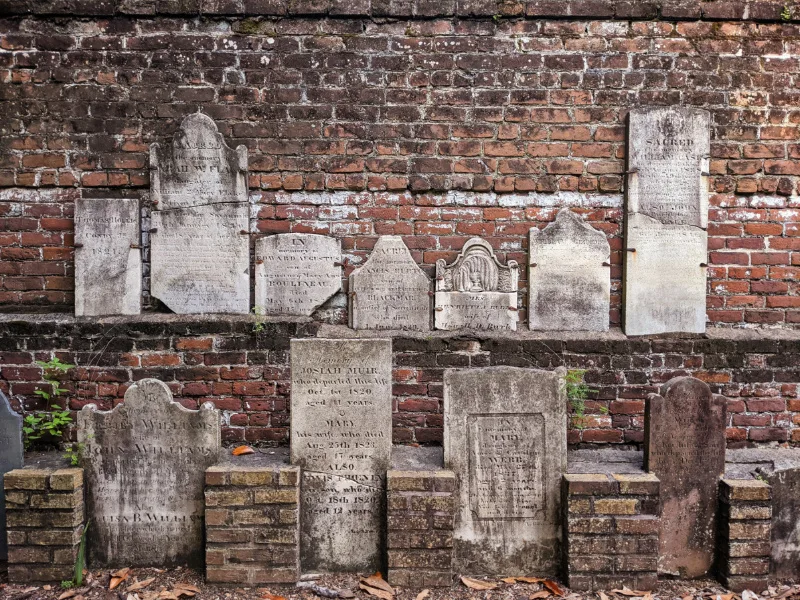 Riverside and Factors Walk Areas
Think about the old movie Oliver and then set it in Savannah and that's the feel of what you'll find at Factors Walk and down along the waterfront. Part of the Riverside District, the towering warehouse buildings are set below the level of the rest of the historic district. Factors Walk is a combination of cobblestone alleyways, historic uneven staircases and bridges leading to shops and bars in old cotton silos.
There are lots of bars and restaurants above Factors Walk and below on River Street. The ones above are less kitschy and more classy, the ones directly ON River Street are much more touristy and busy, but there are still some good hidden gems in there.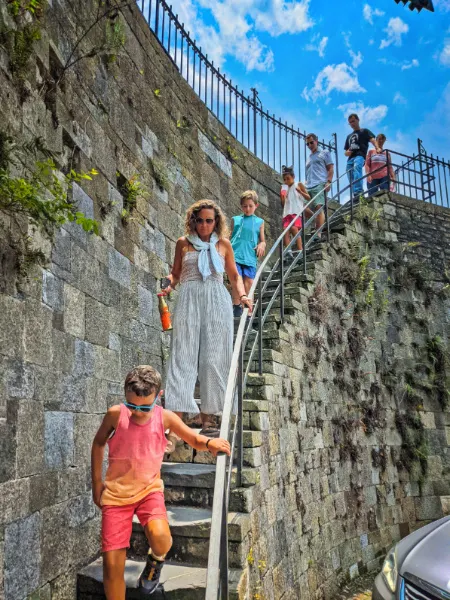 Walking River Street is great for people watching (one of our favorite things to do in Savannah) and for finding walk-tails / roadies. Whether you want to get a frozen margarita or a glass of wine for the road, River Street is the best place to do this. It adds to the fun since getting a beverage for the road is a unique offering of the town.
On the other side of River Street and Factor's Walk history, this part of Savannah is where much of 1800s life was centered. One of the most important things to know about visiting the Riverside District is that this was a hub of industry during slavery. That means there is a very sad, dark history here as well. Plan a tour with Underground Savannah to learn about the Underground Railroad and how Savannah played a part in freeing enslaved people.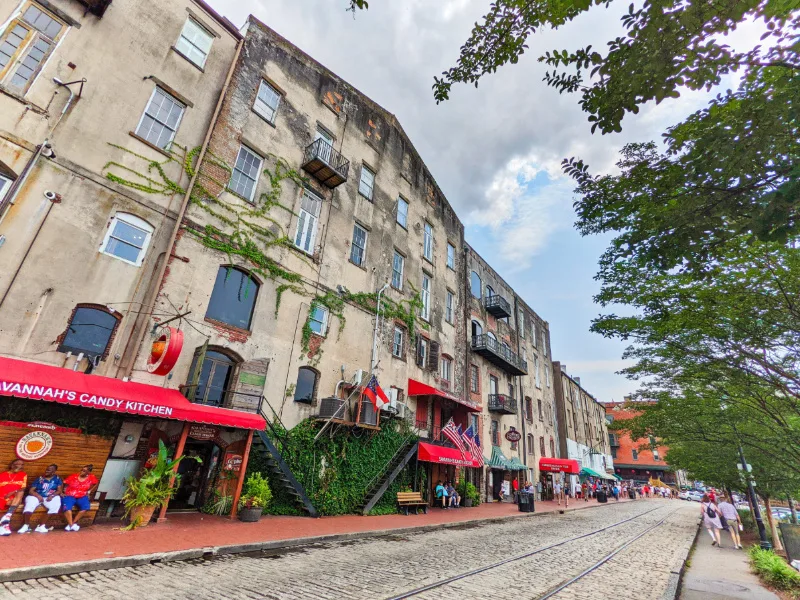 Visit the JW Marriott Plant Riverside District for Art
Yes, one of the best things to do in Savannah is to visit a hotel, because it's so much more than a hotel! The JW Marriott Plant Riverside is incredible. Located in the old riverside powerplant, the JW Marriott has an incredible art, gem and fossil collection on display for the public. The staff is happy to answer questions about the collection (or point to a good resource) and it's expected that more than just guests are checking it all out.
From amazing, large amethyst geodes to a hadrosaurs skull, every wall and display case in the lobby is striking. And there is an art gallery and exhibits all through the public spaces too. Really, it's basically a museum. We spent more than an hour exploring the JW Marriott lobby collection on our first visit, and since then have been back several times. It's one of our favorite things to do in Savannah, especially with kids.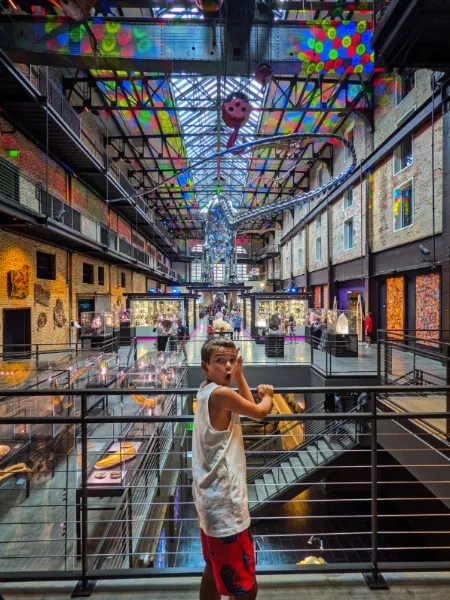 Cookies and Fun Snacks on River Street
While it would seem that the majority of tourist head right down to River Street (and that's true and fine) it really is a cool place to visit. There are lots of great snack spots along the river including hot dog stands and pop up shops that can be great as you stroll. And there's a Byrd's Cookies shop too.
What's Byrd's Cookies? WHATTT?!?!? It's the most delicious place to stop in and sample bottomless cookies, leaving with a box or bag of your favorites. The kids love stopping in and trying everything from key lime pie cookies to jalapeño cheddar cookies. They are small and crunchy, so visiting and getting samples isn't an irresponsible way to ruin your appetite or anything. Byrd's has two shops on River Street and then another just up the hill in the Historic District.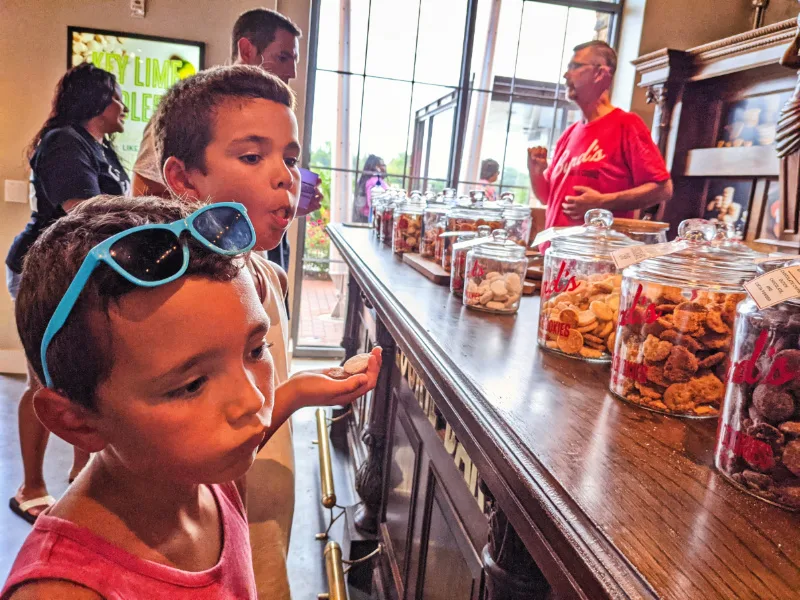 Enjoy a Rooftop Bar Overlooking Savannah
I think one of the most unique things about the Riverside District is the rooftop bar phenomena. The Riverside District has around 10 rooftop bars, and then if you venture a bit south into the Historic District, and then even to the Victorian District you'll find more.
While the drinks and appetizers at the many rooftop bars in Savannah will be at a premium price in comparison with neighborhood restaurants, the views and experience is worth it in many cases. We enjoy the Top Deck (above the Cotton Sail Hotel), and it's kid-friendly, which is nice.
Tip: if you're looking for things to do in Savannah over the holidays or Fourth of July, many rooftop bars do special events, including boat parade viewing. These events usually require a reservation and/or admission ticket, but it could be a fun, unique Savannah option for you.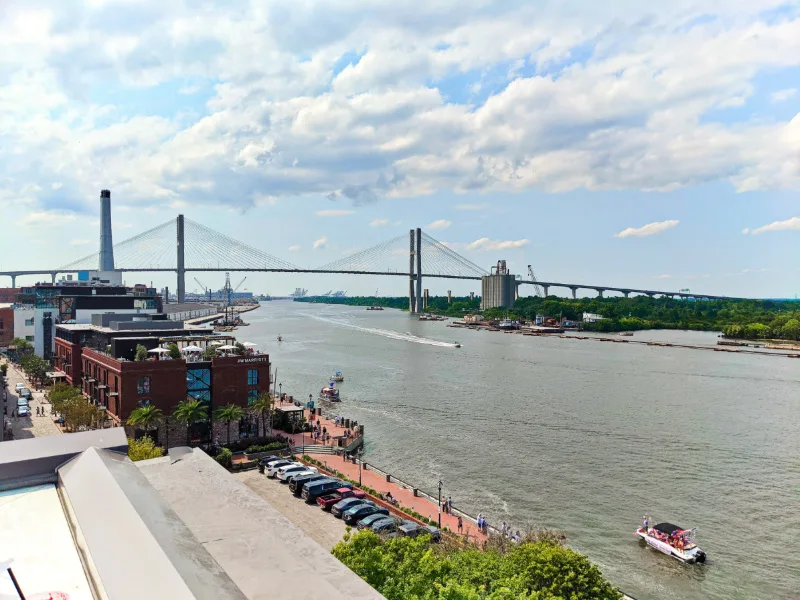 Great Historic Sites Near Savannah
Being a very old city and storied area, there are lots of historic things to do in Savannah and nearby. Just ten minutes from downtown you'll start coming across some of our favorite sites to visit. We do recommend having a car to enjoy these unique, historic things to do in Savannah, but it still isn't necessary between available public transportation and ride share apps. If you're planning on using public transportation though, some stops are tricky to get to, like Old Fort Jackson or Fort Pulaski.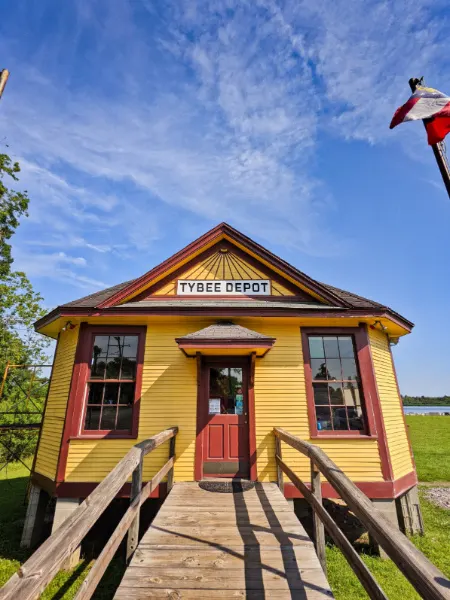 Wormsloe Historic Site – Iconic Tree Tunnel and More
Just outside of the downtown area you'll find Wormsloe Historic Site. Part of the Georgia State Parks and Historic Sites (get the annual pass!), Wormsloe is an interesting and beautiful place to visit. What it's most famous for is the mile and a half live oak tree tunnel. You haven't seen so epic a southern sight as this.
Beyond the live oaks, you'll find a small museum about the original structures built around the property, you'll find trails through the forest, fortress ruins, and even living history demonstrations. Other historic sites have more to offer in terms of sights and activities, but the tree tunnel all by itself is worth the visit.
If you're planning to visit Wormsloe as one of your things to do in Savannah, consider the weather and mosquitoes. Visiting in summer, particularly just after the rain, you'll find that there are a lot of mosquitoes at Wormsloe. It's located on a marsh with slow flowing and stagnant water, so there can be a lot of bugs in summer. In fall and winter, it's not bad at all, but in summer it's the dickens.
Check the Wormsloe Historic Site website for up to date information and happenings at the park, including demonstrations and holiday events.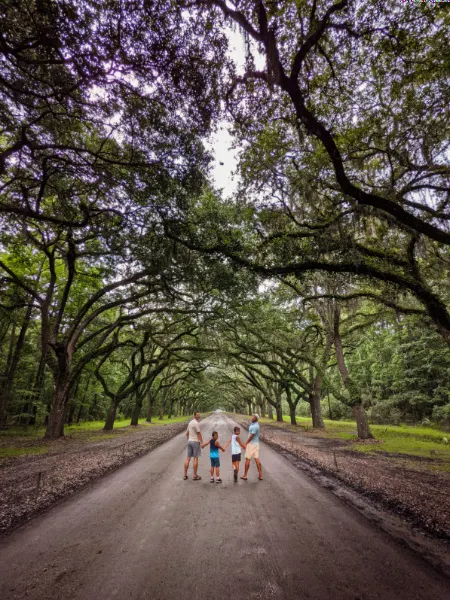 Bonaventure Cemetery: the prettiest cemetery in Georgia
No matter how many times we visit Bonaventure Cemetery we always find something new and beautiful to appreciate. Bonaventure Cemetery is fascinating to explore, and for sure one of the best things to do in Savannah. I think a lot of first time visitors go with the expectation of fog and mystery, like they've seen in Midnight in the Garden of Good and Evil, but it's actually a light and airy place to visit.
It's interesting to research Bonaventure Cemetery because it became a public burial ground in 1846, but before then many people had been buried there. The oldest tomb we've been able to find was dated at 1767, but when you research, there's no easily discoverable list of graves and dates, so I can't even confirm who the 1767 grave belongs to… Just a layer of mystery to appreciate at Bonaventure.
There are lots of very legible graves too, including Pulitzer prize winners and famous Americans. The big draw to Bonaventure Cemetery, and why it's one of the best things to do in Savannah, is the garden setting and sculpture collection in the cemetery. You'll find ornate tombs, towering statues and wrought iron gates separating plots. Add Spanish moss covered live oaks and filtered sunlight and you have a remarkable place to visit.
PS, the famous Bird Girl statue from Midnight in the Garden of Good and Evil is no longer located here… but you CAN see her still if you know where to look…
Tip: this is another great place to do a guided tour. With a walking tour of Bonaventure Cemetery you'll see both the most beautiful graves AND get stories of Savannah history you won't hear anywhere else.
Book a Bonaventure Cemetery guided tour here (with transportation)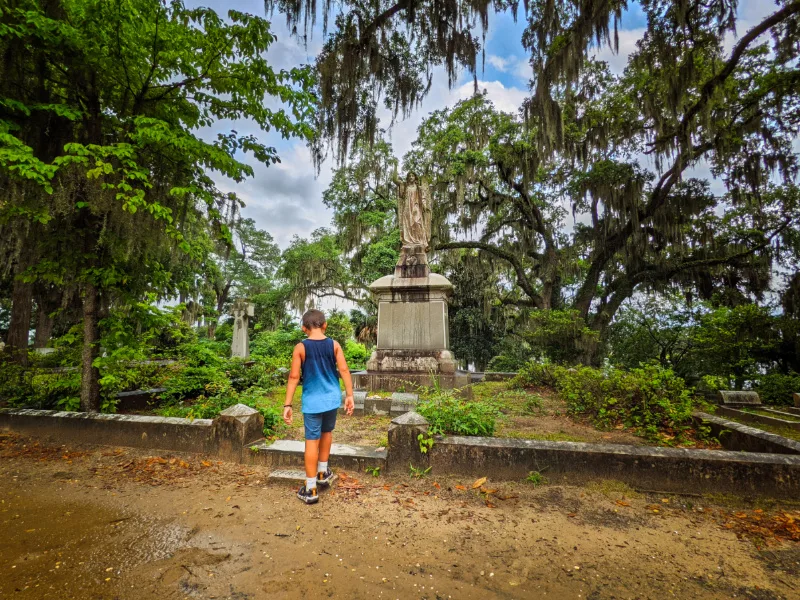 Fort Pulaski National Monument
A part of the Tybee Island area of Savannah, Fort Pulaski National Monument is just twenty minutes from downtown Savannah. Construction on Fort Pulaski started in 1829 and ended in 1847, with updated happening all through the Civil War. It was held by the Confederate Army during the war, and then eventually it was fully abandoned. In the Great Depression, Fort Pulaski became a National Monument and underwent a crazy amount of recovery and renovation until it opened to the public.
Something really cool about Fort Pulaski is that once it fell in 1862 and was taken over by the Union Army, it became a free zone and any escaped enslaved people could settle here in freedom. This was a major destination for the Underground Railroad in Georgia.
When you visit Fort Pulaski National Monument, be sure to do the Junior Ranger Program, even if you're an adult. This will help you discover the many layers of history, from battles to the Underground Railroad, that were centered all around Fort Pulaski. There are also nature trails and even a lighthouse (under renovation, 2021). It's a great spot to visit and one of the best things to do in Savannah.
Tip: if you're looking to do some Georgia Coast kayaking, there's a boat launch here at Fort Pulaski National Monument too!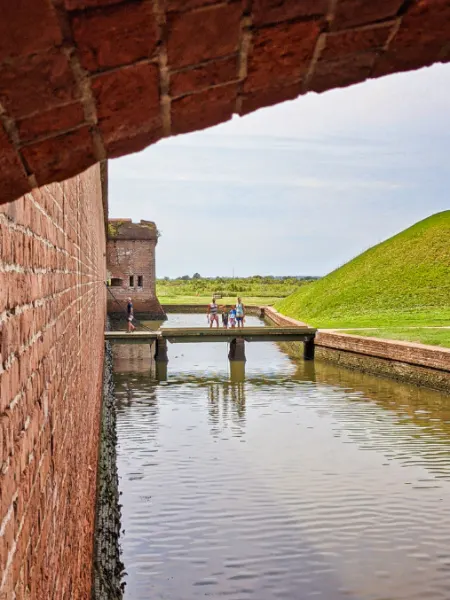 Visiting Tybee Island Near Savannah
Just past Fort Pulaski is Tybee Island. If you're planning to visit one you should plan to visit the other as well. Pairing up a day learning and exploring at the Fort with having fun on Tybee Island is just smart planning. To get to Tybee Island, head east out of town. You'll drive over the inlets and rivers, drive past Fort Pulaski, and then you'll be on the island. It's very similar to St Simons Island down in the Golden Isles in that it's both a bedroom community and a tourist destination.
Tybee Island has a nice selection of restaurants (heavy of the seafood) and several nice options for places to stay. But the big attraction of Tybee Island is the beach. Accessible all along the length of Tybee Island, the beach is beautiful, shelly and a nesting ground to a variety of species of sea turtles (May-October). Plan to arrive on the island early to find the best beach parking (meter or pay with the app, Park TYB) and walk to lunch or bring a picnic.
If you want to stay on Tybee Island, there are quite a few vacation rentals but only a few hotels, and then some very modest beach motels. Tybee is a great vacation destination, but unless you're planning to spend every day at the beach, I would recommend staying in Savannah proper for the easiest access to lots of sights and dining options.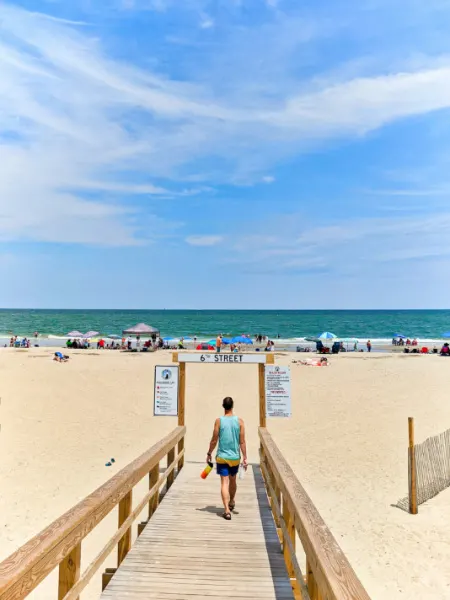 How excited are you to plan a trip to Savannah?! We love the city so much and are so thankful to call it our second home. If you have any questions about things to do in Savannah, need some restaurant recommendations or anything else, please let us know. Leave a comment or send us a note, and we'll be happy to help you plan your trip!