Arguably, one of our favorite things to do in Savannah is going out to eat, and we do it often. Having an apartment at Forsyth Park, which is the hub of all things great in the city, means that we're always walking through the squares and neighborhoods looking for delicious places to eat in Savannah, and I think we've been able to narrow it down to our favorites.
Savannah's culinary scene is so vibrant, with both upscale dining and Southern barbecue, with dry brunch and also amazing cocktail culture. Enjoy our picks for the best places to eat in Savannah, and we promise to keep adding to it after each wonderful find we enjoy!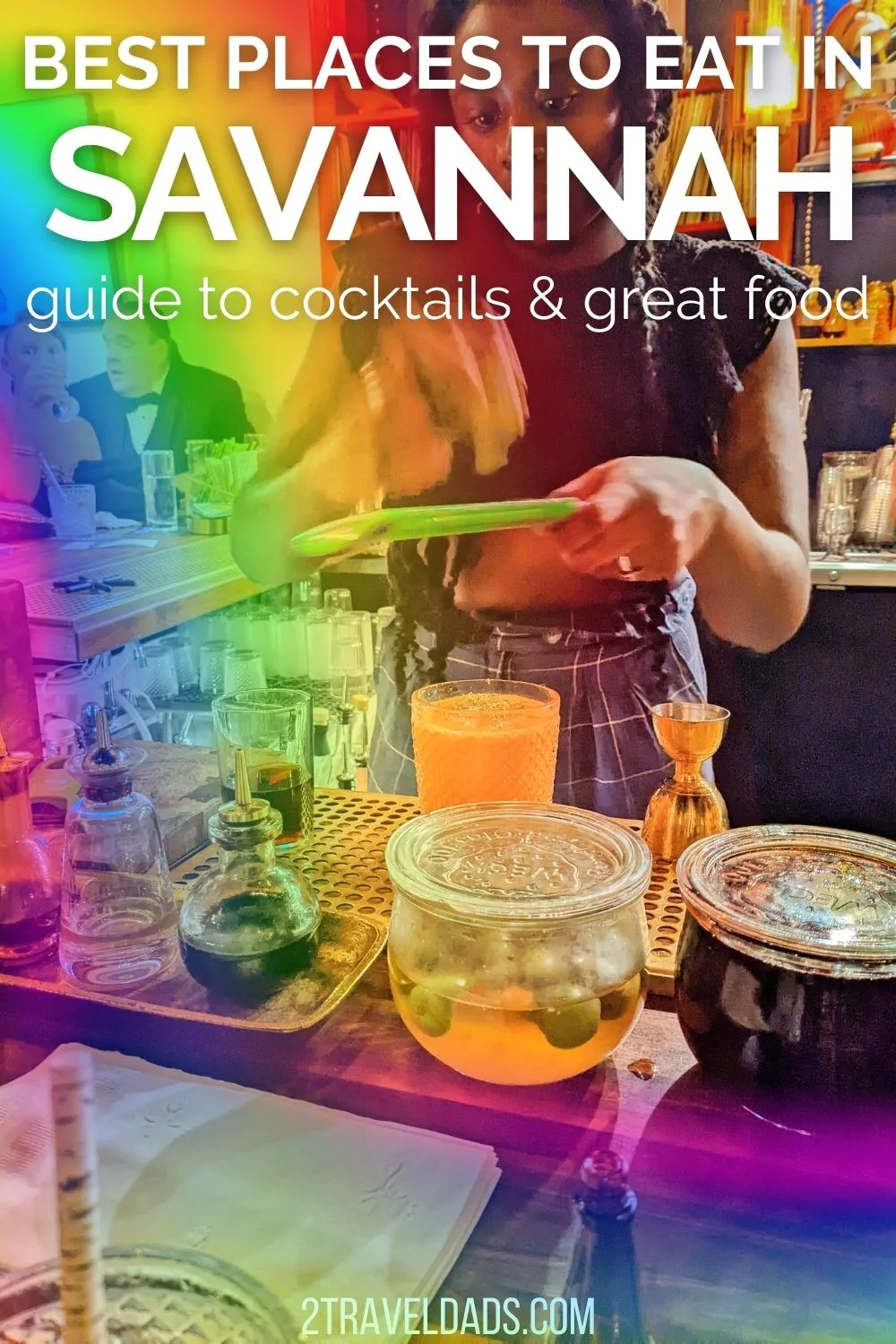 We've got our top picks for where to eat in Savannah organized by neighborhood, starting with Forsyth Park and working northward towards the Riverfront. If you think we missed an important restaurant that's too good to not share, please leave us a comment or send us a note! If you represent a restaurant and you think we should come visit, let us know and we'll give you a fair shot at joining our list.
What's the Scoop on To-Go Alcoholic Beverages?
Savannah is known for many things, and one aspect of enjoying the best places to eat in Savannah is taking a alcoholic beverage to go as you finish your meal. From the Riverfront to Jones Street through the downtown and Historic District, you can enjoy adult beverages in open plastic containers.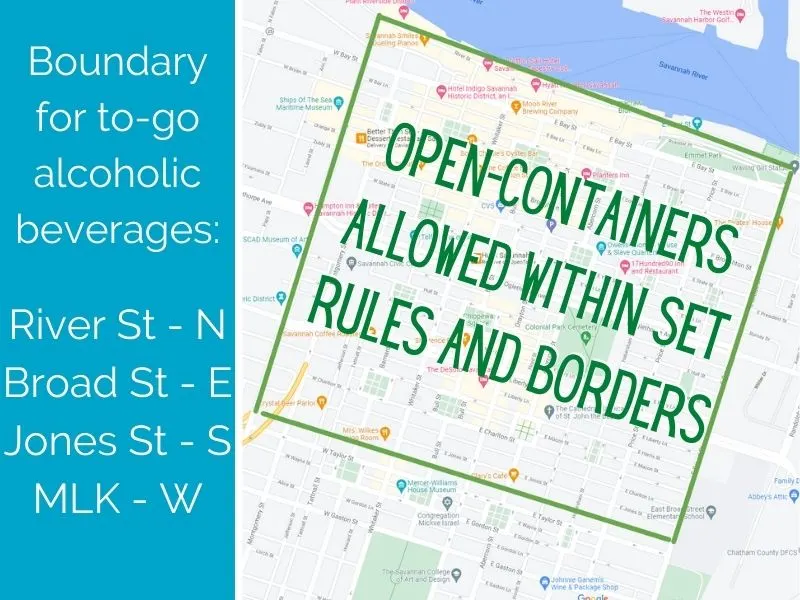 "Can I bring my own drinks for walking around?"
While technically no, many people enjoy wine or champagne picnics in Forsyth Park and the many squares of the city. Yes, Forsyth Park is south of the boundary of the to-go alcoholic drink zone, but it seems to be acceptable. If you leave your hotel room or AirBNB and head out with a beverage, it's unlikely that you'll be questioned, but if you are and it's outside of the zone, don't blame me if you get in trouble.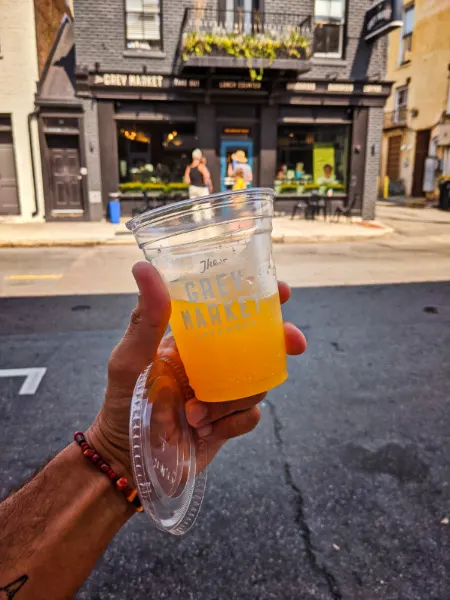 "How Do I get a to-go alcoholic drink?"
It's easy to enjoy a roadie aka walk-tail aka to-go beverage. The best places to eat in Savannah all understand the policy of public drinking and if it's appropriate to their neighborhood and your own consumption level, they'll get you set up with a plastic, disposable cup with your drink.
There are also shops you can get to-go alcoholic drinks from. On River Street (the Riverfront) there are a few, as well as in the City Market area. They'll have their own branded plastic cups and you can select drinks from cold cases. The drinks must be opened in the store and poured into the cups, then or moments later, but then you're free to wander.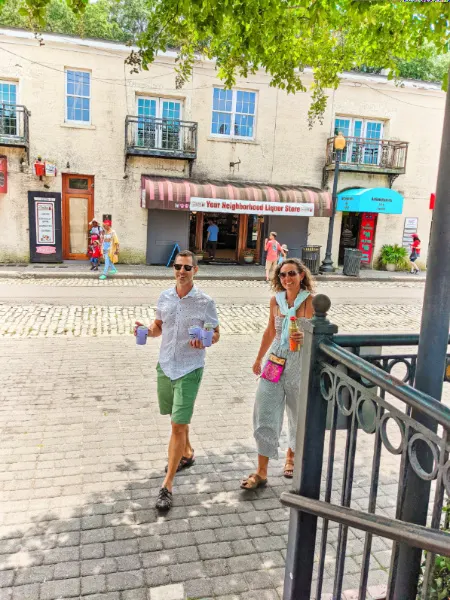 Great Places to Eat in Savannah's Forsyth Park / Victorian District
We really love spending time at Forsyth Park. It's where our place is located (see our Forsyth Park vacation rental here!) so we spend most of our time in Savannah in the Victorian District surrounding the park. Both in the neighborhood surrounding Forsyth Park and the main street, Bull Street, there are lots of great places to eat in Savannah.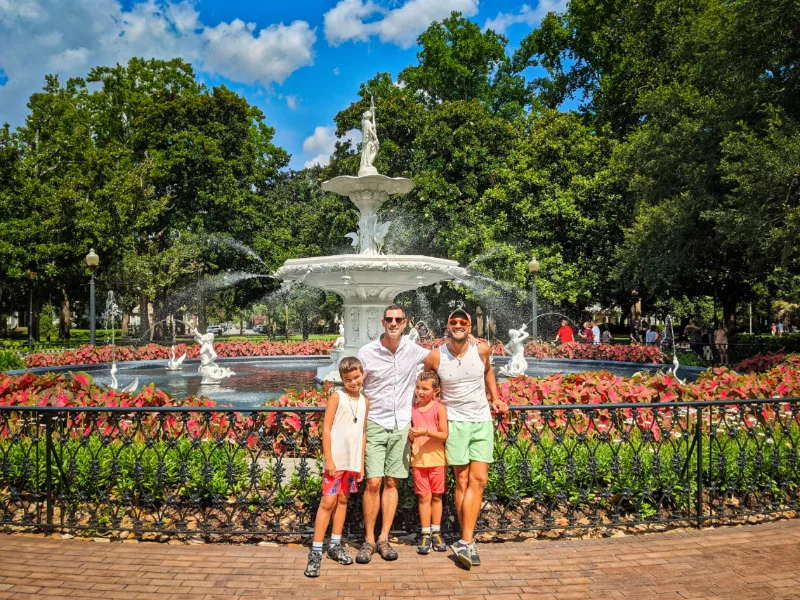 Brunch at Collins Quarter Forsyth
I often think that we need to venture out further and find a new brunch place because we keep going back to Collins Quarter in Forsyth Park… but then I remember that we keep going back because we love it. From the pork belly Benedict to the kale pesto on mushroom toast, it's just always good and always a great experience.
With both indoor and outdoor seating, eating at Collins Quarter is a lovely activity at Forsyth Park. You'll see that there is usually quite the wait on a sunny day after 11:00 am, but if you get there nice and early, you'll usually get seated pretty swiftly.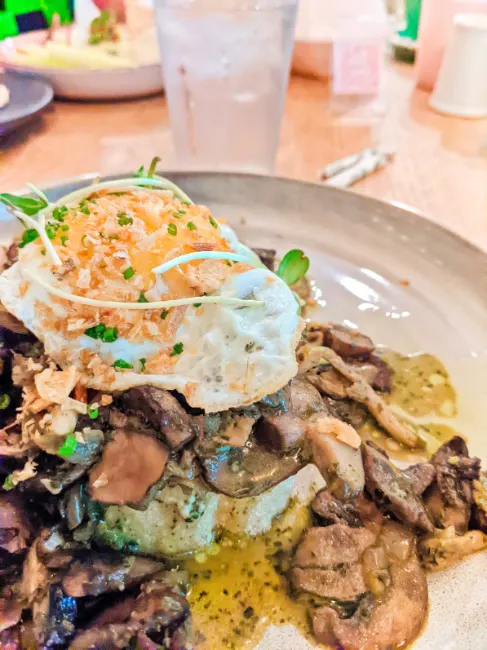 Coffee at the Sentient Bean on Park Ave
I love our neighborhood coffee shop, the Sentient Bean. They also make delicious vegetarian sandwiches and breakfast options in addition to their wonderful coffee. What I really love about the Sentient Bean is the atmosphere. You can sit inside, out on the sidewalk across from Forsyth Park, or on the back patio. It's never too loud, and always the perfect stop.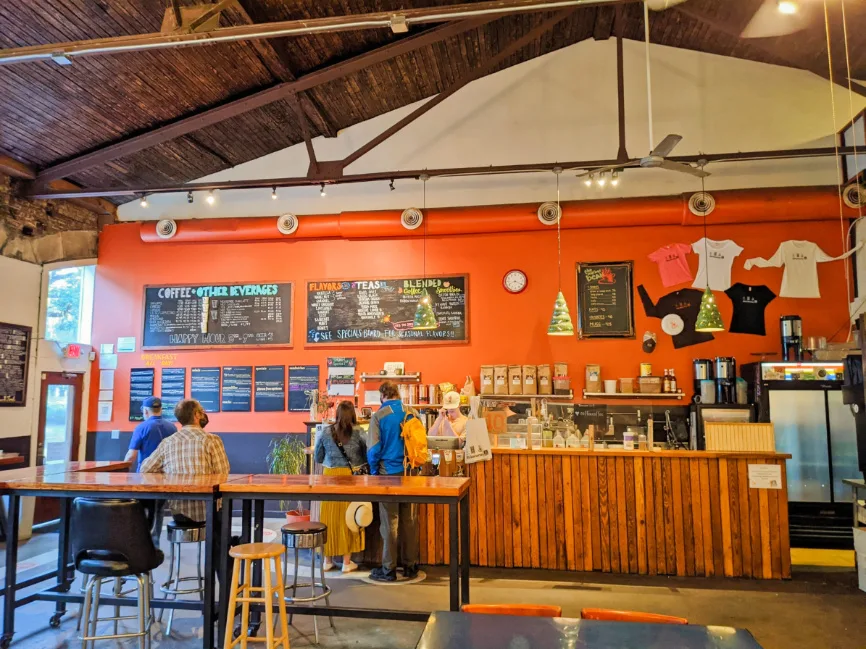 Sandwiches and Cocktails at the Black Rabbit
This is a little off the beaten path if you're not a local or not staying by Forsyth Park, but if you're in the neighborhood grabbing lunch or a sandwich dinner at the Black Rabbit is a must. Doing sandwiches by the half or whole, there are lots of great options for foodie adults or picky kids. Or picky adults.
The cocktails at the Black Rabbit are also winners. The Affectionate Reverence and Last Flight Out are my two favorite cocktails, but you can't go wrong with any of their signature drinks.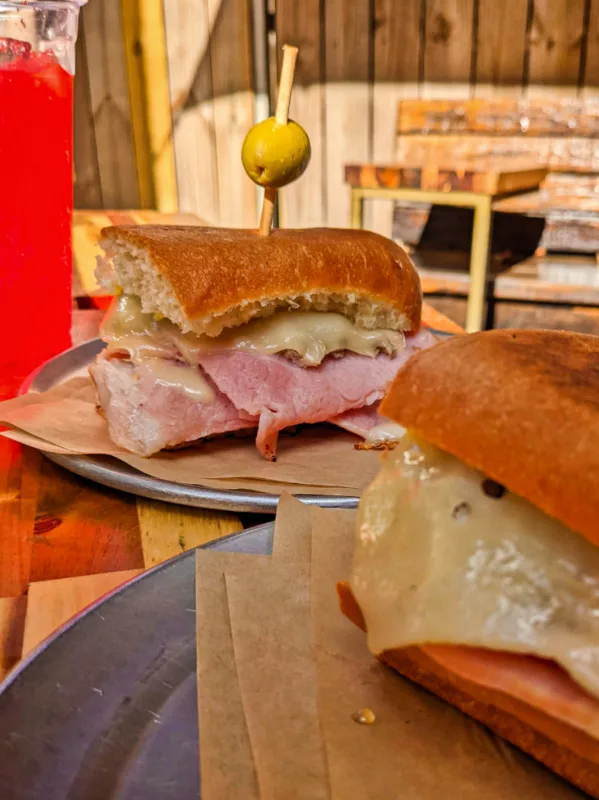 Breakfast or Lunch at Betty Bombers
Don't let the picture I chose for Betty Bombers discourage you; that's just my kid being a stinker. Betty Bombers is one of our favorite places to eat in Savannah for the fun atmosphere, historic location, and good menu. Take the most American menu you can make (Philly Cheesesteak and clubs) and put it in a diner setup with vintage WWII memorabilia, and you've got Betty Bombers.
Just a block off Forsyth Park, this is the perfect Saturday lunch spot. It's a block from our house, so I mean, easy peasy and delicious.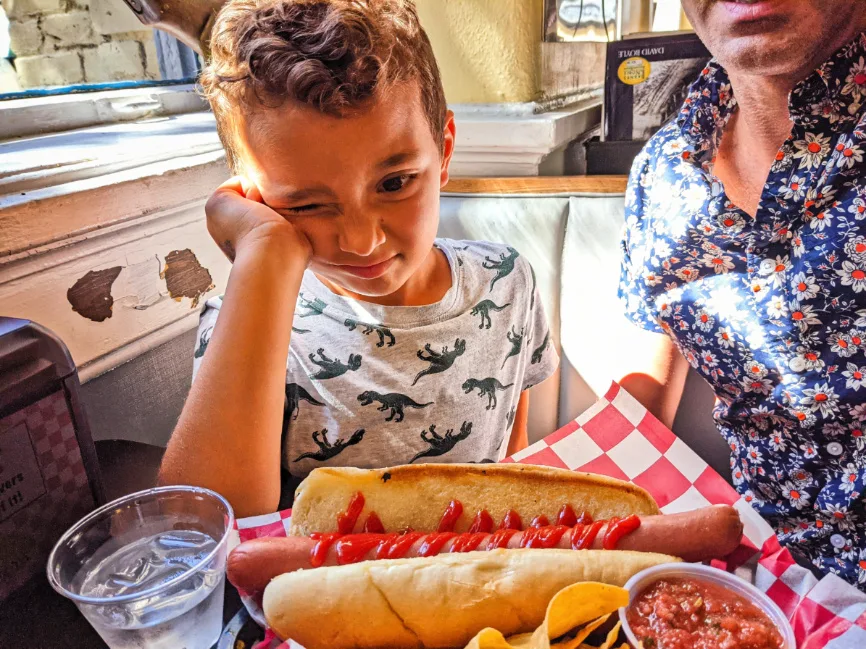 Vegan Breakfast and Snacks from Brighter Day Natural Foods
Living in the South, it's tricky to find super healthy or vegetarian/vegan options. Savannah is great for it though! When we relocated from Washington to Florida, healthy food choices wasn't really something we expected to be more rare. One of our favorite places to eat in St Augustine is the Manatee Cafe where the are just the best at using sweet potato and sprouts for all kinds of stuff, and the Brighter Day Natural Foods Deli is great at it too.
The other bonus of Brighter Day Natural Foods is that you can also do grocery shopping there. If you're staying near Forsyth Park, it's an easy walk to find healthy options. Stock up your vacation rental kitchen and grab something from the deli window at Brighter Day. Perfect!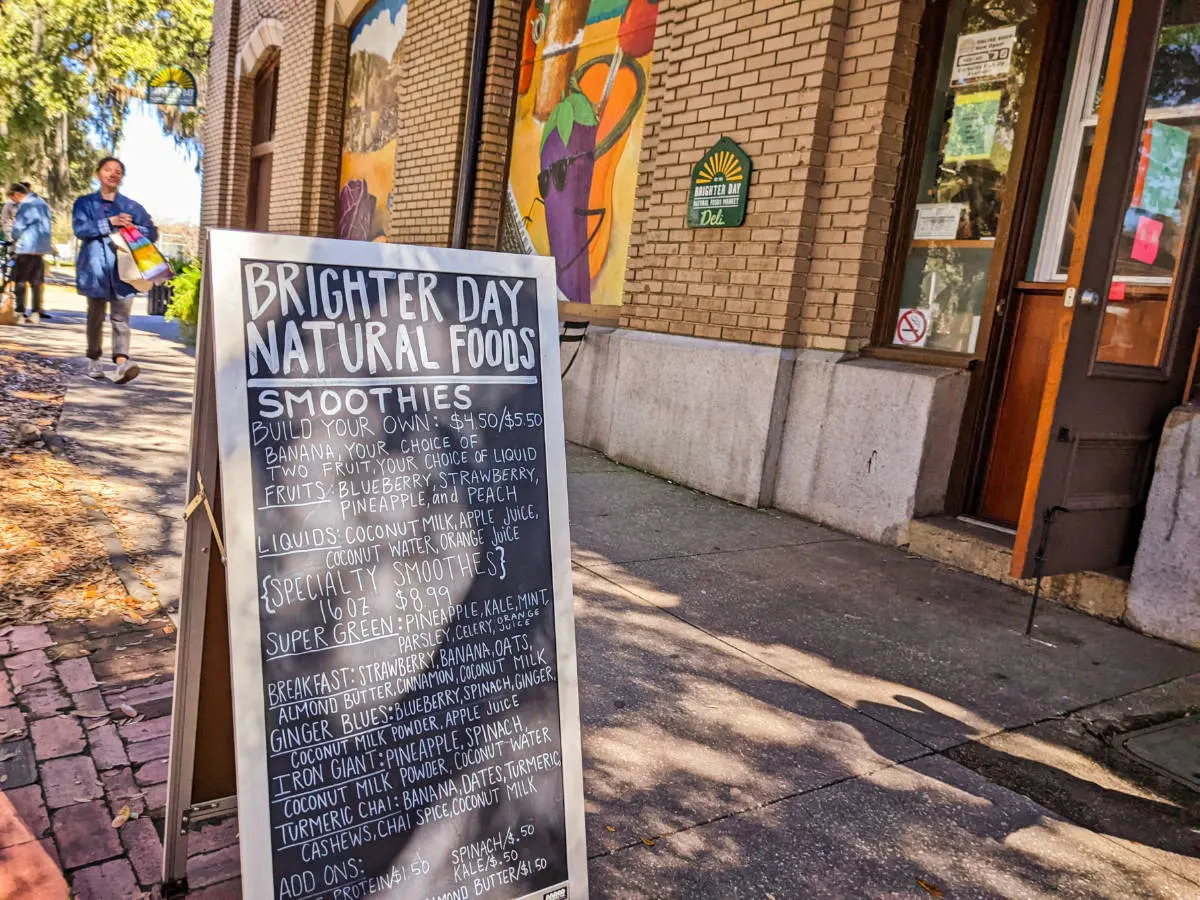 Best Places to Eat in Savannah's Historic District
Heading north away from Forsyth Park we come into the Historic District (we were in the Victorian District). Known for its row houses and tree tunnels, the Historic District is chalked full of great places to eat, many of which are Savannah restaurant staples (to us!). Wandering this part of the city is one of our favorite things to do in Savannah.
Note: the Historic District north of Jones is the area where you can take alcoholic beverages to-go (see map above). While it's unlikely that you'll be stopped or questioned about a drink south of Jones St, the official boundary starts there and continues to the Riverfront.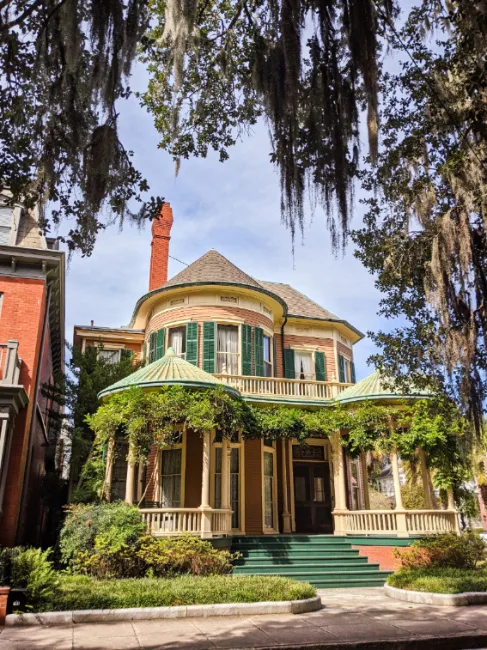 Gryphon Tea Room- Brunch and Tea (no adult beverages)
While it may not be exactly like enjoying afternoon tea in London, brunch and tea at Gryphon is a nice addition to our list of the best places to eat in Savannah. A part of the Savannah College of Art and Design (SCAD) Gryphon makes brunch or lunch a very calm, elegant experience.
The menu is very fresh and local, with dishes you'd hope for, like sweet or savory crepes, or a selection of scones with cream. And of course many tea varietals. Brunch at Gryphon Tea Room is a very different dining experience.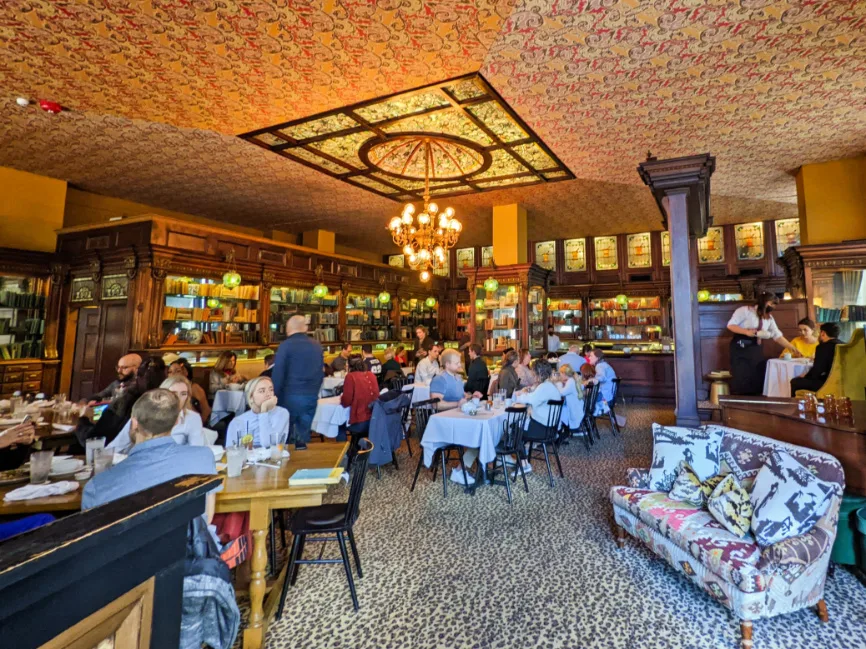 The Public – Awesome Cocktails
The Public is very unassuming from the street, but then when you walk in it's like a mid-century lounge meets a futuristic dining room. I love it. There's also plenty of sidewalk seating for anyone looking to enjoy one of the best places to eat in Savannah AND do some people watching.
For lunch order the ham and brie sandwich or the Havannah (yes, that's spelled correctly) and then a Snowbirds Flying South or a Harvest Moon cocktail. They are partner restaurants with Franklin's next door, so they have awesome desserts too.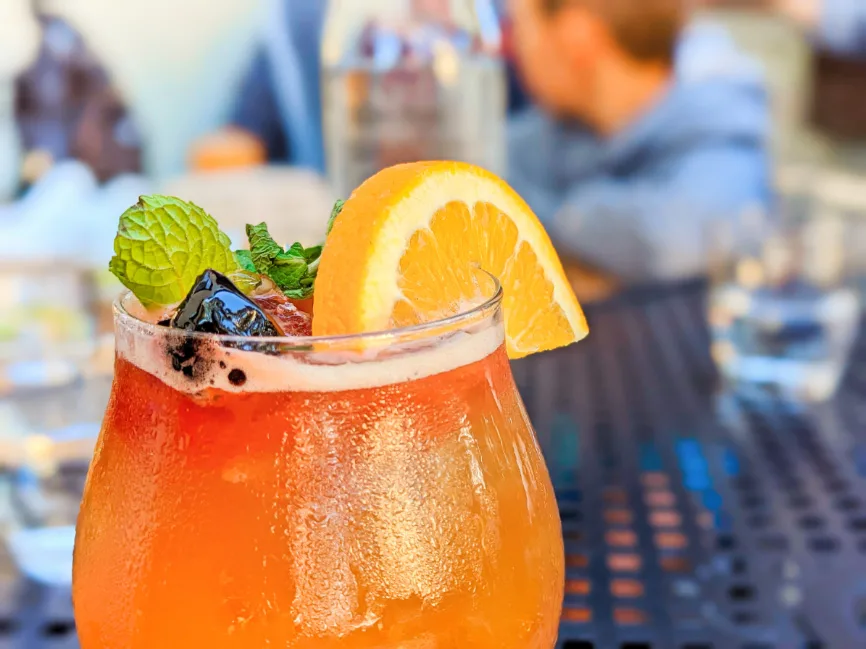 Franklin's – Coffee and French Breakfast and Pastries
This is the place I was just saying is partnered with the Public! It's a gorgeous coffee shop with sandwiches and pastries too. If you've never had a croque monsieur GET ONE HERE! Franklin's does a wonderful job creating and serving European style coffee and eats. One of the best places to eat in Savannah for sure. PS: they do coffee cocktails too….
Savoy Society – the BEST Place to Eat in Savannah
Yes, I said it: the Savoy Society has the best cocktails and small bites of all the places to eat in Savannah that we've tried (and we dine out a ton!). Why I love the Savoy Society is because they really work to make their food and drinks unique. They're unique in a way that is thoughtful and sometimes obscure with the ingredients, not unique in a "Why did somebody make this weird combo?" sort of way.
My absolute favorite thing to eat at the Savoy Society is the Korean Meatball Slider. It's off-the-wall delicious. When it comes to cocktails, there are a few top picks from their very interesting Savannah cocktail menu:
Going Down Proper
Eyes Without a Face
Boy, Write Your Name!
You'll love the Savoy Society, and I know you'll agree that it's one of the best places to eat in Savannah.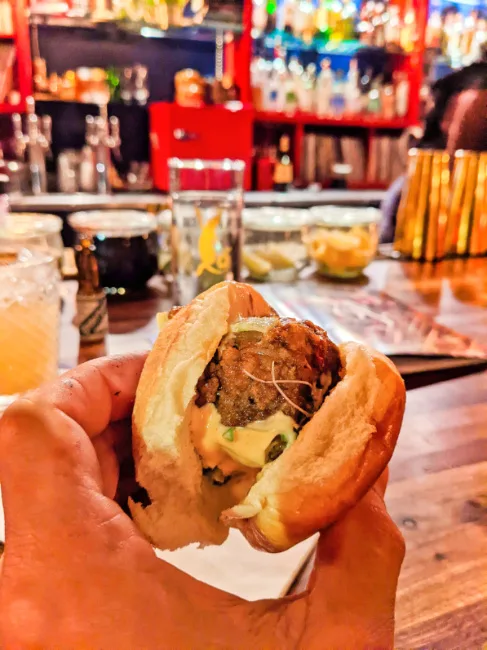 Hitch – Delicious, Cool Southern Cooking and Cocktails
I know exactly how long it takes us to walk from our place to Hitch, because it's become a standard for us. We ate at Hitch for the first time on our very first trip to Savannah, and have since been back four times. The gimmick of Hitch is that it's all your favorite foods that might not seem super classy, classed up and combined to make delicious dishes.
The kids' favorite thing to get is the Mac N' Cheese Quesadilla, while mine is the Grilled Apple Pie w/ Chicken. Not only is it the perfect combination of sweet and savory, but it's also some of the best fried chicken in Savannah.
The cocktails at Hitch are also fun and interesting. Our top picks are the Cherry Cola, Grapeful Dead and Cactus Pear Margarita. So good and never a bad dining experience!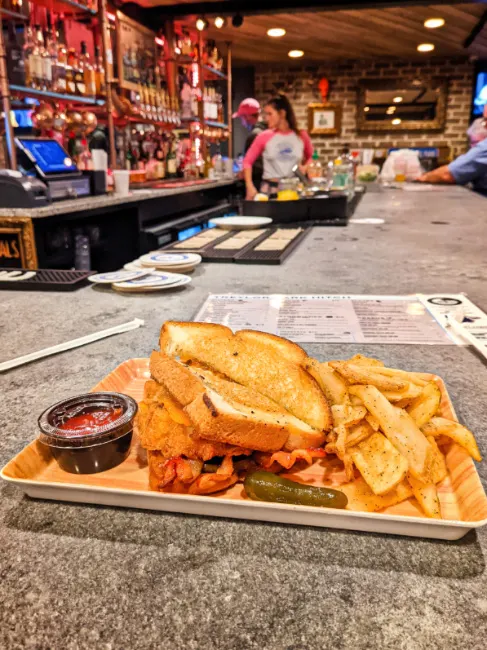 Favorite Downtown Savannah Places to Eat
The lines between downtown and the Historic District are blurry it seems. I mean, you're walking on Broughton, which is where you find most of the shopping and a fair number of restaurants, and then all of the sudden you turn and you're in a square surrounded by historic homes. 15 story building towering over you and then one block south it's wrought iron spiral staircases to peoples' actual houses. But it's all great, and some of the best places to eat in Savannah are in this zone of downtown.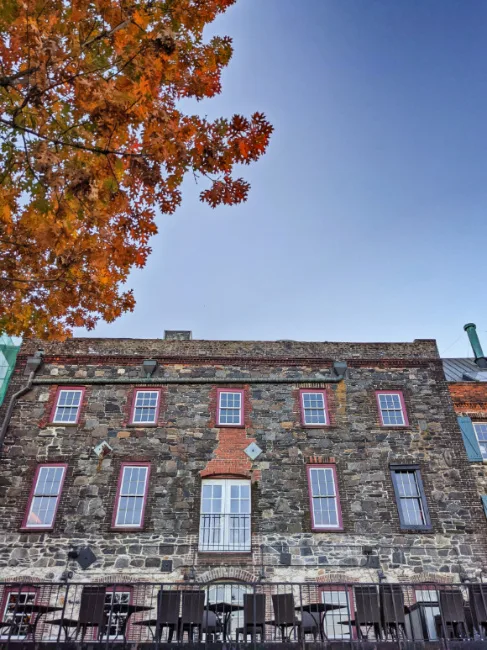 Goose Feathers Café and Bakery – Great Breakfast and Pastries
We love coming to Goose Feathers Cafe and Bakery for breakfast. Whether you're in the mood for scrambled eggs on a croissant or if you want a sweet streuselly muffin, this is the place to go. I also really love their whoopie pies, particularly the coconut one. Goose feathers just does breakfast and lunch, so if you want to get something baked and delicious, add a stop to your morning routine when you're in Savannah. Or grab a panini to take to a square in the afternoon.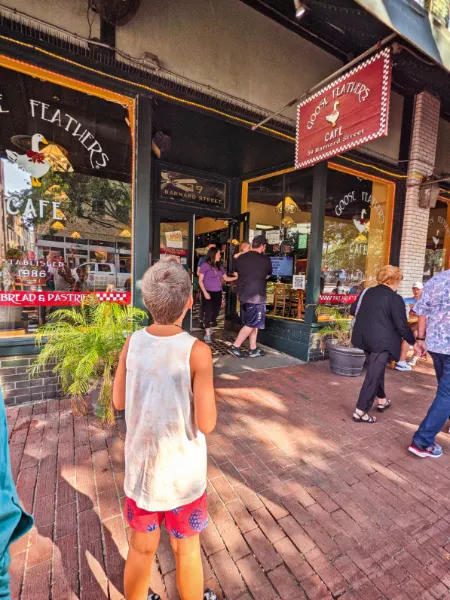 SUSHI HANA Savannah for Rolls and Udon Noodles
The very first place I ever tried sushi was in Seattle, Washington at a place called HaNa… and the first place we had sushi in Savannah was also SUSHI HANA. Located on Broughton in the middle of Savannah's shopping district, this is a great place for both sushi and Japanese noodles. Wonderful fresh and clean tasting sushi is complimented by delicious spring rolls and edamame. I also enjoy the chicken Yaki Udon, which is a really nice change up to the brothy udon dishes.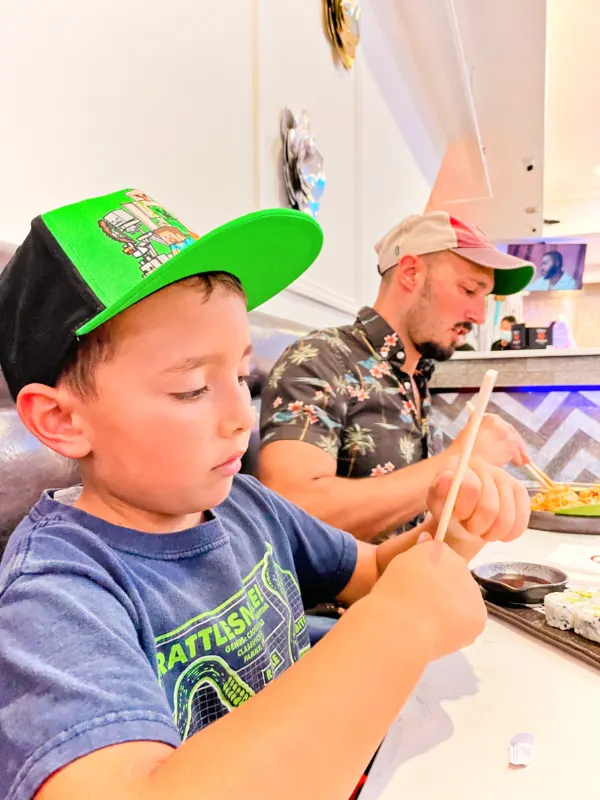 Maple Street Biscuit Company for Southern Biscuit Breakfasts
You can't go wrong with Maple Street Biscuit Company. We actually have one here in downtown Saint Augustine and frequent it when we've got visitors in town. They really do have some of the best biscuits around, and although they have several locations throughout the South, they have great food and good service.
The go-to in our family is the Sticky Maple Biscuit with fried chicken, bacon and maple syrup, but my favorite is the Iron Goat, which has spinach and goat cheese. Truth be told, I've never had a bad biscuit sandwich from Maple Street Biscuit Co.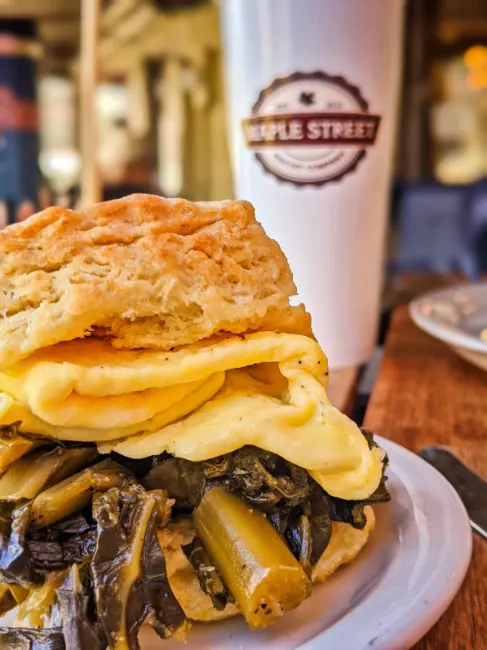 Treylor Park for Wild Drinks, Entrees and Apps
The sister restaurant to one of our favorite places in the Historic District, Hitch, Treylor Park is very similar and just as good. With the same concept as Hitch, Treylor Park takes your favorite nibbles and uncouth eats and makes them a bit fancier or more interesting. The PB&J Chicken Wings and Cheesesteak Egg Rolls are the winners at Treylor Park. I love that two of our favorite places to eat in Savannah are the Treylor Park restaurants!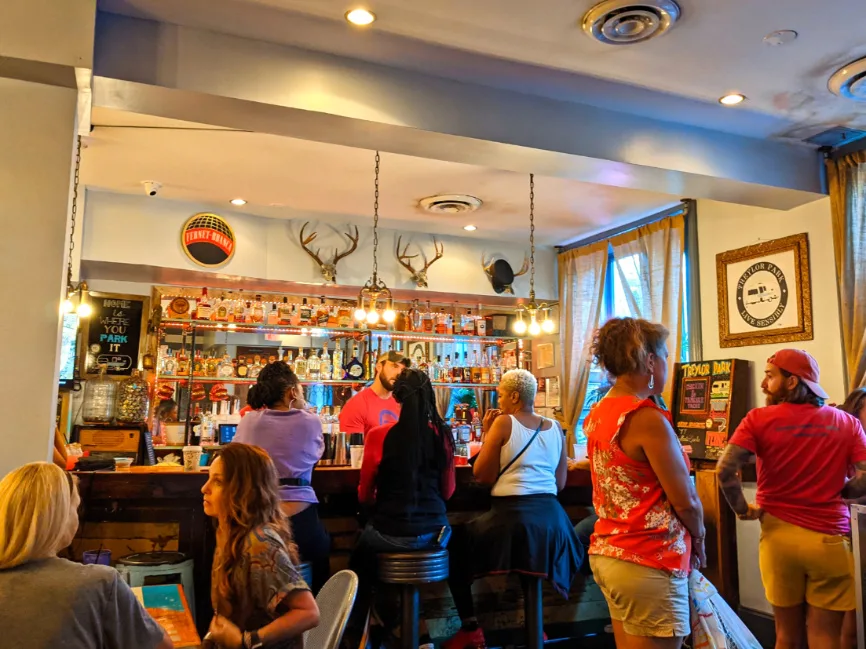 Best Place to Eat in Savannah for Italian: Corleone's Trattoria
We so rarely go out for Italian food, but everything I kept reading about Corleone's Trattoria on MLK was so good, we made a reservation and went. It was marvelous: as good as or better than much of the Italian food I've had in New York City. The lasagna and meatball sandwiches were our favorites (we've now tried six dishes here), with the cannelloni coming in close behind. The atmosphere is great, and the sangria is lovely. MAKE A RESERVATION if you're planning a Friday/Saturday visit, because it gets busy!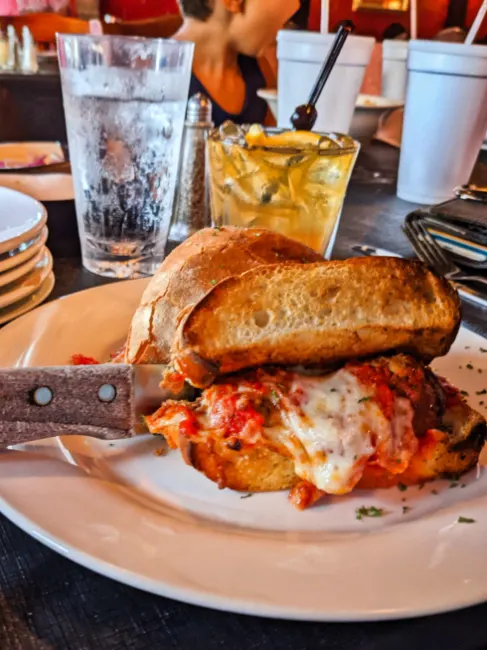 Le Macaron French Pastries for Desserts
Until I really get good at making choux pastry, Le Macaron is going to be our go-to place for eclairs and other delicate desserts. I love the selection of macaron and meringue flavors, as well as the unique eclairs they make at Le Macaron. This bakery is actually part of a franchise network, but it's still a very unique option when it comes to treats downtown.
Grab a coffee and several small French treats and you have the perfect end of dining your way around downtown Savannah. I know this spot isn't a full-meal sort of place, but the desserts are so good we had to include them in our favorite places to eat in Savannah.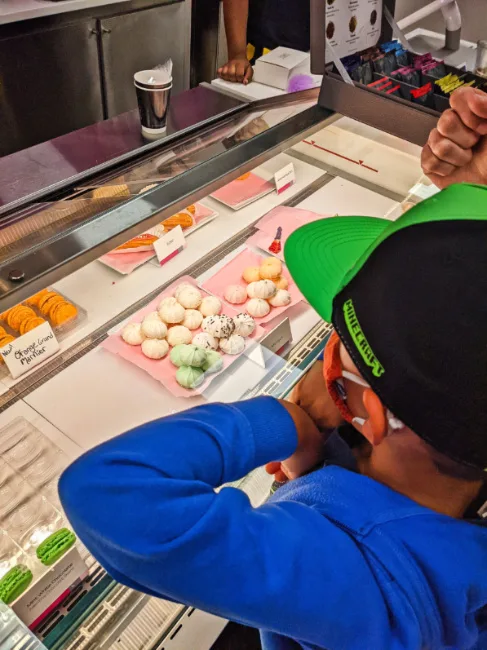 It's tough to limit the recommendations for places to eat in Savannah. There is just so much good food, and by no means have we stopped trying new places. If we missed YOUR favorite place or think there's another Savannah restaurant we need to visit, leave a comment or send us a note. We're happy to take other people's recommendations!