The Historic District of Savannah is so interesting and fun to explore. Stretching from River Street to Jones Street, it's full of beautiful squares and historic homes. There are loads of historic sites in Savannah to visit, and just walking you'll come across many without even trying. The Victorian District blends right into the Historic District and it's all just so neat to explore.
The Victorian District is one of Savannah's most iconic neighborhoods. It is home to a variety of historic sites, including The Cathedral Basilica of St. John the Baptist and Forsyth Park. These sites are perfect for visitors who want to learn more about Savannah's history or just walk around appreciating the really cool architecture that you'll find throughout the city. The Victorian District south of Gaston Street is also where you'll find some great restaurants and shops, making it the ideal location to spend a day in Savannah.
While every neighborhood of Savannah offers a slightly different snapshot of history, the Victorian District is a great place to visit for its industrial period history, culture, and architecture (that's why our apartment is here!). Between Forsyth Park and the beautiful, less visited Savannah squares, this quiet neighborhood will quickly become your favorite.
If you have any questions about Savannah's historic site or feel there are more we need to include, leave a comment or send us a note. Happy planning!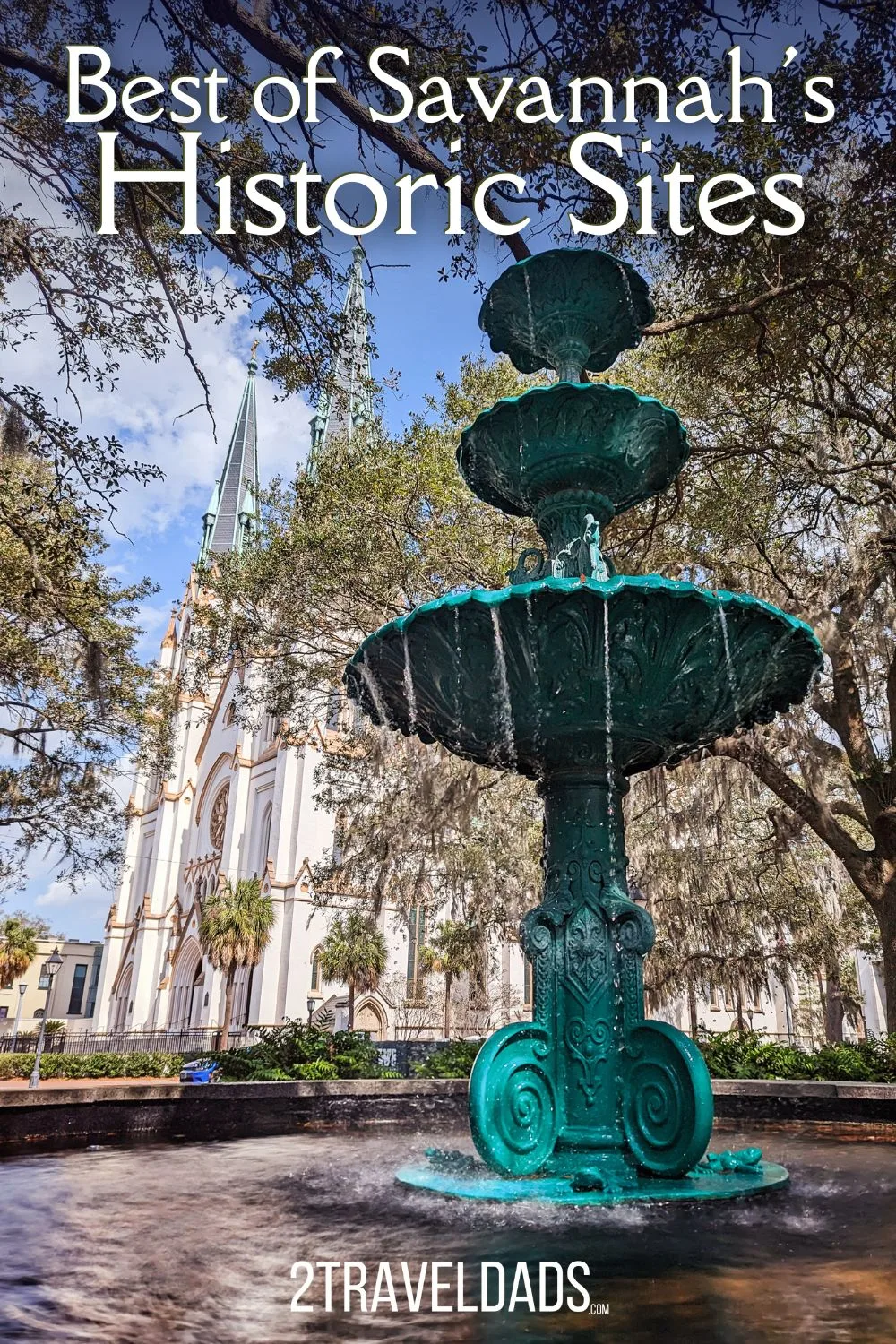 History of Savannah's Victorian District
The area closer to the river was first settled in the 1770s, with and has been home to some of Savannah's most influential citizens over the years, and then as the town grew, it became the neighborhood of both the rich and the common worker as you head south. Today, the Victorian District is one of the city's most popular tourist destinations, thanks to its many beautiful historic homes and buildings. If you're looking for a taste of old-world charm and elegance, the Victorian District is definitely the place for you.
You may not even realize as you're walking around when you transition from the Historic District to the Victorian District. Subtle changes in architectural style give you hints, particularly things like symmetrical windows, curved staircases and roof edges full of detail. Also, row houses, very much like San Francisco start to become more common, and to me, these are this major indicator that you're in the Victorian District.
Additionally, here in Savannah's Victorian District is where you'll find a huge number of the historic inns and B&Bs. Many occupy large homes turned into hotels, and some are operating as inns just as they were designed in the 1800s. Historic sites in Savannah are everywhere!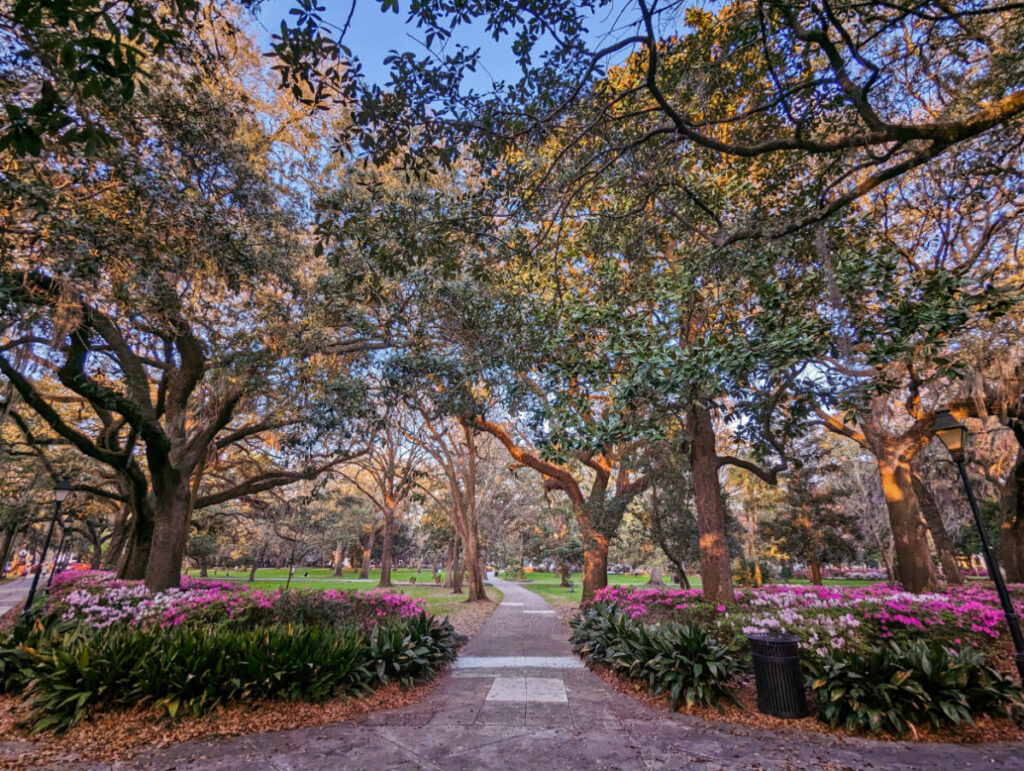 Top Picks for Cool Architecture and Historic Sites in Downtown Savannah
This is NOT an all-encompassing list of historic sites and registered places in the Historic and Victorian Districts, but are our top picks for the easiest ones to visit and with the most unique stories and architecture. We have much more about Savannah history to share, but if you're looking for an easy plan to experience historic sites in Savannah in a day (or two), this list will take you around town and show you the best of it!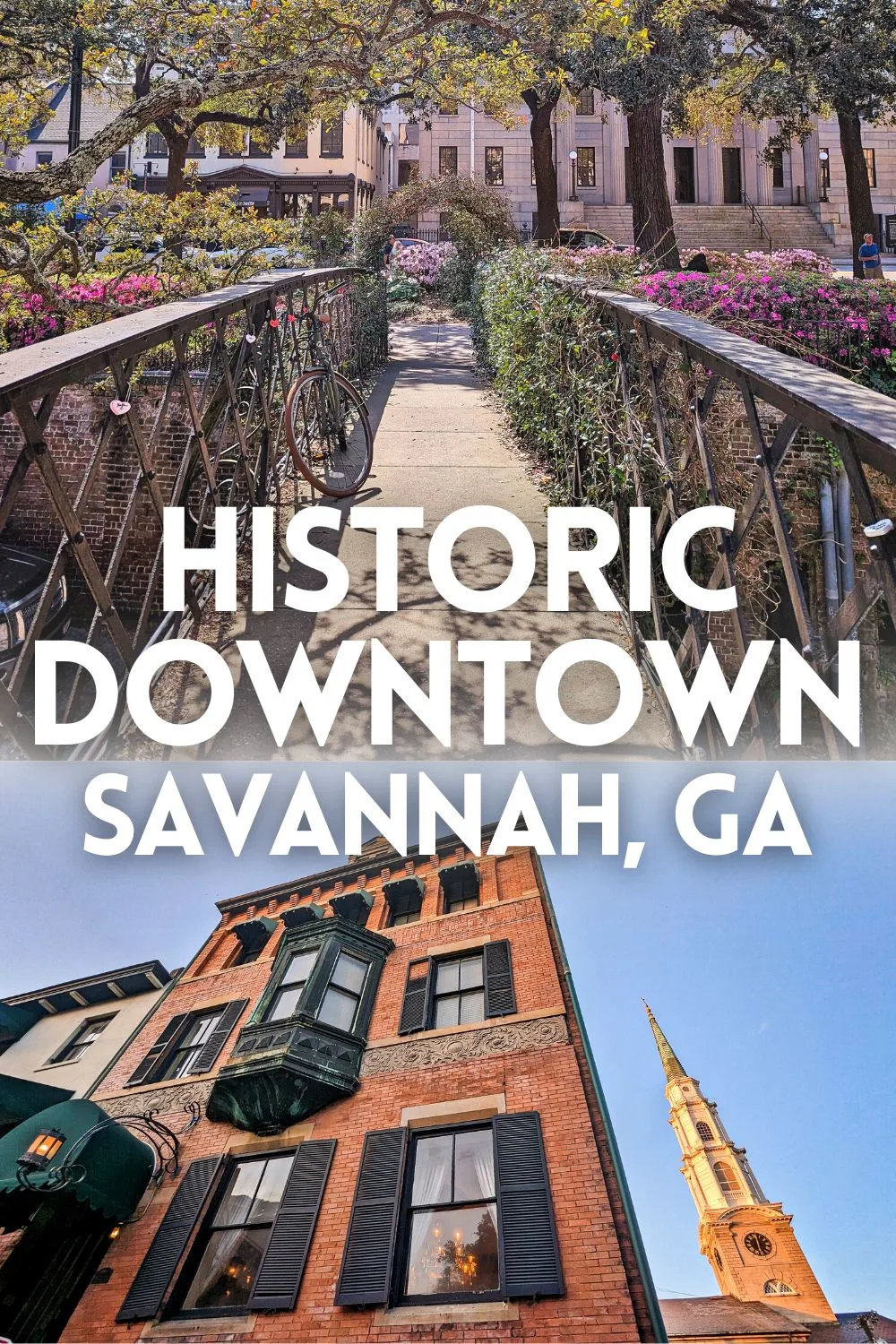 The Cathedral Basilica of St. John the Baptist
The Cathedral Basilica of St. John the Baptist is a Roman Catholic cathedral and minor basilica. It's the Mother Church of the Roman Catholic Diocese of Savannah, a National Historic Landmark and a beautiful example of Gothic Revival architecture. The Basilica is also known for its stunning stained glass windows and its pipe organs. Visitors can tour the Cathedral and learn about its history and architecture or attend one of the many events and services held here throughout the year.
Our kids enjoy stopping in here on a hot day to have a sit in the air conditioning and quietly looking at all the art. Everyone is welcome to visit, just be respectful of others who are there for their own religious purposes.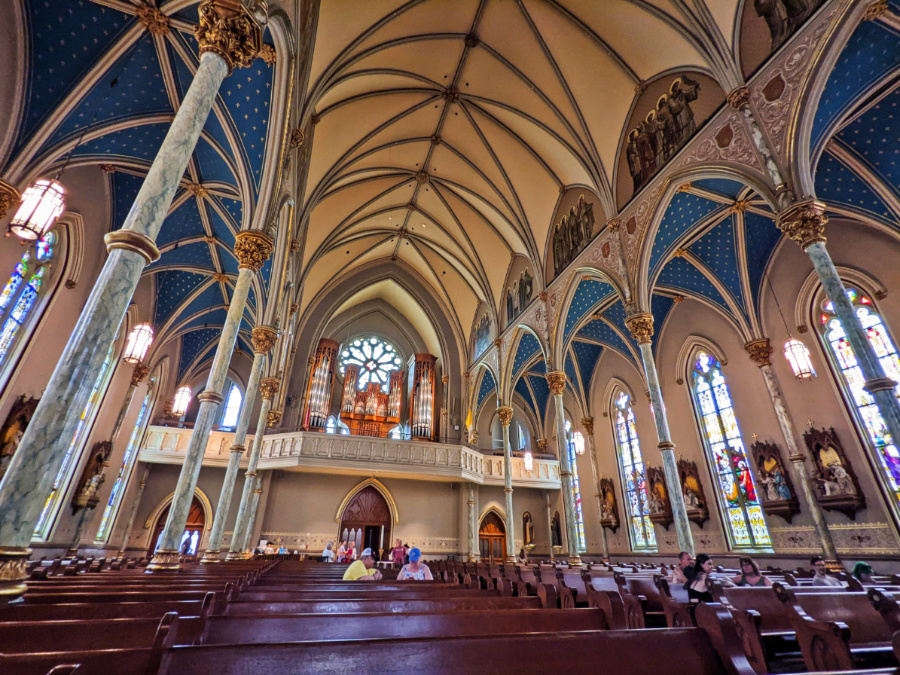 Forsyth Park
Forsyth Park is located is a great place to visit for its historic significance and beautiful scenery (and if you just want to lay in the grass and people watch). The park was originally created in the early 1800s and has been home to many events. Today, Forsyth Park is a popular spot for locals and tourists alike. The space offers a variety of activities such as walking paths, a children's play area, a Fragrant Garden for the blind, a large fountain, tennis courts, basketball courts, areas for soccer and Frisbee, and home field for Savannah Shamrocks Rugby Club.
From time to time, there are also private events and concerts held at Forsyth Park for the benefit of the public. We love going through the Savannah Farmers Market at Forsyth Park on Saturdays. There are always great baked goods, local greens and, of course, pralines. Forsyth Park is both historic and where modern Savannah goes for fun and relaxation.
PS: we bought a place here at Forsyth Park years ago and hanging out in the park is literally our number 1 favorite of all the things to do in Savannah. You cannot visit the city without coming to the park.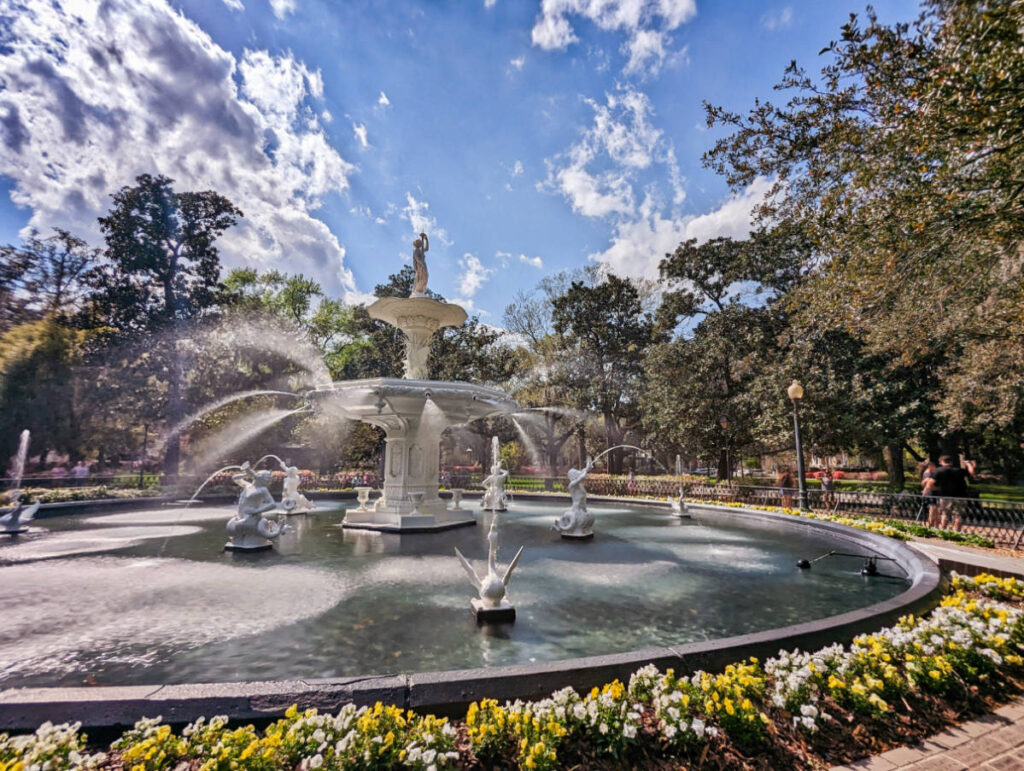 Old City Market
The Old City Market is a great place to find souvenirs and local goods in downtown Savannah. The market is located in a historic district and features a variety of shops, restaurants, and stalls selling everything from jewelry to art to clothing. Be sure to bargain with the vendors for the best prices!
Market at Factors Walk
Just off River Street is Factors Walk, a historic cobblestone lane lined with warehouses dating back to the 1820s when Savannah was one of America's busiest port cities. Today, the warehouses have been converted into shops, restaurants, and galleries, making Factors Walk one of downtown Savannah's liveliest areas. Be sure to stop by Market at Factors Walk for some unique dining and shopping experiences.
While today Factors Walk is much more the place to go for food and even historic inns, as you walk you can sense the history it holds. Savannah's riverfront was very industrial, and also a hub during the slave trade in the USA. While exchanging human lives and goods happened on the squares above and riverfront below, the alleys of Factors Walk we're integral to undermining the trafficking.
Note: if you do the Underground Tour of Savannah, you'll learn a lot about the Factors Walk area, as this was an important stop / hiding place as escaping enslaved people made their way north.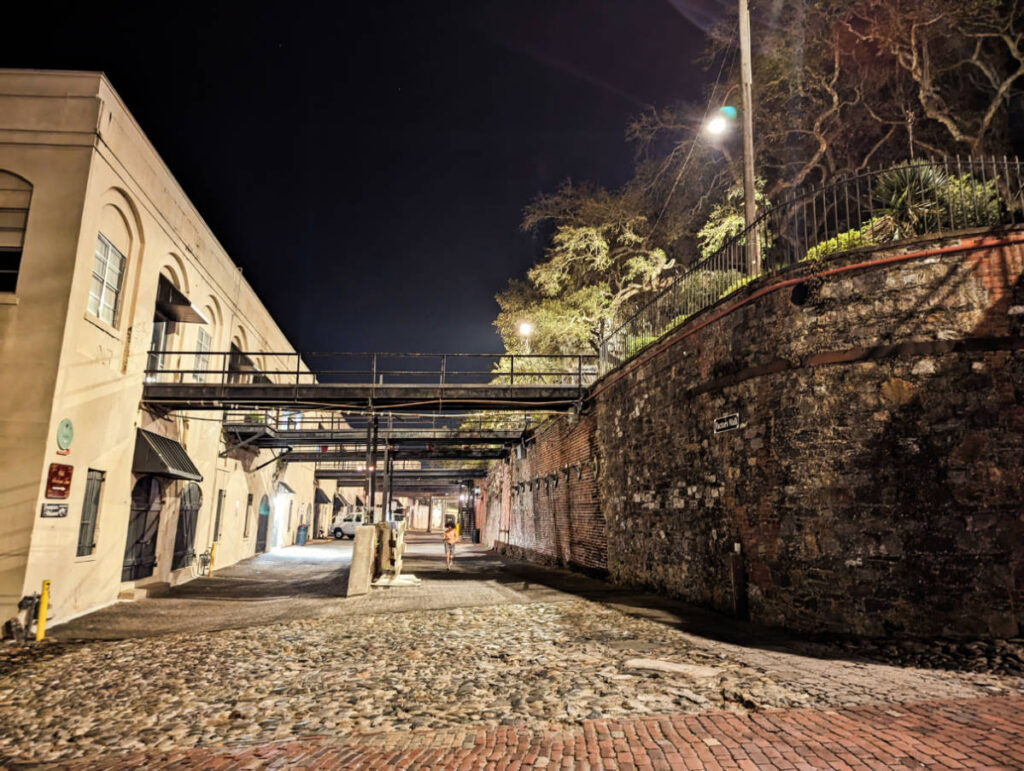 The Mercer-Williams House Museum
The Mercer-Williams House Museum is one of the best examples of Victorian architecture. The museum is based on the carriage house at the rear of the property, which is a lovely place to learn about the history of Savannah. It is owned by Dorothy Williams Kingery, Williams' sister, and is open to the public for tours.
The house is also featured in the movie adaptation of Midnight in the Garden of Good and Evil. Besides the Bird Girl Statue, the Mercer-Williams House is probably the most iconic sight from Midnight. If you're into either movies or historic home, then you should definitely consider visiting the Mercer-Williams House Museum.
Note: they do not allow photography inside the house, FYI. But you can take all the photos you want OUTSIDE.
Book a Midnight in the Garden of Good and Evil tour here!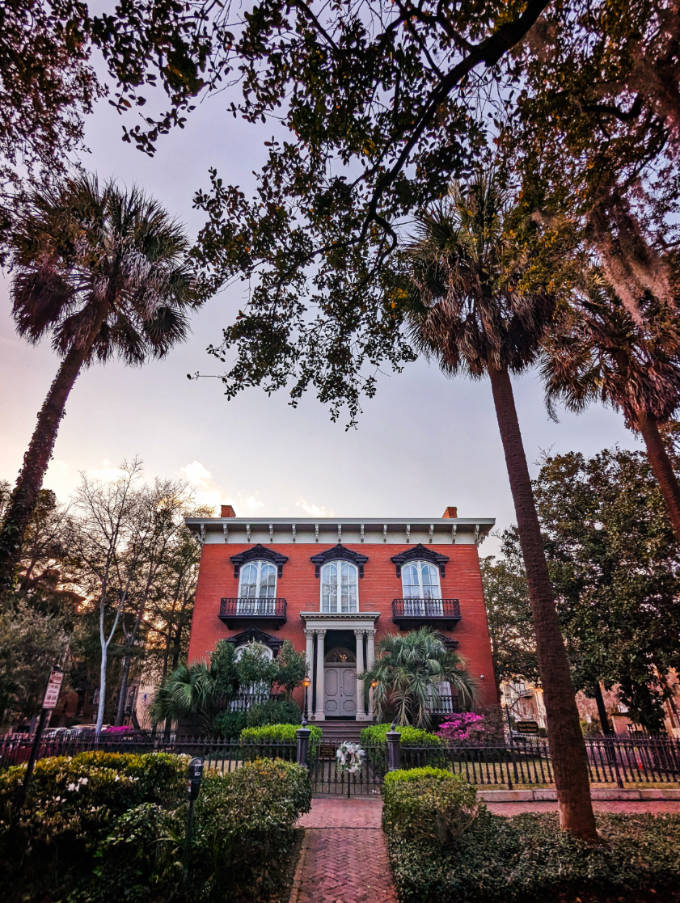 The Owens-Thomas House & Slave Quarters
The Owens-Thomas House & Slave Quarters is a historic home that is operated as a historic house museum by Telfair Museums. The Owens-Thomas House was designated a National Historic Landmark in 1976, as one of the nation's finest examples of English Regency architecture. The House is a good place to visit for its architecture and its history.
The house was built between 1816 and 1819 for George Owens, an Irish immigrant who made his fortune in the slave trade. The house is an magnificent example of English Regency architecture, and the slave quarters are some of the best-preserved in the country. The house is welcomes the public for tours, and visitors can learn about the history of slavery in Savannah and the Owens family.
If you're visiting the Telfair Museums, save your admission ticket for entry to the Owens-Thomas House as well. And if you're doing one of the Savannah ghost tours, they usually stop by here too, but don't go inside.
NOTE: when visiting a historic site that includes information or history of enslaved peoples, remember that this is NOT an Instagram moment and that even if you hear a reference to "servants" or being treated well, people owning people is not okay and no amount of whitewashing is acceptable.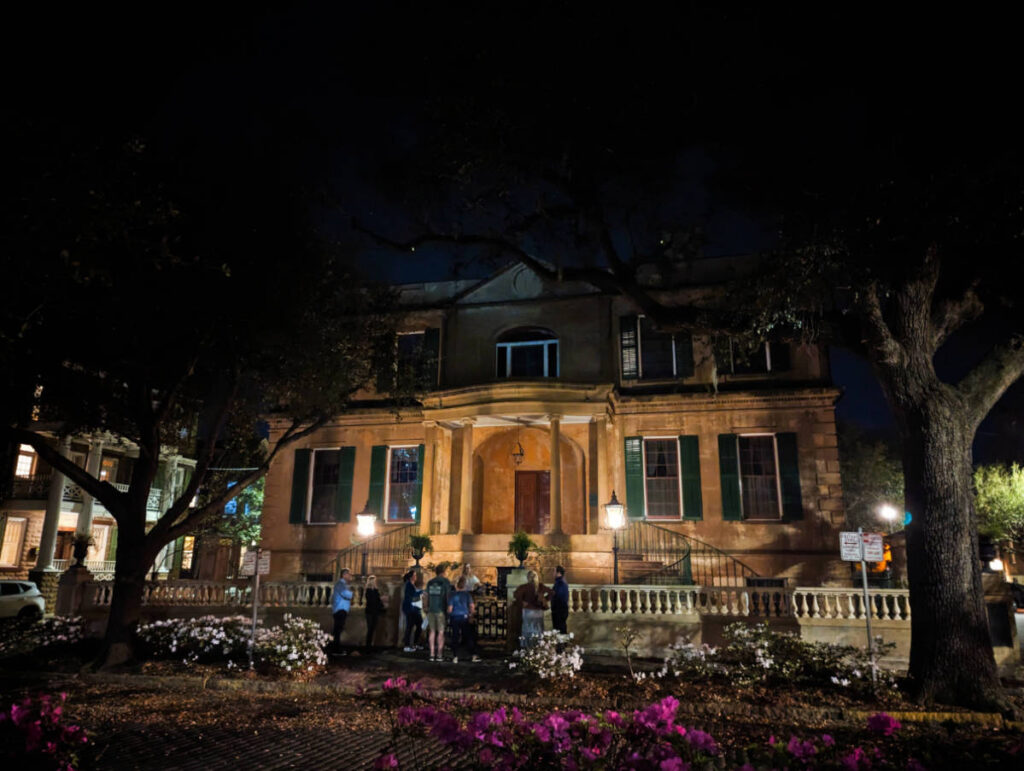 The First African Baptist Church
The First African Baptist Church is a historic place of worship that is worth a visit outside of service times. The church was founded in 1788 and has persevered for nearly 240 years, reflected in its humble architecture and design. The church also operates a museum that displays memorabilia dating back to the 18th century, making it a splendid place to learn more about the past. The church played an significant role in the Underground Railroad and the Civil Rights Movement, and today it is a National Historic Landmark. Visitors can tour the church and learn more about its history and see its beautiful sanctuary.
If you're looking for a place to enjoy peace and quiet or explore Savannah's church heritage, then the First African Baptist Church is open for tours Tuesday through Saturday. They do them at 1:00 pm only, so be timely and get your tour spot through the church website in advance.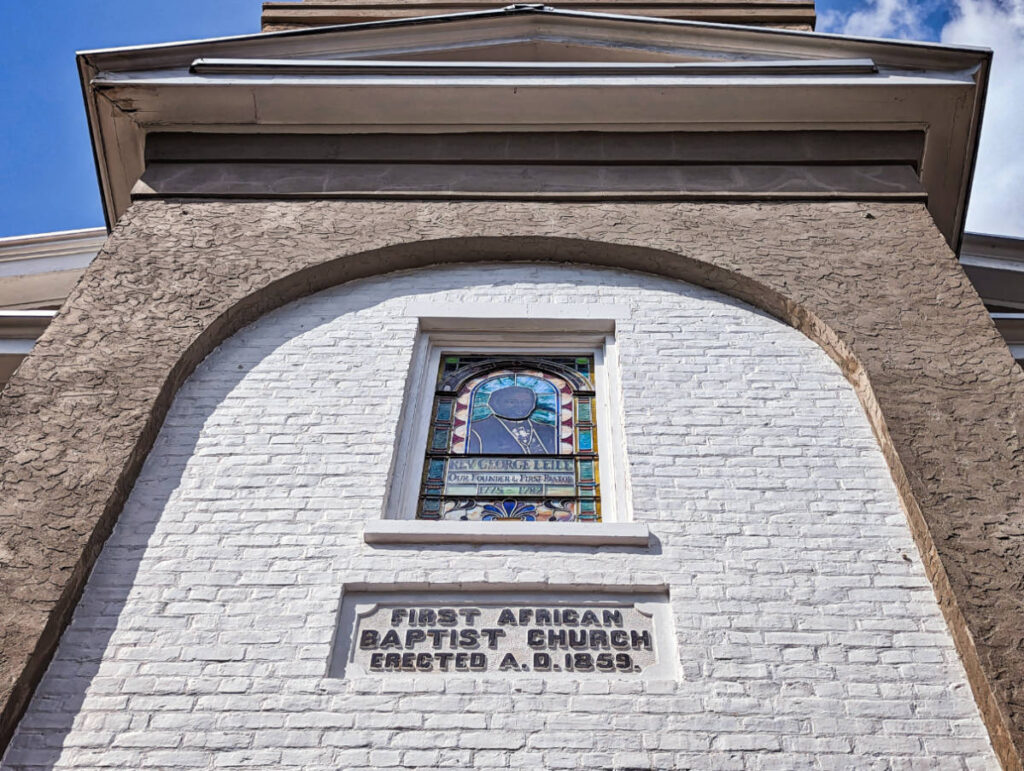 The Olde Pink House
The Olde Pink House is a restaurant and tavern known for its beautiful architecture and rich history. The building dates back to 1771 and is one of the oldest in the city. It was originally used as a tavern it was converted to a restaurant. Today, it is one of the most famous tourist destinations for its delicious food and drinks and stunning views of the city. The Olde Pink House is definitely a must-see when visiting Savannah!
Bonus of planning a meal at the Olde Pink House: it's right next to Reynolds Square and the cathedral, so visiting means doing some historic district sightseeing too! And if you're at the west end of City Mark, their sister restaurant, Garibaldi, is a fantastic Italian restaurant to try too.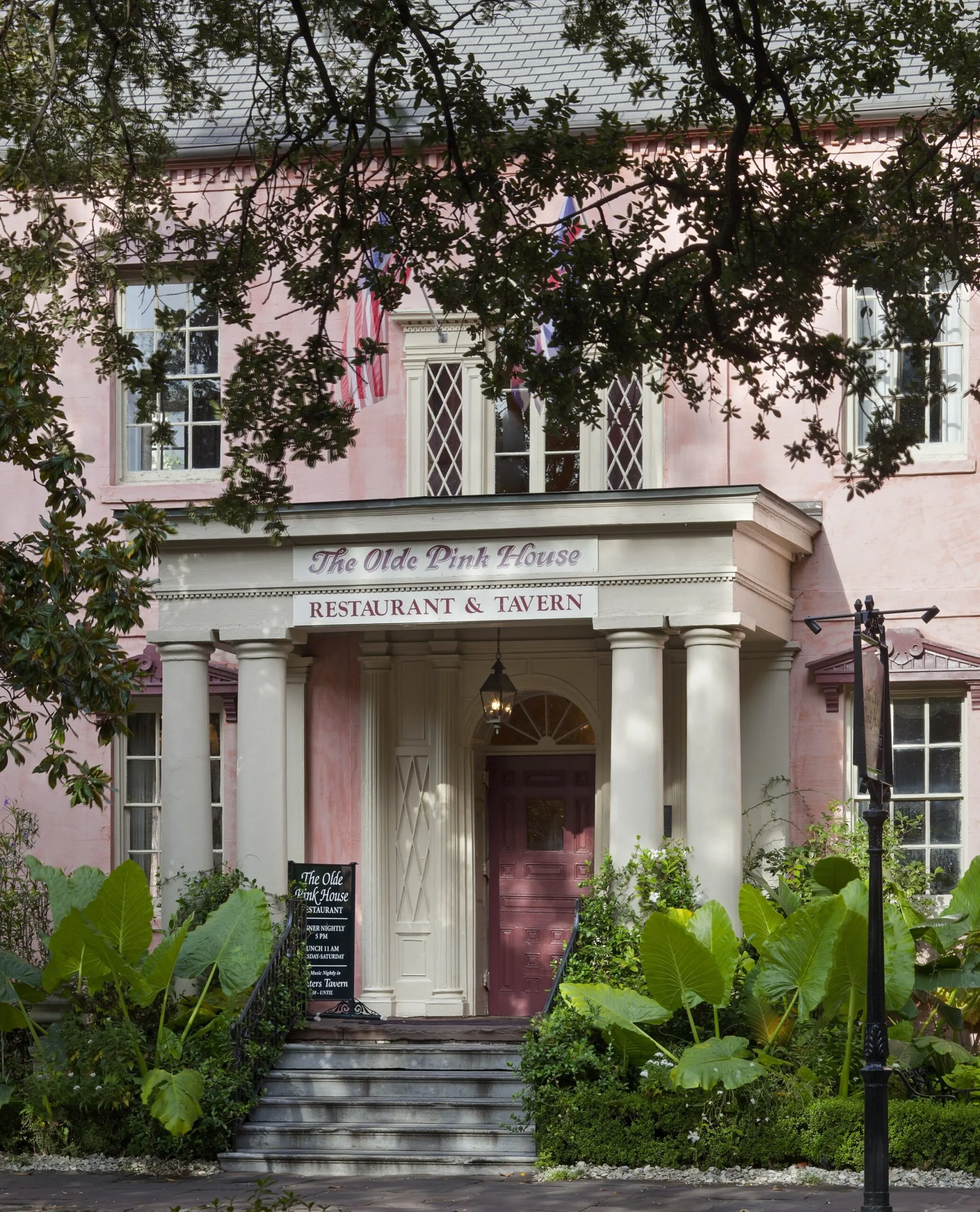 The Davenport House Museum
The Davenport House Museum is an awesome place to visit for anyone interested in old Savannah history or architecture. The house was built in 1820 and is one of the best-preserved examples of Georgian architecture in the United States. It's actually at the site of the original city wall (earthen) and was the stopping point for anyone wanted to access the original town of Savannah from the south.
The museum offers guided tours of the house as well as a shop where you can purchase books and other souvenirs at the cool old Kennedy Pharmacy building. Also at the Davenport House is Columbia Square. I love the fountain at Columbia Square, with its bubbling green centerpiece. Nearby is also the Pirate House, which is one of my favorite unique places to eat in Savannah. It's full of Blackbeard stories and good food.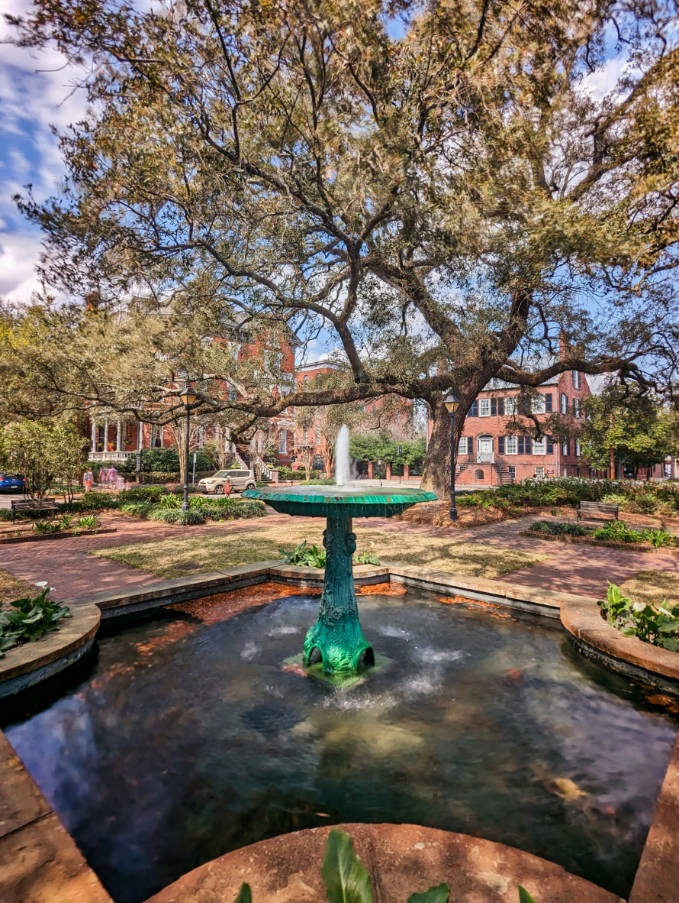 Juliette Gordon Low House
No tour of Savannah would be complete without a visit to the Juliette Gordon Low House, home of the founder of Girl Scouts of America. Low was born in Savannah in 1860 and lived in this Georgian mansion for much of her life. Today, the house has been preserved as a museum that tells the story of Low's life and work.
NOTE: you CANNOT purchase Girl Scout Cookies on property at the Juliette Gordon Low House or other Girls Scouts of America sites in downtown Savannah or the Historic District. This is tightly managed and you'll need to go to another neighborhood to find them. I really was hopin' though…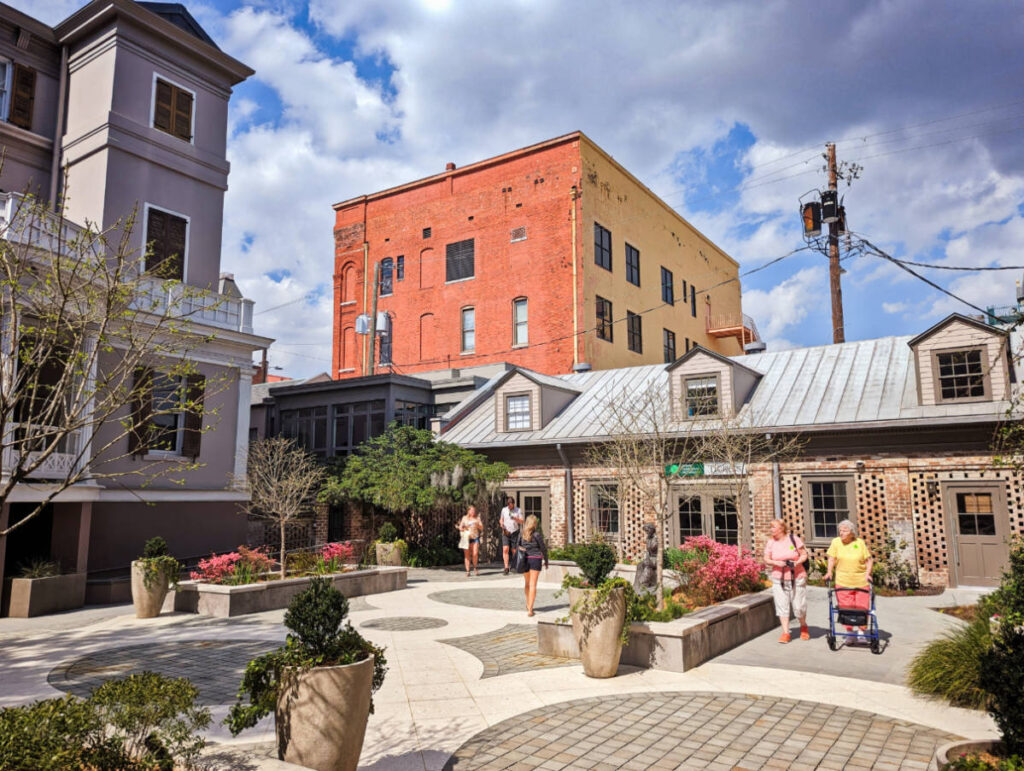 Andrew Low House Museum
The Andrew Low House Museum is another must-visit for any history lover visiting Savannah. The house was built in 1849 for cotton merchant Andrew Low and his family, and today it serves as a museum that tells the story of the Low family as well as the city of Savannah during the antebellum period.
This IS NOT a part of the Juliette Gordon Low Birthplace or the Girl Scout First Headquarters, but is pretty close by. If you want to have a Girl Scouts of America themed tour day, for sure add this to the list of sites to visit, but its history and stories aren't as GSA focused as you'll find at the main Girl Scouts locations.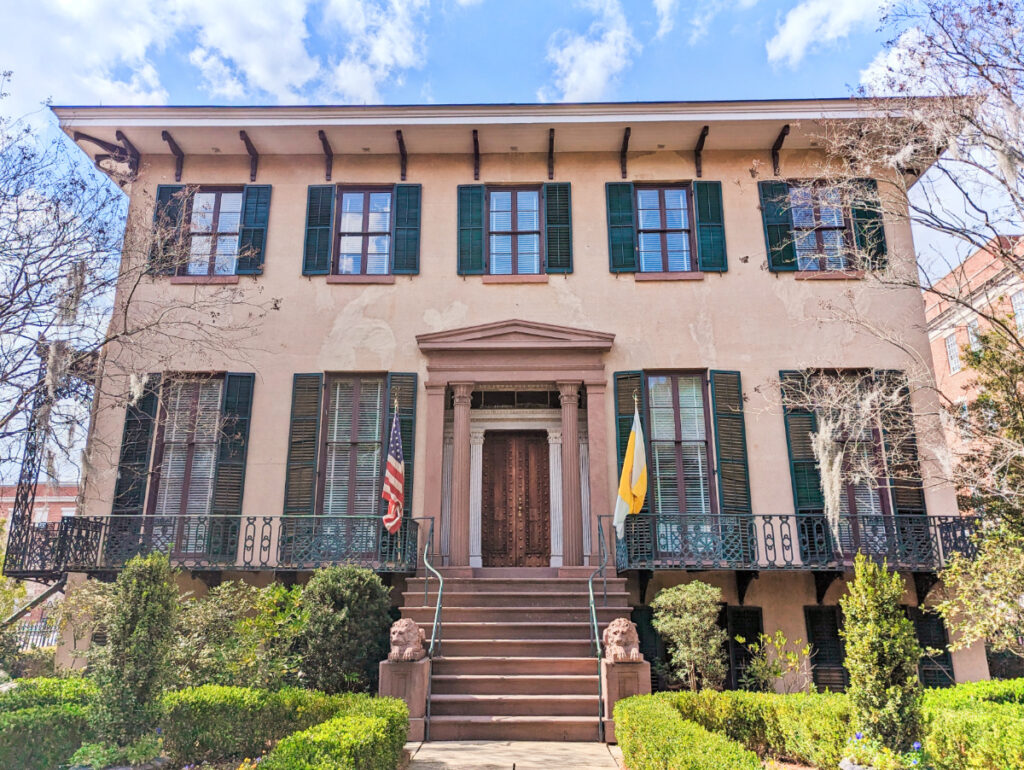 Georgia State Railroad Museum
Okay, this is just west of Downtown Savannah but it's still an easy walk and is very close to the SCAD Museum of Art. The Georgia State Railroad Museum is a part of the Coastal Heritage Society (like Old Fort Jackson) and is awesome for train-focused kids and adults.
For railroad enthusiasts, a visit to the Historic Railroad Shops & Equipment at Georgia State Railroad Museum is a must. Housed in a former Central of Georgia Railway complex, the museum features vintage restored locomotives, passenger cars, and freight cars as well as interactive exhibits on the history of railroads in the state of Georgia.
The SCAD Museum of Art
The SCAD Museum of Art is one of the newest additions to downtown Savannah's Historic District. The museum is housed in the oldest example of an antebellum railroad depot and features rotating exhibitions of contemporary art by SCAD students and faculty. The museum is also home to a permanent collection of more than 2,000 works of art, making it a must-visit for any art lover visiting Savannah.
Since this spot isn't too far from the Telfair Museums, it's an easy addition to an art-filled visit to Savannah. Other things to do right around the SCAD Museum of Art (SCADMOA) include the Georgia Railroad Museum, Ships of the Sea Museum and City Market.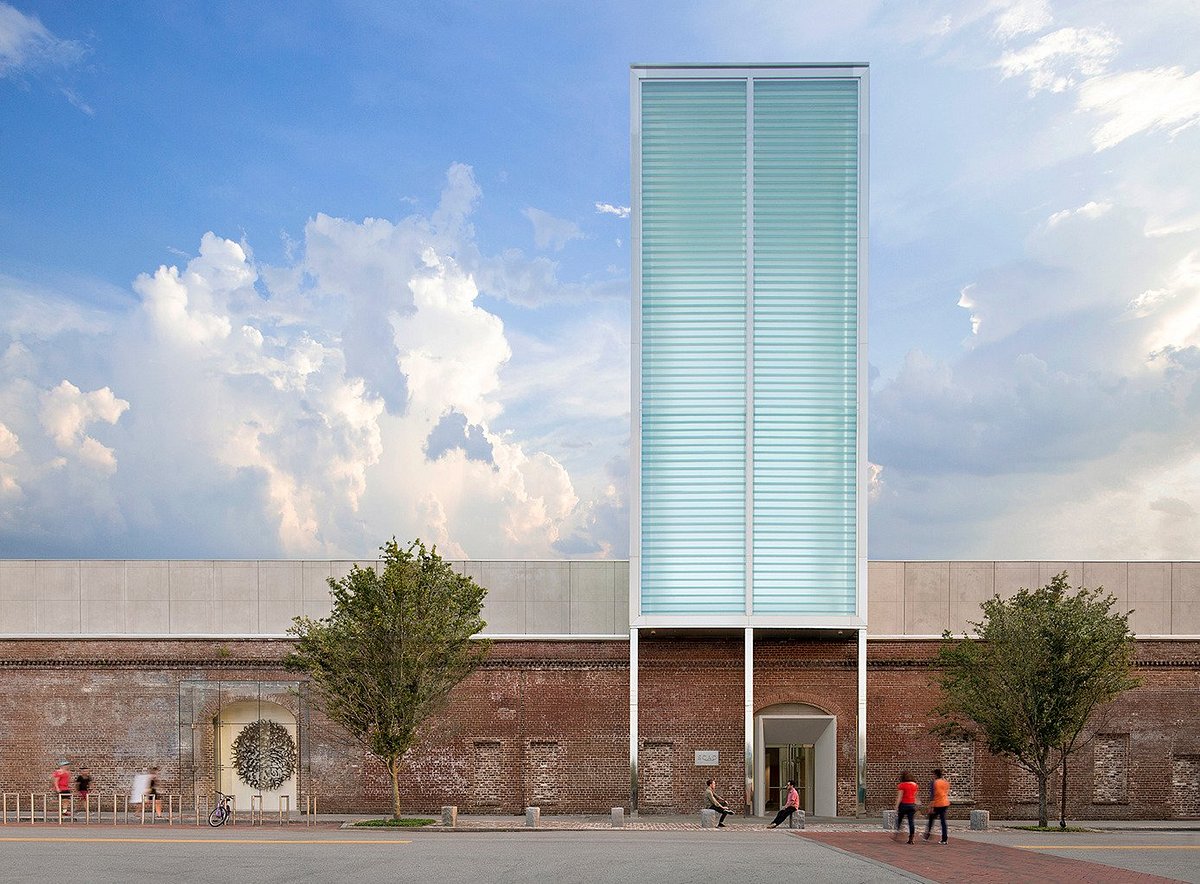 Historic Sites Outside of Savannah's Historic Districts
You can't come to Savannah without seeing what's just beyond the city squares. Two of the most iconic sites to visit in Savannah are actually beyond the city, with so much more to explore if you continue on and do a Coastal Georgia road trip.
Bonaventure Cemetery
Bonaventure Cemetery is an appealing place to visit, especially if you love Victorian architecture. The cemetery contains many interesting and ornate tombstones, as well as the large and impressive tomb of William Gaston. Bonaventure is also located on a scenic bluff of the Wilmington River, making it a great place to enjoy the views.
I've talked to lots of people wandering through Bonaventure Cemetery looking for the famous Bird Girl statue. It's not there in the cemetery anymore, but is now located in the Telfair Academy in the Historic District.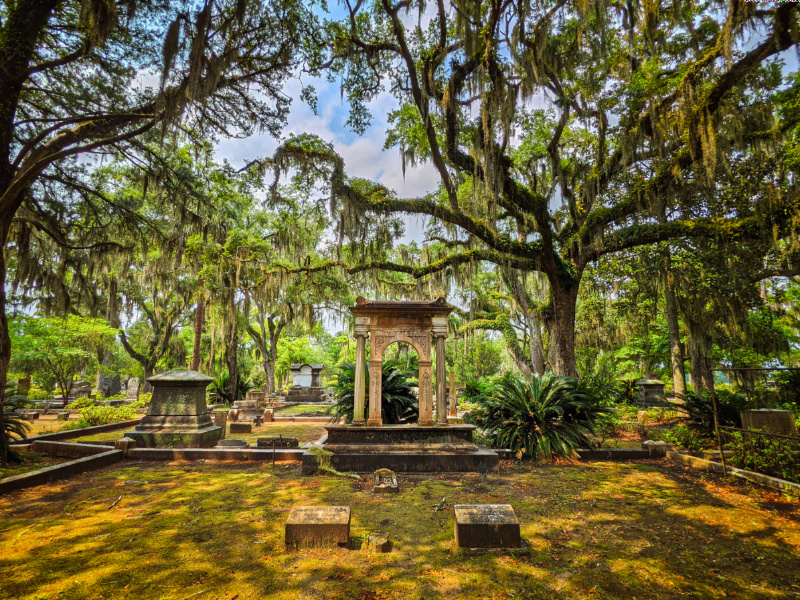 Fort Pulaski National Monument
I've been to Fort Pulaski National Monument so many times and it never gets old. From picnics on the lawn to walking through the tidal hammock forest to the Cockspur Island Lighthouse, we never get bored of visiting. Fort Pulaski has both tunnels through the earthen area and so much to see and learn about in the main fortress area. Multiple drawbridges make a visit to the Fort fun for kids, and if you're a photographer, you'll love all the archways and weathered brickwork around the whole structure.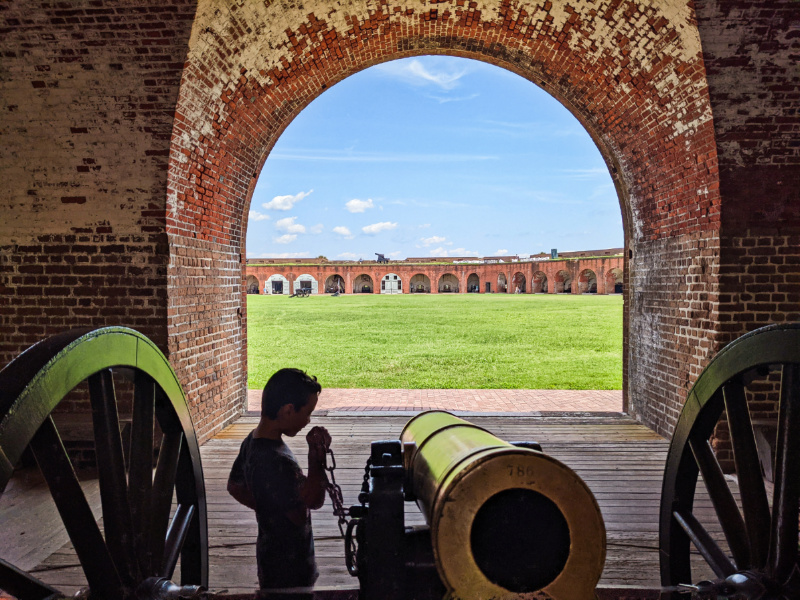 The Wormsloe Historic Site in Savannah
If you're looking for an alluring place to visit with plenty of history, the Wormsloe Historic Site is definitely worth checking out. Also known as Wormsloe Plantation, this state historic site sits on 822 acres and includes part of what used to be a huge estate belonging to Noble Jones – one of Georgia's very first colonists. Today, visitors can enjoy exploring the picturesque oak avenue, ruins of Jones' fortified house, museum, and demonstration area highlighting colonial daily life.
Note: you cannot stop your car and get out while driving the 1.5 mile oak avenue, but you can walk from the entrance the whole way, or drive to the end and walk back to it. This is one of the most popular places in Savannah to take pictures, so be respectful of others while driving the dirt road through the epic tree tunnel.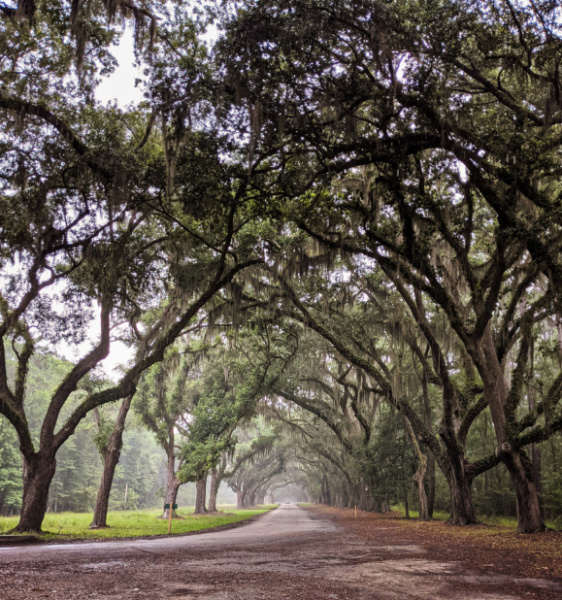 Old Fort Jackson
I love visiting Old Fort Jackson at the east end of Savannah. On the way out to Tybee Island, Old Fort Jackson is small and really cool. From firing its cannons daily to living history demonstrations, it's consistently one of the best history experiences in Savannah. Wander through the tunnels of the fort, learn about Civil War history and get an epic view of the Savannah River from the top of the fort.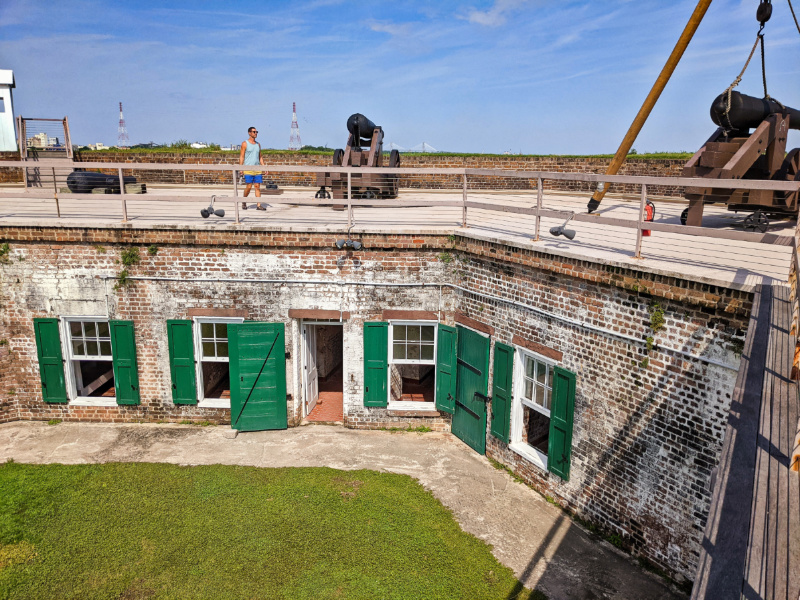 If you're interested in history and want to learn more about Savannah, Georgia, then be sure to visit these historic sites and venture out to your own discoveries or follow the recommendations you get from the people you meet. These landmarks are a great way to learn about the city's past and how it has evolved over time.
We'll keep sharing more and more as we dig into our city deeper. Whether you're interested in watching a film at one of Georgia's first movie theaters or taking a walk through one of America's earliest public parks, there's something for everyone in this beautiful southern city, and we aim to help you see it all! If you have any questions or additional suggestions, please leave a comment or send us a note. We're always happy to share more!