When people think of Florida, they might not automatically think about kayaking. As it turns out, there are over 1200 miles of coastline stretching along the Atlantic Ocean and the Gulf of Mexico. Opportunities abound for recreational kayaking in the Sunshine State, from the Atlantic side to the Gulf of Mexico.
Many state and national parks in Florida offer easy access to waterways and other destinations such as beaches, rivers, creeks, lakes, springs, and wildlife refuges. Whether you're looking for a gentle paddle or a glorious multi-day kayaking trip, Florida has you covered. It's one of our favorite kayaking destinations (and yes, I know we live here).
If you have any questions about our suggestions or want to add your own favorite Florida State Parks or National Park sites for kayaking, please leave a comment or send us a note. We're always happy to share more!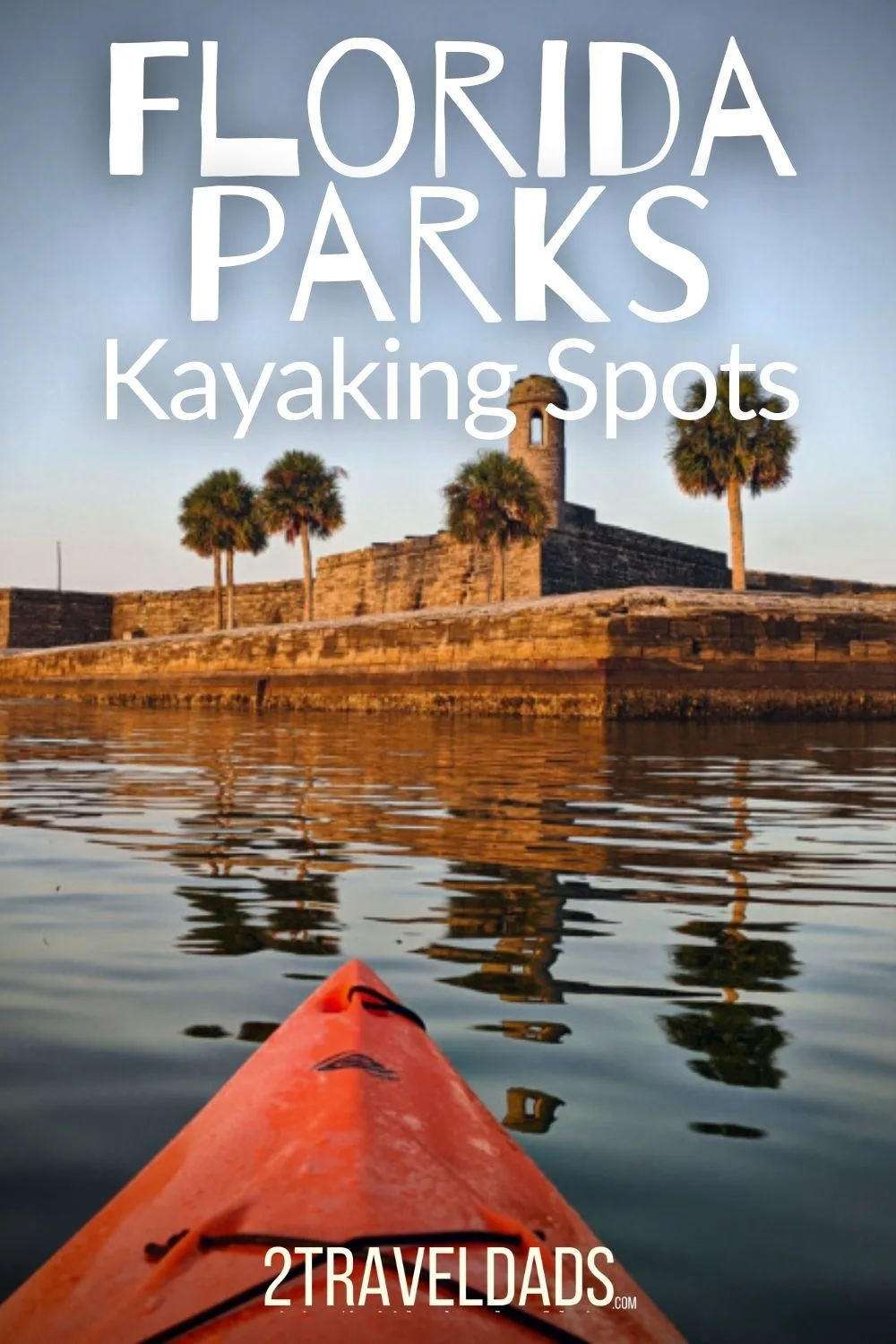 Kayaking in Florida's State Parks Need to Knows
Lots of Florida State Parks offer great accessible kayaking spots for quick day trips, family outings, or just a more leisurely paddle. Be mindful that most of Florida is known for its hot, humid weather, with brutal summers well into the 90s. Winter is much more pleasant, rarely seeing temperatures below 70 degrees, but every now and then we get surprised by a blazing day on the water. Something super important to consider when planning your trip, be mindful of hurricane season, which typically runs from June to November, with September being the peak month.
Some people coming to Florida State Parks for kayaking are looking for an adventure with alligators, most are leisure travelers who want to avoid the bugs and the heat. Just a stone's throw from some of the biggest Florida cities you'll find lots of parks and preserves perfect for paddling.
Most Florida State Parks have kayak rentals available if the park is a good place for it, but if there isn't a vendor, you can usually bring your own gear for a small launch fee ($4-6). In any waterway, you are required to have a PFD available for each paddler, but those over 6 aren't required to wear them at all times. WE RECOMMEND ALL KIDS UNDER 14 WEAR A PFD WHILE UNDERWAY.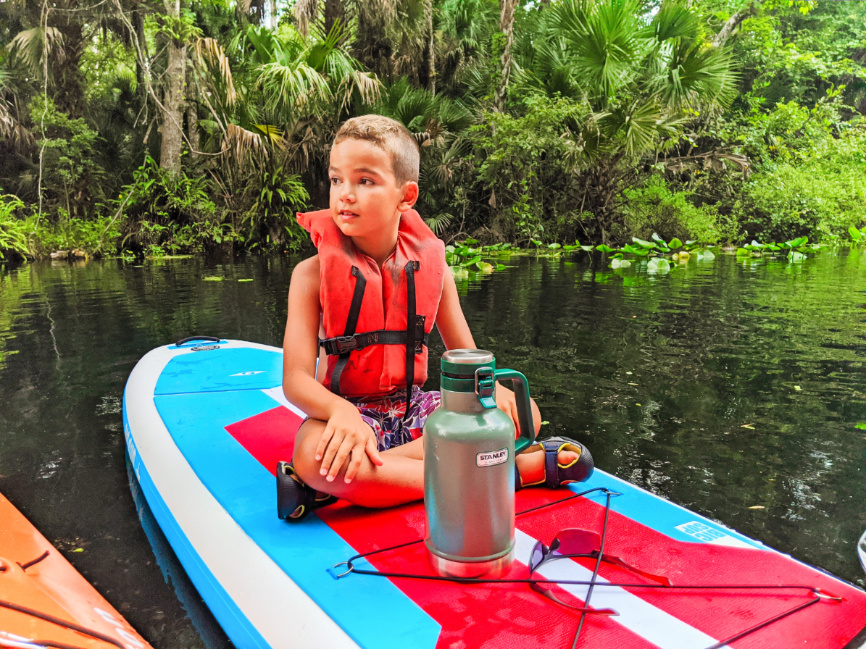 Top Picks for Florida Keys Kayaking in State and National Parks
The Florida Keys are absolutely beautiful, with turquoise waters and wildlife everywhere. There are actually more than 10 state and National Park sites in the Keys, most with kayaking and SUP opportunities.
Kayaking at John Pennekamp Coral Reef State Park
John Pennekamp Coral Reef State is located in the backcountry of Florida Bay and not too far from Everglades National Park, and it's one of best places to kayak in the Florida Keys. The park's uniqueness is a result of the Everglades' freshwater colliding with the salt waters of the bay and the Gulf of Mexico, creating a diverse ecosystem teeming with wildlife. Complete with dolphins, crocodiles, seabirds, and an underwater world with opportunities for snorkeling, beginner paddlers will enjoy many activities. The beautiful scenery is great for beginners as the area is free of motorized boats and crowds. We recommend checking out the Dusenbury Creek which allows paddlers to kayak through mangrove tunnels. Visit Florida Bay Outfitters or Out There Key Largo Kayak and Fishing Expeditions for kayak tours.
For more info on John Pennekamp Coral Reef State Park, check out our full article about paddling, camping and all the cool things to do at Pennekamp State Park!
Where to launch: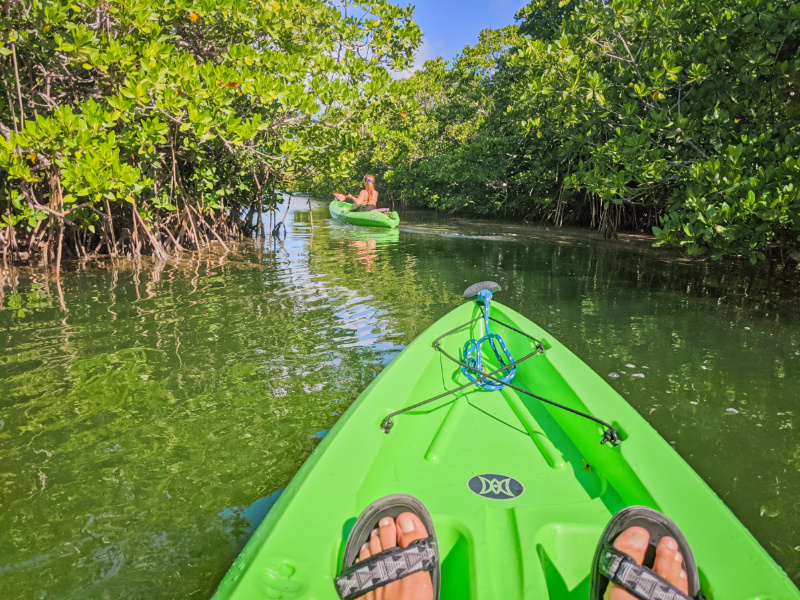 Florida Keys National Marine Sanctuary
The protected Florida Keys National Marine Sanctuary (FKNMS), the tranquil region, is a great place to explore nature by kayak. Beginners can rent shallow-draft kayaks and will be able to venture out into the pristine backcountry waters. Paddlers can see marine mammals and roosting birds by gliding over shallow seagrass beds and thick mangrove tunnels. The islands and bays are perfect for beginners, given the sheltered bays. The diversity of the marine life ecosystems spans from Key Largo to Key West over 100 miles and is part of the Florida Circumnavigational Saltwater Paddling Trail. This is a SUP Friendly paddling destination.
Visit The Florida Keys Marine Sanctuary website to read more about kayaking in the protected area, which includes a portion of Curry Hammock State Park and others. In addition to the area designated as the FKNMS there is also the Key West National Wildlife Refuge, that is incredible for kayaking. Adventures here are some of the best things to do in Key West and are perfect for exploring with kids.
Where to launch: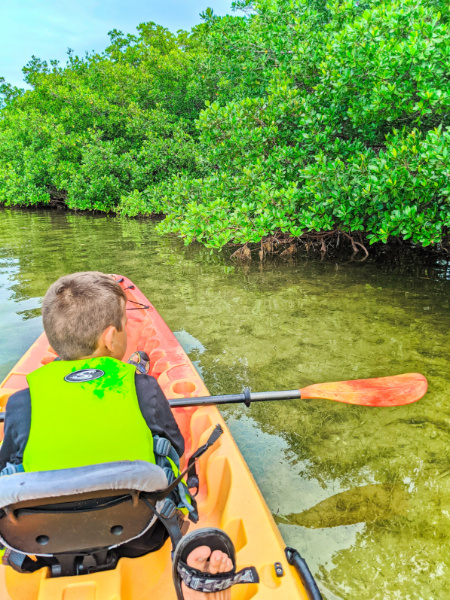 Bahia Honda State Park for Kayaking
The waters at Bahia Honda State Park are perfect for kayakers and make a great stop on a Florida Keys road trip. Pristine waters will spoil paddlers and white-sand beaches sandwiched between the Atlantic Ocean and the Gulf of Mexico. You can paddle to Little Bahia Honda from launching from Loggerhead Beach. Bring snorkels as the park is also home to some of the most vibrant coral reefs in Florida.
Where to launch: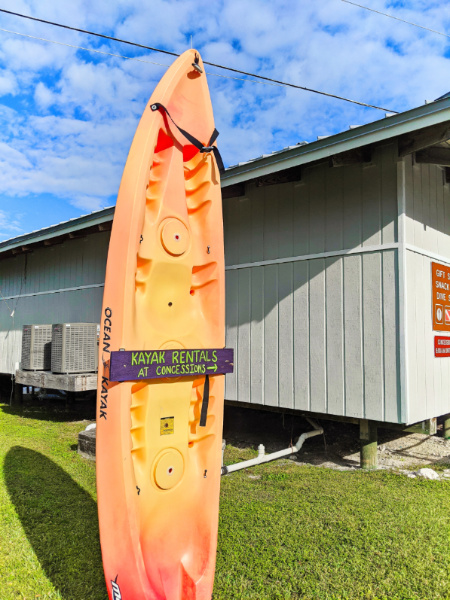 Kayaking in Florida's National Parks
Given the vast outdoor space of Florida, it's easy to find epic multi-day adventures paddling through the great wilderness, particularly if you are hardy, brave and want to go out with a guide. An endless number of outfitters will help you plan your trip and guide you through the rugged terrain safely. Those looking for a challenge surrounded by Florida wildlife won't be disappointed, and if you're into birdwatching, Florida's National Parks are EPIC.
Everglades National Park Paddling
Everglades National Park is a subtropical paradise and there are some very unique routes and options for kayakers. With its proximity to the Gulf of Mexico and the Atlantic Ocean, paddlers can choose which side of the park to start on a multi-day excursion (or put in/out and drive to the other side). The best way to take in the Everglades is through the Wilderness Waterway, a trail between Everglades City and Flamingo. Tide charts will be your savior from getting stuck in mud during low tide.
It is recommended to make this trip during the winter or spring, taking full advantage of the winds. Multi-day trips start in Everglades City and end in Flamingo. Embarking on this trip is best done through an outfitter as it requires planning and back-country permits.
Kayaking tour idea: Clear Kayaking out of Naples, FL, just north of Everglades National Park. You get the same environment/habitat experience, but can also see underwater via a clear kayak. Check out more Clear Kayaking on the Florida Gulf Coast here!
Our recommended outfitter: Everglades Florida Adventure. To help you plan your trip, visit the National Park Service website.
Where to launch: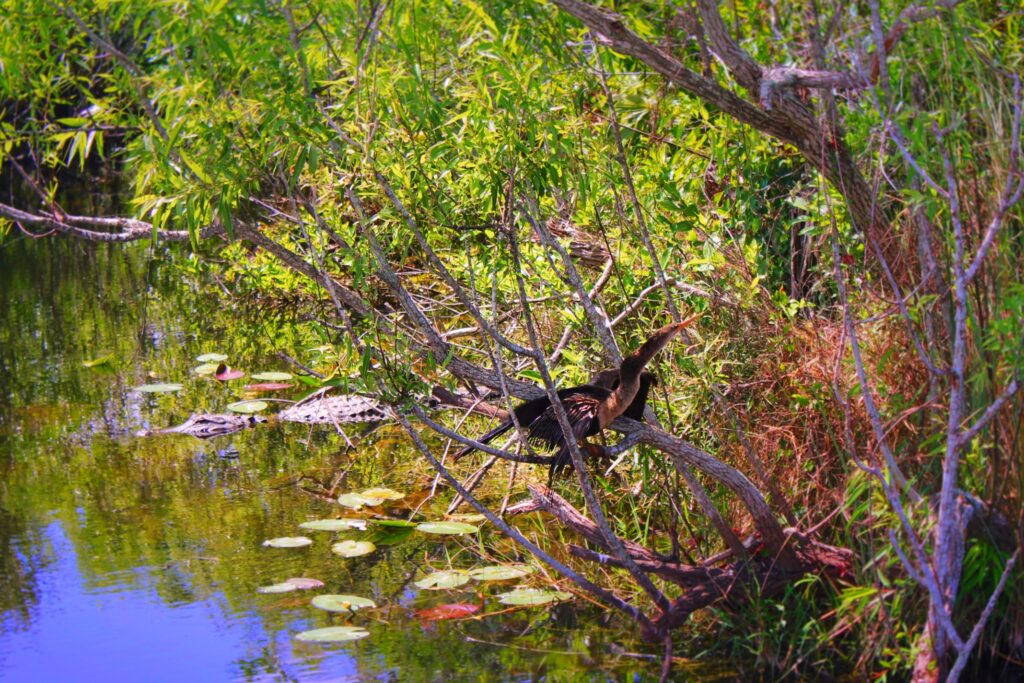 Top Pick: Kayaking 10,000 Islands at Everglades NPS
This part of Everglades National Park is so beautiful and unique. There are a few ways to approach kayaking here, but the best way is a guided tour because it's a CRAZY network of islands and passages. We did the adventure with Everglades Area Tours and it was really cool. Starting with a boat assist to get us far out into the Ten Thousand Islands, we launched kayaks after a ride way out there. Wildlife, history, beaches covered in conch shells and such wonderful birding made it an unforgettable place to kayak among Florida National Park sites.
Check out our complete article all about this special experience kayaking in the 10,000 Islands of Everglades NPS. And if you just straight up know you want to book it, here's the link for the EXACT TOUR and company we did it with.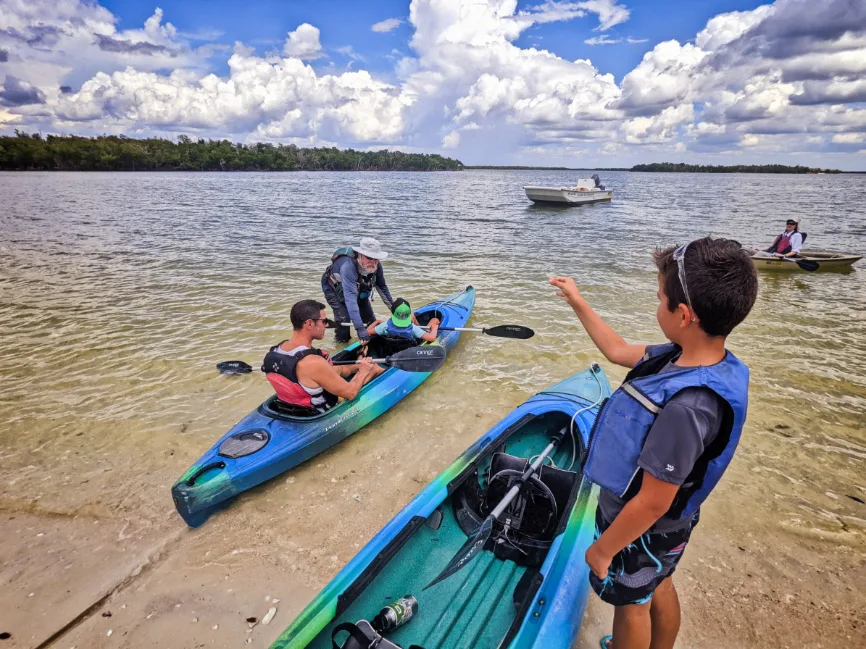 Dry Tortugas National Park
Beyond a kayak trip, Dry Tortugas National Park provides spectacular snorkeling in crystal clear waters filled with coral reef and marine life. It is home to the historic Fort Jefferson, one of the US' largest 19th-century forts. Rich in history and beautiful scenery, it is worth the two-hour trip via ferry. Paddlers can load their kayaks onto the ferry and need a permit to explore the area. You MUST check in with a park ranger upon arrival.
For more information on kayaking Dry Tortugas, visit the National Park Service website or the park transportation's official website. Book the Dry Tortugas National Park ferry here!
Where to launch (in this case, catch the ferry):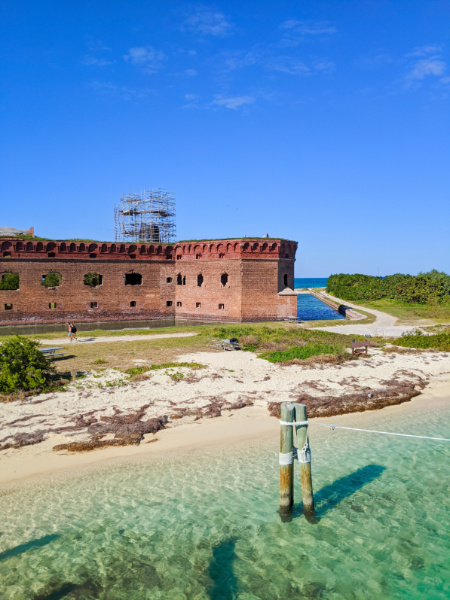 Biscayne National Park Near Miami
Kayakers wanting to visit Biscayne National Park will find plenty of opportunities to explore the mangrove-lined shorelines and shallow bay waters. The park's expansive Biscayne Bay is perfect for crossing to Elliott or Boca Chita Keys, and experienced kayakers can find plenty of enjoyable routes to explore. Adams Key is the most popular launching spot and a great spot to base yourself and explore the lagoons, creeks, and channels. Given the shallow waters, you won't see motorized vessels in the area, and you'll have the place all to yourself.
The most simple and beautiful kayaking route goes from the kayak landing near the visitor center parking area and cuts across the small bay. Circle the mangrove islands, visit the canal to look for manatees and swimming iguanas, then paddle through the mangroves. We've gone out with the Biscayne Institute for guided kayaking in addition to exploring on our own. They do a great job teaching while paddling. I loved it.
Visit the National Park Services website for more information.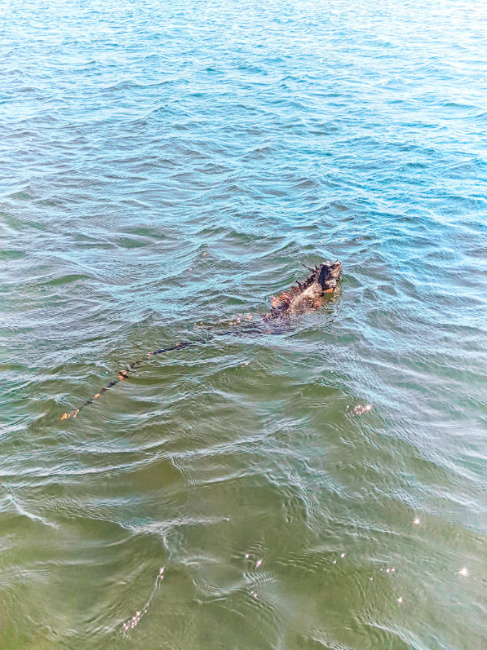 Bioluminescent Kayaking at Canaveral National Seashore
A truly unique experience, the Merritt Island National Wildlife Refuge, a part of Canaveral National Seashore, is one of the few places in the continental USA that you can kayak in bioluminescent waters. After day the waters come alive with glowing plankton as you paddle. Clear kayaking with the bioluminescence is amazing!
You can go out on your own or take a tour, but if you haven't been before, a guide is recommended. Kayaking at Canaveral National Seashore is really special and you won't forget the experience of cutting your way through glowing blue waters in night.
Where to launch: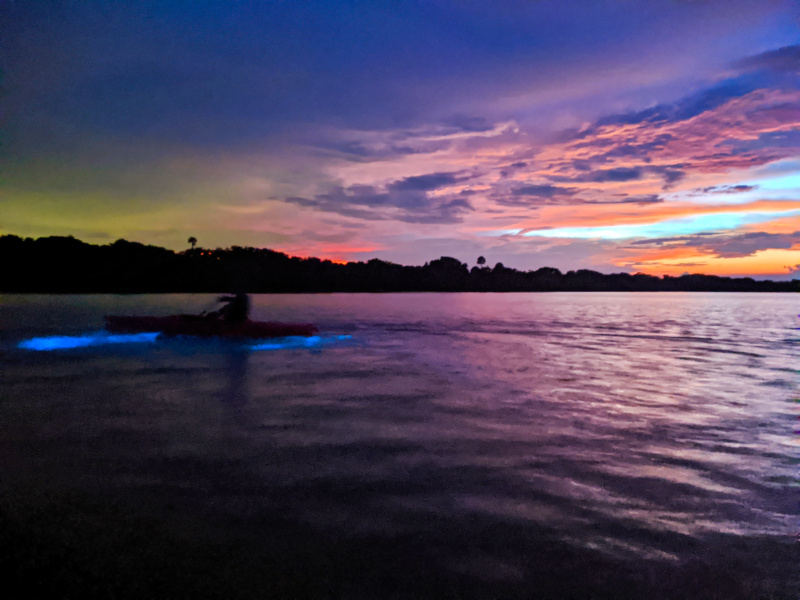 Big Cypress National Preserve
If you're a kayaker looking for an unforgettable Florida adventure, be sure to check out Big Cypress National Preserve. Bordering the Everglades National Park, Big Cypress is a diverse marine estuary swamp spanning over 700,000 acres. The preserve is home to various plant life and animals, including the endangered Florida panther. There are many trails to explore, but the best time to paddle the waterways is between November and March when temperatures are more tolerable.
For more information, including any paddling trail closures, visit the National Park Services website
Where to launch: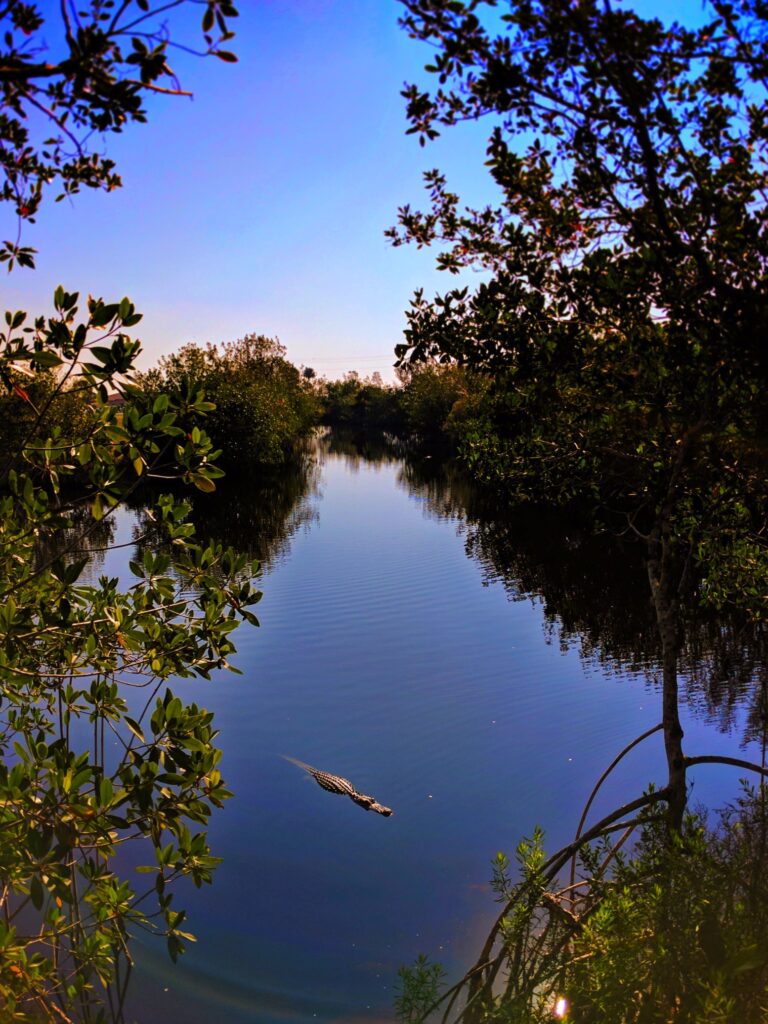 Kayaking in Florida State Parks on the Gulf Coast
There are several Florida State Parks on the Gulf Coast (west coast of FL) that offer unique salt water kayaking that ISN'T battling currents and ocean waves. While there are still tidal currents to consider on the Gulf side, they aren't as strong as in the Florida Keys or the Intracoastal Waterway on the Atlantic side.
Honeymoon Island and Caladesi State Park
Just a short drive out of Tampa is one of Florida's most beloved parks, Honeymoon Island State Park. For those wanting an escape from the city, kayaking the area offers four miles of beach and a virgin pine forest filled with eagles, osprey, and great horned owls, as well as many land animals. Tortoises, raccoons, and armadillos are common. BONUS: with Hurricane Idalia in 2023 displaced flamingos have started to frequent Honeymoon Island State Park. They haven't been deemed residents yet, but they've been seen here since August 2023.
While a ferry shuttles most visitors to the neighboring state park, Caladesi Island, we prefer paddling! Be mindful of larger vessels though as you paddle to Caladesi Island, and say hi to the dolphins for us! Also, there can be strong currents, so be sure you're safe and smart about your crossing.
For park information, visit the Florida State Parks site.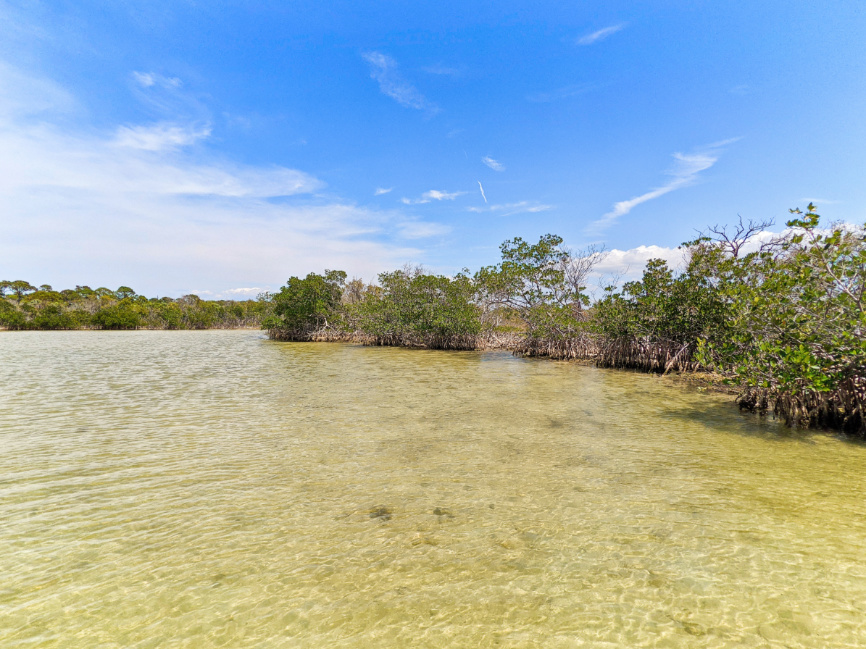 Cayo Costa State Park
If you're looking to kayak in a beautiful, natural setting, Cayo Costa State Park is the place for you. With near miles of trails winding their way through three distinct ecosystems, you'll find plenty to explore. The park's highlight is the over 8 miles of undeveloped, natural beaches – perfect for finding seclusion and some well-deserved peace and quiet. The park's numerous islands and passages between them are teeming with wildlife, including manatees, dolphins, alligators, osprey, eagles, and many seabirds. One highlight includes the Manatee Hole, a small lagoon where manatees can be seen year-round.
2022's Hurricane Ian had a big impact on Cayo Costa State Park, and while the cabins and some facilities on the island are still not fully recovered, the kayaking and paddling routes and sights are still awesome.
For more information, visit the Cayo Costa State Park section of the Florida State Parks website.
Where to launch: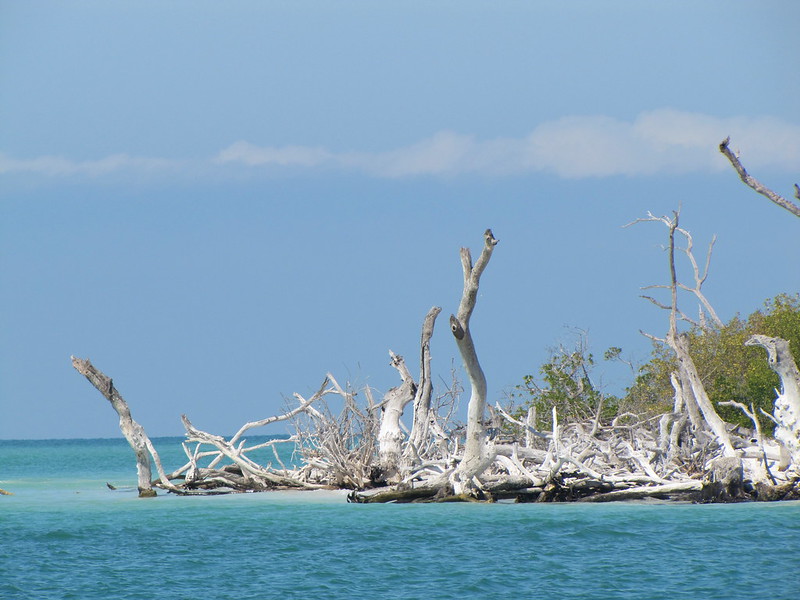 Ten Thousand Islands National Wildlife Refuge
Looking for a place to kayak and find some peace and quiet? Look no further than the Ten Thousand Islands National Wildlife Refuge. This refuge is located between Marco Island and Everglades City. It is full of mangrove islands, which offer a beautiful landscape of intense green foliage, vivid blue sky, and abundant wildlife. If you're looking for a kayak trail to tackle, the Sandfly Island trail is perfect for those with moderate kayaking experience.
We talked previously about the 10,000 Islands area (see above) and besides what's clearly marked as National Park territory, the wildlife refuge covers even more area than this, making it great for kayaking, birdwatching and falling in love with Florida's parks.
For more information, visit National Park Service website.
Where to launch:
North Florida Parks for Kayaking
The sights and nature in North Florida are very different from the Gulf Side or the Florida Keys. From the freshwater springs to braided river deltas, North Florida state parks offer a varied kayaking experiences including paddling with manatees, epic bird watching and paddling through the grass islands of the coast.
Silver Springs State Park
Silver Springs State Park is a great place for kayakers to visit, most famous for its glass-bottom boats that help visitors discover one of the nation's largest springs. This is also one of the best springs to see manatees in Florida. There are plenty of trails and campgrounds to explore, and the river provides a pristine wilderness experience. Beautiful gardens and historic structures surround the main spring, and the park hosts the annual Springsfest celebration.
Kayaking allows you to experience an ancient forest surrounded by sandhills. There are options for an hour paddle or a longer half-day paddle that journeys five miles of the Silver River towards the Ocklawaha River (a personal favorite and rather technical paddle!). If you head into the Ocklawaha, know that there are A LOT OF ALLIGATORS. It's safe if you're safe and smart, but it is even intimidating for me, a very experienced Florida State Park kayaker.
For further information on kayaking Silver Springs State Park visit their official website.
Where to launch: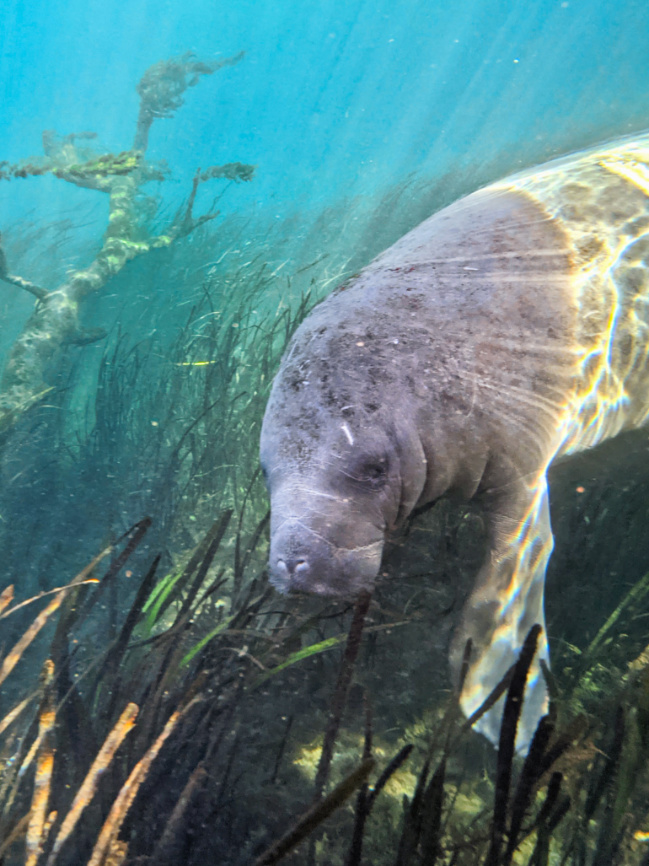 Timucuan Ecological & Historic Preserve
Kayakers visiting the Timucuan Ecological and Historic Preserve can explore the 6,000 years of human history while enjoying the beauty of salt marshes, coastal dunes, and hardwood hammocks. The preserve offers excellent places for kayaking, and the outfitter, Kayak Amelia, provides rentals and other tours in the area. The region is one of the last unspoiled Atlantic Coast coastal wetlands. This is a wonderful, SUP friendly paddling area.
For further information on kayaking in the area, check out the Timucuan paddling trails.
Where to launch: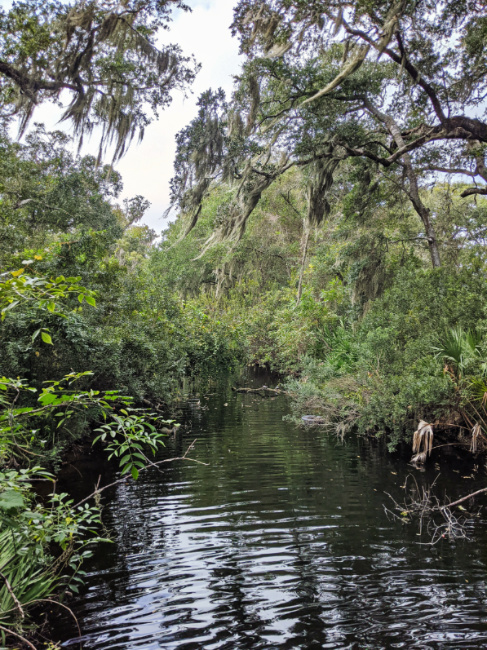 Kayaking with Manatees at Blue Spring State Park
One of the best places to see manatees in huge numbers, Blue Spring State Park is about an hour from Orlando. Here you'll find swimming areas, as well and wonderful paddling trails. Kayak rentals are available on a first come first served basis at the state park, and it is a very popular place, so get there early if you don't have your own gear. March through November you can paddle in the crystal clear run at Blue Spring State Park, but in winter months it is closed to kayaks and SUPs due to the hundreds of manatees that congregate.
Launch from the French's Landing boat ramp and paddle upstream on the St Johns River for lots of wildlife and interesting waterways. The bend in the river offers access to Snake Creek, which is a tight but beautiful paddle all the way into Hontoon Island State Park.
Where to launch: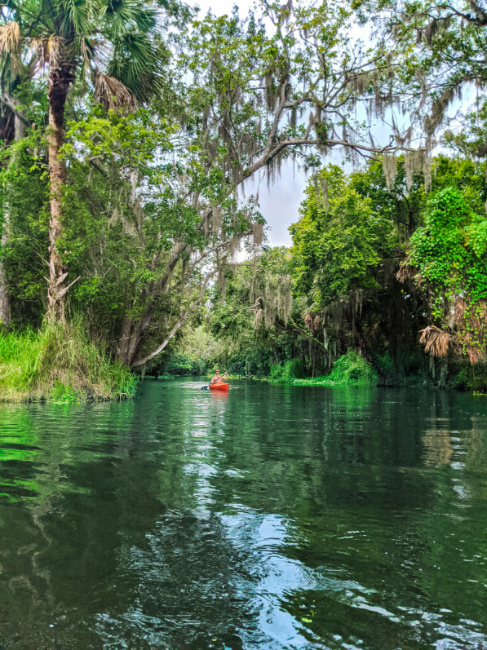 St Augustine National Park Sites for Kayaking
Of course we're going to share some awesome Florida parks in St Augustine for kayaking and paddling. This is where we live and we love being on the water. We actually have to NPS sites here that you can enjoy from the water: Castillo de San Marcos National Monument and Fort Matanzas National Monument.
For kayaking by the Castillo de San Marcos, you can launch from either the Vilano Beach Boat Ramp, the St Augustine Lighthouse Boat Ramp, or the marina. The Vilano launch is the easiest with the best parking, the shortest paddle and its own collection of wildlife to watch for as you paddle towards the Castillo.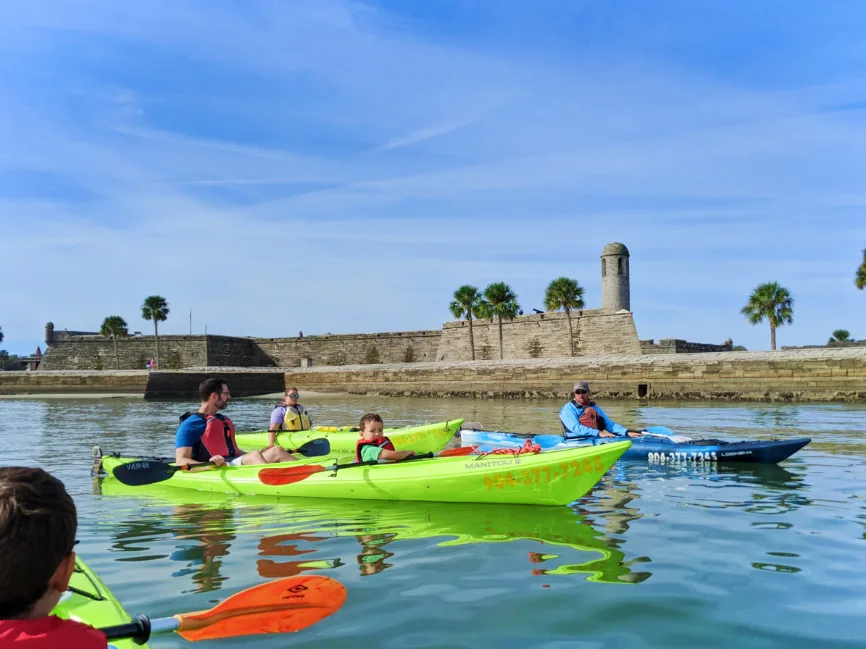 For kayaking or SUP at Fort Matanzas National Monument, there are two options. You can launch with the outgoing tide from Butler Park in the Crescent Beach area, or you can go to the Fort Matanzas NPS parking area at the Matanzas Inlet bridge. With either of these launches, you cannot actually go to the fort itself, as you must have a ranger with you, but the view of the fort and the wildlife in the Intracoastal Waterway make it all worthwhile!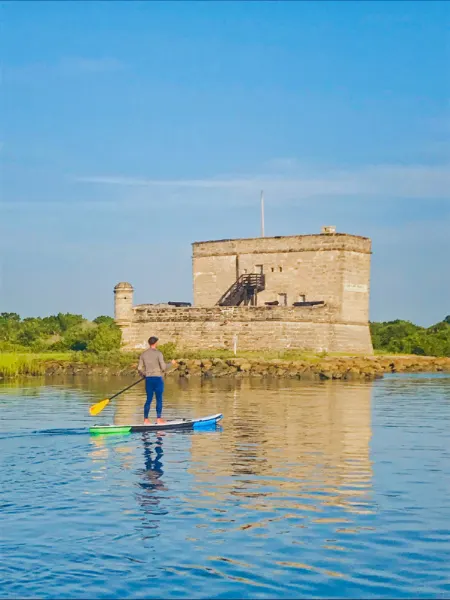 Recommended Kayaking Tours in near Orlando
We realized many visitors come to Florida visiting Disneyworld and the theme parks in Orlando. The following tours are a suitable alternative to the more adventurous paddling in the national and state parks listed above for those wanting some time on the water. This is ideal for taking a break from the theme parks and getting into nature easily.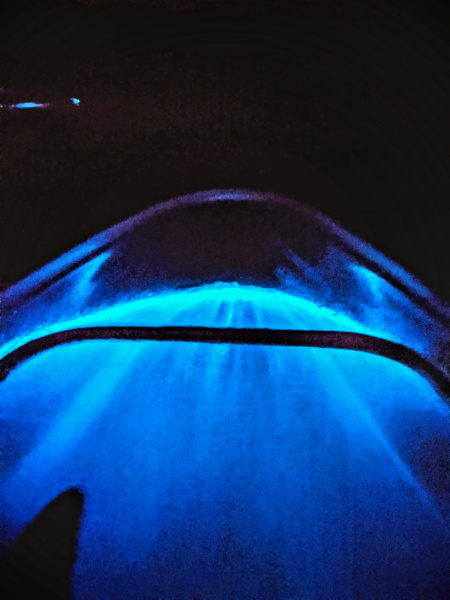 When to Visit Florida for Kayaking
While kayaking is a year round sport in Florida's state and national parks, visiting in summer means you'll be paddling in some intense heat. That's fine if you are well prepared with sun protection and plenty of water, and if you go out in the morning. Visiting in fall and spring is best though, as the temps are more bearable.
Weather in Florida
The best kayak in Florida is typically from late October to early March. These months have relatively low rainfall levels and cooler temperatures without too much heat and humidity. The weather is usually calmer during this time, and you're more likely to see migratory birds and other wildlife. Keep in mind that there may be more storms later in March and into April.
Summer you will need to be wary of storms, and the possibility of getting hit by lightning, though rare, is very much possible. The Atlantic Hurricane Season starts on June 1 and lasts until November 30. The season peaks in August and early October as surface temperatures in the Atlantic hit their highest temperatures. Check out our guide to visiting the Florida Keys in summer for more info.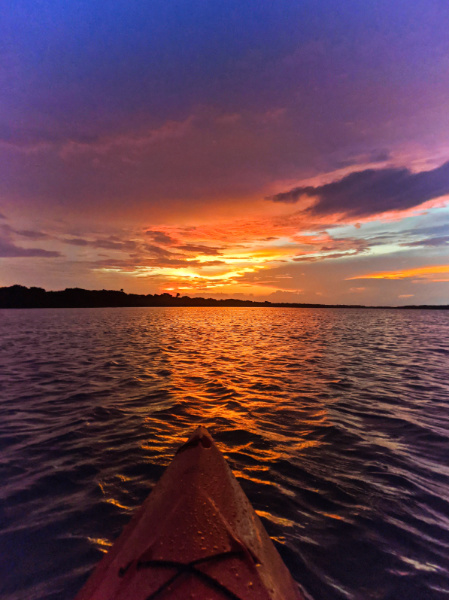 Need to Know for South Florida
Mosquitoes are a common problem throughout Florida and can ruin a kayaking trip. The best time to kayak in South Florida is winter when the mosquitoes are less prevalent. If you do go during the summer, be sure to take precautions against mosquitoes and use insect repellent. Again, the weather is generally cooler during the winter, making it a better time to kayak. Additionally, the tides are more predictable during this time of year, making it easier to plan your trip. You'll face mosquitos on the Gulf side and in North Florida, but it's not as bad as in South Florida.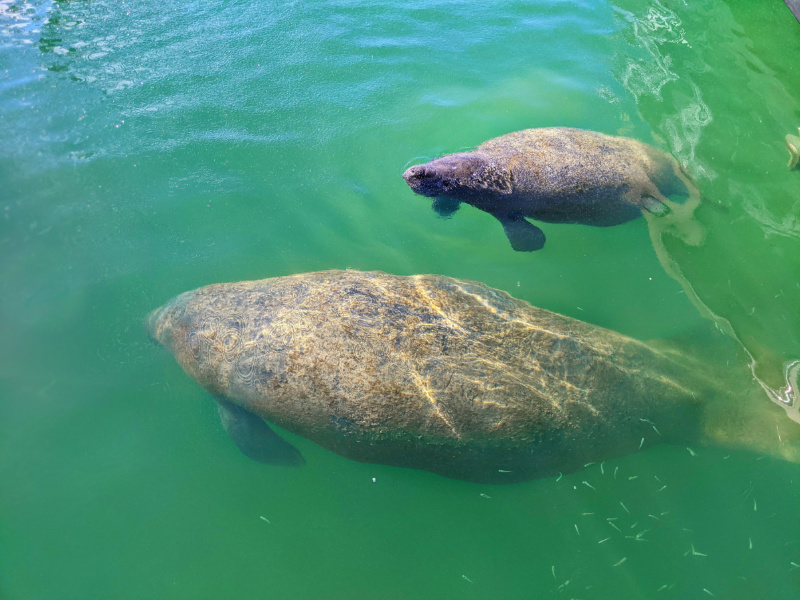 There are, of course, many more Florida state parks and national park paddling spots than we've included here, but these are our top picks for a wide variety of kayaking experiences. If you have any questions or additional suggestions, please leave a comment so we can follow up with you. And you can send us a note too, because we're all about helping people plan awesome adventures!