Key West is such a cool city. Yes, it's a city, it's a small town, it's its own republic. When you complete the Miami to Key West drive you are rewarded with one of the most beautiful communities in Florida. Yes, we love our hometown of Saint Augustine, but Key West is equally beautiful in a different way. These are our picks for the best things to do in Key West on a short trip.
While Key West was used by shippers and smugglers for a long time and shifted control over the years, the city wasn't plotted or built up until the 1820s. Much of the iconic architecture was built in the 1880s and after. It's a beautiful city to tour on foot, and if you don't have a lot of time, just a weekend is plenty for all of these fun things to do.
We've picked our favorite activities, for their cultural, Keys-ness and enjoyment factors. Add a few of these great things to do in Key West to your and you'll have great memories for years to come. PS: if you're traveling as a family, we have more recommendations for fun things to do with kids in Key West too! If you have any additional questions, send us a note and we'll help you out as best and as quickly as possible!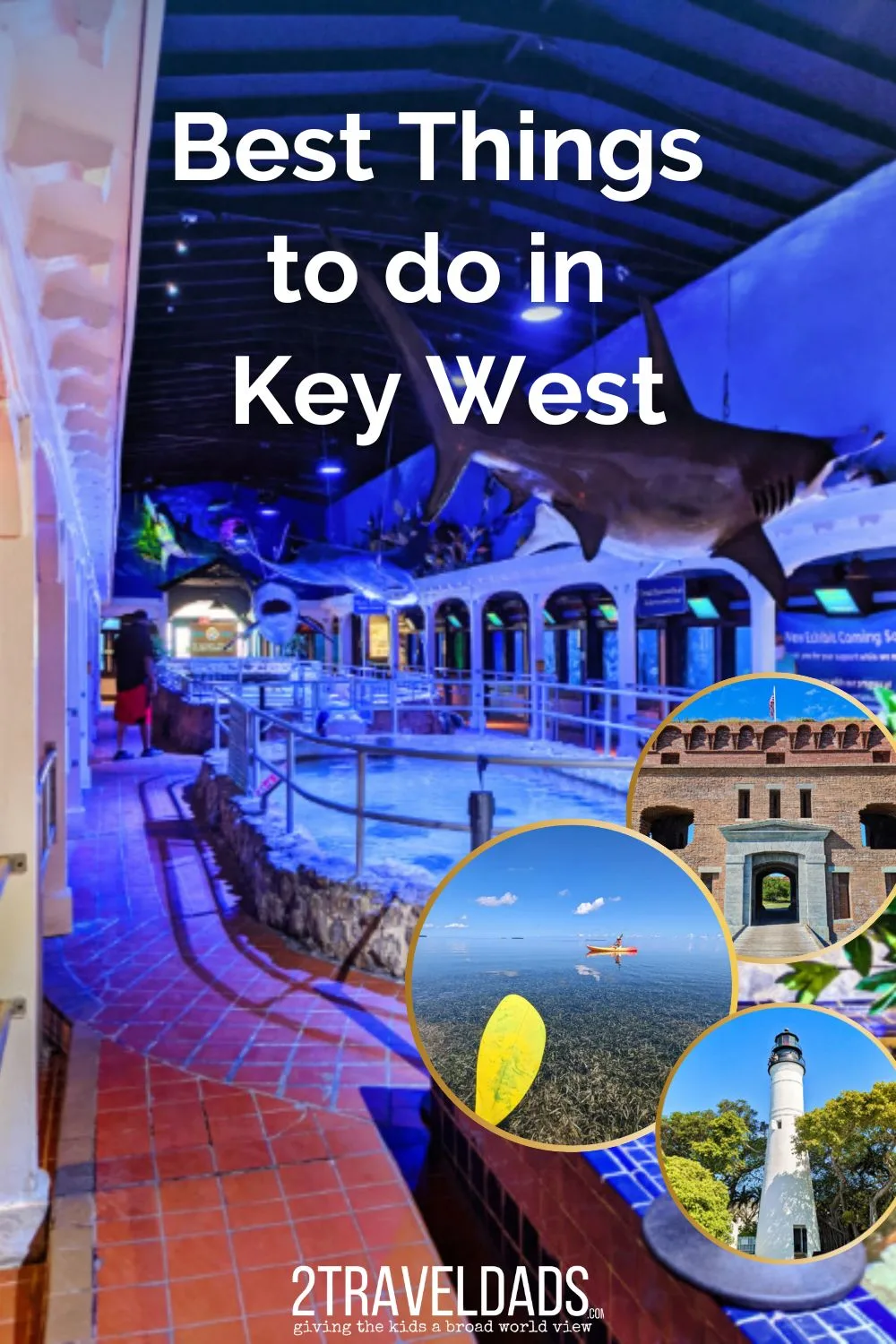 Bucket List: Dry Tortugas National Park
This was our absolute favorite thing to do in Key West. We took the ferry out to Dry Tortugas National Park (a whole day adventure) and spent hours exploring old Fort Jefferson, snorkeling around the moat wall and walking the beaches. You need to read all about it to understand what a unique thing to do this trip is. If there's one thing that is BUCKET LIST of Florida, it's this adventure to one of the most remote National Parks in the USA! Book it here!!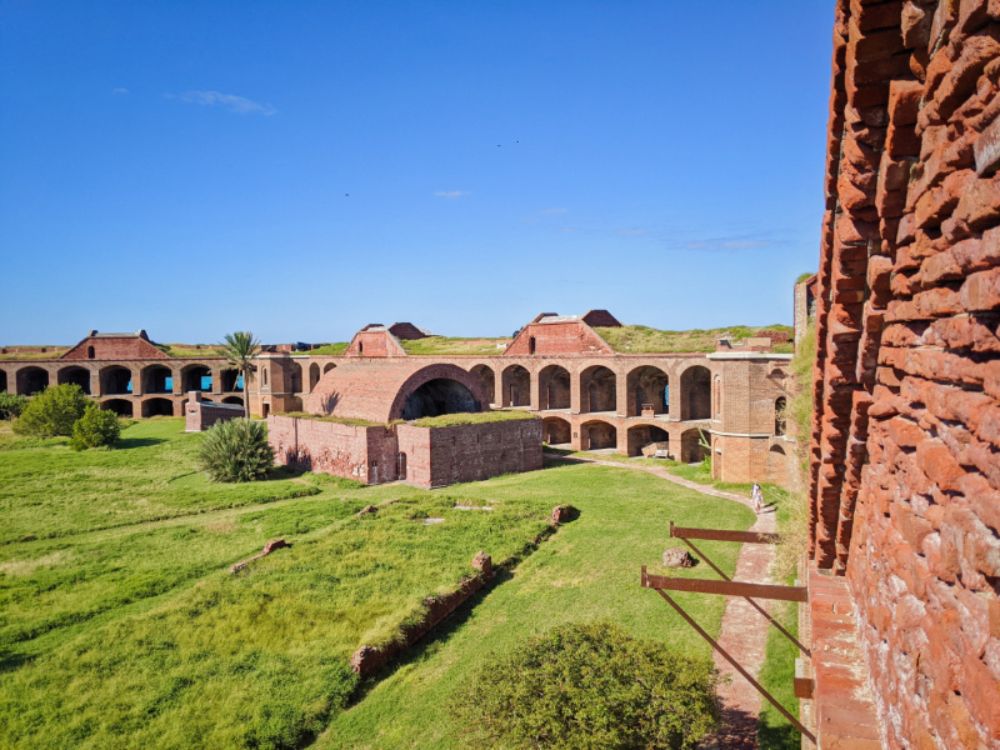 Sand Bar Adventure with Island to Island Charters
Of all the tours we've done in all the places we've been, going out through the sandbars and mangrove islands with Island to Island Charters has been our favorite. Spending the day exploring the waters of Key West with Captain Ally was remarkable. We got to swim and snorkel, saw sharks and spotted eagle rays, and then we hung out with dolphins. It was all amazing and all based on what sort of activities our family was interested in.
Hands down, this is the BEST experience for any family in the Florida Keys (and no, we get no commission from saying so.) If you're visiting with another small family, this can be cost-effective if you can split it together!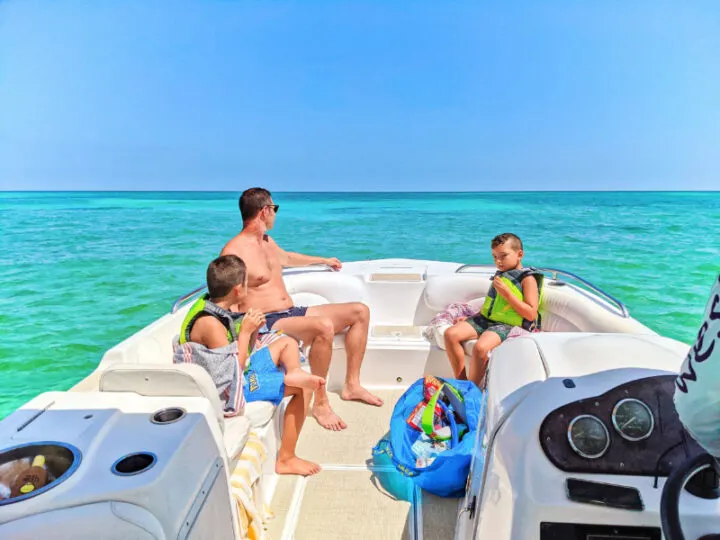 Visit Whaling Wall #52: Florida's Living Reef
Located on the Waterfront Brewery Building at the Key West Bight (marina), this is one of the most vivid Wyland (and Guy Harvey) undersea murals I've seen. It's jaw-dropping! The mural Florida's Living Reef can be seen from the street, the roundabout, the parking lot, and the Marker Key West Hotel across the street. Google Maps link here
The giant manta ray in the mural is awesome. The many Wyland murals to see on a Florida Keys road trip are inspiring. Our kids love the art and have recreated their own versions, us adults are just in awe with each mural. Such amazing public art.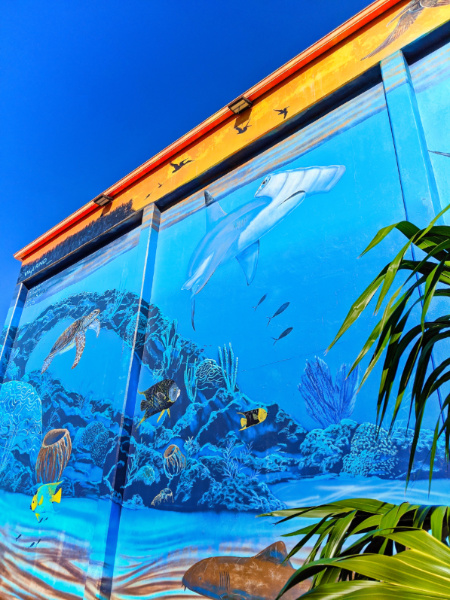 Ride the Conch Trail (tour)
One of the best things to do in Key West is to ride the Conch Train. Operated by Historic Tours of America (they do one in Saint Augustine too!) it's a comprehensive tour of the historic old town and neighborhoods of KW. You get to hear stories of the city, see some of the most famous sights in Key West (like the Southernmost Point), and you can get on and off in several places around town.
The Conch Train tour lasts about 75 minutes and covers a lot of ground. The best place to catch it is near Mallory Square and the KW Aquarium. For the many tours we've done in many cities across the USA, the Conch Train is my favorite.
Book the Conch Train Tour here!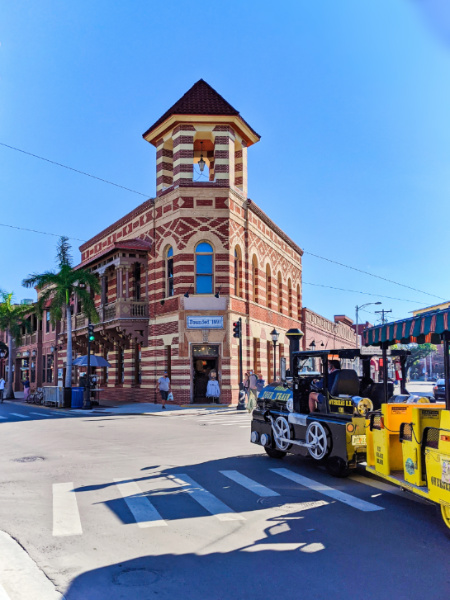 Eco-tour to Key West National Wildlife Refuge
Eco-tourism is becoming increasingly important as more and more people travel to new places. Add a jaunt with either Key West Ecotours or with Honest Ecotours to your Florida Keys road trip. We really like Honest Ecotours for a few reasons:
The naturalists are well educated and deeply care
The Java Cat is small and agile (Key West Eco tours) or Honest Eco's boat, the Squid, is fully eco-friendly (including solar power)
The tour route and snorkeling is awesome
Dolphins are HIGHLY likely
Honest Eco and Key West Ecotours really do a wonderful job with kids and adults alike. They provide healthy, fresh snacks and are well prepared for even inclement weather days. Honest Eco also does sunset cruises (we did a Pride sailing) and private voyages.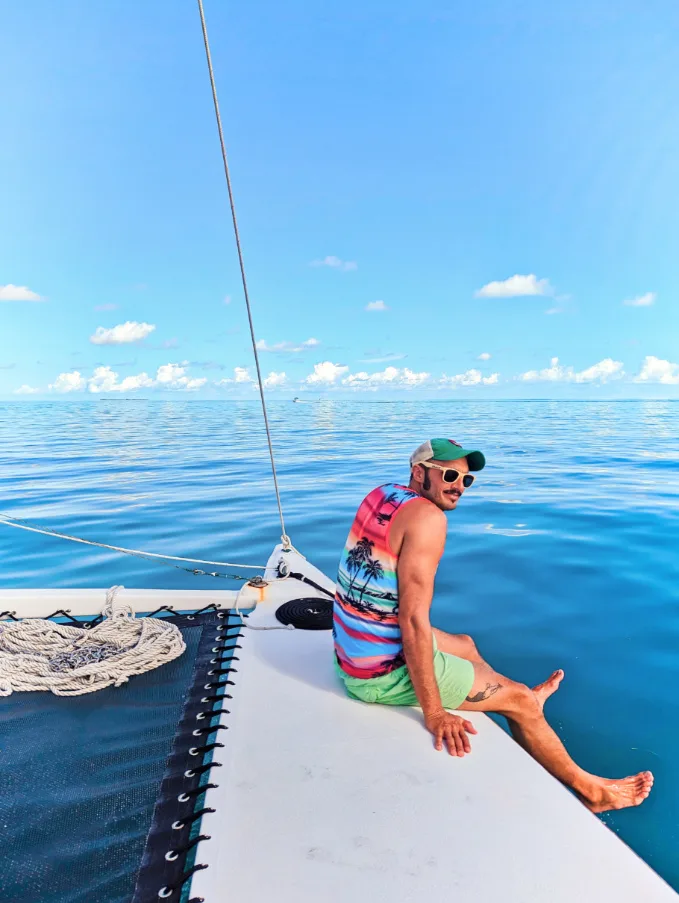 Explore the Historic Key West Town
The cheapest thing to do in Key West is to wander the historic town area. It's beautiful and there are chickens everywhere. Parking downtown is a little expensive, but it's worth it for the time you save and the ease of finding a spot. Once parked, enjoy the Mallory Square area, then walk through the Truman White House complex towards the Key West Lighthouse.
Stop into Ernest Hemmingway's House (and museum) and then enjoy a stroll past banyan trees and historic homes as you make your way to First Flight (brewery and restaurant) where the first PanAm Airways office was. Visit the Audubon House and Tropical Gardens, hit up a few museums in the historic quarter and you're done.
There are tons of wonderful stops to make along the way, and lots of key lime pie and martinis to enjoy as well. Walking Key West on foot is a great all day or afternoon activity and it's the best way to see the city at your own pace.
Book a Private Guided Walking Tour or Key West Literary Tour here!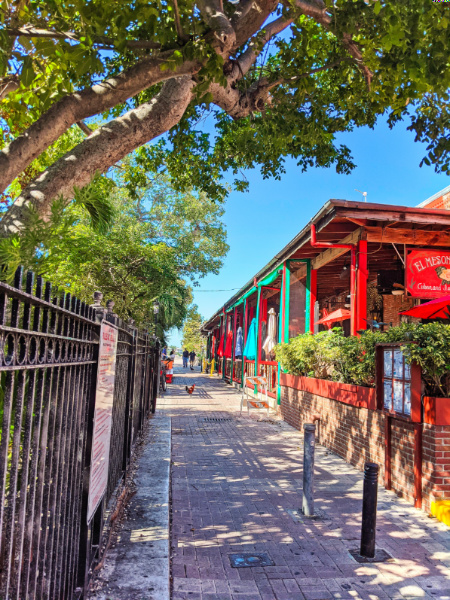 The Vintage Key West Aquarium
I'll admit that the admission to the very small Key West Aquarium might not seem worth it initially, but it's such a cool place. The interior feels like you've stepped onto Captain Nemo's Nautilus, and the sharks in the middle of the aquarium are really cool.
Being a very old attraction, some of the features and design look like they're from another time… which they are. It's all very vintage. Pop outside for a wonderful living mangrove exhibit and enjoy the view from above. This is great with kids, but if you're looking to take a break from the sun AND want to do a little learning about the wildlife in the Florida Keys, this is a great spot!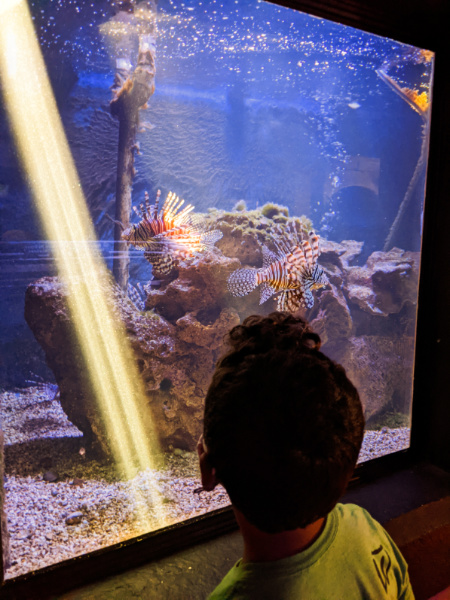 Night Kayaking in Key West
We do a lot of kayaking tours and paddling on our own, but Night Kayaking KW is a must-do, experienced kayaker or not. Heading through the mangrove tunnels and shallow coves around KW, Night Kayaking gives you a totally new view of nature.
The kayaks have a plexiglass bottom and are outfitted with LED lights to see underwater. We saw sharks, lobsters, tarpon, sea hares and more. It was really a memorable experience and one of the most unique things to do in KW.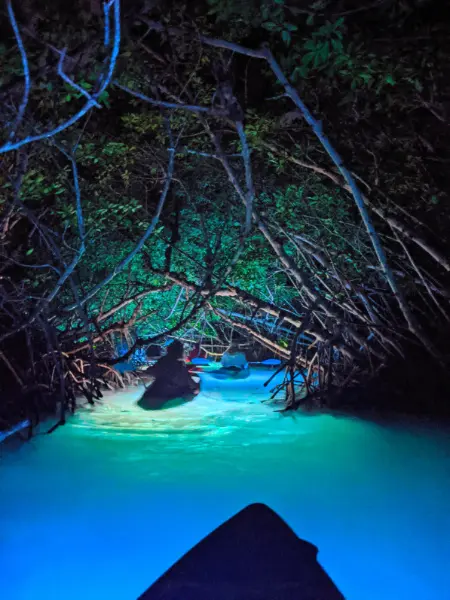 Visit the Key West Lighthouse
I am such a sucker for lighthouses and the KW Lighthouse is one of the prettiest. It's one of the best things to do in Key West both as a sight and as a unique activity.
There is a museum on sight about Key West's nautical history, and then you can climb the lighthouse tower as well. I love it! You'll also find some great lighthouse exhibits, a gigantic banyan tree and more. Spending an hour or two here is one of the best things to do in Key West!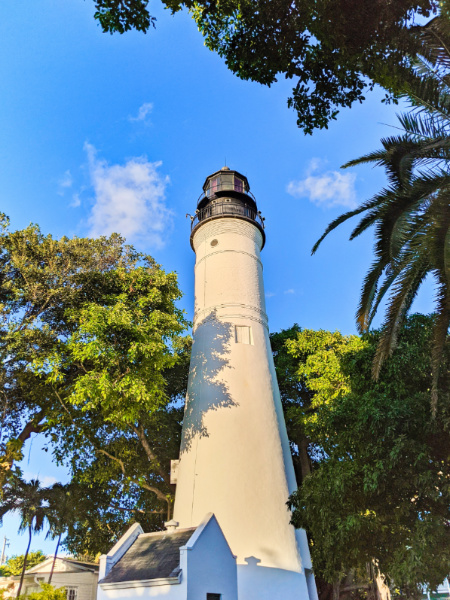 Beaches in Key West
As I mentioned before, there aren't a ton of beaches in the Florida Keys to visit on your road trip, but Key West has a few beach spots. The following are the easiest beaches to access with the best surroundings. They aren't all-natural, so it's a mixed bag when it comes to sand and obstacles, but they serve the purpose of cooling off and relaxing when you visit KW.
These are the best beaches IN Key West for relaxing or swimming:
If you spend time at Rest Beach, there is a really cool pier that goes pretty far out into the water. The views are beautiful and there's a fair amount of wildlife living along the pier structure. Check it out!
Doing a Florida Keys road trip isn't typically a beach trip, but it's all about the culture and other natural sights. Enjoy what you like, but we don't recommend the Keys if you truly want a beach destination.
This is just a quick hits list of the best thing to do in Key West. Really, you can easily spend a whole week in Key West and have a different adventure every day. Be sure to check out our other Florida Keys travel ideas. We spend so much time in the Keys that we always have more to share. Please be sure to leave a comment or send us a note if you have any additional tips or questions about Key West and the rest of the islands!