We love visiting Botanical Gardens, from the Florida Keys to here in Maine. The Coastal Maine Botanical Gardens are a beautiful blend of horticulture, nature and art. Located in Boothbay, they're an easy day trip from Portland or Bangor, and are easy to incorporate into your Maine summer road trip.
As you read on, be sure to plan your visit to the Coastal Maine Botanical Garden with enough time to truly enjoy them. And if you have any thoughts or questions, please leave a comment or send us a note. We love to hear from fellow Mainers and travelers alike!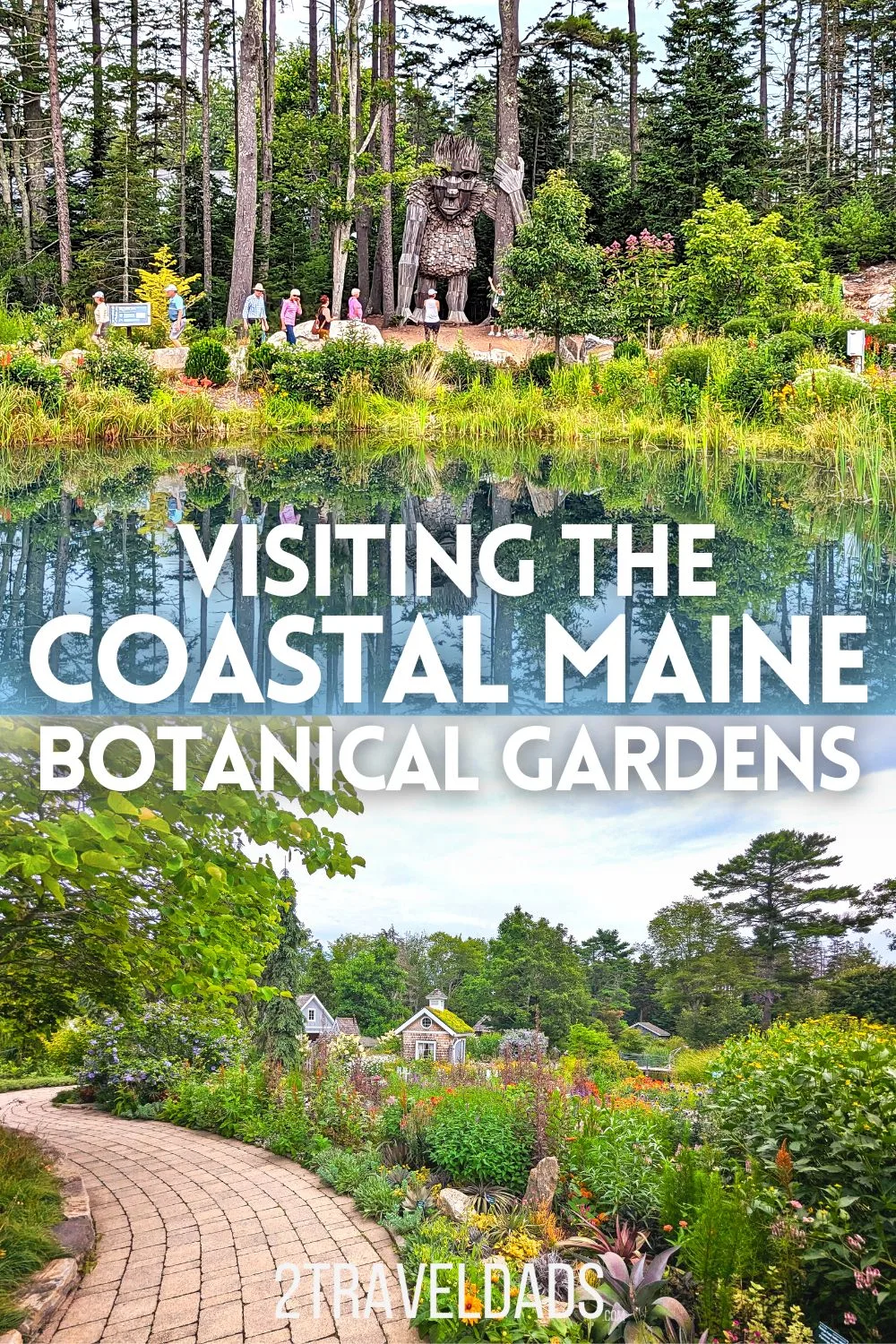 About the Coastal Maine Botanical Gardens
Coastal Maine Botanical Gardens (CMBG) opened in 2007 but the plans for it started in 1991 when a group of MidCoast locals dreamed of building a world class destination botanical garden that would be inviting and educational for locals and visitors alike. It took 16 years of planning and now CMBG is the largest Botanical Garden in New England with 300 +acres on a mile of tidal ocean frontage.
For lifelong gardeners and novice enthusiasts, CMBG is a masterpiece to behold. Annually hosting over 200K guests from around the world, the visioners are continually adding new exhibits and works of art to keep members and visitors excited for each new season. In the winter, a festival of lights welcomes you to the holiday themed wonderland.
Coastal Maine Botanical gardens is a bounty of beautifully curated garden delights, art and education for the whole family. From the moment you step into this stunning property you can feel the excitement and passion oozing from the volunteers and employees. You are enchanted by the sights, scents and sounds of a bustling garden oasis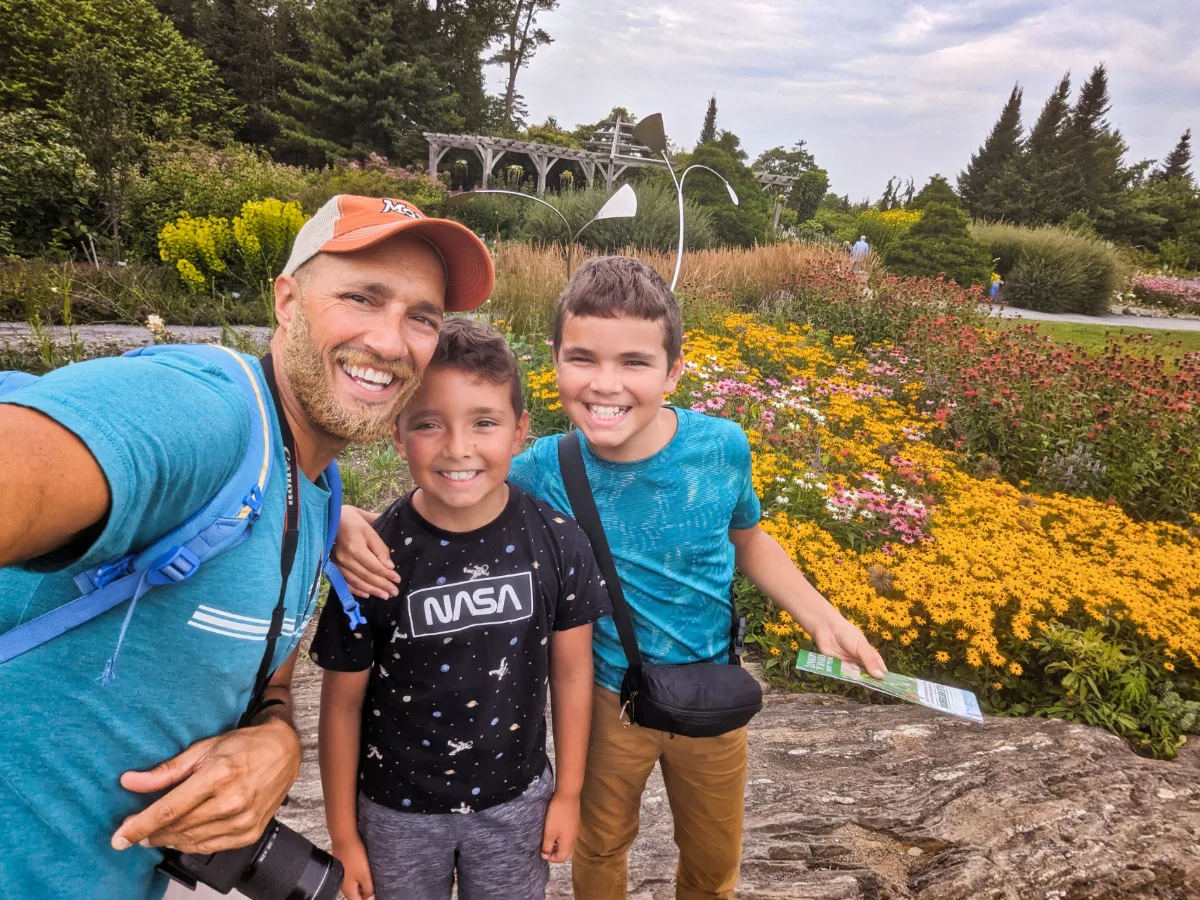 Where are the Coastal Maine Botanical Gardens
The Coastal Maine Botanical Gardens are located in the charming town of Boothbay, Maine and are full of beautiful flora, fauna and education for young and old alike. About an hour and fifteen minutes north of Portland or just over two hours from Bangor, you can enjoy the drive and plan for fun stops on your way back to your home base when you're done.
If you're staying in Freeport (we love the Harraseeket Inn), Rockland (we recommend the 250 Main Hotel) or up in Rockport (the Samoset Resort is amazing!), the gardens make for an easy day trip. Pair visiting the Coastal Maine Botanical Gardens with a wildlife cruise out of Boothbay Harbor and you have an awesome day planned!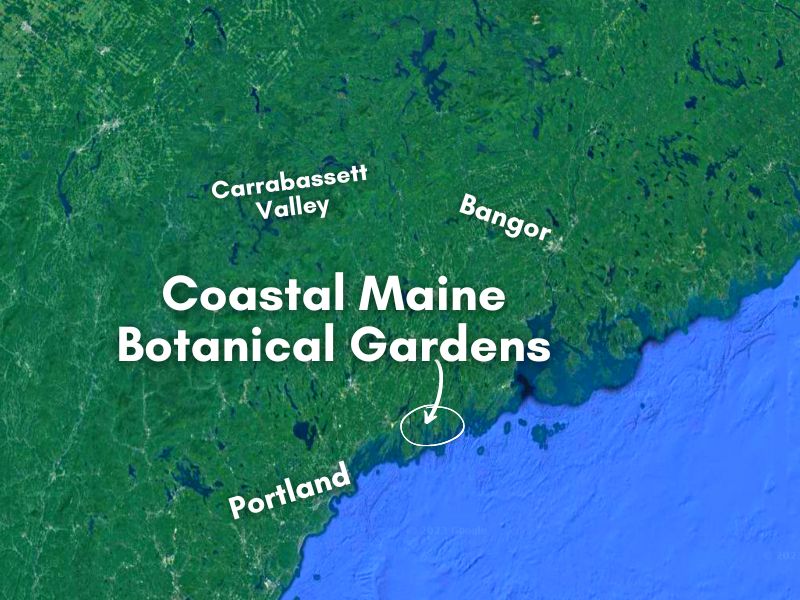 Cost of Admission to Coastal Maine Botanical Gardens
CMBG offers some discount and free entrance options such as discounts to Boothbay/Lincoln county residents, free entrance to Personal Care Assistants and Active duty military and Library pass program discounts/passes. You may want to consider a membership that offers many bonuses such as reciprocal memberships at 330 other gardens and arboretums in the US and Canada!
The CMBG are not open year round, but from May 1 to the end of October. Before visiting the gardens at the end of October, check final date of the season, as it's not always the 31st.
2023 Admission Rates in USD:
Adults: $22
Seniors & Veterans: $18
Student (18+ with Student ID): $15
Children (3-17): $10
Children under 3: Free
Family (2 adults, 2 children): $55
Members are free (after purchasing membership)
CMBG ways to SAVE on admission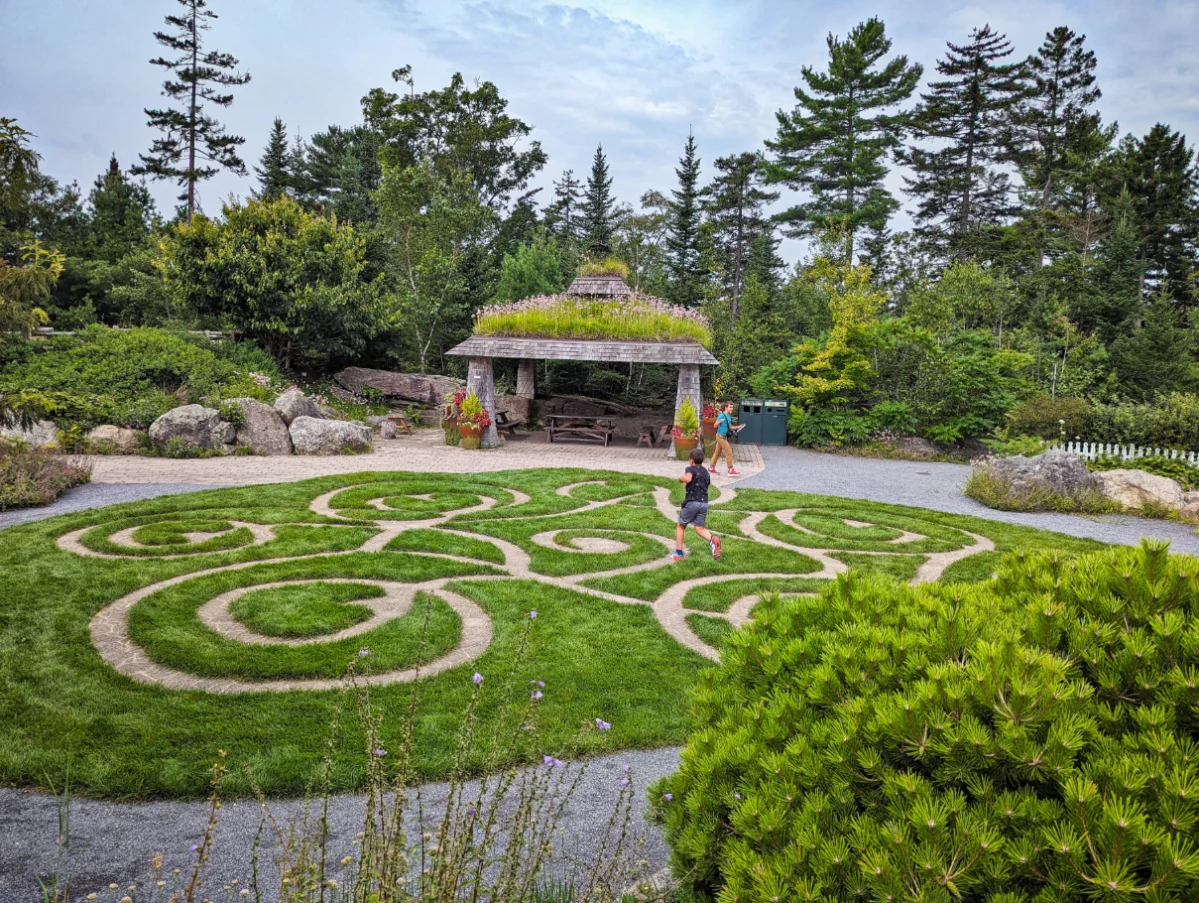 How Much Time is Needed to See the CMBG
If you are a nature lover, hold onto your gardening hats! Explore the perennial gardens around the Great Lawn, count the army of frogs at the Learner garden of the 5 senses, gaze upon the water lilies at Slater forest pond, stroll beneath the Romantic Arbor garden and breathe deeply at Vayo Meditation gardens. The Children's Garden has a fun musical instrument area we always spend time in and the hillside garden inspires the Maine gardeners dealing with granite rock planting locations. I recommend giving yourself at least 2 hours to walk around.
Don't be shy, you will have questions and the volunteers are waiting to assist you in planning your route to enjoy the gardens. There are helpful maps to choose where to go.
What Makes the Coastal Maine Botanical Gardens so Special
Every time I step foot into CMBG I am overwhelmed with the same feeling I had as a little kid arriving at the amusement park. The giddy anticipation of the excitement ahead, WHERE WILL I GO FIRST, HOW will I see/do it all in the time I have?
Highlight of the Gardens: Guardians of the Seeds
Adults and kids love the hunt for the giant trolls: Guardians of the Seeds, this is the route we usually take. Let the volunteers know you are interested in following the Trolls and they will give you the best route to take. Be sure to read all of the placards to learn all that is offered and fully enjoy the immersive shoreline forest walk to find the amazing giants in the woods. There are 5 trolls in the Coastal Maine Botanical Gardens that you can find. And keep your eyes peeled for Maine wildlife as you look for the trolls.
Built by Danish artist Thomas Dambo, these mammoth recycled-wood troll sculptures are so exciting to come upon. The Trolls are there to bring awareness to our wonderful natural world and at each troll you will find an information placard about the troll's role in nurturing their environment.. hopefully inspiring YOU to do the same.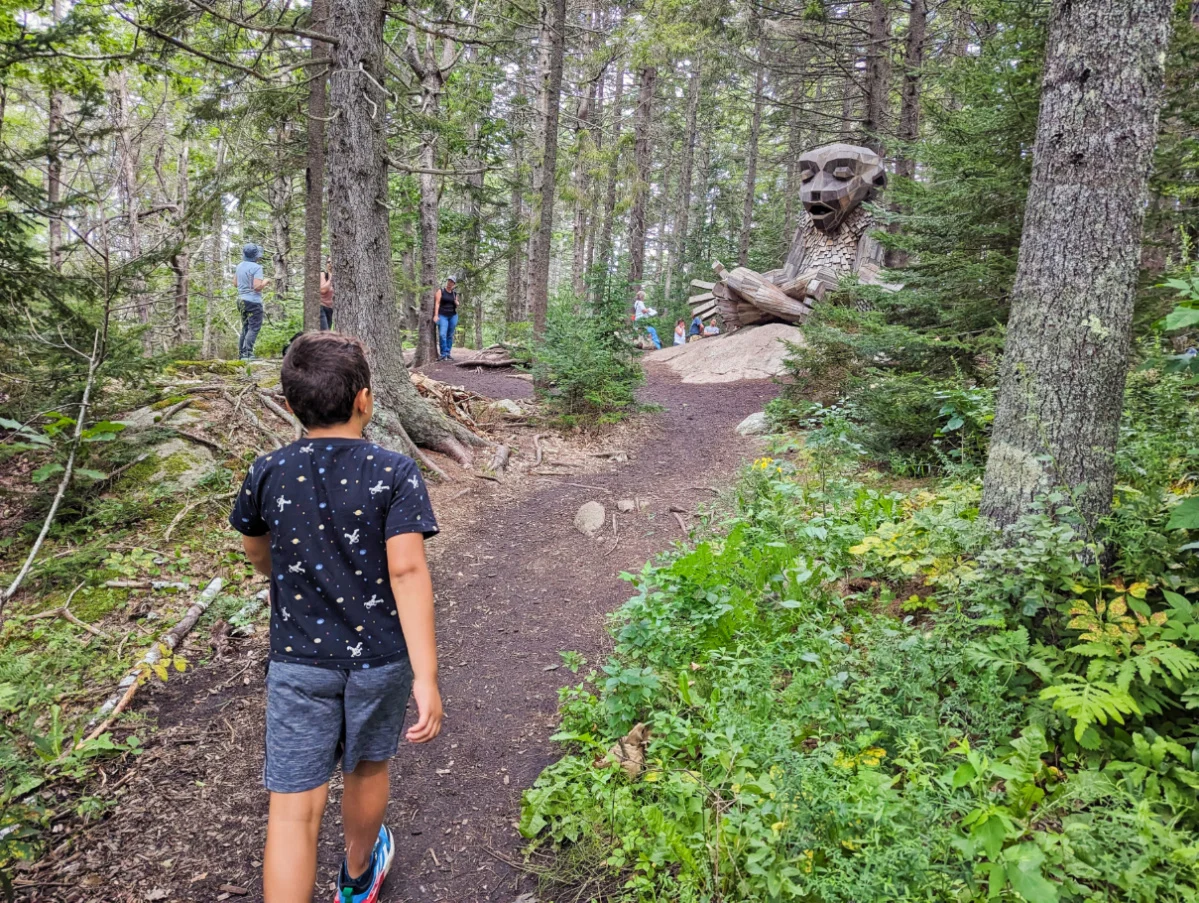 The final destination in the Troll hunt brings you to the seeds themselves… I'll leave out the details of the seeds as your fun surprise for your visit. I learned that seed saving protects genetic diversity of plants and trees preserving biodiversity. We know that trees are our allies and help filter dangerous carbon and pollution from the atmosphere while providing shade, seeds and homes to countless creatures. Trees need to be appreciated and supported as they support our lives here on earth.
Note: Thomas Dambo's trolls can be found all around the world. There are other ones here in the USA in Breckenridge, Colorado, Seattle, Washington and even down here in Florida!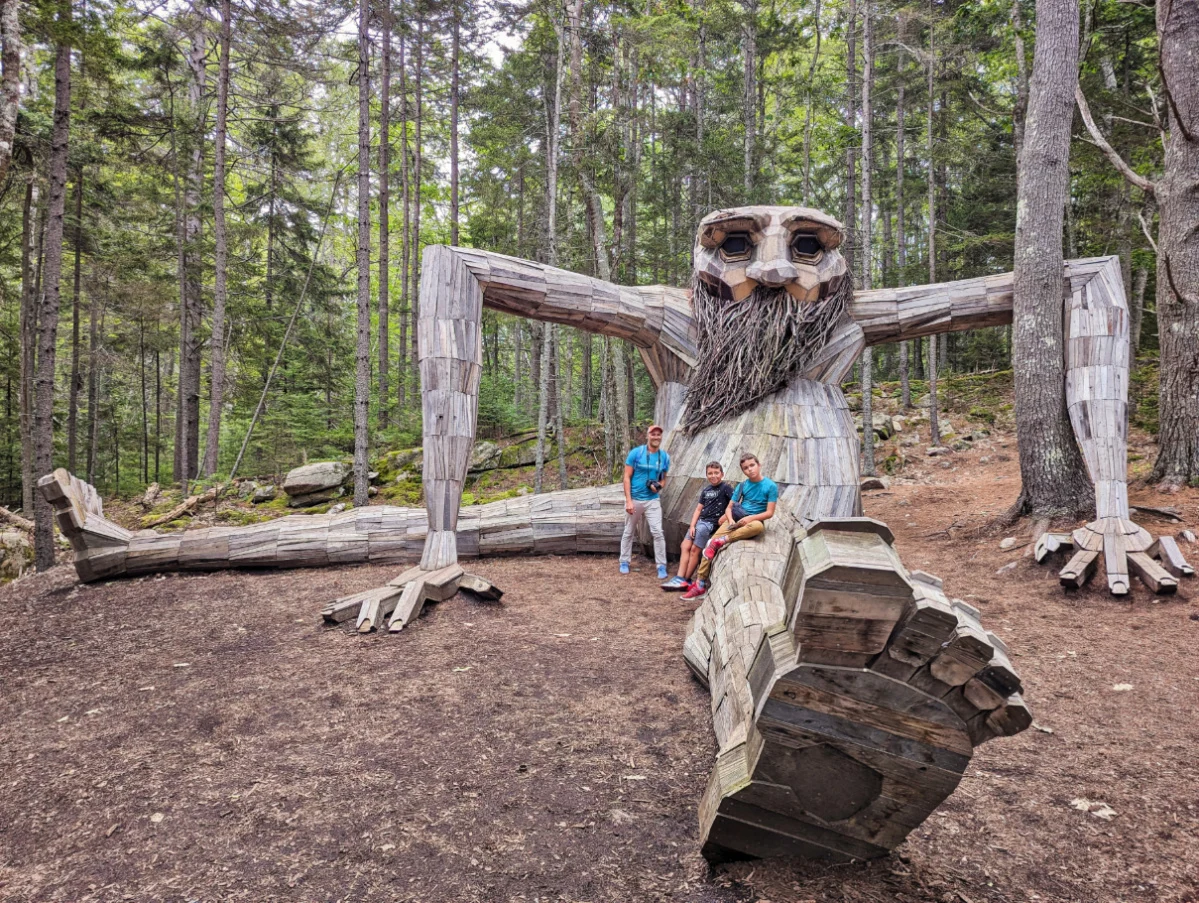 Food at Coastal Maine Botanical Gardens
Be sure to include a stop into the deli to get snacks and drinks for your excursion, or eat in the well stocked café. Sandwiches, drinks, salads, cookies, chips and casual fare for your day as well as a coffee shack will get you ready for your walk. You also are allowed to bring in your own snacks (Maine whoopie pies are perfect to bring!), as there are picnic areas. The joy of visiting the Coastal Maine Botanical Gardens is spending time in the outdoors, so picnicking is best!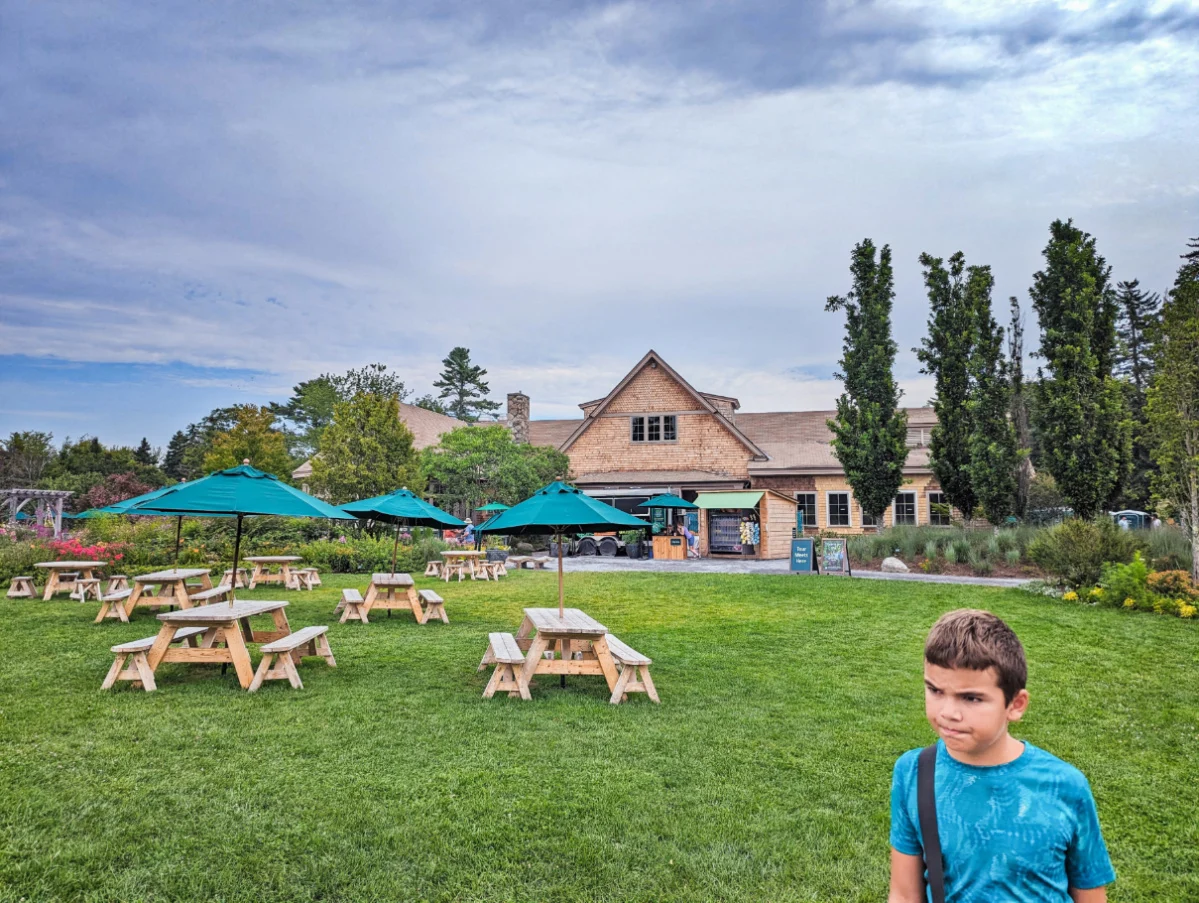 Being Prepared for a Day at the CMBG
In addition to snacks, come prepared wearing comfortable shoes, a pump of bug spray and sunblock and water. Strollers may not be the best choice for the forest route, but you can stroll along the gravel pathways. For the Guardians of the Seeds Troll hunt, it is advised to bring children who are comfortable to run and frolic in the woods.
A trolley / shuttle cart is available to make the garden accessible to all and volunteers can assist in finding the best way for your party to make your way around the gardens and forest. Definitely bring a camera or use your phone's camera as you are sure to want pictures of your trip.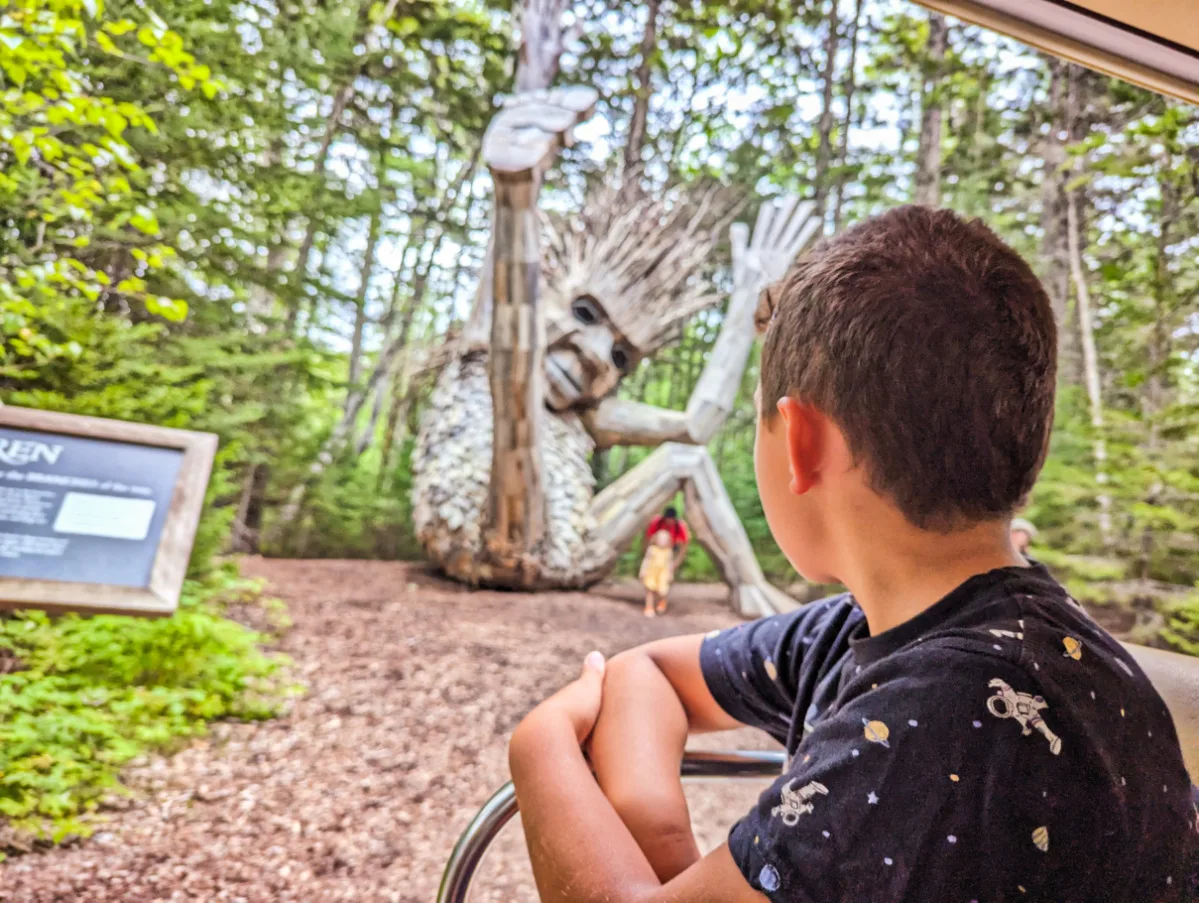 Education at the Coastal Maine Botanical Gardens
There is nothing better than spending time learning how to help ourselves and our amazing planet, and CMBG offers many environmental stewardship educational opportunities led by regionally- and nationally-renowned experts with hands on practice and enthralling lectures, multi-day excursions to deeply-delving certificate programs such as Botanical Arts certificate and Native plants and ecology.
Also, be sure to check out the very informative and helpful website for CMBG so that you can be aware of any art exhibits or classes you'd like to take in.
Check out the certificate programs here.
I look forward to visiting the herbarium on my next visit. Documenting and preserving plant biodiversity, the herbarium is a collection of dried, pressed plant specimens. The herbarium holds sources of data used for the CMBG's Certificate in Native Plants and Ecological Horticulture and Certificate in Botanical Arts programs.
Coastal Maine Kitchen Garden – Herbalism
Have you ever fantasized about living off of the land? Poke around the Burpee Kitchen garden, nibble an edible flower while you admire generous fruits and vegetables planted in fresh compost and set in esoteric patterns. The café onsite loves to include the fresh grown Swiss chard, red leaf lettuce, nasturtiums, lemon gem marigolds, tricolor sage, basil, dwarf cabbages, creeping rosemary, and golden-leaved thyme in its meal offerings.
Dahlia Gardens – Best in Late Summer
Spend some time at the Dahlia garden seasonally showcasing 80 dahlia cultivars in every outstanding variety, all shapes, colors and drawing delightful butterflies, moths, bees and creatures. Can you find any blue dahlias? Blue flowers are some of the most rare in general, so if there's a blue one in bloom enjoy it!
Coastal Maine Botanical Gardens Apiary – Beekeeping
As a beekeeper, I always have to be pulled away from the amazing bee exhibit and Apiary where you can watch the internal workings of a live hive. The beehive exhibit opened at the Gardens in 2016, and 16 honey bee hives now make their home at Coastal Maine Botanical Garden's Learning Apiary.
Thoughtful precautions are in place to keep bees and humans safe. A fence surrounding the apiary raises bees' flight path above the heads of visitors. My favorite bonus as a novice beekeeper, is that you can usually have the inevitable questions that 'bee watching' inspires answered by one of the resident beekeepers. Did you know Maine has more than 276 species of bees!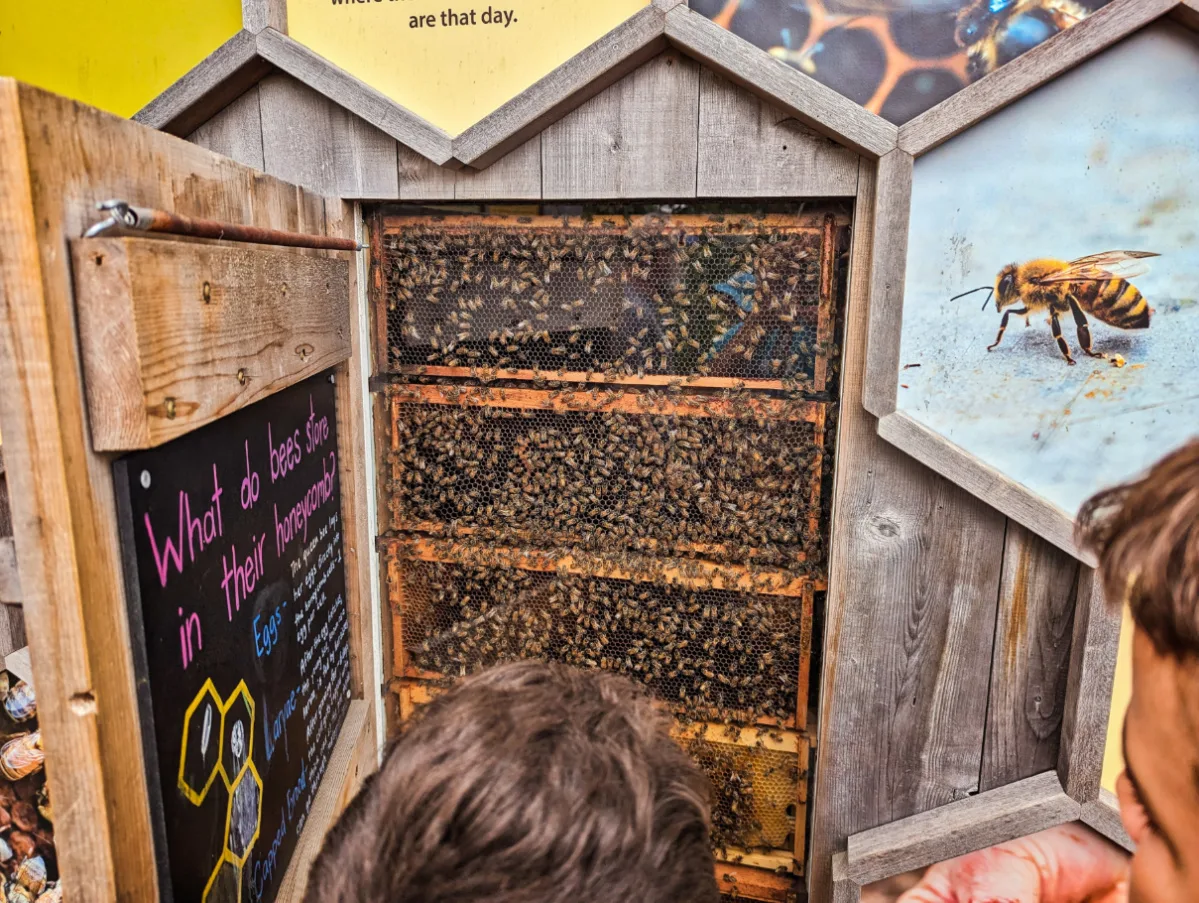 Coastal Maine Botanical Gardens with Kids
For those not interested or able to find the trolls on foot, there is a nice shuttle bus you can catch along the path. Continuing on your Troll hunt, you will weave through all of the wonderfully curated gardens along the journey. A children's garden with an outstanding tree house and fun instruments to explore. Imaginations are tickled to come upon the fairy house village en route to finding Soren and Gro at the outer edge of the Botanical Garden.
Visitors are encouraged to use all nature offers and construct their own fairy home before heading off. This means that you can collect fallen pieces of nature and build small structures suitable for fairies. It's cute and our kids loved it.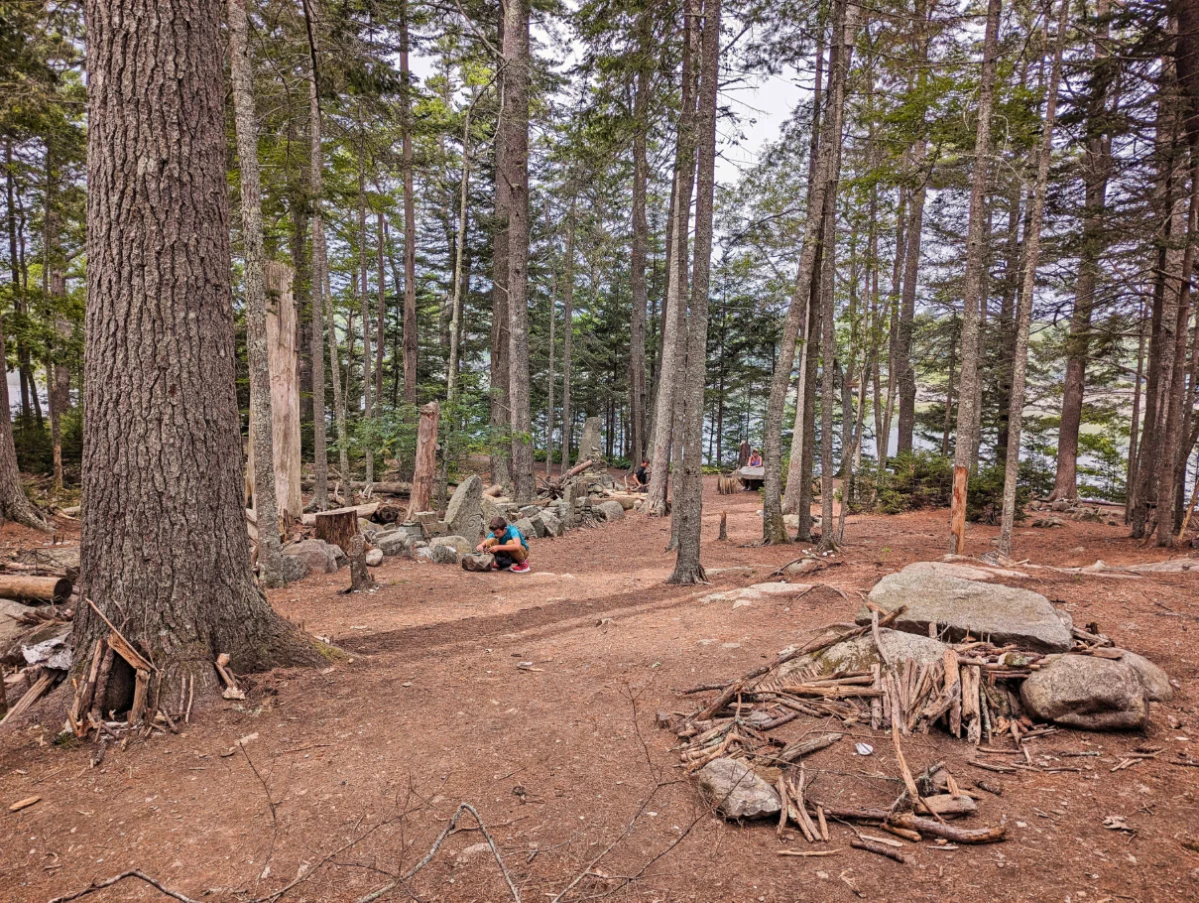 Also at the far (.7 miles from entrance) Giles Rhododendron and Perennial Garden are definitely worth the enchanting forest walk. It's fun to save a few spots for each visit, as you'll want to come back every season to see what nature has in store. I look forward to visiting The Landing on the Back River that borders the park's southern boundary (estimated 40 minute path or forest walk).
Art and Sculpture in the Coastal Maine Botanical Gardens
To enjoy the park through new eyes is easy to do with a focus on the extensive and wonderful permanent sculpture collection and delight in all mediums of art as they are celebrated and shared throughout the gardens. A beautiful rotating collection of many varieties of mixed media, sculpture, carving and paintings is always inspiring to enjoy.
And once again, you cannot miss Thomas Dambo's trolls around the grounds!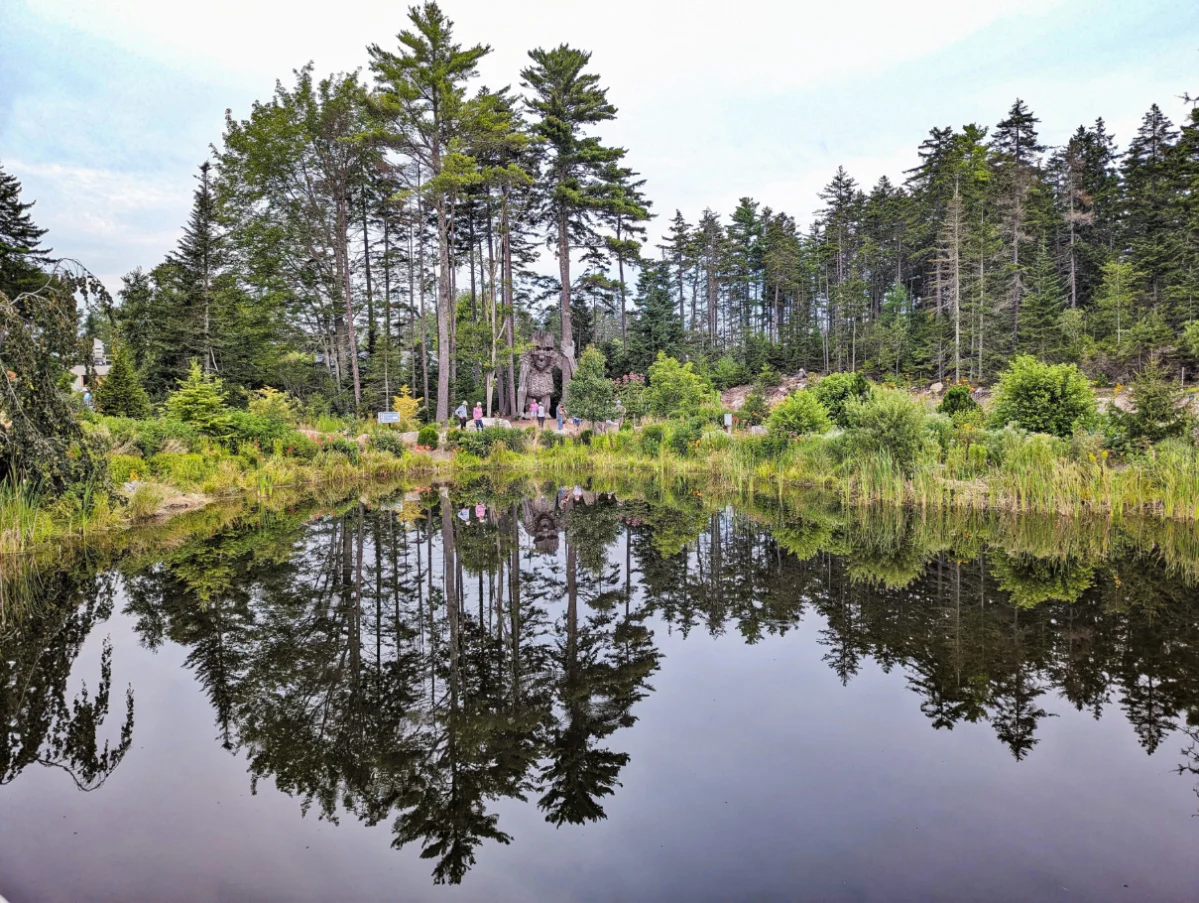 Wellness at the Gardens
Did you know there is a new'ish Wellness activity called "Horticulture Therapy"? HT is wonderful for those with limited mobility, individuals with visual impairments to those with other disabilities, working with plants first-hand can heighten senses, improve physical health, and increase cognitive awareness. Taking part in a Horticulture Wellness session may include planting, harvesting or making crafts with flora and fauna.
Check out the website to see if you'd like to add a Horticulture Therapy session with your friend/partner on your next visit. All sessions are facilitated by a trained Horticultural Therapist. Nature is so healing!
Events and Getting Involved with the Coastal Maine Botanical Gardens
I always love to chat up the people working all around the Coastal Maine Botanical Gardens. I admit, I watch Horticulturists roam and create like some admire rock stars. I'd love to have a download of all the plant, creature and nature knowledge they have. For now, I just continue to bring ALL visitors to CMBG whenever they come to Maine. I've gotten to know a few of the staff members along the way and learned about what goes into the creation of the wonderful ever evolving gardens and educational exhibits they create. A true labor of love and passion for Mother Nature!
Volunteer at CMBG
There are many opportunities to spend more time at CMBG as a volunteer. If you want to get involved with the Coastal Maine Botanical Gardens, roles ranging from Troll Ambassadors, Docents and Shuttle drivers, to Educating in the Children's garden, butterfly house or apiary allow for locals to further their passion by sharing their knowledge. When you visit, be sure to chat it up with somebody who works or volunteers to get the full scoop.
Check out the best little garden shop here
Guided Garden Tours
Feeling overwhelmed? The daily Highlights Tour is a great place to start to be sure you aren't missing a seasonal sensation. The tours are offered daily from 11-12, and you'll not be alone! The garden docents are awesome and love to talk about how the Coastal Maine Botanical Gardens came to be, the many different garden types and plants, and of course the amazing Thomas Dambo trolls throughout the gardens.
Gardens Aglow – SEASONAL Ticketed Event
The events slow down considerably from Halloween thru Thanksgiving, with just the garden shop open and limited access to the gardens, but things pick up again as the holiday light extravaganza gets underway: Gardens Aglow. If you're visiting Maine in winter, this is a must while it's running. It doesn't go all winter though, so confirm that it's on and open per the weather.
Delight in the spectacularly lit garden aglow with more than a million lights. Bundle up for this winter wonderland walk. November 19-December 31 (dates subject to change). Get tickets and info here.
CMBG memberships offer many opportunities to take educational tours through the park as well. Memberships range from $30 student, $100 family and Benefactor memberships $2K and gets you into some annual members only events.
Time to plan a visit and see what blooms the birds, bees, trolls and fairies are enjoying this season! If the weather is cold or raining, perhaps check out the Horticulture Therapy or catch an educational talk, or just bundle up and seek out all of the sculptures and works of art. We hope you will add the Coastal Maine Botanical Gardens to your Maine trip. You'll be glad you did!
If you have any questions about visiting the Coastal Maine Botanical Gardens, road tripping around Maine or what are the easiest lighthouses to visit when you're exploring Midcoast Maine, let us know. Please leave a comment or send us a note. We're happy to help you plan!