Whoopie pies are a beloved dessert in Maine that has become an iconic symbol of the state. I absolutely love them because they're great on the go and they don't have to be eaten right away. If you're doing a Maine road trip, you'll no doubt come across lots of places that either bake their own or sell local whoopie pies. You'll fall in love with them
So what IS a whoopie pie? Are they only in Maine? Can you make them at home? We have all the answers for your whoopie pie questions, and even a recipe so you can make your own. If you have any additional questions or want to leave you own whoopie pie tips, please leave a comment or send us a note. We're happy to share more!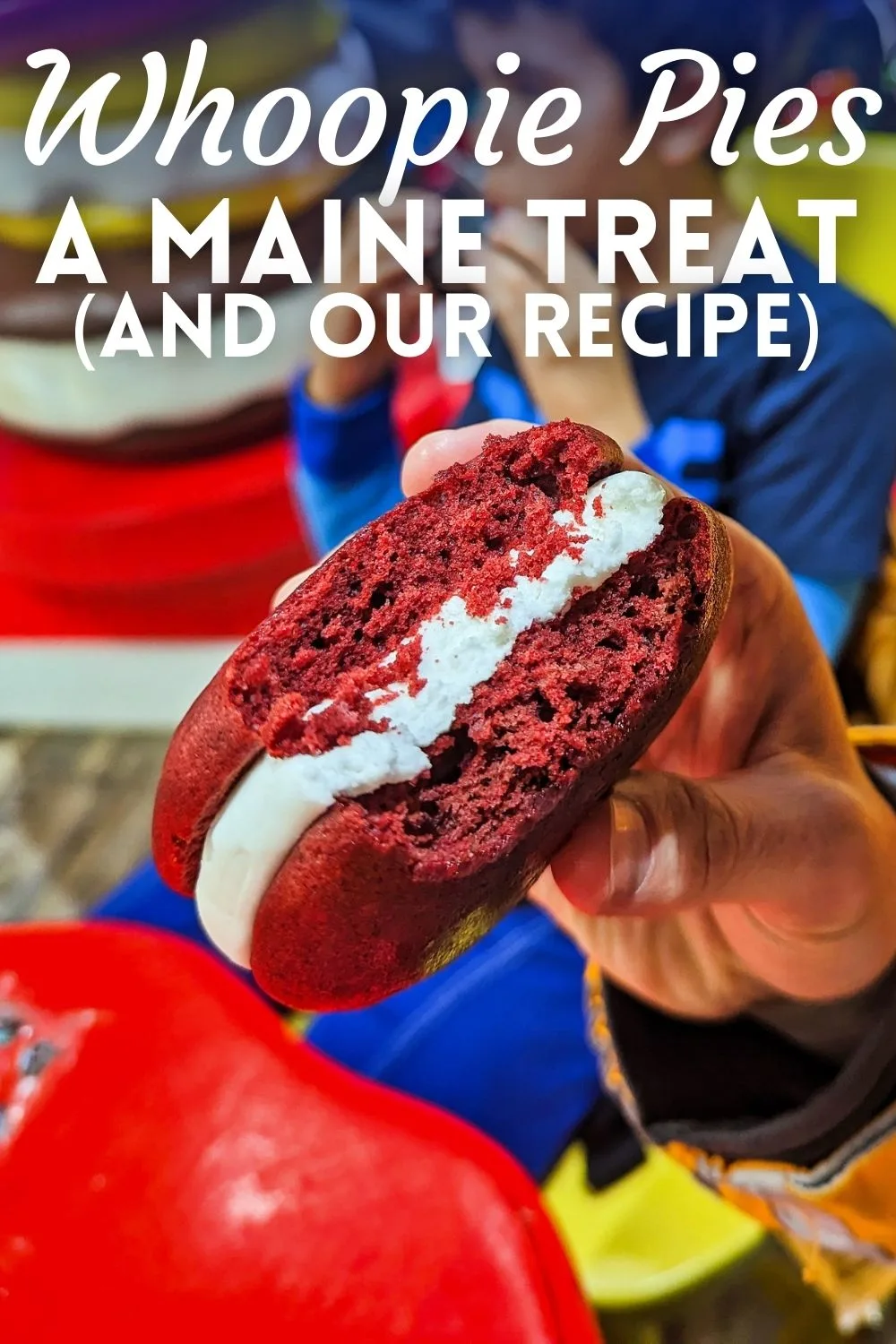 What is a Whoopie Pie?
A whoopie pie is essentially a sandwich cookie made up of two round pieces of chocolate cake (like cupcake tops) with a creamy filling in the middle. The origin of whoopie pies is a bit of a mystery, but the dessert is thought to have originated in Pennsylvania Dutch country in the early 1900s. However, Maine has since claimed it as its own and is known for producing some of the best whoopie pies in the country. You can even find them here in Florida too!
The history of whoopie pies in Maine dates back to the 1920s when they were first introduced by Amish and Pennsylvania Dutch families who migrated to Maine to work in the state's shoe industry (New Balance shoes are actually made in Maine!). The name "whoopie pie" is said to have originated from the Amish farmers who would shout "whoopie" in delight when they got them. Over time, whoopie pies became a standard baked good in Maine and can now be found in bakeries, cafes, gas stations and supermarkets throughout the state.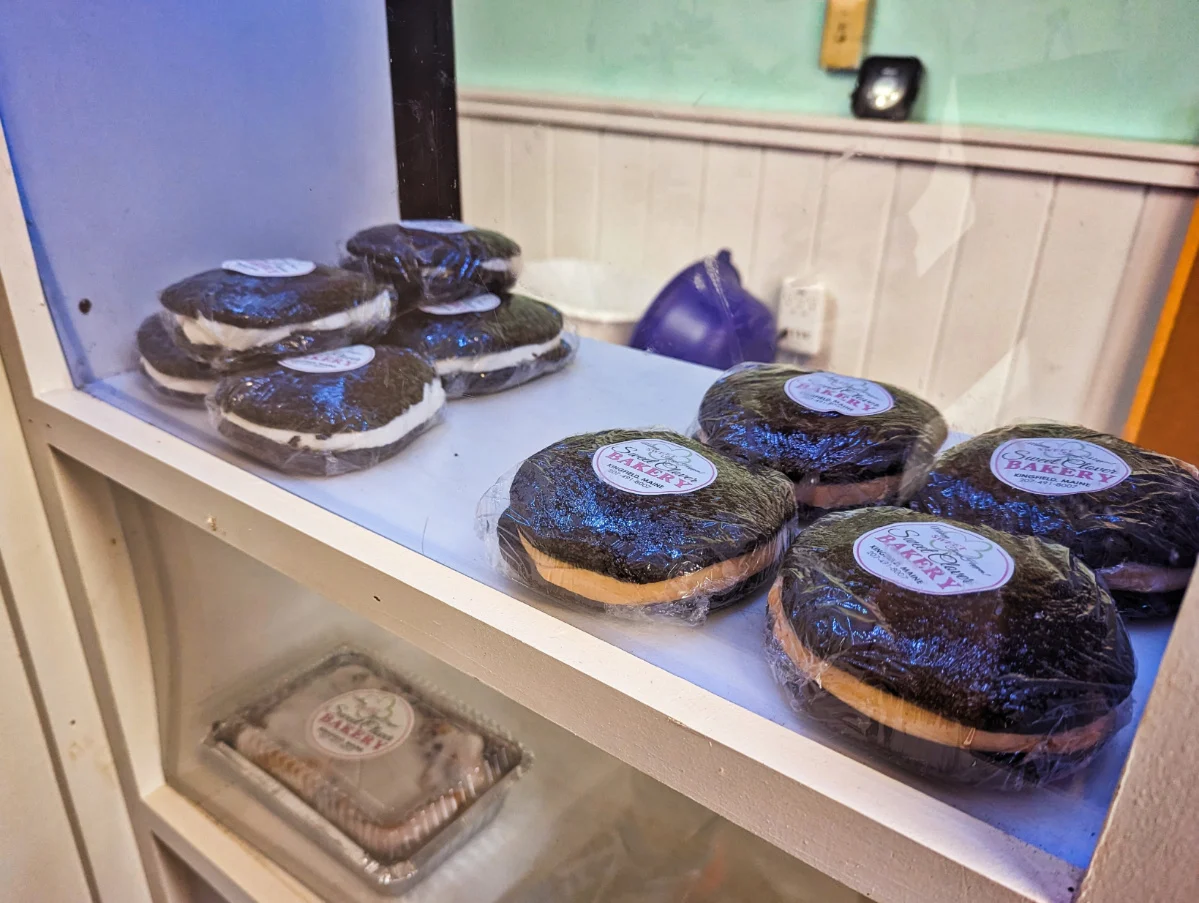 Great Bakeries for Maine Whoopie Pies
Worried that you have never actually had a whoopie pie and you're unsure that you'll easily find one where you're traveling through Maine. Have no fear! Here are ten places in Maine where you can find delicious whoopie pies:
Whether you're a local or a tourist, trying a Maine whoopie pie is a must-do activity. With so many delicious options available throughout the state, you're sure to find a whoopie pie that satisfies your sweet tooth.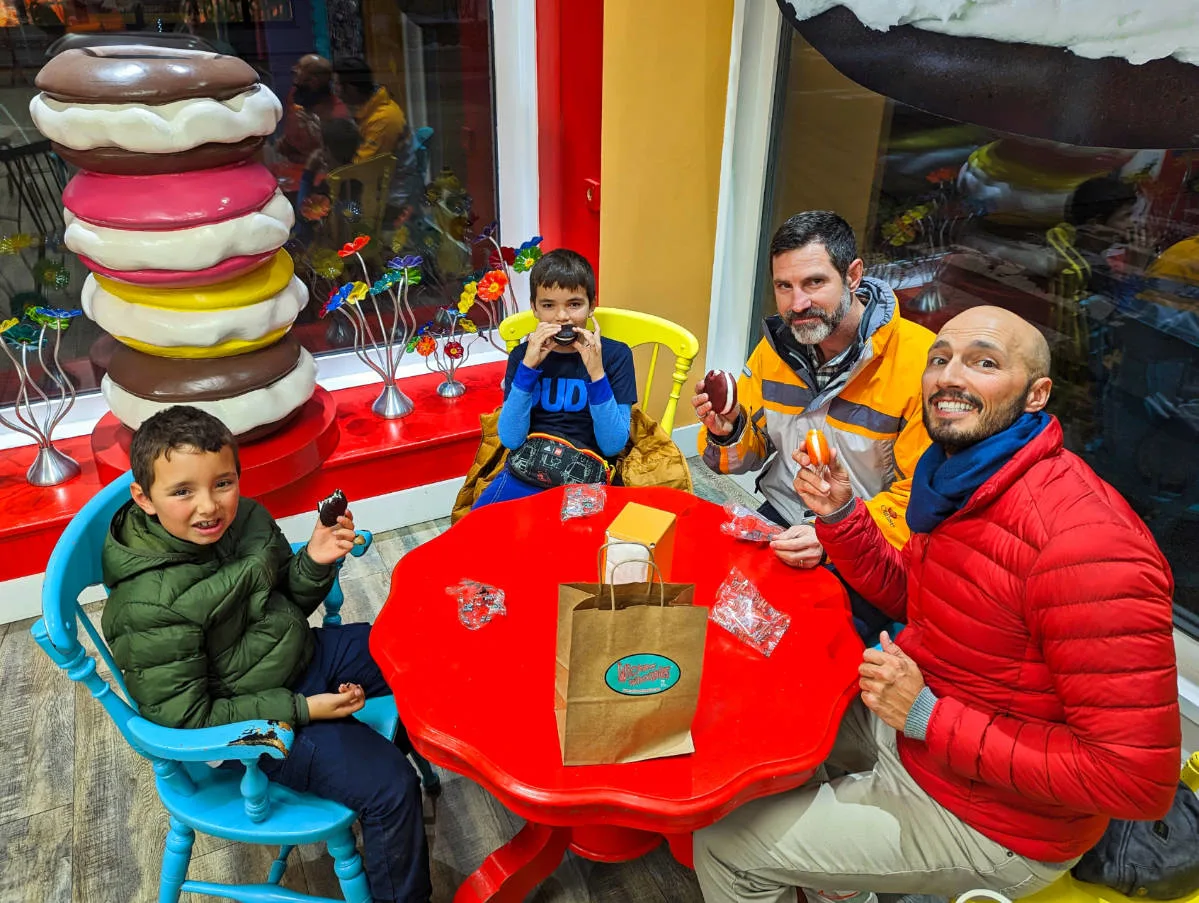 Most Popular Whoopie Pie Flavors in Maine
While there are many delicious and creative flavors of whoopie pies available in Maine, the most common flavors are definitely:
Chocolate – Classic chocolate whoopie pies are a staple in Maine bakeries and can be found almost everywhere. The chocolate cake is rich and moist, while the filling is often a creamy vanilla or marshmallow flavor.
Peanut Butter – Another popular variation on the classic recipe, peanut butter whoopie pies feature a chocolate cake with a creamy peanut butter filling. The combination of chocolate and peanut butter is a fan favorite, and these whoopie pies are a must-try for any peanut butter lover.
Maple – Maine is known for its maple syrup, and maple whoopie pies are a delicious way to showcase this local flavor. The cake is typically made with pure maple syrup, while the filling can be a maple buttercream or a maple-flavored cream cheese filling.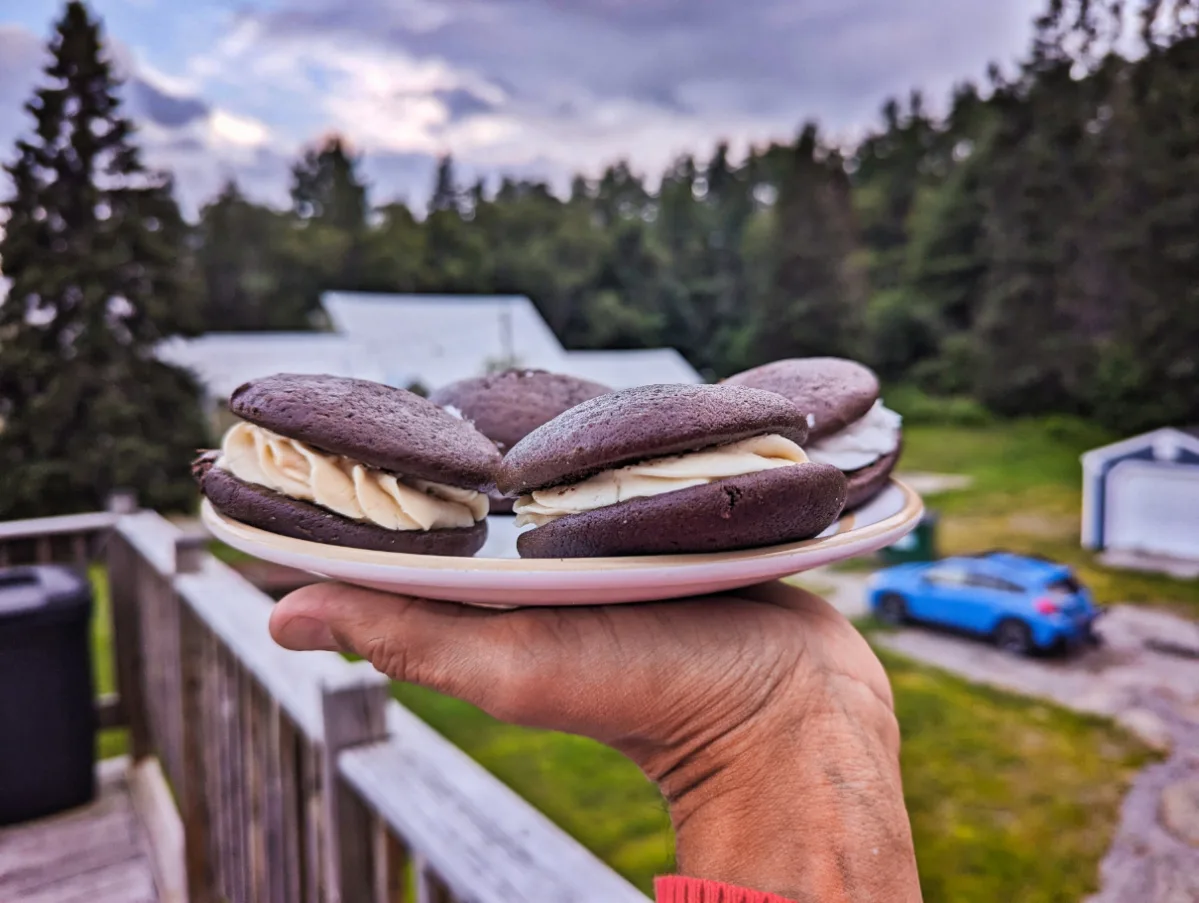 Yes, there are lots and lots of combinations, but chocolate, peanut butter and maple are the most common whoopie pie flavors you'll find in Maine. But here's the thing: keep your eyes peeled and you'll start to see whoopie pies EVERYWHERE!
Here are the flavors that are more difficult to find, but are delicious and totally worth trying if you come across them:
Pumpkin – In the fall, pumpkin whoopie pies are a popular variation on the classic recipe. The cake is made with pumpkin puree and warm spices like cinnamon and nutmeg, while the filling is typically a sweet cream cheese flavor.
Red Velvet – Red velvet whoopie pies are a southern classic that have made their way up to Maine. The cake is a vibrant red color and has a subtle cocoa flavor, while the filling is a rich cream cheese flavor. Wicked Whoopies in Freeport makes a really good red velvet whoopie pie.
Lemon – Lemon whoopie pies are a refreshing and tangy twist on the classic chocolate recipe. The cake is made with fresh lemon juice and zest, while the filling is often a creamy lemon buttercream or a sweet and tangy cream cheese filling. Lemon whoopie pies are a great choice for those who prefer a lighter, fruitier dessert.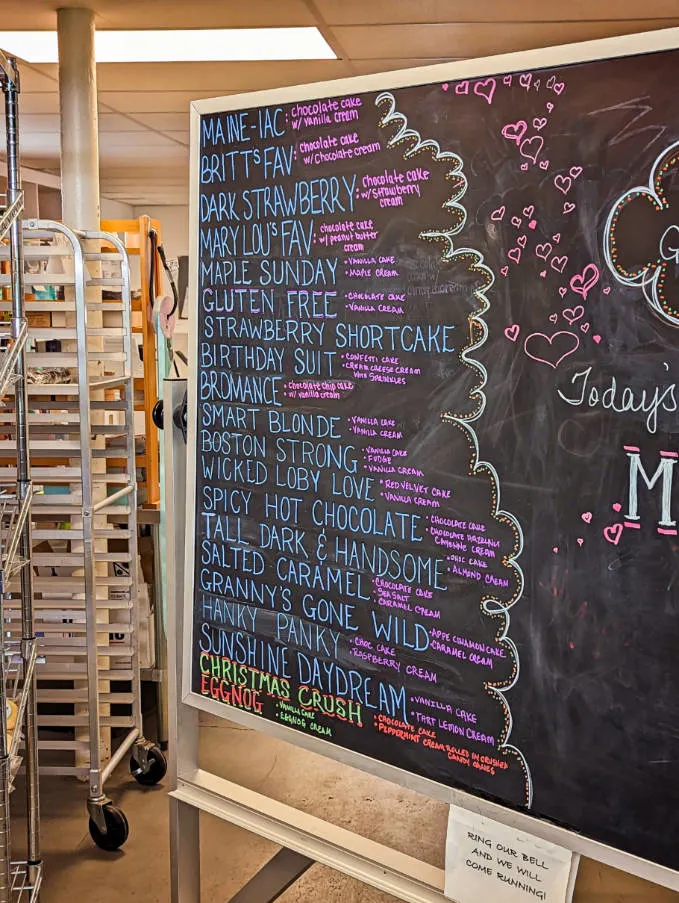 Classic Maine Whoopie Pie Recipe
If you're not a baker you may have zero interest in making whoopies pies like you find in Maine once you get home. BUT if you are up for a task, these actually aren't that difficult to make. Once you start mixing it up with flavors and trying to make them wheat-free or dairy-free you might start struggling, but if you want a good whoopie pie recipe that's not terribly difficult, you're in luck!
I don't share a lot of recipes because that's not something I feel I'm great at creating, but if I'm good at one I'll share it. Besides whoopies, I also make an awesome key lime pie!
Here's a recipe for a classic Maine chocolate and vanilla whoopie pie that's easy to follow and sure to impress (the right people will be impressed). And FYI, eating the finished product looks really uncouth, so always serve it with a napkin:
Ingredients for the chocolate cake (whoopie pie ends):
1 cup all-purpose flour (you don't need cake flour)
1/2 cup unsweetened cocoa powder
1/2 teaspoon baking soda
1/2 teaspoon baking powder
1/2 teaspoon salt
1/2 cup unsalted butter, softened (you can use salted too, but then cut down the actual salt amount)
1 cup granulated sugar
1 large egg
1 teaspoon vanilla extract
1/2 cup whole milk
Ingredients for the vanilla filling:
1/2 cup unsalted butter, softened
1 1/2 cups powdered sugar (confectioners sugar is fine too)
1 teaspoon vanilla extract (or 1/2 and then 1/2 coconut extract)
1 tablespoon heavy cream
Instructions for Baking Maine Whoopie Pies:
Preheat the oven to 350°F and line two baking sheets with parchment paper. **NOT WAX PAPER!
In a medium bowl, whisk together the dry ingredients: flour, cocoa powder, baking soda, baking powder, and salt until well mixed.
In a separate large bowl, cream together the butter and sugar, about 2-3 minutes.
Add in the egg and vanilla extract and beat until fully mixed well.
Gradually add in the dry ingredients to the wet ingredients, alternating with the milk (1/2 cup), and mix until just combined.
Using a cookie scoop or spoon, drop the batter onto the prepared baking sheets, spacing them about 2 inches apart.
Bake for 10-12 minutes or until the edges are set and the tops spring back when lightly touched.
Let the cakes (whoopie pie ends) cool completely on the baking sheets before removing them from the parchment paper.
To make the vanilla filling (it's not really frosting):
cream together the butter, powdered sugar, vanilla extract, and heavy cream until light and fluffy, about 2-3 minutes.
Once the cakes have cooled, spread or pipe a good blob of the vanilla filling onto the flat side of half of the cakes. **DO NOT DO ALL!!!!
Top each filled cake with a second cake, pressing down slightly to adhere the two pieces together. BOOM! You've made Maine whoopie pies!
Serve immediately or store in an airtight container at room temperature for up to 3 days. The fresher the whoopie the better, but if you're able to not eat them all on day one, they'll still be tasty for a few days. Enjoy your delicious homemade chocolate and vanilla whoopie pies!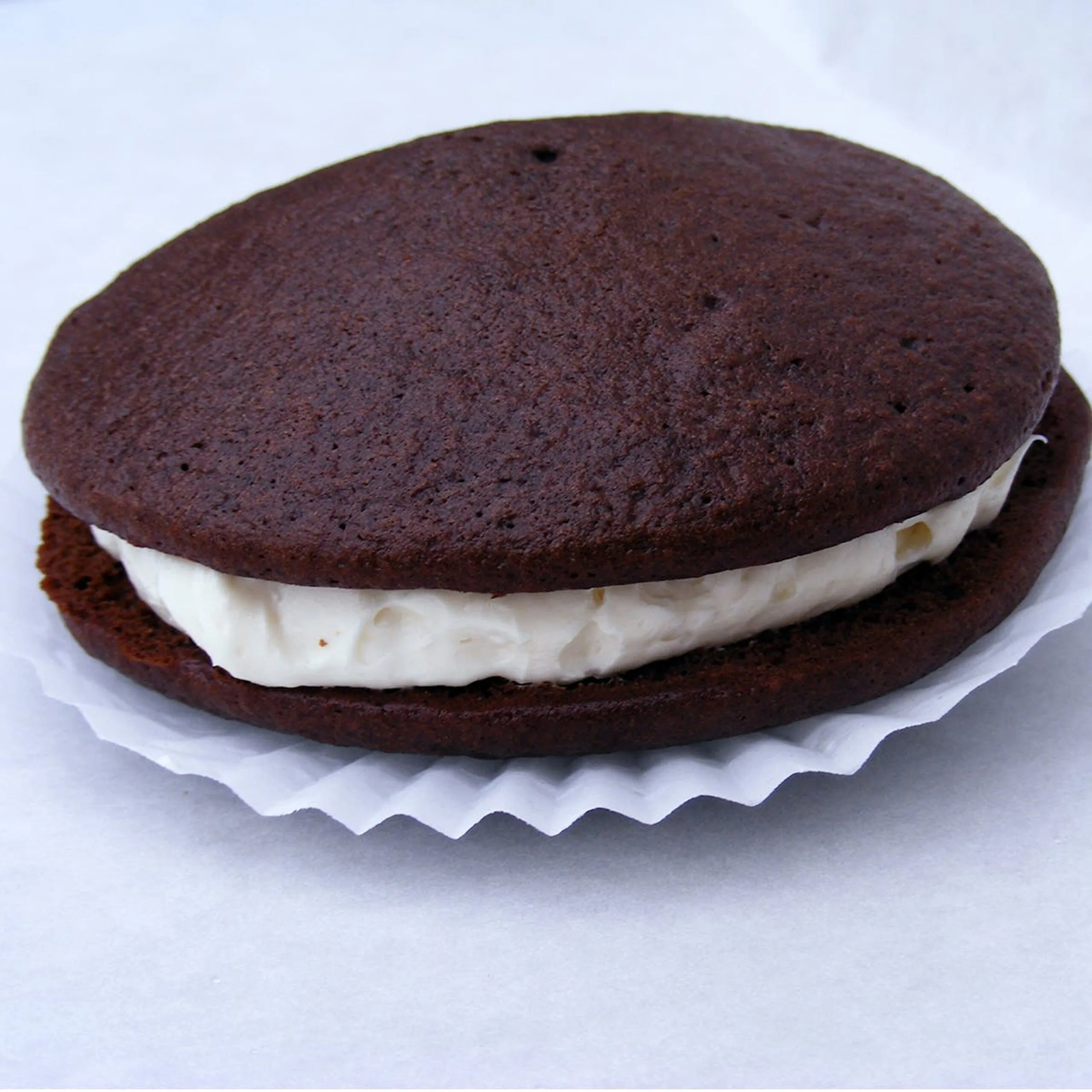 Was this all way more information about whoopie pies than you though you needed or cared for? Sorry! We love having whoopies pies as on-the-go desserts when we travel, and getting to try them with each visit to Maine we love them more and more.
If you have any questions about traveling in Maine, about whoopie pies and how to make them, or want to share your own tips, please leave a comment or send a note. We're always happy to share more!