We've spent lots of time in Portland and the surrounding area, so we've got lots of great ideas for fun things to do in Portland, Maine with kids. Whether you're visiting Maine in winter or you've added time in Portland to your Maine summer road trip, pick a few of these fun activities to add to your travel plans.
While there are plenty of fun things to do in Portland, Maine proper it's worth adding visits to South Portland and Cape Elizabeth to your time in Portland. Also, popping up to Freeport is a great idea too, as it'll show you a different side of Southern Maine before getting to MidCoast. Even in winter there are plenty of things to do in Portland, so don't write it off if you find yourself heading to the Northeast in the snowy season.
If you have any questions about the many things to do in Portland or want to share your own recommendations, please leave a comment or send us a note. We're always happy to add to what we've got and love helping other plan fun travels to Maine!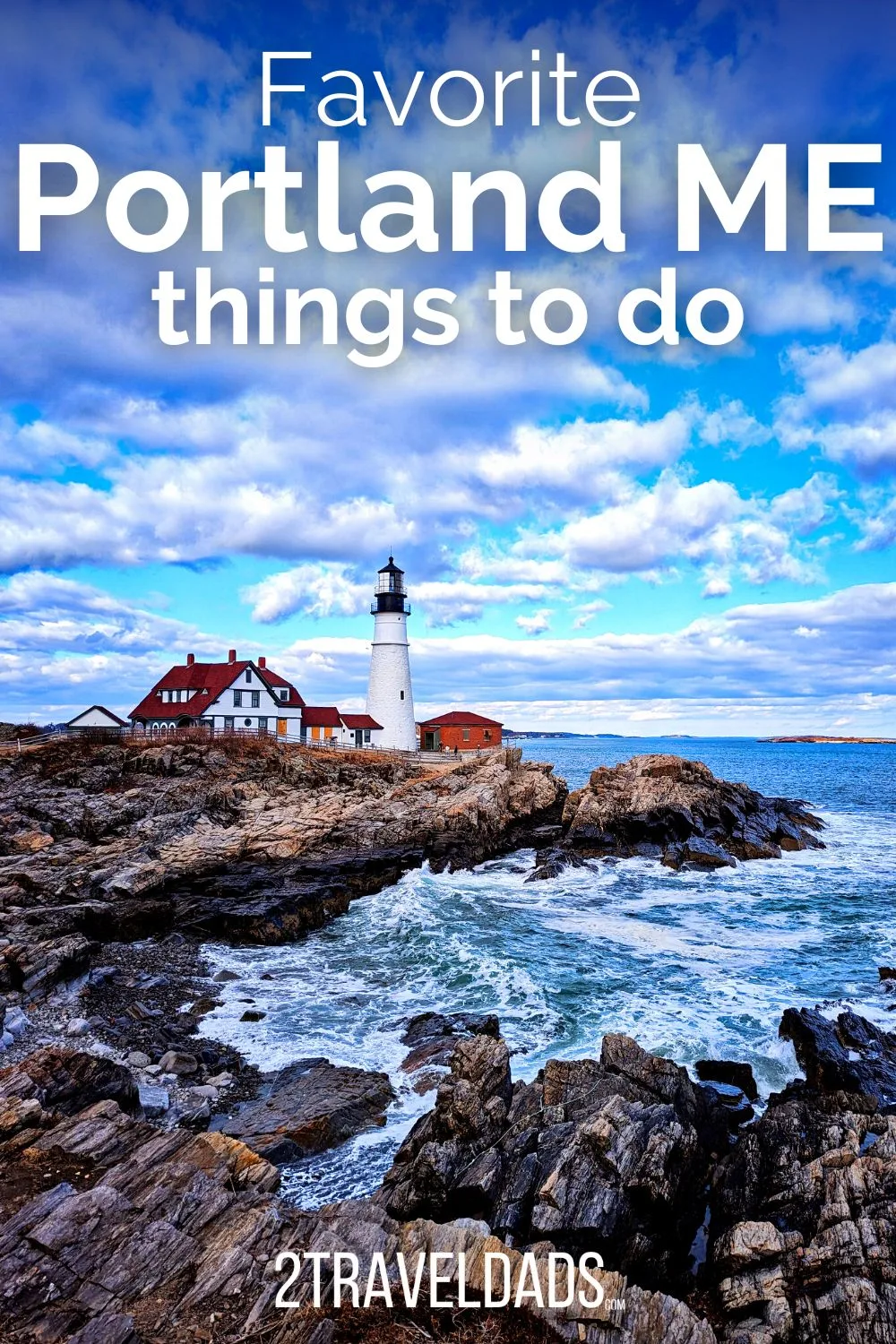 Best Things to do in Portland, Maine with Kids
We usually start our trips to Maine with a day or two in Portland. It's a pretty city in a beautiful setting on Casco Bay, and we love the restaurants. Since it's not a huge city, many of the best things to do in Portland are in or very near the downtown core. The historic Old Port is just down the hill from the more modern part of the city, so much of what you'll be doing in Portland is walking distance from where you stay or other activities.
Explore the Old Port
Located on the waterfront, the Old Port area is a collection of wharves, old industrial buildings, antique fishermen alleyways and more. I love it, and it's full of murals these days too! Take time to wander through the historic Old Port district with its cobblestone streets, boutique shops, art galleries, and delicious seafood restaurants. This is one of the best things to do in Portland and kids love the vibe here!
Visit the Portland Museum of Art
You know we're always going to recommend visiting an art museum whenever you're in a new town. Located in the Southwest part of downtown, the Portland Museum of Art is the largest art museum in Maine, with a collection of more than 18,000 works of art. The museum's current special exhibits (2023) include Outside the Frame: Todd Webb in Africa, Elizabeth Colomba: Mythologies and American Perspectives. The rotating exhibits ensure there's always something new to see.
When you visit the Portland Museum of Art, be sure to check out as many of their highlights as possible. They have a great permanent collection, including quite a few famous artists (including my kids' favorite, Van Gogh). The museum's collection includes American, European and contemporary art, but the highlight, for us, really is the Maine art. This collection is very unique and captures the spirit of Maine very well.
Take a Brewery Tour
Portland is known for its craft beer scene. Tour some of the city's famous breweries like Allagash Brewing Company and Shipyard Brewing Company.
Museums and Art Galleries
In addition to the Portland Museum of Art, there are several other cool museums in town. A top pick for literature lovers is the Wadsworth-Longfellow House to immerse yourself in writing, the city's history and New England culture.
Cruise Casco Bay
Take a boat tour to explore the islands of Casco Bay, go whale watching, or just enjoy a relaxing harbor cruise.
Try Lobster Rolls
Maine is famous for its lobster rolls, so don't miss the chance to try one at a local seafood restaurant. My favorite lobster roll in Portland is at the Porthole Restaurant down on the water. The vibe is fun and the portions are great. I like their specific lobster salad mix that's perfectly creamy, meaty and savory.
Visit the Portland Observatory
This historic tower offers panoramic views of the city and the harbor and is a fascinating piece of maritime history.
Stop into the Portland Farmers' Market
If you're in town on a Saturday morning, head to the farmers' market for fresh, local produce and artisan goods.
Take a Food Tour
Explore Portland's food scene with a guided food tour, which will introduce you to the city's culinary delights. And if you do a food tour that DOESN'T take you by Duck Fat, you need to visit it on your own, because it's my favorite restaurant in Portland, Maine.
Hike in the nearby parks
Take a short drive to nearby state parks like Bradbury Mountain State Park or Wolfe's Neck Woods State Park for hiking, picnicking, and wildlife viewing.
Visit a Historic Cemetery
Fun things to do in South Portland and Cape Elizabeth
Visit the Portland Head Light
This iconic lighthouse in Fort Williams Park offers breathtaking ocean views and is a perfect spot for a scenic walk or picnic.
Fort Williams Park
Explore this beautiful park, home to the Portland Head Light, as mentioned above, and enjoy the scenic walking trails and historical sites.
Two Lights State Park
Discover the rugged coastline, picturesque cliffs, and two historic lighthouses known as "Two Lights" in this state park.
Crescent Beach State Park
Relax on the sandy shores of Crescent Beach and take in the views of the Atlantic Ocean.
Great Pond Trail
Hike or bike this picturesque trail that winds through lush forests and offers glimpses of Great Pond.
Dine at the Lobster Shack
Enjoy a classic Maine lobster meal at the iconic Lobster Shack at Two Lights, known for its delicious seafood and stunning oceanfront views.
Freeport, Maine Things to Do
LL Bean Flagship Store
Explore the enormous LL Bean flagship store, open 24/7, and shop for outdoor gear, clothing, and more.
Wolfe's Neck Woods State Park
Enjoy hiking, picnicking, and birdwatching along the Casco Bay coastline at this state park. This is one of the main places people go to watch for the Steller Sea Eagle each winter when it visits, flying all across Canada until it lands in Maine.
Visit Desert of Maine
Experience a unique natural phenomenon as you explore the sand dunes and learn about the history of the "Desert of Maine."
Freeport Historical Society and Harrington House
Learn about Freeport's history and visit the Harrington House museum for a glimpse into the past.
Eat Whoopie Pies!
We love whoopie pies and enjoy them everywhere we can in Maine. Wicked Whoopies in Freeport is both one of the best places for whoopie pies AND a fun photo op with kids.