Staying at the Hilton Marco Island Beach Resort is the perfect way to chill out on a getaway to the Gulf Coast. Having nice rooms with absolutely gorgeous views AND direct beach access, it's an ideal vacation hotel for families or couples. We've got all the info on the resort, what we enjoyed at the hotel, and ideas for things to do on and around the island.
NOTE: as of early October 2022 the Hilton Marco Island is closed. We shall update this article as soon as their reopening date is confirmed.
First off, have you been to Marco Island before? If not, let me fill you in. It's a small collection of islands and waterways at the southernmost end of Florida's West / Gulf Coast. It's a combination of a resort town and an actual residential community. We love it and will happily return any time.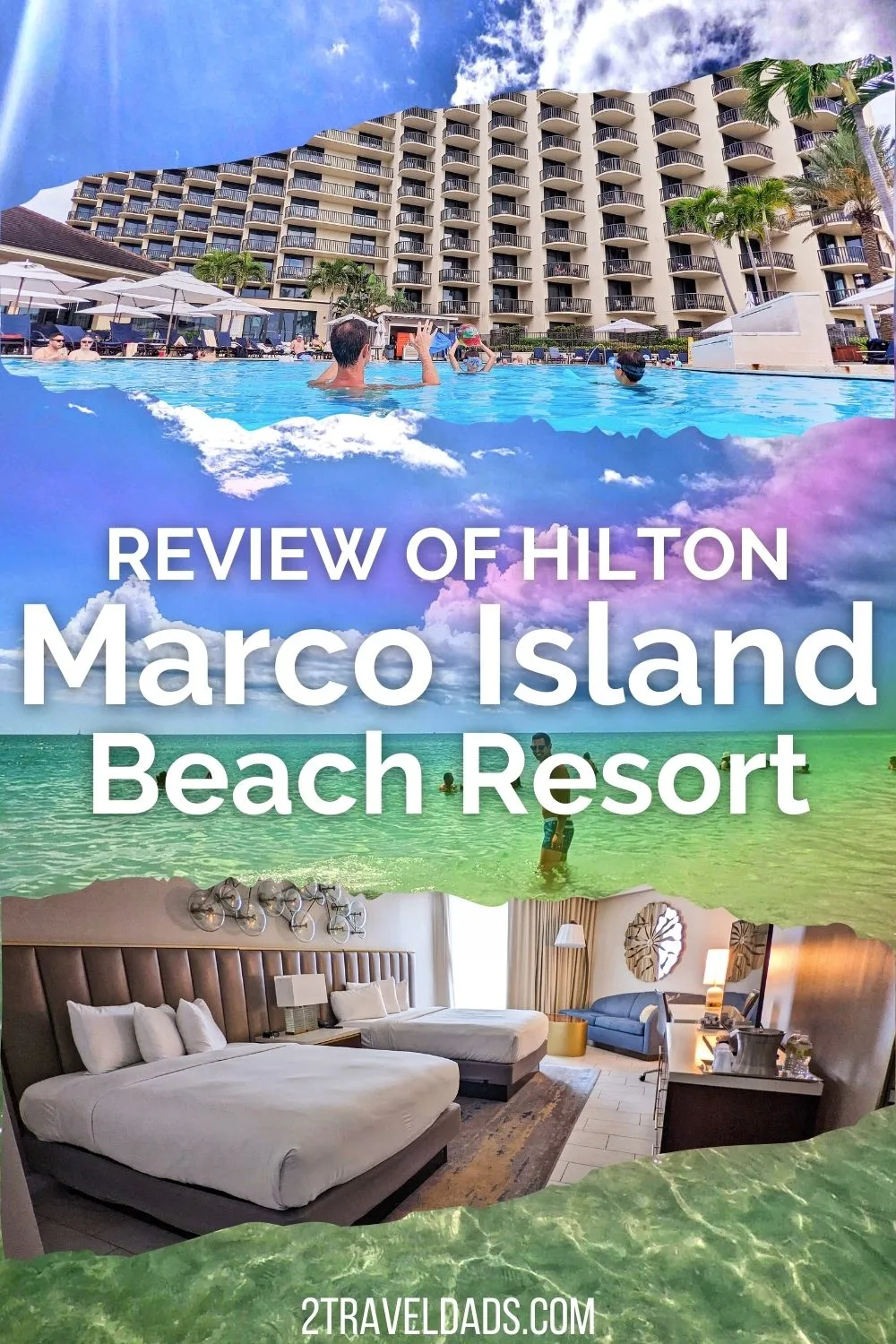 What Are the Accommodation Options at the Hilton Marco Island?
The Hilton Marco Island Beach Resort doesn't have a wide variety of room types, but you'll find that even the basic standard room is plenty spacious. The decor is beach-meets-mid century-modern, and the property is upkept very well. The grounds have quite a few garden spaces, and even rooms on low floors have nice views.
When it comes to the room types and layouts, you'll find three primary choices. The different room types at the Hilton Marco Island are:
King Room
King Two Room Suite
Two Queen Room
What differentiates these rooms is whether or not they have a full ocean view, partial ocean view or if they are poolside. Nearly every room has an ocean view (the hotel was designed this way) so you're not going to be stuck looking at a parking lot from any room you book.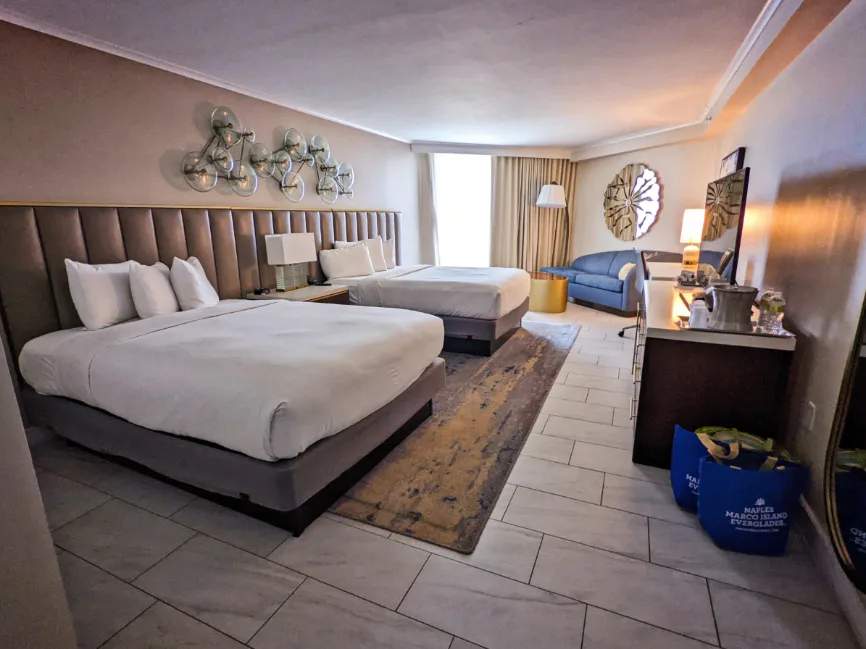 Top Pick: Any Full Ocean View Room
Whether you're on the 4th or the 14th floor, the views are awesome. If you're on the south side of the tower you look out at the beach and Gulf of Mexico, with a few other resort hotels within view. Rooms on the north face of the tower look out at the pool area and then beyond to the beach and Gulf. Sunset from any of the Full Ocean View rooms is beautiful.
All rooms have balconies, so if you love to relax between pool and beach time, you'll find there's enough space on the balcony to chill and enjoy the mellow Gulf Coast vibe.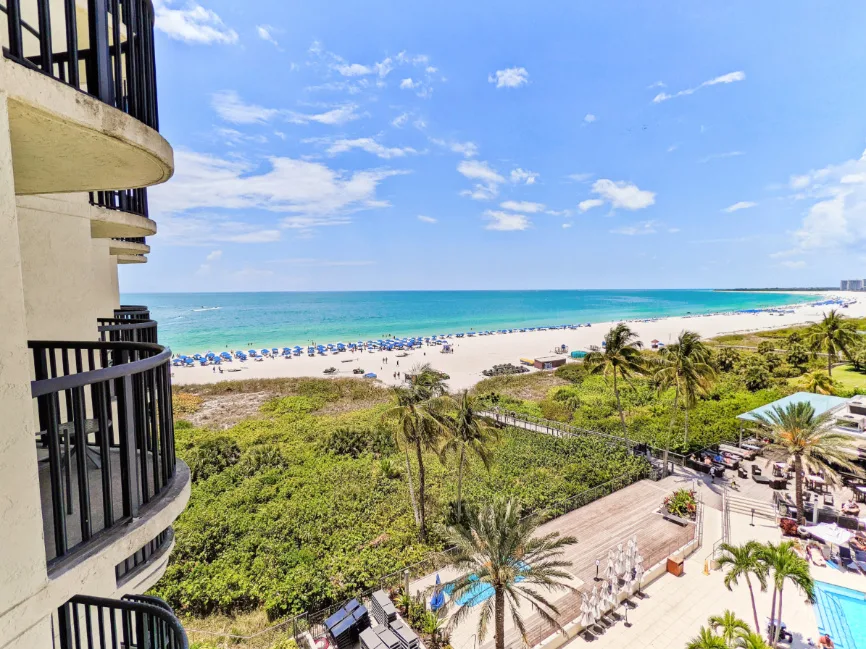 Check in / Check Out at the Hilton Marco Island
The main lobby of the Hilton Marco Island is very crisp and clean, with ample check-in stations for a speedy entry. The hotel does offer keyless entry via the Hilton app or you can request plastic key cards.
You'll also be told about the resort fee during check in. This covers your beach chair use, pool towels, gym access… Since the lobby itself is open to the public, guests staying at the Hilton Marco Island will be given wrist bands to signify that they should have access to the lounge chairs around the pool, and the boardwalk to the beach.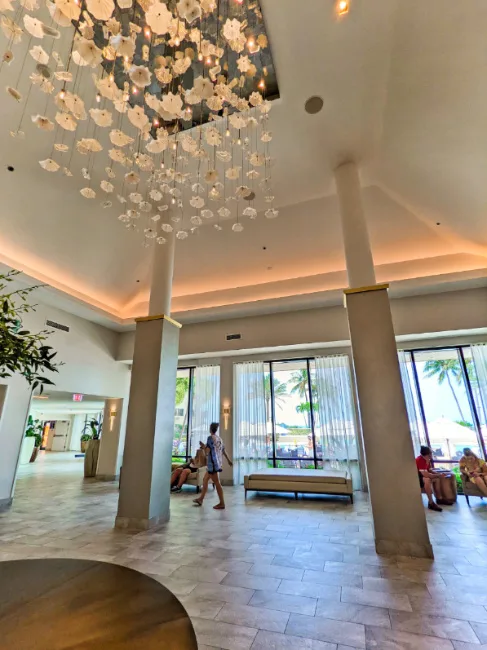 Hilton Marco Island Resort Amenities
We really love staying at resorts because they're much more than standard hotels. The Hildon Marco Island is definitely MORE than a hotel: it's a vacation destination that you don't have to leave if you don't want to. Upon check in, you'll receive bracelets for all guests over 13 that are to be worn when by the pool or when using the hotel-provided beach equipment. You'll also get towel cards at check in which are for the poolside towel service.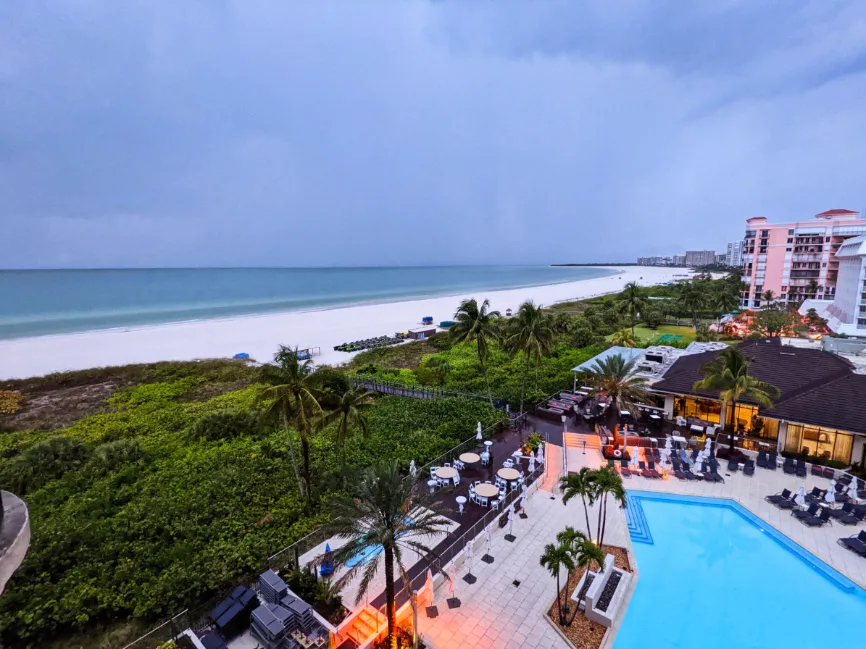 Resort Pools
There is one swimming pool at the Hilton Marco Island Beach Resort and Spa. It's HUGE and is chevron shaped, so there is plenty of space to relax in or out of the pool. There is also a large hot tub area just above the swimming pool. There are benches built into half of the pool wall making it easy to relax and simply vege out with a beverage.
Towel service is provided poolside. They operate off a towel card exchange system, so be sure to bring your cards with you when it's pool time. If you didn't get towel cards upon check in for some reason, tell the attendant or just stop back by the front desk. They want you to be able to relax with ease, so there is no fuss if you forgot them when you left your room.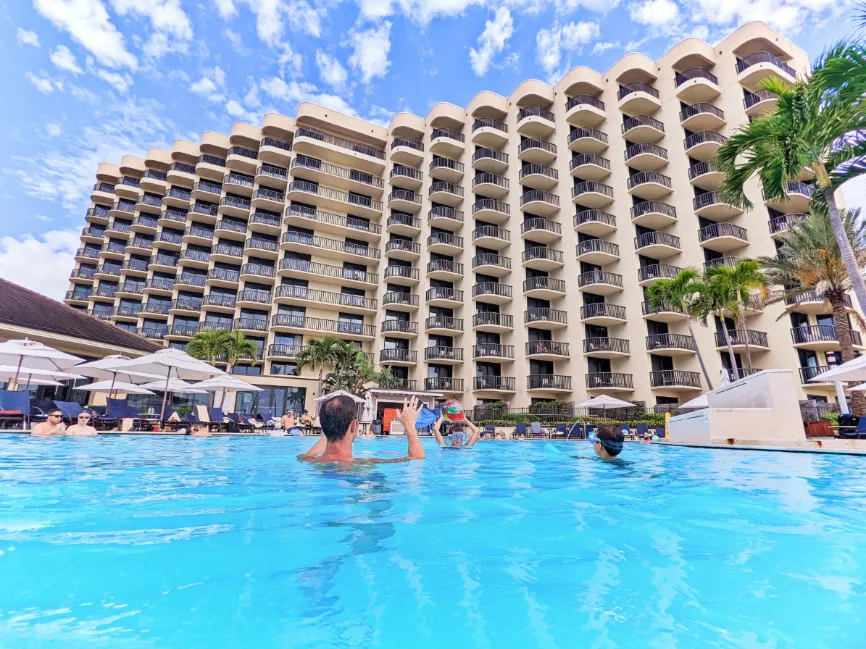 Beach Access at the Hilton Marco Island
Of course you have beach access! From the hotel, there is a boardwalk across the dense vegetation of the dune. From there, the shell-covered sands stretch to the north and south. On the beach, there are lounge chairs and umbrellas for guests. Be sure to wear your wristband and talk to somebody at the beach hut, as they'll get you setup with a nice, shady beach space.
At low tide there is a nice sandbar that's perfect for having splashing time with kids, and at high tide the waves stay pretty mellow but come up higher. There are often dolphins just off the beach, as well as lots of fish in the surf. It's an awesome spot; one of the best Gulf Coast beaches!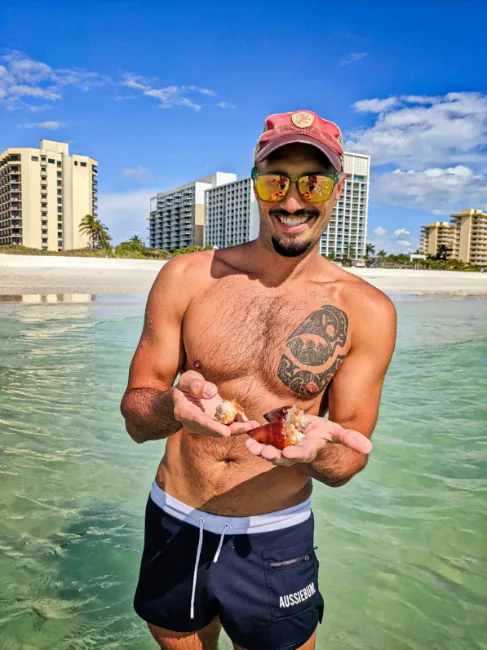 Fitness Center and Spa
Yes! There is a fitness center on the property and it's a nice one! Fully equipped with GOOD weights, cardio equipment, space for stretching and yoga, and mirrors, it is one of the better hotel gyms we've experienced. It requires a key card for access, so be sure you have it with you when you leave your room.
If a resort gym is important to you, check out the Naples Grande Beach Resort too. They have an 8000 square foot gym!
There is also a full service spa adjacent to the fitness center. They do pretty much everything you expect from a high end spa:
Massages
Facials
Body scrubs
Waxing
You'll also find an outdoor spa hot tub garden that is only for guests using the spa for treatment appointments. It's really quiet and beautifully set away from the rest of the property. Nice and private!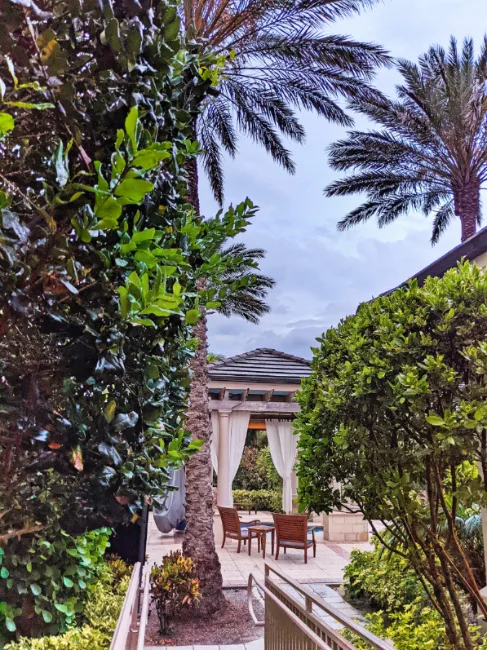 Dining at the Hilton Marco Island Resort
There are three dining options on property at the Hilton Marco Island: a nice, sit-down restaurant, a grab-and-go cafe, and a bar with a poolside counter. Since this hotel isn't as large as some of the other resorts on the Gulf Coast beaches, the three restaurants are plenty for taking care of the number of guests.
The Deck at 560: Top Pick at the Hilton Marco Island
The Deck at 560 is the sit-down restaurant at the Hilton Marco Island. It's got both indoor and outdoor seating with a very large deck looking out towards the water. It's also got a full service bar and lounge area.
The snapper was delicious, as were the "lollipops," which are small drumsticks similar to wings. There is also a kids menu for each meal time.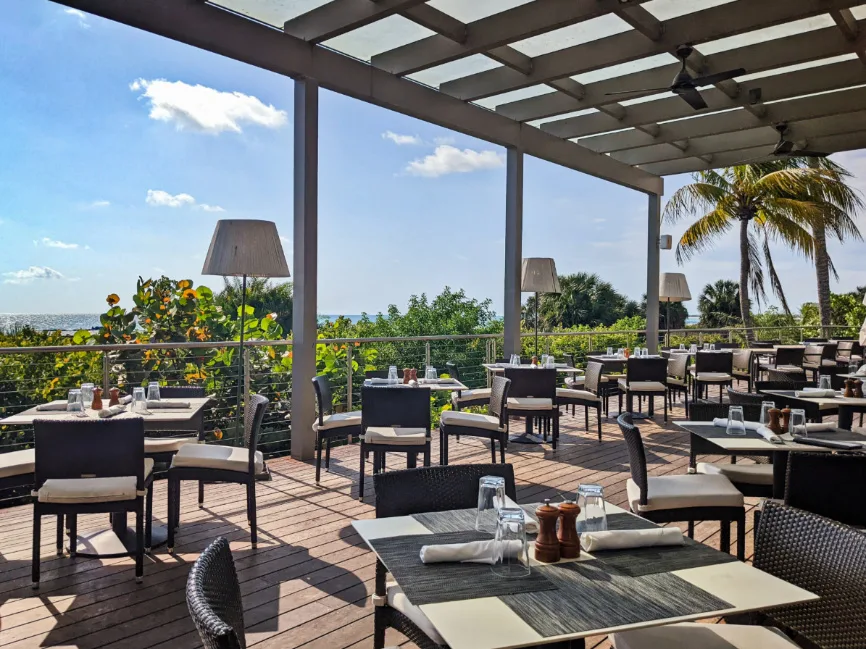 Easy Meals and Coffee at 560 MKT
Right next to the Deck at 560 is the marketplace. With a large selection of snacks, grab-and-go sandwiches, salads and breakfast options, it's a great choice for laid back meals if you don't want to leave the property. We got sandwiches for one of our days out on the water, and the overall quality and flavors were solid.
Cocktails at Bar at 560
There are a few ways to enjoy the Bar at 560, as it's an indoor/outdoor bar. You can enter through the hotel lobby and sit at the bar, you can walk up and grab your own beverages for wandering around or sitting outside, or you can just chill by the pool.
Poolside Service is offered from the Bar at 560. There are staff walking around to provide service at your seat (gratuity is added) or you can walk yourself up to the outdoor bar access counter.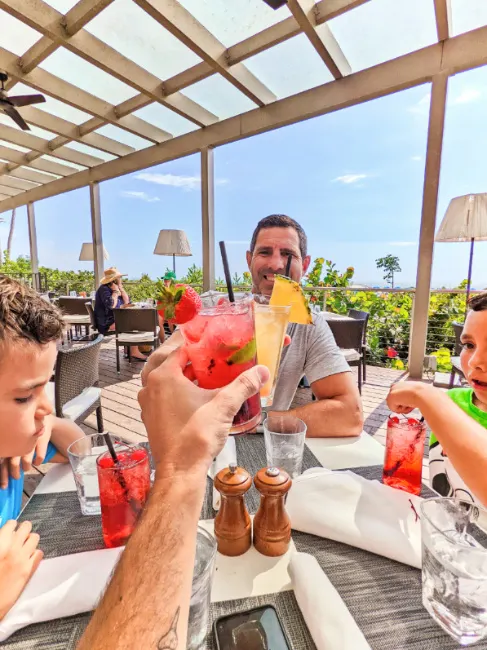 Stores on Site at the Hilton Marco Island
There is a souvenir shop / sundry store on property. It is located between the lobby and the main hotel tower. They've got everything from sunscreen to shirts and dresses. If you need snacks or beach games, they've got them here too. It's more than a standard sundry shop, but is much more like a gift and clothing store.
Where is the Hilton Marco Island Beach Resort?
If you're not familiar with Marco Island already, it's the southernmost town along the Florida Gulf Coast. The "island" includes the Isle of Capri area, the main island town space, and the smaller islands along Caxambas Pass/Bay. The Hilton Marco Island is at the southern end of the main island area. All around the town and neighborhoods is nature, both the famous Rookery Bay Estuary and the 10,000 Islands area of the Everglades. It's beautiful on all sides.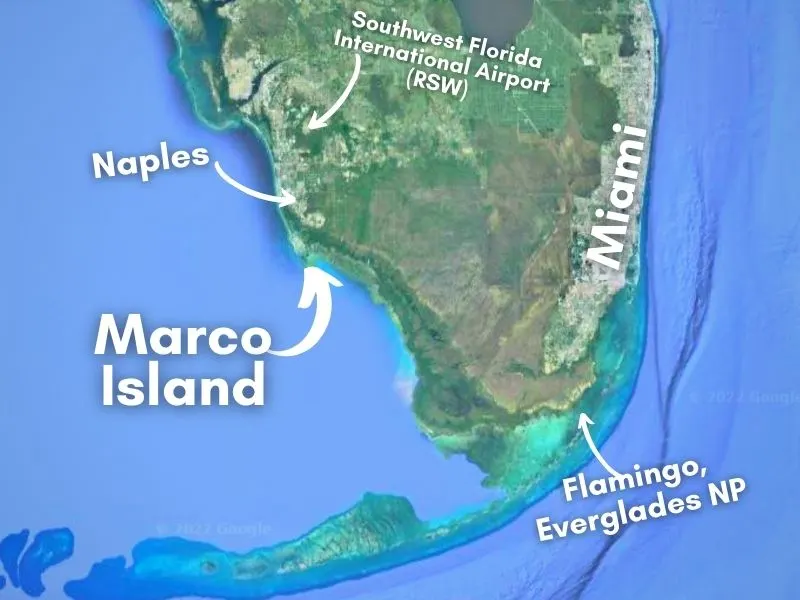 Transportation To and From Southwest Florida International Airport
It's 45 miles from Southwest Florida International Airport (RSW) to the Hilton Marco Island Beach Resort. It takes about 45 minutes to drive. You could use a car service or rideshare, but it'll be about the same cost as renting a car yourself for the duration of your stay. Yes, you'll need to pay for parking daily ($25/day as of May 2022), but if you do the math, the cost of airport transportation and rides around Marco Island will run you nearly the same as having a rental.
Can I Walk from the Hilton Marco Island to Marina?
Most people visiting Marco Island plan to get out on the water in one way or another. There are several marinas and tour departure points around the island, but a main depot, the Caxambas Boat Park, is only about a 15 minute walk. This is a cheap Uber ride too if you like. From the Caxambas marina you can find tours for Rookery Bay Estuary, 10K Island, Cape Romano, and lots of kayaking and jet ski tours.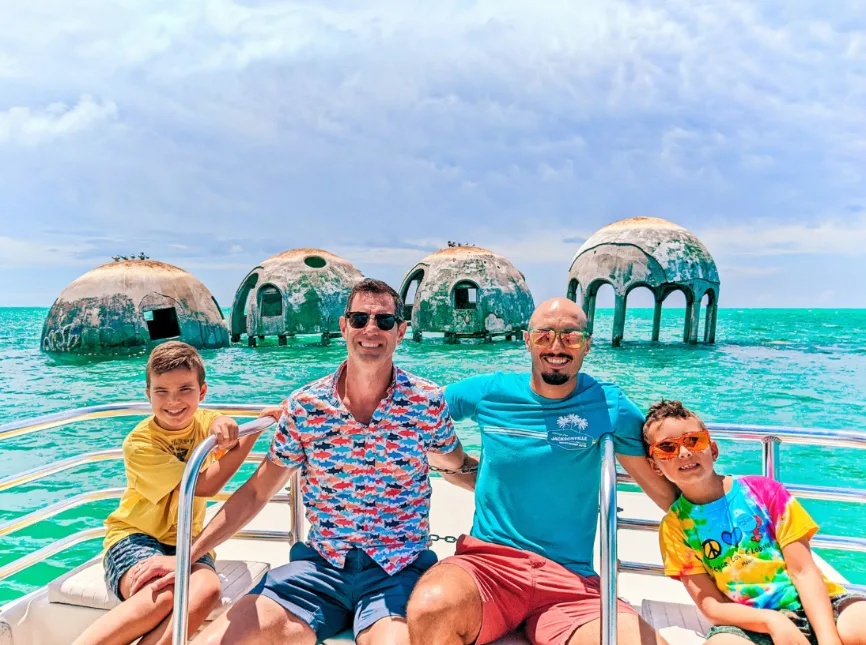 Parking Details at the Hilton Marco Island
Parking for hotel guests is either self-park or valet. It is exposed parking (not in a parking garage) but also is controlled-access with a gate attendant. The parking area is right next to the hotel entrance, so unless you arrive at the hotel and there's a big event, you won't have to park far from the hotel lobby.
The cost of daily park is $25, and $35for valet.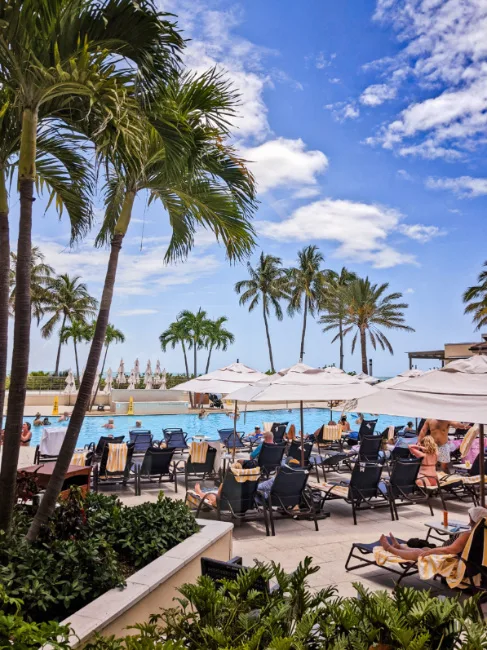 Ten Fun Things To Do Around Marco Island
I do love it when we check into a resort or hotel and don't have to go anywhere because we're able to both have fun AND relax, which is totally the case here, but it's really great to have a plan for exploring. There are lots of things to do both on Marco Island and the surrounding area.
Note: Hurricane Ian was HARD on Naples and Marco Island. Both locations suffered a lot of damage and many businesses were either destroyed or hit hard. While recovery efforts for some have been swift, others didn't fare as well and it will take time to get back to normal, or to their new normal.
Here are 10 fun, easy things to enjoy on a visit to Marco Island
Beach time – of course you're going to have beach time for swimming, relaxing and beach combing. So many shells!
Kayaking in mangroves of Rookery Bay – this protected area is full of wildlife and is really cool to paddle at sunset.
Do a boat tour – you can go on a dolphin cruise or do a tour out to the mangrove islands of the Everglades. NOTE: the Dome Homes of Cape Romano, which was a unique feature of this part of the Gulf Coast, are no longer in existence following Hurricane Ian.
Visit Everglades National Park – whether you're kayaking in the 10,000 Islands area or going further inland to the Shark Valley area, it's a fun and unique National Park to visit.
Explore Big Cypress National Preserve – 20 minutes from Marco Island is the first part of this National Park Service site, and there's SO MUCH WILDLIFE.
Do a day trip up to Naples – the sister town to Marco Island, Naples is a bigger city with different activities and more beaches.
Visit the Naples Botanical Garden – even if you don't want to do a day up in Naples, the Botanical Garden is beautiful and impressive. It's worth its own trip.
Do an airboat ride in the Everglades – there are airboat tours both in Everglades National Park and through the River of Grass areas to the north of Highway 41. Really fun with kids!
Learn something new at the Rookery Bay National Estuarine Research Reserve education center. With touch tanks, exhibits and nature trails, this is a great spot to visit with or without kids.
Pool time – it's easy to add pool time to any day's plan, and if you're traveling with kids it's a great activity to save as a treat for when you return to the hotel.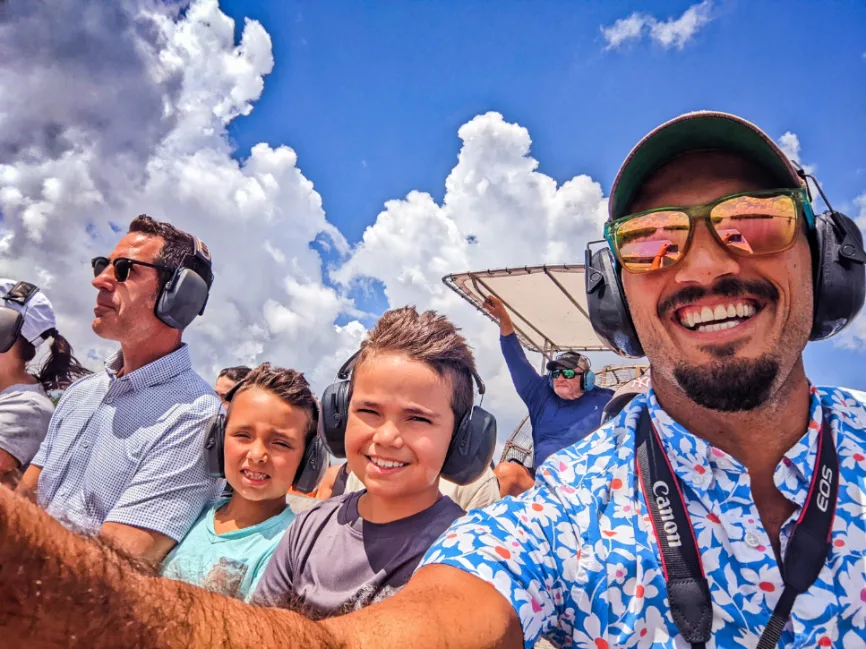 We really enjoyed our time at the Hilton Marco Island Beach Resort, clearly. Between the excellent accommodations and service, and then the amazing location where the Gulf of Mexico meets the Everglades, it's a wonderfully unique vacation or weekend getaway destination. Book it here!
As always, if you have any questions we didn't answer, please leave a comment or send us a note. We're here to help you plan an awesome trip!