We love to find places that everybody talks about but nobody knows the cool stuff you can do there. One such place is Palm Springs, California. I mean, everybody goes there for a nice weekend or a relaxing vacation, but besides golf, gay bars and swimming pools, what is there? The ACTUAL Palm Springs!! Agua Caliente Indian Canyons is the reason for the name, and hiking in Palm Springs is awesome!
Have you been to Palm Springs and done the oasis hikes at Indian Canyons or out at the Coachella Preserve and know what we're talking about? Been thinking about a visit maybe but didn't know what to do beyond golf and shopping? Well, let us give you some motivation to make a weekend trip out of it or at least get you away from the pool for a few hours.
Note: following the intense rains of Tropical Storm Hillary, please confirm all hiking trails in Palm Springs, and in particular the Canyons, are safe and open. The desert isn't used to rain like this storm brought.
---
Check out our complete guide to spending a weekend in Palm Springs!
---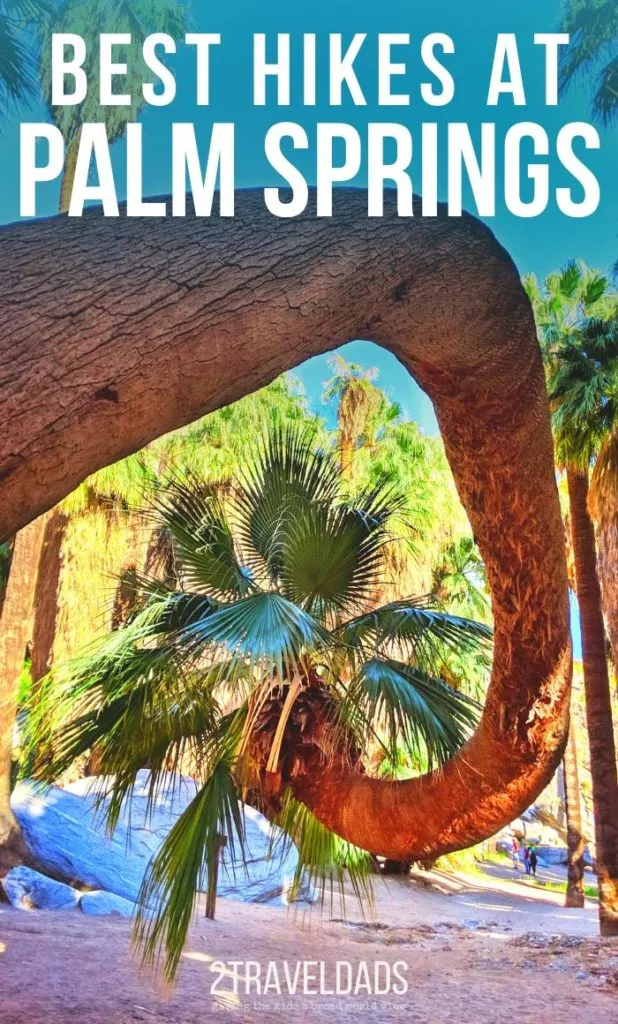 Visiting Palm Springs and the Indian Canyons
A two hour drive from Los Angeles, Orange County or San Diego, Palm Springs lies to the east of the coastal cities. You'll have to pass through Riverside or Ontario, so plan for city traffic on your drive… or you can just take a short flight from any of the Southern California airports. Actually, most West Coast airports have direct flights into Palm Springs.
Once you're in town, drive right through to the end and follow the signs for Agua Caliente Indian Canyons. After about ten minutes you'll be at the park entrance. Pay your fee and pick where you'd like to begin, then enjoy hiking Palm Springs and all its glory.

When to Visit Palm Springs for Hiking
One of the great things about Palm Springs is that hiking is open year round, but if you're going in the heat of summer, it'll be much more intense than you expect. We recommend hiking in Palm Springs in late fall or spring. The temperatures are much more bearable and the number of tourist is much smaller.
A bonus about visiting in spring is getting to see the desert in bloom. Depending on the wetness of the winter and how many seeds were able to take hold, the California super bloom is remarkable. We've been hiking in Palm Springs and at Joshua Tree National Park for it, and both locations were stunning. If you head north from Palm Springs, you come to 29 Palms and the entrance to Joshua Tree National Park. If you can plan your trip during a super bloom, do it!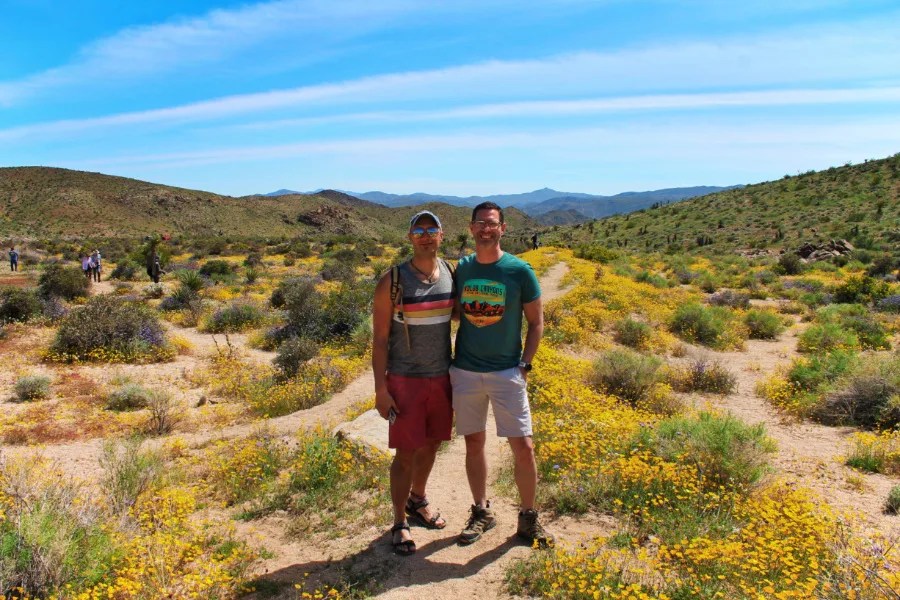 How to add a Palm Springs Hiking Day to Your Travel
Many people plan trips to Southern California for activities like Disneyland or spending time in San Diego, and even though it seems like Palm Springs is far from either spot, if you get up early you can easily plan a day trip to visit Palm Springs for hiking and great food. You don't even have to spend the night.
If that's your plan, just a day trip, really, you do need to leave very early because the traffic in Southern California is no joke, and also you'll want to be on the trails before the heat of the day.
Travel idea: if you're doing our Mountain National Parks road trip, you can add things like hiking Palm Springs and visiting Joshua Tree National Park to the plan by cutting a day from time in Yosemite or Crater Lake. Or just add onto your trip!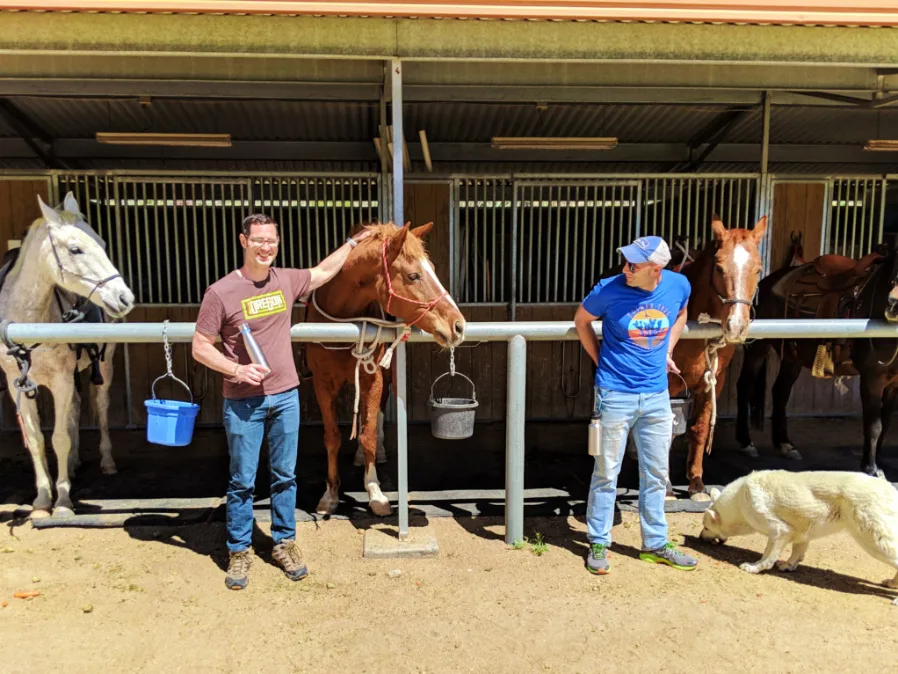 And if you need to price out a hotel for your visit to Palm Springs…
Hiking Palm Springs in the Indian Canyons
So, most people visiting Palm Springs don't realize that there is a reason it's called "Palm Springs." Deep in the Indian Canyons of Agua Calientes there are mountain springs that feed into beautiful palm oases. The streams are cold and perfect, the vegetation lush…and above it is the desert, full of cactus and scorching sun.
Note: "Oases" is plural of the word "oasis." An oasis is a fertile spot in the desert where water is found. And here in the canyons of Palm Springs, the water FLOWS!
Prepping for Hiking in the Desert
It goes without saying that you'll need to bring lots of water when you go hiking in Palm Springs. Hiking in the desert, even down in the oasis of the canyons, is hot. The wind when you're on the rim of the canyon has quite the drying effect and you'll notice it quickly. If you don't have a Camelback or similar water-pack product, this is the hike to make you buy one.
---
We have THIS PACK now, purchased after hiking in Palm Springs and NOT being prepared.
---
Also, don't forget your sunblock and other forms of sun protection. Here's the list of what you'll need:
Really, when you're hiking in Palm Springs, the main things to remember are to be prepared and to monitor yourself to make sure you're staying healthy. Heat can do weird things to people, so be smart.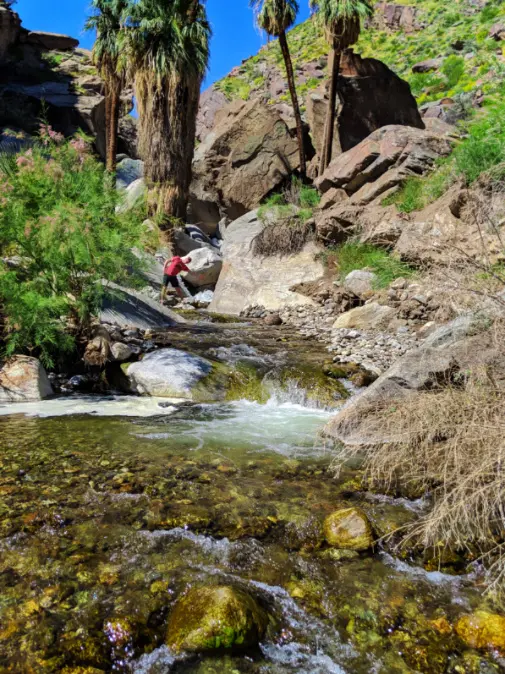 Hiking Palm Canyon trail at Palm Springs Indian Canyons
The best hike in the Agua Caliente Indian Canyons park is the Palm Canyon trail. We like this particular hike because it gives you the best snapshot of the oasis paired with the high desert. You get to experience cactus and also cool off in the actual palm oasis. This is the hiking in Palm Springs that you MUST DO! And this is great if you're in Palm Springs with kids.
There are two ways to approach this hike through the Palm Springs Indian Canyons: starting on the high trail around the canyon rim or heading down into the valley. We'd recommend starting on the canyon rim because you'll be more thankful for the shade and cool springs when you get to them. Alternatively, you can go on a hiking and biking adventure with a professional guide and enjoy scenic Indian Canyons.
Tip: get a trail map in the little store and ask them to point you towards the highest water levels. You know, get the most splash for your buck.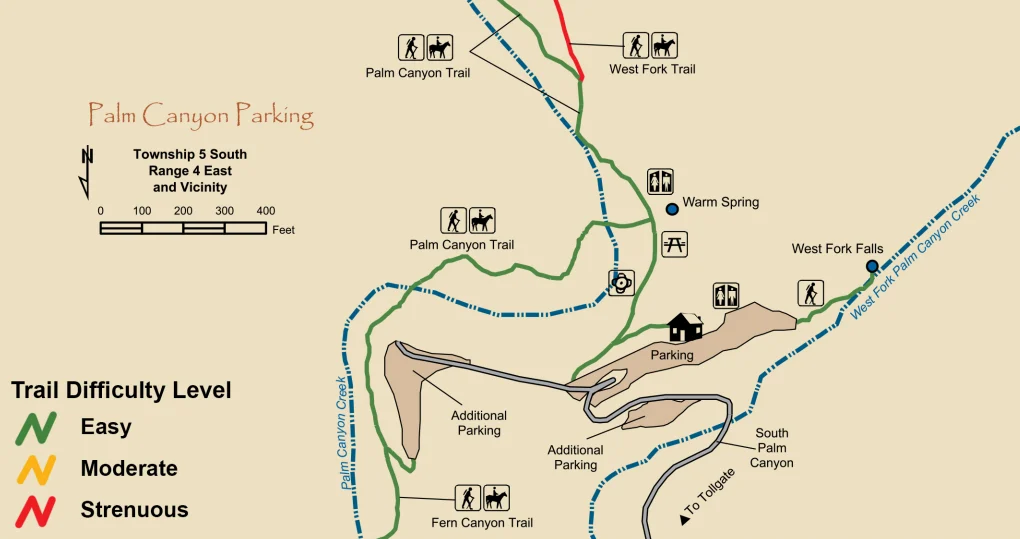 Hiking the High Desert at Indian Canyons
Hiking at Indian Canyon is unusual and going along the rim, above the palm spring oasis is really beautiful. The views of the various springs in the canyons are fascinating, especially considering how lush the oasis are compared to the high desert you're hiking through.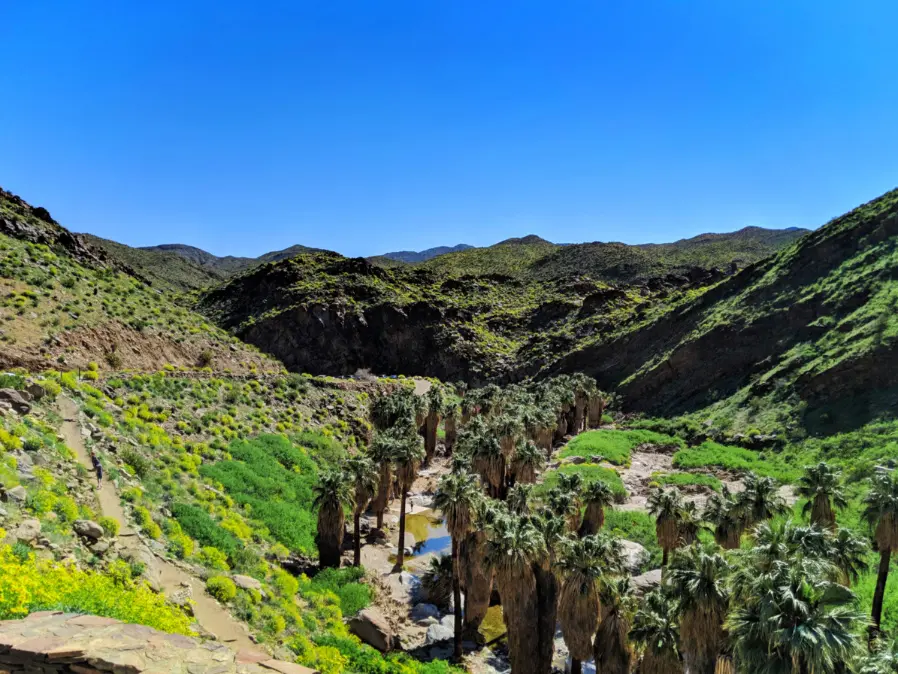 The variety of cactus you'll encounter is also surprising. If you can plan your trip just right to hike the Palm Springs Indian Canyons on an early spring morning, you should be able to catch some gorgeous cactus blooms (many open up at night). And if you're super lucky, you might even be there during a super bloom following a very wet winter.
Hiking in the desert is fun and much different than our usual mountain hikes. Stay hydrated and keep your camera out and you'll for sure have a good time. And if it gets windy, be sure you're wearing sunglasses because the dust can kick up and you don't want to get it in your eyes. You can either hike back from here or descend onto the Palm Canyon trail below.
Tip: the earlier in the day or much later in the afternoon you can do the canyon rim, the better. The light won't be directly overhead and photographing the canyons and cactus will be much easier.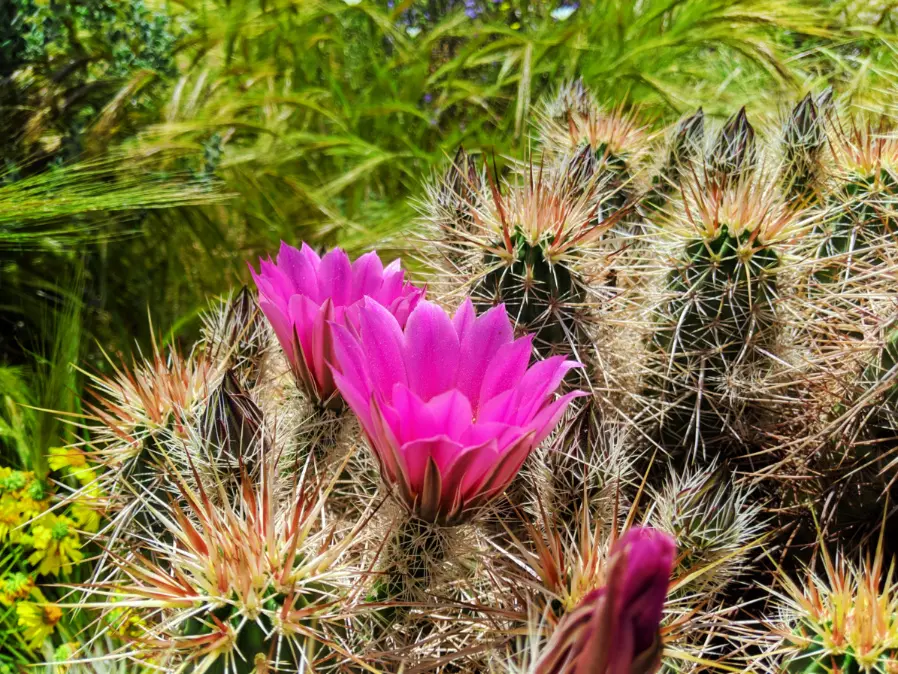 Hiking the Palm Canyon Oasis
We had no clue what to expect when we first got to the top of the Palm Canyon trail; it was truly magical from the get-go though. As you descend into the canyon the palm springs oasis overtakes you. Literally, you're hiking in a palm forest and it's like another planet.
The trees are tall or bendy, the rocks are worn and smooth. Palm fronds cover the ground except where they've been removed by park staff or carried away by rain storms. Sandy drifts line the stream beds, making for perfect spots to lounge and rest after a tiring, hot hike. It's just perfect. Hiking in Palm Springs is one of our favorite California activities.
Tip: take off your shoes and get in the water. The streams are amazing and when will you be in an actual palm oasis again? Pay attention to any posted signs regarding closures though, as sometimes they do restoration if there's been a flood or influx of erosion.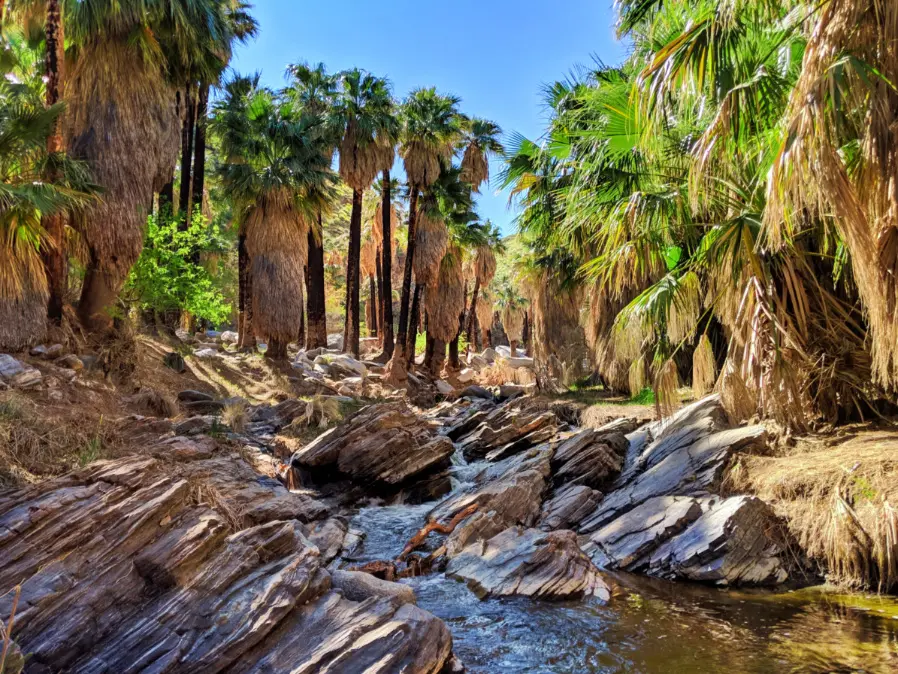 After you've cooled off and enjoyed the wonder of the actual palm springs, it's time to head up and out of the canyon. The ascent is going to get your heart pumping so take a moment if you need halfway, because hiking in the heat can make you extra dizzy and you DON'T want to fall down that rocky trail.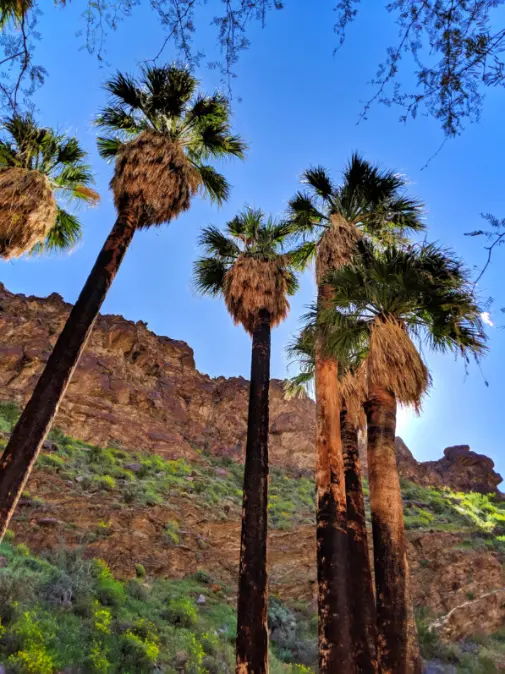 Palm Springs West Fork Falls
This stop is just a bonus to the grand Palm Springs Indian Canyon hiking you've already done. Located near the Palm Canyon trail head, West Fork Falls is just about the easiest walk/hike you can do. It's gorgeous and quick.
This short hike is along the largest stream with lot's of chances to put your feet in. The really cool part about this particular Palm Springs hike is the waterfall at the end of it. Basically in a cave, the water plunges down, echoing off the rocks into a beautiful pool. It's calm, peaceful and one more totally different aspect of hiking Palm Springs and around Agua Caliente.
Tip: watch for small frogs and salamanders in this stream and near the cave. It's the perfect habitat and how many other places do you get to see salamanders?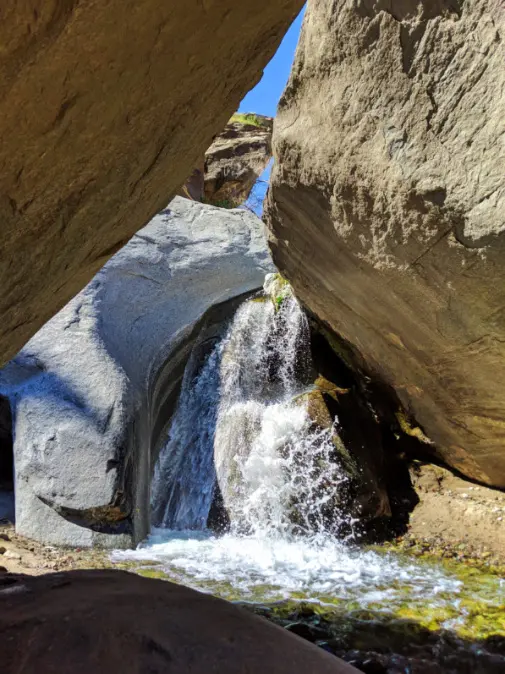 Hiking at Andreas Canyon
A very different hiking experience than the Palm Canyon trail, Andreas Canyon takes you through cactus lines paths, never too far from the creek. I actually prefer this trail for the challenge and the photo ops. You don't get the otherworldly photo moments of the palm oasis like you do on the Palm Canyon trail, but the rest of the scenery is amazing.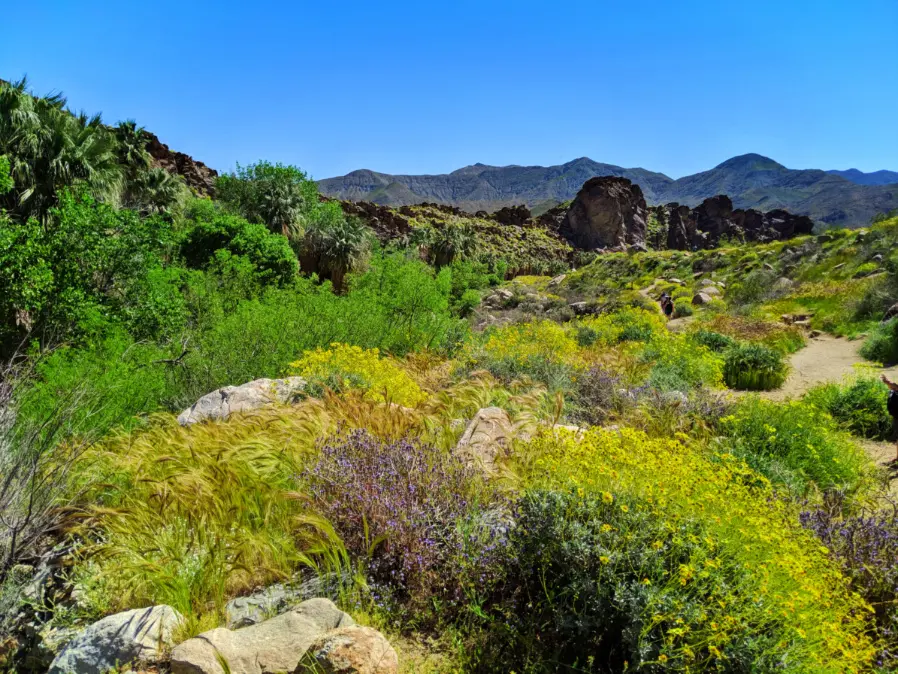 Half of the hike in on a hillside and the other is in the canyon. If you can do this hike during the super bloom, you'll be in awe of the number of flowers. The trail in the canyon portion gets almost overtaken by blooms and butterflies. It's one of the most remarkable hiking areas in Southern California, and for sure one of the most beautiful hikes in Palm Springs.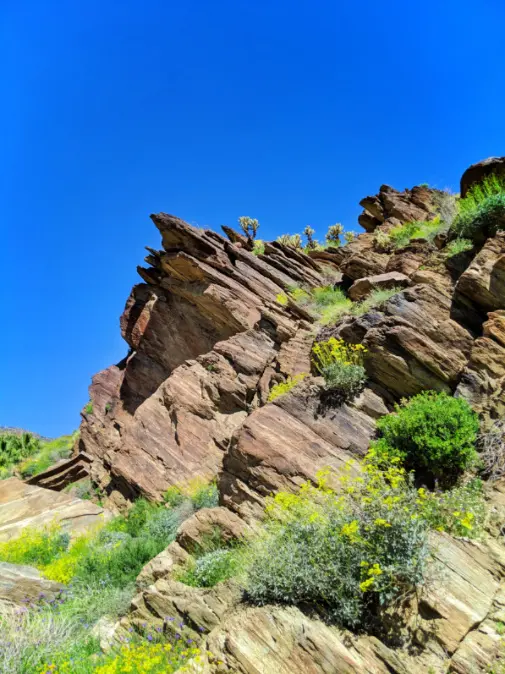 Oasis Hiking Near Palm Springs
Beyond the Indian Canyons directly in the town of Palm Springs, you'll find a few really remarkable spots for hiking. The oases are very different from what you'll find within Indian Canyons, so make time to drive out to these spots for wonderful, beautiful hiking adventures.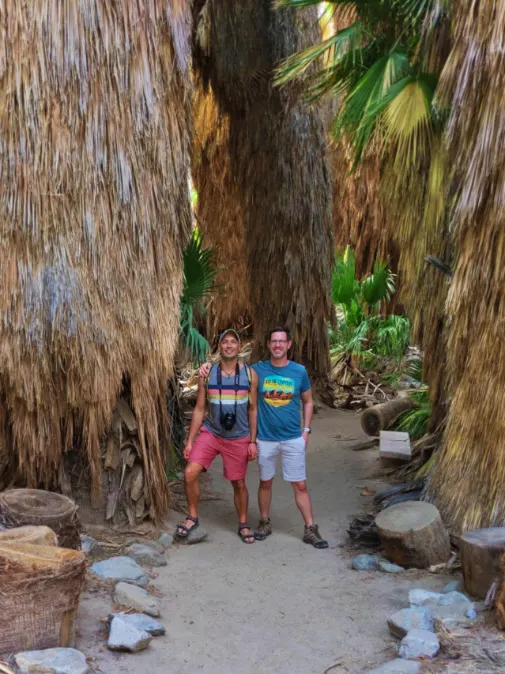 Hiking at the Coachella Valley Preserve
Located near the town of Thousand Palms, just before Coachella and Indio, you'll find the Coachella Valley Preserve. This area is really cool and unique in that there are several oases connected by a trail system.
The first oasis at the Coachella Valley Preserve is an easy hike. Park at the top and pay your donation/entrance fee and then head through the towering palm trees as you wind down towards the bog and boardwalks. Yes, it's odd here because it's basically a tropical swamp full of mud and slow flowing streams, but the palms are growing like crazy. Palm trees bend over the boardwalk and out of the mud all around you through this lower hiking area.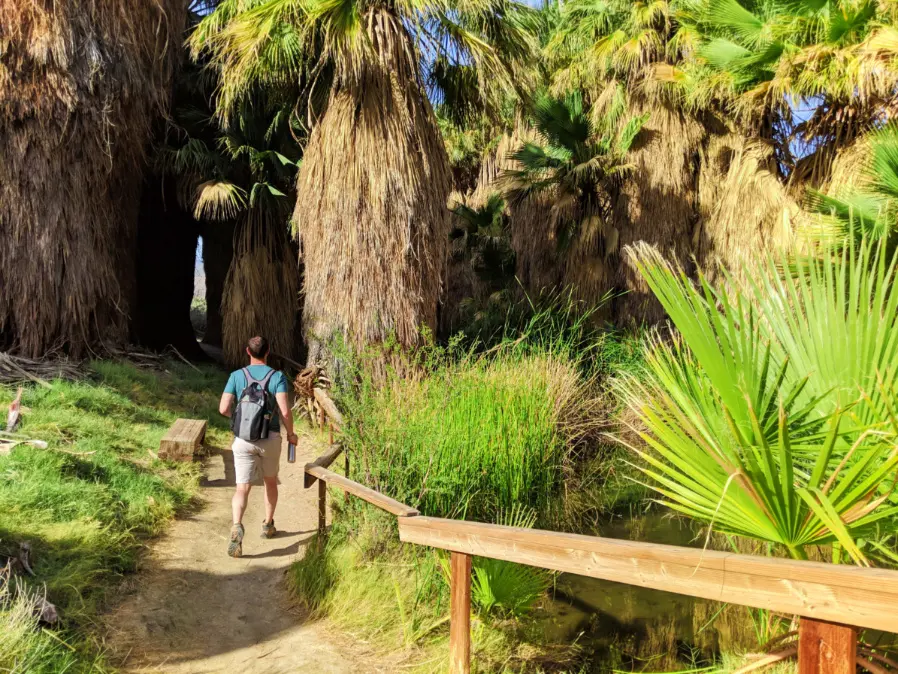 As you ascend to the McCallum Trail to the Simone Pond, the scenery changes. A combination of dry river bed and desert plants, this trail is beautiful it its own way. Wildlife is all around, so keep your eyes peeled!
When you get to the Simone Pond, you'll be able to walk around the whole thing. The stillness makes for beautiful reflections and there are lots of nice shaded areas to relax. Look out for jack rabbits and owls in the area, as both take refuge in the Coachella Valley Preserve.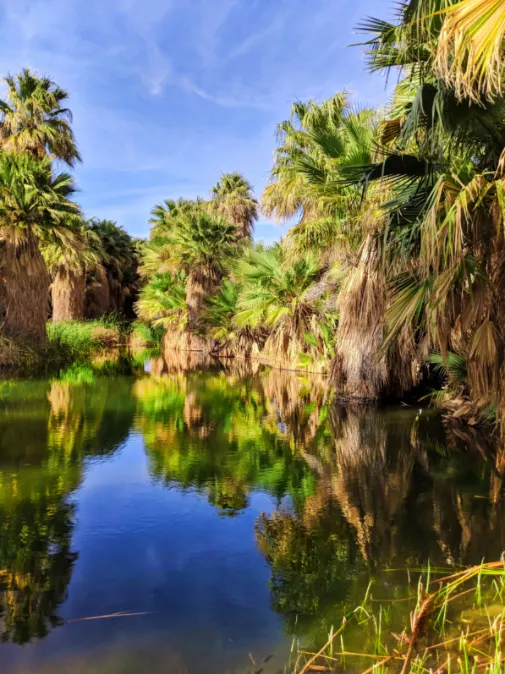 Oasis Hikes at Joshua Tree National Park
Within Joshua Tree National Park there are a few palm oases you can hike to. The one nearest Palm Springs is just inside the Cottonwood Canyon entrance to the park (there is camping in Joshua Tree here!). A pretty easy hike, you'll head into Cottonwood Canyon where you'll find a good sized grove of palm trees. It's not as impressive at the Coachella Preserve or Indian Canyons, but still pretty.
On the north side of the park, at the Twenty-nice Palms entrance, you'll actually find an oasis right by the visitors center: the Oasis of Mara. This is an easy hike, actually a nature walk, and while it's not exciting, the exhibits have a lot of good information and explain well how the oasis phenomena works.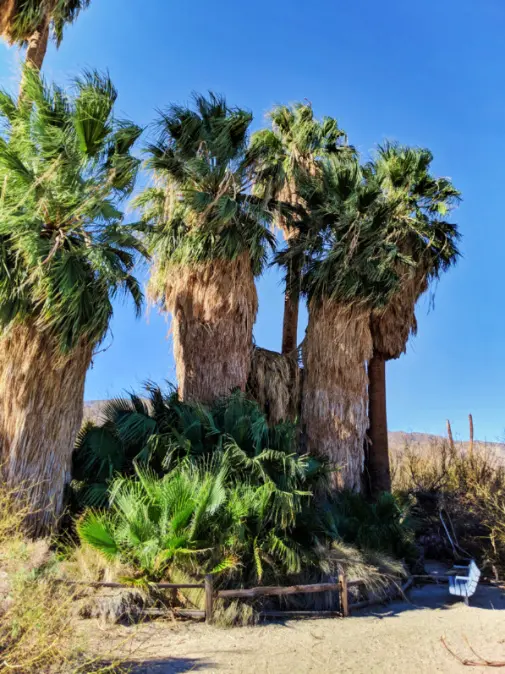 Wildlife to Watch for on Palm Springs Hikes
Desert wildlife is my favorite! While hiking around Palm Springs, you'll no doubt come across all kinds of wildlife. Birdwatches will be thrilled with the desert avians, including the random roadrunner. My favorite bird sighting in the palm oases was a family of owls watching us, just hanging out right above us.
Other wildlife to watch for includes jack rabbits, deer, mountain lions, bobcats, skunks and 16 different species of bats. Sixteen!! We talk a lot about safety around wildlife and these creatures are no exception. Even though it's unlike that you'll come across a cougar/mountain lion when you're hiking in Palm Springs, there's always the possibility. Proceed with caution and care, wherever you're hiking.
Another bonus if you're watching carefully are the toads. The red spotted toad lives along the creeks and rocks, so as you hike, look carefully in the cracks and before you sit down next to a stream so you don't squish one.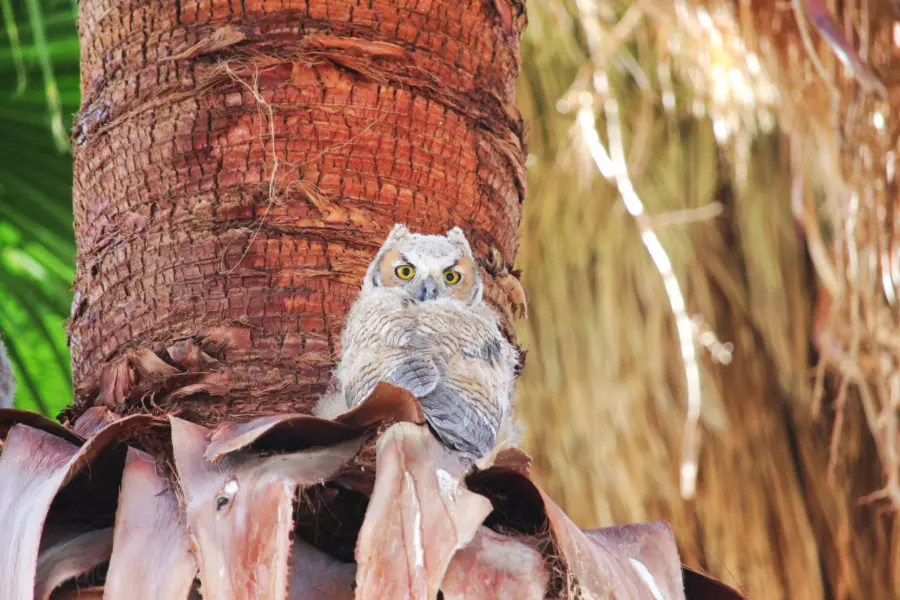 History of the Palm Springs Area
The Cahuilla Tribe has been in the Palm Springs area for thousands of years. Petroglyphs and ancient irrigation systems in the canyons and higher ground have been found throughout the Coachella Valley. With the advance of Western culture through California and the railroads taking land all over, the Cahuilla Tribe was place on the Agua Caliente Reservation. Not cool at all. Don't get me started on the USA's manifest destiny practices…
The tribe has since opened up the Reservation to the public to access and enjoy the actual palm springs, the many canyons and they share their culture through the Visitors Center and Trading Post. It's pretty cool how they've opened the area to the world.
The town of Palm Springs, outside of the reservation, has long been a cool hangout and getaway spot for Hollywood and senior citizens. As early at the 1910s Palm Springs was a gay destination starting with comfortably out citizens (not a ton) and then growing with hotels and resorts catering to a community looking to have a place they can escape and vacation in the sun. Today, it's an inclusive, diverse destination with great restaurants, shopping, swimmin' pools and movie stars. It's wonderful to visit with kids or just adults. And the hiking is wonderfully unusual.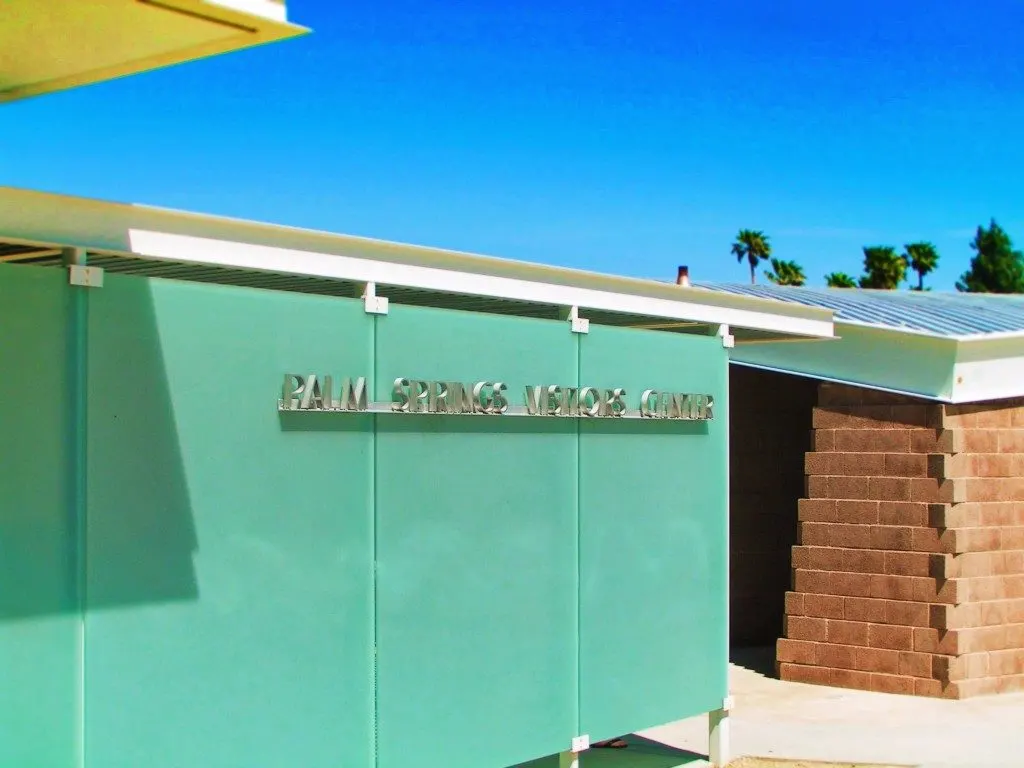 There are lots of other desert hikes to do around the Palm Springs area, but these are the best hiking options to experience the unique nature found in this part of California. These are the hikes that we think are most worth your time.
And now you're ready to roll. How excited are you to visit this otherworldly place and experience two totally different sides of the desert?! Want to take us with you? If you've got a favorite place to stay in the Palm Springs area, leave a note in the comments section. We're always looking for fun options for our next visit.
And if you'd like to pin it for later…