Visiting Maine in winter might not sound like the most amazing adventure, but wow, it's such a different place and truly is a great destination in the off-season. Without crowds and with all the charm and beauty you'd expect, we really enjoy the vibe of coastal Maine in the cold. We've got a great plan for things to do in Maine in winter, including ideas for when the weather doesn't cooperate.
From Portland to Camden, the MidCoast is perfect for a winter trip to Maine. There is the ideal mix of things to do: nature, nautical, museums, beautiful hotels and great food. Winter in Maine is surprising and you'll love it.
If you think there are some things that we should include here, please leave a comment or send us a note. We're happy to share more fun and interesting things to do in Maine, especially in the winter season.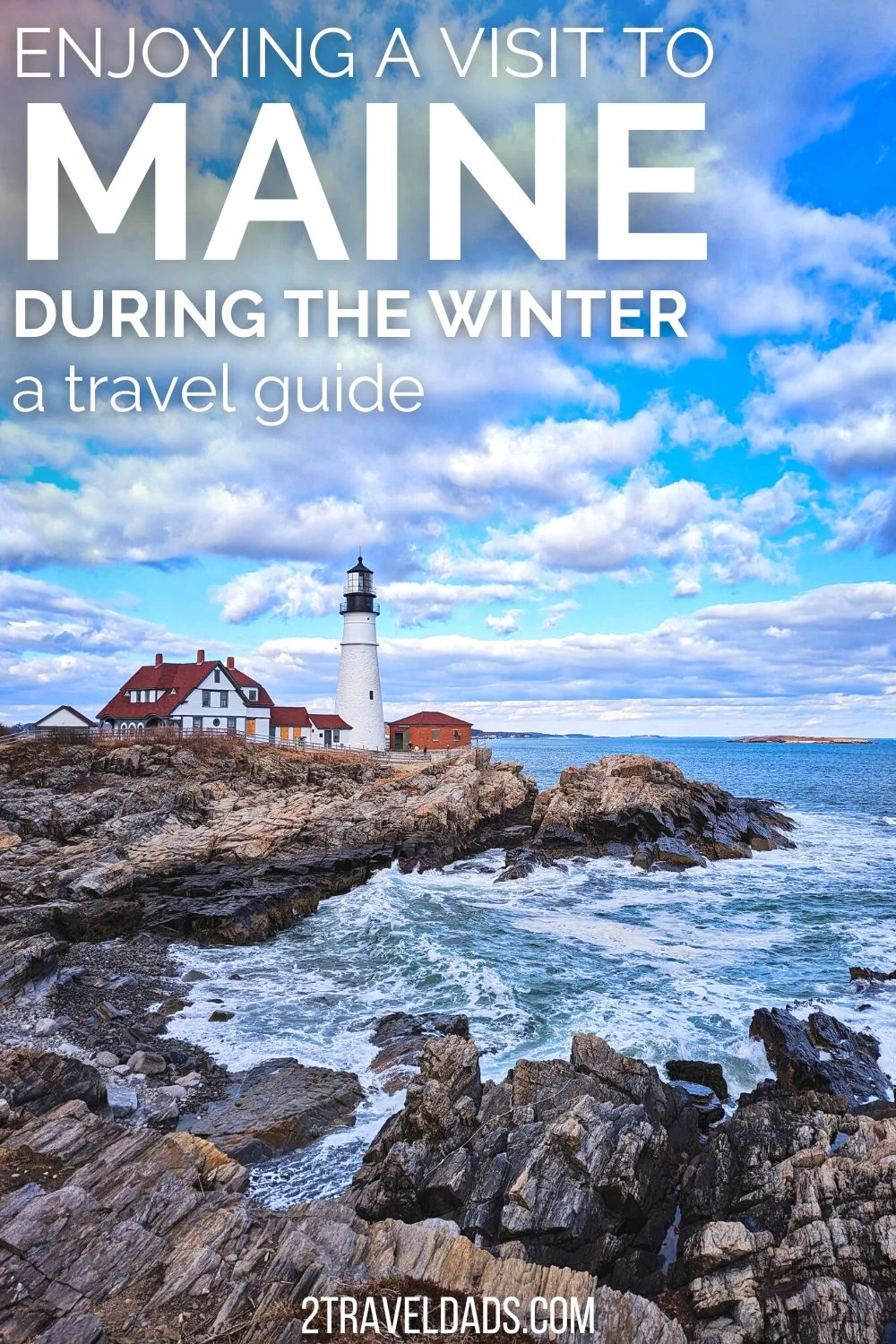 Need to Know for Visiting Maine in Winter
If you're not from the Northeast, visiting Maine in winter might sound like a daunting travel plan. It's not actually that far-fetched and depending on the weather at the moment you're visiting, you might just catch the state in a beautiful stretch of sunshine. While there certainly are snowy stretches of the Maine winter, it isn't constant, particularly in southern Maine around Portland. Yes, a winter storm can drop the temps below freezing, but you might also score 50 degrees and sunny.
Looking for a summer road trip plan? We have an awesome one!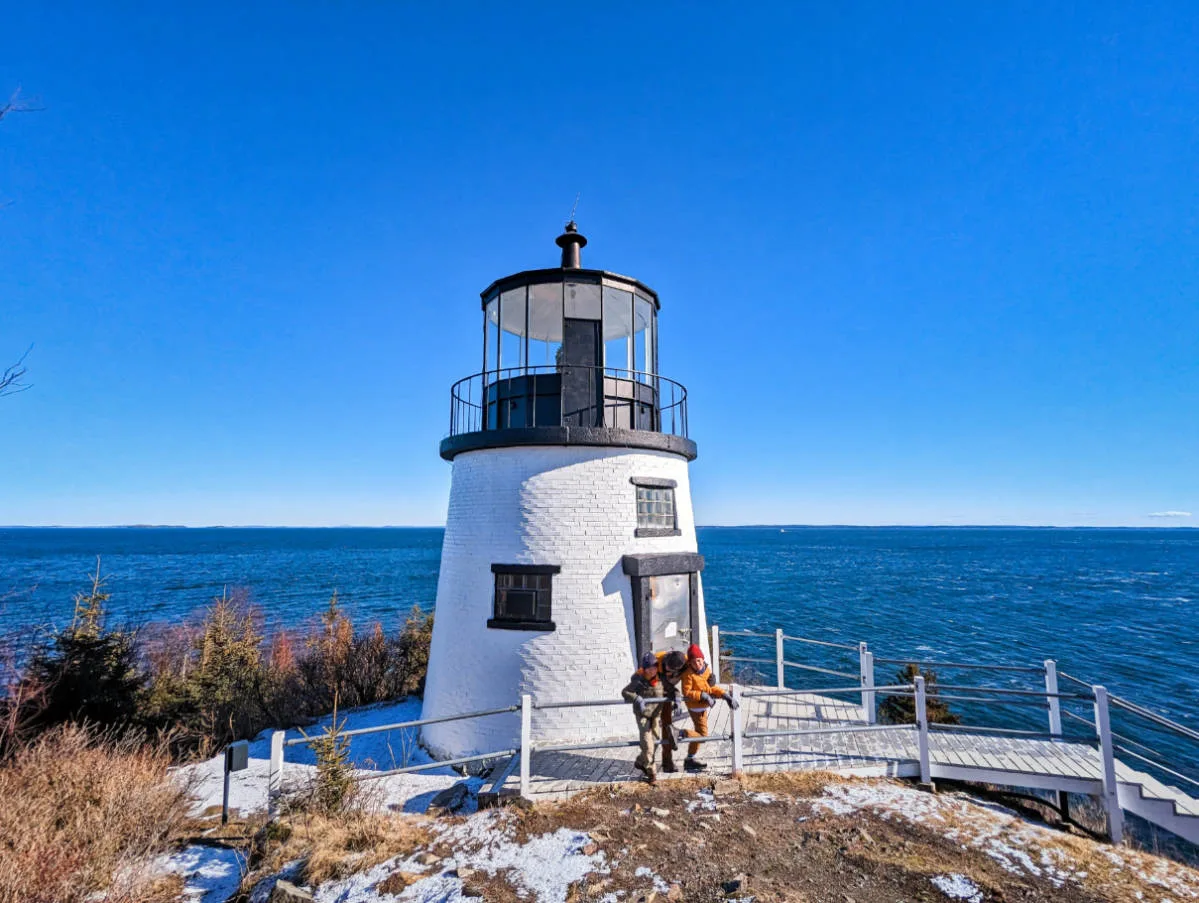 It's best when planning to visit Maine in winter that you prepare for the most extreme weather you might get and then be delighted when you step outside and peel off your coat and gloves. We like to be ready for snow and biting cold, but we pack so that we can dress in layers and adjust our gear and outfits throughout the day, keeping warm and comfortable.
If you're planning on hiking or just not letting the weather impact your trip, be sure to have really warm socks and appropriate winter boots. For some trails you may also want to have detachable ice claws (crampons) to make navigating the trails easier. For the most part though, dressing warmly and being ready to be pleasantly surprised by the weather is the way to go!
NOTE: many Maine tourist activities are closed for the winter, so plan appropriately. If you're visiting MidCoast Maine in December, they actually open up the Coastal Maine Botanical Gardens for their Gardens Aglow program, where they light up the trolls and different area for an after-dark experience.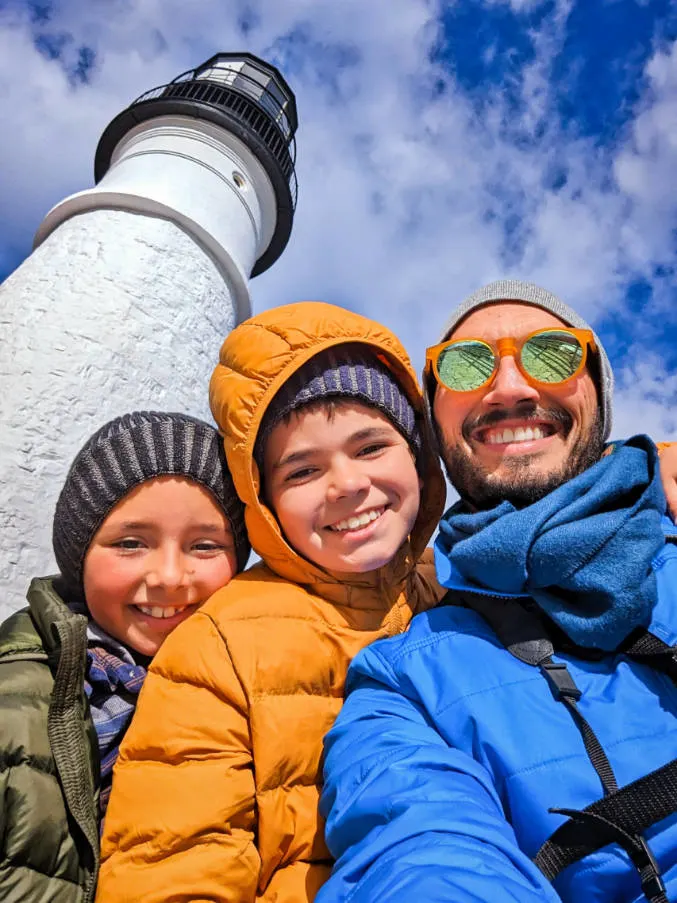 Getting to Portland, Maine
I love the name of the airport, Portland International Jetport (PWM), because it sounds so futuristic. It's fairly easy to get to Portland, Maine in winter as there are direct flights from 17 different airports: Atlanta, Baltimore, Charlotte, Chicago (O'Hare & Midway), Detroit, Halifax, New York (JFK & LaGuardia), Newark, Orlando, Melbourne, Philadelphia, Sarasota, and Washington D.C. (Reagan & Dulles). In 2022 service from St Augustine, FL began as well!
If you're not based in one of these cities, don't worry. Most places have flights to Portland with just one connection so it's still pretty easy to get to. We've even flown into Boston and done the short drive to Maine.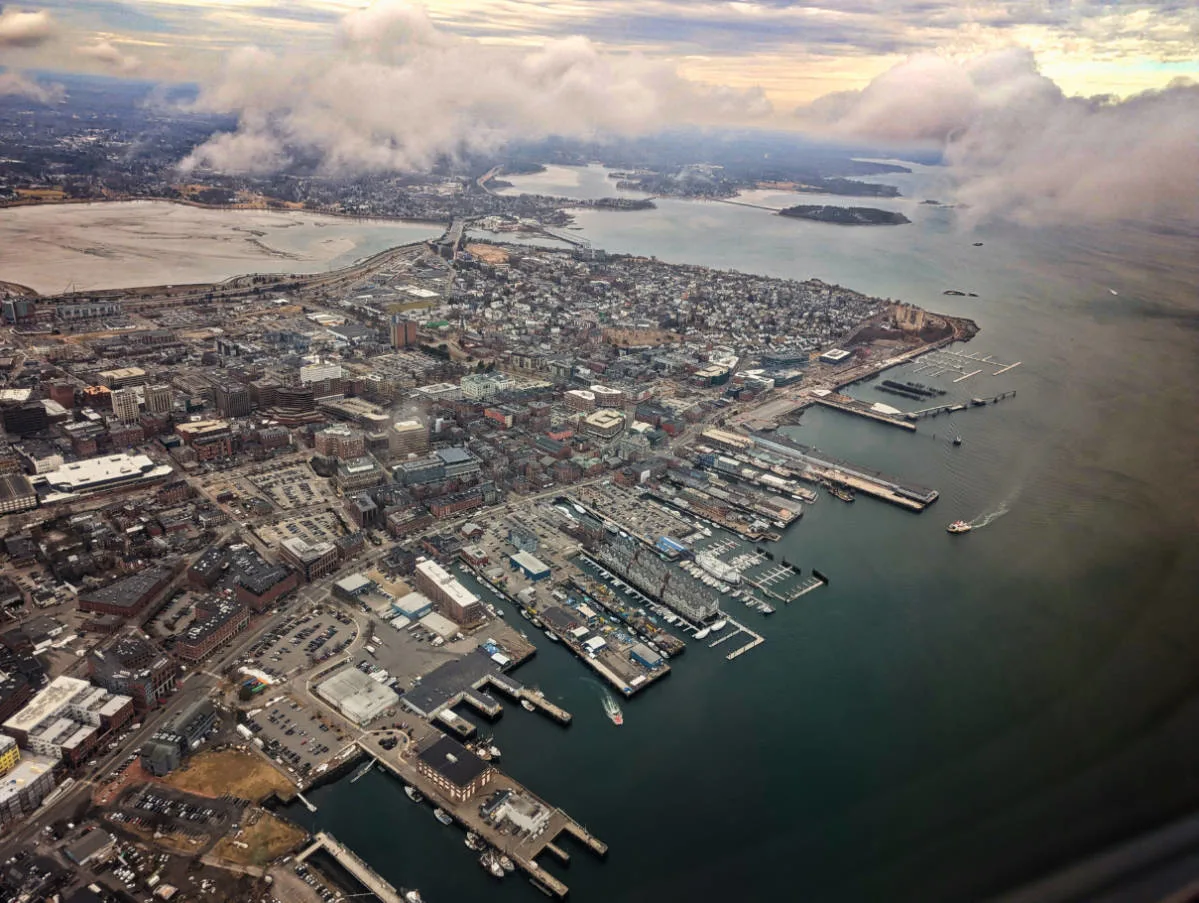 How are Roads in Maine in Winter?
Visiting Maine in winter doesn't mean treacherous driving conditions; that's simply not the case most of the time. Because Mainers are used to the winter weather and they've got the infrastructure to deal with it, the roads stay fairly clear and well maintained through the winter months. True, if you hit the road at 6:00 am after a fresh snow or small storm, you'll find icy conditions, but in general, driving in Maine in winter isn't bad at all.
Having said that, as you start to explore off the beaten path, which many wonderful things to do in Maine are not on the primary roads, you'll encounter unpaved routes. These can be less pleasant to drive on, and you'll need to approach some of these with caution. Shady roads in the winter can be icy or more slick than you expect. Just be safe. Grab your Maine whoopie pies and enjoy the drive!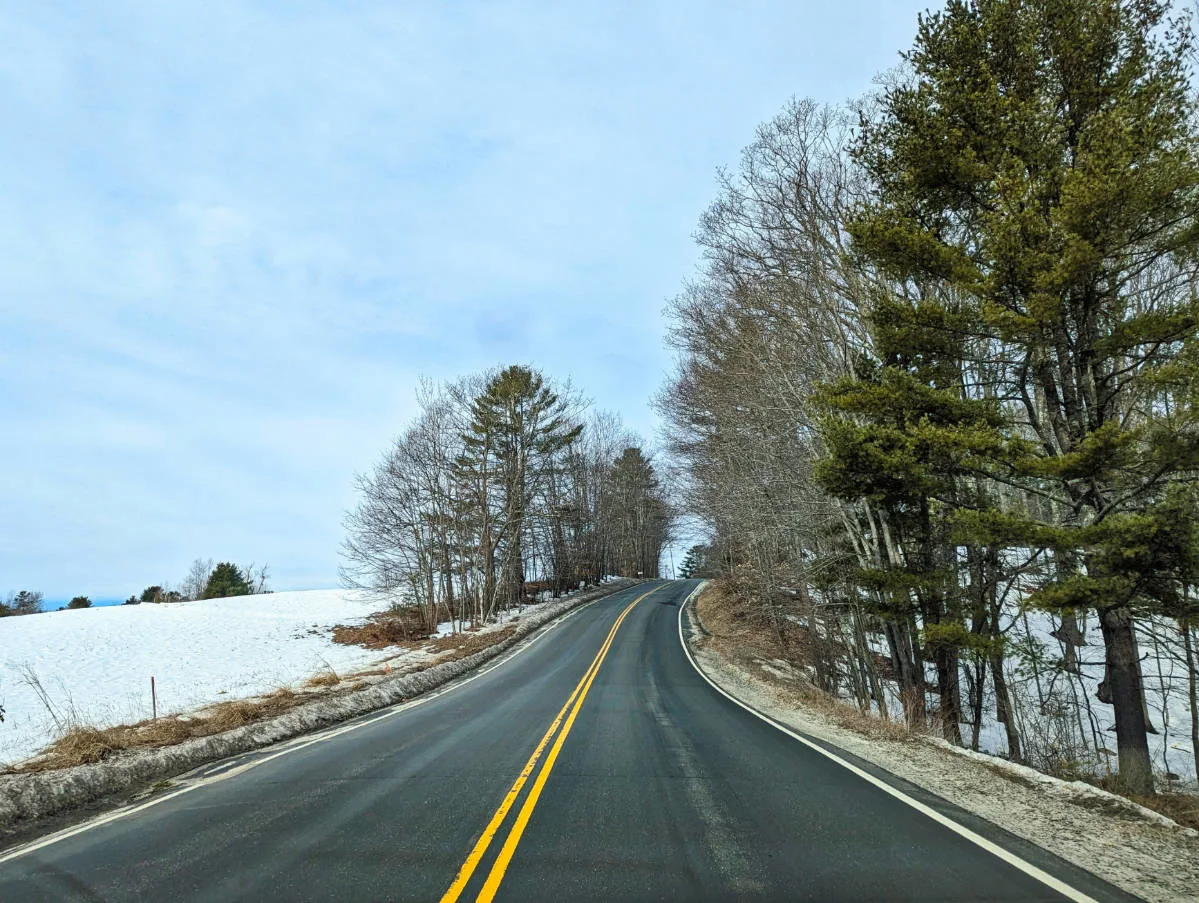 Can I Visit Maine Lighthouses in Winter?
Great question, and yes! You can visit lighthouses in Maine during the winter. Year-round, most lighthouses can be visited but you can't go up them. During winter months, it's the same. Access to the grounds around most Maine lighthouses remain open to the public and often make for some of the most beautiful sights and are really iconic when it comes to things to do in Maine in winter.
Visiting lighthouses during snowy times or when the bays and rivers are partially frozen really is amazing. One of my favorite Maine moments was standing at the base of the Doubling Point Lighthouse out in the Kennebec River, watching and listening to the ice as it flowed with the changing tide. Lighthouses show a unique side of Maine life and in the winter they are truly magical.
Note: some lighthouses may be very difficult to visit in winter, such as the West Quoddy Lighthouse in Lubec, but there are plenty in south Maine that are accessible.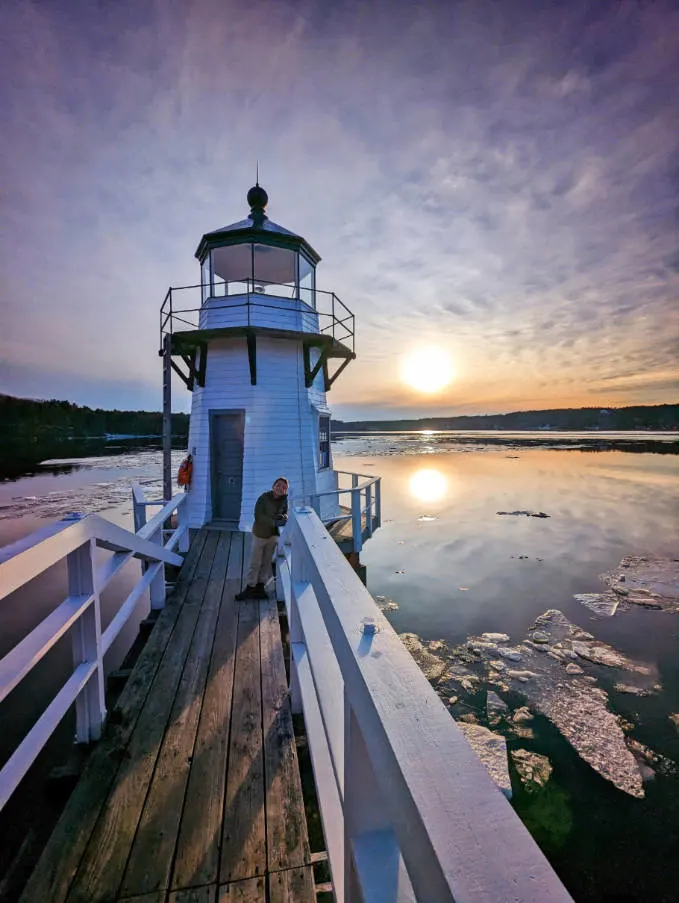 Great Things to Do in Maine in Winter
For the most part, your activities when you visit Maine in winter aren't going to be vastly different than they are in summer. True, in winter you won't be camping or spending the day at Funtown/Splashtown, but you'll still be able to enjoy the coastal towns and landscapes. The bonus of visiting during this time is that you get to enjoy snow play in addition to the normal Maine things to do.
Take a look at our top picks for activities during the colder months and plan an adventure unlike any you've had before. Visiting Maine in winter is great for families, couples or solo travelers, so pick and choose your favorite items and build a great winter itinerary.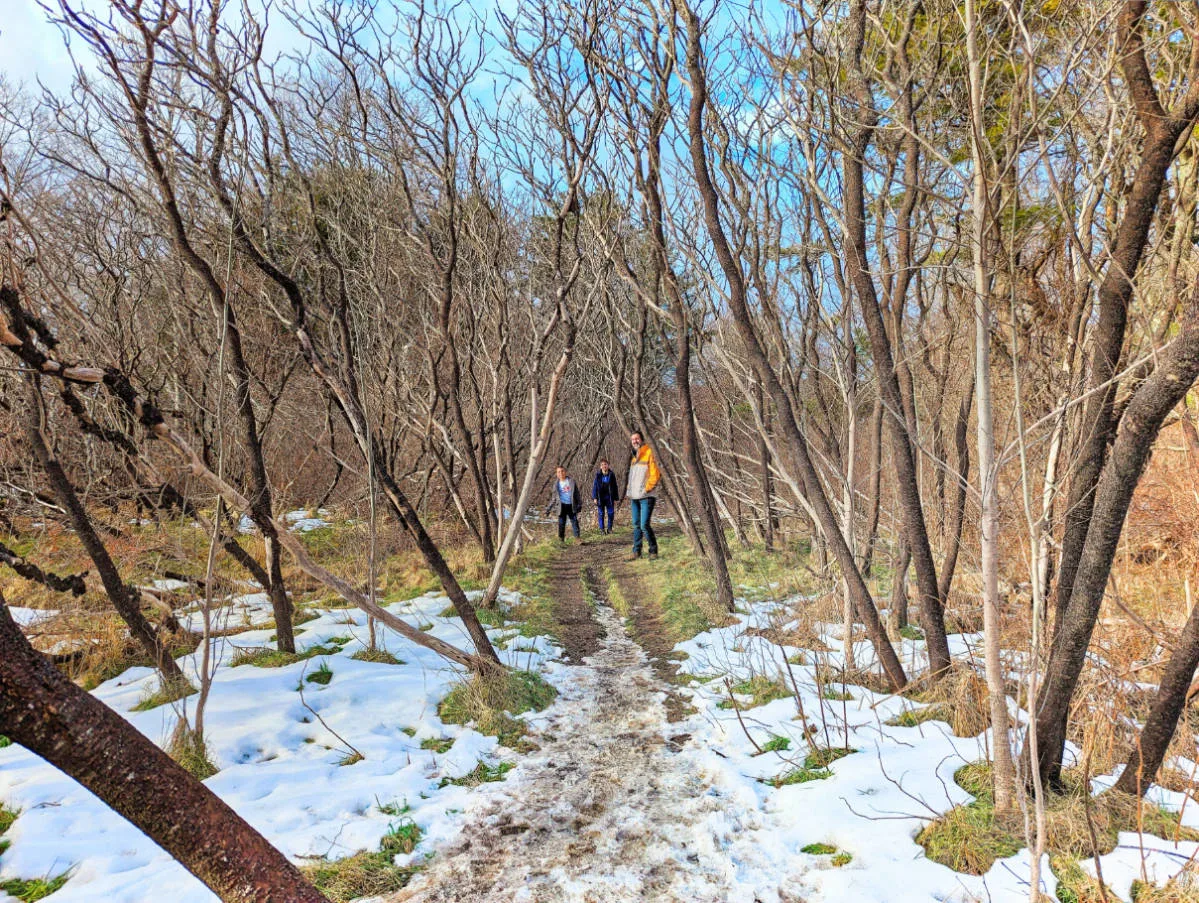 Lighthouses to Visit in Winter
I have to start here because lighthouses are my favorite landmarks to visit any time of year. Winter in Maine means that these iconic spots have fewer visitors than summer months and that the experience will be very different. Whether you're visiting a lighthouse via hiking trail or parking nearby, these structures are usually unsheltered, so if you're stopping by in winter, dress warmly and be prepared for a little wind.
Portland Head Lighthouse
Without a doubt the Portland Head Lighthouse is one of the most iconic in the whole USA. The California Coast, Oregon Coast, Puget Sound of Washington and Door County, WI are all pretty amazing when you consider the number of lighthouses you can visit, but there's just something about the Portland Head that is perfectly Maine and so nostalgic. Located on Cape Elizabeth just south of Portland, the Portland Head Light is an easy visit, even when it's winter and the weather turns icy.
At Portland Head you can check out the lighthouse for a variety of viewpoints, spy four other lighthouses (Ram Island Ledge, Halfway Rock, Cape Elizabeth and Spring Ledge), walk the trails around the old fort and even go to the beach. Yes, the beach in winter is cold, but it's beautiful!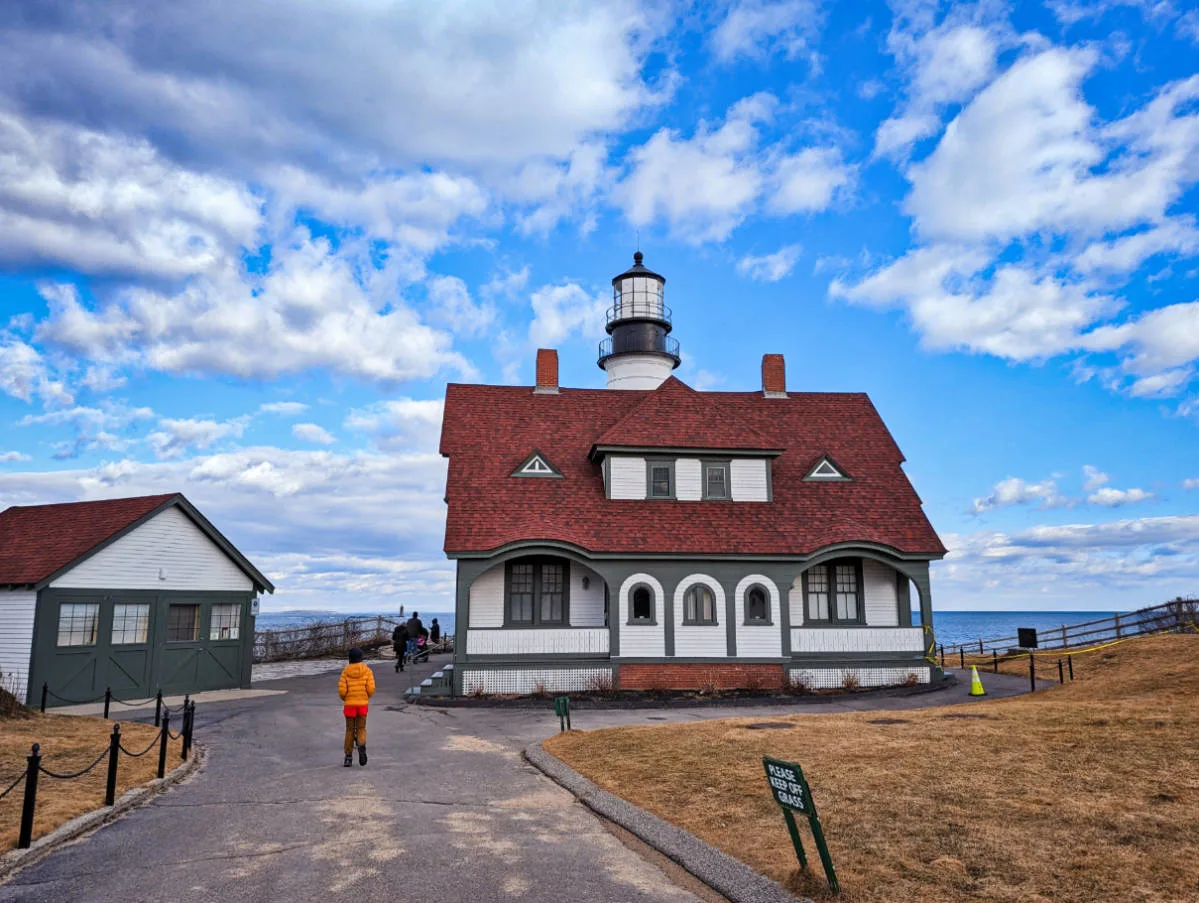 Spring Ledge Light & Bug Light in Portland Harbor
Spending time in Portland is wonderful, both because there is so much good food AND because you can look across the harbor and see two lighthouses, which you can also visit. The City of South Portland boasts two lighthouses, and they're right next to and very different from each other. Each is very easy to visit, especially in winter if you're not up for a big adventure but want to enjoy the nautical elements of Maine.
Spring Ledge Light is at the end of a breakwater (rock jetty stretching into the harbor), and it's the more involved of the two here in South Portland. From the old fort you step down onto the rough granite breakwater, which was built in 1951, to walk just over a quarter mile out-and-back to the lighthouse.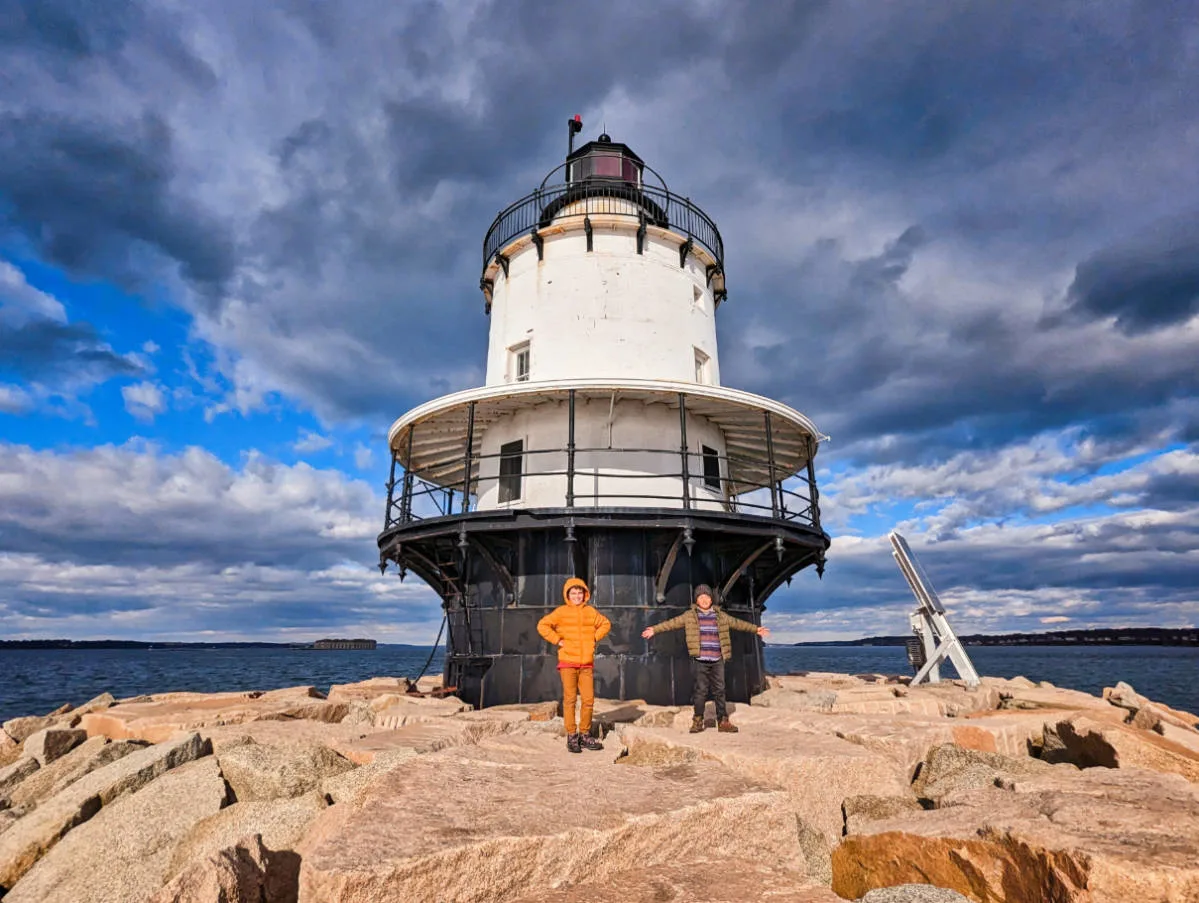 The other lighthouse to visit here on the harbor is Bug Light, aka the Portland Breakwater Lighthouse. I love this little lighthouse. It's small, has beautiful details and is the perfect setting for a sunny afternoon walk. There is a park and promenade along the harbor here, so visiting can be a few minutes or a whole event.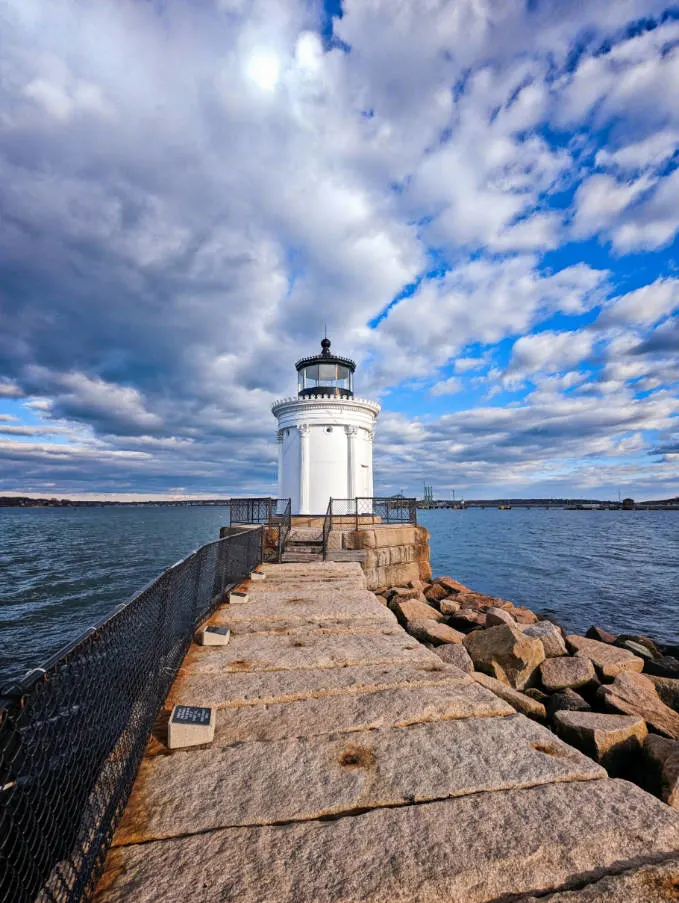 Doubling Point Light
I mentioned previously about driving in Maine in winter and that in general it's not bad unless you're on an unpaved road. The route to the Doubling Point Light is one of those roads, so if you're visiting after a snow or when it's cold and icy, drive with caution. Once you're there though, this is one of the most beautiful lighthouses in Maine. Located just east of the town of Bath, it's about fifteen minutes from town.
Doubling Point Light is very different from the other lighthouses we recommend when you visit Maine in the winter because this one is on a river at the end of a small pier and it's all about the ice flows here! As the tides turn here, very near to where the Kennebec River meets the Atlantic Ocean, ice from the shallow coves and upriver come together forming small bergs and ice-islands. They bump back and forth, overtaking one another, making the most unusual sounds. Ice flows AND a lighthouse in the same stop: perfect Maine in winter experience!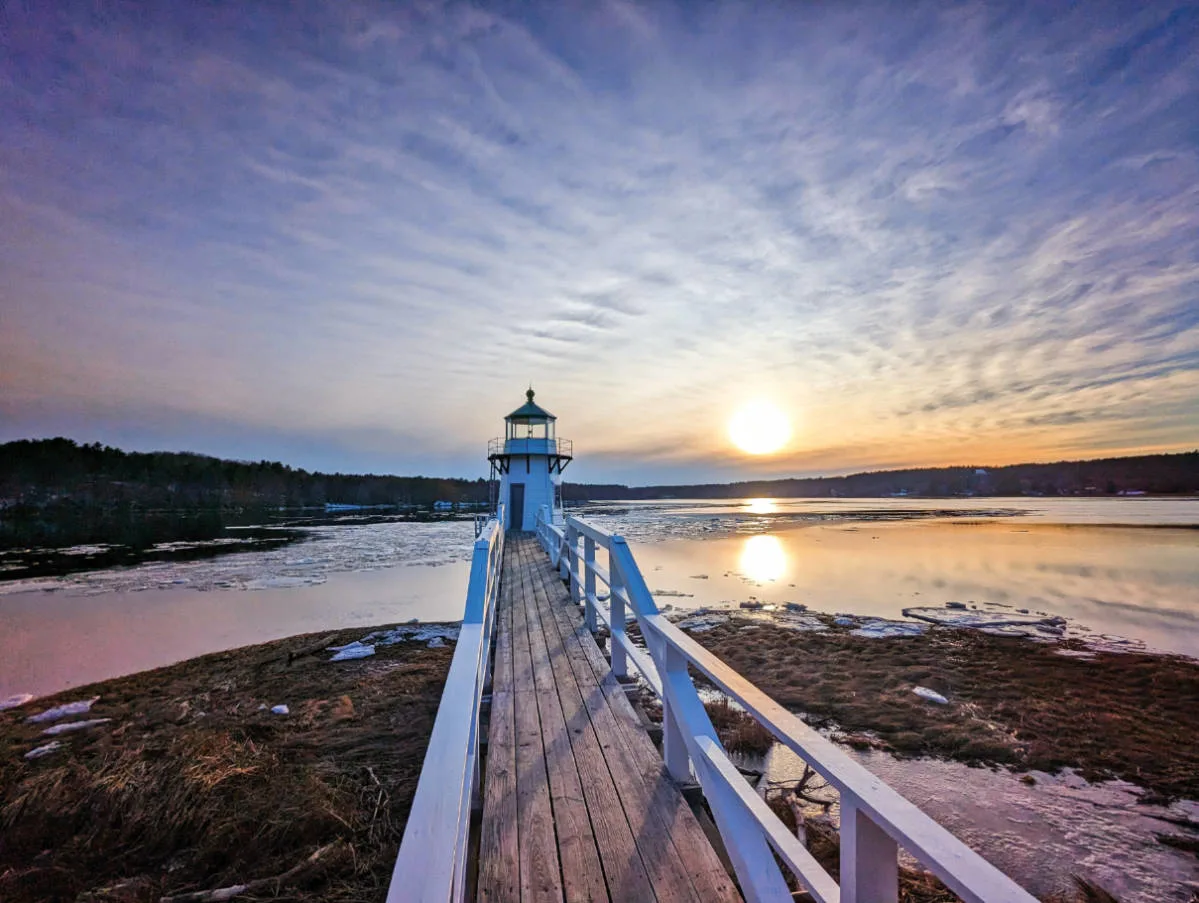 Rockland Breakwater Lighthouse
Visible from all over the town of Rockland and beyond, the Rockland Breakwater Lighthouse is really cool, and the experience of walking out there is unique. I'll admit, I prefer to walk the mile from the parking area out to the lighthouse in summer when it's much warmer, but being the only ones walking the breakwater is pretty great. It's one of the wonderful things to do in Maine in winter.
The wind may pick up as you head out into the harbor, but keep going. The breakwater itself is fascinating, with tons and tons (in weight) of granite laid out to the lighthouse. It's a careful walk, to be sure, but it's beautiful and the perfect place to watch for seals and bald eagles.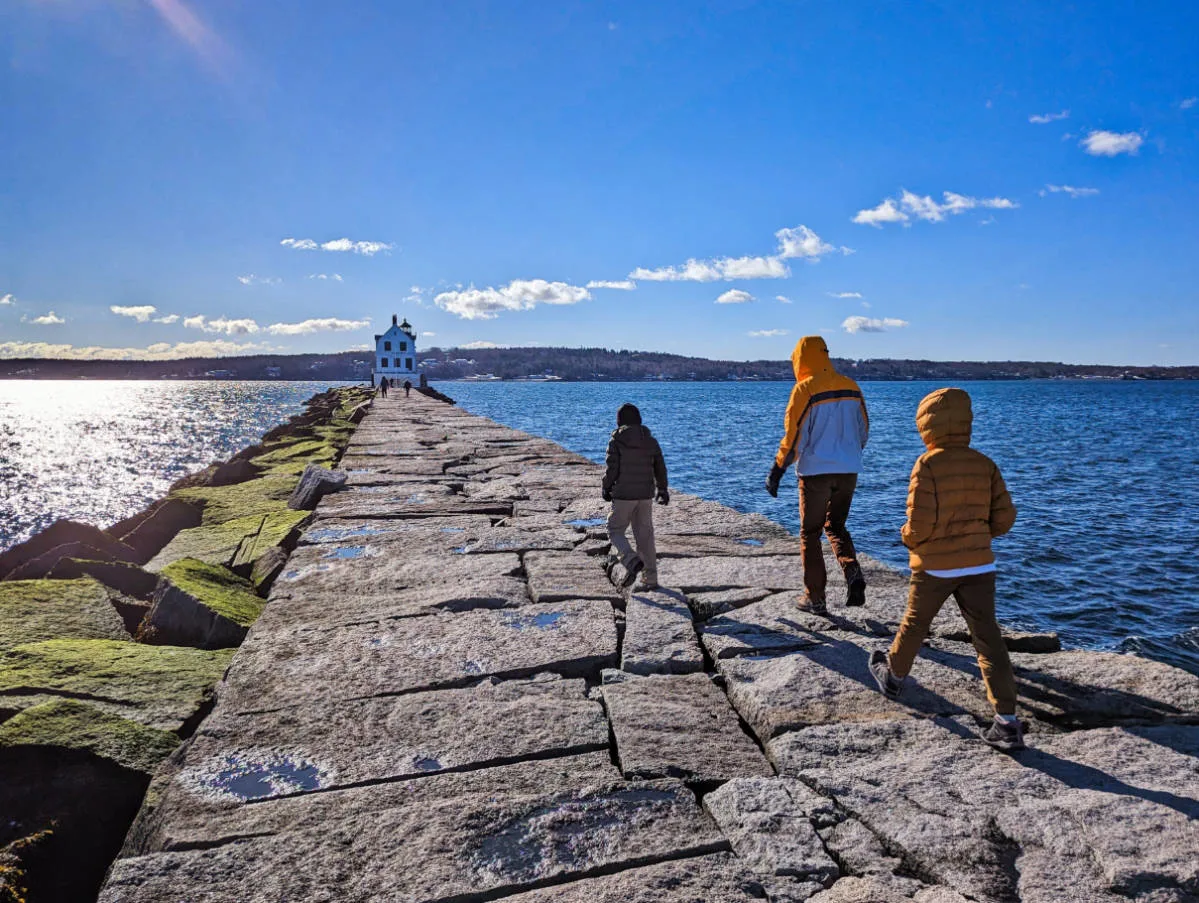 Maine Museums to Visit
There is so much history along the coast of Maine, and between the maritime culture and the arts, there are quite a few great museums to check out. Visiting Maine in winter means having a good balance of indoor and outdoor activities, so having a museum or two to add to your things to do is a great idea.
Portland Museum of Art
You can never go wrong with an art museum with an amazing collection. The Portland Museum of Art will surprise you with its Impressionist paintings, sculptures, photography and Winslow Homer art (lots of Maine and Northeast subject matter). We try to include museums in our travels with our kids because they offer a lot of cultural insights that we might miss as we're out exploring. Add the Portland Museum of Art to your Maine winter trip as either a primary thing to do in Portland or as a back up plan for a weather-day.
International Cryptozoology Museum
Do you know what cryptozoology is? It's the study of mysterious creatures, such as bigfoot or Champy (Lake Champlain's version of the Loch Ness monster). Portland actually has a museum dedicated to cryptozoology and it's great for kids! Located right next to the Portland Children's Museum, the International Cryptozoology Museum is an easy add-on to a fun day of sightseeing and kid-focused activities in Portland.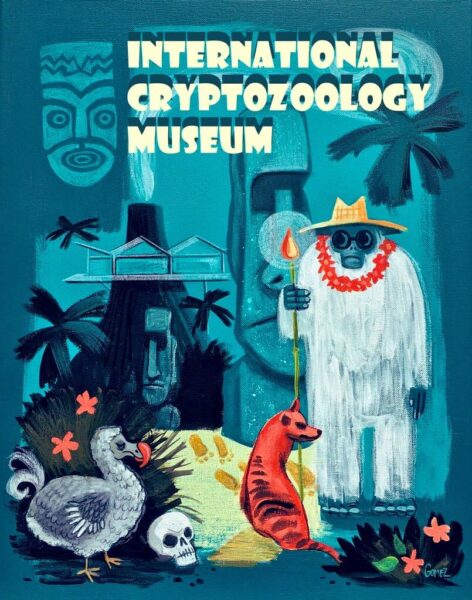 Farnsworth Museum in Rockland
If you're familiar with American Art and have an interest in Maine and the Northeast, you've probably heard of the Wyeth family or artists, with Andrew Wyeth being the most famous. The Farnsworth Museum in Rockland is one of my favorite things to do in Maine in winter and it's full of Wyeth paintings and sketches. The art housed in the Farnsworth is absolutely perfect for putting Maine life in context. There is more to it though.
In addition to all of the beautiful Wyeth artwork, there are exhibitions from local and world-renowned artists, sculptures, installations and a wonderful museum store. The Farnsworth is both a great escape from the cold and an immersion in culture. I love it (and it's actually a great museum with kids)!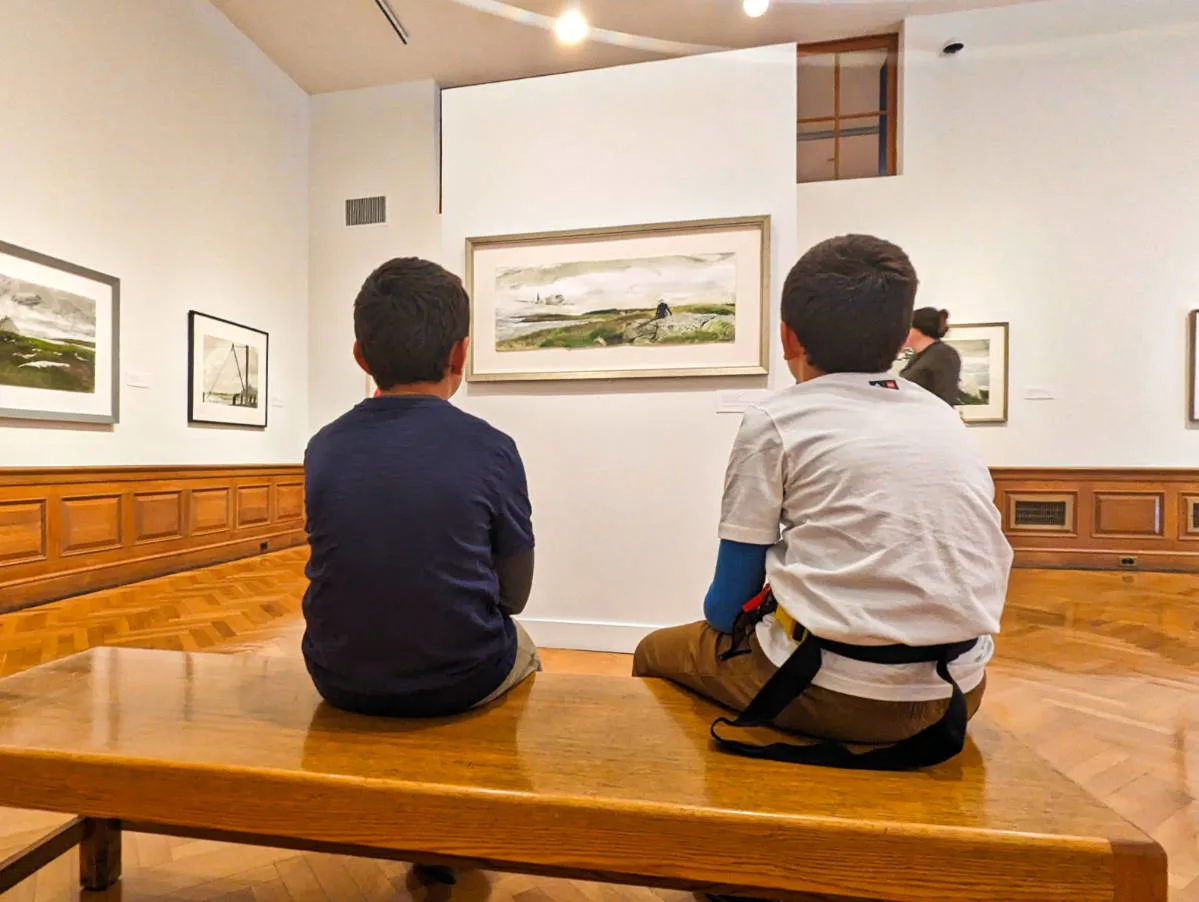 Owls Head Transportation Museum
Our kids love airplanes, both flying on them and seeing them up close. And we've got one kid that is totally into cars. The Owls Head Transportation Museum is a great spot for anyone who's into all things that move, from antique planes and cars to bizarre bicycles and firetrucks. It's pretty cool.
Something unique about the Owls Head Transportation Museum is that in addition to it being a cool place to visit, especially if it's a cold day when you're visiting Maine in winter, is that in the summer they do a HUGE vehicle auction. Classic cars and some of the most random machines go on the auction block. It's a unique element to visiting Midcoast Maine.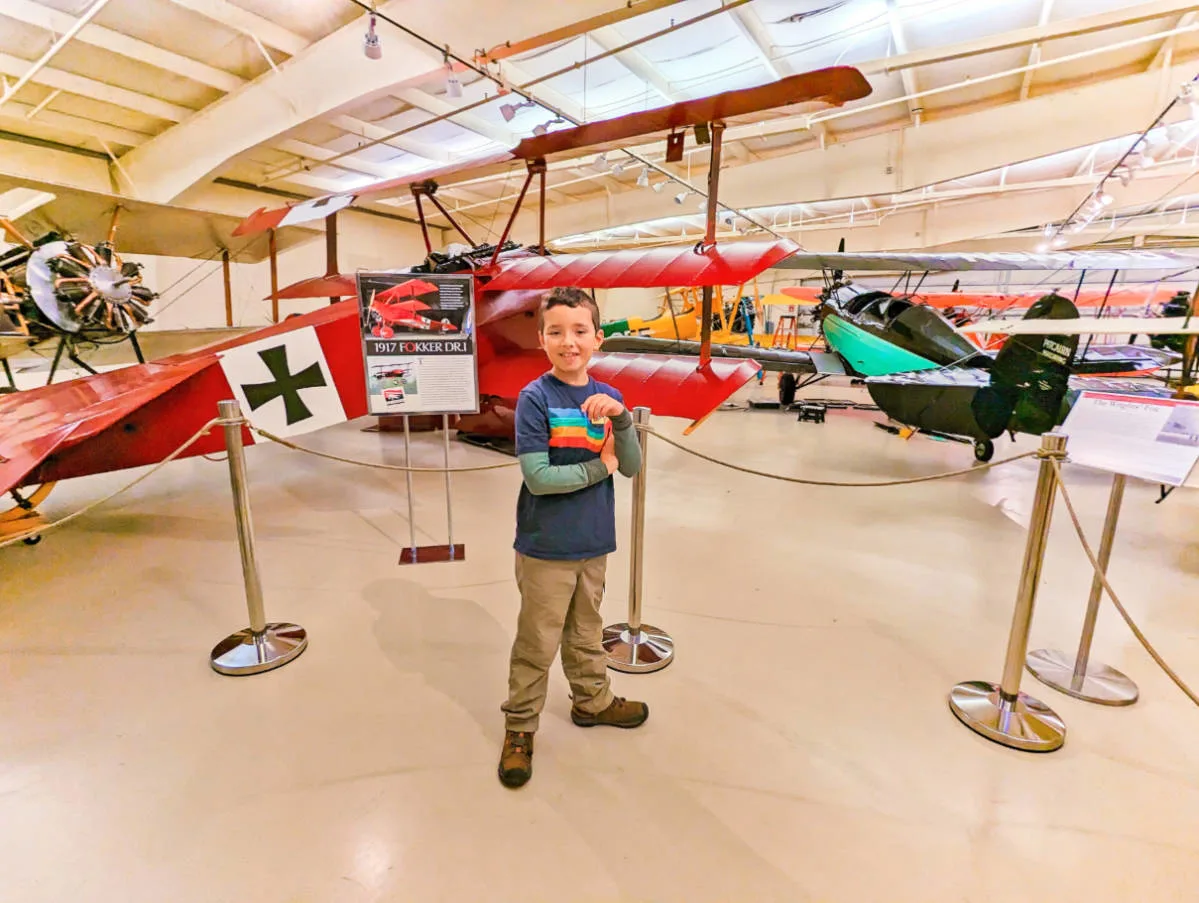 Snow Activities You'll Love
Snow can be THE highlight of visiting Maine in winter. For those of us who travel from warm climates, snow is totally exciting and we need to experience it in as many ways as possible. Key to enjoying the snow is being well prepared for it. This goes back to packing appropriately warm clothes and being able to peel away layers as you get toasty playing in the snow.
NOTE: when it's snowy, this is one of the best times for spotting wildlife in Maine! If you're on the coast, watch for deer, foxes, lynx and bear (if they aren't hibernating), and if you're heading to the Highlands, add moose to your Maine wildlife list!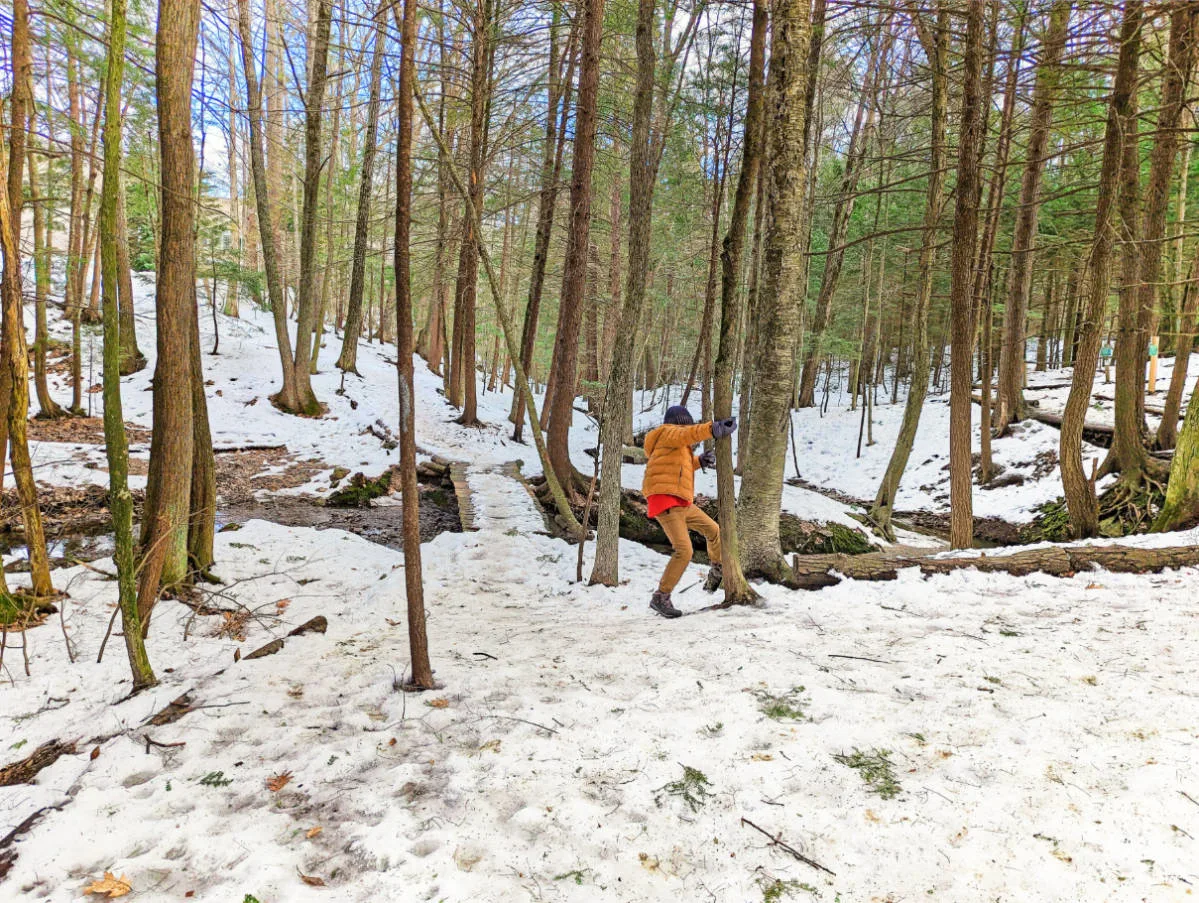 Cross Country Skiing
The first time we tried cross country skiing it didn't go well. We weren't properly outfitted and had no instruction, so it was stressful and not a ton of fun. Cross country skiing in Maine is so different from other places, and it was a blast. We actually had our first family skiing experience doing cross country skiing at Pineland Farms just north of Portland.
Cross country skiing is actually one of the best things to do in Maine on a sunny day, as it gets you out into the snow and is a wonderful, physical activity. I was so surprised how quickly our kids picked up cross country skiing. Sure, they fell down plenty of times, but since it's not a fast moving sport and you don't wear rigid ski boots necessarily, they were able to stay positive and ended up loving every minute of it.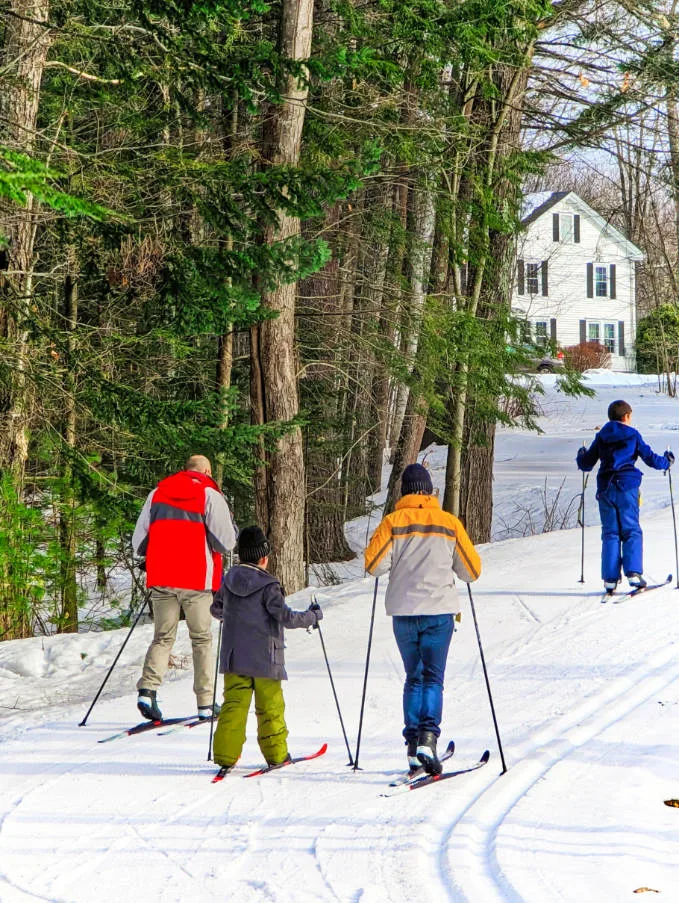 Pineland Farms was particularly great for cross country skiing because they have a variety of trails, including a big loop, and they have instruction available onsite. After we were done, we grabbed lunch for the awesome Pineland Market where everything was freshly baked and locally made, and then headed out to our picnic lunch snow globe. Such a great thing to do when you visit Maine in winter.
Want to try out cross country skiing in Maine? Here is a list of some designated cross country ski trails in Maine:
Pineland Farms – New Gloucester (NW of Portland) – over 18 miles of trails for all levels of skiers
Bradbury Mountain State Park – Pownal (north of Portland) – this park has 6 miles of trails for cross country skiing
Harris Farm Cross Country Ski Center – Dayton (SW of Portland) – 20 miles of trails for all levels of skiers
Acadia National Park – Bar Harbor (down east) – the carriage trails and more are open for cross country skiing
Rangeley Lakes Trail Center – Rangely (central ME) – over 30 miles of trails for beginners and advanced skiers
Sugarloaf Outdoor Center – Carrabassett Valley (central ME) – over 50 miles of trails, groomed trails for classic or skate skiing
Carter's XC Ski Center – Bethel (central ME) – 20 miles of trails, including trails for classic and skate skiing
Bethel Village Trails – Bethel (central ME) – 18 miles of trails for classic and skate skiing
Katahdin Woods and Waters National Monument – Millinocket (NE Maine near Canadian border), this monument has 50 miles of cross country ski trails
These are just a few of the many designated cross country ski trails in Maine. While not every one has rentals available onsite, you can usually rent skis nearby or stop into Maine Sport (Rockland) to rent gear.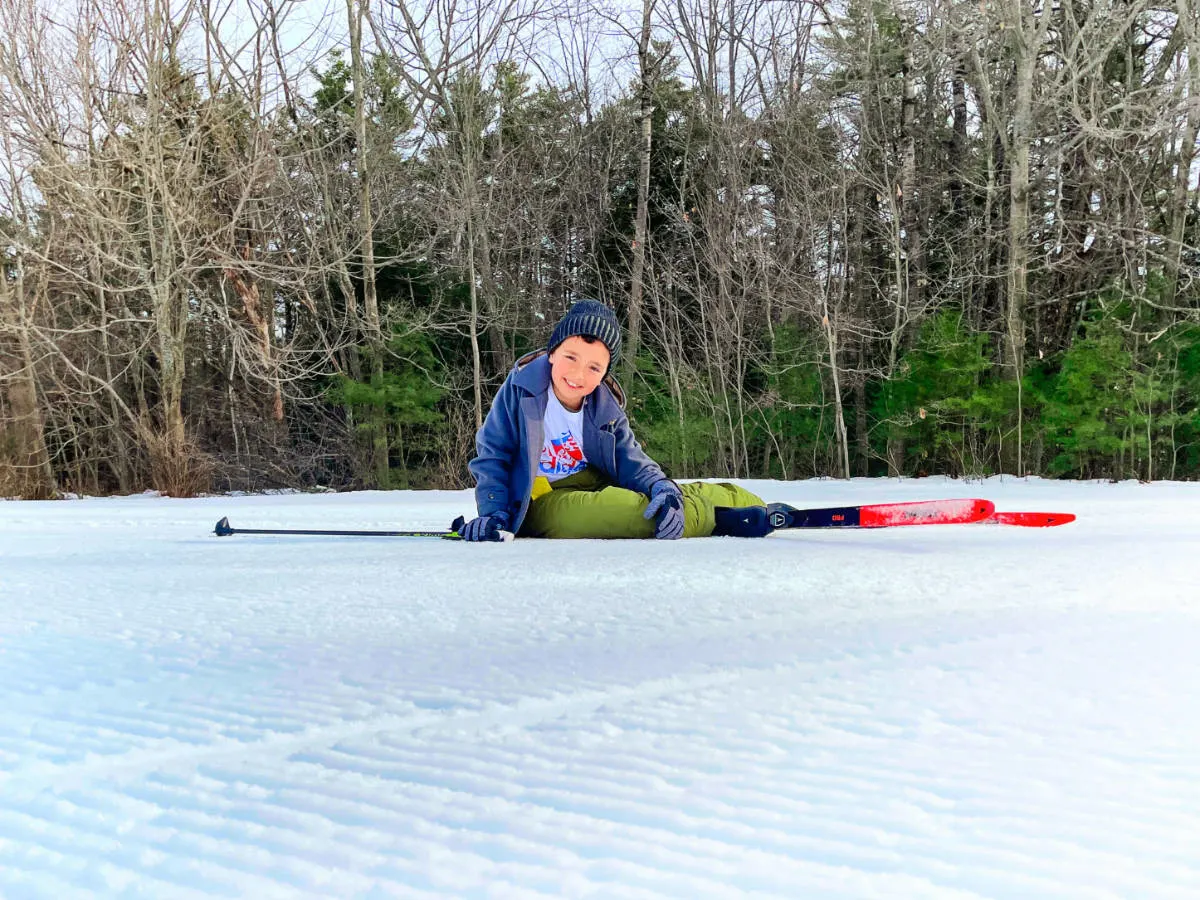 Snowshoeing at Camden Hills State Park
I think snowshoeing is a great family activity and it's one of the best things to do in Maine in winter. Snowshoeing is easier on the body than skiing and you don't have to have any skills to do it. Whether there's fresh powder or recent snow has iced over, snowshoes make getting out into nature easy-peasy.
If you're visiting Midcoast Maine, Camden Hills State Park is a great place for snowshoeing. While the primary road up Mount Battie is closed in winter, you can still park and either hike up to the lookout, or just tromp your way through the forest and trails. We used this time for general snowplay as well, because keeping our kids from going all in on snowballs was impossible.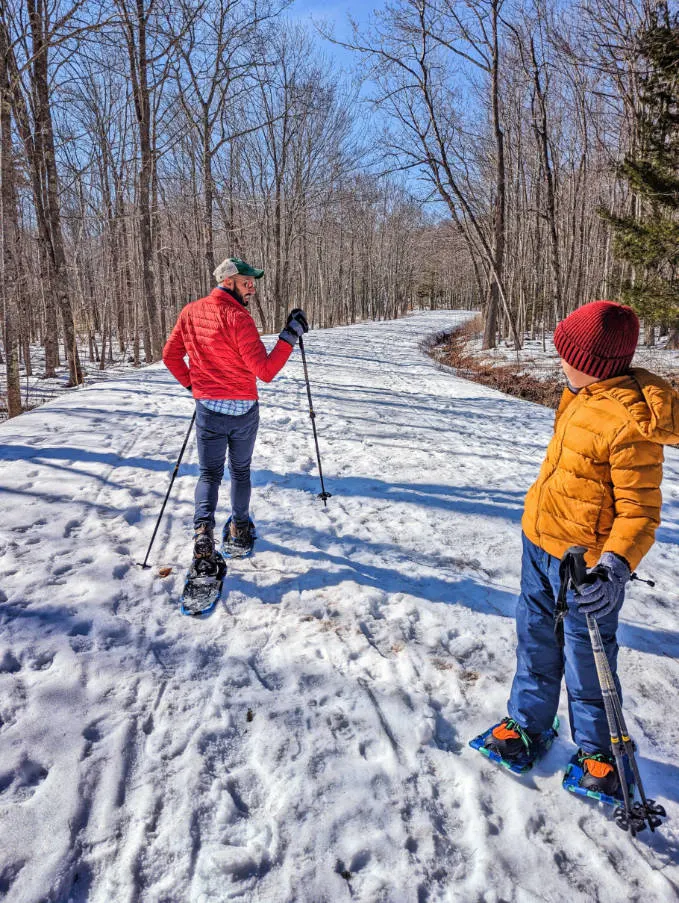 Here are some options for snowshoeing in Maine, and remember that if you need to rent gear, that can be done at a variety of places, including in Portland or Rockland.
TIP: Maine State Parks has a Ski & Snowshoe Trailer that changes locations throughout the winter, and they offer free gear use and will also help you repair your own equipment!
Bradbury Mountain State Park – Pownal (north of Portland) – trails for snowshoeing ranging from easy to difficult
Pineland Farms – New Gloucester (NW of Portland) – trails for snowshoeing separate of its cross country skiing trails
Wolfe's Neck Woods State Park – Freeport (north of Portland) – trails for snowshoeing between Casco Bay and the Harraseeket River
Harris Farm Cross Country Ski Center – Dayton(SW of Portland) – trails for snowshoeing and cross country skiing
Camden Hills State Park – Camden (Midcoast) – trails for snowshoeing and snow hiking for scenic views of the coastline from Mount Battie
Acadia National Park – Bar Harbor (down east) – so many trails for snowshoeing hiking, including the Carriage Roads
Rangeley Lakes Trail Center – Rangeley (central ME) – trails for snowshoeing and cross country skiing
I can't say enough how great snowshoeing is, especially if you don't normally get snow where you live. It makes enjoying the snow so much easier and you can really get away from the rest of the world into the chilly quiet of the woods.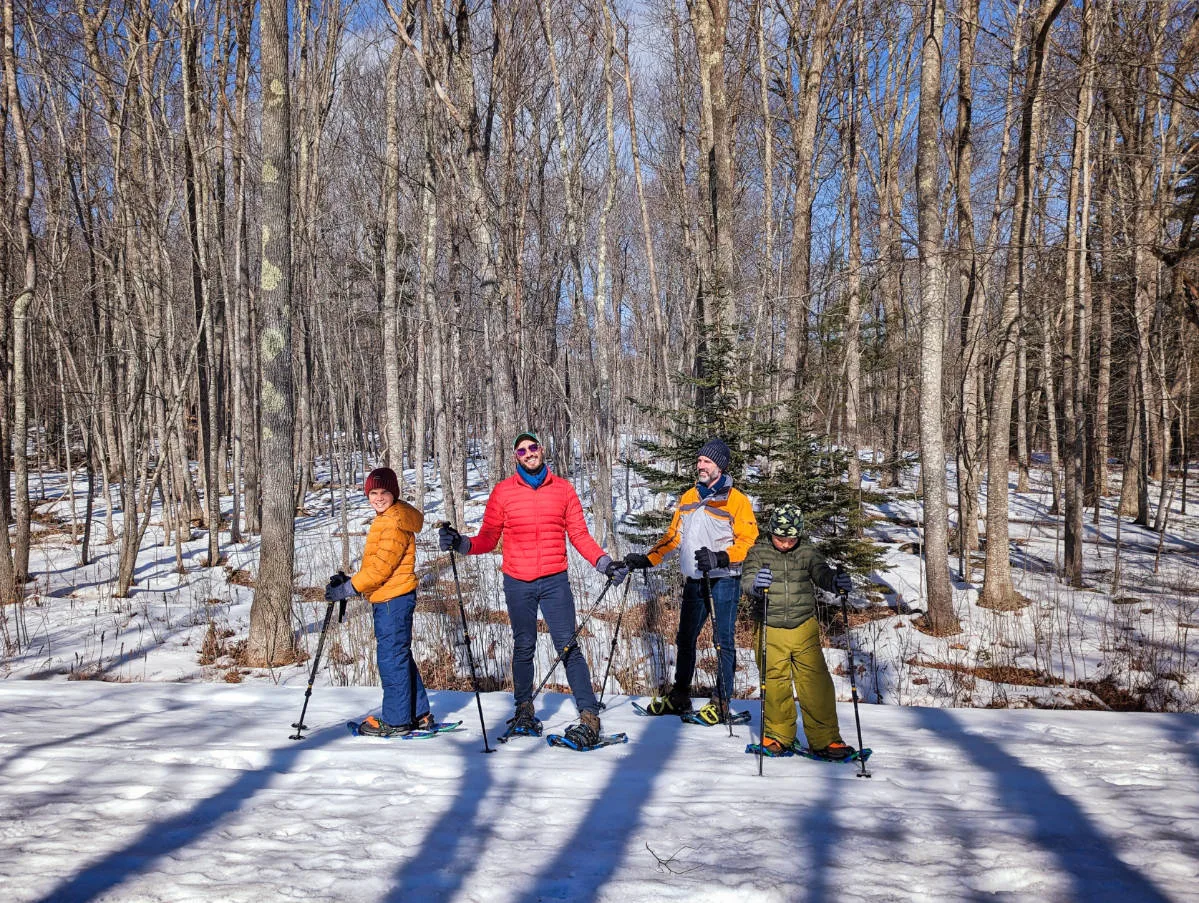 Sledding in Maine
Ahhh, sledding. Until I was a teenager I didn't realize that non-Olympic athletes could do snow sports besides sledding, so it's always been a favorite for me, and our kids love it too. Maine in winter is really cool when you consider that they have designated sledding areas. There is even an annual toboggan championship!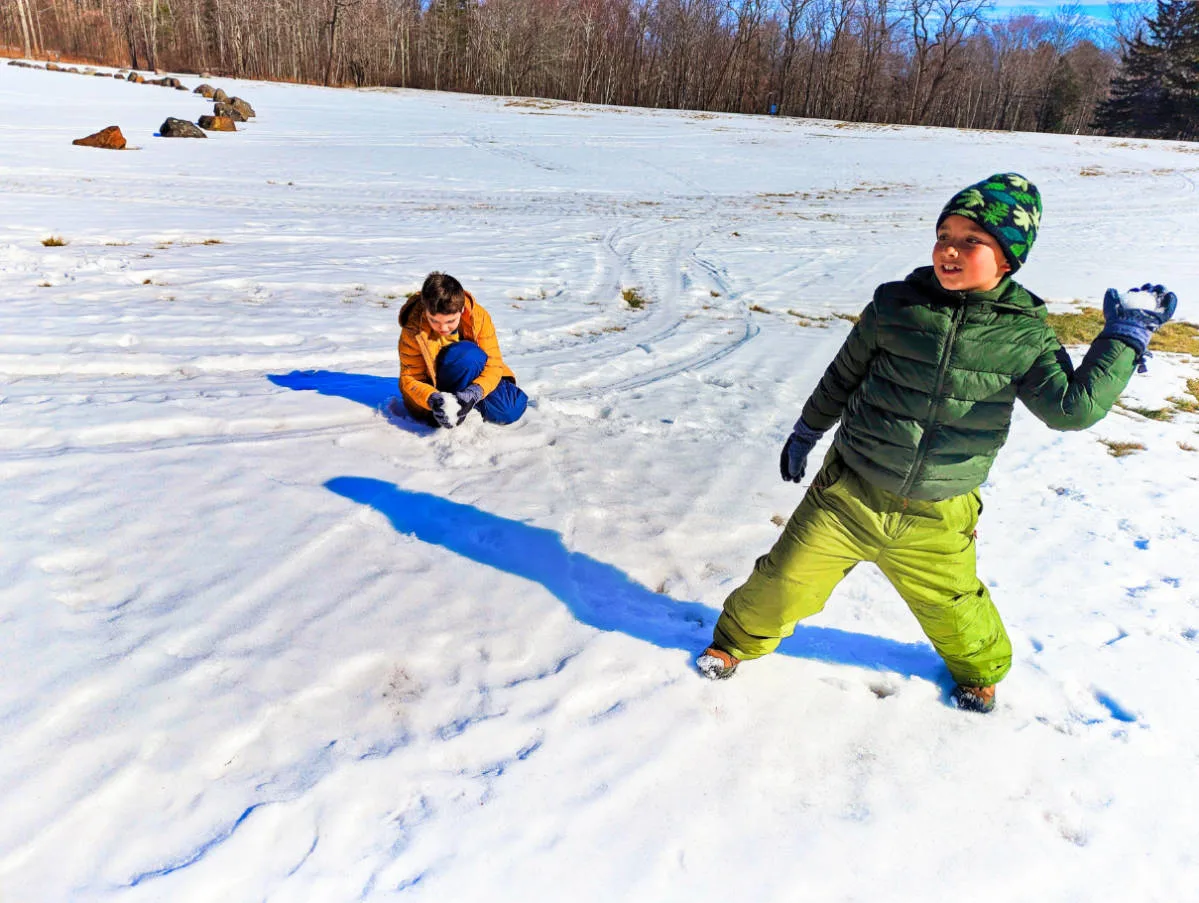 If the conditions are right and you're looking to hit the hills on a sled, there are quite a few great options for the public to go sledding.
Powderhouse Hill – South Berwick (SW of Portland), sledding for kids and adults
Sawyer Mountain Highlands – Limington (west of Portland) a conservation area with a designated hill for sledding
Payson Park – Portland- this park has a hill that is great for sledding during the winter
Fort Williams Park – Cape Elizabeth by Portland Head Lighthouse – sledding by the ocean
Mill Creek Park – South Portland – park has a designated hill for sledding
Smiling Hill Farm – Located in Westbrook (Portland) – the farm has a designated sledding hill AND cross country skiing
Camden Snow Bowl – Camden (Midcoast) – this ski area offers a sledding hill for families as well as snow trails for snowshoeing and hiking *this is a maintained snow area where they create snow when other places have none
Quarry Road Recreation Area – Waterville (west of Bangor) – the recreation area has a designated hill for sledding, as well as cross country skiing and snowshoeing
Where to Stay in Maine in Winter
Planning a trip to Maine in the winter means that you won't have to jockey for great hotel rooms and affordable rates like you might face in the summer, which makes it the perfect time to stay someplace special! Many smaller inns and roadside stays close for the winter, but plenty stay open, especially in southern and Midcoast Maine.
Portland Area Hotels
Because Portland is a city that doesn't rely solely on tourism, it is very much open and bustling like any other city. Visiting Portland, Maine in winter is not too different from being there in the summer; there aren't tons of outdoor dining options in winter, but city life is about the same.
Staying in Portland is a great idea for exploring the areas of Cape Elizabeth, inland or southward, and then Portland itself. Here you'll find quite a few boutique hotels as well as national travel brands. We really enjoyed staying at the Hampton Inn Portland Downtown Waterfront. It is walking distance to countless restaurants and museums, as well as to the ferry building if you're venturing out from Portland via the water. What we really enjoyed was our enormous room with views across Portland Harbor, including being able to see two lighthouses.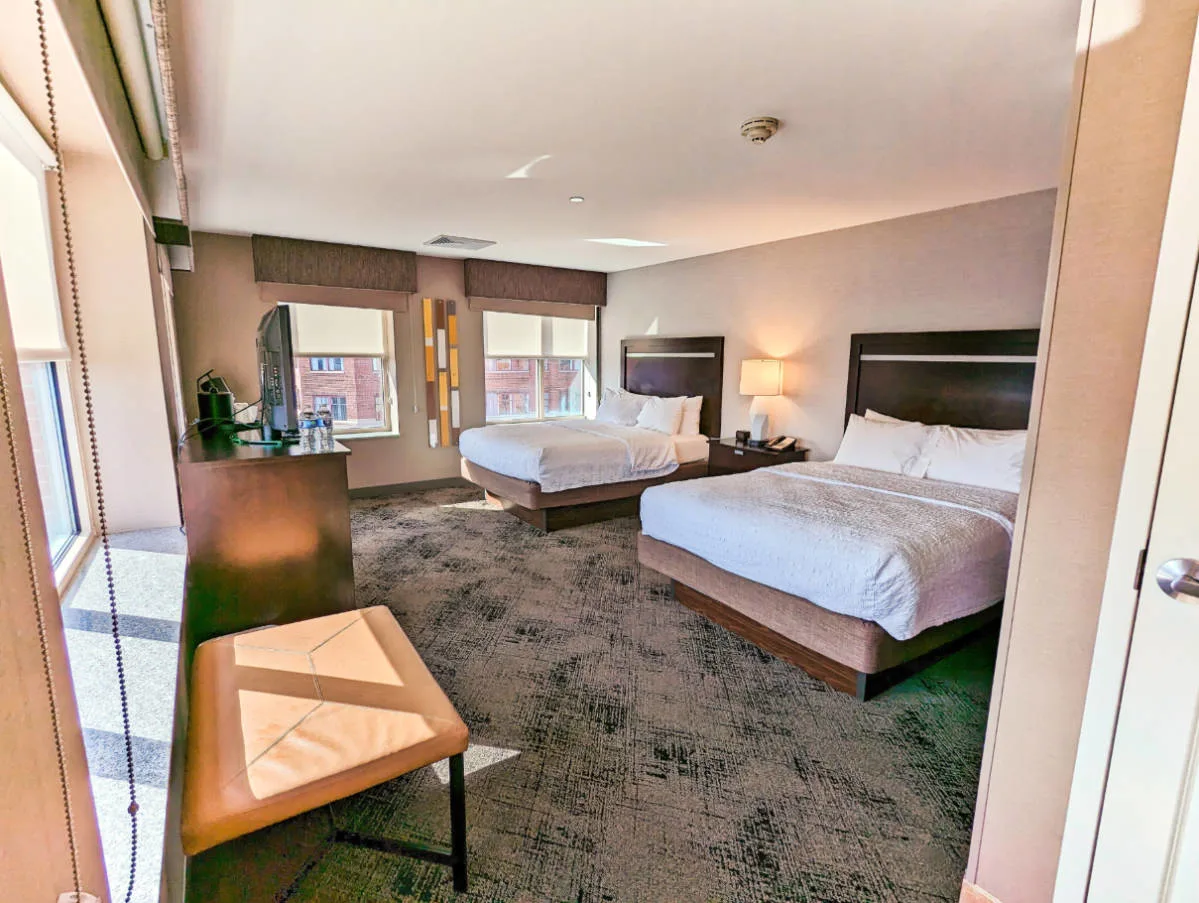 Harraseeket Inn in Freeport
What a charming and welcoming place! The Harraseeket Inn is located at the start of town in Freeport, just 20 minutes north of Portland. The town is known for the EPIC LL Bean store complex as well as tons of outlet shops that line the picturesque downtown area. Freeport is a great spot to have as your homebase if you're into bird watching or are planning lots of nature time, as it's close to the Harraseeket and Kennebec Rivers and several preserve areas.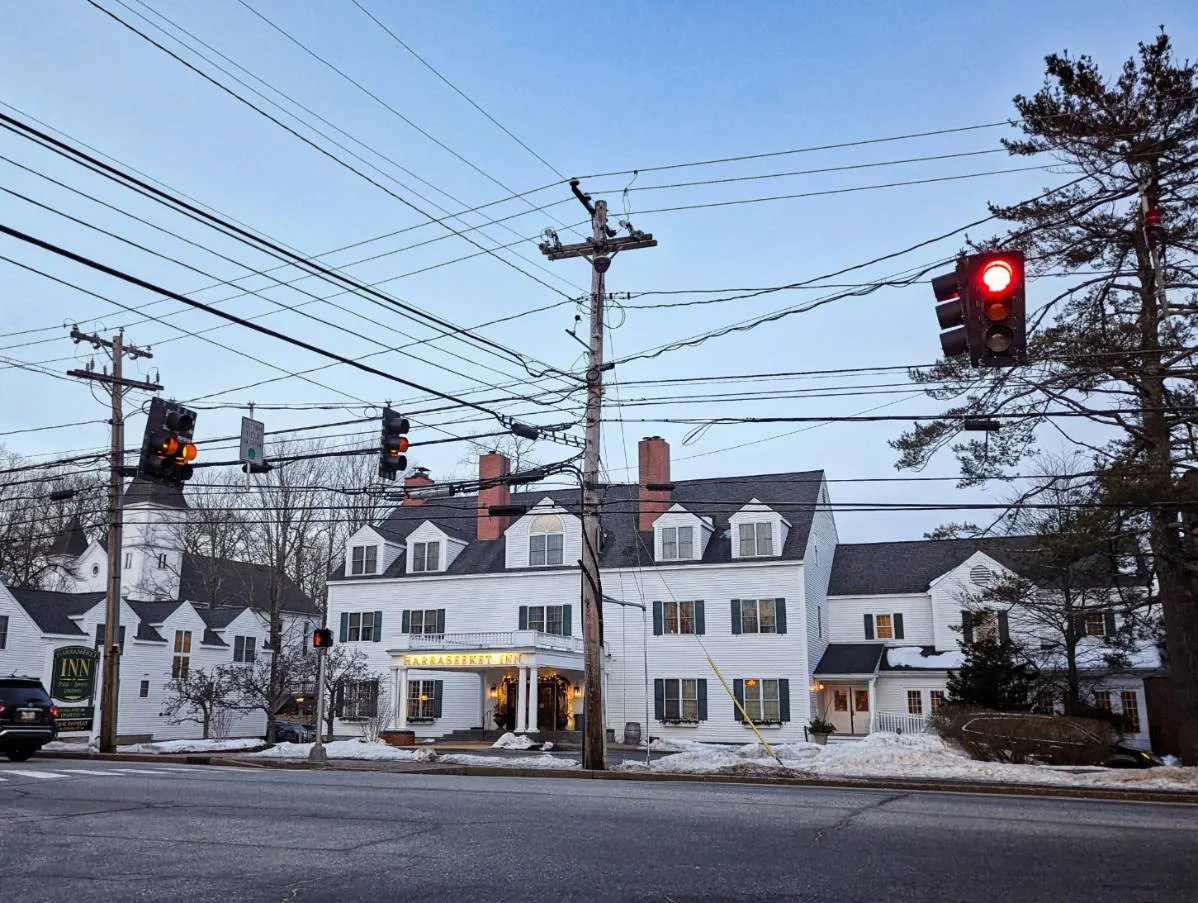 The Harraseeket Inn itself is beautiful, consisting of both a traditional Maine-style inn and the LL Bean Guesthouse. We really felt at home here, with roaring fires and homemade breakfast each morning. Also, we took full advantage of being walking distance into downtown Freeport. It's the perfect Maine winter stay!
Book the Harraseeket Inn here!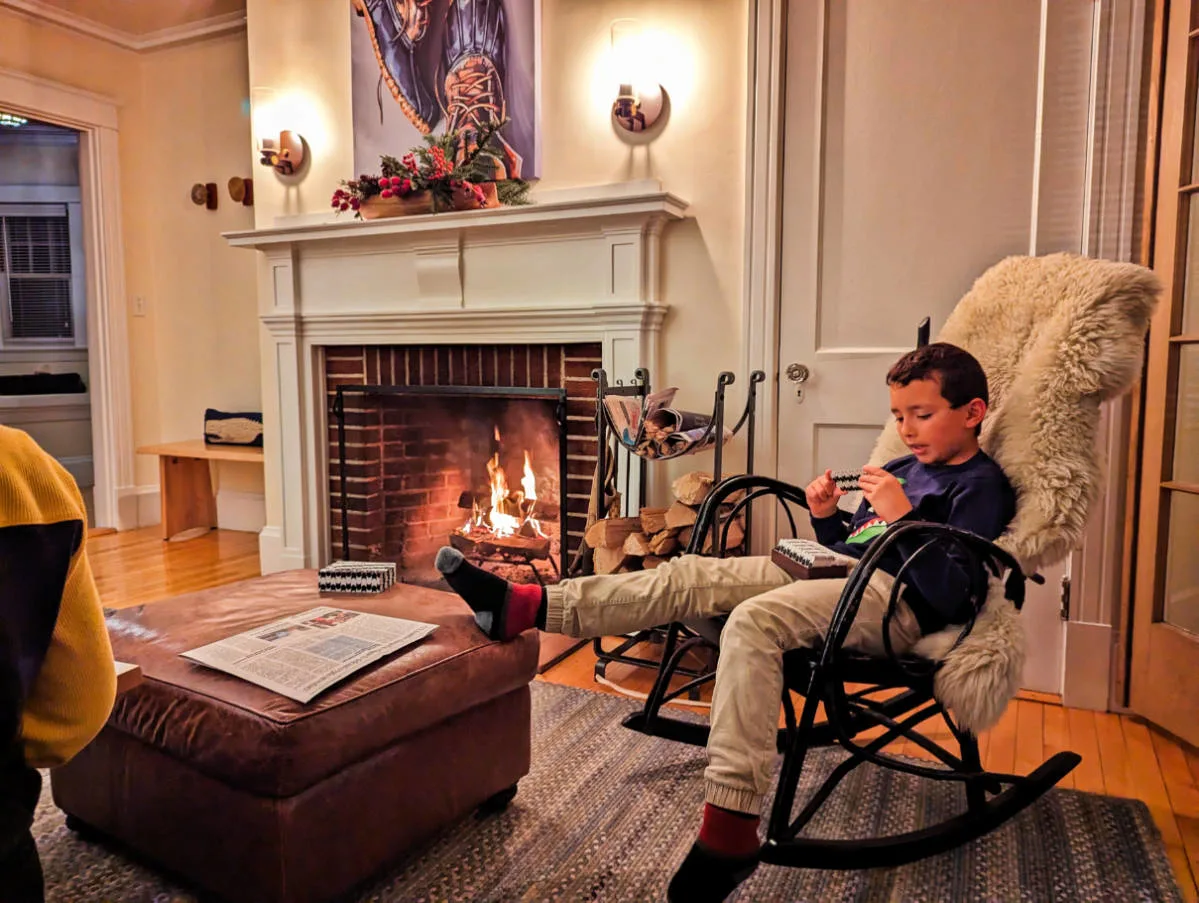 Samoset Resort in Rockport (Rockland)
You'll find that it's a bit more sleepy in Midcoast Maine in winter than down in Portland, and that's great! Set just above the Rockland Breakwater Lighthouse, the Samoset Resort overlooks Penobscot Bay and Rockland Harbor. The Samoset is beautiful, inside and out. A historic lodge, the original hotel was built in 1889 but then burned down in 1972. The current resort is a reconstruction and uses some of the most beautiful reclaimed wood in the lobby, and then sprawls outward, providing great views from nearly everywhere.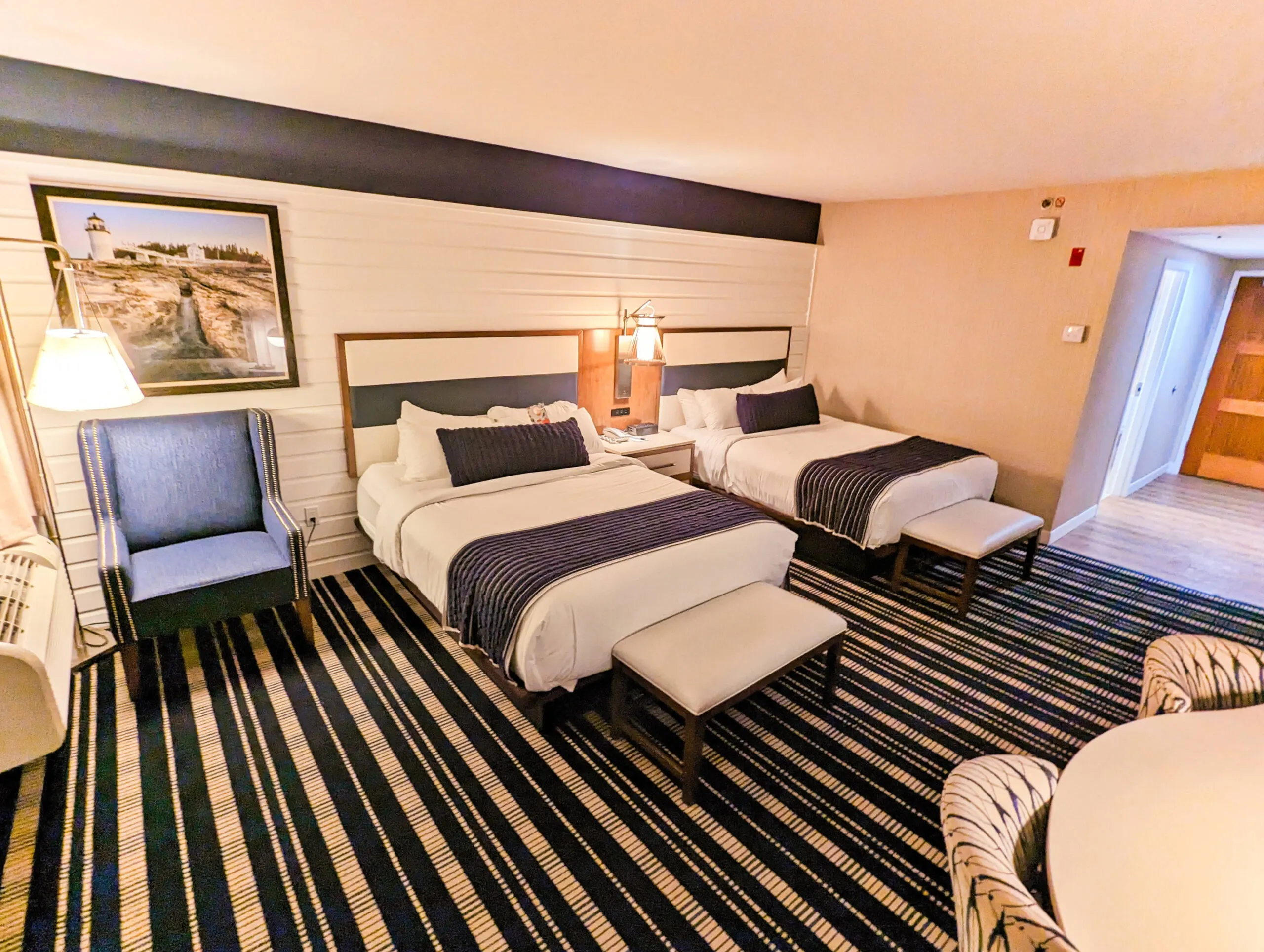 There are two parts to the Samoset Resort: the hotel and the condos. If you're visiting Maine in winter, the hotel portion is typically only open Friday through Sunday, while the condo units can be rented anytime. If you're staying on property when the main hotel isn't open, you won't have access to the amenities, like the indoor pool and incredible fitness center, but you can still enjoy the grounds and be close to the lighthouse.
Sunrise here is the best in all of Maine, so wherever and whenever you stay, be sure to go for a walk or enjoy the morning from your balcony. Also, if you're staying at the Samoset Resort in the winter, they have special events and programming to keep things fun, including an Ice Bar (limited) and making s'mores at the grand lobby fireplace.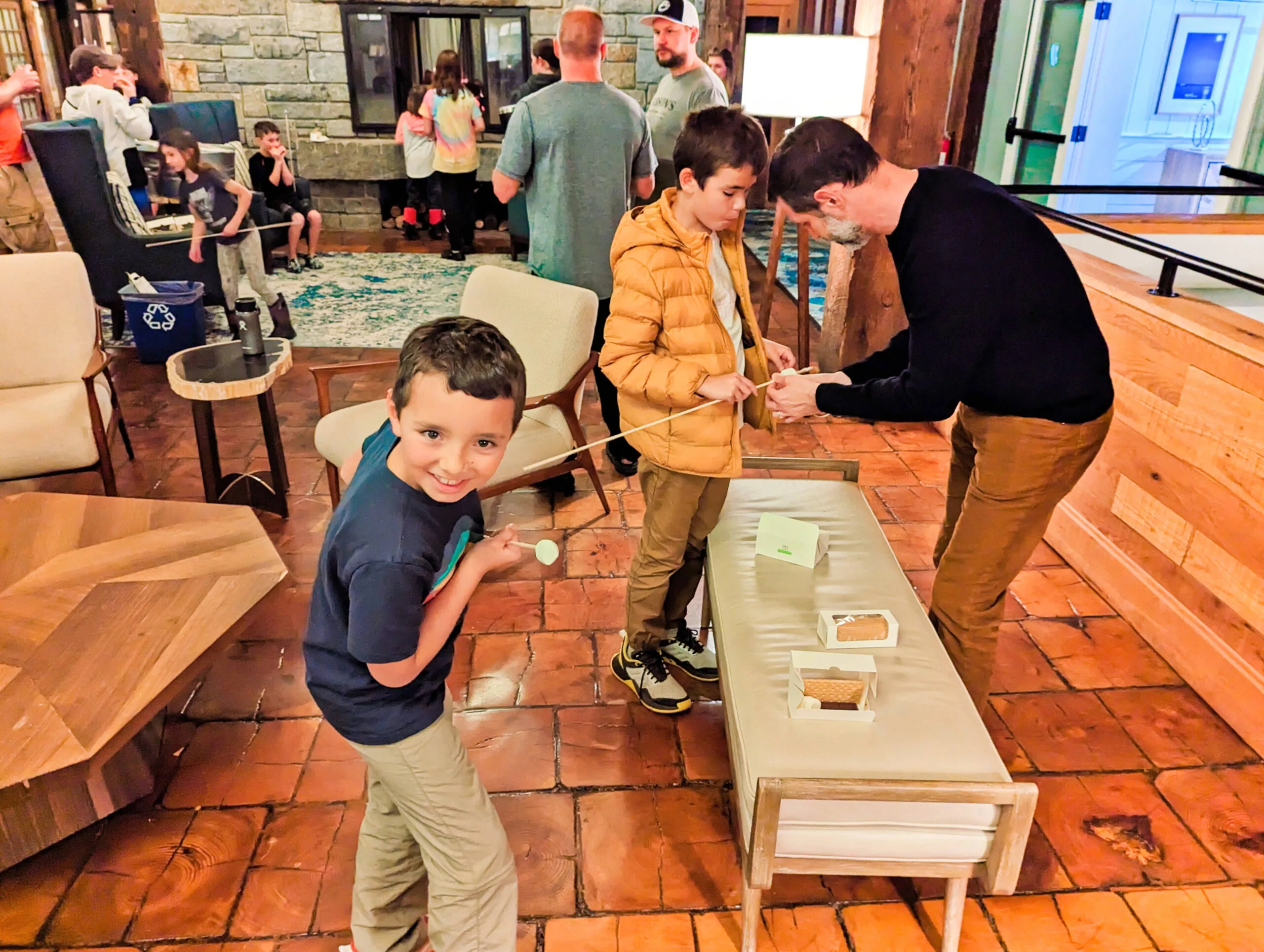 250 Main Hotel in Rockland
For a different sort of stay in Rockland, the 250 Main Hotel is fantastic too. The art, the books, the modern and eco touches, it all makes the 250 Main a welcoming hotel. Located at the south end of downtown Rockland, it's in a great spot with most of town being walkable, including the Farnsworth Museum and plenty of restaurants.
My favorite part of staying at the 250 Main Hotel, at least when we've stayed there in the summer, is the wonderful rooftop deck with views all the way across Rockland Harbor. For those visiting Rockland in winter, the warm lobby and cozy rooms will be a great touch to start and end your day.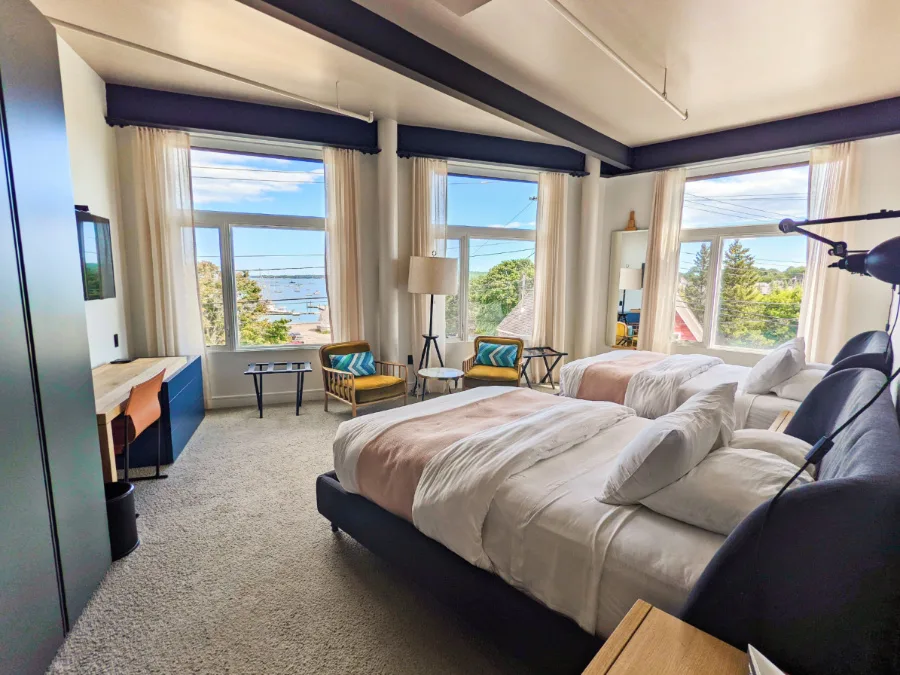 Can you tell that we really enjoy winter in Maine? It's such a treat to be able to visit any time of year and getting to be there in the snow and sunshine is just an absolute bonus.
If you have any questions about visiting in the off season or need additional recommendations, please leave a comment or send us a note. We're always happy to help you plan. Happy traveling!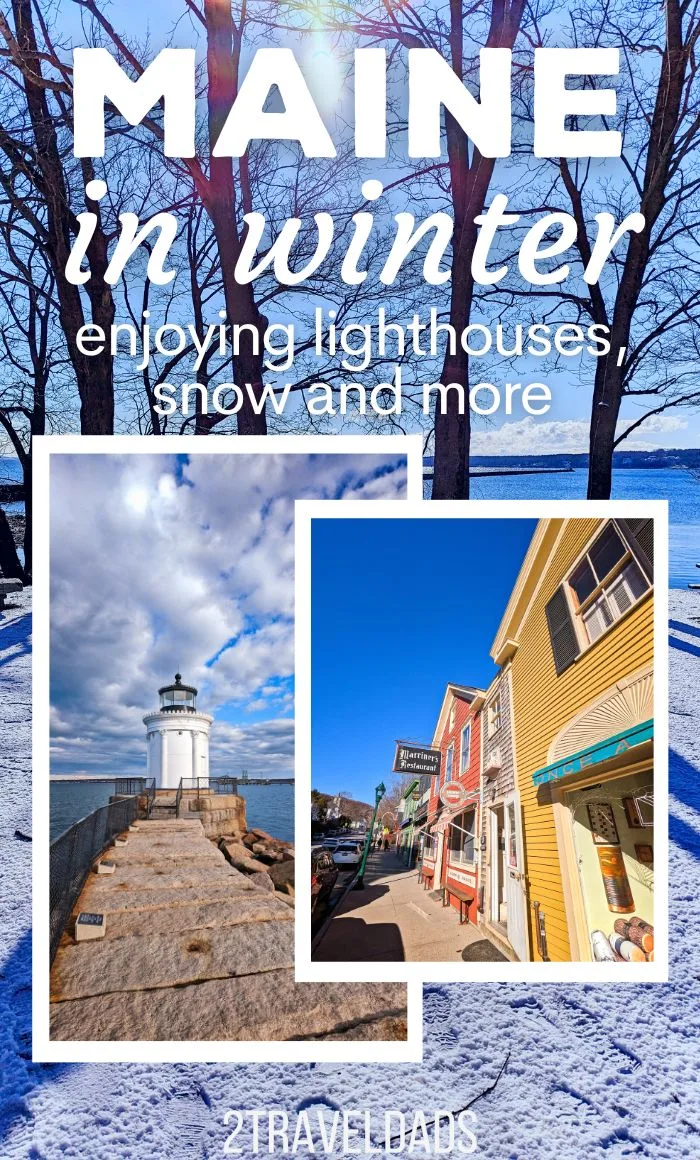 FAQ for Visiting Maine in Winter
These are the most frequently asked questions about planning travel to Maine during the winter months. If you have additional questions, please let us know so we can assist you!
What is the weather like in Maine during winter?
The weather in Maine in winter is usually pretty cold and wet, and it can get to below 0 degrees F, but in general is just wintery. Check the weather for Maine in winter a week before your arrival for the most accurate forecast.
What are the best winter activities to do in Maine?
We enjoying visiting lighthouses during winter, as there are very few tourist. Snow activities, including snowshoeing, cross country skiing and sledding are great too, weather permitting.
What should I pack for a trip to Maine in the winter?
You cannot pack too many layers. The weather in Maine during the winter can vary greatly, from feeling like spring to dropping below zero. Pack for the coldest weather you are comfortable experiencing.
Are there any special events or festivals in Maine during the winter?
Winter in Maine is rather quiet, but you will find the toboggan championships, a limited time Ice Bar at the Samoset Resort and local art events in Portland and Bangor. Also, as mentioned above, the Gardens Aglow event at the Coastal Maine Botanical Gardens happens from Thanksgiving weekend through the end of the year.
Is it safe to drive in Maine during the winter months?
The Maine Department of Transportation does a great job clearly roads after snow. You'll still need to drive safely and be mindful of icy roads, particularly if you go off the beaten path or are driving in shaded areas.
What are the best places to stay in Maine during the winter?
We recommend staying in the larger towns during the winter, as Maine tends to shut down much of the summer tourist businesses. Produce markets and lobster stands board up for the winter, so restaurants in towns like Camden, Rockland and Bar Harbor will be more open than the smaller shops and dining spots in tiny towns.
Are there any restrictions or closures due to winter weather in Maine?
Rural roads and state park roads may close in winter, or just depending on weather events. The main highways (I-95, I-295, Highway 1) remain open and clear unless weather prevents their safe maintenance.
What are the most popular ski resorts in Maine?
There are several ski resorts in Maine, with the most popular being located in Western Maine in the Highlands and the Carrabasset Valley. Sunday River, Sugarloaf, Saddleback and Shawnee Peak are all great ski destinations with resort services and plenty of nearby accommodations.
What is the best way to get around Maine during the winter?
You do need your own vehicle if you visit Maine in winter. There are very few tours or driving services in the winter months, and due to limited access, having your own car is idea. I like to rent a mid-sized SUV to make driving on gravel and dirt roads doable in winter.
What are some of the best winter landscapes and scenic routes to see in Maine?
Driving Highway 1 in the winter is wonderful. I love that it takes you through many small towns and it gets you close to Maine lighthouses, which is typically where you'll get the best winter landscapes and remarkable scenic views. Keep your eyes peeled for winter scene with covered bridges if you're heading towards the Highlands in winter!
---
We really enjoy visiting Maine in winter. Between the unique frozen rivers and fewer people, it's a very different experience. If you have any questions or want to share your own tips, please leave a comment or send us a note. We're happy to help plan travel anytime!