After a week of camping in Maine, the 250 Main Hotel was a welcome change full of comfort and in the perfect location. Mid-Coast Maine can feel pretty rough around the edges at times, so checking into a nice, welcoming hotel was a great surprise. Often we stay in larger hotels or resorts which made 250 Main seem small and quaint, but the service and luxury matched the larger properties we frequent.
This is our review of staying at the 250 Main Hotel during summer season. We visited over a weekend and into the weekdays, so saw the hotel at both its busiest and most calm. Actually it was calm the whole time, which is perfect when you just want to relax. If you have any questions we miss in our review, please send us a note or leave a comment so we can follow up.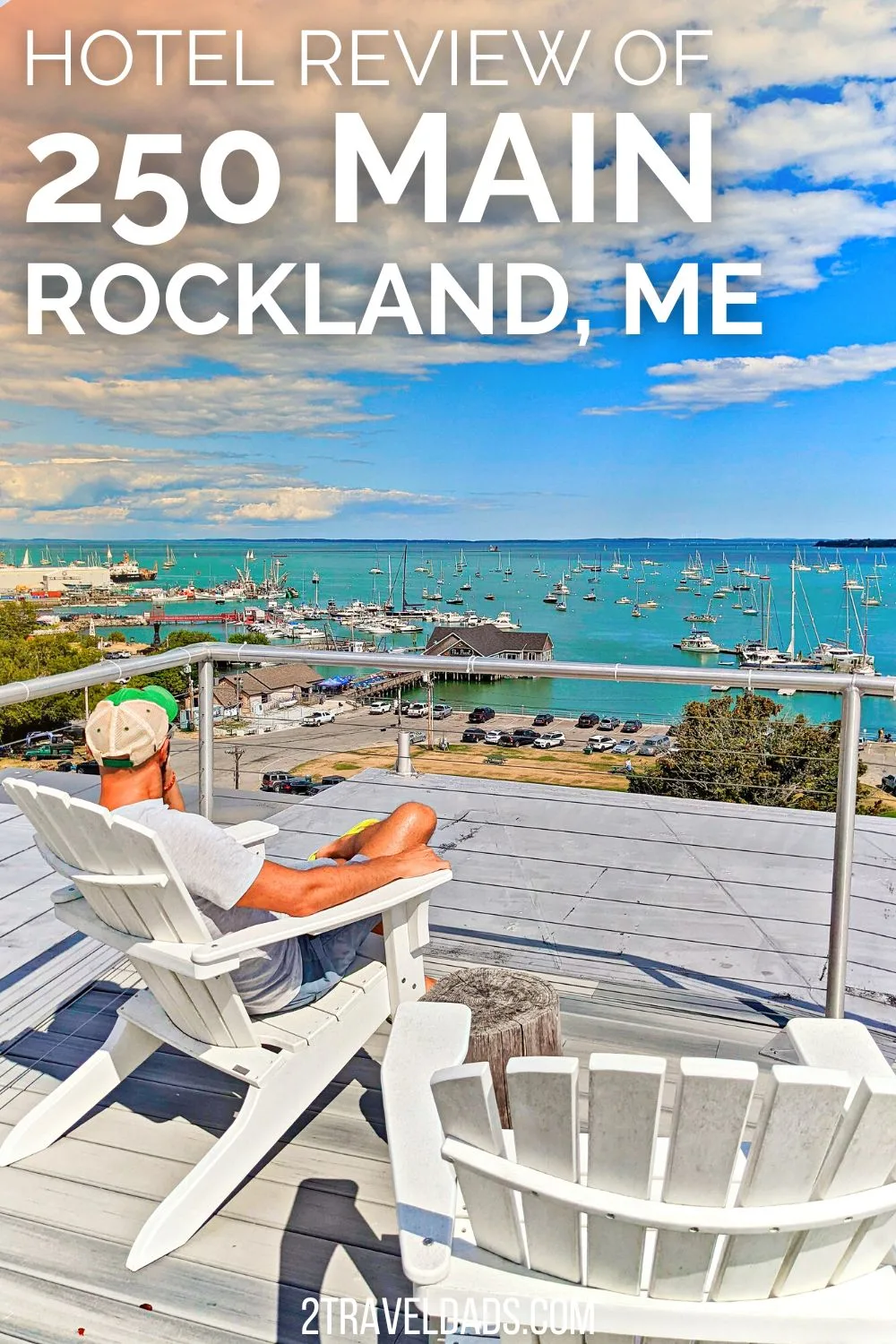 Note: we were invited by 250 Main Hotel to give them a try during our Coastal Maine trip. All opinions are 100% our own.
What Are the Accommodation Options at 250 Main Hotel?
Each of the rooms at the 250 Main Hotel are bright and airy with lots of great, colorful touches. Unique art and fixtures make it both welcoming and trendy. Each room has seating and work space, with room to unpack comfortably. Elements like bathrobes and heated towel racks make it more luxurious than a normal hotel. Here are the different room types, separated in type by bed size and outdoor access.
Balcony – Queen bed with balcony
Cool – King bed with floor to ceiling windows
Fabulous – King bed on top floor
Fantastic – King bed with deck
Cozy – King bed with smaller windows
Family Friendly -2 Queen beds with floor to ceiling windows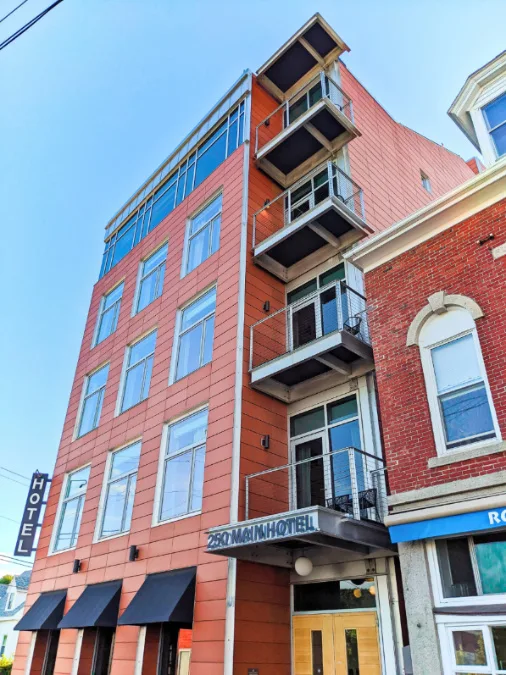 The views are either of the Rockland Harbor with the Rockland Breakwater Lighthouse in the middle, or of the neighborhood just off Main Street. If you don't have your own balcony or face the neighborhood instead of the harbor, the rooftop deck is open 24 hours a day for having some relaxing time and taking in the view.
A big bonus of staying at the 250 Main Hotel is the mattresses. All rooms have the Simmons Chatfield 14" Pillowtop Mattress which basically feels like heaven. Add fluffy pillow-like bedding and it's the most comfortable hotel bed I've slept in in years.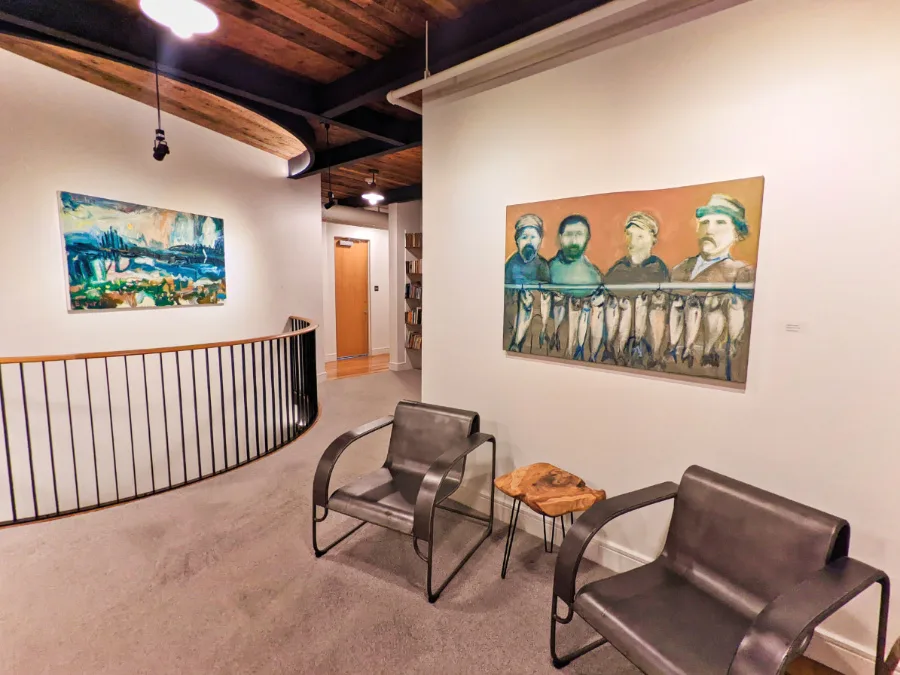 Top Pick: Family Room – 2 Queens
Our favorite hotel room type will always be a suite with a deck or balcony, but if we can't have that, a spacious room with floor to ceiling windows and a perfect view will always do just fine. At 250 Main Hotel we had a two queen bed family room with windows on two sides. There was ample space to unpack into the drawers and armoire, luggage storage space, a nice sitting area, and a beautiful bathroom.
The kids had lots of commentary about the mid-century gold chairs in our room and the ink-line waves wallpaper. I loved it too because the decor of our room was both modern and artsy, but not in-your-face or uncomfortable. All throughout the building there were decor elements like in the rooms the incorporate the maritime nature of Rockland, Maine as well as comfortable elements. Beautiful hotel for a beautiful stay.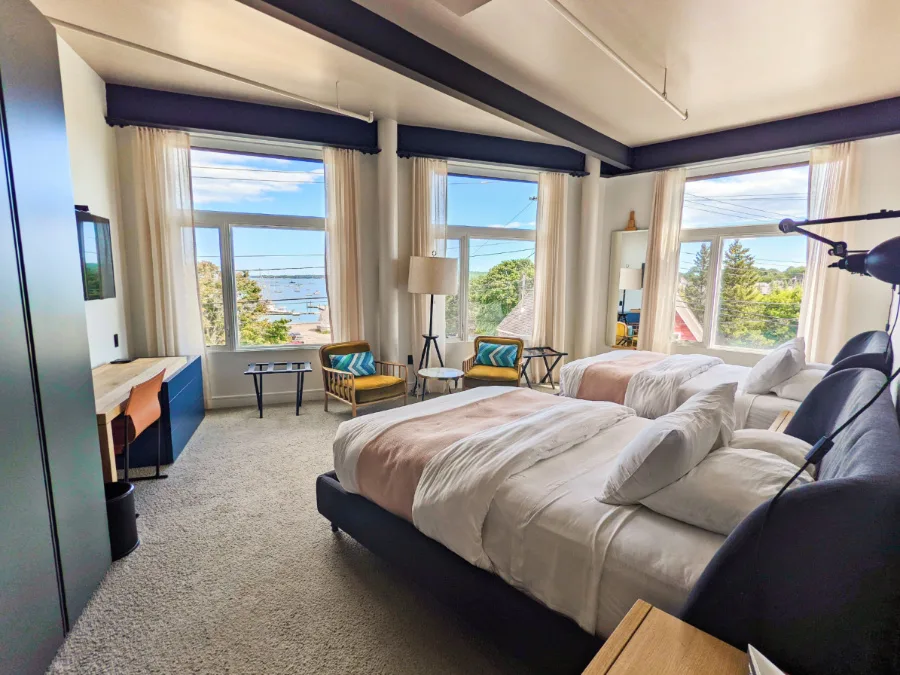 Check in / Check Out at 250 Main Hotel
In an effort to keep the lobby of the 250 Main Hotel nice and peaceful, as well as comfortably hospitable, the check-in space is very small. Located right by the Main Street entrance, there is typically one staff member available (and another lingering nearby) to help guests with arrival, questions and departures. The desk staff also can help with wine and beer sales for any guests looking to take adult beverages up to the roof or their rooms.
With just 26 rooms in the hotel, there's not a lot of need to pomp and numerous staff, but the ones you will meet are very friendly and are fully empowered to take care of guest needs. We interacted with four different staff members throughout our stay and each was very kind.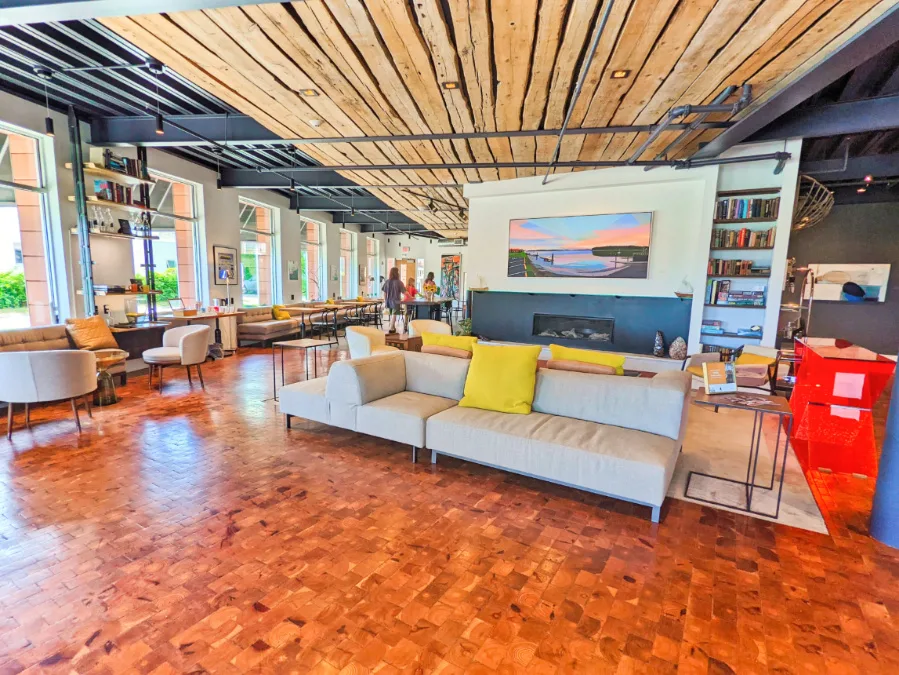 250 Main Hotel Amenities
Although the 250 Main Hotel doesn't have all the amenities like you'd find at a large resort, or even a larger boutique property like the Hoodoo Moab Hotel, they still offer quite a few guest amenities that add to the overall experience of staying there. Rockland, Maine is a small town, so finding a hotel at this level of service and offerings is a great surprise.
Guests of 250 Main are welcome to wine or beer each evening in the lobby where they can enjoy a complimentary drink and then they are free to purchase additional drinks. We got a bottle of white wine after our initial beverage and took it to the roof to watch the boats in the harbor.
In the mornings, a high class continental breakfast is available for guests with fresh fruit, locally made pastries, juice, locally roasted coffee, yogurt and more. Since it's a small hotel, breakfast is nice and quiet and feels like a peaceful family breakfast hour.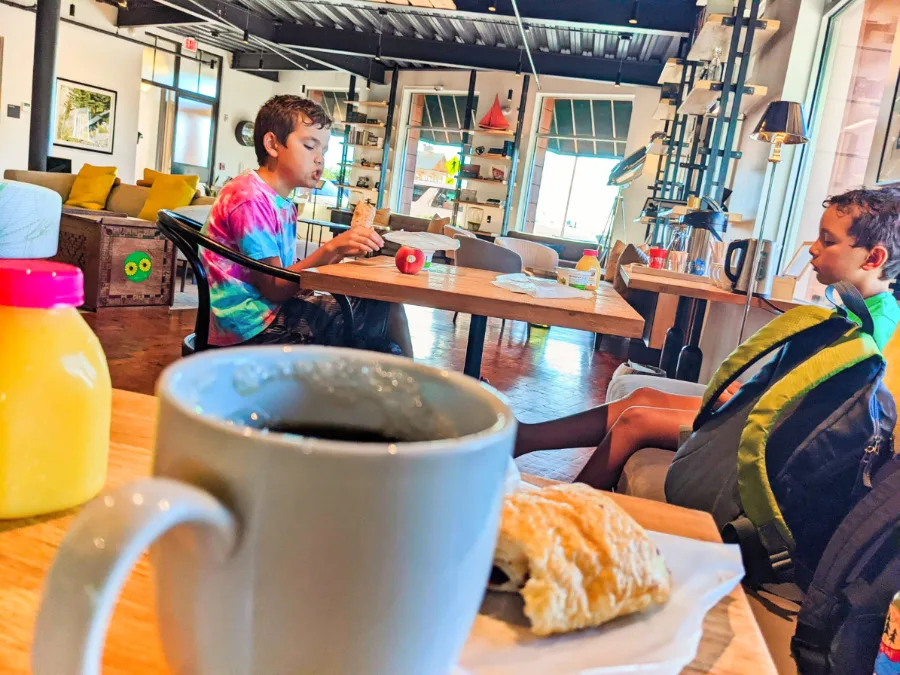 Another unusual amenity that we really liked was the water draft station. Like you'd pull draft beers, there is a station for filling glass bottles to take to your room. You can also fill your own bottles here. The station has sparkling, flat and chilled water to choose from. A small but great way to make travel low-impact.
The rest of the amenities offered by 250 Main can be found within the guest rooms. I mentioned before that there are heated towel racks and bathrobes, and these are complimented by high end toiletries, in-room tea service (coffee available upon request) and the best views in Rockland.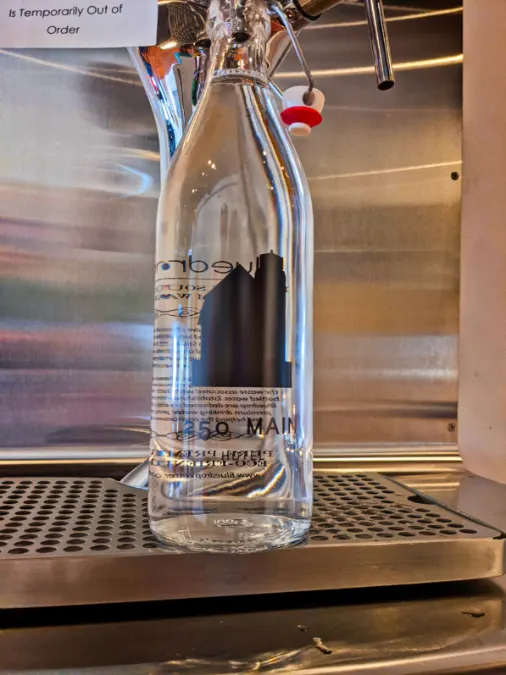 Is 250 Main Hotel Pet Friendly?
Yes! While we don't travel with any pets ourselves, others are welcome to bring their well behaved pets with them. We met a sheep-doodle at the hotel who clearly was enjoying his stay as much as us. Like with any hotel stay, you do need to inform the staff that you have an animal with you.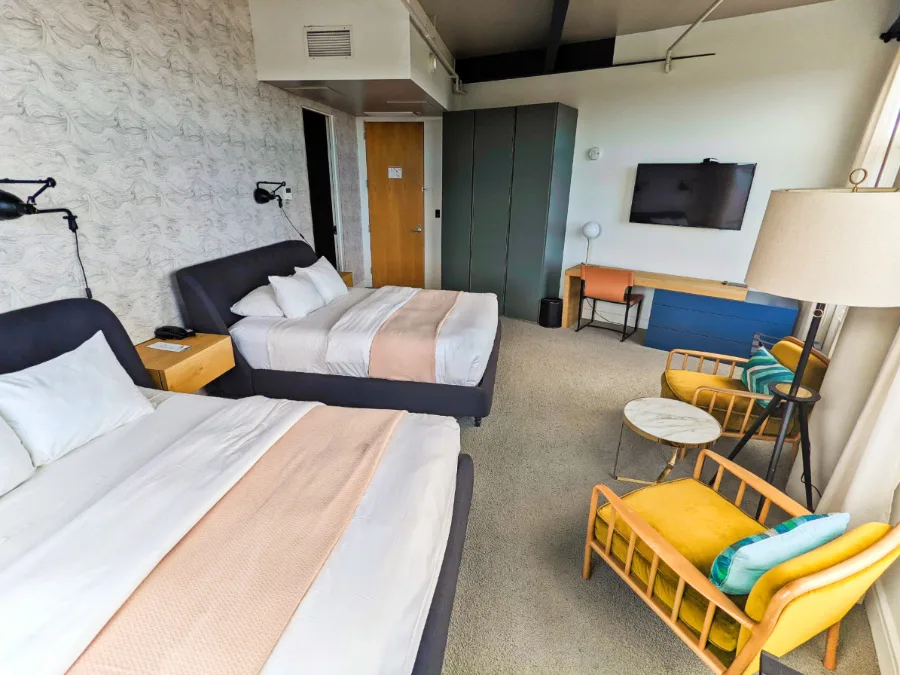 Where is 250 Main Hotel?
Located at the south end of Main Street, 250 Main is directly in downtown Rockland, Maine with a view of the Rockland Breakwater Lighthouse. The hotel is one block from the waterfront and a half block from the main area of restaurants, shops and galleries. About a two minute drive from the hotel is the wharf area where you'll find the Maritime Sail Power and Steam Museum, Coastal Children's Museum and a collection of health and wellness practitioners (my BFF has her massage studio there).
Rockland itself is located in Mid-Coast Maine between Camden and the St George Peninsula. It's about an hour and a half north of Portland and about two hours southwest of Bar Harbor. It's a great location to be based out of for a quiet coastal Maine vacation, or a nice stop on the Boston to Bar Harbor road trip.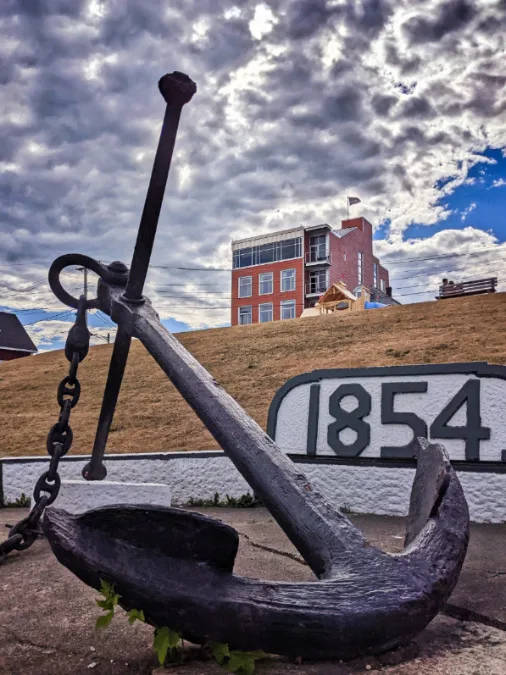 Can I Walk from 250 Main to the Rockland Breakwater Lighthouse?
Well, you could walk to the Rockland Breakwater Lighthouse, but it's quite the jaunt. Yes, you can see the lighthouse from the hotel, both the front facing rooms and the rooftop, but even still the lighthouse is pretty far away by foot. At 3.5 miles away, it would take more than an hour to walk there.
If you walk or drive, you can only go so far before you start the unusual walk out to the lighthouse. To get to the actual lighthouse in the harbor, you have to walk one mile out across the granite causeway/breakwater. This jetty is full of gaps and you need to walk it mindfully, as its very uneven and there's water on both sides. It's a great lighthouse though and the view is beautiful. Lots of seals out there too!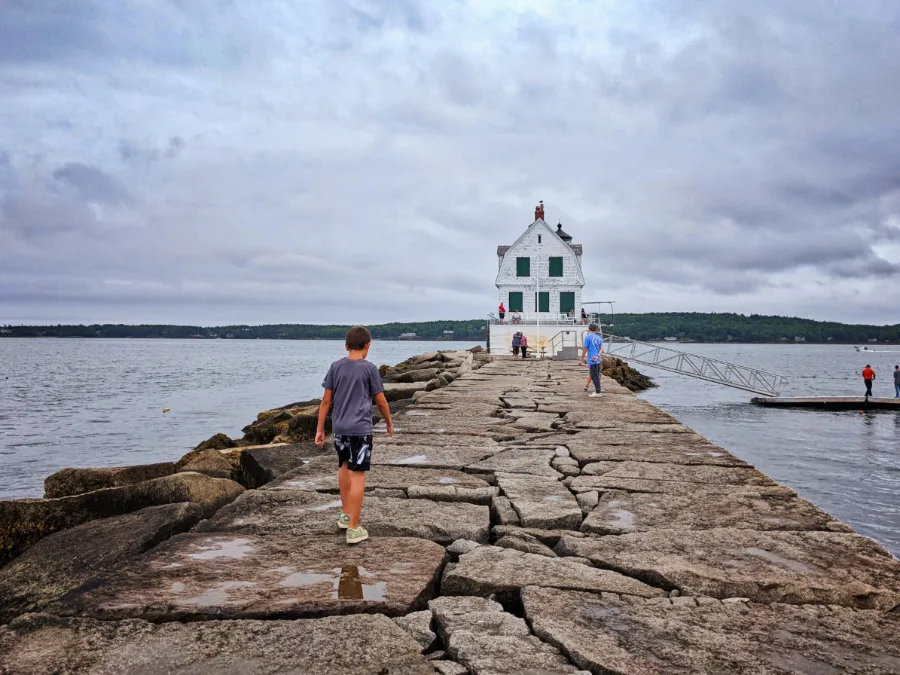 Parking at 250 Main
Don't worry, just because a hotel is downtown doesn't mean that parking during busy season is difficult. There is plenty of parking all around the 250 Main Hotel. You can park overnight on Main Street, the side streets AND there is a free public parking lot directly across the street. There is load/unload parking too, but that's good just for dropping off your luggage and checking in. It's nothing to stress about though and costs nothing.
Getting to Rockland, Maine
If you're doing a road trip to Maine, you'll have your own vehicle and who knows where you're coming from! If you're flying though, you'll either be flying into Boston (BOS), Portland (PWM) or Bangor (BGR). Bangor is the closest at about 1:45 drive, then five minutes or so more if you fly into Portland. It's about 3.5 hours from Boston, so that's quite the drive, but if your flights with connections to get into PWM or BGR leave you with a longer travel day than a flight into Boston plus the drive, choose whichever is the shorter travel time.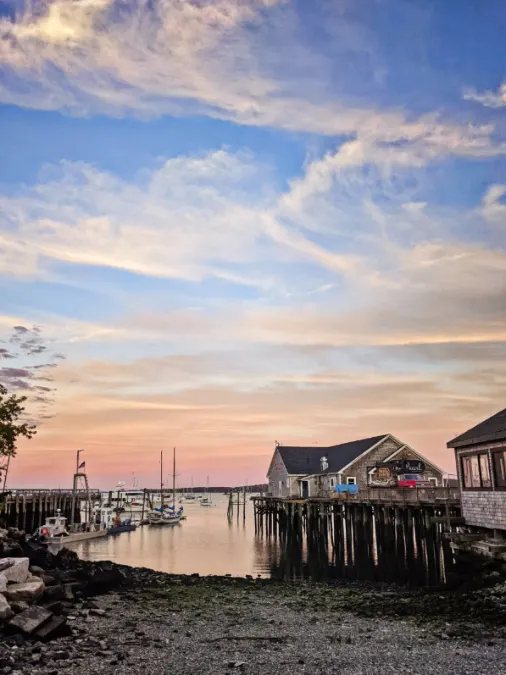 How far is Rockland from Acadia National Park?
While staying at 250 Main Hotel we did make a day trip up to Acadia National Park. It was a seemingly quick drive, even though it was two hours. The drive is beautiful and there are lots of great stops to make on your way there or back. Since it's a ways away and since Acadia National Park is actually really spread out, you'll want to leave early in the day and plan on getting back late. There is a ton to do at Acadia NP and if you're not spending the night up in Bar Harbor, you'll want to maximize your day there.
Check out our Guide to Acadia National Park here!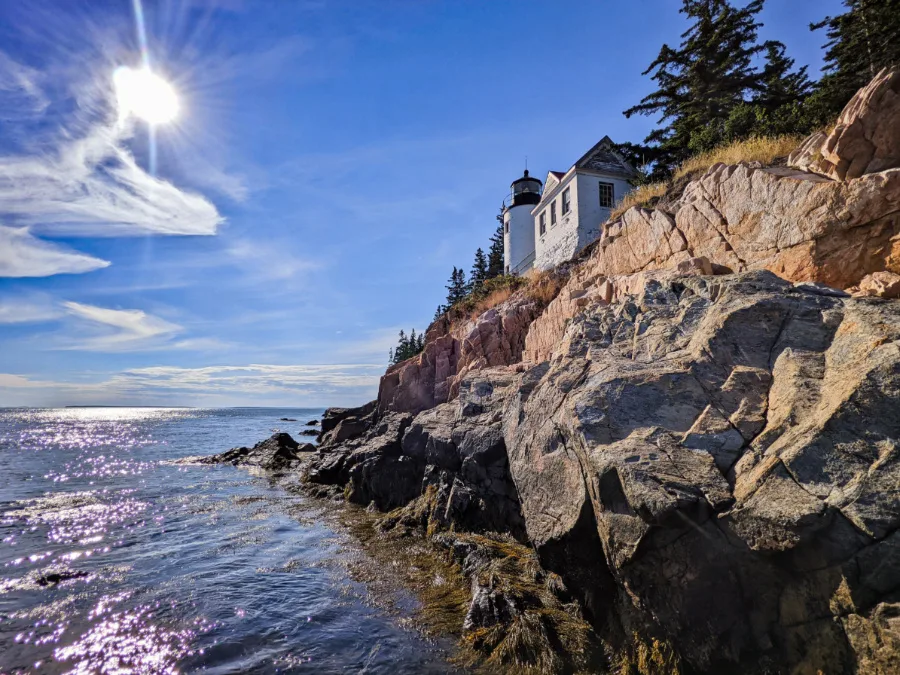 Ten Fun Things to do in Rockland, Maine
Even without planning day trips to Acadia National Park or up into the mountains, there are plenty of fun things to do directly in Rockland and Rockport, or just within a half hour of the 250 Main Hotel. These are our top picks for summertime things to do in Rockland, ME:
Visit the Rockland Breakwater Light
Kayak Rockland Harbor
Walk through downtown Rockland for galleries, food and drinks
Hike at Beech Hill Preserve and pick blueberries
Visit Owls Head State Park and light station
Have apps, drinks or dinner at Primo and wander the on-site farm
Visit Port Clyde for lobster and the Marshall Point Light (Forrest Gump lighthouse)
Do a puffin or lobster cruise (seasonal, from Rockland or Port Clyde)
Enjoy an afternoon or sunset schooner sailing (from Rockland or Camden)
Explore the town of Camden just north of Rockland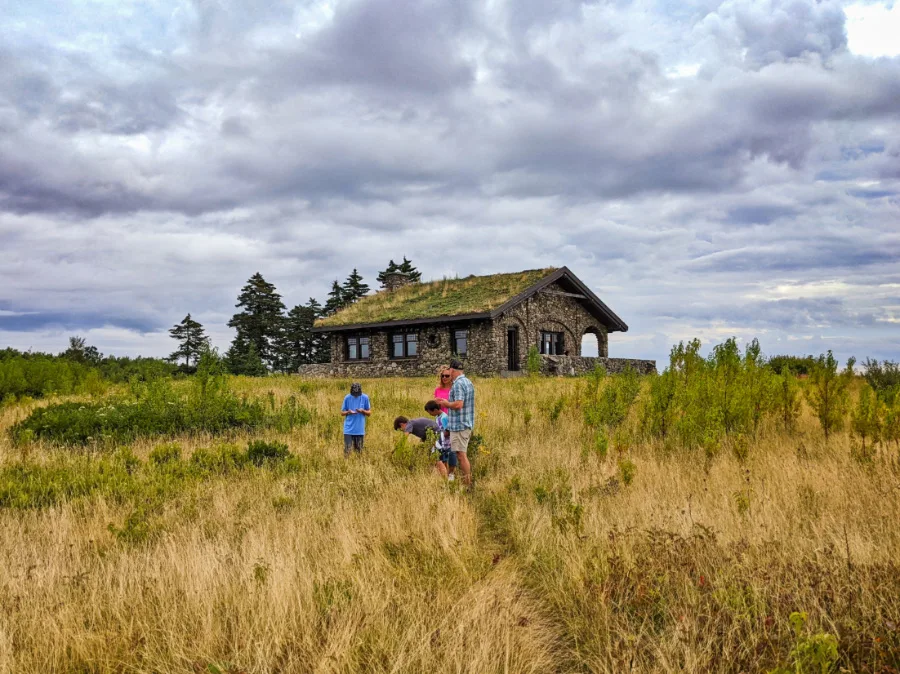 We had a wonderful stay at the 250 Main Hotel and a great time exploring Rockland and Mid-Coast Maine. We're excited to return in fall or winter and see a different side of the area.
If you have any questions about the hotel, about exploring the Rockland area, or anything about planning a trip to Maine, please let us know. Leave a comment or send us a note and we'll help you out ASAP!