We were very surprised by all the great places to eat in Mammoth Lakes, California. Often times it seems like winter destinations don't have stand-our restaurants for summer dining, but Mammoth proved that theory wrong. From standard American to fancy French cuisine, we found it all there.
Mammoth is a great place if you're into good food and hiking, so just add it to your California travel list now. Also, we don't often write about food when we're reviewing our travels, but Mammoth Lakes had so many great eats that it required its own article. I hope you enjoy (and get some meal inspiration too) all the things we ate in Mammoth Lakes, CA!
Check out our guide to summertime things to do in Mammoth Lakes!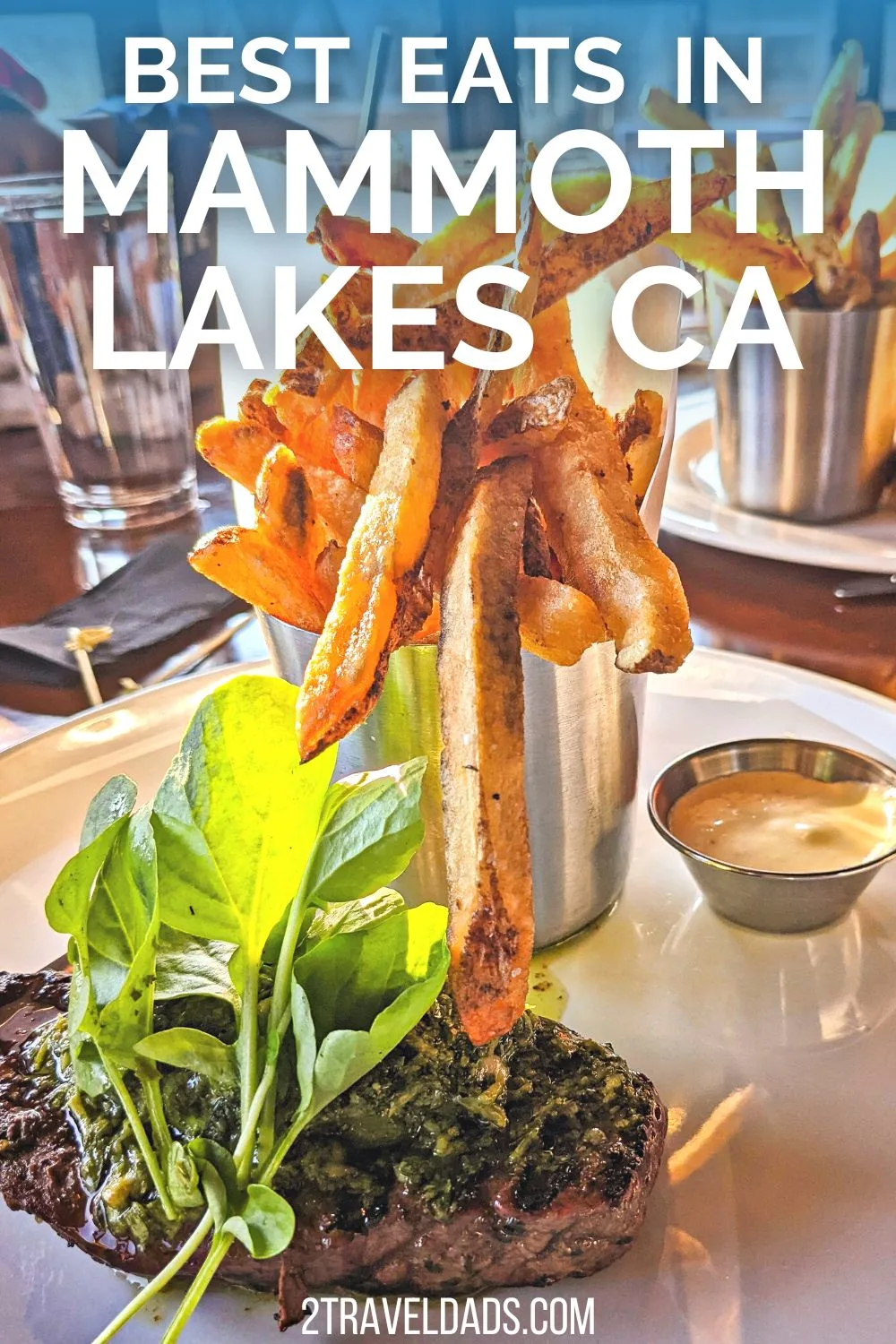 Great Breakfast Spots in Mammoth Lakes
Whether you're wondering where to eat in Mammoth Lakes before heading out skiing or you're visiting in summer and need hiking nourishment, there are quite a few great places to eat around town. Grab breakfast before you immerse yourself in the cool geologic sites in Mammoth Lakes!
Breakfast at the Stove: the Most Classic American You Can Picture
There's this certain image I get in my head when I think about an American breakfast café or restaurant. It's not exactly the image of a roadside diner, but it's simple and totally unassuming, completely chill and the pancakes are perfect. That's just what you find at The Stove. And I'll tell you that despite having my own delicious mammoth sized breakfast, I could stop eating the kids' pancakes. Absolutely winning.
But let's talk about the pies. You can get a slice, a whole pie or a personal pie. Get it for there or to go, whatever you need. Every mid-day picnic needs a pie, so get one here and you can have it wherever you go.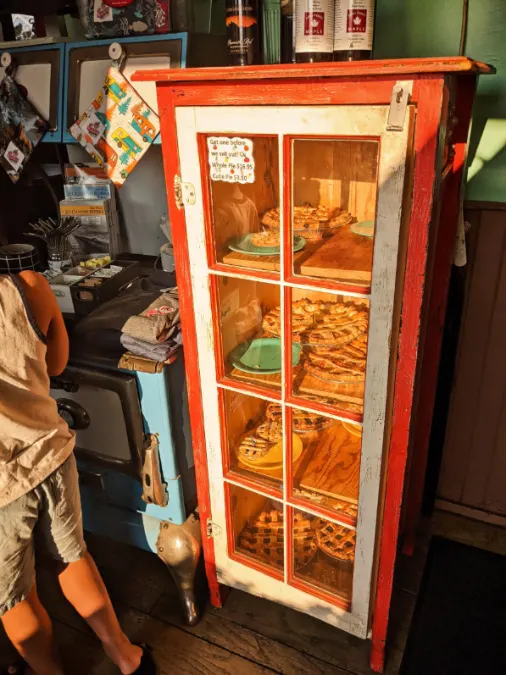 The Looney Bean for Burritos and GOOD Coffee
I really enjoy the mindset of breakfast places in Mammoth Lakes. Many of them know you've got adventures to conquer so they make it easy to have great food on the go. The Looney Bean is on the way up to Mammoth Mountain (the ski area) and makes a delicious breakfast stop. Between savory croissants and breakfast burritos (and other pastries) you'll easily find a hearty option and it's very kid-friendly. Add to that great espresso and iced coffee drinks and you've got a winner.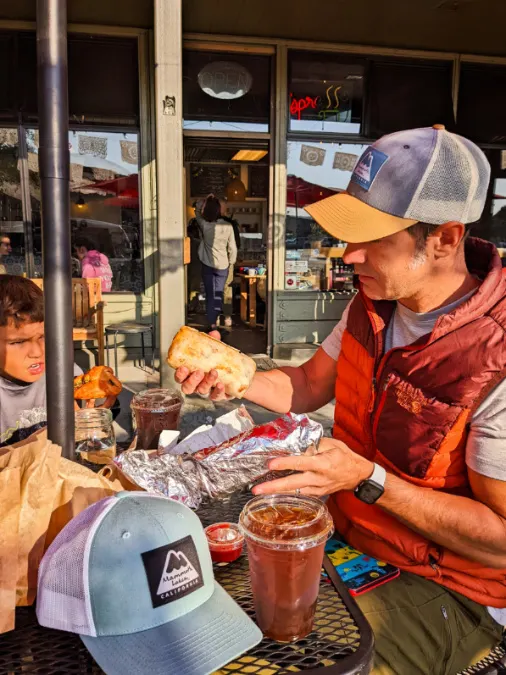 Stellar Brew for Organic Breakfast and Coffee
If you're looking for a spot that you can for sure find organic goods, vegan breakfast, gluten-free options and, again, breakfast to go, bowls, smoothies… Stellar Brew has every sort of healthy and flexible option you could want. While we really enjoyed Stellar for breakfast, they have just as good of offerings for lunch too.
I think Stellar Brew is a great snapshot of the culture of Mammoth Lakes, making it one of the best places to eat. It has a thoughtfully crafted menu, it's conscious of its footprint and impact, and it's all about making food and drinks that support a healthy active lifestyle, which is very much the vibe of Mammoth.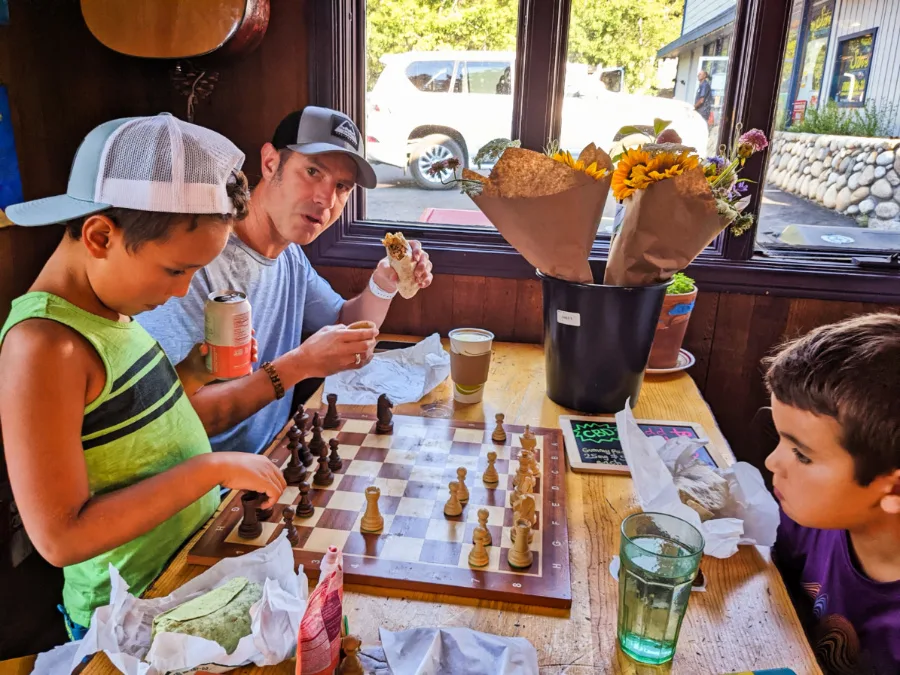 Favorite Places for Lunch In Mammoth
Whether you're spending your days skiing or hiking, lunch is probably the most welcome and desired meal. There are some great places to eat in Mammoth Lakes serving up delicious sandwiches and super healthy dishes. We've got picks for three very different types of lunch in Mammoth.
The Warming Hut for Unique Sandwiches
For being a town centered on outdoor tourism and people coming from all over the place, Mammoth Lakes feels like a tight knit community, and that was very much the feeling at the Warming Hut. Besides the fun, active atmosphere, we also enjoyed the Warming Hut's sandwiches. We live in Florida, which means that Cubanos are a regular meal for us and we have amazing ones here in St Augustine, but the Warming Hut killed it! Also, the Fresco Pesto Chicken sandwich – so good.
We actually ended up getting lunch to go from the Warming Hut too and took it into Yosemite National Park when we drove from Mammoth Lakes back over to the Tenaya Lodge. What a great picnic lunch!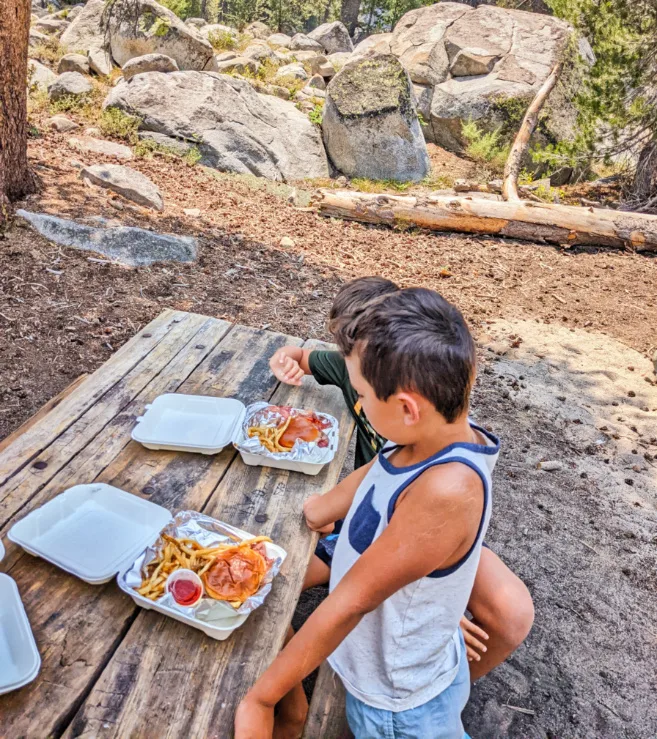 Yodler for Lunch at Mammoth Mountain
When you're visiting Mammoth Lakes and looking for the best places to eat, most of them are in the lower Mammoth area (below the elevation of Mammoth Mountain) but there's a gem that is great for families that we found. The Yodler (spelled correctly) is up at the actual Mammoth Mountain Adventure Camp / basecamp area. It's open year-round and is Alpen-themed. The pretzel is, of course, epic, but so are the drinks and, omg, the cheeseboard.
My favorite item though, and now I make it at home, is the Pickle Sandwich. It's literally a huge pickle that's sliced and loaded up with meat. It's simple and delicious, and if you have lots of dietary restrictions, it's a total winner.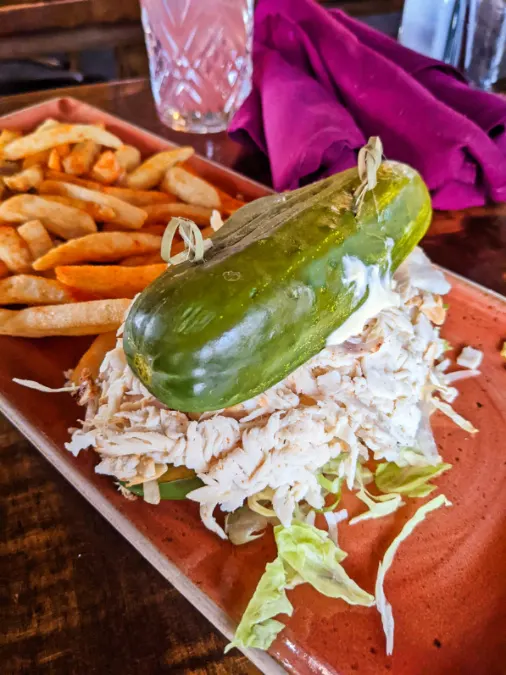 Super Healthy Eats at Elixir
I love to be healthy and make healthy dining choices when we travel, but honestly, I opt for sandwiches smothered in sauce more often than not. BUT I'm also a sucker for a delicious healthy bowl that I can design myself, and that's what I loved about Elixir Superfood & Juice. Between their own designed lunch bowls and doing it yourself, it's easy to get just the right meal and feel good about it.
Of all the ingredients you can put in a lunch bowl, I really loved the steak, avocado and greens, and not because I'm such a simple person, but because I don't keep these items on hand at home, so getting to create my own lunch from fresh and healthy ingredients made me very happy. This sort of freshness is so energizing, especially between hikes.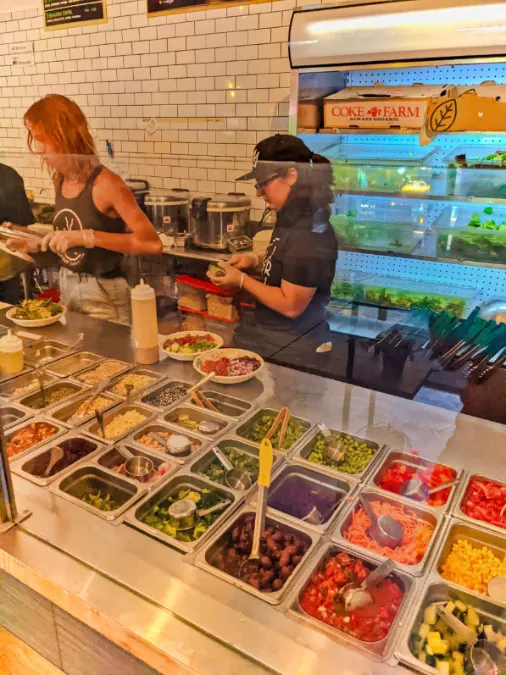 Where to Eat Dinner in Mammoth
And here is where the best places to eat in Mammoth Lakes are going to surprise you and get you excited. Keep an open mind as we share our favorites and why. Mammoth is ON IT when it comes to great restaurants and keeping things interesting.
French Dishes a the Brasserie at Rock'N'Bowl
What if I told you that the best thing to eat in Mammoth Lakes was duck confit at the bowling alley? You wouldn't believe me. Upstairs at Mammoth Rock'N'Bowl is the Brasserie, a French-inspired restaurant, looking out across the hills to the mountains surrounding Mammoth Lakes. As if the view wasn't enough, the food is even better.
The kids' meals were great, but our main courses were awesome. Crispy duck confit and grilled vegetable Wellington were not what we were expecting to have for dinner when we walked into the bowling alley, but they were a welcome surprise. It wasn't just that these items were on the Brasserie menu, but that they were well prepared and the quality you'd expect at a highly restaurant in a city. Loved it all!
FYI, you can get the menu items from the Brasserie in the Lounge portion of Rock'N'Bowl to either enjoy in a bowling alley level booth or at the stand up bar by the lanes. Such a great place to eat in Mammoth Lakes!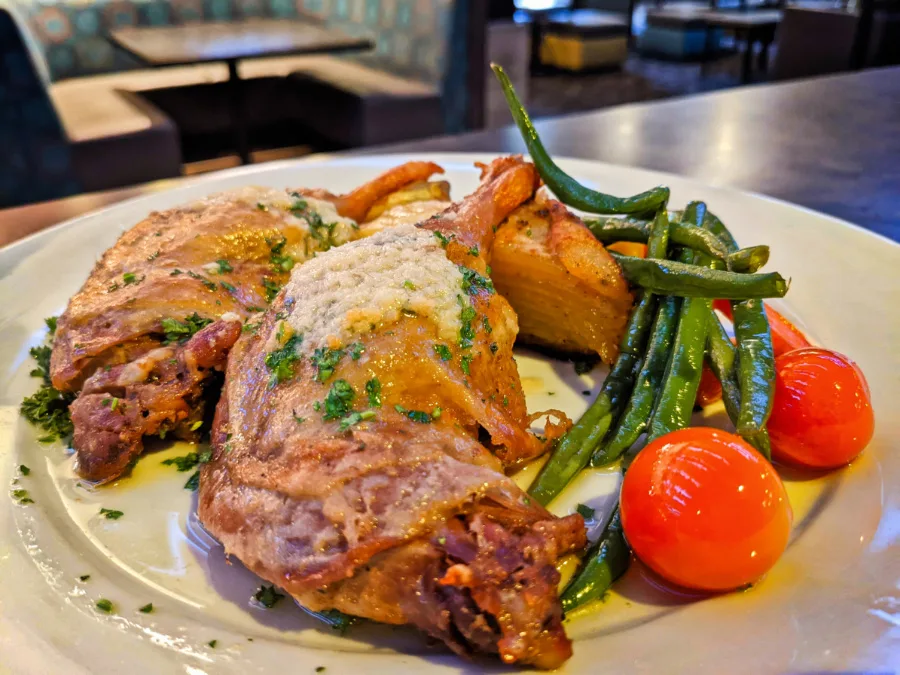 Bleu for Local EVERYTHING
Bleu Market and Kitchen is awesome. From the outside you might think that it's going to be a chain diner, like a Sherri's or something, but then when you enter and see that there is a beautiful restaurant surrounded by a locally sourced marketplace, including a meat counter, then you know it's a special place.
First of all: Salmon Cakes – I now prefer them to crab cakes, maybe it's thanks to the spice remoulade. And then the short rib with polenta was amazing and I hope that never leaves the menu. Locally distilled spirits and beer from the really cool bar topped off our love of Bleu. For sure, it's a top spot for dinner in Mammoth Lakes.
They also do meals to go, have their full market and are open for lunch. There are plenty of ways to make sure you can enjoy the best foods from Bleu, no matter your activity plans.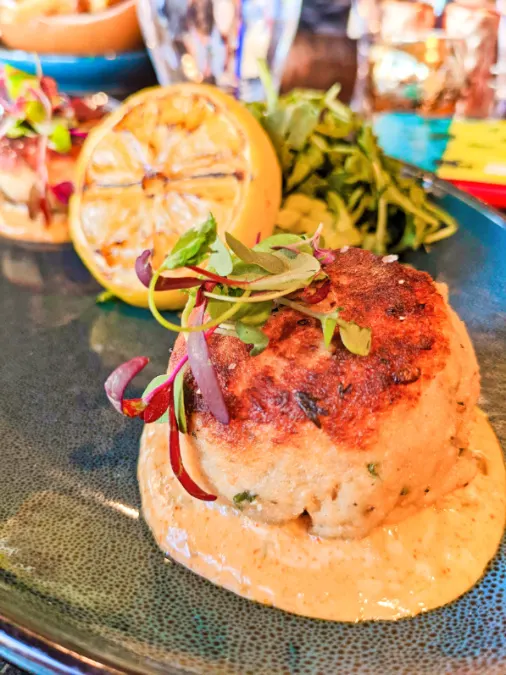 Mammoth Tavern for Rustic Dishes and Cocktails
Braised Short Rib Grilled Cheese. You're welcome. This is the best dish in all of Mammoth Lakes, which is why it's being saved for last. Yes, we've shared all kinds of delicious, healthy, local places to eat, but this short rib grilled cheese puts them all on the back burner. Our other menu items were good too (the Steak Frits was perfect!), but the short rib…
Mammoth Tavern also offers some of the most inventive and tasty cocktails in Mammoth. My top picks were the My Chareau-na and the Garden Fizz. I love the use of unique liquors, such as Chartreuse, and fresh ingredients and infusions. Well done, Mammoth Tavern!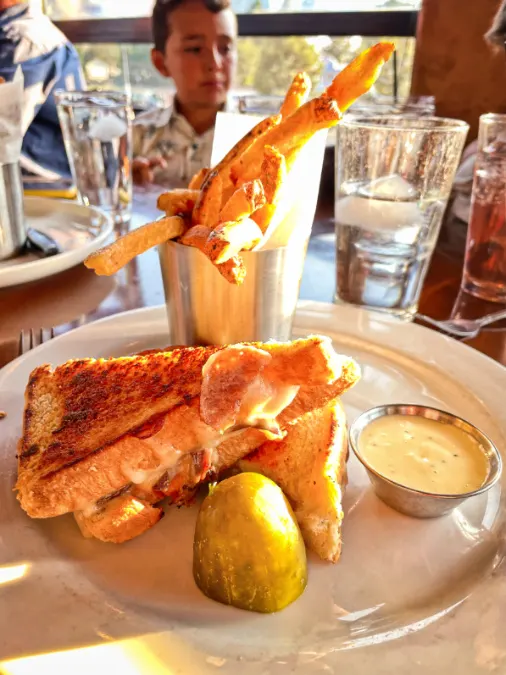 Best Baked Goods in Mammoth Lakes
There are several bakeries in town, and actually quite a few of our top picks for places to eat in Mammoth Lakes also serve up baked goods. In addition to bakeries, be sure to pop into a local cafe or two for to-go scones and croissants. You won't be disappointed.
Schat's Bakery for Cookies and More
What pulled me into Schat's Bakery was actually the chocolate truffles that were visible from outside, and then I went in and saw everything from cookies and bear claws to brittle and packaged goods. And then I saw that they also have a cafe on the back that was BUSY for the lunch rush.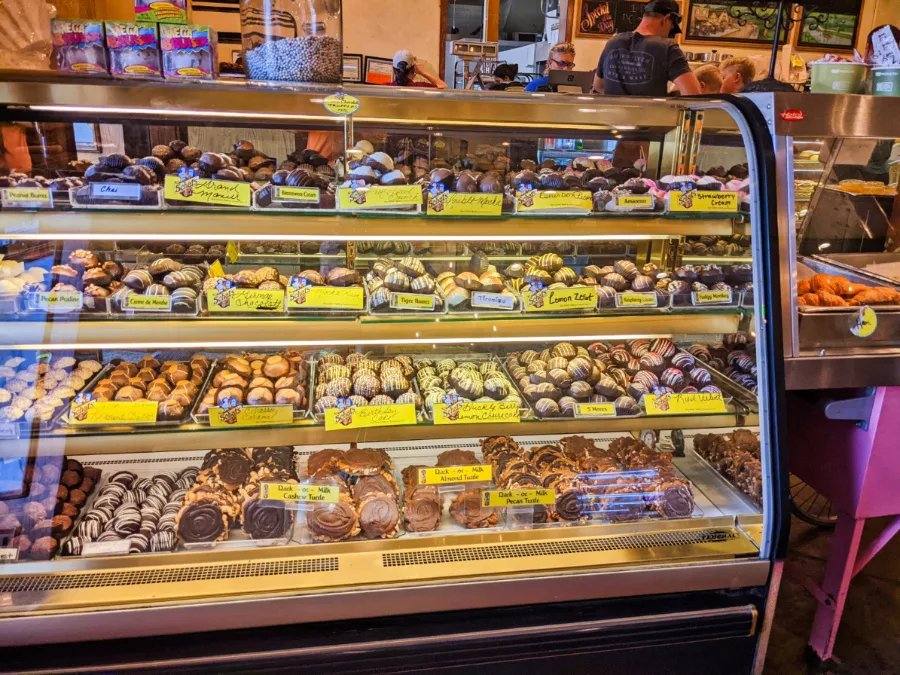 Muffins from Stellar Brew
I know I already mentioned Stellar Brew from one of the best spots to eat breakfast in Mammoth, but they also need to be called out for their muffins. Stellar is wonderfully thoughtful in their menu creation, but also, when it just comes to straight up baking skills, they've got that conquered too. Specifically I'd like to call out the amazing Morning Glory muffin. This is my favorite type of muffin anywhere and I get them very often. I LOVED Stellar's version and would, hands down, get one every single morning if we lived in Mammoth Lakes.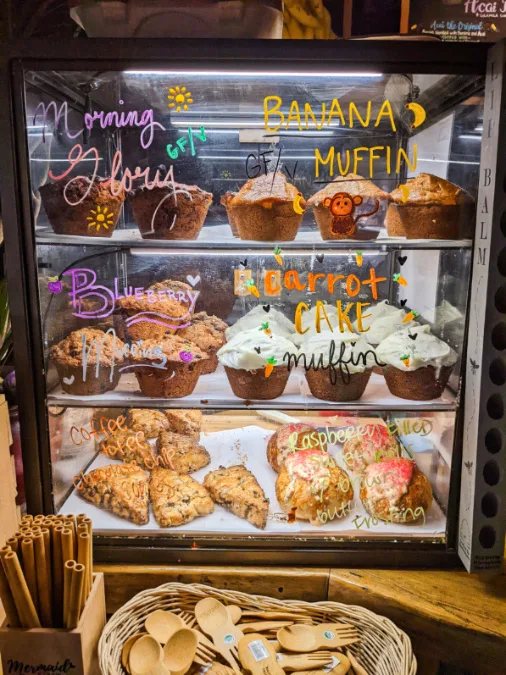 Of course there are even more great places to eat in Mammoth Lakes, California, but these are our picks. If you have additional spots that you think people need to visit, feel free to leave a comment or send us a note. We're always happy to update our articles to include the latest and greatest!