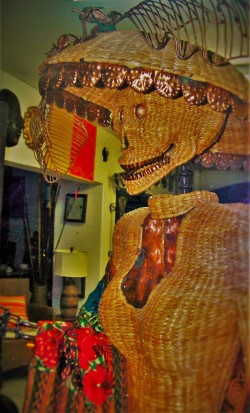 More often than not we find ourselves in Cabo San Lucas on Halloween. In Seattle it's rainy and cold and our tans are starting to wash off. The cure for this is to get into the sunshine quickly and build back up the tan and vitamin D. What better way to do this than to spend a week or two in Mexico? Answer: there is no better way. You should spend Halloween in Cabo San Lucas and experience how they do both Halloween and Dia de los Muertes, but we'll focus on the former.
Favorite Mexican foods around Dia de los Muertos
Nothing says Halloween like having food served to you in a little cauldron. Or being given a plate of hell-roasted peppers (maybe just fire roasted). One of the tastiest meals in Mexico is the molcajete. It's a stew with nopales (cactus) and is served in a stone bowl (cauldron). It's so delicious and fun to eat with tortillas. The other fiery delight is roasted peppers. When cooked over an open flame, they become a little more sweet and smoky, and make a great appetizer… if you can stand the hellish heat. And be sure to look for Pan de Muerto, a popular Dia de los Muertos food.
Tip:  always ask for a recommendation when you're at a smaller restaurant in Mexico.  Just like anywhere else, everybody has a secret recipe and you never know when you're going to stumble across the best thing you've ever eaten.

The best Mexican sweets to find in Cabo (and elsewhere)
Candy in Mexico is really hit or miss for Americans. There are some great things you can get all year, but at Halloween you also can get sugar skulls. They're pure sugar…but yummy just the same. These are the most typical candy you'll see to celebrate Dia de los Muertes. There are so many types and we try all of them. They're typically not as sweet as American candy, so you have to appreciate the textures more. Our favorite, besides the skulls, are these amazing coconut squares. They're muy delicioso and every bite is a surprise.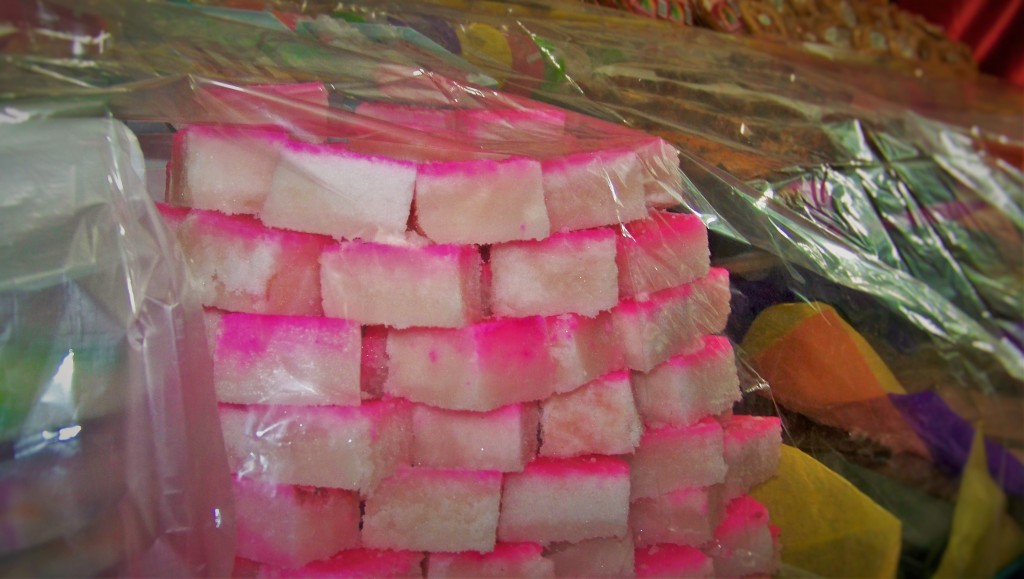 Big travel tip: if you see a pop-up candy stand, check out what they've got and ask which is locally made.  Don't be surprised if they have to cut you something from a large tray and if the presentation isn't packaged to travel well.  The dulces are best enjoyed soon after they're served.

Why we go to Cabo San Lucas for Halloween

For some reason or another, pirates are becoming more and more associated with Halloween. Well, Cabo is happy to capitalize on that…with a pirate ship tour. There are a few options for it, but all include swashbuckling beverages and pirate fun for kids. Going on the Buccaneer Queen or a like snorkeling cruise is a great way to get on the water and enjoy some Halloween fun at sea… or any other time of year it's good too.
Tip:  if you can't make it to Cabo for Halloween, any time in November is good.  The sun is crazy hot and the water is still extremely warm, as the chilly northern waters haven't swirled down into the Sea of Cortez yet.  Also, the beginning of November is just before Cabo becomes more expensive, as many people want to enjoy the holidays on the beach.

Trick-or-Treating in Cabo San Lucas
Cabo is a funny place. In general everything is catered to the tourists. And then Halloween happens and it's just hilarious. So, you go out to dinner and while you're dining, loads of the local kids come up to you with bags and pumpkin bowls and say "Halloween! Halloween!" and hold out their containers for the tourists to fill. Cabo is a place where people have timeshares and come back at the same time each year…so they are well prepared to dump oodles of candy out for the kids.
Tip:  dine out on Halloween night and come prepared with a bag or two of candy.  Set you bag or Halloween bucket in clear sight and you'll get Trick-or-treaters.
Dia de los Muertos in Cabo – yeah or nay
Is Cabo a good place to experience Dia de los Muertes celebrations? Maybe, but we've yet to discover a great local festival, even when venturing out into the neighborhoods. We always enjoy the bazaar they put on in the touristy downtown area, but it's not like what you've seen pictures of with parades and colorful costumes. The art and the decorations are wonderful, but it's still not the cultural bonanza you hope for.

All in all, Halloween in Cabo San Lucas is fun and a welcome change to the typically chilly northern holiday, but it's not a destination for experiencing enchanting traditions first hand. Head down with the expectation of getting a tan instead of getting wet, wearing a swimsuit instead of a zombie costume, and you'll have a great time!