It's totally not difficult to find a way to enjoy a day in the Caribbean.  Everywhere you look is beautiful, the water is warm, and there's a lot of rum.  When I set sail on the Oasis of the Seas with Royal Caribbean, I got to visit some beautiful places and do some awesome activities.  One place I was particularly excited to visit was Haiti.  Labadee, Haiti was one of our ports of call and I had no idea what to expect.
When I first heard that we got to visit Haiti, I was thinking that we were visiting a town like we do when we go to Mexico:  nice touristy areas but then also the side with real life clearly visible and ready for visitors to interact with and contribute to.  Well, Labadee was not like that at all. The cruise port and activity areas of Labadee, Haiti are privately owned by Royal Caribbean so they're fully managed and manicured for the most pleasant cruise guest experience.  Initially this bummed me out as I wanted to see Haiti and its unfiltered culture, but once there, I was quite glad that I got to have a day of just relaxation; a trip to the other side of Haiti will be required in the future though.
Note: visiting Labadee was similar to going to Punta Cana in the Dominican Republic in terms of visiting the island of Hispaniola vs a resort space.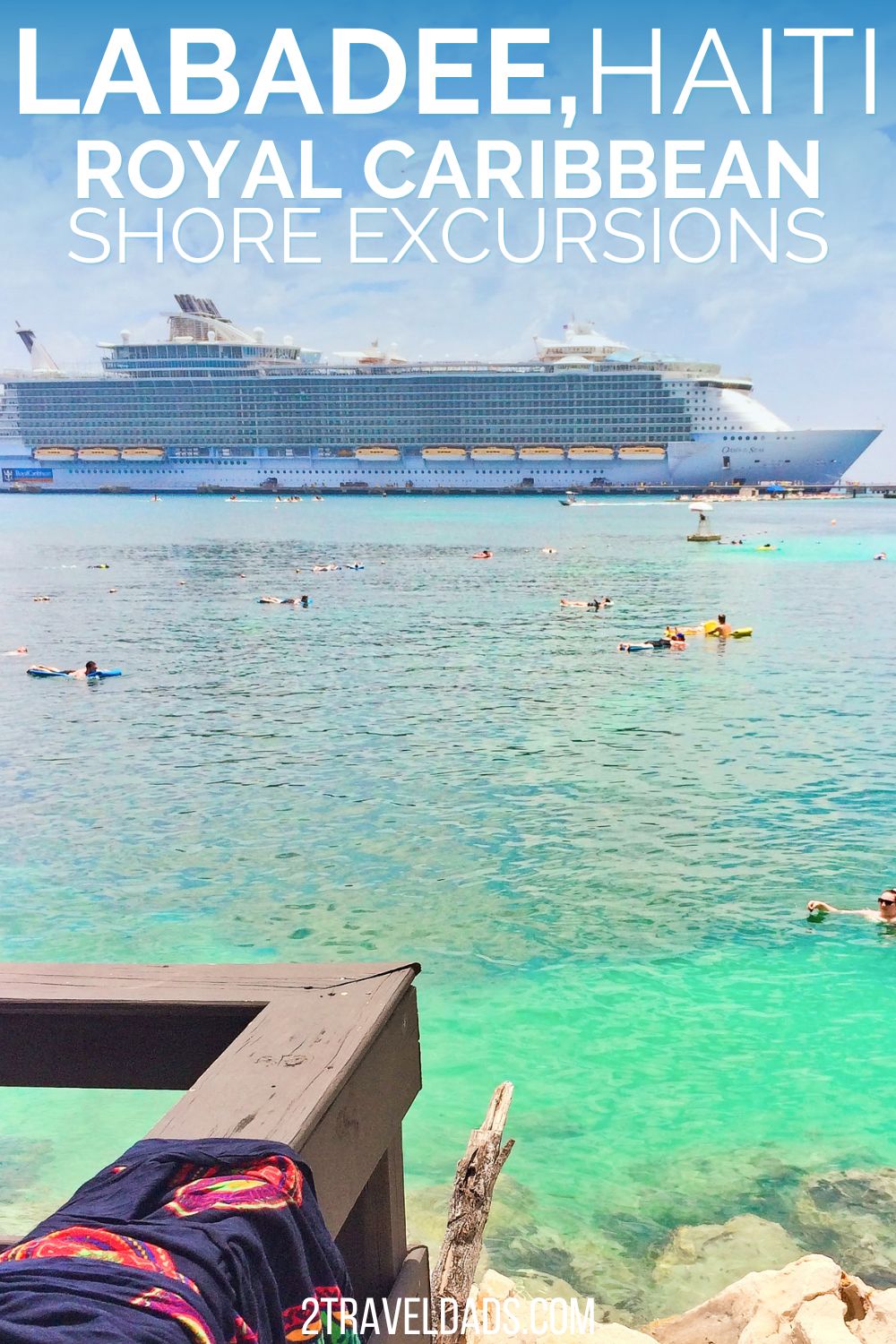 How to Visit Labadee, Haiti
As I said, Labadee, Haiti is privately owned by Royal Caribbean for the use of its guests.  We made port nice and early to ensure a full day of fun.  Since I was a part of a small group of travelers, the cruise line set us up with our plan for the day and it was awesome.  If you're traveling to Labadee via Royal Caribbean, you can plan your own activities in advance, choosing from a wide variety of thrills or relaxation.  
Tip:  It's always worth booking activities in advance when you're traveling anywhere, cruise line or not, as things may be fully booked or you may have forgotten what you were initially interested in doing (which I've done and then missed out when the time came)
Having said that, you can only visit Labadee if you book a Royal Caribbean cruise that includes the port in its itinerary. It's not a side-trip or available to non-cruise guests.
Things to Do in Labadee, Haiti
Quick disclaimer here:  I didn't do everything there was to do in port in Labadee.  There was a whole artisan village area, an inflatable water park, and a tropical bobsled-type land coaster (like in Breckenridge, CO, and probably more, but my group and I just did the following activities and it filled our time just perfectly.  
Spoiler:  If you want to check out a video snapshot of the day, peek at the end or our YouTube channel.
Wave Runners / SeaDoos on the Caribbean
And this is how we started our day, skimming across the waves faster than a speeding seahorse.  Let me wind it back a bit.  We made our way to the small marina of Labadee and met our wave runner guide, Jamie.  His job was to lead us on an open-water safari and show us some thrills on the waves.  After doing some sea-doo/wave runner education to make sure we knew the basics, he led us to our person watercraft.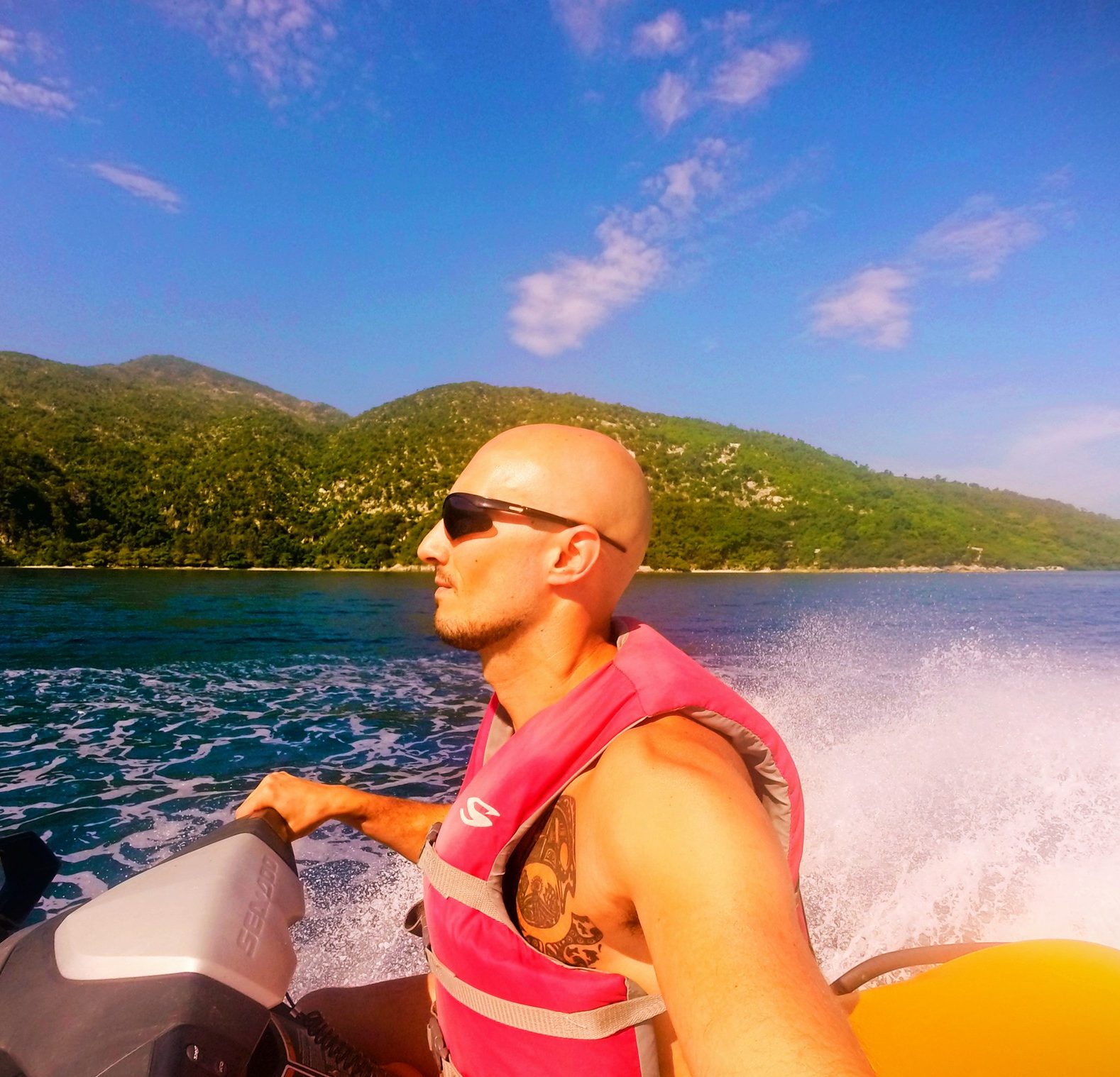 So, if you've not done a wave runner before, a good way to learn is to do a group tour.  We were all set up with our own jet skis and played follow the leader.  Going from the cove to the open water and back in along the shore, it was an adventure.  I'll tell you, it was a bit nerve-wracking.  I'm not accustomed to going fast on motorcycles or anything, so the wind in my face and the shifting water beneath me was more of a thrill than I'm used to, but it was still fun, or it was once I got comfortable driving my wave runner and getting up enough speed to have a smooth ride.
Tip:  if you're not a big thrill person or don't feel confident or comfortable going out on the open water, share that with your guide.  They'll help.  We had a member of our group who had a bit of a panic on the water and the tour leaders were immediately helpful and ensured she was safe and had a good time.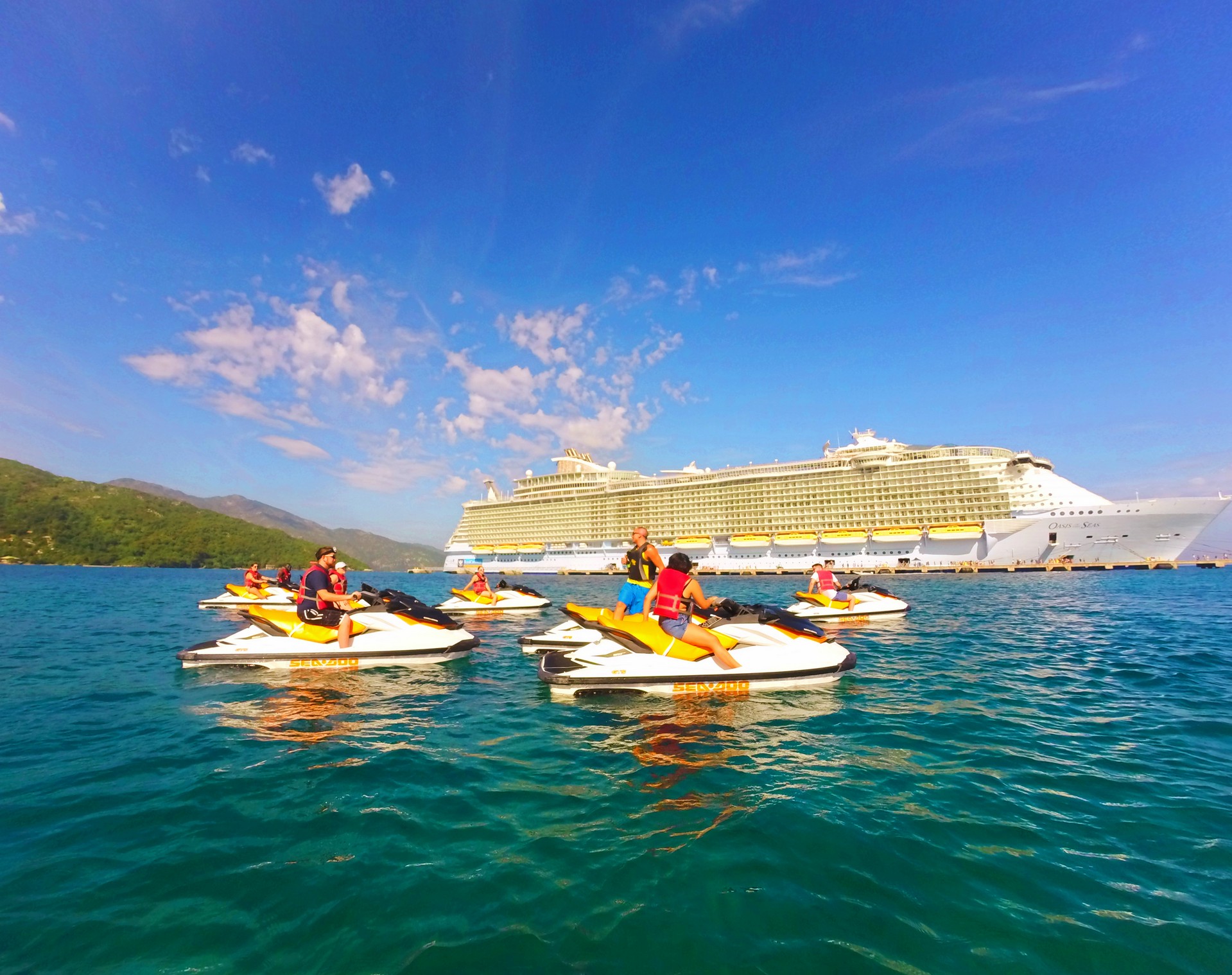 As a side note, we actually got to meet a few local men while we were on our wave runners.  They were paddling around the bay at Labadee selling their artisan crafts.  It was a bummer that we were on sea-doos without our spending money, as they has some really interesting things and were so polite as they approached us.  Really cool.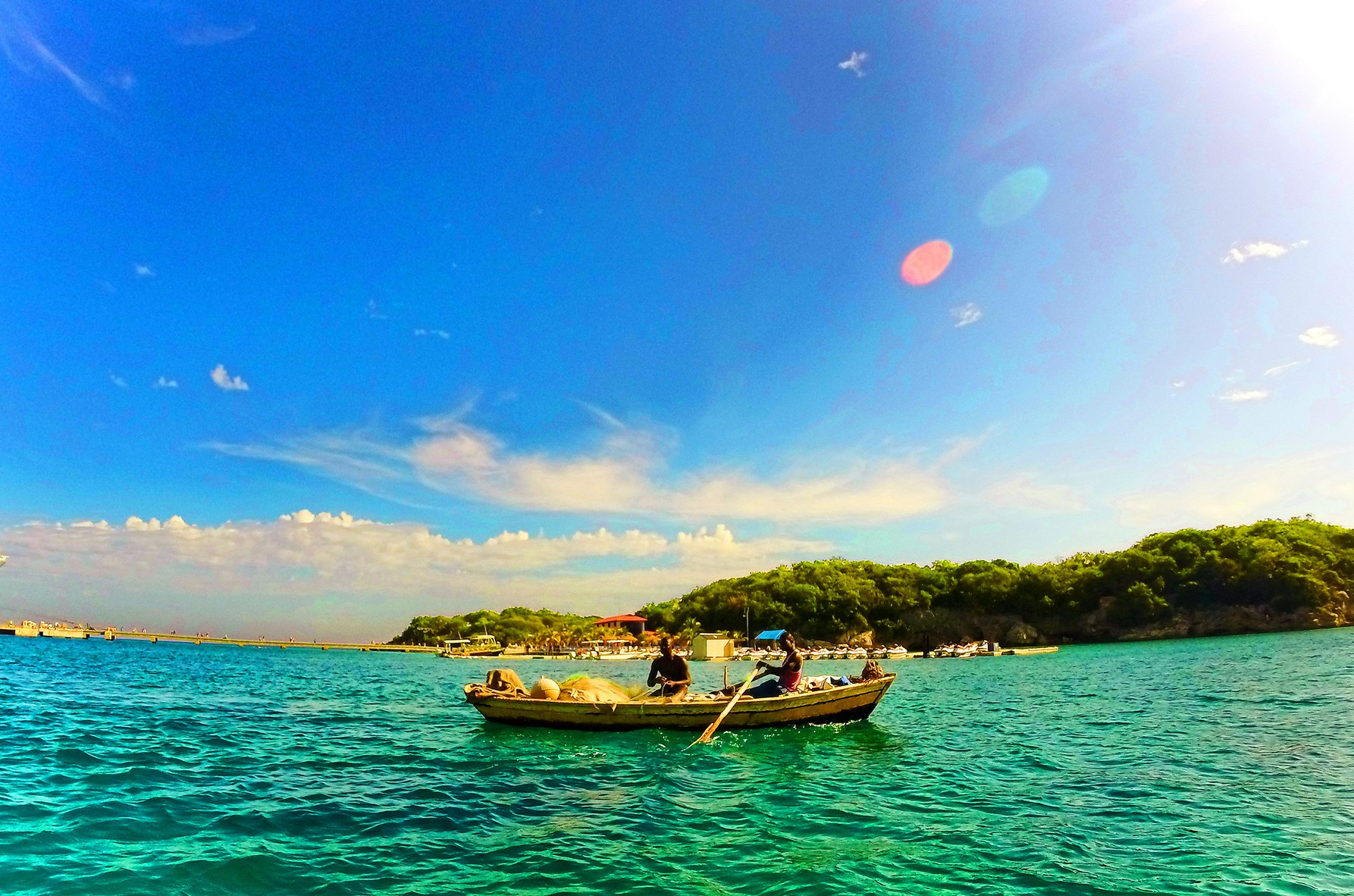 The (formerly) Longest Zip Line in the World
Another interesting activity that kind of pushes the limit.  The first time I ever did a zip line was 20 years ago and it was pretty short, but quite a thrill, as it was before the days of safety and it was a 200 yard zip directly into the water without being safely attached to the line or anything…  Anyways, this was NOT like that experience.
We got fitted with our harnesses and had a nice safety talk (because there are a lot of safety talks when you're on a cruise), and then headed to our practice zip line.  Here's where we learned how to zip line for real.  The instructors showed us the different ways to head down the line and how to land safely at the end.  We then got to test our skills and do a short zip.  From there, it was up through the Haitian jungle, climbing the mountain in a safari truck until we were high above Labadee, Haiti.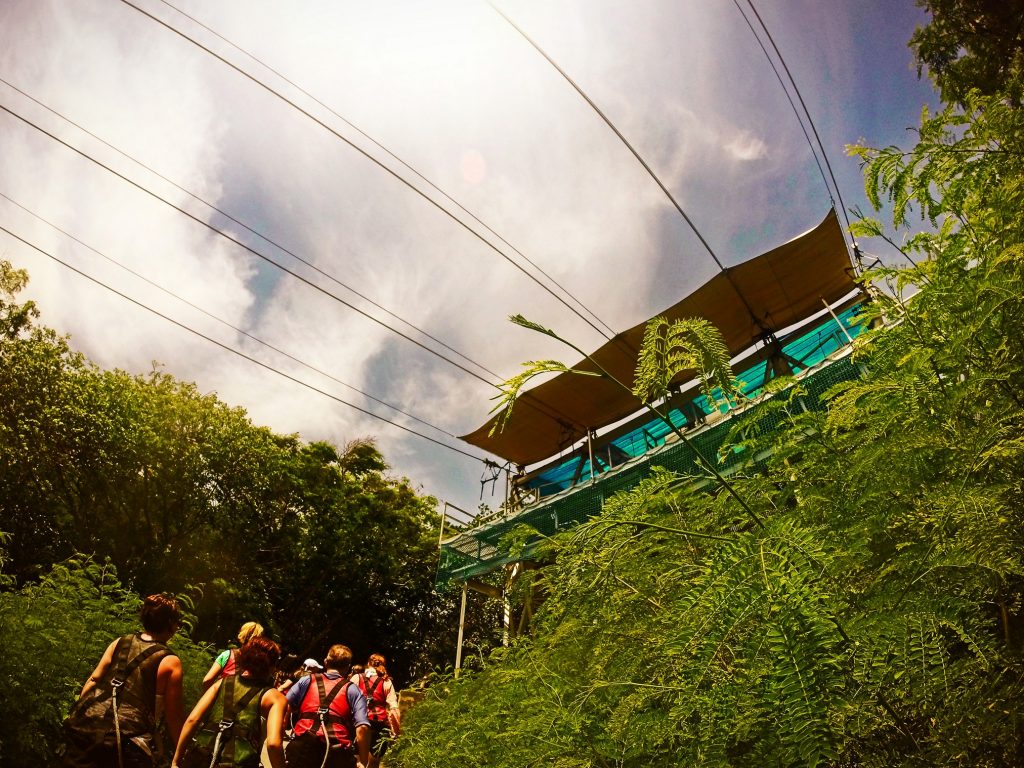 The view from the top was beautiful.  The water below us was so clear and blue, the jungle was loud with tropical birds, the Caribbean air was perfect.  There was nothing to fear with doing the longest zip line in the world.  The part that was the most stressful was actually just the walk from the solid ground across the metal platform high above the jungle.  Yeah, that was creepy, but it didn't last forever.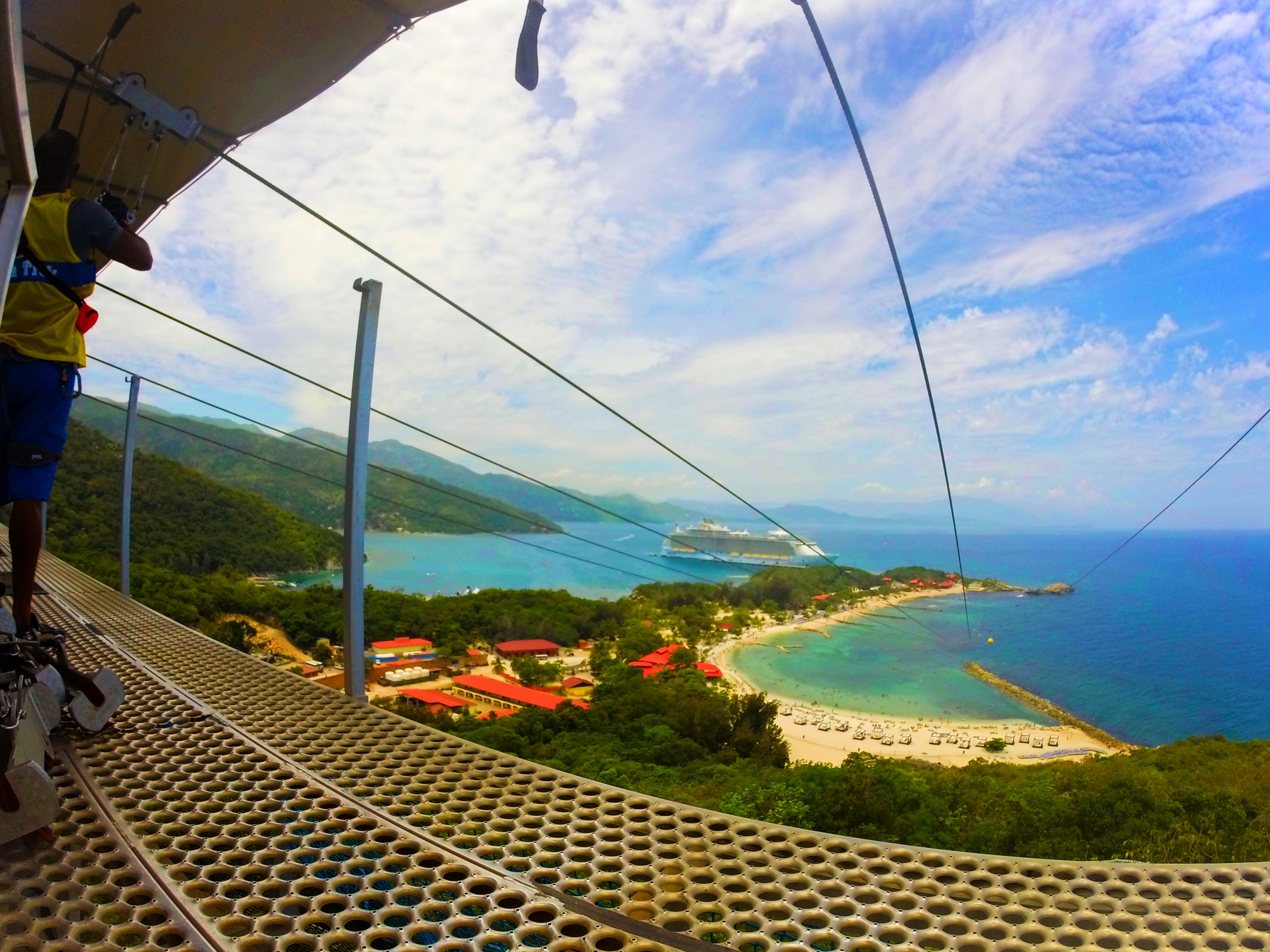 Each of us got buckled safely onto our zip lines, we took in the view and then we went!!  Wow, the rush of leaving the platform was intense, but only momentarily so, as the view and the experience of flying hundreds of feet above a tropical cove was just amazing.  Really, it was so fun and such a beautiful activity.  A great use of our time in Labadee.
Note:  if you're really afraid of heights, this may not be the right activity for you, but do know that it is totally safe and a great way to get over that fear.  The experience and beauty is totally worth it.  (Another fun challenge to beat the fear of heights, waterfall jumping in Ocho Rios, Jamaica)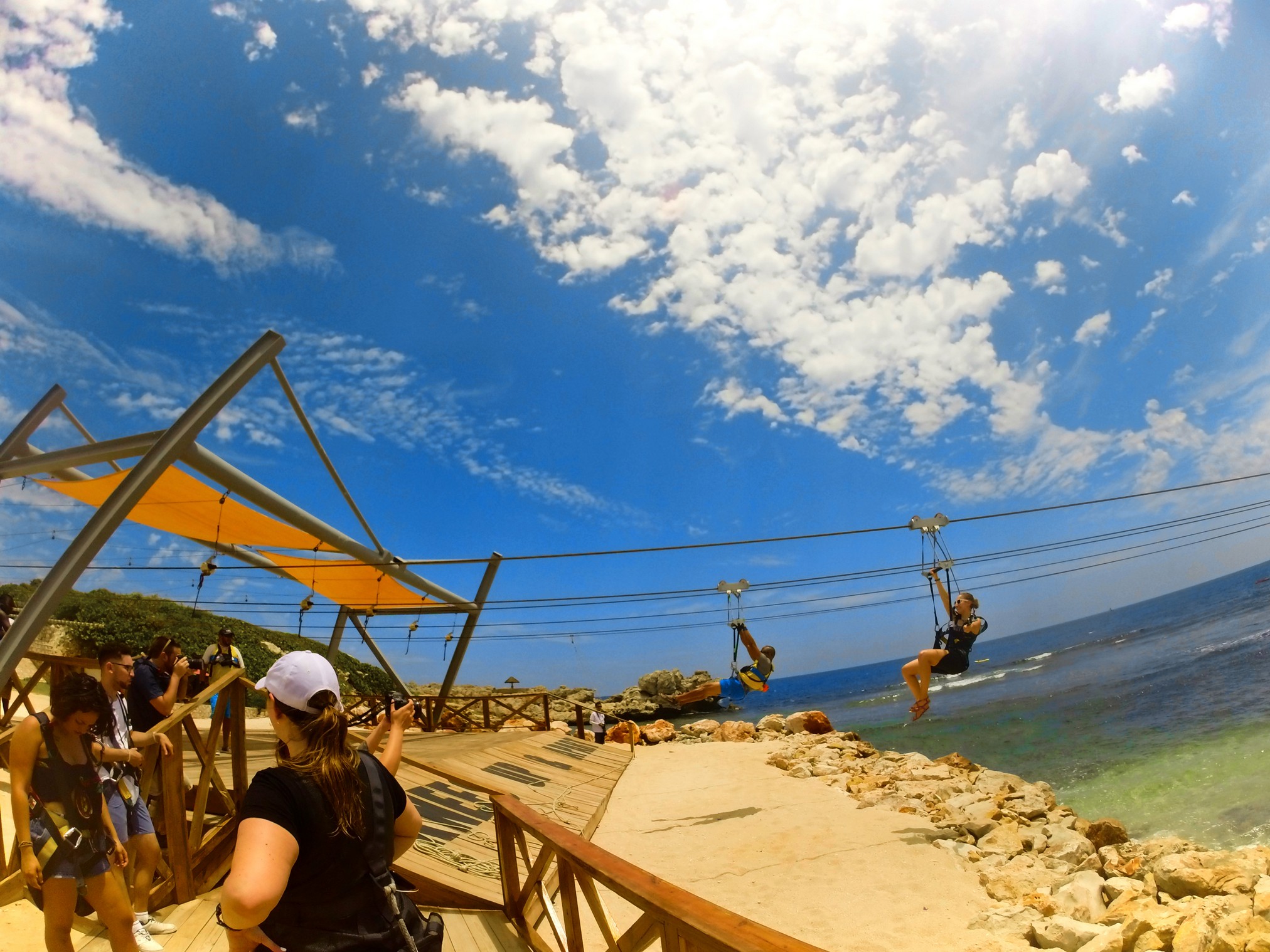 Splashing and relaxing in tropical coves
My group and I enjoyed two different coves for swimming and relaxing in Labadee, Haiti.  The first we went to was on the eastern side of the peninsula.  Perfect sand mixed with some jagged Caribbean rocks to make a beautiful, coral filled beach.  The waves weren't too bad and the water was beyond perfect.  One of the best parts of this cove was swimming directly below the zip line and watching people soar like funny little bird above.  It was just fun.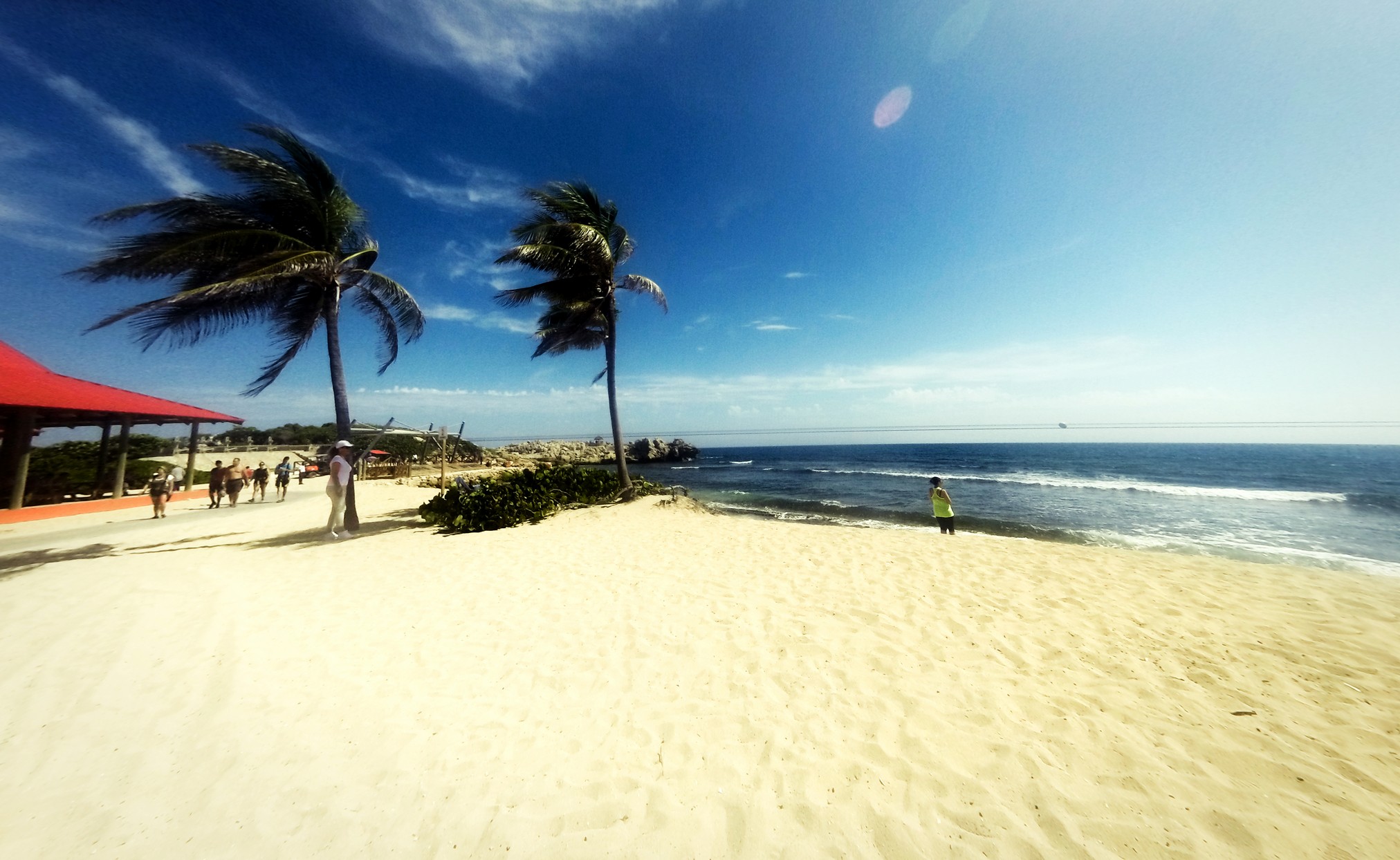 The other cove we enjoyed was on the western side of the Labadee peninsula and was perfect for snorkeling and relaxing.  We made our way to a cabana out on the rocks where the staff of the cove cabanas looked after us, giving us snorkeling pointers and drink recommendations.  Our setup was pretty sweet.  We had lounge chairs, a fan, plenty of shade and a great platform for jumping off into the Caribbean.  Had we not been on a schedule, I think I couldn't stayed there for a few days.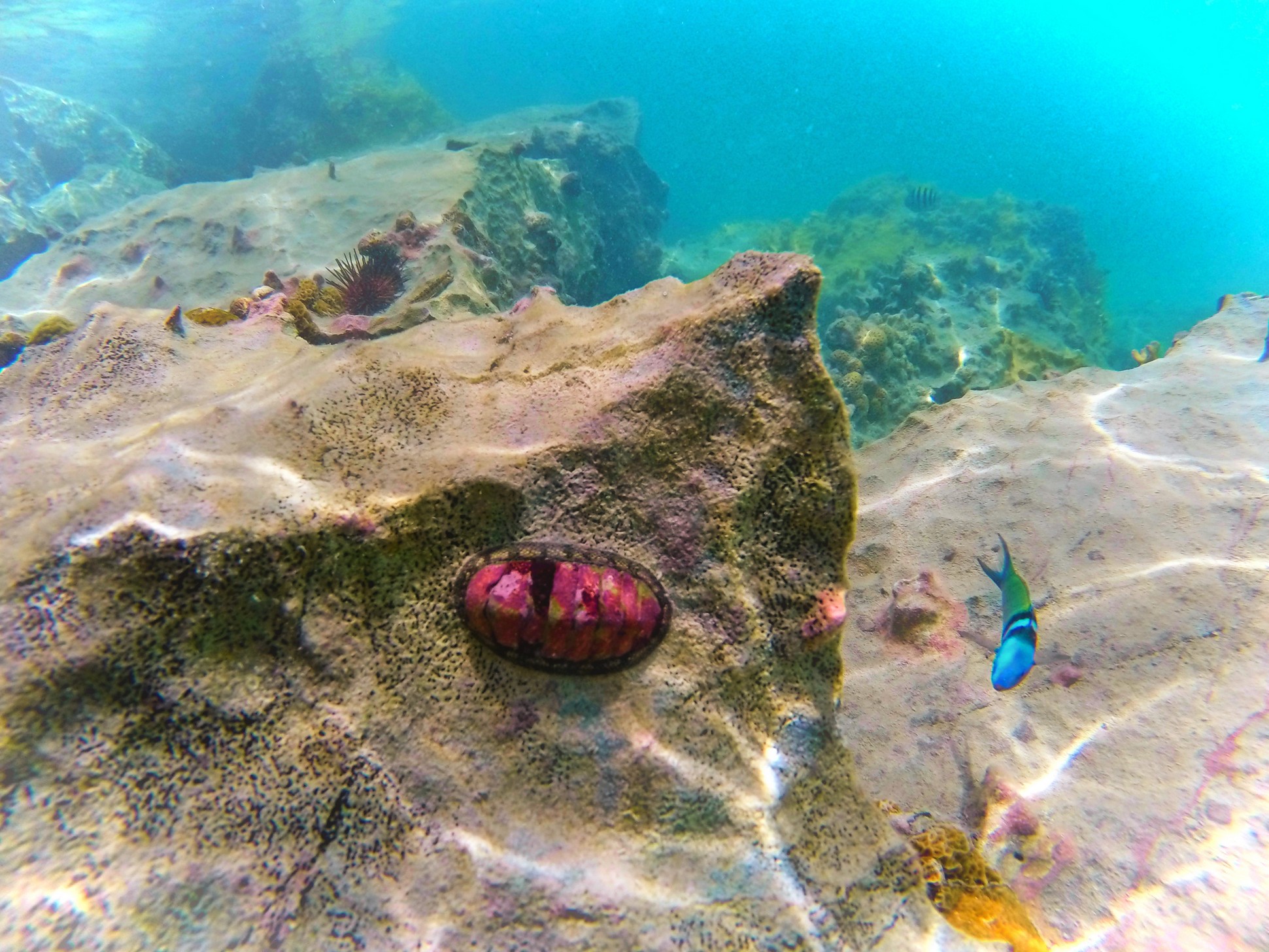 The snorkeling was pretty great in our little cove too.  The coral was beautiful and in great condition.  The urchins were plentiful and really different from what we see up in the Puget Sound area or around Florida.  And the fish.  The fish were, I'm pretty sure, cartoon fish, colored by little kids which a bunch of neon crayons.  Really, the tropical sea-life in the coves of Labadee, Haiti was impressive and very accessible. It's even better than snorkeling in Cabo San Lucas!
Beyond snorkeling and lying in lounge chairs, we also splashed and floated in front of our cabana.  It was stress free and hands down the most chill activity I've ever done.
Note:  this would've been a great cruise port to experience with my family.  It's full of fun and the snorkeling and swimming was so calm and beautiful that we could easily have enjoyed a fun family day there.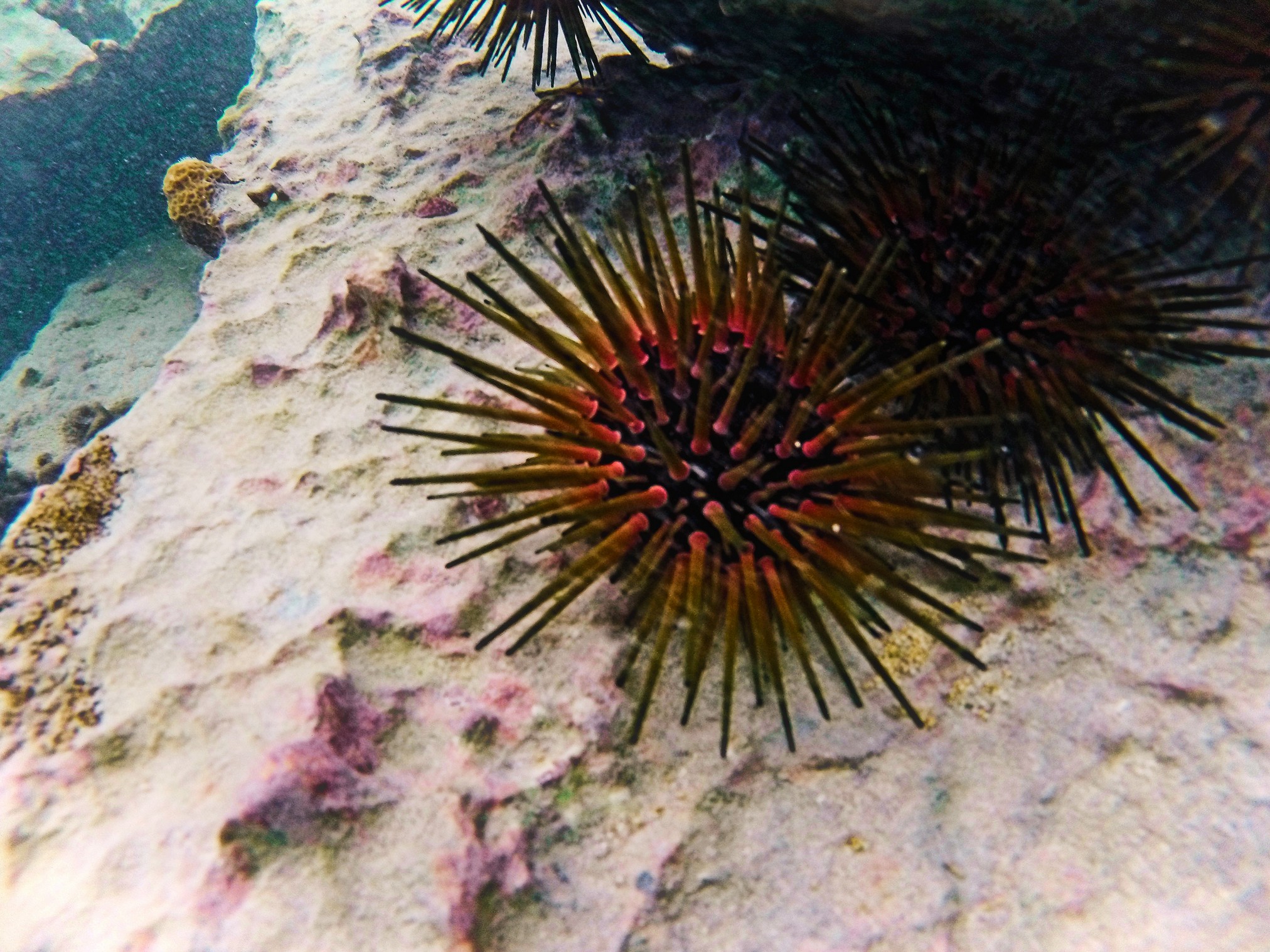 Food and drink in Labadee
Since you're in port from a cruise, food is set up for guests to access and enjoy at their leisure.  It's all outside in the shade and done like a very large family picnic.  It wasn't what I was expecting at all and it was fantastic!  With loads or fresh fruit and lot's of local dishes, the picnic buffet was fun, relaxed, and delicious.
Jerk chicken.  I know, I blabbed about jerk chicken when I shared about tubing the White River in Ocho Rios, Jamaica, but this jerk chicken was just so good too.  I think that's what the purpose of the Caribbean is:  to experience a variety of jerk styles and to get addicted to the incredible spices that crust the tender yumminess you find.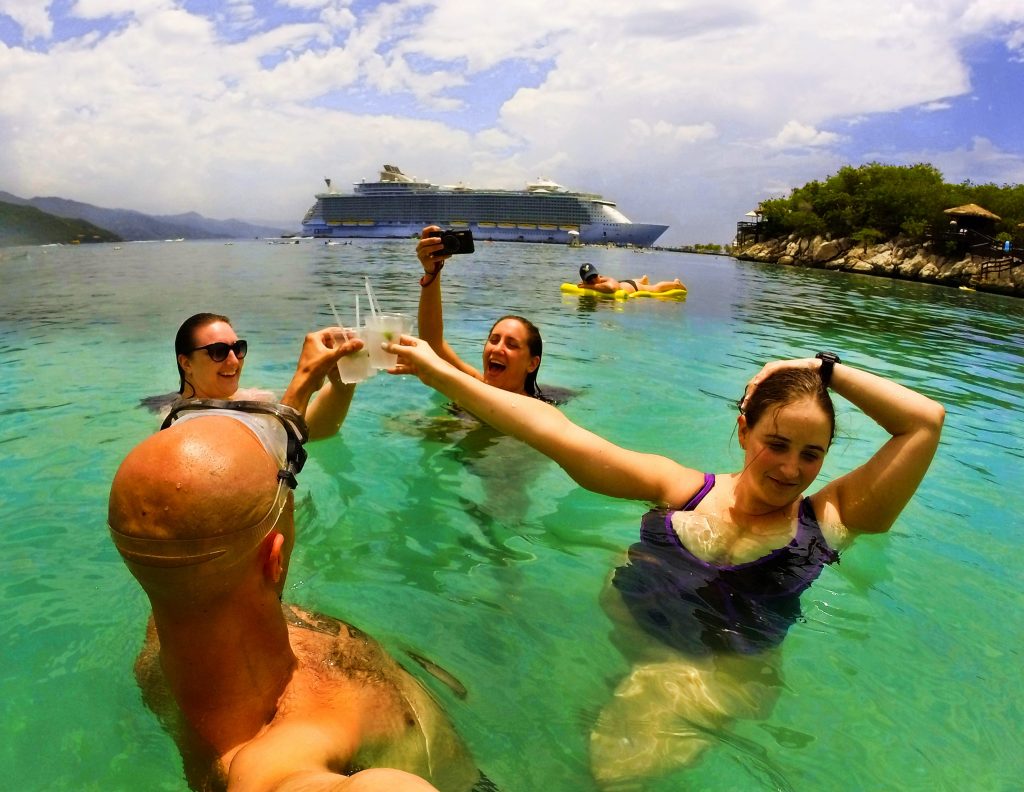 Tip:  if you get a second, ask a local about how they prepare their jerk chicken.  One lady told me that it's a two day process of cook/marinate/cook/cook and another man told me that he heats the spices and then marinates the meat in the rub and then adds more seasonings and then cooks.  Such varieties!
Oh yes, since you're in the Caribbean, there'll be rum, right?  Yep.  Well, my little group and I found the best way to enjoy Caribbean rum:  a Labadoozie.  So, it's some sort of special blend of juices and rum, but to the best of my amateur palate's ability, I was able to pull ruby red grapefruit juice and guava from the mix.  Tried to recreate it at home… Success!!  And that's all I remember about the tasty treats of Labadee, Haiti; jerk chicken and rum slushies.  Kind of awesome.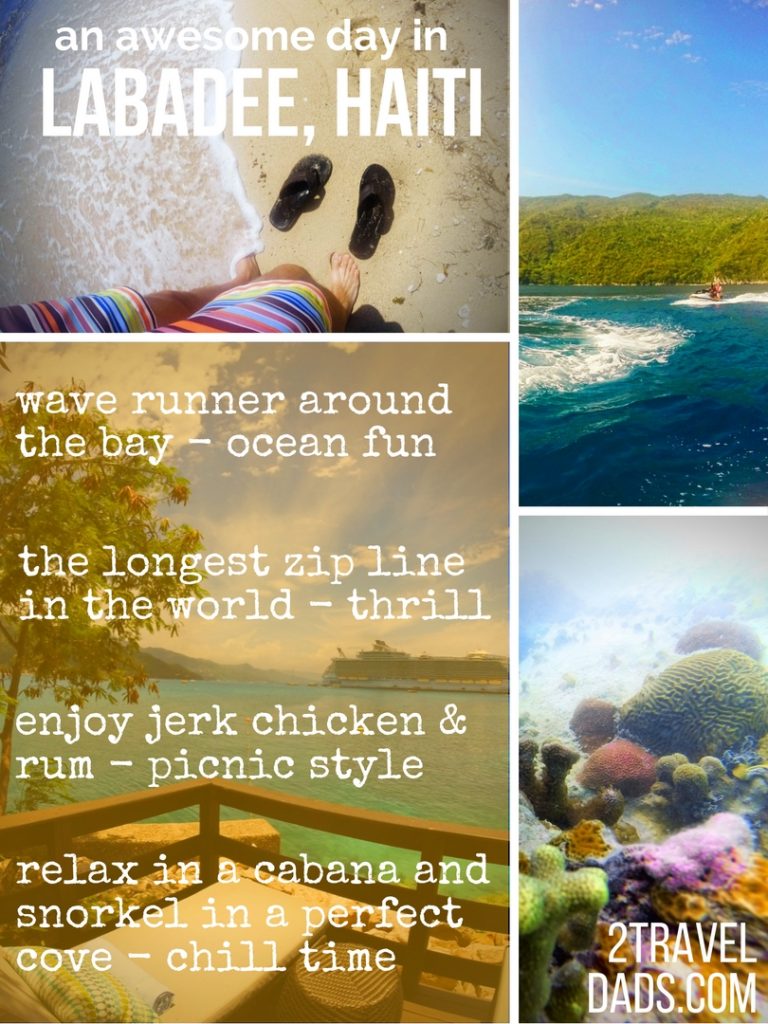 Labadee, Haiti was a wonderful cruise port and I really enjoyed it.  While it wasn't the side of Haiti I was expecting, I more than had an awesome day and can't wait to return with the fam!  In the meantime, here's a reel of the day and all of the fun Labadee provided.