Jamaica can be beaches or jungles, all inclusive or all about culture. Waterfall jumping at the Blue Hole in Ocho Rios is a must-do to make your Jamaica trip or cruise shore excursion extra fun and full of energy. The drive into the mountains is beautiful and the experience is exhilarating. While you don't get far off the beaten path, as the Blue Hole is very popular, this is a great shore excursion for having a totally different sort of fun.
This is everything you need to know about visiting the Blue Hole, one of the most famous spots in Jamaica for waterfall jumping, and other exciting things to do around Ocho Rios. You can book this experience as a shore excursion through most cruise lines, including Royal Caribbean, or you can book it on your own. Check it out here!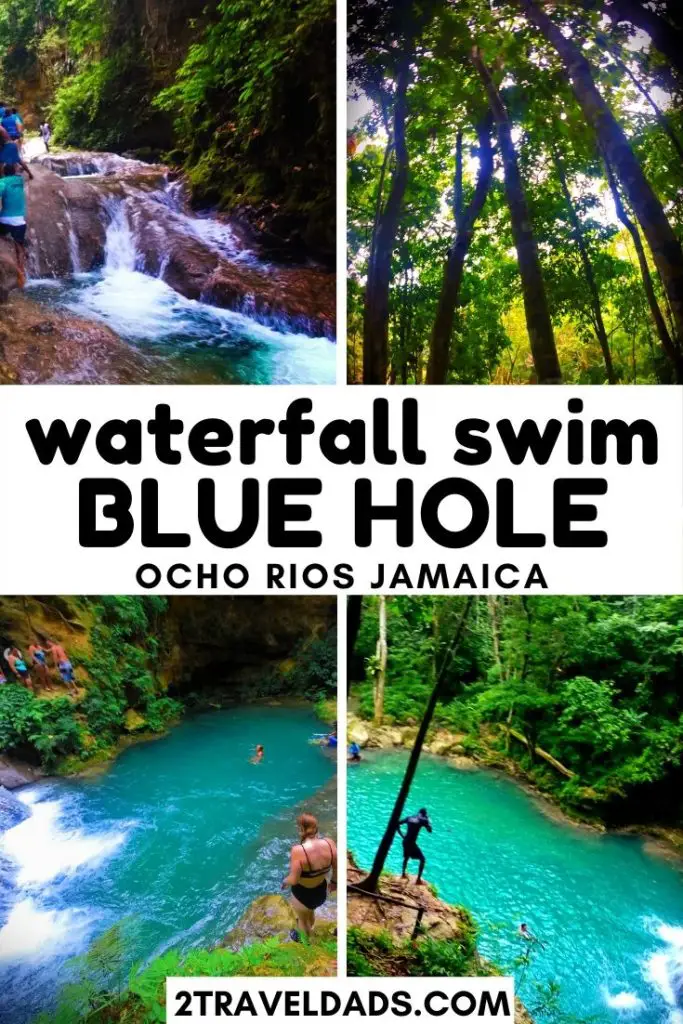 LGBTQ Travel to Jamaica
Even though I've been to Jamaica, it's unlikely we're visit as a family any time soon. Jamaica has oppressive laws in place that directly impact LGBTQ travelers and residents in Jamaica. Because of this, we can't travel as a family and explore all that Jamaica has to offer together.
Sure, we might be "okay" to visit, meaning that we might not get confronted by the police, but it's not worth risking anything. I would never recommend somebody to travel to a place that has laws in place that can harm them. If you choose to visit, that's up to you, but until laws are changed to be inclusive and not potentially imprison LGBTQ peoples, I do not recommend or refer anyone to visit anti-gay countries.
Visit Equaldex for an easy-to-navigate map of the world with information about anti-LGBTQ laws and restrictions before planning travel to a place like Jamaica.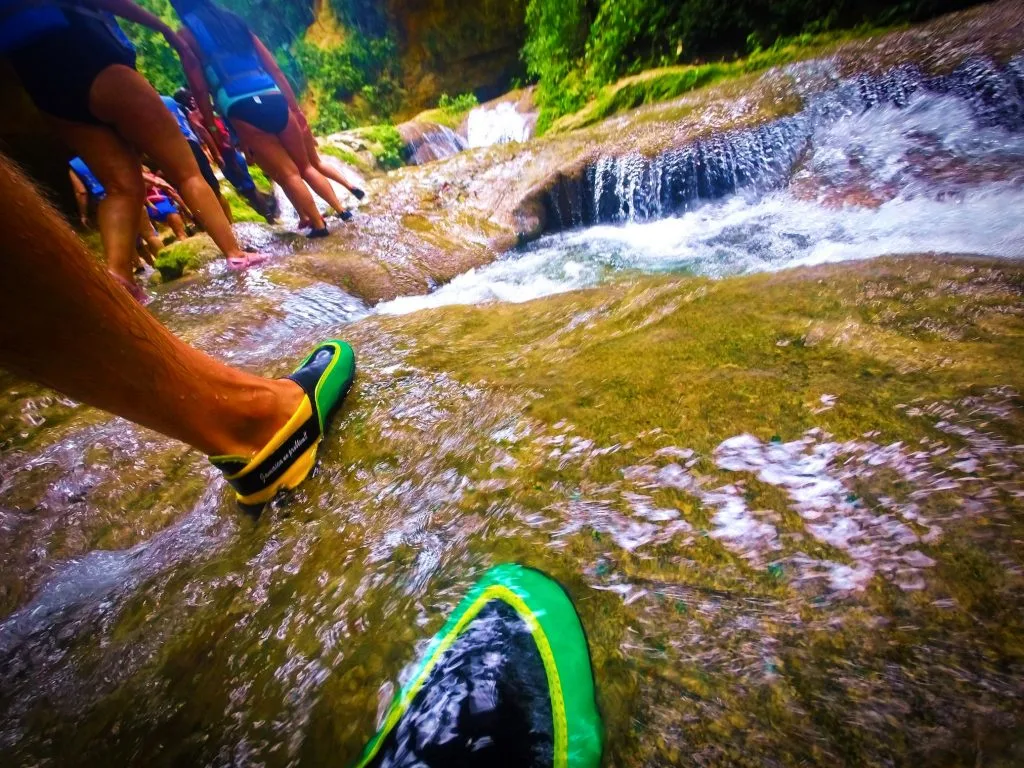 How Do you Visit the Blue Hole in Ocho Rios?
I came into port in Falmouth, Jamaica aboard the Royal Caribbean Oasis of the Seas for just a day. You'll be able to start here and head out all over the island for whatever you want to do. Some of the best things to do in Jamaica are a short drive from Falmouth.
From there, we got onto a little bus and drove away from the cruise port and through Duncans and more small towns until we got to St Ann, Jamaica. After getting to Ocho Rios it was then a crazy, winding drive up into mountains. Check out more things to do in Ocho Rios!
Tip: we strongly recommend doing this as a tour due to the precarious roads and unpredictable driving conditions. While you could rent a car and explore on your own, getting up to the Blue Hole is not a smooth travel day.
[adthrive-in-post-video-player video-id="0nbgcIEE" upload-date="2022-09-14T17:17:05.000Z" name="A visit to the Blue Hole, Ocho Rios, Jamaica.mp4″ description="Waterfall jumping at the Blue Hole in Ocho Rios, Jamaica is a great cruise shore excursion. See what it's like and make the decision if this is right for you." player-type="default" override-embed="default"]
As we drove up to the Blue Hole, our guide continually told us not to worry about the driver and how skilled he was, as he drove on these wild Jamaican mountain roads daily. Seriously, between the cliffs we were traveling along and the close calls with other cars and pedestrians, there was a lot to appreciate regarding our driver's skills.
Note: in Jamaica they drive on the left side and if you're from any place where you drive on the right, like the US or Canada, the left side driving is really strange and a bit scary.
On the way up into the mountains, the sights were pretty interesting. We passed by all kinds of shacks and stands selling everything from Jamaican aqua socks to "special" brownies. There were lots of people just hanging out with their friends while they sold their goods, and there were folks just walking on the crazy road. It was an unusual mountain adventure to get to the Blue Hole in Ocho Rios.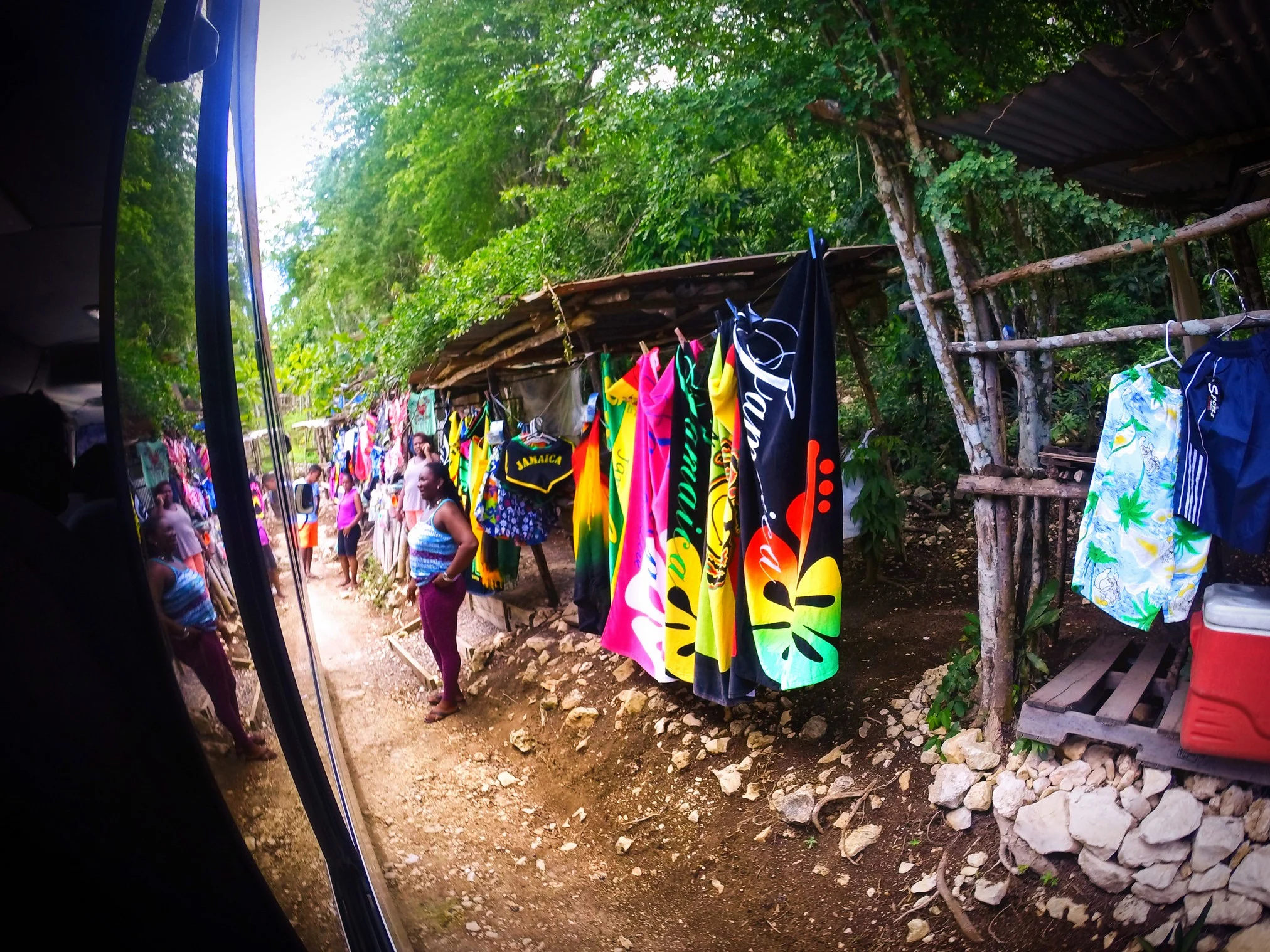 What's to Expect at the Blue Hole in Ocho Rios
When you arrive at the Blue Hole, know that you'll not be the only one there. The Blue Hole isn't as busy as Dunns River Falls, another popular waterfall jumping spot, but it can get crowded at times. I was there with my tour group mid-week and we were one of three groups climbing the rocks. We were fitted with life jackets and started our trek, joining a bunch more people already at the cascades.
Note: even when you're in the shade in the jungle, it's hot and you'll need to be wearing sun block. By the time you get to the water and it's time to jump in, you'll be so ready.
The walk/hike from the bus area to the first falls is beautiful. You're surrounded by the most beautiful tropical plants and flowers, the trees are towering and the light is amazing. There are stairs for a good portion of the walk to the river and the Blue Hole, but it's a bit rugged in parts.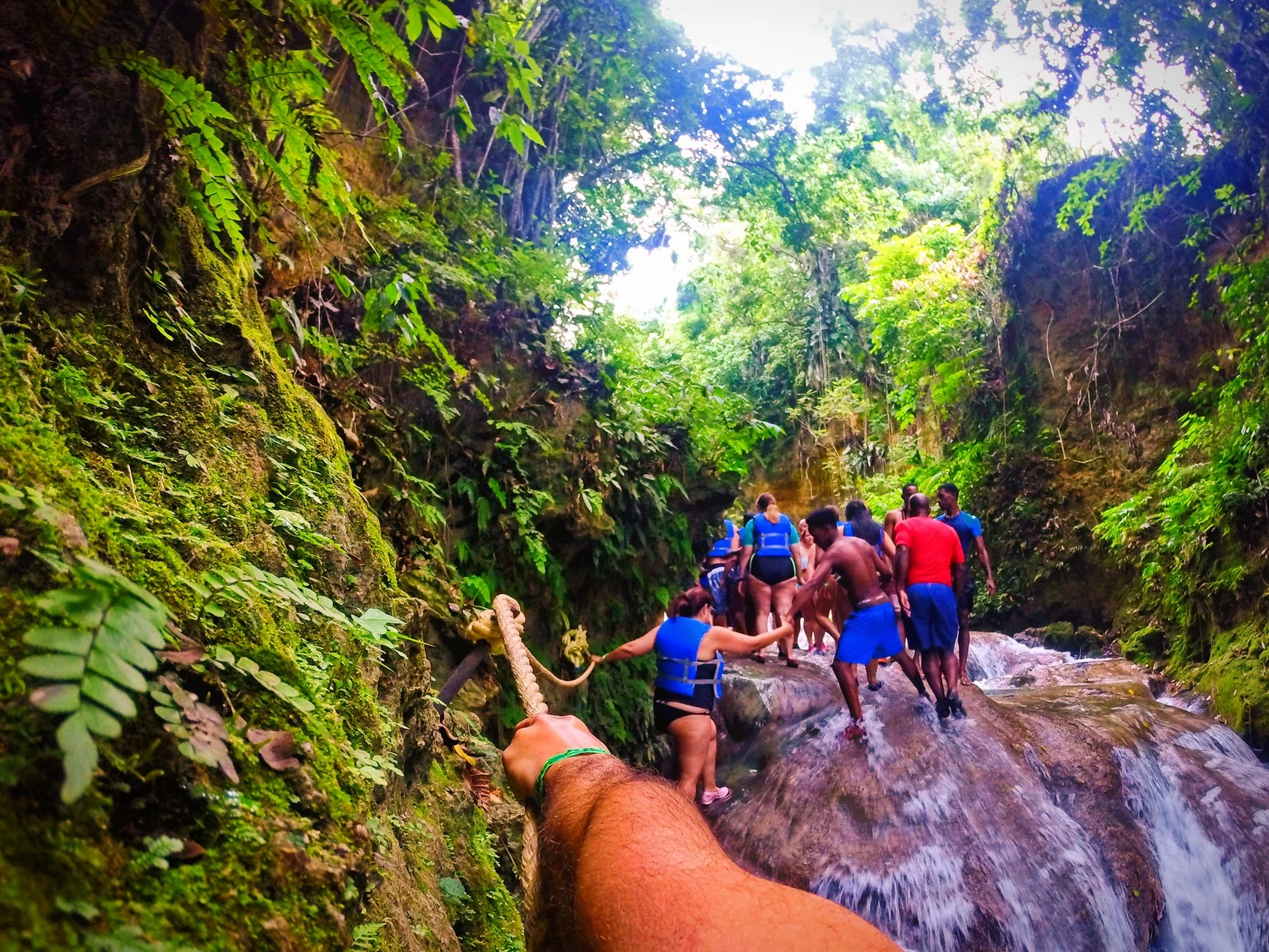 Once you're to the river and thinking about jumping in, it's time to traverse the rocks. There are ropes lining the canyon walls, but the rocks are still a bit slippery. There are several levels of cascades you have to climb along, so know that you'll need to be patient as you head up the canyon.
Tip: if you have water-shoes/aquasocks, bring them, because you'll need to hike along the rocks wearing close-toed shoes. They may also be required by the crew working at the Blue Hole in Ocho Rios.
Fun story: on the way to the Blue Hole in Ocho Rios, our guide figured out who didn't have close-toed shoes and called ahead to a friend who met us on the side of the road with aquasocks (which we had to purchase). It was funny.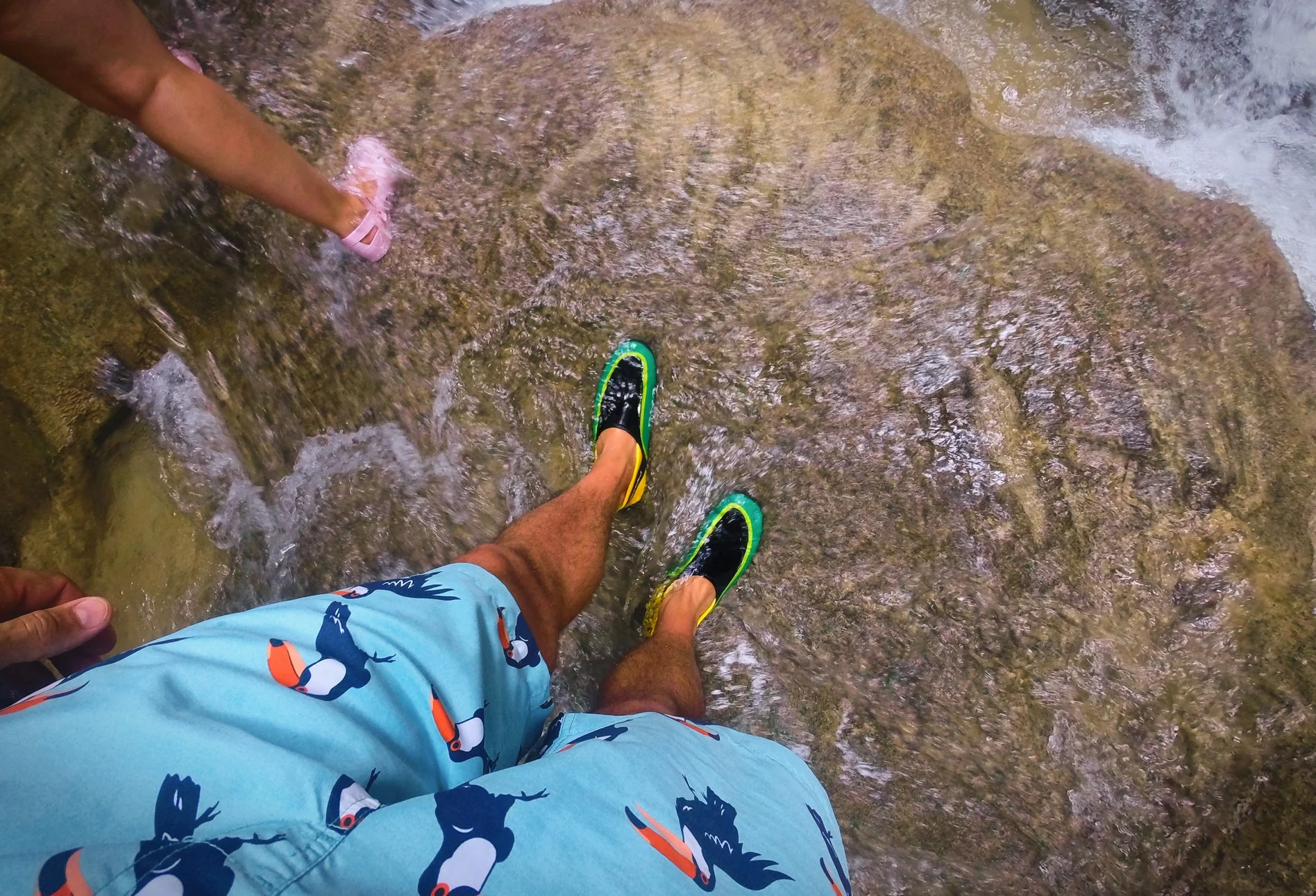 Highlight of the Blue Hole: Waterfall Jumping
Once you've done the trek into the canyon and scurried along the walls holding onto the rope, you're finally ready to jump! The jumping in the Blue Hole and its pools is really amazing. The water is warm, it's rushing, but it's safe. When my group was there, there were quite a few others too, so we had to exercise caution about both rocks and people.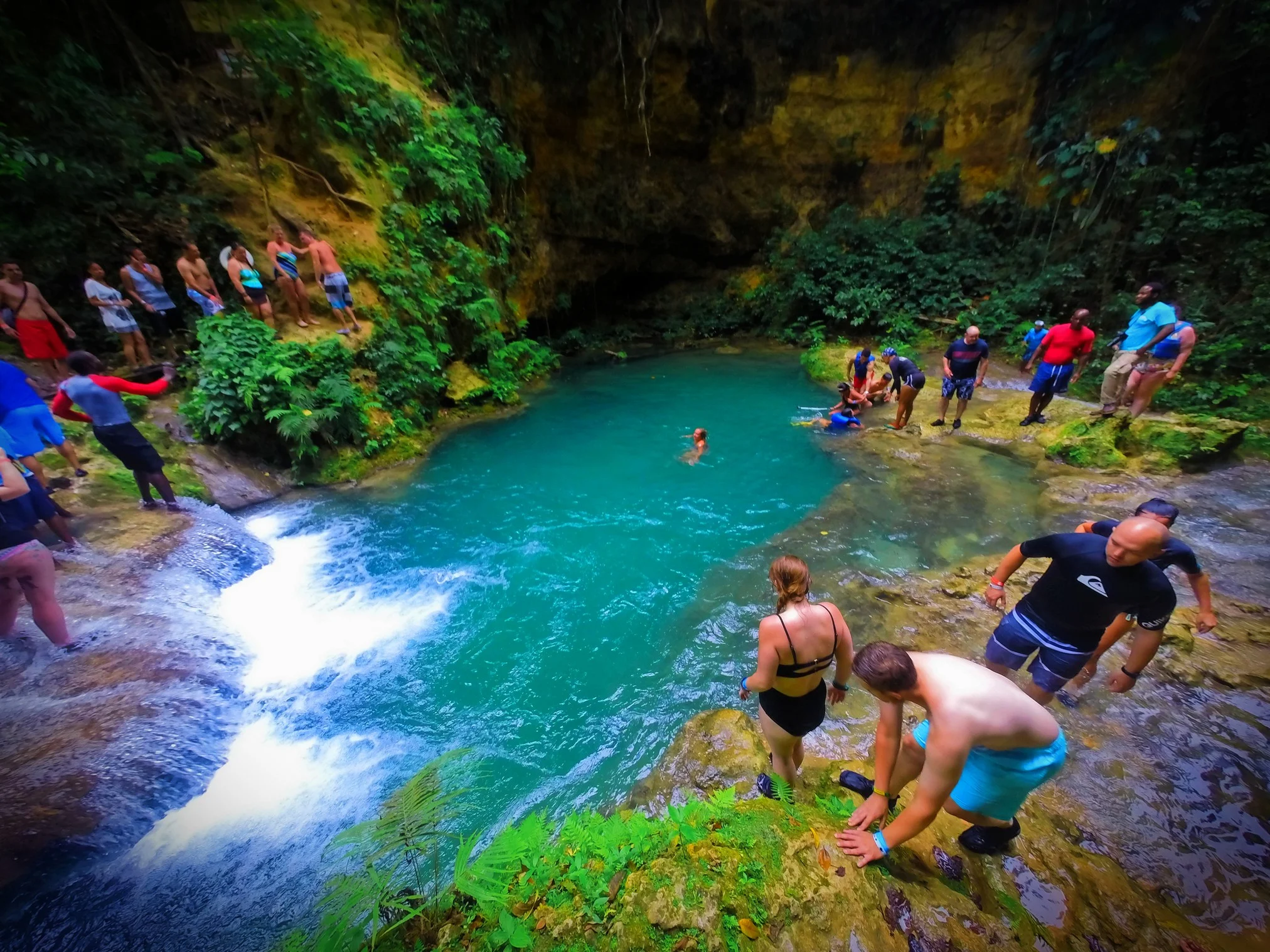 The Jamaican people running the jumping and climbing at the Blue Hole are all pretty cool. They're funny guys and they are so nimble on the rocks and in the water. They're guiding people, making sure everything stays safe and they're sure to have fun too. One of the ladies in my group was nervous about jumping, so one of the guys guided her the whole way and then stayed with her all of the way through the many pools.
Cool skills: the guides on the river at the Blue Hole are so brave and skilled that they can pop in and out of the tiniest holes in the rocks and swim through narrow, invisible passages underwater. It was really amazing.
So there are many pools and chutes and holes to jump into as you head down river and each is different. Some are crazy ice blue and you jump from three feet up to others that are deep turquoise and you're jumping off a 30 foot cliff. There's even a trapeze for you to swing off of and land in the Blue Hole. Every jump is just wonderful.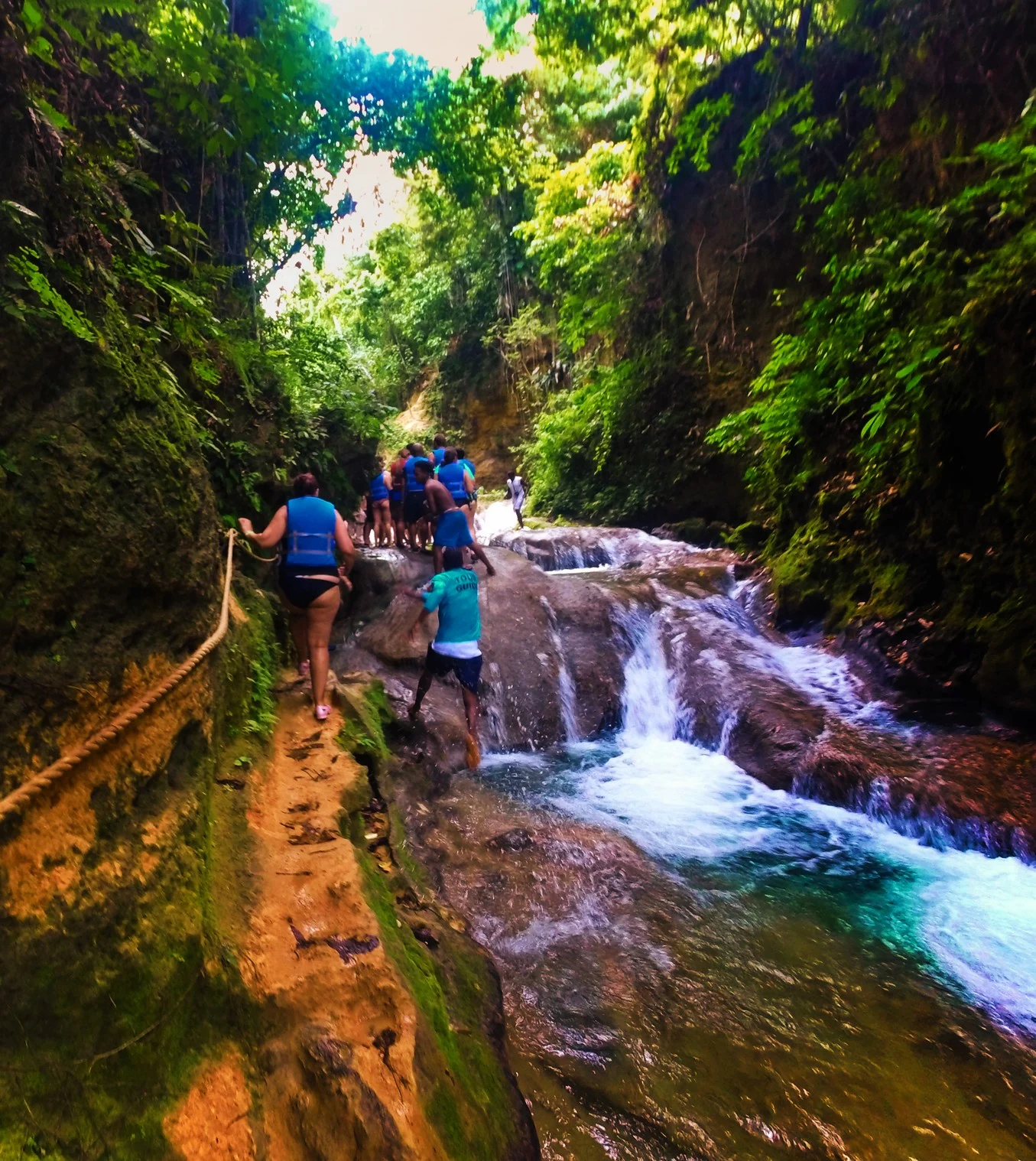 Who should go Waterfall Jumping at the Blue Hole?
I'll be honest, it's not for everybody. Physical ability and bravery are two factors that you must honestly consider before you head off to the Blue Hole. The hiking isn't terribly difficult, but if you don't have a strong back or sure footing, you may really struggle. Also, if you have an innate fear of drowning, it's definitely not something you'll enjoy. The water is always flowing and there are unknown obstacles all over. You need to be feeling adventurous and be physically up to the challenge… and if you are, you're going to have an amazing experience!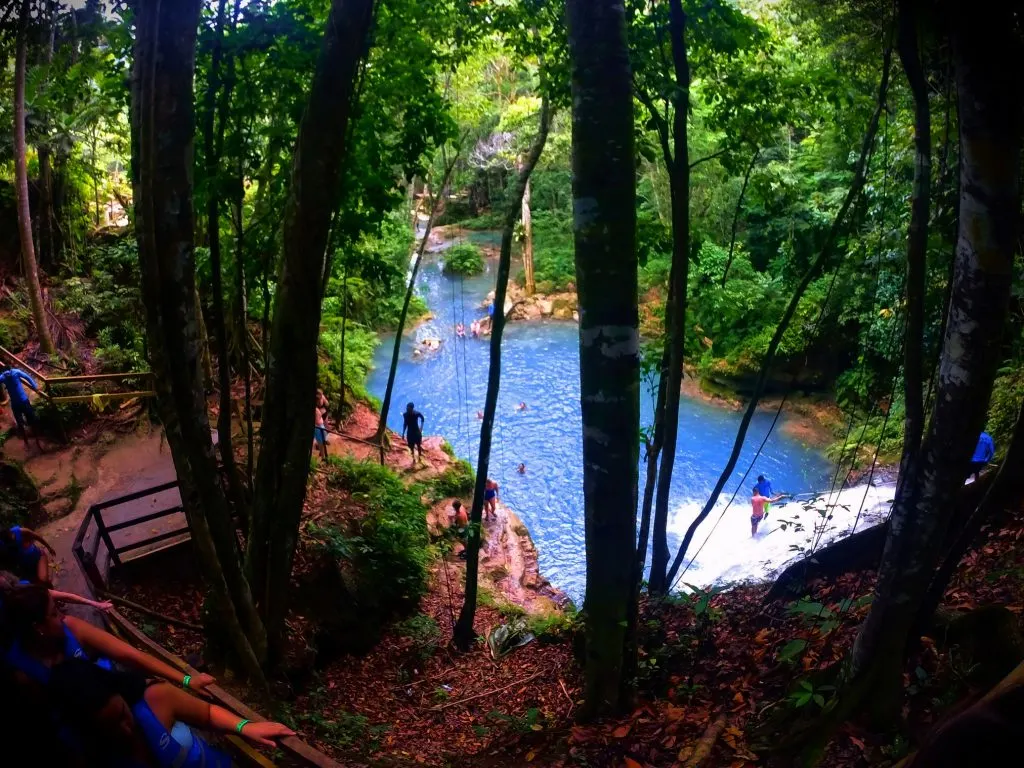 What to Bring for a Cruise Shore Excursion in Jamaica
Depending on what you book for your shore excursion when you cruise to Jamaica, you'll need to plan for basically the same sort of conditions: hot weather, moisture, uneven ground, and sunshine. True, there is a lot of rain perpetually in the forecast for eastern Jamaica, but it's like Florida where we also have tons of sun.
Here's what you need to bring ashore for almost every sort of shore excursion when you visit Jamaica:
Footwear that can get wet
Water shoes / aqua socks
swimwear or change of clothes
water bottle
waterproof camera or GOOD waterproof phone case
sunblock and bug repellent
I include sunblock and bug repellent last because these aren't very important to me. The Blue Hole and other shore excursions into Ocho Rios tend to be heavily shaded, and many visitors do choose to wear water shirts. And if you're wearing a water shirt, that will also cut down on your need for bug repellent.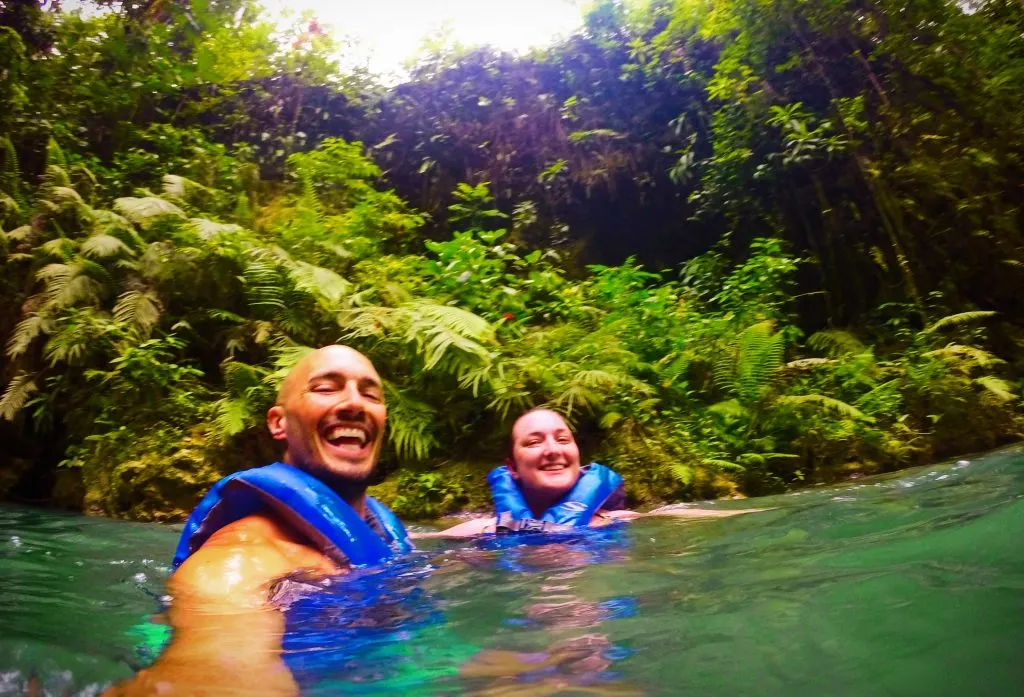 Do you see why I really want to return with the rest of my family? Between the walking in the jungle, the warm water and the thrill of jumping from pool to pool, Ocho Rios is all a wonderful experience that's really awesome. I know that the kids will love the pools and water, but I think we'll need to find a similar experience on a different Caribbean island.
Do you have a good alternative for us? Where can we take the kids for an awesome jungle experience? Leave us a note or send us a message. We're always up for an adventure.
Tour info: if you're looking to do the exact tour I was a part of, it was lead by Chukka and included the Blue Hole and river tubing. They were wonderful and professional.