Our family spent four days at Club Med Punta Cana in the Dominican Republic and loved the experience. This is our review of the property and suggestions for things to do and how to enjoy Club Med Punta Cana to the max. This was our first Club Med experience and our family vibed with it quite nicely. The Dominican Republic beaches and food were great too.
If you aren't sure that a vacation to Club Med Punta Cana is for you, read on and see what we enjoyed. And if you have any questions we might've missed here in our review or need more tips for planning a trip to the Caribbean, leave a comment or send us a note. We're happy to help plan exciting travel!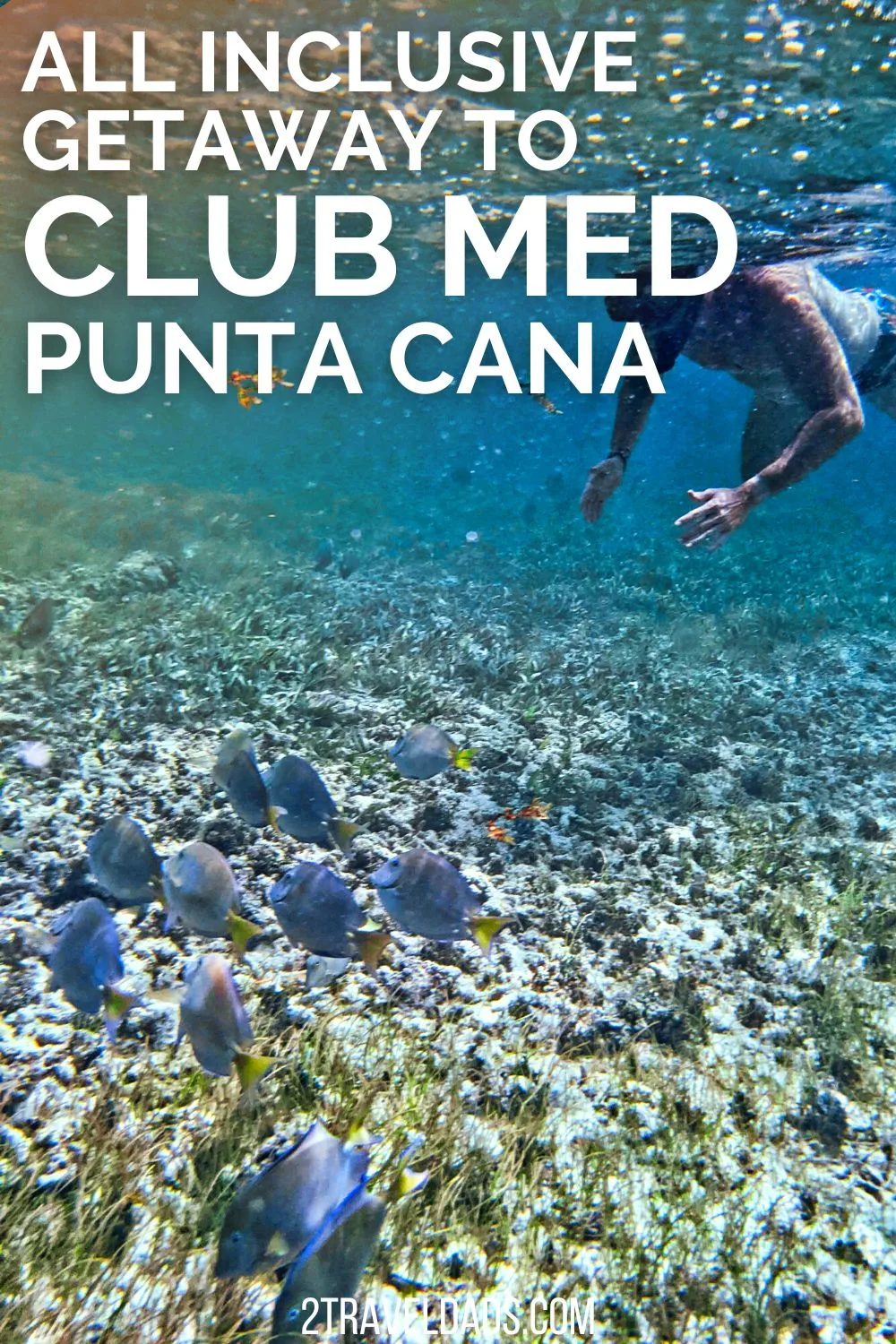 Why Club Med? What's Different?
Have you heard of Club Med and weren't sure what it was? That was us until we had our first family Caribbean vacation here at Club Med Punta Cana. All we knew before arriving was that it would be nice, it would be all-inclusive (we weren't sure what that entailed) and that we would want to stay longer. Now that we've been, here's the full scoop on Club Med Punta Cana.
Did you know that Club Med has locations all around the world, from Morocco to Quebec and lots of spots in between. While each destination has something different to offer, the service-first, all-inclusive resort style is consistent across the properties. After visiting Club Med Punta Cana, we're ready to visit another one!
Before arriving at Club Med Punta Cana, we didn't understand what makes the brand different or even what to expect, including what an all-inclusive stay was like. We reviewed the website well in advance and researched what we could, but felt that the available information was a bit cryptic. Once we arrived and had our orientation, it made sense to us.
Club Med is a very active type of resort and it's very European. Being a French company, it operated very differently than most American resorts, and for sure any American or Mexican resort we've been to. Club Med is all about comfort and camaraderie. If you've not been to Europe and experienced any group functions in France or Italy, it may seem very odd. Everyone is very friendly and free, talking to everyone and joining activities together.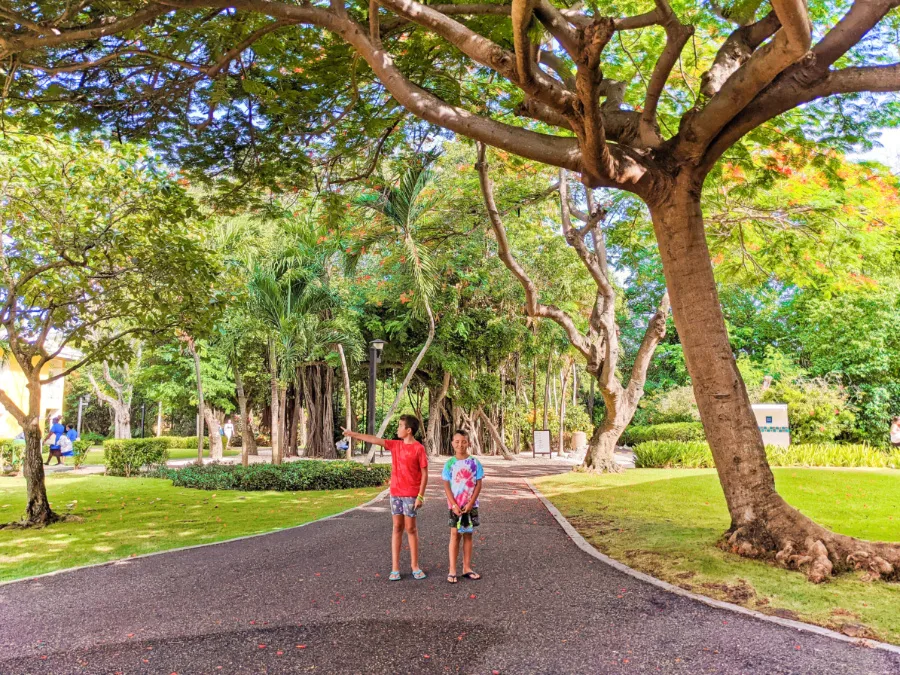 When you dine, sometimes people may sit close to be able to chat or at the pool random strangers will invite you to join them for the activity they're going to do.
Our Club Med experience very much reminded us of camping in Cinque Terre, Italy where we happened into a large family reunion that was just a free-for-all of fun and food together. It's kind of amazing.
During our stay as we started to share on Instagram and Facebook about our Club Med experience, we received countless messages from people about their lifetime enjoyment of the worldwide resorts. Some people shared that they've been going to Club Med for 30+ years, and others shared that since having kids the brand has been their go-to choice for vacations.
I get it. The culture of both staff and guests is so different and we loved it.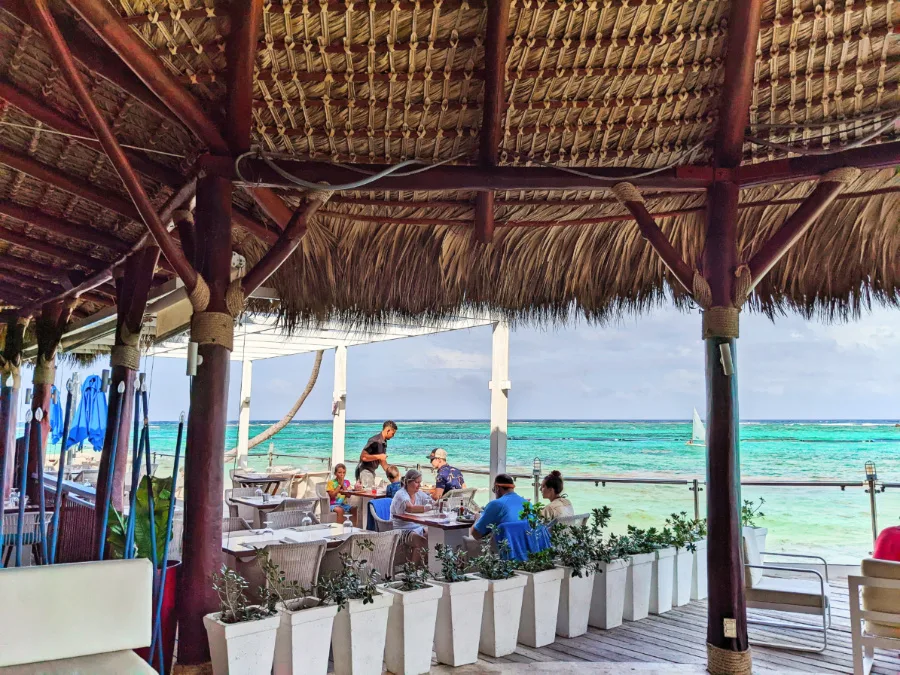 What is Included with All-Inclusive Stays?
All-Inclusive really does mean that all things are included (with a few exceptions). Your dining, your drinks, child care, special activities, fitness instructions, show performances, bell and support services… It's all included (and gratuities too). What's NOT included are premium activities, like excursions outside of the resort or spa services, and a few premium food or beverage picks. Besides these optional features, everything else is ready to go for you. The food and activities are very diverse, so any sort of interest or diet is easily accommodated.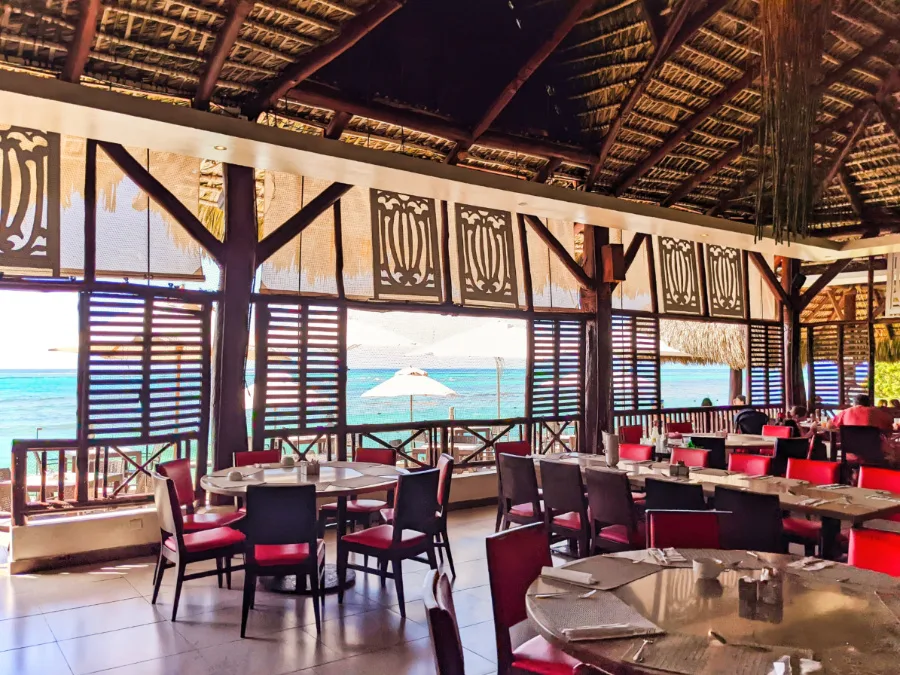 Languages at Club Med Punta Cana
Often people get nervous about traveling to different countries or trying new things because they're very uncertain about the interactions they'll have. Being at Club Med Punta Cana, we were nearly always able to find somebody to assist who spoke English, and when there wasn't somebody readily available, everyone was very patient with my broken French and rusty Spanish.
French and Spanish are the primary languages spoken at Club Med Punta Cana, but all staff members have flags on their name tags that display which languages they speak. I must say, this is the most well spoken, multilingual collection of people I've even spent time with. Amazing!
Note: if you need assistance from a staff member who speaks a language other than your own and you receive help in your native language that is a bit broken or not as well spoken as you, show grace as that person helping you is going out on a limb to assist, and hey, they can speak multiple languages, which will forever impress me.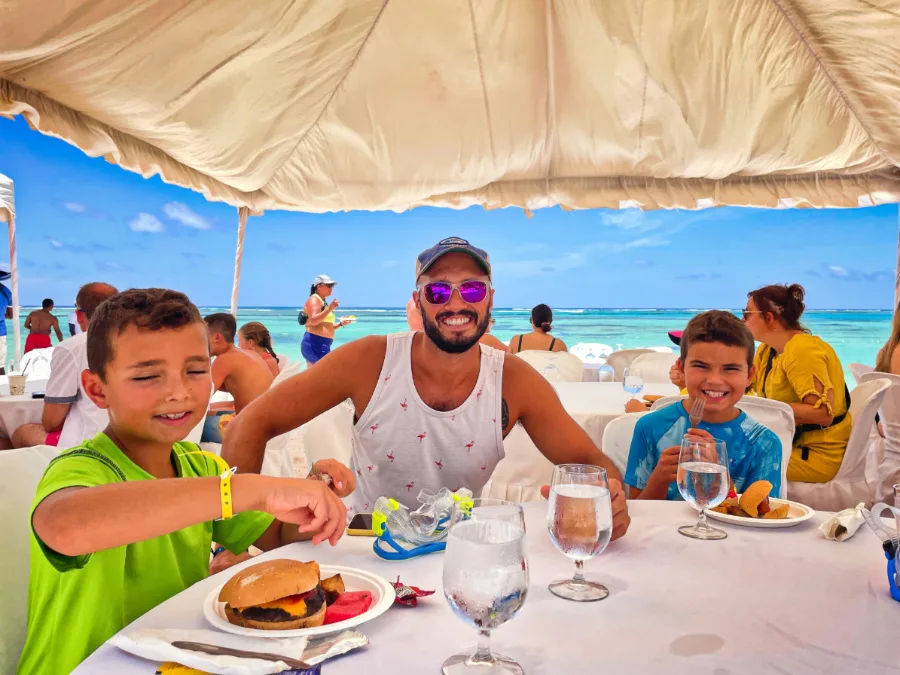 What Are the Accommodation Options at Club Med Punta Cana?
Accommodations at Club Med Punta Cana vary based on both suite size and what part of the resort you are located in. Because it's such a large property, you'll find everything from large family suites with several rooms to couples accommodations in the adults only area. The Zen Oasis area (adults only) is different from the 5-Star Exclusive Collection portion of the property, which is next to the original portion of Club Med Punta Cana.
As you're planning your stay, consider the sort of experience you want to have and who you're traveling with. While you can't stay in the Zen Oasis area if you've got kids with you (under 18), you can still book an ultra premium stay by booking the Exclusive Collection section, which has its own pool, dining, and separate access areas. For us, we are all about the family style and don't need to be extra luxe, so the primary resort area was ideal for us.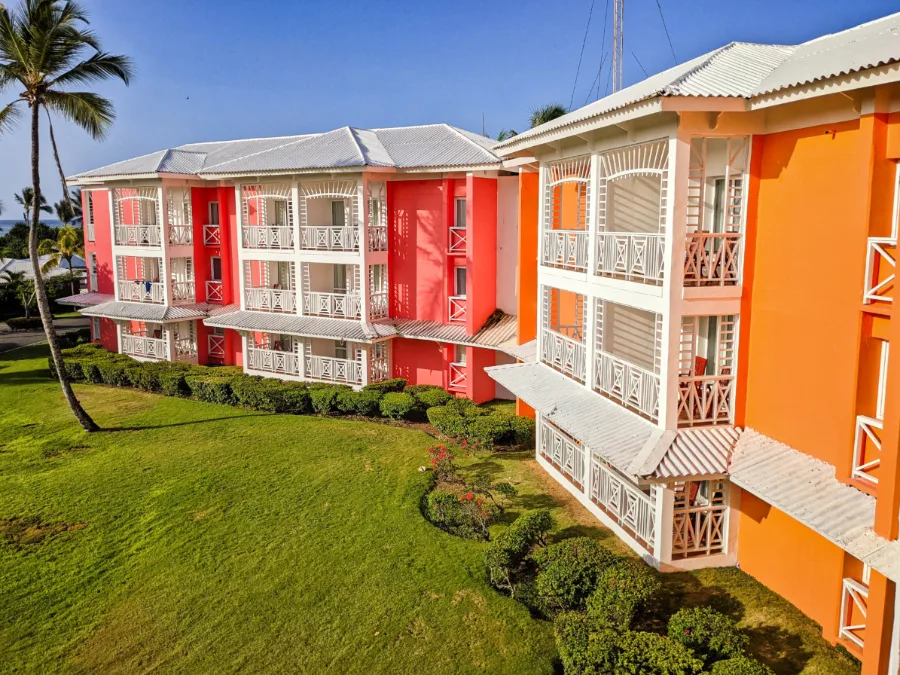 Our Resort Stay: Two Bedroom Deluxe Family
You know we love our separate spaces when we travel as a family, and our Deluxe two bedroom accommodations at Club Med Punta Cana gave us plenty of that. Upon entry there was a large foyer with closets and with the bathroom and commode area off it (opposite each other). Then there was the kids' room with two twin beds, and then our living room. The living space had more closet space, our coffee station, another twin bed / daybed couch, and access to the balcony. From here we also had a king bedroom off the living area.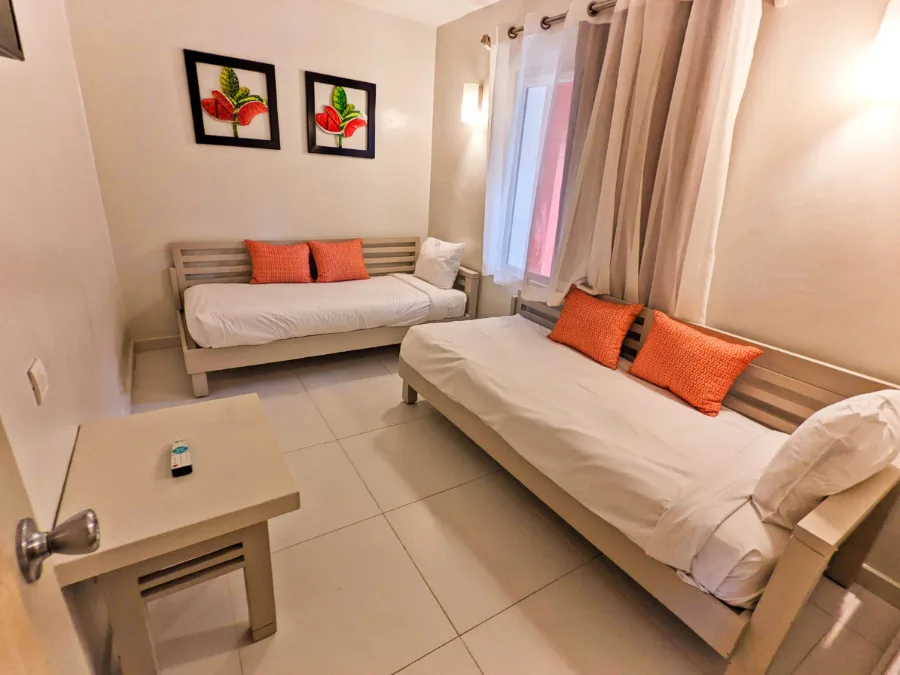 We had plenty of space for our family of four, both at night time for unwinding and going to bed, as well as functioning mid-day when we would take a break from activities. The bonus of outdoor space was also very much appreciated at night after the kids would go to bed and we could still sit out and listen to the ocean.
Note: we didn't get to see other room types while on property, but our room was in the primary resort area and was both amply spacious and nice. It was ideal for a family trip, but was not luxe like some properties we've stayed at in the past.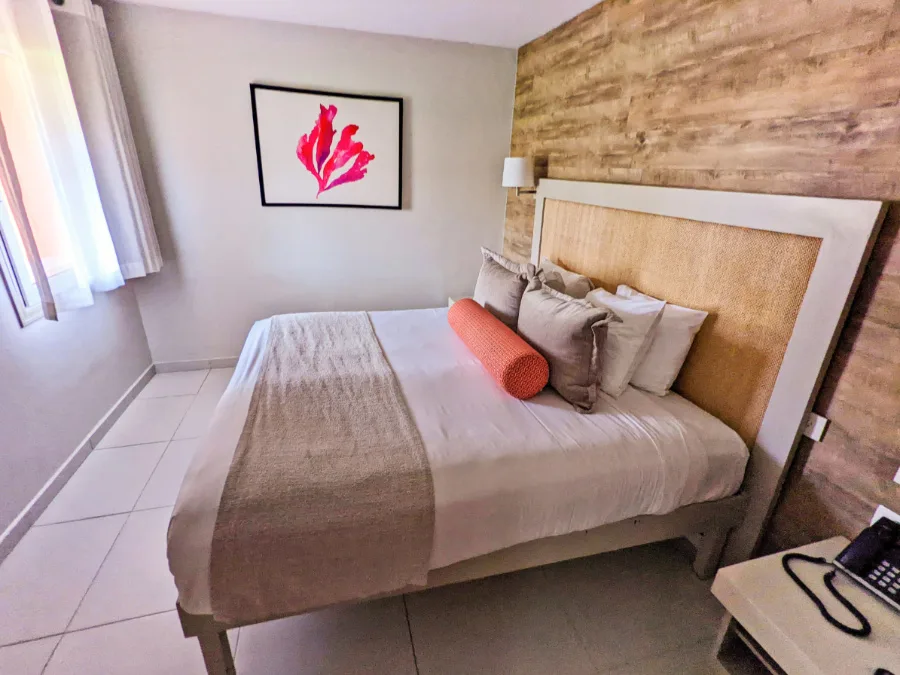 Check-In / Check-Out at Club Med Punta Cana
First of all, before you arrive at your Club Med destination, you'll want to download the app, My Club Med, so you can see a bit of what's in store. In the app you'll find reservation information, schedule of events (including dining themes), and you can answer most questions about your upcoming stay before you arrive.
Once you're at Club Med Punta Cana (or another property), a team member helps you check in and provides you with an orientation. They are kind of your point-person for anything during your time there. Staying at Club Med means full service experiences, so that includes finding your way around and making sure you have everything you need. As soon as you're checked in and sorted though, your time is your own. Relaxing, being super busy with activities, or just enjoying the beach and pool, it's all up to you.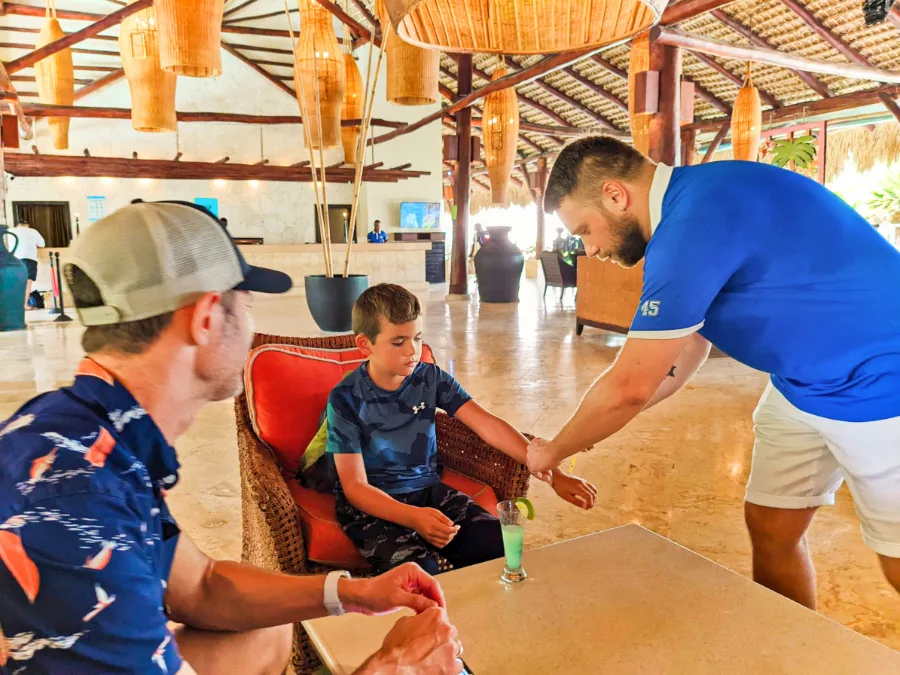 Club Med Punta Cana Amenities
The big benefit of staying at a Club Med resort is the abundance of amenities. Club Med Punta Cana has nearly every resort amenity we could've wanted. It felt weird to fly to another country and then just check into our resort and not need to ever leave for activities or dining. It was wonderful, but very different from any type of travel we've done. The amenities and activities on-site made us forget about the world outside.
Pools at Club Med Punta Cana
There is one ENORMOUS pool in the primary resort area. It's split into several sections, from shin-deep in the children's area to about 5.5 feet deep at the opposite end, with plenty of middle depth area between. The pool has palm islands in it, which are great for finding shady space in the pool, and even when it's at its most busy, there is plenty of pool space for everyone.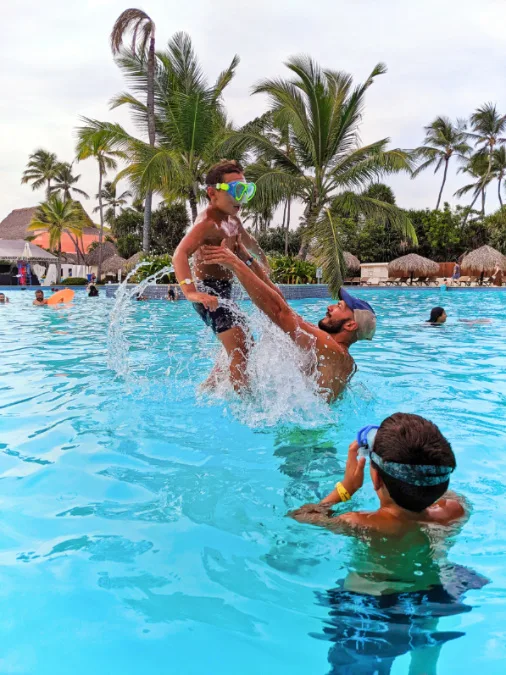 In the main pool, the Club Med Punta Cana activity staff lead water aerobics, pool dancing (might have been the same as the aerobics, but more fun) and water polo. Our whole family LOVED water polo, and this is one of the best examples of the Club Med camaraderie I mentioned. You join teams with complete strangers, probably speaking a variety of languages, and you all just have fun together. Seriously, this activity was probably the most enjoyable for our whole family.
There are three other pool areas at Club Med Punta Cana:
Zen (adults only)
Exclusive Collection (5-Star luxury accommodation area)
Mini Club (children only)
The Zen pool is really beautiful. Because it's in the adults only area, it's exceptionally quiet and peaceful. Near Olympic length, it's great for lap swimming or relaxing with nobody near you. At the Zen pool you will also find the only spa tub on property. There is a full service bar here too called Hibiscus. I love this area and would enjoy returning just to stay in this adults only part of Club Med Punta Cana.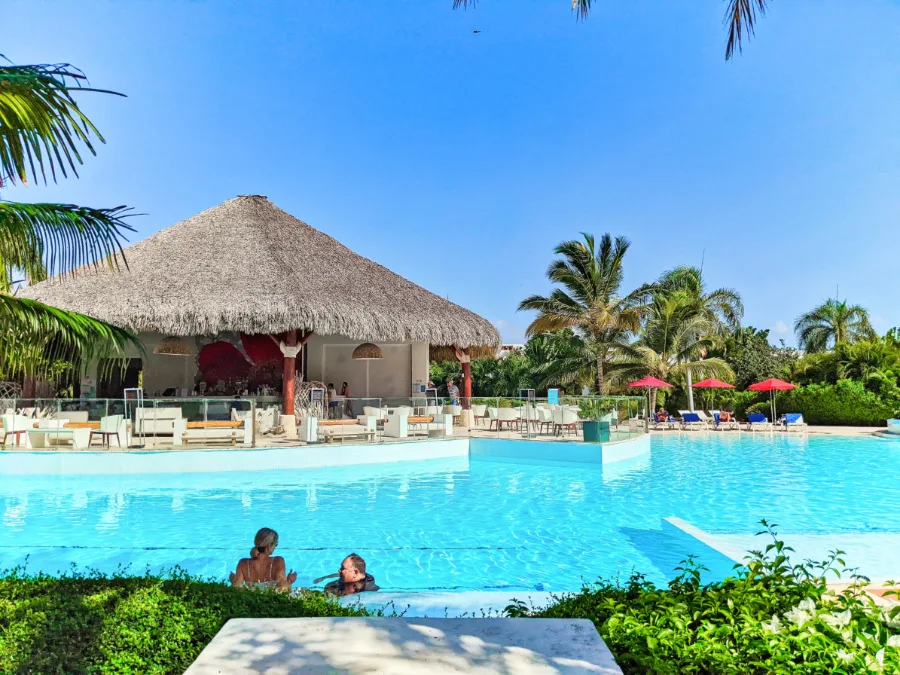 Beach Access and Activities
I'll go for an ocean swim over pool time any day of the week, but I may be a minority in that opinion. The beach at the resort has breakers just offshore, making the waves fairly calm as they roll in from the Caribbean Sea. The sand is peachy-white and full of coral pieces.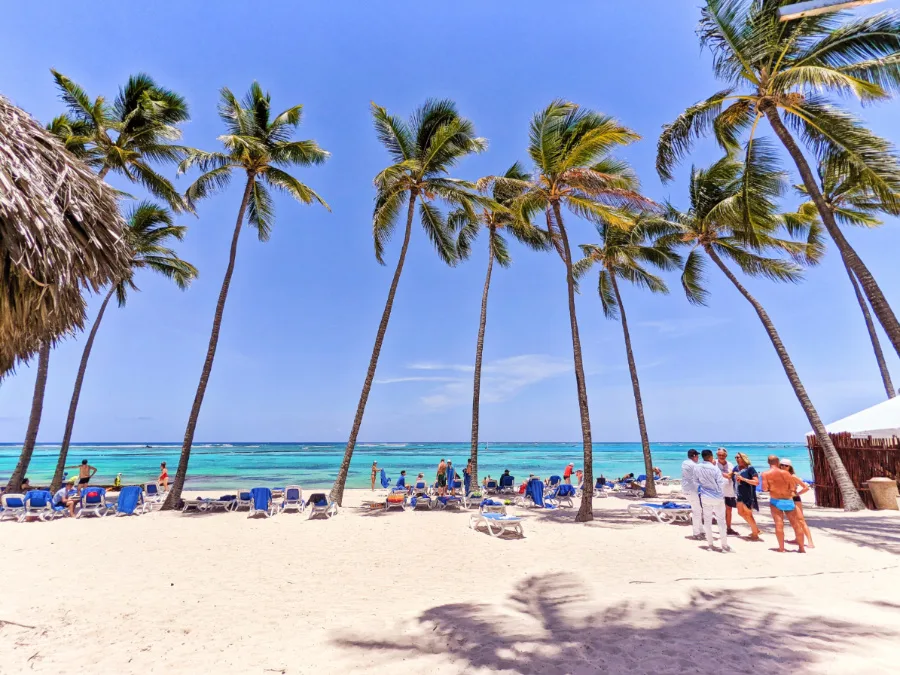 While most of the beach is open to all resort guests, the easternmost portion has a section that they request is adults-only, as it's the closest to the Zen (adults only) part of the property. Families that want to snorkel here are fine to walk through though, as is the culture of Club Med and its visitors, you won't be made to feel out of place as you go through with your kids. This part of the beach actually has the best snorkeling.
At the beach activities building you can check out snorkels and fins, SUPs, kayaks and even do small-craft sailing lessons (Hobie cats). We only took advantage of the snorkeling because it is the best we've done from a beach anywhere we've been. Not even going out to the reef or doing a guided tour, just swimming from the beach we saw octopus, a school of squid, triggerfish, butterfly fish, angelfish, tangs, jacks and so much more. It was incredible!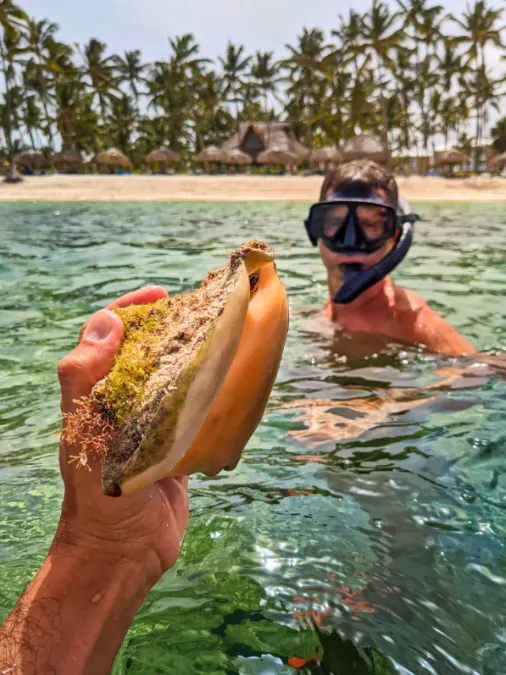 On-site Fitness Center and Classes
I already mentioned aquafit / water aerobics, but there are actually lots of different fitness classes offered onsite. There is a special yoga palapa for instructor-led classes, and a beachfront fitness palapa for Zumba, Pilates and more. You don't have to register for any of these, but can just drop in and join if you're in the mood. No judgment and you'll be totally welcome.
There is also a complete fitness center at Club Med Punta Cana, right by the Circus School (I'll tell you more about that in a minute). The fitness center is spacious and has plenty of cardio and weightlifting equipment to accommodate even during the busiest hours. Since it's open from 6:00 am to 10:00 pm, if doing your own workout is important to you during your stay, there are plenty of opportunities to conquer it.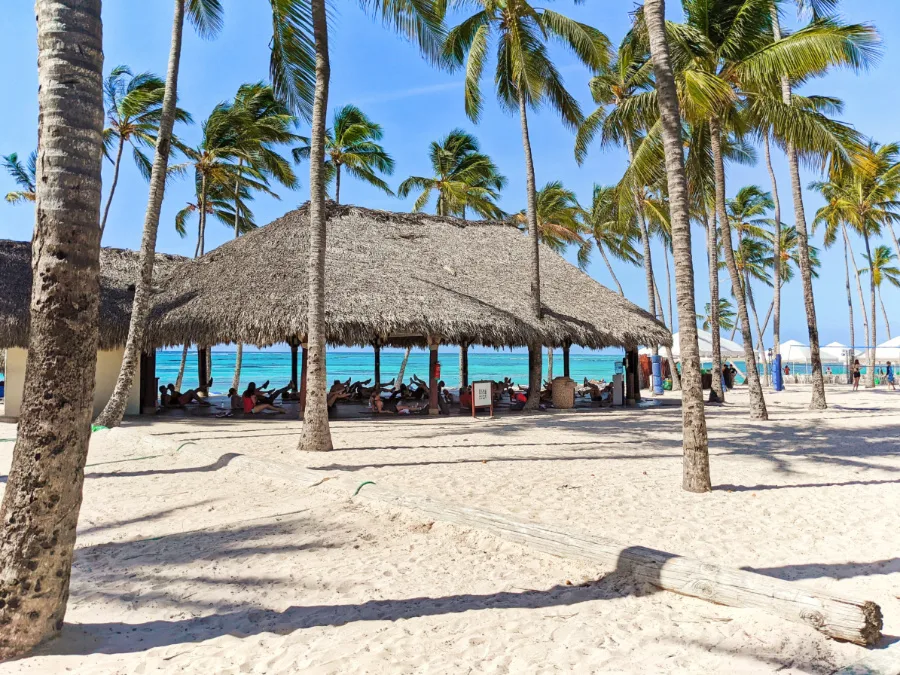 Circus School for Club Med Guests
"What's circus school?" That's a great question, and yes, you're going to want to try it. Since there are nightly shows of all sorts at the resort, if you've seen one of the circus performances, you'll no doubt be curious if you can do the same sort of tricks and feats. Whether you want to learn how to swing on a trapeze or do aerial flips, or even just practice trampoline skills, you can do it all with guidance.
For the trapeze, the Circus School staff teaches you everything you need to know, and if you start on day one, by the time you leave you'll even get time to learn how to do an upside down aerial exchange. We only went as far through Circus School as aerial flips, but wow, I never thought I'd do something like that.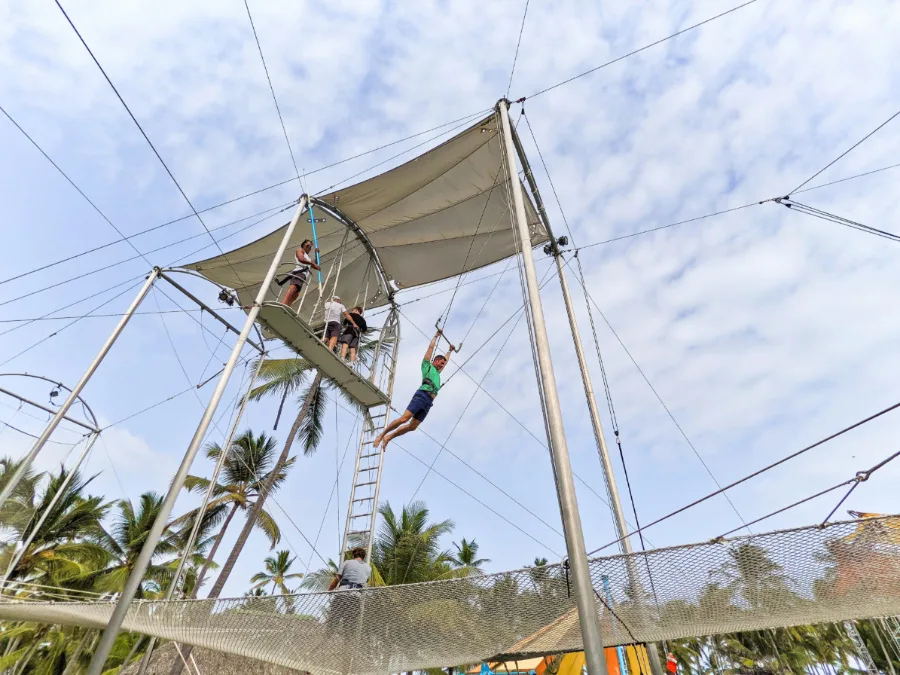 Club Med Spa Experiences
As if the luxury of being at an all-inclusive resort wasn't enough, we each also got to enjoy a kid-free spa day. The setting of a spa, just off the beach with views of crashing waves and snorkelers, it's just perfect. Being L'Occitane branded, the quality of the products used went well with the Club Med brand.
The pre-treatment relaxation space is beautiful and quiet, there are refreshments and lots of lounge areas, and there is even a small private pool if you like.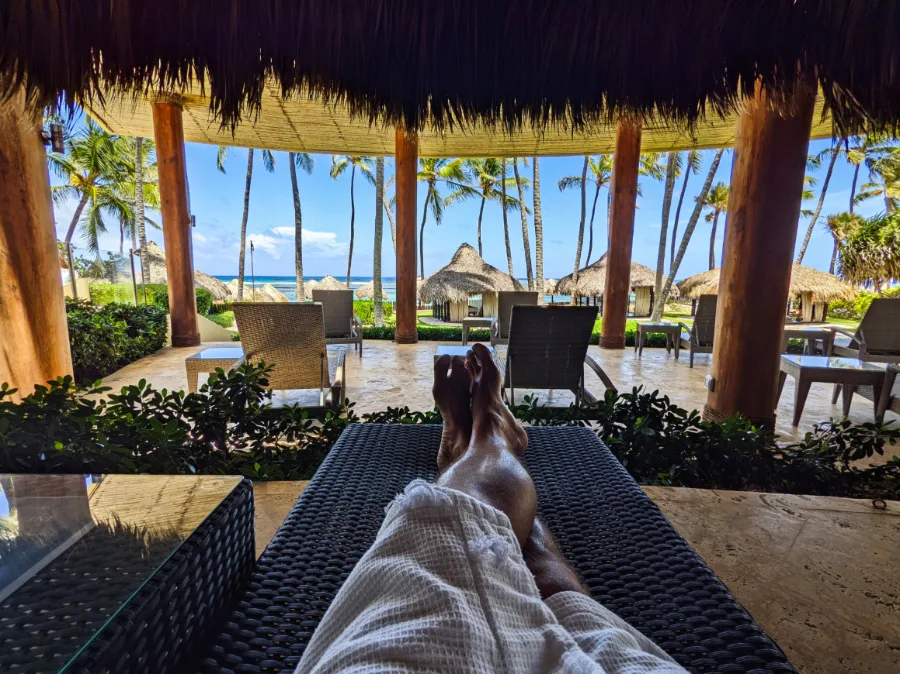 While you can choose to have indoor or outdoor treatments, why wouldn't you enjoy your massage outside? We both had beachfront 60 minute massages, deep tissue, and then peaceful relaxation time in the spa pavilion. Aromatherapy scents, a foot soak and no pressure to rush the experience made it top notch.
Note: an all-inclusive Club Med stay does NOT include spa treatments, so they are one of the few additional fees you can opt for. Also, while gratuities/tipping is included with your total costs for the stay, leaving a gratuity for your massage therapist or spa attendant is still customary.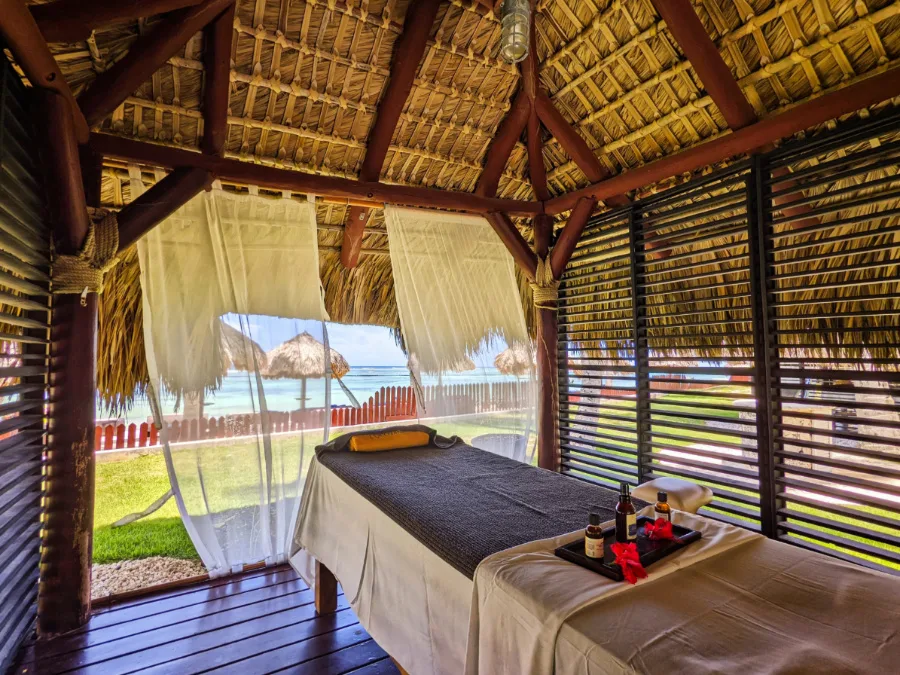 Mini Club – Club Med Kids Recreation Options
We were all very excited to have the kids enjoy the child-focused portion of the resort, Mini Club. This is included as part of being all-inclusive. There are club areas for 4-23 months (Baby Club), 2-3 years (Petit Club), 4-10 years (Mini Club, split up by ages), and Passworld for teens. They do all sorts of activities, from archery to arts and crafts, sport to pool time. The kid area has its own pool and splash pad, and there is ample staff to support the number of kids who participate.
You do need to register your kids for the club before they can go, so be sure to do that the day before you want to try it out.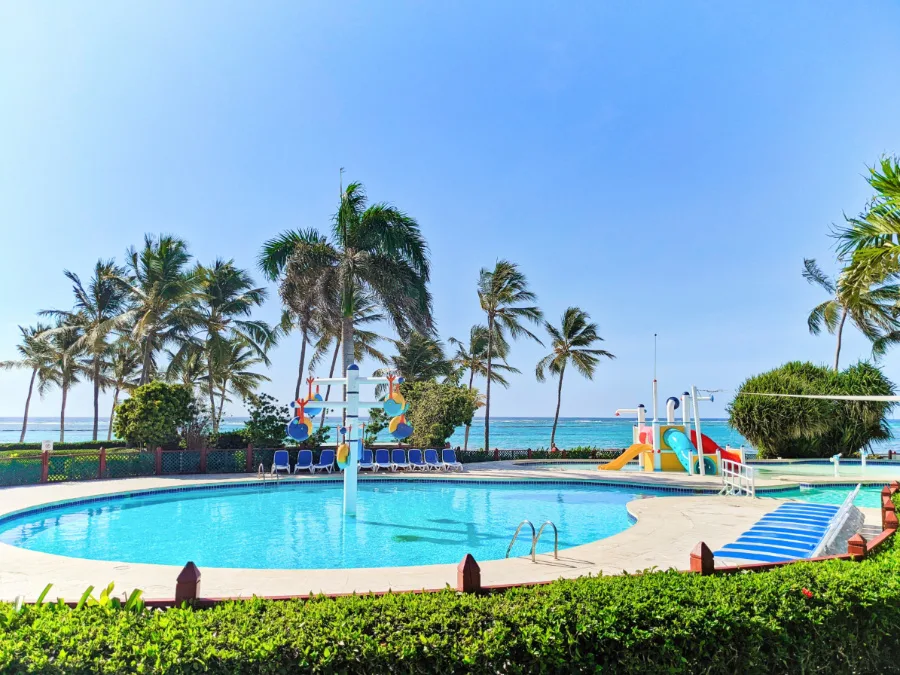 Is Mini Club right for our Vacation?
We love the idea of a resort kids club in theory. Our family has taken advantage of them at Aulani in Hawaii and at our timeshare in Cabo San Lucas. The kids' activities and space here at Club Med Punta Cana really was remarkable and ideal for keeping kids busy and enjoying time away from parents…
It didn't work out well for our kids, but to no fault of the resort staff. As I mentioned earlier, Club Med is extremely international, which is one of the elements that makes it so special. This had an adverse effect for our kids' time there. Due to the number of languages being spoken all around them, by kids and adults, they both were very overwhelmed. Normally when we travel, us parents are the buffer that makes international travel less stressful for them, as we can help them with language and they feel the safety of our presence. Here it was different.
Although the staff at Mini Club was attentive and genuinely concerned that the kids would have a good time, it was all too much for our boys and they weren't comfortable. Oliver, our oldest, did successfully participate in one activity, archery, and he really loved it, but then he was done and overwhelmed.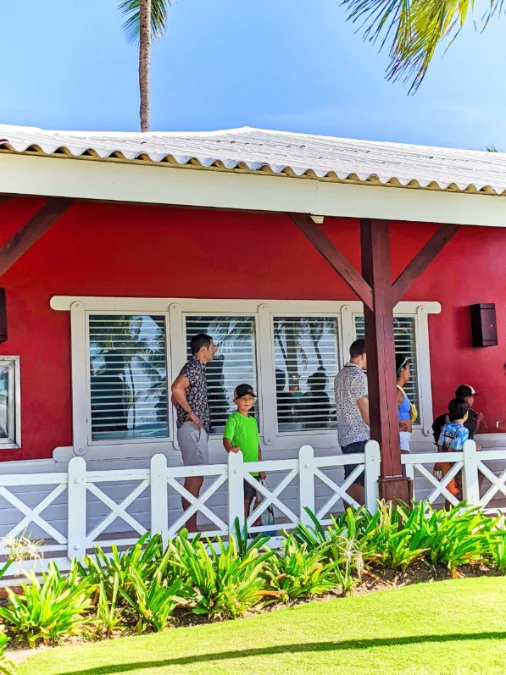 All Inclusive Dining at Club Med Punta Cana
This trip was our first experience with all-inclusive dining outside of a cruise. It was much different than we anticipated. With three primary restaurant options and several bars around the property, we had whatever we wanted whenever we wanted it. While most of the dining we enjoyed was buffet style, it wasn't a buffet like you might picture. Table service dining also was different than you might imagine. Check out each of the options below to fully understand.
Note: if you have food allergies or gluten intolerance, let the resort know and they'll take great care of you. From safe preparation to separate serving areas within the buffet space, Club Med understands taking care of guests' many nutritional needs.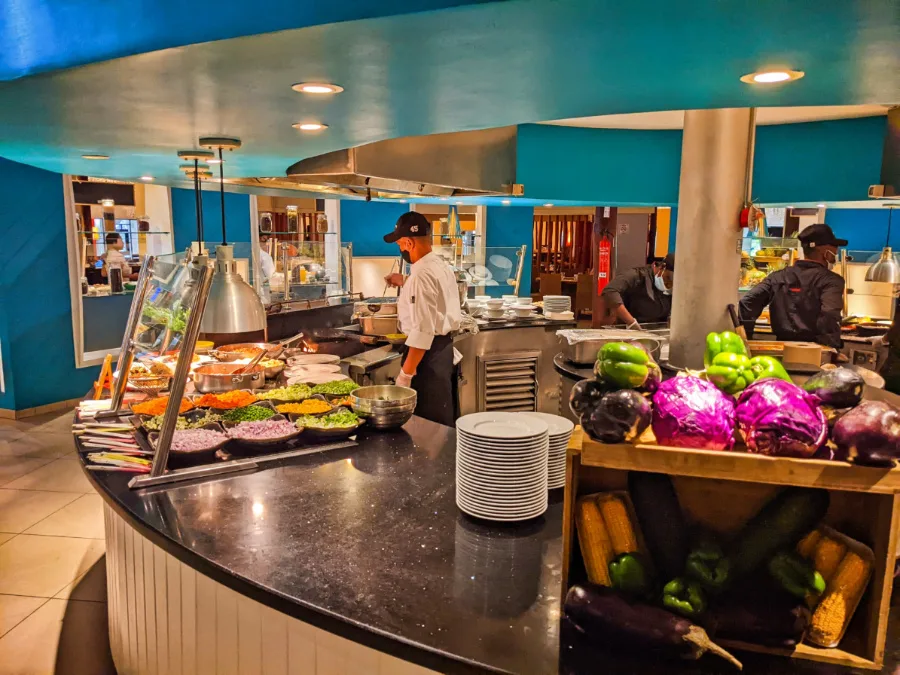 Dining at Indigo Oceanfront Restaurant
We enjoyed several meals at Indigo. Located on the water with waves crashing below, it's a beautiful restaurant. They have a limited menu, as it's done a la carte here. For lunch the kids had croque monsieurs and us dads had fish tacos (some of the best I've had). They also do a la carte breakfast.
For dinner service, it is by reservation only (still a part of the all-inclusive service) and begins at a very European hour: 7:00 pm. I'm a 5 o'clock dinner guy, so a late meal time was tough, but such a great meal just the same. Several premium steak offerings, fresh fish options and vegetarian choices meant that there was something for everyone.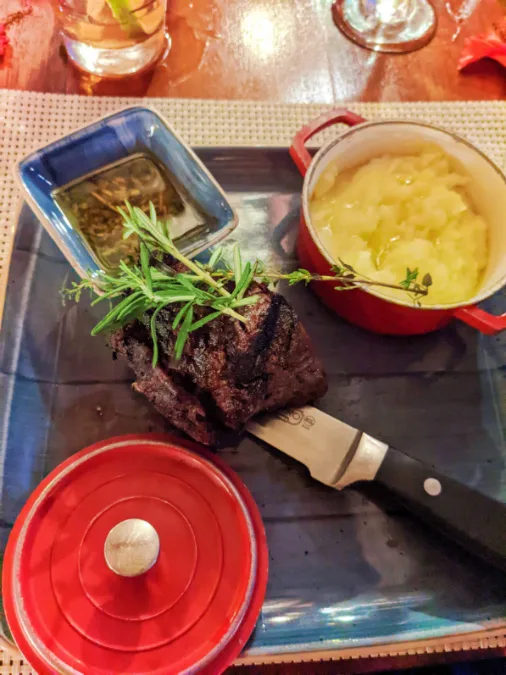 Samana: Top Pick at Club Med Punta Cana
Samana at Club Med Punta Cana was our family's favorite spot to eat. While the specific offerings change by meal time and day, the buffet style with really interesting, international cuisines made it our top pick.
Breakfast here is very European, with crepes, meats and cheeses, and lots of fresh fruit. Lunch and dinner were very similar, with several plated options, usually a few plated meat-centric dishes and fish choices; with an Italian area for the BEST pasta I've had outside of Italy, and then also kid-friendly foods for those that aren't into trying new things.
There is also a separate gluten-free area where there are lots of choices at each meal, so all guests can partake in an excellent meal.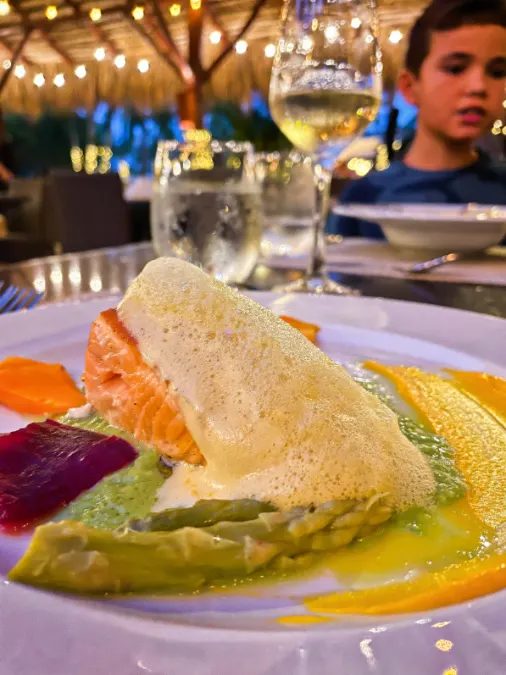 Waterfront Meals and Coffee at Hispaniola
Hispaniola is our pick for breakfast. Before it gets too warm later in the day, breakfast out on the deck is really wonderful. With very similar offerings to Samana, you'll find everything you need during breakfast and lunch. This is also where the kids eat if they are participating in Mini Club.
When it comes to dinner at Hispaniola at Club Med Punta Cana, it's a much more seafood-forward menu. Buffet style, including plated dishes, there was a lot of fresh fish, both ceviche style and tartar. Of course there was more to it, but for dinner, seafood is the clear theme at Hispaniola.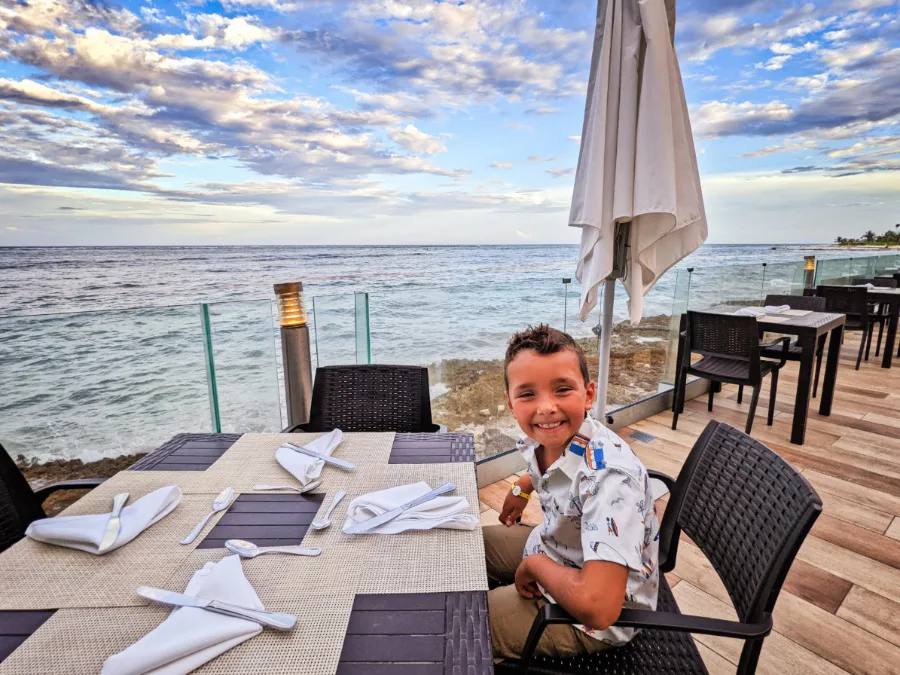 Stores on Site at Club Med Punta Cana
If your plan was to arrive at the resort and not leave at all, or if you happen to forget something, there are four shops onsite: the main boutique, the handcrafted shop, a Quicksilver store and a toy/water gear shop. Between the many stores you'll be able to get whatever you need as far as personal or toiletry items, or souvenirs and t-shirts too.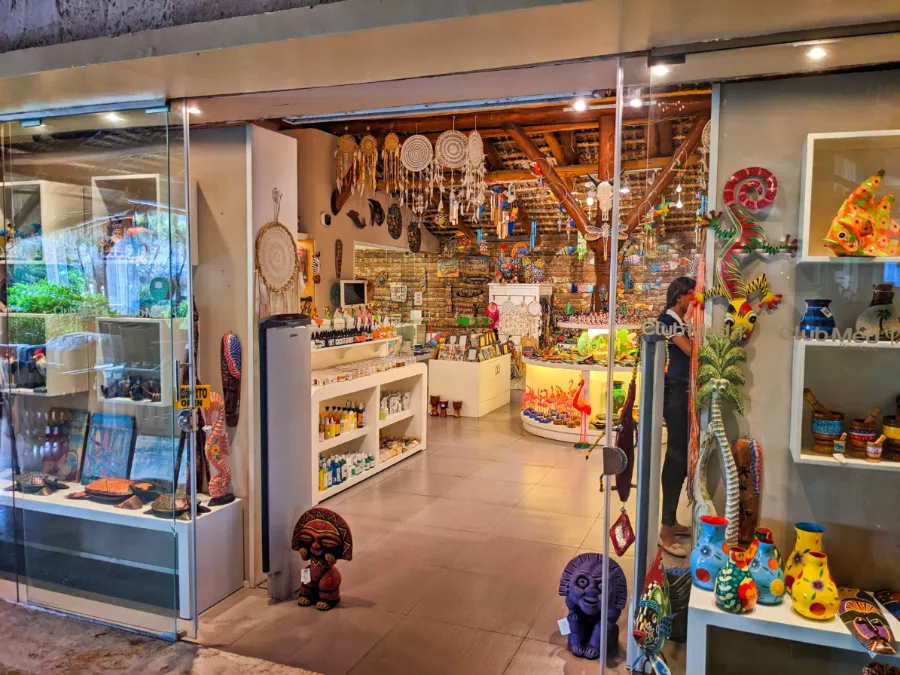 Where is Punta Cana?
Located in the Central Caribbean, it's just west of Puerto Rico on the eastern tip of the Island of Hispaniola. The island itself is split into two countries, the Dominican Republic and Haiti, with the DR being the easternmost. Just to the north are the islands of Turks and Caicos.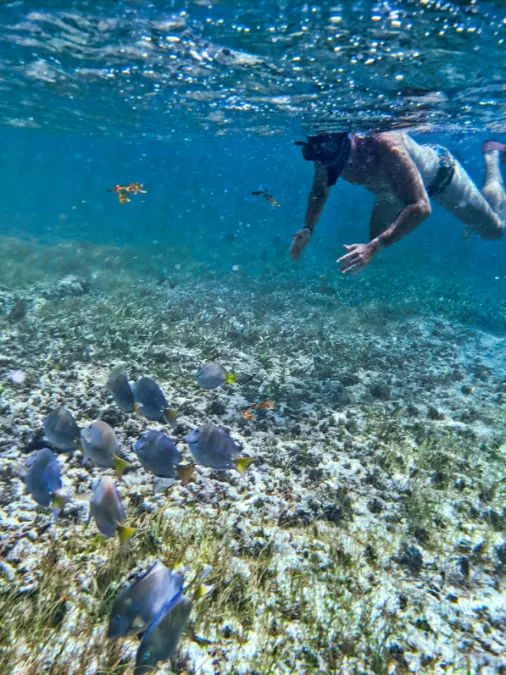 You can fly direct into Punta Cana (airport code is PUJ) from quite a few USA ports of origin:
Bonus tip: if you fly out of Terminal B of Punta Cana International Airport (PUJ) and you have Premier Pass or an airport lounge membership, maybe a part of traveling with points, that includes this one, there is a rooftop pool at the VIP Lounge here. Amazing!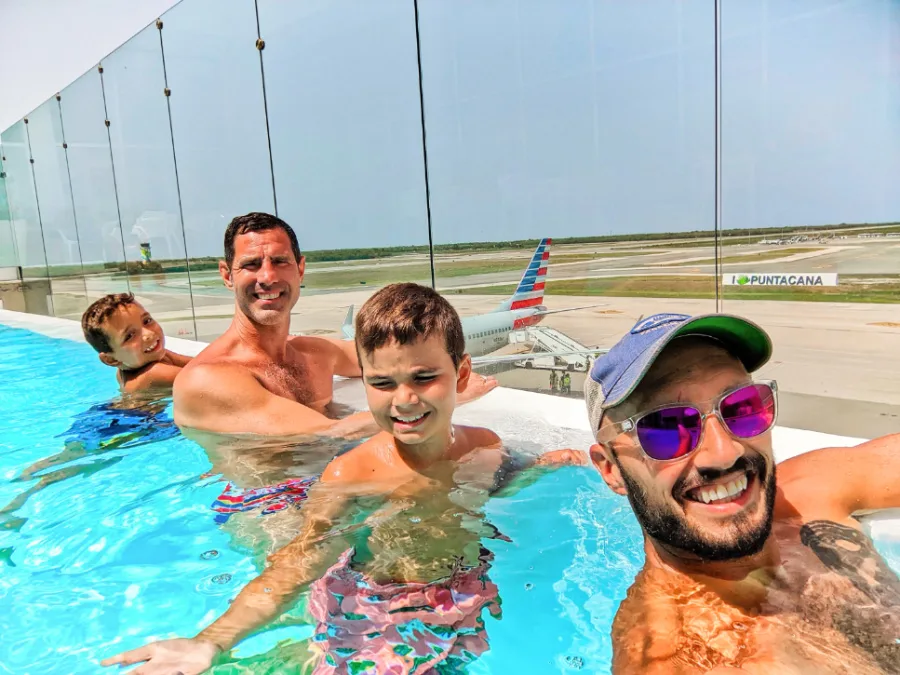 Need to Know before Traveling to the Dominican Republic
Because the Dominican Republic is NOT a part of the USA (some people get confused about the many islands and island nations in the Caribbean), you do need to have a passport before booking your travel. Upon arrival, you'll need to go through the E-ticket system to make your customs declarations. Even if they do not ask for your confirmation or ticket code when you go through customs, you need to complete this.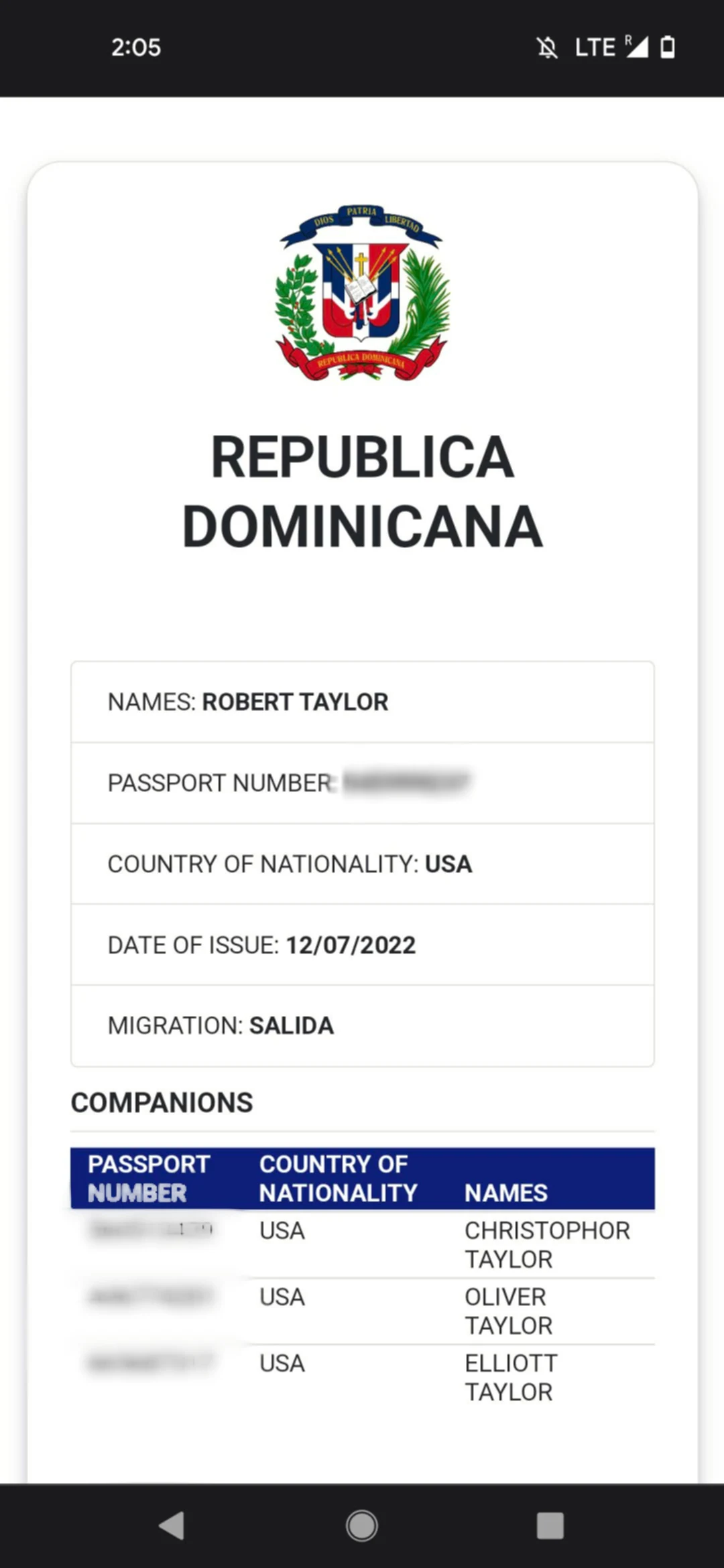 Transportation To and From Punta Cana International Airport to Club Med
You will need to schedule your transfer from the airport to the Club Med Punta Cana resort. This is an additional fee unless you've arranged something in advance. There is a Club Med counter in the airport just before you exit to the ground transportation area, so check in here for both pre-arranged transportation or if you need help in the moment.
The resort is only about 10 minutes from the airport, so it's a quick transfer and doesn't cost much if you didn't plan ahead.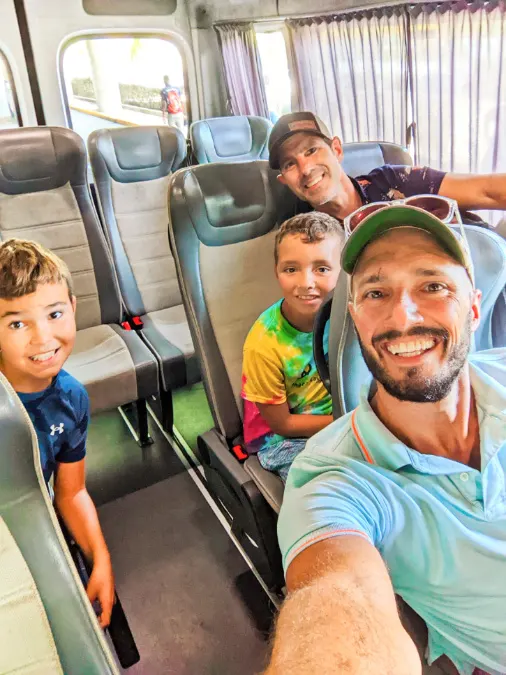 Can I Walk from the Resort to the Town of Punta Cana?
Punta Cana itself is primarily a resort area. There is no town, per se, that tourists would go explore in the way that you might explore Isla Holbox or Tulum. There are neighborhoods and lots of services outside of the resorts, but it's not set up like other Caribbean resort towns.
There are tons of attractions, both historic and natural, that you can visit in the southeastern portion of the Dominican Republic, including the Ponce de Leon House and Cotubanamá National Park (caves!!!), but if you're looking to just explore locally, that's not really an itinerary item for this sort of trip. You'll be plenty occupied at Club Med Punta Cana, don't worry.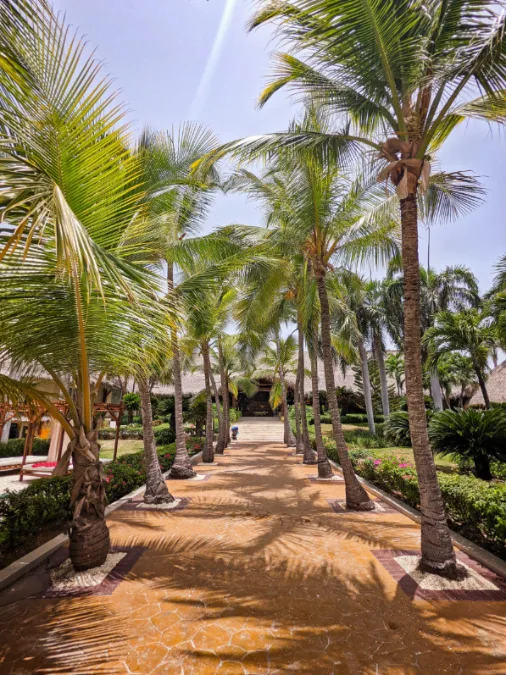 Ten Fun Things to do at Club Med Punta Cana
As a recap, you'll have a great time at Club Med Punta Cana. If you got too much information as you read through and need a quick snapshot of the fun and relaxing activities you can plan at the resort, here's a simple list to help you plan:
Pool time and activities
Beach games and parties
Snorkeling and wildlife watching
Circus school (for adults and kids)
Yoga and fitness classes
Have a spa day
Enjoy afternoon snacks and beverages in a different location each day
Attend one of the many evening shows (magic, circus, music…)
Play tennis or do archery (adults and kids)
Relax anywhere you like and just enjoy the atmosphere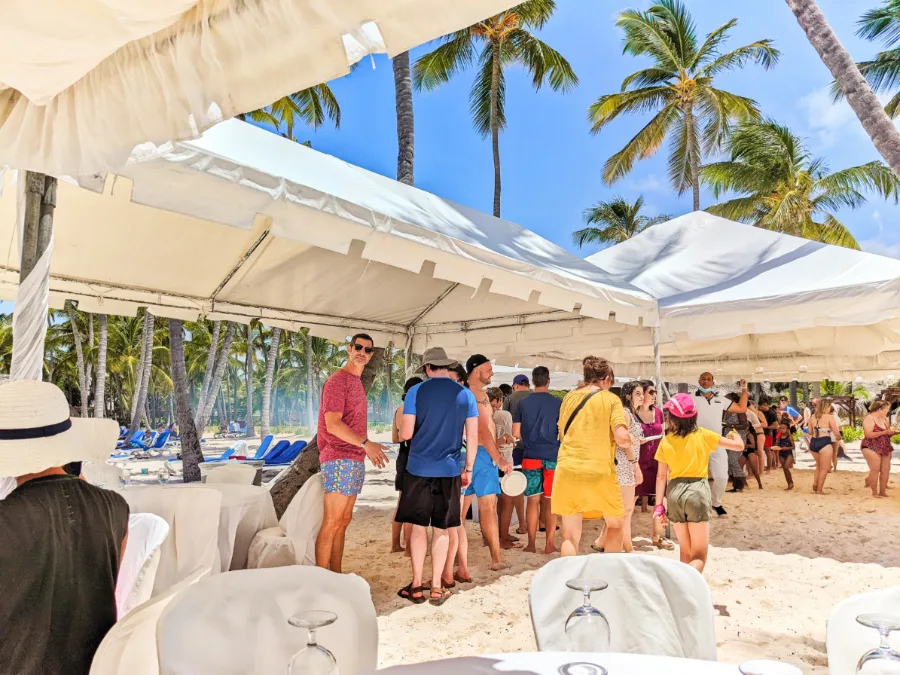 We would love to return to Club Med Punta Cana, but also wouldn't mind checking out any number of their many properties around the world. We really loved the family fun and relaxation of it all. As a different sort of family (two dads) we felt completely welcome and at no time did anyone, guests or staff, question us or make us feel uncomfortable. Clearly, it was a wonderful experience for us.
We're happy to answer any questions you might have, and if there's something we didn't cover, let us know. Leave a comment or send us a note and we'll get back to you ASAP!