After spending a few days diggin' on the incredible nature of Puerto Rico's east coast, we relocated to San Juan, the capital. Wow! What a city! From the historic forts and Old San Juan to the vibrant district of Condado, visiting San Juan was a blast! It's hard to pick what we enjoyed the most about exploring San Juan, so I'll just share how we did it and what the highlights were.
On top of San Juan being warm and beautifully set on the Atlantic Ocean, it's also home to one of the coolest National Park sites I've ever visited. I really kicked myself for not bringing the whole family with me, especially since we've all enjoyed St Augustine and the Castillo de San Marcos, but it's just one of the reasons I know we'll be returning together soon. Just see what I mean…
DONATIONS OPTION: with the devastation that hit the Island of Puerto Rico with Hurricane Maria, and will no doubt happen again in some form over the year, they need to support of their fellow Americans and tourists. In addition to planning future travels to Puerto Rico, please consider the good a donation to reputable foundation, such as Direct Relief, can do. Direct Relief puts 99.4% of its funds into its support efforts.
Best Things to do in San Juan, Puerto Rico
Whether you want to be active or just relax as you experience the city, there are LOTS of things to do and see in San Juan, Puerto Rico. Between the old city and forts and the nightlife on the Condado, it's a diverse collection of sights and activities. We love to be active, so our plan for exploring San Juan includes a lot of outdoorsy things to do.
Biking San Juan, Puerto Rico
We LOVE LOVE LOVE biking when we're traveling. Daytona Beach was a thrilling challenge. Victoria BC was a beautiful adventure. San Juan, Puerto Rico was idyllic. With bikes provided by San Juan Bike Rentals, we headed out from our home base at the Condado Plaza Hilton and were immediately on the clearly painted bike path. There's nothing like having blatantly designated riding zones to make you feel right at home biking in a new city.
After crossing Laguna Condado we immediately were riding down our own biking promenade, cruising past Luis Munoz Rivera Park and then through the neighborhood on the way to Viejo San Juan. We could choose to take the high road eventually leading down below the Old San Juan historic district or take the low road towards the Malecon and piers. We opted to stop at Castillo San Cristobal at the eastern end of Viejo San Juan and do a bit of exploring at the fort prior to riding bikes down to the Malecon and parking.
Our paths were clear and easy nearly the whole 3.5 mile ride with ample opportunities to stop if we wanted. Our experience with the drivers was also great, with being given a wide berth when we blended with traffic and having clear crossing areas at intersections. I can't say that will always be the case, but it was ideal for us. Really, biking San Juan was one of our favorite activities and clearly was our best transportation option during our visit.
Tip: make sure you always have plenty of water while biking, particularly when it's as hot and humid as San Juan. Also, if you're renting bikes, be sure to get a lock and cable so you can park your bike in safety.
Note: while helmets are not required/citable at this time, the law may change in the near future to require bikers to wear helmets at all times. In any case, safety first.
Exploring Viejo San Juan (OId San Juan)
My traveling companion, Maureen, had a wonderful phrase she kept using: "Meet me in Old San Juan." Every time she said it I thought of Humphry Bogart or Frank Sinatra strolling the cobblestone streets of some movie I saw once upon a time. And Old San Juan was just like I pictured and wanted it to be. Each building, tightly built onto the next, was colorful with all kinds of balconies.
The narrow side streets had vegetation growing out of cracks in building facades. The street lamps cast an orange glow at nights. A lone musician sat in a small square playing an accordion. It's a dream. It's a movie set, I swear.
Calle San Sebastian was quietly hopping with some dimly lit bars and cafes. The San Juan Gate with its bronze art depicting 16th century ceremonial arrivals loomed over the plaza at the edge of the city wall. In the day time the light filtered between the balconies and overgrown nispero and banyan trees.
Key sites to visit in Old San Juan
You could invest days and wander street by street and chat it up with every wonderful person you meet, or if you're pressed for time, here's what you need to experience:
Callejon Hospital – this pedestrian street is full of cats that are clean, healthy and fed thanks to the donations of visitors to the Callejon.
Cathedral Square – directly up from the San Juan gate, it has the 16th century cathedral that dignitaries would visit immediately upon arrival in San Juan to give thanks for their safe passage. It's the second oldest cathedral in the Americas. The square also has some fascinating art and a handful of night spots for a beverage or tapas.
Walking the southern city wall – the city wall stretches from the Malecon to the San Juan Gate. At night it's gorgeous and mysterious. During the day the huge trees and flowers are complimented by the perfect blue waters below. And the Paseo de la Princessa is great for strolling too.
Casa Blanca – built in 1521 this was Ponce de Leon's house while governor of Puerto Rico. It has a small admission charge to enter the museum areas, or you can explore the grounds and gardens on your own.
And then of course, visiting San Juan National Historic Site, which was epic.
Tip: Calle del Cristo has a kinds of shops for both souvenirs and Puerto Rican fashion/handicrafts. The prices are the prices. This isn't a place to bargain. Puerto Rico isn't a place to bargain or haggle.
Kayaking on Laguna Condado
With the waves that roll in from the Atlantic being so strong, it can be tricky to find perfect spots to get on the water when you're visiting San Juan. Laguna Condado is an interesting spot to go either kayaking or Stand Up Paddle-boarding (SUP). Located between Playa Condado and the larger part of San Juan proper, a good portion of the lagoon is towered over by hotels and condominiums. Another segment is lined with mangroves, just like the Florida coast, and still another part has sandy beach.
Tip: we got our kayaks from VIP Adventures next to the Condado Plaza Hilton. Centrally located to be able to paddle either direction around the lagoon.
A coolest bit of Laguna Condado is actually at the mouth where it is fed by the Atlantic Ocean. Here there are breakers to calm the rolling waves but they're still pretty big. The coolest sight though is the small castillo at the mouth, Fortin San Geronimo. This fort belongs to the City of San Juan vs being a part of the National Parks Service, and as of summer 2017 was inaccessible by the public, but you can paddle around the lagoon-facing side and check it out.
Wildlife to watch for while kayaking in San Juan's Laguna Condado includes pelicans, manatees, egrets, urchins, sea stars and more. The combination of cityscape, history and nature is amazing.
Visiting San Juan National Historic Site
And this is why the National Park Service's slogan is "Find Your Park." For somebody who's not totally into nature but is crazy for history and just plain old beautiful sights, visiting San Juan National Historic Site will cement their love for National Parks. Encompassing several castillos (forts), a historic district, cemetery, city wall and shoreline hiking trail, it's an unforgettable place.
Touring Castillo San Cristobal at San Juan NHS
Castillo San Cristobal is the first one you encounter upon entering Old San Juan. Exploring the castillo and wandering through the tunnels and bastions, you could spend all day just here. We actually visited Castillo San Cristobal twice to get to fully explore it.
There are amazing tunnels, stairways, iguanas and epic viewpoint. Even if you don't explore the entirety of San Juan National Historic Site, you MUST visit the Castillo San Cristobal. It's best at the end of the day just before it closes.
Iconic San Juan PR: the Castillo San Filipe del Morro
The next site is Castillo San Filipe del Morro, aka "El Morro." Surprisingly larger than San Cristobal, El Morro contains green fields, lookout towers, a chapel, barracks, a lighthouse and more. Truly unique to the many forts we've visited, El Morro is colorful and a photographer's dream with unusual architecture and iguanas everywhere.
There are opportunities here for hearing Park Ranger talks, guided tours, completing the Junior Ranger Packet and just enjoying the history on your own. You'll find spending time at El Morro to be one of the most interesting things to do in San Juan.
Walking the Paseo del Morro Waterfront Path
The last aspect of San Juan National Historic Site that's a must-do is hiking the Paseo del Morro. This level hiking trail connects the northern entrance of Castillo San Filipe del Morro to the San Juan gate. The views of Bahia de San Juan and the city wall, including a peek-a-boo view of El Cañuelo across the harbor entrance, make for a relaxing and impressive stroll through history.
Tip: try to hike the Paseo del Morro as early in the day as possible so that you can do it in the shade. In the afternoon the trail is completely unsheltered and you're not supposed to swim in the harbor (we got in trouble).
Also, don't forget to bring your National Parks Passport! You can get a stamp at either of the castillos and they also have a Junior Ranger program for kids to participate in.
The Food Scene of San Juan
We hadn't considered how visiting San Juan would shape the way we thought of Puerto Rican food, but boy did it ever. Tapas. Tapas. Tapas. And mofongo. I'm sure that there are plenty of other wonderful aspects of Puerto Rican cuisine, particularly if you venture into some of the street food and carts down on the Malecon, but we stuck with dim, vintage hangouts in Old San Juan. Some of our favorite tapas finds to try are:
mofongitos (plantain balls)

bacalao (fish stew)

chorizos (cured sausages)
We really enjoyed one spot in particular, SanSe Marisqueria Bar de Tapas on Calle San Sebastian. With good beverage prices and a really comprehensive, traditional Puerto Rican tapas menu, we actually popped in here twice. And as a side note, the art within SanSe was strongly in an LGBT motif with a small but mixed crowd. It was great to feel so welcome and at home… and full of great food.
But there was more food to discover!
NOW CLOSED – Pikayo: the Best Dining Experience I've Ever Had
Unfortunately, Hurricane Maria destroyed Piyako and it has not reopened. There are other fine dining restaurants in San Juan, PR but until we can go back and find a replacement for this amazing dining experience I'm keeping this in this article.
---
Although Pikayo was located within the Condado Plaza Hilton, it was its own independent restaurant. The atmosphere was high class and yet the dress code allowed for us to come in from a day on the town still wearing shorts. The service was top notch and subtly impressive.
Note: just because we were welcomed in wearing resort-wear, Pikayo is exceptionally upscale and warrants tasteful, cocktail attire.
The food. Something we're always cautious of when it comes to modern restaurants is the need to incorporate "fusion". Visiting San Juan we wanted solidly Puerto Rican food and Pikayo provided exactly that AND seamless fusion in the menu. Puerto Rican food has become a fantastic combination of tradition elements and Latin flavors influenced by cooking methods and ingredients from around the world. Pikayo reflected the island's cuisine perfectly with the freshest locally sourced ingredients and fascinating techniques. Example: sous vide octopus served with delicate beads of olive oil and local microgreens. Amazing.
I hope someday the chef can reopen or recreate this amazing dining experience.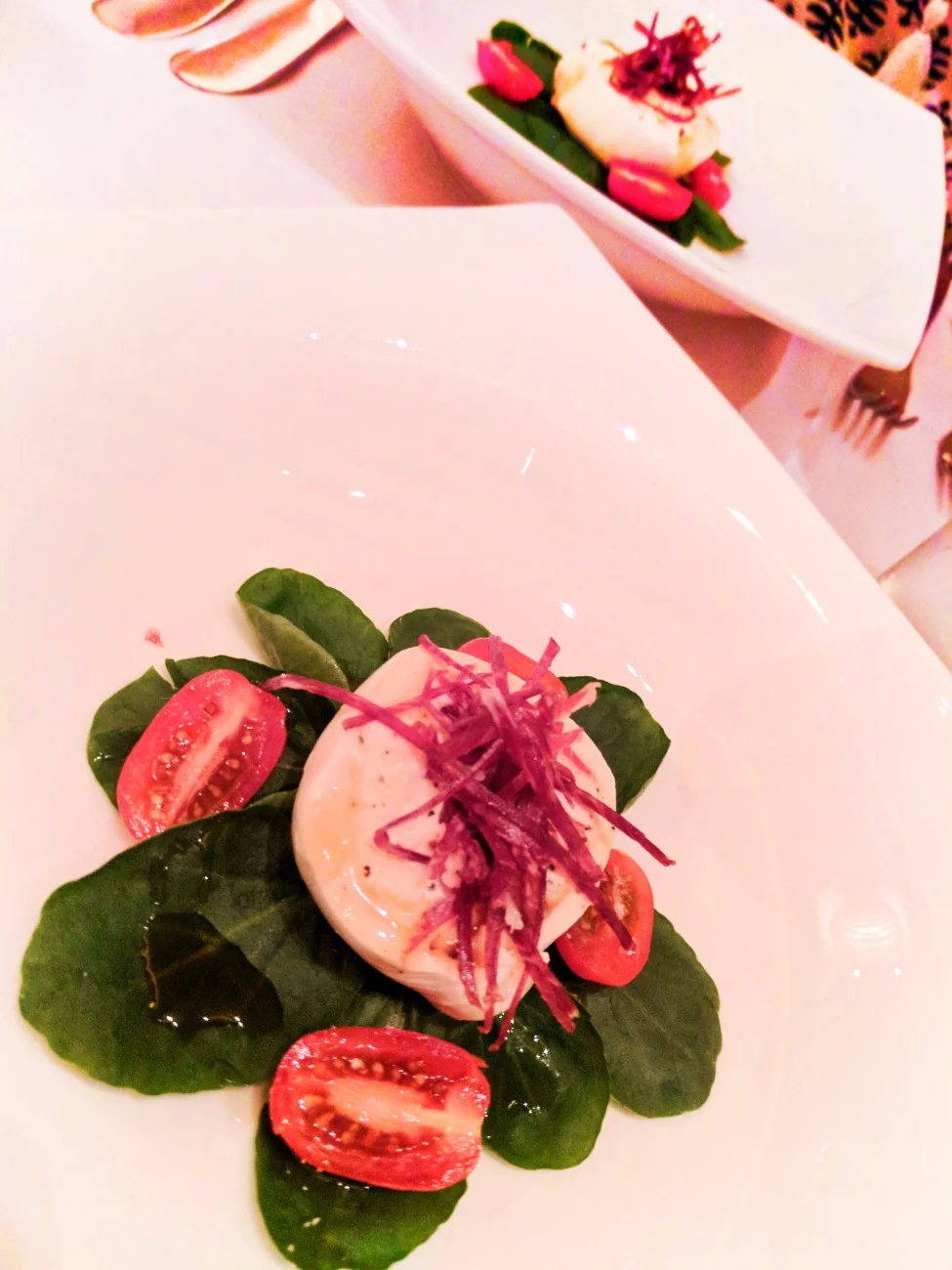 Where to Stay in San Juan, PR: the Condado Plaza Hilton
We've talked before about what makes an ideal hotel for a family or just grown-up vacation, and the Condado Plaza Hilton delivered on it while visiting San Juan. On property we had three different pools at our disposal, a water slide, beach access on the lagoon, hot tubs, gym, restaurants, bars… Everything.
Already know you want to stay? Book the Hilton Condado Plaza here!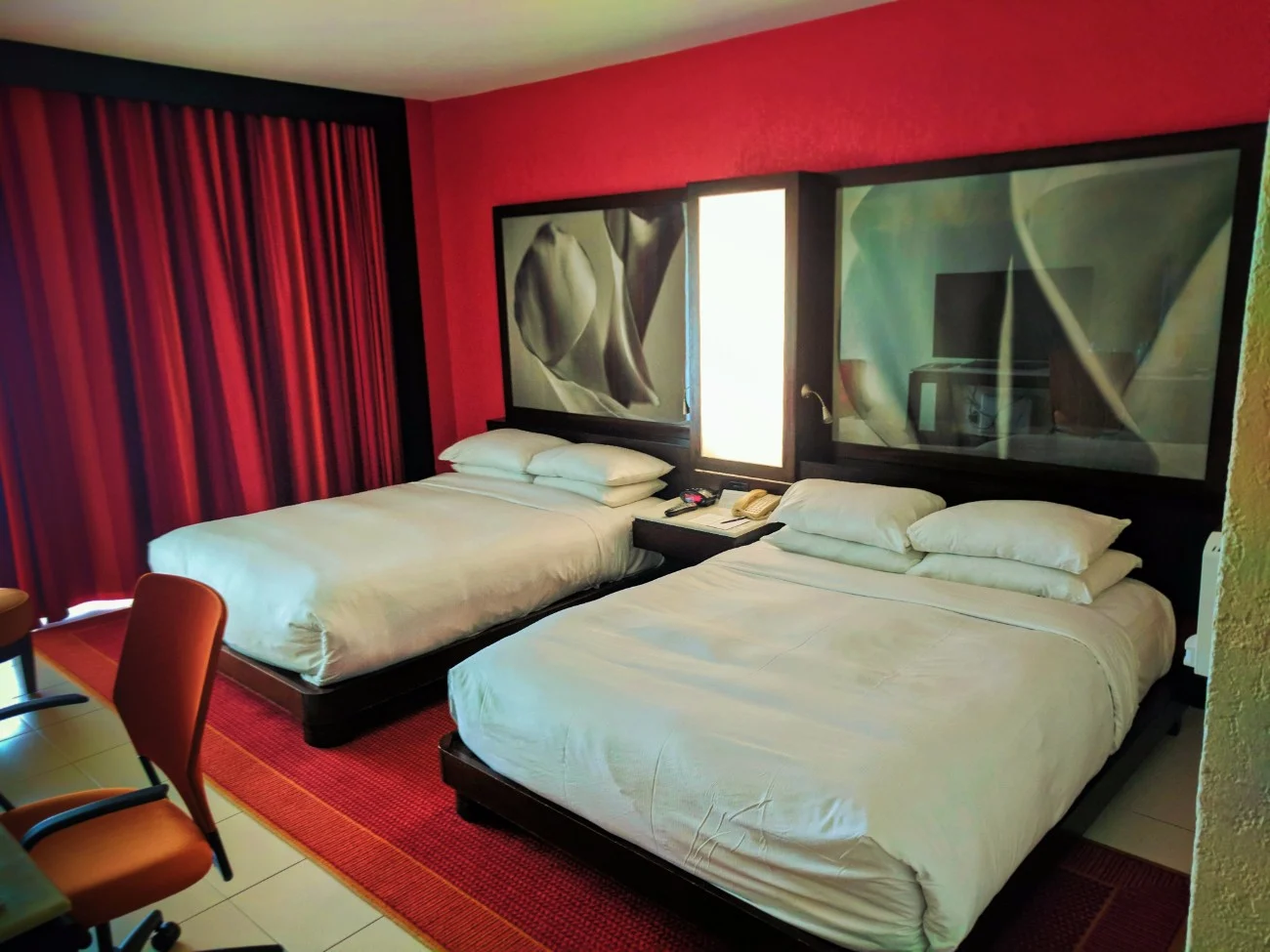 We were able to kayak from the lagoon side of the Condado Plaza Hotel as well as easily ride directly out onto the bike routes of San Juan. We were also able to walk eastward down Calle Condado to find more tapas and beverages beyond the hotel when we wanted.
Our room had an unobstructed view looking across the aqua colored Atlantic which we enjoyed each morning from our balcony. There was an enormous bathroom stocked with top of the line products, and then a wonderfully comfortable bed made the room complete.
We dined at Cafe Caribbe for both breakfast and lunch and each was delicious with both traditional Puerto Rican standards as well as comfort foods that sometimes you just need while traveling. The lobby bar, Moon Bar, was fun on a Friday night, being much more chill than some of the other night spots in the neighborhood. Also, Pikayo that we dined at, was there in the Condado Plaza Hilton. Everything about this hotel rocked our stay while visiting San Juan. Totally ideal on this trip and would be too when we return as a family.
Tip: if you book at the Condado Plaza Hilton request an ocean view room at the west end of that tower for both the best view and easiest pool access, as there's an elevator at the end of the building that gets you to the pool and beach much faster than the main elevators.
Getting to San Juan, Puerto Rico
Visiting San Juan, Puerto Rico is on so many people's bucket lists. For those living in or already visiting the USA it's a pretty easy destination to get to. No passport is required for US citizens or if you're traveling from within the USA. The currency is the US Dollar. The primary language is Spanish but it seemed that EVERYBODY spoke English.
Direct flights to San Juan are available from all major East Coast cities, with the shortest ones coming from Miami, Orlando and Atlanta. If you're traveling from the West Coast, you'll find some of the best flights stopping over in Houston, Chicago, or New York. For those in the Midwest looking to get to their tropical dream, MSP or O'Hare both offer direct flights as so many other major airports.
Tip: some cruise lines now have San Juan as a port of call. The historic areas are very easy to get to and you could catch the highlights in just one day if you really wanted to.
Visiting San Juan was such a treat and I cannot wait to return. The fun, the history and the food made for a great time exploring. We did it in three days, but if you wanted to add to your itinerary with activities such as snorkeling, hiking in El Yunque National Forest (the rainforest jungle) or diving into rum history, you could easily add another few days or a week.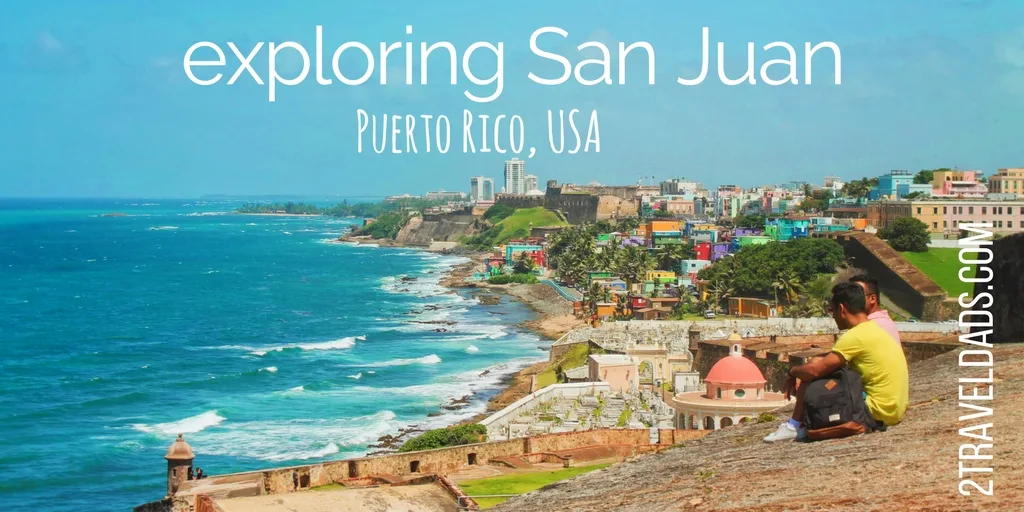 Ready to plot and plan an adventure in San Juan, or maybe consider booking a cruise with Old San Juan as a port of call? Go for it! And be sure to pin this for later when you're finalizing your plans.