Quite often people ask us if we prefer Cancun over Cabo San Lucas. That's a tough question and depending on what the goal is with a Mexico vacation, we might answer with either one. We're going to help you decide if a trip to Cabo or Cancun is the better option for you and your family.
I think you will see that the two areas are extremely different and in many ways are not comparable. But since people ask us, clearly there is either some confusion or people just want to take a trip to tropical Mexico and don't understand their options. You can decide for yourself after this which you would prefer.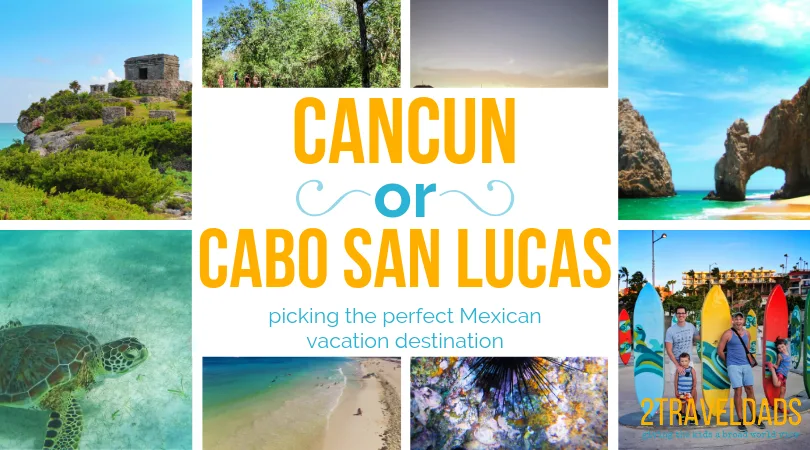 Cabo or Cancun for your Mexican vacation?
When you compare Cancun and Cabo San Lucas you will find that both have tons of both small independent and major resort hotels, there are lots of beaches, and both tend to be popular spring break destinations. But truly they have more that is different than the same… but you find timeshare presentations in both spots. See why we own and love our timeshare here!
In both Cabo San Lucas and Cancun you will find tourism and hospitality that is catered to Americans looking for a cheap Mexican vacation, but then you will also find five star resort experiences and fine dining that exemplifies the best of Mexican cuisine. You'll find history in both places, but when you consider the epic magnitude of the Mayan civilization, Cancun truly stands out over Baja California Sur's past with Spanish.
The ultimate similarity is that with whichever you choose for your family vacation, either Cabo or Cancun, you will enjoy the activities and the sunshine. Now, let's get into the grit of the differences between the two destinations and help you choose between two great Mexican vacation spots.

Flying to Cancun (CUN) or Los Cabos (SJD)
Luckily, if you're planning a family Mexican vacation, depending on your origin city it can be fairly inexpensive to get to either Cabo or Cancun. Most major airlines offer direct flights and have Mexican destination sales several times a year. Keep your eyes peeled or enroll in fare alerts to get the best deals on flights to Mexico.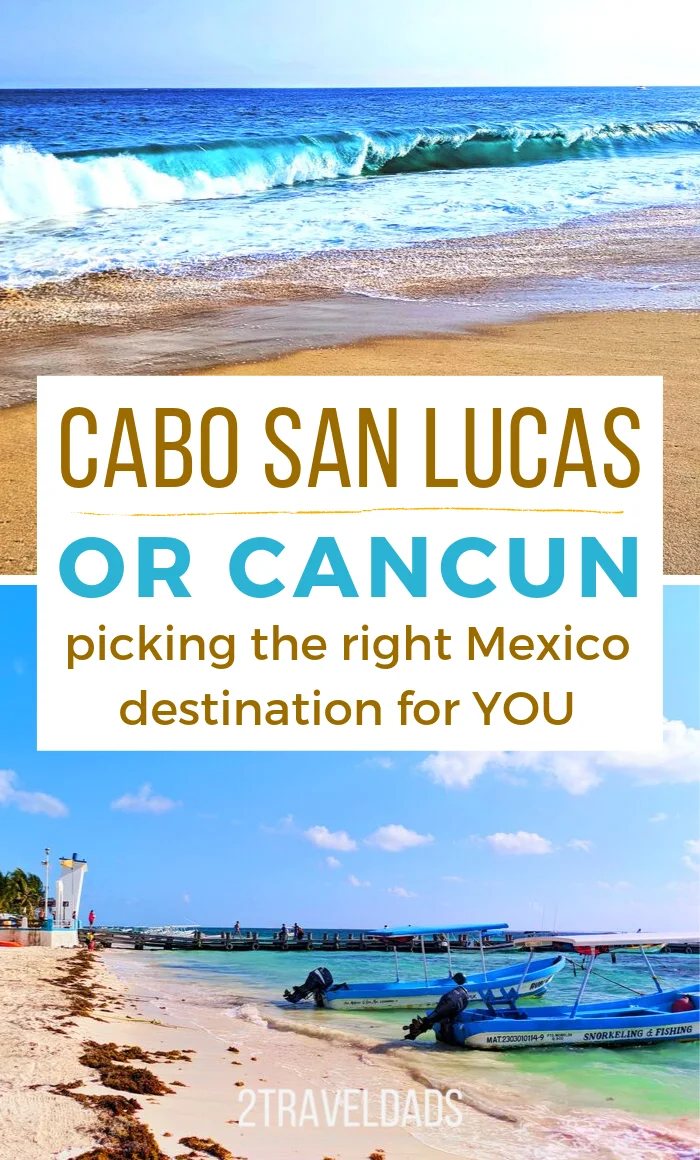 Getting to Cancun
Cancun is located on the Caribbean Sea on the eastern side of Mexico's Yucatan Peninsula. It's in the state of Quintana Roo and is closer to Belize and Guatemala than the United States. Because it has been a popular destination for American vacationers for so long there are many flights into Cancun (CUN) every day from the east and southern USA.  Search FLIGHTS to Cancun here!
Cancun is a shorter trip for those traveling from Texas or anywhere on the East Coast of the USA than for those of us traveling from the West Coast. You can get direct flights from New York, Philadelphia, the Washington DC area, Texas, and several Florida airports. Easy to get to and so many things to do in Cancun!
You can also visit Cancun as a port of call if you are doing a Caribbean cruise. I actually first visited Cancun while sealing on Royal Caribbean's Oasis of the Seas.
Note:  since participating in that one cruise, we've learned a lot about the cruise industry and do not support cruising due to the crazy environmental impact and the stress cruise populations put on small ports of call.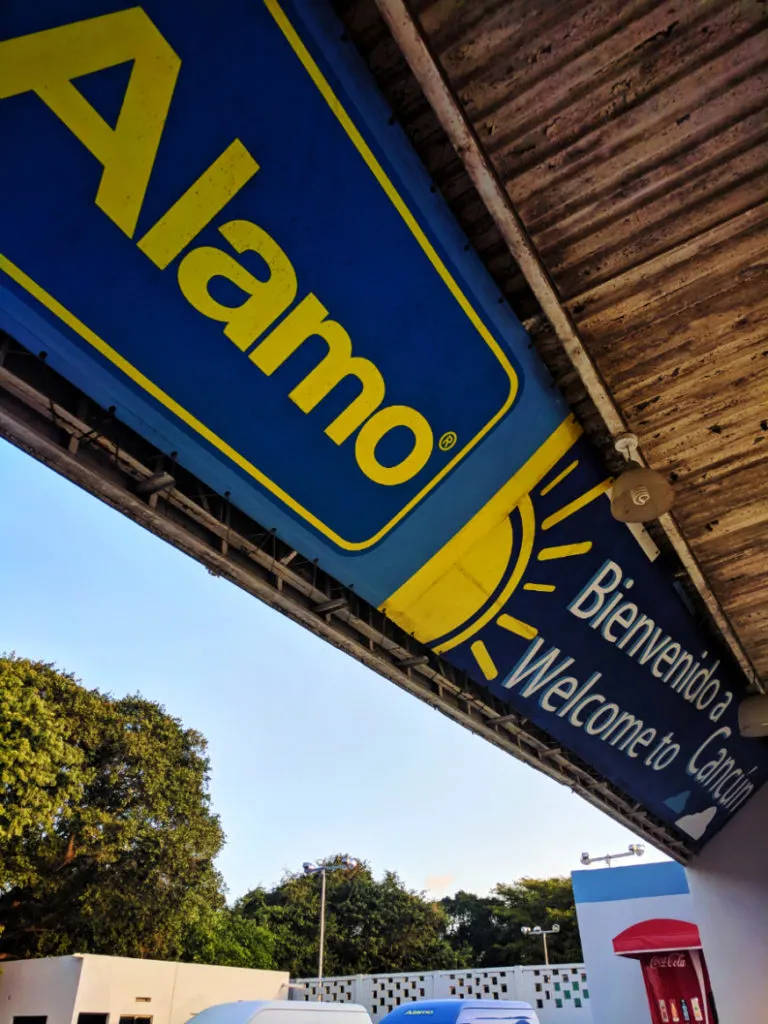 Getting to Cabo San Lucas
When it comes to getting to Cabo San Lucas from the West Coast, we have it easy. With quite a few direct flights from Seattle, Portland, San Francisco, San Jose, Los Angeles, San Diego, Phoenix, Salt Lake… basically, all major airlines on the West Coast have a flight into Cabo San Lucas, also known as Los Cabos (SJD).
Like with Cancun, you can also visit Cabo San Lucas as a port of call on a cruise. Many cruise lines have added itineraries to stop over in Cabo these days, but having such a short amount of time to visit and with prices going up in the tourist areas when there is a cruise ship in port, your best bet is still to plan a Cabo San Lucas vacation.
There is one more way to get to Los Cabos. If you're feeling really ambitious and want to have an epic road trip, you can actually drive from San Diego or San Ysidro down through Baja California into Baja California Sur. The drive from San Diego is about 1100 miles but the sites along the way are incredible. From the filming location for Titanic to the breeding grounds for gray whales, there is a lot to see and do to make the drive amazing.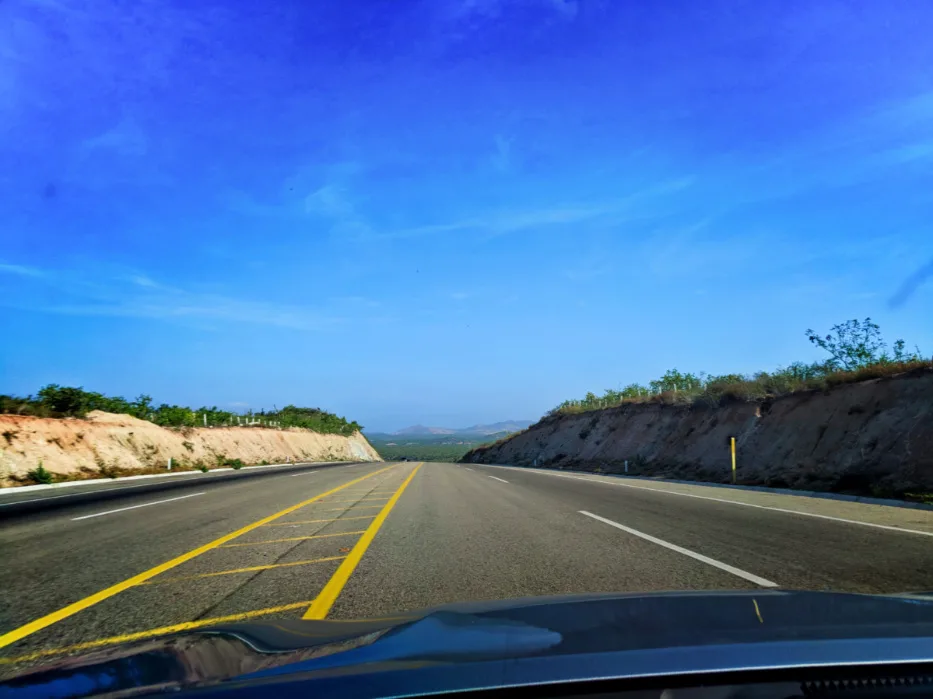 How is Cancun laid out?
Flying into Cancun (airport code CUN) you will need to either jump on a hotel shuttle or go get your rental car from an off-site office. Getting a rental car is no big deal as long as you stick with the original reservation that you made prior to landing in Cancun. I say this because sometimes timeshare salesmen or other hockers will try to get you to do something with them instead. Don't do it. Check out our article on avoiding timeshare presentations for tips.
I've rented from Alamo at the Cancun airport and it was very simple and zero hassle.  Search for rental cars here!
Once you are set with your mode of transportation you will either head into the actual city and tourist area of Cancun or you will head south to a variety of areas including Playa del Carmen, Akumal, or Tulum. Riviera Maya is loaded with resort complexes and tourist corridors from Cancun to south of Tulum. Which area you choose to stay in is going to determine the type of Mexican vacation you are going to have. If you are staying in the main tourist area of Cancun it very much is only hotels and resorts and the beaches will most likely be quite crowded, which is why we recommend one of the other Mexican destinations of the Cancun area.
Despite how Cancun may sound rather unpleasant, it it still really fun and beautiful. And being based in Cancun is great for being able to explore the Yucatan, including famous landmarks in Mexico like Chichen Itza. The location is great for being able to explore and enjoy beach time.
Note: while we never recommend to stay directly in a tourist corridor, it is a way to ensure that your experience is one that is all relaxing end very much set up just for visitors. If that is the type of trip you want, then go for it. If you want to experience actual Mexico book something that isn't in the main Hotel zone of Cancun.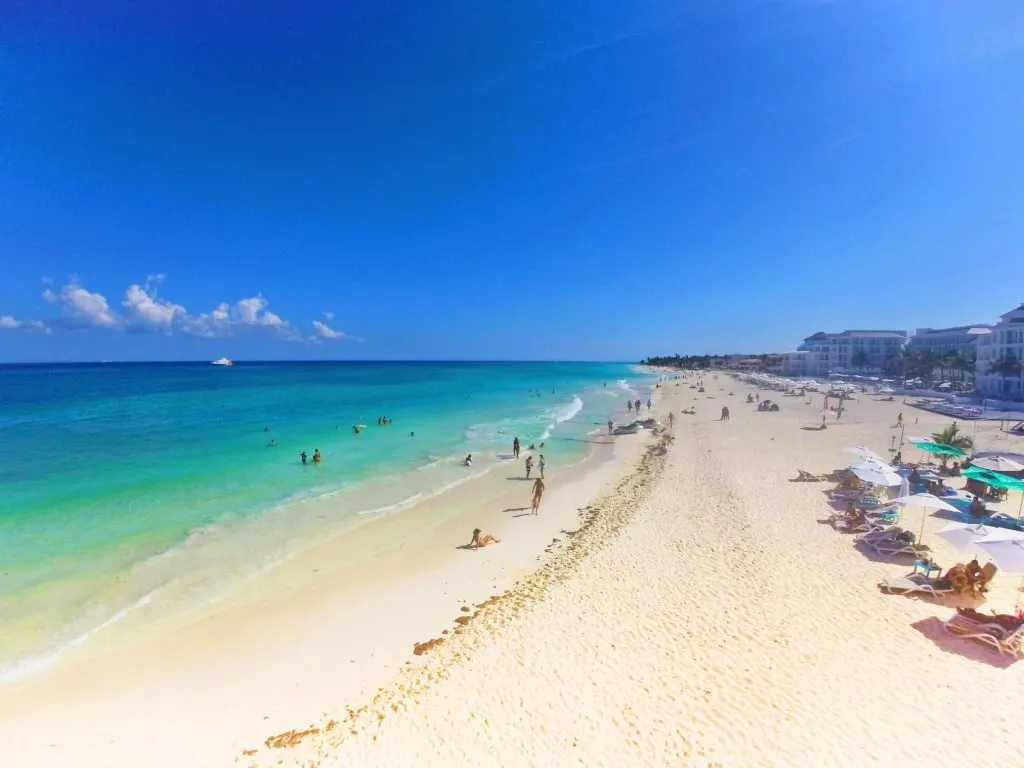 Other Cancun Mexican vacation spots
I absolutely love Playa del Carmen. It is both small town Mexico and a tourist destination. There is major shopping if you're into it or you can go just off the beaten path into the neighborhood where there are wonderful small family-run restaurants and other awesome businesses. Playa del Carmen also is a great home base for exploring other parts of the Yucatan. Playa del Carmen is also in the heart of the Ruta de Cenotes, and staying there you can visit some of the best cenotes near Cancun and Tulum.
Hotel Recommendation:  I loved staying at the Hotel Club Yebo. It's modest, centrally located, and wonderfully cute. Great for families or couple planning to do more than chill at the hotel.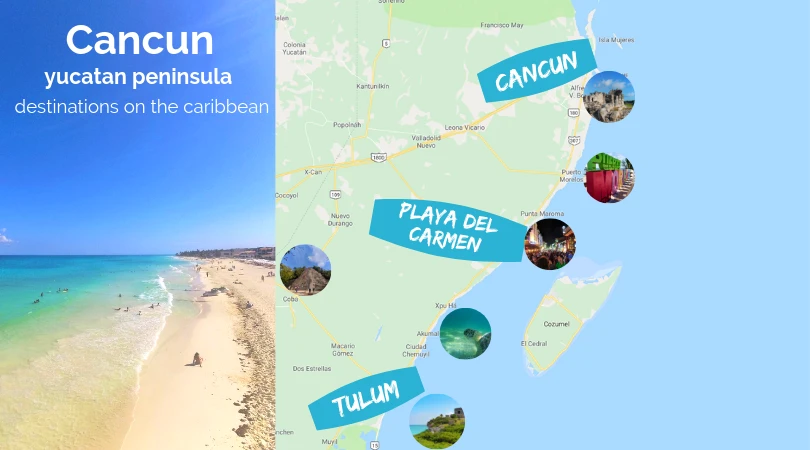 Akumal is our next recommendation. This is a smaller resort area and is known for its turtles. More on that below, but Akumal is an option if you are looking for a more quiet Mexican destination town.
Lastly, Tulum and the Riviera Maya are going to be major tourist zones, but not quite as much as the primary hotel area of Cancun. There are lots of both natural and historic attractions in these places, so choosing to stay on this southern coast allows for that sort of exploration. Really, the Yucatan is full of great Mexican vacation spots.  Search for a Tulum area hotels here!
An easy option to add onto a trip to Cancun is a few days up on Isla Holbox. It's a quite island with no cars, wonderful food, and even a lagoon teeming with bioluminescence. Search for Isla Holbox hotels here!
One other consideration near Cancun is Isla Mujeres. An island community, it's more isolated, less crowded and full of adventures. Search for Isla Mujers hotels here!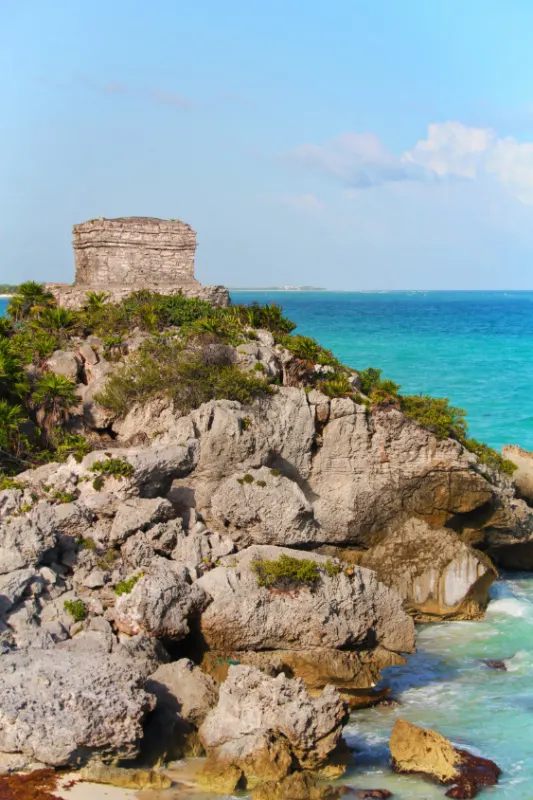 How far is Cabo from the airport?
The Los Cabos area is laid out relatively similar to the Cancun area. You fly into San Jose del Cabo (airport code SJD), called Los Cabos International Airport, and then you either can stay in the town of San Jose del Cabo, in the Tourist Corridor, or in Cabo San Lucas. If you choose, you could even fly into Los Cabos and then head up to either La Paz or Todos Santos for your Mexican vacation home base.
San Jose del Cabo is nice because it is still quite small and the hotels and resorts are primarily around the old town area of the city. The Tourist Corridor, is simply that: it is the area along the highway that connects San Jose del Cabo and Cabo San Lucas. These hotels are primarily all inclusive resorts and vacation rentals who aim to have you stay on property for the duration of your vacation. You are welcome to leave and go explore on your own or to book tours, but due to being located far from a specific town site it is easiest just to stay at the resort and relax. Search for Los Cabos hotels here. We recommend Playa Grande (have stayed there 9 times).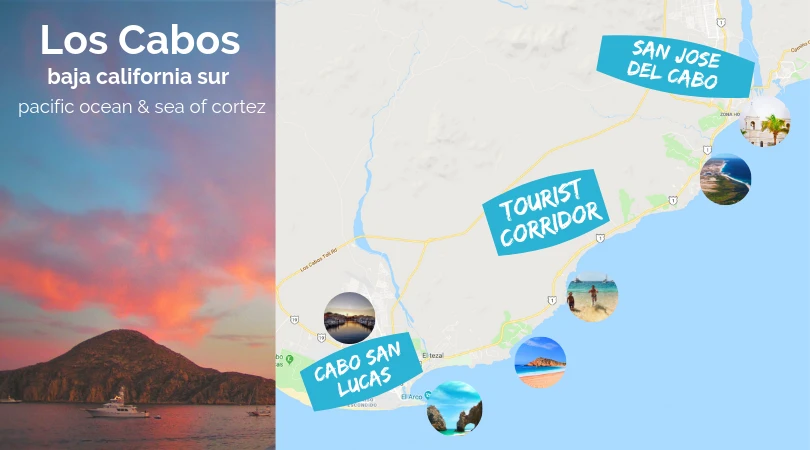 Cabo San Lucas is a 40 minutes to an hour's drive from Los Cabos International Airport (SJD). The easiest way to get to and from the airport since it is such a distance is to pre-book your transportation. Because we have been to Cabo so many times we vary our transportation to renting a car or booking a town car service. Search airport shuttle options here!
Tip: do not book a group shuttle or haphazardly get transportation once you land. We did that once and it took us three hours to make it to our hotel because of all of the stops along the way. This is the absolute worst way you could possibly get to any hotel. You want to book private transportation or rent a car.
Once you are in Cabo San Lucas you actually don't need a car unless you want to explore other beaches and towns beyond the main townsite. Whichever of these great Mexican vacation spots you choose, remember that it's always doable to get a rental car or book a tour to get out and explore.
Note: we absolutely love doing the road trip around Baja California Sur. Starting in Cabo and visiting towns such as Todos Santos, La Paz, and Cabo Pulmo, these are some of our favorite Mexican vacation memories.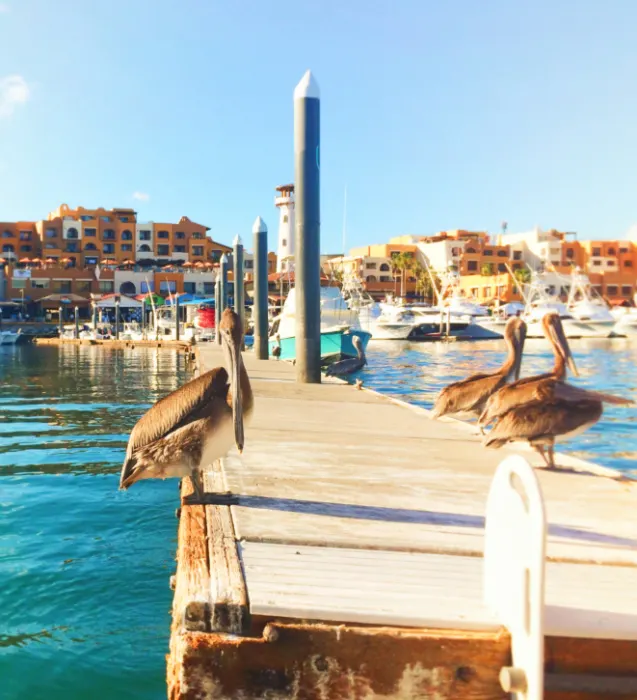 Comparing Cabo or Cancun activities
This is the part you've been waiting for I'm sure. It's time to compare what each relative area has to offer. This is where you can make the decision about a vacation to Cancun or Cabo San Lucas.
Natural wonders of Cancun and the Yucatan 
The Yucatan Peninsula is incredible. Not only are its beaches gorgeous but it is covered in dense jungle. This jungle grows on limestone and has a fascinating terrain.
Cenotes of the Yucatan
This is actually one of our favorite things to talk about. There are countless cenotes near Cancun, which are sinkholes or open caves with fresh water running through them. We get more questions about the cenotes near Cancun than any other Mexican vacation topic. Just off the highway you will notice many signs directing you to a variety of cenotes. From tiny holes in the ground that connect to other cave systems to enormous pits and open caverns, cenotes are amazing to visit. One of my favorite experiences was jumping off of a short cliff in the town of Valladolid into the city's central cenote. Amazing!
Note: be sure to check out a recommendation For doing a road trip around the Yucatan. It will take you to Valladolid and other colorful and awesome towns.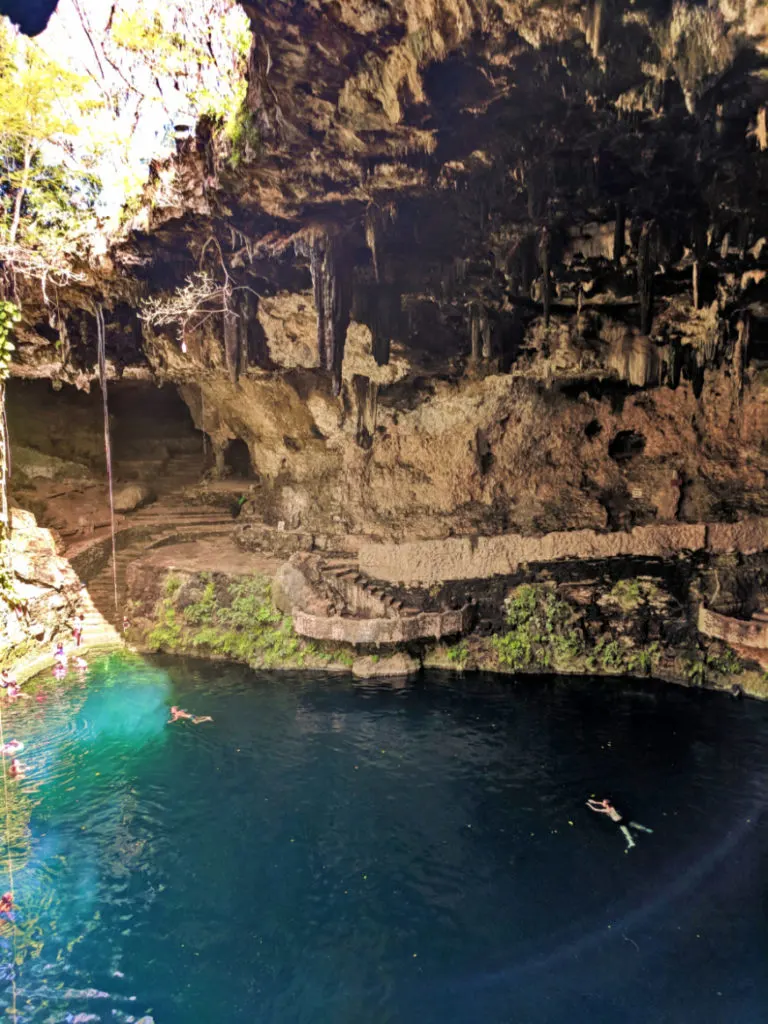 Snorkeling and sea turtles at Akumal
I consider myself lucky having gotten to visit and swim with sea turtles at Akumal on several occasions. The area known as Turtle Cove is very unique in its concentration of Olive Ridley sea turtles, as well as stingrays and tropical fish. These days the area is closely managed to make sure that visitors are not disturbing the sea turtles, but if you are allowed to swim in Turtle Cove it is a once or twice in a lifetime experience that will leave you in awe. Book Akumal snorkeling here!
Tip: there's actually a cenote in Akumal that joins up with salt water. It's very unique and provides a really cool snorkeling experience. It's called Yal-ku. It's just to the north of turtle cove and isn't tough to find. Check out the cenotes post above for information.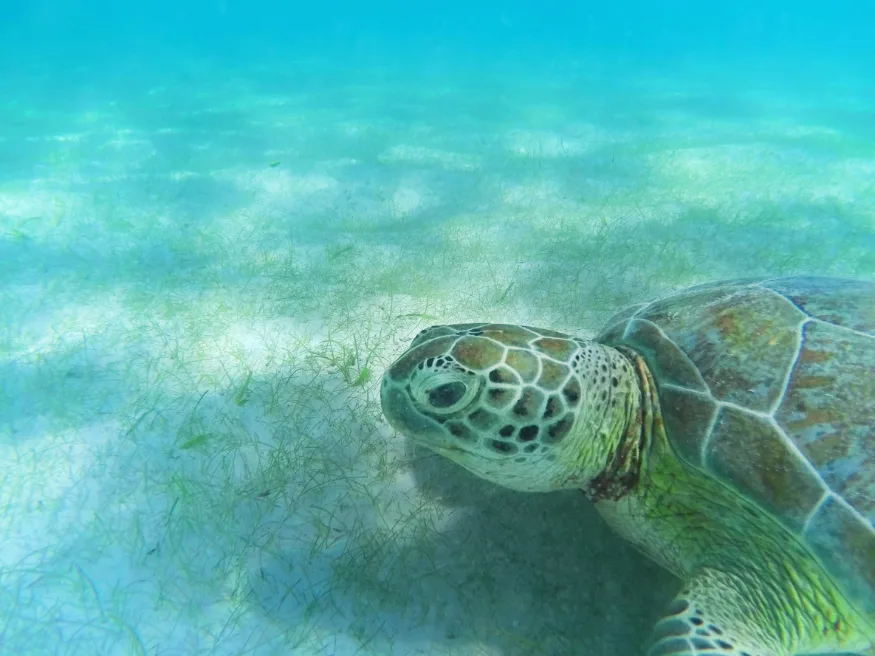 Exploring nature around Cabo San Lucas
Cabo San Lucas also has its own amazing nature. Just directly around the town you will find beaches with sea turtles who haul out to lay their eggs, schools of rays who call the lands end area home for about half the year, and sea lion colonies that are too much fun to watch.
Snorkeling around Cabo San Lucas
Well there isn't specifically a place like aqua mall around Cabo San Lucas or San Jose del Cabo, there are plenty of snorkeling hot spots from Land's end all the way to Cabo Pulmo National Park. Check out our complete guide to snorkeling around Cabo San Lucas for maps, tips, and our top recommendations for exploring underwater.
Whether you are going on snorkel adventures by yourself or if you would like to book one of the many Eco tours in Cabo San Lucas, you won't be disappointed with what you find. If you are a diver, dive ninjas is an awesome group of avid divers and conservationists who love to take visitors out to some of the best shark viewing areas in the sea of Cortez. If you're looking for the traditional Cabo catamaran, this one is our preferred ship to sail with.
An amazing eco tour you can also recommend is through the Pelagic Safari. Again, added and passionate conservationists bring guests do some amazing places for free-diving with sea lions, sharks, rays and more. Read our article about Ecotours in Cabo for more info!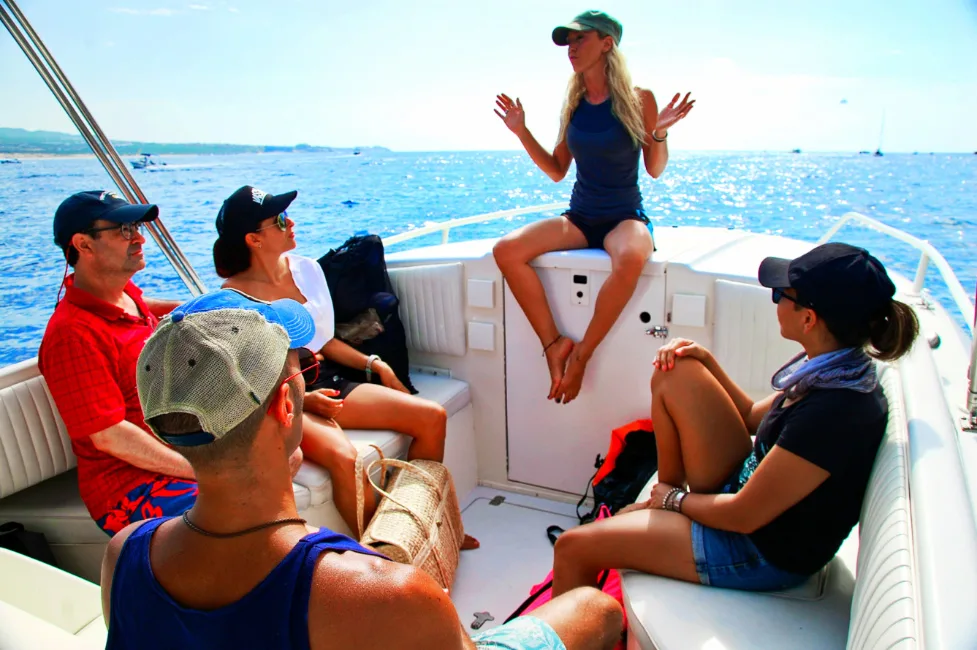 When to visit Los Cabos for whale sharks
November through March is an amazing time to be in the Los Cabos area. Between gray whale birthing season to the whale sharks going to La Paz, you are sure to have an encounter with some sort of undersea giant. Adventures in Baja is a reputable and knowledgeable Eco tour provider that guides guests to some amazing up close and counters around the Los Cabos area. Ballard Tour Services also does a whale shark trip to La Paz from Los Cabos, but we haven't experienced this guide group personally.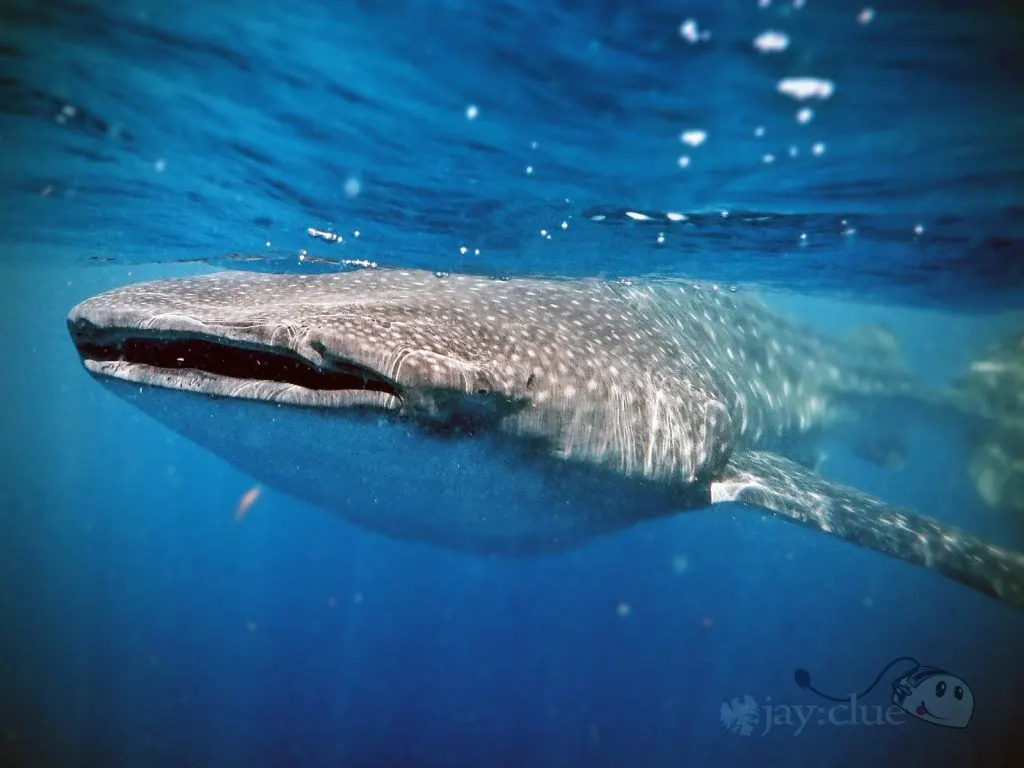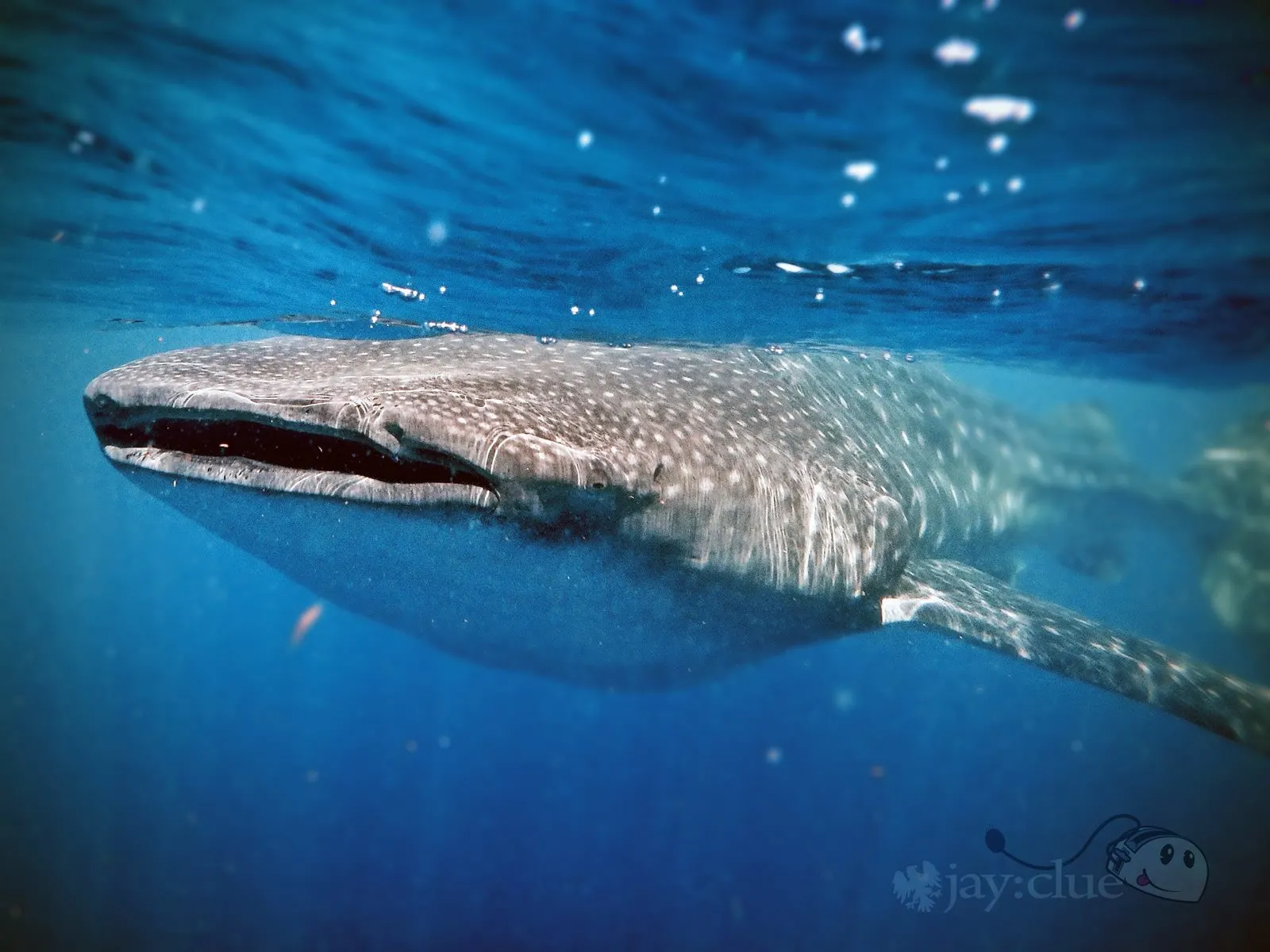 Los Cabos mountains, the Costa Azul
When you first land at Los Cabos international airport you will see that there are is the ocean on one side and mountains on the other. The Costa Azul is that area where the mountains meet the coast. Heading up into this protected area you will find a variety of hiking spots, zip lines, and waterfalls that you can swim in. It's very unique particularly because you don't think of Los Cabos as being a jungle or waterfall destination. It's definitely not a jungle, but the arid desert-scape is beautiful and unique in its own way. Book a guided trip w/ hiking into the mountains here!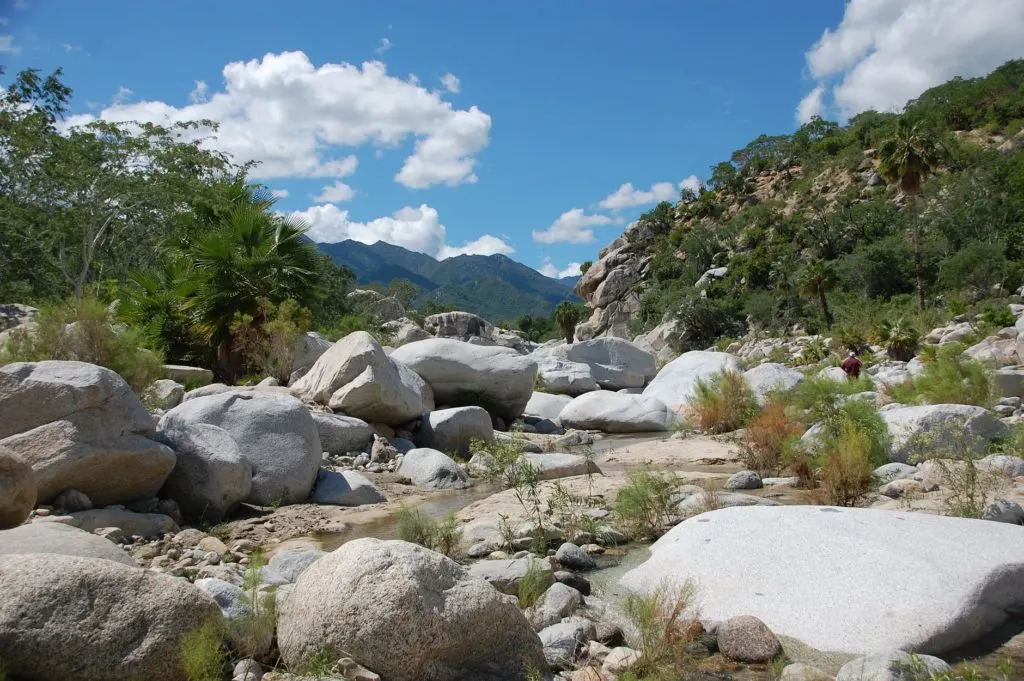 Historic sites near Cancun
I totally geek out when I visit Mayan ruins. If you have chosen Cancun as your Mexican vacation spot, you'll actually find a really wonderful archaeological site just outside of the tourist zone. El Rey is easy to visit and is totally worth a stop. Heading south out of Cancun you will come to two of the most famous Mayan ruin sites: Chichen Itza and Tulum. Both are amazing, but Tulum is the more beautiful and undeveloped of the two. My favorite though, is none of these.
The Coba Ruins are by far my favorite of these four different sites. check out our full article regarding visiting the Coba ruins because it's much more than just walking up and seen an old pyramid. Check out guided tour options to Coba here.
Tip: we actually have a full article on visiting Mayan ruins around Cancun and Tulum that we recommend you check out. If you visit Cancun for your Mexican vacation and don't experience ruins, when you get home you will feel like you missed out.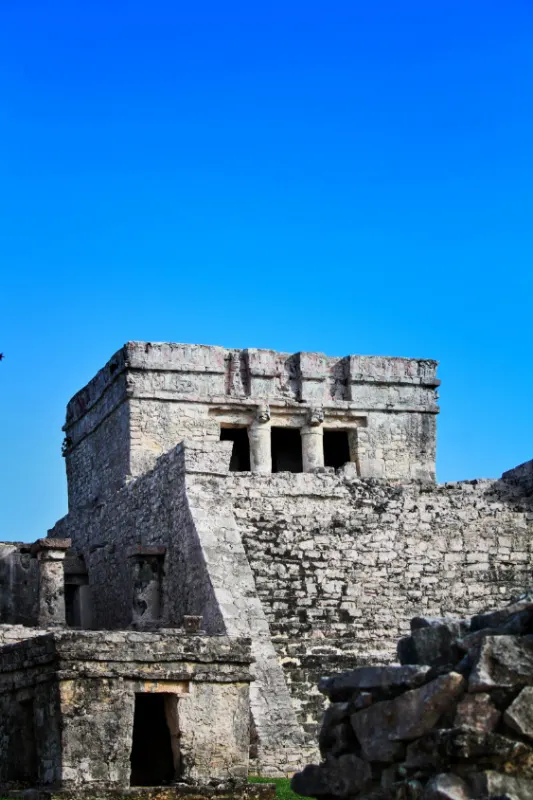 Finding history in Baja California Sur
When it comes to history the Cancun area definitely has Los Cabos beat. San Jose del Cabo does have a wonderful old downtown complete with a mission and colorful storefronts. La Paz does too. Neither of these is comparable though to Valladolid or Merida on the Yucatan. And no, Cabo Wabo doesn't count as being historic.
If you head north out of Los Cabos, as we said, La Paz is great, but then the town of Todos Santos is even better. Todos Santos is full of colorful buildings and elevated sidewalks. Every building has a carved saint above its door and the cactus and other vegetation that has taken over makes it truly magical. That's why it's called one of the "Pueblos Magicos." If you don't have a car and want to visit Todos Santos, here's a tour, or you could even stay for a few days in Todos Santos (we recommend two nights).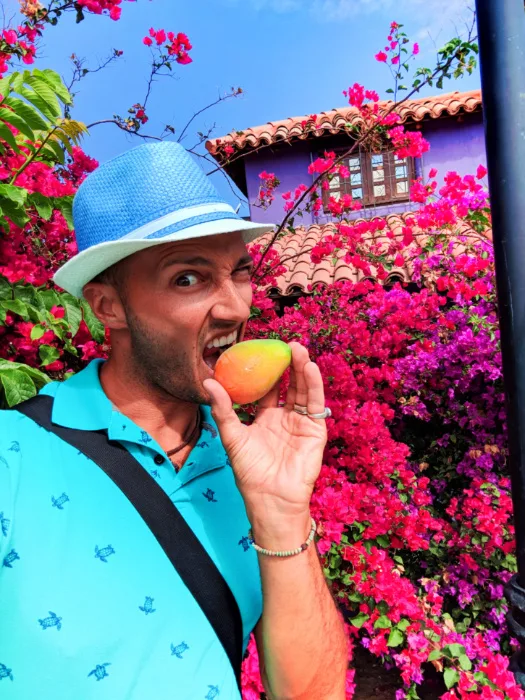 Now that we've laid it all out and you can see what makes Cancun and Cabo San Lucas such similar and yet such different vacation destinations you should be able to make an informed decision and book a vacation that you and your family will love. If you have additional questions either about the differences between Cabo and Cancun or need some specific recommendations for tour planning or accommodations, please let us know. We visited both destinations many times and are happy to help you fall in love with either area just as much as we have.
Wanted to pin this for planning your own Mexican vacation? Go for it!!!