It's rare that just one of us dads gets to escape for a trip with just one of the kids. It happened though!! It really did! Oliver (our oldest) and I (Rob) got to take an adventure down to Tempe, Arizona and it was the perfect bonding trip that we needed. Tempe was the ideal spot for us with nonstop outdoors and kid-focused activities. Tempe with kids = best idea ever. 
It might seem strange to go to a small city, such as Tempe when Phoenix is directly next door, but it's actually smart travel. When you hit up a spot like San Francisco or Miami you're going to be faced with lots of skyscrapers and fancy food. Tempe with kids fit us just right for keeping things mellow and fun (and still great food). Check it out!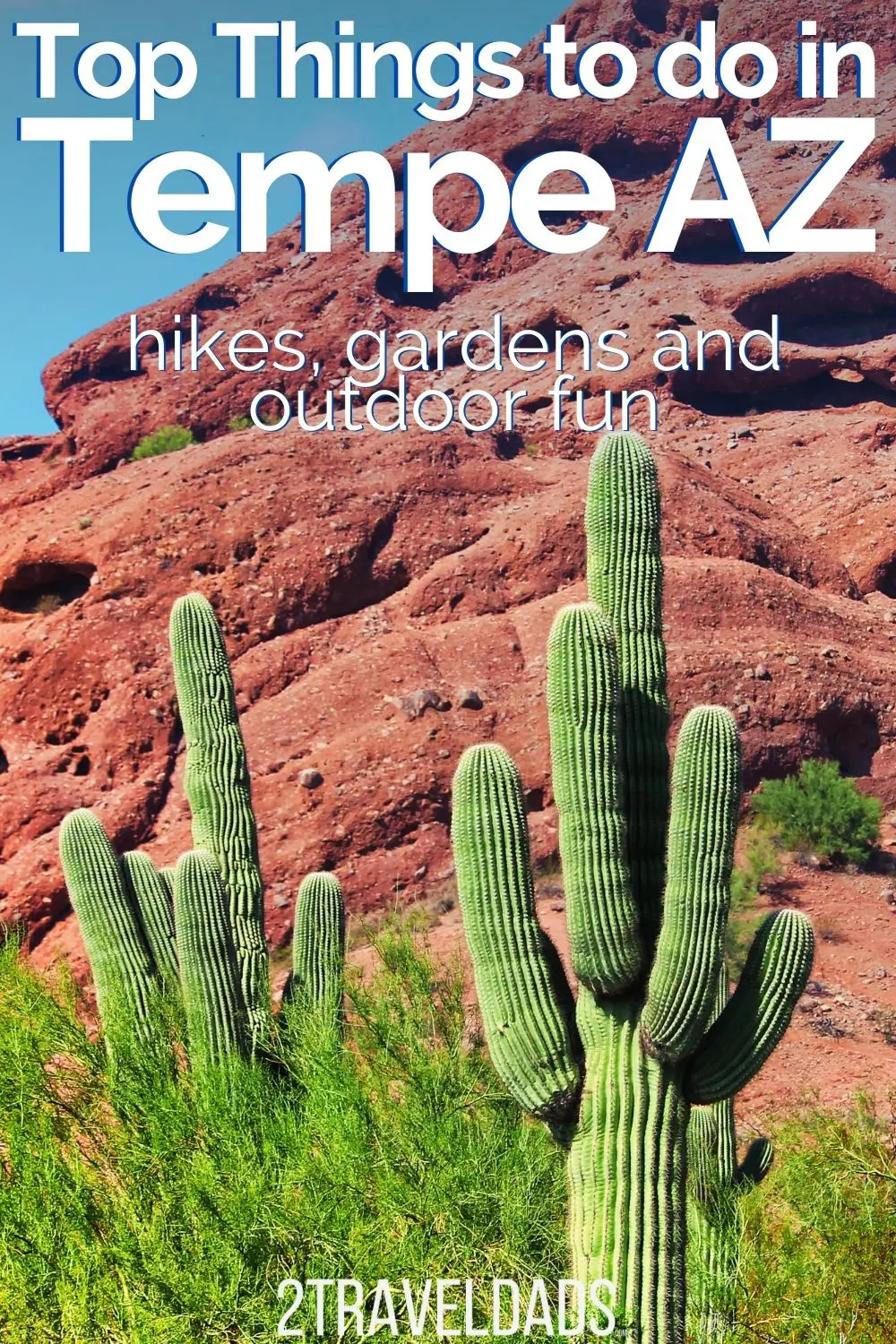 Where is Tempe, Arizona
A lot of people fly through Phoenix (PHX) for work or as a general travel hub, and if you've got a long layover or want to add an easy adventure to a work trip, Tempe is super easy for that. Located about fifteen minutes east of Phoenix Sky Harbor International Airport you are really close to whatever else you've got planned.
Tempe is in that spot that's kind of Phoenix and kind of Chandler, so making it a home base just makes sense. Also, Tempe is on the light rail line that connects the communities of Downtown and ASU with the east and west sides, and actually all the way into Phoenix. Easy breezy.
An hour and a half north is Montezuma Castle National Monument (cliff dwellings), 2:15 north is Flagstaff, and 3:30 is Grand Canyon National Park.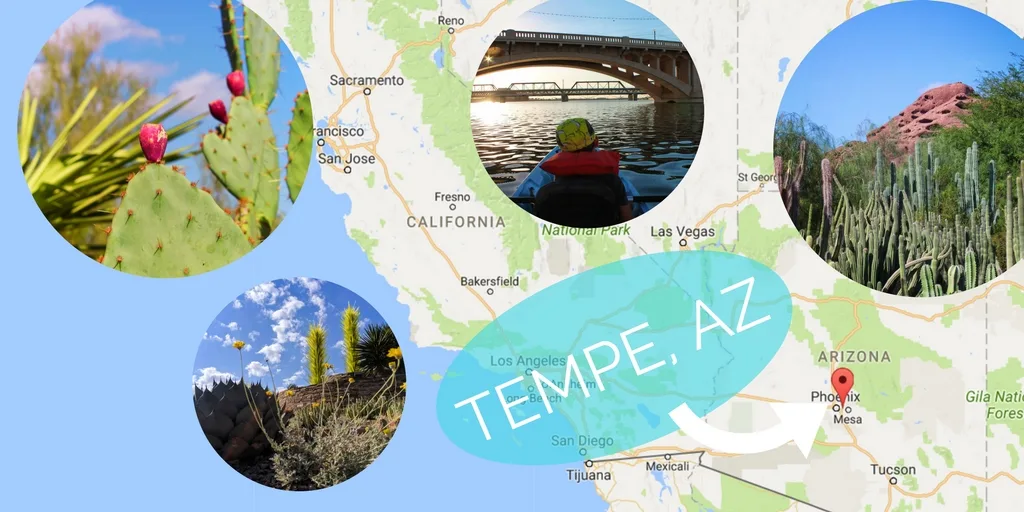 Tempe with Kids: exploring the desert
We do a lot of hiking no matter where we go, and doing Tempe with kids was going to be no exception. Thank goodness Tempe is set right between a bunch of mountains. Actually, they're hills but people in Arizona don't have Mt Rainier or Olympic National Parks in their backyards so they don't understand what mountains are. I say that in love. 😉 For more fun kid-friendly destinations around Arizona, check out this great list from Trekaroo!
Desert Botanical Garden
Visiting botanical gardens is kind of our thing. Madison, Wisconsin has an amazing one at Olbrich Botanical Gardens, and then there's the Bloedel Reserve right by our house, and then also Butchart Gardens in Victoria just north of Seatle. But none of them are comparable to the Desert Botanical Garden. Wow, just wow.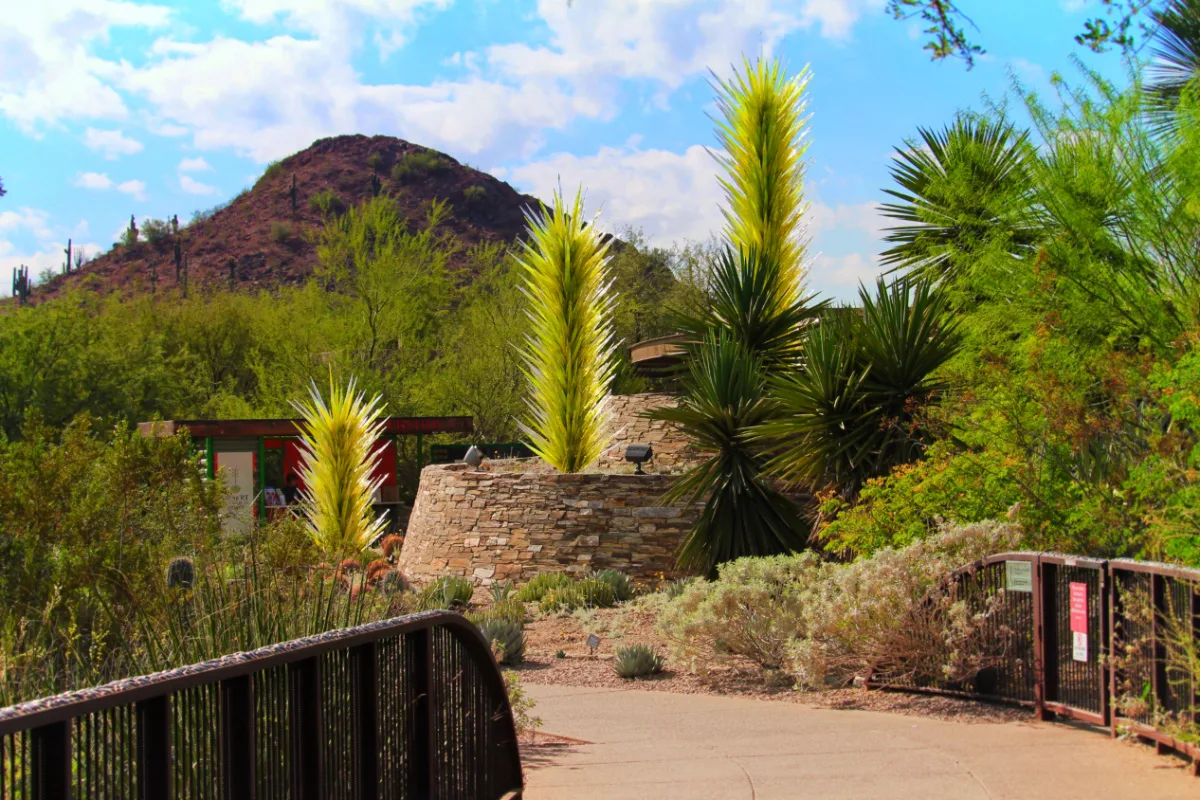 We love cactus, and its allure and beautiful flowers are one of the reasons we love the desert. The Desert Botanical Garden are a must when you do Tempe with kids for the sheer thrill of spikes and flowers all around. In addition to the cactus varieties from around the world (and Arizona) there's an impressive collection of art (rotating), a beautiful butterfly pavilion, and tours and education programs to up your game when it comes to desert flora. We could've spent hours wandering the maze of amazing desert beauty.  Check out their calendar of upcoming events here.
Tip: there is a restaurant, Gertrude's Restaurant, at the Desert Botanical Gardens, so if you want to make a day of it, you can easily do so.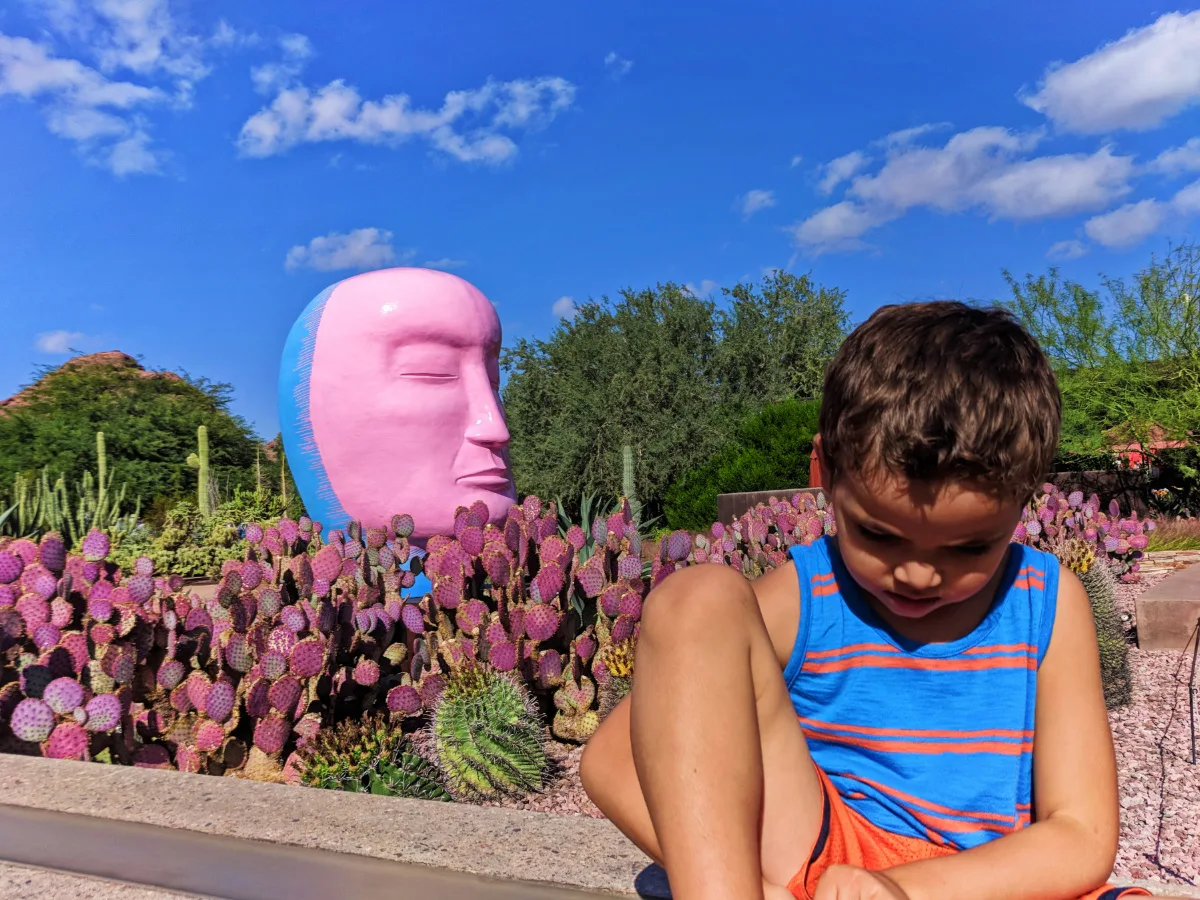 Hiking at Tempe's Papago Park
Desert hiking couldn't have been more perfect if I had designed this awesome park myself. Papago Park is part of the City of Phoenix Parks, but it's right next to Tempe so the ten minute drive from our hotel was a no-brainer and had to be a part of our visit. The red rocks that rise up out of the desert are truly unique. Sandstone wears in such an interesting way depending on the elements, and the combination of wind and rain in the Tempe/Papago area has really done a number on the red rocks.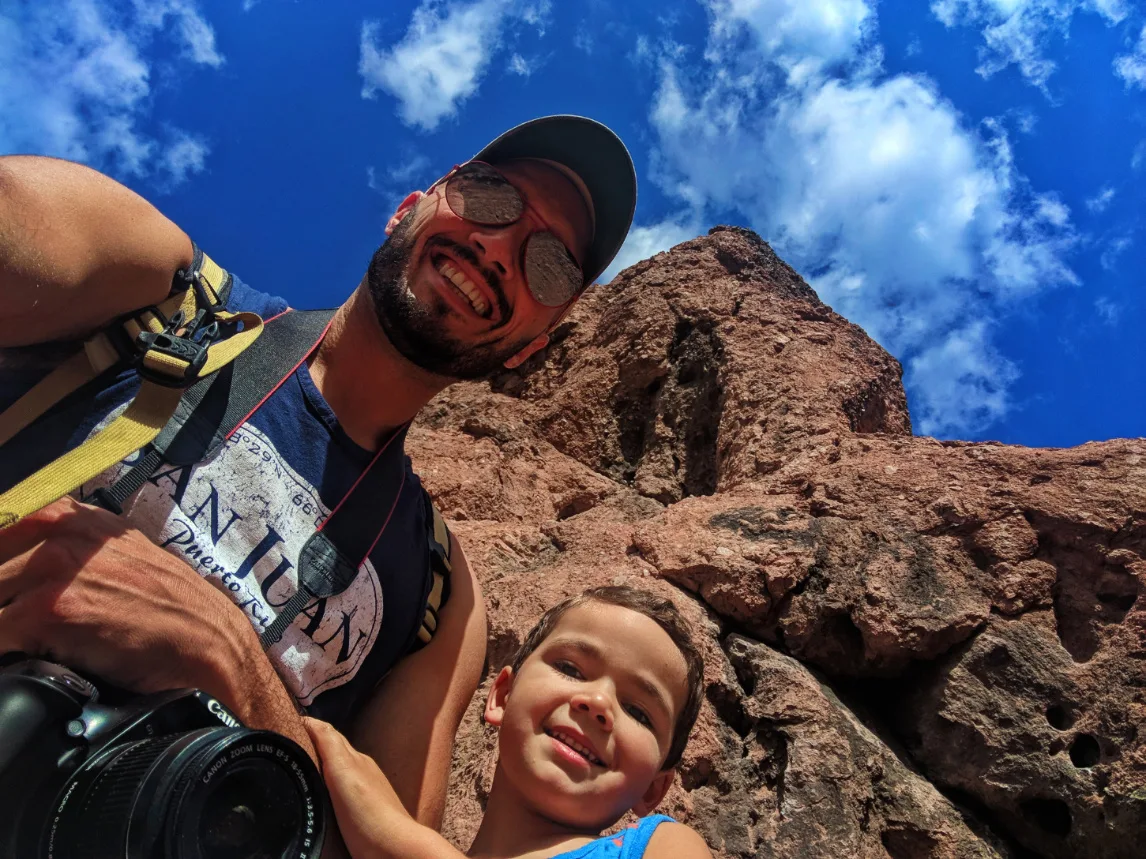 We did two hikes in Papago Park: Hole in the Rock and Double Butte Loop. Hole in the rock was really easy and is kind of a must if you're doing Tempe with kids. The short half mile loop takes you around some rocky outcroppings and up the backside of the formation. Erosion has left several large holes and caves in the face and it's really cool (for adults and kids). Spending time at Papago Park, either hiking or picnicking, is one of the best things to do in Tempe any time of year.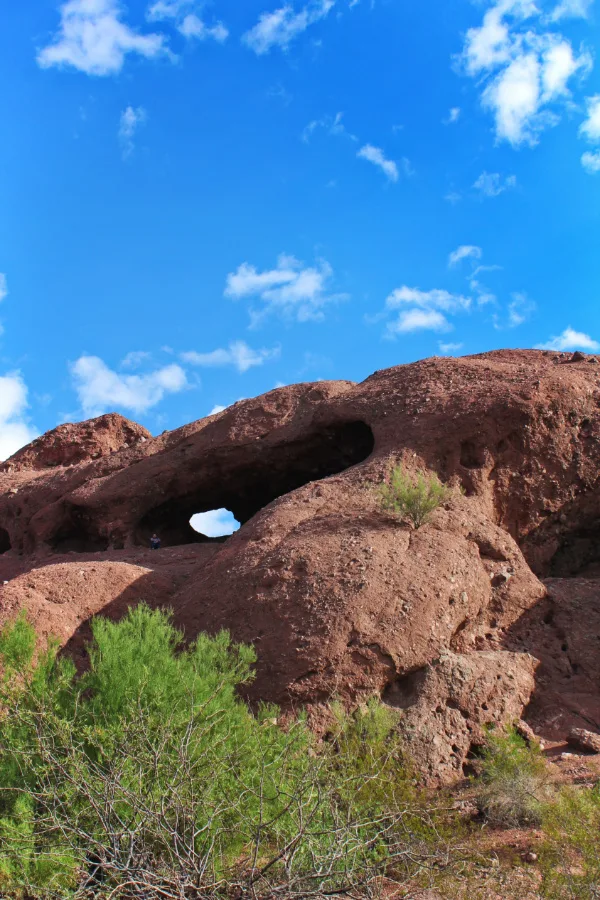 The second hike, Double Butte Loop, was very different as we moved through dry creek beds and mounds of cactus. Ultimately we could've headed up around the larger formation but opted for the valley instead. We had views of the red rocks all around us, cactus silhouetted in the sun, and the perfect picnic spot at the end. Next time we'll hike higher to explore some of the caves.
Tip: when you're hiking on rocky terrain, particularly when it's dry, the paths can be quite slippery with loose rock. Just be careful that you don't get hurt going up or down a hill.
And here's a really cool idea: if you're in Tempe with family or friends and want to have a fun party or event, you can reserve the ramadas (picnic shelters) at Papago Park. Hiking, play space, shade… it's the makings of a great Arizona get together.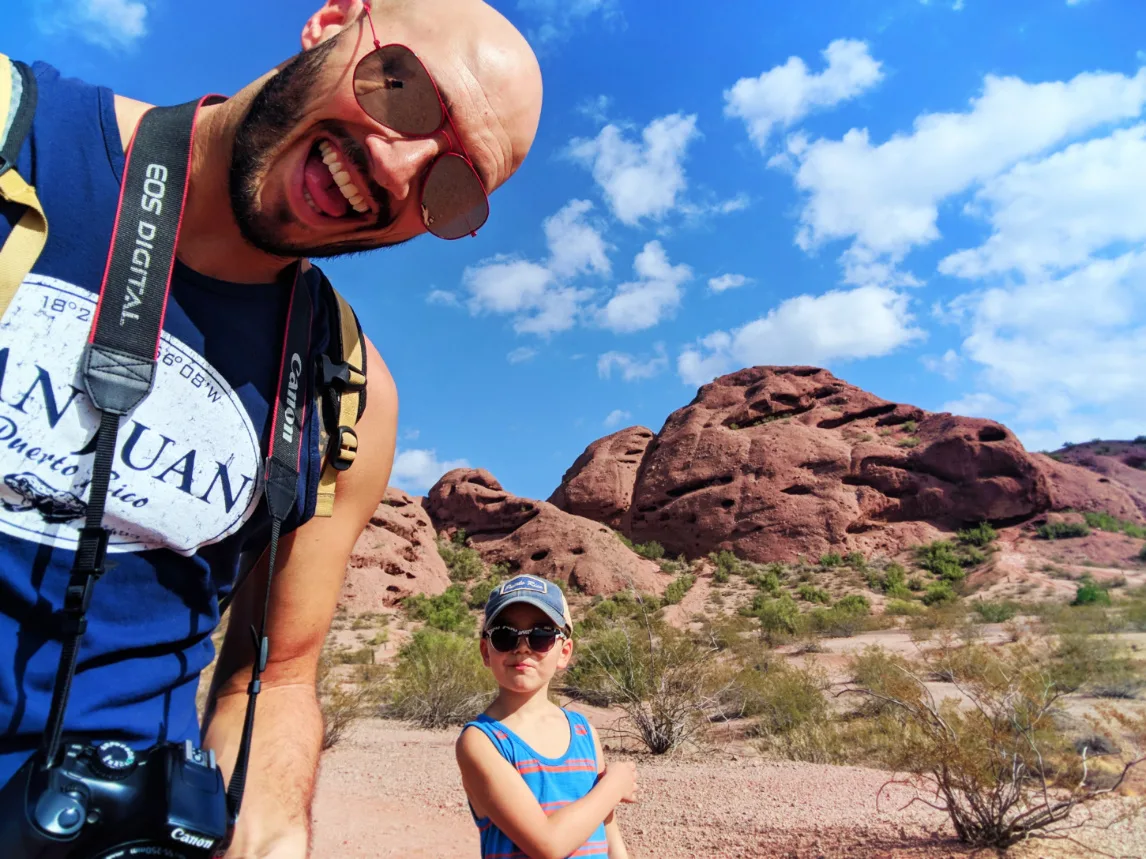 Reminders for hiking safety in the desert
Desert hiking is different from being in the rainforest. When you're hiking in the desert you need to be prepared for the heat. Even if you don't realize it, your body is drying out with every moment and you need to be hydrating constantly. Also, healthy snacks are more important than ever when you're hiking through the rocks. Keeping up the electrolytes for both yourself and the kids is super important.
Last little safety tip: stay on the trail and watch for wildlife that might ruin your hike. There are many varieties of rattlesnakes and scorpions in the Arizona desert, so keeping your eyes peeled both on and off the trail is extra important.
Tip: check out our article on hiking safety tips for other things to keep in mind for a safe and awesome hike.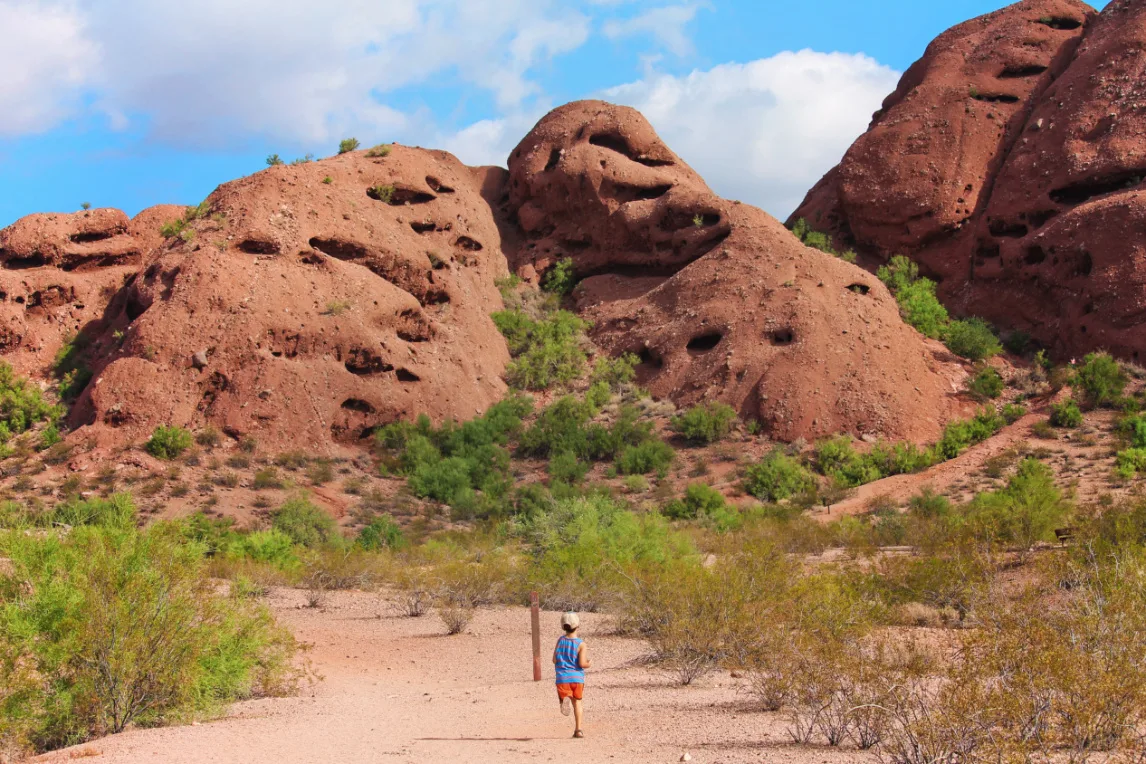 More hikes around Tempe
We didn't get to do all of the hiking we wanted to, but it just makes it onto our list for next time. Other cool hikes to do in Tempe with kids include hiking A Mountain (with the big ASU "A" on it), hiking South Mountain (a cool preserve area) and Camelback just outside of Tempe. A great app to have on your phone if you're looking for more cool hikes is All Trails. It's available on iPhone and Android and helps us out quite often when we're in new places.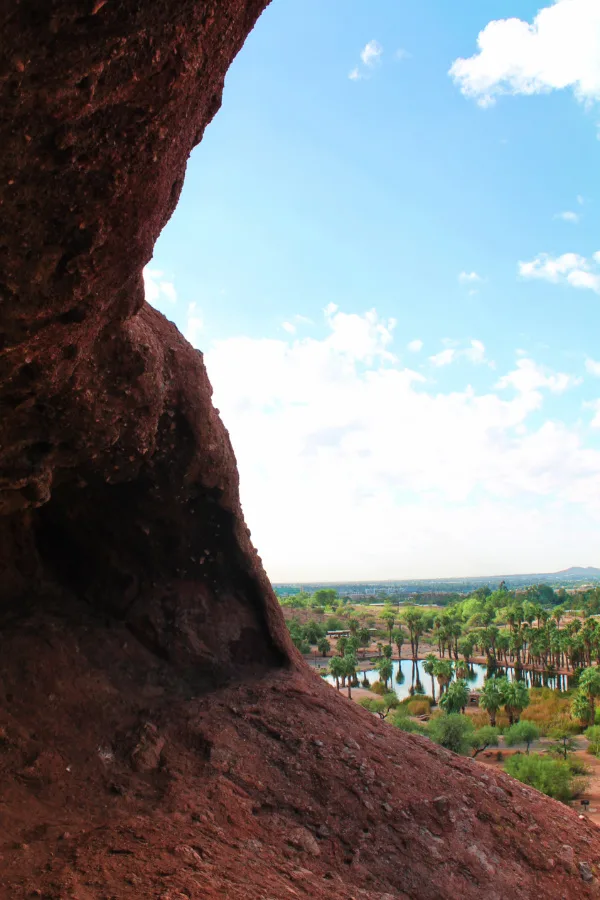 A non-desert experience: kayaking in Tempe
Believe it or not there is actually a river that flows through Tempe. The Salt River, or Rio Salado, is nearly dry for most of the year. There are portions of the river that are dammed so there are some lakes, such as Tempe Town Lake. We rented a tandem kayak from several Tempe boat rental spots on the south shore of the lake, just off the main drag of downtown.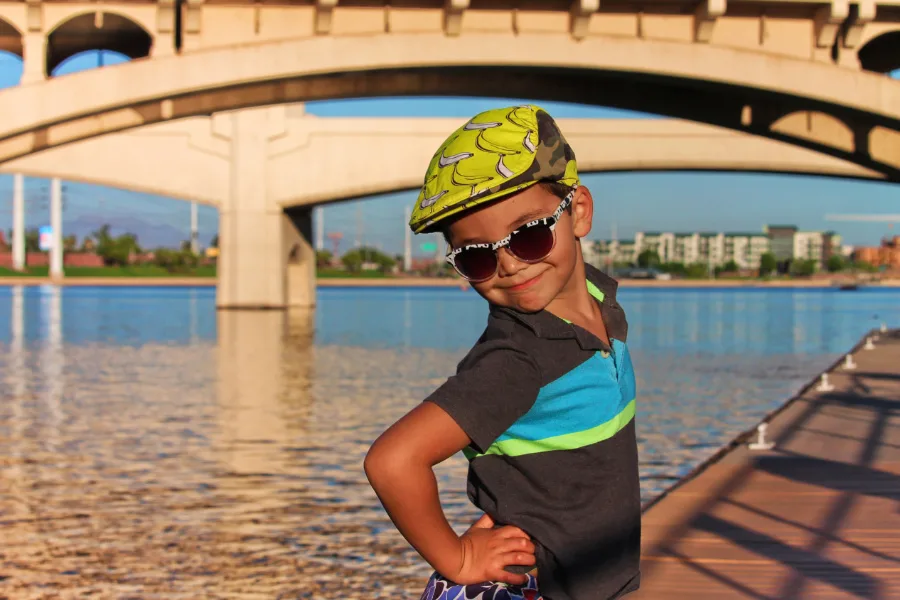 The sights were really cool and totally different for us, and different in comparison to most kayaking in Arizona. We do a lot of kayaking on rivers and lakes in the middle of nowhere, so doing urban kayaking was new! We got to go under four different bridges and enjoyed watching the town's crew teams practicing. If you're doing Tempe with kids this is a great activity either in the early morning or late afternoon. Getting on the water is such a great addition to any trip.
Tip: a lot of events take place around or on Tempe Town Lake. Check the Downtown Tempe calendar for upcoming events.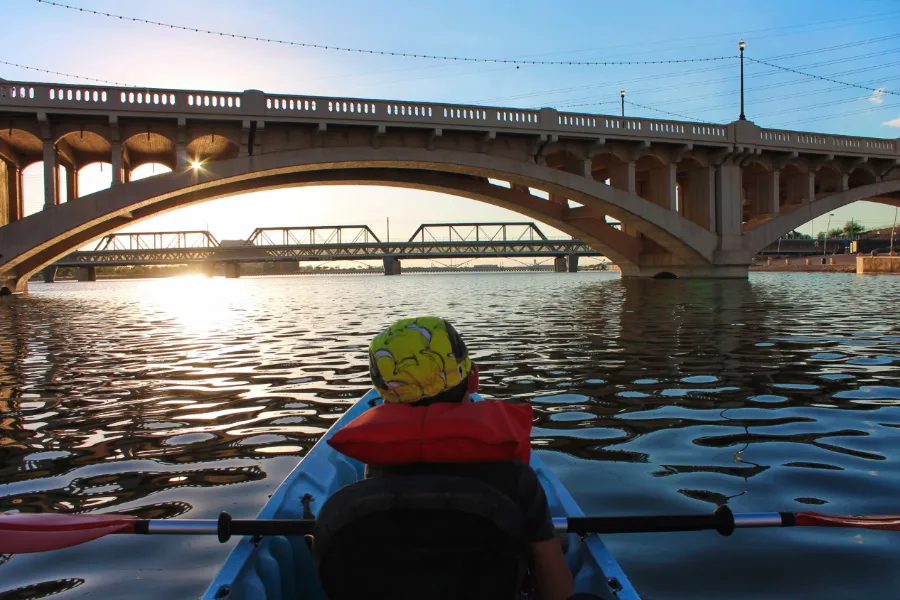 Fun and Learning Things in Tempe with Kids
It can be difficult to find kid-focused activities when you're so used to just hitting up a city and rolling with the punches, but Tempe made that so easy. We didn't have a moment of boredom in our three days of fun. There are lots of educational and engaging things to do in Tempe with kids, so visiting in any season is easy (especially because everywhere has air conditioning).
Legoland Discovery Center Arizona
Anybody who's met our kids knows that Legos are basically their purpose in life. We visited the Legoland Discovery Center and having to leave was heartbreaking. You enter and immediately get to learn about Lego design and how they create the incredible brick structures you can build at home… and then it's Lego-mania.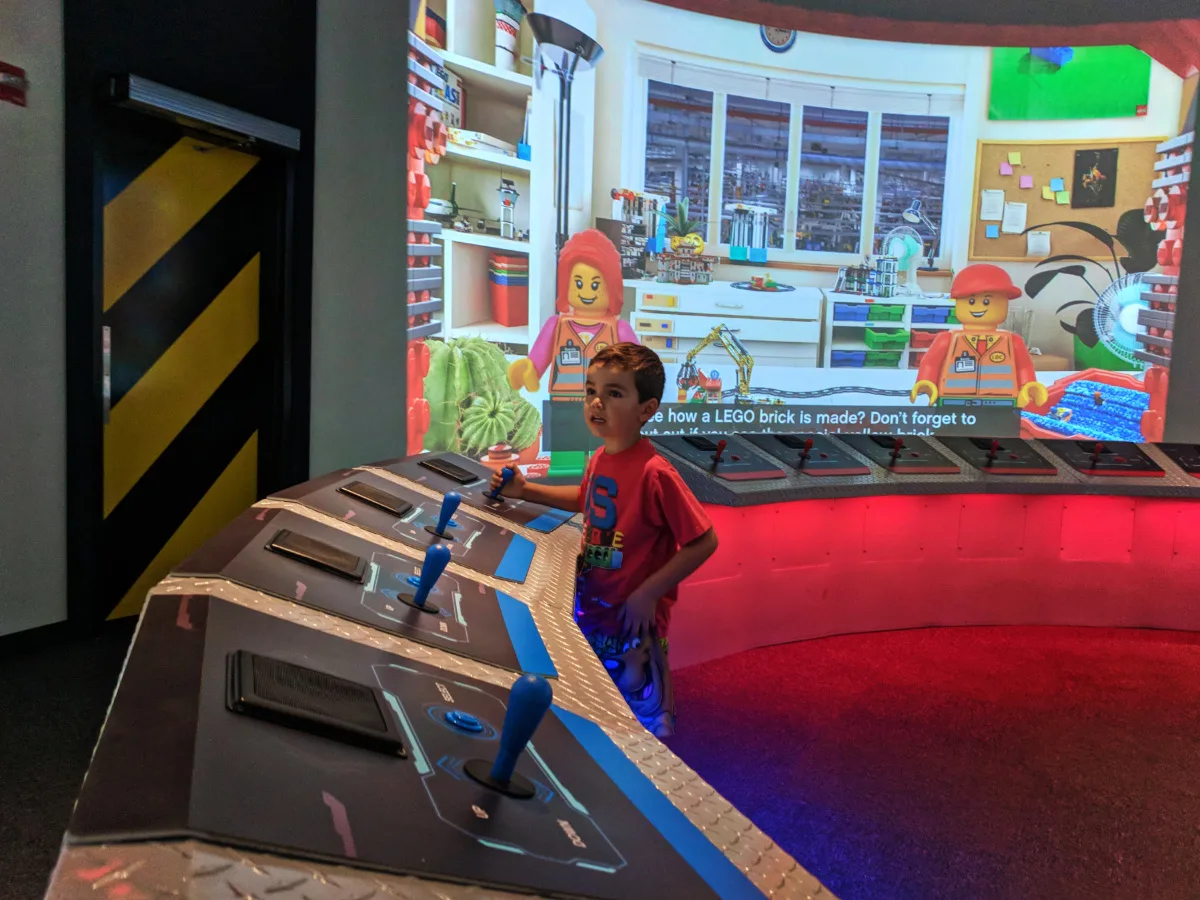 From really impressive Lego scenes of the Arizona desert to bins and bins of Legos, it was Oliver's dream destination. We built rockets in the Space Shuttle area and raced cars on the test tracks. We even rode an attraction similar to Buzz Lightyear's Astroblasters in Disneyland. The Legoland Discovery Center was everything we hoped it would be.
Tip: if you're not going to make it to the Legoland Discovery Center (or another Legoland location), keep your eye out for BrickCon or similar Lego events. It's a convention of Lego enthusiasts who create remarkable Lego structures and designs. Is there one in your city?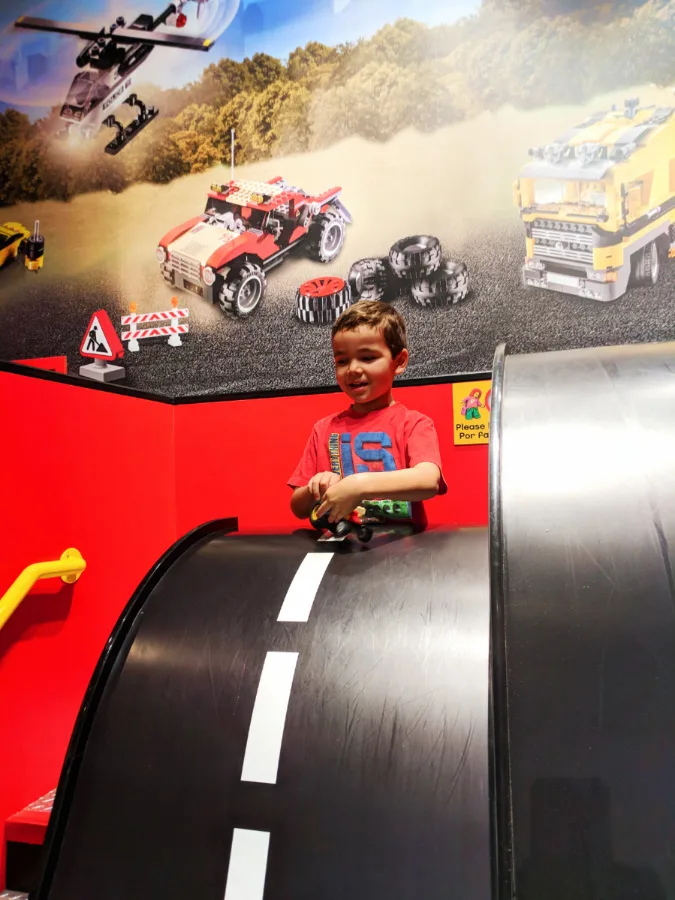 Tempe's SEA LIFE Arizona Aquarium
We've become pretty picky about aquariums since we've visited so many over the years. I don't know if anything will be as cool as the Tennessee Aquarium in Chattanooga, but there are some great ones doing important work. At SEA LIFE Arizona there are some wonderful educational exhibits as well as a focus on rehabilitation and recovery. We saw two green sea turtles who are a part of their recovery program and they were looking great! While an aquarium in Arizona seemed strange at first, it's actually a great addition to your plans if you're doing Tempe with kids.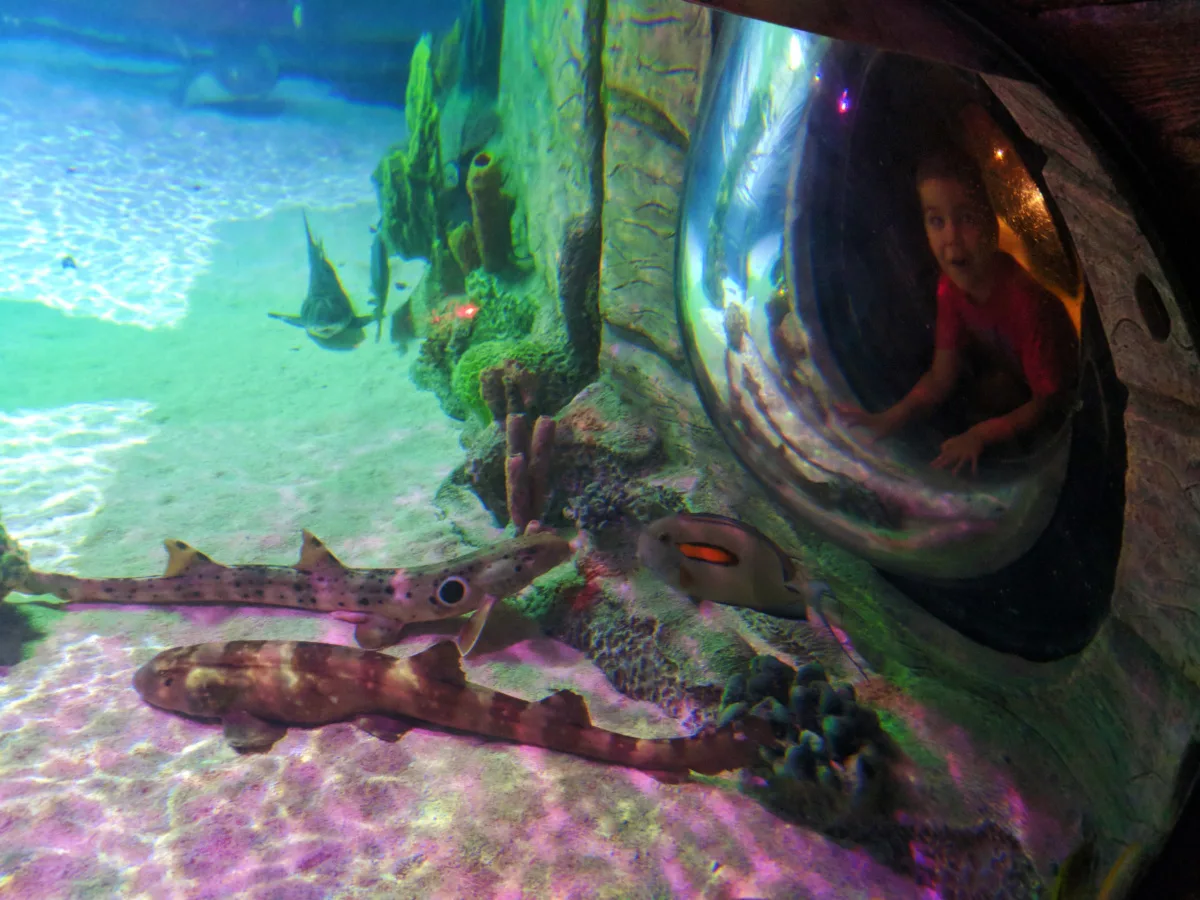 Because it is a smaller aquarium, SEA LIFE Arizona doesn't have all the fancy bells and whistles the Georgia Aquarium or others might, but it's actually in many respects easier to visit with kids. Being lesser-known, visitors have very easy access to exhibits like the touch tanks or undersea tubes. You can actually take your time to enjoy the animals and learn something instead of being rushed through. Can you tell we visit a lot of aquariums? Aquariums are a great tool if you're homeschooling, and this one is perfect for learning opportunities!
Tip: plan your day to include both SEA LIFE Arizona and the Legoland Discovery Center. They are directly next to one another and doing one without the other may seem like torture for kids.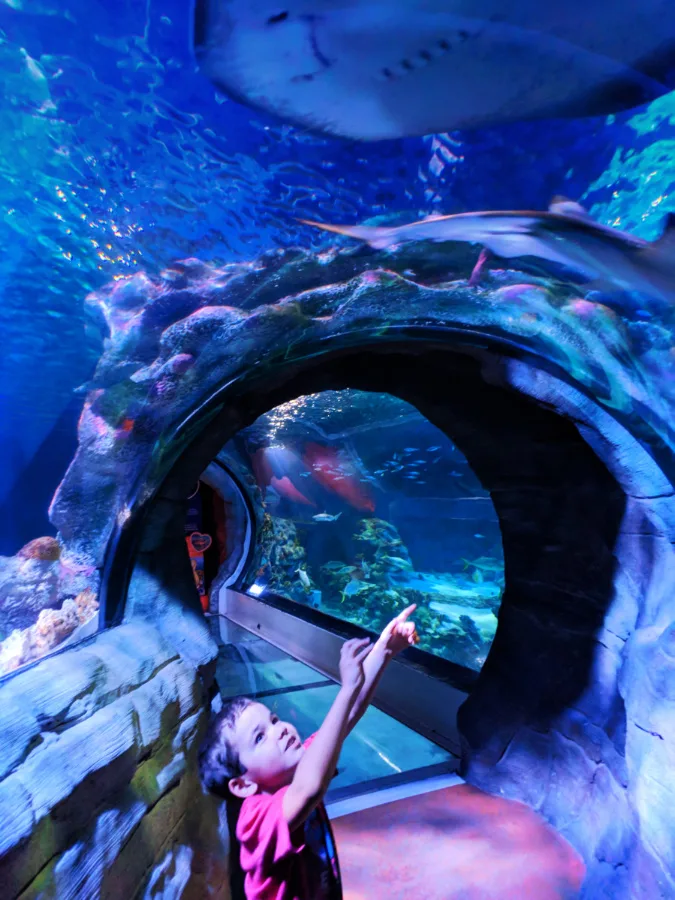 A Day at the Phoenix Zoo Near Tempe
We don't write much about zoos because it's rare that we find one we enjoy or genuinely approve of. The Phoenix Zoo is worth sharing though. With much larger exhibits than many zoos we've been to, the animals seemed to be more active and relaxed in comparison to some others. Also, the animals that are part of rescue and rehabilitation programs are clearly noted and there is staff on hand to answer any questions about their programs. Also, the Phoenix Zoo also is home to a threatened species breeding program where they actively work to preserve and bolster certain animal populations in the wild.
Tip:  for the coolest bucketlist experience you can do in a zoo, check out the Night Camp opportunities at the Phoenix Zoo. Stay overnight and observe animals when they're most active!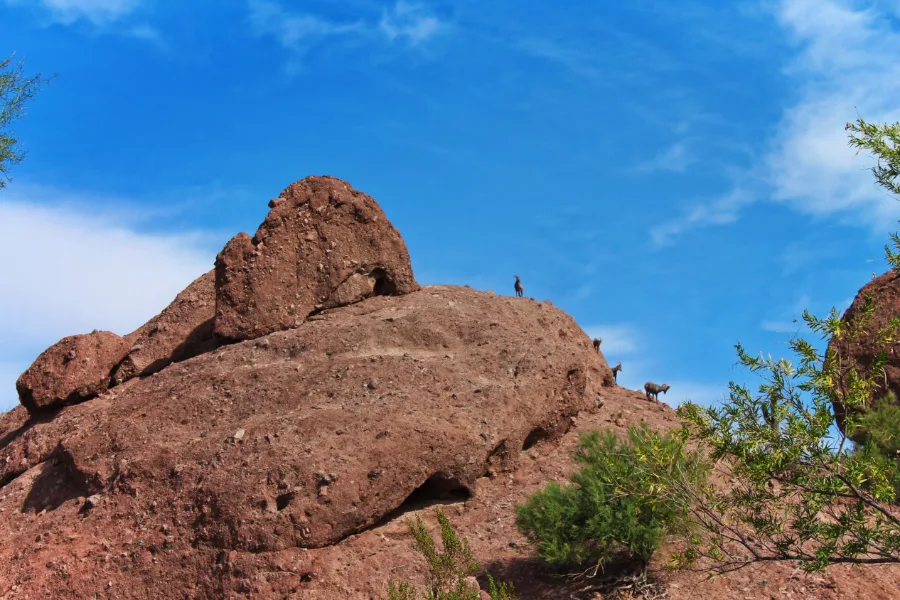 The Phoenix Zoo also does a lot of public and private events, including ongoing visiting expositions. For example, as an installation at the Phoenix Zoo, the Dinosaurs in the Desert exhibit was awesome. Winding your way through the hilly desert zone, all kinds of robotic dinosaurs greet you, growling and gnarling… and moving. We really enjoyed meeting a baby triceratops (a puppet) and getting to be so close to the life-sized dinosaur replicas. It was an A+ exhibit in our book.
Tip: the Phoenix Zoo has several different ticket price structures, so take a moment to consider how much time you want to spend there and what activities in addition to the general animal exhibits you'll want to do.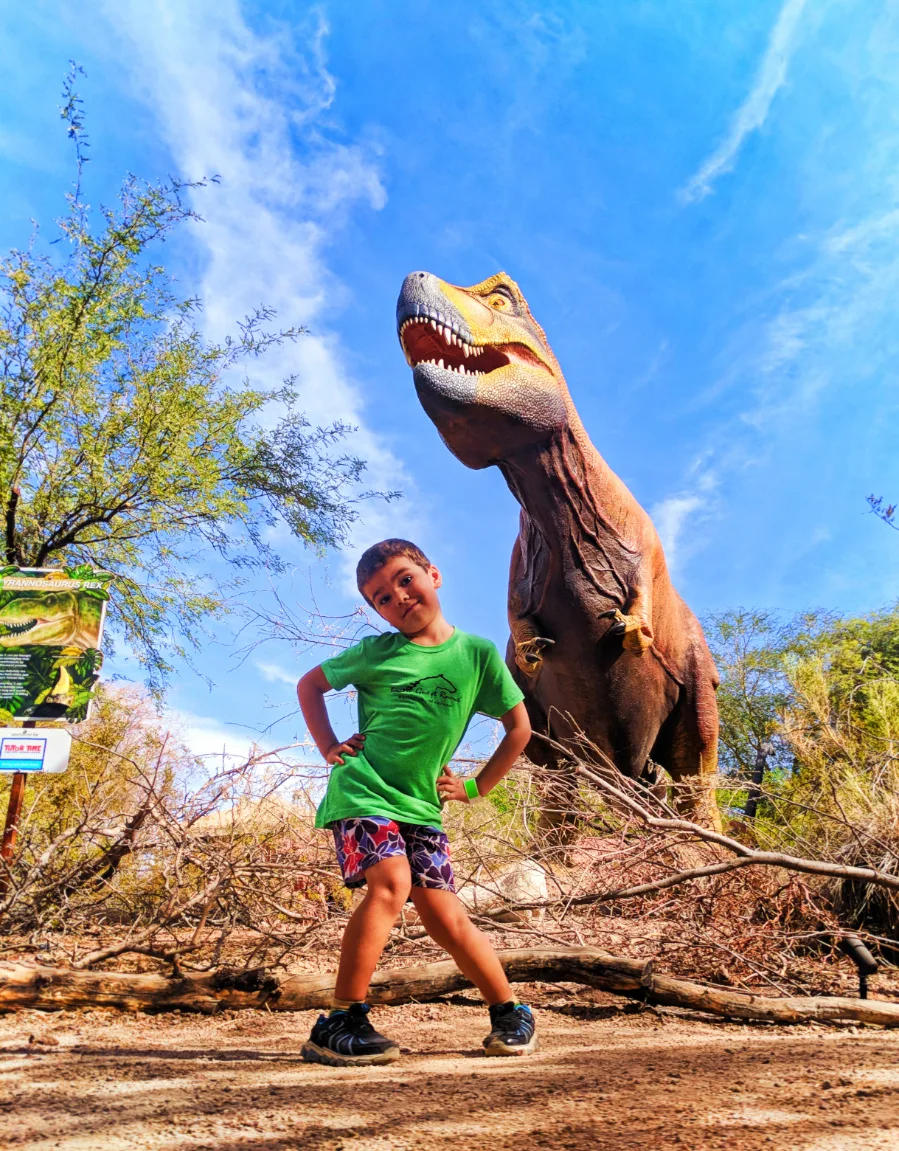 Where to Eat in Tempe with kids
Our dudes are pretty easy when it comes to food, but we know that's not the case for everybody. We found a wide variety of restaurants around Tempe.  You know that we went to a brewery (cuz it's us), so Pedal Haus was a fun spot to relax for dinner. We also sought our some authentic Mexican food at Restaurant Mexico (just like what we get in Mexico vs the Americanized version). We did the spectacle of dining at the Rustler's Rooste where we ate rattlesnake and cactus fries. We found some great, modern fusions at the Perfect Pear Bistro. And then the hit was really breakfast at Snooze AM Eatery.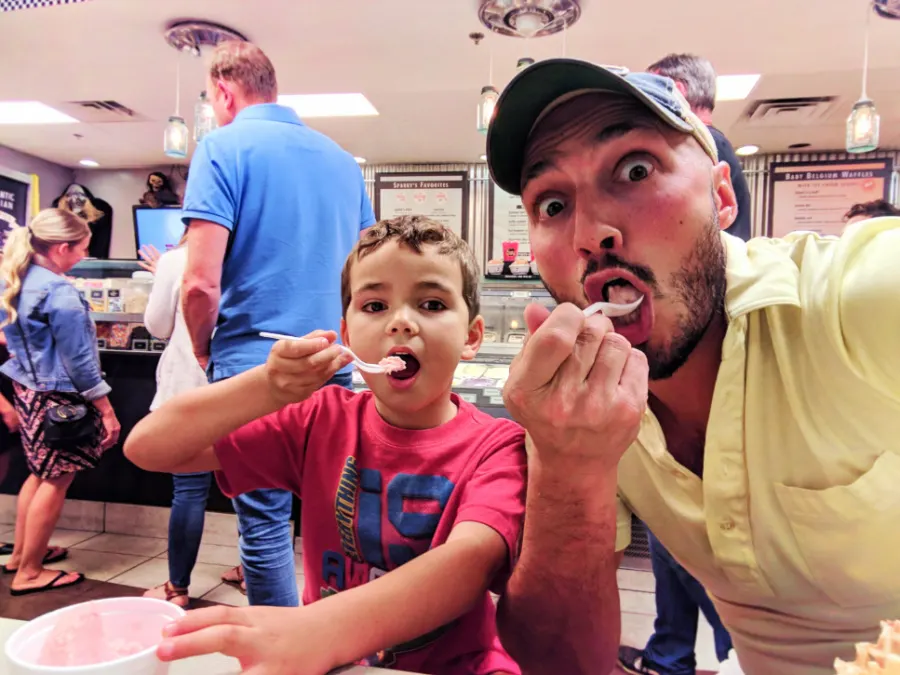 Snooze was our favorite for a few reasons, but the vintage 60s decor added to the fun. A big selection of benedicts, some that were very unusual (like chili or balsalmic), and lots of morning (adult) beverage options made it our top choice of breakfasts we've had in our travels as of late. Oliver particularly enjoyed the pancake of the day: chocolate chip with mint and cream cheese toppings. And then there was another pancake too with cinnamon butter and white chocolate and yum.  Check out this article for some great Tempe brewery recommendations!
Tip: get the Bloody Mary with jalepeno vodka. Cuz why not.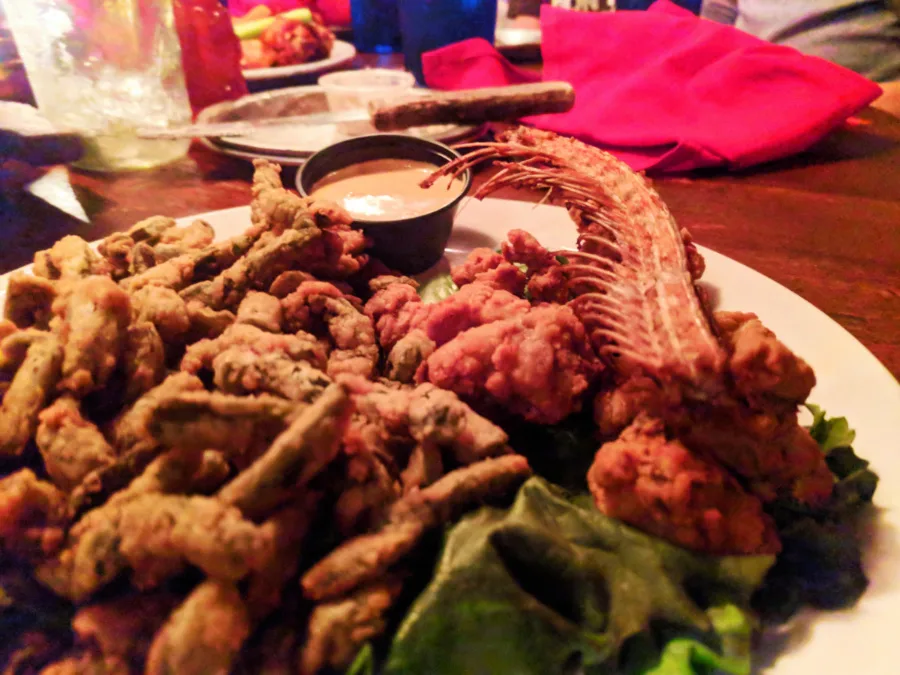 Where to stay in Tempe, Arizona
We've stayed in two different hotels in Tempe. Being a college town, there are a lot of places to stay to accommodate visiting parents, college tours and sporting events. Nearly every travel brand has a property in Tempe, keeping the rates competitive.
Residence Inn Tempe Downtown – Great for Families
The Residence Inn Tempe Downtown University right in the heart of ASU was our first homebase. We also love getting to have the space to function in a hotel room, so having suite style accommodations with kids made a busy travel schedule less stressful. We also took advantage of their daily breakfast and rooftop pool (because you must cool off in Arizona). And our room looked right at the "A" on A Mountain!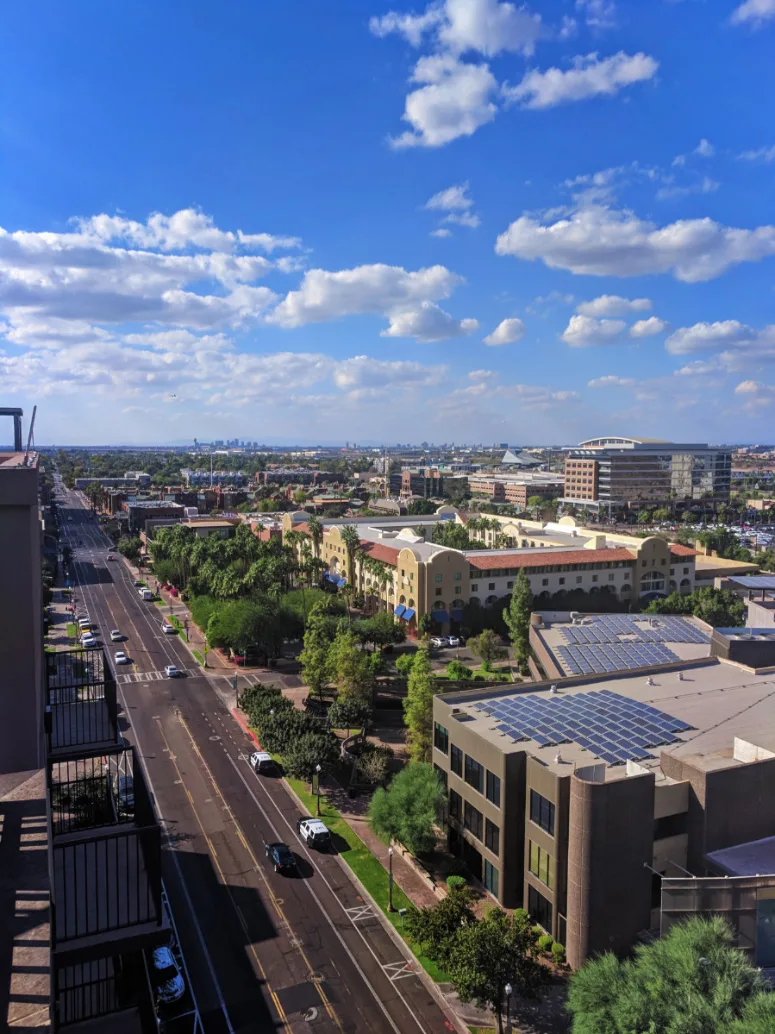 AC Hotel by Marriott – Great Couples Hotel in Tempe
The second hotel we stayed at in Tempe was the AC Hotel by Marriott Tempe/Downtown. Located on the opposite side of A Mountain just off Tempe Town Lake, the AC Hotel was much more a business hotel with a very modern feel than the Residence Inn. While it was great and worked fine with kids, it's more of what I'd book for a Dads getaway. We did enjoy the rooftop pool here (of course) and the easy walk over to Mill Ave downtown.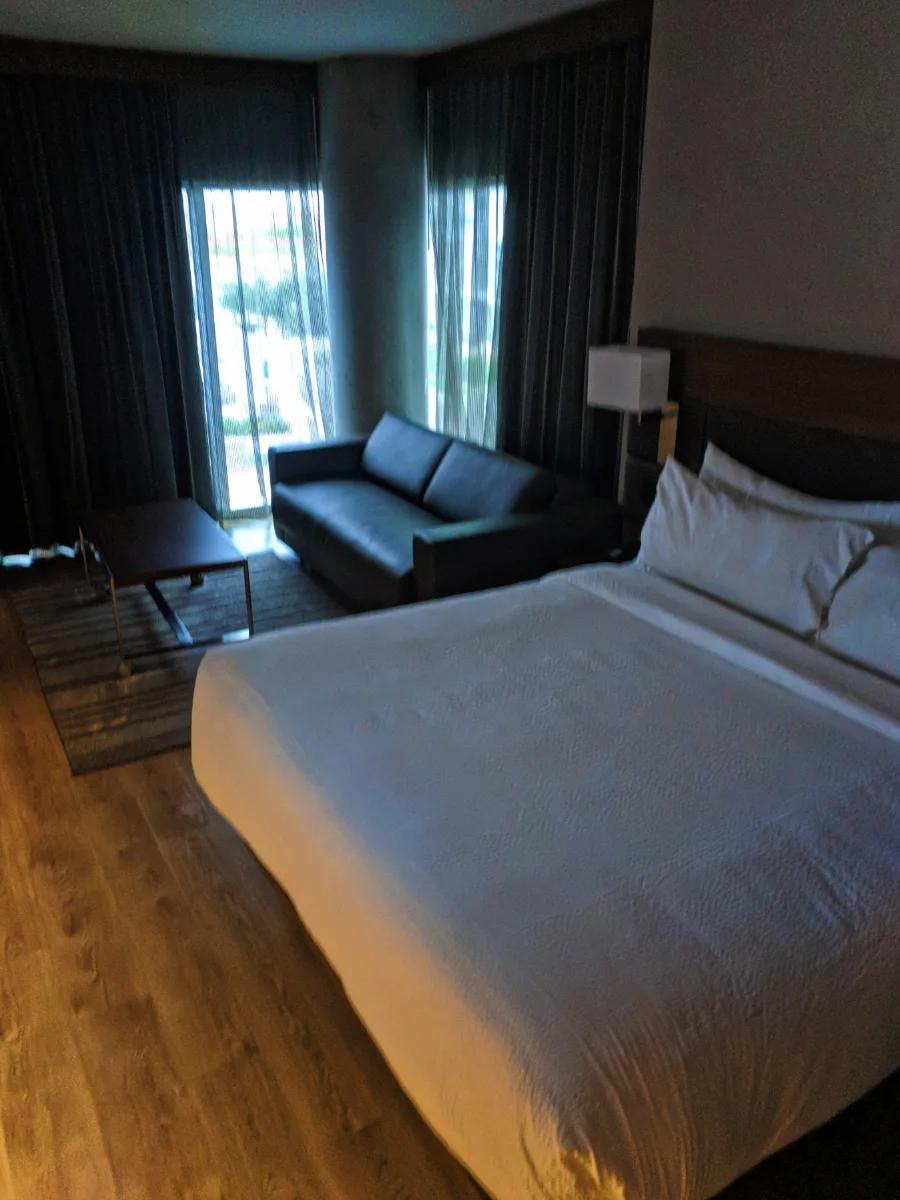 Tempe turned out to be a totally fun father/son getaway. It would've been great with all of us or just a Dads getaway. I'm sure we'll be back. We have a lot more of Arizona and the Phoenix area to explore, but for now we know that Tempe with kids was a hit and we'd return in a heartbeat.
Need to pin this to add to your upcoming Arizona/Southwest travels? Go for it!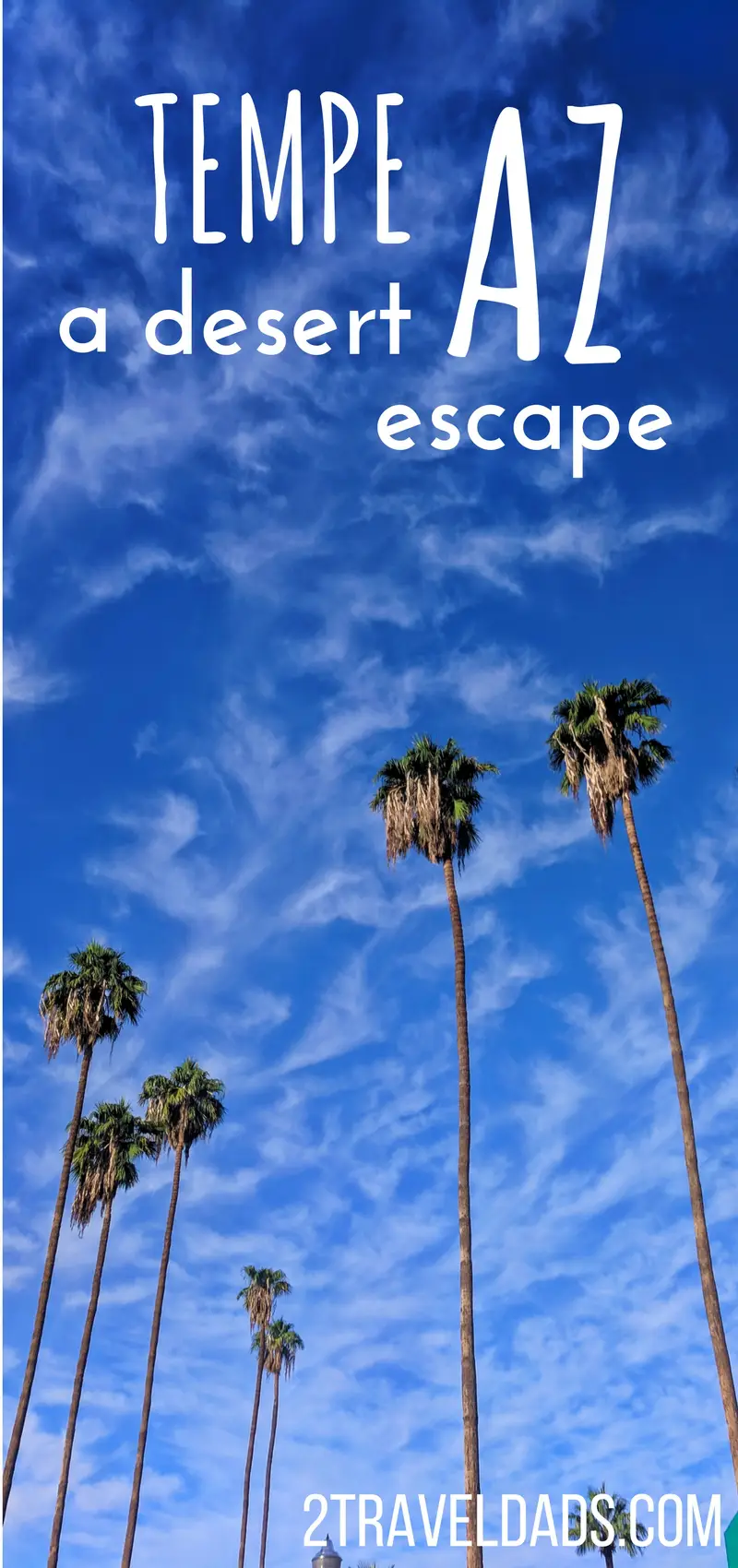 As we said, Tempe Tourism engaged us to share our thoughts. Everything you see here is our own opinion and you know we wouldn't lead you astray.