Have you ever gotten to stroll through 3000 cherry trees in full bloom? Did you know that Washington DC holds the National Cherry Blossom Festival every year? It's true and absolutely beautiful. Below you'll find our guide to planning a visit to Washington DC for the cherry blossoms, as well as other great things to do in the DC area.
In this podcast episode we dig into cherry blossoms in Washington DC, other spring events not to miss, and our top picks for exploring DC with kids. It's an awesome city, and in springtime is beyond gorgeous! One of the best destinations in the USA for a family trip, doing a road trip around DC and Virginia is ideal in spring.
Be sure to check out our complete article all about the Best Things to do on a Washington DC Day Trip!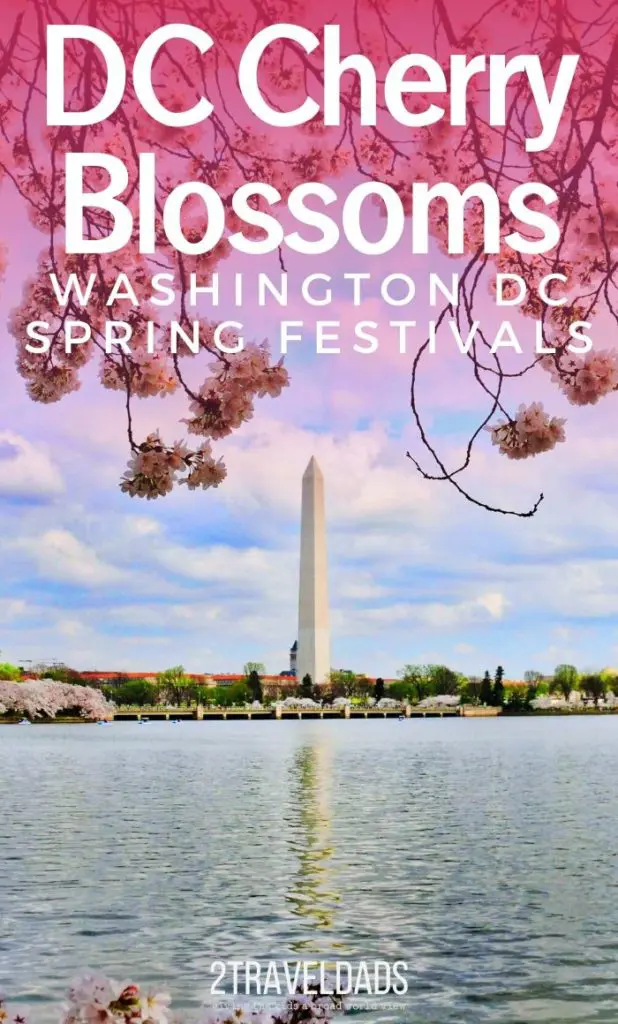 Listen to our Washington DC Cherry Blossoms Podcast Episode
Cherry Blossoms in Washington DC and more!
In this episode…
0:30 – Introduction to Keryn of Walking On Travels and DC Travel Mag. Keryn is a seasoned travel blogger and magazine publisher who's started a new website focusing on exploring the Washington DC area. Really, it's all about finding the non-politics side of DC and enjoying the many sights, museums, restaurants and festivals.
Where to find Cherry Blossoms in DC
2:45 – Cherry Blossoms around Washington DC – the 3000 cherry trees around the Tidal Basin were a gift from the mayor of Tokyo, Japan in 1912. Spots in Washington DC to see the cherry blossoms:
National Mall
Arlington National Cemetery
National Arboretum
Georgetown
Kenworth neighborhood of Bethesda, Maryland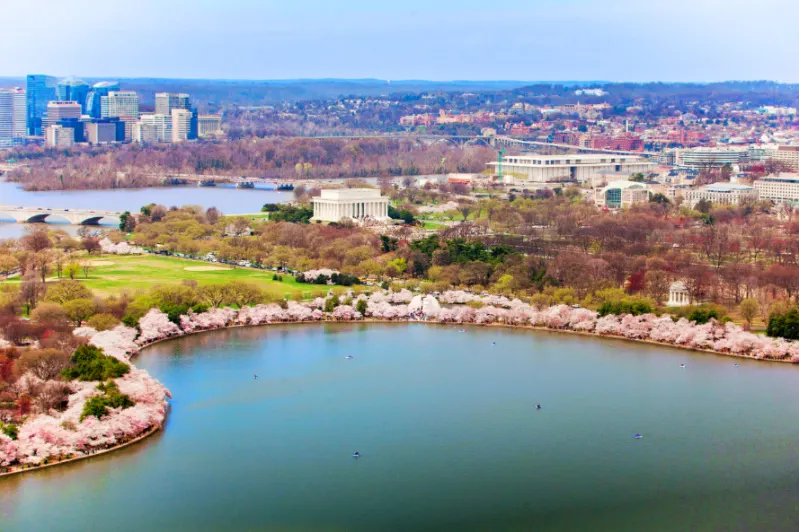 4:20 – Best times to visit and explore the cherry blossoms around the Tidal Basin are early morning or early evening during the week. When blossoms are in full bloom, which is typically mid-March through mid-April, the crowds can be a little intense, but exploring on foot around the Tidal Basin shouldn't be too bad and is a great way to explore Washington DC with kids.
Note: National Cherry Blossom Festival for 2020 is March 20 through April 12. Peek bloom may not exactly coincide with the festival dates, but is whenever 70% of the blossoms are open.
6:00 – What is the Cherry Blossom Festival? As the flowers start to hit their peak, a variety of galas and events, from fundraisers to afternoon teas, happen all around the city. Find a DC AirBNB for your visit!
Keryn's top pick for a hotel during the Cherry Blossom Festival is the Mandarin Oriental. It is the closest hotel to the Tidal Basin and the Wharf, and it has its own collection of cherry trees that lead to the main cherry blossom area. Check out more DC Cherry Blossom Tips over on DC Travel Mag!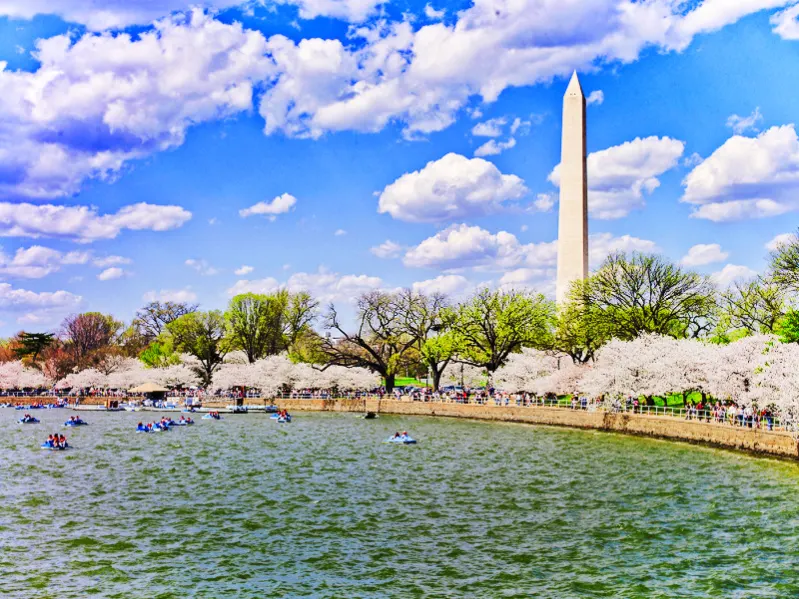 Flowers Beyond the Cherry Blossom Festival
8:00 – Other flowering trees and festivals to watch for are the magnolia trees all around the city and the Azalea Festival at the National Arboretum. There are so many green spaces around Washington DC that you'll find blossoms all spring. Rock Creek Park is a great location to explore and hike and it's in the middle of Washington DC.
Some other fun places to explore and experience a little nature in or close to DC include the George Washington Memorial Parkway and Great Falls National Park. Both are nearby and gorgeous!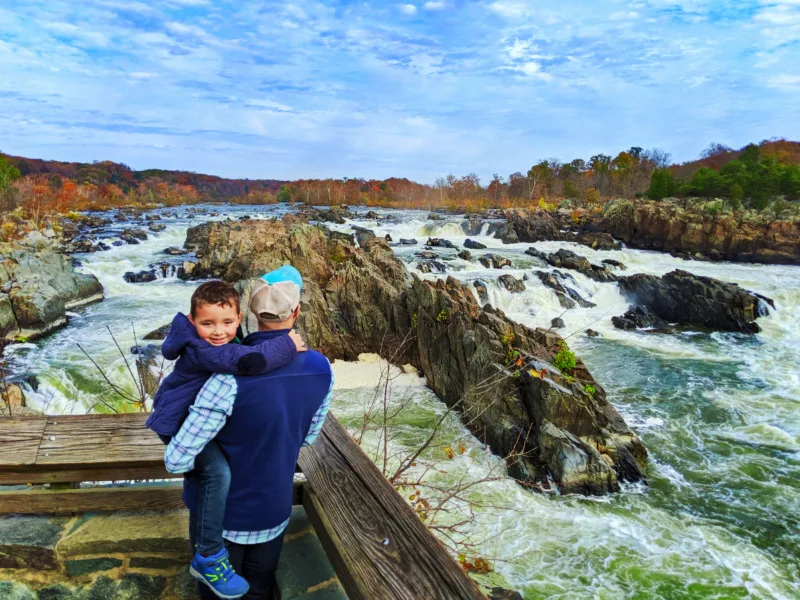 Best Ideas for a Washington DC Trip – CAN'T MISS THESE!
10:15 – Passport DC and the EU Open House- a really cool and special festival, Passport DC allows visitors to actually go into many of the international embassies on Embassy Row, participating in events and learning about the hosting cultures. This happens on the first two weekends of May. It's all about food, drinks, traditional dances, presentations… Super cool!
Tip: there's an app and a map to guide you through Passport DC, so be sure to download and plan your time before you arrive!
13:00 – Top picks to add to a DC Cherry Blossom Festival trip: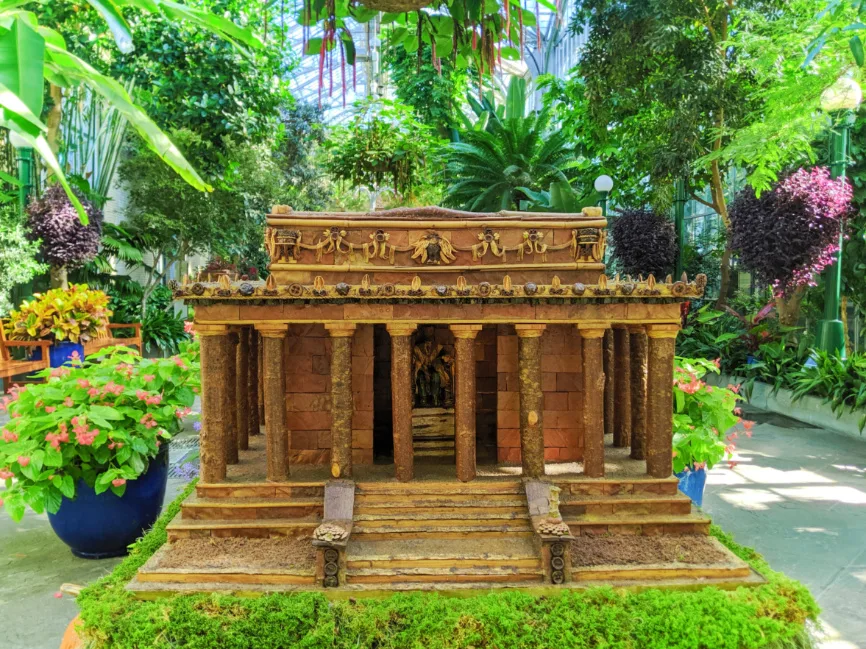 19:00 – The Georgetown neighborhood is the coffee hub of Washington DC. Between small, local coffee shops and immigrant founded Ethiopian coffee establishments, you can find it all. Georgetown is much more than this though, and now is the heart of the eclectic food and shopping scene of Washington DC.
21:30 – Keryn's top pick for the most iconic, most established restaurant in Washington DC is going to be Le Diplomat. It's the top burger / brunch / French / everything else restaurant. Also, keep your eyes peeled for restaurants that offer "bottomless brunch" which is a flat rate dining experience of bottomless drinks and all-you-can-eat of great food. There are lots of different types of brunch in the Washington DC area.
24:30 – Two more must visit Washington DC activities:
the National Portrait Gallery (near Ford's Theater) for incredible, iconic, historic portraits and more. There is also an outdoor market in the plaza in front during the holidays.
go to Georgetown to go mural / public art viewing. The neighborhood is fun and full of art. Keryn recommends Georgetown Cupcake for the best dessert. There's even an ice rink during the winter.
How much time should I spend in Washington DC?
27:30 – How much time should you allot for touring Washington DC? Two days is best to get a taste of DC, but three or more days really allows you to dig into the museums and neighborhoods better. The most ideal amount of time is five days, which gives enough time for museums, neighborhoods, Mount Vernon and exploring a bit of Virginia.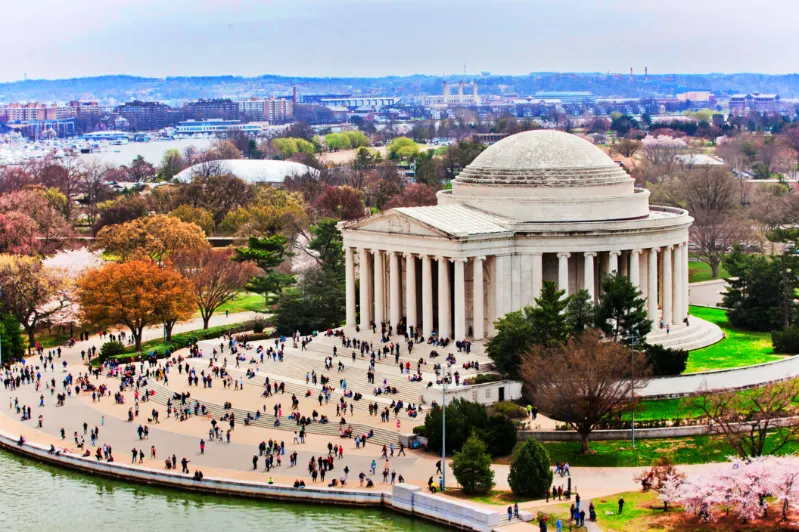 Thanks for hanging out with us. Be sure to follow DC Travel Mag on Instagram for the most up-to-date happenings. And we'll be back in the DC area quite a bit this year, so watch for more great ideas from us too! And as always, please let us know if you have any questions!
Other DC/Virginia ideas: Colonial Williamsburg Virginia's Historic Triangle
What do you want to hear about from us on our podcast? Please leave us a comment below or send us a note with your questions and what you'd like to hear. We are excited to share!
If you'd like to visit our specific podcast host page, feel free! There are lots of options to subscribe to the 2TravelDads Podcast.