In this podcast episode we are talking with a Walt Disney World expert and travel blogger, Victoria Yore of the incredible Disney travel resource Disney Trippers. We thought it would be a good idea to go park by park at Disney World and pick the attractions that are the best and most worth your time. From the Magic Kingdom to Animal Kingdom, we're choosing the best rides and restaurants in Disney World.
Be sure to check out our complete First Timer's Guide to Disney World for more info!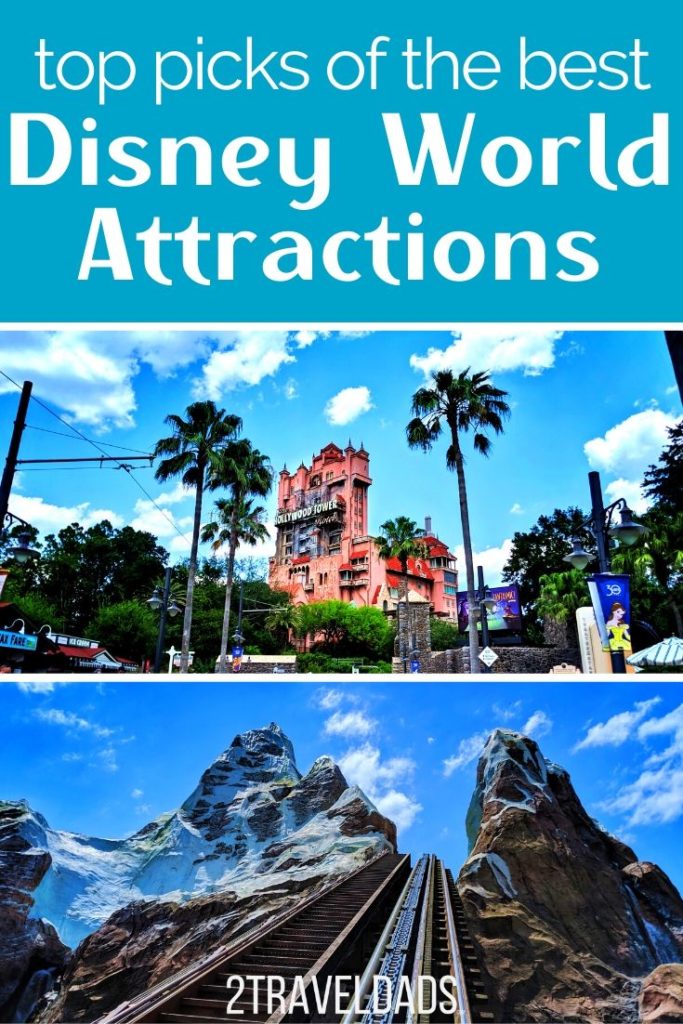 Listen to our Best Disney World Attractions Podcast Episode
Top Picks for the Best Disney World Attractions (and food!)
In this episode…
1:30 – Introduction to Victoria from Disney Trippers and Follow Me Away. She's an Annual Pass holder (AP) and local Florida resident. Having been going to Walt Disney World since she was a kid, she's got more experience in her left pinky than our whole family combined when it comes to picking the best attractions in Disney World. Victoria and I have very different opinions on a lot of Disney and travel, so this conversation might be quite the debate.
4:30 – Starting with Magic Kingdom, this is Victoria's least favorite of the Disney World parks and my second favorite. Over the years, Magic Kingdom has become very event-heavy with many that are an extra cost to visitors. Victoria stated that she gets frustrated with how operating hours have been impacted by special events year round. Additionally, the parking situation has changed over the years which really adds time to getting into the park for the day.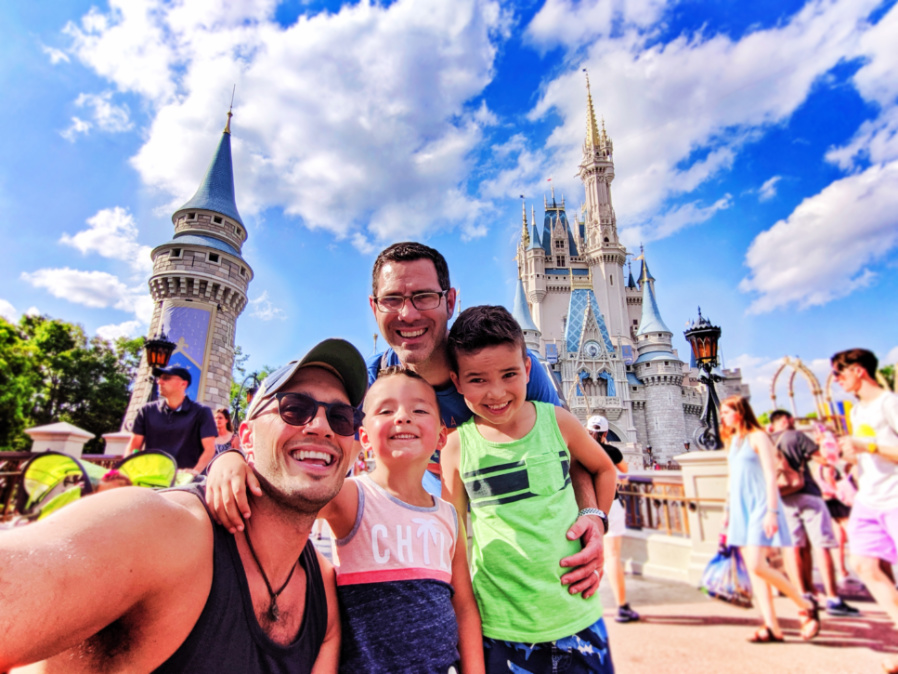 Best attractions in Magic Kingdom
8:20 – Best attractions and experiences in Magic Kingdom.
Main Street USA – both Rob and Victoria pick Main Street USA as a favorite spot. Victoria recommends going behind Cinderella's Castle for another fun and beautiful view of the castle.
Seven Dwarfs Mine Train – it's such a smooth ride and is really fun and cool with kids. Victoria recommends Seven Dwarfs Mine Train as the best FastPass to get in Magic Kingdom.
Splash Mountain – with all the updates that have been done over the years, Splash Mountain is the same today as when it first launched. Being a very long ride, it's worth the wait.
Space Mountain – this is Victoria's favorite because the thrill of the roller coaster is great. Space Mountain is wonderfully dark and is a nice change to other coasters. Also, both Victoria and Rob LOVE Space Mountain in Disneyland Paris. Tip: if you're not riding Space Mountain, you can close your eyes on Thunder Mountain and have a similar experience.
Mickey's Philharmagic – This is a great sit down show that gets you out of the heat.
Monsters Inc Laugh Floor – another fun show, it's similar to Turtle Talk with Crush.
14:00 – Best restaurant in Magic Kingdom:  Jungle Navigation Co. LTD Skipper Canteen. This is right by the Jungle Cruise in Adventureland. We love Skipper Canteen because of the atmosphere and actual value of the meals. Great menu and great portion size.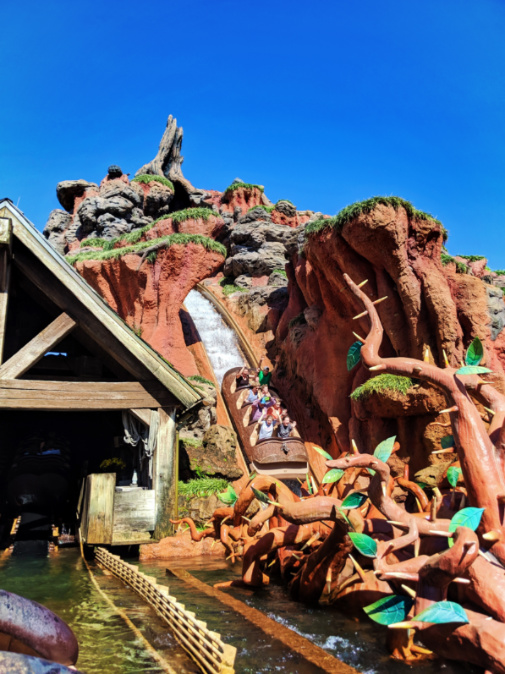 Best attractions and food in EPCOT
17:40 – Best picks at EPCOT and a breakdown: EPCOT is much less magical but is fun for the food and rides. This is where you'll find the high tech rides, classy adult beverages, wonderful recreations in the International Showcase. Victoria says that she feels that EPCOT is a more mature park and appeals to adults more. Lots of new features coming to EPCOT including an outer space restaurant, a Ratatouille ride, and a Guardians of the Galaxy coaster. Top picks for EPCOT attractions include:
Meeting Baymax – a really special experience available in EPCOT.
Soarin' Over the World – what a cool experience! Soarin' Over the World is great for nearly everyone, and it's even fairly doable for people with motion sickness issues. This replaced Soarin' Over California in Disney's California Adventure.
Test Track – this is a car racing attraction where you get to design your own car. It has taken on a more futuristic, Tron-like feel. It's still really cool but it's not as great as it used to be (if you'd been on the previous ride).
Frozen Ever After – a really fun ride, Frozen Ever After has amazing animatronics and its track moves you through in a very unique way. It's beautiful and is one of the best attractions in Disney World.
Mission Space – this is as realistic as regular people will get to blasting into space.
27:30 – Best restaurant pick in EPCOT: Garden Grill character dining. Located in the Land area of EPCOT, Garden Grill is a family style buffet and there are awesome vegetarian options. The quality of food is top notch among the top restaurants in Disney World. They do a great job being careful about food allergens for guests. We had a great chef experience at Disney's Aulani and taking care of our food allergies.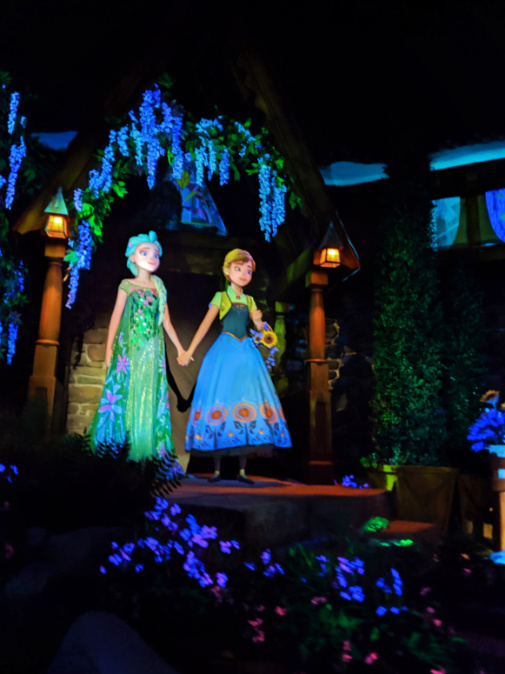 Best rides and dining in Disney's Hollywood Studios
30:00 – Disney's Hollywood Studios is a fun park that joins the movie side of Disney with the fun and glamour of Hollywood. With several areas, such as the Chinese Theater, the back lot, Toy Story Land and Galaxy's Edge, it's a really cool park!  The best attractions in Disney's Hollywood Studios include:
Toy Story Mania – a really fun ride in Toy Story Land, it's a fully interactive ride. It's very family friendly and engaging. The queue is fun to wait through and the ride length is surprising long. Totally worth the wait or FastPass.
Rockin' Rollercoaster – this is one of the most adult rollercoasters. This is such a surprising coaster and is really intense. So awesome! If you don't like surprises or can't stand G-force, this is NOT the best attractions in Hollywood Studios for you.
Slinky Dog Dash – this is the perfect starter roller coaster for kids or wary adults. It's a very long coaster and is overall very fun. Check out the height requirements for Slinky Dog Dash here!
Lightning McQueen's Racing Academy – if you're visiting Hollywood Studios with kids, this is one of the most fun experiences to have with them. Lightning McQueen live, in-person! The effects and storyline are great and both kids and adults enjoy the show.
Indian Jones – this is one of the best shows at Disney World, so it's one of the best attractions overall in Hollywood Studios. This is a full on indian Jones themed stunt show in the style of filming a movie scene.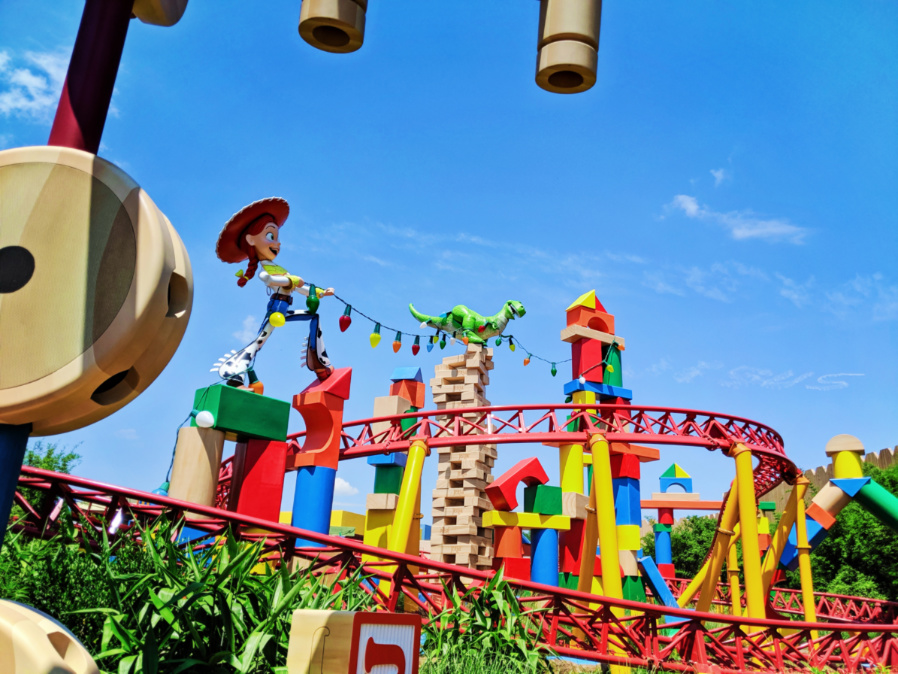 35:00 – Best dining at Hollywood Studios – we tried to keep it to a minimum, but there are few great dining choices at Hollywood Studios:
Sci-Fi Dine-In Theater Restaurant – a lovely sit down dinner place that's just like being at a drive-in movie! Reservations are usually required for the Sci-Fi Dine-In Theater.
The Brown Derby – located in the Hollywood Blvd area, this is one of the nicest restaurants in Disney World. Victoria stated that the Brown Derby will run you two dining credits, but it's worth it. This is the best table service in Hollywood Studios.
Woody's Lunchbox – this is the most fun outdoor restaurant in Hollywood Studios. It's located in Toy Story Land and has a great menu. Tip:  get there BEFORE lunch time to be able to get a seat. Also, use Mobile Order to make it faster.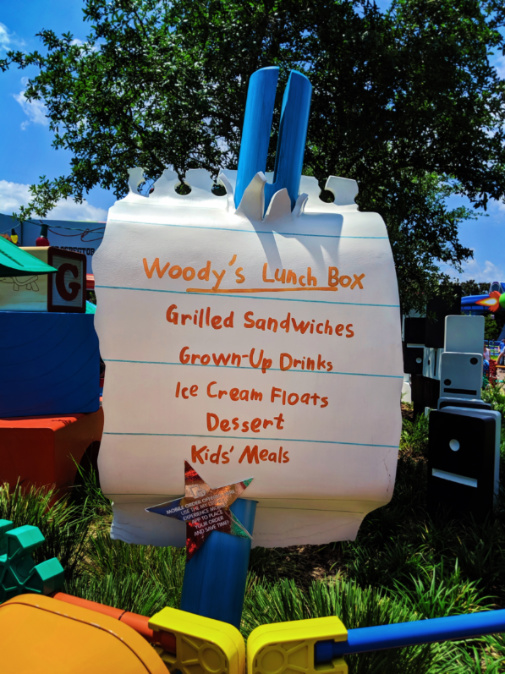 Top Attractions in Disney's Animal Kingdom
37:15 – Disney's Animal Kingdom is the fourth park at Disney World. It's much more than a zoo, but is an immersive experience taking you all around the world, blending wildlife and cultures. The shows are fun, the rides are EPIC. The food is high quality.
Avatar Flight of Passage – this is the BEST experiential ride in Disney World. Fly around Pandora on a banshee and dive off waterfalls. It's really amazing and is even good for smaller kids who meet the height requirement. Tip:  ask to go to the stairway that goes UP to the top level so you have the best view/experience.
Expedition Everest – winding in and out of Mount Everest, this is one of the most fun roller coasters around… and we're not going to talk at all about what you encounter because we give no spoilers. Tip: you can do single rider on this attraction.
Dinosaur – this is a rather intense
Kilamenjaro Safari – nearly free roaming wildlife is wonderful. From baby giraffes to a pride of lions
40:30 – Best restaurants in Disney's Animal Kingom:  Yak & Yeti, Tusker House, and
Yak & Yeti is both sit down dining and walk up quick service. It's a blend of Thai, Indian, Nepalese and other Asia cuisines. Love it!
Tusker House – this is some of the best food in all of Disney World and is actually character dining. It's expensive, but it's the best value for the price point.
Satu'li Canteen – a quick service restaurant in Pandora, there are great vegetarian options, and the menu is pretty healthy.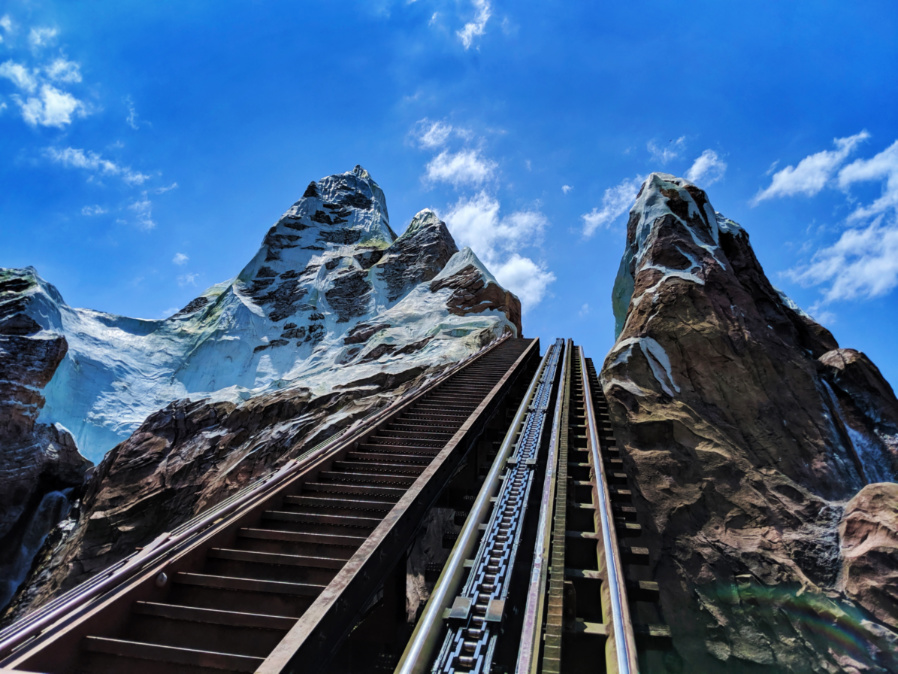 Thanks for hanging out with us. Be sure to visit Victoria's site, DisneyTrippers.com and reach out to her with any intensive planning inquiries for Disney World. She knows the best attractions in Disney World, knows a ton about the hotels on and off property, and is an amazing person in general. And also, please let us know if you have any questions!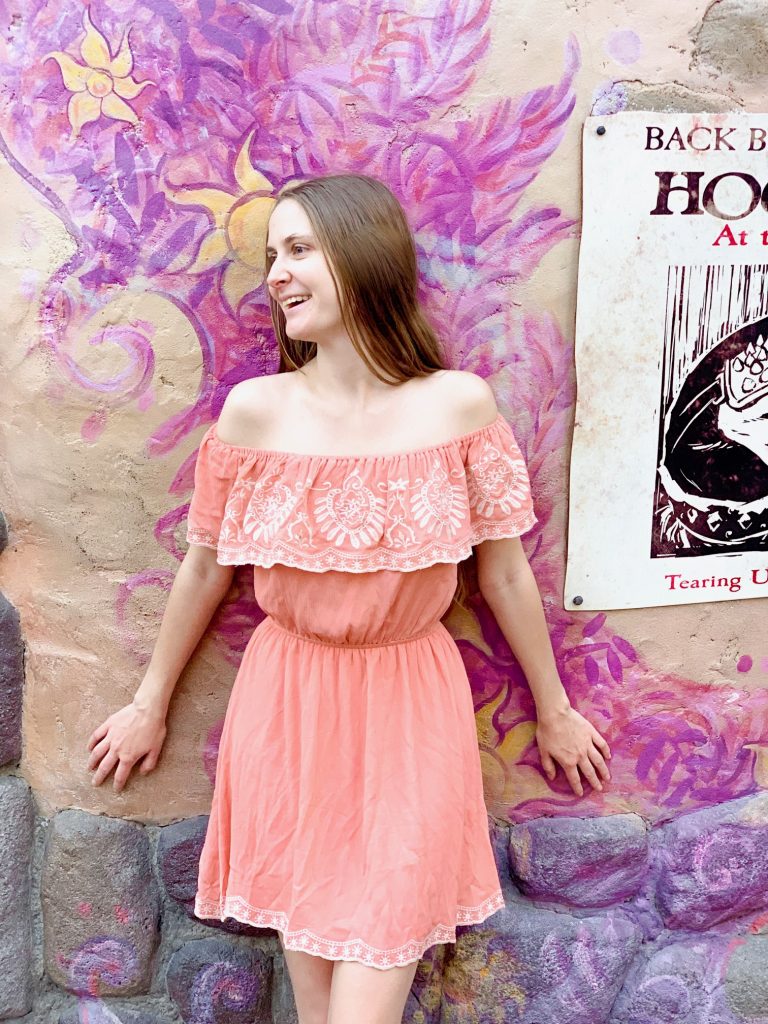 What do you want to hear about from us on our podcast? Please leave us a comment below or send us a note with your questions and what you'd like to hear. We are excited to share!
CHECK OUT OUR MAIN PODCAST PAGE FOR MORE EPISODES!
If you'd like to visit our specific podcast host page, feel free! There are lots of options to subscribe to the 2TravelDads Podcast.