It was so great to stay in lodges on our #2TDgoparks2016 roadtrip. After several days of snow chains and foiled hiking plans it was nice to arrive at the Tenaya Lodge at Yosemite. We'd stayed in some pretty small lodges within Sequoia and Kings Cayon National Parks for our nights prior to getting to the Tenaya Lodge, so when we pulled up to Tenaya we were a bit blown away.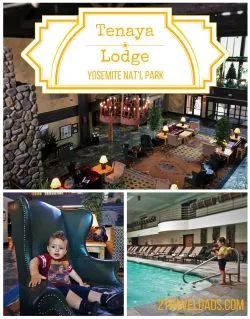 The Tenaya Lodge at Yosemite falls just outside the southern entrance to the Park, which gives them space and license to elaborate on the National Park Lodge experience. They welcomed us in and got the kids set up with some distractions until we could actually settle into our room.
I (Rob) met with a representative of the Tenaya Lodge and she filled me in on all of the many things we could do if we weren't heading into Yosemite National Park that day. Yeah, no. After a long day of driving and two wild kiddos, we would NOT be heading into the Park. We weren't at Tenaya Lodge for a long time, just one night actually, so we didn't get to do everything, but we'll share the things we did that helped us unwind and ramp up to four incredible days in Yosemite National Park.
Occupying kids at Tenaya Lodge
Because Tenaya Lodge isn't within Yosemite National Park, they've got their own ways to entertain their guests. If you're a lodge-sitter (like we often are) you'll find ample places to chill and take in the mountain atmosphere. The lobby is very grand and makes for a comfortable sit or place to let kids run a tiny bit wild. You know how sometimes you arrive and your room's not ready yet? That's what I'm talking about for sitting.
If you do want to maximize your time though and want to swim while housekeeping finishes your room, you can totally use the locker rooms by the pool to jump into swim clothes.
Pools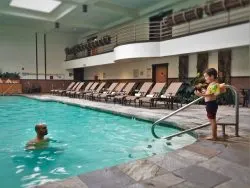 You know we love pools and bathrobes. Well, Tenaya Lodge totally had us covered on both fronts. The bathrobes were wonderfully soft and actually had long enough arms! We love bathrobes.
But then the pools! Oliver was disappointed that the outdoor pool wasn't open for the season yet (and we didn't even tell him that it's got a kid area with fun water stuff)… but he got over it quickly when we got to the HUGE indoor pool. It was perfect and we had it all to ourselves. It was great to have plenty of lounge chairs available to inspect, as that's what a 1 year old tends to do when he's not in swimming mood.
There were also two spa tubs in the indoor area. We only used one and it was great for kids because it was just really warm water, not a boiling hot tub. When you're doing family travel, even when you have the great outdoor of Yosemite close by, it's great to have a pool.
Tip: if you're arriving early at a hotel, pack the swim clothes in an easily accessible spot so you can actually use the pool, especially if later you're not going to be able to.
Outdoor Activities and more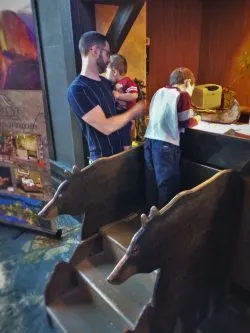 The Tenaya Lodge has some cool interactive boards in the lobby that guide parents through activities and schedules. This also includes kids club type services that a parent may or may not elect to do. We never do the kids club stuff at resorts because we've got the philosophy of going on vacation TOGETHER. If you want to do it though, rock on with ya' bad self.
The coolest activities that we saw that we totally would've done if we had one more day include:
an arhcery range (kid friendly)

a rock climbing wall (perfect to whet the whistle for time in Yosemite where you can't swing a dead cat without seeing a rock-climber)

Guided hikes to a nearby waterfall

Tenaya Lodge at Yosemite has set everything up for a variety of travel styles and families with different plans and means. We've got to give them props for it.
Accommodations at Tenaya Lodge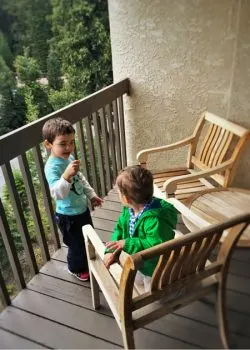 We LOVED our room. Tenaya Lodge is set up for families, like we said. Our room type was perfect for us. It was very spacious with a foyer, wet bar, master bed area, and then a short wall to partition the living space which contained the pull out sofa. We also had a perfect private balcony looking out across the valley to the southwest (not the Yosemite Valley). Oh, and we had plenty of options for where to place the crib, which if you read our article about the John Muir Lodge, we faced an obstacle with that.
Tip: for ideas of how to make a hotel stay as easy as possible, including room selection, check out our post about family travel in hotels.
The highlight of our room was the enormous bathroom. There was a water closet, beautiful shower, large vanity area and… wait for it… a deep jetted tub with a shutter-style wall above it. The kids really enjoyed the jets. Babies in a jetted tub are hilarious. And then when the kids went to sleep the room was large enough that the tub could still be used with jets without waking the kids. Awesome.
Great food at Tenaya Lodge
We were at Tenaya Lodge for just long enough to enjoy three meals there. We typically only have a meal or two at a hotel, but due to the lodge's location and our timeline, we did three.
Jackalopes Bar and Grill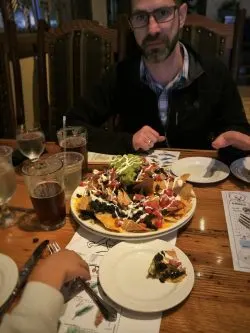 We had lunch at Jackalopes right after we arrived at the Tenaya Lodge. Do you get hangry travelers in your family? We do!! It's always nice to have on-property dining for those times. Something else we have in our family is an egg allergy. Do you know which common restaurant foods have egg in them? All of them, or at least a huge number, especially when it comes to kids menus. We found an awesome solution at Jackalopes though and may have to use it more in the future: nachos! An order of nachos with meat and beans and other good stuff met all of our families needs and it was an easy egg-free solution.
Note: this is the only time you'll ever see me post about nachos. Actually, maybe not. I love nachos. Moving on…

Note 2: the lunch prices and kids menu prices at Tenaya Lodge made us chuckle. Like, we looked at each other and said "Thank goodness the nachos are huge…" Typically we don't mention pricing, but these prices were high enough that it's worth noting in the event that you're traveling on a budget and don't plan ahead.
Sierra Restaurant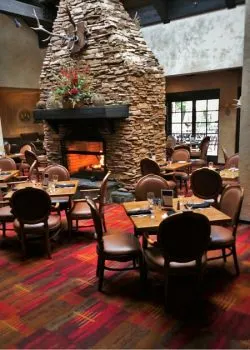 We fell in love with the rustic setting of the Sierra Restaurant. We are prepping for a renovation at our own house and really loved the fireplace. But anyways, the food…
Dinner
We found a new favorite appetizer: tempura asparagus. So good and egg free! We also had some wonderful entrees that captured what you'd expect of a mountain lodge. Chris ordered braised short ribs with polenta. There was nothing left from his dinner, but I can attest the the short ribs were quite flavorful and tender. I enjoyed the cedar planked salmon with wasabi mashed potatoes. I called out the obsession Pacific Northwest people have about salmon in our article about the Kingfisher Restaurant:
"Stereotypes exist for a reason. My favorite stereotype about people in Washington State is that we always are eating salmon. Know what? We are. And we never get sick of it." – it's true.
The salmon was perfectly cooked for a fish lover, where it still could've had more time in the heat, but was perfect and thoroughly cedarized. Is that a word? Oh, and then for dessert we shared an apple cobbler type dish that was bombdiggity. Chris particularly is a fan of salty-sweet desserts and this got high marks from him.
Breakfast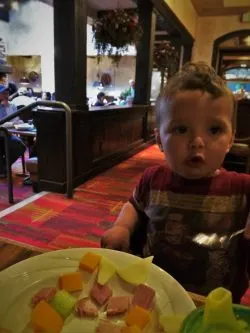 We've had some awesome breakfast experiences in hotels, from simple selections at the Casa Marina Hotel in Florida to the craziest brunch spread at the Inverness Hotel in Denver. Breakfast in Sierra Restaurant was perfect for our family. You know how Elliott has an egg allergy which provides for a food struggle a little too often? Well, the breakfast as the Tenaya Lodge had thoughtful separation and selection for our little guy. He was genuinely happy when we put breakfast in front of him and it wasn't yogurt and fruit, which has become the travel standard.
Oliver also had fun picking his breakfast… which WAS mostly yogurt and fruit. These kids are so funny.
Chris and I enjoyed the gambit of choices before heading into Yosemite National Park for the first time. From exceptionally fresh fruits to buscuits and gravy, cranberry muffins to cinnamon monkey bread, we tried a little of everything and enjoyed watching the happy li'l dudes take a lifetime to eat… because that's what Taylor kids do best.
Tip: coffee to go is often available in hotel dining. You should always take advantage of this, especially if you have a long drive ahead. FYI, The Peaks at the Wuksachi Lodge also offered this and we now expect this as a standard.
The Tenaya Lodge at Yosemite is really beautiful and has so many options for having fun or relaxing on property. We were glad to be welcomed for a short stay and it was a great way to launch us into the awesome Yosemite National Park leg of our trip.