If you didn't grow up in California, you may not have heard of Mammoth Lakes before. Known to San Francisco Bay Area residents as the place to go for winter skiing, in the summertime it's a quiet mountain getaway. There are so many things to do at Mammoth Lakes in the summer, and it's the perfect addition to a Yosemite National Park Vacation.
Most people think of it as a skiing destination like Vail, CO or Big Ski, MT, as it is one of the closest ski areas to Los Angeles, so we wanted to find the best things to do in Mammoth Lakes for a summer visit. There are fewer people visiting in summer and the destination takes on a very different feel. Outdoor activities and sightseeing are plentiful and you get an ideal combination of beautiful views and bizarre science. I love it!
Since we travel as a family of four our time in Mammoth Lakes and Yosemite is a combination of really active mornings and relaxing afternoons. We like to mix hiking and sightseeing with more chill tours and enjoying the actual townsite or resort space. If you have additional things to do in Mammoth Lakes that we didn't include in our travel plan, let us know by leaving a comment or sending us a note.
Be sure to check out our Favorite Places to Eat in Mammoth Lakes!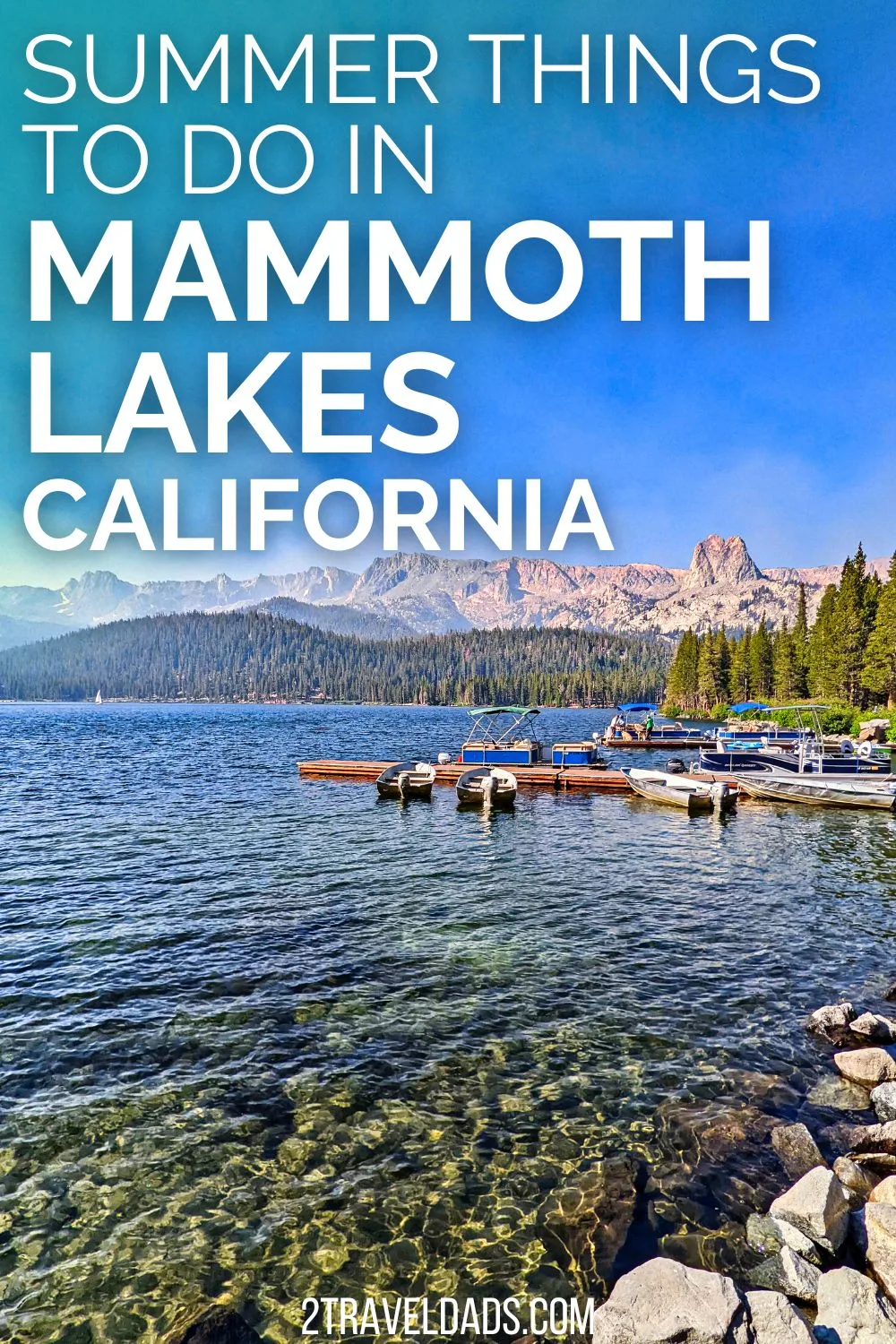 Nature Things to Do in Mammoth Lakes
We'll start with getting out into nature, because that's what we really fell in love with at Mammoth Lakes, CA. There are some really interesting, beautiful hikes in the area as well as some unique geologic features, similar to what we we found doing the eastern Utah road trip. Also, getting to visit Devil's Postpile, part of the National Parks Service, is pretty cool.
Kayaking on Lake Mary
Since Mammoth Lakes has several bodies of water around the town, of course you must plan to get out on the water. Kayaking on Lake Mary is one of our top picks for kayaking in the Sierras of California. Starting at the Pokonobe Marina, paddle along the eastern edge of the lake and circumnavigate the shore. The water is exceptionally clear and beautiful, with the shallows being perfectly blue with lots of cool things to see under the calm surface.
Note: there is a small dam at the northern end of the lake, and you need to stay away from its flow. It's not a huge drop, but it's also not safe.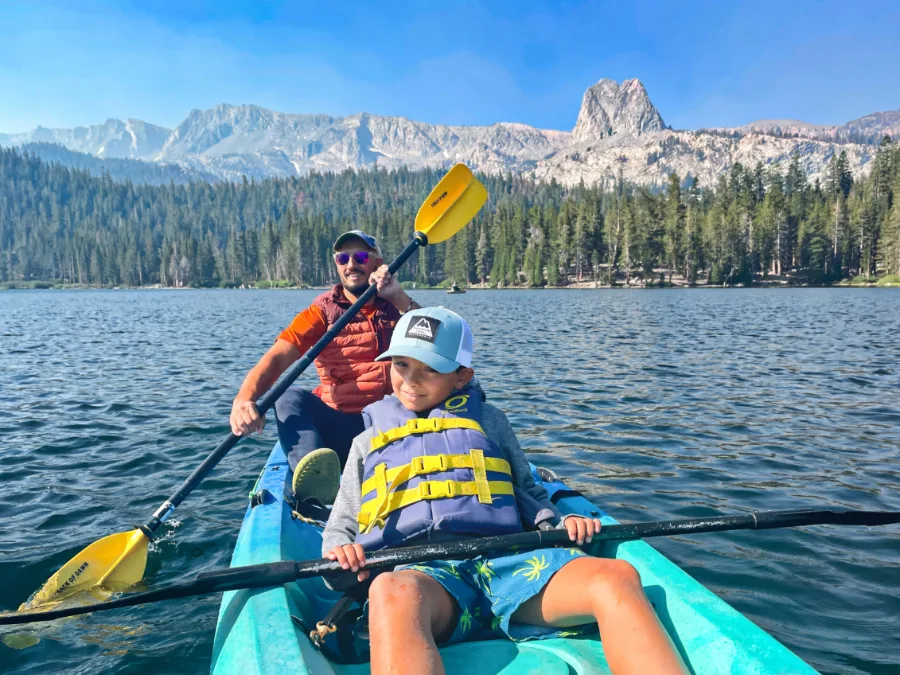 Boat Tour to the Lake Crowley Stone Columns
Yay! Our first bizarre geology spot in the Mammoth Lakes! The southern shore of Lake Crowley is truly unique. The rock formations at the edge of the water are really cool, being over 100 stone columns and passageways. Take a boat tour or plan for a long paddle to get to the Crowley Lake Stone Columns.
As you explore the stone columns, respect their uniqueness and DO NOT scratch into them, graffiti them, or try to break them. Even though they are made of rock, they are very fragile and should be taken care of so future generations can see them too. Once you've wandered and been thoroughly delighted with geologic time and process, depart the Crowley Lake Stone Columns so the next visitors can enjoy it.
Our guide for our tour to the stone columns was Fish Mammoth, who normally does fishing tours in the area, but took us out to the Stone Columns and around the lake. We had a great experience with him!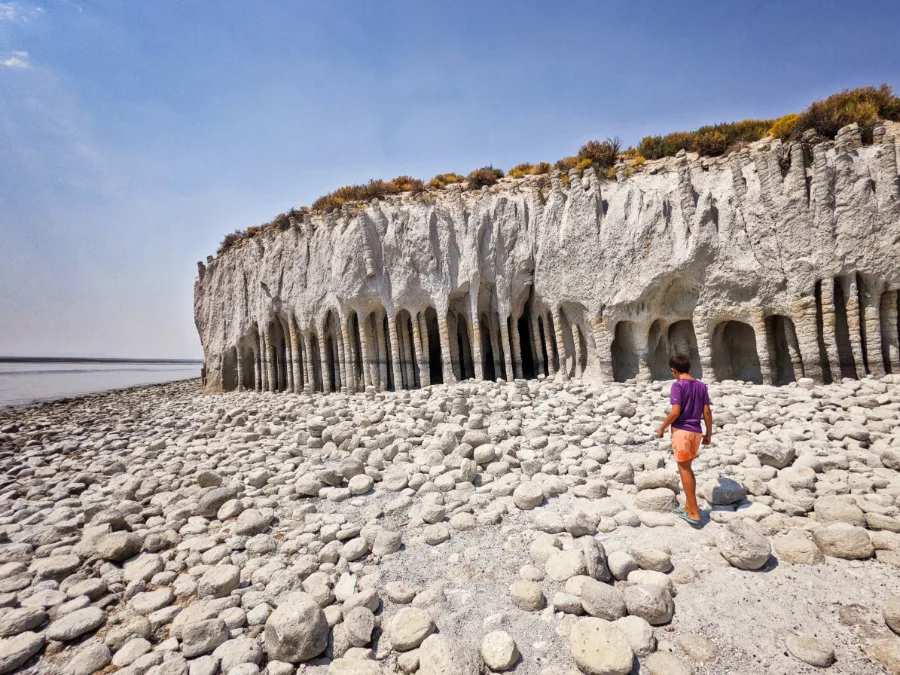 Hiking at Devil's Postpile National Monument
California has lots of National Park Service sites, and Devil's Postpile National Monument isn't the biggest of them, but it's pretty cool. Again with the geology geek in me getting excited, the postpiles are stone formations made of basalt and they echo many of the formations in Hells Canyon, particularly the Devil's Slide on the Snake River.
There are few nice hikes within the park:
start with Minaret Falls, which is a beautiful gorge
continue onto Devil's Postpile formation
hike through the Ansel Adams Wilderness to Red's Meadow OR
proceed to Rainbow Falls, hike back to Red's Meadow
Love geology? Check out 11 Cool Geologic Sites in Mammoth!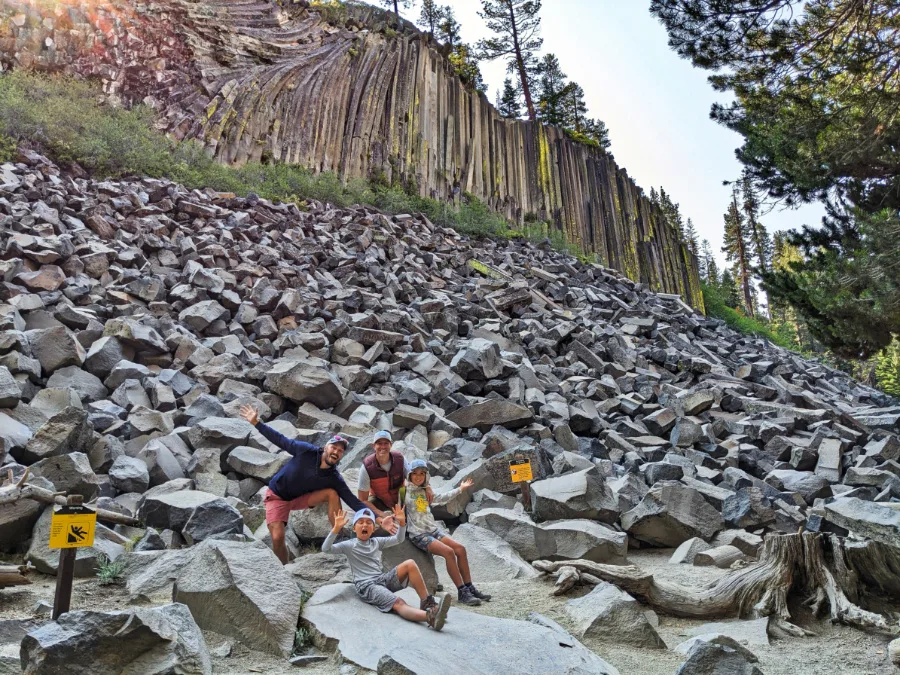 Need to Know for Visiting Devil's Postpile National Monument
To minimize crowds in Devil's Postpile there is a shuttle that takes you all the way to the end of the park. This is run by the Eastern Sierra Transit, which also transports people all the way from Reno to Lancaster, CA. While the shuttles around the town of Mammoth Lakes are free, the ride into Devil's Postpile does have a fee ($15 USD, as of Aug 2022). This is run in partnership with the National Park Service and makes stops from the first viewpoint of the Minarets to the end of the line at Red's Meadow.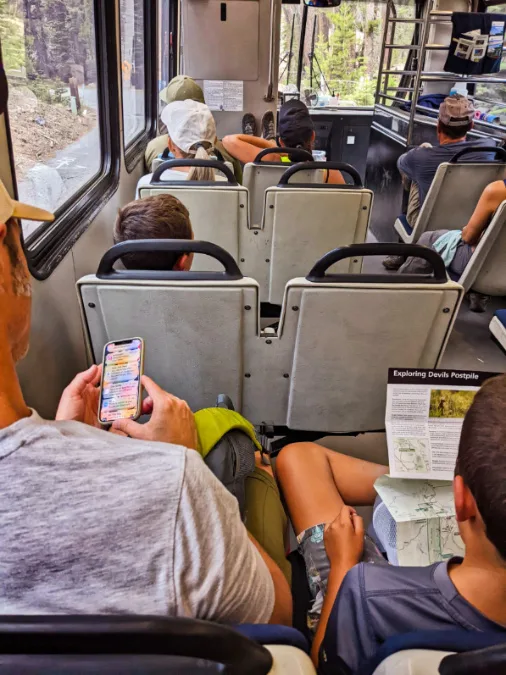 Hike to Rainbow Falls
This 1.5 mile hike is absolutely worth your time. Rainbow Falls is at the edge of Devil's Postpile National Monument and is the best part of hiking during a trip to the park. At 101 feet tall, Rainbow Falls is one of the best waterfalls in California outside of Yosemite National Park. What makes it so great is not just how pretty it is, but you can actually go to the base of the falls, and if you want to swim, you can!
The hike to Rainbow Falls isn't difficult, with only 406 feet of elevation gain and a good portion being in the shade. Along the way, watch for adorable forest rodents EVERYWHERE and birds. Lots of birds.
Note: you can either take the shuttle to Red's Meadow (Shuttle Stop 9/10) and hike into Rainbow Falls (1.5 miles, or 3 miles roundtrip) or you can get off at the Devil's Postpile shuttle stop (stop #6) and hike from there past the rock formations to Rainbow Falls, then back to the Red's Meadow stop (4 miles total from Shuttle Stop 6 to Falls to Stop 10).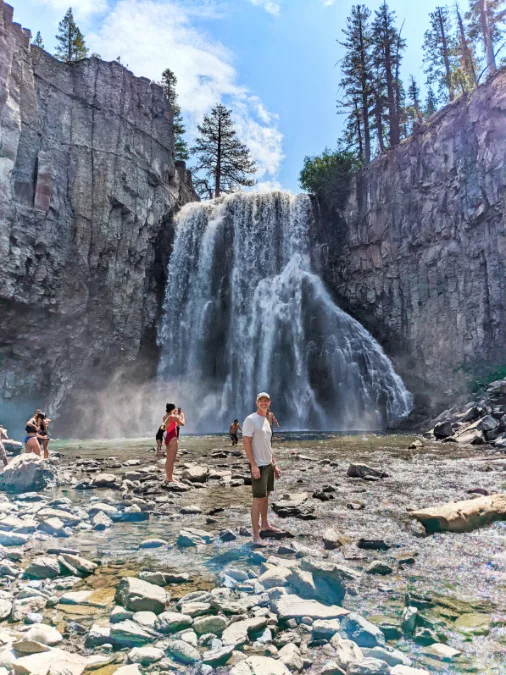 Hot Creek Geologic Site
I love when we get to visit hot springs, whether they're in Yellowstone National Park or in random National Forest areas. Hot Creek Geologic Site is one of the latter. Just off Highway 395 on the way to Lake Tahoe and Carson City, NV you'll find the viewpoint and trailhead to explore the valley.
Hot Creek flows over several different hot springs, and in summer or winter, they're just the coolest looking, and one of the best things to do at Mammoth Lakes. You can't get into these hot springs due to the arsenic, but the view and hike along the creek is really beautiful and unlike anything else in the area.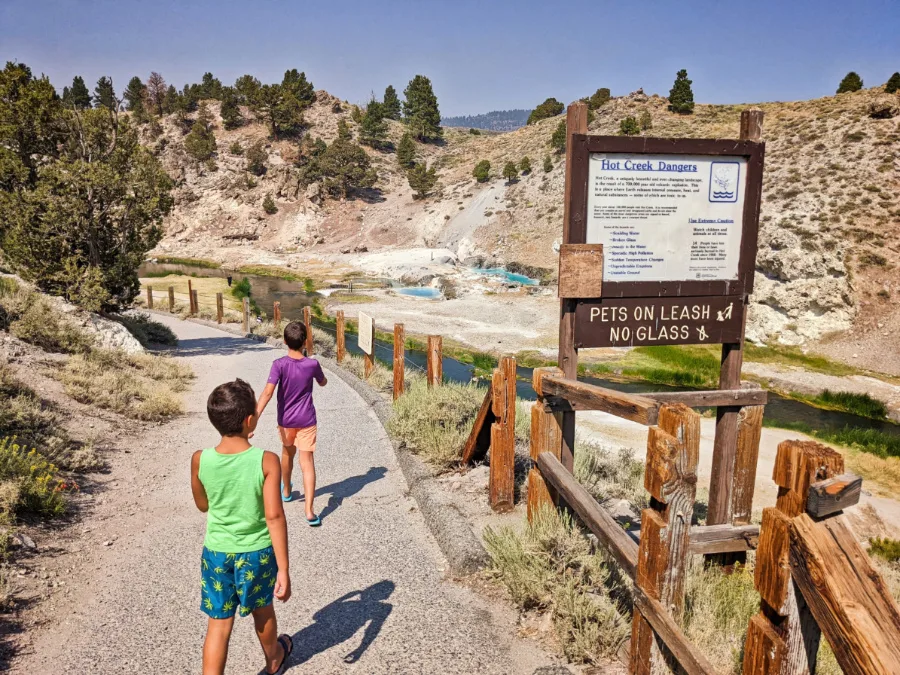 More Hot Springs to Visit Near Mammoth
Because you don't get to get into the springs at Hot Creek Geologic Site, you're going to want to find someplace that you can have a soak. There are actually quite a few hot springs stops to make around Mammoth Lakes, but they aren't all created equal. As you look on Google or Instagram, you'll see picturesque hot springs built up in the middle of dreamy fields. That's not an accurate description of most.
Shephard Springs, Rock Tub Hot Springs and Hiltop Hot Springs are each rather small and they aren't the nicest, natural spots. If you just want to get into the hot mineral water, these sites have a bit of structure to them so you can access the water safely, but due to their unnatural construction and humans not being conscious of their actions, they are kind of dirty and not the ideal soaking spots.
The best hot spring to visit by Mammoth Lakes, CA is Wild Willy's Hot Spring. There is a parking area, maintained boardwalk trail and even a port-a-potty at the parking site, which is much more than any other hot spring can boast. Once you've done the five minute walk to the hot springs, there are several pools you can get into, and they're all quite hot, but totally doable. The water is clean and clear and it's EXACTLY the type of hot springs experience we look for.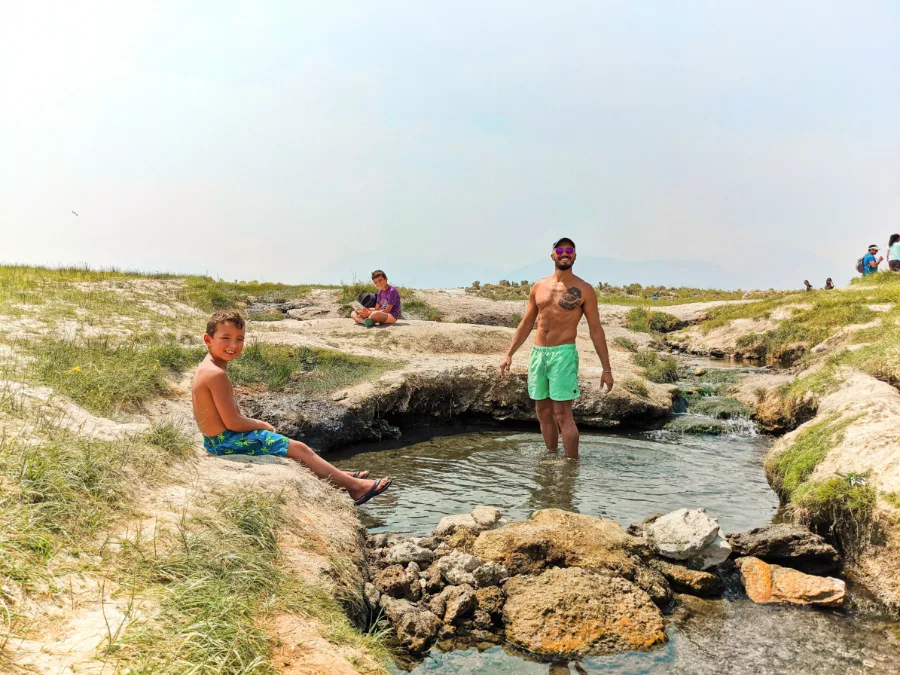 Things to Do in the Town of Mammoth Lakes
Even though it's not as big or doesn't have as many historic buildings as Breckenridge, Colorado the town of Mammoth Lakes reminded me of it. Ski resorts and inns surrounding a cute town full of good food and outdoors outfitters. I love these sorts of places and they make for great family destinations, especially in summer.
E-Biking or Mountain Biking in Mammoth Lakes
Around the town of Mammoth Lakes, there are plenty of bike paths to ride on. Rent E-Bikes or traditional bicycles/mountain bikes for a great afternoon activity. Most of the bike paths are paved, with ample mountain bike trails not far off.
If you're not traveling with your own bikes, you can rent them from several places. Footloose Sports has both regular and EBike rentals, so get a hold of them in advance to make sure you can having a biking day when you're in Mammoth Lakes.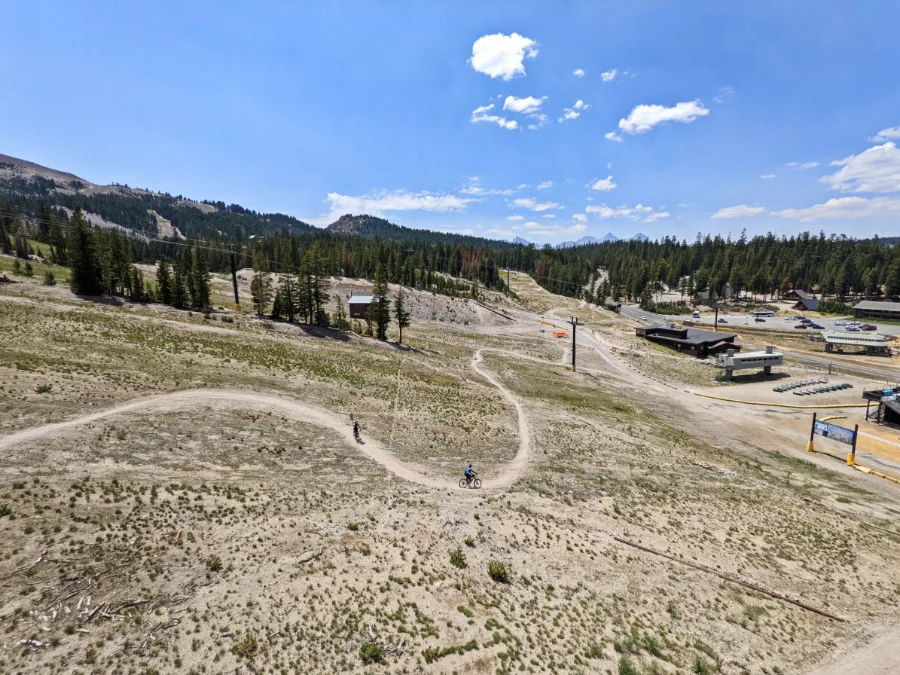 Explore the Village of Mammoth Lakes on Foot
Mammoth is an interesting town in how it's set up. There are several parts of town with a lot of businesses clustered together, but not a downtown, like there is in Breckenridge. Mammoth does have a village area though, and around it are ski shops, restaurants, clothing stores, and several hotels and resorts. In the heart of it is the winter gondola up to Mammoth Mountain, which shuts down for summer although the rest of the village is hoppin'.
Even though it's not the picturesque downtown space you might expect, there's always something going on in this small development. All summer long there are music events and the community, both seasonal and residents, gather for concerts and weekend nights of fun.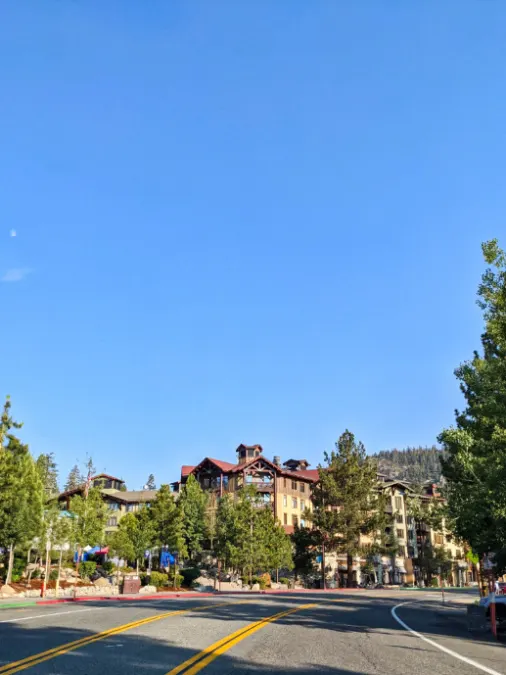 Play at Mammoth Mountain Lodge Adventure Center
Even though we really enjoy hiking and kayaking, give our family an afternoon at a basecamp or adventure hub and we'll be content. At the base of the ski slopes you'll find all kinds of activities, both for kids and adults at the Mammoth Adventure Center. Here you can rent mountain bikes for riding down the ski runs in summer, there are guided hiking options, kid activities and more.
For us, we started with lunch at the Yodler (delightfully German/European and totally fun) and then the kids had full run of the Adventure Center. A ropes course in the sky was the first pick, followed by zip line, archery, small dirt bikes, rock wall, a mining station (additional cost), stunt trampolines and then us dads enjoyed a beer on the deck while they played. Totally fun for our family and perfect after a day of hiking.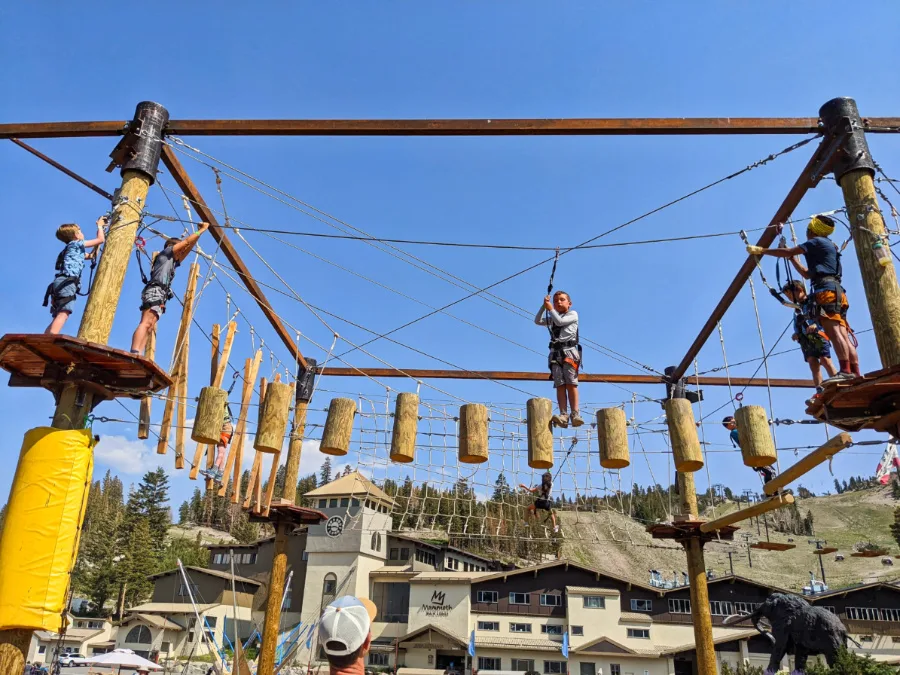 Gondola Ride up Mammoth Mountain
We love a great viewpoint, especially when you don't actually have to hike all the way up. Riding the gondola up Mammoth Mountain is one of the best things to do for any age. You don't have to get winded climbing the mountain and can see for miles and miles. Once at the top, the elevation is 11,053 feet and I'll confirm, you feel it.
Read our article about Preventing Altitude Sickness here!
The actual gondola ride lasts about 10 minutes each leg (two legs up, two down), and you go both up and down the mountain in it. Once at the top, you can explore and take in panoramic views, and if you want to hike down for more sights, you totally can. We opted to take the gondola back down, but there are plenty of trail options of varying difficulty if you want to hike.
A bonus of the gondola ride to the top of Mammoth Mountain is the interpretive center. Exhibits about the geology of the area, wildlife and history make it a great spot to stop for all visitors. We had to, of course, jump on the Richter scale and see if we could cause a mini-quake. There's also a snack/lunch bar at the top in case you're hungry.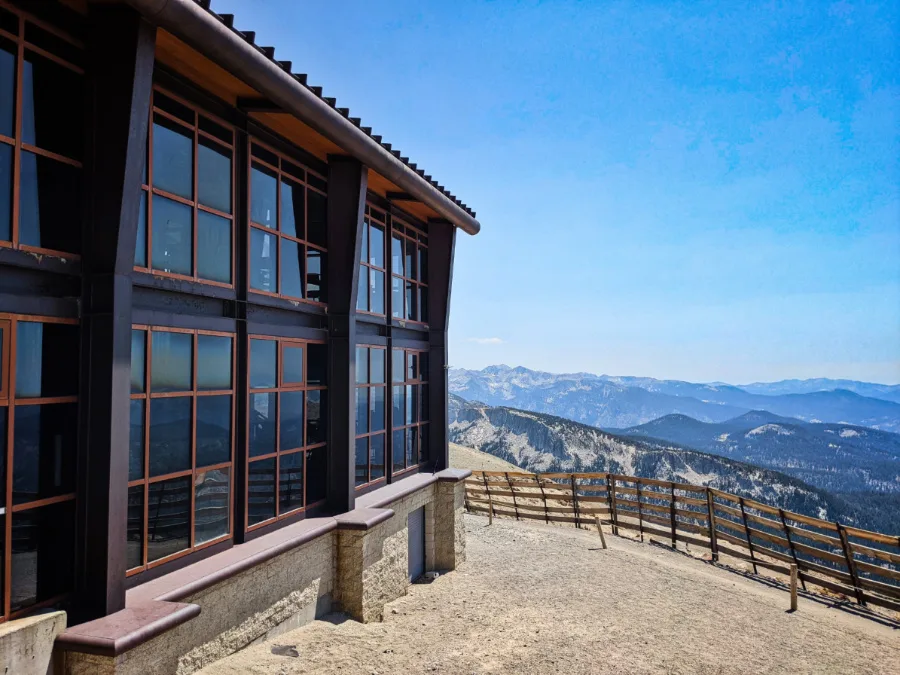 Things to Do and See Near Mammoth Lakes
After a few days enjoying the town and its activities, you may want to venture beyond Mammoth Lakes, or maybe you're heading onto one of the five Sierra National Parks: Yosemite, Sequoia, Kings Canyon, Death Valley or Mount Lassen. Before you head onto your next stop for the California National Parks road trip, there are more things to do in the Mammoth Lakes area.
Visit Mono Lake and the Tufas
Just north of Mammoth Lakes lies Mono Lake. This is one of the strangest places I've been. I remember the first time I ever saw Mono Lake, it was just before sunset as we were approaching Yosemite from the east. As we drove along the shore of Mono Lake there was a hazy layer and the creepiest silhouettes rising out of the water. Those silhouettes were the tufa formations in Mono Lake.
Tufa rock formations are made when calcium and other minerals that line the inside of hot springs are petrified and the water drains away. The earth around the petrified structures erodes and what's left are these strange formations, the inner workings of the hot springs we love.
You can see the tufa rock formations from both the southern and northern shores of Mono Lake. Visit in the morning for really cool, low light spreading across the lake, or visit at sunset to see the colorful summer sky reflected on the chalky white tufa rock formations. So cool and strange!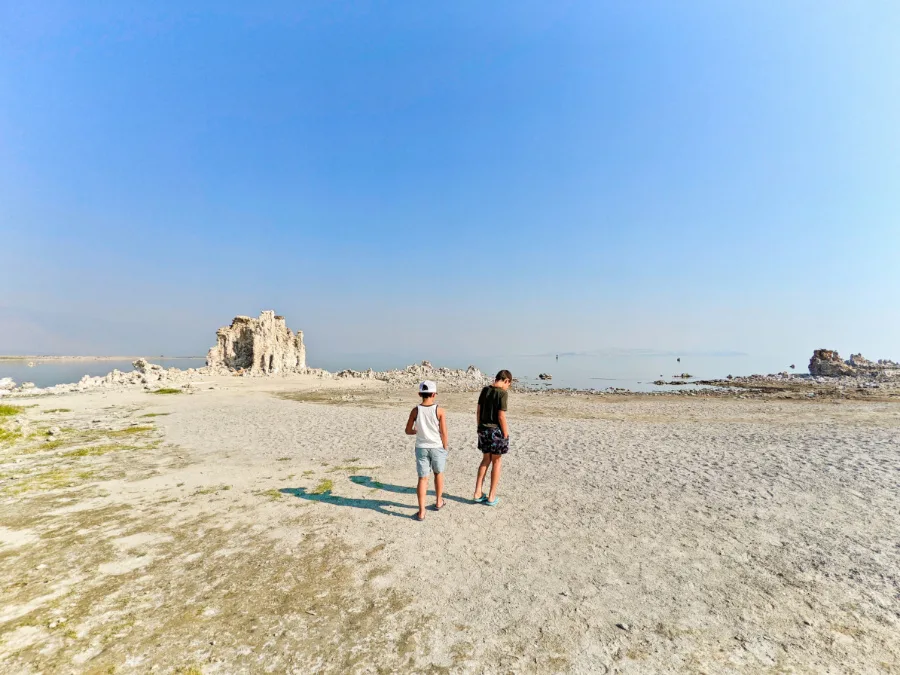 Drive the June Lake Loop
If there's a scenic drive or scenic loop you don't have to ask me twice. From the Going to the Sun Road in Glacier National Park to the Big Cypress National Preserve Scenic Loop, we always see the best sights and most wildlife on these off-the-beaten-path roadways. The June Lake Loop is north of Mammoth Lakes on the way to the Tioga Pass Road of Yosemite National Park.
The bonus of the June Lake Loop is stopping into the village of June Lake. It's kind of a rugged wonderland and it's in the most beautiful setting, with lodges, breweries and tons to do. If you're interesting in kayaking in the Sierras, the June Lake is a must, as it has four lakes!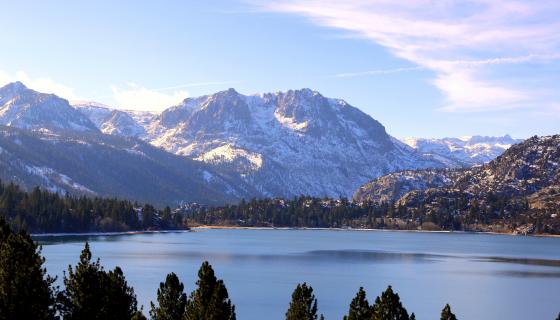 Yosemite National Park Sites to Visit Nearby
You have to at least pop into Yosemite National Park if you're visiting Mammoth Lakes. It's one of the best things to do in California, so what a treat that you can add it to your Mammoth trip. From the eastern entrance to the park, plan to hike at the Tuolumne Meadows. There are several hikes here for all skill levels. Do the Meadows hike to Soda Springs and the Lyell Canyon trail to Twin Bridges for two easy and relatively short hikes.
As you continue into Yosemite National Park, the Lukens Lake trail is an easy jaunt that's great with kids and is really easy. It can take up to two hours roundtrip. One more stop in this part of the park is the Tuolumne Sequoia Grove. If you've never been to a sequoia grove, YOU MUST stop here. It'll take you an hour or two to explore, but it's worth it. There is a tunnel tree, towering giants, and it's just phenomenal. In the southern portion of the park there is the Mariposa Grove, but if you're not heading all the way down there, the Tuolumne Grove will be quite amazing enough.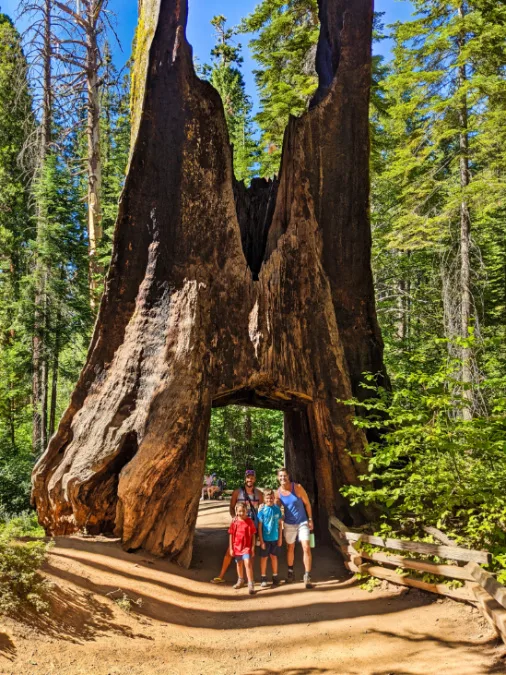 Where is Mammoth Lakes, California
So where is Mammoth Lakes, California? Located in the Sierra Mountains it's in the eastern part of the state, very near the Nevada border. Here you're closer to Lake Tahoe than San Francisco. You can add a visit to Mammoth Lakes to your California National Parks road trip, a road trip through the Mountain National Parks (all the way to Olympic National Park in Washington), or you can just tack on some extra days to a Yosemite National Park vacation.
Drive time to Mammoth Lakes:
| | |
| --- | --- |
| Sacramento | 4.5 hrs |
| San Francisco | 5 hrs |
| Los Angeles | 4.75 hrs |
| Reno, NV | 3 hrs |
| Las Vegas, NV | 5.5 hrs |
Getting to Mammoth Lakes
You can actually fly directly into Mammoth Yosemite Airport (MMH) or Eastern Sierra Regional Airport (BIH) from either San Francisco (SFO) or the Los Angeles area. In winter, you can also fly from Denver, CO.
Other airport options to get close enough to Mammoth Lakes for a short road trip if you want, include flying into Reno (RNO) or Fresno (FAT). We did the Fresno to Mammoth mini-road trip and it was beautiful at about 3.5 hours drive time via Yosemite. The drive from Reno-Tahoe International Airport is about 3 hours (and you might even see wild horses!).
Weather and Planning a Visit
Remember that visiting the Eastern Sierras means going to a more dry climate. If you're a sea level coast dweller like us, the combination of elevation and dry air can have an impact on how you feel. Be mindful of drinking lots of water and minimal alcohol.
In summer, the temperature in Mammoth Lakes, CA isn't bad at all. The highs tend to be in the 70s and low 80s (Fahrenheit), and in the winter months, it tends to be in the 40s, with freezing temps and lots of snow up in the ski areas. Also, Mammoth seems to be the land of blue skies for most of the year. Except for when a California forest fire blows smoke in from the west, it's one of the clearest places we've been in California.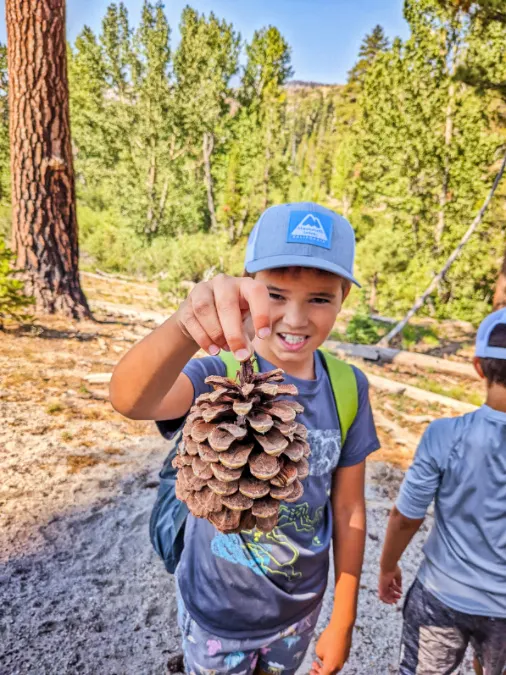 If you have any questions about planning a trip to Mammoth Lakes or the Eastern Sierras, please let us know. We really enjoy this part of California, and with so many things to do in Mammoth in the summer, it's a great off-the-beaten-path summer destination. We're happy to help others have a great trip to this beautiful place! Leave a comment or send us a note and we'll respond ASAP!