Eastern Utah is famous for Moab and Arches National Park, but there is so much more! From hot springs to petroglyphs, we've got a great list of unique sights and hikes to add to your Utah road trip. You'll love the combo of amazing geology and ancient history. Stops like these make Utah road trips special adventures to remember.
Some of these recommendations have notoriety or are a part of a more famous site, but they are also wonderful for avoiding crowds or getting a little off the beaten path. Add a few of them (or all of them) to your Utah road trip plan for an awesome experience.
Be sure to check out our Utah National Parks Road Trip plan too!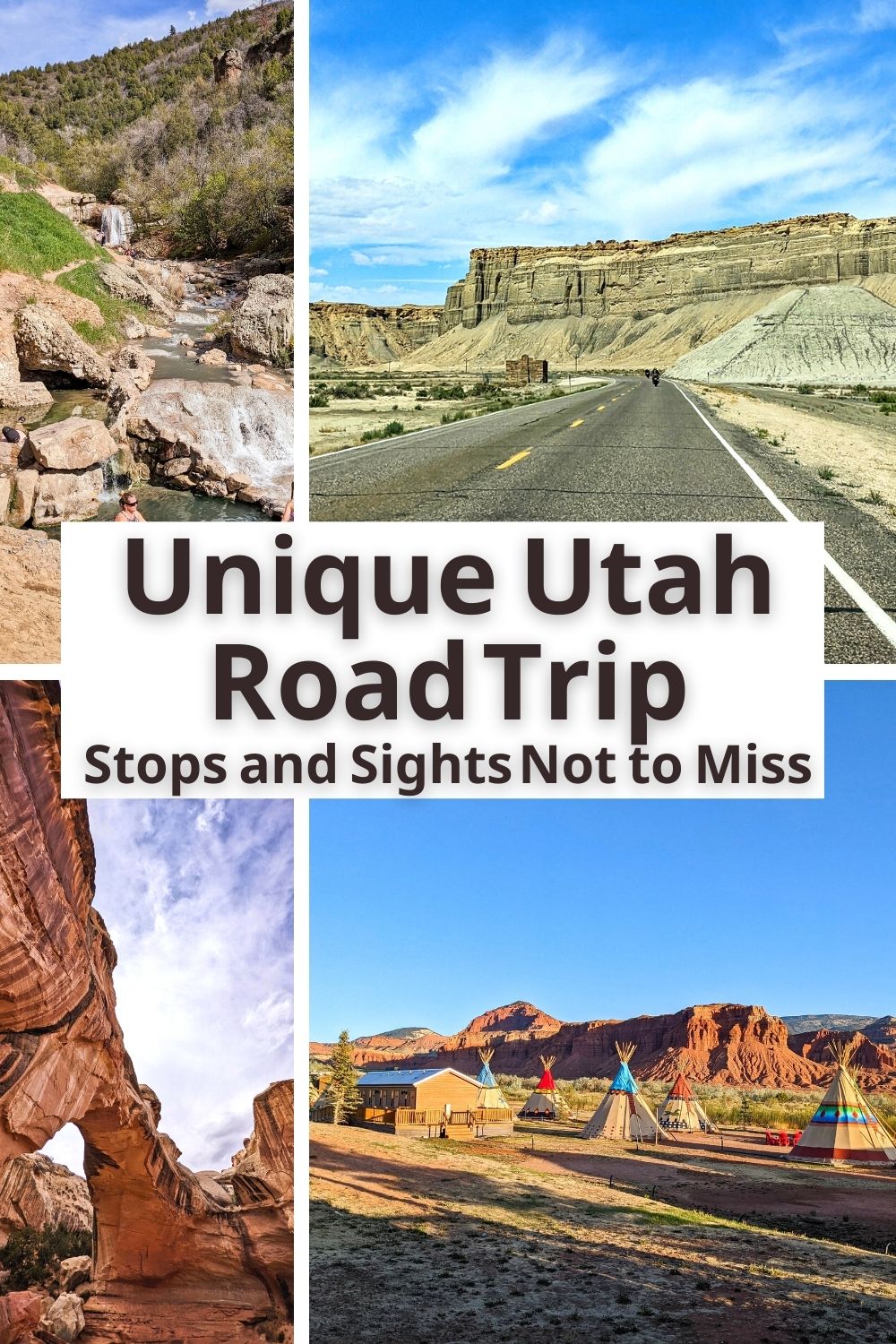 Where to Stay on a Utah Road Trip
I'm sure as you're planning your Utah road trip you're looking at all sorts of places to stay along your route. Because the state is so spread out, we recommend picking three or four towns and staying 2 nights in each. This will both give you enough time to explore the area AND not be completely worn out from constantly driving. Below you'll find some maps for pricing out hotels as well as info about places we've stayed on our road trips and really liked.
Green River / Northwest Utah
This part of Utah is about 3 hours from Salt Lake City and is a good hub to stay for exploring some of the canyons and the Uinta-Wasatch-Cache National Forest. If you want to do a side trip to Dinosaur National Monument, Green River is a good place for a home base to be able to add that to your road trip.
We've stayed at the Holiday Inn Express here. It's a good, solid choice and is consistent with the HIE brand experience.
Where to Stay in Moab
Moab is the hub for Arches National Park, Canyonlands National Park, Dead Horse Point State Park and much more. Moab is actually a cool little town with most major travel brand hotels. You'll find that rooms cost a bit more in Moab, but there are actual activities and tons of restaurants in the town. It's a great place to stay if you know you prefer to have more available services.
We really loved our stay at the Hoodoo Moab Hotel. It's very pricey, but if you have it in the budget and you want a break from the dusty side of Utah, book a night or two here and recharge. Loved it!
Our budget pick in Moab is the Best Western Plus Greenwell Inn. It's in a great location, has a very nice pool and patio area, and a good fitness center. Also, breakfast is included which is always a bonus.
Where to Stay in Southeast Utah
If you're planning to come this far for the Anasazi ruins or the Goosenecks of the Colorado River, you're going to be a bit limited with your options for where to stay. Monticello is close to the Needles District of Canyonlands National Park, but then it's far from everything else. Bluff, Utah is a beautiful little town and is directly between several points of interest, and it's surrounded by towering cliffs which makes it extra cool to visit.
We had the BEST stay at the Bluff Garden Cabins. A collection of very nice, new cabins with full amenities in the cabins. There isn't a pool onsite, but it's so charming that you won't mind.
Fifth Water Hot Springs Hike
Located about an hour and a half from Salt Lake City, the Fifth Water Hot Springs are a series of bubbling springs flowing into a creek. Rocks have been built up to make terraces where the hot mineral water collects and get diluted by the stream. Walk across the cool rushing creek and have a sit in a hot pool. It's perfect. 
The hike takes about three hours in total, but you could make it last longer if you want to bring a picnic and relax at the springs all afternoon. Such a fun, unique Utah road trip stop!
Note: it's posted halfway through the hike that the hot springs are clothing optional. We didn't see any nude bathers when we were there, but quite a few families. It's something to be aware of though, just in case.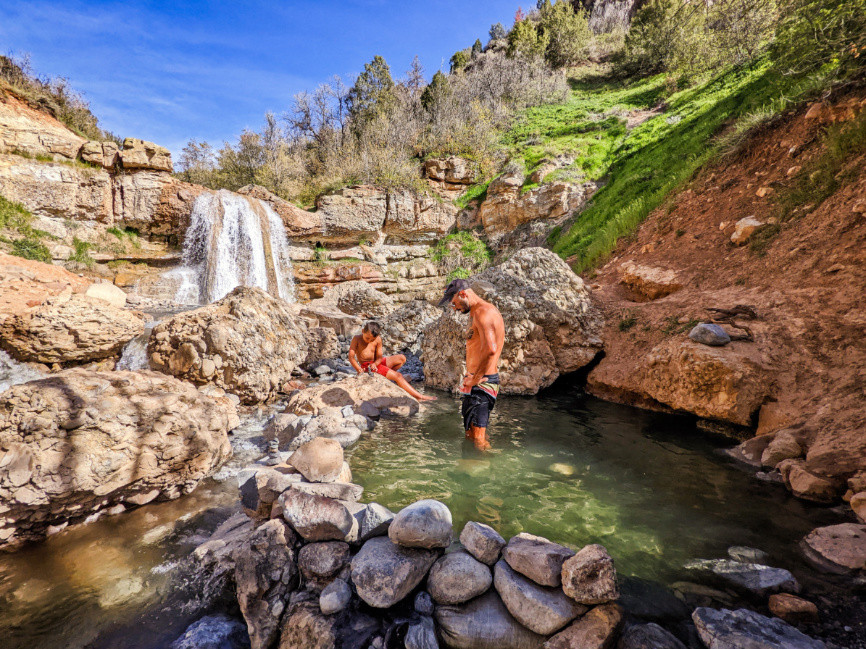 Other Utah Hot Springs to Visit
Being such a geologically diverse state, a Utah road trip will always have cool earth-phenomena as a part of the sightseeing. If you're not in the Salt Lake City to Moab area and want to visit a hot spring, here are some more options:
Little Wild Horse Canyon
Located near Green River, Utah, Little Wild Horse Canyon is a beautiful place to hike. The coolest rock formations and colors, it can be either a short hike into the slot canyon or a much longer hike lasting five hours or more. You'll find Little Wild Horse Canyon is kid friendly if you do an abridged version of the hike, and it's epic just doing the 2.2 miles round trip.
Whether you're doing the whole thing or just a short jaunt, be sure to bring lots of water and use proper sun protection. Hiking Little Wild Horse Canyon early in the day is best, both for cooler temperatures and for better light for photography. As the day passes, the areas between slot canyon sections get hot. In the tightest parts of the canyon though, it's 15-20 degrees cooler than the open stretches. So awesome!
Note: if you're not sure what a slot canyon is, it's like Antelope Canyon in Arizona or The Narrows in Zion National Park. It's a very tight canyon and you may need to be nimble to get through.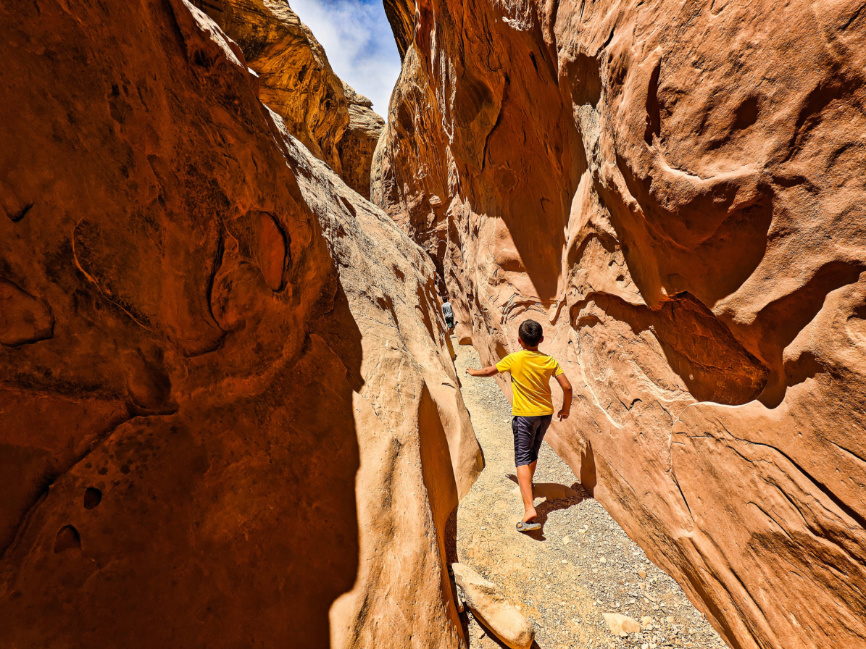 Kayaking Near Little Wildhorse Canyon
That's right, you can actually get on the water in this part of Utah. Near Little Wildhorse Canyon is the town of Green River. Here the river is actually calm enough to enjoy kayaking. While further downstream the Green River becomes more wild and challenging, this is one of the best places to kayak in Utah if you're a beginner. The trips can be short, just in the area of the river near the actual town, or very long, getting into Labyrinth Canyon.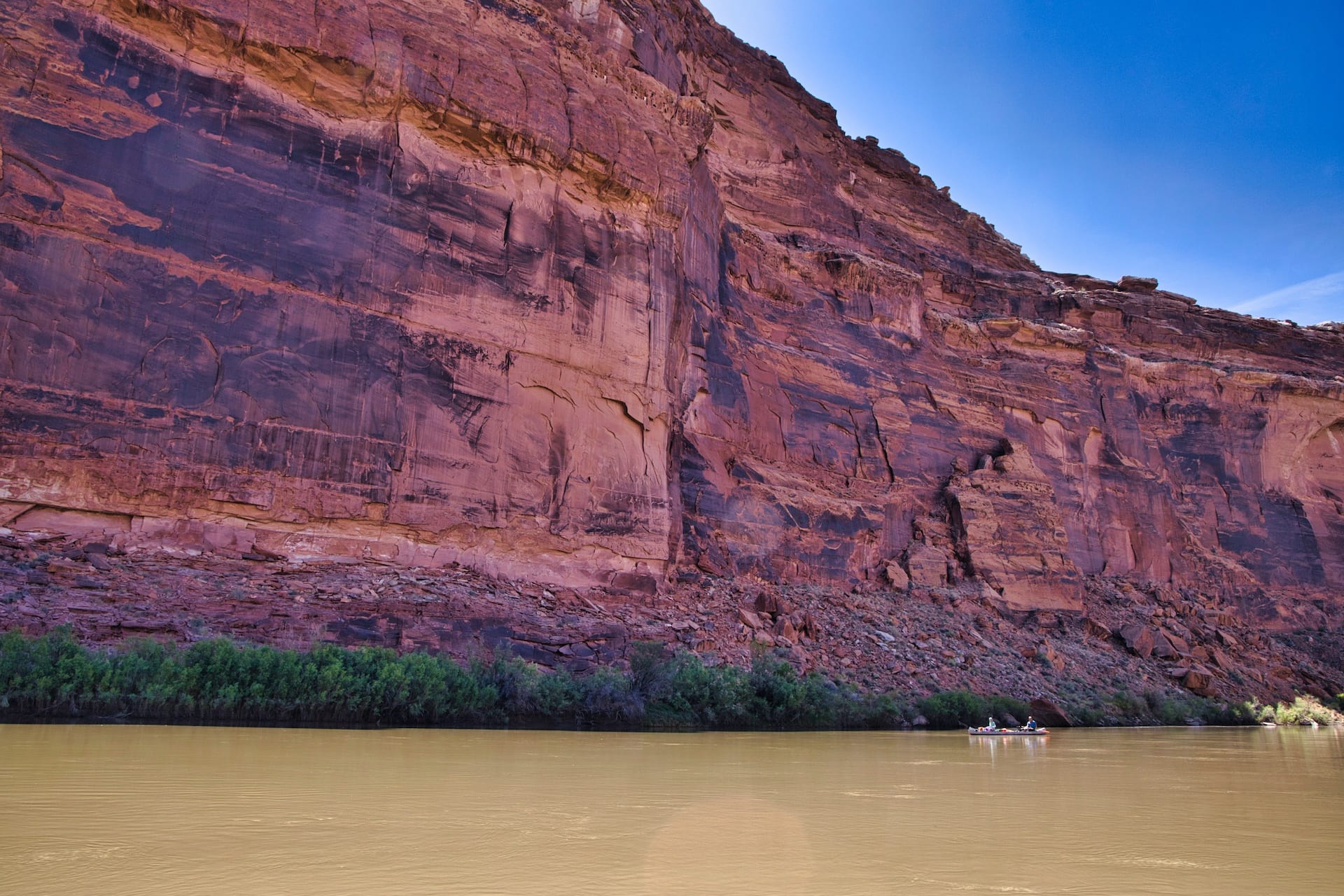 Goblin Valley State Park
Wow! We knew Goblin Valley State Park was going to be incredible, but we didn't know it was going to be this cool. Goblin Valley is rather off the beaten path, as you gotta get away from I-70 and out into the wilds of the Utah backcountry. Be sure you have an offline map downloaded!
Do Observation Point into the Valley of the Goblins, either valleys 1, 2 or 3. If you have enough time and energy, be sure to check out Carmel Canyon as well. It's within Goblin Valley State Park, leaving from the same parking area and it's completely different from the main Goblin-ish area. It's colorful and fun, with tight canyons and sandy flats. Hike to the Goblin's Lair or do just a part of the Carmel Canyon trail, and you'll love it!
Tip: visit at sunset for incredible colors and shadows. It's another world when the sun goes down.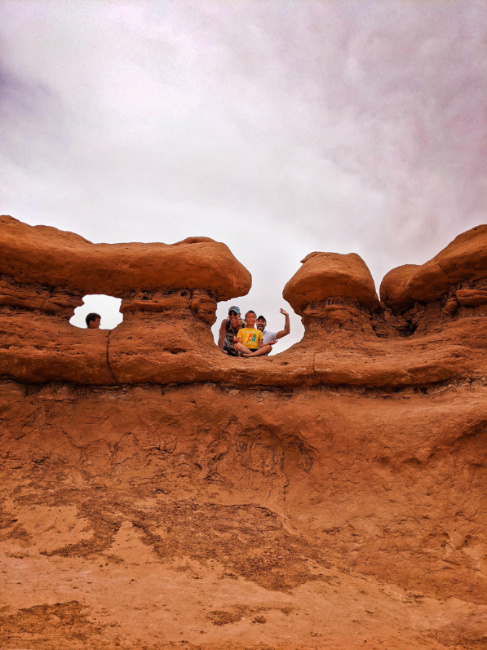 Hiking to the Goblin's Lair
There's an option to hike to the Goblin's Lair cave here in Goblin Valley State Park. It's really cool and if you're a skilled rock scrambler, you can go down into the Goblin's Lair. With small kids, this may be too intense, as the rocks are sandy and slippery, but with older kids and in-shape adults it's doable. We removed shoes to descend into the Goblins Lair and that helped with traction on the rocks. For sure, this is one of the most unique Utah road trip stops/hikes you can plan!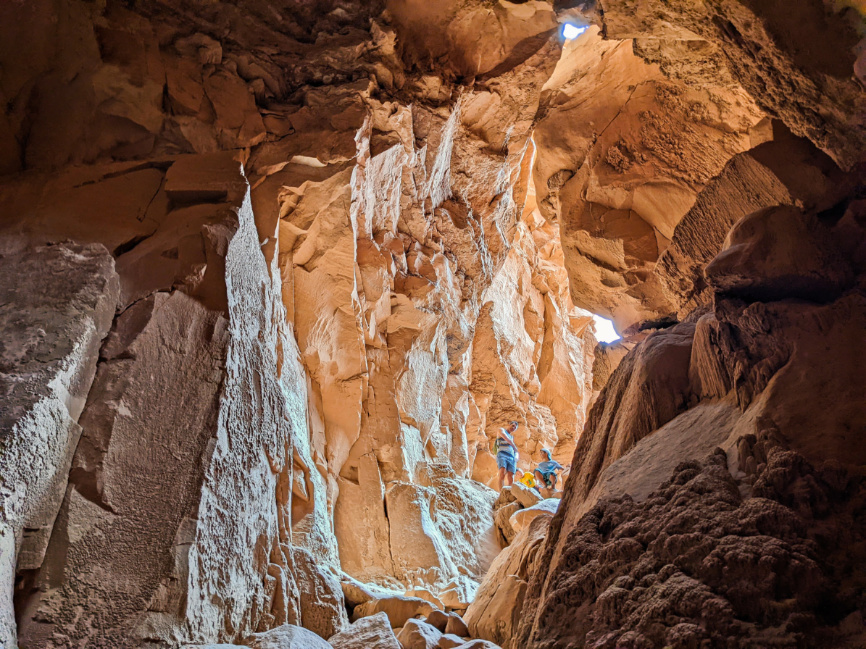 Dead Horse Point State Park
I love Dead Horse Point State Park for both its views and how easy of a trip it is. This is a great addition for somebody that wants to take in Utah's beauty but isn't big into hiking. You can visit easily if you're staying in Moab or if you're just passing through. Dead Horse Point State Park is also a great camping option if you want to stay near Canyonlands National Park or Arches National Park.
As far as things to do, Dead Horse Point is all about the views. The hiking trails are mostly mild, walking the east or west rims of the point that juts out into the great Colorado River canyon area. There is a fantastic observation point with several viewing areas, all are wheelchair accessible. Stop by the visitors center for popsicles and more amazing views and you've got yourself a beautiful afternoon.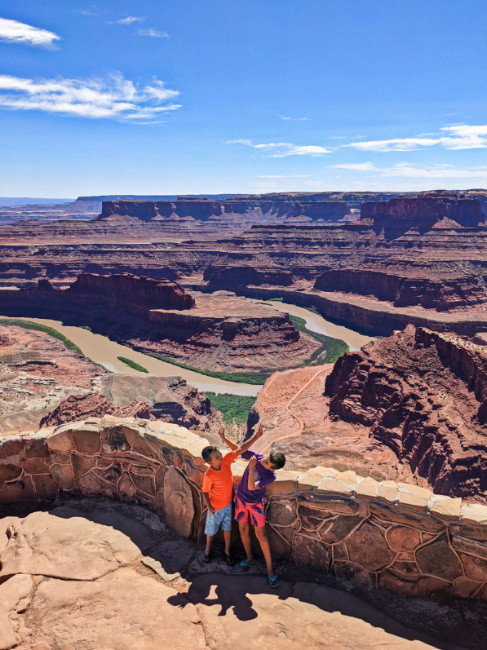 What about Canyonland National Park?
Yes, Dead Horse Point State Park is directly adjacent to Canyonlands National Park – Island in the Sky District, and you can easily visit it as well. Being a National Park though, it does get quite the lineup for entry in the morning and into early afternoon. Also, while there are lots of great pull outs for views and parking areas for hikes, there are a lot of visitors in all areas of the Island in the Sky District. Visiting Dead Horse Point State Park is a great alternative to Canyonlands National Park, especially if you're short on time.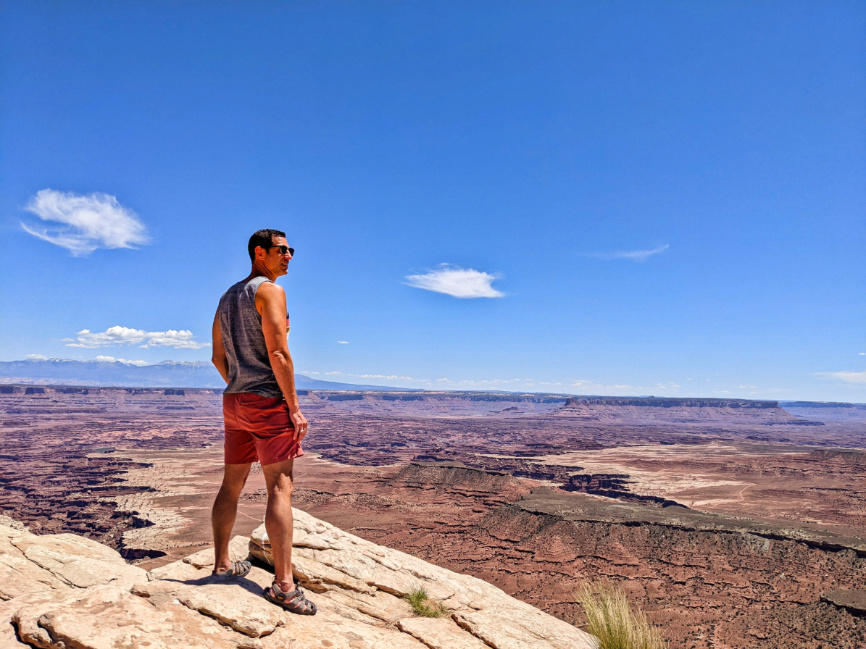 Newspaper Rock Petroglyphs
Between geologic history and human history, Utah has some of the most incredible sites to explore. On the way into the Needles District of Canyonlands National Park you'll travel through a large portion of the BLM area called Newspaper Rock State Historic Monument. Within these canyons and winding river space you'll actually find the most striking Puebloan Anasazi petroglyph site: Newspaper Rock.
A tall cliffside cave space filled with ancient drawings, Newspaper Rock is unlike any petroglyph site we've been to. Detailed creatures, hand print series, and what look like depictions of events, this historic site is wonderful to share with kids. It's ancient history up close.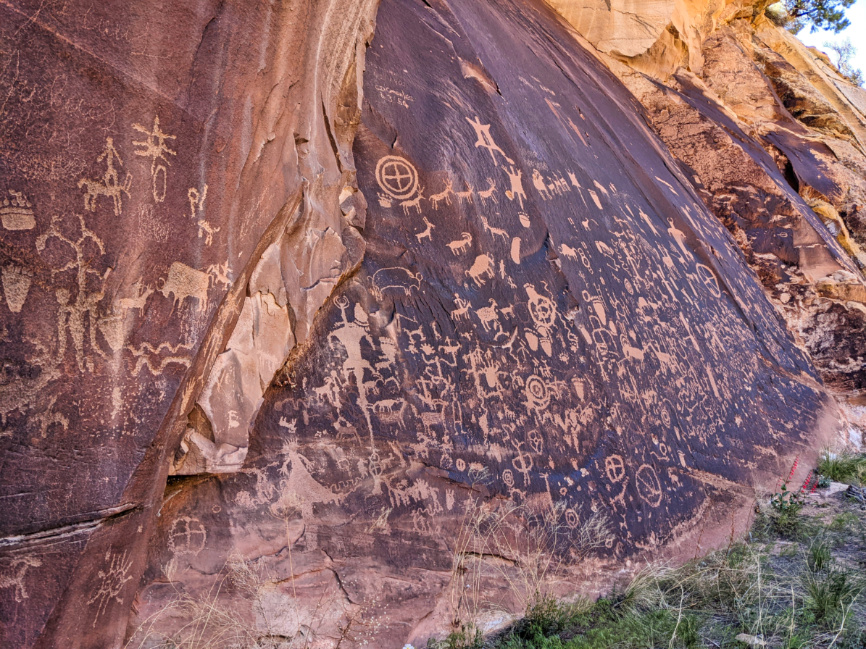 Needles District of Canyonlands National Park
Close to Moab, Utah is the Island in the Sky District of Canyonlands National Park. This is a beautiful, dramatic area, but it's very busy since it's so close to Moab and is the area closest to Salt Lake City. INSTEAD head to the Needles District of Canyonlands National Park. It's more remote, but not too far off the highways and is awesome! This unique Utah road trip stop is great for seeing part of a less visited National Park.
From the Cave Spring Trail that traverses rock formations and includes wooden ladders on the trail, to the Needles viewpoints deep in the park, this part of Canyonlands National Park is astounding. There are arches, hoodoos, fins, caves and mesas. The colors and formations are very different from Arches National Park, or even different from the Island in the Sky area of Canyonlands. You'll really enjoy this less-visited area.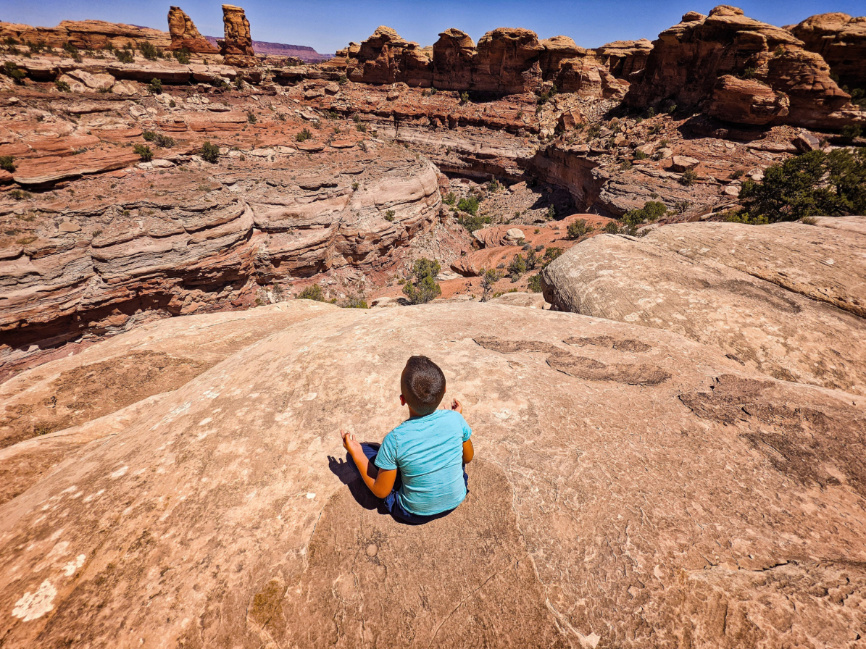 Hovenweep National Monument Anasazi Site
Like Newspaper Rock is a fantastic example of preserved petroglyphs, Hovenweep National Monument is a truly unique site where ancient Puebloan Anasazi structures surround a box canyon with a small spring in the bottom. Here you'll have an easy hike, either a half mile or three miles, to see a variety of dwellings and structures.
The highlights are the Hovenweep Castle and the Tower. We've visited many Anasazi sites, including the nearby Canyon of the Ancients National Monument, and this series of structures is both expansive and beautiful. Absolutely worth the forty minute drive off the beaten path. Also, if you're planning a visit to Mesa Verde National Park in Colorado, this is on the way, just before you cross the state line.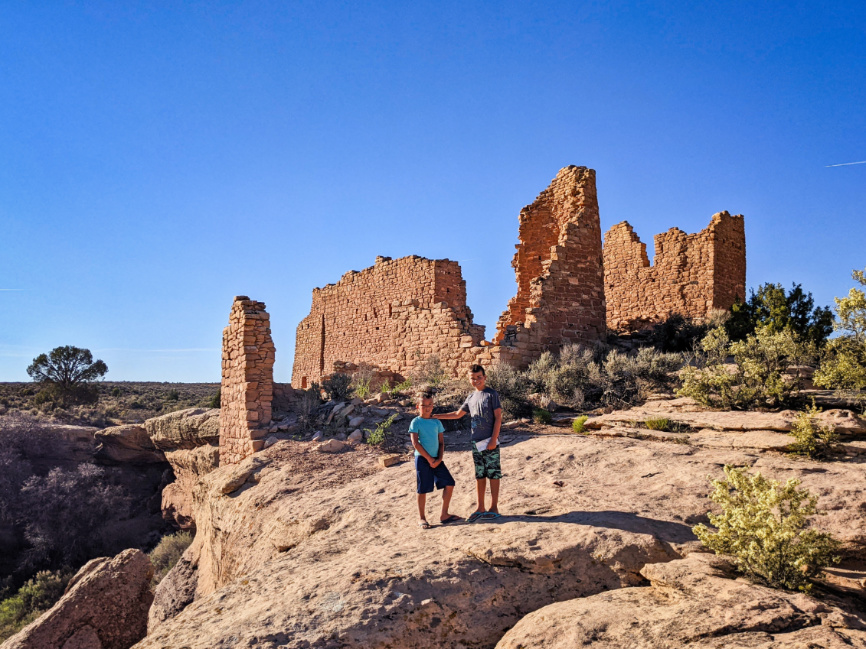 More Puebloan Structure Sites to Visit in Utah
There are more historic indigenous sites around Utah than I was aware before our most recent trip. These unique Utah road trip stops are fantastic for learning! The presence of Pueblo, Hopi, Anasazi, Fremont and several other peoples, current nations and archaic, can be seen throughout much of eastern Utah. Here are more sites to visit for petroglyphs and historic dwellings and structures: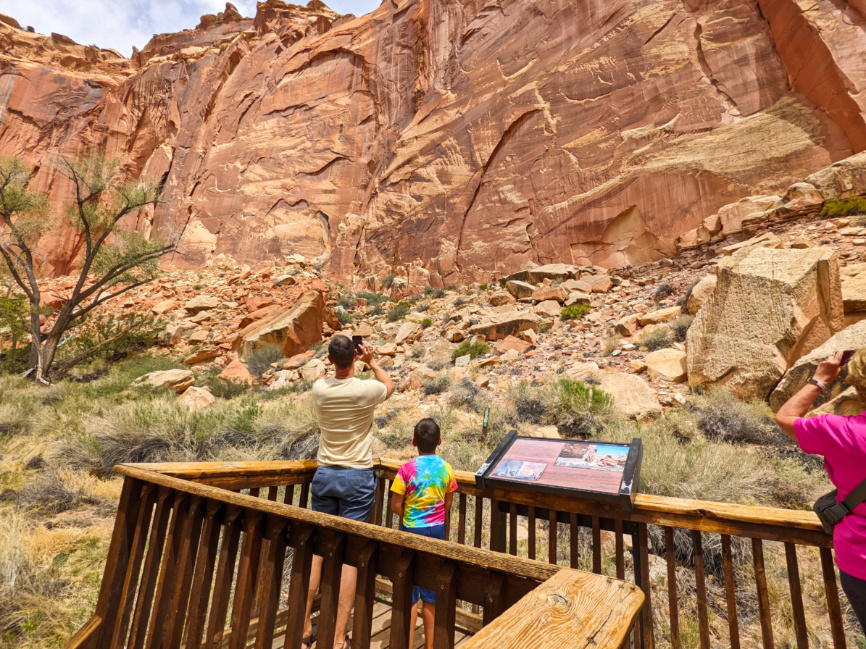 Edge of the Cedars State Park
Yes, we listed Edge of the Cedars State Park as an additional site to visit for history, but it's worth a visit even if you've stopped at some others. Here at Edge of the Cedars State Park you'll find a vast collection of recovered and restored pottery, tools, weapons and more. The museum has two floors of artifacts and exhibits all about the ancient Anasazi people who inhabited what's now southeast Utah.
The other highlight of Edge of the Cedars State Park is the archaeological site on the grounds. Here you'll see a kiva, built 800-1000 years ago. You can see the different rooms and how it's constructed, but you also can go down inside part of it. It's remarkable to be inside and see how different its construction is. And it's 20 degrees cooler inside.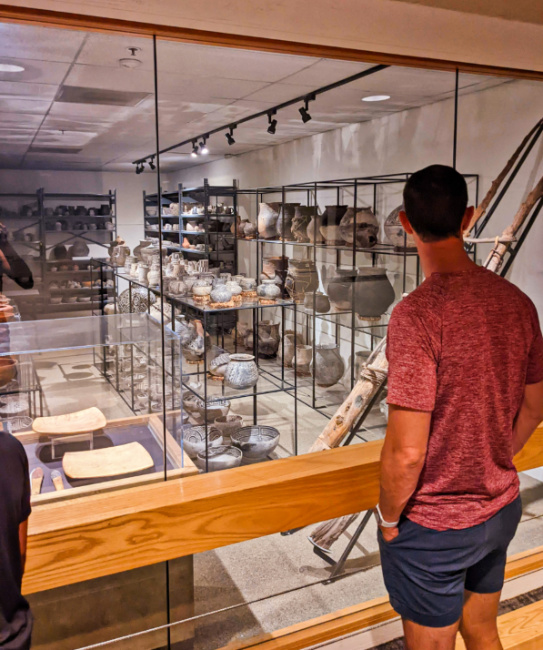 The Bluff Twin Rocks and Night Sky
The town of Bluff is in the most beautiful place. The San Juan River flows through this gorgeous canyon-valley, making it lush in the middle of the high desert. Rock formations tower over the town and are easily accessible at both the north entrance to Bluff and the southwest part of town. The Twin Rocks is a very unique formation at the north end of town, and these giant hoodoos are accompanied by even more formations heading westward.
The really cool thing to do here in town is actually after the sun goes down. If you're into stargazing or night sky photography Bluff, Utah is awesome for it! Moonlight on the rock formations with stars above is the perfect Utah sight.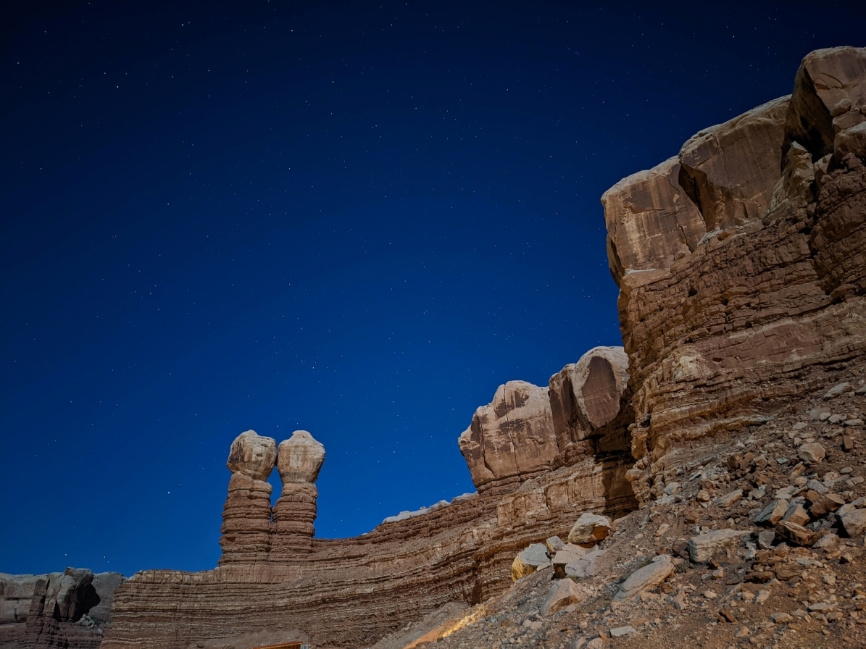 Dark Sky Spaces in Utah
There are actually several other places around Utah that are great for stargazing. Being so sparsely populated, you can easily find spots all over the state with very little to zero light pollution. Officially, there are 21 specific dark sky spaces in Utah.
For the best stargazing and night sky photography plan a late night visit to any of these spots:
Arches National Park – the Windows is a great place for moonlit formations
Hovenweep National Monument
Kodachrome Basin State Park (our favorite!)
Capitol Reef National Park Scenic Drive
So often when we talk to people about Utah or National Parks, Capitol Reef National Park is either a total mystery or completely unknown to folks, both in Utah and beyond. This beautiful National Park is located between Moab and Salt Lake City, and you don't just accidentally end up here. You actually need to plan to visit Capitol Reef, as it's out there. It's easily added to a Canyonlands NP or Bryce Canyon visit.
With very few visitors in comparison to other Utah National Parks, it feels like you have the whole park to yourself. Do the Scenic Drive in the southern portion of the park or drive Cathedral Valley in the north section. Either will leave you jaw dropped… and you probably won't see too many people there either. Other fun sights are the many orchards you can pick fruit from (seasonally) and the Hickman Natural Bridge.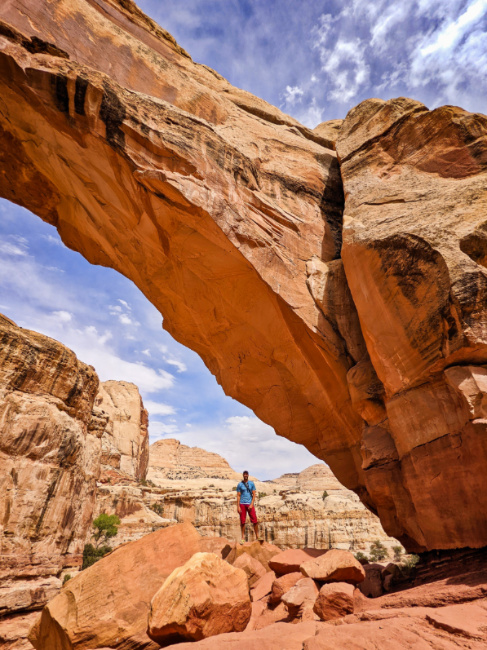 Unique Utah Stay: Capitol Reef Resort
If you're thinking you need to stay in a covered wagon or in a modern teepee, the Capitol Reef Resort is awesome. Lodge rooms and unique prairie stays make this one of the most unusual places to stay in Utah. And for being so remote, it is well appointed, including a really great resort swimming pool and hot tub area. Love it! Book it here!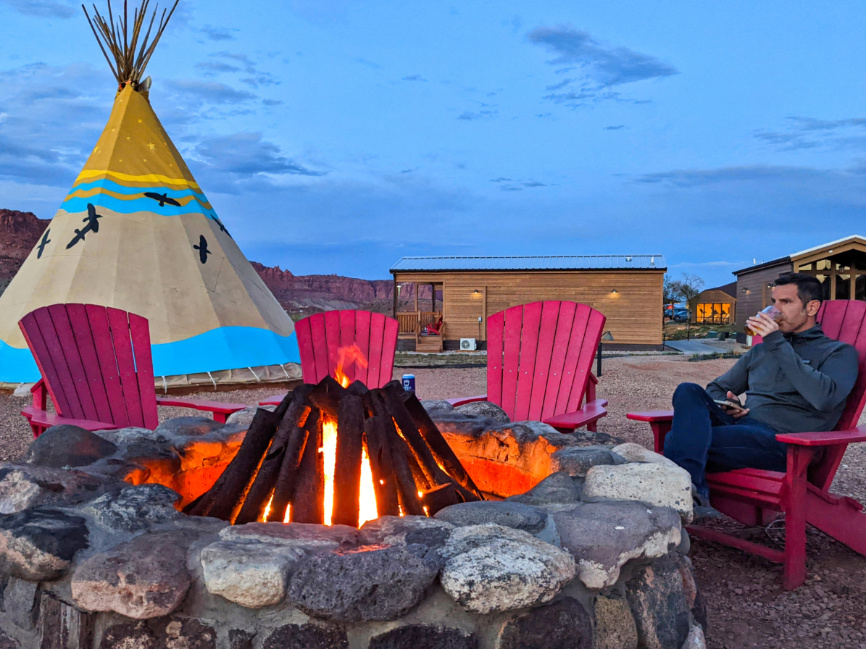 Do you think you can add all of these to your Utah travel plan? If you do our Lesser Known Utah road trip plan (coming soon!) you'll be able to work in all of these and more!
If you have any questions or comments, please leave them below or send us a note. We're happy to help you plan your Utah travel and make it one of the most beautiful, memorable trips!