Kayaking in the 10,000 Islands of Everglades National Park is really remarkable. You don't have to see all 10K of them to have an awesome experience, but getting out into the start of them will make you want to explore as far as you can. I know that a lot of people think of the Everglades as just one big swamp, but it's much more than that.
There are several tour options for kayaking in the 10,000 Islands or you can go on your own. We're going to cover it all to ensure you can plan appropriately and have the best Everglades paddling experience possible. Kayaking in South Florida is remarkable, and this experience takes the cake!
If you have questions about navigating the Ten Thousand Islands, kayaking in Everglades National Park or about this tour specifically, please leave a comment or send us a note. We're happy to share more about our experiences, and to share what others enjoy as well!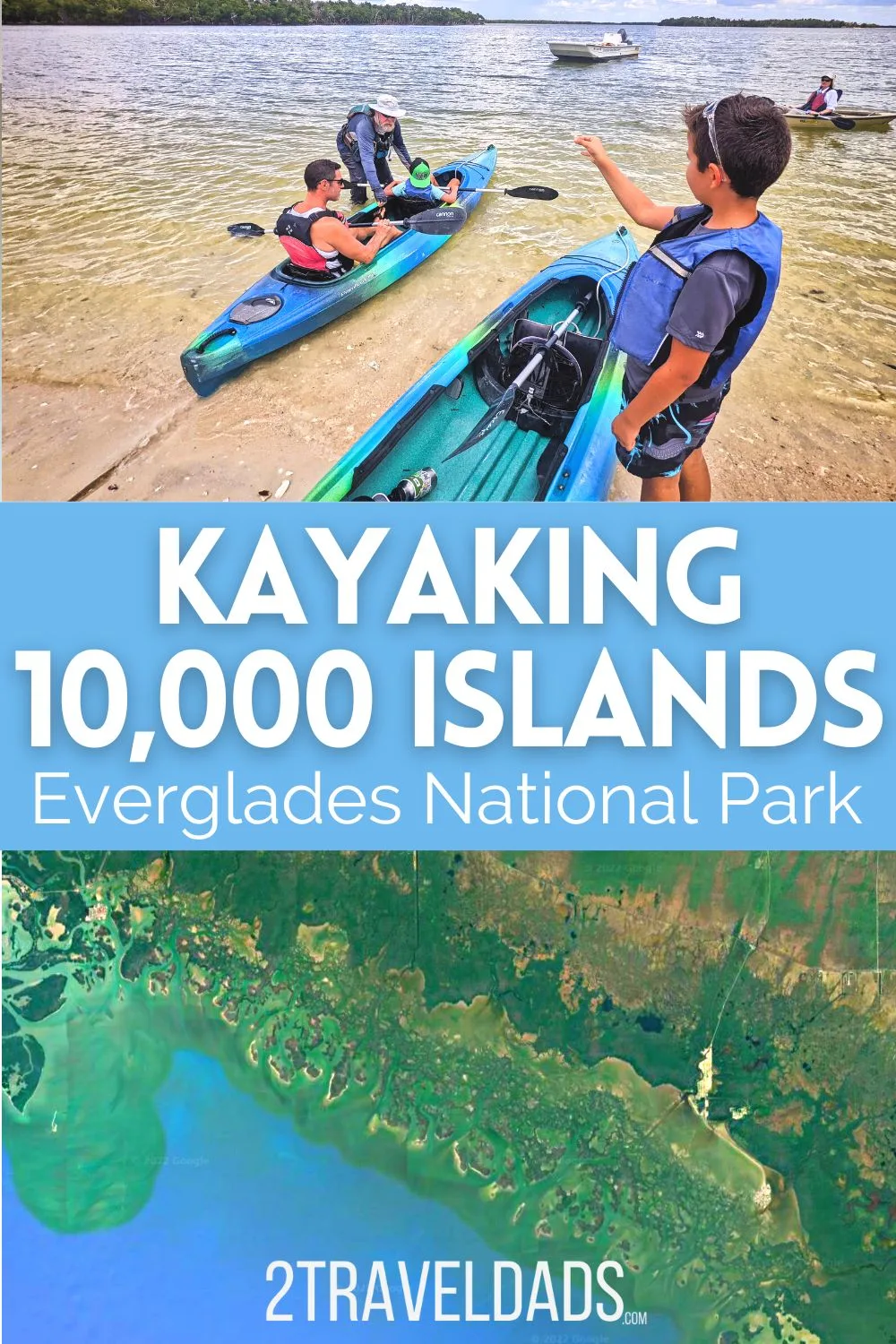 Everglades Kayaking Tours to Consider
We normally save talking about kayaking tours until the end of a guide, but when you're planning to go kayaking in the 10,000 Islands of the Everglades, it's recommended that you go with a guide. The reasons for this are:
There are literally thousands of small islands and passages to be familiar with for a safe trip
The kayaking routes go though Everglades National Park, and some areas of the park require registration and even permits
I've never regretted kayaking with a local guide thanks to their knowledge and the care the show for their area.
Having said all that, here are some options for kayaking tours in the 10,000 Islands.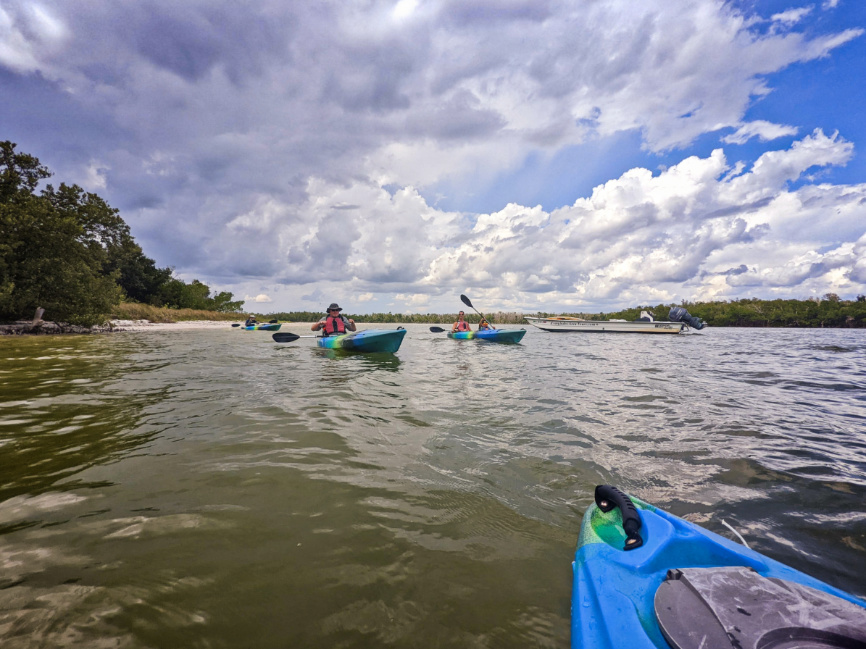 Boat Assisted Kayaking in the Everglades
We have done this exact tour and really enjoyed it. If you haven't done boat-assisted kayaking before, it's quite different. The kayaks are loaded onto a special boat and then paddlers jump on too and are taken out to a destination that would normally be unreachable or take a long time to get to.
In the case of the boat assisted kayaking tour in the 10,000 Islands, the guide navigates through otherwise complex and confusing mangrove islands, bays and swift moving currents. At the end of the motorized boat journey lies Rabbit Key where you'll get to explore the beaches and sandbar before kayaking around the island and into mangrove tunnels.
Because this part of Everglades National Park is so rarely visited and the guides are good about holding people to the rules, there are hundreds, maybe thousands of giant conch and whelk shells scattered all across the beaches and in the mangroves. It's amazing to see!
After you paddle around Rabbitt Key and see what the untouched side of Florida is like, the guide loads the kayaks back onto the boat and the tour wraps up. On the way back into the dock it's still an active history lesson and wildlife safari on the water. This tour is fantastic with kids, but also for experienced paddlers.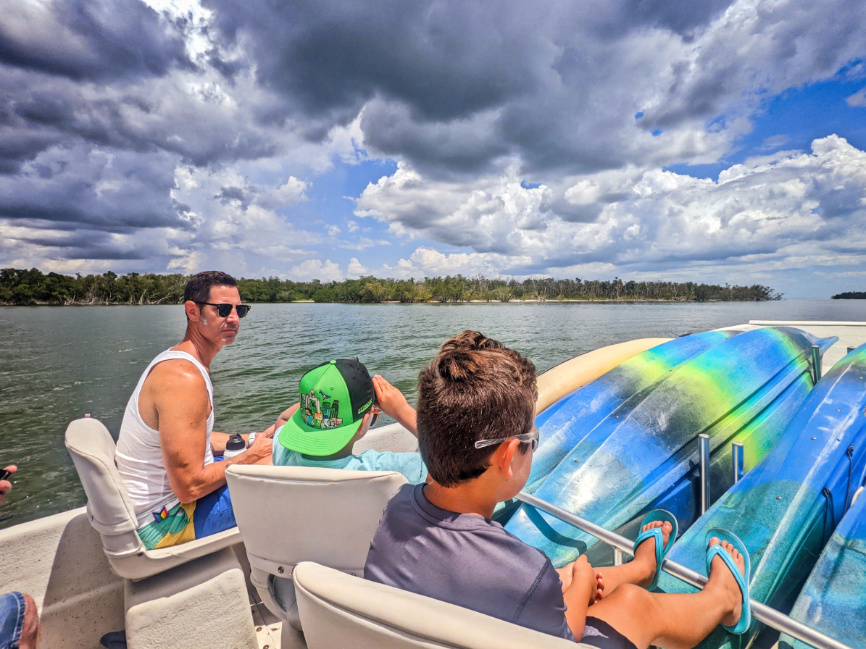 Guided Tours of the 10,000 Islands
Since the 10,000 Islands are pretty expansive, there are quite a few kayaking tours that explore difference parts. If you elect to do a launched tour versus a boat assisted tour, you'll spend much more time in the channels and mangrove tunnels close to the mainland. There's nothing wrong with this at all and you'll love it just as much as the boat-assisted tour.
Guided kayaking tours here can go out of either Chokoloskee, Everglades City or Marco Island. The closer to Marco Island and Naples your tour begins, the more potential for boat traffic, but even on a weekend, this area isn't a wild boating destination, so you'll be fine as you paddle.
Here are our tour recommendations for kayaking in the 10,000 Islands of Everglades National Park: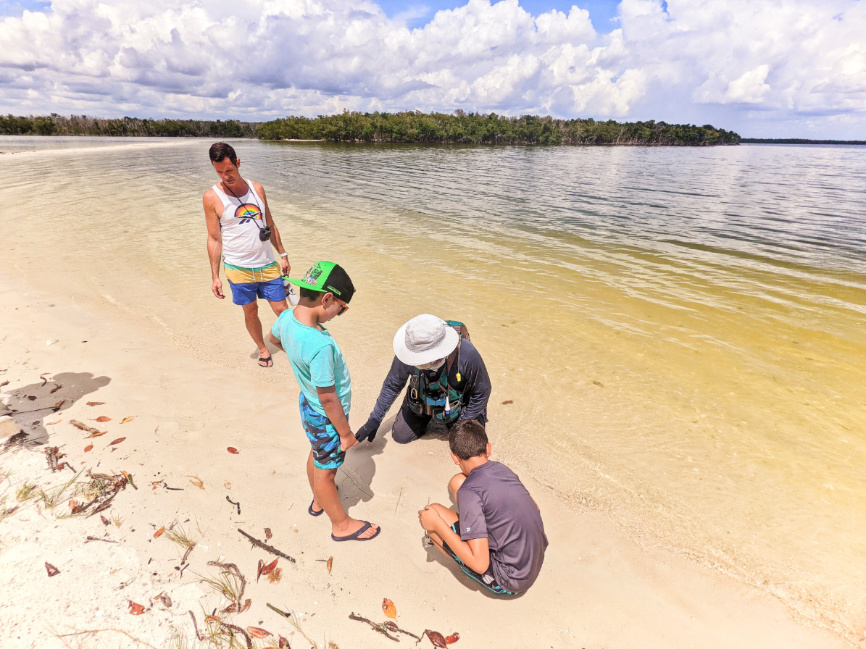 What to Expect When Kayaking in the Everglades
We're specifically talking about the 10,000 Islands area of the Everglades, but there are other parts of the National Park where you can paddle. The Flamingo area, which is the southern portion and is about 2 hours from Miami, is a very similar environment to the 10,000 Islands, but with some stronger currents.
You should always expect changing weather when you're kayaking in the Everglades. Even checking a weather report before you head out isn't good enough. You need to monitor changing weather situations, including lightning strikes. The microclimate of the western Everglades is wild and unpredictable. As long as you're keeping an eye on your weather app and the horizon, you'll be able to stay safe and have fun.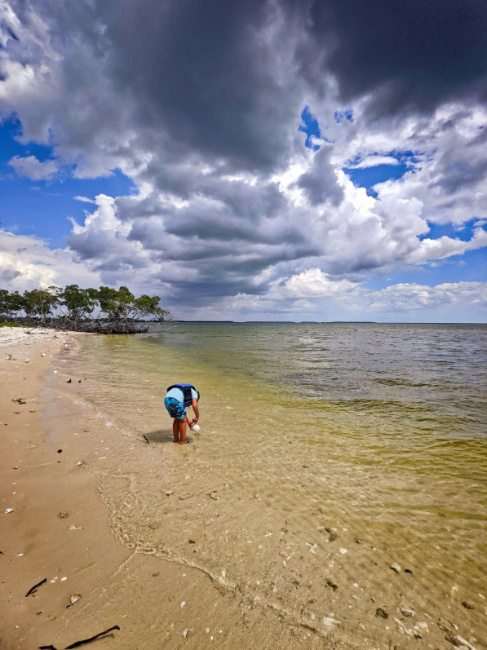 Prepparing for an Everglades Kayaking Trip
Whether you're kayaking from 10,000 Island to Flamingo or if you're just heading out on a day trip, you need to be well prepared. Here's our packing list for an Everglades National Park kayaking adventure:
PFD/life preserver (always, everywhere)
Insect repellant
Waterproof sunblock
Hat and sunglasses
Water, at least a quart per person per two hours on the water
Snacks, ideally packaged to withstand getting wet
Camera gear (stored in a dry bag)
You'll be impressed with the amount of wildlife you'll see, and also the opportunities out in the 10,000 Islands to get into the water, so protecting your food and camera gear is important. Protecting yourself from sun and bugs is important too.
History of Rabbit Key: Calusa Indian Archaeological Site
Before the Spanish and English came to Florida, there were several indigenous peoples in the area, and within those Nations, many different bands. The Calusa people inhabited the southern and western portion of the Everglades for more than a thousand years before Florida was colonized.
There are quite a few Calusa archaeological sites around the Everglades, and within the 10,000 Islands, Rabbit Key is an example that you can actually visit. This is a part of the boat assisted kayaking you can do. Here you'll find an island that has been built up by shells and imported materials over time. They've also found a variety of Calusa tools here, from axes and hammers to drinking vessels. It's really interesting!
Note: you can visit another Calusa site at Marco Island at the end of Shell Island Road.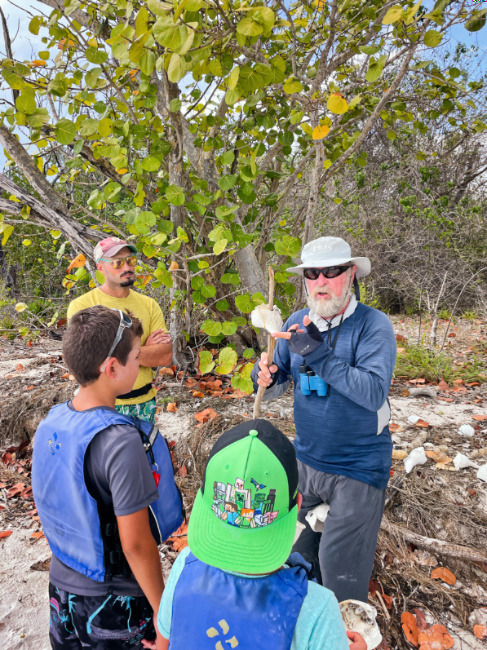 Where to Launch for Kayaking the 10,000 Islands
There are three places to launch for kayaking into the 10,000 Islands, and depending on your ultimate kayaking goal any are a good option. For exploring mangroves, particularly channels and sandbars, launch into the 10,000 Island from Marco Island or Goodland (east side of Marco).
For some of the quieter waterways and getting into the most interior of the 10,000 Islands, launch from Everglades City (roadside launch) and head south. There are a lot of airboats in this area at the start, so proceed with caution. The Gulf Coast Visitors Center also has a launch space for public access.
The last place to launch is in Chokoloskee. This is the furthest south launch point for kayaking, and this is also where the boat-assisted kayaking goes out of. From here you can do a full day paddle that goes to the outter edge of 10,000 Islands. The Smallwood Store is here, as well as Everglades Area Tours, so if you need a guide or recommendations, check with these awesome folks.
Here are three spots to launch kayaks in Chokoloskee (be sure to park legally):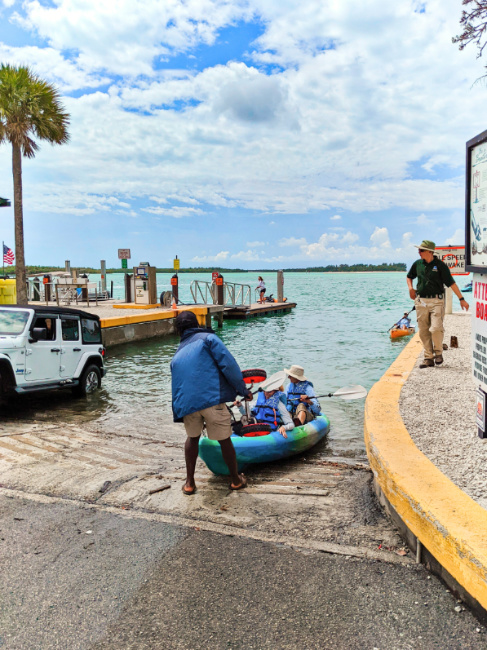 Wildlife to Watch for When Kayaking the 10,000 Islands
Yay! This is my favorite part of kayaking in the 10,000 Island of the Everglades. Wildlife watching is fantastic in Everglades National Park, Biscayne National Park and Big Cypress National Preserve, so you're in for a treat! Kayaking in Florida's National and State Parks is unforgettable.
West Indian Manatees in the Everglades
Manatees are one of my favorite animals. We see them all the time where we live up in St Augustine, Florida and at the springs around the state. In the Everglades, manatee spotting is very different. You'll find them meandering through mangrove channels and hanging out near launch sites.
If you're unfamiliar with how to spot a manatee, you watch for them to surface of course, but then you also watch for large smooth circles in the water, usually in a long trail. This is called the manatee footprint. The circles on the water get smaller as they get closer to the manatee's current position.
Safety with manatees and other wildlife in National Parks includes NEVER touching the animals, always giving plenty of distance (at least 15 feet for manatees), and never chasing or harassing the wildlife.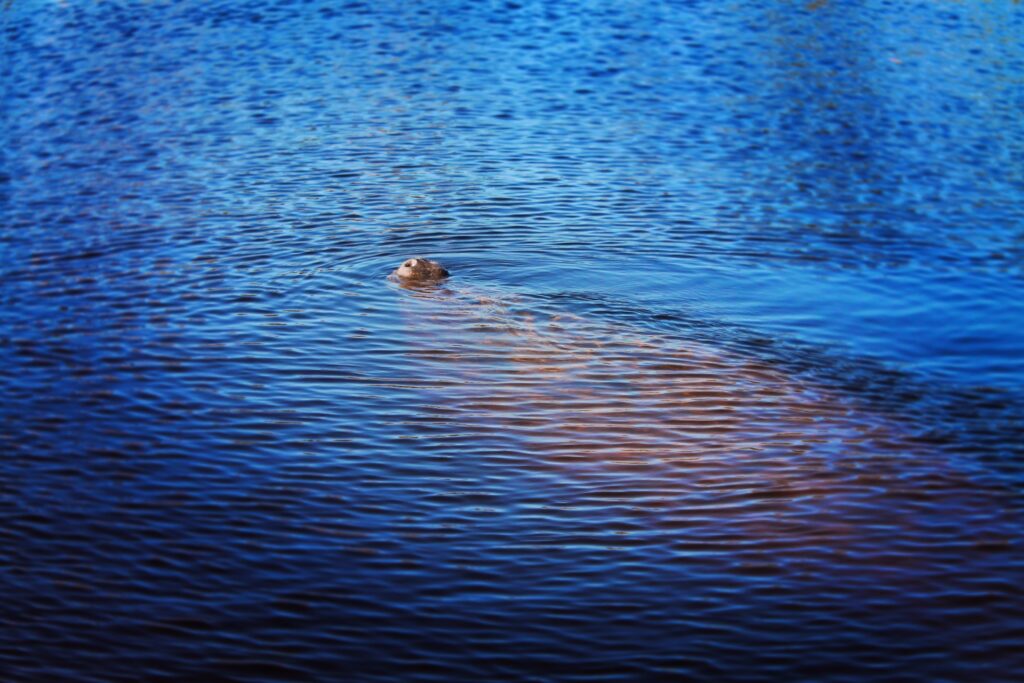 Bottlenose Dolphins in the Islands
Florida is not short on bottlenose dolphins, and I love it. Like with manatees, you need to give dolphins space when you're kayaking. If you are near dolphins you need to just stop paddling or continue on your path if not directly at the dolphins. They are smart and curious creatures, and if they want to get close to you they will. If you chase them down, you'll be both irresponsible and breaking the law.
The best way to photograph dolphins in the 10,000 Islands is with a medium telephoto on sport/rapid shooting mode. The reason I recommend a medium telephoto is because dolphins change direction very quickly, and if you're kayaking you'll be at water level and shooting a wider angle is easier.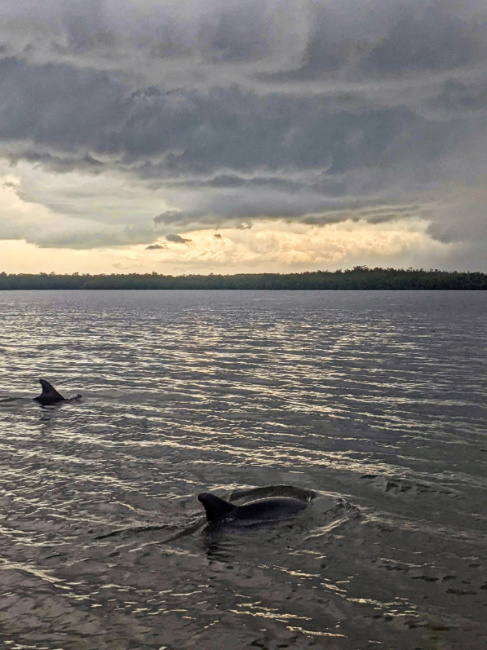 Birdwatching in the 10,000 Islands
Florida offers amazing birdwatching, from shorebirds to raptors. In the Everglades you'll find so many different species of large birds and birds of prey that you'll never want to leave. The most common birds you'll see are great egrets, great blue herons, blue herons, tri-colored herons and ospreys.
Some less common birds to see, but really cool to watch, are bald eagles and roseate spoonbills. The spoonbills are more common in the tidal areas where they can sift through mud, but you'll also see them congregate on mangrove root clumps.
The best way to see bald eagles is to keep an eye on the tops of the trees. They make very large nests and often sit in treetops nearby. If you're lucky, you might even spy a bald eagle sitting on a sandbar eating a fish. It's messy, but really cool.
NOTE: following Hurricane Idalia in 2023 a large number of flamingos were blown all along the Florida Gulf Coast, and as they have been sorting out their lives, they're finding new homes. You may be lucky and actually see flamingos in the Everglades again. Birdwatching in the Florida Keys brings the same opportunity!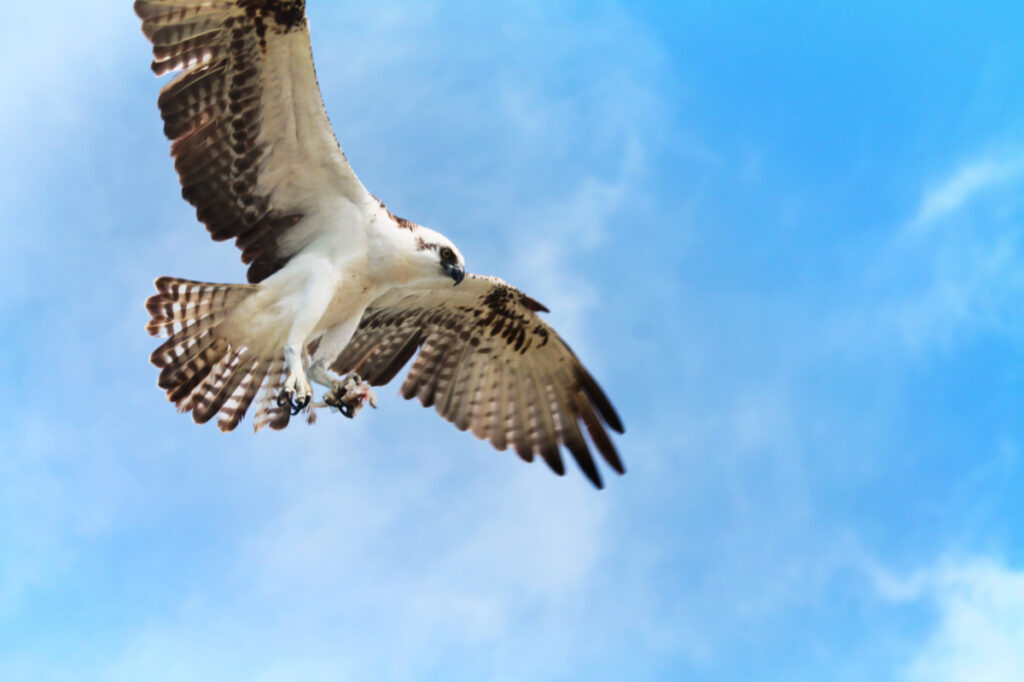 Fish and Sharks in the Everglades
If you're kayaking in the Everglades, you'll most likely spot some pretty cool fish, but not the fish you'd expect. While there are tons of fish below the surface, the most common ones you'll see are going to be stingrays, eagle rays and mullet. Mullet are the fish you see jumping and skimming across the water. You'll see the rays along the sandbars that you can kayak to or through the shallow mangrove channels.
When it comes to sharks, there are many varieties that live in Everglades National Park. The most common you'll see are nurse sharks and bull sharks. Nurse sharks are often seen in the mangrove tunnels and sheltered shallows. Bull sharks hang out in the deeper channels but like to make appearances near beaches too. Nurse sharks aren't dangerous to humans (still don't touch them), but bull sharks can be aggressive. You don't need to freak out if you see a shark, but just be safe.
NOTE: since we're talking about South Florida, the ecosystem here in the Ten Thousand Islands of the Everglades is very similar to the keys, so if you're interested to learn more, read up on the wildlife in the Florida Keys to get a little more insight into wildlife observation, particularly with kids.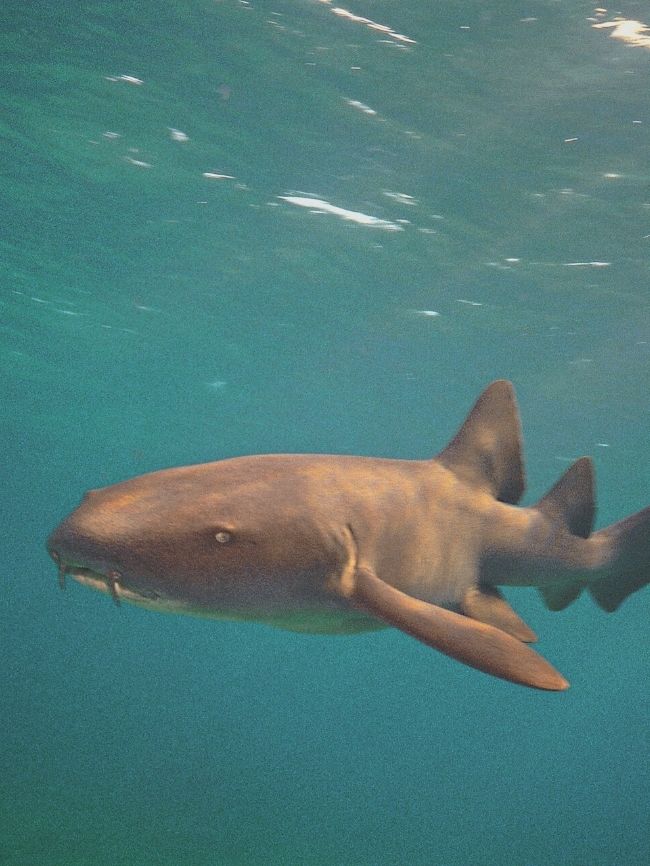 Can I Collect Sea Shells in Everglades National Park?
One of the greatest temptations I've ever faced in life has been to take seashells from National Parks, particularly Everglades and Dry Tortugas National Parks. When kayaking in Everglades National Park, you'll be able to access islands and sandbars that have enormous, beautiful shells on them. You CANNOT take them. They are to be left for others to enjoy and for nature to take its course with. It'll be temping, but don't do it.
Note: there are some National Park sites where specific sorts of beachcombing is allowed. For example, at Cumberland Island National Seashore you can collect vacant shells and shark teeth.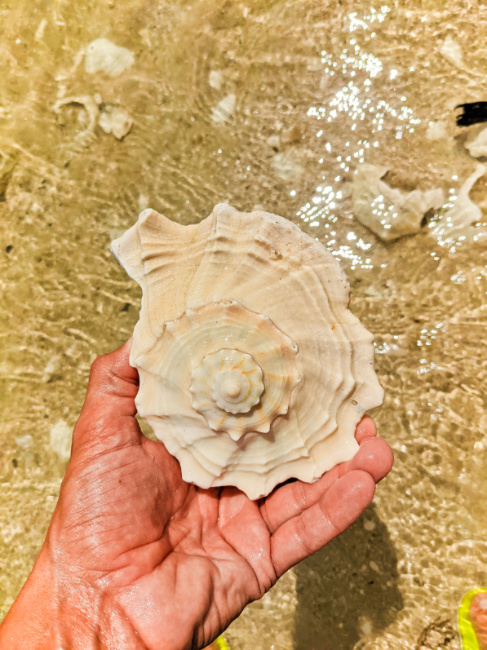 Where are the 10,000 Islands?
Everglades National Park is split into three main areas: Shark Valley (river of grass, cypress strands), Flamingo (southern tip, delta-like, mangroves), and Gulf Coast, which is the 10,000 Islands area and is mangrove and earthen islands. This part of the park is accessible by boat from Marco Island, Everglades City or Chokoloskee.
In general, the 10,000 Islands entry points are about 30 minutes from Naples, 1.5 hours from Miami, and 2.5 hours from Tampa Bay. The Tamiami Trail (Highway 41) connects the Gulf Coast and Atlantic Coast and is where you'll access all entry points to Everglades National Park.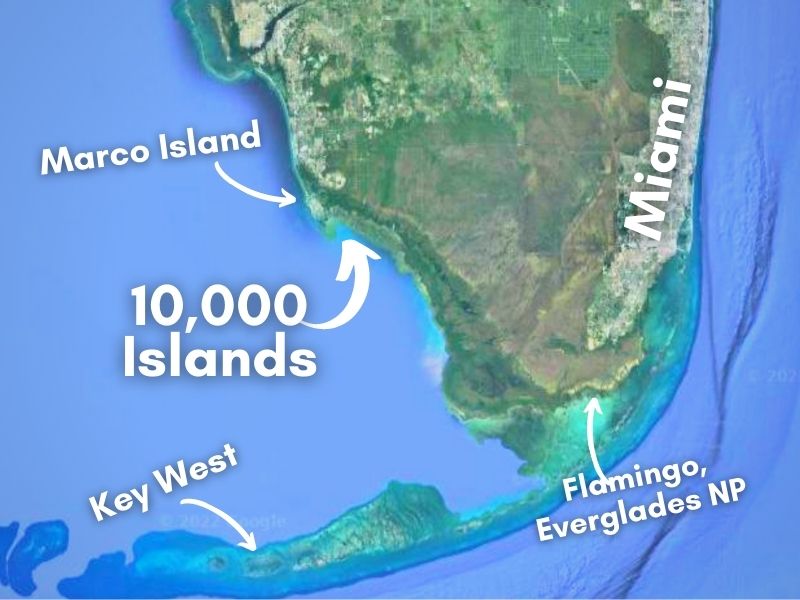 Where to Stay Near Everglades National Park
Directly in Everglades City and Chokoloskee there are a few options. Our top pick directly next to Everglades National Park is the Parkway Motel & Marina. They also have a marina AND do tours into 10,000 Islands. This property is fun, perfect for active outdoors people, and is LGBTQ owned and operated.
There are also great options in both Marco Island and Naples, including nearly every major travel brand. We really loved staying at the Hilton Marco Island Beach Resort, which was only about 10 minutes to our 10,000 ecotour boat trip, and about 25 minutes to our Everglades kayaking launch in Chokoloskee.
It's not near the 10,000 Islands area, but another really cool place to stay at Everglades National Park is the eco-tent campground at Flamingo. The yurts are really neat, but book far in advance, so this will require advanced planning.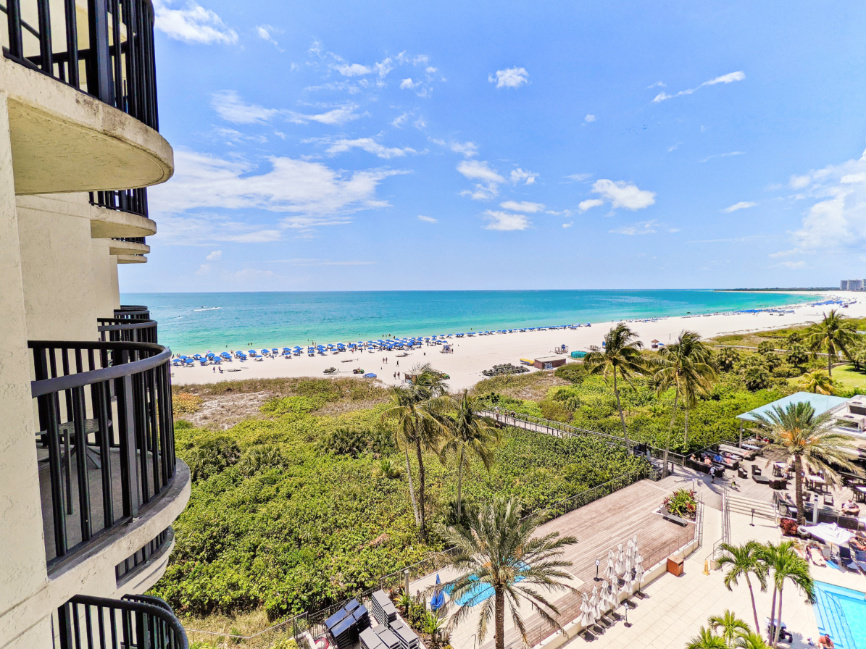 More Things to do in the Everglades
Of course kayaking in the Everglades is a favorite activity, but there's a lot more to do all around the National Park. Here are our top picks for things to do at Everglades National Park:
If you have any other questions about kayaking the 10,000 Island, paddling different areas in Everglades National Park, or anything else relating to exploring South Florida, please leave a comment or send us a note. Happy paddling!