Road tripping through Florida is amazing for so many reasons, one of which is the endless list of kayaking spots in South Florida. Varying from state parks to overlooked rivers, and even subtropical kayaking through mangroves, any skill level paddler can find any number of options for getting on the water in South Florida, and there are even great options for clear kayaking tours if you're interested.
There are several eco-tourism destinations from Lake Okeechobee to the Florida Keys, providing natural alternatives to the bustling coastal cities. The Great Calusa Blueway and the Marco Island region on the Southwest coast give a wide variety of kayaking choices. Our South-Central region provides several excellent freshwater choices, including two of our favorites, Fisheating Creek and Lake Myakka State Park. The Greater Miami area offers one wild and scenic river and some nice paddling in its numerous parks and preserves. The Everglades, Biscayne and Big Cypress offer a much more natural experience within the bounds of National Parks.
Beside what we're sharing here, there are hundreds more great places to kayak in South Florida. If you want to share your favorite, please leave a comment or send us a note. We're always happy to include others' recommendations and tips!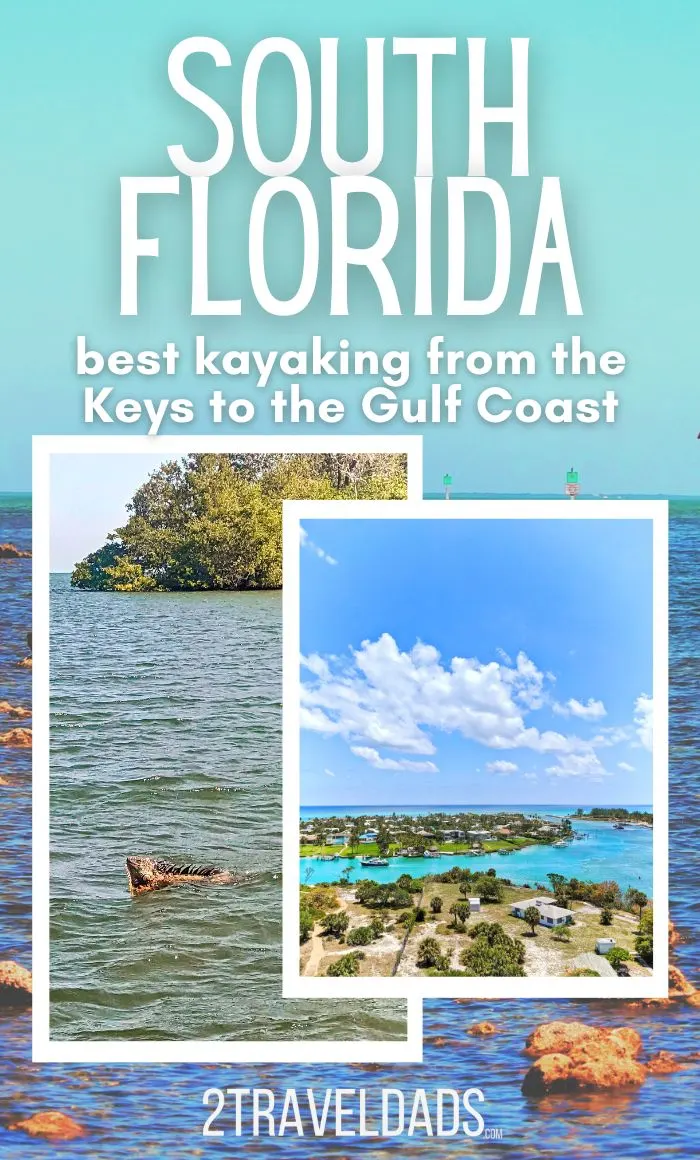 Easy Kayaking Spots in South Florida
The following spots offer great easy kayaking spots for quick day trips, family outings, or just a more leisurely paddle. Be mindful that most South Florida is known for its hot, humid weather with brutal summers well into the 90s. Winter, while more pleasant, rarely see temperatures below 70 degrees. Moreover, when planning your trip, be mindful of hurricane season, which typically runs from June to November, with September being the peak month.
Indian Key Historic State Park, Florida Keys
While there are an endless number of waterways to choose from in the Florida Keys, Indian Key Historic State Park is a top choice for your visit. A short 20 minutes will get you from Islamorada to a tiny island once the site of a shipwreck salvage business. Common marine life includes dolphins, eagle rays, and manatees. Check out Robbie's Marina or Backcountry Cowboys for local information and rentals.
Check out this great guide to the Best Places to Kayak in the Florida Keys
Note that while this is a fairly easy option, you'll need to be sure you're launching from a smooth waterway, such as the northwest tip of Lower Matecumbe Key. If you head too far north and put in on the narrower channels of the Indian Fill keys, you'll find a rough current when the tides are at their strongest (mid-tide).
Where to launch: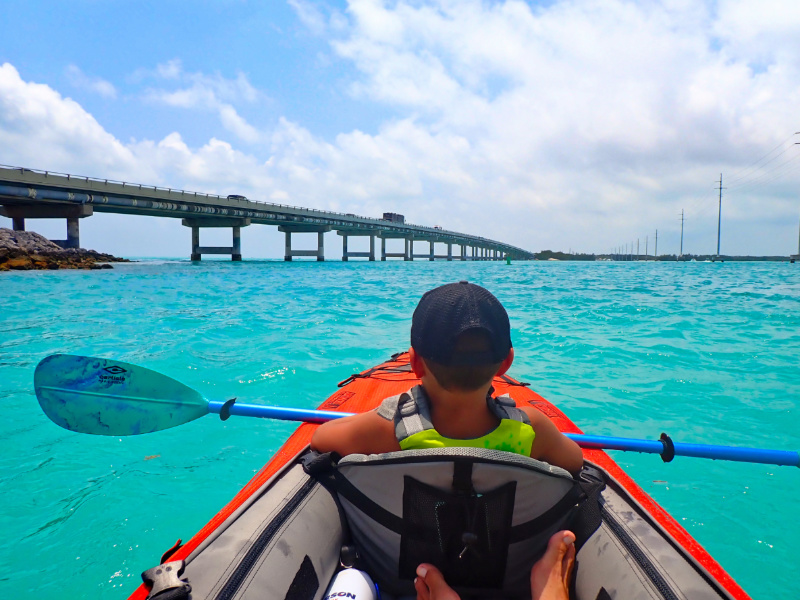 The Great Calusa Blueway, Cape Coral
The Great Calusa Blueway is a paddling trail that covers a large area typically divided into three smaller regions. Phase one begins with Estero Bay, characterized by its open waters and spectacular views. The next phase of the trail is Pine Island to Matlacha Pass, home to narrower waters, dense marshland, and the J.N Ding Darling National Refuge. Finishing the trail is the Caloosahatchee River and its tributaries. Beginning paddlers will check out the numerous outfitters located in Phase 2- Pine Island to Matlacha Pass.
This is a SUP friendly paddling area, where the tides and sandbars make for great fun and relaxation, depending on where the water level is at when you're paddling. This area is just north of Naples and south of Fort Myers, so if you're planning a trip to Naples and Marco Island, you can easily visit the Great Calusa Blueway for a day.
For more information, visit The Great Calusa Blueway section of Lee County's website. Maps of each phase can be found on Fort Myers tourism website.
Where to launch: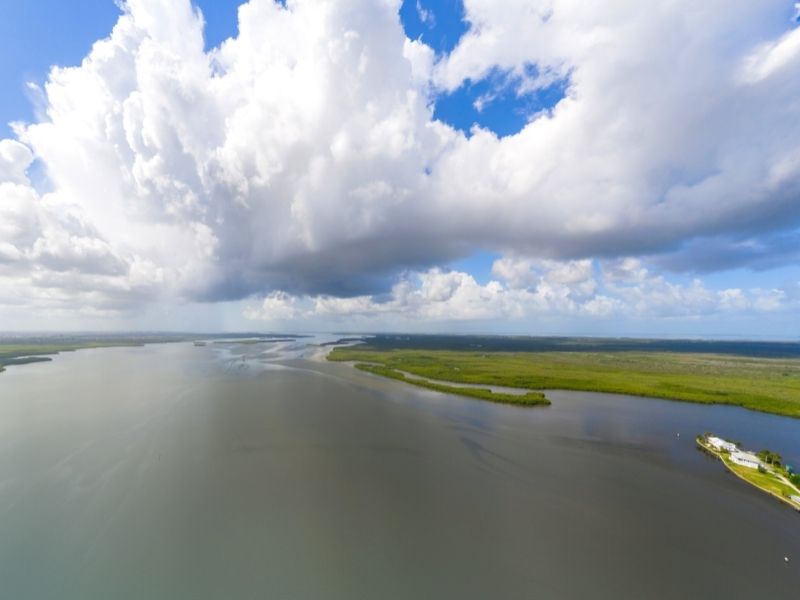 Lake Worth Lagoon, Palm Beach County
Located just outside of Palm Beach, Lake Worth is home to the Snook Islands Natural Area, a protected wetland restoration area complete with a boardwalk, floating dock and kayak launch. Exploring the county's largest estuary, Lake Worth Lagoon, is best done through local outfitter if you are unfamiliar with the busy nature of the Intracoastal Waterway, Kayak Lake Worth.
There are lots of great things to do in Palm Beach County, including more paddling on the Intracoastal waterway, such as in Jupiter Inlet or Peanut Island. For the best visit, plan two days in the area for some of the prettiest beaches and kayaking in South Florida. This whole area of Palm Beach County is really wonderful for SUP (stand up paddleboarding) as well as being some of the best mellow kayaking in South Florida.
Where to launch: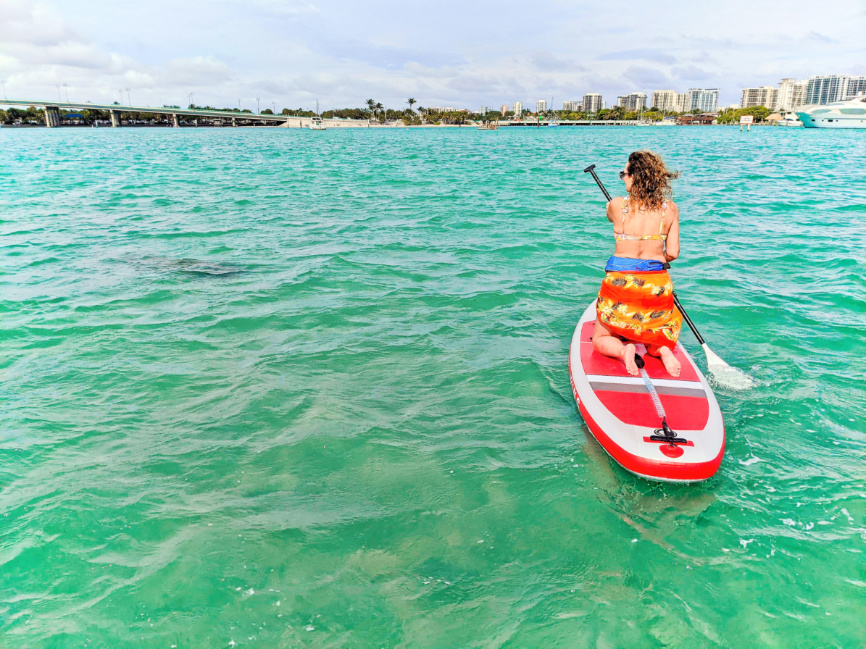 John Pennekamp Coral Reef State Park, Key Largo
Key Largo is located in the backcountry of Florida Bay and Everglades National Park, complete with dolphins, crocodiles and birds. John Pennekamp Coral Reef State Park gives opportunities for snorkeling, kayaking, SUP and even glass bottom boats to the reef.
The beautiful scenery is great for beginners and is one of the best places to kayak in South Florida, as the area is free of crowds and power boats. Dusenbury Creek provides an excellent opportunity to kayak through the mangrove tunnels. Watch your head as you go through!
Visit Florida Bay Outfitters or Out There Key Largo Kayak and Fishing Expeditions for kayak tours of the State Park and surrounding area. For more info on John Pennekamp Coral Reef State Park, visit their website for kayak rental information, as well as expeditions out to the reef for snorkeling.
Where to launch: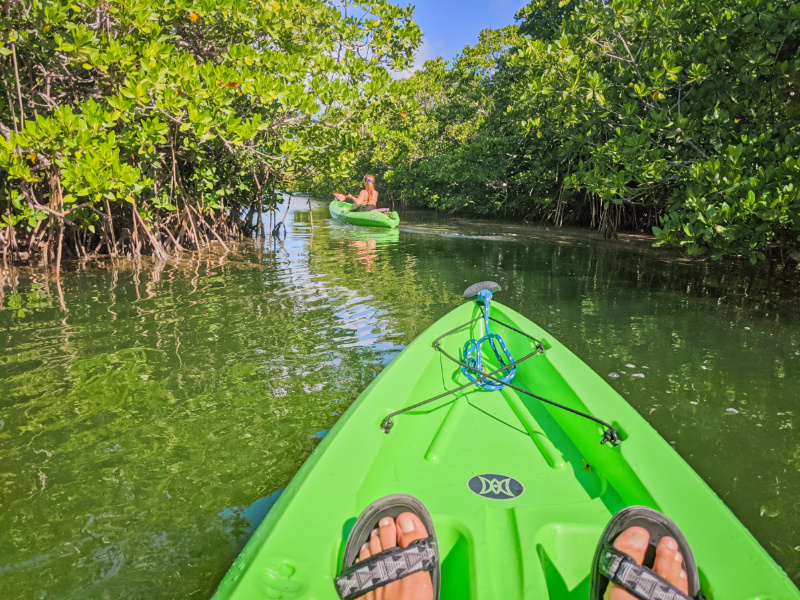 Less-visited Kayaking Spots in South Florida
For experienced paddlers visiting South Florida offers countless multi-day excursions into the backcountry full of wilderness and free of human interference. Whether you're launching your kayak in the Everglades, Loxahatchee River, Bahia Honda Park or Fisheating Creek, you will have to do some planning and be sure mother nature is in good form to allow a paddle. Timing low tides, seasonal considerations such as mosquitoes and heat, open water conditions, and a myriad of other factors will make or break your next paddle. Be sure to plan accordingly.
Rookery Bay National Estuarine Research Reserve, Naples
Rookery Bay National Estuarine Research Reserve is a great place for kayakers. It stretches across 110,000 acres of pristine mangrove forest, uplands and protected waters, encompassing nearly half of the Collier County coastline. Birders will want to have their binoculars at hand as the area has excellent birdwatching. If you're visiting Naples and Marco Island, you can't NOT visit Rockery Bay!
Kayakers have the opportunity to paddle through beautiful mangrove tunnels, mudflats, and intricate oyster reefs surrounded by wildlife, including sea stars, large snails, birds, dolphins and manatee! However, as much of the area is open water be considerate of wind and tides.
For more information on kayaking in Rookery Bay visit the research reserve site for estuary information or to book kayak rentals or a guided tour.
Where to launch: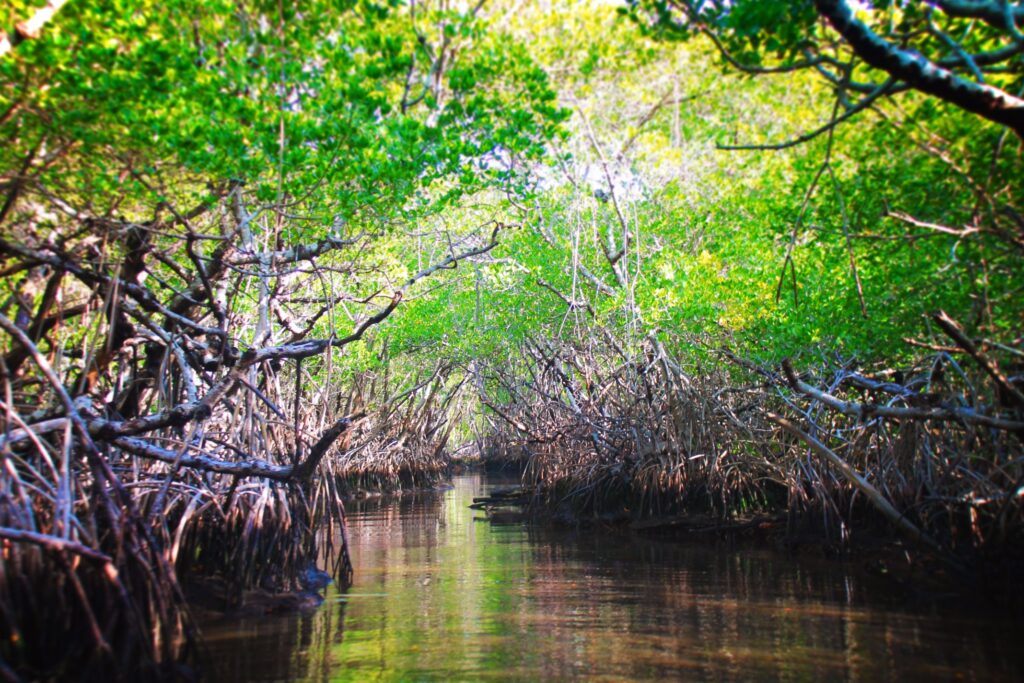 Loxahatchee River in Martin County, Jupiter
The Loxahatchee River is Florida's first designated Wild and Scenic River (state, not national). This scenic 8.5-mile paddling trail starts at Riverbend Park in Palm Beach County and takes to you Jonathan Dickson State Park in Martin County, designated a Wild and Scenic River.
The canopy of cypress trees gives kayakers a great refuge from the sun, and thank goodness, as you'll need 5-7 hours to traverse through scenery of wildlife, taking you through freshwater creeks, brackish waters in an estuary, and emptying into the Jupiter Inlet and the Atlantic Ocean.
Bonus: stop into the Hobe Sound Natural Wildlife Refuge visitor center before or after your kayaking to get up close with local wildlife, including baby alligators, skunks and snakes found in the area.
Where to launch: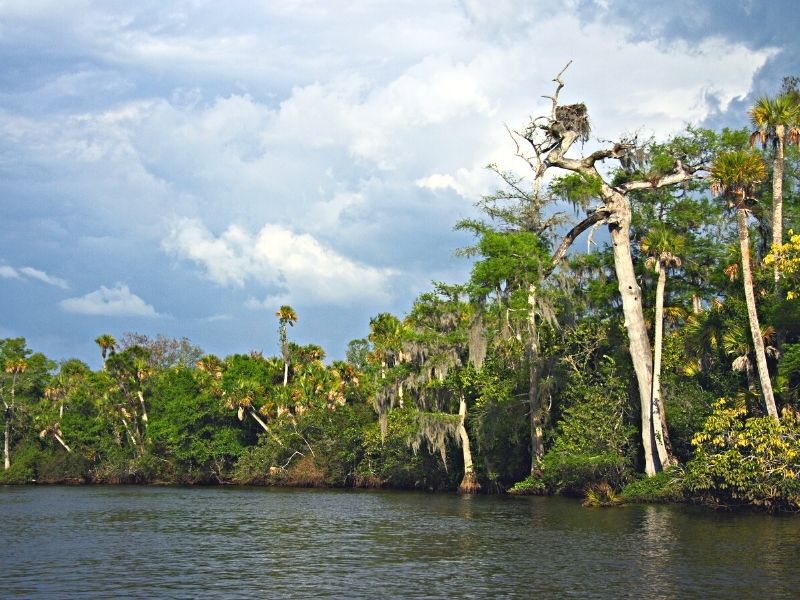 Bahia Honda Railroad Bridge, Florida Keys
Bahia Honda State Park is part of the Florida Keys and gives picture-perfect island scenery complete with beautiful sandy beaches teeming with vibrant coral reefs. If the waters are calm, we recommend going into the open water and paddling the two-thirds of a mile journey southwest to Spanish Harbor Key.
This part of the Florida Keys is exceptions for wildlife watching. Whether you're kayaking in South Florida looking for dolphins or hoping for sharks and rays, Bahia Honda and the Railroad Bridge channel are two of the best places to see marine life.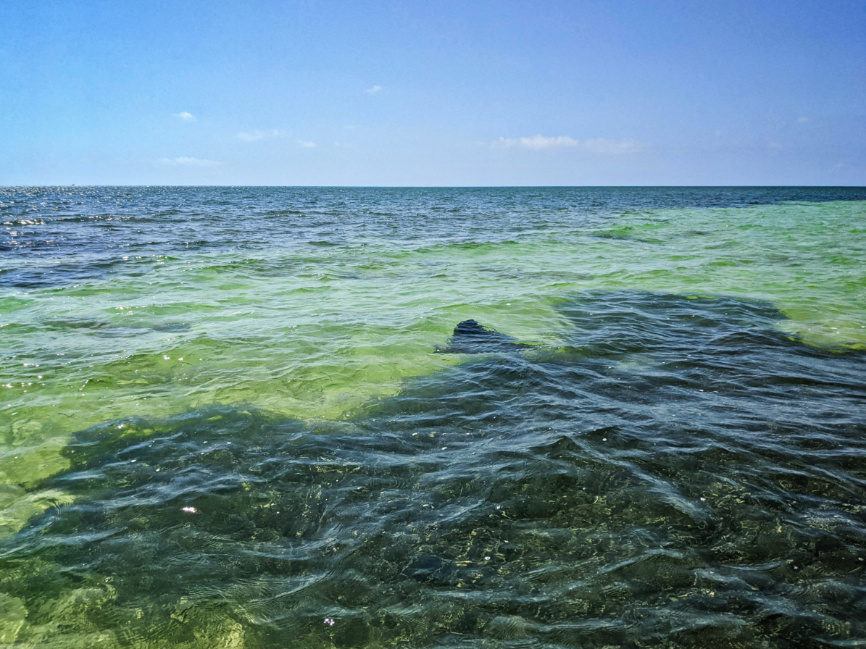 One of the most unique views you'll find while kayaking in South Florida, the route from Bahia Honda Key and State Park to Spanish Harbor Key takes you along the old railroad bridge, which is one of the most iconic sights in the Florida Keys. You can haul out on the south side of Spanish Harbor Key where you'll find tidepools and even sandy spots at low tide. Low tide is wonderful for birdwatching in the Florida Keys.
Note: the current through the channel here is fierce sometimes and you'll want to be sure to paddle far enough away from the bridges towards the open water to navigate safely. Being a strong paddler is very important here and this should not be attempted by novices.
Bahia Honda State Park 36850 Overseas Highway Big Pine Key, Florida 33043 (305) 872-2353
Where to launch: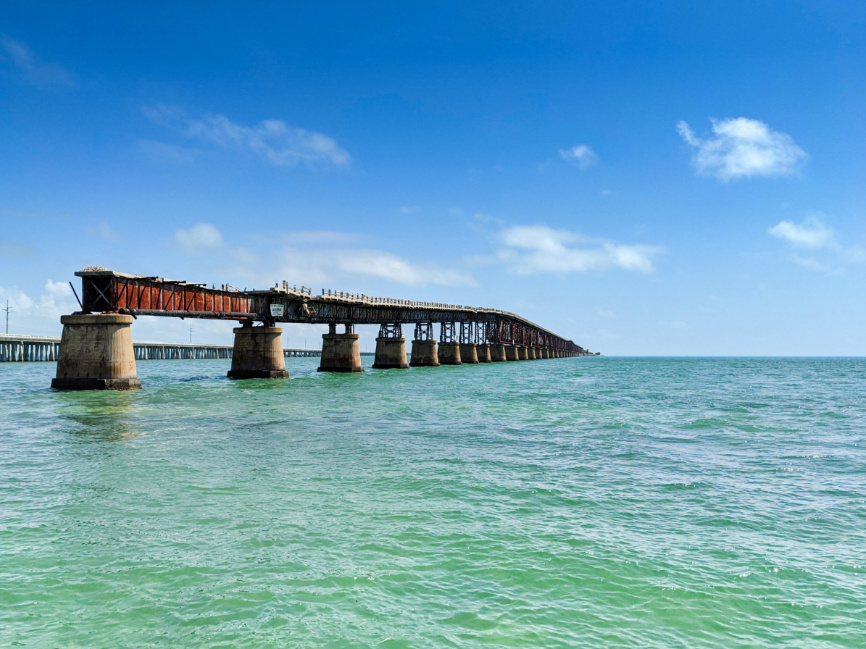 Famous Fisheating Creek, Palmdale
This is where kayaking in South Florida really changes, as Fisheating Creek is the interior. It's where old Florida meets the subtropical jungle. Paddlers have hyped up Fisheating Creek as one of the most scenic and unique paddles in Florida. The river is full of ancient cypress trees, Spanish moss, air plants, and an abundance of wildlife.
Swimming is not recommended due to the presence of alligators and water moccasins. The 52 mile long river starts in Highlands County and ends at Lake Okeechobee. Upstream from Fisheating Creek Outpost is where most paddlers start their adventure.
For more information on the area, visit Fisheating Creek Outpost's official website.
Where to launch:
National and State Park Kayaking in South Florida
There are 11 National Park sites in Florida and ten times as many state parks. You'll find that nearly all of them have some sort of kayaking or canoeing option. Many state parks have rental vendors located on site, and there are authorized vendors in Biscayne and Everglades National Parks for rentals and tours.
Check out our guide to Kayaking in Florida State and National Parks here!
Biscayne National Park, Homestead or Islandia
Kayakers visiting Biscayne National Park will find plenty of opportunities to explore the mangrove-lined shorelines and shallow bay waters. The park's expansive Biscayne Bay is perfect for crossing to Elliott or Boca Chita Keys, and experienced kayakers can find plenty of enjoyable routes to explore.
Tip: due to the size and expansiveness of Biscayne National Park, planning a kayaking trip with the Biscayne Institute is recommended. They are the National Park Service authorized vendor.
Adams Key is the most popular launching spot and a great spot to base yourself and explore the lagoons, creeks and channels to the north in Biscayne National Park. Given the shallow waters, you won't see motorized vessels in the area and you'll have the place all to yourself. The paddle if you're kayaking from Adams Key is long, so be well prepared.
Visit the National Park Services website for more information and regulations.
Where to launch: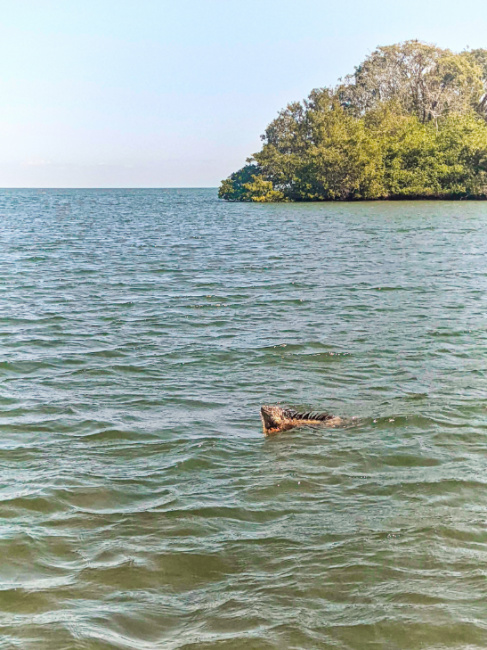 Everglades National Park in Homestead or Everglades City, FL
The biodiversity of the Everglades subtropical setting touches both the Gulf coast and the Atlantic. Kayakers have the option to start on either side when launching on a multi-day excursion. The best way to take in Everglades National Park is through the Wilderness Waterway, a trail between Everglades City and the Flamingo area at the southern end of the National Park.
Tide charts will be your savior from getting stuck in mud during low tide. It is recommended to make this trip during the winter or spring, taking full advantage of the winds and fewer chances of severe and unexpected weather. Start in Everglades City in the 10,00 Islands area and end at the Flamingo visitors center. Embarking on this trip is best done through an outfitter as it requires planning and back-country permits.
Our recommended outfitter is Everglades Florida Adventure. If you do want to do this on your own and have the experience and the proper gear and training (there are crocodiles AND alligators), to help you plan your trip, visit the National Park Service website.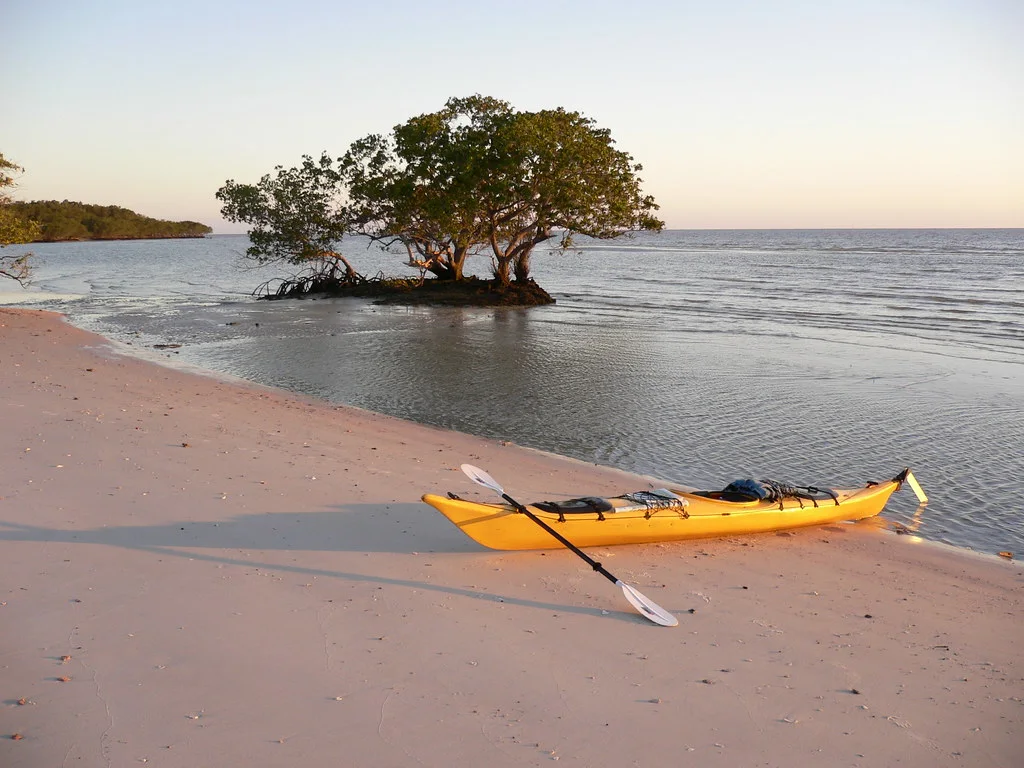 We went kayaking in the 10,000 Islands area of Everglades National Park while visiting Naples and Marco Island. It was an easy drive from town to Chokoloskee, and the boat-assisted kayaking tour was remarkable. The wildlife in the mangroves, especially the birds, was beautiful and the final destination of Rabbit Key was just WOW.
Go out with Everglades Area Tours for this specific experience. You won't be disappointed!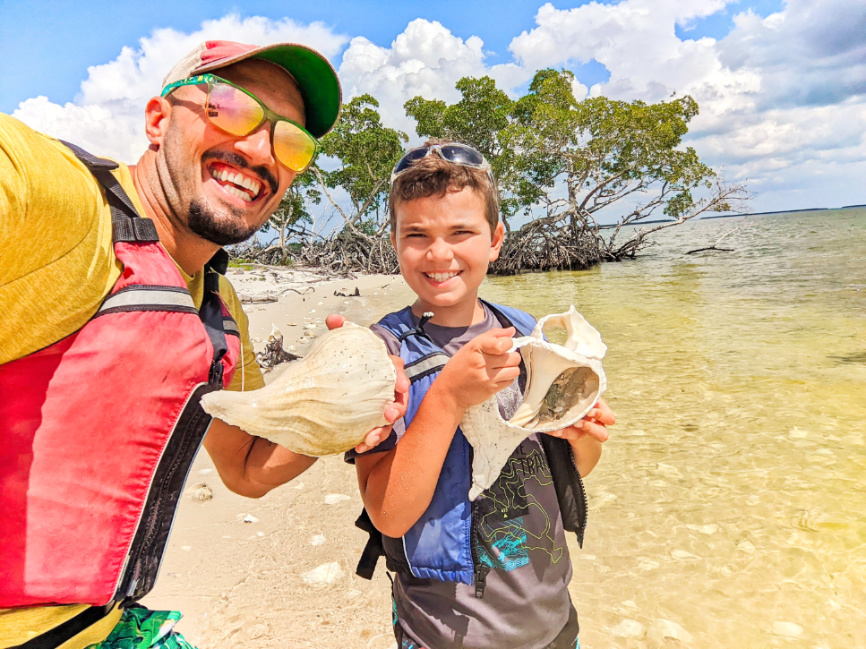 The other aspect of kayaking in Everglades National Park is going through the river of grass. There are only a few places where you can launch a kayak and NOT potentially cross paths with airboats. The Turner River launch at the Edge of Everglades National Park and Big Cypress National Preserve is one of those spots. This is alligator territory for sure, so be prepared to see lots of gators as you explore the area.
Where to launch: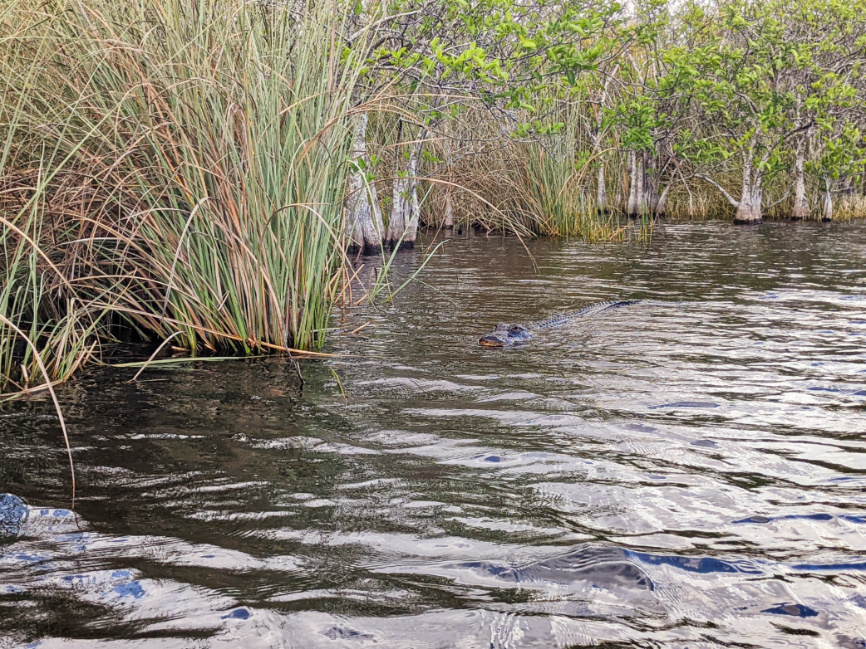 Cayo Costa State Park on the Gulf of Mexico
A favorite South Florida kayaking spot (maybe even considered central Florida) Cayo Costa is very special and one of the least visited state parks in Florida. Kayakers looking to visit Cayo Costa State Park will find nearly miles of trails winding their way through three distinct ecosystems. Note: Hurricane Ian in 2022 hit the island hard and changed it forever. It's still beautiful, but kayaking to the cabins and staying there isn't currently possible (2023).
The highlight of the park is the over 8 miles of undeveloped, natural beaches – perfect for finding seclusion and some well-deserved peace and quiet. The park's numerous islands and passages between them are teeming with wildlife including manatees, dolphins, alligators, osprey, eagles and many seabirds. One highlight includes the Manatee Hole, a small lagoon where manatees can be seen year-round.
For more information visit the Cayo Costa State Park section of the Florida State Parks website. Here you'll also find information about camping on the small island.
Where to launch: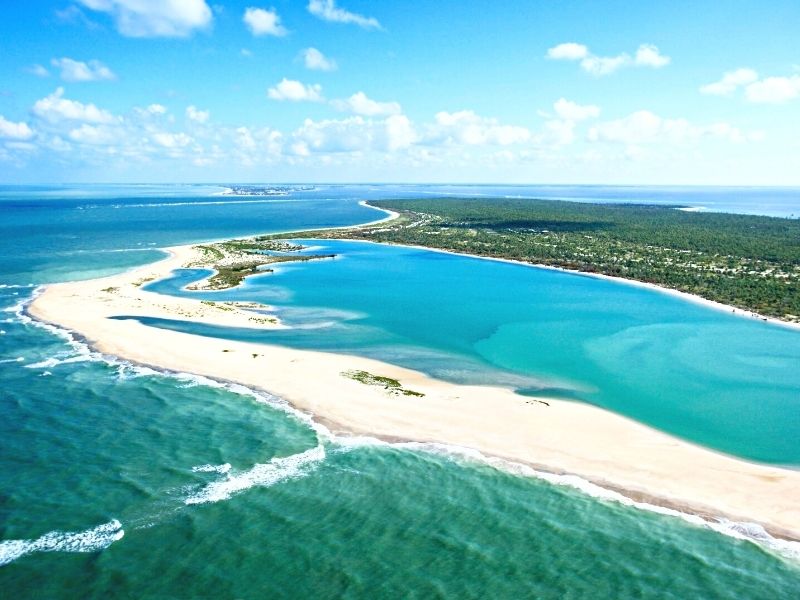 Kayaking in Big Cypress National Preserve
If you're a kayaker looking for an amazing Florida adventure, be sure to check out Big Cypress National Preserve. Bordering the Everglades National Park, Big Cypress is a diverse marine estuary swamp spanning over 700,000 acres. The preserve is home to a wide variety of plant life and animals, including the endangered Florida panther.
There are plenty of trails to explore, but the best time to paddle the waterways is between November and March when temperatures are more tolerable and the water levels are consistent. There isn't a National Park authorized vendor at this time (March 2022) but you can launch and paddle on your own. Be sure to register at one of the visitor centers AND to let somebody else know what you're doing, where you're going, and when you should be back.
For more information visit National Park Services website, specifically the kayaking and canoeing section. See Canoe Trails info here
Where to launch: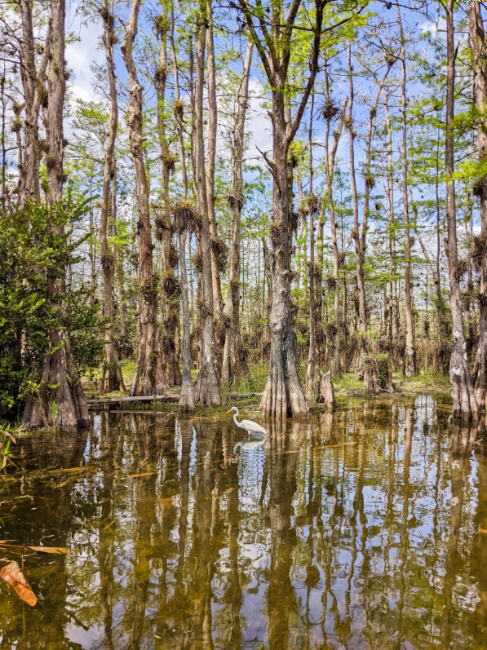 Recommended Kayaking Tours in South Florida
While we realized not everyone visiting South Florida are experienced kayakers, we still believe that a trip into the Everglades National Park is a must. Those pressed on time will enjoy a guided tour with Everglades Adventures Kayak & Eco Tours from the Everglades City entrance. Their team of professionals will take you through mangrove tunnels and cypress ponds full of exotic Floridian wildlife!
Note: there are no guided kayaking tours from the Shark Valley area of Everglades National Park, just the overland tram tour or bike rentals.
If you find yourself in the city of Fort Lauderdale just north of Miami, there are also opportunities to paddle. Fort Lauderdale is part of Broward County, and with over 300 miles of navigable waterways in this county alone, it's a great place for kayaking in South Florida. Nicknamed the Venice of America, it offers more than just beautiful beaches! We recommend hopping on a kayak and exploring the Venice of America. Sunrise Paddleboards does both SUP and kayaking tours through the nature preserve and they can accommodate nearly any age and skill level.
Regardless of where you are in Florida paddling options abound and are a must do in the Sunshine state!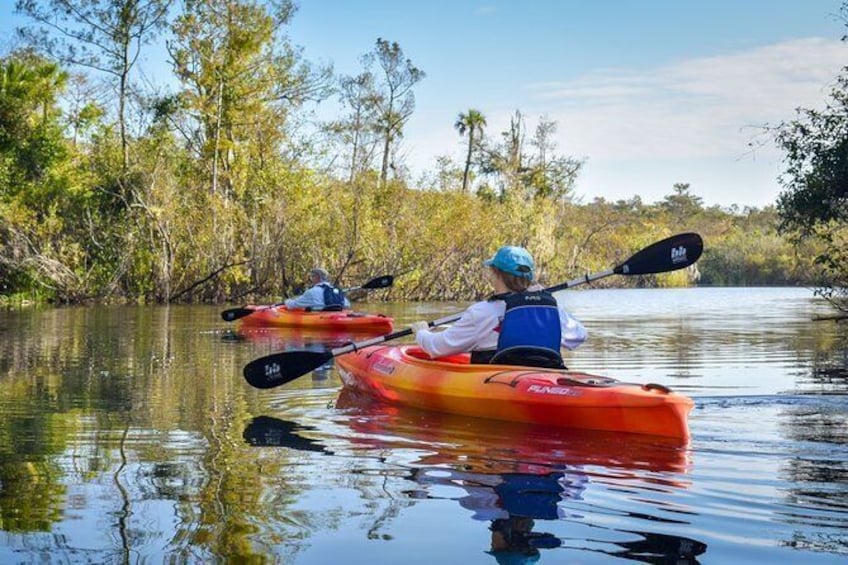 When to Visit South Florida
Visiting South Florida is a great idea year round if you're trying to either escape the cold or really want to feel like you're cooking in an instapot. From Jupiter and Palm Beach county, across to Bradenton and southward, it never really gets too cold, so they are all year-round destinations for kayaking and beach days. In summer though, it really can get hot, so if you're kayaking in South Florida May through September, plan your paddling to start early in the day.
Check out our guide to visiting the Florida Keys in Summer, as the same principles apply to visiting South Florida for kayaking in summer.
Weather in South Florida
If you're looking to kayak in South Florida, late October to early March is typically the best time to do so. The weather is usually calmer during this time, and you're more likely to see migratory birds and other wildlife. Keep in mind that there may be more storms in the later part of March and into April.
For summer trips for kayaking in South Florida, you will need to be wary of storms and the possibility of getting hit by lightning, though rare, is very much possible. The Atlantic hurricane season starts on June 1 and lasts until November 30. The season peaks in August through early October as surface temperatures in the Atlantic hit their highest temperatures, but there is usually ample warning if a named storm, or even just a bad weather system, is going to make its way through.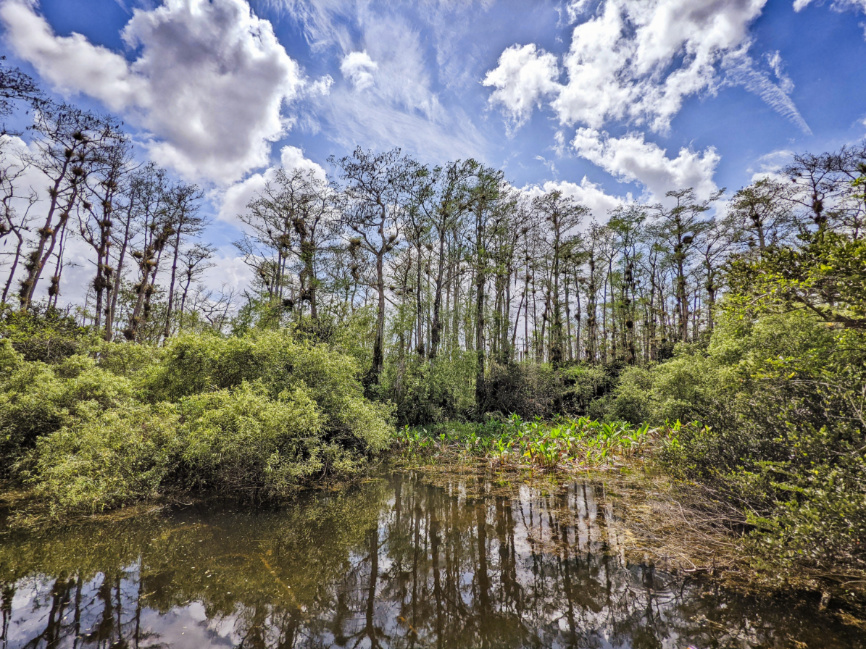 Need to Know for South Florida
Beyond the weather considerations mentioned above, tides and bugs are important factors when planning your trip. Mosquitoes are a common problem in South Florida, so be sure to take precautions during activities and use insect repellent. The weather is conducive to high levels of mosquitoes, so make sure you're prepared.
Moreover, you'll want to check the water conditions, specifically the tides, when planning a trip, especially in some of the national parks such as the Everglades National Park and Big Cypress National Preserve. Our advice, trade the bugs for the migratory birds and the muggy stormy weather for cooler temperatures and visit in the winter!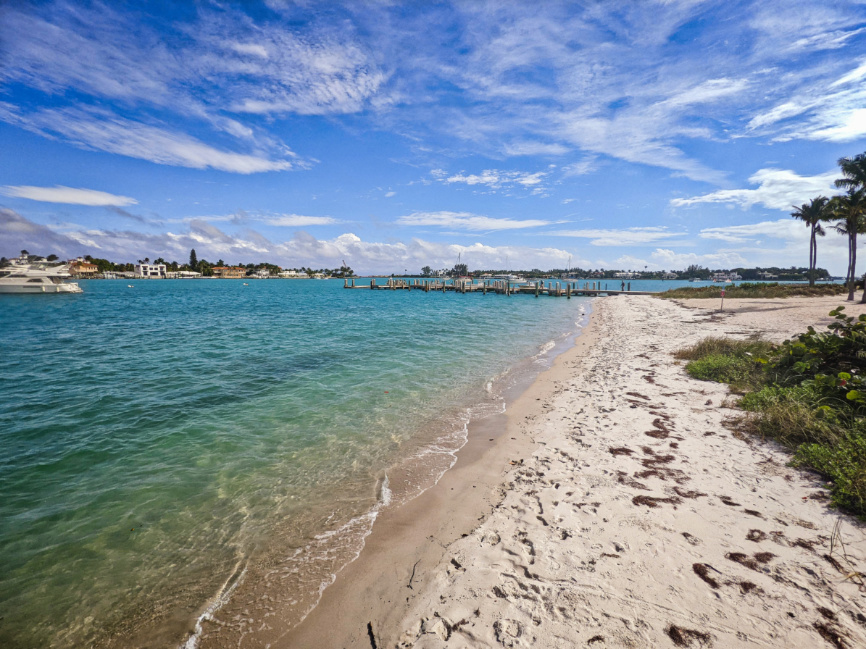 Wildlife While Kayaking in South Florida
One last consideration is wildlife. Florida has incredible creatures that can seem rather intimidating. While you always want to keep your distance, both for your safety and that of the animals, you need to be aware of aggressive or unusual behaviors as you paddle. The most common wildlife you're encounter while kayaking in South Florida includes alligators, manatees, sharks, turtles (sea and freshwater), dolphins (salt water and Intracoastal paddling), and then crocodiles.
Dolphins and manatees tend to be curious and playful, but don't often directly approach paddlers. You will want to keep at least 15 feet from manatees and 50 yards+ from dolphins, unless they are coming to you. They don't often cause problems for kayakers, but you DON'T want to surprise a manatee by sneaking up on it and then experience what's called a manatee rodeo.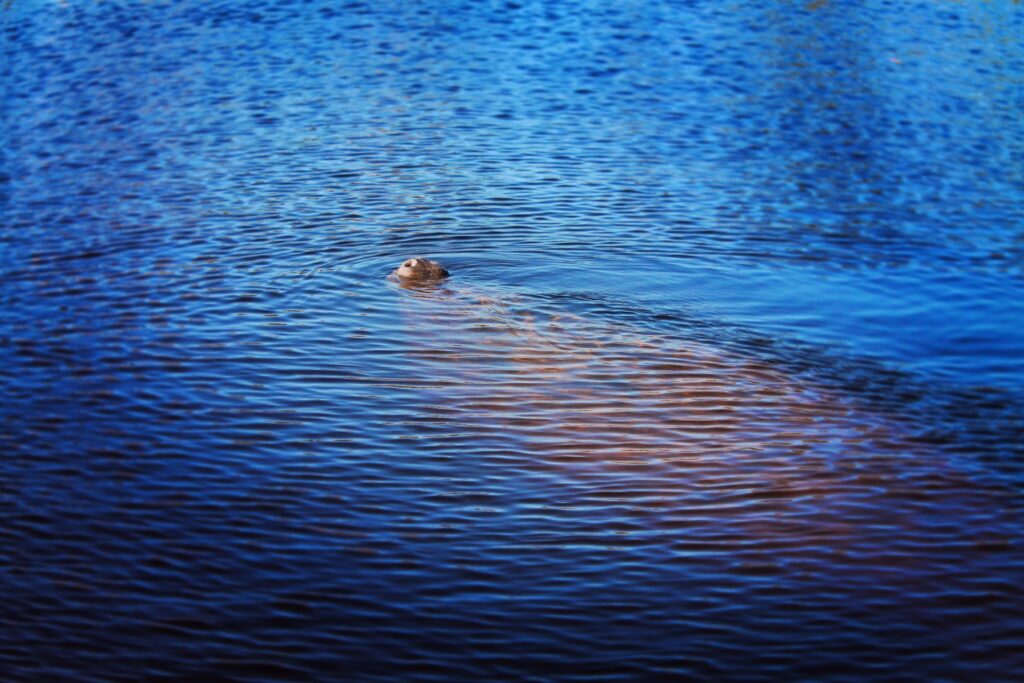 When it comes to sharks and sea turtles, you may see them, both only briefly. It's not common for either to stick around for long. You may enjoy being escorted through shallow salt water by a sting ray or eagle ray, but again, that's usually breif.
Being aware of alligators and crocodiles is very important. While neither is usually interested in humans in any capacity, if they are approached, taunted, fed or if they're protecting young, you'll want to get away from them pretty quickly. Most of the time when you see alligators they're disinterested and would rather just sleep, and it's the same with crocodiles.
Note: crocodiles are found in saltwater and only in a few places, mainly the Upper Keys and western side of the Everglades, but these are wild animals, so they can go wherever they like.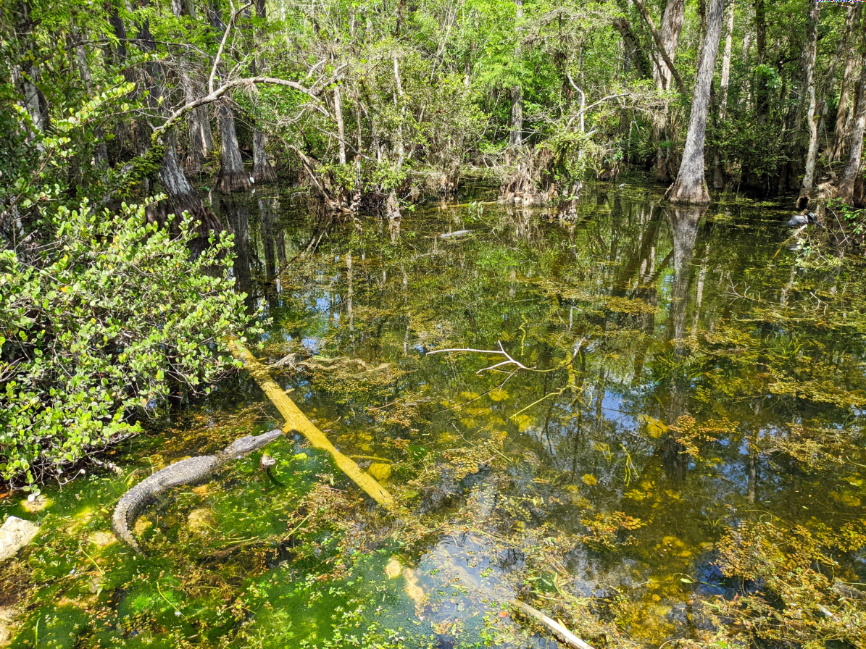 I hope you're excited to explore and enjoy kayaking in South Florida. It's really the best way to experience this beautiful place, and the diversity of sights and wildlife make it a paddling bucket list destination.
If you have any questions or suggestions, please leave a comment or send us a note. We're happy to help plan kayaking trips!