So often we see people asking questions in online forums about how to add a land portion to a cruise they're going on or what they can do with just a day or two someplace.  We have a thousand answers for those questions.  I mean, if you're cruising out of San Diego, San Francisco, Seattle, or even all over Alaska we can direct you to tons of fun in a day or weekend. Following our epic Florida road trip, now we have great ideas for Miami day trips too!  A Biscayne National Park day trip is a great way to experience local Florida nature and get the most bang out of your Miami time.
If you're stopping over in Miami as part of a cruise, as a long break in an international flight, or you're a local heading to the big city for some adventures, you can easily rent a car for the day and head down to either Biscayne National Park or Everglades National Park.  For now though, here's what you'll find at Biscayne and why it's the perfect day trip in an awesome weekend.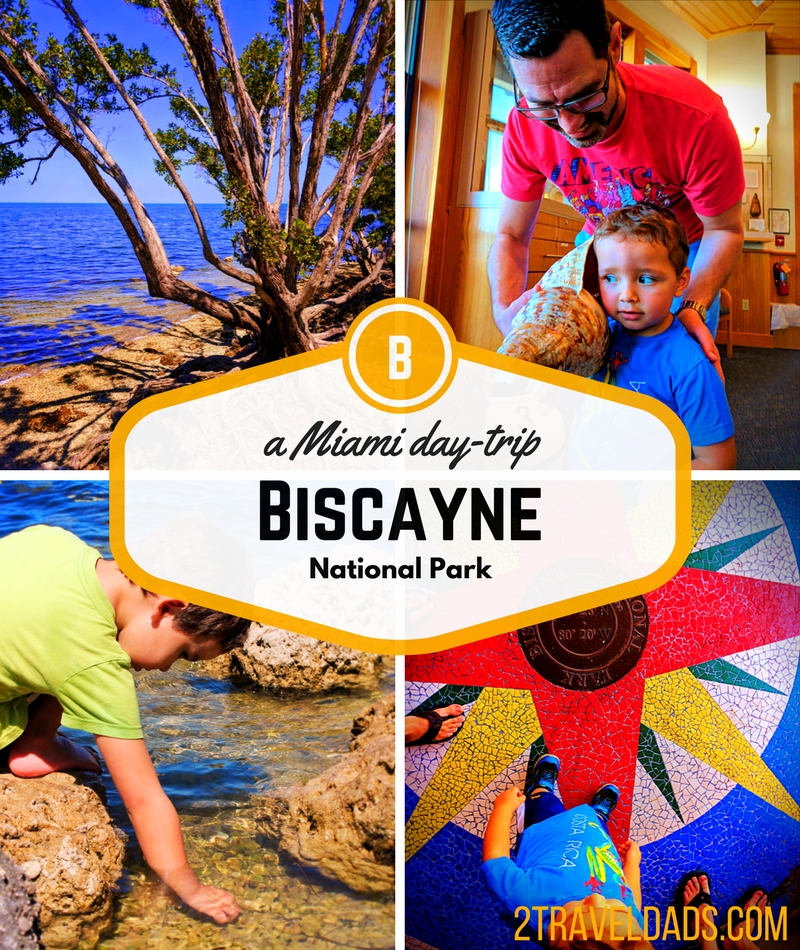 Locale of Biscayne National Park
Firstly, Florida geography is confusing from the start, but then once you understand the lay of the land, it's a breeze.  Miami is NOT on the southern tip of Florida, but actually on the east coast of the state.  With two major airports (MIA and FLL) you'll most likely find yourself here at some point, either for a cruise or international stopover.
Rent a vehicle from the airport or downtown, depending on your overall travel plan, and head west, straight outta town.  The town of Homestead, Florida is where you're going, and there's really not a lot there.  You'll drive past miles and miles of palm farms (weirdly interesting) until you appear at the Visitors Center.
Tip:  bring a picnic lunch of some sort for your Biscayne National Park day trip, as there aren't many food options once you're off the main highway.  There are lots of picnic tables and beautiful places to stop though, so plan appropriately.
After you're done at Biscayne National Park, if you still have time, there is a Miami-Dade County park very close to the Visitors Center.  With a swimming area, more picnic space and water access, you could easily relax here until you have to get back to Miami.
Tip:  download the app for Miami-Dade parking for easy pay options at the county park and other places around Miami.
Learning about Florida nature
First off, bravo to the National Park System for creating the coolest underwater dioramas ever.  Since 95% of Biscayne National Park is underwater, it would make sense to try to teach visitors about the area, especially if they're unable to go snorkeling or diving in the Park.  In addition to the amazingly life-like displays of fish and environments, the Biscayne National Park Visitors Center also has an impressive collection of turtle specimens and shells.
The Park is a very quiet place, so if you're visiting on a weekday you might not get a full staff of Park Rangers, but visit on a weekend and you'll have ample help for answering questions and doing the Junior Ranger Program.
Tip:  if you don't have one yet, be sure to purchase your National Parks Passport here so that you can collect all of the stamps from the many other Florida National Parks you'll be visiting (hopefully).
Activities at Biscayne National Park
This is wear your planning comes into play.  A Biscayne National Park day trip has the potential to be the most awesome day you have in the Miami area, but you need to be prepared for it.  We wish that we'd visited on a different day of the week so that we could have done the guided boat tour out to the lighthouse, the keys in the Park and the reef, but alas… if wishes were pennies…
Nature Trail
We never pass up a good nature trail, especially when there's a bird sanctuary involved.  The Biscayne National Park nature trail out of the Visitors Center is very easy and is handicap or stroller accessible all of the way to the end.  A combination of paved walkways along the seawall, boardwalks over shallow inlets and a gravel path through the mangroves to the protected bird sanctuary, you'll find it an easy .75 miles round trip.  I know, not really hiking, but as much as you can get here.
Tip:  bring water out on the trail because it gets hot in the mangroves where the wind doesn't break through.
Kayaking, Canoeing and Stand-up Paddle Boarding (SUP)
Bring your own or rent them there, kayaking and SUP are the most ideal way to experience Biscayne National Park.  With the Bay of Biscayne being so sheltered with the mangroves and the reef, the water is wonderfully calm and provides a great habitat for all kinds of creatures, from shorebirds and manatees, to a variety of turtles and countless species of tropical fish.
Tip:  check in at the Visitors Center for guidelines and maps for the best routes for seeing all that Biscayne has to offer.  Also check with Park Rangers regarding snorkeling guidelines within the Park boundaries.
If you're on the water in Biscayne National Park, be aware of the sharp rocks, reefs and lion fish below the surface.  While the water is very calm, poor planning or just not paying attention will get you into trouble.
Weird fact:  the lion fish found within the waters of Biscayne National Park are not native.  This invasive species is poisonous and something to be extra cautious of when snorkeling.
Ranger Led Boat Tours
Operating Thursday through Sunday, there are several daily departures from the marina at the Biscayne National Park Visitor Center.  These tours give non-kayakers a chance to get on the water and learn about the marine life and geology of the area.  There's also an historic aspect to the Park Ranger led boat tours in that there is a stilt town (or ghost structures) out in the bay, and also a lighthouse within Biscayne National Park:  Boca Chita.
So, the lighthouse was built by a dude because he wanted to create a beautiful spot and harken to the other lanterns around Florida, but it's still cool and makes for a fun boat stop.  Stiltsville is another sight you'll see on the boat tour, but it's not much these days following a lot of hurricane destruction.  
Fun fact:  Stiltsville was raided a bunch of times during the Prohibition Era due to there being swanky hot spots built on the stilts.  There's an effort to restore the existing structure and who knows what else the Trust has up their sleeve.
 If you can plan your visit to be able to do the boat tour, do it!  Like I said, next time we will for sure be heading out to the islands of the Park and maybe even making the effort to camp out on Elliott Key.
In addition to the Ranger led tours, you can also access Biscayne National Park via boat out of Miami.  With a little research and an Uber ride, you don't even need a car to make a really fun day trip across the lagoon to Biscayne and all its wonders.  Private boats have access to the main Visitors Center area as well as the main keys of the Park, so depending on your timeline and budget, you could have a unique, personalized National Park adventure.
Clearly the best way to experience the Park is on the water.  If you plan it properly, you can enjoy a full Biscayne National Park day trip seeing the land sights, enjoying the tropical bay and maybe even encountering some really cool wildlife.  We cannot wait to return to the Park when the kids are older for some awesome kayaking and checking a few more lighthouses off of our bucket list.
Have you been to Biscayne National Park?  What are your tips for visiting and experiencing this one of a kind National Park?