John Pennekamp Coral Reef State Park is located in Key Largo, the largest of the Florida Keys. The park is best known for its underwater beauty, and it offers a variety of activities for both scuba divers and snorkelers. We visit every time we do the Florida Keys road trip, even when we don't do a guided tour to the reef. Visitors can also enjoy glass-bottom boat tours, kayaking and fishing. It's the perfect start to a Florida Keys road trip and is a great way to ease into the Keys state of mind!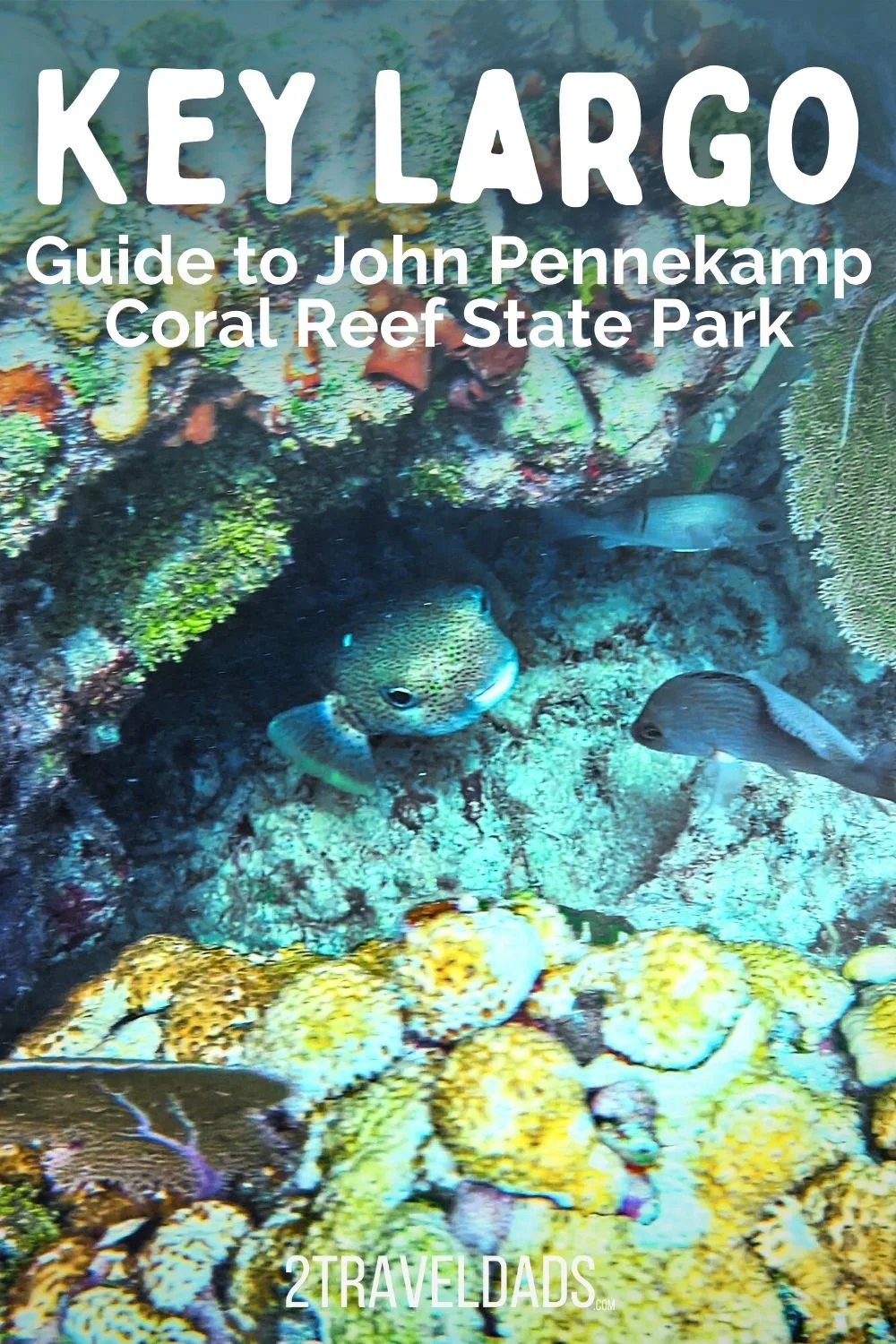 What's so Special about Pennekamp State Park?
The park is home to the only living coral reef in the continental United States, and it is a popular destination for both beginner and experienced divers. The reef is teeming with marine life, and visitors often see turtles, dolphins, and a variety of fish. There are also several shipwrecks in the area that are popular among divers.
John Pennekamp Coral Reef State Park is unique because it is the only park in the country that is dedicated to coral reefs. The park was established in 1963 and is home to over 100 species of coral, 500 species of fish, and 4,000 species of marine invertebrates. The park offers a variety of activities for visitors, including swimming, snorkeling, kayaking, fishing, and camping.
Things to do at John Pennekamp Coral Reef State Park
Whether you're looking for an adventure or a place to relax, John Pennekamp Coral Reef State Park is sure to please. Never have I ever… been bored at Pennekamp State Park. I've fallen asleep at the beach here, but I've never been bored.
Underwater Activities at Pennekamp State Park
While there are more engaging state parks in the Florida Keys for history buffs (like Windley Key Fossil Reef Geological State Park) or people looking for a challenging kayak trail (such as the paddle to Lignumvitae Key Botanical State Park), John Pennekamp Coral Reef State Park really is awesome for an introduction to the underwater world of the Keys.
Visitors can take part in a variety of activities, including snorkeling, scuba diving, and kayaking. There's also a glass-bottom boat tour that gives you a peek at the underwater world without getting wet. No matter how you choose to explore it, the coral reef and shallows directly in the bay at Key Largo are an unforgettable experience.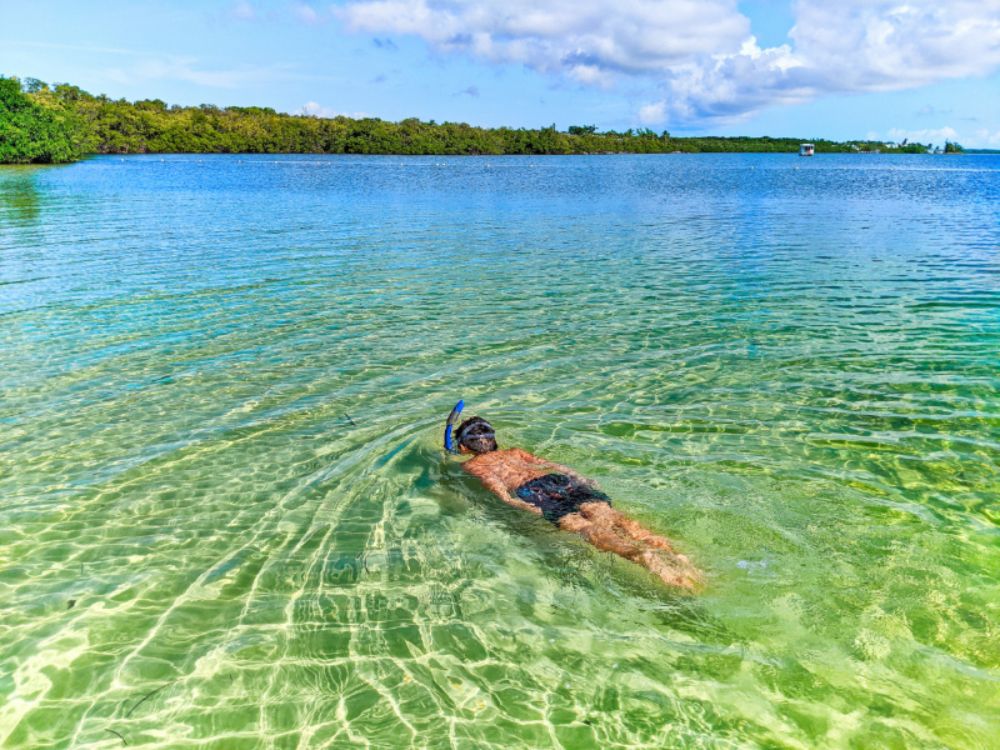 A highlight of John Pennekamp Coral Reef State Park is going out on one of the tour boats to the reef itself. It's most famous for diving and to those looking to visit the Christ of the Abyss, a statue of Jesus underwater within the bounds of the state park. This is a diving highlight, but some snorkel tours will go here as well. It's best viewed with SCUBA gear, but an experienced free diver may also check it out with caution.
NOTE: do not touch Christ of the Abyss. There is a fair amount of fire coral in this area, including on the statue, and you DO NOT want to be hospitalized with chemical burns from the fire coral.
Find a tour that's right for you HERE!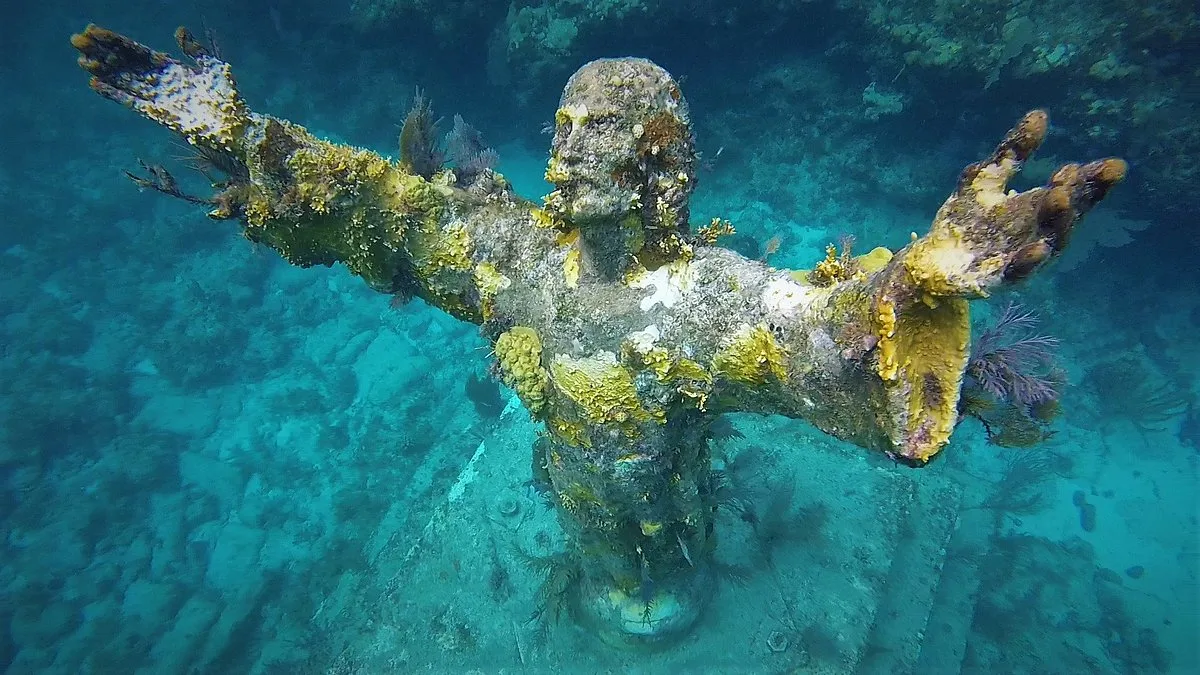 Kayaking at John Pennekamp State Park
Kayaks are available to rent at the main office/marina area of Pennekamp State Park. You can also use your own if you've brought one for kayaking in the Florida Keys. If you're into paddleboarding, they're available too with plenty of trail options. Our pick for the best paddling route is from the marina, through the bay and then the canal to Tarpon Basin at HIGH TIDE. You can also do a more mellow paddle that goes through the lagoons and a mangrove tunnel. You'll see plenty of Florida Keys wildlife on either route.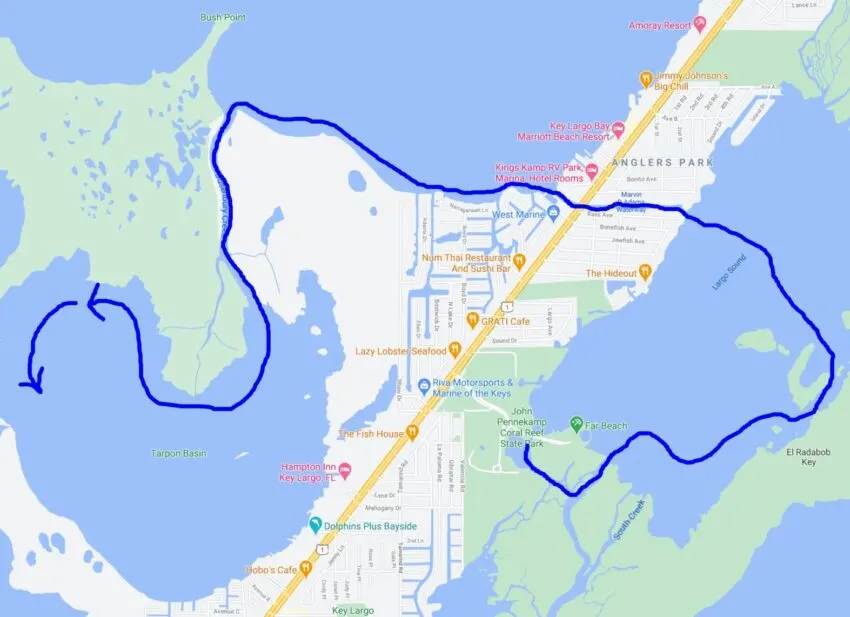 Beaches and Exploring on Shore
And when you need a break from all the underwater and paddling activities, you can relax on one of the park's small beaches. In addition to its underwater attractions, John Pennekamp Coral Reef State Park also offers a chance to relax on the beach or take a nature hike (walk in the hardwood hammock). The park has several trails that wind through mangroves and tropical hardwood forests. While some boardwalks have remained closed since Hurricane Irma, most are open for exploring.
We also enjoy birdwatching here at Pennekamp State Park. Between the birding on the water and the wildlife on the hammock trails, you'll agree that this part of Key Largo has some of the best birdwatching in the Florida Keys.
NOTE: as you hit the beach here at the state park, or anywhere in the Keys actually, you'll see a crocodile warning. Crocs are super shy though and are so rarely seen that you'll be hard pressed to meet a Florida Keys resident that's seen one, especially in busy areas like the state park beaches. Always keeps your eyes peeled though.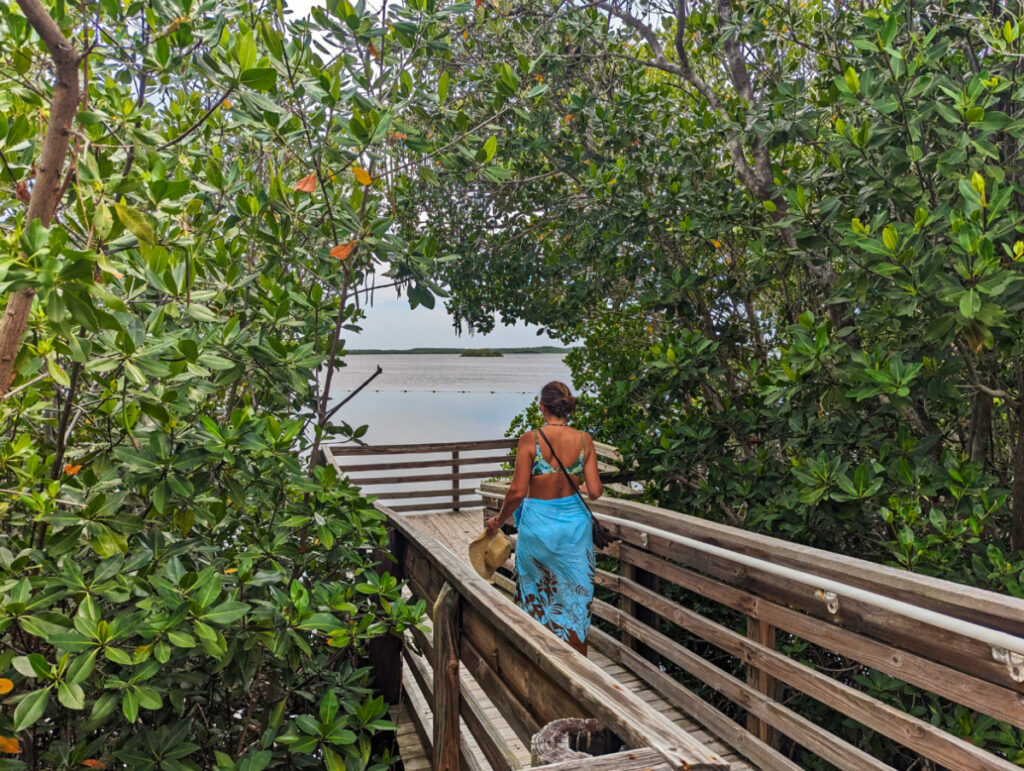 John Pennekamp Coral Reef State Park Visitor Center
Another fun activity on-shore at John Pennekamp Coral Reef State Park is the visitor center. Full of exhibits and live aquarium specimens, it's an up-close view of what you'll find out in the water. This is a great spot to teach kids about the ecosystem, show them how humans impact the coral reef and, bonus, they have amazing air conditioning!!
Pro-tip: If you're doing the Florida Keys in the summer, you'll need to take note of good AC spots.
Before you head out onto the water, stop into the visitor center to get the scoop on weather conditions, paddling trail recommendations and to learn a bit about what to watch for when you're snorkeling.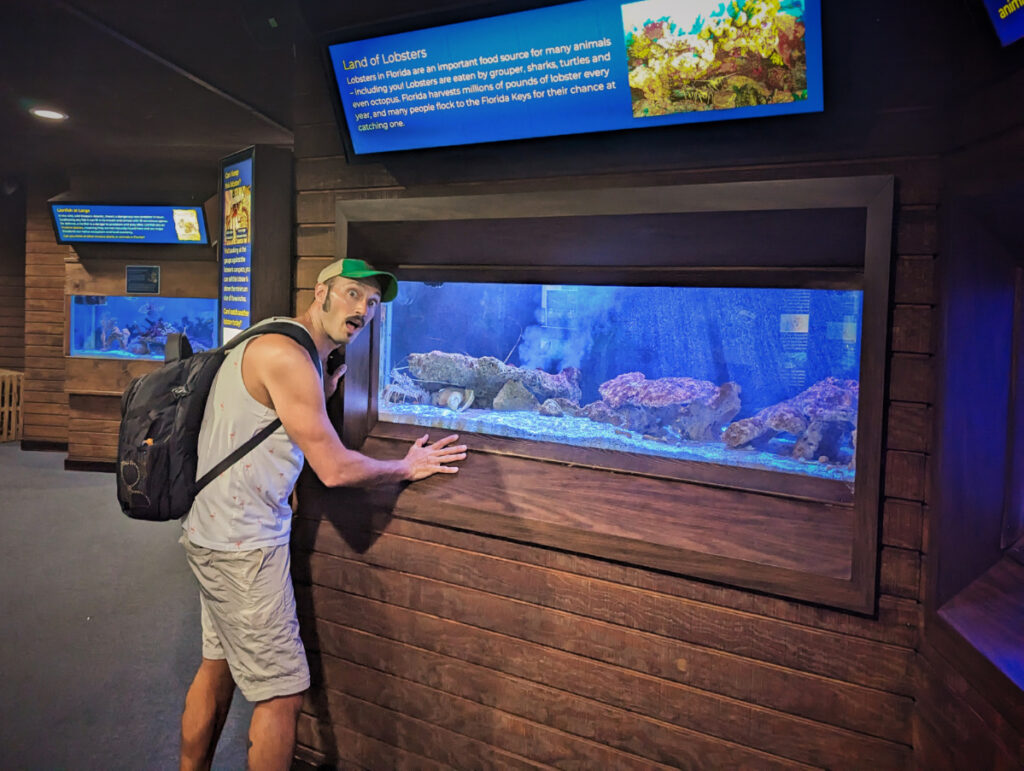 Camping at Pennekamp State Park
There are picnic areas for day trippers, and camping sites available for visitors who want to stay overnight. While the campground at Pennekamp isn't huge, it's really cool and is great for RV campers. Heads up though, you'll need to plan a camping trip here many month in advance, as campsites fill up with reservations 6-12 months in advance. Example: we looked for a tent site reservation in October, there wasn't one available until the following August.
If you are looking to go camping at John Pennekamp Coral Reef State Park, find dates that are open and then book them, then find another campground in the Florida Keys that has availability on either side of your Pennekamp reservation. This will set you up to be able to camp in multiple spots during your camping trip. Also consider looking for camping up in Everglades National Park!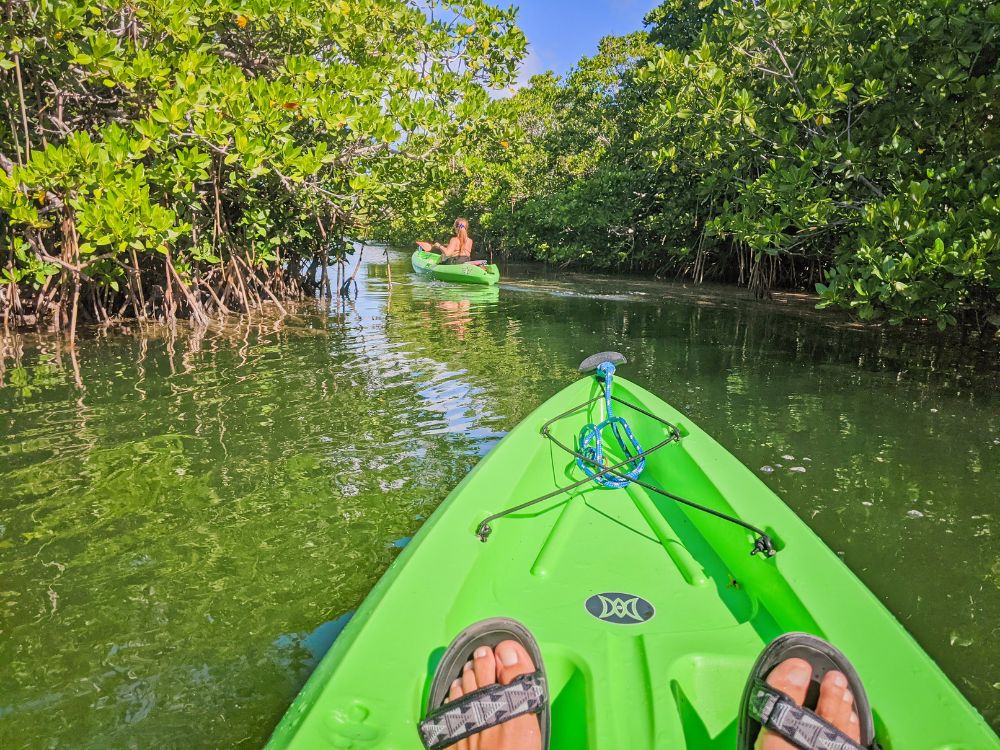 Where is John Pennekamp Coral Reef State Park?
This beautiful park is located in Key Largo, the largest of the Florida Keys, and the very first key you arrive onto when you're driving the Overseas Highway. The upper keys are famous for their dramatic coral reefs, and John Pennekamp Coral Reef State Park is the perfect place to enjoy them. In addition to this famous reef, there are several other reefs suited to diving, including Frenches Reef and multiple shipwrecks. We went out with Horizon Divers here on Key Largo and had an awesome time!
As you drive along the length of Key Largo, John Pennekamp State Park in positioned approximately one-third of the way down the island from your initial arrival point via the Overseas Highway, merely four miles to the south. This makes it an easy day trip from Miami and a great weekend adventure.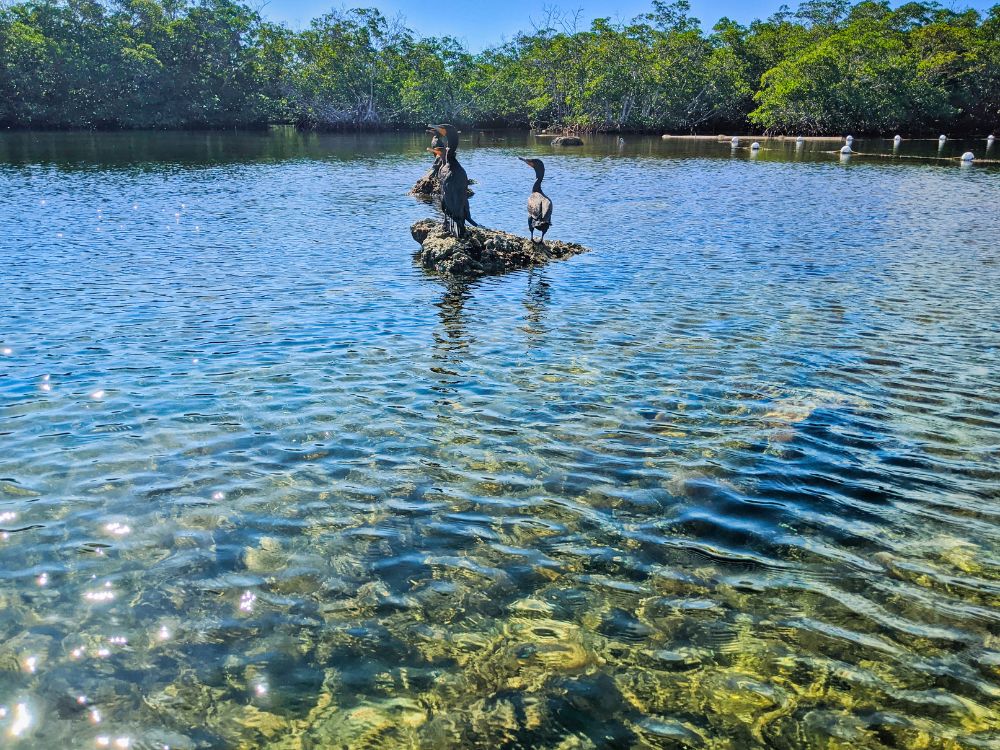 For daily updated information about what's happening at Pennekamp State Park, visit the official concessioner website. Here you'll get info about recent weather impacts, closures and most current tour information. You can also check the Florida State Parks website for any additional information or for to get your visitor's day pass online.
We really enjoy our stops at John Pennekamp Coral Reef State Park and since it's so near the start of the Keys, it's never difficult to add it to our Florida Keys vacation plan. If you have any questions about visiting this or other state parks, or anything else about doing the Florida Keys on a budget, please leave a comment or send us a note. We're always happy to share more and help plan awesome travels!