I love a good Florida road trip, especially one that visit lots of beautiful beaches and islands. Did you know that there are actually tons of beautiful islands in Florida that AREN'T the Florida Keys? It's true! Due to the Intracoastal Waterway, nearly the entire state has barrier island around the edge. This makes for all sorts of different and interesting Florida vacations.
Yes, we really do love the Florida Keys and actually have a whole website all about exploring the Keys, but there are so many more island destinations in Florida to enjoy. We've picked 15 of our favorite islands in Florida to consider for a different sort of getaway or day trip. You may be surprised by some of these gorgeous spots and how easy they are to get to!
If you have another island here in Florida that you want to share or have questions about, please leave a comment or send us a note. We're always happy to share more!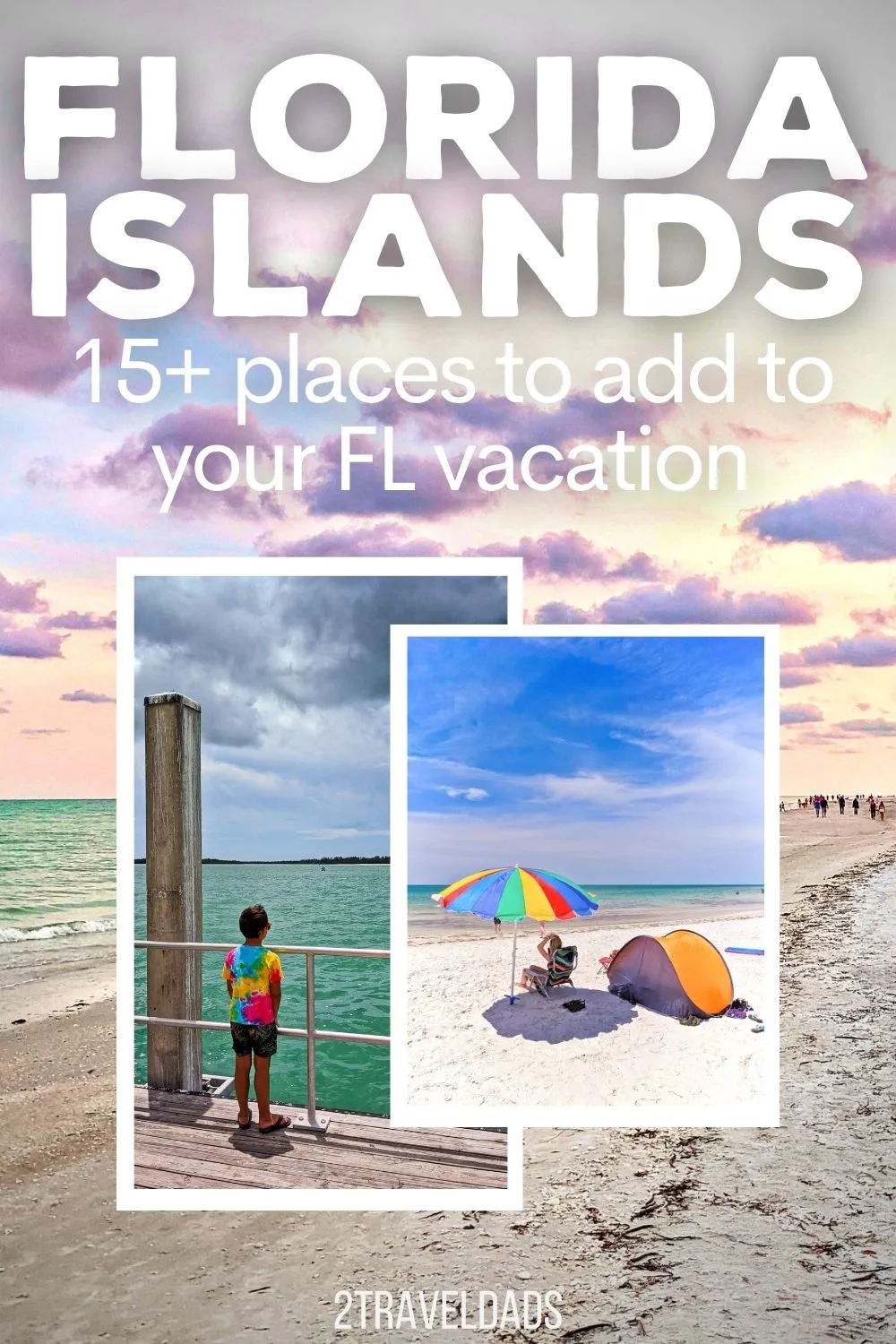 What's the Difference Between a Key and an Island?
In Florida, the terms "key" and "island" are often used interchangeably, but traditionally there is a slight difference in their meanings. A key typically refers to a small, low-lying island or series of islands that are usually located along a coral reef system, sandbar or shallow waterway. Keys are often long and narrow in shape and are often connected to the mainland or other islands by a bridge or causeway.
On the other hand, an island is a larger landmass that is surrounded by water. Islands can be found both in the ocean and in inland waterways like rivers and lakes. Unlike keys, islands are not necessarily connected to other landmasses by a bridge or causeway. And I know, there are some keys that aren't connected above water, but you get the point.
That being said, in Florida, the term "island" is often used to refer to both small and large landmasses that are surrounded by water, and the term "key" is often used to refer to any type of island that is located near the coast. So while there may be a technical difference between the two terms, in practice, they are often used interchangeably.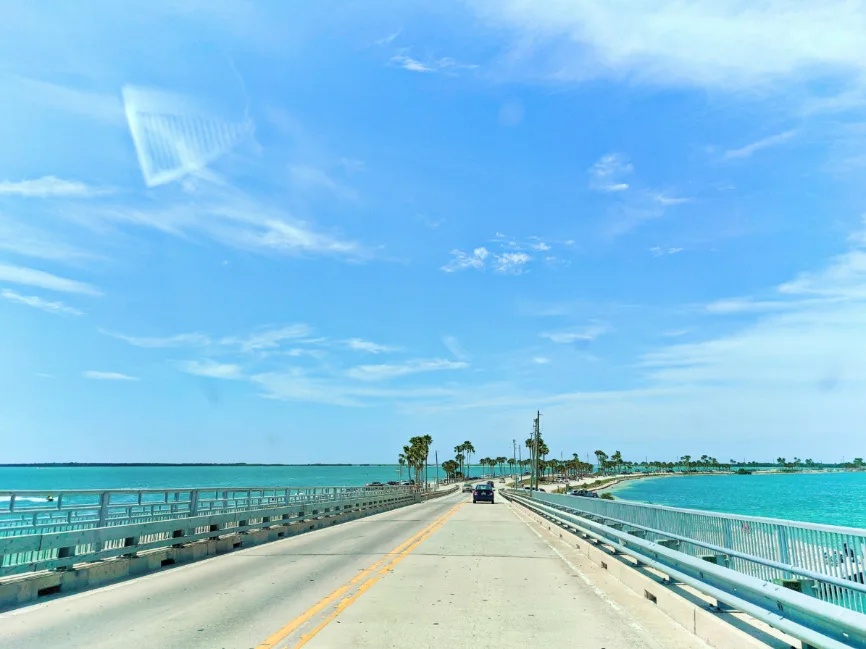 15 Islands in Florida You'll Love to Visit
As we thought about all the fun trips we're taken around the state, it wasn't actually difficult to pick our favorite Florida islands for trips. On both the Atlantic and Gulf Coast sides, you'll have plenty of options and I think you'll be pretty happy with any of them!
Note: we've ordered our list of islands in Florida from north on the Gulf Coast side to south and then looping back up the Atlantic side to the Georgia border, stopping just shy of Cumberland Island.
Cedar Key
Located on Florida's Gulf Coast, Cedar Key is a small island town known for its mellow vibe and wildlife. I love Cedar Key for simply relaxing. It's one of the most unique islands in Florida due to its near lack of things to do. I know that sounds weird, but for the most part a trip to Cedar Key is all about relaxing and taking it slow. Birdwatching, fishing and just enjoying this "old Florida" town are the main goals when you visit.
Another interesting thing about planning a trip to Cedar Key: there are ZERO chains of any sort on the island. You can't eat at a chain restaurant, can't get coffee from a chain, and can't stay in a national travel brand hotel. It's all local all the time.
Find a Cedar Key island getaway here!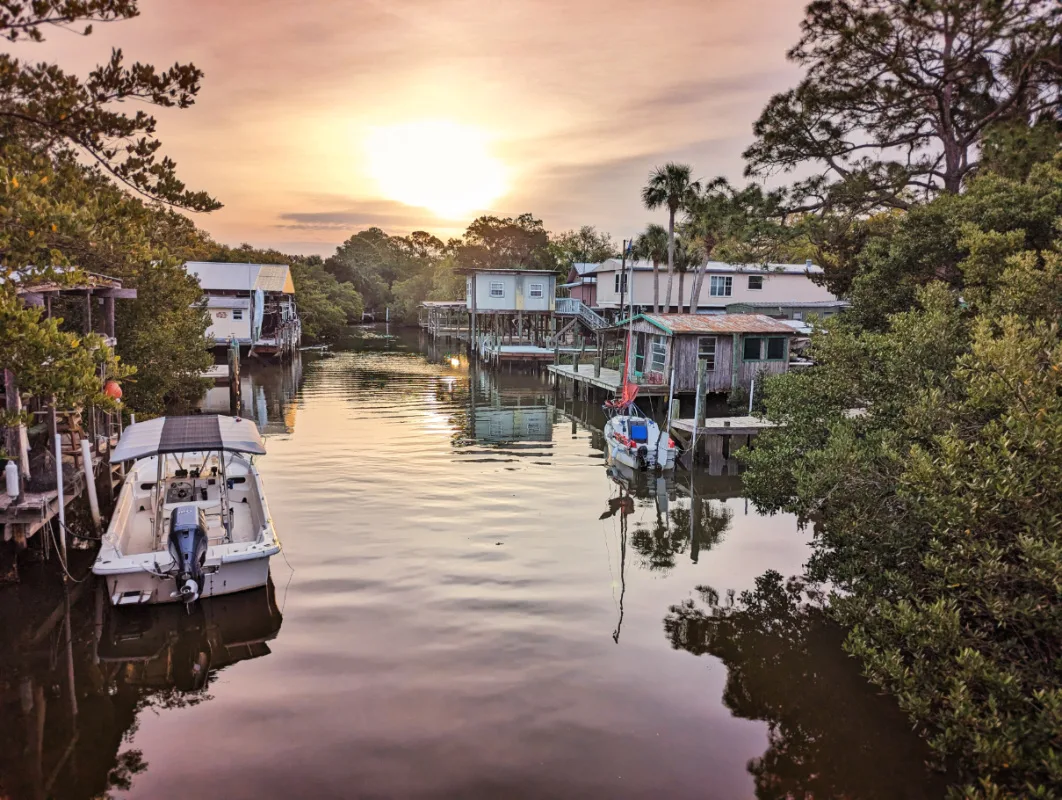 Honeymoon Island
If you're in Tampa and want to have an island escape, Honeymoon Island State Park is awesome. It's one of the islands in Florida that is easy to miss if you're just on a mission to get from point A to point B. Located near Dunedin (said Duhn-ee-din) on Florida's Gulf Coast, Honeymoon Island is a state park known for its natural beauty that's both beaches and lagoons, walking trails and birdwatching. I love it here!
Because traffic onto the island can be slow, it's best to visit Honeymoon Island on a weekday, and get there early. There are great facilities that make it so you don't have to leave for food or shade, and there are miles of beaches for walking. This is also some of the best beachcombing outside of Sanibel.
Find a Dunedin hotel or resort!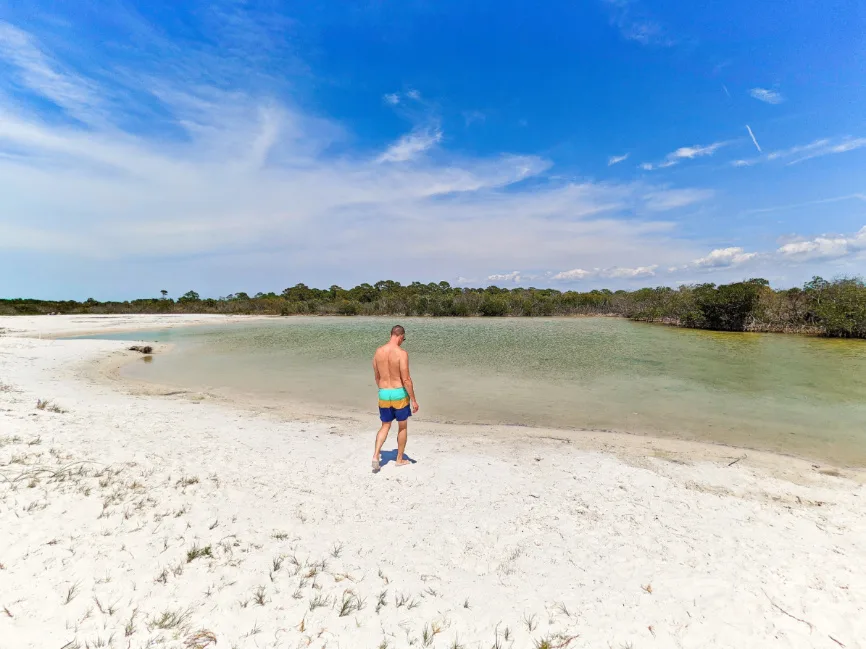 Tierra Verde and St Pete Beach
Visit for the Dali Museum in St Pete Beach, stay for the camping and beaches of Fort De Soto. If you're able to score camping reservations here at Fort De Soto Park, you're lucky. We had the best camping trip here and I've been sold ever since. But really, there is more to it than camping. The beaches and bunkers at Fort De Soto on Tierre Verde are fun and beautiful.
Just to the north, between Fort De Soto and Tampa is St Pete Beach, which is also wonderful. The beach is great, but there's an actual community here that is worth exploring and spending time in too. As I mentioned, the Salvador Dali Museum is here, which is amazing to visit with kids, especially aspiring artists. Spend a day doing the museum and beach, then spend the evening on the really unique St Pete Beach Pier. What an unusual Florida island feature.
Find a St Pete Beach stay here, or try for camping reservations here!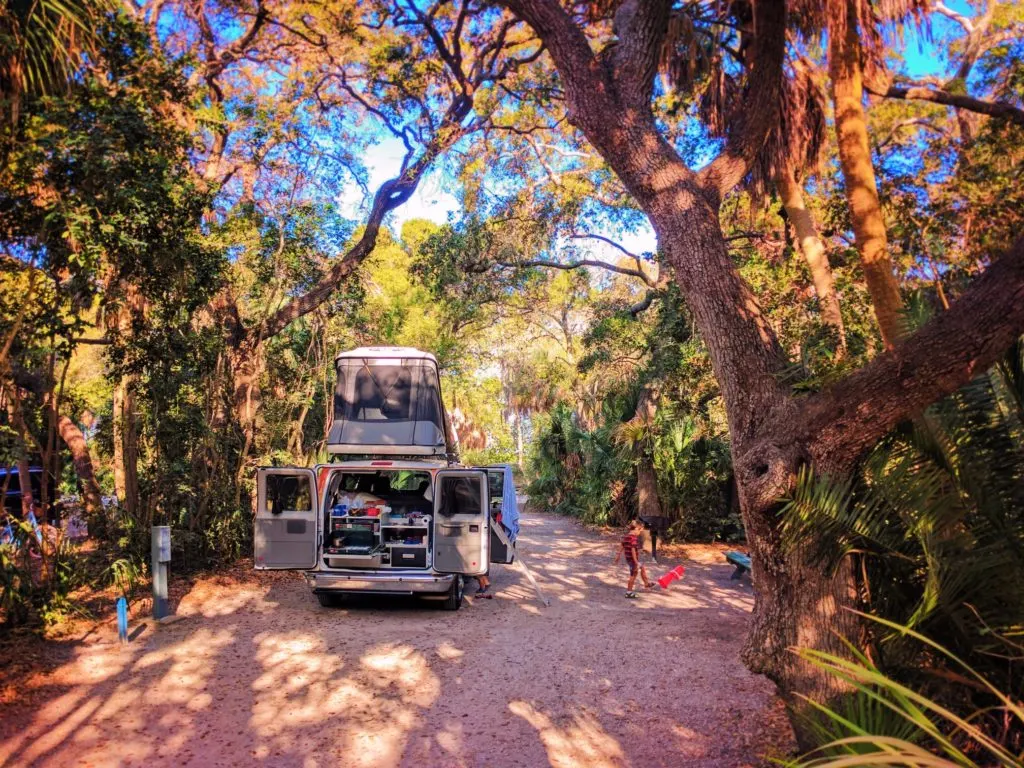 Sanibel Island
Located off the coast of Fort Myers, Sanibel Island is known for its beautiful beaches, sea shell hunting, and the Ding Darling wildlife refuge. We were on Sanibel Island just before Hurricane Ian hit it in 2022. I can't imagine how life has changed since then for the residents, but as a visitor, I know how I was stunned to see the images after the storm. We loved our stay at the Sundial Resort on Sanibel, but it was all but destroyed in the storm.
Sanibel is on its way back to being one of the best islands in Florida for a beach vacation. The reconstruction is happening, more swiftly than I imagined possible, but still there is a long way to go (April 2023 opinion). Keep Sanibel on your list for a future visit, and check the actual destination website for tips and recommendations around the reopening phases. And once you're there, be sure to explore the Ding Darling National Wildlife Refuge, the Shell Museum and do a guided kayak tour on Tarpon Bay.
Find a Sanibel resort or hotel here!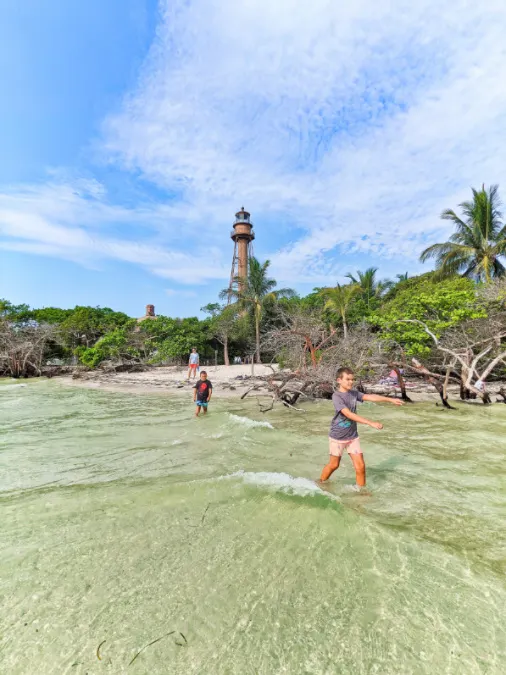 Captiva Island
Connected to Sanibel Island by a small bridge, Captiva Island is another popular destination for beachgoers and relaxation enthusiasts (that's me!). Captiva is less developed than Sanibel, and still recovering from 2022's Hurricane Ian, but it's on its way to being a Gulf Coast vacation destination again. What I really like about Captiva is how quiet it is.
Whether you're staying in a Florida island cottage on Captiva or just visiting for the day, you'll fall in love with it. We've enjoyed our share of beach time, paddling and dolphin adventures from Captiva.
Find a Captiva Island vacation rental here!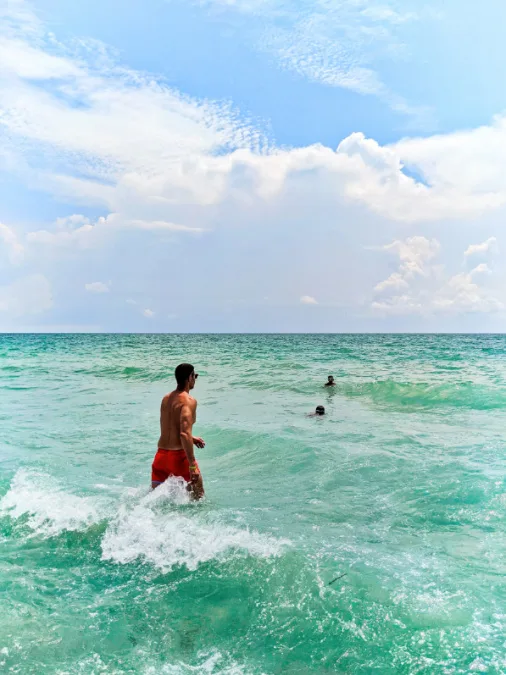 Anna Maria Island and Longboat Key
Manatee County is one of my favorite places for beach time, and here are some of the best islands in Florida. A barrier island on Florida's Gulf Coast, Longboat Key is known for its luxury resorts and pristine beaches. Anna Maria Island is the same, with the waters being so ridiculously clear and beautiful, that you kind of won't believe it. It used to be mellow like Sanibel, but then the developers showed up and built tons of resort hotels. It's still fun and beautiful, but it's not as low key as other Florida islands.
Because Longboat Key is so well developed, that does mean that there are lots of choices for places to stay, and there are tourist activities to enjoy as well. Our top pick is clear kayaking on the Intracoastal, but there is plenty of birdwatching and awesome beaches. And you're so close to Sarasota that day trips like visiting the Ringling Estate or going shark tooth hunting at Caspersen Beach are easy to add to your Florida island visit.
Find a Longboat Key or Anna Maria Island stay!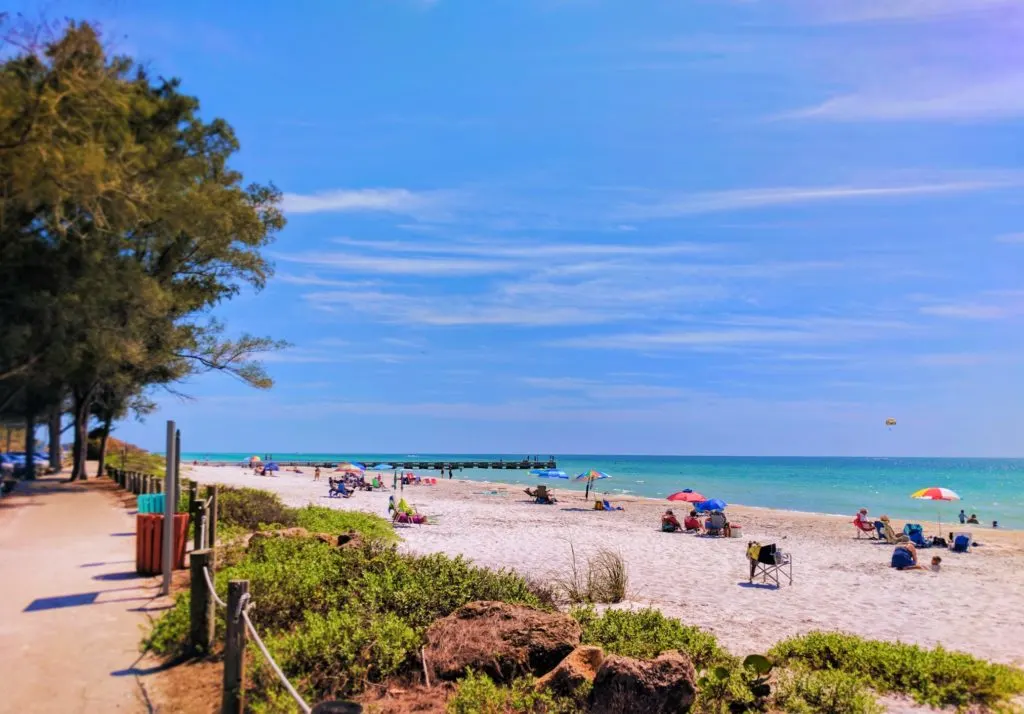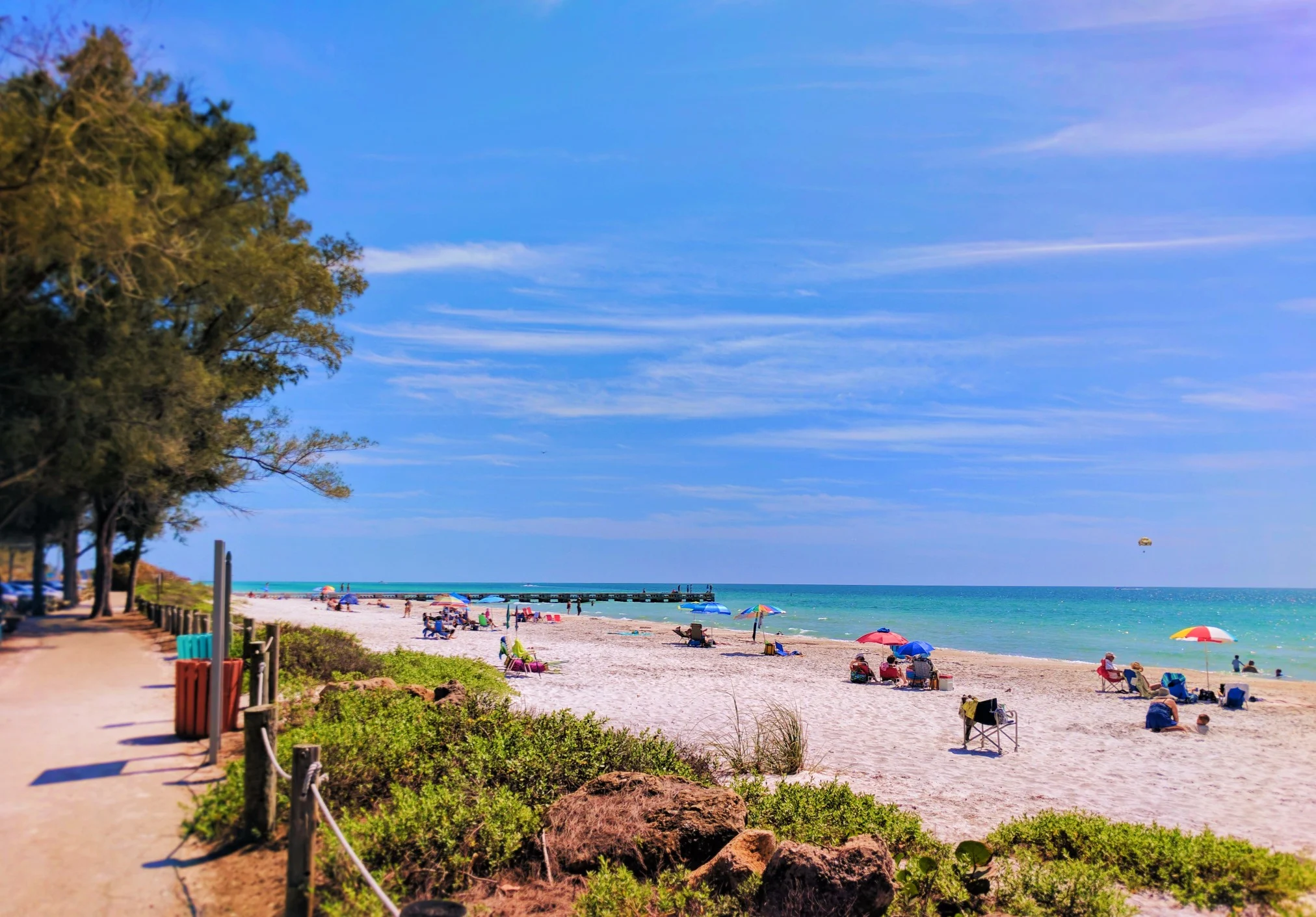 Siesta Key
Located near Sarasota on Florida's Gulf Coast, Siesta Key is famous for its soft, white sand beaches… and its crap parking sitch. I'll tell you, I have a lot of patience when we're traveling, but I've never been so irritated as trying to find a parking spot in the very few designated parking areas. But once you are able to get a legal parking spot in a lot or designated space, it's wonderful. I'd recommend staying on Siesta Key if you can, as that takes care of the parking problem AND you have easy access to the only sand on any of the islands in Florida that I like more than the sand at our neighborhood beach (I'll get to that beach island below. Hint: Anastasia Island…)
The stretches of sand and beautiful (and some cute) hotels at Siesta Key are marvelous. I actually enjoyed the sand and water here more than Clearwater Beach, which is happy to boast being voted the best beach. No, Siesta Key beach is better.
Tip: you can save so much money by staying just off Siesta Key. We had an awesome stay at the BW Plus Siesta Key Gateway and saved $100+ per night to be just across the bridge.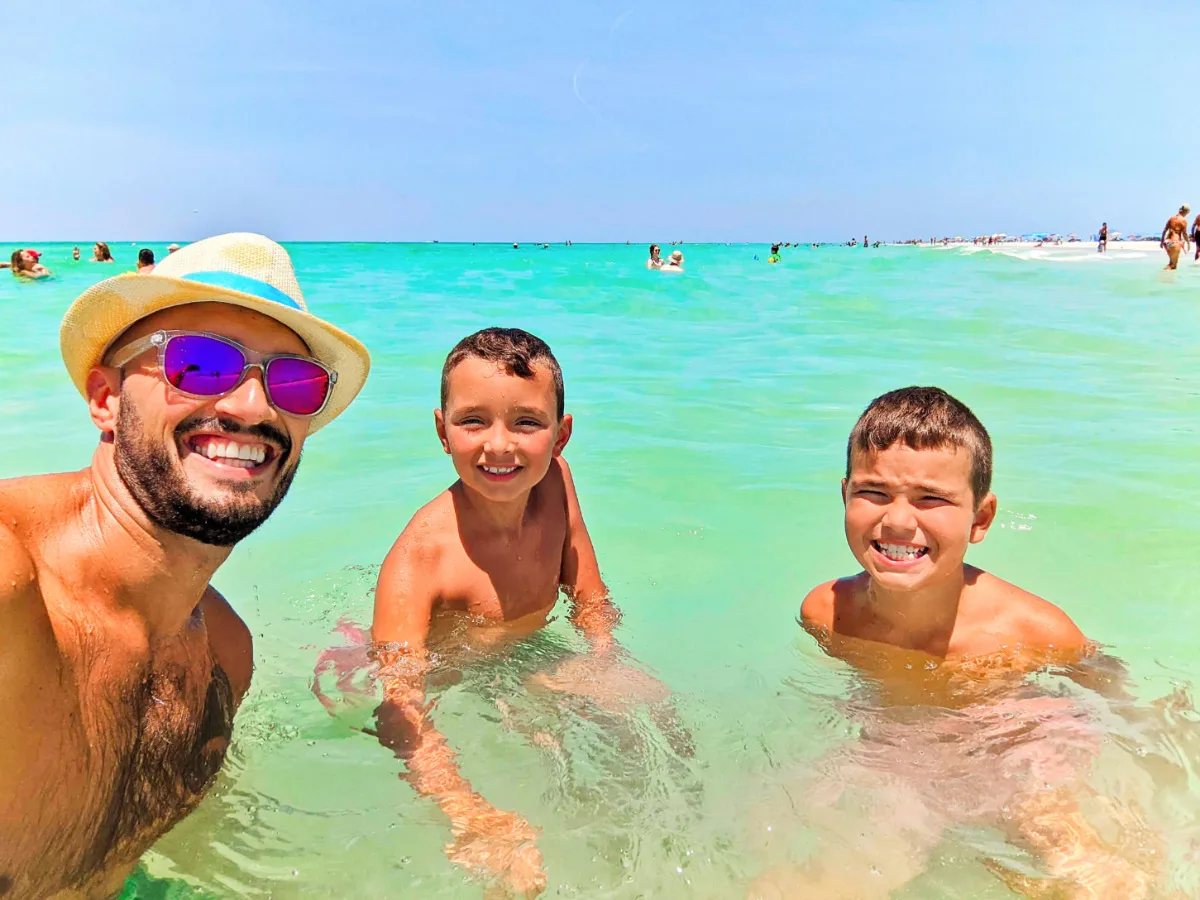 Marco Island
Located off the coast of Naples, Marco Island is a pure delight. Not to get off track, but I love Marco Island because this was the first place I ever saw a burrowing owl and I fell in love. And then there were dolphins and amazing beach combing and wonderful food…
Marco Island has a lot of hotels, and most of them are higher end. We loved our time at the Hilton Marco Island and took full advantage of their beach gear and services. There are great public beach access spots too though, and lots of fun boating and wildlife adventures to have. Being so close to Everglades National Park and Big Cypress National Preserve, choosing Marco Island as a home base for a Florida island vacation is a great idea! Don't miss the scenic drives in these National Parks if you're worries about alligator encounters.
Tip: if you're able to, try to get onto a kayaking tour into the 10,000 Island area of the Everglades. It's amazing, and if you're into birds, you'll freak out at how incredible the experience is.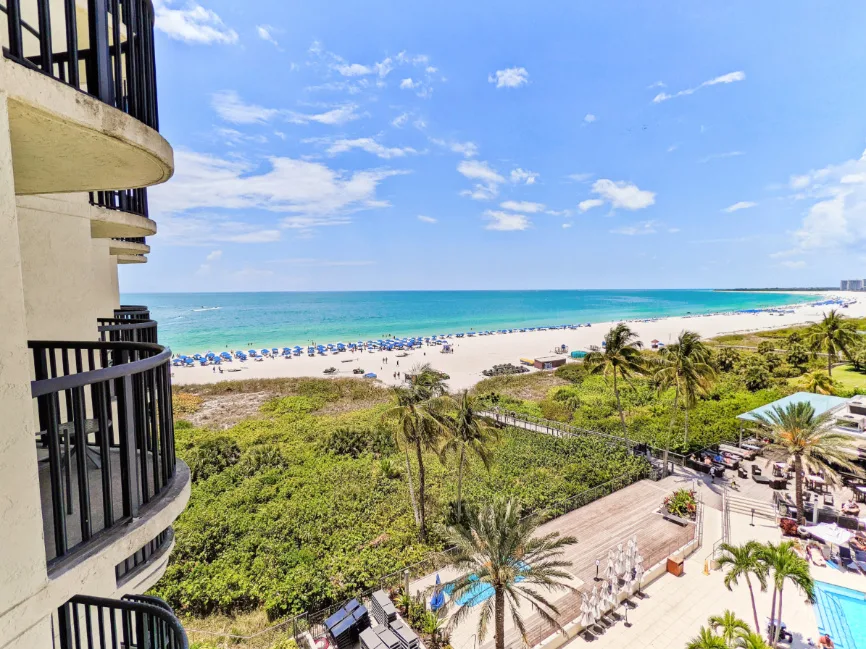 Miami Beach – Yes, It's an Island
I try not to be enamored with Miami Beach, but I really do love it. Between the cool, Art Deco hotels (the Shelborne South Beach is great) and the great restaurants, it's easy to plan a visit to Miami Beach. You can have endless beach days or you can enjoy the hotel pool. Or heck, you can even go to bars/clubs that have pools. Miami Beach is not the most kid-friendly destination, but we've been with our kids several times and have had fun.
I think the thing to remember when you visit Miami Beach is that this is much more of an adult destination, with lots of night clubs and bars and very few kid activities. In South Beach, there's loud music everywhere and people driving crazy cars with blasting bass. In Miami Beach proper it's mostly hotels and not thrilling to explore on foot. It's a great place though, and one of our favorite Florida islands for the sheer diversity of the experience.
Find a Miami Beach hotel here!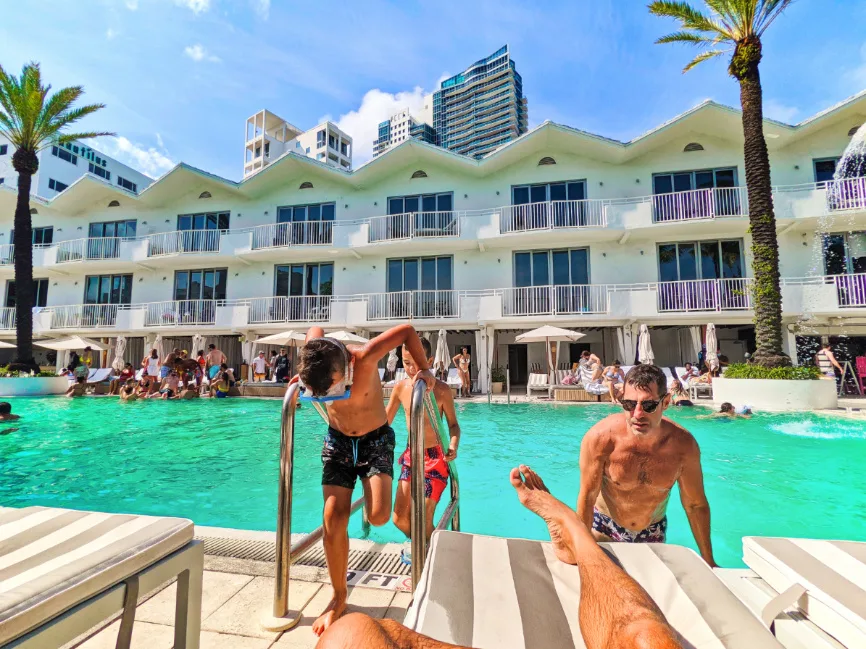 Key Biscayne and Cape Florida
Just south of Miami, Key Biscayne is a popular destination for being a fancy Miami vacationer. Key Biscayne is one of those islands in Florida that you know is fancy before ever even getting there. It's got the Ritz Carlton, water sports and an epic view of Miami. But then it also has Bill Braggs Cape Florida State Park and the Cape Florida Lighthouse, so it's worth the visit even if you're not staying in baller accommodations.
"Is this a part of Biscayne National Park?" No, it's not. Biscayne National Park is a wonderful place to visit but it's not connected to Key Biscayne. While both are on the Bay of Biscayne, they are far from each other. The National Park is accessed through the mainland via Homestead, FL. When you're at Biscayne National Park you can do a guided tour that includes sights in the Bay, including Stiltsville, which is very close to Key Biscayne, but you don't ever go there.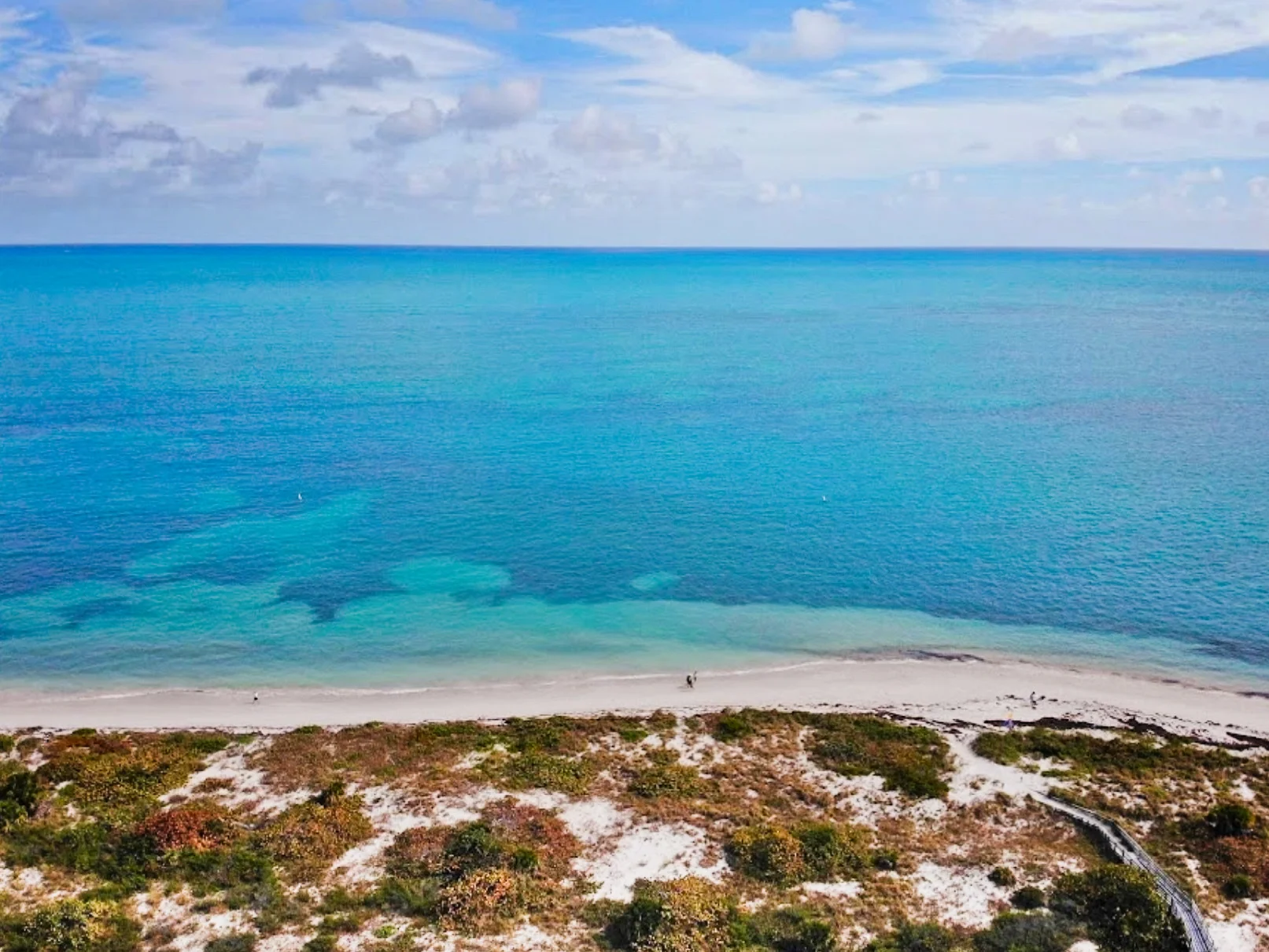 Hutchinson and Jupiter Islands
A barrier island on Florida's Atlantic coast, Hutchinson Island is known for its miles of uncrowded beaches, wildlife refuge, and state parks. Jupiter Island and Hobe Sound just to the south are equally stunning. This is also where you'll find the Jupiter Inlet Lighthouse and Blowing Rocks Preserve. Really, these two islands are so different from everywhere else we've recommended. When it comes to islands in Florida, Hutchinson and Jupiter are unlike any others.
We tend to make stops at these islands when we're traveling between St Augustine and Miami or the Florida Keys, but between the beaches and interesting sightseeing, you could plan a Florida island vacation here and not have to leave. It's far enough south that you have year-round awesome weather, and far enough north that it doesn't have the crowds of Miami or Palm Beach.
Find a Jupiter Inlet stay here!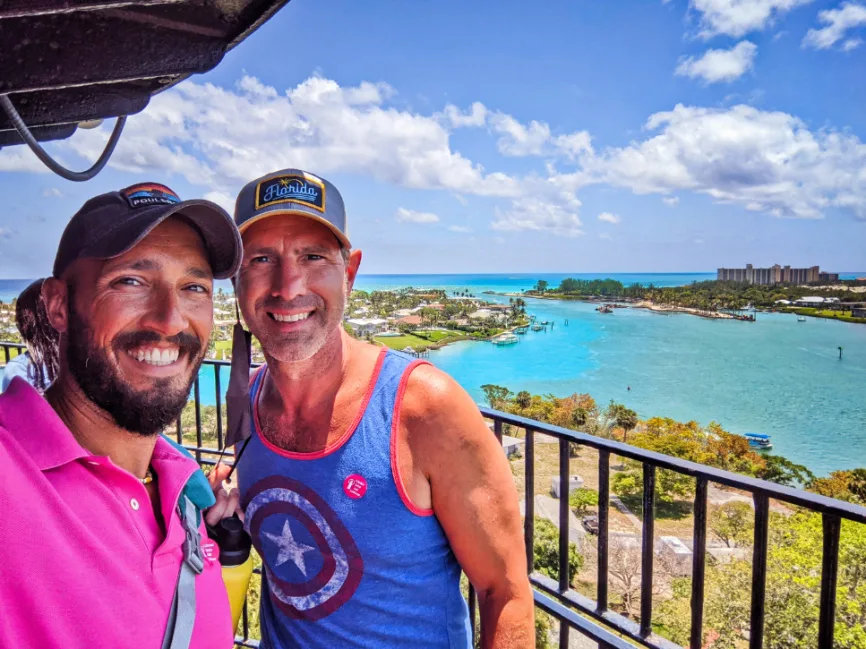 New Smyrna Beach and Canaveral National Seashore
For some reason we don't name all of our islands on the Atlantic Coast of Florida. As you head northward, just after Kennedy Space Center you'll come to New Smyrna Beach (NSB) and Canaveral National Seashore. They both are located on a beautiful barrier island and have some of the most beautiful Atlantic facing beaches in Florida.
A couple of things to know before you plan your visit to the Canaveral National Seashore and NSB. First off, Kennedy Space Center CANNOT be reached from Canaveral National Seashore despite being located at Cape Canaveral. This area is a protected refuge and NOT related to the space program. Another thing to know: Beach 5 at Canaveral National Seashore is the nude beach… Have fun, be free.
Lastly, New Smyrna Beach is known for having the highest concentration of shark attacks. This doesn't mean that the waters are unsafe, but statistically there are more shark attacks here, and that include when swimmers have run-ins with juvenile sharks in the shallows. Be wise and alert, but enjoy your time here.
Tip: a little further to the south you'll be able to do bioluminescent kayaking in the summer months. It's an astounding experience!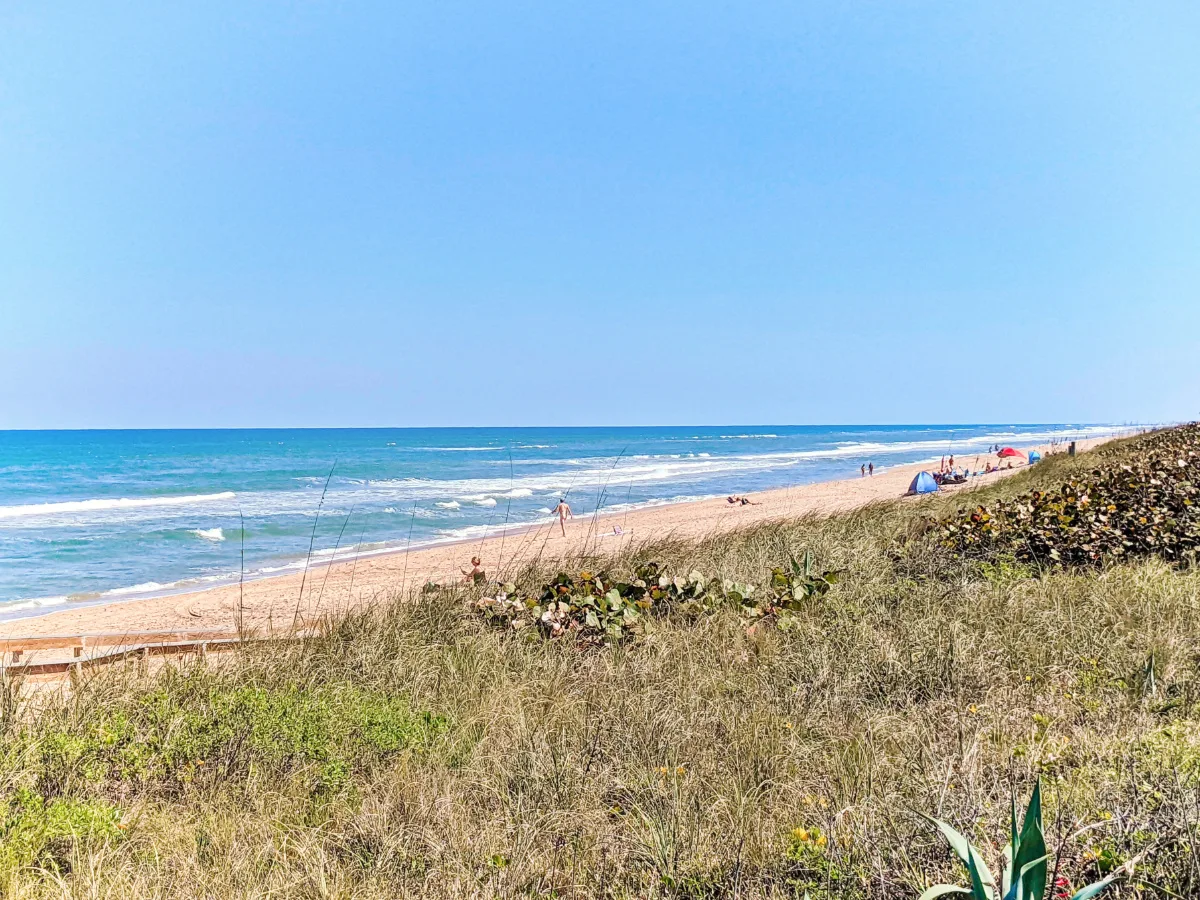 Daytona Beach and Ponce Inlet
Again, with us not naming our islands. Daytona Beach and Ponce Inlet are just north of New Smyrna Beach and with just an afternoon here, you'll understand why Daytona is so popular. Since it's within an hour's drive of our house, I'm going to refer to the beaches here as "our beaches." Our beaches here are magnificent. From Disappearing Island between NSB and Ponce Inlet to the beaches of Daytona Beach Shores, you'll want to settle here and never leave.
I love the vibe in our part of Florida. It's not exclusive, it's not "locals only" and it's not just vacationers. Daytona and Ponce Inlet are just pure beautiful sand, dolphins and surfing. And we have great restaurants on the Intracoastal AND above the beach. If you want to experience the touristy, fun boardwalk side of Daytona, that's available too. Ferris wheel at your disposal.
Find a Daytona Beach stay here!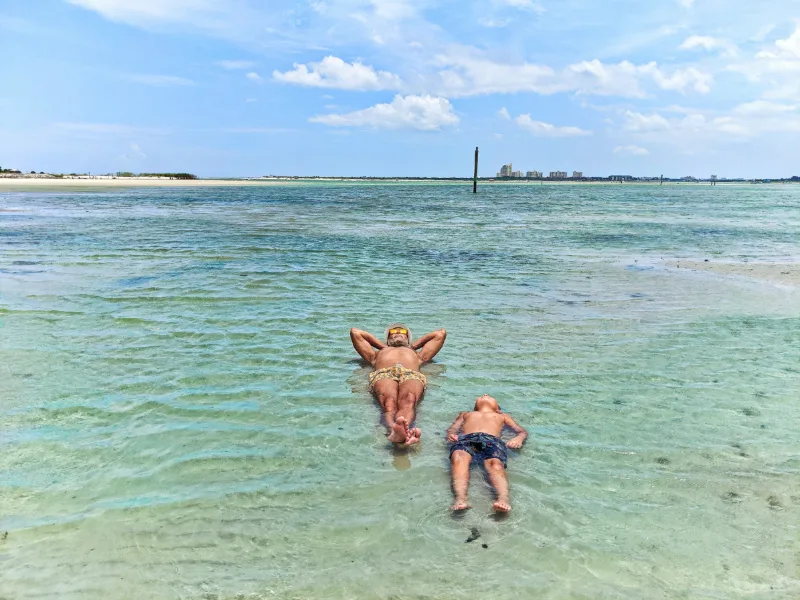 Amelia Island
Located off the coast of northeast Florida, Amelia Island is known for its historic downtown, beautiful beaches, and championship golf courses. We don't golf, but we do love to visit Amelia Island for the kayaking, beach combing and Fort Clinch State Park. Amelia is one of the islands in Florida that really stands out for being different. It is much more like Jekyll Island or St Simons Island in Georgia than any other place here in FL.
Because it's so far north, Amelia Island is not an ideal winter destination, but is great from late spring into fall. You'll find that if you're here in the winter, it's super quiet and mellow, which is nice, but the wind on the beach is a bit too bitter for me. The tree tunnels, beautiful hotels and quiet nature make it pretty any time of year, but spring and fall are best.
Tip: Amelia Island also has a bike path network. While it it's all fully off the roads, there are good portions that are paved bike paths, designated dirt bike paths, or low-traffic roads, some with bike lanes.
Find an Amelia Island stay here!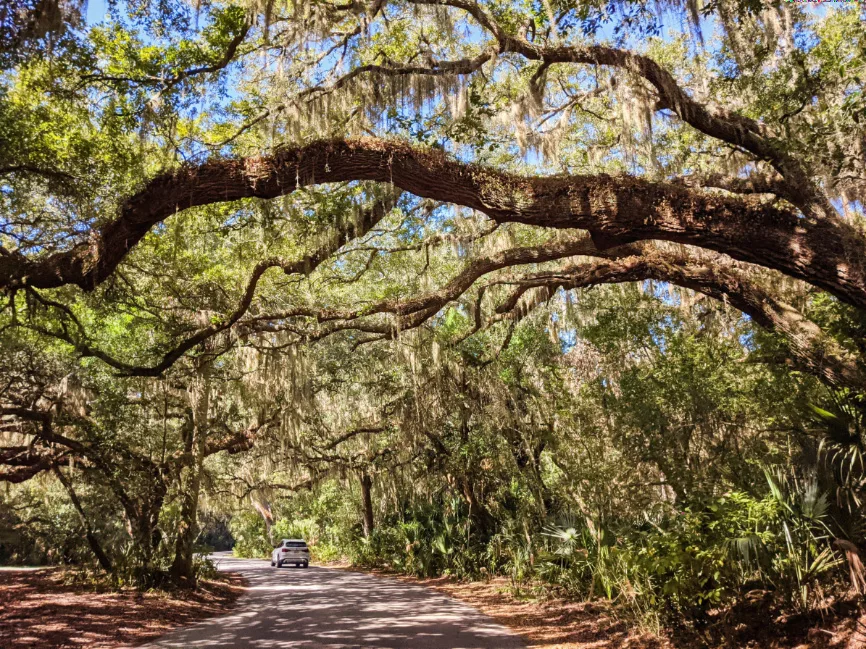 Anastasia Island
We end our list with Anastasia Island in St Augustine, which is where we live. Our island is so very special. It's full of history, awesome food and the actual prettiest beaches in Florida. When we first moved to Florida, we knew Anastasia Island would be where we would call home. The neighborhoods and tourist activities live in harmony. The people are pretty awesome, and there's a real sense of community in the town of St Augustine Beach.
Some of the highlights of our island, and what makes it THE BEST island in Florida include our amazing beaches, Fort Matanzas National Monument, the St Augustine Lighthouse, Butler Beach and the St Augustine Alligator Farm. If we got into all of the wonderful restaurants here in our neighborhood, you'll be moving here too.
I think our sand is second to none (tied with Siesta Key) and we have so many beach access points that it makes the beach easily accessible to any visitor. Really, our island is the most special and we're so fortunate to call it home. I hope you'll come visit!
Find an Anastasia Island stay here!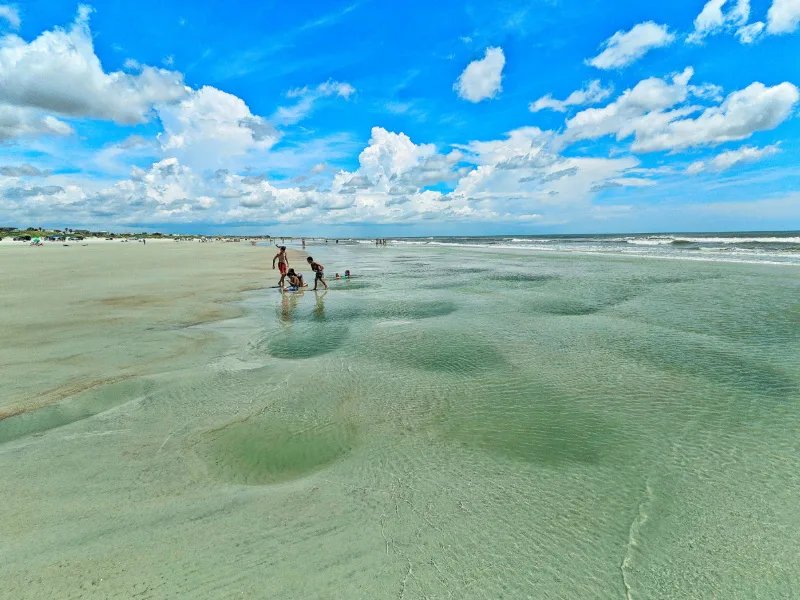 If you have any islands that you think are really notable, please do leave a comment or send us a note. We're happy to include suggestions from others as well. Happy traveling, and let us know if you have any questions we can help with!