Today I'm sharing all about visiting Cedar Key, FL. When you're planning a trip to Florida, you'll hear about all sorts of places that sound either bizarre or like a must visit, or you'll hear about the most gorgeous beaches not to miss. Well, we've got a place we love and have a great time at, but it DOESN'T have awesome beaches and ISN'T convenient to get to, but it's perfect. Visiting Cedar Key is unlike any other type of Florida Getaway.
"Why are you underselling Cedar Key?" Well, quite simply, Cedar Key is not thrilling at all, but a really lovely, relaxing place to visit. The full scoop is below, but I'll tell you, visiting Cedar Key is not a vacation for everyone. It's beautiful and quiet and there's not a ton to do. You plan a trip to Cedar Key to relax, not to have epic adventures. But we love it.
If you have more questions or tips to share after reading, please leave a comment or send us a note. We're always happy to share more or help plan travel!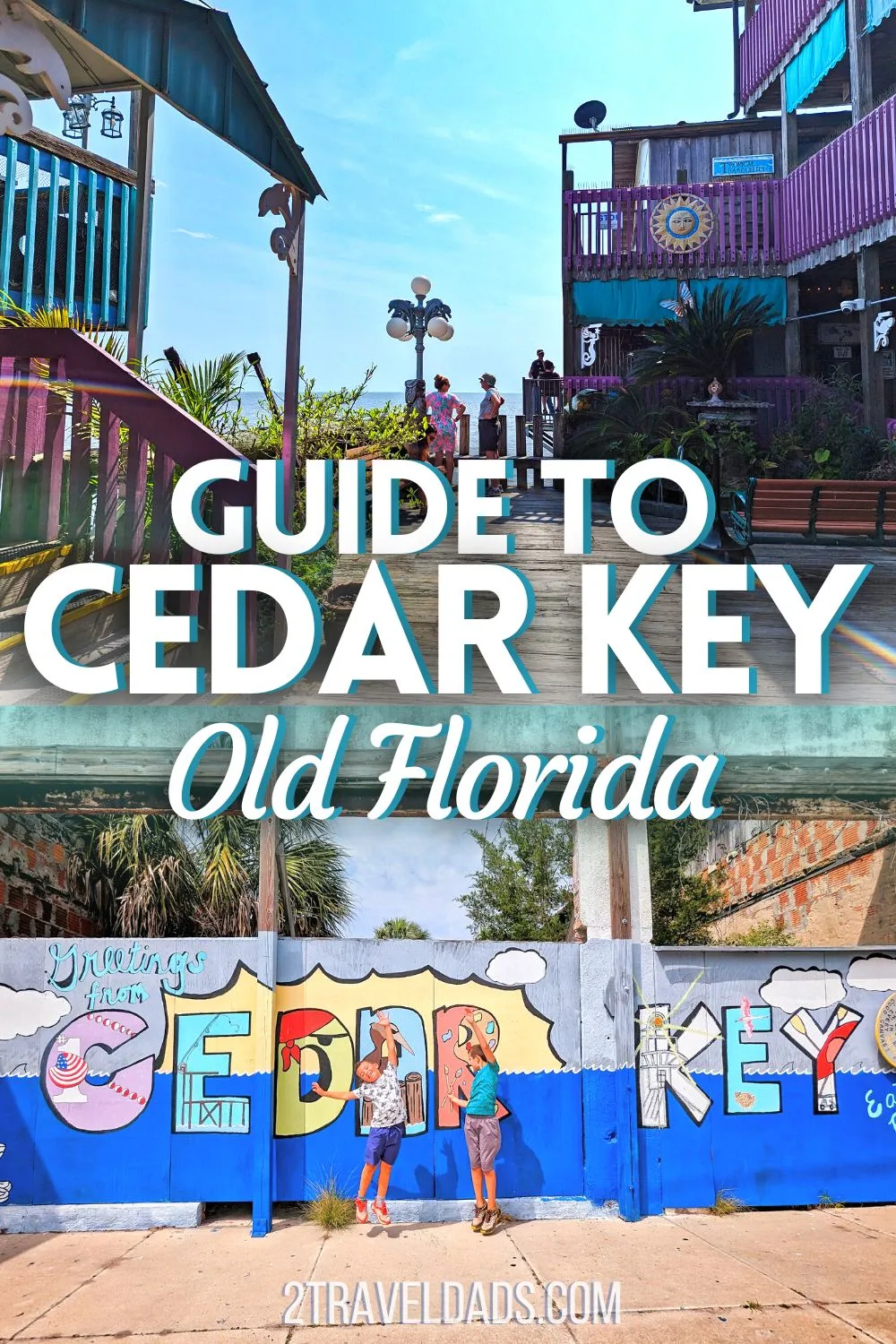 All About Cedar Key, FL
So yeah, Cedar Key is unique. It's an "old Florida" destination with stilt houses on canals, beach bungalows without beaches, a cute downtown, and lots of fishing spots. What I like about Cedar Key is how mellow it is. Since there are very few tourist activities, the whole island is just quiet and nobody is in a rush. This is stressful to me for my own reasons, but once I can let go and roll with it, it's what makes it really delightful for us.
Where is Cedar Key?
Let me start by clearing up the first question we get about visiting Cedar Key: "Where in the Florida Keys is Cedar Key?" Cedar Key is NOT in the Florida Keys. Cedar Key is located about two hours north of Tampa Bay on the Gulf Coast. It's its own island with a large surrounding marsh between Crystal River (swimming with manatees) and the Suwannee River (like the song).
To get to Cedar Key, you can fly into Tampa (TPA) and drive two hours or fly into Gainesville (GNV) which is a little more than an hour away. As you approach Cedar Key, it becomes more and more rural with the last chair hotels, restaurants or grocery stores being more than a half hour away. As you get closer to the island, it starts to become more and more eclectic and less and less like the rest of Florida.
Cedar Key's History
When I say that Cedar Key is "Old Florida" I mean it. Cedar Key is the second oldest established town in Florida, right behind St Augustine. It was known for being an amazing place for scalloping and for its towering cedar trees. Well, the waters were overfished and the cedar trees were all cut down… The railroad stopped coming to Cedar Key and it turned into what some would call a podunk island. Eventually the fish came back and island found its jam, being a peaceful getaway spot and fishing destination.
When you read about things to do when you're visiting Cedar Key below, you'll see there is a pencil museum. Here's the scoop:
Cedar Key has a unique history as THE hub of pencil making. In the late 1800s, the area was known for its cedar trees, whose wood was ideal for making pencils. Joseph Dixon, an inventor and businessman, established a pencil-making factory in 1896 and the railroad actually came into town all the way to the current pier.
Dixon's factory was located on Atsena Otie Key, a small island just west of Cedar Key. The factory used up all local cedar wood to produce millions of pencils each year, and the Dixon Ticonderoga Company became one of the largest pencil manufacturers in the world.
The factory operated until the early 1930s, when a hurricane destroyed much of the island and forced the factory to close. Now, you can learn about pencils and the rest of Cedar Key's history at a museum.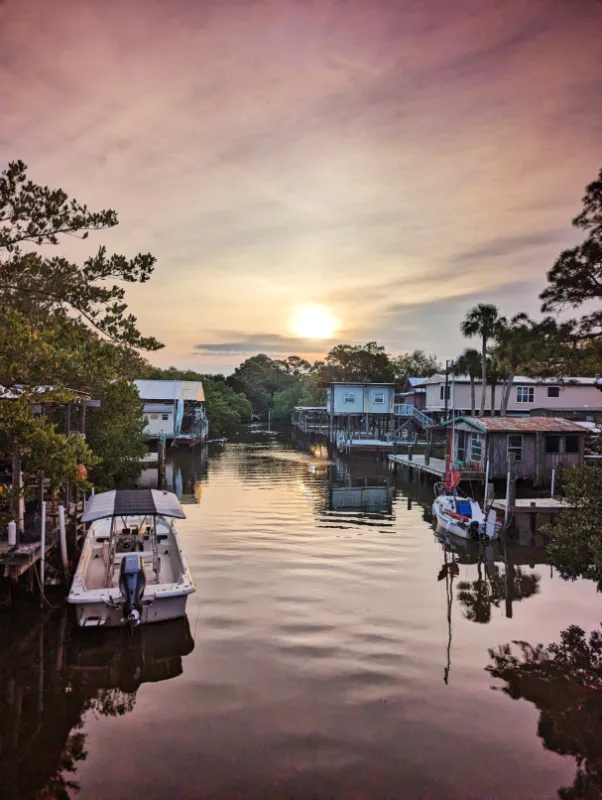 Events on Cedar Key
Like I said, Cedar Key is pretty mellow, but there are a few annual events and happenings that attract visitors. The biggest attractions are the 4th of July Fireworks happening just off downtown, and then scallop season, which runs from July to September. Besides that, there are just a few small community events throughout the year that the locals do.
One quarterly event that you might be into is the Lighthouse Open House day. Every few months the Cedar Key Lighthouse out on Seahorse Key opens for visitors. There are no services on the island and getting there requires either a tour or your own boat, but they do open every now and then! Check the Cedar Key Chamber of Commerce calendar for upcoming lighthouse days.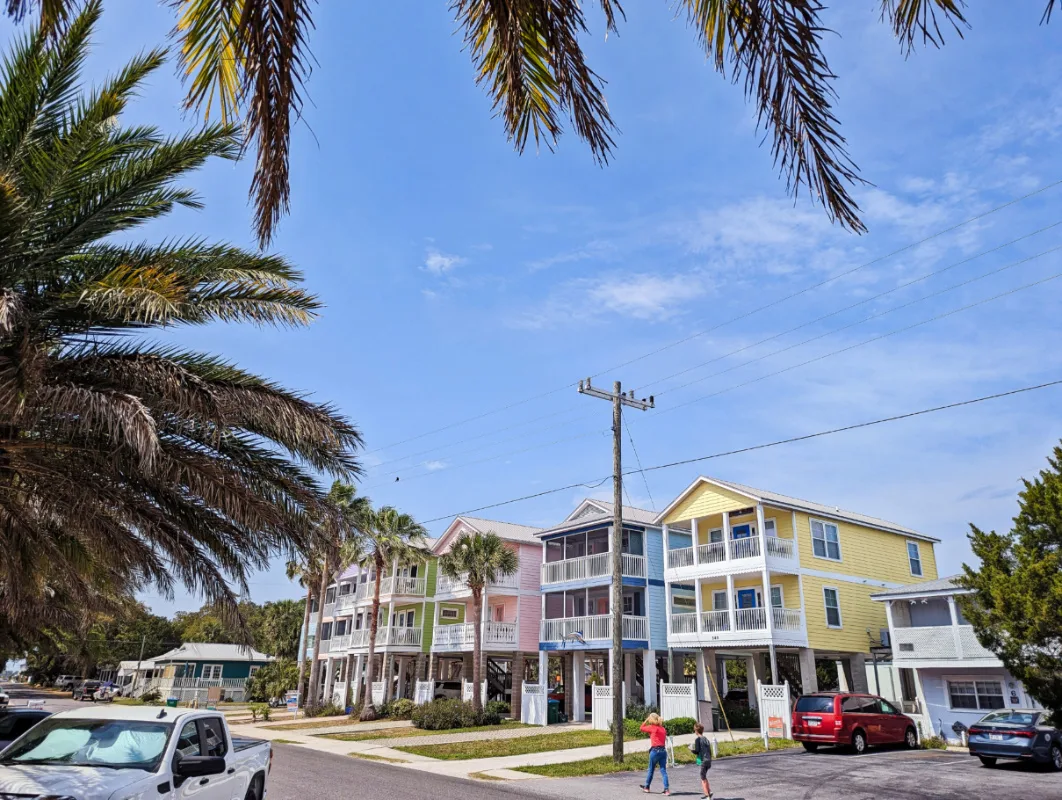 Best Things to Do on Cedar Key
Are you ready for the shortest list ever? Actually, there are quite a few things to do when visiting Cedar Key, but it's just not as active of a place as Sanibel or Marco Island. You'll find that if you're planning a trip for a few days, you'll need to be okay with having intentional relaxation time.
Outdoor Things to Do on Cedar Key
Depending on where you stay during your trip to Cedar Key, you may be able to enjoy a lot of the outdoor things to do easily from your accommodations. The island is pretty good sized, so I'll start by saying that if you can bring bikes, do it! It's a wonderful destination for biking. The roads have low speed limits and a lot of the locals actually drive around in golf carts, so it's a pretty safe biking island.
Cedar key is also a great place for fishing. Whether you want to fish from the pier at the wharf off Dock Street or if you want to head to the #4 Bridge Fishing Pier, there are lots of options. We stayed in a fun vacation rental with our own dock, which was also good for fishing. You're not typically fishing for mega trophy fish here, but species like drum, flounder and catfish.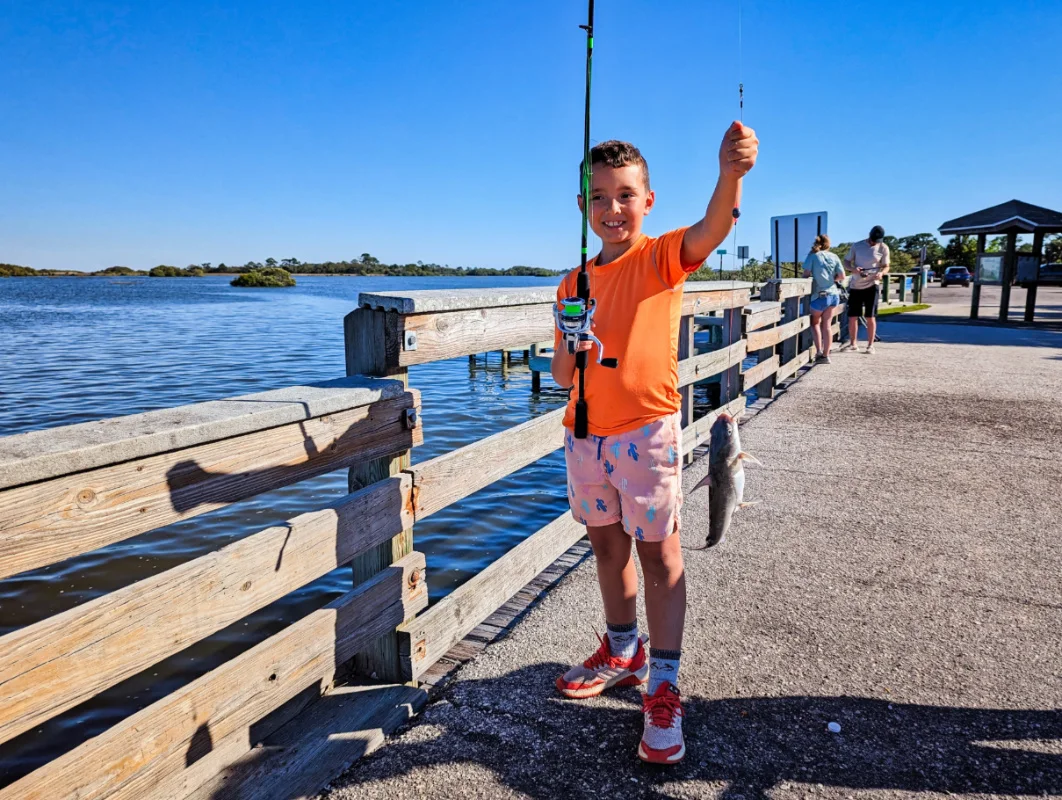 Is There a Beach at Cedar Key?
If you're planning a vacation at Cedar Key where your goal is lounging on the sand and enjoying the turquoise waters the Florida Gulf Coast is known for, you're choosing the wrong destination. Yes, there is a beach at the east end of 1st Street in downtown Cedar Key, but that's the only option. This is a Little Shark Park, so it's a great place with kids for having beach time and playing at the playground.
If you look on a map, you'll see there is also Airport Beach. This is an accessible water location but it's NOT a beach. Most of the beautiful Florida islands have wonderful beaches, but Cedar Key isn't for that. The purpose of Cedar Key is simply to slow down and have a different sort of getaway.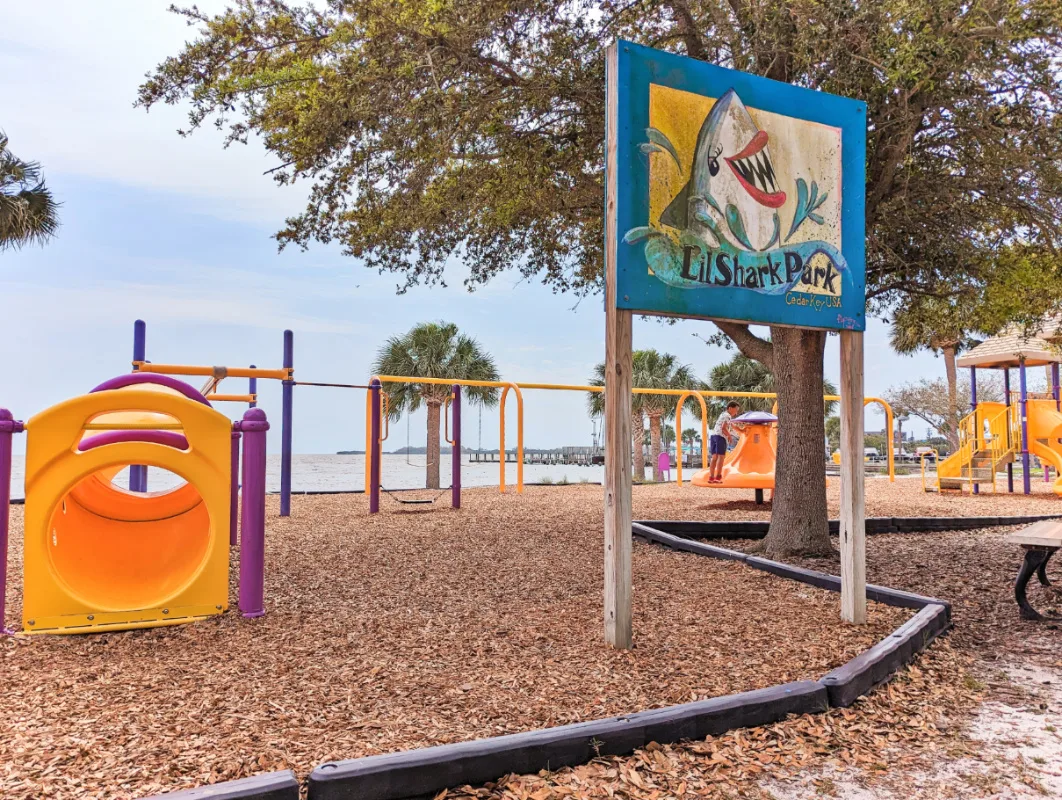 Boat Tours in Cedar Key
We really enjoyed our adventure on the water with Tidewater Tours. This naturalist team took us out from the dock right by Little Shark Park and it was wonderful. We got a oral history of the area as we went from island to island, including out to Seahorse Key, which is where the Cedar Key Lighthouse is. Along the way we enjoyed birdwatching, seeing spoonbills, osprey, cormorants and much more.
I think the main thing most of the other people on our tour were hoping for was dolphins. And yes, there were plenty of dolphins, and not just in our wake, but actually jumping in the water. I didn't get any great photos, but I really enjoyed how playful the dolphins at Cedar Key are.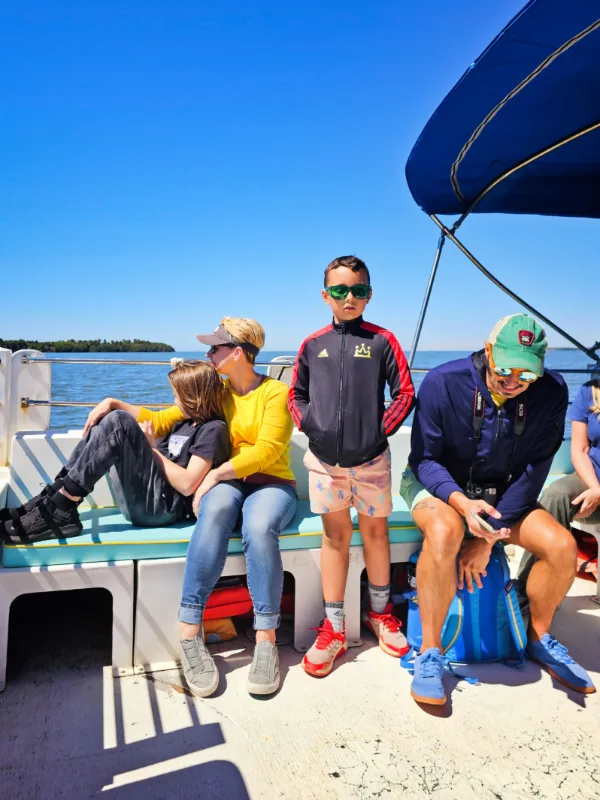 Historical Landmarks and Attractions
Since Cedar Key is one of the oldest western-settled places in Florida, there are some cool old structures and historic spots, but mostly the town has converted to being just a quiet community, so you're not seeing well preserved 19th century buildings all over the island, but most downtown. The main streets of Cedar Key, which are 1st, 2nd and Dock Streets, do have quite a few historic buildings, with the old hotel and the wharf buildings being the most notable.
There is a trail on the old railroad grade, but the old round house and station are gone. Unless you already know the history or stop into one of the museums, you'd have no idea that the railroad use to come to Cedar Key and keep it a bustling town. There's a bit of history visible if you stroll through the Cedar Key cemetery. Old worn down gravestones are mixed with recent additions and walking through the cemetery really does paint a picture of how Cedar Key has changes over the centuries.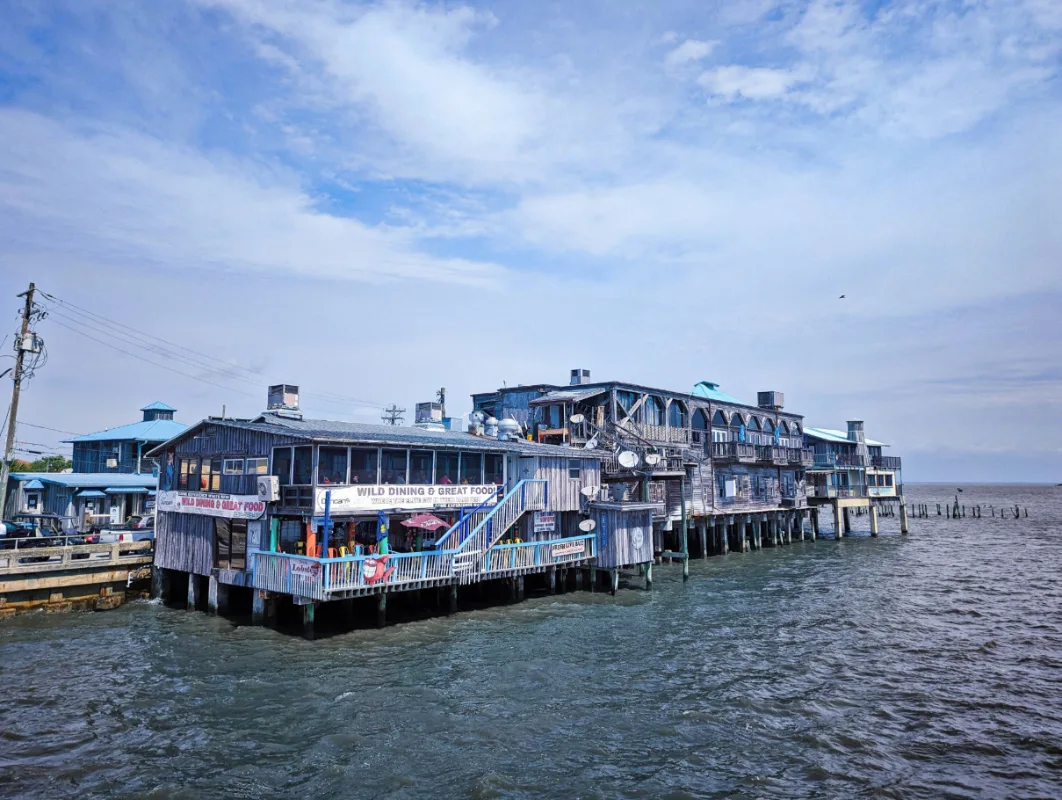 Museums and Galleries on Cedar Key
When you're ready to do a little exploring on foot and learning, there are actually a few places to check out while visiting Cedar Key. The Cedar Key Historical Society museum is just on the edge of downtown and is THE PLACE to learn about the pencil industry and the rise and fall of Cedar Key. The other museum is the Cedar Key Museum State Park. Here you can find more history, including a lot about John Muir and about Florida State Parks and what goes into creating them.
When you're strolling through downtown, you'll also find quite a few galleries. Local artist both sell and display their works indoor and in public spaces throughout downtown. Visit the Cedar Key Arts Center for their outdoor sculptures and indoor painting and mixed media. Over on Dock Street stop into Island Arts for art for purchase to bring home a piece of Cedar Key.
Tip: on the way out of town is a wildly eclectic art stop, the Turtle Trail Art Gallery. It's easy to miss, but if you want to support locally, stop in and see what's exciting to bring home.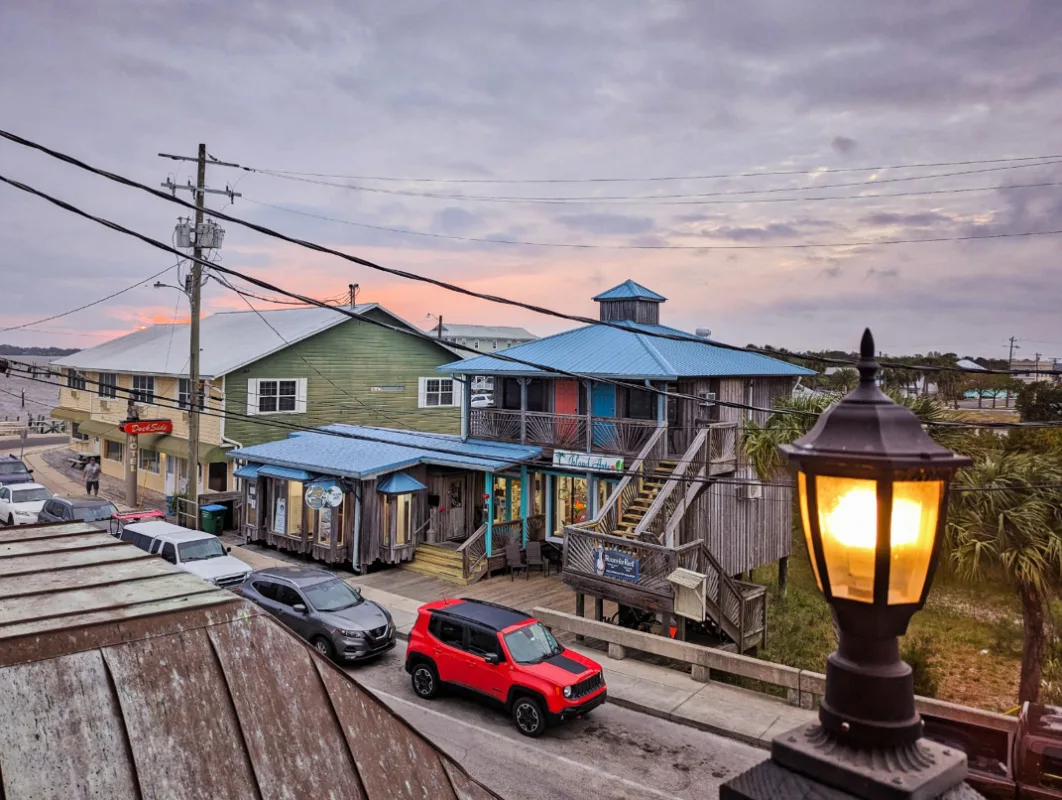 Shopping and Strolling
One of the things that makes visiting Cedar Key so refreshing and different is that there are no chain businesses at all. From groceries to hotels, restaurants to clothing stores, every business on the island is unique. When you stroll through downtown or if you're at at the start of town by the Tiki Bar, there are only mom & pop shops. Spend one of your afternoons on foot supporting local businesses.
My favorite shops are on 2nd Street. While you're browsing, watch for the locally painted postcards. I sent out 5 or 6 during our last visit and everyone that received them was fascinated by the Old Florida vibes the hand painted postcard had.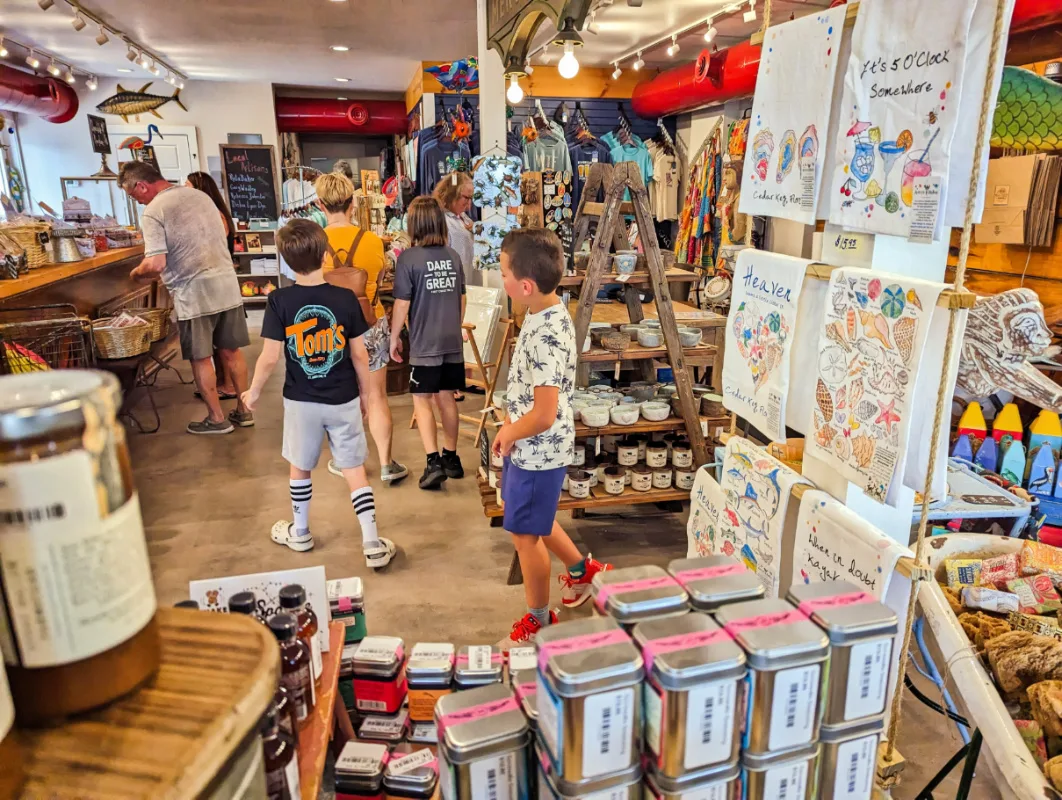 Birdwatching on Cedar Key
This is why I love Cedar Key: the birdwatching is absolutely epic. You don't even have to be a hardcore birder to appreciate the wildlife here. You also don't have to go out on the water to participate in birdwatching at Cedar Key. While there are several unique species to seek out on Cedar Key, the real gem of an experience is watching the egrets and ibises all around the island, up close.
If you do want to get hardcore with your birding, we've got a few key spots to visit and some tips. The first spot that's wonderful for birding while visiting Cedar Key is the cemetery. That may sound weird but it has lots of trees all around it and actually has a boardwalk that skirts the estuary. There are fantastic opportunities for birdwatching here, both early in the morning and if you visit during low tide.
Another wonderful spot for bird watching is out at Cedar Key Scrub State Reserve, which then continues onto the Shell Mound area. The scrub area is great for bird watching in the thin Gulf Coast forest area, but then the Shell Mound area along the river is great for water birds, with the highlight being the boardwalk with an overlook.
If you've got the time and budget, you can also enjoy birdwatching on Cedar Key with a boat tour. Starting in April, the roseate spoonbills flock to this part of the Gulf Coast and nest on the islands just off Cedar Key. A tour out into nature is a wonderful way to experience them!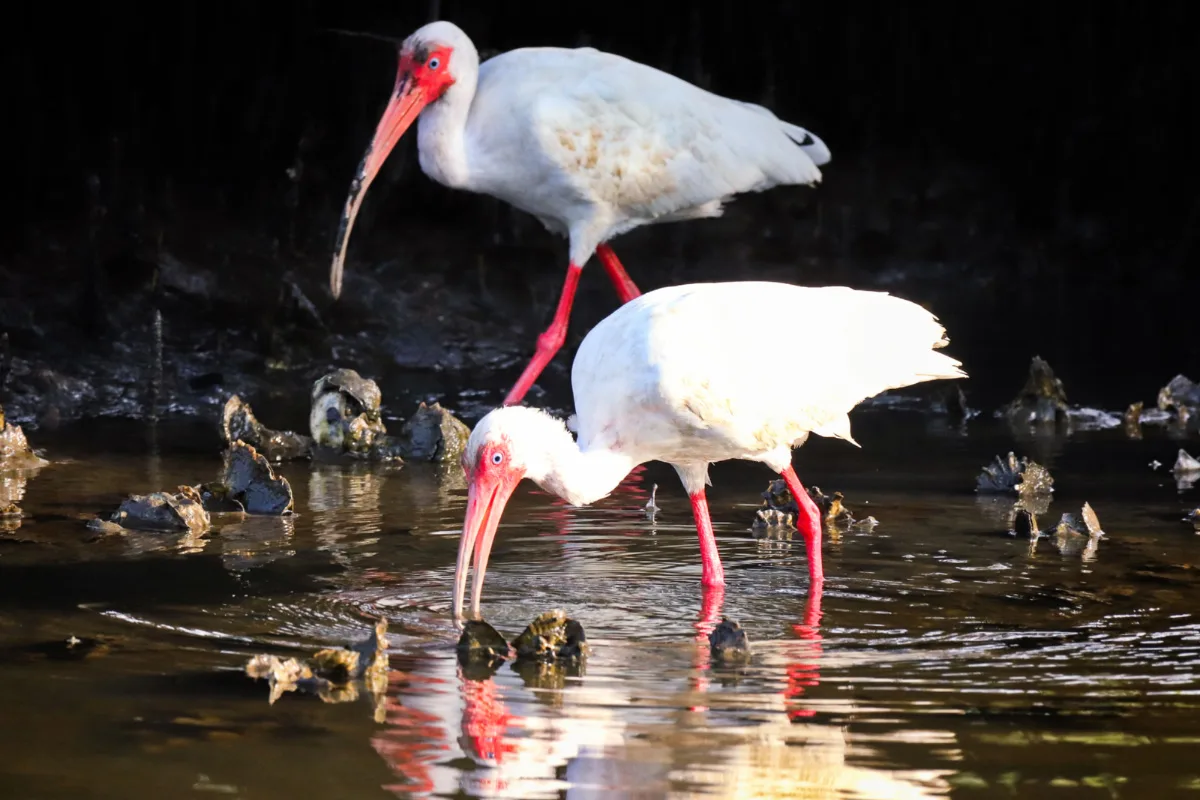 Where to Eat on Cedar Key
There are two main areas on Cedar Key that have restaurants. There's either downtown (1st, 2nd and Dock Streets) or the start of downtown. Ha ha ha! True, as you're driving in on Highway 24 you'll pass the Tiki Bar, but that's it until you're actually in town.
Dining Scene in Cedar Key
Oh goodness, there is no "dining scene" on Cedar Key. It's just so mellow and you'll get a combination of tired parents with wild kids in swimsuits to couple who are looking for a quiet dinner and a stroll. I will say though, if you're visiting during the peak seasons of spring or summer, plan on eating dinner earlier than later. There aren't a ton of restaurants so if you want to sit before it's too busy, better an early dinner than none at all.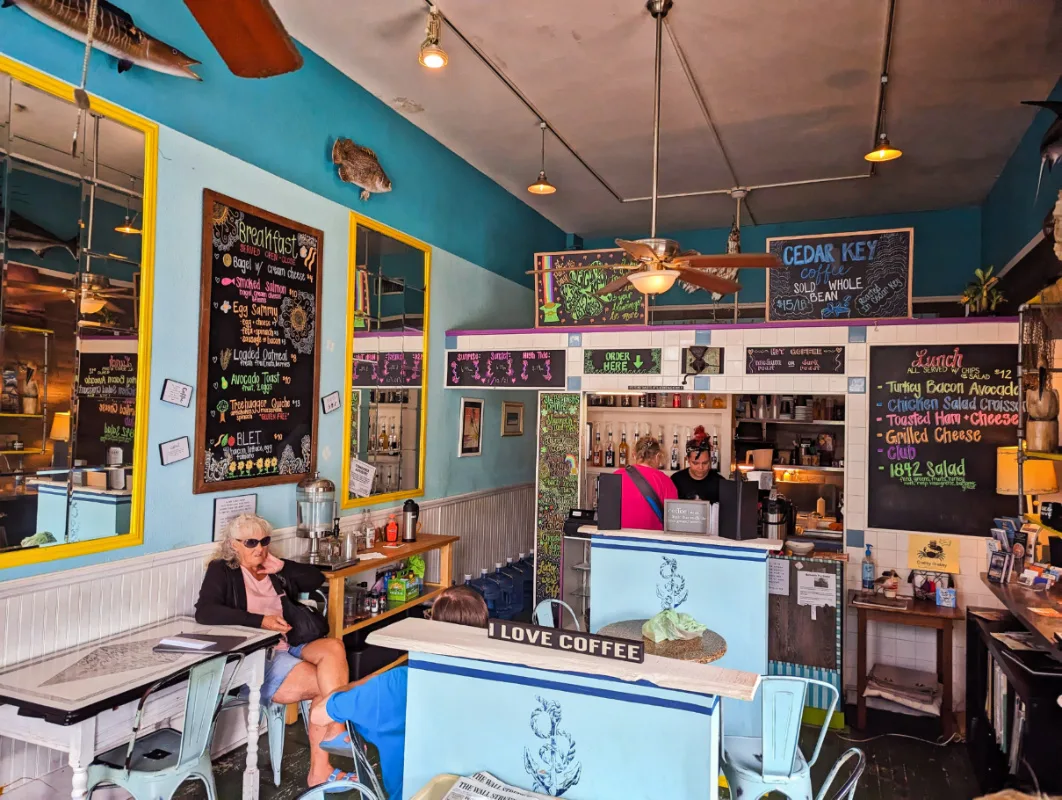 Recommended Cedar Key Restaurants
We like to cook at home when we travel, so taking advantage of the seafood market in town is our top pick for planning meals, but for the nights and afternoons that you want to dine out, we do have some picks. Keep in mind that you're on the Gulf Coast and you're going to find a LOT of seafood. That doesn't mean you can't find land food, but Cedar Key is seafood-heavy.
Our first pick is Steamers. Located upstairs in the old wharf on Dock Street, Steamers is fun and serves up quality fresh seafood. Clams, crab and locally caught fish are the main dishes, but there are also apps and drinks, so Steamers is a good pick no matter the mood. Also, they have a small outdoor dining deck that's open when the weather permits. It can't accommodate large groups, but is nice for couples and small families.
For lunch and snacks, the 1842 Daily Grind on 2nd Street is fun and low key. It's a simple café and they've got great dessert options. We also really like the 2nd Street Café. They have a large covered patio and it's great with kids. The 2nd Street Café is only open for breakfast and lunch.
Other picks include the Tipsy Cow Grille and 83 West & 29 North at 83 West, both on Dock Street, or Tony's Chowder or Cedar Key Pizza and Subs on D Street. Even though there aren't tons of restaurants in this cool little town, they do a great job.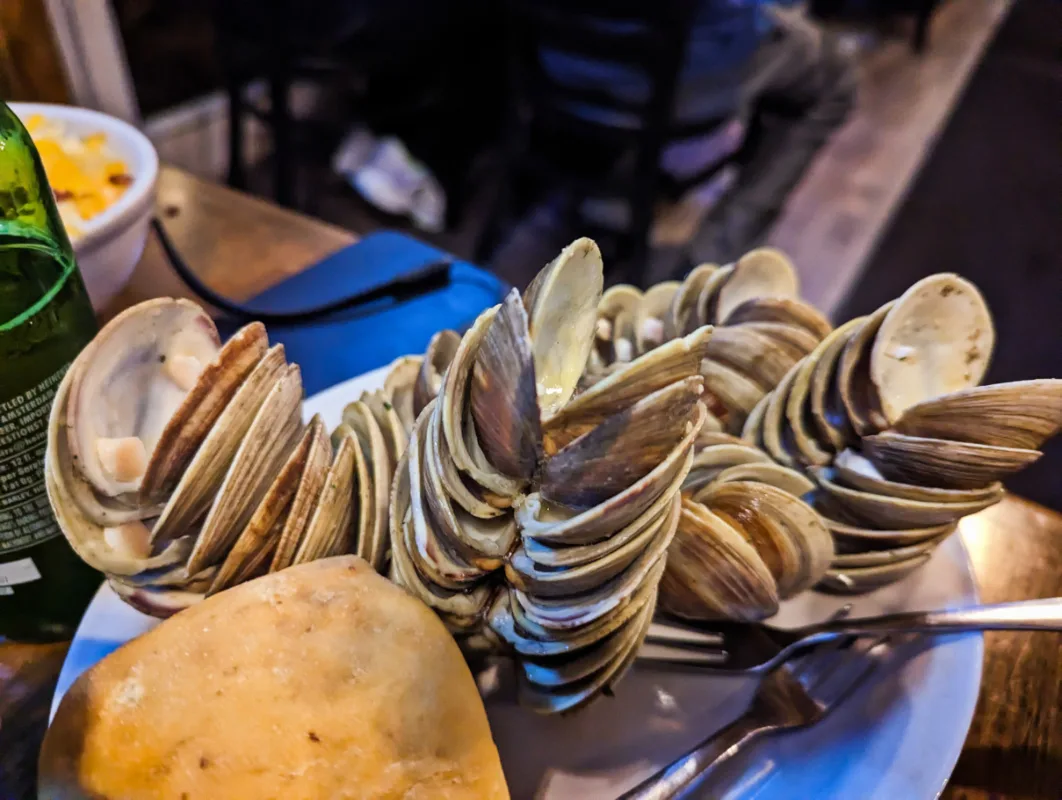 Where to Stay on Cedar Key
If you haven't figured it out yet, Cedar Key is one of the most mellow Florida Gulf Coast destinations. There's aren't tons of places to stay, particularly if you're looking for luxury hotels, and there are no chains of any sort. The main options are the smaller local motel-style lodging and vacation rentals. There are LOTS of vacation rentals.
Hotel and Motel Picks
There are some cute places to stay when visiting Cedar Key, and since there are no chains, each will be a completely different experience. When it comes to the best location for where to stay on Cedar Key, I would pick downtown for a hotel. The Harbour Master Suites is directly on the water, and each of the rooms is nice and big. It's not fancy, but it's wonderfully Cedar Key.
The Faraway Inn Waterfront Cottages are another fun, eclectic choice. These cabins are all different, and are just at the edge of downtown, so they're a bit more quiet and you'll have a nice, short walk whenever you want to pop into town. The Cedar Cove Hotel (condos) is at the opposite end of town, and is a good pick since it's both convenient AND it has a pool.
Ultimately, you probably won't be spending a ton of time in your room when you come to Cedar Key, so just be sure to read the reviews before you book a place and make a decision based on location, reviews and budget.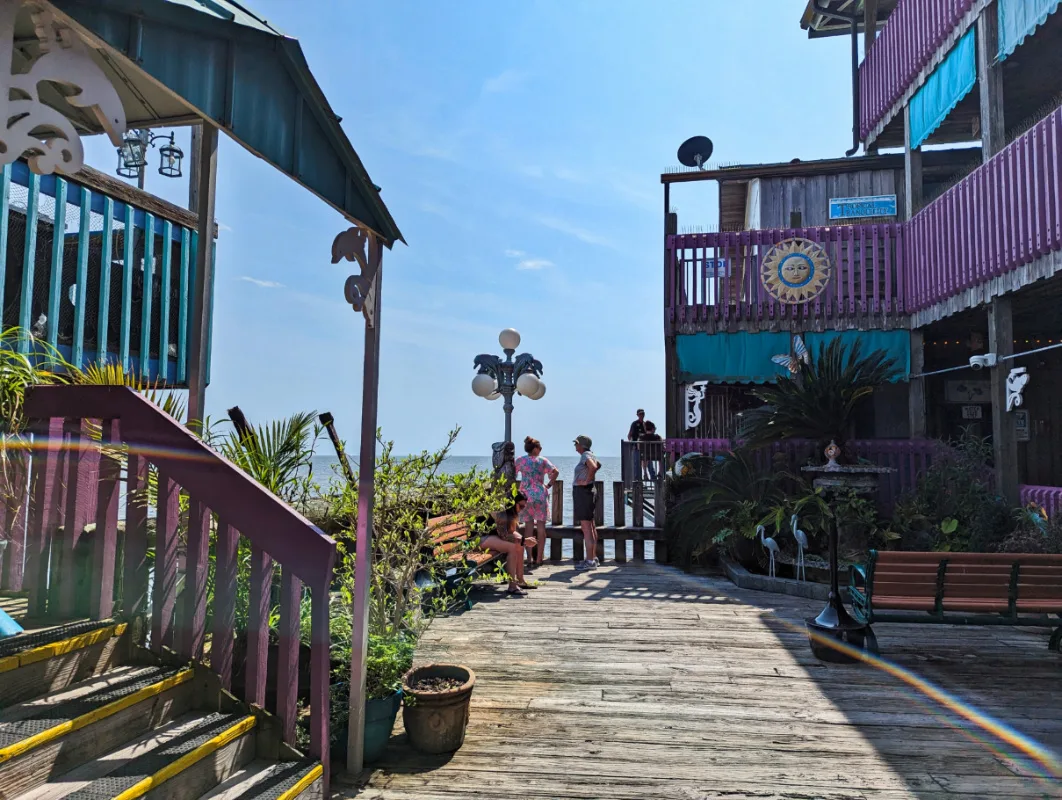 Cedar Key Vacation Rental Options
I love the diversity of vacation rentals on Cedar Key. Whether you're looking for a house with a dock, or a Victorian near downtown, you'll find lots of options. You can find vacation rentals on VRBO, AirBNB (not my preference), or actually through the independent short term rental companies that operate specifically in Cedar Key.
We shared this awesome house with a dock with our friends and as a group of 8, we were super comfortable. We picked the Seaside Cottage because it had both plenty of room for all of us and so much outdoor space. The kids fished all day long and the parents relaxed all over the place, since there was so much deck space. For more options, check the actual Chamber of Commerce listing page.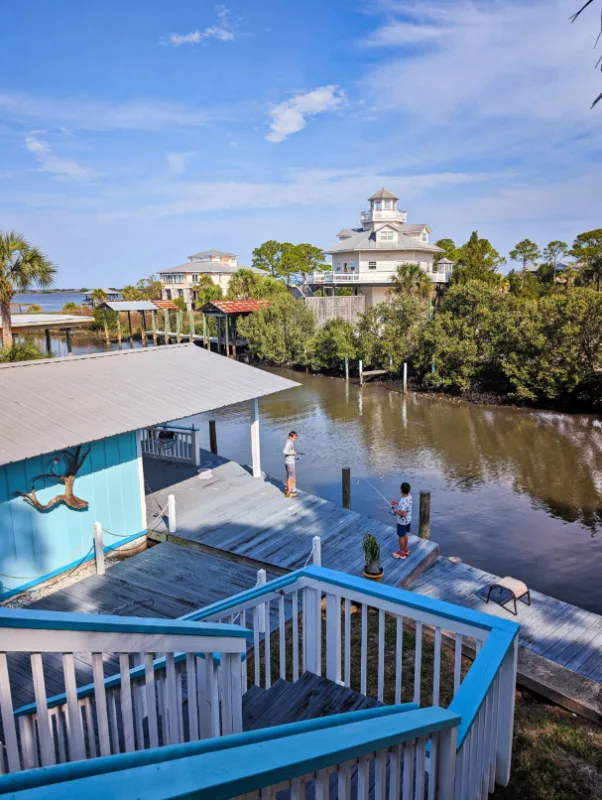 What's with the Golf Carts on Cedar Key?
Yes, when you look at photos of Cedar Key and when you arrive you'll see lots of golf carts. The locals and frequent visitors like to use golf carts to get around the island. They are electric, they go as fast as you need to on the island, and they're easy to park. As you plan your place to stay on Cedar Key, you may actually find that a lot of rentals offer golf carts too.
If you're staying someplace that doesn't offer a golf cart, you can always rent one. There are a few options, but Cedar Key Adventures is our pick. They make it easy to drive like a local when you're on this charming, quaint island.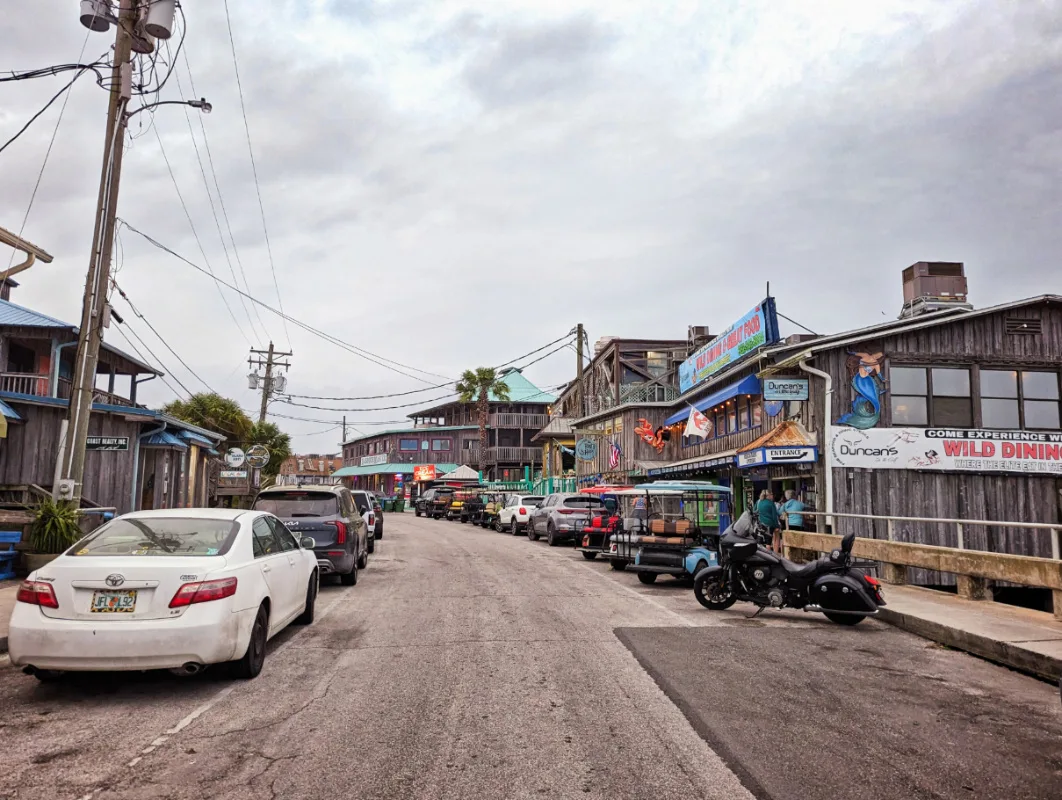 FAQ about Planning a Trip to Cedar Key
Now that you've got so much info about planning a trip to Cedar Key and how to enjoy your time there, I think we can wrap up any other inquiries here with our Frequently Asked Questions.
What is the best time of year to visit Cedar Key?
The best time to visit Cedar Key is between October and May when the weather is mild, and there are fewer crowds.
How do I get to Cedar Key?
Cedar Key can be reached by car or by flying into Gainesville Regional Airport, which is about an hour and a half away. You can also fly into Tampa, which is a two hour drive from Cedar Key.
What are the must-see attractions in Cedar Key?
Some of the must-see attractions in Cedar Key include the Cedar Key Museum State Park, the Cedar Key Historical Society Museum, and the Lower Suwannee National Wildlife Refuge. And of course the Pencil Museum.
What are some outdoor activities I can do in Cedar Key?
Visitors to Cedar Key can enjoy activities such as kayaking, fishing, boating, birdwatching, and hiking (well, Florida hiking aka strolling) in the nearby state parks and wildlife refuges. Also, exploring the cemetery is pretty interesting too.
What kind of wildlife can I expect to see in Cedar Key?
Cedar Key is home to a variety of wildlife, including dolphins, manatees, sea turtles, and a wide variety of birds.
Where can I find the best seafood in Cedar Key?
Cedar Key is known for its fresh seafood, and there are several restaurants in town that serve a variety of seafood dishes (and not just fried fish). The most popular options include Tony's Seafood Restaurant, Steamers Clam Bar & Grill, and Island Hotel & Restaurant. Steamers is our top pick though.
What accommodations are available in Cedar Key?
Visitors to Cedar Key can choose from a variety of accommodations, including hotels, motels, vacation rentals, and campgrounds. The options have changed over the years due to hurricanes and changing ownership of different hotels, but the ones we have listed above are great options.
Can I bring my pet to Cedar Key?
Yes, many accommodations in Cedar Key are pet-friendly, and there are several dog-friendly parks in the area. There are even groups of locals that meet each morning for a massive community dog-walk.
What are some family-friendly activities in Cedar Key?
Families visiting Cedar Key can enjoy activities such as visiting the Cedar Key Aquarium, taking a boat tour, or exploring the local parks and beaches.
What is the history of Cedar Key, and are there any historical sites to visit?
Cedar Key's history is as a major port and center of the cedar timber industry in the 19th century. It's the second oldest town in Florida. Visitors can learn about the area's history at the Cedar Key Museum State Park and the Cedar Key Historical Society Museum, among other sites.