Savannah is known for its beautiful live oaks dripping with Spanish moss, the perfect fountain in Forsyth Park, and of course, Midnight in the Garden of Good and Evil. Even if you haven't read the book or seen the movie, the Bird Girl statue is no doubt a familiar piece of art and you CAN actually see her in person. She isn't just a film prop!
Keep reading to learn more about the Bird Girl, where to see her and how you can enjoy this piece of Savannah art and history. As you're exploring the Historic District, you'll easily be able to add her to your Savannah plans!
f you have any questions or additional thoughts, please feel free to leave a comment or send us a note. We're always happy to share more and help you plan travel!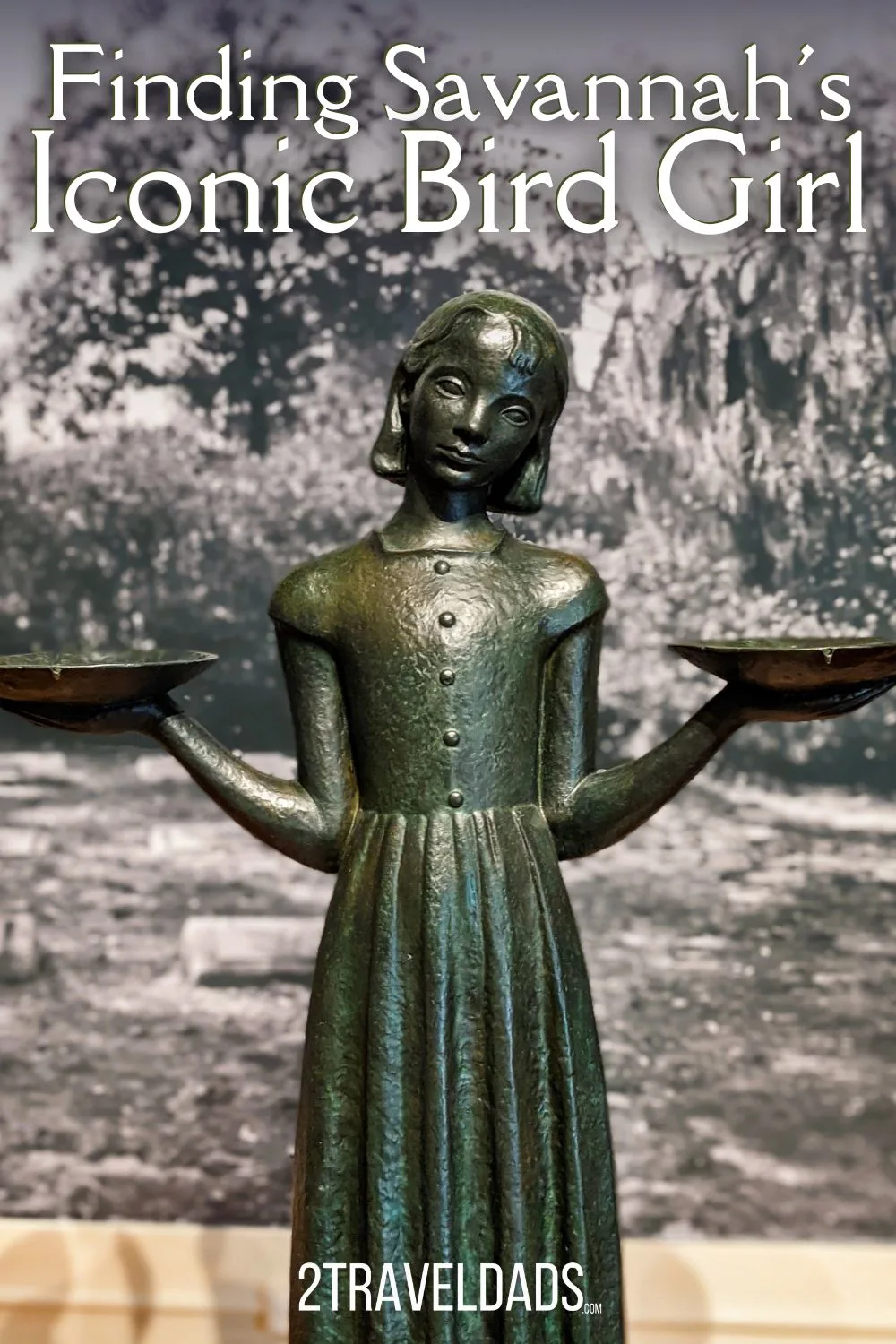 Who is Bird Girl and Why is She Famous?
The "Bird Girl" statue is a sculpture created by artist Sylvia Shaw Judson in 1936. She intended it to be made available for people's gardens, but THE Bird Girl ended up in Bonaventure Cemetery here in Savannah in 1940. The statue became famous after it was featured on the cover of the novel Midnight in the Garden of Good and Evil by John Berendt, who also wrote my favorite book, City of Falling Angels.
Bird Girl is actually titled "Little Wendy" and depicts a young girl standing with her arms outstretched, holding two bowls that are meant to feed birds. Even if you haven't seen the Bird Girl statue in person or are a fan of Midnight, the sculpture is a very recognizable piece of art and is strongly associated with Savannah.
Where is the Bird Girl Sculpture Now?
For a while, Bird Girl was on display at the Telfair Museums' Jepson Center here in Savannah. However, it's important to note that the statue is frequently on loan and its location may change from time to time. As the Telfair Museums website says, "a small riot erupts when she is off view for even a few minutes" but currently (2023) she is on display in her own special exhibit room at the Telfair Academy. Visiting the Telfair is one of the best things to do in Savanah, and if you're doing the Georgia Coast road trip, it's a great way to add some artsy culture to the itinerary.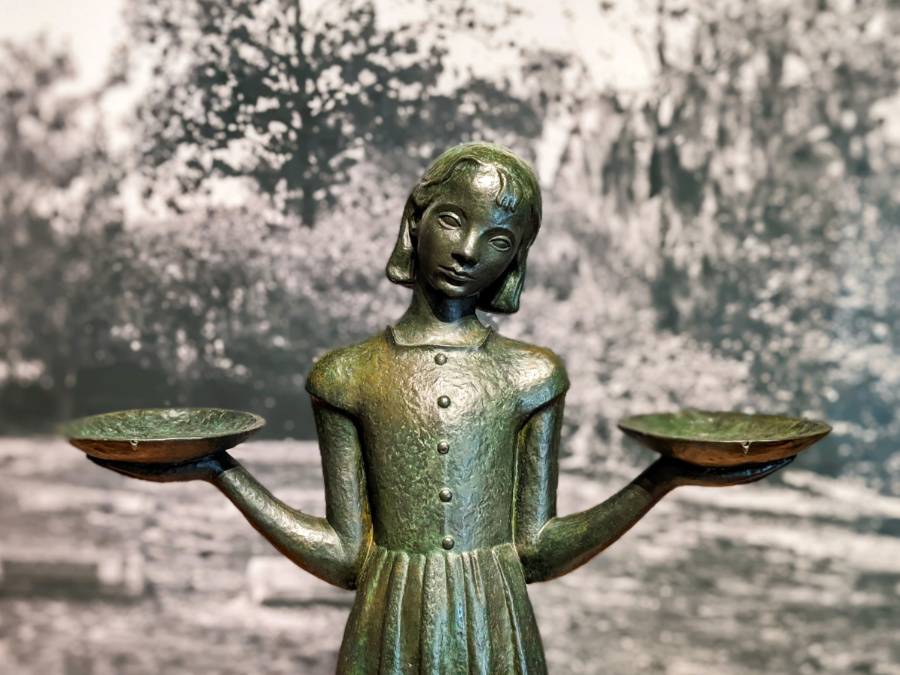 Was Bird Girl Ever in Bonaventure Cemetery?
The famous Bird Girl sculpture was indeed in Bonaventure Cemetery in Savannah for 50+ years. This bronze cast, was installed on the Trosdal family grave plot and fit nicely into the garden atmosphere of Bonaventure. Bird Girl, like many of the other graves and sculptures at the cemetery rested peacefully there for a long time, but then when Midnight, aka Midnight in the Garden of Good and Evil became famous, people started flocking to the sculpture. And that's when the family entrusted the Telfair Museums with her well being, in 1997.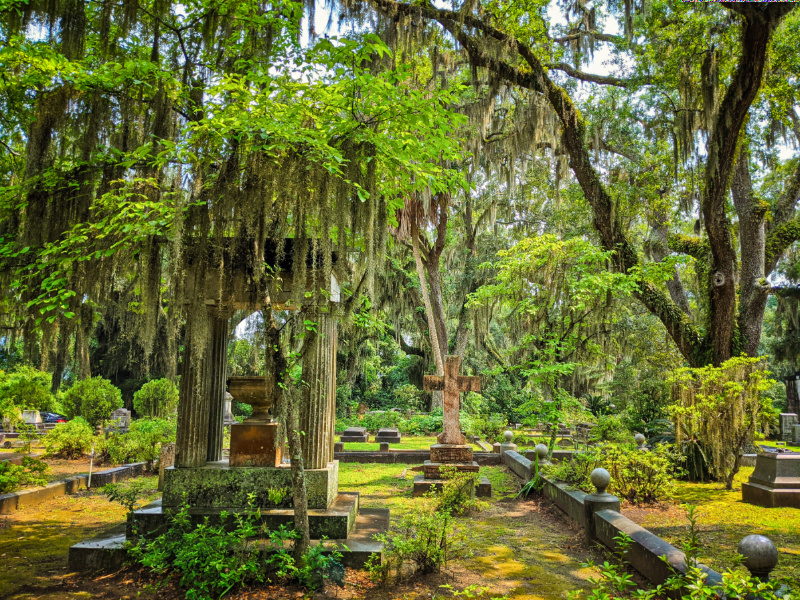 How to Visit Bird Girl at the Telfair Academy
Currently the Bird Girl statue is on display in the Telfair Academy museum at Telfair Square, one of the prettiest squares in Savannah. Visiting her is included in your admission to the Telfair, so whether you start at the Jepson Center or in the yellow Academy building, you can see Bird Girl when you visit.
In the Academy building, the Bird Girl exhibit is on the top floor at the southeastern corn of the museum. You'll love the photos, the stories and the actual sculpture herself.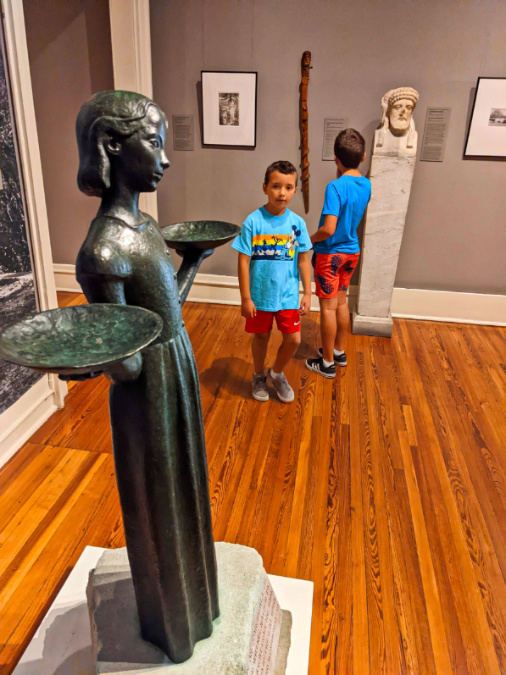 When you visit the Telfair Academy, be sure to check out the complete museum. The basement has some incredible paintings and plaster casts that are easy to miss, so be thorough during your time there!
Tip: if you're a Savannah or Chatham County resident, visit the Telfair Museums on Family Days for free with the appropriate local ID.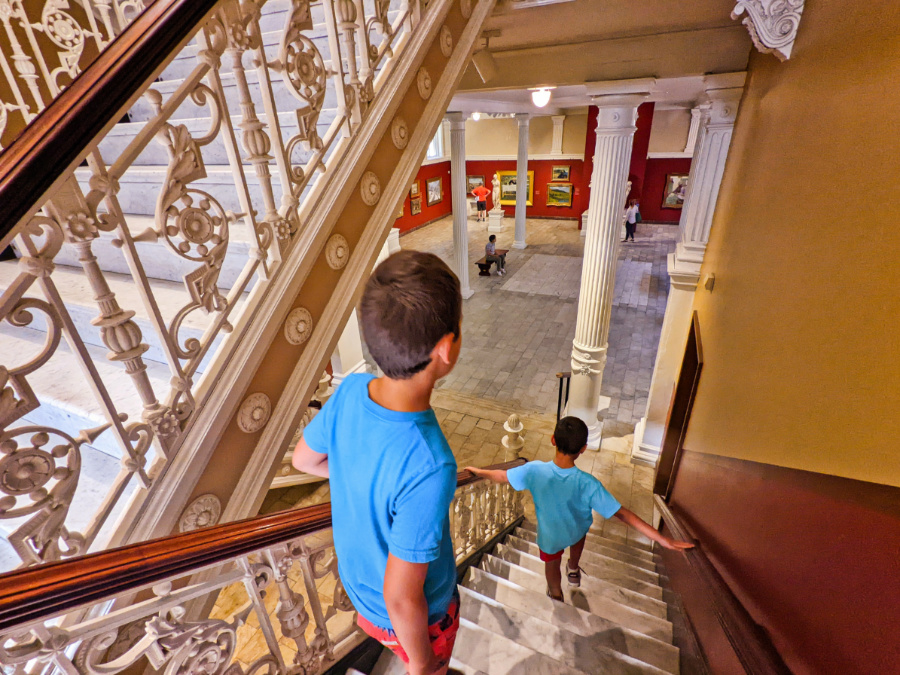 Are There More Sculptures of HER?
If you're interested in seeing other casts of the Bird Girl sculpture, that's pretty tricky, as they are in private collections, but there is one at the Brushwood Center in the Edward L Ryerson Conservation Area in Riverwoods, Illinois that you can visit. It's in a public space outdoors and can be viewed when the park is open.
How did it get there to the Ryerson Conservation Area? The artist who created Bird Girl, Sylvia Shaw Judson, had a daughter named Alice who married Ned Ryerson who was the son of the steel magnate Edward Ryerson who's endowment funded the conservation area. Full circle of how the second Bird Girl bronze statue ended up in a park.
Who Created the Iconic Savannah Statue?
The Bird Girl was created in 1936 by sculptor Sylvia Shaw Judson. While I am not familiar with her other work and haven't seen any other pieces in person, she was actually a very prolific artist. She had showings in the Chicago Art Institute, New York City and even today there is one of her pieces at the White House. Although she's well known today as the creator of the iconic sculpture, her fame came posthumously. In life she was known for her work within the arts community, but Bird Girl being the visual icon for Midnight in the Garden of Good and Evil really elevated her name.
Are There Bird Girl Statue Souvenirs / Art
OMG, yes! At the shop in the Jepson Center across Telfair Square from the Academy you can purchase small statuettes of Bird Girl, as well as other forms of art depicting her. In the 1990s the artist's daughter, Alice, licensed reproductions (with limitations) so you can actually have your own copy of the famous Savannah icon.
You can also order them online, but you cannot get an authorized reproduction that is the same size as the original casts. This is part of the licensing limitations. Any size Bird Girl statue in your garden is better though than NOT having one. 🙂
Find a Bird Girl statue for your home here!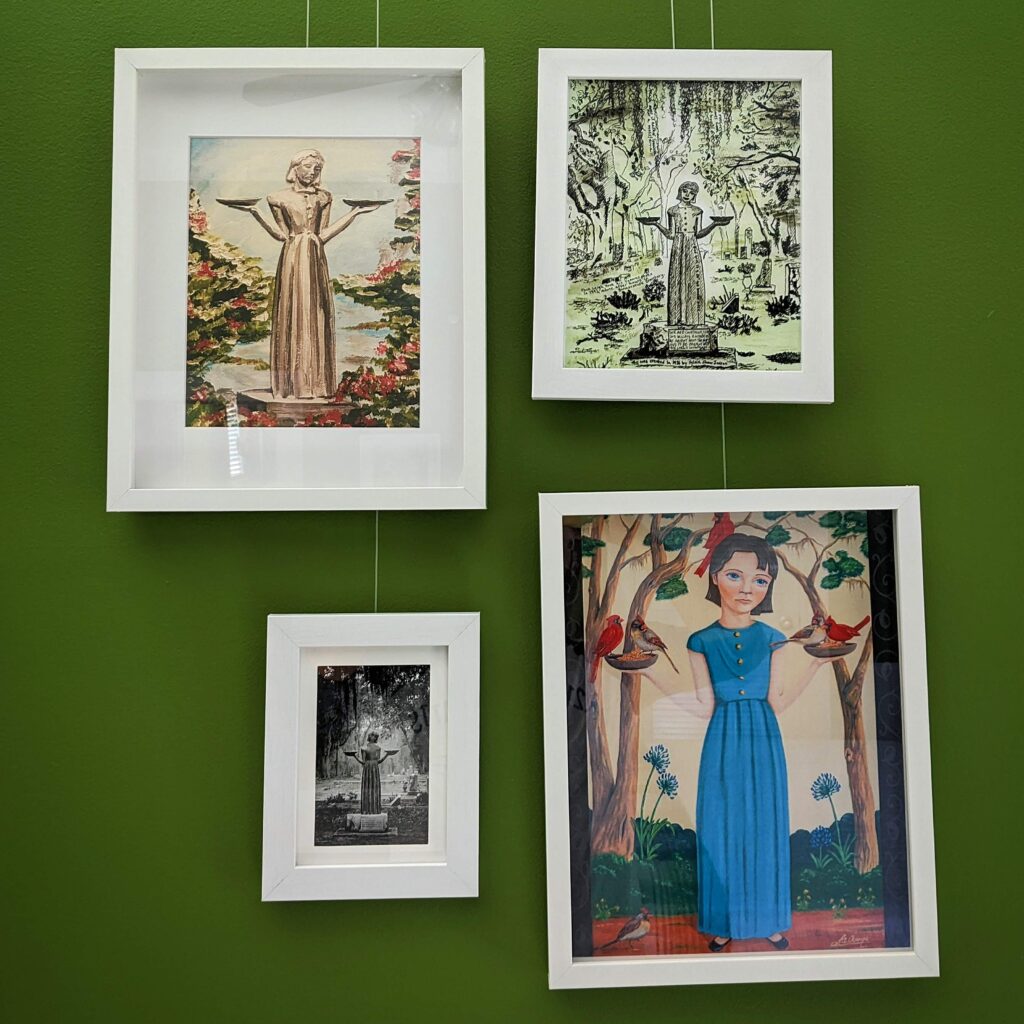 More Interesting Art to Seek out in Savannah
Savannah itself is a work of art, from its squares to its fountains to its colorful houses and inns in the Historic District. There are lots of public art installations too, so be sure to seek them out when you're walking around town. Some of our favorite museums and installations are listed below, and many are located on the Riverfront or Plant Riverside area.
African-American Monument – on Riverfront
The Armillary Sphere – Troup Square
Waving Girl sculpture – on Riverfront
Haitian Monument – Franklin Square
Savannah Icons Mural – on Thunderbird Motel
Spanish American Monument – Forsyth Park (Park Ave)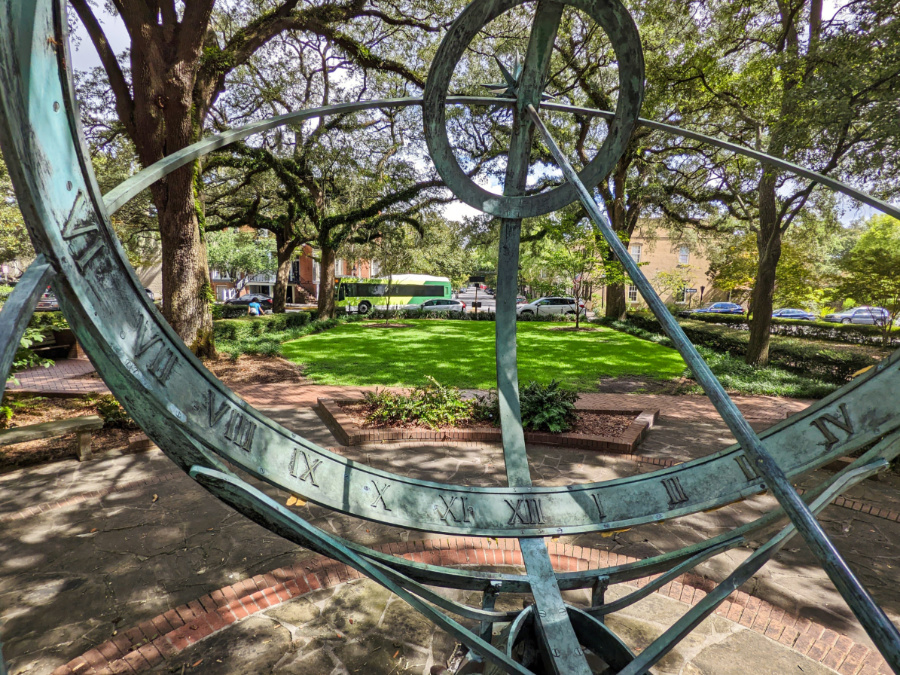 There's lots of public art all around Savannah, and with SCAD students everywhere, the art scene just keeps growing and growing.
I hope you enjoy exploring Savannah and that you make time to visit the iconic Bird Girl at the Telfair Museum. If you have any questions or would like to suggest more wonderful art to appreciate, please leave a comment or send us a note!