There are so many places for kayaking on the Georgia Coast, especially near Savannah. It's not the whitewater you get when you're kayaking in Idaho or the serene mountain lakes of kayaking in the Grand Tetons, but it's beautiful just the same. Being a state full of tidelands and barrier islands, kayaking on the Georgia Coast is a beautiful experience full of shorebirds, meandering tidal rivers and dolphins to guide you.
With about 100 miles of Georgian coastline stretching from the St Mary's River Sound and Cumberland Island National Seashore to the Savannah River Sound, paddling opportunities abound. Kayaking the coastline takes water enthusiasts through barrier islands, wildlife management areas, heritage sites, and public and private lands. You'll also find that kayaking on the Georgia Coast includes lots of historic forts to paddle by. Such a unique destination!
If you have your own favorite spots to kayak on the Georgia coast, feel free to leave a comment or send us a note. There are so many tidal creeks and beautiful rivers, I'm sure we haven't even experienced the best of the Georgia coast yet, no matter how much time we spend there!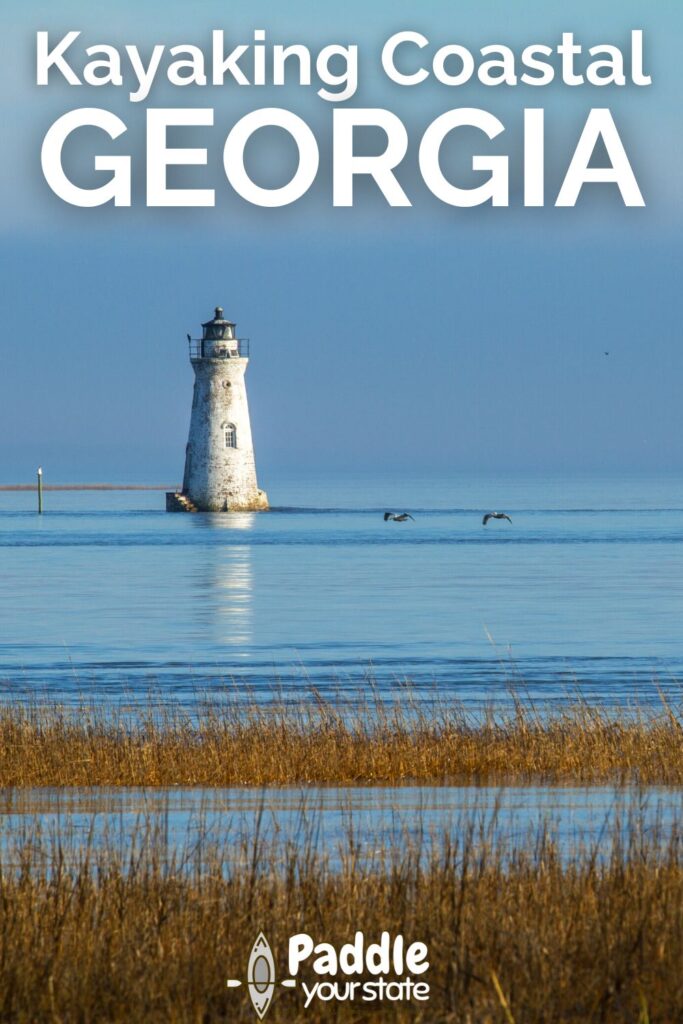 Easy Places to Kayak on the Georgia Coast
Georgia is a fantastic location to visit with the family or try out new hobbies. There are several trails available for beginning paddlers and families traveling together. Regardless of where you go, there's an adventure waiting for you, along with dense marshlands, coast breezes, and gorgeous vistas. It's easy to add kayaking to a Georgia Coast road trip.
Tybee Island and the Marshes
Tybee Island, located about 30 miles east of Savannah, is a 15-mile stretch of marshes and islands. Autumn is the best time to go paddling because it's not as hot as summer, and there's a chill in the air. Major attractions are the Tybee Lighthouse, Tybee Island Marine Science Center, and Fort Pulaski National Monument (really fun to explore). Here you can observe dolphins up close while kayaking, and even see juvenile sea turtles along the edges of the marsh!
Where to launch: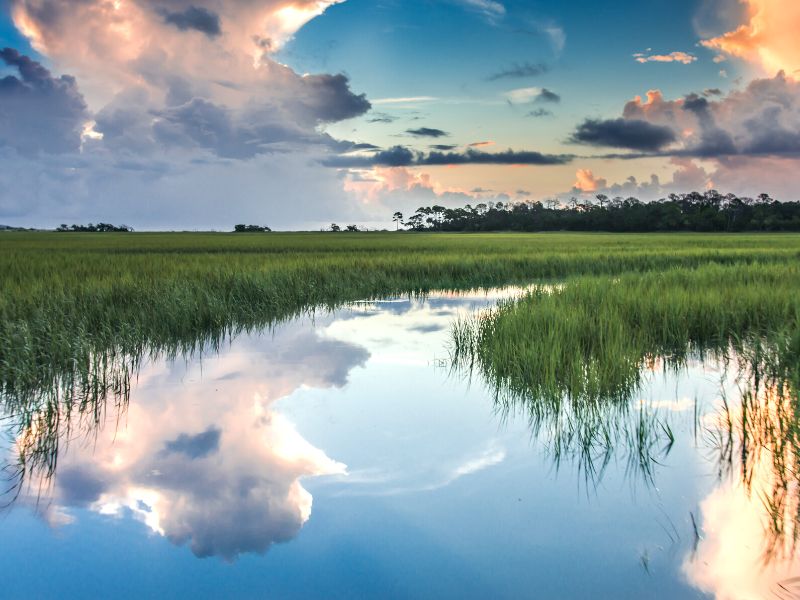 Ebenezer Creek and the Tupelo Trees
Just to the west of Savannah is a long, winding creek that weaves through cypress knees and tupelo trees. This is the quintessential Georgia paddle. I know it's not kayaking the Georgia Coast in the barrier islands or in the deltas, but it's exactly what you'd hope to find in a southern waterway forest. The dense sub-tropical forest is ideal for spotting wildlife, from alligators to all kinds of waterfowl.
Tip: Savannah Canoe and Kayak actually does a tour here in partnership with a local honey company. You get to paddle the beautiful Ebenezer Creek AND learn about Tupelo Honey. An ideal paddling plan would be doing Ebenezer Creek in the morning and then spending the afternoon at Savannah's Forsyth Park. Best of both worlds.
Where to launch: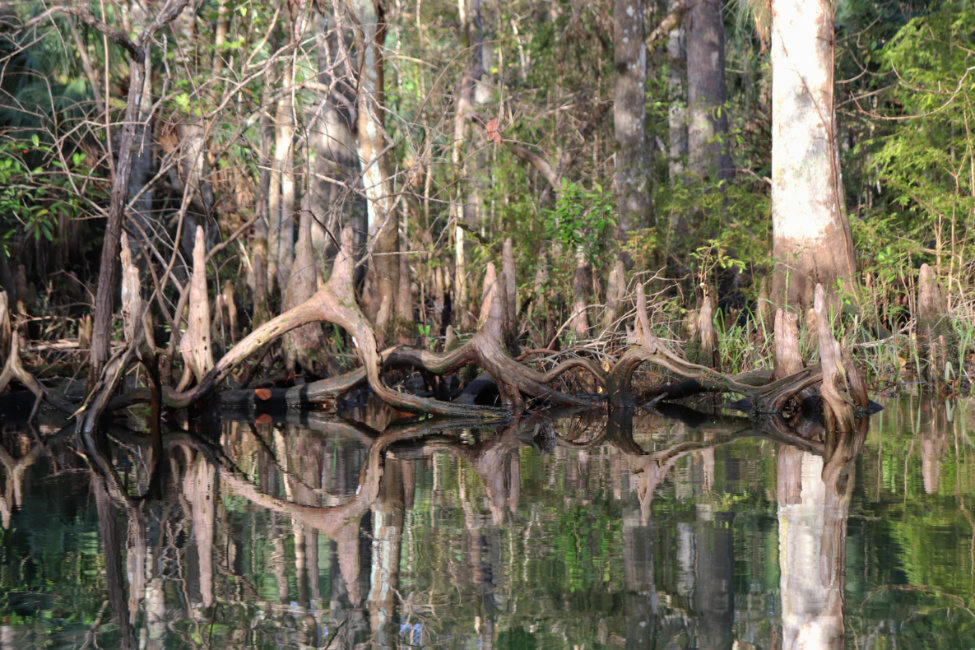 Satilla River Water Trail
The Satilla River Water Trail, which has 140 miles, is ideal for families with children. There are 11 locations on the route where you can take out kayaks between Woodbine and Jamestown. The water varies in depth and flow rate. If you're planning the Satilla River for your Georgia Coast kayaking trip, give yourself an extra day to paddle to St. Simons Island.
There is also the Little Satilla River that flows into the Brunswick River, but it's not the same route, so be sure you're paddling where you actually want to be. While you may not want to do the entire river (it's long) the flow is slow enough that you can easily navigate back upstream if you want to be based in one spot and explore in different directions.
Where to launch: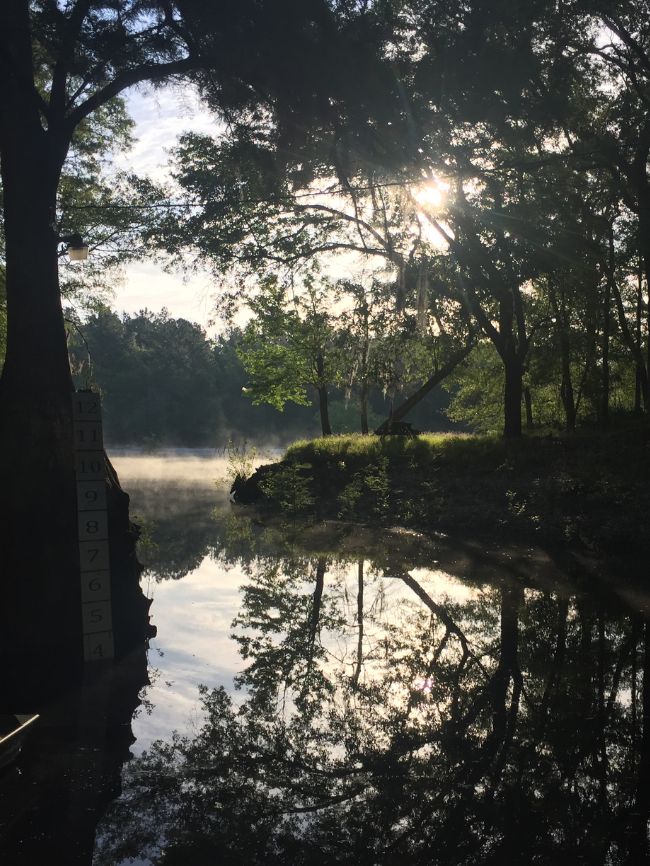 Augusta Canal to the Savannah River
Admittedly, Augusta is not Coastal Georgia, but is two hours from the coast. This kayaking spot though is so unique that I wanted to be sure to include it somewhere. It's seven beautiful miles of paddling bliss.
The Augusta Canal is a calm kayak with an abundance of accessibility and historical significance. The kayaking route passes through ancient sites (mounds) and allows paddlers to observe Georgia's wildlife up close. This is one of the simplest paddling options in Georgia, with plenty of rentals and operators along the canal.
From the Savannah Rapids area, paddle with the flow of the canal. The waterway has old locks along it, and lots of cool Georgia history. Do a partial paddle or go from the Rapids down to the interpretive center.
For complete information on the canal, check out August Canal National Heritage Area website. And if you need to get a kayak rental for paddling the Augusta Canal, check out Savannah Rapids Kayak.
Where to launch: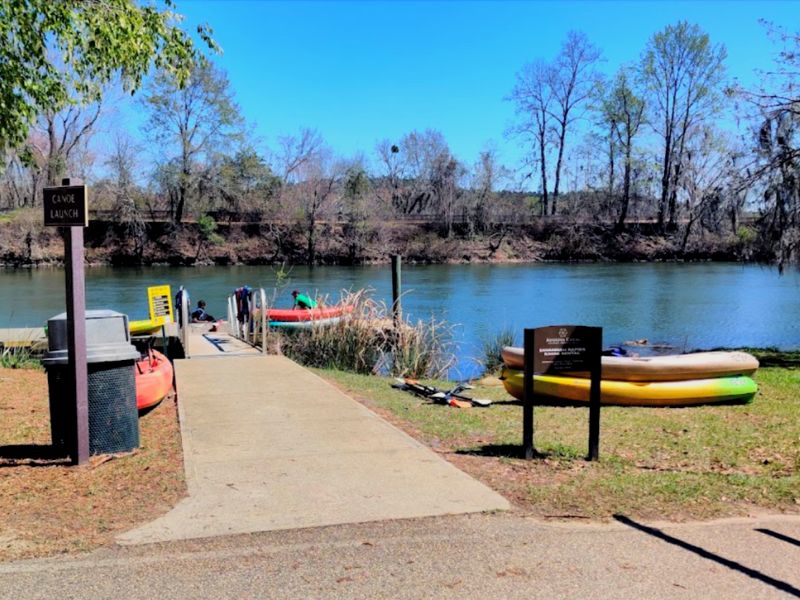 Serene 18 Paddle Trail
Since we're sharing a little bit of inland Georgia paddling, the Serene 18 Paddle Trail is a great place to paddle in northeast Georgia. The trail is 18 miles long and goes through many areas. Paddlers can do the entire 18 miles over a few days or do the entire route in one go. The Augusta Canal is actually one of the designated spots on the Serene 18 Paddle Trail.
There are many different things to see while paddling on the Serene 18 Paddle Trail. Paddlers will see various wildlife, including birds, fish, and turtles. The trail also goes through some beautiful scenery, including forests and meadows.
For more information, check out Colombia County's official tourism website.
Where to launch:
More Experienced Kayaking on the Georgia Coast
Because of the changing water conditions and currents, much of coastal Georgia is set aside for expert paddlers. Those seeking a test should head south for sea kayaking or deep wilderness exploration. The tidal marshes, streams, and barrier islands provide infinite possibilities for discovery.
Okefenokee Wilderness Canoe Trail
While the Okefenokee Wilderness Canoe Trail offers a variety of levels of difficulty, many intermediate paddlers prefer this route for multi-day excursions. Adventurers may encounter alligators while travelling through cypress marshes! It's similar to kayaking in Florida State and National Parks in terms of the amount of wildlife in the Okefenokee. The Georgia River Network website gives detailed information on paddling the area. You'll find it similar to paddling in the Everglades and Big Cypress in South Florida.
Visiting the Okefenokee Swamp is an easy addition to a trip to Jekyll Island or St Simons Island. A simple drive inland and you're there!
Where to launch: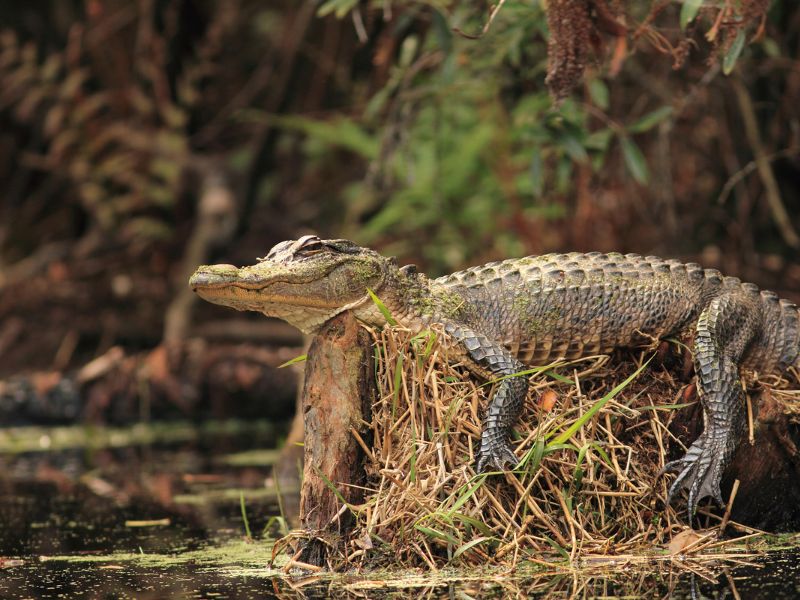 Georgia Coast Saltwater Paddling Trail
The Georgia Coast Saltwater Paddling Trail, which features many miles of paddling routes all along the coast, is ideal for experienced kayakers who want to hit the ocean and have a sea kayaking excursion. You must verify tide information using charts or local operators due to its sizeable tidal amplitude. While the incoming tide tends to make for easier paddling (in my opinion) there are a few channels that really can produce a good swirl at the change of tides, mostly in the southernmost section.
Much like the Intracoastal Waterway for larger boats, the Southeast Coast Saltwater Paddling Trail (SESPT) connects many towns, barrier islands and natural areas. Ideally, you'll find much less boat traffic following the SESPT than if you chose to paddling the Intracoastal the whole way, but there are times when the two intersect. If you want to, you can paddle all the way from St Marys, Georgia, kayaking the Georgia coast all the way to South Carolina, North Carolina and into Norfolk, Virginia. Amazing paddling trail!
Georgia Coast kayaking plan: take four days to paddle from Cumberland Island up the coast. Start in St Mary's, night one on St Simons Island, night two in a vacation rental on Sapelo Island, night three at a place on Blackbeard Creek, and then end the epic Georgia Coast kayaking staying on Tybee Island or in Savannah. And then treat yourself to a great meal (so many good places to eat in Savannah!)
For complete information on paddling the Southeast Coast Saltwater Paddling Trail visit their website and be sure to explore the interactive map for alternate routes, camping and local information.
Where to launch: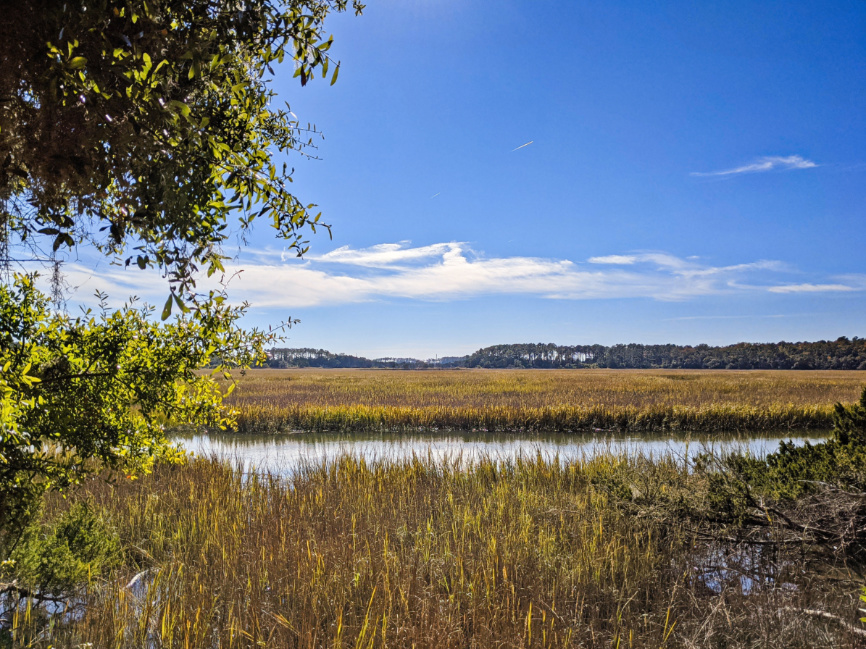 Altamaha River, Inland from I-95
The Altamaha River is a beautiful river to paddle in Georgia. The river has over 100 endangered species in the water, on the ground, and in the air. There are several degrees of paddling to select from for those seeking an intense workout. The coastal portion is similar to paddling in the Timucuan Preserve in North Florida (one of the best Florida State Parks for kayaking).
Even though the Altamaha is a river, it's still a tidal area, so the water level may fluctuate with both tides and flooding far inland. Find more information here about the area and what to expect year round when you're kayaking the Georgia Coast and its rivers.
Where to launch: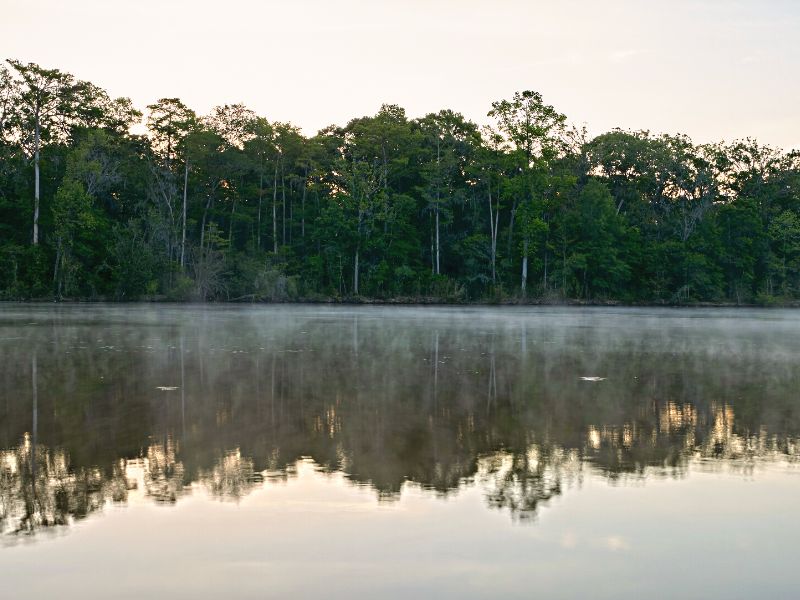 National and State Park Kayaking in Coastal Georgia
Rivers and lakes, mountains to explore, a coastline of beaches and seascapes. Georgia's natural landscape in its state and national parks is nothing short of spectacular. For those who love the outdoors, it's hard not to fall in love with this state.
Fort Pulaski National Monument
Fort Pulaski National Monument is a really cool Civil War era fort to visit between Tybee Island and Savannah. While you can't go kayaking in the moat around Fort Pulaski, you can put it at nearby Lazaretto Creek to paddle around the National Park area. One of the more unique spots for kayaking on the Georgia Coast, paddling at Fort Pulaski National Monument includes creeks, tidal rivers and even a lighthouse.
Complete the full paddle around Cockspur Island and cross the state line in the river over to South Carolina if you like. Be mindful of the tide and remember: the Savannah River is a major shipping channel, so watch for container ship wakes.
Launch here:
If you're actually looking to paddle by Old Fort Jackson (also on the Savannah River) you can launch from either Frank W Spencer Park or the Thunderbolt Boat Ramp, and then you can easily also paddle past Savannah's Bonaventure Cemetery.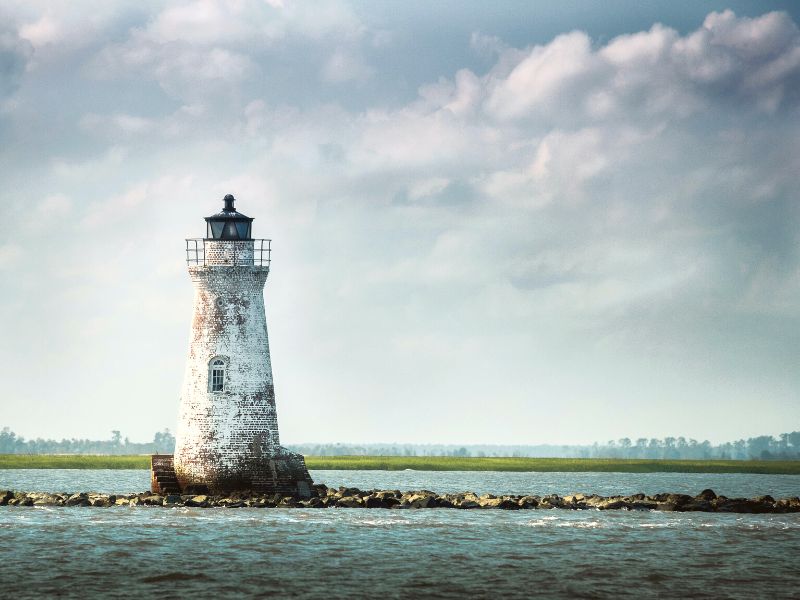 Cumberland Island National Seashore
Have you ever been to a place where horses roam wild through ruins and on the beach? That's Cumberland Island National Seashore. You can kayak to Cumberland Island from Crooked River State Park or the town of St Marys, and then once at the National Park you must pay the entrance fee per person or show your NPS pass.
The tides all around Cumberland Island are strong, so given the length of the paddle and the currents, you need to plan this Georgia Coast kayaking trip to match the tides, paddling to the Island with outgoing tide and back to your starting point with the incoming tide. Kayak camping is an option too, but must be reserved.
Note: to see the wild horses of Cumberland Island National Seashore you don't actually have to go ashore. They can be seen from the channel by Sea Camp Dock, the beach if you paddle around the south side, or the winding waterways at the north end of the island.
Where to launch: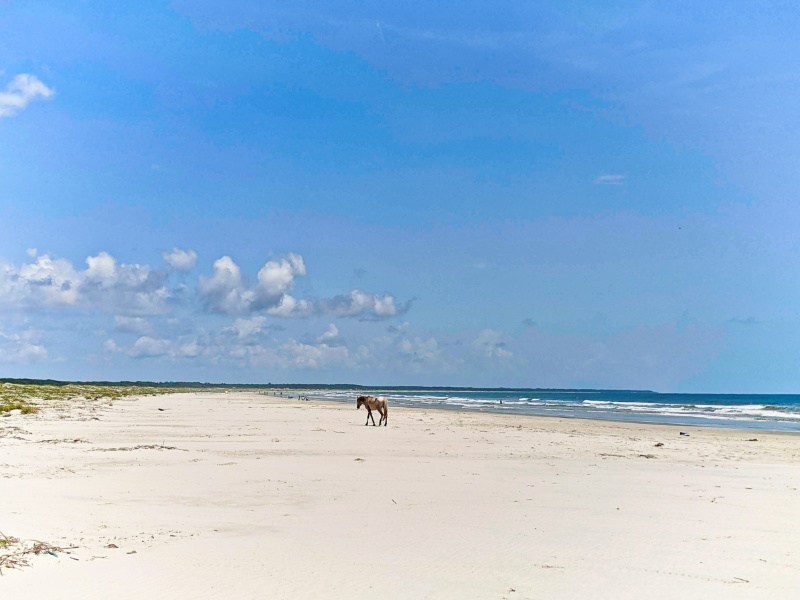 Skidaway Island State Park
Skidaway Island State Park takes visitors from Savannah into a whole new world. This park is home to 300 distinct kinds of birds and opportunities for paddling less than an hour away. The Skidaway River winds around to the Wilmington River to the north or Shipyard Creek to the south. Marsh islands and tidal creeks make it fun to chart your own route.
Check out Go South Savannah for the many kayaking tour options with sunrise and sunset tours available as well.
Where to launch:
Wassaw Island National Wildlife Refuge
This island has a circling system of canals and islets, which makes it an excellent location for paddling. The refuge also has 10,000 acres of marsh, dunes, and coastal forest. This wilderness is only accessible by water and is best suited for professional paddlers due to the depth involved.
The US Fish & Wildlife Service give a good overview of the Wassaw Island is a National Wildlife Refuge.
Where to launch: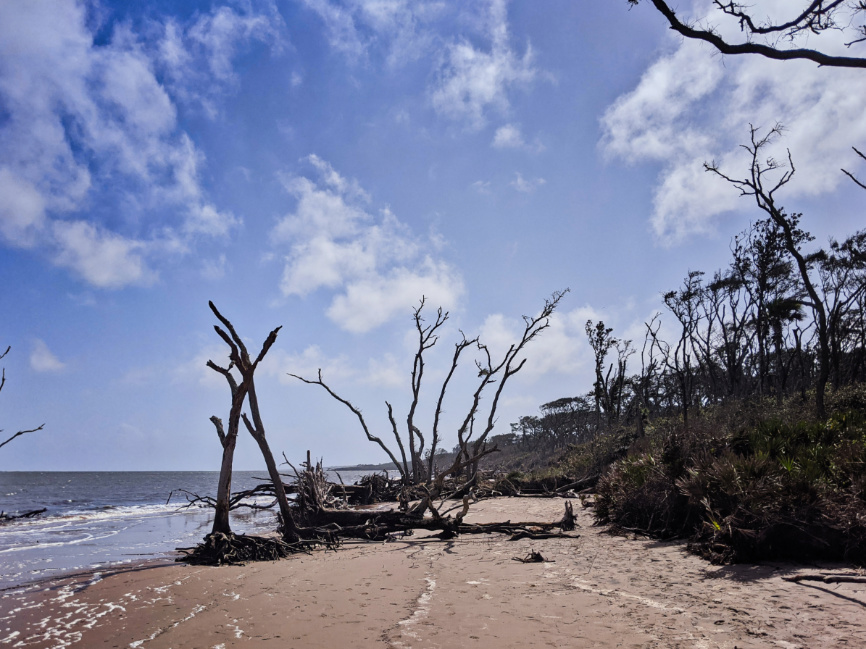 George L. Smith State Park, Twin City
Home to some of the most unique surroundings, George L. Smith State Park with large Cypress trees jutting out of the river the landscape is truly special. Bird enthusiasts will enjoy their time at the park with opportunities to see blue heron, white ibis, as well many other species of birds. For information to help plan your trip visit the Georgia State Parks official website.
A bonus to spending a day kayaking at George L Smith State Park is that you can check off a site on the Georgia State Parks Paddlers Club checklist. This kayaking spot is about an hour and a half inland from Savannah, so if you're working on completing the checklist, you can kayak at Fort McAllister State Historic Park on the Georgia Coast. It's not all cypress trees like Smith SP is, but it's a part of the Paddling Club system.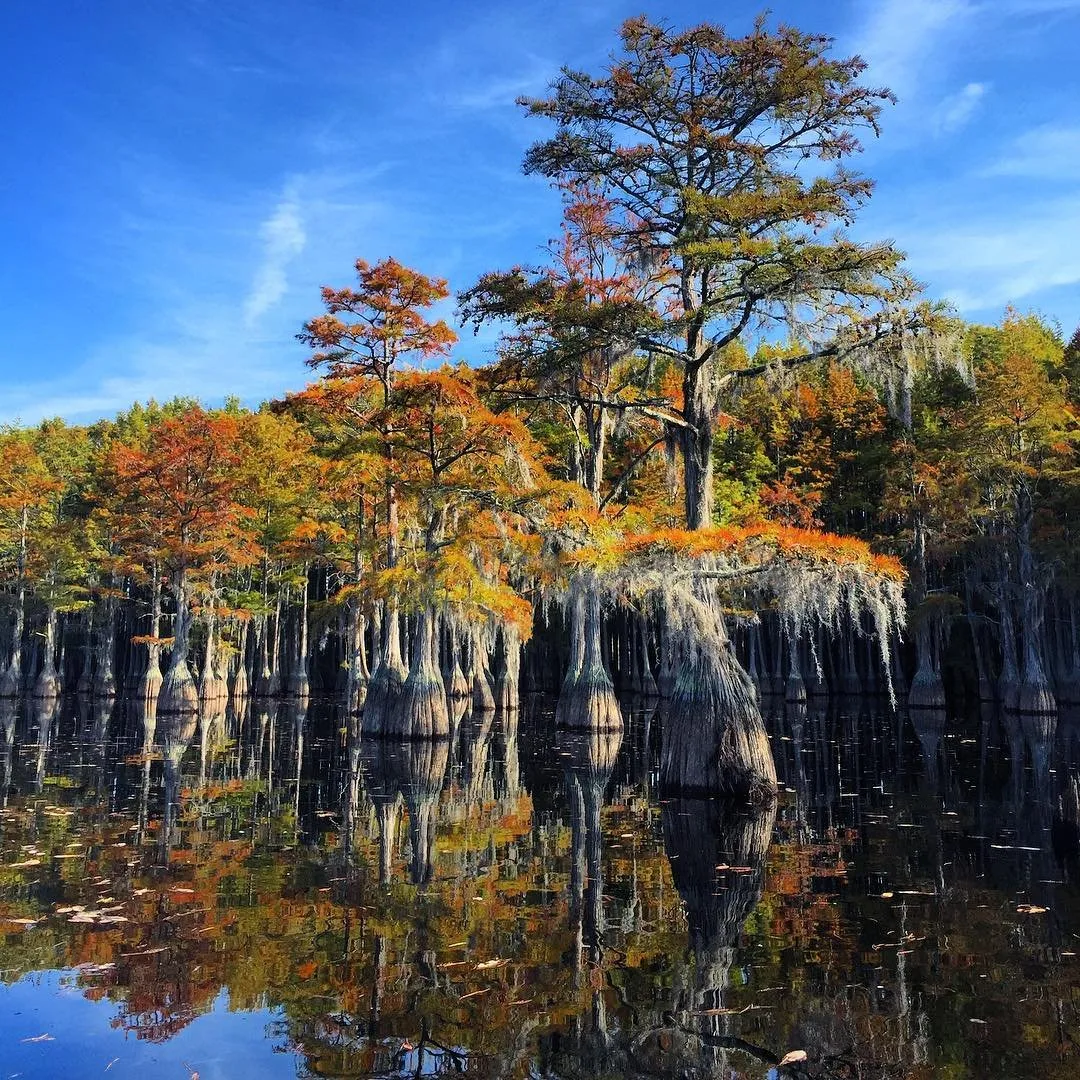 Recommended Kayaking Tours on the Georgia Coast
Birders and nature lovers will love kayaking the Georgia Coast with a guide. Paddling with a small group out of Tybee Island and in the Savannah area is the perfect addition to a visit. If you're looking for a kayaking or SUP tour anywhere along the Georgia Coast, here are some options to choose from:
A unique tour that's NOT kayaking on the Georgia Coast but gets you to a very unusual place is the guided tour to Sapelo Island. With just a small ferry to take guests out to the island, you'll find all kinds of both natural and historic sights here, including the Sapelo Island Lighthouse, the African American Gullah Geechee Hog Hammock National Historic Area and more. Book this tour here!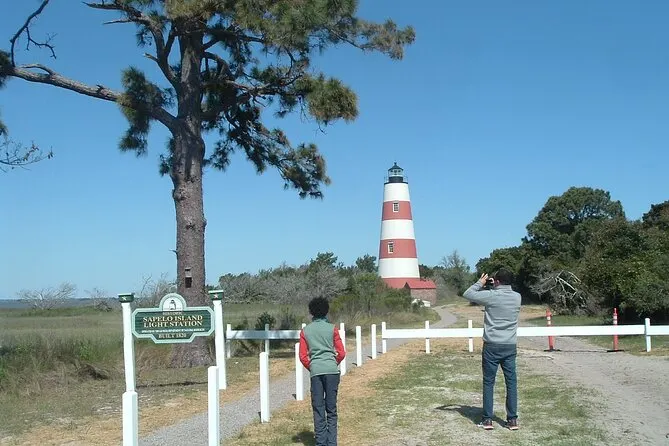 When to Visit Georgia
The best time to visit Georgia is from late March to early November. However, if you're looking for a specific event to attend, then plan your trip around that. For example, the Master's Tournament in Augusta is held every April. The most popular cities to visit in Georgia are Atlanta, Savannah, and Athens. Atlanta has a lot of tourist attractions such as the CNN Center, the World of Coca-Cola, and the Martin Luther King Jr. National Historic Site. Savannah is known for its beautiful architecture and lush parks. Athens is home to the University of Georgia and has a lively nightlife scene.
Weather in Georgia
Kayaking can be a fun thing to do in Georgia. However, it's essential to consider the weather when you go. The average temperature is usually pretty warm, but there can be some colder days. And it rains a lot in Georgia, so make sure you're prepared for that too! Averages temperatures range from the high 60s to the low 80s. The rainy season usually lasts from April until October. But don't let that stop you from having a great time kayaking! Just be prepared and dress appropriately.
Need to Know for Kayaking the Georgia Coast
Georgia is a unique state located in the southeastern United States. It is well-known for its diverse landscape, including mountains, forests, and rivers. One of the most popular activities in Georgia is kayaking. Beyond kayaking, Georgia is famous for its trout fishing and bird watching. Don't forget it is the peach state with harvests in August and September. There is so much to see and do in Georgia; it's a must-visit destination!
Georgia State Park Paddling Club
Earlier I mentioned the Georgia State Park Paddling Club. This is a kayaking and canoe list created by Georgia State Parks, and each part features a different and unique paddling experience. While it does include a lot of sites all around the state, there are some great Georgia Coast kayaking options on it. Complete at least twelve paddles from the checklist and you can join the club!
A H Stephens SP
Chattahoochee Bend SP
Crooked River SP
Dames Ferry SP
Don Carter SP
Elijah Clark SP
Florence Marina
Fort McAllister SHP
Fort Mountain SP
Fort Yargo SP
General Coffee SHP
George L Smith SP
Georgia Veterans SP
Jack Hill SP (formerly Gordonia-Alatamaha)
Hamburg SP
High Falls SP
Indian Springs SP
James H Floyd SP
Kolomoki Mounds SHP
Laura S Walker SP
Magnolia Springs SP
Moccasin Creek SP
Panola Mountain SP
Red Top Mountain SP
Reed Bingham SP
Richard B Russell SP
Seminole SP
Stephen C Foster SP
Sweetwater Creek SP
Tugaloo SP
Vogel SP
Watson Mill Bridge SP
I hope you're excited for some great kayaking in Coastal Georgia. You'll love the barrier islands and historic sites! If you have any questions or additional recommendation, please leave a comment or send us a note. Happy and safe paddling!