Lewis and Clark Caverns State Park, just north of Yellowstone, is a remarkable place to explore. A must see on a Western Montana road trip, the caverns are an easy addition to any number of travel plans, including a cross-country drive. In this article we're going to tackle the who, what, why, when and where of the Lewis and Clark Caverns (but not in that order).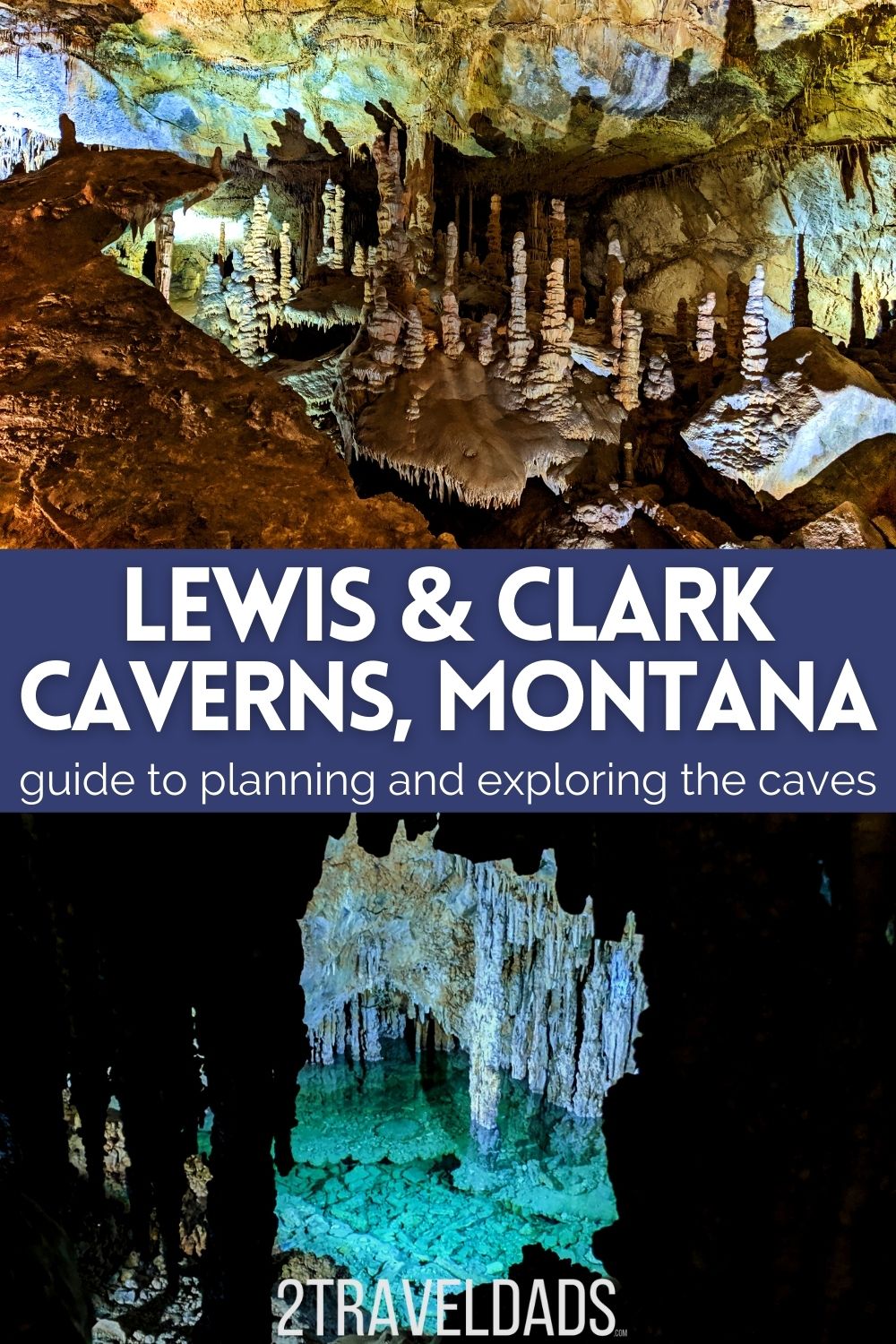 Where is Lewis and Clark Caverns
Located about forty minutes south of Butte, Montana, the Lewis and Clark Caverns are just off Highway 2. If you're driving across the state, taking the detour to the Jefferson River Valley is easy and won't put you terribly off track. The highway actually loops back onto I-90 so you don't even have to back track! Like doing a detour to Philipsburg, MT visiting Lewis and Clark Caverns is an easy addition and totally worth it.
From Yellowstone National Park, Lewis and Clark Caverns is about 2 hours from the Gardiner, MT entrance and just under 2 hours from the West Yellowstone entrance. There are plenty of other attractions in the area, including Big Sky and Virginia City, so if you need to interrupt your Yellowstone trip, you'll have plenty of other interesting sites and activities to make the day additionally worthwhile. 
Tip: when you pay for your entrance at Lewis and Clark Caverns, know that it's a Montana State Park, save your receipt and it'll get you into every other Montana State Park for seven days! Awesome experience and the gift goes on!
Visiting Lewis and Clark Caverns is a big out of the way if you're doing our Yellowstone Country road trip plan, but it's worth adding because the caves are so cool.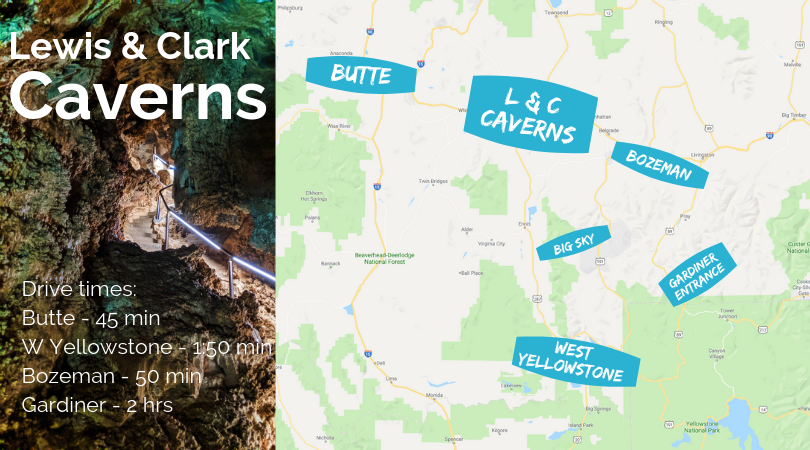 How far is Bozeman to Lewis and Clark Caverns?
Since a lot of people will be visiting Lewis & Clark Caverns as part of a Yellowstone Country trip, you might be flying into Bozeman (BZN airport). It's about 50 minutes from Bozeman to Lewis and Clark Caverns. Traffic is usually very light, so if you want to be on one of the first tours, grab breakfast for the road and leave by 8:00 am to get to the tour ticket booth by 9:00 am when they start selling tickets.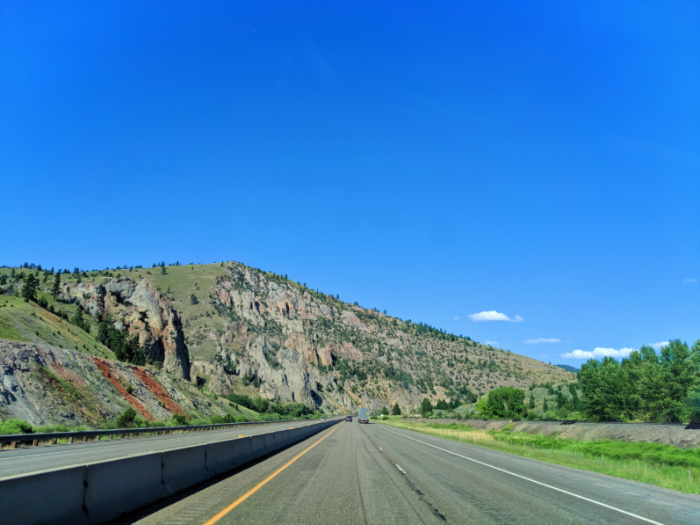 Booking your Lewis and Clark Caverns Tour
We get asked a lot about booking tours in destinations, and for many activities there are a variety of vendors or guides you can go with. If you want to tour Lewis and Clark Caverns in Montana, you actually can only go through them with a State Park ranger.
To book your tour:
drive to the second Visitor Center (up into the hills)
go to the Tours booth
purchase tickets for the next available tour (or a time that works that day)
Tours are booked same day, so if you wanted to go in the afternoon, just get there in the morning to save your tour spot and then go hiking or picnicking and then come back.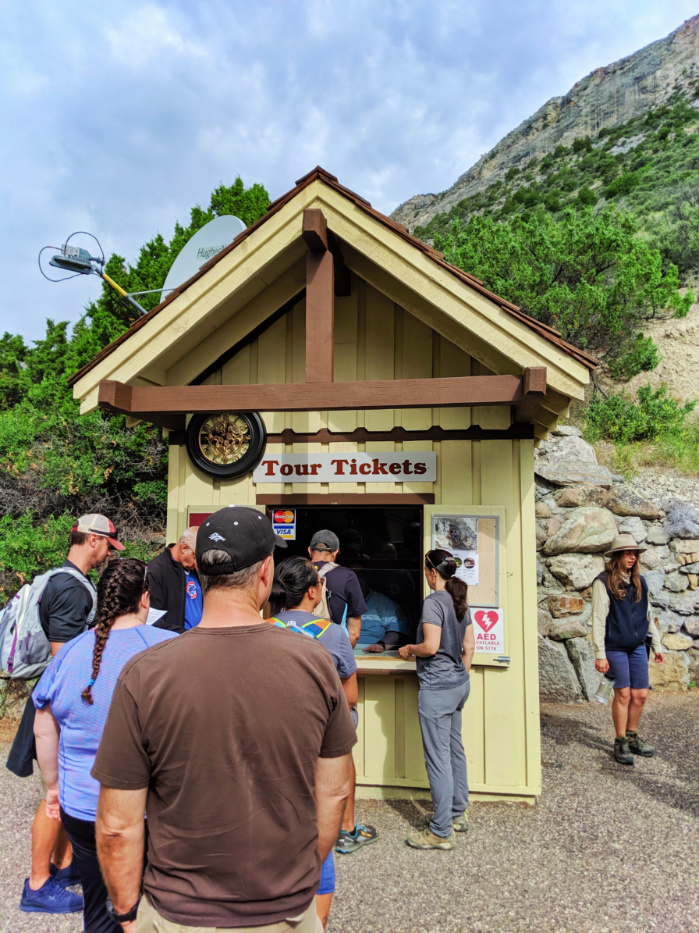 How much does it cost to go to Lewis and Clark Caverns?
There are different fees for visiting Lewis & Clark Caverns. Entrance to the state park itself is just $8 per vehicle. This is good for hiking and picnicking, as well as exploring the Visitors Centers.
Cave tour tickets are a separate cost:
$15 for anyone 15 years and older
$10 for children between the ages of 5- 14
children under four are $5 (the state park office doesn't recommend such young kids due to the complicated cave tour route)
For a guided tour, this cave tour is one of the best value activities we've ever done. It's not a huge hit on your road trip planning budget and is very worth it.
Note: they do a cave tour called the Paradise Tour also. This also takes you into the caverns, but it's edited and goes through a different pathway. It's designed for those with claustrophobia, small kids, or who don't have great physical stamina.
How long is the Lewis and Clark Caverns tour?
At around 90 minutes, the tour of Lewis & Clark Caverns is very manageable. You're not underground for that entire 90 minutes, but for most of it. If you do the Paradise Tour instead, you'll have less time in the caves, but for the most complete experience with the coolest geology, you'll have around 75 minutes in the caves.
Allot about two and a half hours for the full Lewis & Clark Caverns experience, assuming that you get on the first tour you want to.
What should I wear to Lewis and Clark Caverns?
Even if you're doing your Montana road trip in the summer when it's hot, inside Lewis & Clark Caverns it's rather cold at 48 degrees F. I recommend active pants or warm shorts (they exist) and a light pullover or jacket. The cave tour is breezy and a bit moist, so dress for that environment.
Do NOT wear flip-flops for the cave tour. You should wear close-toed shoes that will not accidentally come off. Hiking boots or good tennis shoes are recommended for all ages, just because it can be slippery inside the cavers. You should wear clothes that are warm and practical, not flashy and fashionable (unless you can accomplish both).
How are Montana caverns formed?
Depending on your cave tour guide, you may or may not get the full scientific rundown of how caverns are formed. The Lewis and Clark Caverns were formed when limestone bedrock rose up and the water level of the inland sea dropped. As the water drained it carved out the caverns, and as the rainwater and snow-melt continue to drain through the rock, minerals are dissolved into the water.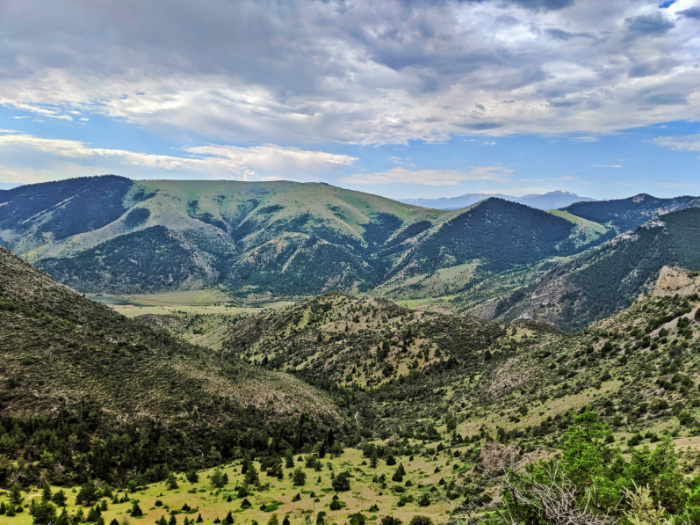 That drips, evaporates or trickles, or just flows down the exposed rock walls leaving behind tiny deposits. It takes hundreds of years for visible growth in some cases and millions of years for formations to look the way they do here in the caverns. 
BIG RULE: DO NOT TOUCH THE FORMATIONS. Oils from human skin may coat a part of a formation and prevent future minerals from depositing, thus stopping the natural growth within the caves. Only ever touch the hand rails and guides you've been instructed to, both to protect the existing cave AND to allow it to continue to grow.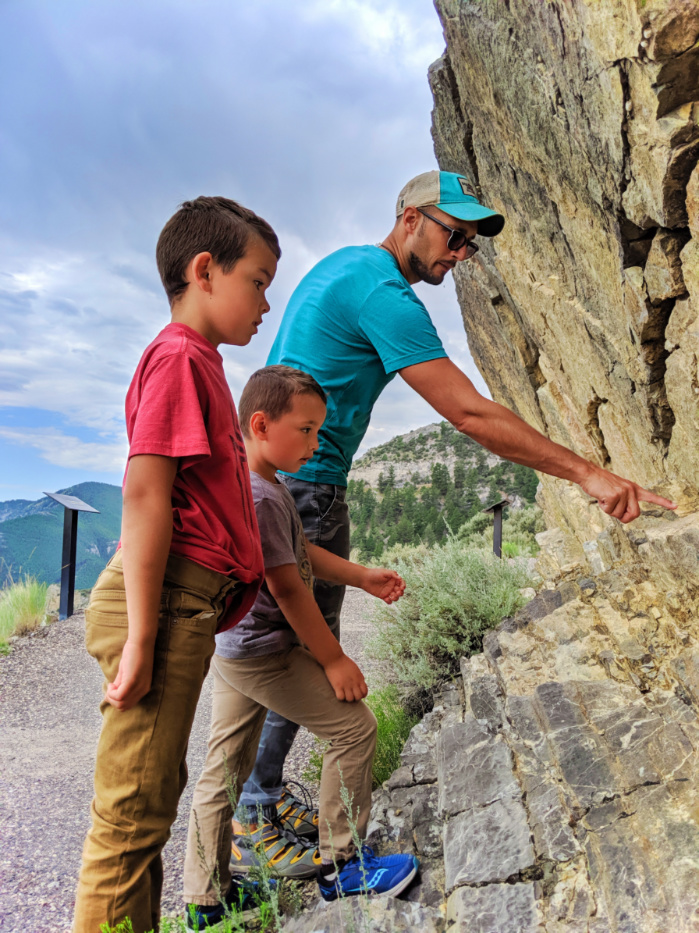 Interesting things to look for in Lewis and Clark Caverns
As the water flows and leaves behind mineral deposits, they can take all different shapes depending on the flow rate and terrain of the cave. What makes Lewis and Clark Caverns so remarkable are the number of impressive formations and their overall grandeur.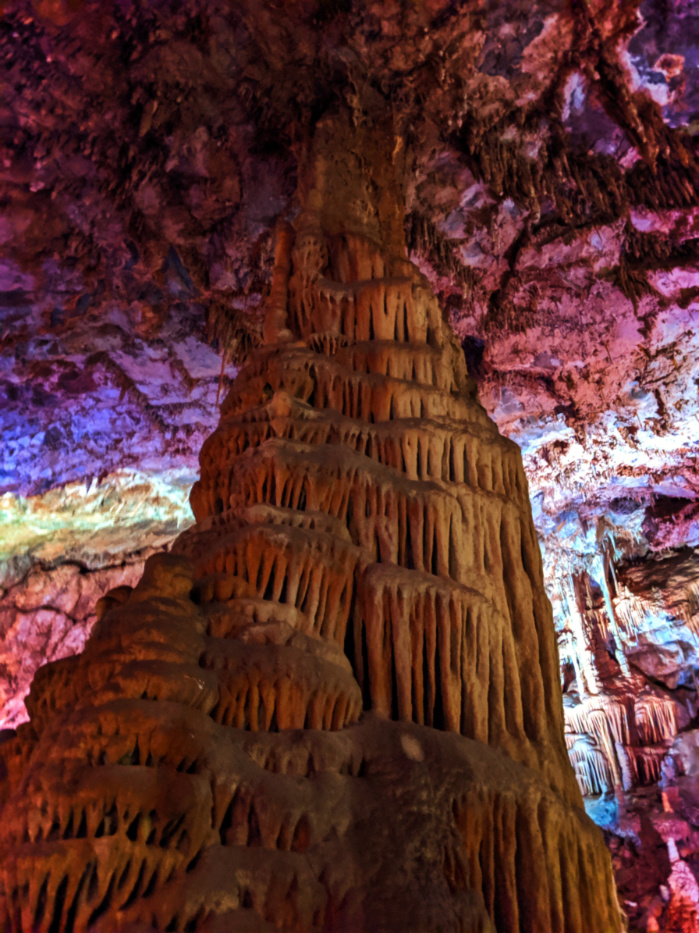 When you're on your Montana cave tour, keep a lookout for the following:
Stalactites – hanging from the ceiling, holding on TIGHT

Stalagmites – growing up from the floor and they MIGHT reach the ceiling one day

Flowstone – glossy wall covering of varying colors and shapes

Cave bacon – our favorite, it literally looks like bacon growing out of the walls or ceiling

Cave popcorn – calcite deposits that look just like popcorn

underground streams – perfectly clear streams and pools flowing from the surface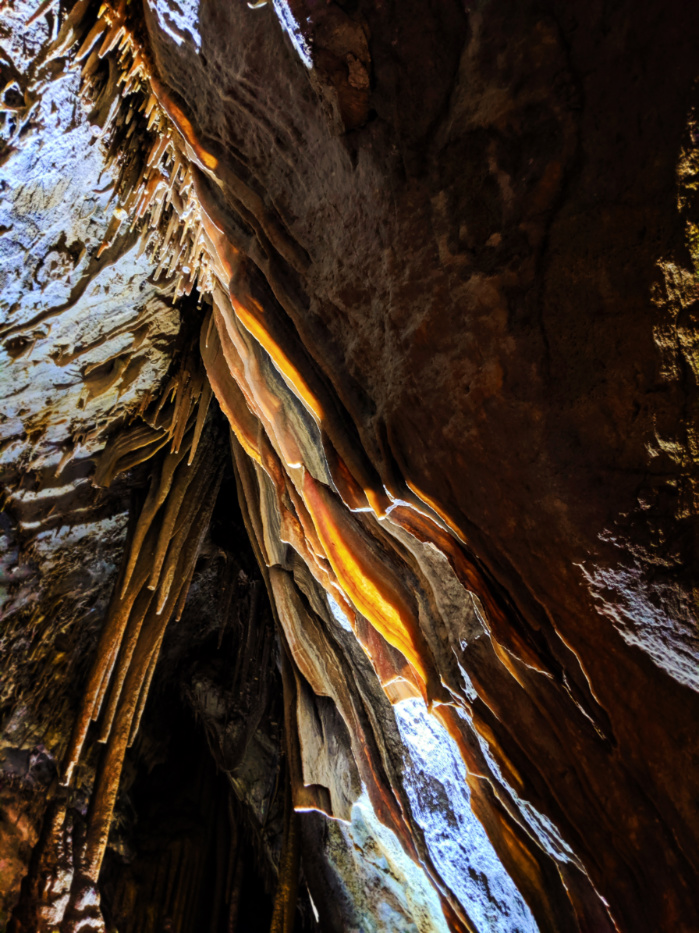 Being bat-aware in caves
While it's not a guarantee, something else to look forward to in Lewis and Clark Caverns is seeing bats! That's right! There are a variety of bats that make the hills and caves their home, so if you're lucky you'll get to see some. Townsend big-eared bat is one of the most special, as it's been previously listed as endangered.
The bats aren't dangerous and aren't going to suck your blood, but as you learn about them and then see them in person, you may just fall in love. Here are our favorite facts about bats:
They use echolocation and night sight to hunt for food

They are the only flying mammal (flying squirrel glide)

Bats give birth upside down and have to catch their newborn babies

When near a bat maternity colony you have to be silent because noises will scare the mothers and they'll drop their babies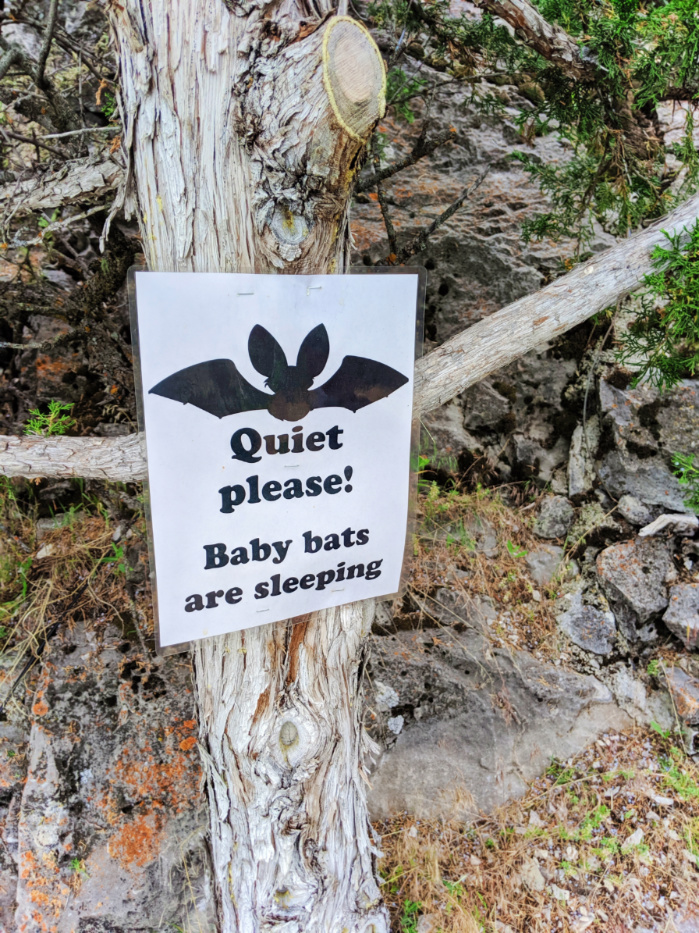 In addition to these fun facts, there's something else you need to know about bats. If you're visiting Lewis and Clark Caverns or any other cave system, you need to tell the ranger or guide if you've been in any other cave system in the last five years and if you're wearing any of the same clothes/shoes. The reason for this is white nose syndrome is a problem affecting bat populations everywhere and it's spread by fungus spores being tracked out and into new places.
Tip: save yourself time and tragedy by always wearing different clothes and not bringing the same items into any other cave.
In an effort to stop the spread of white nose syndrome, after visiting any cave, put all clothes, jackets and shoes through the wash on a STEAM CYCLE or have then steam cleaned. This will sanitize your clothes and prevent spreading the fungus that kills the bats. **If you've done this already, inform the ranger before going on your Montana cave tour to be sure they accept this method of sanitation.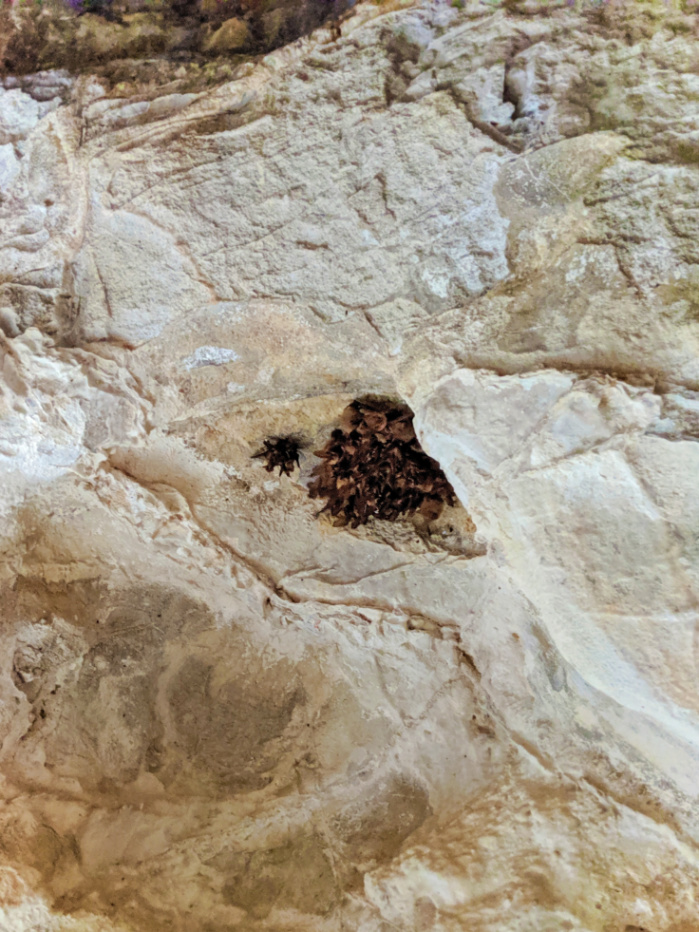 What are the Lewis and Clark Caverns like?
Besides being caves and thus being totally strange and otherworldly, what makes Lewis and Clark Caverns so fascinating and worth visiting is the remarkable number of unique features within. Spiraling staircases guide visitors all through the caverns, making for an interesting journey. You'll see crystal clear pools and steps carved into the most gorgeous marble rocks.
Of course, things echo throughout the tour, but it also can be a hauntingly quiet place. Do your best to keep your own noise to a minimum so others can enjoy the caves just as much as the very first, earliest visitors did.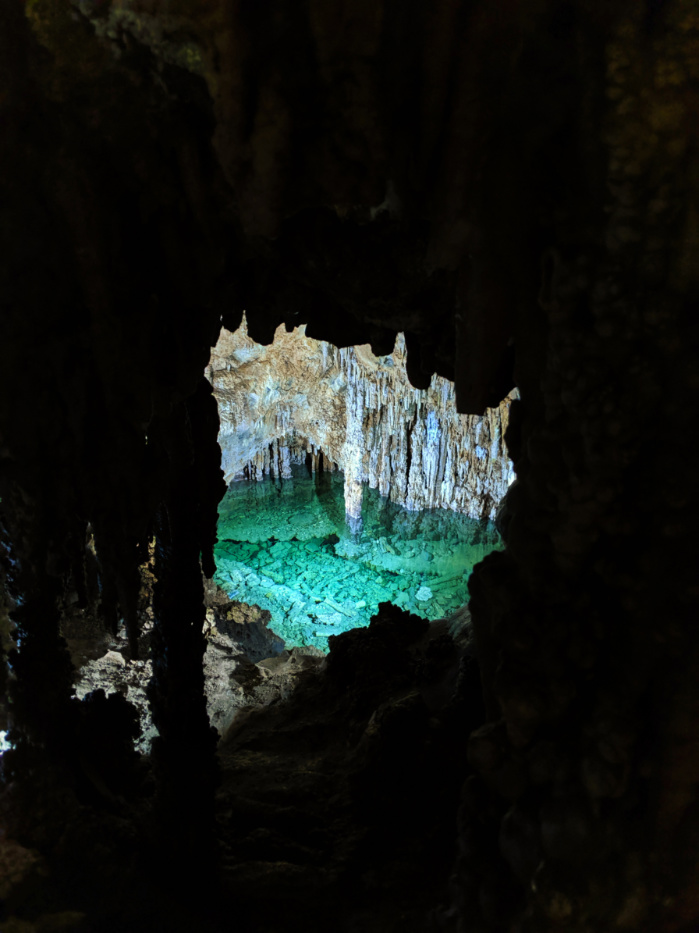 Exploring the caverns: warnings and considerations
Being strategically lit throughout the caves so it's not too bright or manipulated, the columns, stalactites and everything else are well visible throughout your tour. Having lighting doesn't mean it's not going to feel like tight, enclosed spaces though.
Tip:  if you care claustrophobic or have anxiety in dark spaces, think twice before going on cave tours. If you know you can manage your reactions well for the duration of the tour, go for it, but if you're unsure, be courteous to others exploring the caves and stay above ground.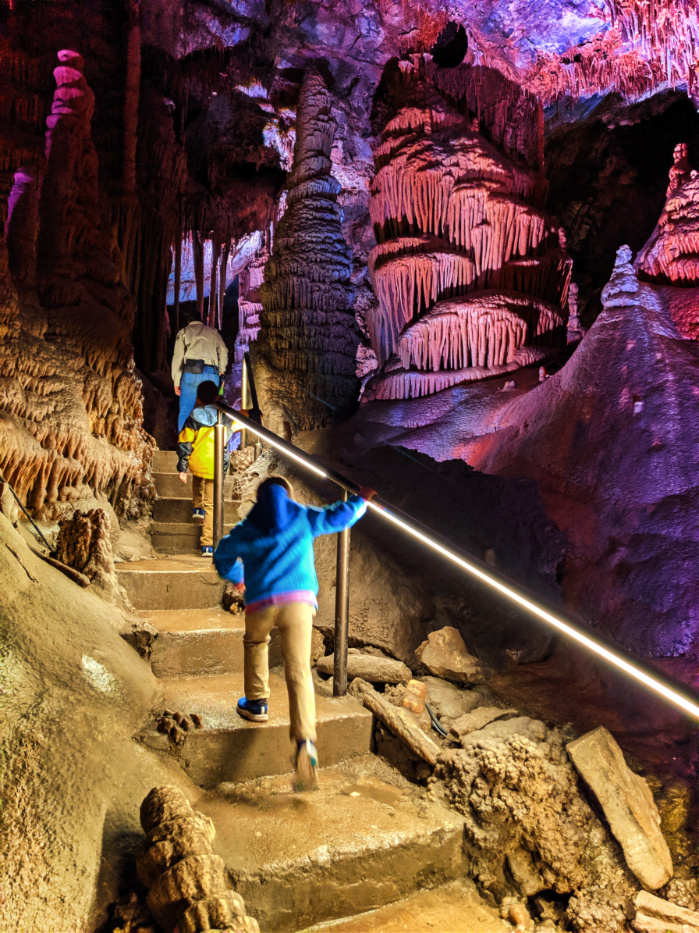 Yes, it's dark but it's beautiful. There are also very small passages that visitors must go through. You will be asked to slide on your butt or scoot along at times. Also, there are some staircases that are rather tight. If you have a large waist, you'll want to have a candid conversation with a ranger before entering the caverns re: tight spaces and your concerns.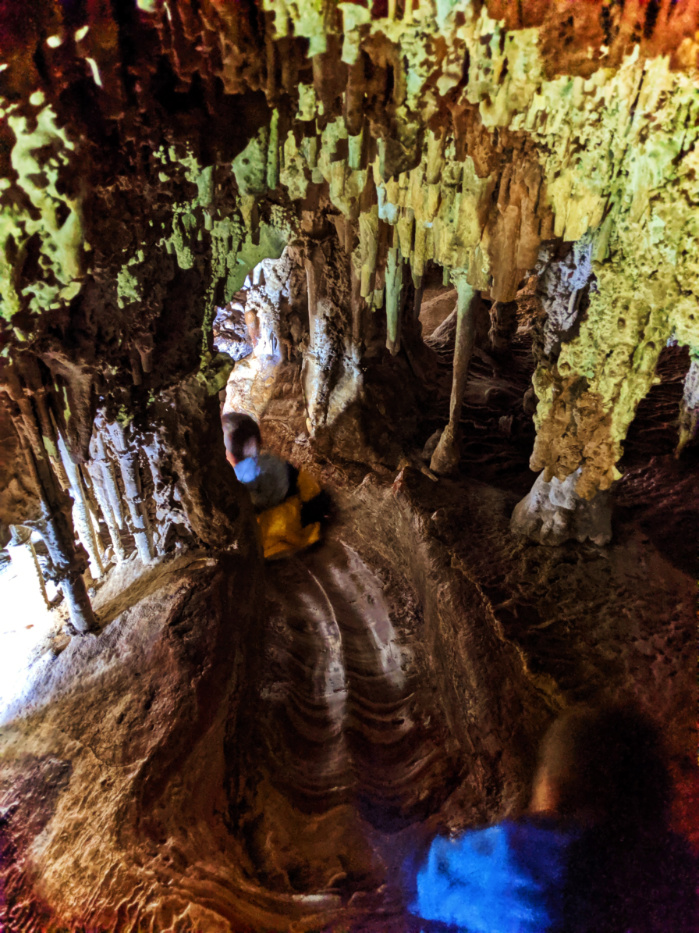 The last consideration we encourage you to make is regarding physical ability. The hike to the cave entrance is a half mile up a gradual hill. You'll have plenty of time to do this prior to going into Lewis and Clark Caverns, but if you aren't at the entrance by the designated time you'll not be allowed in the cave. Also, once inside, there are 500 steps down and 200 steps up through the tour. My knees we worn out by the end, and I'm in pretty good shape.
Note: we always want to encourage others to push their limits and have new experiences, but when it comes to cave tours, we think everyone should error on the side of safety and courtesy to others.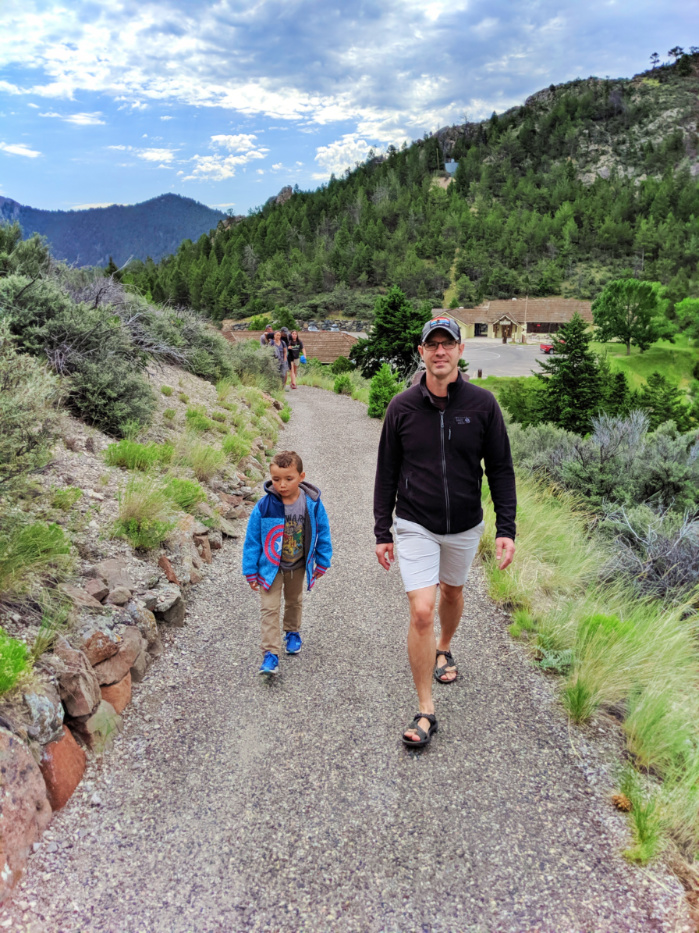 Why you need to visit Lewis and Clark Caverns
I think it's pretty clear that exploring the underground world of Montana is a special experience. Sure, there are many cave systems you can visit all over North America, including Oregon Caves and the Crystal Cave in Sequoia National Park, but Lewis and Clark Caverns is really special. What sets this Montana cave tour apart from others you might visit is the diversity of formations and accessibility to so many different areas underground.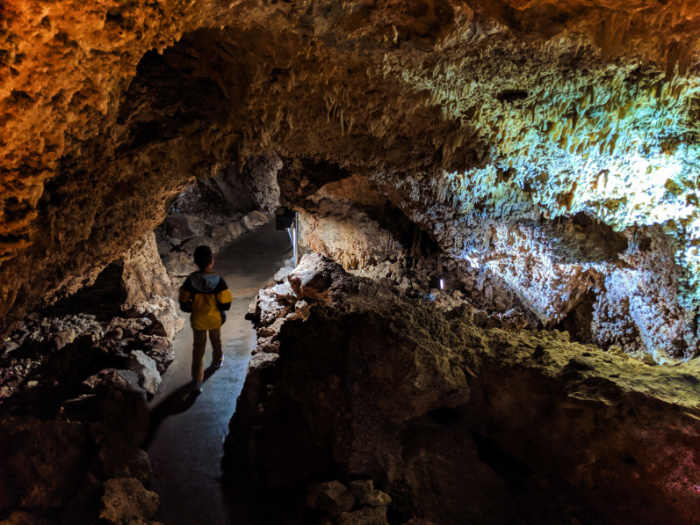 Another reason Lewis and Clark Caverns is a must-see is because there isn't a height restriction for children. Yes, everybody entering the cave must be able to safely walk on their own, but there's not an actual set height restriction, which many cave tours do have. This makes it an ideal adventure for families visiting Montana.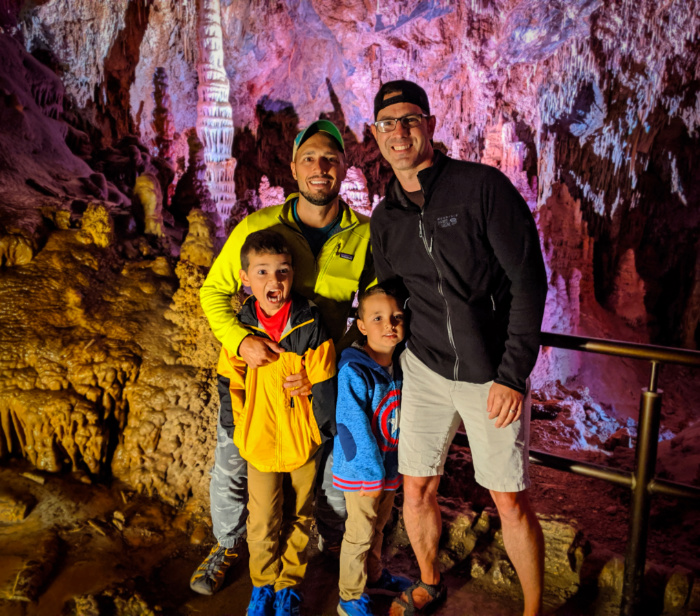 L & C Caverns Visitor Centers
As we said, the Visitor Center is open year round. There are actually two of them, one just off Highway 2 and the other is up in the hills at the start of the trail to the caves. We love to stop at Visitor Centers for a little added education. At Lewis and Clark Caverns there are great exhibits about how caves form, the history of the area, and of course, the wildlife. We also use the Visitor Center, here and everywhere else, to get the low-down on the cool things to do in the area. Rangers and docents are there to help, ask them questions!!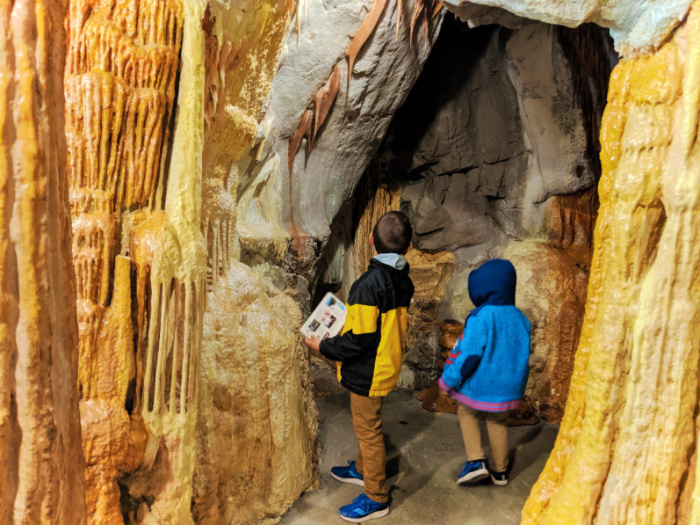 When is the best time to visit Western Montana
Lewis and Clark Caverns State Park is open year round at the Visitors Center, but access to the caves only is available May 1 through September 30, and then around Christmas time for special candlelight tours (limited availability). Even though there may be snow on the ground above in May (sometimes), it's always 48 degrees F inside the cave. The same goes for when it's 100 degrees: it's still 48 degrees inside the cave.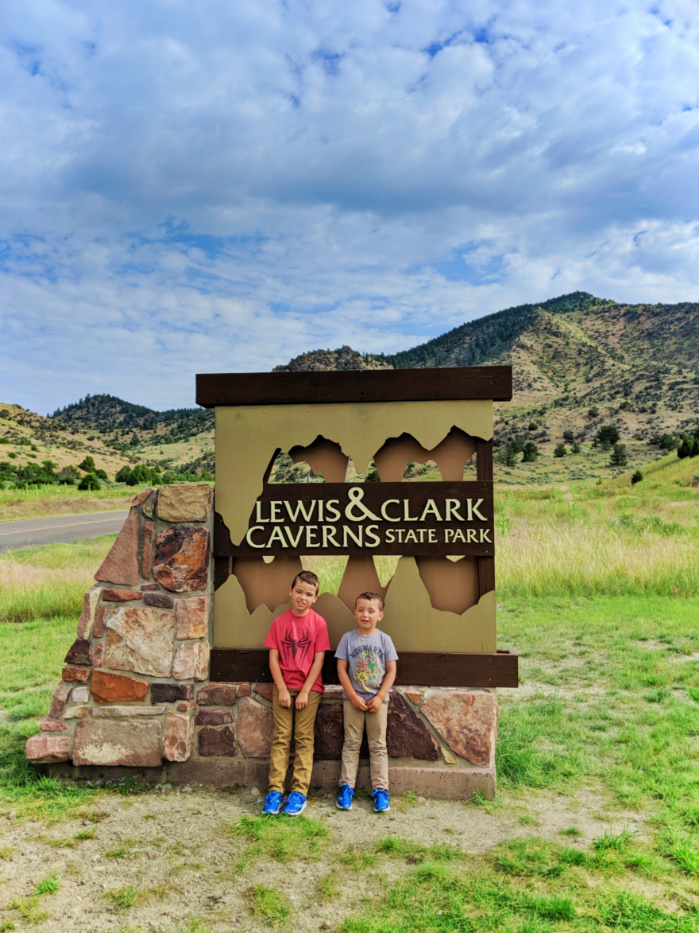 The thing to consider when visiting mid-September, over the holidays, or when they first open in spring is whether or not the roads to the caverns visitor center are safe and clear. Icy or snowy conditions are not to be taken lightly, so be sure that you're driving safely at all times. It shouldn't be bad and will be plowed in the unlikely event of random snow, but be aware anyways.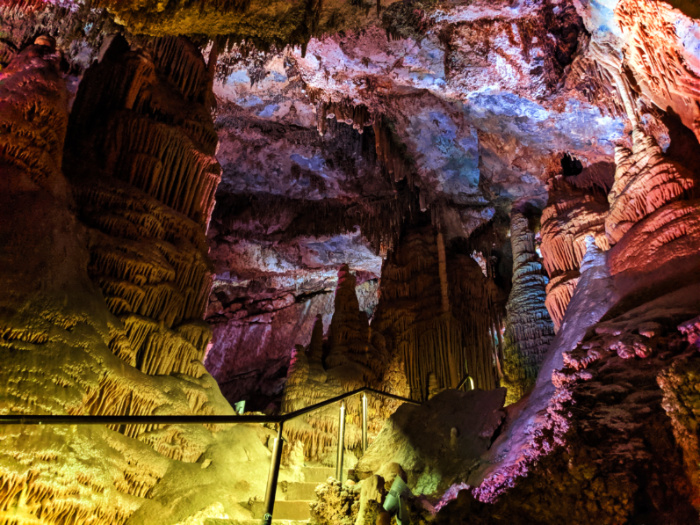 Being prepared for a cave visit
As we noted earlier, be sure that you're wearing clothes and shoes into a Lewis and Clark Caverns (or any other cave systems) that haven't been underground previously. This will save you time and you won't be denied entry to the caverns should they be unable to decontaminate you. Also, you'll want to be sure you're wearing a light jacket or sweatshirt, as 48 degrees and breezy can be pretty chilly when you're on a Montana cave tour for and hour and a half (underground time).
When you head out on your tour, you can't bring stuff along like backpacks and purses. You'll want to leave all belongings in the car except what can safely be stored in your pockets. And of course you can bring your reusable water bottle.
Tip:  being prepared includes planning your time appropriately. Arrive early in the day to get on a tour as soon as you can. In summer months and on the weekends there may be a lot of visitors, so get your tickets early. Also, be sure to allot 2.5 hours for the full cave tour experience.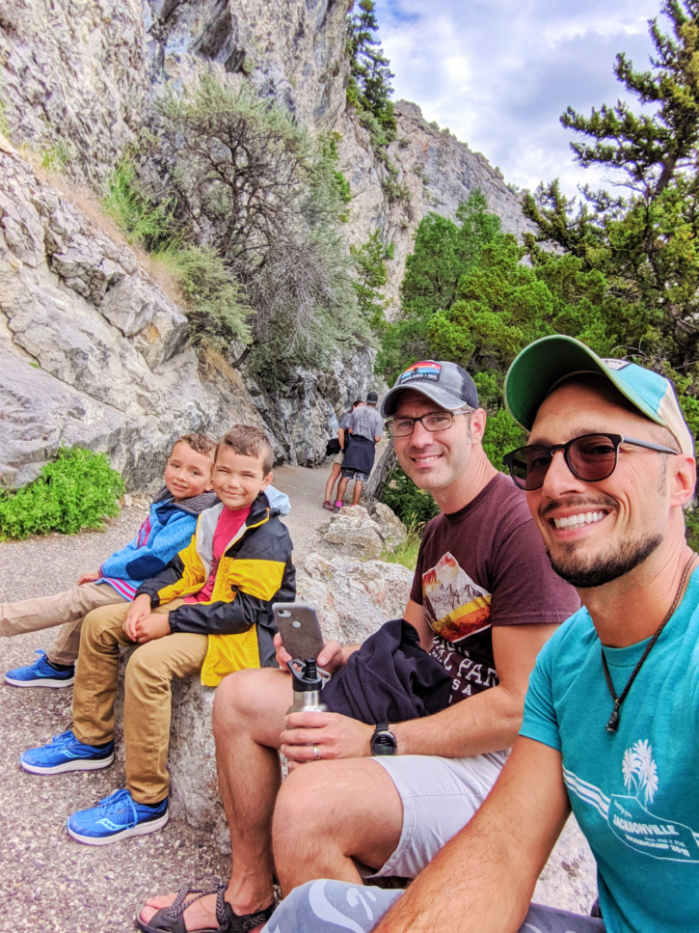 Photography in caves
We get more questions about this than anything. We love to explore caverns and do cave tours, so we've got this process down. The simple answers for getting good photos in caves are the following:
very expensive professional camera equipment and the know-how  —  not recommended for regular people
a Google Pixel phone w/ Google Night Sight  —  this is a game changer for all low-light photography
a very steady hand (you can't bring a tripod) and very still subjects (kids in caves…)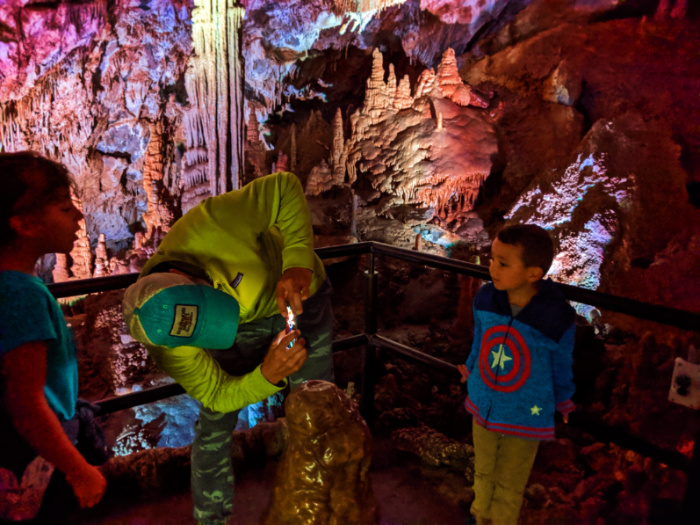 You may be tempted to use the ledges and formations in place of a tripod, but you cannot do that. Truly, if you're going to use a DSLR or mirrorless camera in the caves, you must just be very stable. A very long exposure is required due to the extremely low light levels. After touring the Oregon Caves and Blue Mounds we have stopped bring larger cameras on cave tours due to the difficulty of successfully capturing the detail of the formations. 
Tip:  check out our article on taking great travel photos for more tips, but really having the Google Pixel w/ Night Sight is the key.  We have our phones on Google Fi (both Pixel 3 and Pixel 3 XL) and LOVE the devices and overall service!!  Google Fi info here!!! (affiliate)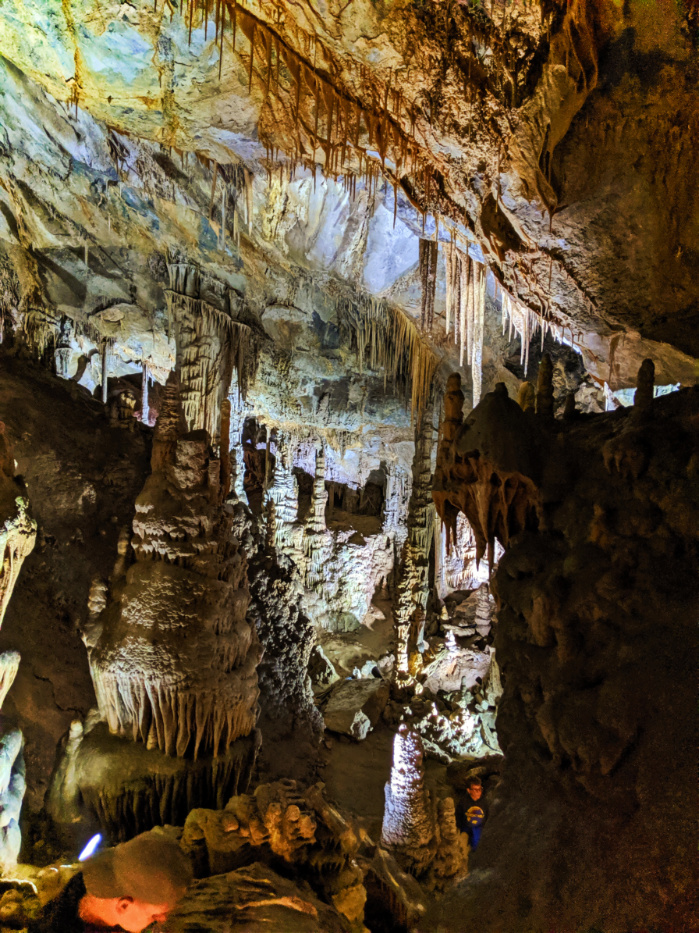 How excited are you to visit Lewis and Clark Caverns State Park? You should be! We just went and I'm already looking forward to going back. The formations and experience are remarkable. It's a great place to teach kids about the earth and it's a wonderful place for adults to survey their place in the world and the grand timeline of life. We loved it and will be back soon!
If you have any other questions, please leave us a comment or send us a note. We're happy to help in any way we can. And feel free to pin this for planning your own trip through Montana!