If you've not hear of Oregon Caves National Monument before, that's not surprising. There are other, more famous caverns in the National Parks system and even outside of it, such as Lewis and Clark Caverns, but the Oregon Caves are really something special. From the amazing Chateau at the Oregon Caves to the really well put together Visitors Center, a visit to Oregon Caves National Monument is a great adventure for family travel or solo road trip around Oregon.
Although Oregon Caves National Monument is relatively unknown, it is really an amazing gem of a park. If for nothing else, go experience the calm of the mossy forest, quiet streams, waterfalls and beautiful rustic architecture of the Chateau and Visitors Center. It's one of the most beautiful, albeit difficult to get to, places in the Beaver State and it needs to be on your Oregon bucket list!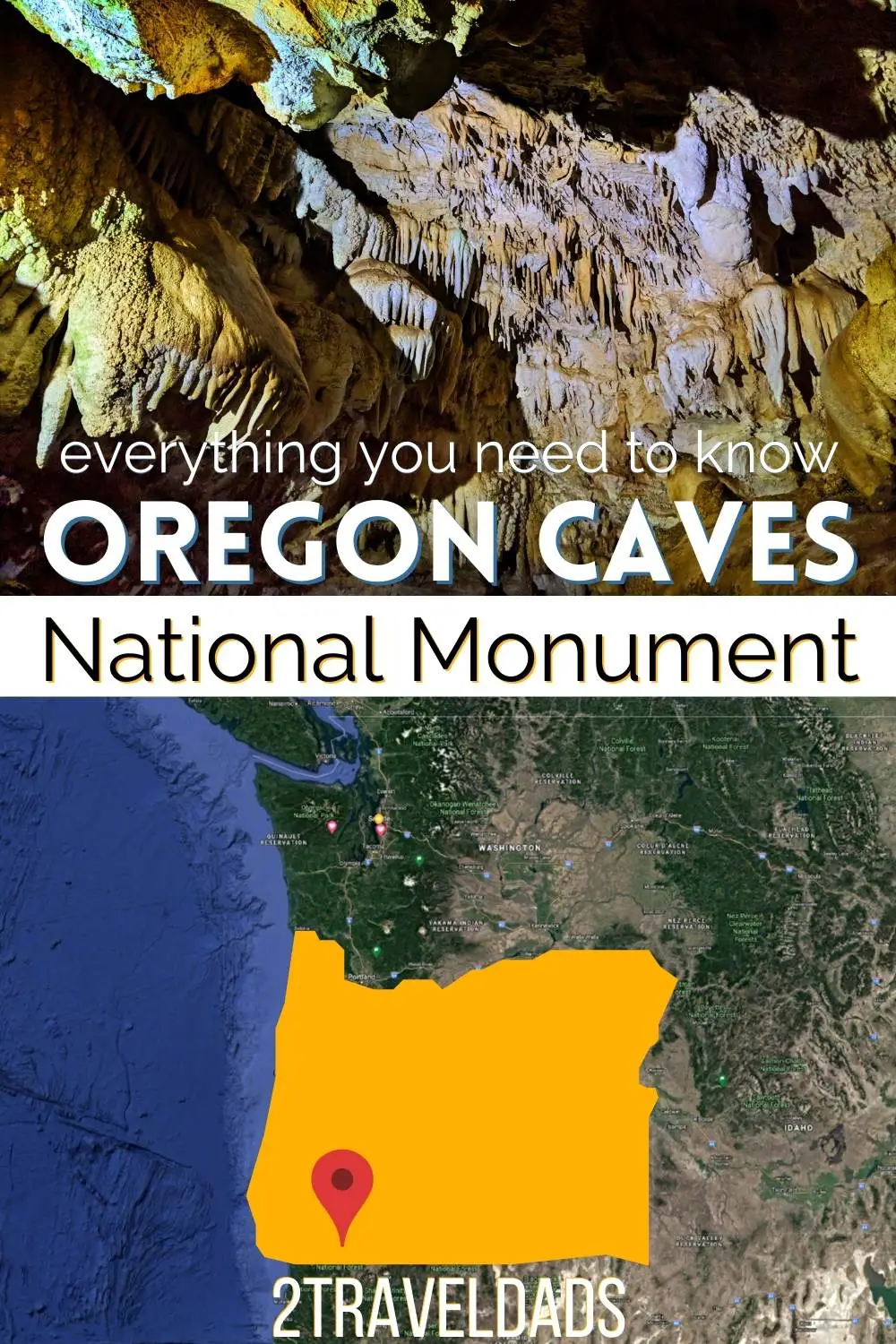 Where is Oregon Caves National Monument
Like we said in our article about the Oregon Caves Chateau, getting to Oregon Caves National Monument can be done two ways: coming from the Oregon Coast or from Grants Pass and the Interstate. Traveling from I-5 and heading west is a short half hour to Cave Junction and then the winding drive through the hills.
Coming from the coast, if you start on Oregon's Highway 101, you'll have to head south into California and then head north again, with about two hours travel time to Cave Junction… and then you still have the crazy road up the mountain.
Wherever you're coming from, the drive and time you'll spend at Oregon Caves National Monument is well worth it.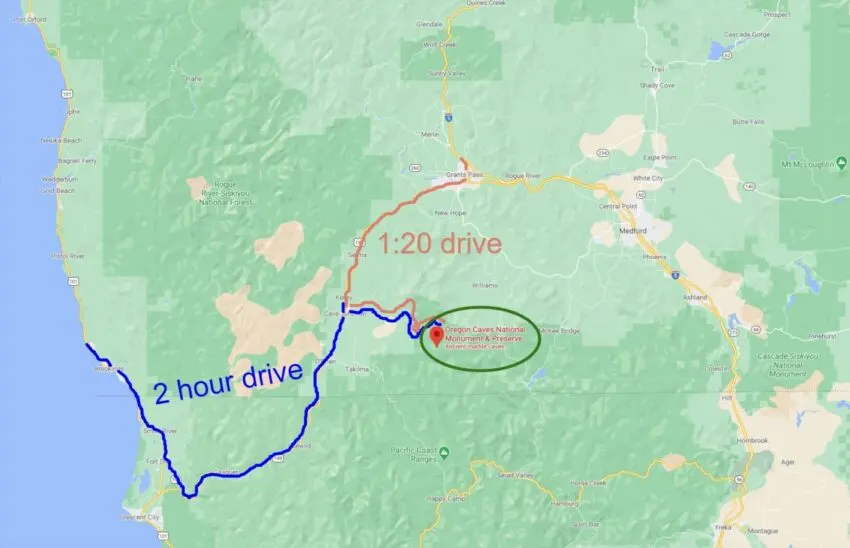 Exploring Oregon Caves National Monument and Preserve
The caverns at Oregon Caves National Monument are really unique and fun to explore. Do a family tour of Oregon Caves or go on your own (you might have to!), either way you'll enjoy traversing the pathways through the dark. Plan a visit to Oregon Caves National Monument and Preserve in conjunction with a trip to Redwoods National Park, a West Coast road trip or an Oregon loop road trip.
What to Expect on a Cave Tour
Expect to have fun on an Oregon Caves family tour or on the candlelight tour, but also expect to pay close attention. Getting to tour caverns like the Oregon Caves is a treat, so respect the ancient rock formations and your tour guide as you explore.
It will be dark, even when the lights are on and if you have problems with claustrophobia, this may not be the activity for you. There are still lots of things to do at Oregon Caves National Monument and Preserve if you aren't able to get through the tour.
As you're wandering through Oregon Caves National Monument, either in the caverns or around the National Park area, you'll hear all about the history of the caves, their discovery by western settlers and how conservation has changed over the years. There are a good many stops all through the cave tour or other ranger-led experience, so you'll have time to ask questions and really check out a lot of the more magnificent features of the preserve up close.
Things do have to stay on schedule though, as Oregon Caves tours are popular and they need to keep people moving through. If you have questions, ask them efficiently or save them for when your tour is over.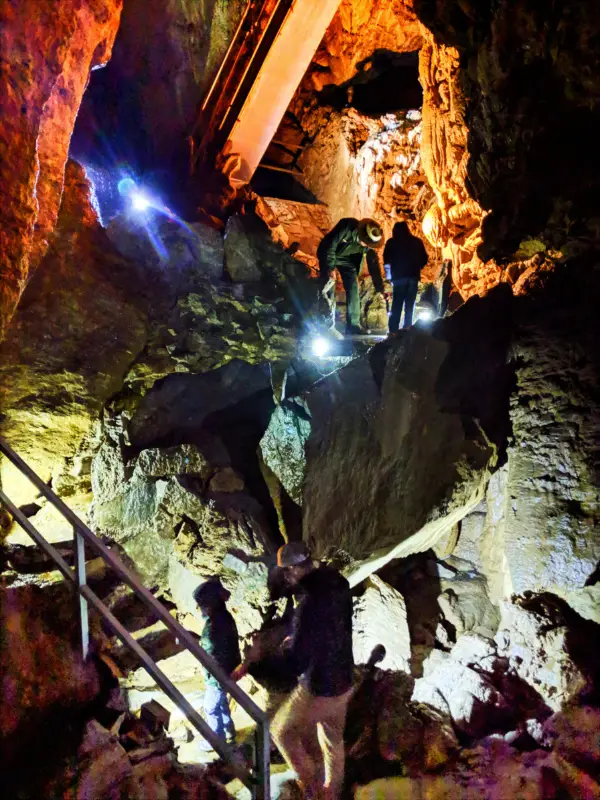 Rules for Tours at Oregon Caves National Monument
First thing to know about going spelunking and touring Oregon Caves National Monument (or any cave system for that matter): you must be able to safely walk and need to be comfortable in the dark. Also, you cannot go through the Oregon Caves on your own; you must be a part of a tour group and be led by a National Park Ranger.
You cannot carry children through the tour of Oregon Caves National Monument. The pathway is dark, slippery, narrow in many places, and extremely low in other spots. Everybody has to be able to duck down and walk on their own for the duration of the hour and a half guided tour.
Lastly, there are no food or beverages (or gum) allowed when you're doing a tour at Oregon Caves National Monument. It's a very sensitive environment and the potential of added waste, even if it's just crumbs, it too great. Have a snack before you head into the caverns.
Here are the restrictions straight from the National Park Service:
flashlights
backpacks / purses
walking sticks
food / gum / candy
tabacco products
tripods
any clothing that has been worn in another cave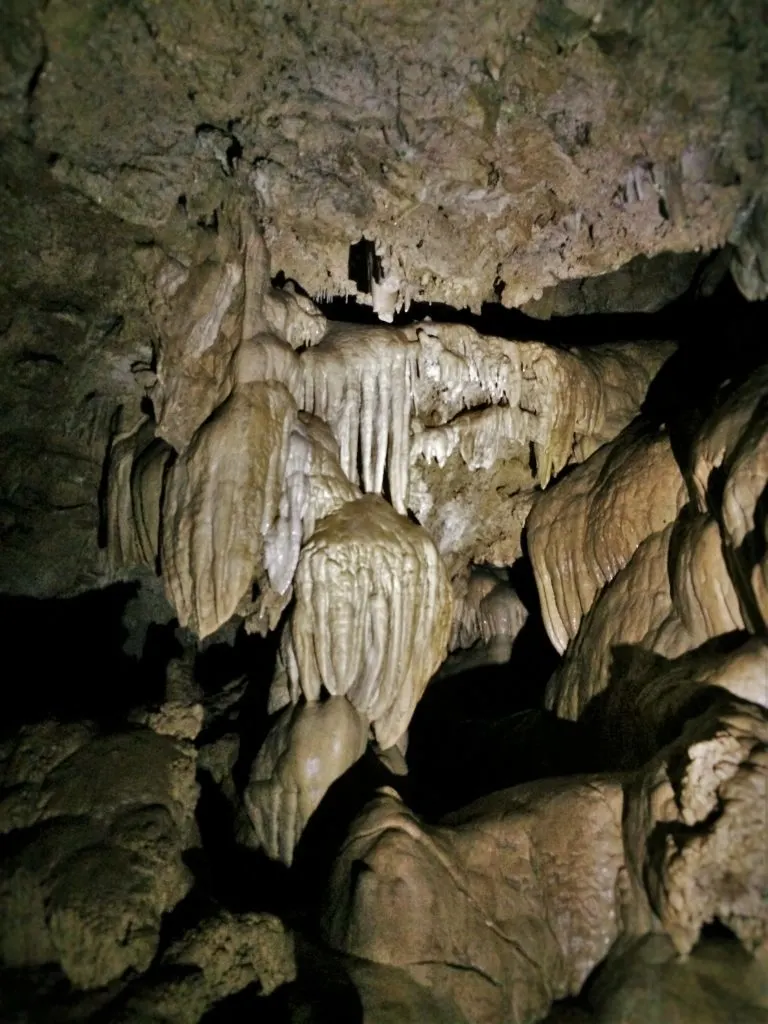 Oregon Caves Family Tour with Kids
So, how did our brave four year olds (been twice, when each was 4) do in Oregon Caves National Monument?
They both rocked it. Each of the kids did have a few moments where they got scared, particularly when the electric lights went out (intentionally), but they were very brave with crossing the crevices, climbing the ladders and being strong when all we could see in front of us was the dark nothingness. Oregon Caves National Monument is great with curious kids!
IMPORTANT: We didn't all get to do the family tour together on our first visit, as Elliott (our youngest) couldn't safely walk and climb in the caverns per the National Park guidelines. Oregon Caves National Monument requires visitors to be at least 42 inches tall and able to do the tour walking on their own the whole way.
They let us split up though, so I went with Oliver and then did the child-hand-off after the tour so Chris could go. Switching parents/kids so everybody can enjoy the Caves is always a good idea and the staff is usually happy to accommodate.
Tip: if you're in the Caves with a little person, take advantage of the stops to give a little comfort if they're scared or to engage in conversation with the Ranger. An hour and a half may seem like a really long time to a child, especially when they're someplace that's a bit dangerous and they have to remain calm and under control.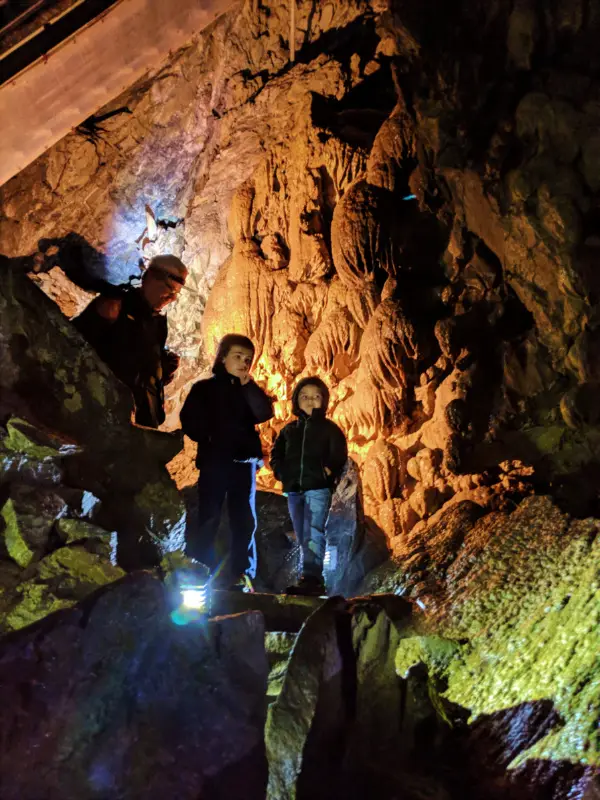 National Parks Service Things to Do at Oregon Caves
We love taking advantage of the many programs the National Parks Service provide, which can vary from Ranger-led talks to exploring Visitors Centers and even going on tours. At Oregon Caves National Monument we did all of the above… and more.
There are always great conversations with the National Park Rangers with each visit and have learned all about how the National Monument is integral to the community of Cave Junction. We've visited Oregon Caves several times, including on Community Day when there were tons of people from Southern Oregon and many community oriented things happening. The Rangers were plentiful and all ready to engage and share their love of the Park.
We also got to explore the Visitors Center and get our National Park Passport stamps. Visitors Centers are really wonderful, especially if you have younger kids, as they've got fascinating things to look at, usually lots of interactive displays, and lots of things to play with that secretly teach kids cool things about the Parks. We love to sneak in learning whenever we can.
The Oregon Caves National Monument and Preserve visitor center has some really remarkable exhibits. If you need to kill time before your cavern family tour begins, check out all of the cool displays.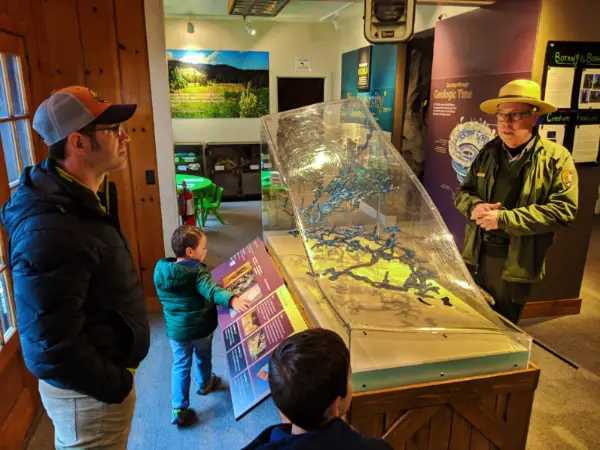 Junior Ranger Program at Oregon Caves
We also got to complete a Junior Ranger program here at Oregon Caves National Monument. This was a tricky one to do, as a large portion of the packet was about safety in the Caves, of which some aspects were counter intuitive. Oliver made it though and Ranger Rob (also our tour guide) was very patient in going through the worksheets and making sure everything made sense.
Tip: participating in Junior Ranger programs is a really fun way to get your kids excited about National Parks as well as plant a little seed for conservation, history, and potential careers. We not-so-secretly hope that one of our kids grows up to be a National Park Ranger.
Besides the standard Junior Ranger Program you can complete at Oregon Caves National Monument, there is also a Cave Scientist program with a different workbook and different ranger badge. You can pick up this Cave Scientist packet here at Oregon Caves, at Pinnacles National Pak, Sequoia National Park, Carlsbad Caverns National Park and others. If you don't complete the workbook during your time at Oregon Caves, you can save it and mail it in to get your badge.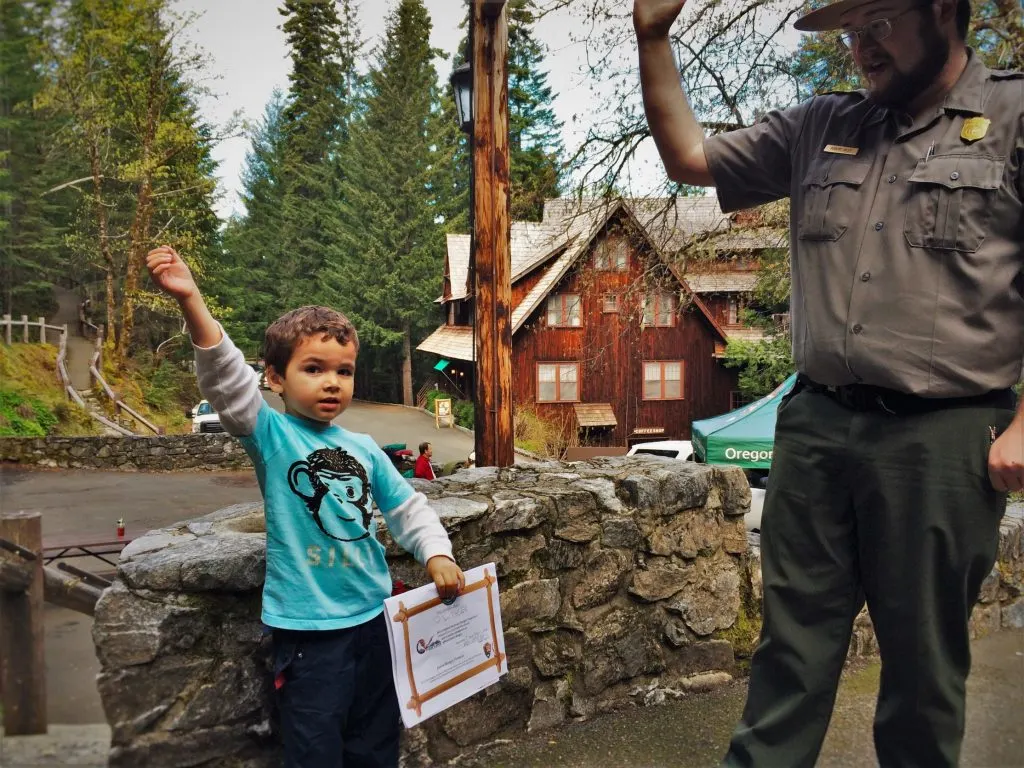 Things to Do at Oregon Caves Beyond the Caverns
If you're spending a full day or more at Oregon Caves National Monument you'll have time to do some of the hikes in the area. There are quite a few options, ranging from easy strolls on paved pathways to really getting up into the hills and seeking out peaceful, remote waterfalls. We were limited due to our time, but did some of the smaller walks. We loved the lushness of the valley and the plethora of birds.
When you're at Oregon Caves National Monument you've come very far from civilization and you're up in the jagged, forested hills so it's extremely quiet. It's a very good plan to spend a bit of time sitting and listening to nature.
The Cliff Nature Trail is our kids' favorite hiking at Oregon Caves. Also, the Old Growth Trail is fun and easy to do with kids. Both of these trails go out from the visitor center so are easy to do after you do the Oregon Caves family tour.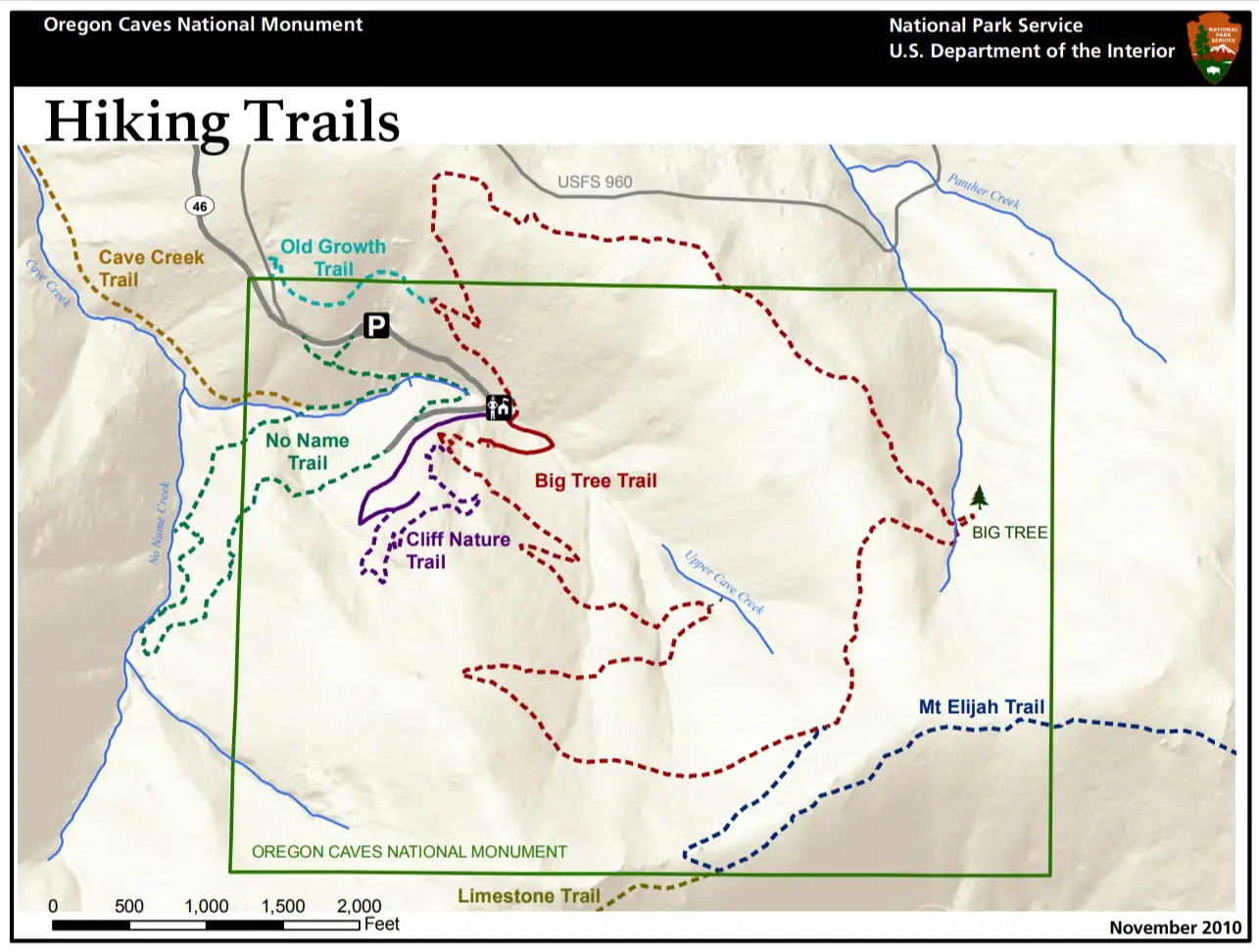 Another great thing to do at Oregon Caves National Monument is to visit the Oregon Caves Chateau, even if you aren't staying there. Enjoy dinner in the restaurant or lunch downstairs in the amazingly vintage cafe. If you're visiting on a day that they're doing tours of the Chateau, join one and learn about this amazing historic National Park lodge.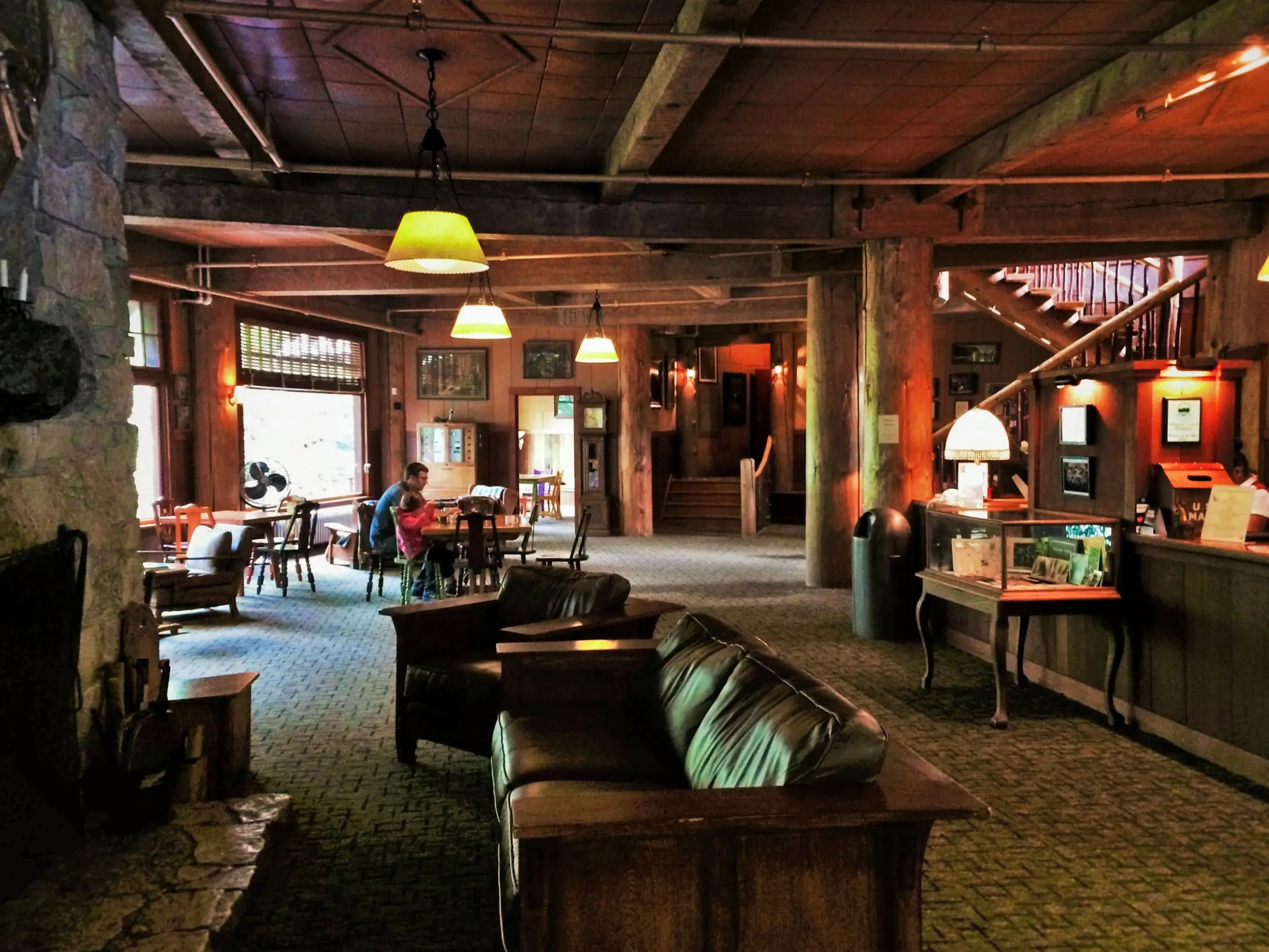 Where to Stay Near Oregon Caves National Monument
Cave Junction is the closest town to Oregon Caves National Monument and Preserve. It's a 45 minute drive from this small town to the parking area within the National Park zone. In Cave Junction you'll primarily find small roadside motels and a few RV park options, so if you're not spending the night at the Oregon Caves Chateau or camping at Cave Creek Campground, staying in Grants Pass is your best options.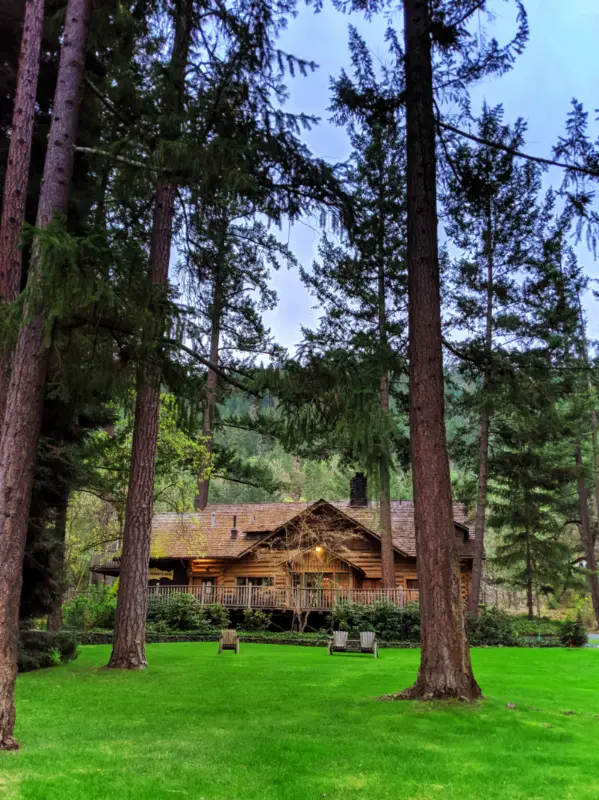 Beside the fact that staying within Oregon Caves National Monument and Preserve is absolutely beautiful, it's a smart choice so you can be close and you can maximize your experience.
Since most people visiting Oregon Caves will be adding it to a Southern Oregon road trip of some sort, Grants Pass is our top pick for finding unique or budget friendly places to stay. Our top pick: the Weasku Inn in Grants Pass. If you want to do a vacation rental or hotel though, find something that's right for you and your travel group.
Staying at the Oregon Caves Chateau
You know, if you haven't read it yet or checked out the pictures, just go peek at our article on the Oregon Caves Chateau. It's the most amazing, magical place we've ever stayed. It wasn't the fanciest, most well appointed and amenity-loaded hotel on our tour of the National Parks, but it was really beautiful. It's a six story log cabin/chateau built on top of a stream, with a wooded ravine on one side and a moss-covered waterfall on the other.
The Oregon Caves Chateau is open May through October, so you'll have plenty of time to squeeze in a weekend visit and spend the night at some point in the spring or summer.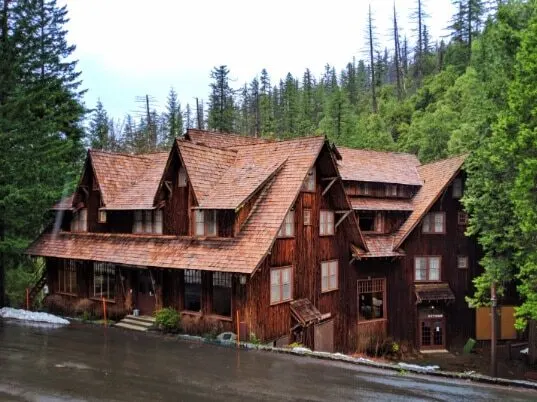 We're continually surprised by the amazing National Parks we get to visit. Spending time at Oregon Caves National Monument was the perfect end of our #2TDgoparks2016 epic road trip. While the Caves themselves weren't the most amazing of any we've visited (pretty freakin' cool though), they were a great first experience for Oliver and we loved getting to add a new National Park stamp to our passports!