Most of what we share is National Park-centric, but we're going to stray just a bit to share one of the most shockingly beautiful sights we've ever seen.  Rainbow Springs State Park in Dunnellon, Florida is the type of place you've seen in fantasy movies or whimsical paintings.  Seriously pretty beyond pretty.  And it's so much fun for a visit too!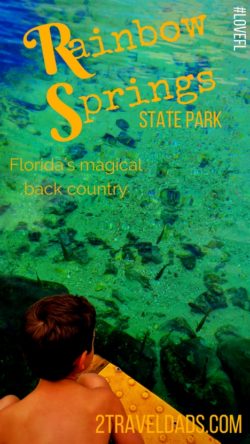 On our recent Florida Gulf Coast road trip we saw some pretty incredible sights, from manatees in Crystal River to fiddler crab colonies in Fort Myers Beach, but nothing was quite so shocking as Rainbow Springs State Park.  Being the headwaters of the Rainbow River, you know it's bound to be beautiful… and a bit magical.
Locale of Rainbow Springs State Park
About an two hours north of Tampa and St Petersburg or an hour and a half from Orlando, Rainbow Springs State Park is easy to add to either a Florida road trip or a visit to the Tampa Bay or Disney World areas.  You get to drive through the rural parts of the lush Florida back country and check out some small towns along the way.
In the same relative area are Homosassa Springs State Park and Crystal River, both with some remarkable sights (aka manatees!).  Each of these spots also has its own spring, just like Rainbow Springs State Park, providing the some of the most beautiful, clear water you can imagine.  You won't be aching for activities when you're planning your visit to any of these places, for sure.  Heck, you can even incorporate a visit to the beach really easily!
What to do at Rainbow Springs State Park
Being one of Florida's "attraction" parks, you'll find all kinds of ways to occupy your time.  And if you're visiting with a larger group, you can even book up one of the picnic shelters for doing a barbeque or par-tay.  But here are the other activities that'll make for an awesome time.
Swimming in the most beautiful river ever
Yep, you totally can go swimming at the springs themselves.  It's pretty amazing how clear and blue the water is.  There are designated swimming areas to protect the natural, beautiful phenomena of Rainbow Springs, but the experience isn't compromised at all.  There is even a warning upon heading into the water that despite the rocky river bed looking exceptionally shallow, due to the clarity of the water it's much much deeper than you think.
We really loved sitting on the swimming platform and jumping in repeatedly.  It kind of felt like we were teenagers again…except we had the kids with us in their floaties, also having a blast!  
Note:  even though the waters of Rainbow Springs State Park look very similar to many of the springs and geysers you see in Yellowstone National Park, these (and Crystal and Homosassa) are cool water and non-sulpheric.  That's why you can swim here and you CAN'T SWIM in Yellowstone's springs.  Blue Spring State Park is another awesome spring to visit!

Tip:  if you choose to head down river beyond the designated swimming area be aware that there are some varieties of snakes that you make encounter, as well as alligators.  The Rainbow River does have gators in it.
Boating on the Rainbow River
While there are lots of ways to get on the water near Rainbow Springs State Park, when you're actually visiting the Park your options are slightly more limited.  Within the sate park you can rent canoes, kayaks and stand up paddleboards (SUP).  Canoeing on the river is a great way to explore beyond the immediate area of the Rainbow Springs, including a variety of mellow oxbow lakes and shallow shores.  
Note:  there are age restrictions to the passengers in boats rented from the state park.  The current age limit begins at three years old, so we weren't able to rent one.
If you'd like to paddle into Rainbow Springs State Park from downriver, that's an option too and you can use your own equipment for that or rent it.  The closest access you'll find for this is at K.P. Hole, which is also a vendor for rentals.  They can provide information and services to actually explore the underwater caverns of the Rainbow River, similar to the water source at Rainbow Springs.  
Next time we visit Rainbow Springs State Park and the Rainbow River we plan do float the river with a guide.  We heard from lots of locals that this is the best way to experience the Rainbow Springs area, including snorkeling in the river to explore the underwater cavern areas.  Next time…
Tip:  rental information from the private approved concessionaire located within State Park boundaries available here.
Hiking/Strolling in the State Park
We mentioned that Rainbow Springs State Park is one of Florida's "attraction" parks.  Once upon a time in the 1920s the area that's now the State Park was built up to showcase more than the incredible Rainbow Springs.  Quarrying stone from the surrounding area, an entire waterfall park was created.  With three different cascades and a few more babbling brooks all surrounded by lush vegetation and winding paths, today the waterfalls make for a nice stroll to cool off between picnics and swimming.
Continuing on past the waterfalls is a collection of trails.  There is a boardwalk to take you over to one of the head-water areas, a loop to guide you through the ruins of the zoo that used to exist, hiking paths through the subtropical forest, and a sustainable butterfly garden.  We loved exploring the quiet, overlooked part of Rainbow Springs State Park and the kids loved spotting cardinals and butterflies.  The whole park is just the coolest.
Tip:  if the picnic areas directly next to the springs are full or crowded, the trail areas also have picnic tables and lawns.
Where to stay to visit Rainbow Springs
You have a few options in the Rainbow Springs area when it comes to over-nighting.  We opted for a nice stay at the Plantation on Crystal River.  It's a very nice hotel directly on Crystal River with lots of great amenities that are perfect for kids, from a nice pool to lawn games.  And they have their own dive company for getting to experience the manatees.
If you're camping, you can actually stay at Rainbow Springs State Park itself.  We didn't get to due to not securing a reservation far enough in advance, but with the proper planning, staying either at the State Park or one of the privately owned RV campgrounds are good camping options.  The town of Crystal River also has some more RV camping and hotel choices if you would prefer to have a home-base in a larger town than Dunnellon.  You'll figure out what works for you based on your other travel plans and every place's availability.
Tip:  Florida State Parks' campgrounds fill up quickly and far in advance.  Give yourself at least six weeks lead time to ensure you get to camp where you like.  You may be able to secure a site with less advance notice, but it's unlikely.
True, you might not have been planning to go so far north or so remote on your Florida road trip, but visiting Rainbow Springs State Park is totally worth it.  You'll be wowed by the color, awed but the overall beauty, and bummed to return to city life after seeing this otherworldly place.  Make the time to visit; you'll be so glad you did!
And feel free to pin this for later for when you're planning your own #LoveFL family road trip!