We get so many questions about whether we would pick Disney World or Universal Orlando for a visit. A year ago we would've said one thing, but with COVID-19 still being a concern, we have a different opinion. In this article we'll break down the big differences in the parks including attractions, food, and how they're handling the Coronavirus pandemic.
This has been updated as of March 2022. Very few COVID precautions remain in place. If you are unvaccinated, part of a fragile family, or do not feel comfortable visiting a theme park while there are still new Coronavirus cases, we recommend NOT visiting Universal, Busch Gardens or Disney Parks. We didn't feel comfortable visiting while our kids were still unvaccinated as there was minimal social distancing and everyone, vaccinated or not, seems to have stopped wearing masks.

With the most up-to-date CDD Guidelines, masks are not required anywhere in either park, but are still encouraged on resort transportation.
There are two podcast episodes about choosing Disney World or Universal Orlando. This one is comparing Universal and Disney World in how they're each handing health and safety precautions during the pandemic. If you'd rather listen than read, give this one a download to help make your decision: Should you pick Universal Orlando or Walt Disney World during COVID-19? To listen, scroll down a bit.  Check out our complete comparison of Disney and Universal when it's not a pandemic here!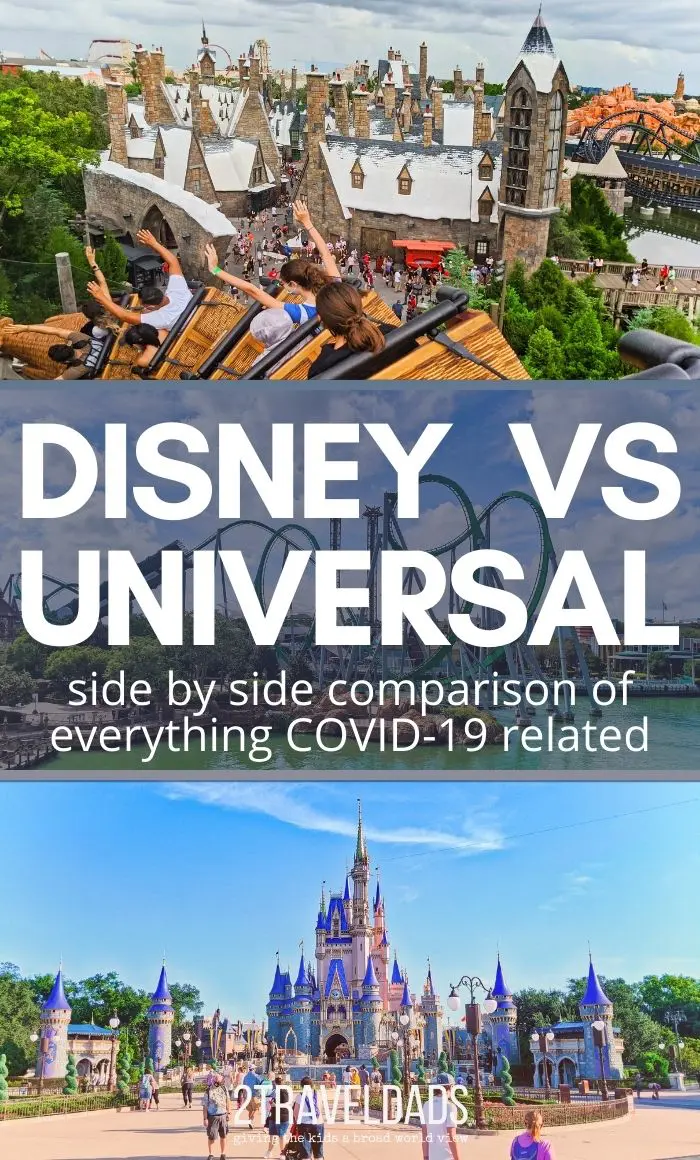 Listen to Universal vs Disney During COVID Podcast
Disney World or Universal During COVID-19?
I wish this question was could be answered simply by telling you to pick the one you're most interested in, but it's more complicated than that. During the Coronavirus pandemic, we've gotten to visit both Walt Disney World and Universal Orlando several times. We've been on weekdays and on weekends.
The following comparison breaks down what we observed in each park and how we felt about them. We're taking into consideration the health precaution we know are happening behind the scenes, active measures to prevent the spread of germs, and the behavior of guests and staff in each park. As you read or listen, you'll be able to choose who's handling COVID-19 better, Disney World or Universal.
---
Visit Walt Disney World COVID19 site here
---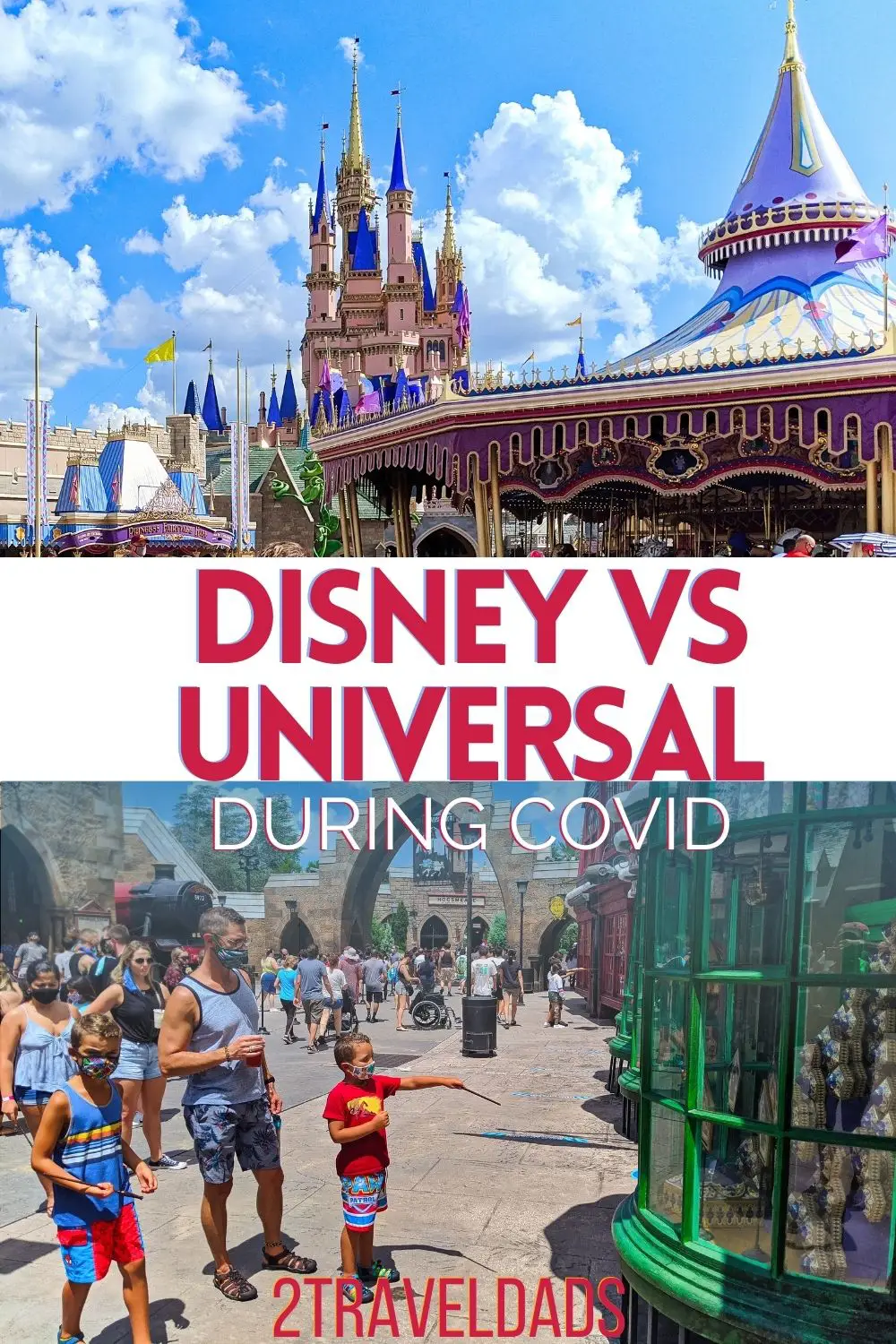 Social Distancing at Orlando Theme Parks
The concept of social distancing is that keeping at least six feet from other people will greatly lessen the transfer of germs, both through breathing and physical contact. Both Disney World and Universal Orlando have taken precautions to suggest social distancing, but both aren't taking equal action to enforce it.
Both parks have installed spacing guides on the ground or railings to show people where to stand while waiting in line, but Disney has gone an extra step to install plexiglass between queue zigzags on some attractions. Disney has cast members actively spacing guests throughout the park, in lines for rides and not. Universal has some staff that manages the flow of guests in ride queues, but not enforcing distancing beyond their immediate close-by guests.
Both parks are limiting ride capacity, which is nice. This means that at Disney World it is just your family in a Splash Mountain log, or at Universal it's just your family on a Bilge Rat Barge. But that's not the case with every attraction. Some rides, in both parks, will still mix groups, but only when there are several rows between them.
| | | |
| --- | --- | --- |
|   | At Universal Orlando: | At Disney World: |
| Distance markings on the ground to space guests | YES | YES |
| Plexiglass between zigzags in ride queues | NO | YES |
| Staff manually spacing guests | NO | YES |
| Limiting ride capacity | YES | YES |
| Limiting PARK capacity  *see below | NO | YES |
I wish both parks were enforcing social distancing equally, but they aren't. Cast Members at Walt Disney World seem to be empowered or actively required to ensure guests are giving each other space, while at Universal it's just a mess of people. It is up to the visitors at Universal Orlando during COVID-19 to space themselves, and Universal has given them visual guide for doing it, but it's not commonly followed and we've only witnessed one instance where the staff enforced it.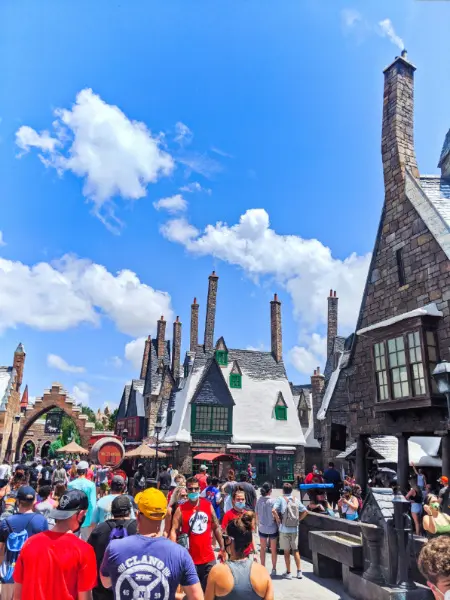 Enforcing Mask Rules at Disney and Universal
We are our own rule enforcers within our own family, but we cannot make others follow rules. So, how well do you think mask mandates are enforced at Disney World? How about at Universal Orlando?
| | | |
| --- | --- | --- |
|   | At Universal Orlando: | At Disney World: |
| Masks required for entry | YES | YES |
| Proper use of masks enforced 90% of time | NO | YES |
| Masks required at all times except when eating | NO – there are mask-free zones and some rides do not require masks | YES |
Disney World Mask Mandate
They are upheld VERY WELL. From walking from the hotel to the entrance of the Magic Kingdom, masks are worn and there are cast members along the route both talking to visitors AND enforcing mask policies. They also are out there OUTSIDE OF THE PARK enforcing social distancing.
Within the gates, masks are not a problem. Disney has empowered, and I think might be requiring, their staff to address guests not wearing masks in a polite, enforcing way. We saw one lady walk up to a cast member, pull down her mask to talk, and the heard the cast member tell her to pull her mask back up before they continued their conversation. Really, of all the visitors to Disney World we saw or interacted with, less than 10% weren't wearing their masks properly, which we always saw get addressed.
The exception to wearing a mask is only when you are stationary, eating or drinking. That means where you're seated at a restaurant or having a snack on a bench, you can take your mask off. That's it.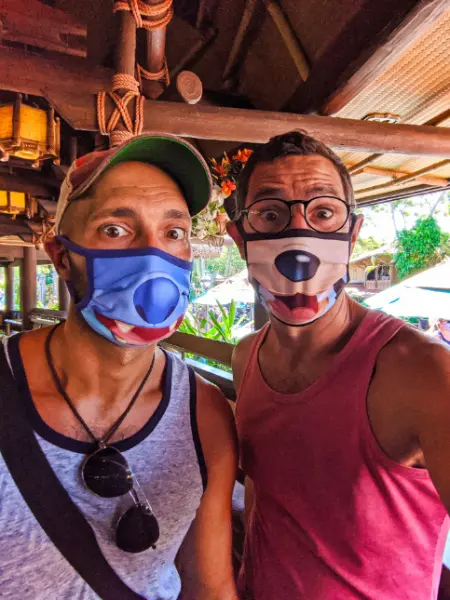 Masks at Universal Orlando
While you are required to wear a mask to enter the parks, even before you are on the moving walkways from the parking structures people aren't wearing masks properly and the staff who are taking temperatures aren't correcting how visitors are wearing their masks. Once inside the parks, it's noses out for about 40% of visitors, and many just pull their masks down to the chins. Often.
Something Universal is very good at is the continual announcements reminding people to keep their masks on and to keep their distance. It's every few minutes, and when you're in line for an attraction, you hear the announcement quite frequently. That doesn't mean visitors at Universal Orlando are changing their behavior, but it's nice that there are reminders often.
When we have seen or heard Universal staff telling guests to wear their masks properly is on rides. On several occasions we've heard the soundtrack for a ride stop for somebody to make an announcement telling people to put their masks back on. I think this may be because ride operators have video to watch people and they have captive attention. I just wish this same initiative spilled into other areas of the parks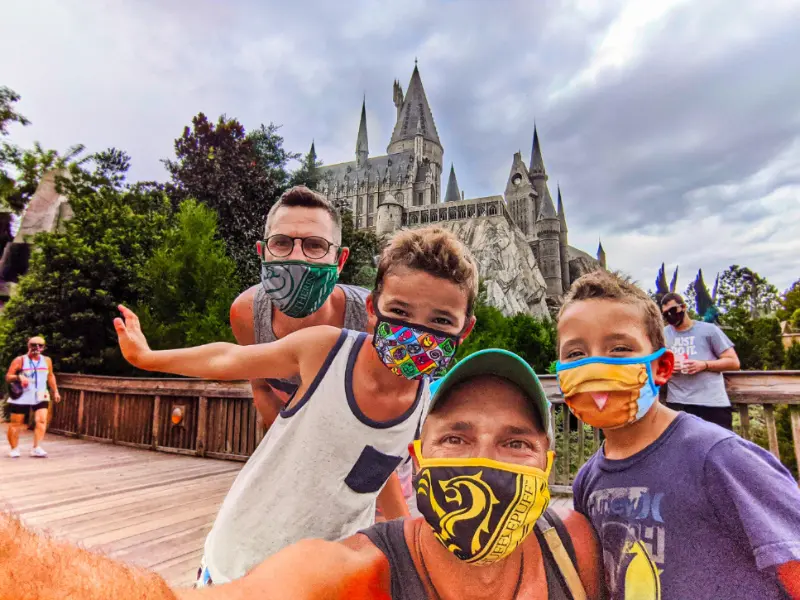 Sanitation Measures at Universal and Disney World
A nice effort on Universal's part is the extra signage guiding visitors to restrooms suggesting washing hands often. This is one thing we didn't see much of at Disney World. Universal has sandwich boards and small signs near EVERY bathroom telling guests to wash their hands frequently. They also make announcements reminding guests that the bathrooms are air conditioned, so spending time washing hands is also refreshing. Bravo, Universal!
At Disney World, there is some signage but it isn't nearly as common or prevalent as at Universal. But what Disney has done that we didn't observe at Universal is mobile hand washing stations, like you see at the fair or a concert.
When it comes to hand sanitizer both parks do a very good job about having hand sanitizer dispensers everywhere. Like, everywhere. Universal does do a better job than Disney at making sure guests are using hand sanitizer. At Universal Orlando, before you can board a ride you are manually given hand sanitizer by a staff member and can't board without using it.
| | | |
| --- | --- | --- |
|   | At Universal Orlando: | At Disney World: |
| Hand sanitizer required for boarding ride | YES | NO |
| Hand sanitizer available before and after queue | YES | YES |
| Additional hand washing stations | NO | YES |
| Additional hand washing / sanitation signage | YES | NO or not prominent |
| Continual ride vehicle sanitation | NO and YES | YES |
The last aspect of sanitation in Disney and Universal is how they manage cleaning ride vehicles between guests. While at Disney, we witnessed them switching out ride vehicles and even shutting down rides for several minutes at a time to deep clean ride vehicles. At Universal we saw none of that. We did witness somebody spraying down the trolley cars in Seuss Landing, but haven't witnessed any other occurrences on other attractions. That doesn't mean it's not happening, just that it's not visible or shared publicly.
If you're deciding between visiting Disney World or Universal during COVID-19, both parks are sanitizing very well, albeit differently, so you'll need to made your decision based on the bigger picture of crowds and observed behaviors.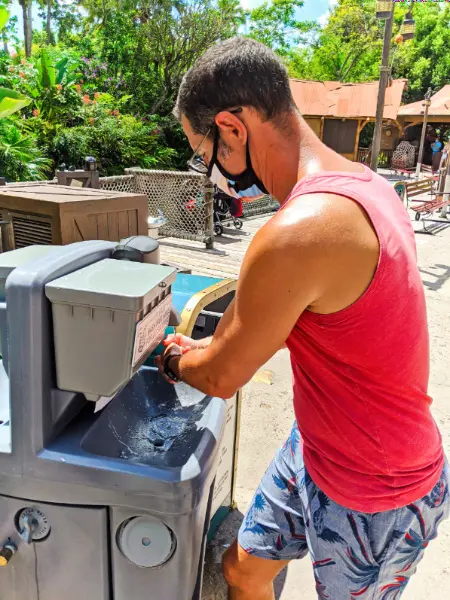 Additional Considerations to Keep Visitors Safe at Disney or Universal
By now you can clearly see that both parks are working to keep visitors safe during the Coronavirus pandemic, but they handle things very differently. The last aspect that we feel has made a difference in our varied experiences between the parks is how they manage crowds. Yes, social distancing is important, but actual number is what I'm talking about.
Universal has implemented measures such as Mobile Order and Pay and Virtual Line, which does limit time waiting with other people around, but there are still crowds. Example: you can join the Virtual Line for Hagrid's at Universal Islands of Adventure, but that just guarantees that you can get in line when it gets really busy, so you'll be able to ride before the park closes that day. It limits the total number of people that can wait in line.
At Disney World, until reserving return times is started up again, there isn't anything particularly to manage queue length… but they are limiting the number of people allowed inside the park. Example: if you'd like to spend a day at Disney's Animal Kingdom you must purchase a park ticket and then actually reserve your admission to THAT PARK. This way, they can manage how many people are actively in the parks.
Lastly, if you're trying to decide if you should visit Disney World or Universal Orlando, take into consideration how many days you'll be around. At Disney World, you CANNOT hop between parks in the same day. At Universal, as long as you have a multi-park ticket you can go between them, allowing you to experience both Universal Studios and Islands of Adventure in the same day.
Did we choose Disney or Universal during COVID-19?
Our pick for visiting an Orlando theme park during the COVID-19 pandemic is to go to Walt Disney World. While both parks have precautions in place, Disney is surpassing Universal in how well they manage all of their safety and health standards. It's clear, after spending several days in both parks, that Disney has asked their cast members and EMPOWERED them to interact with and manage visitors when it comes to following the rules.
After five separate days at Universal Orlando, our solid opinion based on observation is that Universal isn't actively requiring their staff to enforce rules with their visitors, including wearing masks properly or social distancing anywhere. I wish I could say that we observed random off-behavior, but how health and safety precautions are enforced from the moment you arrive at City Walk until the moment you leave the parks, has been consistently failing each time.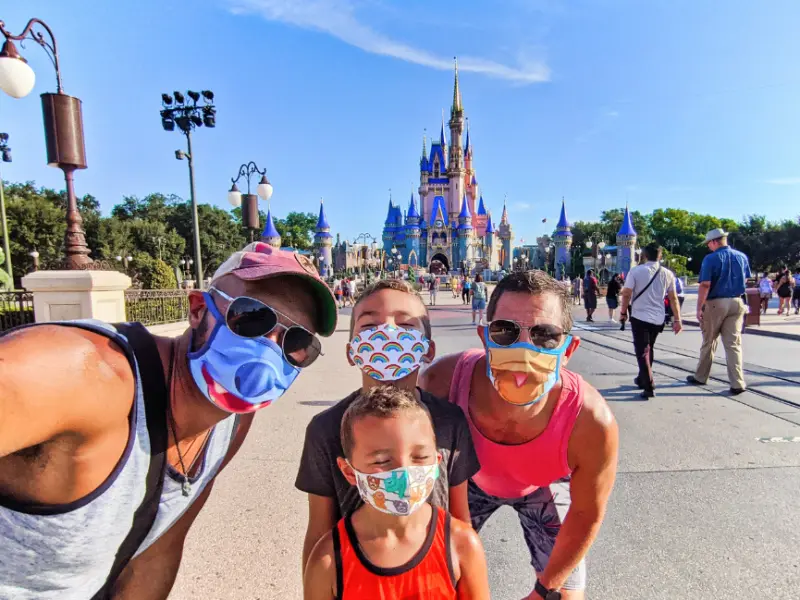 Will we continue to visit Orlando theme parks during Coronavirus?
Despite how the Orlando theme parks manage their rules and precautions during the pandemic, we will continue to visit Disney World and Universal. The reason is because WE ARE RESPONSIBLE for ourselves. When we come across a situation where the crowds are too much, we leave. When somebody crowds us in the queue for an attraction, we enforce the distancing rules. We do not take off our masks or wear them improperly. We use every hand sanitizer station we see and we use our own as well.
We are NOT telling you to visit Universal during COVID-19 and to treat it like there aren't concerns. We're saying that if you want to visit, manage yourself with your own health and that of those you interact with in mind.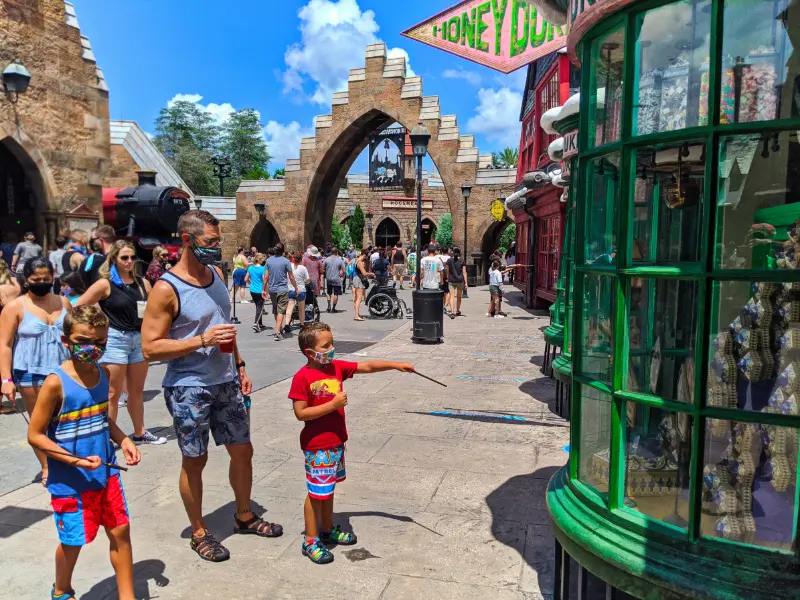 Thanks for hanging out with us. We hope our discussion and information will help you make an informed decision about whether to visit Universal or Disney World while the COVID-19 pandemic is still a problem. Remember that we are not medical professionals or virologists, so take our experiences as just that, our experiences and not a medical/CDC recommendation. Please let us know if you have any questions!
What do you want to hear about from us on our podcast? Please leave us a comment below or send us a note with your questions and what you'd like to hear. We are excited to share!