We are so excited to share our Universal Orlando family trip! This time it's all four of us and it's going to be nothing but fun. Follow along on Instagram and Facebook cuz we share our favorite photos and tips, as well as I'm sure some hilarious videos.
Have you been to Universal Orlando Resort with kids? What was your favorite moment with them? If you have ideas for things that we can't miss be sure to let us know!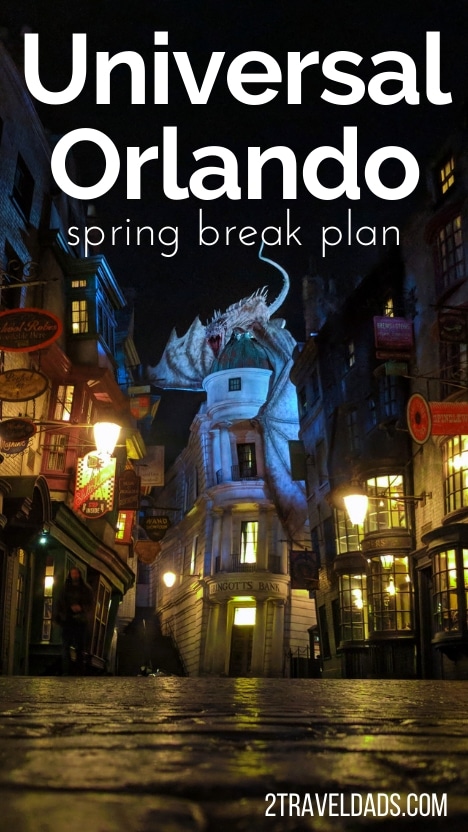 ---
---
Staying at Cabana Bay
OMG. This hotel is incredible, particularly for a family trip to Universal Orlando. It is a slice right out of the 60s. Everything is retro from the light fixtures and the silver telephones in the hallway to the Zestfully clean bar soap in the showers. The color palette and fascinating shapes everywhere makes me a little bit crazy to renovate our house and turn it into a swinging 60s pad.
Book your Universal Orlando family trip hotel here!*
At this moment we are sitting in the bowling alley enjoying some lunch before we bowl a couple of frames and then we'll be spending the afternoon doing the lazy river and playing at the beach. Already the spring break is turning out to be an incredible time.
Pool time at Universal's Cabana Bay
The pools here are kind of awesome. Actually they're very awesome. We started at The Lazy River because that's one of the kids favorite things anywhere and then just got to chill going from pool to pool. Oh yeah, and it's always nice when a pool provides life jackets for kids. There didn't seem to be any shortage here at Cabana Bay.
The highlight for us was the splash pad at the Thunderbird Pool. Splash pads are awesome for kids at any age because of the variety of sprinklers and sprays in a super safe environment. Easy unwind time is invaluable for a family trip to Universal Orlando or anywhere else.
Tip: if you are here during a very busy time be sure to get life jackets early just in case they do run out. We have been at other hotels where that has been the case.
A night at the Universal City Walk w/ the Blue Man Group
Tonight we headed into the Universal City Walk to find dinner and then see a show. I've been here before (me, Rob, hi!), but Chris and the kids hadn't. I think they were kind of surprised to see how huge the Universal Orlando Resort actually is. And then how crazy City Walk is.
We found dinner tonight at the Red Oven Pizza Bakery in the Universal City Walk and it was pretty darn good. We love Neapolitan style pizza and this was pretty close to what we get in Seattle. When you can find something the kids are totally into when you're traveling, call it success.  After dinner we made our way around the canals to the Blue Man Group theater.
Seeing the Blue Man Group with Kids
We knew this would be a stretch, but really wanted to see the Blue Man Group with the kids. We watched some clips before we went into the theater and we down played the dark, the noise and the craziness.  Yeah, even with popcorn and snuggles, Elliott (the youngest) couldn't make it through.  Oliver also thought that the strobe lights and volume was just too much.  Lesson learned though, and we'll give the Blue Man Group another shot in a few years.
Book Blue Man Group tickets for Universal City Walk here.*
It was a long, fun day at the Universal Orlando Resort and there's still more to come.  Tomorrow is going to rock the kids' world with a bunch of really amazing surprises.  It'll be unforgettable!
Character breakfast with Minions
We started our day with a jaunt across the street to Loews Sapphire Falls Hotel for a very special breakfast. We got to have breakfast with Gru, the kids, and the Minions from Despicable Me. The way Elliott gets excited for "Min-uunnnsss!!" is adorable. It was fun and the perfect way to start our day.
Exploring Universal Studios Florida with kids
The top priority of the kids was to ride the Despicable Me ride in Universal Studios Florida. So we did. We leveraged our Express Passes, which are invaluable when you're in Universal with kids, and got onto the ride. No matter the number of Minions, Elliott is just not into surprising, bumpy rides.  I have to say though, having done nearly all the rides at the Universal Orlando Resort, the Despicable Me ride was the coolest, funnest one.
Book your Universal Orlando family trip park admission here!*
First impressions of the Wizarding World of Harry Potter
Walking through Universal Studios Florida with kids was hilarious. As we strolled through each city segment, I told the kids "We're in Hollywood! No, we're in New York! Wait, we'*re in Chicago! Sorry, it's actually San Francisco! Hold up, we've made it to London!
We headed into Diagon Alley and they were in awe… until the dragon came to life an breathed the biggest burst of fire.  That sufficiently startled the kids. We cast a few spells and then got out of there before a second flame happened.  We hopped on the train to Hogwarts and thankfully didn't get caught by the Dimentors.
Seuss Landing: the perfect spot for small kids
From a distance the kids could see where we were heading and they got excited.  Immediately we met the Cat in the Hat with Things 1 & 2.  Oliver was so happy and ran up, hugging the Cat in the Hat so tightly. It was beyond cute and made me so happy.  A few rides in Seuss Landing and it was time for lunch and Volcano Bay.
Best Attractions in Universal Studios Florida for Adults
Since this was Chris's first time at Universal Orlando, he was all kinds of excited to try out some of the most epic attractions. Well, we visited with kids and were limited to what we could do because of the kids' heights and bravery.
He did get to do a few and loved them. His favorite, and I could've told you before we even got there, was the Incredible Hulk roller coaster. It I sat out with the kids while he used his Express Pass to get on the ride quickly. He also love the Rockin' Rollercoaster. He's a sucker for roller coasters.
The other big hit was Escape from Gringott's in Diagon Alley. He loved the queue going through Gringott's just as much as the ride itself.  There's just something about being immersed in the film experience that's magical for adults just as much as kids.
We're both looking forward to coming back later this year, and this time just us Dads, so that we can both experience the Universal Parks and City Walk without the kids.  We love them, but there are certain things we can't do with them because of their heights or bravery levels.
Universal's Volcano Bay water theme park
I knew Volcano Bay was going to be awesome but I didn't realize how awesome.  We've done a lot of water parks in our day, with and without the kids, and Volcano Bay totally takes the cake.
Volcano Bay with Kids
If you haven't done a water park with kids before, it's quite the experience. You never know what's going to be a hit and when the experience will be just too much. Volcano Bay is ideal for every age of kid though, and for every level of water-lover. Our kids are 3 and 6, they like the water but they also have a really solid fear of excitement. The Tot Tiki Reef and Runamukka Reef could've been the kids' only activities the entire five days we were at the Universal Orlando Resort and they would've been cool with it. Kid-friendly water slides and splash zones, fountains, rubberized flooring and sand. Perfect.  And the Kopiko Wai lazy river was a solid go-to with the kids too.
Volcano Bay for Adults
Everything.  Seriously, from the crazy drop slides to the raft slides, we had so much fun. Chris particularly loved the Krakatau drop slide on the face of the big Volcano. I preferred the Tai Nui serpentine slide. Both were crazy fast and totally fun if you're into thrills.
The Aquacoaster was also really cool and totally kid-friendly… even though we couldn't get ours to do it. There are so many slides and varied areas at Universal's Volcano Bay, you could spend two or three days relaxing and playing and be cool with it.
Best finds for Kids in Universal Orlando parks
When I first got oriented and started exploring Universal Studios Florida and Universal's Islands of Adventure, neither struck me as great places for young kids because everything was so intense and full of surprises (our kids hate surprises). All it took was bringing them to the Parks to find everything kid-friendly, and we weren't short on fun at all!
Without sharing everything, let's just say that each section of each park has something great for kids.  Here is a quick list of our favorite finds:
Woody Woodpecker / American Tale / Curious George Land – all of these are grouped together and are fuil of play areas, water park zones, kid-friendly rides and lot's of quiet space.
Wizarding World of Harry Potter in either park – riding the Hogwarts Express was a favorite of both kids… and we did it several times. Also, casting spells in both Diagon Alley and Hogsmeade was really fun. Be cautious of little kids and the fire breathing dragon though.
Camp Jurassic – I had no idea this existed. Hidden away near the Jurassic Park river ride is an obstacle course full of nets, bridges, water cannons, caves and slides. It's perfect for any age.
Seuss Landing – of course this is a hit! Between meeting the Cat in the Hat, the Things, the Grinch, Sam I Am, and the Lorax, and then the fun play areas and mellow rides, it was all we could do to get the kids to leave this spot. The If I Ran the Zoo maze was really fun… and really wet.
Tip: always be ready to get wet in any of the areas of the Universal Orlando Resort, whether it's in a park, in City Walk, near one of the many pools, or just strolling through Volcano Bay. There is water everywhere.
Marvel Character Dining: meeting an idol
It's rare that you find a kid that doesn't love Spiderman. To say that our kids love him is an understatement. Commence dinner with some of the coolest Marvel characters:  X-Men's Cyclops, Rogue, Wolverine and Storm; Captain America… and Spiderman.
It worked out perfectly.  We got into Cafe 4 in the Superhero Island area of Universal's Islands of Adventure and saw Spiderman immediately… but he didn't see us. We got our dinner and met everybody else (the kids were totally into it)… and then Spiderman came over to us. It was awesome, adorable and everything they could've hoped for.
More highlights of our Universal Orlando Resort family trip
I totally forgot to mention that on our first night in Universal Studios we got to see Jessie J. in concert. How awesome is that?! Our kids don't know a ton of music, but Oliver can tell you that his two favorite performers are Meghan Trainor and Jessie J. We missed the kids' favorite songs (Bang Bang, Burnin' Up) but got to hear her belt out some others.
Both Jessie J. and Bush performed as part of Universal Orlando's Mardi Gras festival during the days we were there. Between the town square designed like New Orleans being totally decked out with a Mardi Gras street fair, daily there was a grand Mardi Gras parade and a bunch of performances.  Really cool festivities.
We enjoyed lots of good food while exploring Universal with the kids. Our favorite spots for family friendly dining and treats were:
Lombad's Landing, San Francisco area of Universal Studios – good seafood and a nice atmosphere that doesn't feel like a theme park. Also, rather good prices for family dining in a nice place.
Moe's / Springfield dining, Simpsons area of Universal Studios – a variety of foods, either made to order or grab-n-go. Also, Moe's Bar is here.  GET THE BIG PINK DONUT!
Hog's Head Tavern, Hogsmeade in Islands of Adventure – a sit-down tavern straight out of the Harry Potter films with good beer, including Butterbeer on tap for the kids
All dining at Cabana Bay – we ate at the restaurant in Galaxy Bowl several time (good allergen free choices), enjoyed the Hideaway Bar by the pool (great kids and adults lunches) and found the diner window attached to the Atomic Tonic bar to have great doner kabab lunches. Best value: a pitcher of beer at Galaxy Bowl that you can take with you anywhere on property.
This trip was really fun, and speaking as somebody who's been without the family, it was really wonderful to experience with the kids and husband. As dads we felt exceptionally welcome everywhere we went (beside one lady throwing some serious shade by the pool) and as a family with young kids, we were never bored or at a loss for entertainment options.  Even when we got caught in a Florida downpour in the Parks we found shelter AND fun.
I'm excited for us to go back again, particularly when the kids are a little older and more brave, or just Chris and I. The Universal Orlando Resort has turned out to be a new favorite family destination for us. Yes, it's totally different than our beloved National Parks, but we're totally fine with that. 😉
*=affiliate link. We may receive a small commission if you choose to book, at no cost to you. 🙂
Universal Orlando Resort parks tickets here
Universal's Cabana Bay Resort rooms here
Blue Man Group tickets here