We are so excited to share our Universal Orlando spring break plan! We've been going to Universal Orlando for years and always love it, but you know what? During spring break EVERYONE else goes to Unviersal too.
We have tips for being able to make the most of your time during the busiest weeks at Universal Orlando, as well as tips for where to stay to get the best deals. Making a trip meet both the fun and budget requirements is tricky, so hopefully we can help you out with YOUR spring break plan. And be sure to check out our Universal Orlando podcast episodes!
Have you been to Universal Orlando Resort with kids? What was your favorite moment with them? If you have ideas for things that others can't miss be sure to let us know! Leave a comment or send us a note.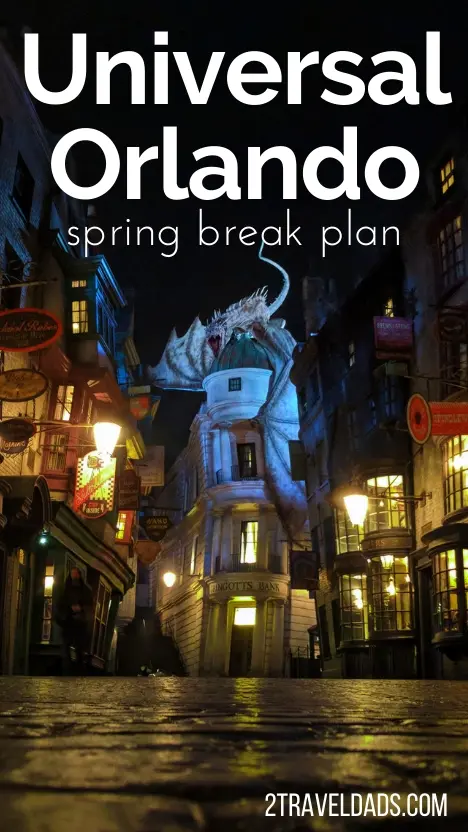 Find your ideal Universal Orlando tickets here!
Where to Stay at Universal Orlando for Spring Break
There are lots of hotels in Orlando, both that are a part of the Universal Orlando Resort and that are just nearby. We've stayed at all but two of the Universal hotels and have also stayed at several properties just outside of the theme parks. For a great Universal Orlando spring break plan, try to score a deal at one of these hotels for the best and easiest experience.
Staying at Universal's Cabana Bay
OMG. This hotel is incredible, particularly for a family trip or a Universal Orlando spring break group trip. Universal's Cabana Bay Beach Resort is fun on its own, but is even better when paired with theme park days. I start with this hotel because even though it is one of the Universal branded hotels, it's also one of the less expensive options that gets you super close to the action of the parks. We've scored rates here as low at $119/night and have paid as much as $179/night.
Cabana Bay is a slice right out of the 60s Cocoa Beach space society. Everything is retro from the light fixtures and the silver telephones in the hallway to the Zestfully clean bar soap in the showers. The color palette and fascinating shapes everywhere makes me a little bit crazy to renovate our house and turn it into a swinging 60s pad.
Book your Universal Orlando trip hotel here!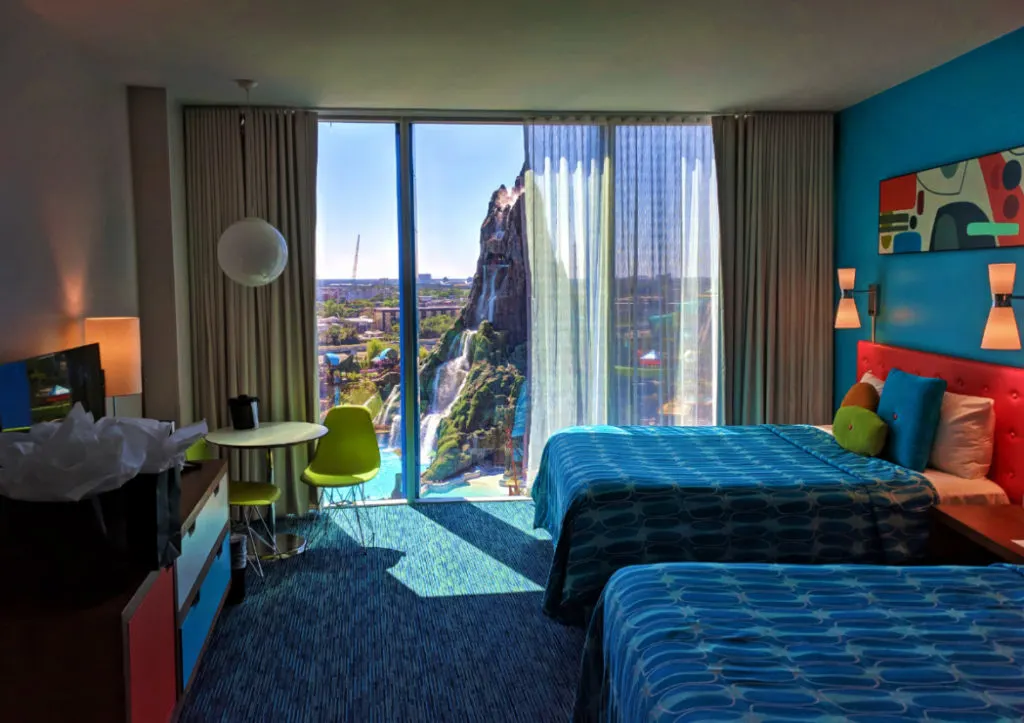 Highlights of staying at Universal's Cabana Bay Beach Resort include rooms with family-friendly layouts, affordable dining options, a vintage bowling alley, the Jack Lalane Fitness Center, two huge swimming pools, direct access to Volcano Bay water theme park, and access to the garden walking path into Universal's City Walk.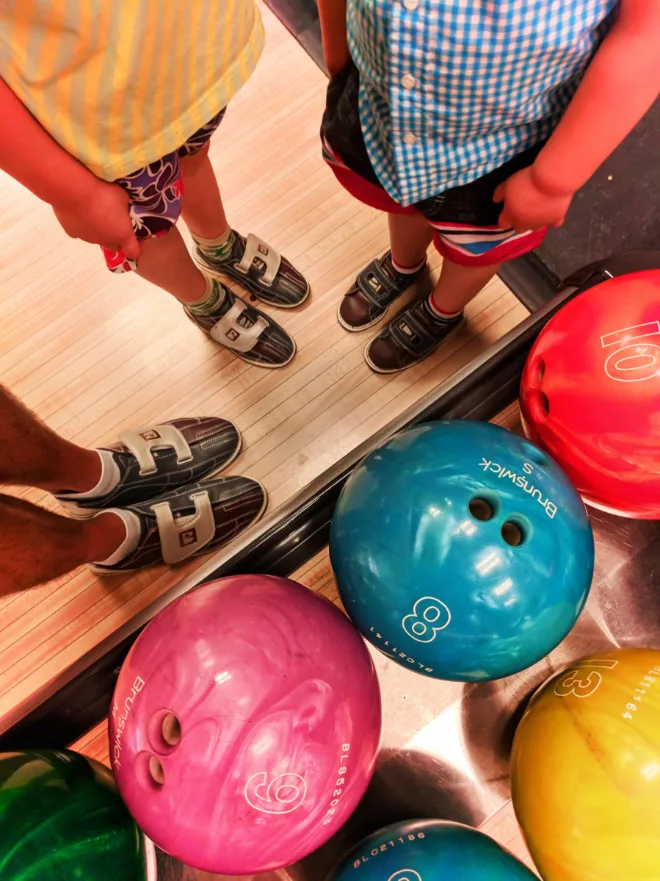 Pool time at Universal's Cabana Bay
The pools at Cabana Bay are kind of awesome. Actually, they're very awesome. We always seem to start at the lazy river because that's the kids' favorite thing anywhere and then just chill, going from pool to pool. Also, it's always nice when a pool provides life jackets for kids and there never seems to be any shortage here at Cabana Bay.
A highlight if you have small kids is the splash pad at the Thunderbird Pool. Splash pads are awesome for kids at any age because of the variety of sprinklers and sprays in a super safe environment. Easy unwind-time is invaluable for a family trip to Universal Orlando or anywhere else.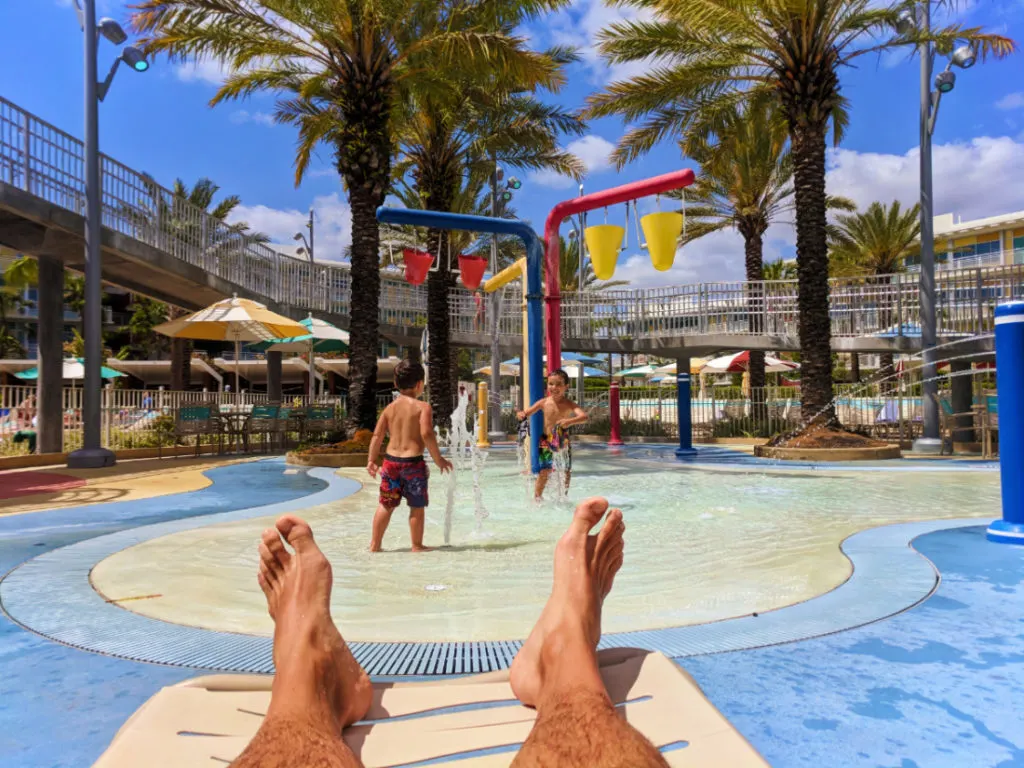 Staying at Universal's Endless Summer Resorts
To save a little more on your Universal Orlando spring break trip (or any other time actually) the two Endless Summer properties also have good rates. You'll find that being a little further away from City Walk and the park entrances looks like a bummer, but it's actually not. From any Universal property you'll have to take some form of transportation or have a 15+ minute walk, so you might as well save money by staying at one of the Endless Summer resorts and still be just as conveniently located.
Besides costing the same or less than Cabana Bay, one of the great things about these two hotels (kind of sister properties) is that they have family rooms available for a good price. Both hotels were designed to be more cost effective for families, so even though they aren't as fancy as Portofino or Sapphire Falls, they still create a great Universal experience.
Staying off Universal Property
We have also stayed off-property at Universal Orlando for spring break and during the holidays and found good deals. Both the Expedia Deep Link
" target="_blank" rel="noreferrer noopener nofollow">Holiday Inn Express (across from the Hyatt Place) are great options. You don't have the full resort experience, including the pools and other amenities, that you would have by staying at a Universal Orlando branded hotel, but the value is great and they provide transportation to the City Walk security center, just like Cabana Bay and Endless Summer resorts do.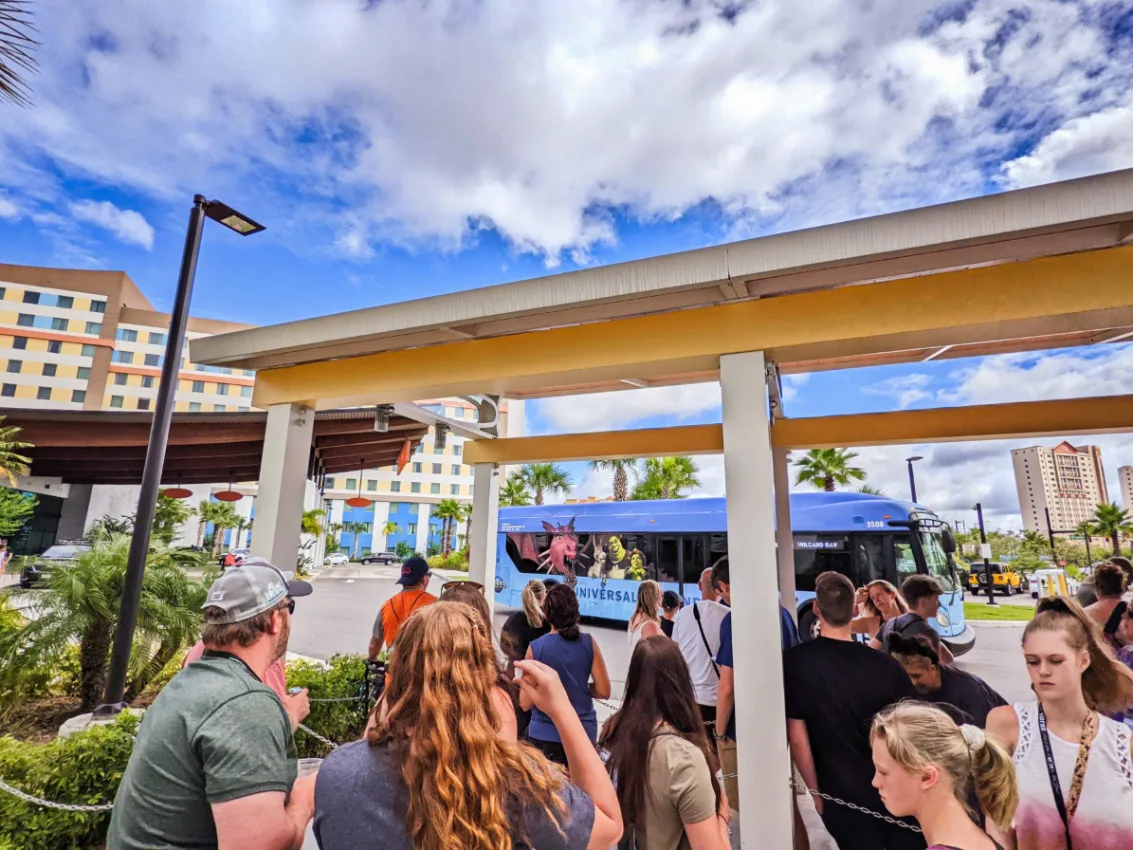 Universal City Walk and Bonus Plans
When you do Universal Orlando for spring break, you'll want to mix it up and give yourself plenty of time that's not rushing around theme parks. We like to head into the Universal City Walk to find dinner and then see a show. City Walk has changed so much over the years, including new restaurants and shops, and certain features and shows leaving. For example, the Blue Man Group used to have a residence in City Walk… alas, no more.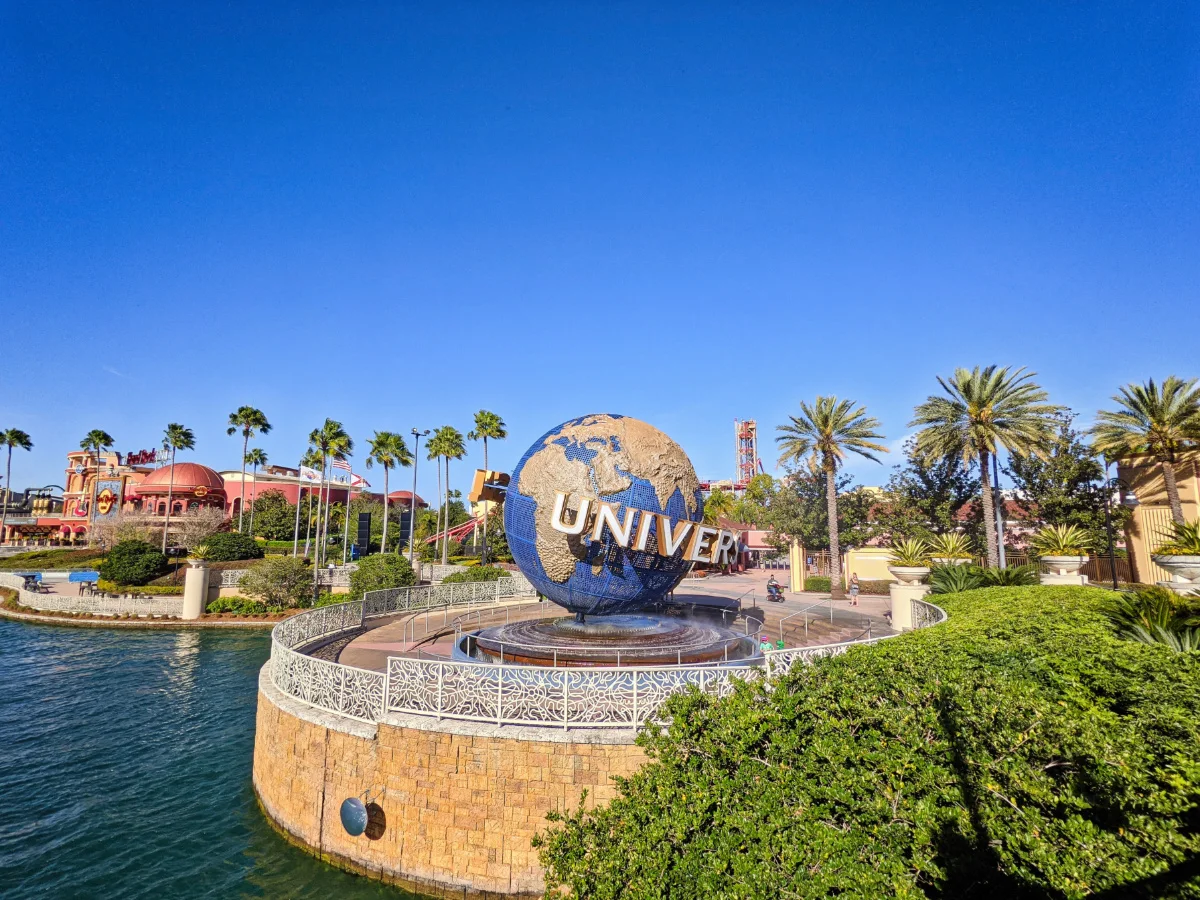 Dining in Universal City Walk
When it comes to dining in City Walk, there are lots of options, and some are definitely better than others. Our top picks, both during busy spring break times and when it's quite at the Universal Orlando Resort, include:
the Red Oven Pizza Bakery, pretty darn good Neapolitan style pizza
CowFish Sushi and Burgers, the kids love the combo and there is a huge menu for "diverse" tastes aka picky eaters
Antojitos Mexican Food, but restaurant with a fun atmosphere and pretty good food
Toothsome Chocolate Emporium, they're known for their crazy desserts, but the lunch menu is actually really great and it's more affordable than you might think
Tip: even though Universal City Walk is outside of the theme parks, if you're able to plan out your time, do so and MAKE RESERVATIONS. I'll talk about this more below, but reservations for sit-down dining at Universal Orlando, just like at Walt Disney World, are HIGHLY RECOMMENDED.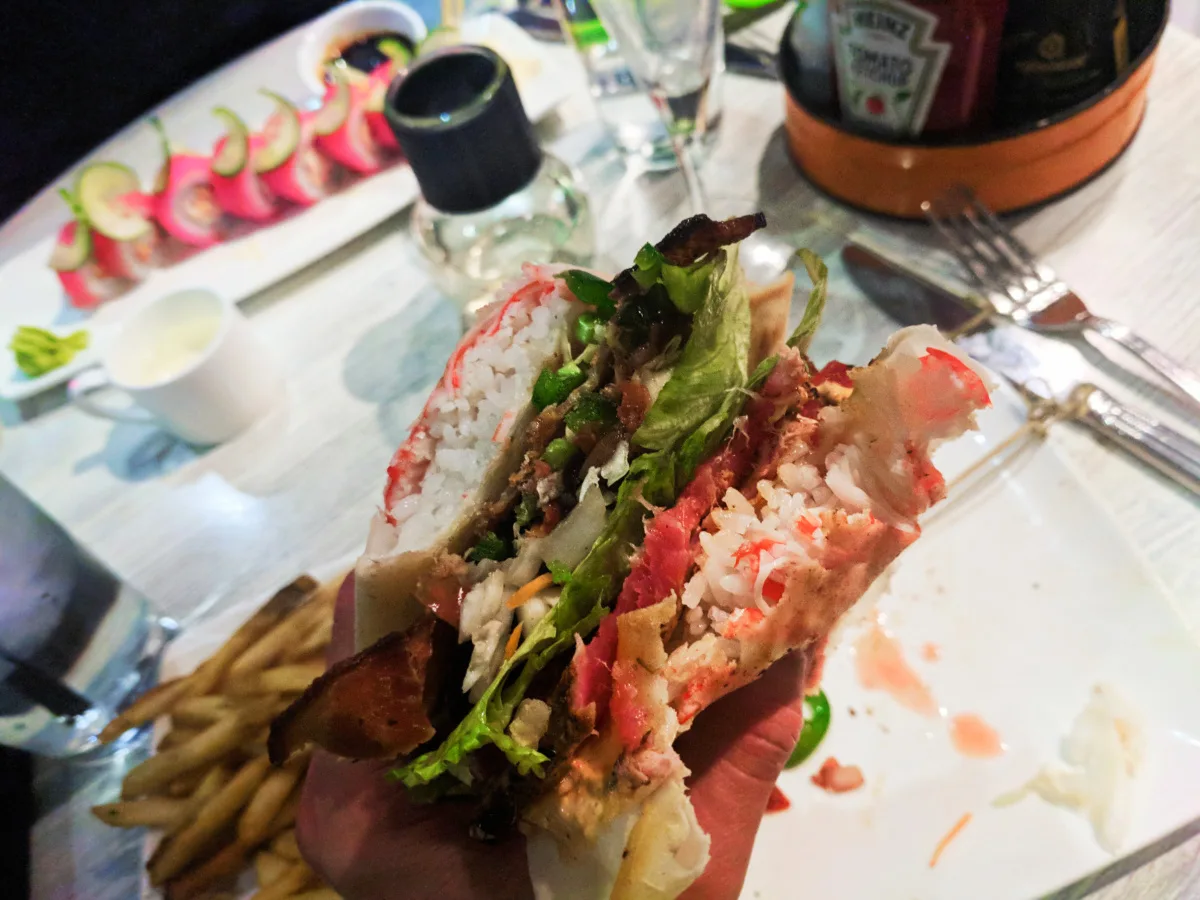 Character Breakfast with Minions
A great idea if you're having a Universal Orlando spring break with smaller kids is to start your day with a jaunt to Loews Sapphire Falls Hotel (across from Cabana Bay) for a very special breakfast. We got to have breakfast with Gru, the kids, and the Minions from Despicable Me. The breakfast itself is pretty good (a buffet) and the character interactions are really fun. It's a very different sort of character dining experience than what you'll find in Disney World or Disneyland.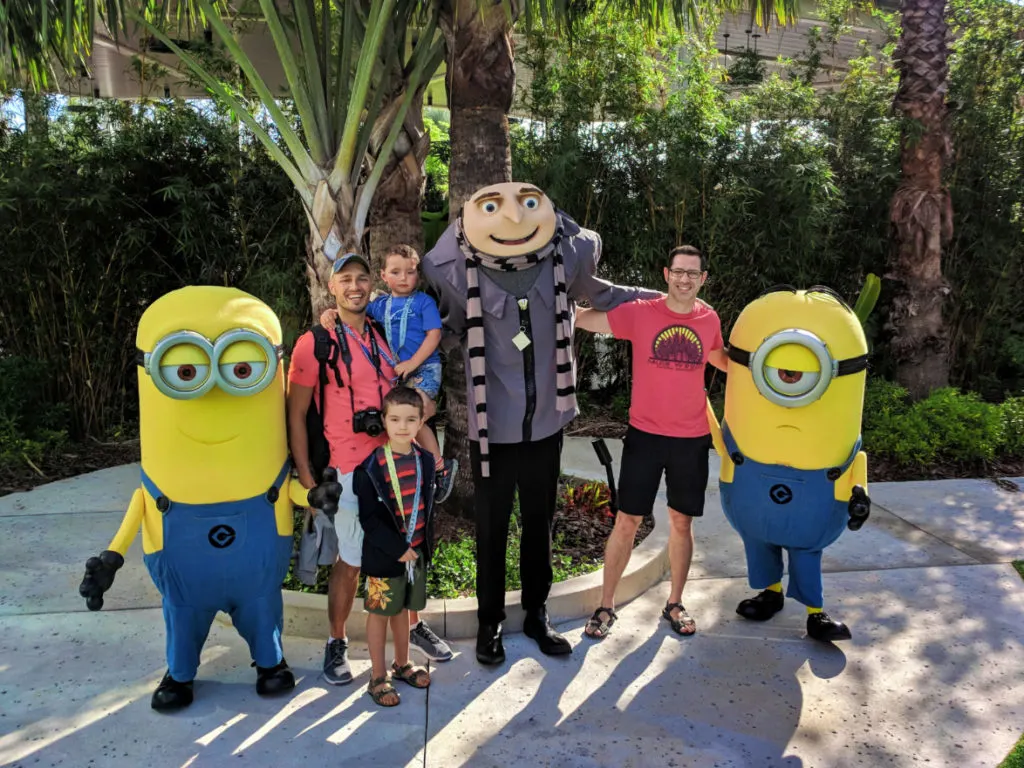 Enjoying Universal Orlando Theme Parks with Kids
If you're coming to Universal Orlando with SMALL kids, we actually have a complete article all about that specific sort of trip, including top picks for age-appropriate rides and tips. I think it's important to plan your time when you're doing a big trip like this so that everyone can enjoy themselves to the fullest. These tips will for sure help you plan your spring break visit with the biggest bang for your time (and buck!).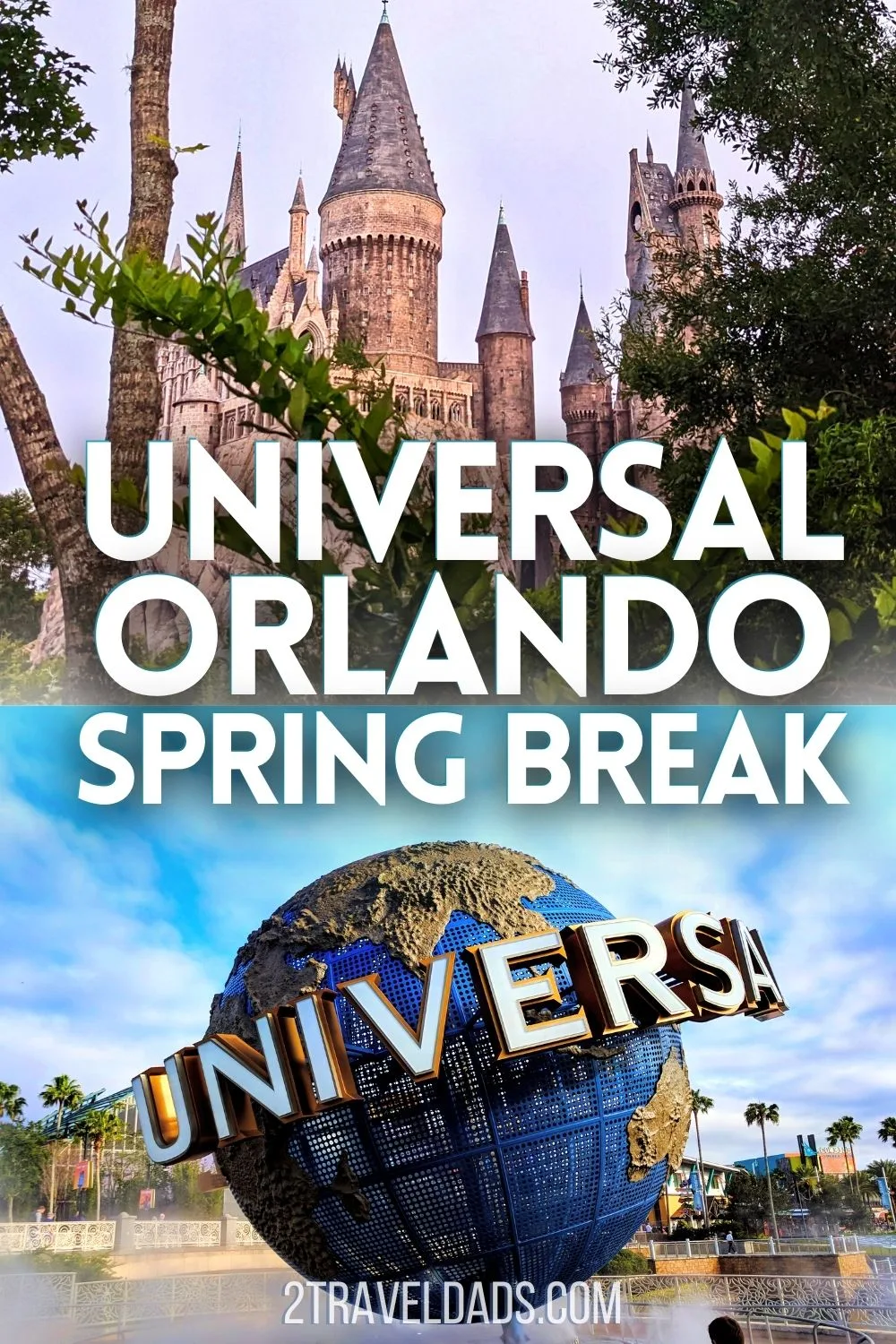 Spring Break Tips for Universal Studios Florida
Walking through Universal Studios Florida with kids was hilarious. As we strolled through each city segment, I told the kids "We're in Hollywood! No, we're in New York! Wait, we'*re in Chicago! Sorry, it's actually San Francisco! Hold up, we've made it to London!"
The top priority of our kids is always to ride the Despicable Me attraction, Minion Mayhem, in Universal Studios Florida. We leverage our Express Passes when we have them, which are invaluable when you're in Universal with kids. Even though this isn't a new ride, it's always popular and has a slow line. We'd recommend starting here if you have early entry, or coming back in the early evening if you can't score it when you first arrive.
Book your Universal Orlando family trip park admission here!*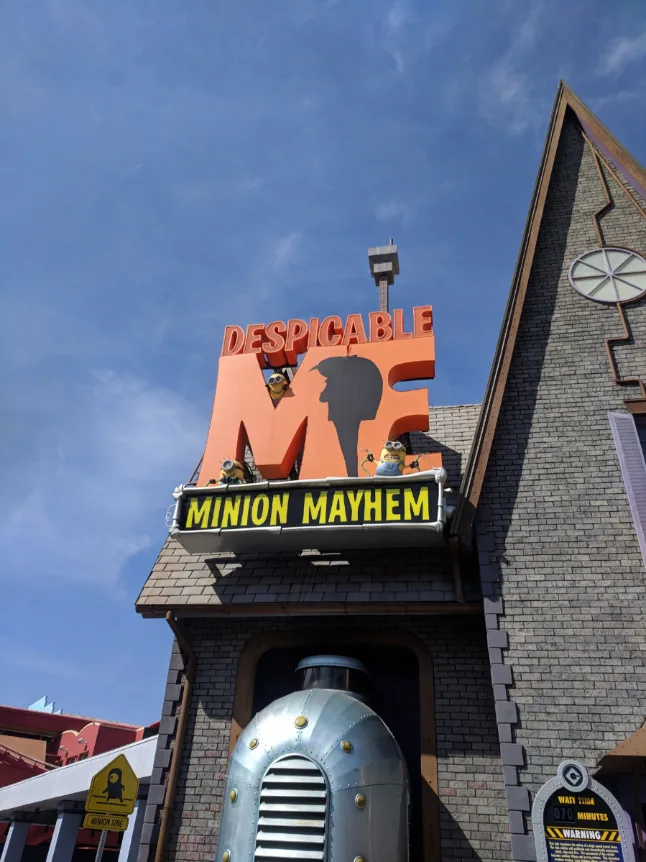 Best Attractions in Universal Studios Florida for Adults
If it's your first visit to Universal Orlando Resort, you may feel like you have to get to every attraction and not miss a thing. While it is doable, you might be stressing a bit too much. Adults visiting Universal on spring break may just want to pick their must-do rides and check those off first. Our favorites in Universal Studios Florida that we always make time for are are Rip Ride Rocket, Transformers: the Ride, Revenge of the Mummy, and Escape from Gringotts.
For those visiting with little kids and you're worried that you'll not get to do the more intense rides, don't worry. Take advantage of the Child Swap for bigger attractions.
In Universal Studios Florida you'll find Rider/Child Swap available for:
Men in Black
Escape from Gringotts
Fast and the Furious
Revenge of the Mummy
Rip Ride Rocket
Race Through New York
Simpsons Ride
Transformers: the Ride
How Child Swap works is really easy. Since some rides are either too daunting for little kids or there is a height requirement, for Child Swap, you wait through the queue with your group and then an adult stays with the non-riders in a special area. After the first riders go, the other adults that stayed behind get to ride. We love this, or should I say our oldest loves this because he gets to ride with the first parent and then AGAIN with the second parent. Such a bonus!
Note: not every attraction has a waiting room at the ride vehicle loading entrance, but the staff will get you set up appropriately. Also, Child Swap availability is subject to change, but it usually is available.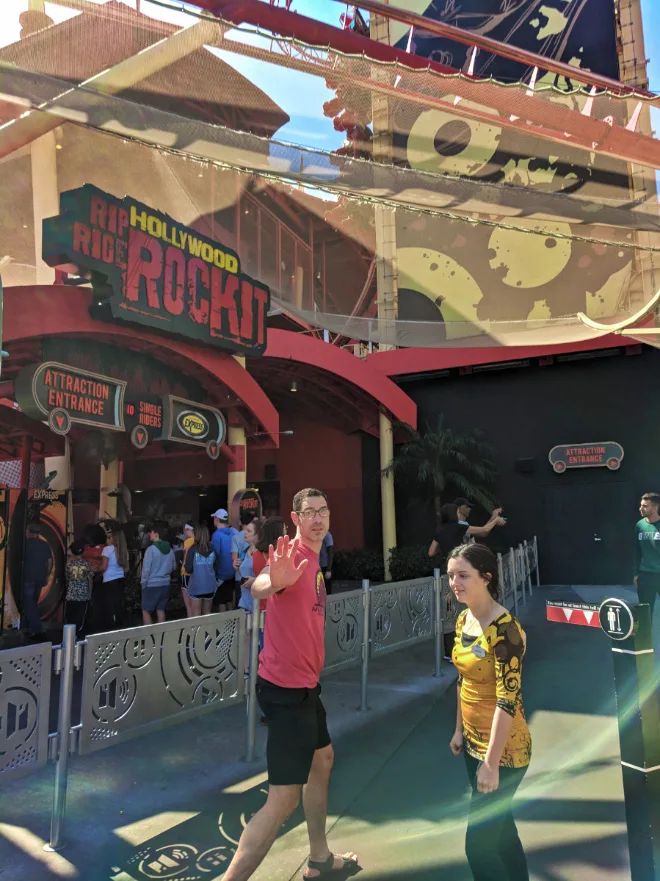 Tips for Islands of Adventure During Spring Break
Of the two main Universal Orlando theme parks, Islands of Adventure is my favorite. I feel like it's more theatrical, the attractions are more engaging, and the thrills are bigger. Also, I really like all of the Jurassic Park elements, not just the two primary rides. When you're at Universal's Islands of Adventure for spring break, you'll find some long wait times, for sure, but don't worry…
Here's how you can make the most of your Islands of Adventure days when it's busy:
Take advantage of early entry days if they are available to you
budget to be able to get Universal Express for your tickets – this really does save you SO MUCH TIME
utilize the Universal Orlando Resort app to monitor wait times, join virtual queues and see when rides aren't operating
Keep your eyes and ears open around popular attractions when they are in downtime. For example, if the Velocicoaster stops running due to rain, it'll reopen soon after the rain stops and then tracks dry… and then you can get onto it pretty quickly.
Take advantage of Single Rider lines where available
Stay in the park until it closes and be IN A LINE for a ride you really want to go in when the park hours end. You'll be allowed to finish your wait and ride the ride.
Really, even on busy spring break days, Islands of Adventure can be easily navigated and is so much fun. You'll love it!
Best Islands of Adventure Tips with Younger Kids
If you're visiting Universal Orlando on spring break with younger kids you'll no doubt find yourself in Seuss Landing. This is one of my top pics for having relaxing time as an adult, so spending time in this area with kids is actually really great too. The rides are mellow, the atmosphere is fun, and there are great dining options. Even when the park is busy, Suess Landing keeps the lines moving swiftly.
The other hidden gem to escape the spring break crowds in Islands of Adventure is Camp Jurassic. Here you'll find an AWESOME playground and obstacle course with no lines and plenty of shady seating. There's also the Pteranodon Flyers ride here, but that line is long every day of the year, so enjoy the play space.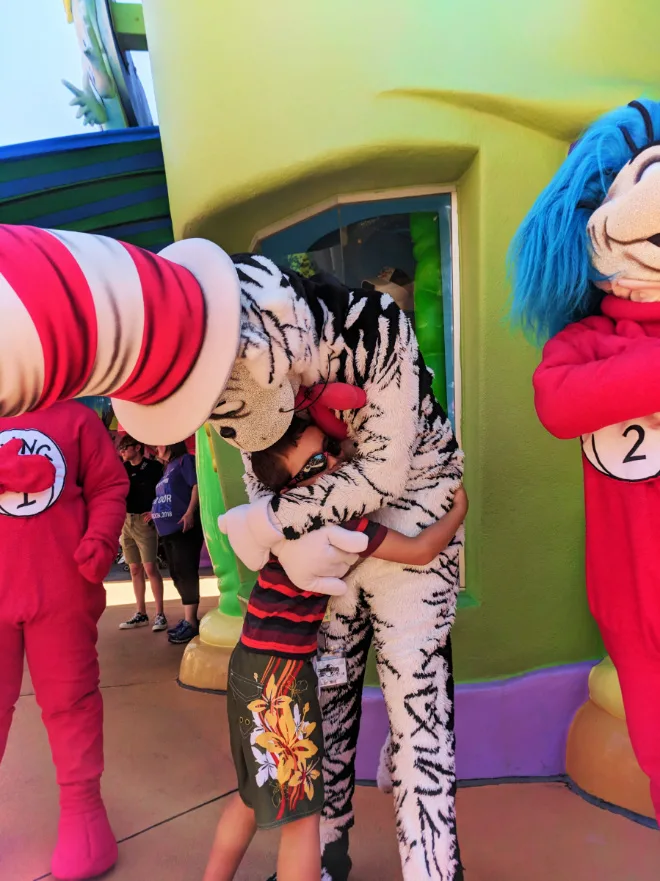 Wizarding World of Harry Potter During Spring Break
Someday, I don't know when, the Wizarding World of Harry Potter areas will be less popular. In the meantime though, they are the driving force for so many Universal Orlando spring break visitors. I get it; we love both Diagon Alley (Universal Studios) and Hogsmeade (Islands of Adventure). They are so well done and the magic feels so real.
These areas can get really crowded though, so just be prepared. I think the best way to enjoy any of the Harry Potter areas when the parks are extra crowded is to enjoy the dining and shopping elements, and then monitor the wait times for the different rides. You'll find that some attractions move more quickly than others, like Harry Potter and the Forbidden Journey inside Hogwarts Castle is always more swift than its posted wait time. Others, such as Escape from Gringotts will really take as long as it says.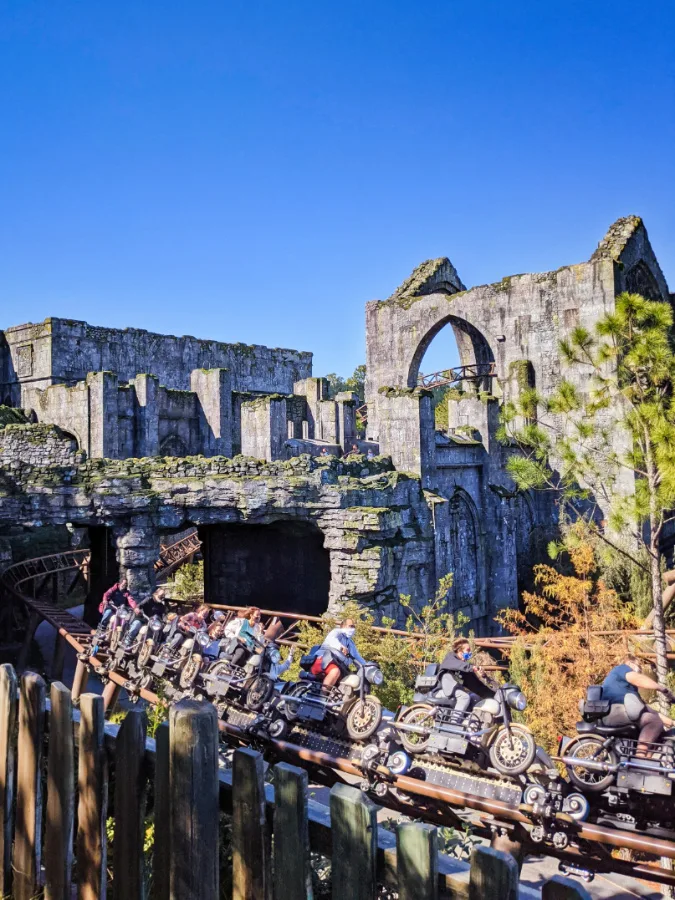 A great way to enjoy either Harry Potter themed area is to grab a butterbeer and cast some spells. You'll find interactive magic in both parks. You will need a wand that's enabled with the right kind of magic to enjoy these, but once you've got one it's a great way to entertain kids.
The best ways to ensure you can get onto the most popular Wizarding World rides when it's really busy are:
Take advantage of early entry when available
When Kings Cross Station first opens, be one of the first to ride the Hogwarts Express to Islands of Adventure *this is just for a quick entrance onto the train, but it will not get you into Hogsmeade ahead of the crowds.
Join the virtual queue for Hagrid's Magical Creatures Motorbike Adventure when it first becomes available, and then check it again at 11:00 am and 1:00 pm
Be in line for your final ride of the day WHEN THE PARK OFFICIALLY CLOSES
Just remember that you're there to have fun and try to keep things lighthearted. One of the things that we love about Universal Orlando any time of year is that the visitors are so much more mellow and into the fun of things than Disney World visitors. Don't harsh anyone's mellow by getting cranky, especially in the Wizarding World of Harry Potter.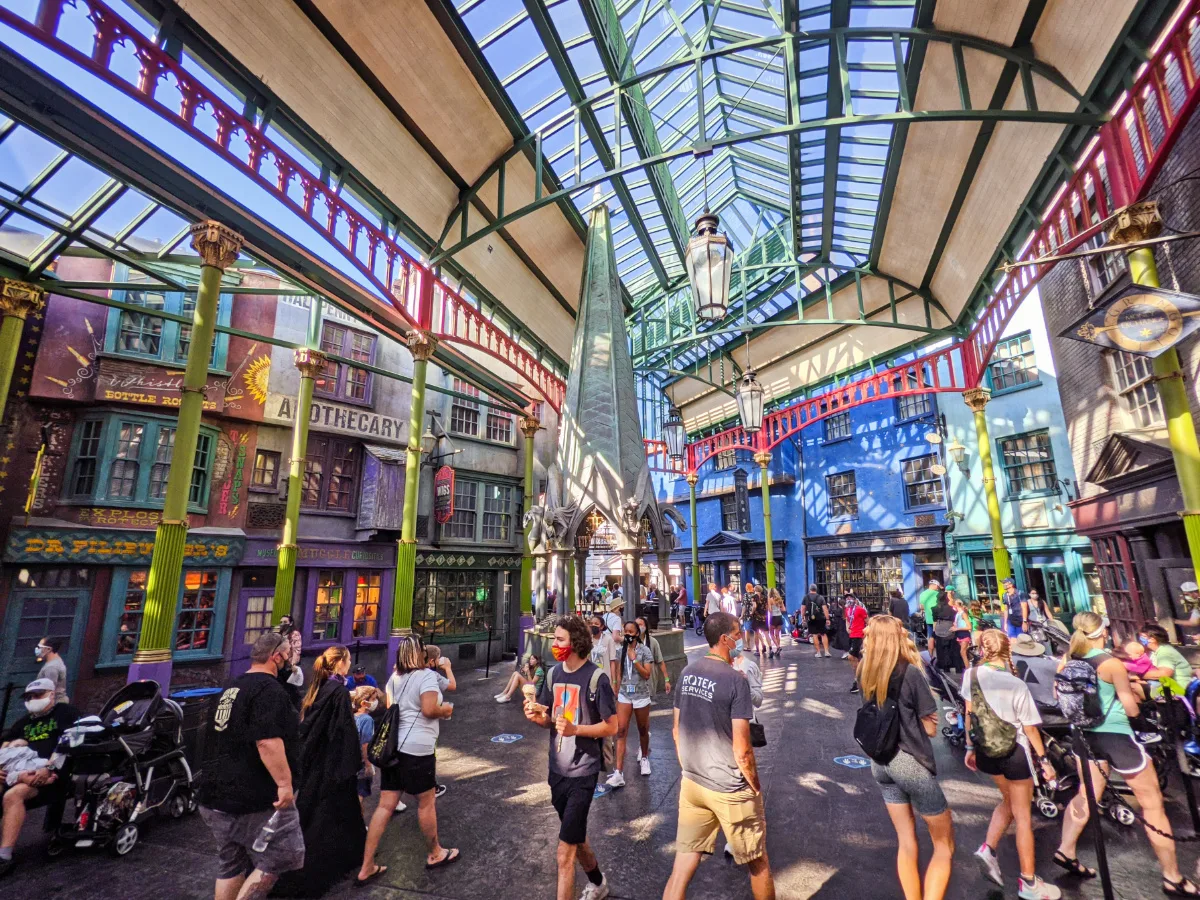 Universal's Volcano Bay Water Theme Park
Before we ever went, we knew Volcano Bay was going to be awesome but we didn't realize how awesome. We've done a lot of water parks in our day, with and without the kids, and Volcano Bay totally takes the cake. Now having done Volcano Bay several times, I can say that it really is my favorite water park.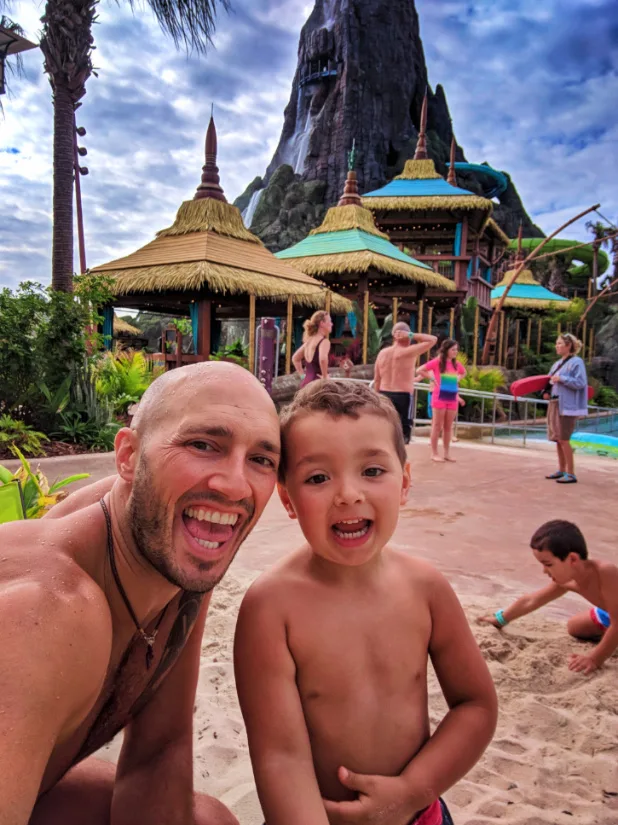 Volcano Bay with Kids
If you haven't done a water park with kids before, it's quite the experience. You never know what's going to be a hit and when the experience will be just too much. Volcano Bay is ideal for every age of kid though, and for every level of water-lover.
Our kids were 3 and 6 for our first spring break visit to Volcano Bay. They like the water but they also have a really solid fear of "too much" excitement. The Tot Tiki Reef and Runamukka Reef could've been the kids' only activities the entire five days of our very first spring break at the Universal Orlando Resort and they would've been cool with it. Kid-friendly water slides and splash zones, fountains, rubberized flooring and sand. Perfect. And the Kopiko Wai lazy river was a solid go-to with the kids too.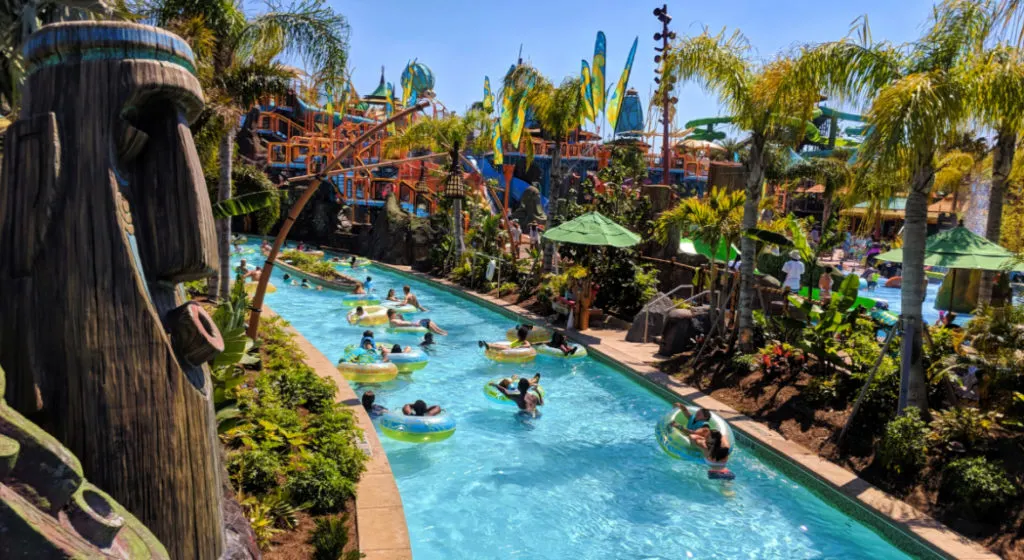 Volcano Bay for Adults
Everything. Seriously, from the crazy drop slides to the raft slides, we had so much fun. Chris particularly loved the Krakatau drop slide on the face of the big Volcano. I prefer the Tai Nui serpentine slide. Both were crazy fast and totally fun if you're into thrills.
My top pick for both adults and big kids is the raging river, not the lazy river. The raging river has waves and whirlpools, currents and craziness. If you're not a good swimmer it's not going to be a favorite probably, but if you're confident and know what you're getting into, you'll love it!
The Aquacoaster is also really cool and totally kid-friendly. It operates with a combination of water and magnate propulsion. There are so many slides and varied areas at Universal's Volcano Bay, you could spend two or three days relaxing and playing and be cool with it. I think that Volcano Bay without kids is actually a bit more fun because it's got so many things to do, including relaxing on the beach, that you can really enjoy yourself from the adult perspective, not just the parent perspective.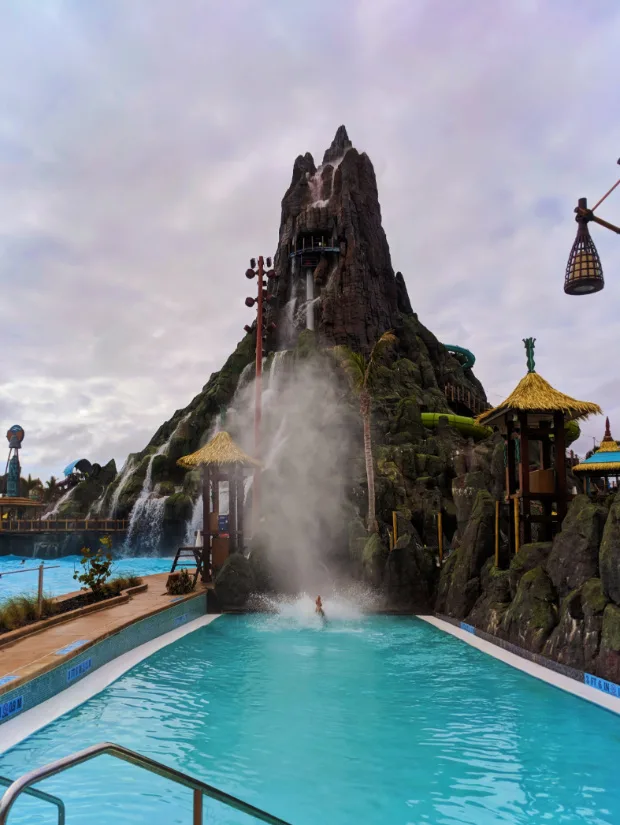 Best finds for Kids in Universal Orlando Parks
When I first got oriented and started exploring Universal Studios Florida and Universal's Islands of Adventure, neither struck me as great places for young kids because everything was so intense and full of surprises (our kids hate surprises). All it took was bringing them to the Parks to find everything kid-friendly, and we weren't short on fun at all!
Without sharing everything, let's just say that each section of each park has something great for kids. Here is a quick list of our favorite finds, and keep in mind that as Universal Orlando has some BIG CHANGES coming between now and 2025 some of these options will be going away or limited:
Hollywood / Sunset Boulevard – lots of great character meet and greets; the Bourne Stuntacular show is also great with kids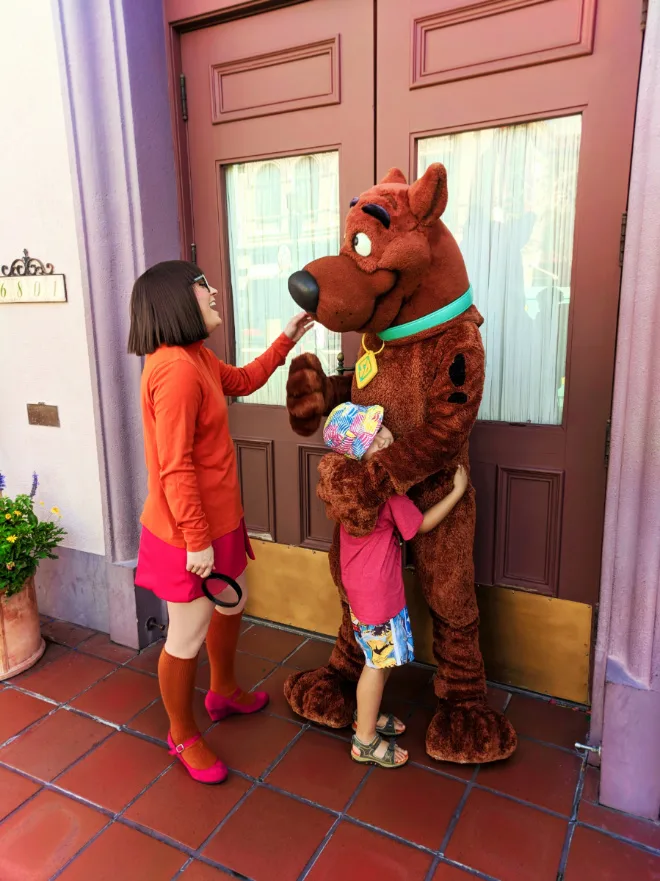 Woody Woodpecker / American Tale / Curious George Land – all of these are grouped together and are fuil of play areas, water park zones, kid-friendly rides and lot's of quiet space.

**EXPECT BIG CHANGES SOON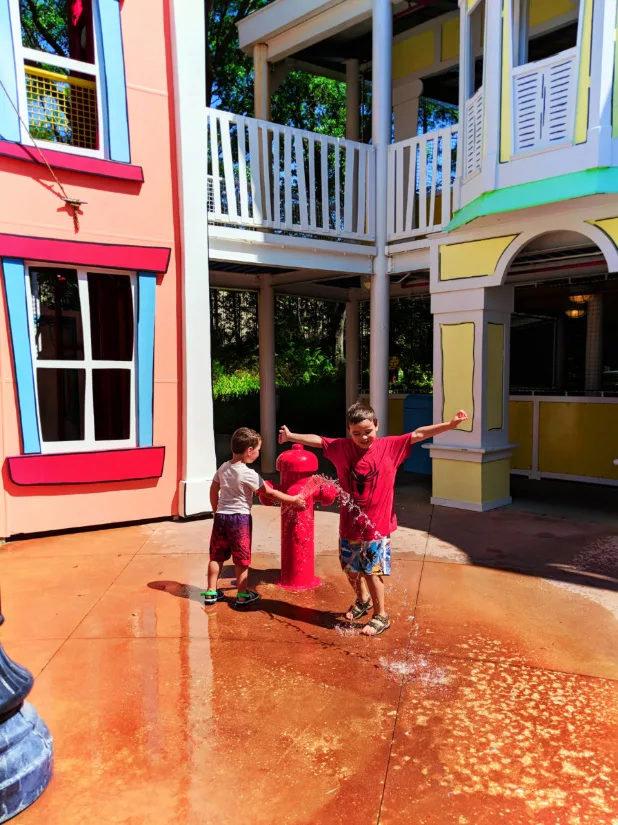 Wizarding World of Harry Potter in either park – riding the Hogwarts Express is a favorite of our kids; casting spells in both Diagon Alley and Hogsmeade is really fun. Be cautious of little kids and the fire breathing dragon though, because it can be startling.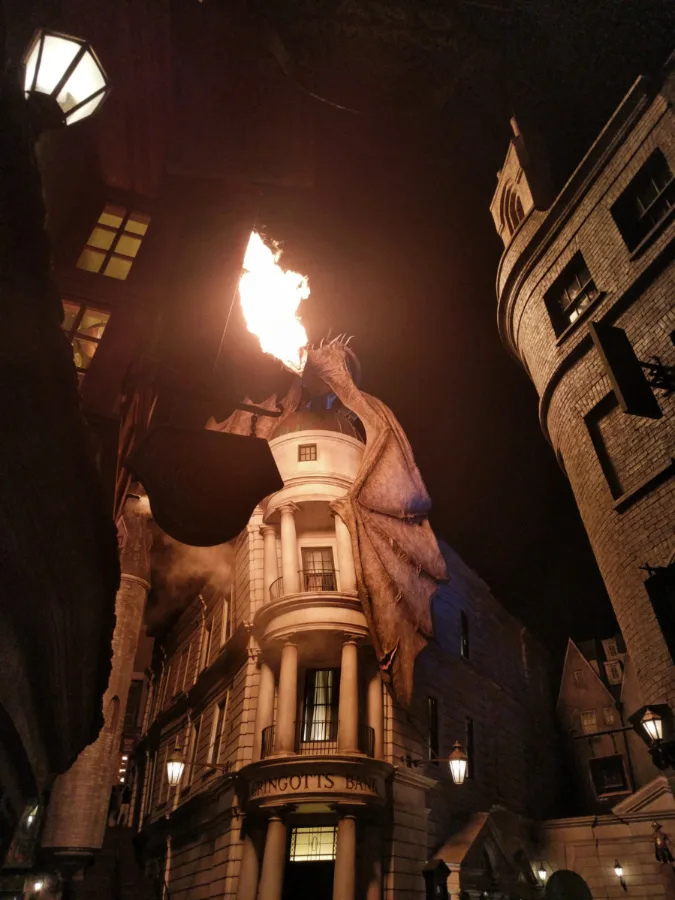 Camp Jurassic – I had no idea this existed until I visited for the first time with our kids. Hidden away near the Jurassic Park river ride is an obstacle course full of nets, bridges, water cannons, caves and slides. It's perfect for any age.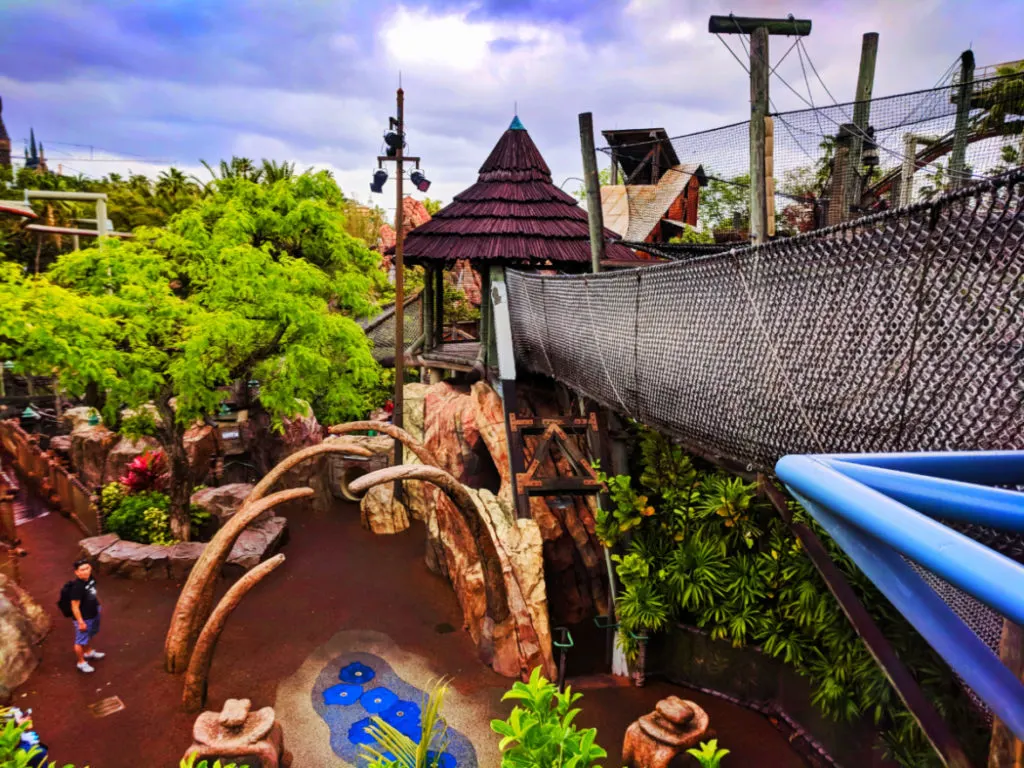 Seuss Landing – of course this is a hit! Between meeting the Cat in the Hat, the Things, the Grinch, Sam I Am, and the Lorax, and then the fun play areas and mellow rides, it

is great with small kids and older kids alike. Also, great food options here.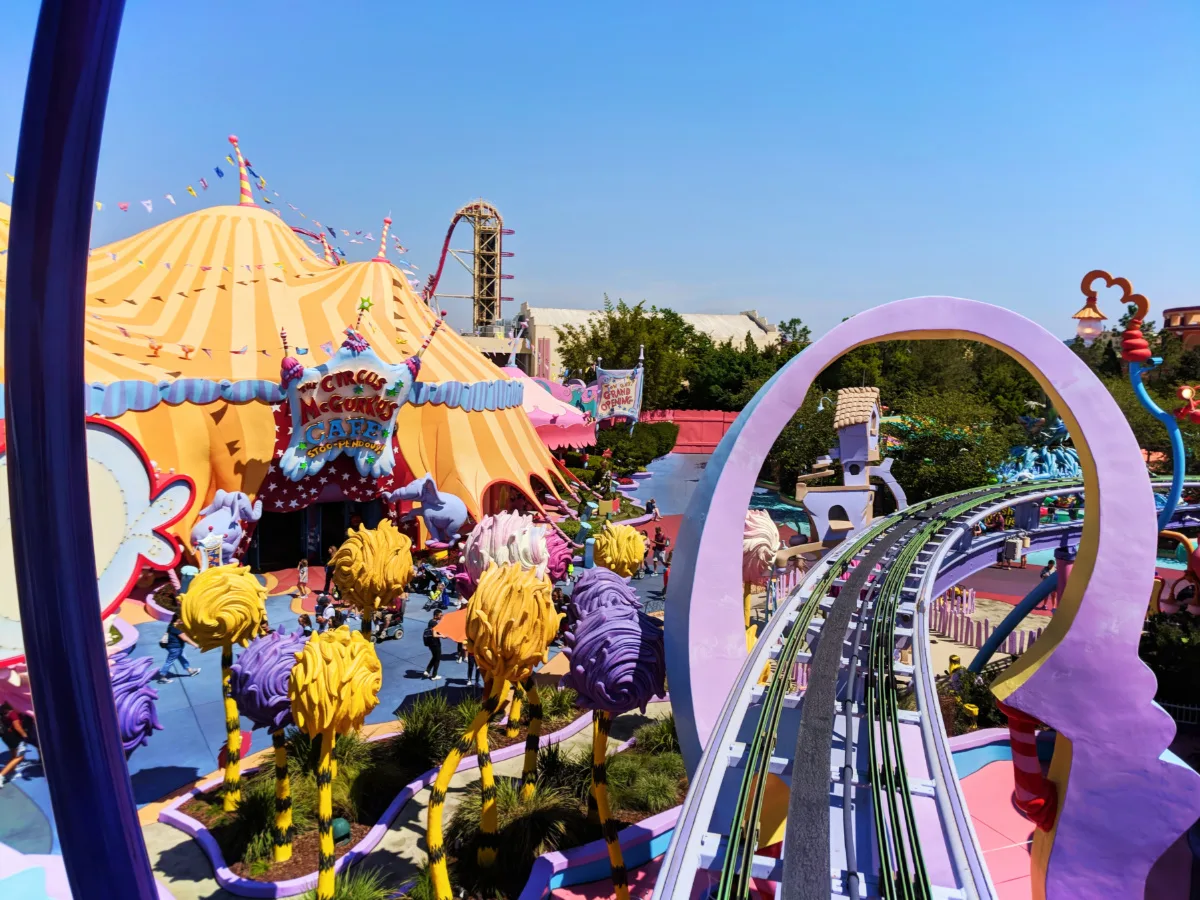 Tip: always be ready to get wet in any of the areas of the Universal Orlando Resort, whether it's in a park, in City Walk, near one of the many pools, or just strolling through Volcano Bay. There is water everywhere.
Marvel Character Dining in Islands of Adventure
It's rare that you find a kid that doesn't love Spiderman. To say that our kids love him is an understatement. Commence dinner with some of the coolest Marvel characters: X-Men's Cyclops, Rogue, Wolverine and Storm; Captain America… and Spiderman.
Even though the food at Cafe 4, where the Marvel Character Dining happens (when available), isn't my favorite, it's pretty good and is very picky-kid-friendly. The best part about the experience though is how involved the character interactions are. They are the nicest crew and do a great job of making sure that everyone gets a chance to meet them.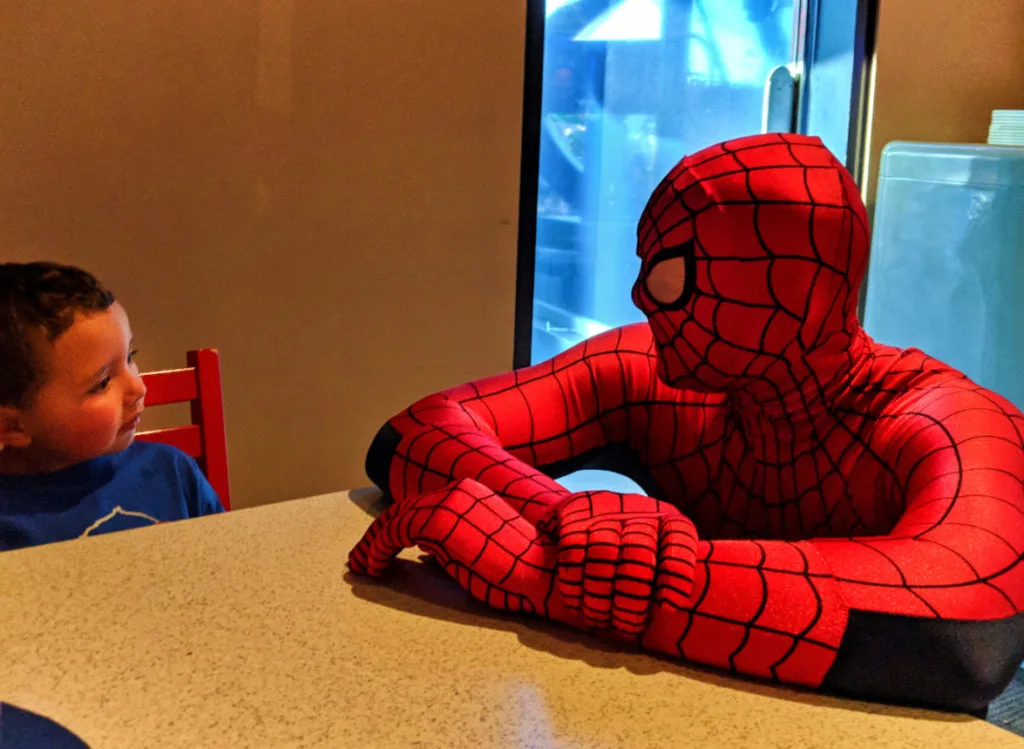 More Highlights of a Universal Orlando Spring Break
here are so many other wonderful things about being at the Universal Orlando Resort for spring break, but just to call attention to a few, here are more of our favorite experiences we've had during this season.
Concerts also happen quite often during spring break. Universal has been known to bring in pretty big acts to perform on the amphitheater stage. We've seen Jessie J and Bush perform in Universal Studios, but they have brought all kinds of performers. One of my favorite Universal concerts was actually having a symphony playing on stage while scenes from Harry Potter played on the video screens. Really cool!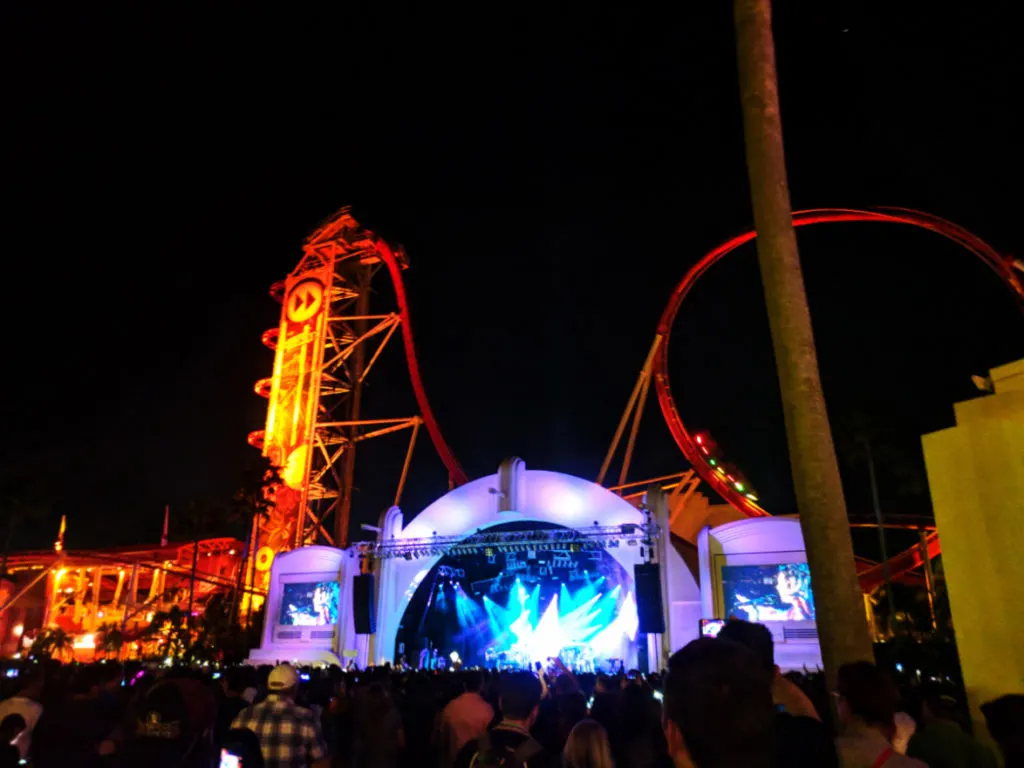 Mardi Gras tends to be happening during spring break and with that comes all sorts of extra fun stuff. Watch for float parades a few times a day in Universal Studios, as well as random dance parties, live music in the streets and lots of beads being thrown around. Also, be sure to keep your eyes peeled for Mardi Gras theme food and drinks throughout Universal Studios, but mostly in the city areas.
One more bonus of being at Universal Orlando during spring break is all of the extra characters that are out and about. From Hello Kitty to Beetlejuice, the Trolls to extra performances in Diagon Alley, you'll see that they pull out all the stops for busier times, such as spring break.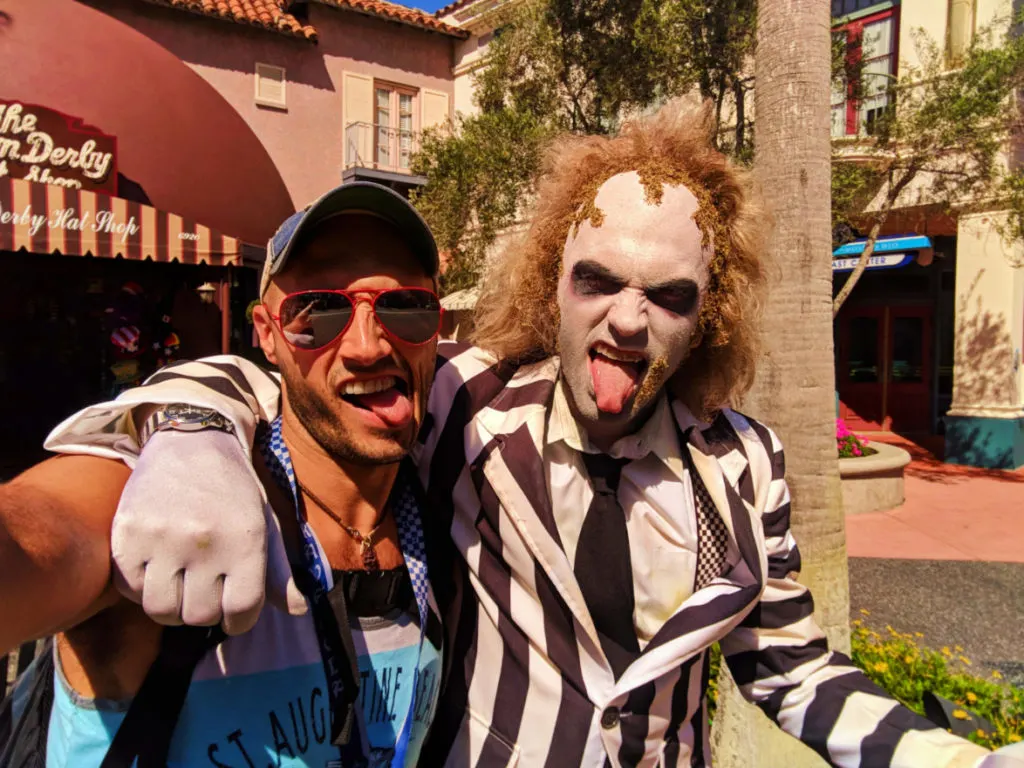 Good Dining Picks During Spring Break / Busy Times
I mentioned before that you should try to score dining reservations for restaurants in Universal's City Walk for evenings in the area, but the same idea is smart in both Universal Studios and Islands of Adventure. While there are always lots of grab and go options, having a sit-down meal is nice and it gives you a break, solid time to decompress.
We recommend making reservations as far in advance as possible. Our favorite spots for family friendly dining and are:
Lombard's

Seafood Grille

, San Francisco area of Universal Studios – good seafood and a nice atmosphere that doesn't feel like a theme park. Also, rather good prices for family dining in a nice place.

*reservations strongly suggested
Fastfood Blvd aka

Moe's / Springfield dining, Simpsons area of Universal Studios – a variety of foods, either made to order or grab-n-go. Also, Moe's Bar is here. GET THE BIG PINK DONUT!

The Leaky Cauldron in Diagon Alley, Universal Studios – this is my favorite Wizarding World of Harry Potter restaurant. I love the bangers and mash. They also do advanced ordering through the mobile app.
Mythos Restuarant in Islands of Adventure – a nicer sit-down restaurant with the coolest decor and really good food. They also have outdoor seating. *reservations required

Hog's Head Tavern, Hogsmeade in Islands of Adventure – a sit-down tavern straight out of the Harry Potter films with good beer, including Butterbeer on tap for the kids

.
Confisco in Islands of Adventure Port of Entry – diverse menu and the strongest air conditioning in all of Universal Orlando. *reservations recommended

All dining at Cabana Bay – we've eaten at the restaurant in Galaxy Bowl several times (good allergen free choices), enjoyed the Hideaway Bar by the pool (great kids and adult lunches) and found the diner window attached to the Atomic Tonic bar to have great doner kabab lunches. Best value: a pitcher of beer at Galaxy Bowl that you can take with you anywhere on property.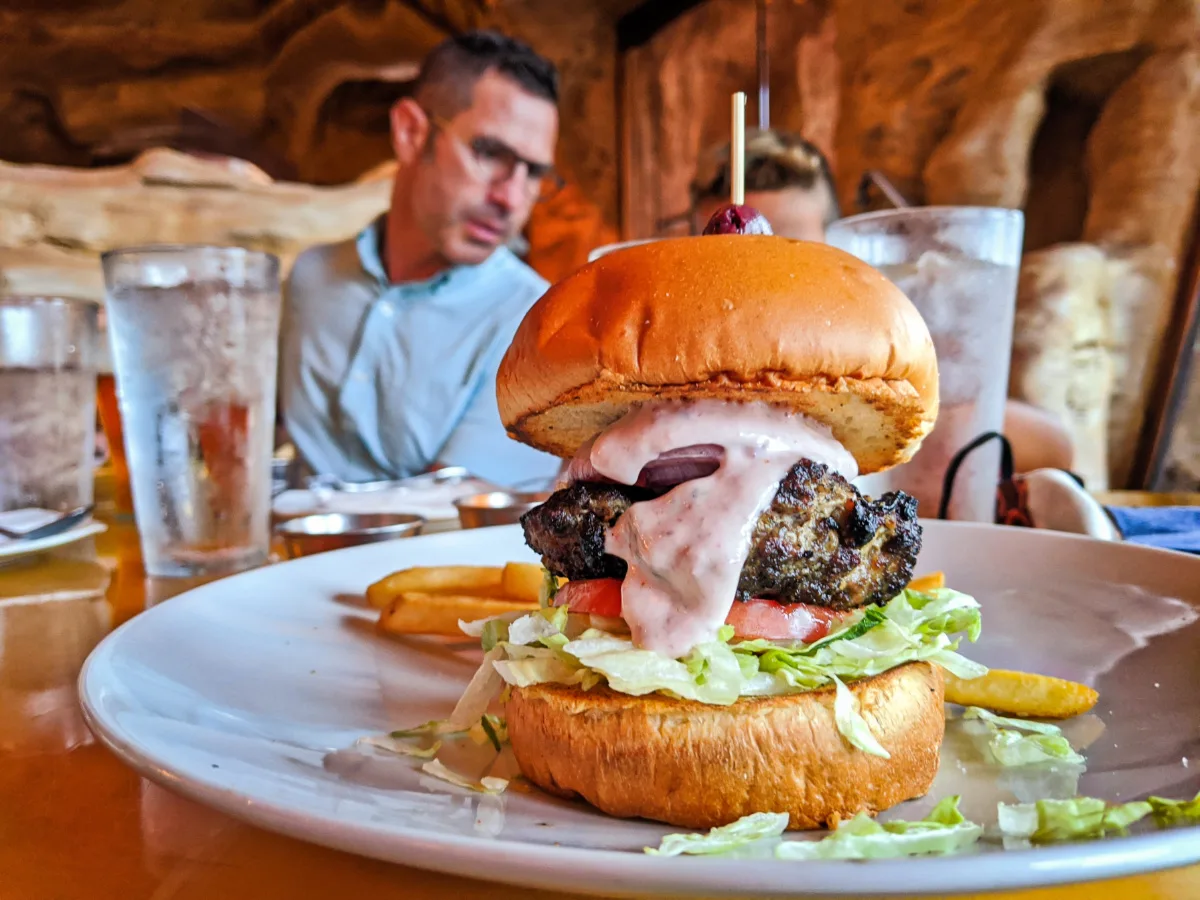 Wow, I don't know if there's anything else I can say about planning Universal Orlando for a spring break trip. I think we covered it all, from planning your time and making the most of it to choosing a hotel that fits your budget.
If you have any additional questions or thoughts, feel free to leave a comment or send us a note. We're always happy to share more!